Kilkenny's tourist attractions receive thousands of visitors each year, with Kilkenny Castle and its surrounding grounds being Ireland's most visited heritage sites.
Perched serenely on the banks of the River Nore, lovely Kilkenny is home to the picturesque "Medieval Mile" of narrow lanes, historic architecture and dark-grey limestone buildings.
In addition to its world-famous castles and cathedrals, visitors can discover arts and crafts dotted across town and enjoy its bustling pub, restaurant and bar scene.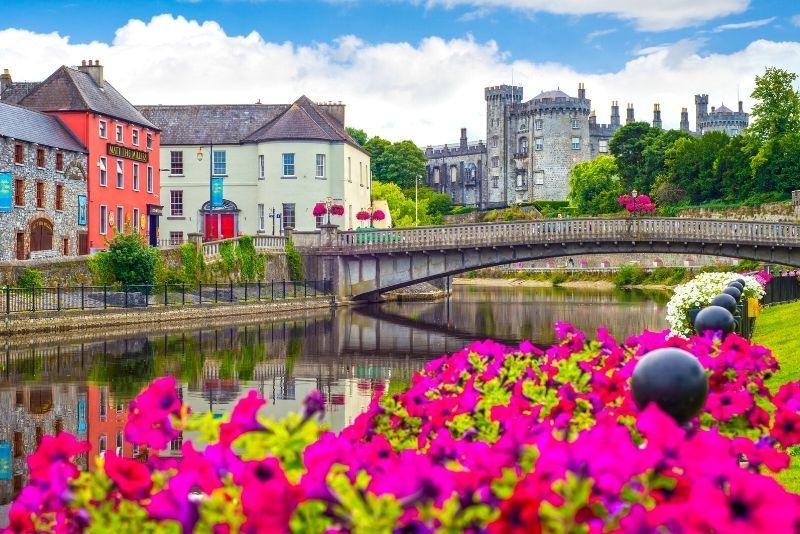 How to get to Kilkenny from Dublin?
Located approximately an hour and a half from Dublin's bustling city center, this sleepy town lies peacefully on the banks of the River Nore. It can be easily visited on a day trip from Dublin if you plan sufficiently in advance.
From Dublin to Kilkenny by car
Driving to Kilkenny from Dublin is pretty straightforward. The quickest route would take you along the M50 and N10 highways and is around 120 kilometers from the Irish capital, or an hour and a half drive. If you decide to rent a car, you can expect to pay around €100 a day for a car rental.
From Dublin to Kilkenny by bus/public transport
There are two forms of public transportation that you can take from Dublin to Kilkenny. The first is a bus, which takes around one hour and forty minutes, and will set you back around €10 to €20.
Traveling by train is also an option. Direct trains depart from Dublin Heuston Station and take around one hour and forty minutes to arrive at Kilkenny.
Guided tour to Kilkenny from Dublin
For those wishing to travel more easily, guided tours from Dublin to Kilkenny and the surrounding regions are also popular. Guided tours offer the convenience of specific pickups and drop-off points.
With a specialist guide at your fingertips, you'll be sure to learn all about this historic region and its most popular tourist attractions. Pickups usually depart from the city center, and tours take around 9 hours round-trip.
What is the typical itinerary of a day tour to Dublin from Kilkenny?
While every tour is different, tours usually include a pickup and drop-off from a hotel or central meeting point, usually at the same place of departure. From there, you'll enjoy a scenic journey in a comfortable minivan or coach to Kilkenny, the medieval capital of Ireland.
Expect several beautiful pit stops en route, most notably Kilkenny's historic Norman castle. You can rummage through trendy design stores and discover the monastic city of St. Kevin at Glendalough — best known for its two glacier lakes and the wedding scene in the blockbuster movie "Braveheart."
Once at Kilkenny, tours will take you to some of the most prized hiking trails this southeastern part of Ireland offers. Admire the rolling green countryside and the craggy mountainous landscape, and discover the famed Waterford crystal factory in Waterford City.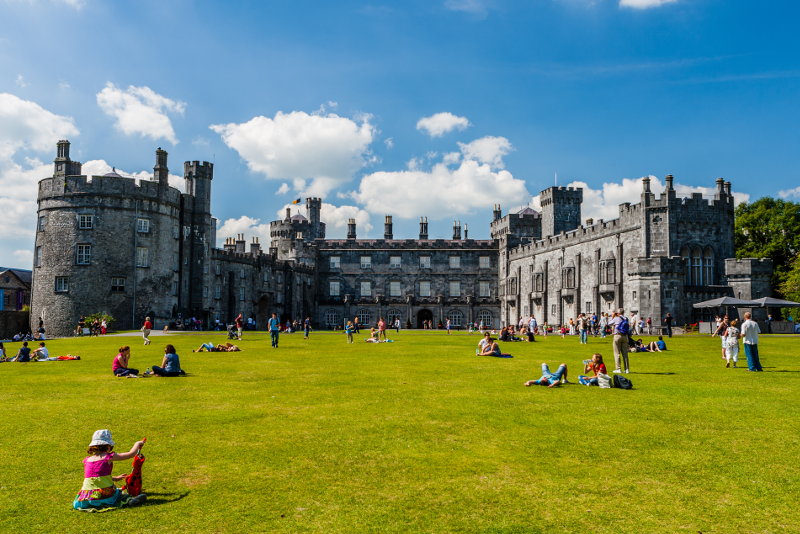 What kinds of tours are available to go to Kilkenny?
A guided tour is a fantastic way to discover all of the wonders this fabled part of Ireland offers. Your guide will tell you tales of this charming, ancient town which also offers a taste of modernity with its chic shops and trendy restaurants.
Guided tours to Kilkenny from Dublin
Walk along Kilkenny's narrow, winding streets, take a hiking trail along the famed Medieval Mile and visit the enchanting Kilkenny Castle to see its blend of architectural styles.
Allow your guide to direct you through some of Kilkenny's most popular tourist attractions as you take a coach journey along the mountainous landscape near this charming town.
Make a pit stop at the Wicklow Mountains National Park and see beautiful panoramic views and locations that have appeared in popular movies, such as "P.S. I Love You" and "Braveheart." Enjoy stunning mountain vistas and turquoise glacier lakes along the way. These day trips include a professional guide and all transportation for your trip.
Guided tours to Kilkenny plus sheepdog trials from Dublin
See a different side of Ireland on a Kilkenny day trip from Dublin by Train. Meet your professional tour guide in Dublin, then depart the city by coach for a day of sightseeing in Ireland's "Medieval capital."
Travel through the idyllic countryside of Wicklow National Park, where you'll witness traditional sheepdog trials, and discover glacier lakes, as well as the monastic complex of Glendalough. Admire the Medieval monuments of Kilkenny on a guided walking tour and arrive back in Dublin in the early evening.
Private tour to Kilkenny and Glendalough from Dublin
A private tour is a great way to explore the region at your own pace. Escape Dublin on a private tour to Kilkenny via Glendalough. You'll set off from the Irish capital with your chauffeur, who will tell you tales of this charming region steeped in history.
Expect to visit popular tourist attractions such as the Powerscourt gardens and waterfall and the monastic village of Glendalough, where ancient ruins and castles await. Round-trip transportation is included in this tour.
How much does a tour to Kilkenny from Dublin cost?
The prices will vary depending on whether you opt for a private or group tour. Guided tours are the best way to visit Kilkenny as you'll be able to make the most of your time with a knowledgeable guide who will show you the region and explain its fascinating history.
Most Kilkenny day trips cost from €35 to €50 for a guided full-day tour. A guided rail tour costs around €100 and makes a pit stop at Waterford Crystal before arriving at Kilkenny.
Private tours from Dublin to Kilkenny cost from €800 to €1,400 per group of up to seven people. These offer total privacy and the chance to discover the region in a stylish air-conditioned luxury vehicle.
What will you see and do on a Kilkenny day trip from Dublin?
Kilkenny has plenty to offer discerning visitors, and you're bound to want to return again and again to this enchanting destination. One of the most sought-after things in Kilkenny is to walk along the Medieval Mile, a spectacular trail linking many of Kilkenny's most prized tourist attractions via picturesque, long winding roads.
On a guided tour, your professional guide will teach you about this fertile agricultural area's rich history and tumultuous past.
If time is short and you only want to catch the highlights, here are some of Kilkenny's most popular attractions.
Kilkenny Castle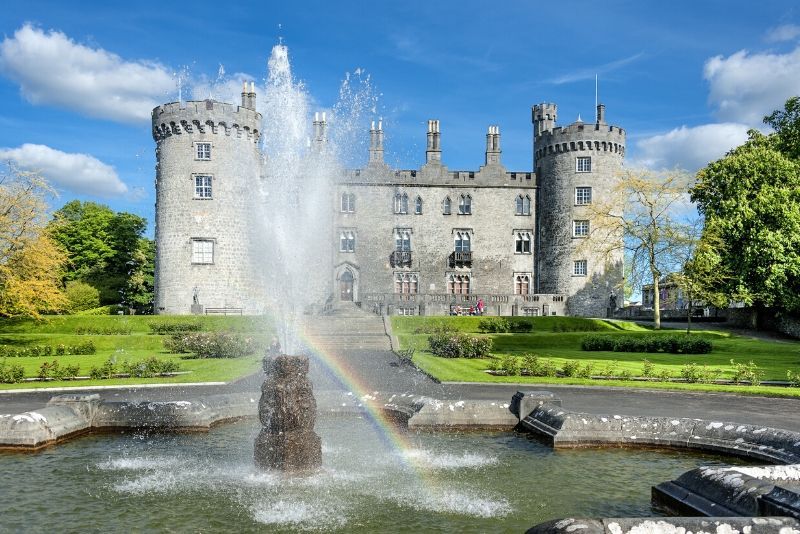 Kilkenny castle is one of Ireland's most popular attractions, and for a good reason. Perched dramatically above Kilkenny city, the best way to visit the castle is by crossing the River Nore. You'll see the depth of the original architecture up close in the Undercroft. Visitors can discover rich 19th-century decor in the Chinese Waiting Room for a step back in time.
National Design & Craft Gallery and Kilkenny Design Center
For those interested in Irish craft, textiles and jewelry, Kilkenny Design showcases an impressive collection of original Irish handicrafts. There's also a fantastic restaurant within the vicinity open daily and Thursday to Saturday evenings.
Waterford Crystal
The House of Waterford Crystal is a pit stop on several tours to Kilkenny. It's a fantastic destination that is world-renowned for its crystals. Be sure to explore the range of historical attractions preserved here, most notably the old town's walls and the surviving towers.
When is the best time to visit Kilkenny?
The spring and summer months are often the best time to visit Kilkenny. The warmer weather at this time will allow you ample opportunity to roam through this part of Ireland's lush greenery. For those who like to party, make sure to visit Kilkenny between May and August, when several local festivals occur.
Travel tips
Make sure to book tickets in advance as popular tours can get booked up quickly during peak season.
Bring comfortable footwear for hiking trails and wandering the narrow lanes of Kilkenny.
Bring a camera as you'll want to take some snaps of the panoramic vistas of the rolling green countryside.