Just a short drive from Dublin's bustling city center, Glendalough feels like a step into a fairytale. For sacred history and mesmerizing scenery, there's no better place in Ireland to explore than this magical place.
Tucked into its sacred valleys lies the stunning Wicklow Mountains National Park, perfect for hiking during the balmy months.
Glendalough day trips highlight one of the country's most important ancient monastic settlements and promises a trip right back to the sixth century. The place boasts excellent places for historical adventure, birdwatching and magical sunsets.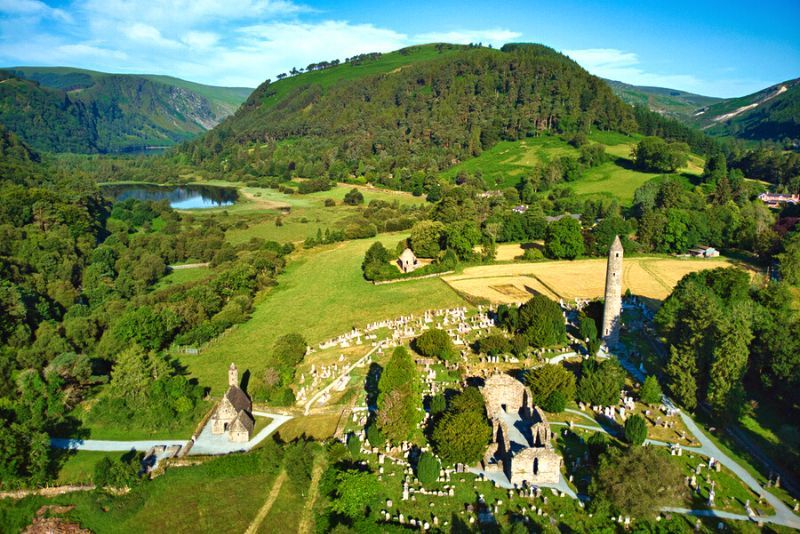 How to get to Glendalough from Dublin?
An ideal destination for a Dublin day trip, Glendalough is located just 25 kilometers from the capital. It is sandwiched between two lakes that provide a beautiful backdrop to this monastic complex. This glacier valley is accessible by car, coach trip or sightseeing tour, depending on your choice of itinerary and time.
From Dublin to Glendalough by car
Glendalough is about a 45-minute car ride from Dublin. The drive is straightforward, with much of the route passing along the N11 motorway and passing through the Wicklow Mountains National Park.
From Dublin to Glendalough by bus/taxi
For those with more time on their hands, there is also a bus that sets off from Dublin to Glendalough. The journey takes around an hour and is run by Transport for Ireland. For those looking for a more hassle-free journey, taxi services are also an option from Dublin.
Guided tour to Dublin from Glendalough
There are several meeting points for guided tours in the Irish capital, with the Molly Malone Statue in the heart of the city center being the most commonplace. The tours usually set off early and last around 8 to 10 hours, with some scenic stops at the Wicklow Mountains National Park and the surrounding countryside.
What is the typical itinerary of a day tour to Glendalough from Dublin?
Expect several pit stops on a typical guided tour from Dublin to Glendalough. The most popular tours start at 8:30 AM and return in the evening. Half-day tours are available that last around five hours and will bring you back to Dublin by lunchtime.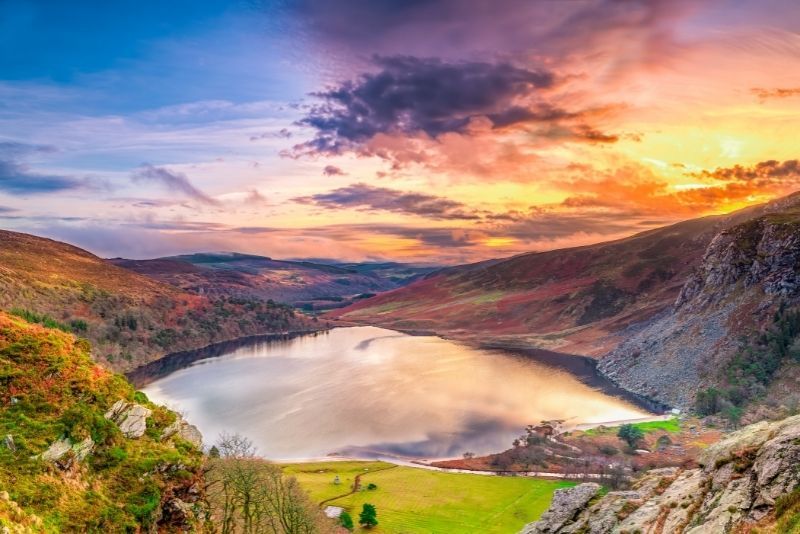 Aside from stopping at the Wicklow Mountains National Park and gorgeous countryside villages, you'll also visit the Glendalough monastic settlement and pristine mountainous views of the Wicklow Gap.
On a typical tour, you'll have breaks for refreshments or lunch and will arrive back in the late afternoon to enjoy Dublin's fantastic pub culture and bustling city life.
What kinds of tours are available to go to Glendalough?
From the Glendalough and the Wicklow mountains to Powerscourt and Kilkenny, a range of tours is available that include a different combination of locations to visit during your trip.
Whether hiking the mountainous landscape of Glendalough, making a pit stop at a local farm or visiting Glendalough's important monastic settlement, there is a tour available for everyone.
Day trip to Glendalough plus Wicklow and Kilkenny from Dublin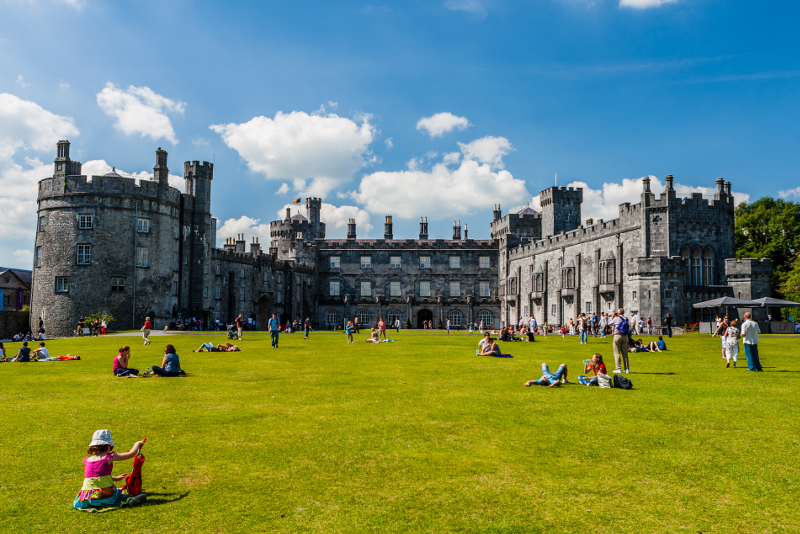 This is one of the top-rated Glendalough day excursions from Dublin and for a good reason. You'll explore the region's hidden treasures all in one day.
Begin your scenic drive in Dublin before stopping at the Wicklow Mountains National Park, where you can enjoy the stunning natural vistas. You'll then step back to the early 13th century with a tour of Kilkenny, Ireland's medieval capital, before returning to Dublin.
Day trip to Glendalough plus Wicklow and Powerscourt Estate from Dublin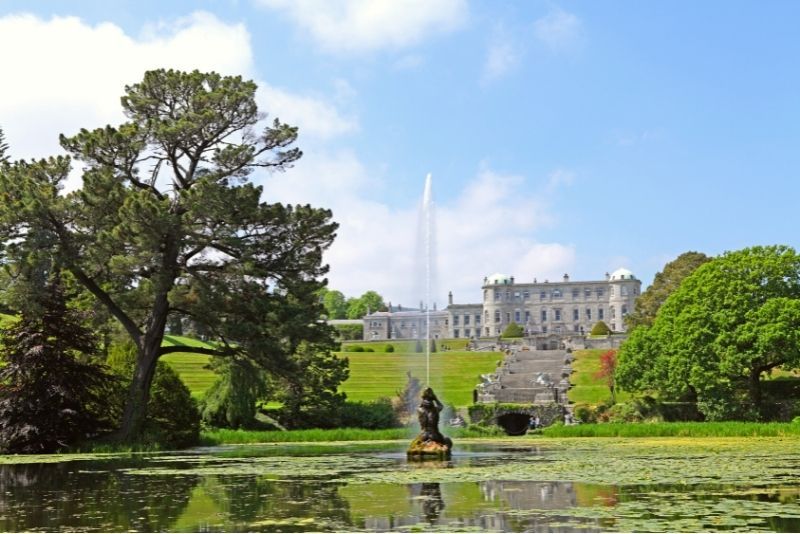 This tour promises a spectacular excursion filled with popular historical sites, gardens and plenty of handicrafts shopping.
On this half-day trip, you'll discover all of the green, rolling countryside around Dublin and marvel at the 6th-century ruins of Glendalough before taking a stroll around the Powerscourt Gardens. Alternatively, swap the gardens for a visit to the handicraft shops in Avoca village.
Small group shore tour to Glendalough from Dublin
Shore excursions are a highly popular choice from Dublin to Glendalough. These tours tend to fill up quickly during peak season from May to September, so booking ahead of time is highly recommended.
Expect to take in the crisp, fresh air and stunning views of the Wicklow countryside, as well as a tour of some of Dublin's most popular attractions. You'll be traveling in a luxury minivan and a refreshment break is included.
Private tour to Glendalough from Dublin
Private tours allow you to explore at your own pace, visiting picturesque villages and historical museums.
Your guide will recount stories, facts and folktales about the beautiful Wicklow mountains and Glendalough while allowing you to ask plenty of questions. You'll have a variety of customization and pickup options on these tours.
Glendalough music tour
For a special, unique experience, this Irish music tour is bound to enlighten your senses. Expect to dive deep into the history and culture of this mesmerizing monastic region through a fun and engaging musical lens.
This tour lasts approximately an hour and 15 minutes, leaving plenty of time to explore the national park afterward. It caters to different tastes, preferences and ages for a more inclusive experience.
How much does a tour to Glendalough from Dublin cost?
Tour prices will vary depending on whether you want to splurge out on a luxury private tour or opt for a more economically friendlier group option. Private tours may be pricier, but they offer the added luxury of having your own driver and guide and a more intimate experience.
For private tours, you can expect to pay around €770 per group of up to six. For 6-day tours, the price is approximately €600 during busy periods and shore tours are as reasonable as around €55 for two adults.
What will you see and do on a Glendalough day trip from Dublin?
Glendalough is an adventure lover's dream, with plenty of beautiful panoramic vistas, long stretches of green rolling countryside, majestic lakes and historic architecture. A day tour from Ireland's bustling capital to the mountainous landscape of Wicklow is an absolute must.
For adrenaline seekers, tours combined with horseback riding are available, as is a sheepdog demonstration for those who'd like to delve deep into the local farming culture. You'll find gorgeous flowing waterfalls and babbling brooks as you explore the area, as well as vendors touting intricate handicrafts local to the region.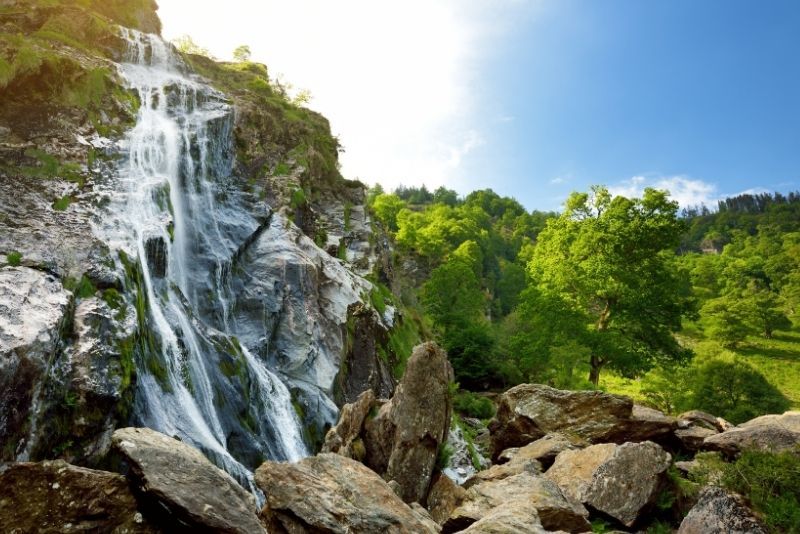 Visit the famed Powerscourt Gardens and estate, where you'll marvel at the diverse flora and fauna. End your tour with a traditional Irish stew at a bustling pub or on select tours at the Guinness brewery.
Perfect for those seeking a serene refuge, Glendalough offers a moment of respite away from the commotion of the city. On a day tour of Glendalough, you can expect to see the complex's famed "Valley of 2 lakes" and the remains of the ancient castles, round towers and several other buildings.
On a day tour, explore Dublin's highlights, including the world-class Trinity College, the famous O'Connell Street and much more.
Pass through the bog lands, known as the Feather Beds, where you'll visit some serene lakes and the city's most prized attraction, The Guinness Estate.
When is the best time to visit Glendalough?
If you're looking for good weather and hiking options, you should plan your trip for either spring or summer between mid-March and August. Bear in mind that many tours fill up quickly during the peak season.
Those looking for fewer crowds and a more serene experience consider booking your Glendalough trip in spring, autumn and winter when the crowds are significantly smaller.
Travel tips
Book your tour in advance, especially during peak season, as popular tours can fill up quickly.
Spend a little more than a day in Glendalough if your schedule permits, as there are many places to explore in this tranquil region of Dublin.
Wear comfortable footwear, as terrains can be craggy and rugged. Consider bringing sturdy hiking boots for walking greater distances.
Bringing a camera is highly recommended to capture some of the stunning views.