Killarney has some of the most gorgeous natural landscapes in Ireland. The country's highest mountains are here, intermingled with green valleys, serene lakes, ancient castles and religious sites. Killarney National Park is visited every year by thousands of hikers and climbers who are drawn to the unspoiled beauty of its wide-open spaces, and there are plenty of other fun things to do in Killarney!
The town of Killarney sits in the middle of it all, a hub for adventurers, day-trippers and the start and endpoint of the circular route, the Kerry Way. Full of bustling pubs, great restaurants and colorful old-fashioned shops and cafes, Killarney is the ideal place to return to after a day exploring the wild countryside.
1 – Explore Killarney National Park on a day trip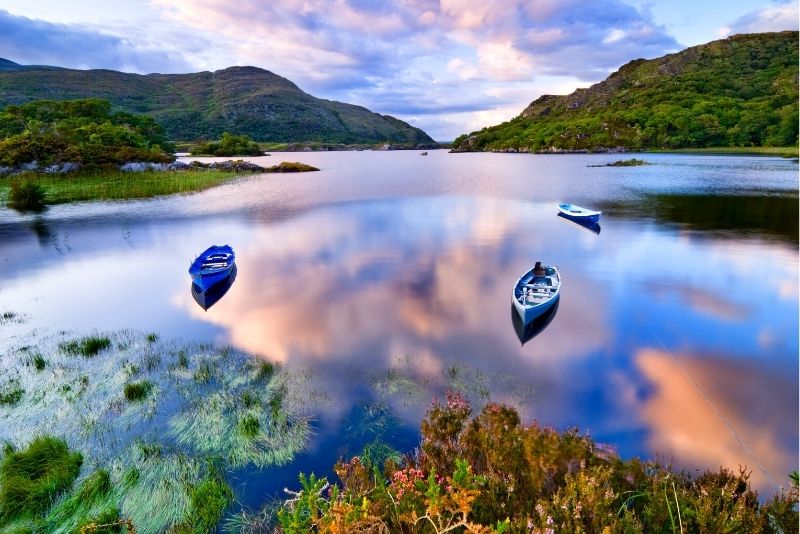 Killarney National Park covers 10,000 hectares and includes dense forests, beautiful lakes and the highest mountain range in Ireland. The McGillycuddy's Reeks mountains reach heights of over 1,000 meters and have many excellent hikes ranging from easy to challenging.
The surrounding forests have protected status and include large tracts of primarily oak and yew which is very rare throughout Europe. Visitors should keep their eyes peeled for the park's population of native red deer which can be seen on occasion.
2 – See Muckross House, Gardens & Traditional Farms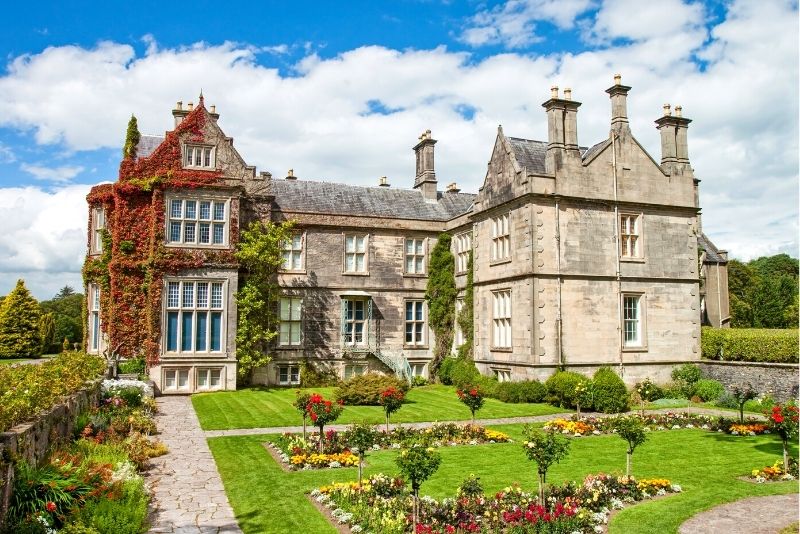 Just outside Killarney town center is the Victorian mansion known as Muckross House. Visitors can see traditional crafts being performed such as weaving, pottery and farming and explore the house and gardens which are set on the picturesque shores of Muckross lake.
The interior of the house is very grand and it was once lavishly decorated in preparation for a visit by Queen Victoria and Prince Albert in 1861. It is also home to the Muckross House Research Library which collects historical material related to County Kerry and its people.
3 – Visit the ruins of Muckross Abbey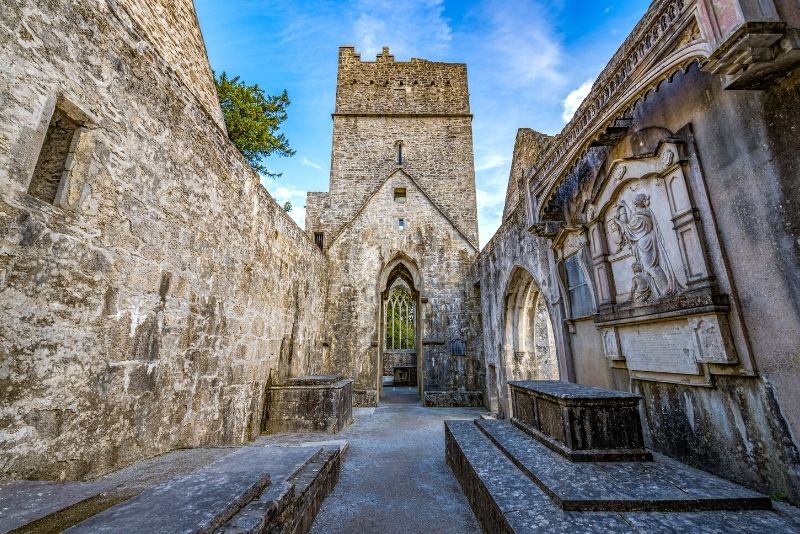 The scenic ruins of Muckross Abbey are an important Kerry landmark and are home to the graves of a number of local chieftains and poets. The abbey was completed in 1448 and was inhabited by an order of Observantine Franciscan monks who suffered regular raids and persecution.
The ruin is well preserved and features a large square tower and vaulted ceilings. In the center of the courtyard is an ancient yew tree thought to be as old as the abbey itself.
4 – See the legendary Torc Waterfall
Torc Waterfall is one of the most popular scenic spots in this part of Ireland. The falls are 20-meters high and are formed from run-off from the Devil's Punchbowl on Mangerton Mountain.
The name of the falls derives from the Irish word for wild boar and one local legend says Fionn MacCumhaill once killed a magic pig on the mountain. They are located at the base of Torc Mountain and there are some excellent hiking routes nearby.
5 – Discover Ross Castle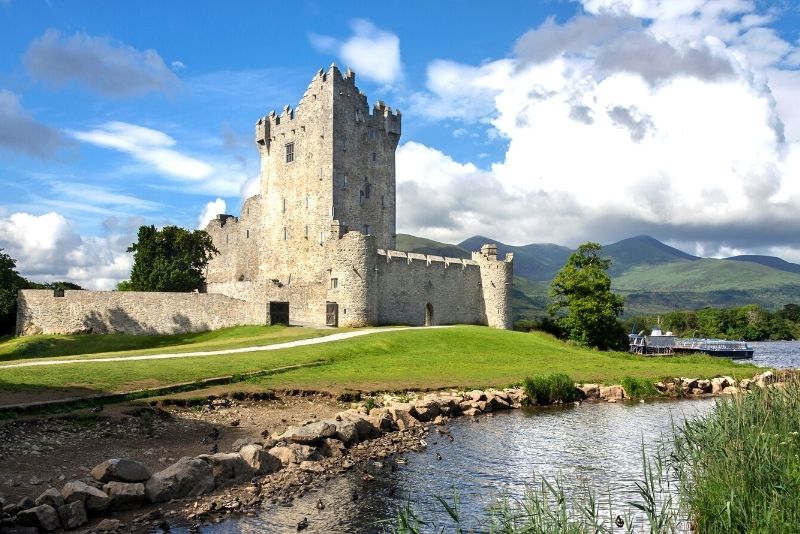 Located on the banks of Lough Leane, Ross Castle is a traditional tower house that was originally the home of the chiefs of the O'Donoghue Clan. The castle changed hands a number of times and went through numerous redesigns. It is famous as one of the last fortifications to surrender to Oliver Cromwell's forces.
The interior has been restored where possible and furnished in the typical style of the times. It offers a great example of what life would have been like for the people living in these tower houses that are so abundant in Ireland.
6 – Explore the area on a hop-on/hop-off bus tour
A hop-on-hop-off bus tour is a perfect way to see the local sights and get to know the area. Visit Ross Castle and the famous Aghadoe Heights before journeying to Torc Waterfall, Muckross Abbey and the nearby Muckross House.
Get on and off as many times as you like and explore the historic attractions at your own pace. These great value tours are one of the best ways to see Killarney.
7 – Relax at Killarney House and Gardens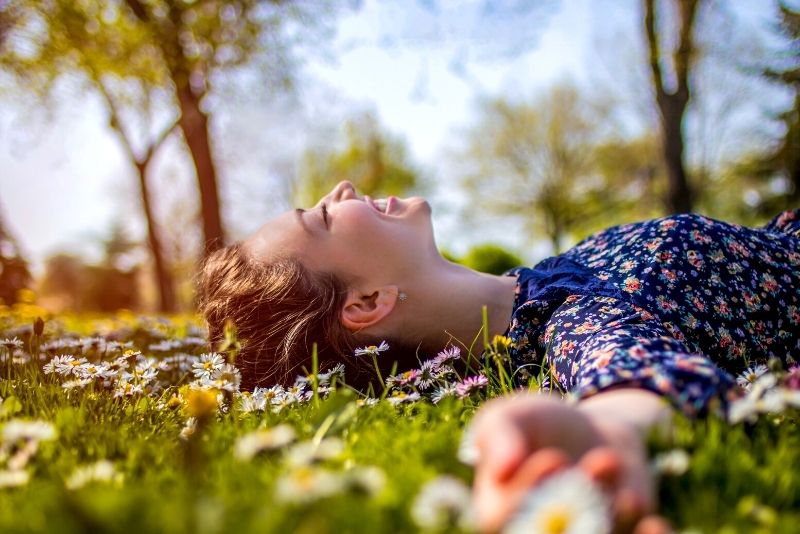 The current Killarney House was once part of a much grander mansion house that burnt down in 1913. It was considered one of the finest mansions in the country at the time of completion and was home to the Earls of Kenmare. The estate was purchased by the Irish state and is now part of Killarney National Park.
The gardens have been restored to their original splendor and the house is decorated with the remaining antique collection giving a glimpse as to the magnificence of the original building.
8 – Take a boat tour on Lough Leane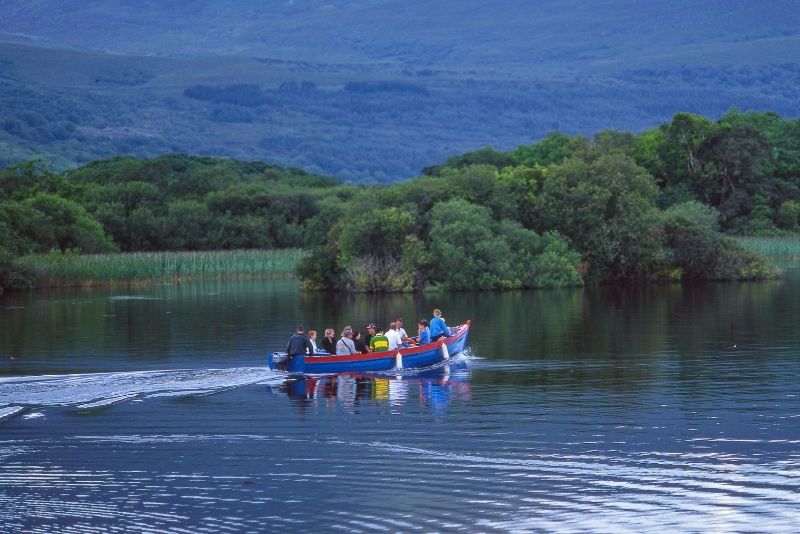 Embark on an adventure across Killarney's largest lake, Lough Leane on an idyllic boat tour. Pass by important historic sites including Ross Castle and the Innisfallen Monastery and keep your eyes peeled for wildlife including the native red deer and white-tailed eagles.
Take in the stunning scenery as you pass by the MacGillycuddy Reeks mountains, including Ireland's tallest mountain, Carrauntoohil. Listen to the onboard commentary to learn about the history of the area and ensure sure you don't miss any of the spectacular sights. This is definitely one of the most fun things to do in Killarney!
9 – Stop off at Ladies View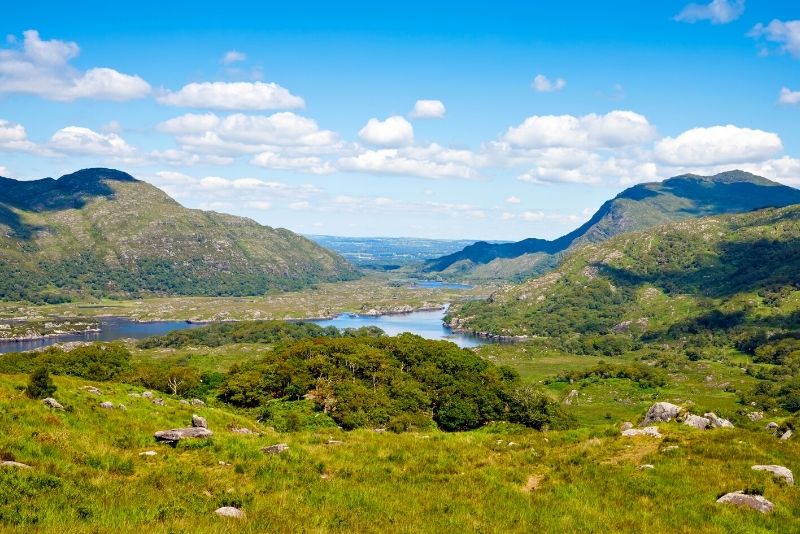 The scene from Ladies View is one of the most photographed spots in the whole of Ireland. The viewpoint looks down over the Lakes of Killarney and has a small car park and shop.
Ladies View received its name after Queen Victoria's ladies in waiting toured the spot in 1861, during the royal visit and were particularly enamored with it. Don't forget to snap some shots if you are passing by this much-loved beauty spot.
10 – See the epic natural formations of Crag Cave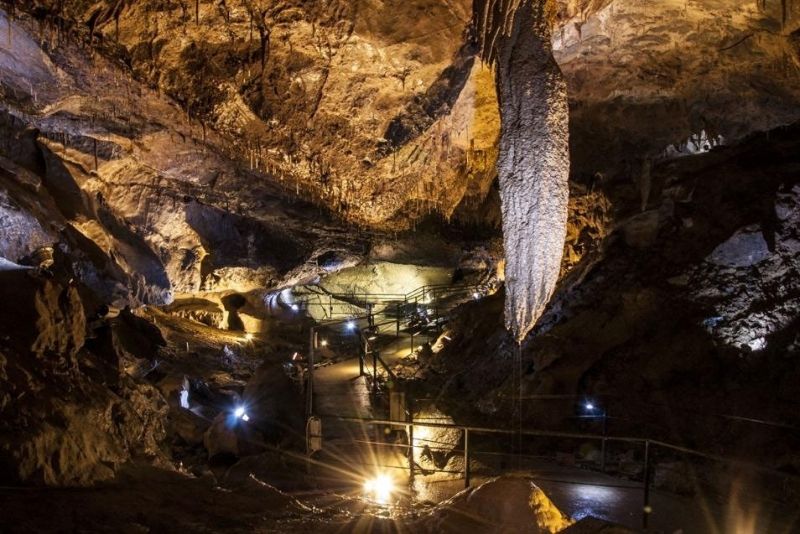 Crag Cave extends to over 3.8 kilometers and includes passageways, chambers and rock forms that have been eons in the making. The cave system is thought to be over 1 million years old and has many ancient formations including stalactites and stalagmites as well as pillars and straws.
Take a guided tour of the cave and learn about its long history and how it was formed as well as its thrilling discovery in the 1980s. Crag Cave also has a restaurant and children's play area.
11 – Get the gift of the gab at Blarney Castle & Gardens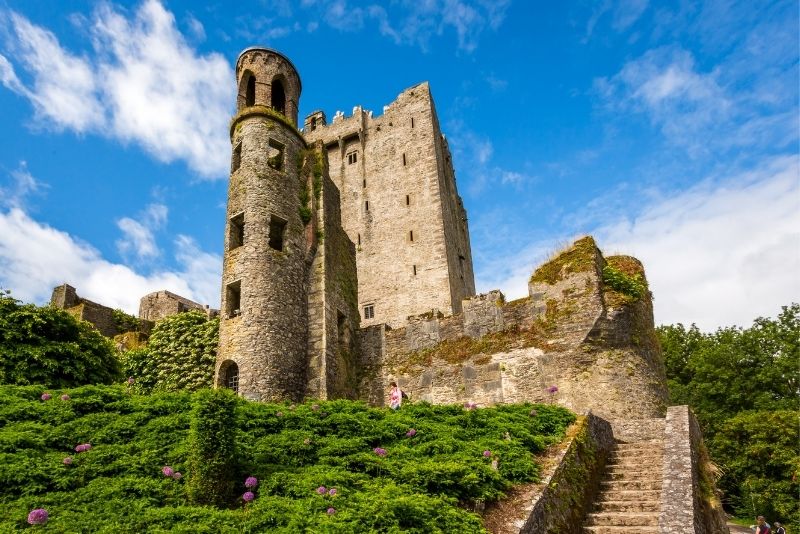 One of the most popular tourist attractions in Ireland is Blarney Castles' famous Blarney Stone, a stone that once you kiss you are blessed with the gift of eloquence. Visitors can pay a small fee to kiss the stone but there is more to see around the castle than just this.
The gardens surrounding the castle extend to around 60 acres and include tropical and exotic plants, ferns, a 100-year-old rhododendron arboretum and even a garden of poisonous plants. Blarney Castle is, without doubt, one of the most fun places to visit while in Killarney.
12 – Hike The Kerry Way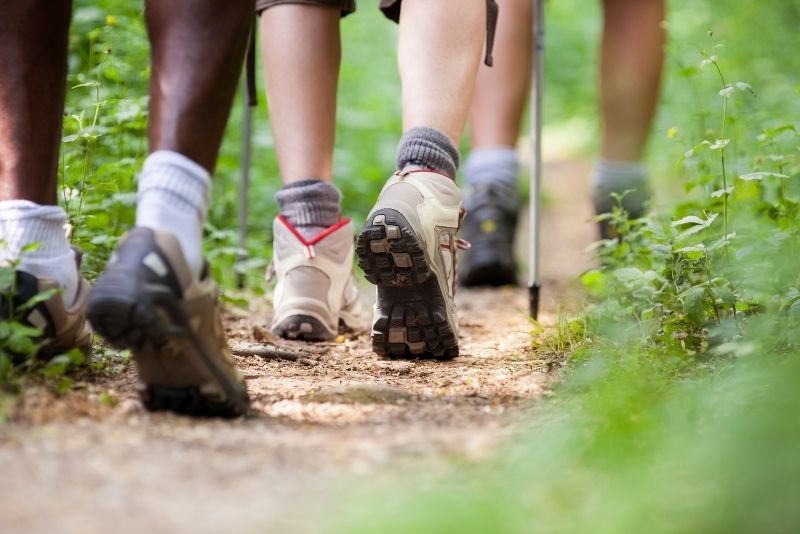 If long-distance hiking is your thing, you may enjoy the Kerry Way on your visit to Killarney.  The trail is a circular route that begins and ends in Killarney and covers over 200km, typically taking about eight days to complete.
The route passes through all different kinds of terrain including towns and villages, national parks and forests, mountainous countryside and old overgrown paths. This one is for serious adventurers only!
13 – Take a day trip around the Ring of Kerry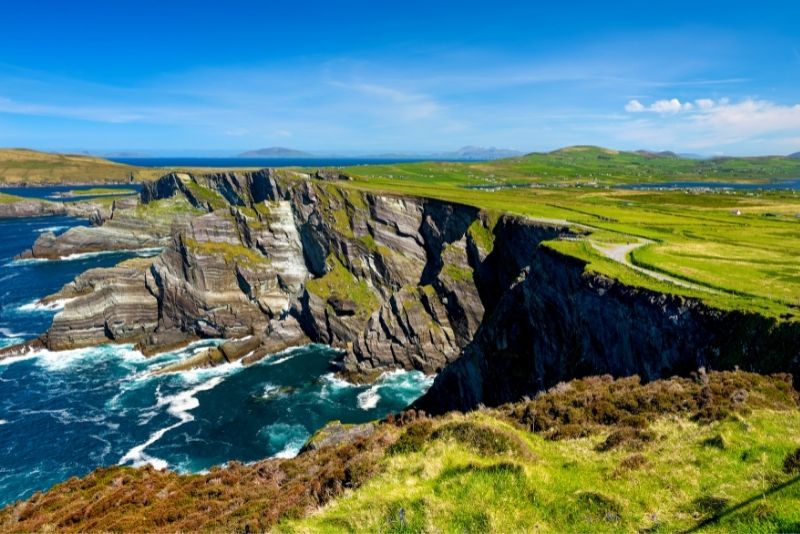 The Ring of Kerry is a scenic driving route that passes through some of the county's most beautiful sites. See the Killarney National Park and stop at Waterville Beach to take a stroll along the promenade. See the famous Ladies View and visit the historic Kerry Bog Village Museum. Cyclists, in particular, should check out Moll's Gap which has a 6-mile climb and stunning views.
A beautiful extended version of the route, called the Skellig Ring, follows the Wild Atlantic Way past the Skellig Islands which were a filming location for Star Wars, The Force Awakens and The Last Jedi.
14 – Go Glamping at Cronins Yard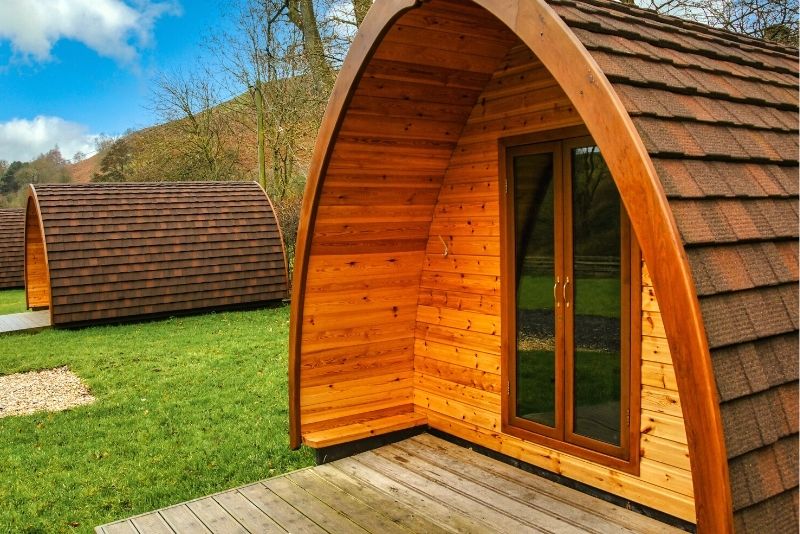 For nearly 300 years, Cronin's Yard has been the starting point for climbing Ireland's biggest mountain, Carrauntoohil, and the entryway to the MacGillycuddy's Reeks mountain range. The site is the starting point for a number of stunning circular walks.
Cronin's Yard has facilities for camping including camping pods for 4 or 6 people as well as a renovated stone cottage. Check out the tea room for hot drinks and food after a long day trekking in the mountains.
15 – Meet exotic animals at Coolwood Wildlife Park and Zoo
If you have young children, Coolwood Wildlife Park offers lots of entertainment for them. The park has 10-acres of habitats and a bunch of interesting and exotic animals including raccoons, three types of lemurs, alpacas, llamas and prairie dogs.
It is also home to some fascinating and rare birds including emus, laughing kookaburras and elegant Japanese red-crowned cranes. There is also a play area for children and a coffee shop.
16 – Discover the Dingle Peninsula on a day trip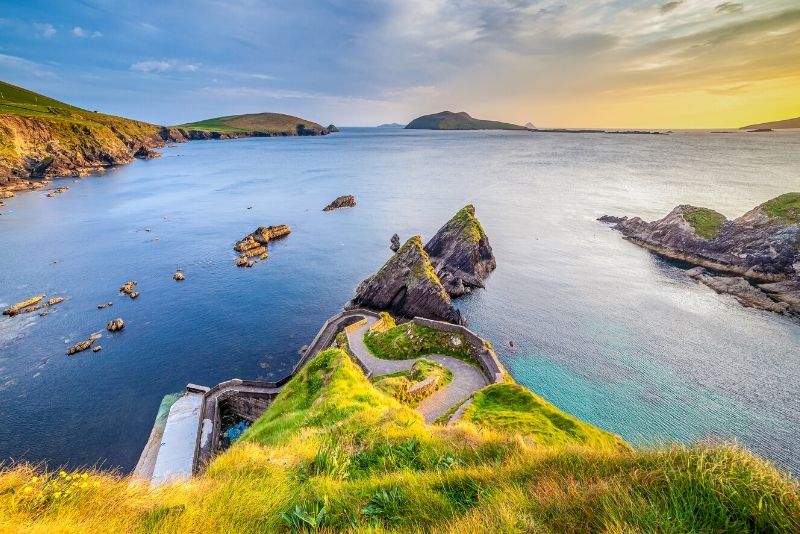 The Dingle Peninsula, one of the most western points of Ireland, is a great place for adventure seekers and lovers of the great outdoors. It is a popular spot for surfing and kayaking with quiet sheltered bays and exposed Atlantic beaches.
The mountainous landscape is a favorite with climbers and hikers and offers stunning valley and ocean views as well as ancient historic sites. The peninsula is home to the largest collection of Ogham Stones, standing stones featuring old Irish writing which date back over 1,000 years.
17 – Attend mass at the Irish Franciscans monastery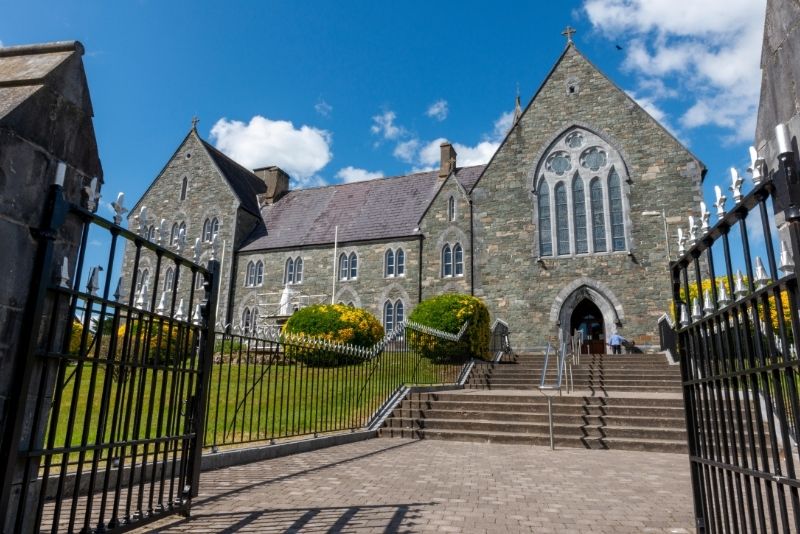 The order of Franciscan Monks have a history in Killarney originating as early as the 15th-century. The current Franciscan church was completed in 1867 and the friary in 1879. It has an ornate carved-wood reredos to the rear of the altar and a shrine to a local monk who was executed in 1653.
The church is open every day and also houses a bookstore with a selection of religious texts. Visitors can check the website for service times.
18 – Spend a day at the races at Killarney Racecourse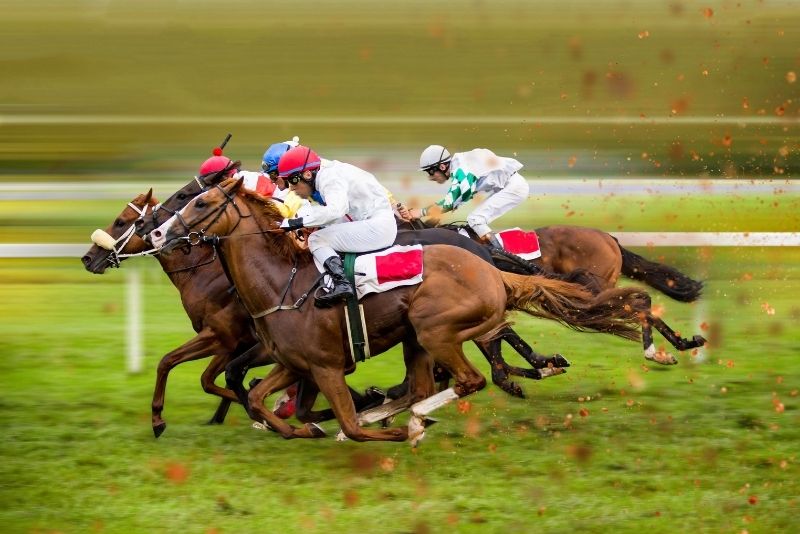 Horse racing at Killarney Racecourse is an age-old tradition dating back to 1822. The historic track is one of the most picturesque in the country but is not just popular for racing.
Race days are a major social event where people dress up in their finest and most elaborate outfits, the organizers even give prizes to the best-dressed attendees. Why not don your finest clothes and try your luck with a day out at Killarney races?
19 – See breathtaking views on a Gap of Dunloe day trip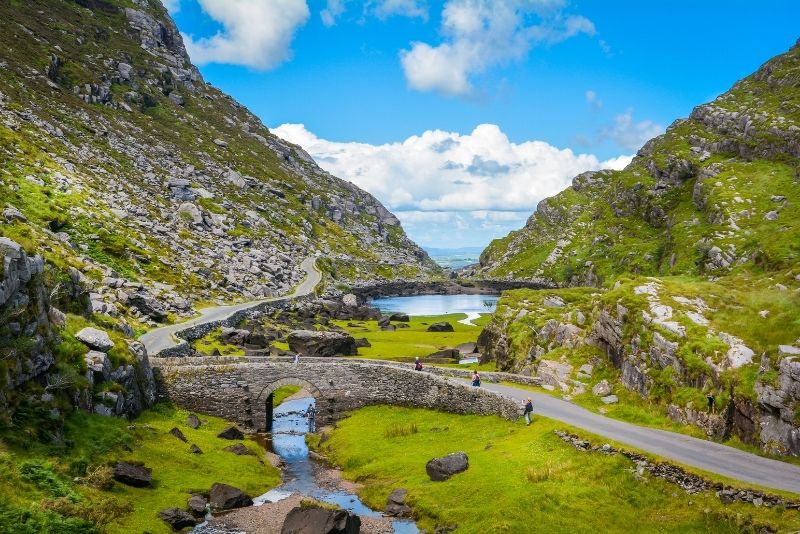 A day trip to the gap of Dunloe is an absolute must when visiting County Kerry. The gap separates the MacGillycuddy's Reeks mountains in the West and the Purple Mountains in the East and has some of the country's most stunning scenery.
The 13th-Century Dunloe Castle, located by the five-star Dunloe Hotel, has fantastic views of the surrounding mountains as well as exotic gardens. These feature trees from South America, Australia and Asia.
20 – Visit the ruins of Aghadoe Cathedral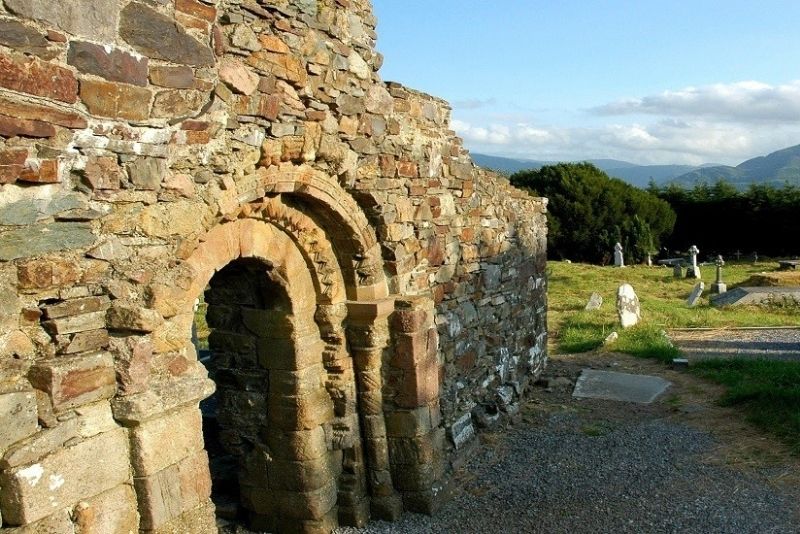 The atmospheric ruined cathedral of Aghadoe is thought to be an ancient religious site with pagan origins. A 7th-century ogham stone is the earliest marker of the importance of the site. Construction of the current building was completed in 1158 which featured Romanesque carvings and architecture.
A number of historic artifacts have been found on the site including two ogham stones and an early-Christian stone bowl, known as a bullaun.
21 – Take the kids to Knockreer Playground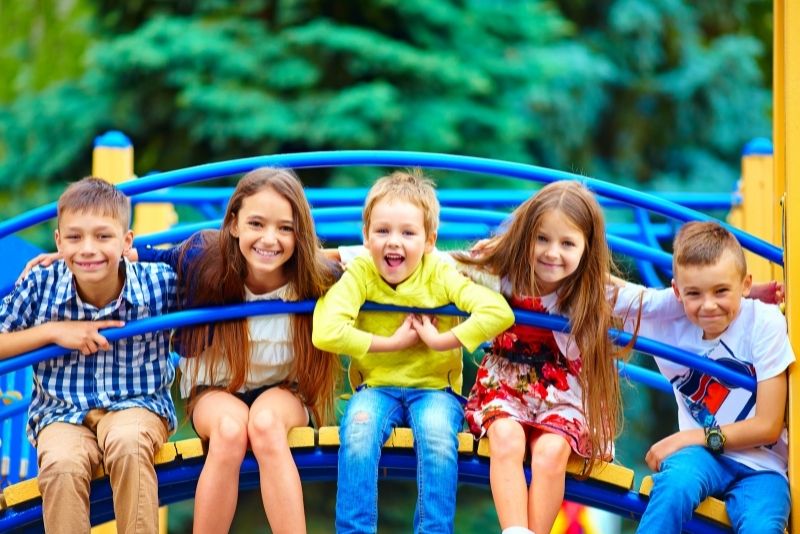 For the younger travelers amongst your group, there is Knockreer Playground to discover. The playground is about a ten-minute walk from Killarney town center near the Deenagh Lodge coffee shop and a number of walking trails.
The playground has a bunch of fun amenities including slides, climbing frames, carousels and swings. The Knockreer playing fields are nearby which are a great place to kick a ball around and also feature some outdoor gym equipment.
22 – Walk along the Cliffs of Moher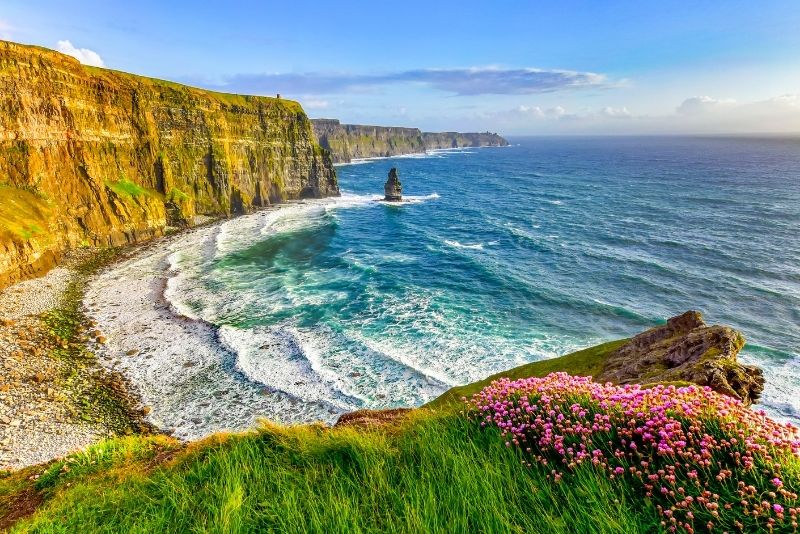 The dramatic Cliffs of Moher are one of Ireland's top natural attractions. These almost vertical cliffs reach 214 meters at their highest point and run for about 14 kilometers. There is a viewpoint, O'Brien's Tower, where visitors can see the Arran Islands as well as the Twelve Bens and Maumturks mountain ranges.
A trip to the Cliffs of Moher is a must for anyone visiting the area. There are many private tours that will take you to the cliffs and nearby attractions like Bunratty Castle and Galway.
23 – Play a round at Killarney Golf Club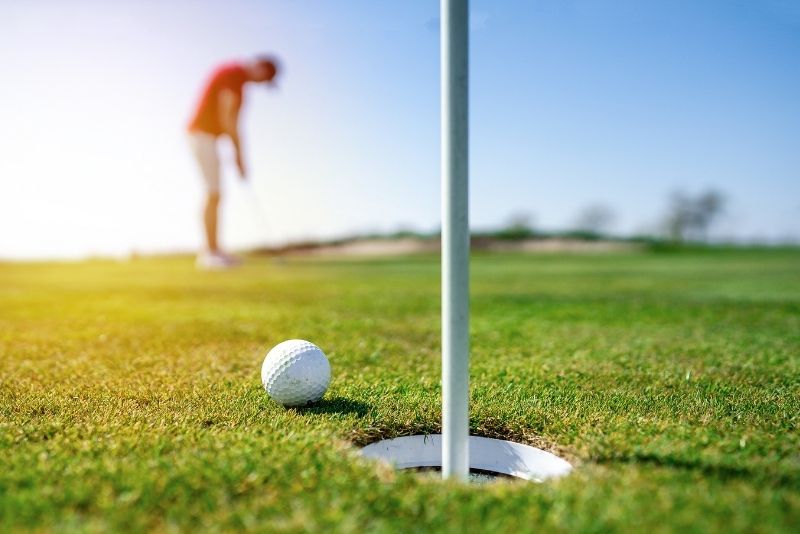 For those who like to play a round or two, Killarney has no shortage of great golf courses. Killarney Golf Club has hosted the Irish Open no less than four times so visitors are sure of a world-class course. The club has two 18-hole championship courses set in the beautiful natural surroundings of Killarney National Park.
Expect glassy lakes, towering mountains and green rolling hills, there can't be many golf courses set in such fantastic surroundings.
24 – Visit St. Mary's Cathedral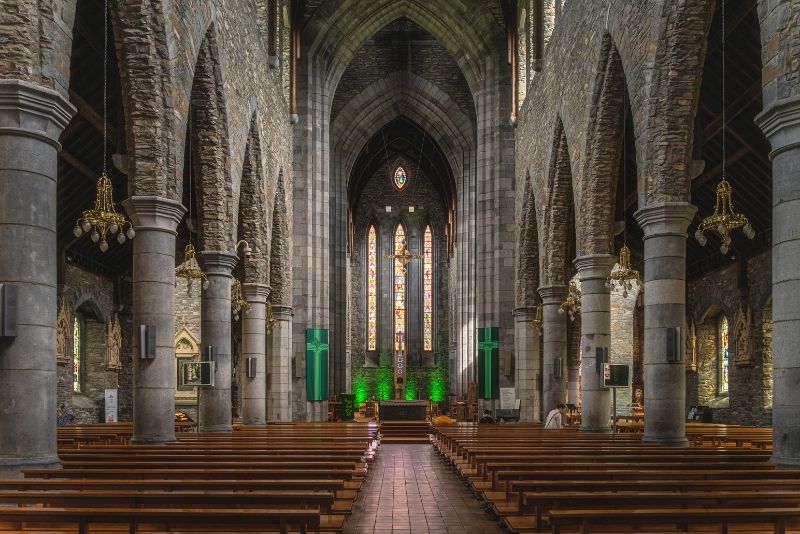 St. Mary's Cathedral is well worth a visit if you are in the area. The design of the church was said to be influenced by the nearby ruins of Ardfert Cathedral which St. Mary's was built to replace.
Construction of the Cathedral began in 1842 but was postponed due to the hardships of the Great Famine. The cathedral was opened for worship in 1855 but wasn't fully completed until 1912 when Bishop John Mangan built the spire and nave.
25 – Explore Killarney on a horse riding tour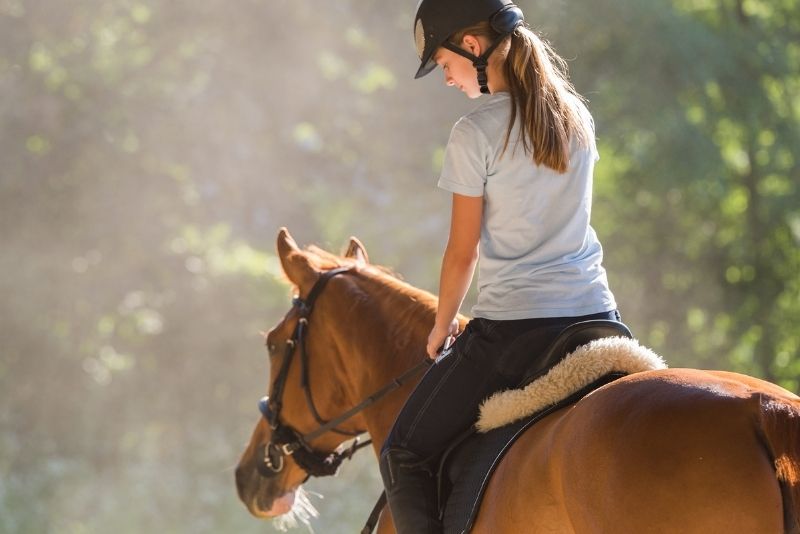 If you're looking for a memorable way to spend the afternoon in Killarney, why not try a horse riding tour? Saddle up and discover the countryside of Killarney National Park in a serene and gentle way.
Pass by scenic Lough Leane and towering mountains as you explore the wild terrain on horse back. These guided tours are suitable for beginners as well as experienced riders and all equipment is provided.
26 – Pay your respects at the Monsignor Hugh O'Flaherty Memorial
Monsignor Hugh O'Flaherty was a Killarney native and Vatican priest who saved many lives during World War II. During the early 1940s, the Monsignor organized the escape of over 6,500 people from Nazi-occupied Rome while putting himself at great personal risk.
After the war, he earned the titles Commander of the British Empire and the US Medal of Freedom for his valiant efforts. He was honored with a front-page tribute in The New York Times upon his death in 1963. Visit the memorial to this great man in his hometown of Killarney.
27 – Take a kayak tour of Innisfallen Island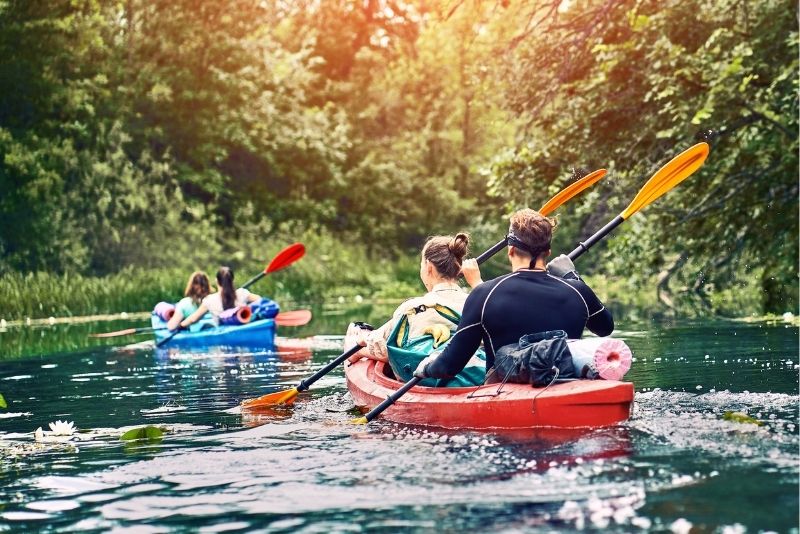 Lough Leane's largest island, Innisfallen, has a fascinating history that is definitely worth exploring. A monastery was founded on the island in the 7th-century and it became a center for learning. The Annals of Innisfallen, which chronicle medieval Irish history, were written on the island.
Visitors to Lough Leane can take a boat trip to Innisfallen Island from Ross castle. More adventurous travelers may enjoy a guided kayaking tour to the island to view its wildlife and ruined abbey.
28 – Catch a concert at St. Mary's Church of Ireland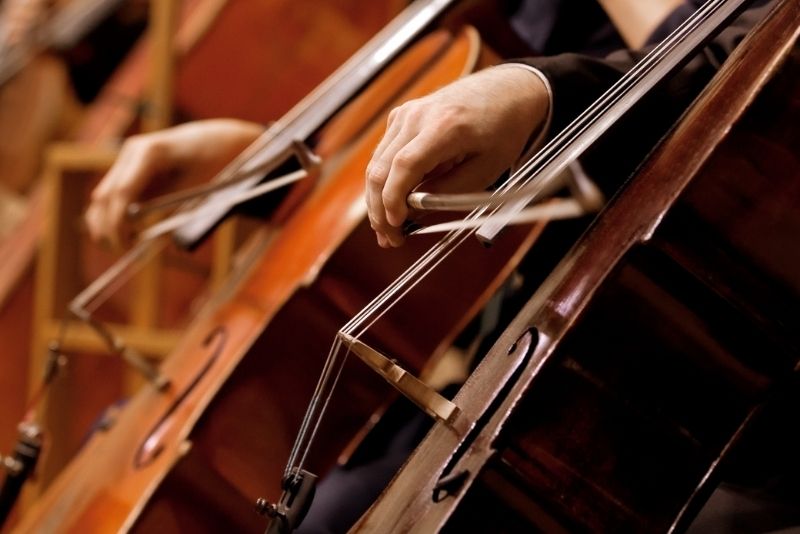 St. Mary's Church, also known as the church of the sloes, sits on a site that is believed to have had a church on it since the year 1200. It is a popular church to visit for its decorative stained glass windows, beautiful interior decoration and traditional organ.
St. Mary's puts on regular free concerts by traveling choirs and orchestras usually through the summer season. Definitely stop into this small but attractive church if you are in the area.
29 – Feed the animals at Kennedy's Pet Farm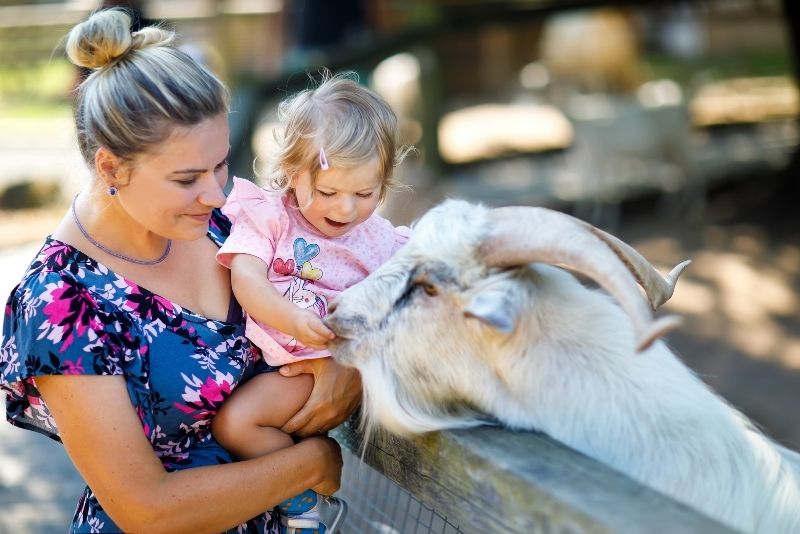 Kids and adults alike will find plenty of fun at Kennedy's Pet Farm. The main attraction is the animals and visitors will have plenty of opportunities to pet, feed and admire them. The farm is home to deer, piglets, horses, calves, lambs, donkeys, ducks and many more.
It also has a number of indoor play areas and undercover attractions making it a perfect rainy day destination. If you're looking for somewhere to take the kids in Killarney, Kennedy's Pet Farm is a great option.
30 – Hike in Gougane Barra on a day trip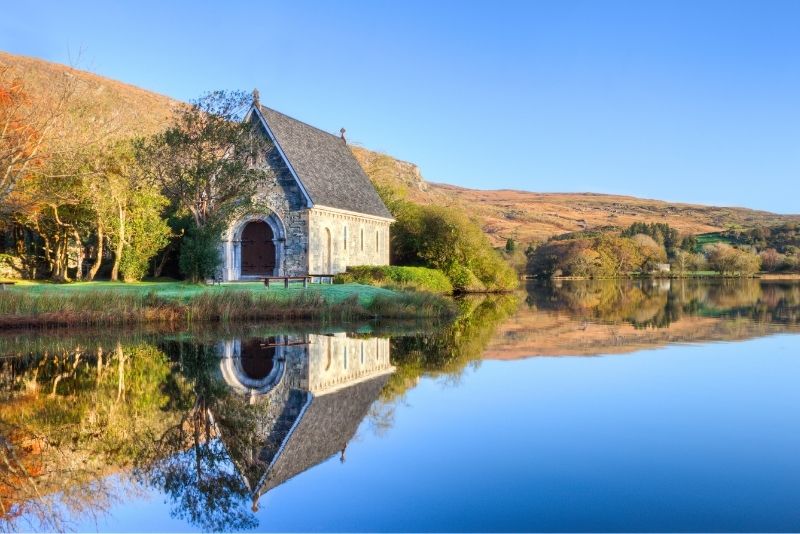 Gougane Barra National Forest Park is really one of the area's hidden gems. Concealed in a valley by the Sheehy Mountains, Gougane Barra encompasses 339 acres of dramatic mountain views, pine forests and lush greenery.
The area is known as the place where St. Finbar, the patron saint of Cork, founded his monastery in the 6th-century. The park has walking trails to follow, one of which, the Slí na Sléibhe trail, offers fantastic views from the mountains above.
31 – Take a "Hawk Walk" at Falconry Kerry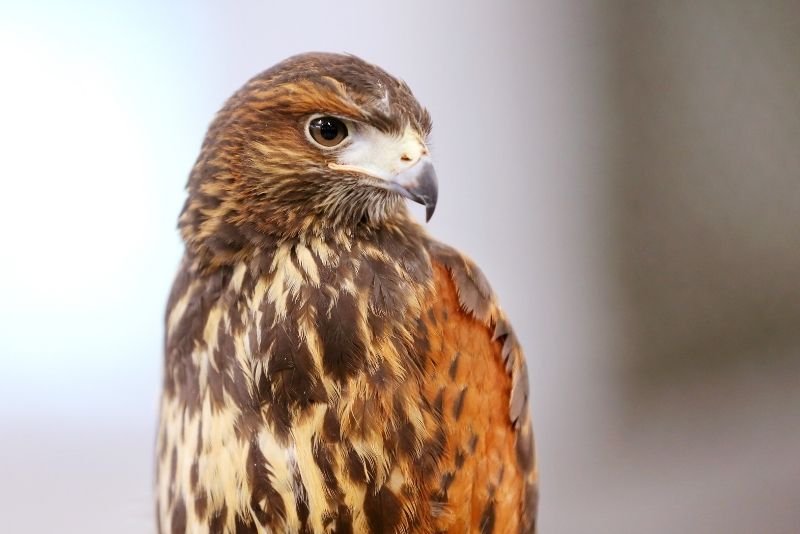 One of the most fun things to do in Killarney has to be taking part in a falconry experience. Grab a rare opportunity to see birds of prey up close and see how they hunt. Discover how they are trained and learn the history of the sport of falconry which goes back thousands of years.
Book a private "Hawk Walk" and try being a falconer for a day. Get to know the birds and have them land on your hand while spending time at a working Irish farm. Young and old will love these once-in-a-lifetime experiences.
32 – Hike Ireland's tallest peak, Carrauntoohil Mountain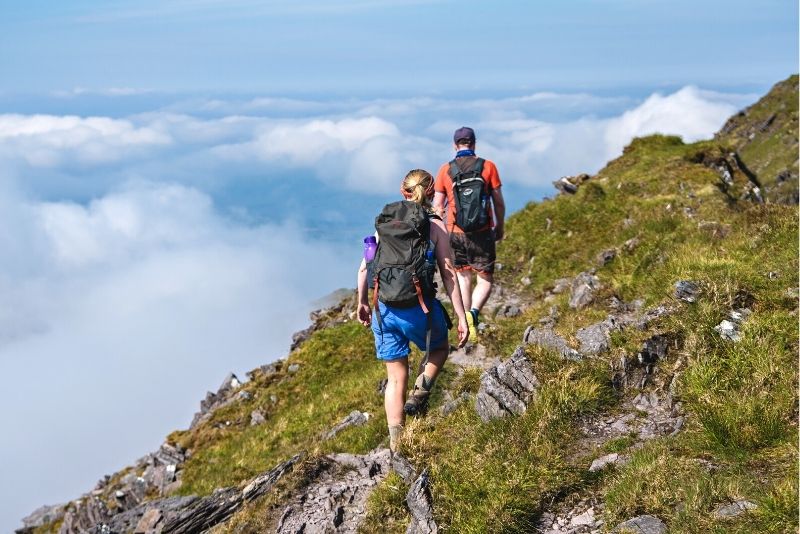 Carrauntoohil is the country's highest mountain and reaches 1,038 meters at its summit. There are a number of routes up the mountain that take between 4-6 hours to complete so be sure to set off early. The climb is challenging but suitable for most people with average fitness levels.
The ominous-sounding Devil's Ladder is the most popular route to the top. For seasoned adventurers, there is a more challenging route that hits all of Ireland's three highest peaks in one shot known as the Coomloughra Horseshoe.
33 – Take a trip to the Meeting of the Waters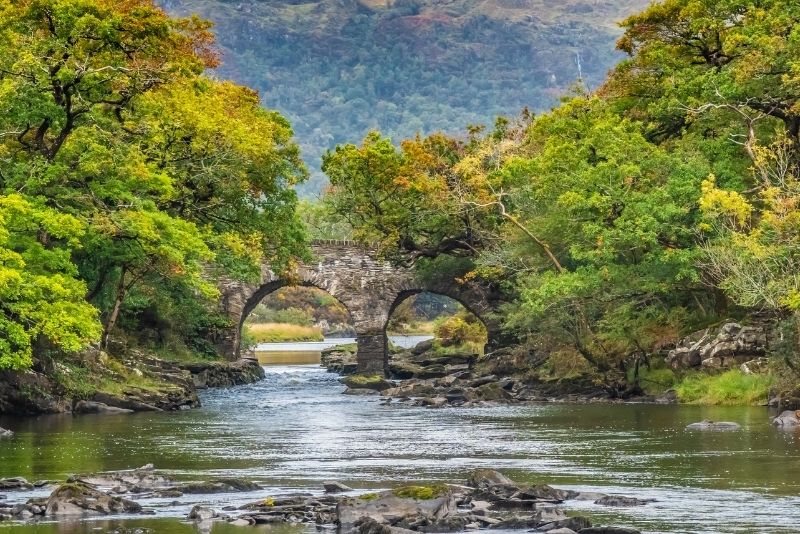 The Meeting of the Waters is a picturesque spot where the area's three lakes, the Upper Lake, Muckross Lake and Lough Leane, all meet. It is a tranquil spot that is a little way off the beaten path and can be reached by means of a short hike or bike ride.
In the area, visitors can see the Old Weir Bridge which is thought to date to the 16th-century, though the actual age is unknown. The nearby Dinis Cottage Tearooms are a great place to stop and grab refreshments en-route.
34 – Relax over tea at Dinis Cottage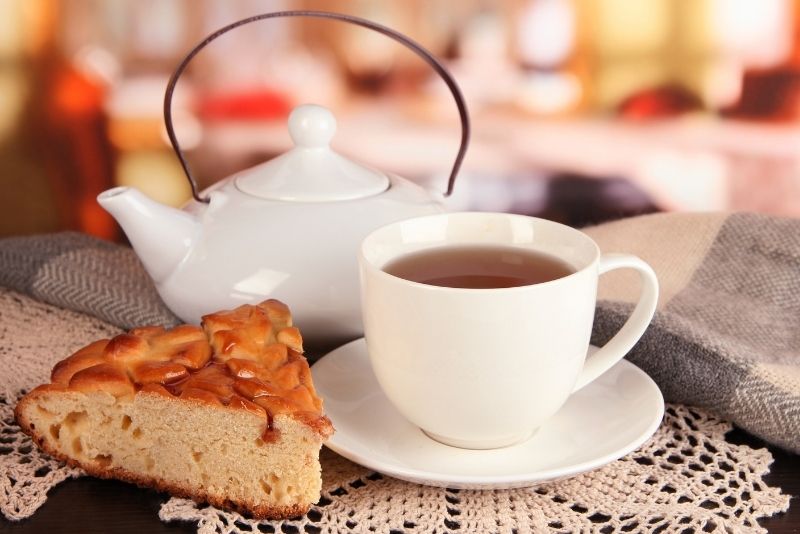 Dinis Cottage has been operating as a Tearoom for over 200 years. The cottage was built by the Herbert family, former owners of Muckross House and the land around it, initially for use as a hunting lodge.
Located on the scenic shores of Muckross Lake, the Victorian tearoom serves a variety of drinks, snacks and refreshments. This is a great place to relax and soak up the ambiance of the area.
35 – Discover more on a walking tour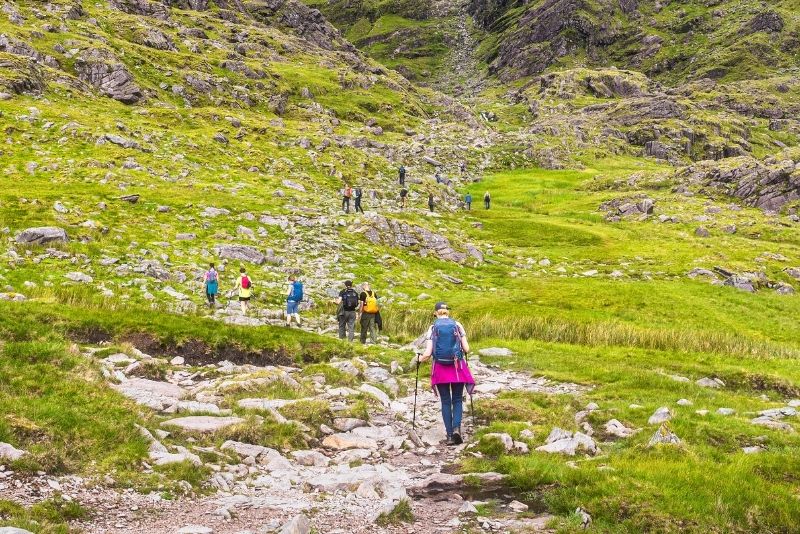 Killarney National Park is one of the most popular hiking destinations in the country due to its mountainous landscape and outstanding natural scenery. There are a number of walking tours to try while in Killarney, some guided and some self-guided.
Taking a guided walking tour of the park allows visitors to see the highlights and learn about the history of the area from knowledgeable and enthusiastic locals. This is a must-do for those seeking a deeper understanding of the region and its people.
36 – Look for deer at Knockreer Estate
The Knockreer Estate is within walking distance of Killarney town center and has a number of good hiking trails as well as the Killarney National Park Education Center. The center is built on the site of the original, and much grander, Killarney House which burned down in 1913.
The circular walking routes offer exceptional views over the lower lake as well as additional trails that lead to hilltop viewpoints. The estate is an ideal place to spot the native red deer that live in the area.
37 – Pick up a memento at Peter Cox Photography Gallery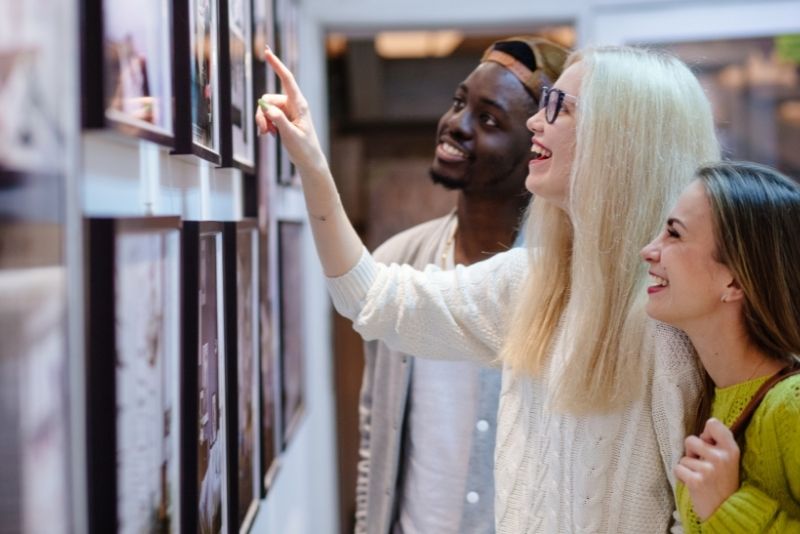 The Peter Cox Gallery displays the photographer's most impressive landscape photographs. Here you will find jaw-dropping images of rugged rocks and violent seas as well as peaceful and dreamy sunrises.
The photographer shoots primarily in Ireland but also shoots in other wild and unforgiving environments including Scotland, Greenland, Iceland and Antarctica. These beautiful prints make an excellent gift or souvenir of your time in Ireland.
38 – Trek to The Devil's Punch Bowl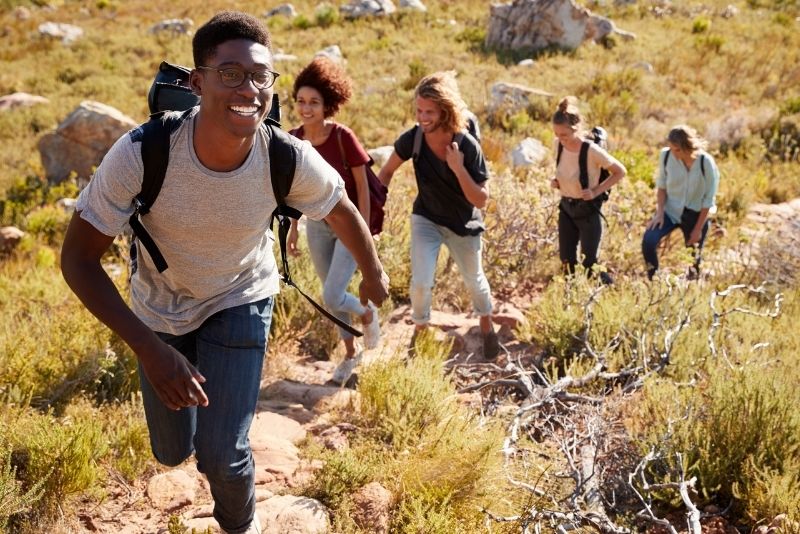 The glacial lake known as the Devil's Punch Bowl sits in a hollow of Mangerton Mountain. The dramatic surrounding scenery has views down to Killarney on a clear day and can only be reached by hiking. For experienced trekkers, the route can be extended past the Punch Bowl and up to the top of Mangerton Mountain.
The views from the top are definitely worth the walk which takes about one and a half hours each way. Weather in this part of the world can change quickly so don't forget your waterproofs.
39 – Go climbing at Tralee Bay Wetlands Eco & Activity Park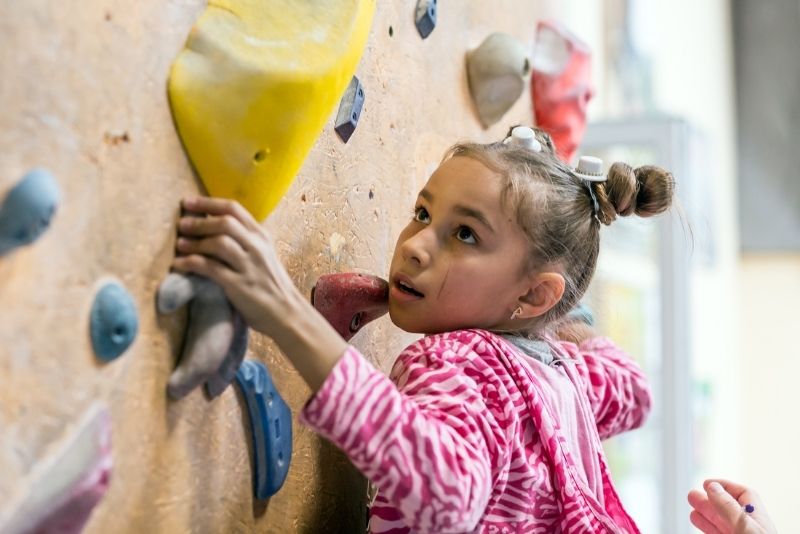 Tralee Bay Eco Park is working to preserve its native coastal and wetland habitats. Here visitors can take a guided or self-guided tour of the park and view wildlife by boat or from its bird hides and observation towers.
It's also a great place to blow off some steam as the park has a bunch of fun activities for adults and children alike. With plenty to choose from including a climbing wall, pedalo boats, water zorbing, playgrounds and bike rental everyone is sure to be entertained!
40 – Hear the bloody history of Listowel Castle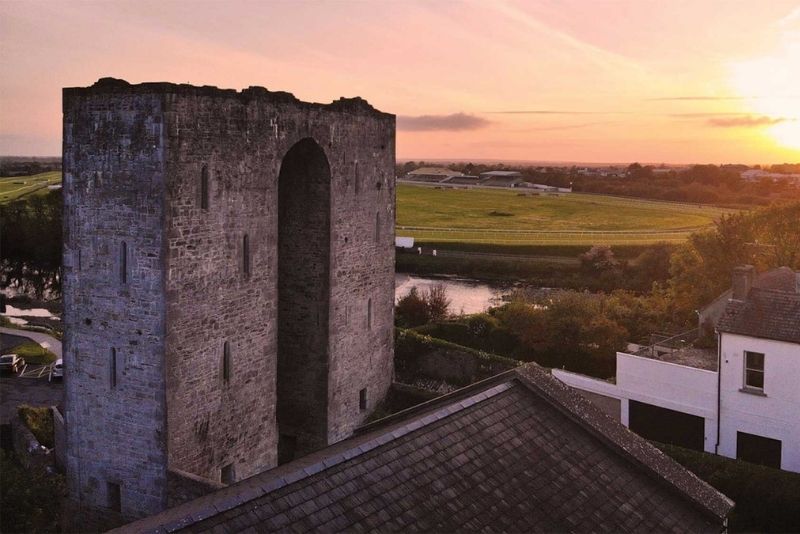 One of the best examples of Anglo-Norman construction in Kerry, Listowel Castle has a grisly history. It sits in a strategic position above the River Feale and was the setting of a long siege and bloody massacre in 1569.
The castle originally had four 15-meter high towers but only two remain. Visitors can explore inside the castle and learn more about it at the Kerry Literary and Cultural Center which is next door. Admission is free.
41 – Meet Dan the Feathers at McCarthy Mor Castle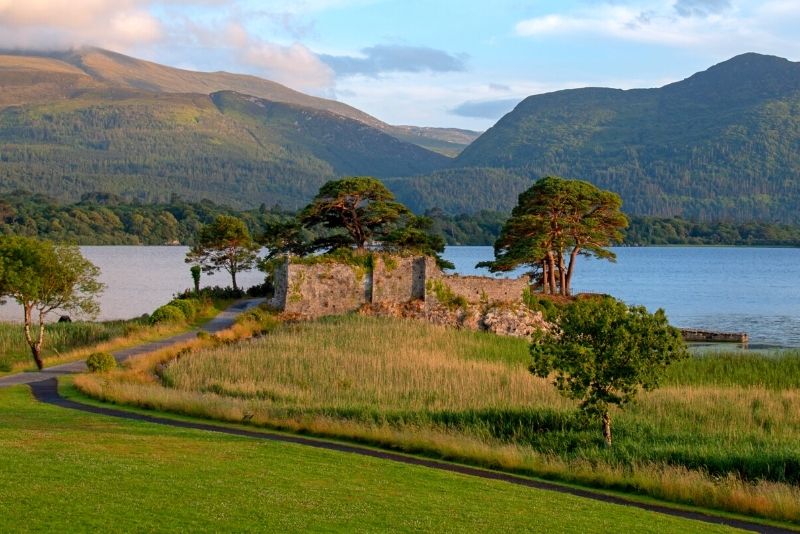 The ruins of the McCarthy Mor Castle sit on the Eastern bank of Lough Lein within the grounds of the Lake Hotel. The castle was once home to Donal óg MacCarthy, also known as Dan the Feathers, who was fond of collecting plumage worn in the helmets of the queen's soldiers.
This historic castle can be viewed from the equally well-known Lake Hotel which dates back to the 18th-century and has hosted celebrities such as Charlie Chaplin and Walt Disney.
42 – Discover The Kerry Creamery Experience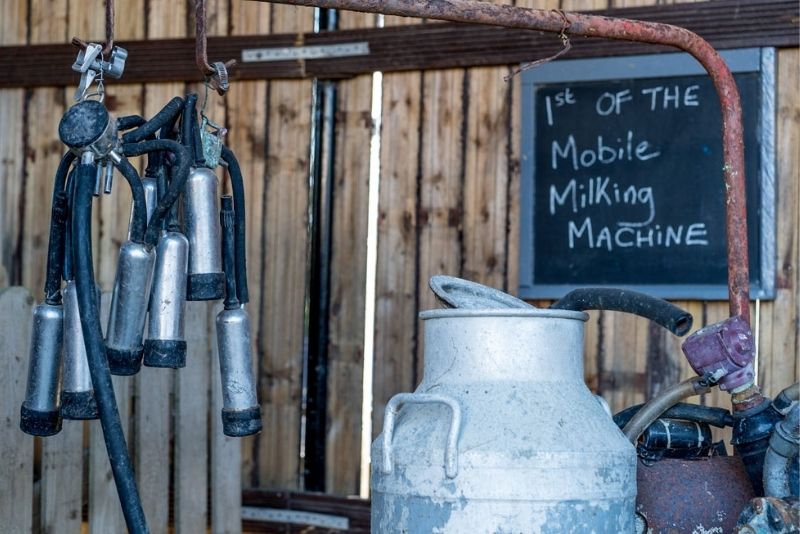 Visitors to the area should definitely check out the first and only creamery experience in Ireland! The Kerry Creamery Experience offers visitors the chance to take a tour and see how the country's creameries used to operate. See the traditional methods used before modern technology took over.
The creamery also has a farm-themed play area for the children and a tea room serving ice cream and traditional sweets.
43 – Try the finest local dishes at Killarney's best restaurants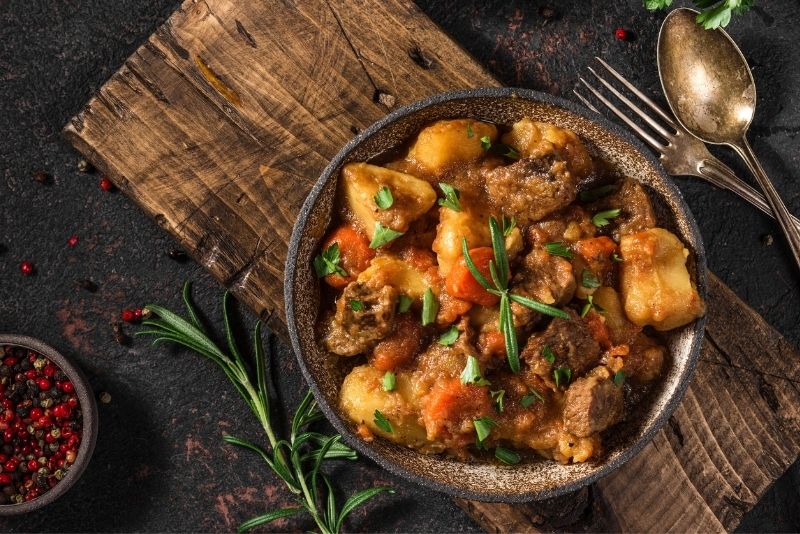 Killarney Town has a great selection of restaurants to choose from whether you're in the mood for casual dining or a more luxurious experience. Bricin Boxty House is the place to go for traditional Irish foods. It has been a Killarney staple for 20 years with its cozy and casual atmosphere.
Other places worth checking out are John M. Reidy's pub, which serves an eclectic mix of global flavors, and Treyvaud's, a family-run restaurant that offers indulgent and unusual dishes. For Lord of the Rings fans, a trip to the hobbit-themed bar and cafe, The Shire, is sure to put a smile on your face.
44 – Taste the "water of Life" at The Irish Whiskey Experience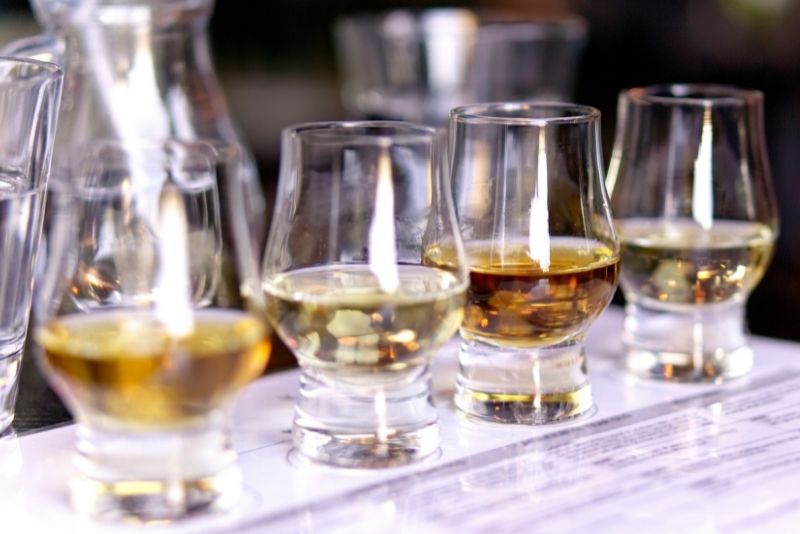 Fancy tasting some of the finest whiskeys around? The Irish Whiskey Experience offers a range of courses that let you sample, create and learn more about the country's finest spirits.
Visitors can sample whiskey paired with local cheeses and artisan chocolates or take a cocktail-making class. Learn about the cask-making traditions or blend your own whiskey under the guidance of master blenders. These courses are great fun for lovers of Irish Whiskey and the art of distilling.
45 – Travel back in time on a Jaunting Car tour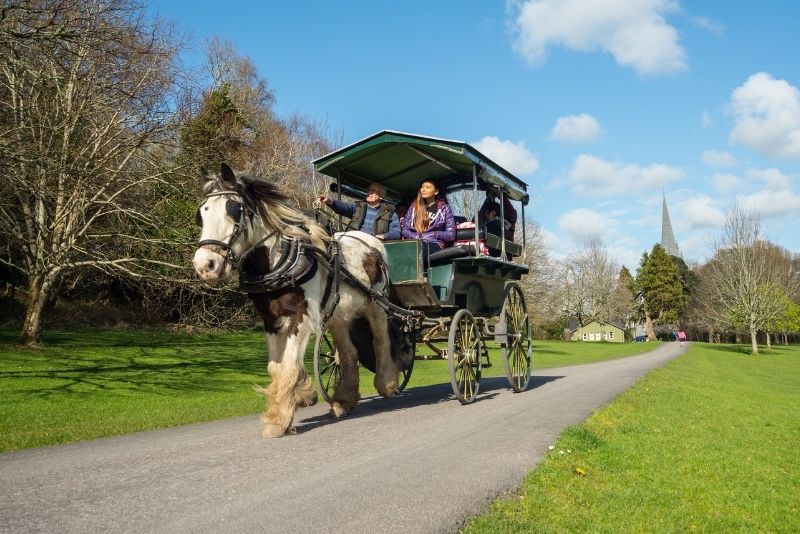 People have been taking jaunting car tours of Killarney National Park for over 200 years. The use of these horse-drawn carriages was popular through the 19th and 20th-centuries and was usually used for a pleasure cruise or jaunt, hence the name.
Tour the sights at a relaxed pace and let your driver regale you with tales of tribal chieftains and savage battles. Look out for wildlife in the park while you travel through this land of ancient castles, lakes and mountains. This is definitely one of the most fun things to do in Killarney!
46 – Take a tasting tour at Killarney Brewing Company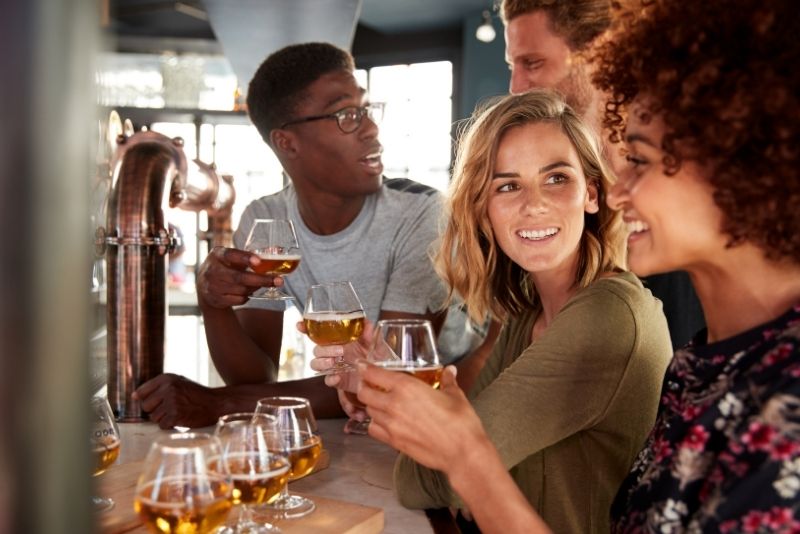 Killarney Brewing Company produces a range of high-quality beers infused with local history and folklore. It produces a range of small-batch beers including IPAs, blonde beers, red ales and stouts. Visitors can take a tour of the brewery which ends with a tasting session and storytelling.
Call in and try one of the craft beers or seasonal specials in the brewery's taproom. They also serve up a variety of tasty wood-fired pizzas to complement the different brews.
47 – Stop for a pint in the Killarney traditional pubs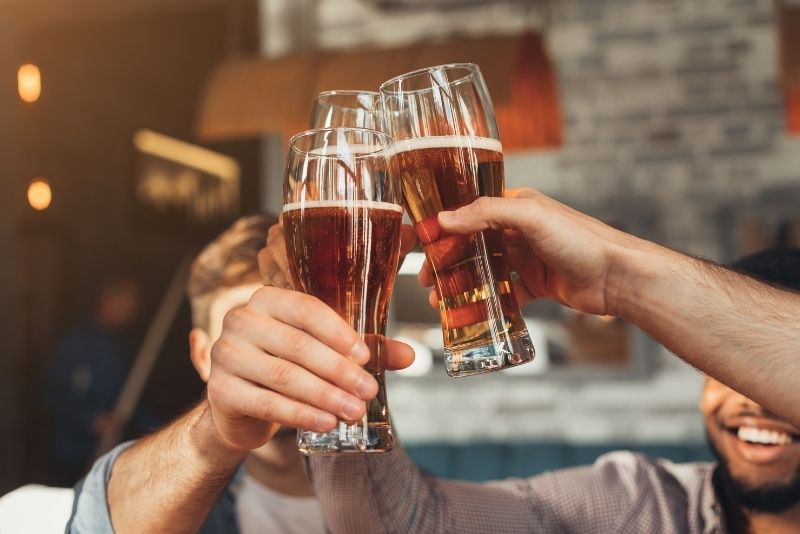 Killarney has great pubs, whether you're looking for a quiet drink in comfortable surroundings, great food, or traditional music you can find it all here. John M. Reidy's and Murphy's Bar are two of the most famous pubs around and both serve a wide array of drinks and great food in a friendly atmosphere.
Courtney's Bar is another Killarney gem and is one of the town's oldest pubs being first established back in the 1800s. If you're looking for live music check out O'Connor's or The Laurels.
48 – Stay in luxury in one of Killarney's castle hotels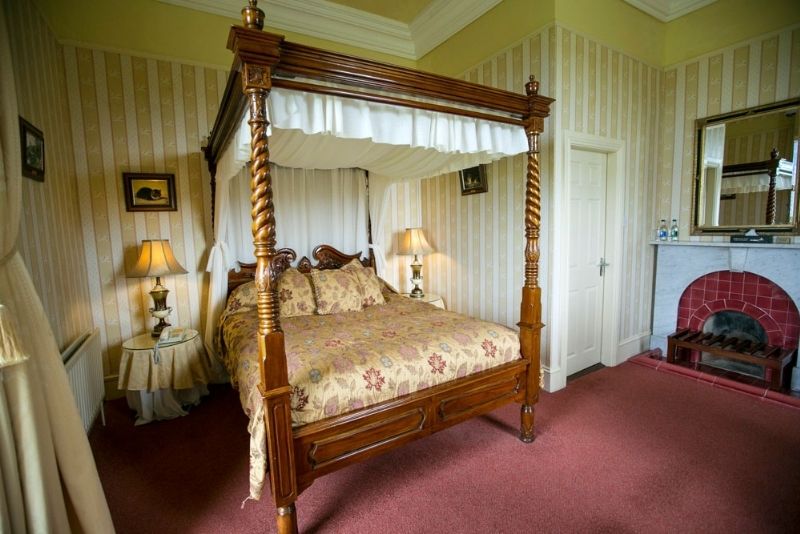 Where better to spend your nights in Killarney than in a castle! Many of the area's historic castles are now luxury hotels that offer a unique lodging experience. Ballyseede Castle, Bunratty Castle and Ballinlacken Castle Country House all have elegant surroundings that are steeped in history.
The Dunloe Hotel stands on the ruins of Dunloe Castle and has fantastic views over the MacGillycuddy Reeks and Purple Mountains. This five-star hotel is luxuriously equipped with a pool, sauna and games room.
We hope you enjoyed reading our selection of fun things to do in Killarney, Ireland. If you have other fun places to recommend don't hesitate to leave us a message.
If you have not booked your accommodation yet, check out the best hotels in Killarney.
Don't forget to book your airport transfers in advance for an easy and stress-free journey.
Happy travels!