Bustling Manchester is considered the capital of Northern England. Its vibrant atmosphere and warren-like streets hold a host of great surprises for the casual explorer. The city has thriving arts and music scenes and has long been one of the UK's creative hubs.
Manchester was the world's first industrial city and has a fascinating history that can be seen throughout the landscape. Historic mills, factories and canals form the backdrop to everyday life as well as grand churches and stunning public libraries.
And of course, there's a lively modern atmosphere here as well; after all, this is the home city of the famed Manchester United and Manchester City football teams, as well as some excellent concert spaces and museums.
It's also great for some more unique adventures, whether you're embarking on a cruise with live singers or dancing at a club where everybody has headphones!
If none of that suits you, you can visit a massive telescope, relax in some beautiful gardens, or even learn about beekeeping!
Keep reading to discover our selection of the best things to do in Manchester!
1 – See the impressive John Rylands Research Institute and Library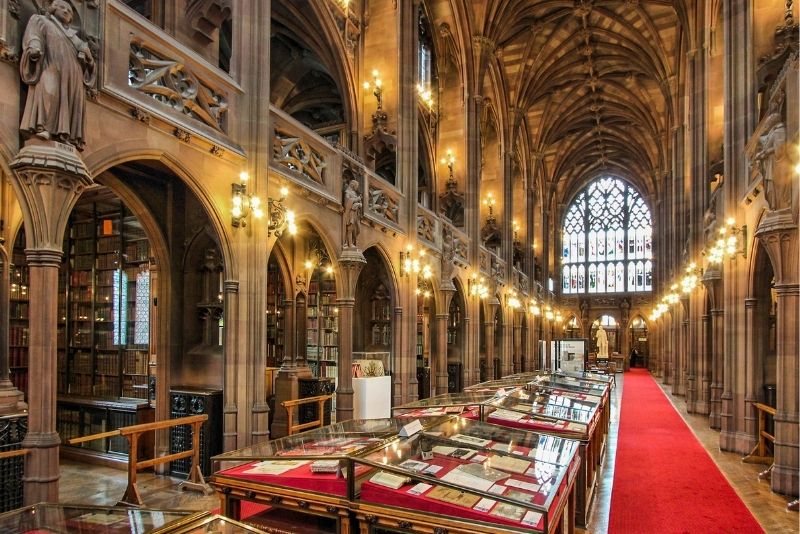 John Rylands Research Institute is an imposing Neo-Gothic building on Deansgate. Step inside and you will notice how overwhelmingly grand this library is with architecture that wouldn't look out of place in a Cathedral.
The library's collection includes the oldest known fragment of the New Testament, illuminated manuscripts from the medieval period and a Gutenberg bible.
2 – Tour Old Trafford, Manchester United's Stadium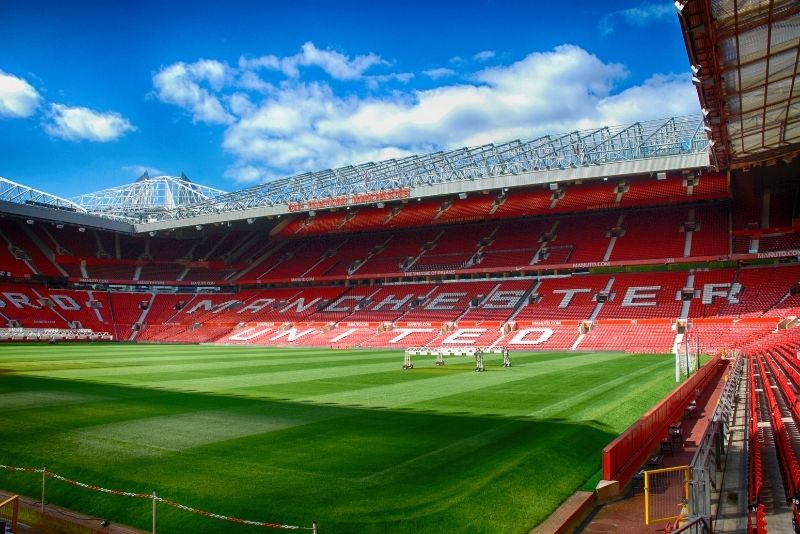 Since 1910, Old Trafford Stadium has been home to Manchester United, England's most successful football team. The club has 20 Premier League wins under its belt and numerous international titles. It has counted some of the all-time football greats in its ranks such as Cristiano Ronaldo, Ryan Giggs and George Best among many.
Visit the grounds and take a tour of the locker rooms, tunnel and dugout. Visit the museum and see the history of the club brought to life. A must for all football fans.
3 – … Or Etihad Stadium, home of Manchester City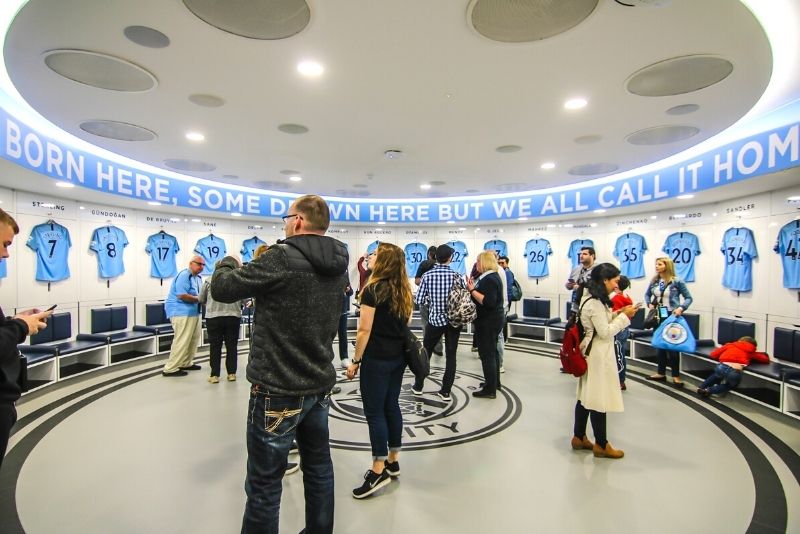 The city of Manchester's loyalty is split between its two biggest teams. Though not as internationally renowned as Manchester United, City has a respectable history of Premier League and FA Cup wins.
Visit the stadium to see a match or take a guided tour and see the pitch, players warm-up area and dressing room. Check out the interactive exhibition to learn the long history of the club and visit the CityStore for shirts and memorabilia.
4 – See the collection at Manchester Art Gallery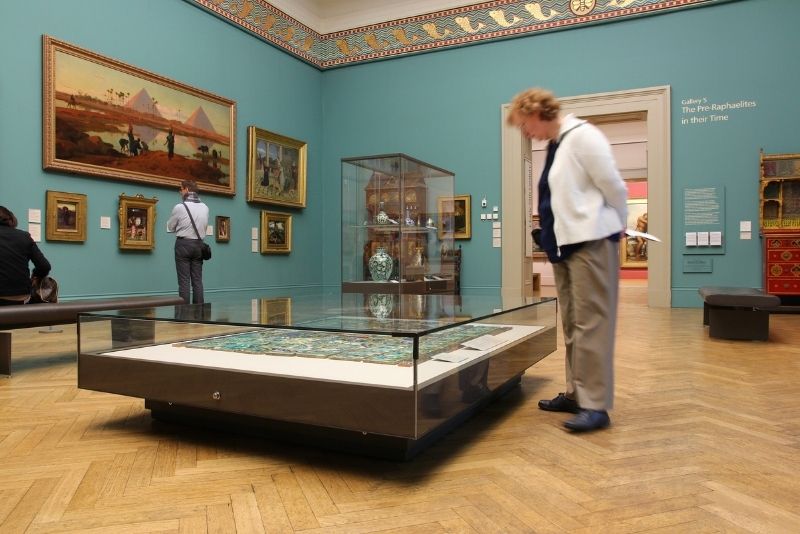 The Manchester Art Gallery has over 25,000 pieces collected over 200 years since the Gallery first opened. The collection includes over 500 sculptures and paintings by renowned British artists like William Turner, John Constable and William Hogarth and Pre-Raphaelite works.
The Museum's exhibits also include craft and design objects like glassware, furniture and wallpaper as well as costumes and clothing items from the 1600s to the present.
5 – Dive with sharks at Blue Planet Aquarium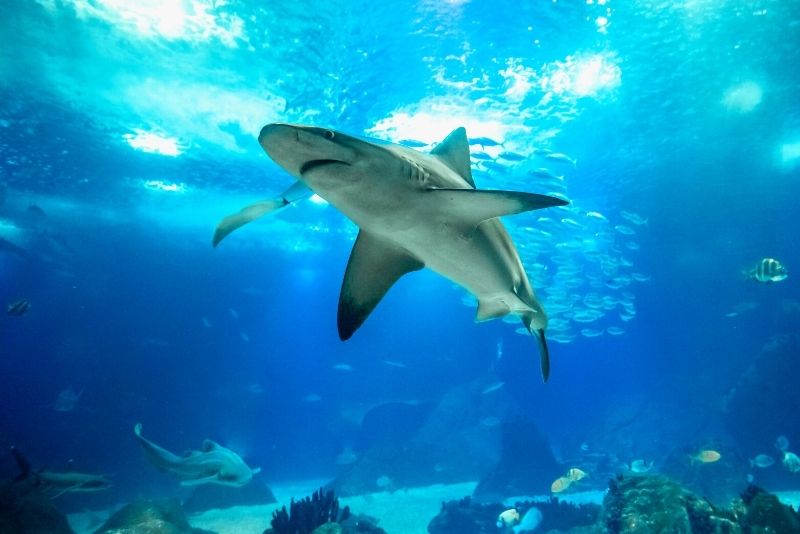 Blue Planet Aquarium is one of the largest in the country and has Marine and Freshwater exhibits. It is home to Europe's largest collection of sharks and has a huge underwater tunnel for observation. Visitors can scuba dive with instructors and meet the aquarium's sand tiger sharks.
Blue Planet has some fascinating displays including replica coral caves, a South American rainforest and a mangrove swamp with crocodiles. It is about an hour's journey from the city center.
6 – See one of the city's oldest churches, Manchester Cathedral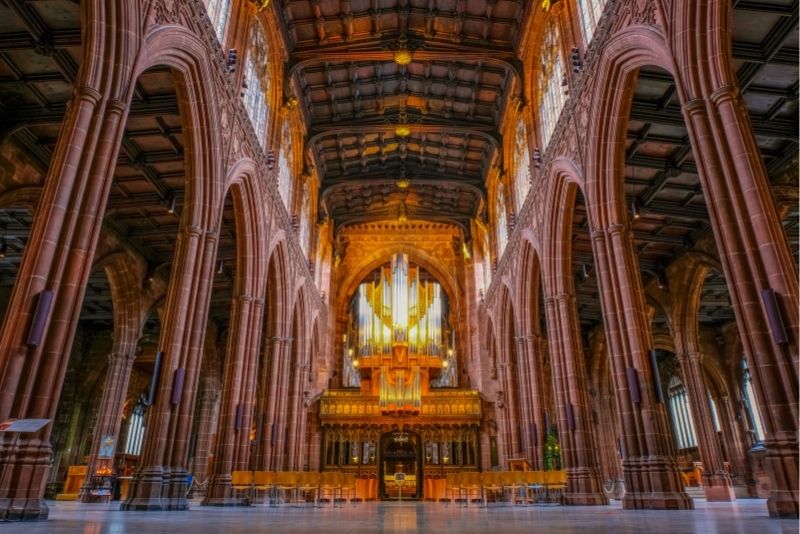 Manchester Cathedral is one of the oldest churches in the city and has a history going back 600 years and more. The nave roof is supported by 14 angels each playing a different golden medieval instrument.
Throughout the years the cathedral has suffered multiple bombings and required extensive rebuilding and replacement of the elaborate organ and stained glass windows. The Cathedral is open every day and admission is free of charge.
7 – Experience the magic of Gulliver's World Theme Park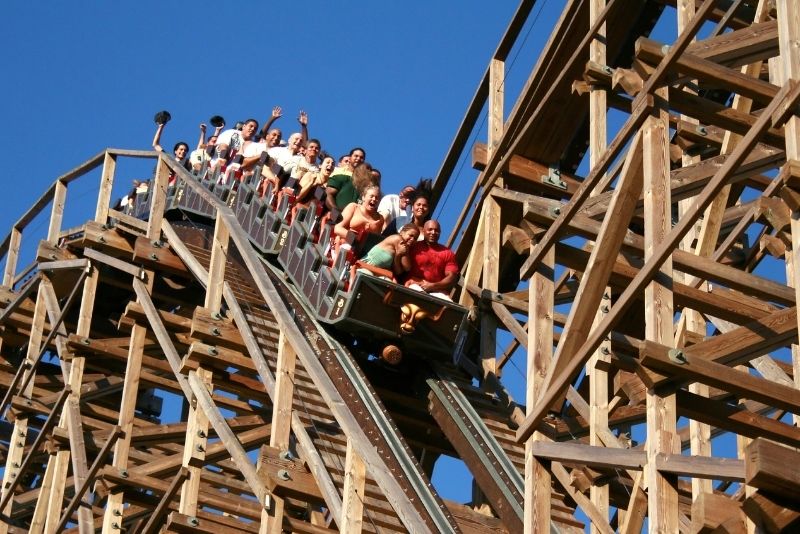 Gulliver's World is fun for the whole family! With over 25 rides across six themed areas, it's especially good for smaller children. There is a traditional wooden roller coaster for the more adventurous visitor and thrilling log flumes, carousels and water rides to enjoy.
The six areas include themed rides based on dinosaurs, pirates, classic fairytales and the wild west. There's also an indoor water park, skating rink and battle arena with laser tag.
8 – Discover the city on a food tour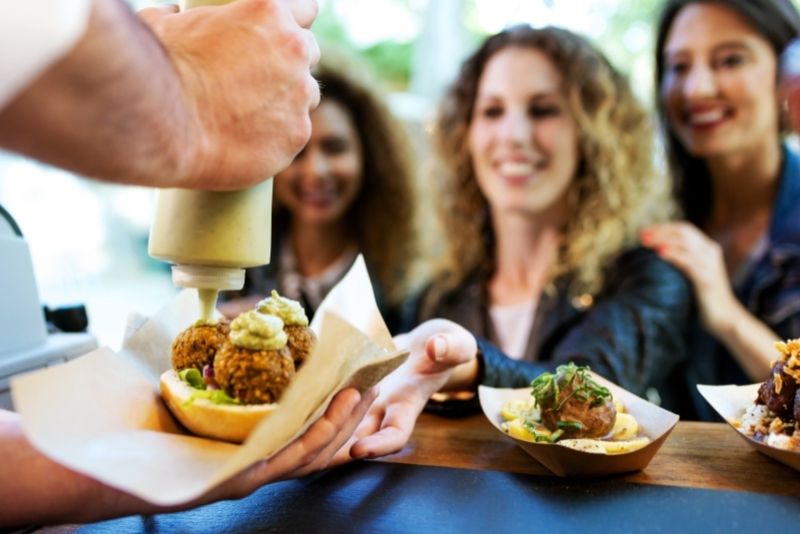 Manchester has so many restaurants, cafes and pubs serving great food that you will never run out of new things to try. The city is always at the cutting edge of culinary trends and you will find dishes from all over the world right on your doorstep.
Whether you enjoy fine dining or street food, meaty feasts or vegan eats you can find it here. Take a food tour to scratch the surface of this bustling city's gastro scene, you won't be disappointed!
The local cheese tastings are also worth a try, as they combine two great experiences in one: delicious food and cool history!
Stop by some of the best cheesemonger shops in town, and tuck into a whole range of curds, slices, and squares – it's a perfectly tasty day out!
9 – Relax in Cathedral Gardens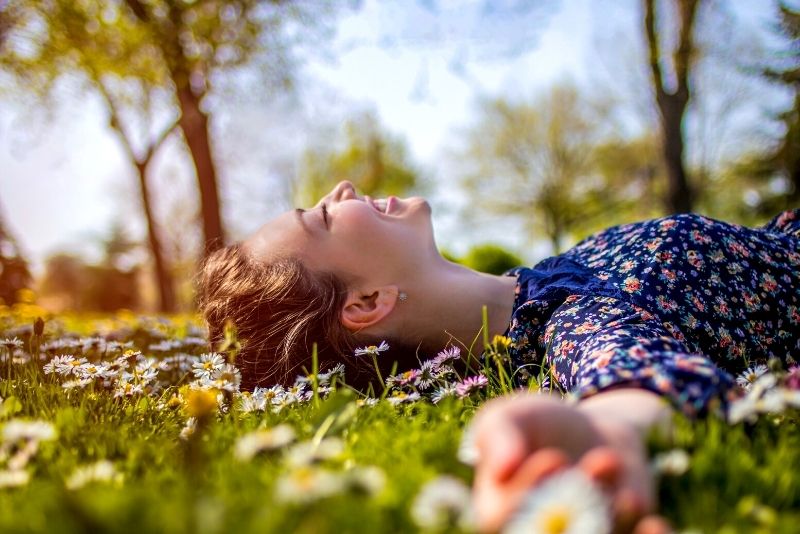 Looking for a place to relax in the city center? Cathedral Gardens is a good choice. The gardens are right outside the Football Museum and play host to regular events throughout the year.
Take a stroll or rest on one of the benches to watch the world go by. Cathedral Gardens is in the city's Medieval Quarter close to the popular Corn Exchange and Printworks shopping and entertainment centers.
10 – See revolutionary inventions at Science and Industry Museum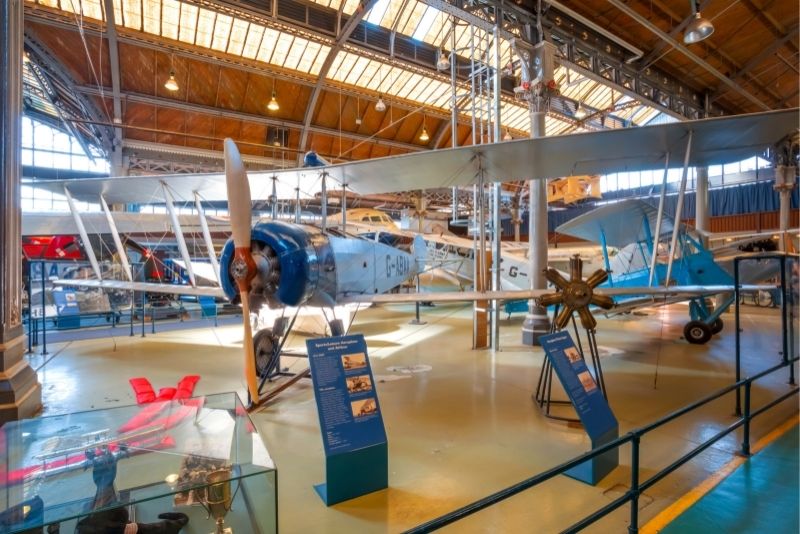 Manchester is considered the world's first industrial city. Its textile industry boomed in the early 19th century and the city attracted industry of all kinds including the first inter-city railway carrying passengers and goods.
The Science and Industry Museum follows the city's development from the Industrial Revolution to modern times. It has fascinating exhibits including early steam engines, a cotton mill and the Manchester Baby, the first computer that could store and run a program.
11 – Take a day trip to the Yorkshire Sculpture Park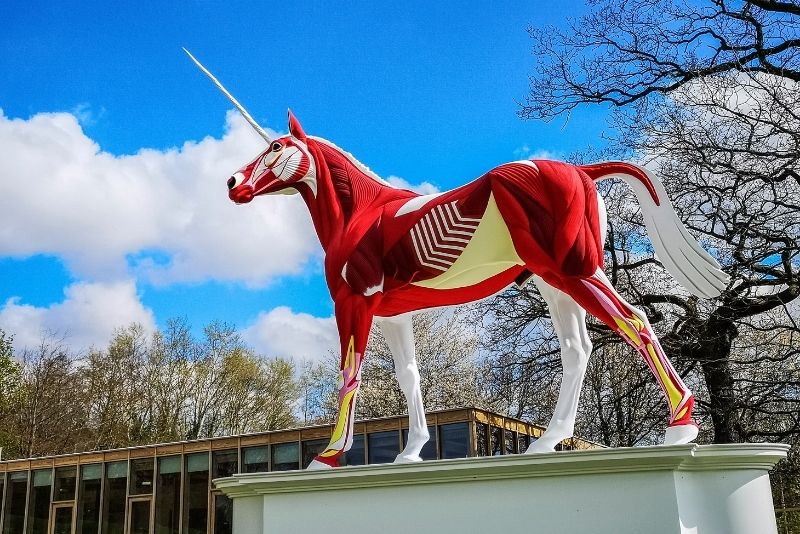 The Yorkshire Sculpture Park is a great day out from Manchester. It has a series of large outdoor sculptures set in the rolling grounds of Bretton Hall. There are extensive woodlands,  meadows and trails to explore with large ponds and abundant wildlife.
YSP has sculptures by famous British and international artists and a rotating program of exhibits. There is also a modern indoor gallery to enjoy as well as a restaurant and arty gift shop.
12 – Take a canal-side stroll at Castlefield Urban Heritage Park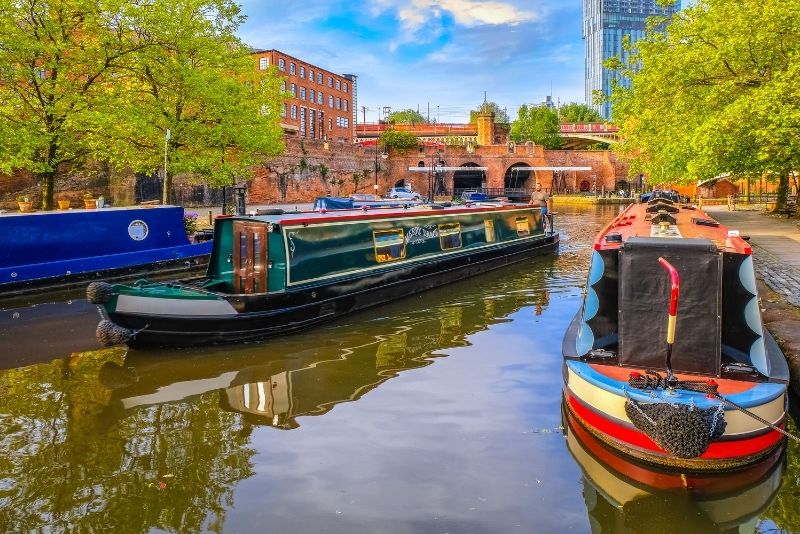 Castlefield was the world's first urban heritage park and is a great place to visit on a sunny day. The canal sides have a series of towpaths that lead visitors by bridges, small pubs and picturesque canal boats.
The area has a reconstructed gateway and ruins of a Roman fort called Mamucium. The area was an industrial hub from the 1700s and there are a number of restored Victorian warehouses as well as the Science and Industry Museum.
13 – See the sights on a bus tour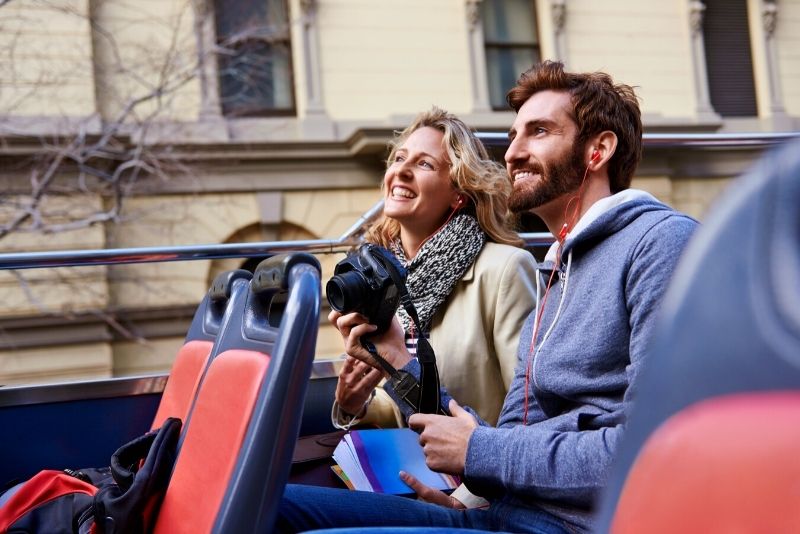 Why not take a hop-on-hop-off bus tour and visit all the city's major landmarks. See the Town Hall, National Football Museum, Old Trafford Stadium and more. Get on and off as many times as you like and explore the city at your own pace.
Listen to the audio commentary as you tour the sights. See the Imperial War Museum and Salford's MediaCity which is home to the BBC and ITV studios. This is definitely a fun thing to do in Manchester.
14 – Visit the Alan Turing Memorial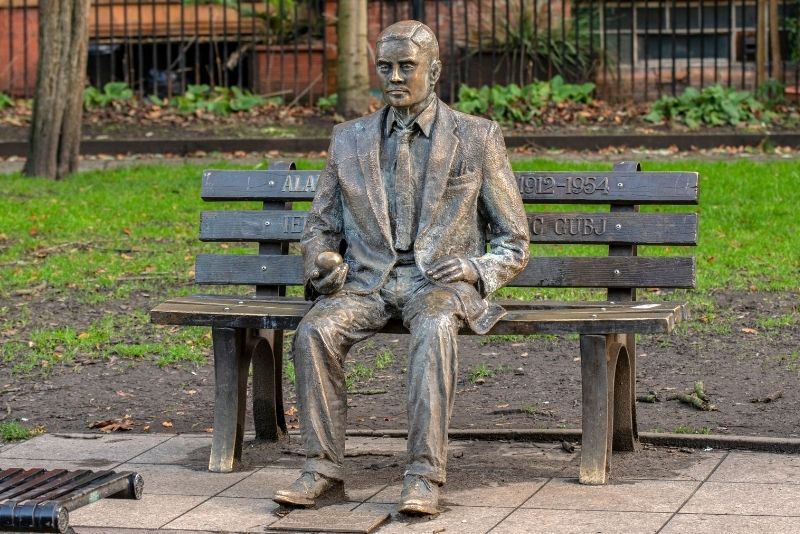 The memorial to Alan Turing is in Sackville Park, outside the University of Manchester where he worked and nearby Canal Street and the Gay Village. Turing was one of the most brilliant minds of the 20th century and is considered to be the father of modern computer science.
He worked as a codebreaker during World War II and his efforts were essential in helping the Allies win the war. He was persecuted in his lifetime for being gay and died of cyanide poisoning at the age of 41. The seated statue holding an apple honors his legacy.
15 – Explore one of the great stately homes at Chatsworth House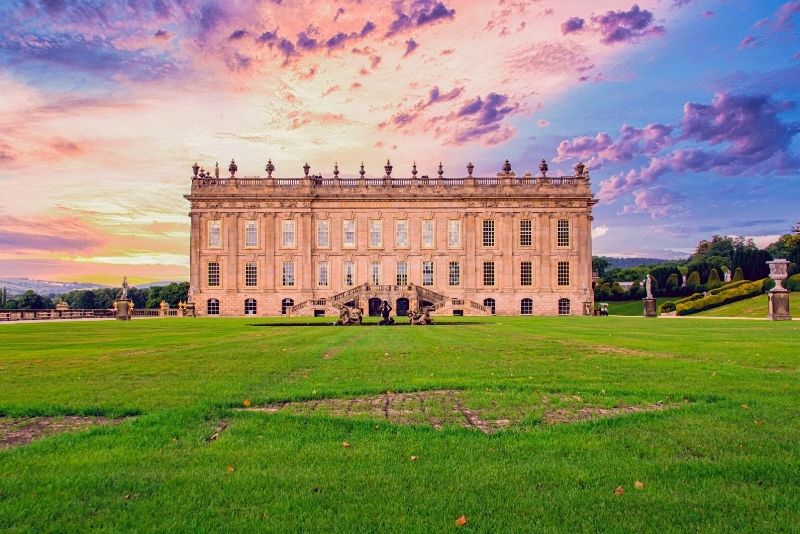 Chatsworth House is an impressive and well-preserved stately home that dates from around 1560. It is the home of the Duke and Duchess of Devonshire and has belonged to 16 generations of the Cavendish family.
It is mentioned in the novel Pride and Prejudice and was used as a filming location for the 2005 movie adaptation. Visitors can tour the house and gardens and there is a shop, restaurant and cafe.
16 – Treat yourself (and your senses) to some Candlelight Concerts
Need a more relaxed option for your evening? Try one of the Candlelight Concerts!
hese are an awesome way to enjoy some world-class musical performances in a beautiful setting; as the compositions wash over you, you can also enjoy the warm glow of the candles surrounding the stage.
With a wide array of genres and venues, each program is an experience unto itself – and all are worth seeing!
17 – Explore Dunham Massey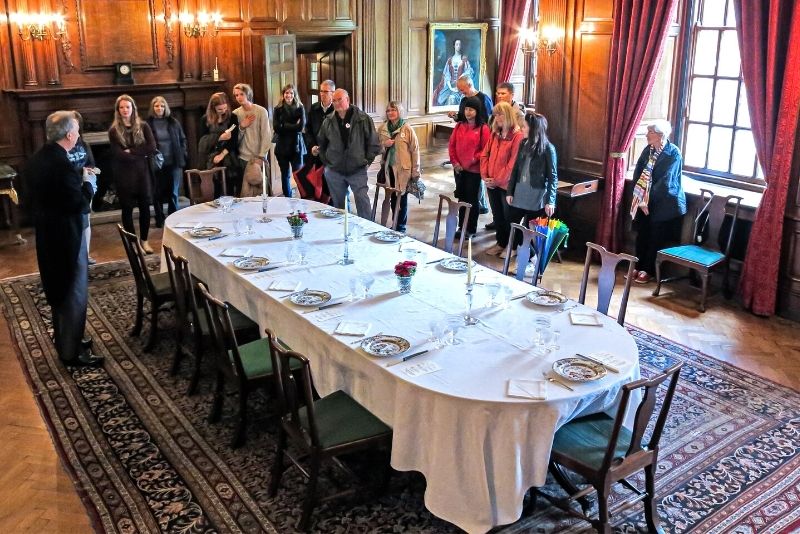 Dunham Massey is an Elizabethan country house with extensive gardens and an ancient walled deer park. The house has been inherited by generations of Earls of Stamford and Warrington. It served as a hospital during World War I.
Take a walk around inside and see the impressive collections of silverware, artworks and furniture that the family amassed including portraits of family members.
18 – See historic carriages at Museum of Transport, Greater Manchester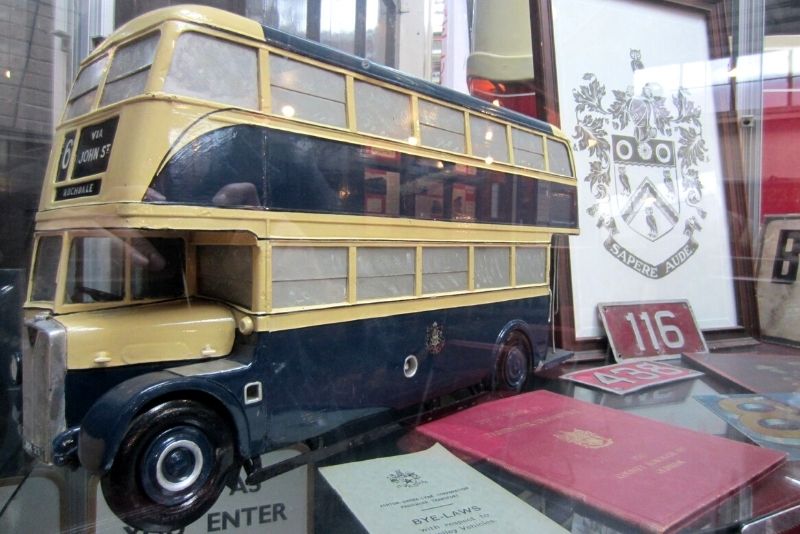 The Museum of Transport has to be one of the most fun places to visit in Manchester. The city's historic buses, trams and horse-drawn carriages are preserved here for all to see. The collection is displayed in a working bus garage from the 1930s.
There is a shop and period tea room which serves light meals and snacks. the museum runs a free bus service from Shudehill interchange. You can check the website for more details.
19 – Get to know the city with a scavenger hunt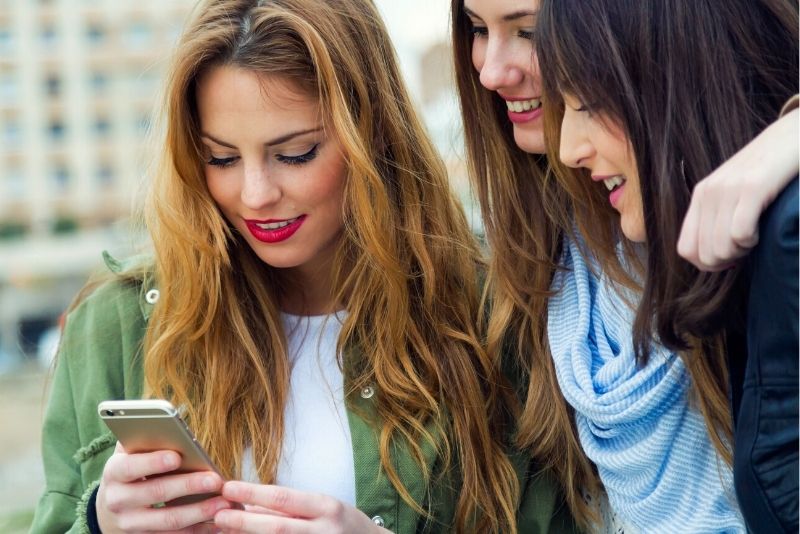 If you're looking for a fun way to discover Manchester, why not try a scavenger hunt? Use an app to tour around the city observing what others miss. Work in a team to follow clues and solve puzzles all at your own pace.
Discover new places in the city and learn interesting facts and fascinating history of the different sites you visit. A scavenger hunt is a great way to see the city in detail and notice the things that others do not.
20 – Shoot some hoops at Platt Fields Park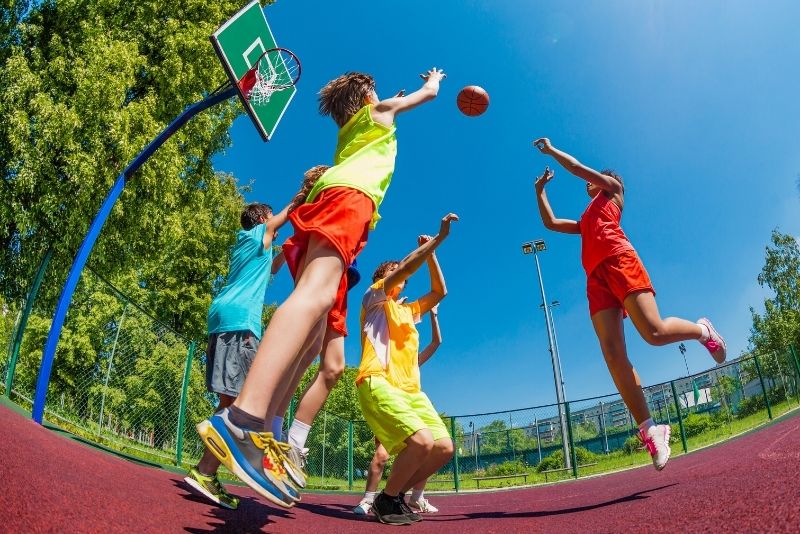 Platt Fields Park is one of the best places in the city to visit if you're into sports. The area has a lot of facilities including a basketball court, BMX track, skatepark, bowling green and cycle paths.
You can also find the elegant Platt Hall situated in the park grounds which is home to the Manchester Gallery of costume. The gallery is a small museum dedicated to costumes and accessories from the 17th-century onwards. Admission is free of charge.
21 – Tour The Monastery in Manchester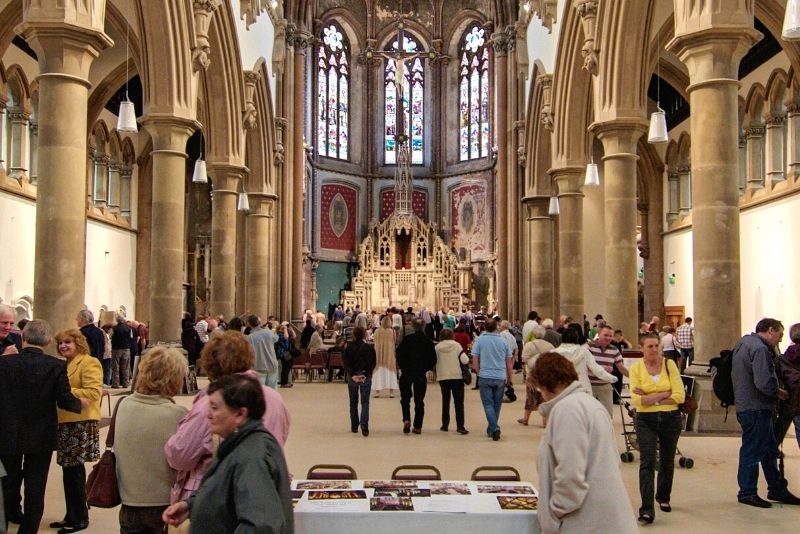 The Monastery was built by Franciscan monks in the mid-1800s in an era of Victorian Gothic revivalism. It operated as a place of worship for over a hundred years but eventually fell derelict. It was bought in 1996 and gradually renovated by a team of volunteers.
The restored monastery is now a venue for weddings, celebrations and activities such as dance and Tai Chi classes as well as food fairs. You can take a guided tour of this magnificent building and learn more about the Franciscan order who created it.
22 – Go wild at Inflata Nation Manchester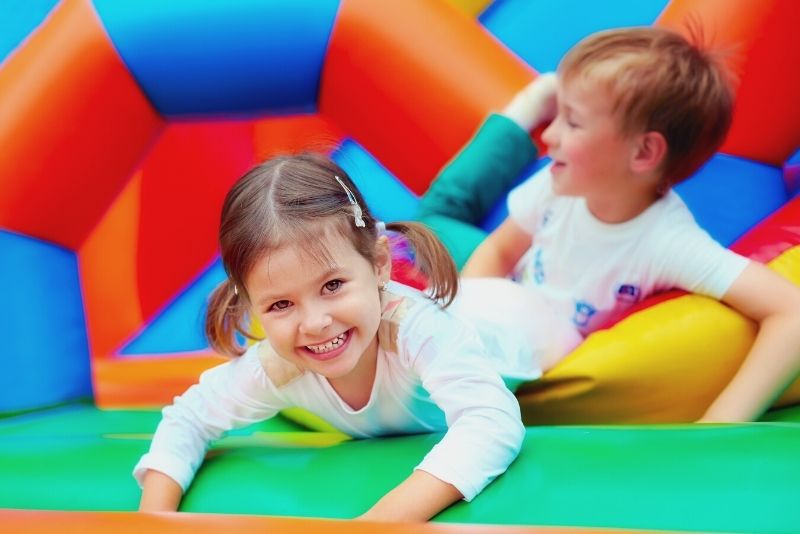 InflataNation is Manchester's silliest theme park. Cram packed with inflatables, this huge arena is just the place to visit on a rainy afternoon. This double-decker park has slides, ball pools and bouncy bubbles that the kids will love.
Ride the vertical drop slides or put on a harness and freefall bungee jump from a platform. Challenge each other in the ninja warrior-style Inflata Race or duel it out on podiums. there's lots of fun to be had here.
23 – See the colorful side of the city on a street art tour
Manchester's hip Northern Quarter is the place to find the best of the city's street art. The district was once rundown and in disrepair but since the mid-90s has become the city's bustling center for artists and creatives.
See the city's best murals and learn the history behind some of the most important pieces on a street art tour. A local guide will bring you up to speed on the major cultural events in the city's past.
24 – Learn about beekeeping at Wythenshawe Park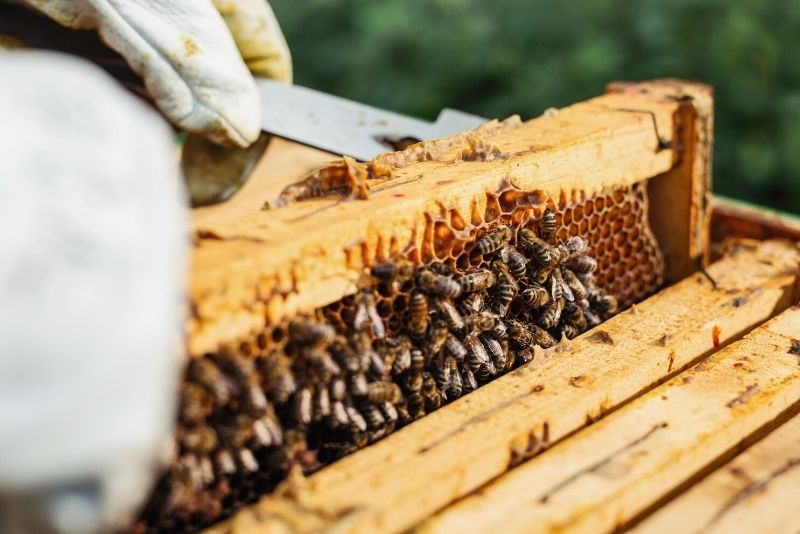 The worker bee has been an emblem of the city of Manchester for over 150 years. It represents the city's bustling hive-like atmosphere and a sense of unity. So what better place to learn about beekeeping than in Manchester?
Wythenshawe Park has a dedicated bee club that offers year-round fun activities and tuition. The park also has historic woodlands, sports facilities and a horse riding school. There is also a community farm with cows, sheep and ducks.
25 – See the magnificent Manchester Central Library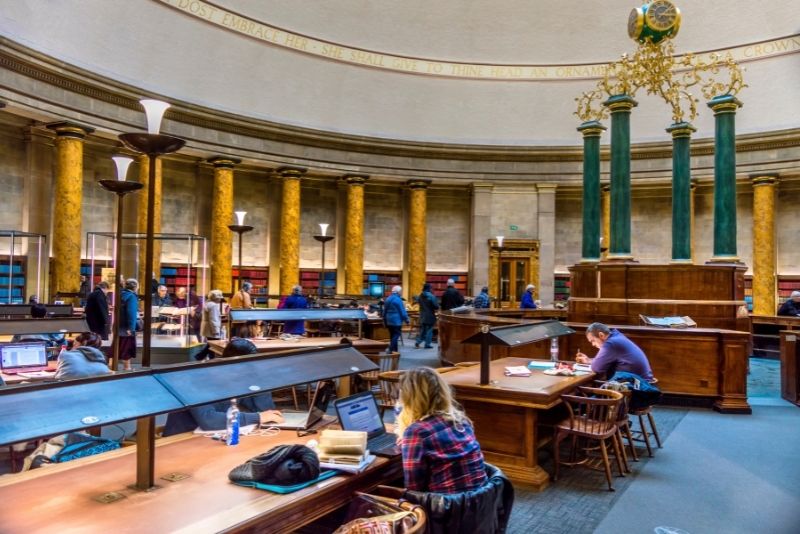 Manchester Central Library is the second-largest public library in Britain. Its huge reading room on the first floor has specially designed seating for up to 300 people and an impressive domed roof.
The library has long been a favorite local meeting place and the city's famous trams stop almost directly outside. There's an exhibition room on the first floor, a cafe and even a shop selling cards and gifts.
26 – Take a day trip to the Lake District National Park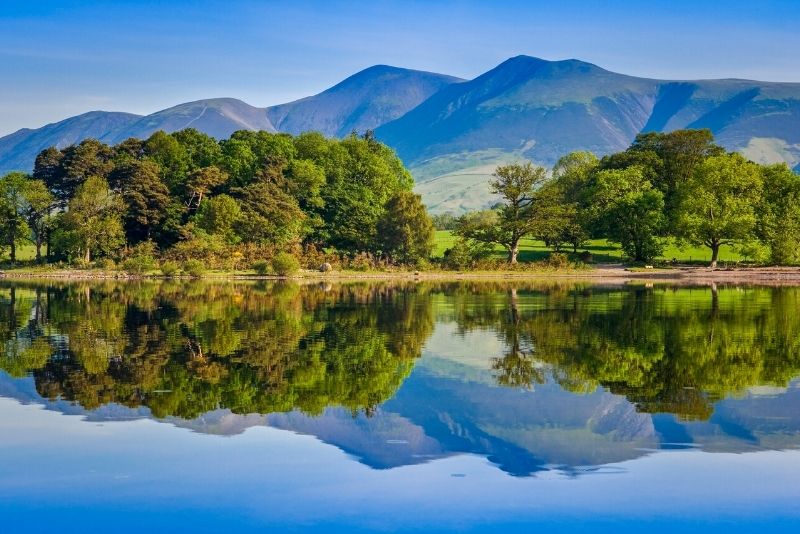 The Lake District National Park is one of Britain's most picturesque landscapes and home to Scafell Pike, the tallest mountain in England. The area is characterized by rolling green hills and expansive lakes. It has been the inspiration for poems by William Wordsworth and illustrations by children's author Beatrix Potter.
The Lake District has many attractive villages to explore and winding country roads with picture-perfect scenery. Don't miss this on your trip to Manchester.
27 – Eat and shop in Chinatown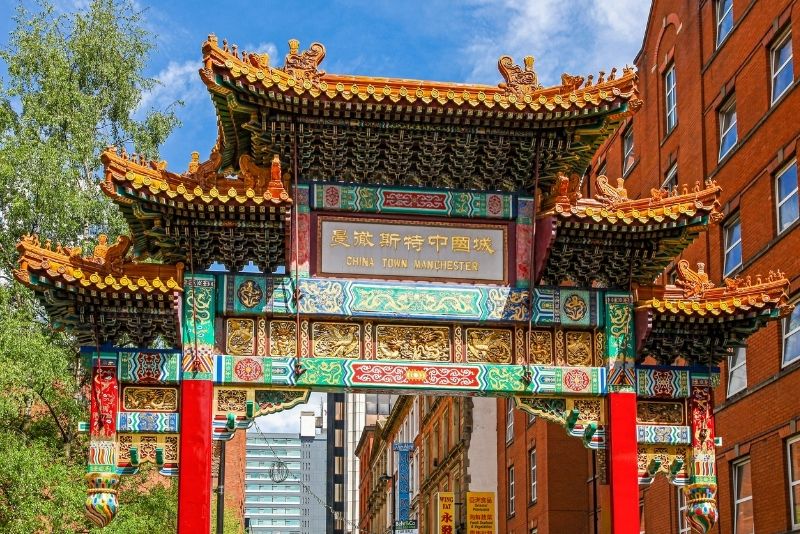 Manchester's Chinatown is the second-largest in the country after London. Head down Faulkner Street and you can't miss the beautiful wooden "Paifang" archway which was erected in 1987 as a gift from the city council.
In the area, you can find a variety of Chinese businesses, restaurants and supermarkets as well as Japanese, Korean, Vietnamese and Thai places. Chinatown is in the very heart of the city with Picadilly Gardens to the North and the Gay Village to the East.
28 – Learn about every day struggles at the People's History Museum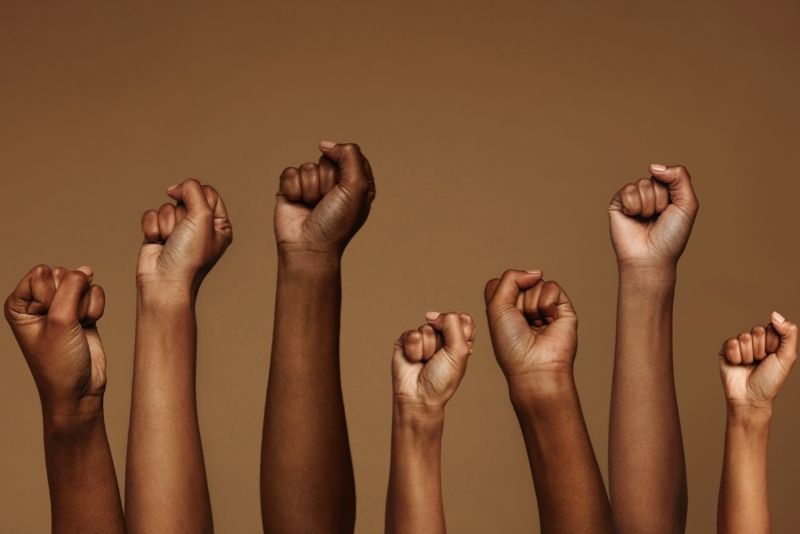 The Peoples History Museum gives us a fascinating look at the radicals, revolutionaries and ordinary people who fight for equality and rights. The museum covers a broad spectrum of purposes from industrial strikes to environmental struggles, migration and gay rights.
The collection contains over 450 banners, including the world's oldest trade union banner from 1821. The museum presents the history of the country's people and democracy in a relevant and contextual way.
29 – Take a musical Manchester boat tour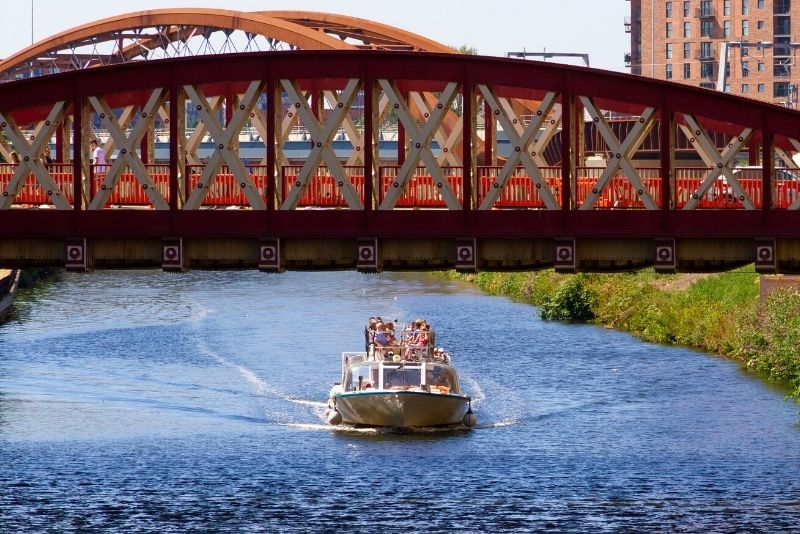 What better way to see the city than on a boat tour along the Manchester Shipping Canal straight into the industrial heart of the city. See the factories and mills that gave the city the nickname "workshop of the world". Travel through new developments like Salford's media city and see Manchester United's "theater of dreams" stadium at Old Trafford.
Evening tours with live singers are available. Hear the hits of Elvis, Frank Sinatra and the Rat Pack while you cruise the city's colorful waterways.
30 – Solve puzzles with your friends at The Crystal Maze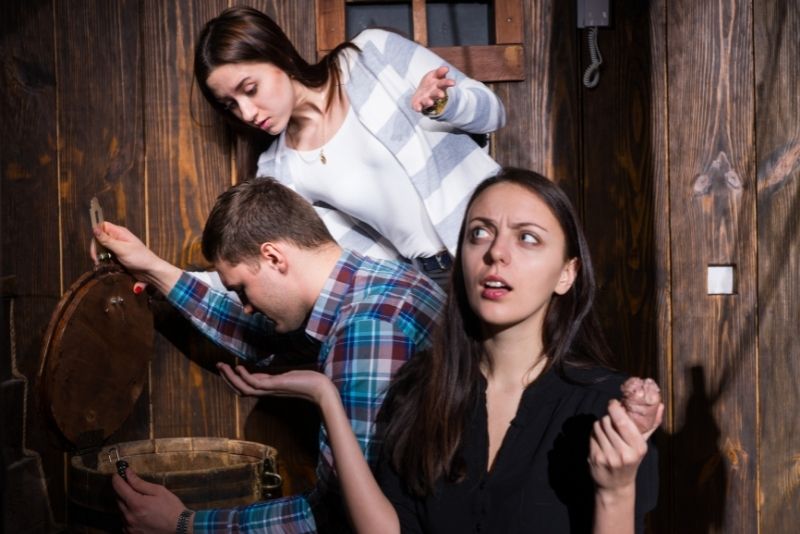 The Crystal Maze is one of the best-loved TV shows of the 90s and now you can take part in it too. Gather your friends and family and try to beat the Maze! Solve puzzles and defeat mental and physical challenges to get the highest score.
Visit the Medieval, Aztec, Futuristic and Industrial zones to collect the crystals and beat the clock. The more crystals you collect the more time you get to spend in "the Dome". This is, without doubt, one of the most fun things to do in Manchester.
31 – Support local artists at Manchester Craft and Design Centre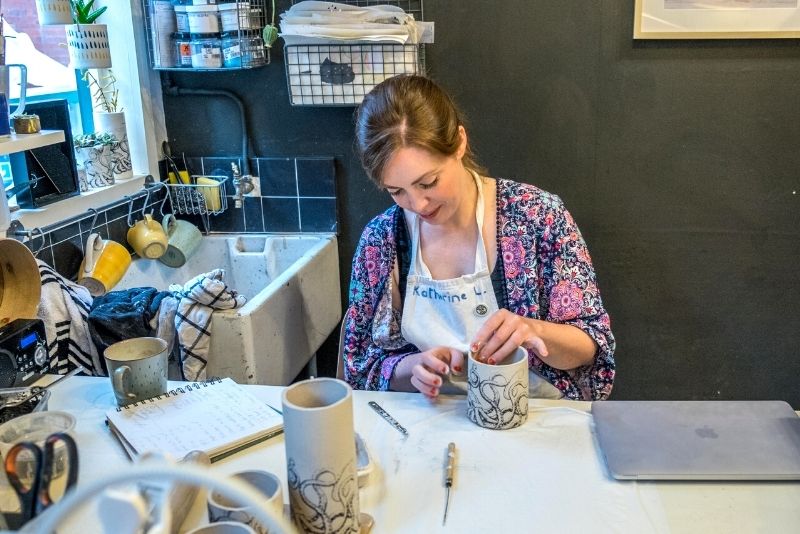 Based in the old Fish Market on Oak Street, Manchester Craft and Design is a great place to pick up bespoke gifts or personal items. It offers studio spaces to makers and you can find a wide range of special one-off handcrafted pieces there.
Whether you're looking for glassware, ceramics, jewelry, clothing and textiles or illustrations you can find it here. Alternatively, speak to the artists and request truly unique pieces. This is one of the best independent spots in the city to pick up gifts.
32 – Relive the glory at the National Football Museum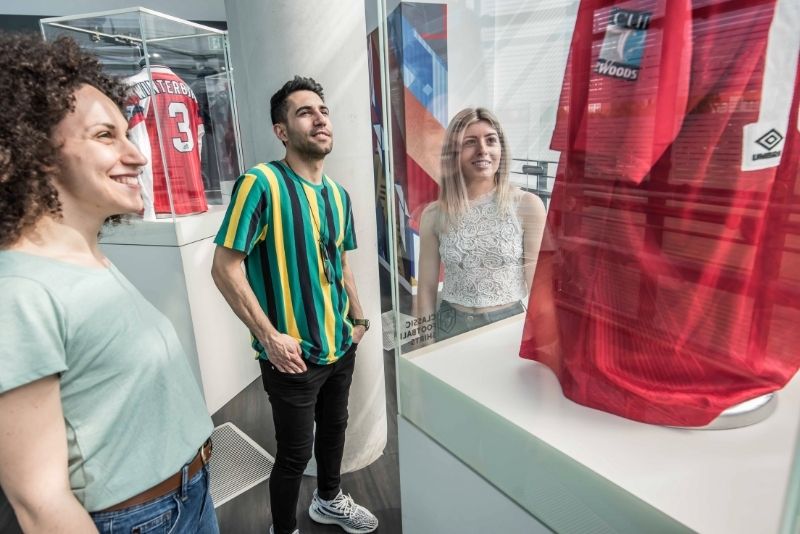 The National Football Museum is an exhibition covering the evolution of the game from the 1860s to the present. See trophies and memorabilia from the FA Cup and Premier League as well as its 1966 World Cup trophy.
Play interactive games and revisit the ups and downs of famous matches. See how the game began in humble surroundings and expanded to become the most popular sport worldwide. A must for sports fans and lovers of "the Beautiful Game".
33 – Spot wildlife at Fletcher Moss Park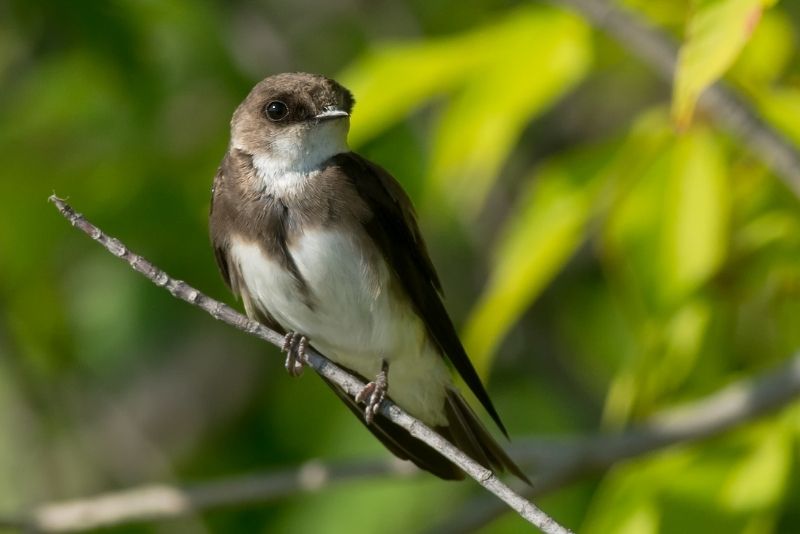 Fletcher Moss Park and Botanical Gardens cover around 90 acres and also include Stenner Woods Nature Reserve.  The gardens have some rare trees and interesting wildlife to spot. Keep an eye out for returning swallows, willow warblers, sand martins and even ring-necked parakeets.
The park also has sports facilities and a cafe serving a range of hot and cold drinks, snacks and desserts. It is open every day during daylight hours and admission is free.
34 – Discover Ice Age animals at The Manchester Museum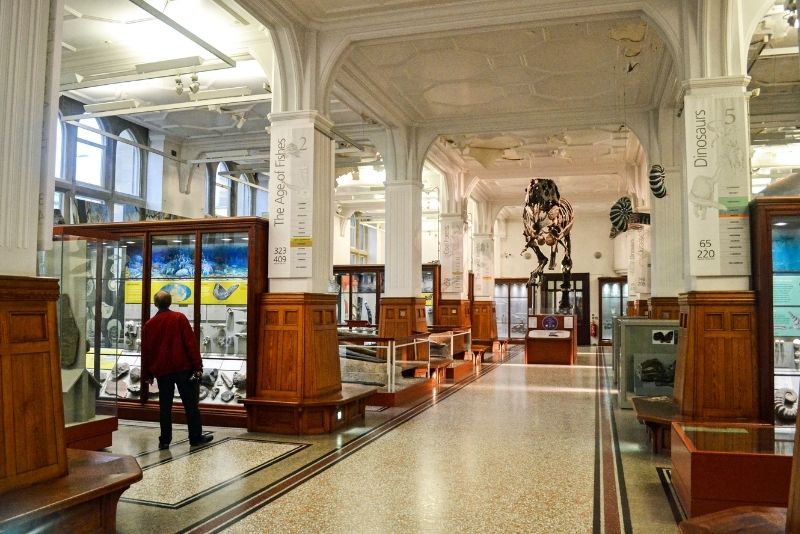 The Manchester Museum has a huge collection of ancient artifacts. These include objects from Ancient Egypt and Sudan, archeological finds from Mesopotamia and West Asia and even Ice Age mammoth bones from nearby Derbyshire.
The museum also has a vivarium with a breeding program for critically endangered frog species of Costa Rica. The Manchester Museum also has a shop and cafe to visit.
35 – Shop till you drop at Manchester's Arndale shopping center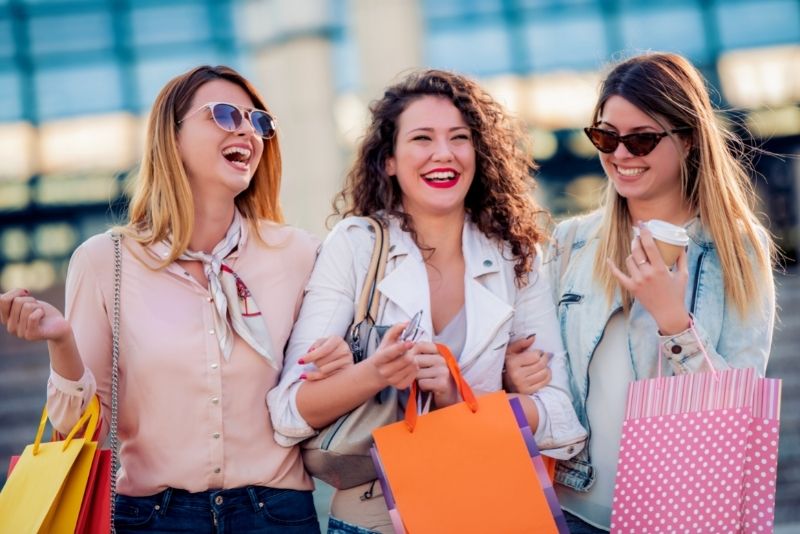 The Arndale Shopping Center was one of the first "American-style" malls built in the country in 1972. Though it was criticized at the time for displacing smaller businesses it is now a much-loved local landmark and is a necessary stop on your tour of Manchester.
The Arndale center has over 200 stores representing the biggest names on the UK high street such as Next, H&M and Lush. You can also find a good selection of popular restaurants, grocery stores and services.
36 – Go Axe Throwing at Whistle Punks
For a new type of athletic activity, head over to Whistle Punks for a round of ax throwing!
Even if you've never fancied yourself a warrior, you'll have a wonderful time competing with family and friends, as you try to see who can hit the center of the target.
After some brief instructions from the staff, you'll be ready to start hurling some blades… just watch where you throw them!
37 – See art at The Whitworth "Gallery in the Park"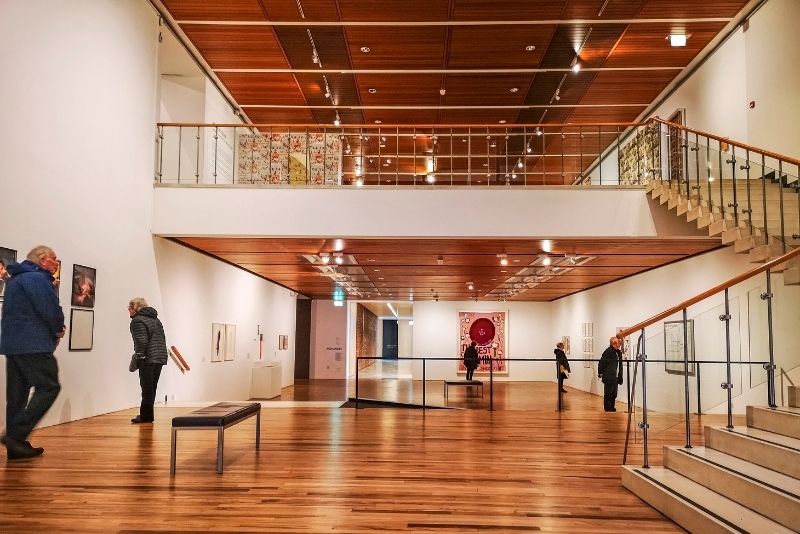 The Whitworth is a spectacular gallery in the picturesque setting of Whitworth Park. The gallery's outdoor spaces include an art garden, orchard and sculpture terrace which host a full calendar of activities and programs for visitors of all ages to take part in.
The gallery is home to over 60,000 artworks including fine art paintings, modern and contemporary art, prints, textiles and sculptures. It is part of Manchester University and also functions as a research facility with a study center.
38 – Take a break in Parsonage Gardens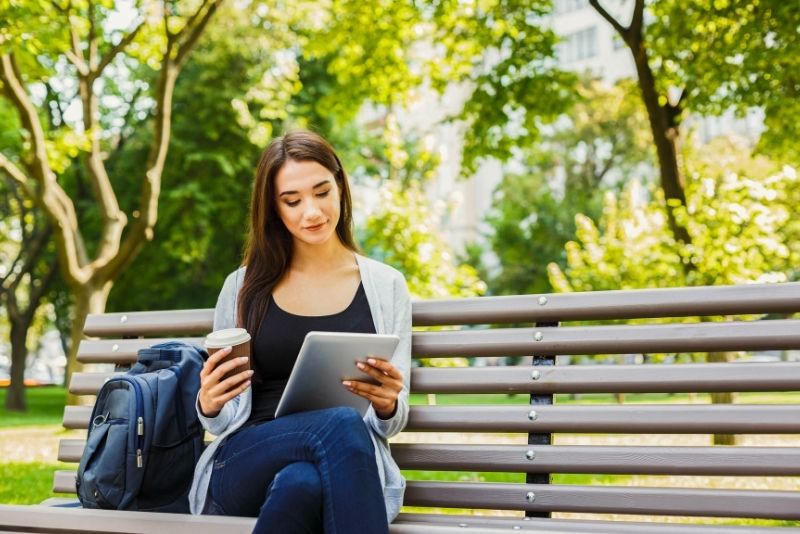 Parsonage Gardens is a great place to take a break from the hectic city. It was originally the site of St. Mary's Church which was demolished in 1891 and the area was converted into a public park.
It is only a small area but is near to Deansgate and the busy shopping center of the city. Take a coffee and a snack and sit on the benches to watch the world go by.
39 – See a performance at Manchester Opera House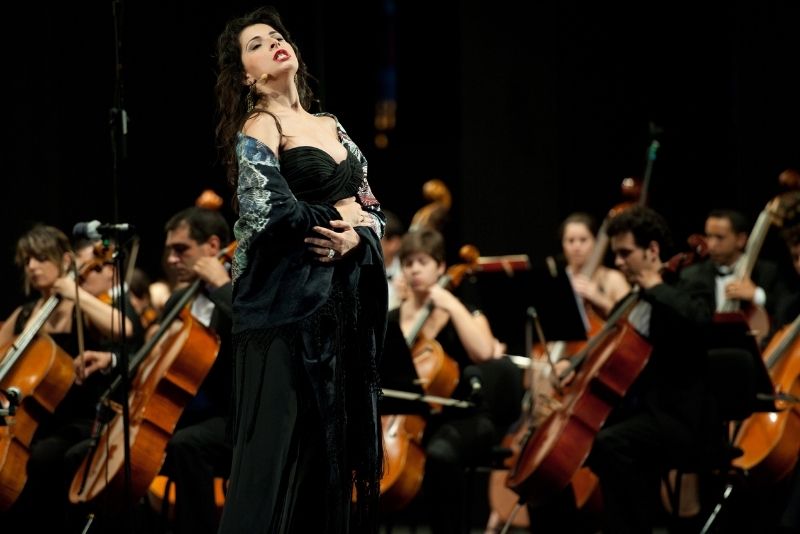 The Opera House is one of the city's largest theaters. It first opened its doors on Boxing Day 1912 staging plays, musicals and pantomimes. It has hosted major musicals like Phantom of the Opera and Barnum and Oliver and operated as a cinema during World War II.
The building was renovated in 2003 to its former glory preserving the green and gold decor. It has a seating capacity of 1,920 with two balconies. The Opera House puts on a range of musicals, comedy shows and live music.
40 – Visit the BBC studios at The Quays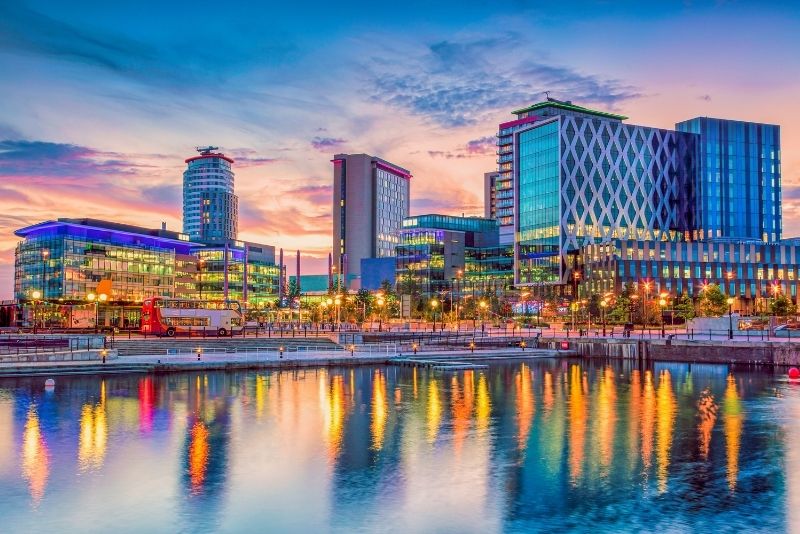 The Quays is now one of the most upmarket areas of Manchester. The BBC and ITV have Radio and Television studios there as part of the MediaCity development. There is also the  Lowry Theater, named after local artist L.S. Lowry, which hosts regular productions on its 3 stages.
If you're looking for an interesting place to eat, you can also find the trendy restaurant/cocktail bar The Alchemist in its futuristic waterfront building.
41 – See the elephants at Chester Zoo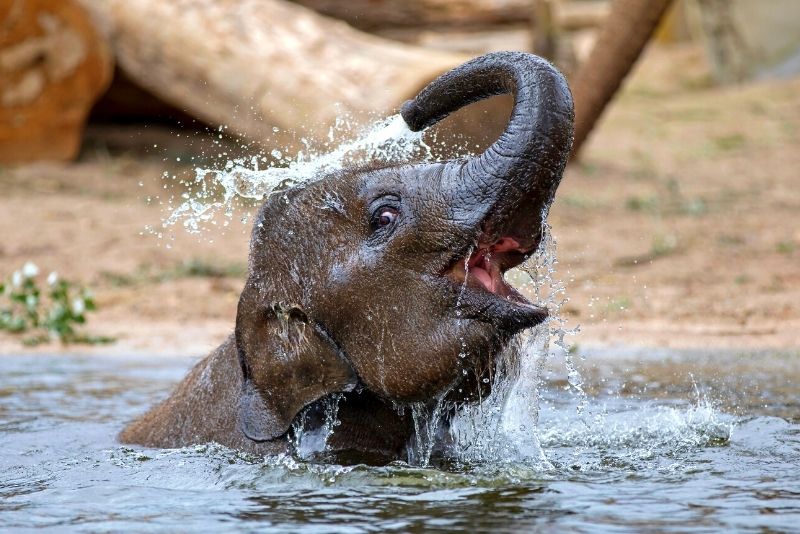 Chester Zoo is about an hour's journey from Manchester but is well worth the trip. This huge 128-acre zoo is home to 20,000 animals as well as botanical gardens which house the national collections of orchids, nepenthes and cacti.
You can see a huge range of species from all over the world including bears, big cats, elephants, orangutans and endangered African eastern bongos. Chester Zoo is a great day out for the whole family.
42 – See the historical Chetham's Library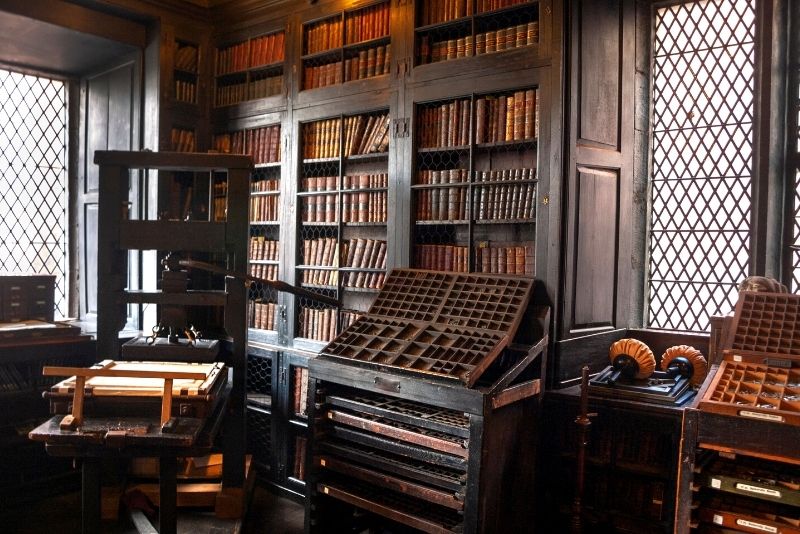 Chetham's is the oldest public library in Britain and has been in continuous use for over 350 years. The library was a meeting place for Karl Marx and Friedrich Engels in 1845 and their research there was supposedly used in the writing of the Communist Manifesto. Visitors can sit at the same window-side desk the pair did in 1845.
The Library's historically significant collection is available for research purposes and tours of the medieval buildings are available. Booking is required to visit.
43 – Experience the thrill of indoor skydiving
Ever wanted to try skydiving but don't fancy jumping out of a plane? You're not alone! Thankfully indoor skydiving gives all the fun of a freefall experience in a controlled and safe environment.
Float on air in a specially designed wind tunnel and receive guidance from an expert instructor. Feel the thrill and adrenaline of a skydive as you are suspended on a column of air with wind speeds of over 135 mph. This is one for the adrenaline junkies!
44 – Be a ninja for the day at Legoland Discovery Centre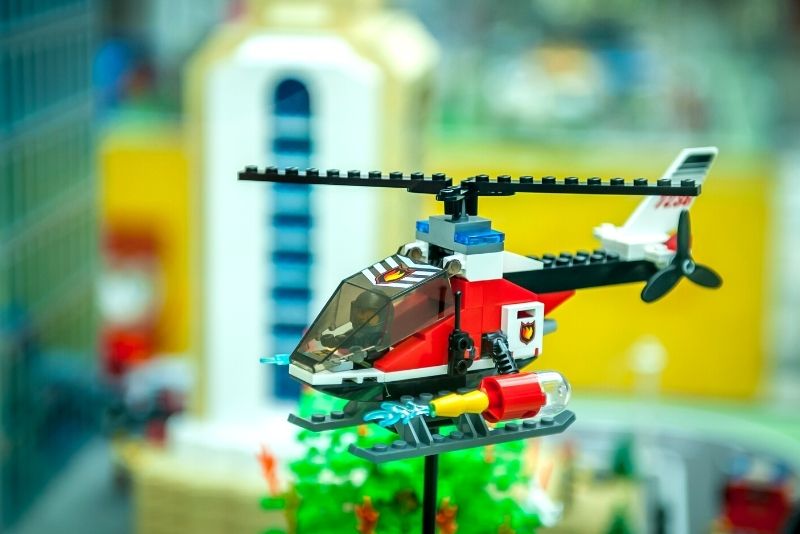 Legoland Discovery Centre is an excellent place to visit if you've got kids. The Ninjago play area is spread over three fun-filled floors where little ones can hone their ninja skills. The interactive playground has slides, ropes and tunnels to climb and a rotating climbing wall which is hours of fun.
Join the Ninja Training Camp to become a Spinjitzu master or construct your own creations at one of the build tables. Legoland is a must-visit for younger children.
45 – Party at Manchester Pride Festival at Gay Village Hub
Since the 1980s, Manchester's Gay Village has centered around the bars and clubs of Canal Street. The area is home to a 4-day festival every year with markets, performances in the nearby gardens and parties throughout the area's venues.
There are a bunch of events occurring throughout the year including the Superbia Weekend, Pride Parade and equality marches for LGBTQ+ issues.
46 – Scale the rope courses at Haigh Woodland Park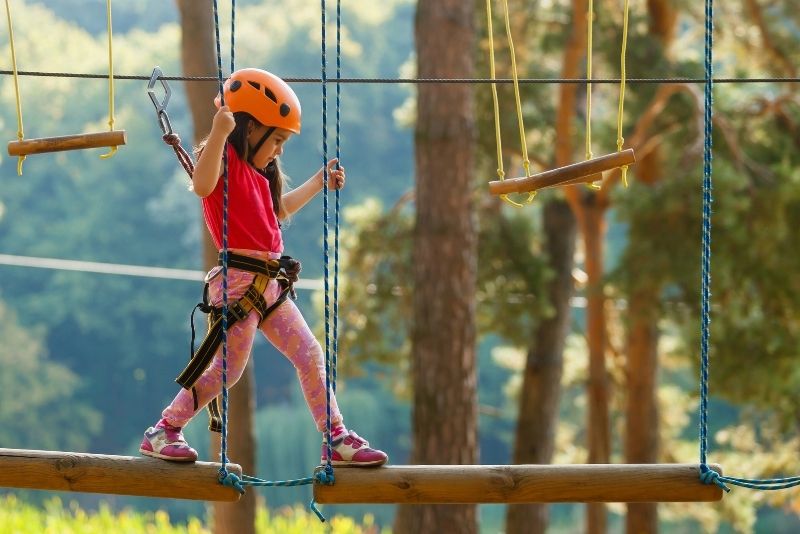 There are tons of activities to try at Haigh Woodland Park and it's sure to be a favorite of the whole family. The high and low rope courses are great fun and include swinging bridges and stepping stones and a 40-meter zip line.
The park also has an adventure play area, crazy golf and footgolf courses. Afterward, take a stroll around the woodland trails then visit the Kitchen Courtyard for drinks and snacks.
47 – See the Albert Memorial at Albert Square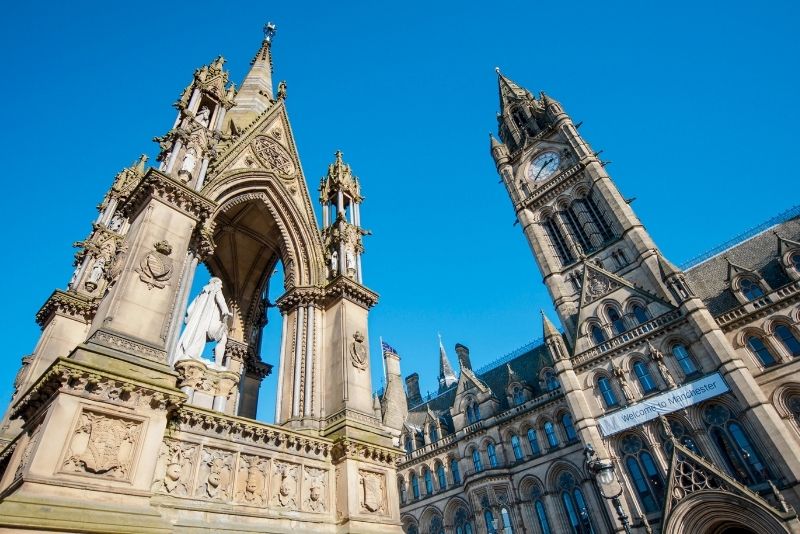 Albert Square and its main monument are dedicated to Prince Albert, husband of Queen Victoria. The square contains a number of attractive Victorian buildings including Manchester Town Hall, Albert Chambers, Carlton House and the Memorial Hall.
Visitors can take a guided tour of the Town Hall which has impressive murals inside. The square has a Christmas market throughout November and December.
48 – See a show at the Royal Exchange Theatre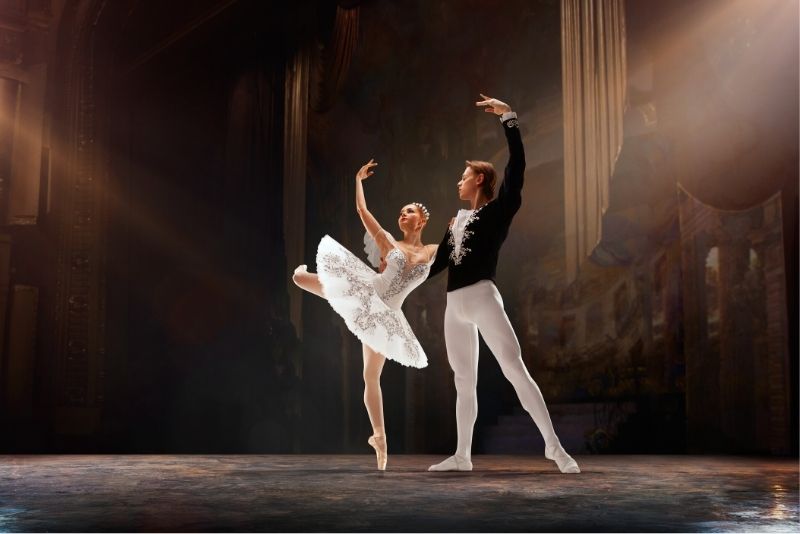 Manchester's Royal Exchange Theater is located in the old cotton trading exchange building in St. Ann's Square. The building was taken over by the theater company in 1978 after laying unused for 5 years. Its unique circular theater module looks almost like a spacecraft in the middle of the palatial Exchange building.
The theater company puts on a range of contemporary productions, plays and musicals. Why not go along and see a show in this truly unique theater.
49 – Visit the historic Victoria Baths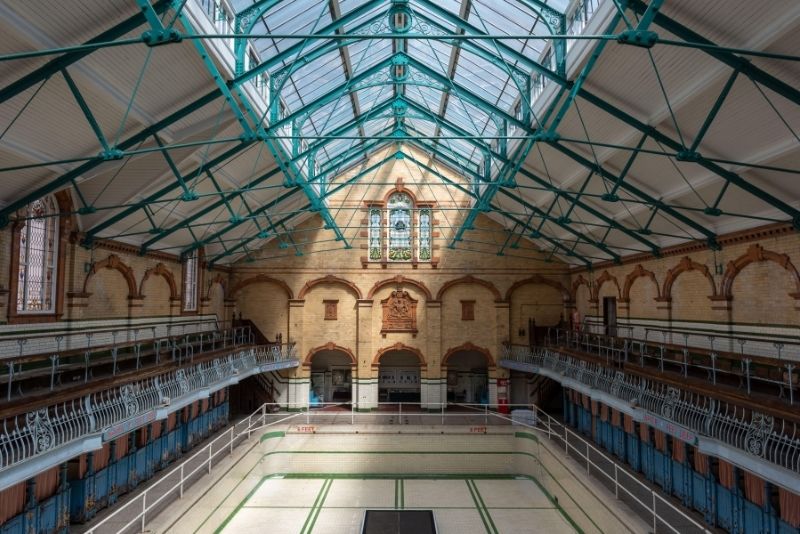 When Victoria Baths opened in 1906 it was one of the finest bathhouses and public pools in the country. Its mosaic floors, fine tiles and stained glass windows earned it the title of water palace. Aside from swimming pools, it had Turkish baths with three hot rooms, showers and a steam room.
It is no longer possible to swim in the baths but visitors can tour the building and regular exhibitions and events occur there including craft and vintage fairs and live music.
50 – Visit the Tramways Museum in Heaton Park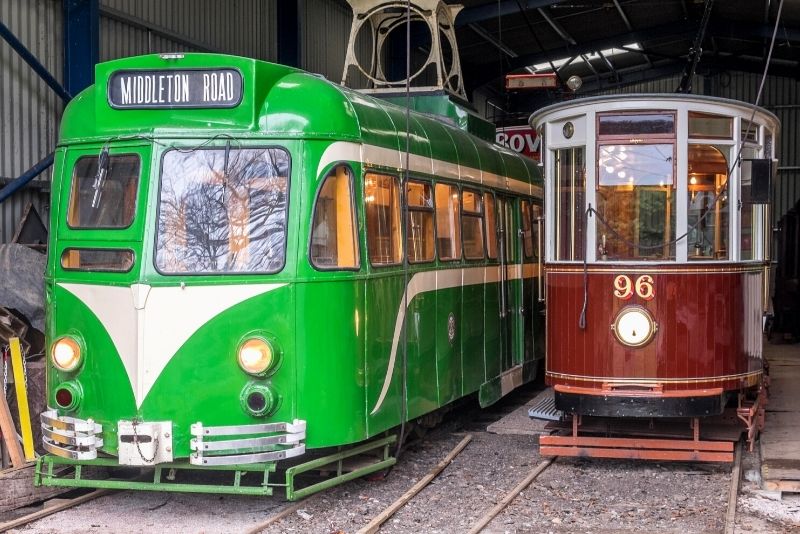 Heaton Park is one of the biggest parks in the northwest of England. the grounds cover about 600 acres and are the grounds of the Grade I listed building Heaton Hall. The Park has a lot of things to see and do including the Tramway Museum, which operates historical tram rides around the park.
There is also a golf course and driving range, boating lake, woods and picnic areas and an animal center with chickens, goats and pigs.
51 – Test your skills in an escape room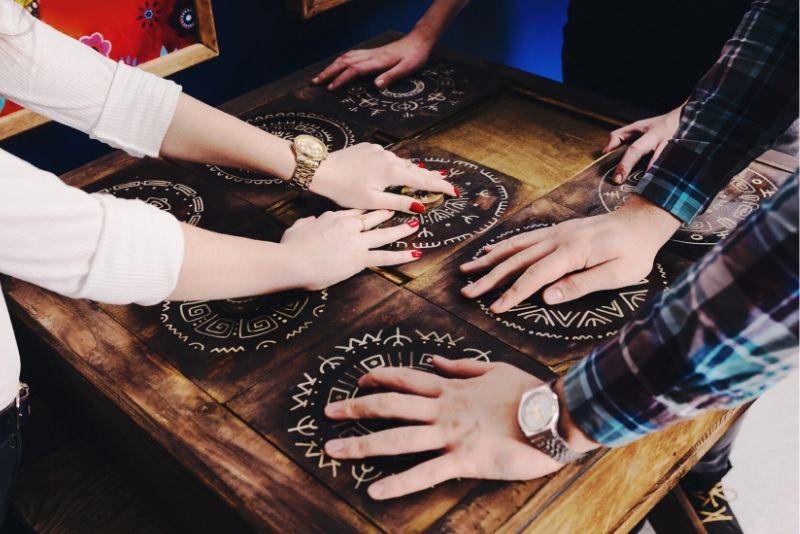 Escape room challenges are great fun. Work together in a team to follow clues, solve puzzles and try to escape the room before the time runs out. Manchester has a whole bunch of themed escape rooms to try out.
Visit a cursed carnival at Manchester's Breakout or puzzle your way out of an Ancient Egyptian pyramid at Escape Reality. The city even has Escape the Van, a mobile escape room inside a van that will meet you at a chosen destination.
52 – Take a snowboarding lesson at Chill Factore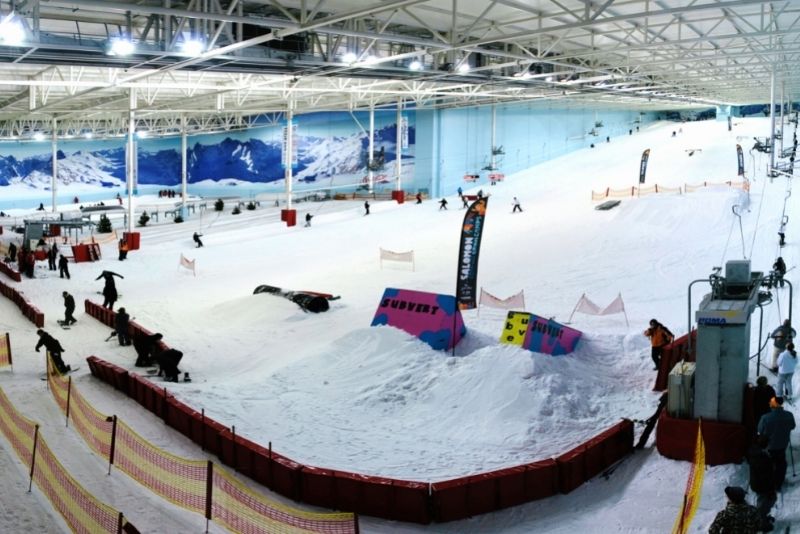 Fancy hitting the slopes during your visit to Manchester? Chill Factore is the UK's longest ski slope and covers 180 meters from top to bottom. It is not a dry ski slope but a snow dome that actually creates real snow every night giving the most realistic experience.
Why not take a ski or snowboard lesson in a group or individually? learn the basics or improve your skills in this fun and thrilling sport. Don't forget your warm clothes.
53 – See the Lovell Telescope at Jodrell Bank Discovery Centre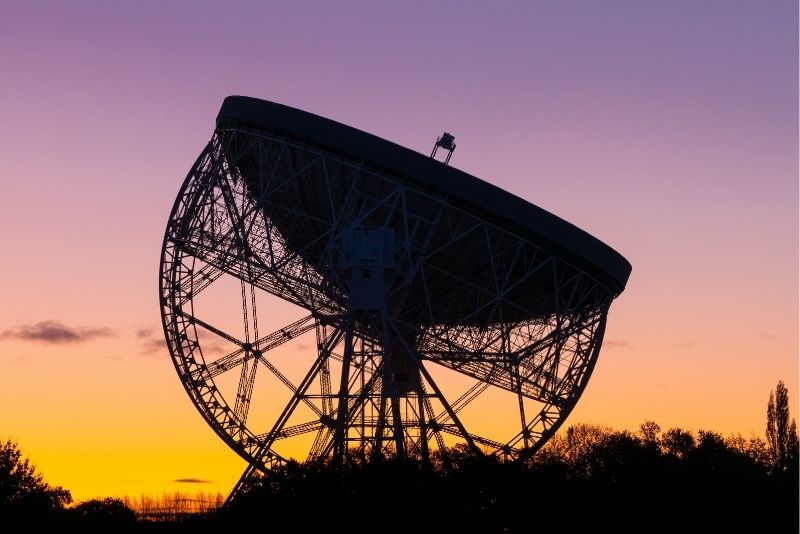 Jodrell Bank is home to the Lovell Telescope, one of the largest steerable radio telescopes in the world. When completed in 1957, Lovell Telescope was the only telescope powerful enough to track and send commands to probes and satellites such as Sputnik and Pioneer 5.
Jodrell Bank has also appeared in numerous TV shows and music videos including several episodes of Doctor Who. The Observatory contains an arboretum, ponds and picnic areas and a cafe.
54 – See giant crabs at SEA LIFE Manchester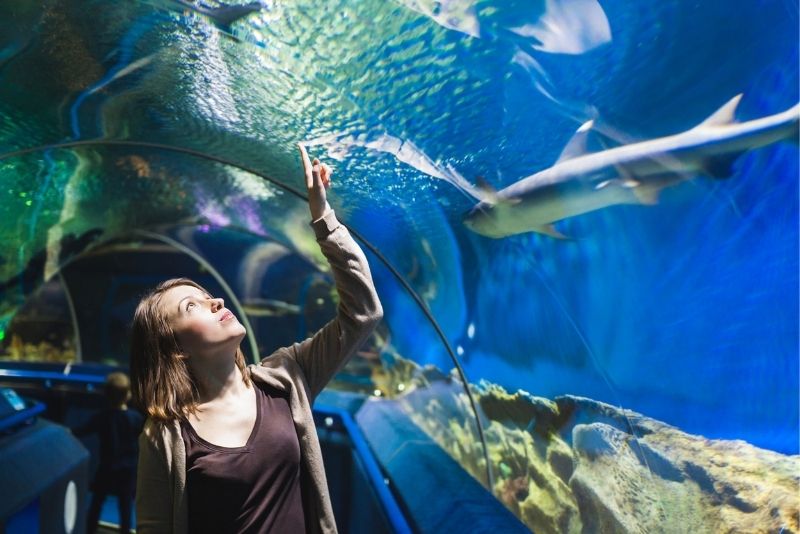 Sea Life Manchester is a city center aquarium where you can come face to face with a whole bunch of fascinating sea creatures! Meet clownfish, turtles, rays, jellyfish and seahorses as you tour through the aquariums zones.
Visit a shark shipwreck and a coral reef. See colorful jellyfish and gentle, green sea turtles and learn about their ancient origins. See Giant Japanese Spider crabs which can grow up to 3 meters in width.
55 – See world-class entertainment at AO Arena Manchester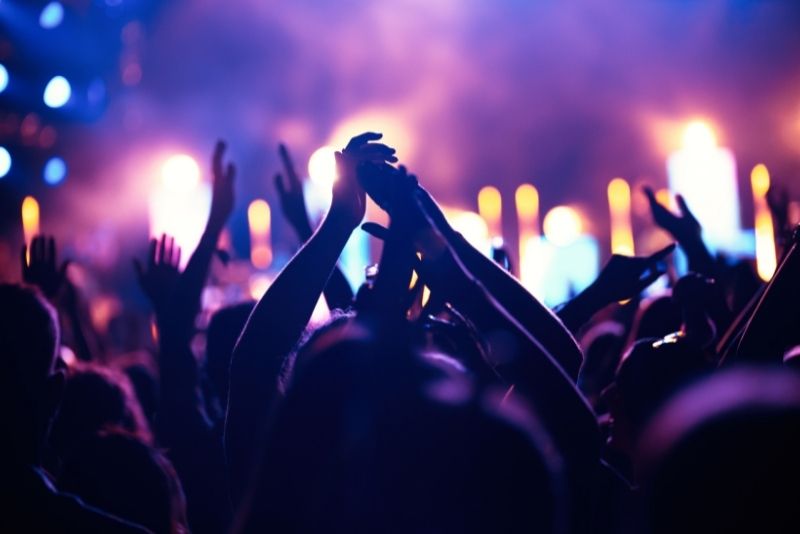 The AO Arena is the second-largest indoor arena in Europe and has seating for up to 21,000 people. It hosts performances from the biggest names in music from Hans Zimmer to Ozzy Osbourne to Dua Lipa.
You will also find a full program of comedy shows, boxing matches, orchestral performances and musicals on any given night. You won't find a more top-quality entertainment venue than the AO Arena. Book your tickets now!
56 – Try Weaseling at Peak District National Park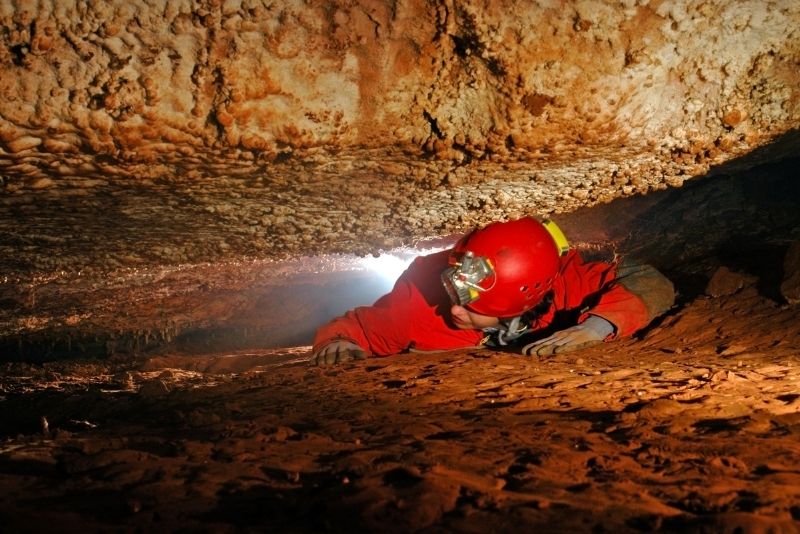 The Peak District National Park is a short drive from Manchester but offers some of the best scenery, walks and hiking trails in the country. It's also one of the best places for outdoor activities. For experienced rock climbers there is the challenging Stanage Edge route as well as more gentle climbs for beginners.
Gorge walking is a popular activity here as well as "weaseling", which is a little bit like caving but in the open air. It requires squeezing through gaps and holes in rocks.
57 – Embark on a Silent Disco Adventure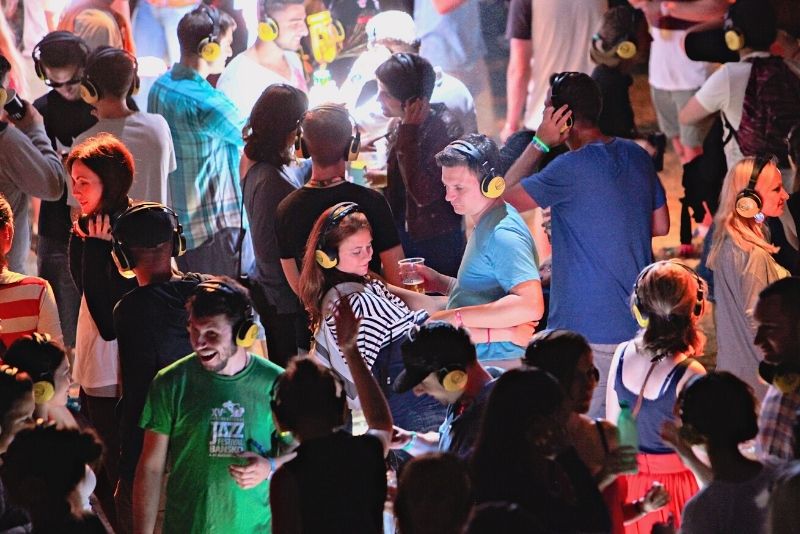 Silent Disco tours are a hilarious way to experience the city. Join your guides for a musical trip through the city streets. Don your headphones and get ready to dance, sing and party through the town with a selection of classic and modern tunes.
Bring your friends but leave your inhibitions at home while you prepare to have some outrageous fun, Manchester style! This is definitely one of the most fun things to do in the city.
58 – Learn about Jewish history at Manchester Jewish Museum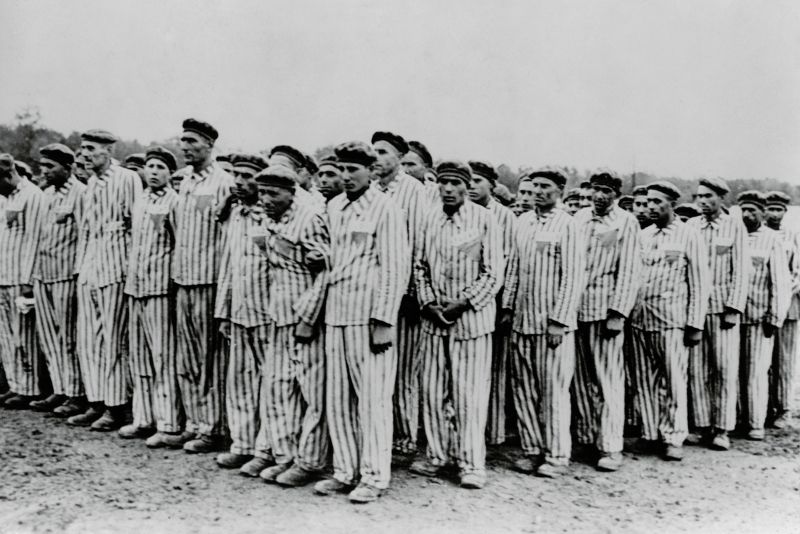 The Manchester Jewish Museum covers the history of the city's Jewish community from the 17th-century onwards, including holocaust survivors and refugees.
It is housed in a Grade II Listed Spanish-Portuguese Synagogue. The themes of journeys, communities and identities are central to the museum and it displays a personal account of the people who immigrated to and thrived in the city.
The museum has a vegetarian cafe that serves traditional kosher dishes in a modern meat-free way.
59 – Check out the city's best restaurants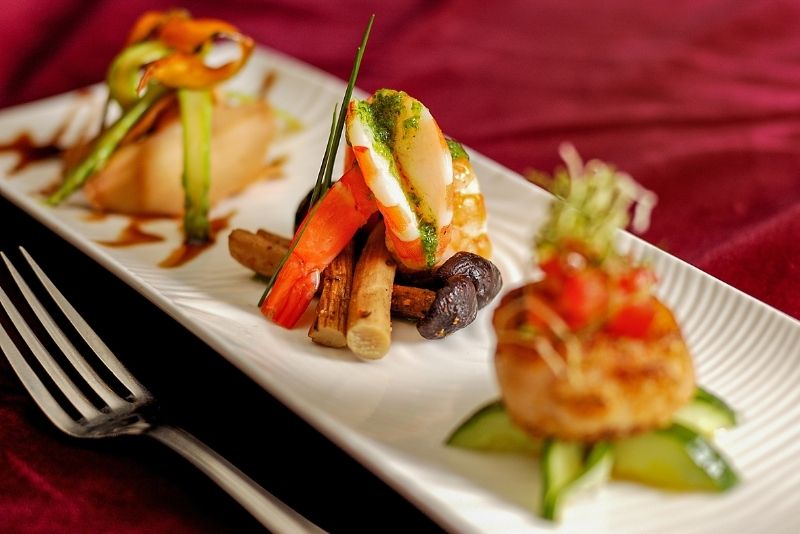 Manchester has a restaurant to suit all tastes, from award-winning takeaway cuisine on the city's famous curry mile to Michelin Star restaurants you'll find it here. Some of the city's best restaurants offering fine dining would be Adam Reid at the French, Mana and Enxaneta which all serve very different dishes.
For more casual dining experiences it's worth checking out The Launderette, Teppanyaki Chinatown and Ziya Restaurant.
60 – Learn about the history of warfare at IWM North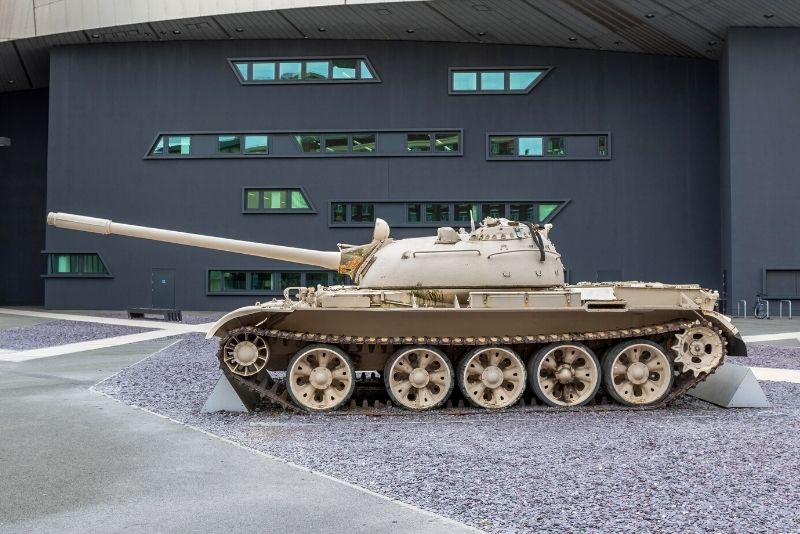 The Imperial War Museum North covers a history of conflict and its impact on people. It covers the period from the First World War to the present and has thousands of artifacts, photographs, videos, works of art and sound recordings.
The main exhibition hall displays iconic items like a soviet tank, the first British gun fired in World War I and a section of twisted steel from the World Trade Center. Don't miss the chance to visit this important cultural museum.
61 – Get a little spooky on a Ghost tour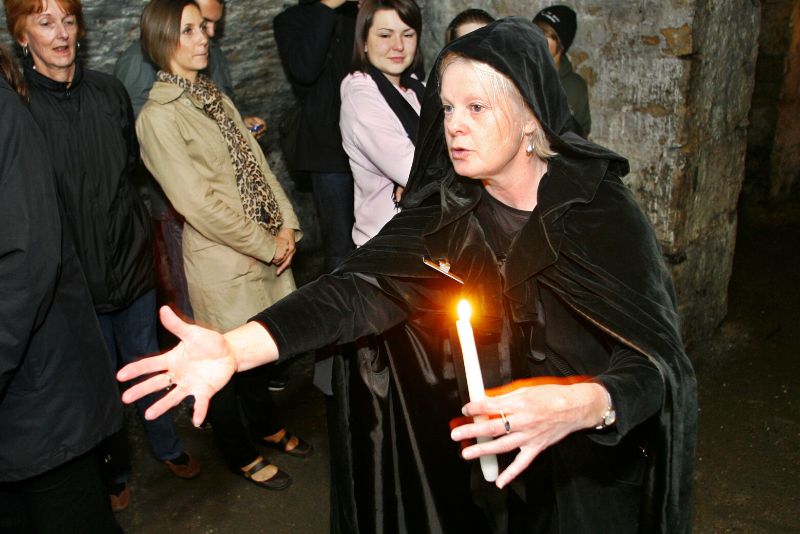 Just because nighttime has fallen doesn't mean that you have to stop exploring the city; in fact, there's an adventure built especially for that purpose!
With Haunted Manchester, you can embark on a thrilling, chilling tour through the city's more mysterious side.
Solve riddles and search for mysterious hints in various neighborhoods, as you learn some hair-raising stories of ghosts, murderers, and the seedy underbelly of the town.
It's a perfectly frightful adventure!
62 – Go fishing at Chorlton Water Park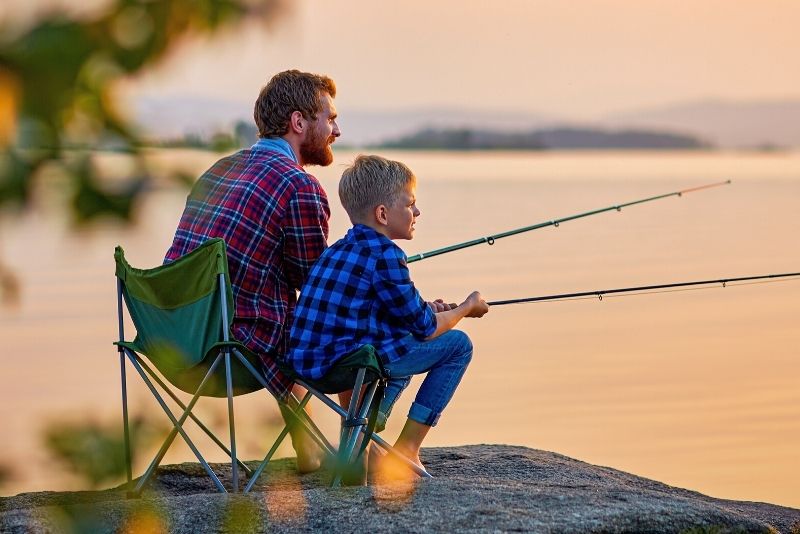 Chorlton Water Park is another of Manchester's excellent parks. The area is a nature reserve and has a central lake for fishing as well as walking trails. The lake is surrounded by grasslands and wooded areas making it an excellent place to escape the bustle of the city.
Chorlton Water Park is a short drive south of Manchester center and is accessible by bus and tram from the city. It has picnic and playground facilities and fishing permits must be purchased.
63 – Taste the city's nightlife on a beer tour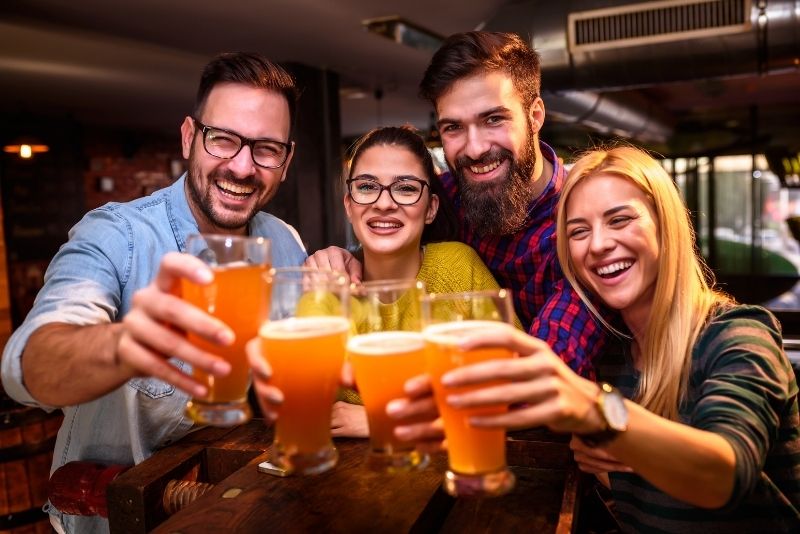 Manchester always has a party atmosphere. Why not take a beer tasting tour and experience the cities nightlife for yourself. Visit five of the best pubs and bars and learn a little about the city's history from an informed local.
Taste five craft beers and get to know the city and its trendy Northern Quarter by night. Learn about the British love of beer on this fun, easy-going tour.
64 – Visit the cells at Greater Manchester Police Museum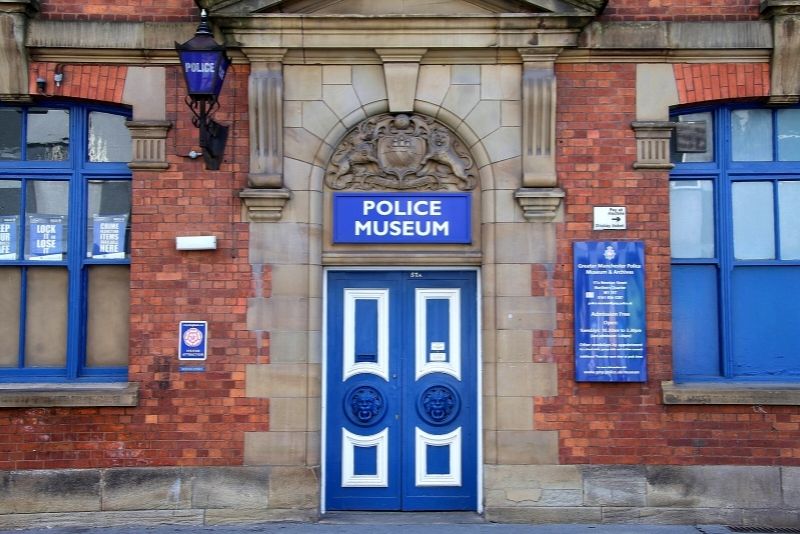 The Manchester Police Museum is housed in the old Newton Street Police Station, which was used by the city's police for 100 years. The Museum was founded in 1981 and its collection covers the history of policing in Manchester.
Its archives include memorabilia, transport, photographs and clothing from the Victorian era to the present day. Many of the rooms have been restored to their original Victorian fittings and there are cells, a courtroom and a uniform gallery to visit.
65 – Gaze out from the best Rooftop venues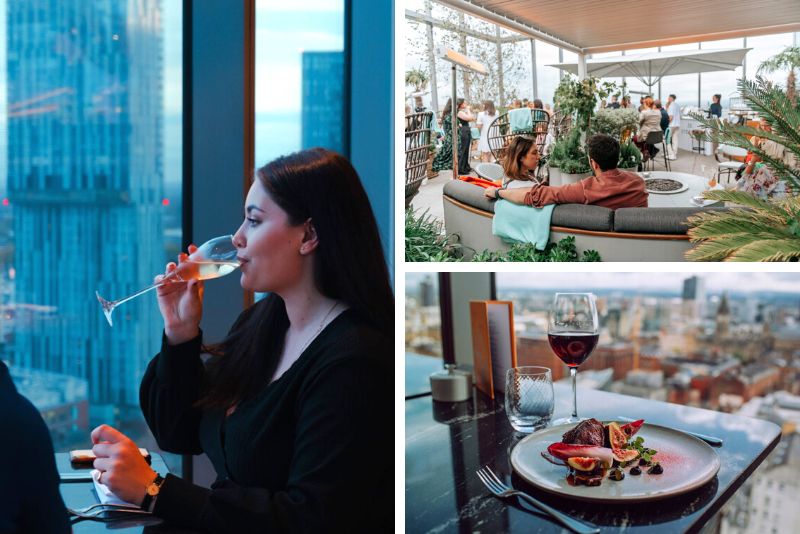 After a day of adventuring in and around the city, kick back in style at some of its best rooftop spots!
20 Stories offers perfect panoramic views and some truly phenomenal food; you can also skip straight to the beverages at the cocktail bar!
And at the Ivy Springfields, you can enjoy classic British foods in a gorgeous space surrounded by lush greenery and funky decor.
In places as stunning as these, you'll almost forget about the food!
66 – Catch a live show at O2 Apollo Manchester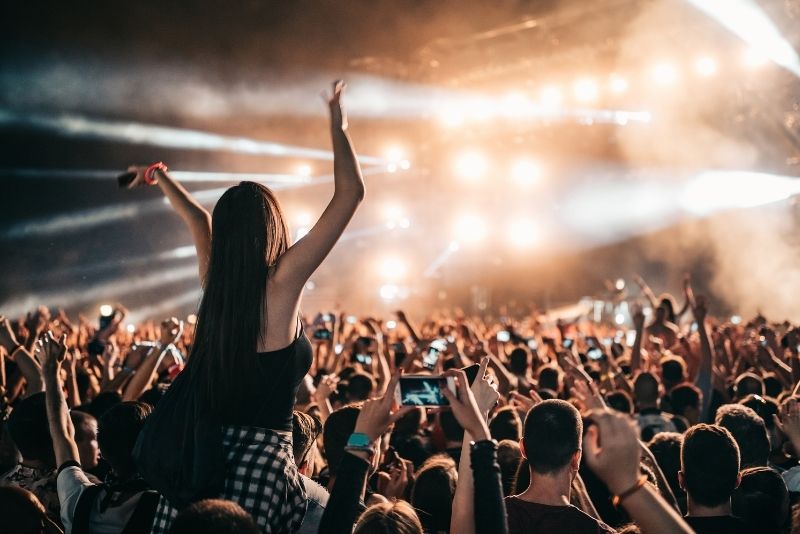 The O2 Apollo is a great venue to see live bands and shows. It has a sloped floor which means you get a great view of the stage wherever you are. It puts on some of the biggest gigs in the city and anyone who is anyone has played there.
Expect comedians and edgier shows as well as some of the biggest names in indie, indie pop, punk and metal. There's always something worth seeing at the O2.
67 – Take a tour of award-winning distilleries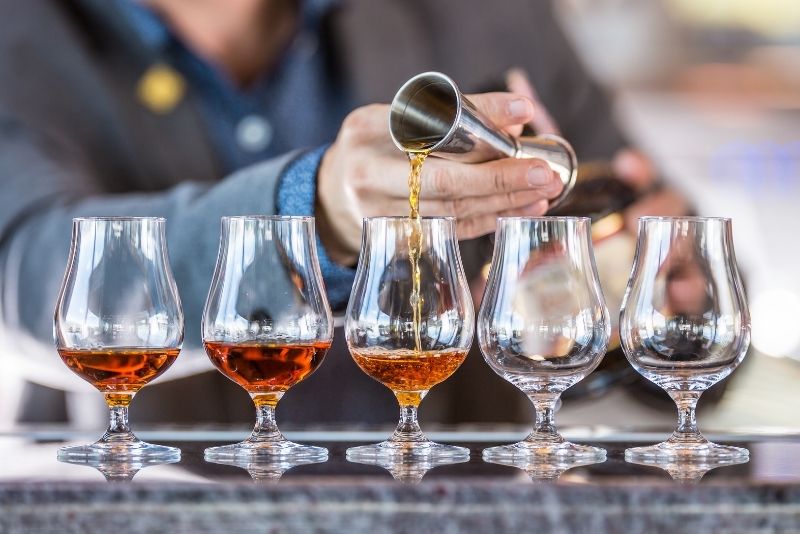 Manchester has two award-winning distilleries right in the city center. The City of Manchester Distillery produces rum, vodka and its celebrated Three Rivers Gin in a bespoke copper still. The other local distillery, Manchester Gin, produces a range of traditional, as well as flavored, gins and spirits.
Why not take a distillery tour and taste the range of spirits they produce? Alternatively, sign up up for a gin-making experience and blend your own botanicals to suit your tastes.
68 – See a show at the Palace Theatre Manchester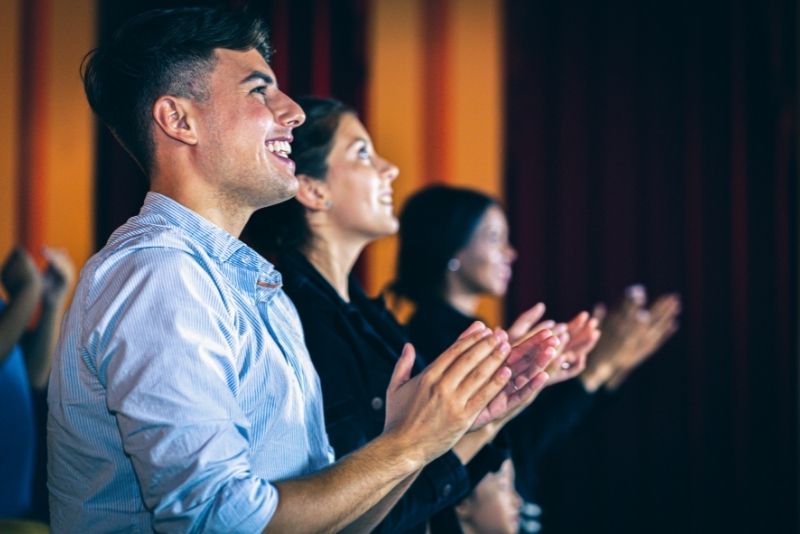 The Palace Theater opened on Oxford street in 1891. It was remodeled in 1896 by renowned theater architect Frank Matcham. It was later refurbished in the 1970s and has since been a premier theater venue in the country.
The palace is one of the largest theaters in the country and hosts a range of productions. Why not visit the Palace Theater and see a show? The venue regularly hosts award-winning musicals, comedians and dance shows.
69 – Play Poker at Manchester235 Casino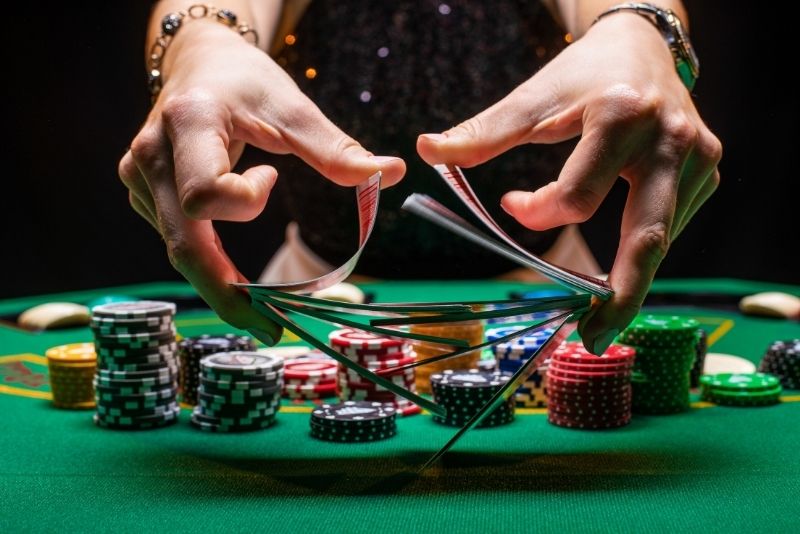 Feeling lucky? Take a visit to Manchester235 Casino and try your chances. The casino has tables for American roulette, blackjack, punto banco and three-card poker and the latest and greatest slots.
Manchester235 is more than a casino and has everything for a great night out under one roof. Enjoy top-quality live entertainment, excellent food in stylish surroundings and late-night drinks in the Vega Cocktail Lounge.
70 – Have fun at the Warehouse Project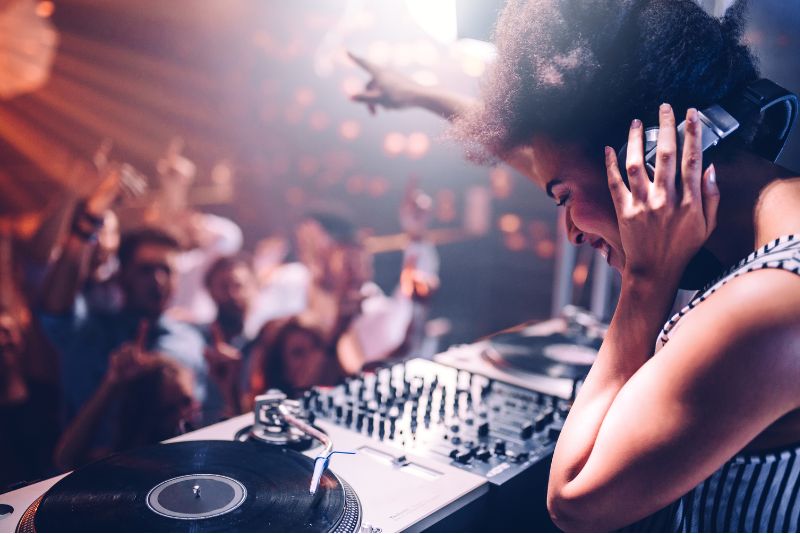 Post-industrial cities have a way of turning their old spaces into glorious new venues, and Manchester is no exception!
The Warehouse Project embraces the clubbing lifestyle, with music, dancing, and DJs galore.
But here's the twist: the place is only open from September to New Year's, making it a unique draw for partygoers.
And it's all housed in a magnificent former railroad depot, where the busy world of the city's past melds perfectly with its high-energy present.
Stop by for a wild night that will give you major bragging rights back home!
How to get to Manchester?
Flights generally arrive and depart from Manchester Airport, but where you go from there is really up to you!
Transfers are available to nearby areas such as Glazebrook, Nantwich, and St. Helens, making it easy to get started on your adventure!
With flexible budget and group sizes available, it's a great way to avoid the nuisances of taxis and buses.
Where to stay in Manchester?
The Edwardian Manchester combines class with convenience; after a day of exploring nearby spots like the Central Library and the Manchester Art Gallery, you can come back and enjoy the contemporary restaurant, afternoon tea, and spa treatments.
And Kimpton Clocktower takes elegance to the next level, with a sunny atrium, a perfect location on Oxford Road, and a spacious ballroom – perfect for large events!
Maldron Hotel Manchester City Centre is perfect for culture fanatics, with bustling Canal Street and the Palace Theater a short walk away.
And Clayton Hotel Manchester City Centre offers similarly convenient proximity to activities, as well as a wonderful fitness center and bar to keep you entertained in your spare time.
Meanwhile, Motel One Manchester-Piccadilly is just steps from the train station, and features a wonderful bar and lounge to kick back in after all of that sightseeing!
Visiting Manchester on a budget?
Given how lively and unique the city is, it only makes sense to see it on foot!
Book some free walking tours to see centuries of political history, offbeat art, musical hotspots, and more, while your guide gives you the local's rundown on the area.
Soak it all in, and remember to tip your guide!
Where to go next?
After all of your adventures in town, you'll still have your hands (and mind) full, as you explore even more of the United Kingdom!
Birmingham is full of quirks and charms, with chocolate factories, shopping centers, museums, and sporting events waiting to greet you.
And while Liverpool is mostly known for its musical history, there's plenty of art, architecture, public parks, and amusement centers to keep you exploring.
London remains an iconic global city for a reason; from theater and fashion to history and pop culture icons, it has something for travelers of every age and interest.
And York offers 2,000 years of history, charming neighborhoods, and some breathtaking landscapes ripe for exploring.
If you'd prefer to keep Manchester as a home base, you can still embark on some multi-day trips, and explore the traditional mansions and gorgeous countryside of Northern England.
Then keep on traveling, and explore some more of the best places to visit in the UK!
Final thoughts
As you try all of the different things to do in Manchester, you'll find that it's a constantly evolving place.
But like all the best growth, the city's evolution has not neglected its past; instead, it's incorporated it in some amazing new ways.
So start exploring the active, the relaxed, and everything in between – you just may want to cancel your return ticket!