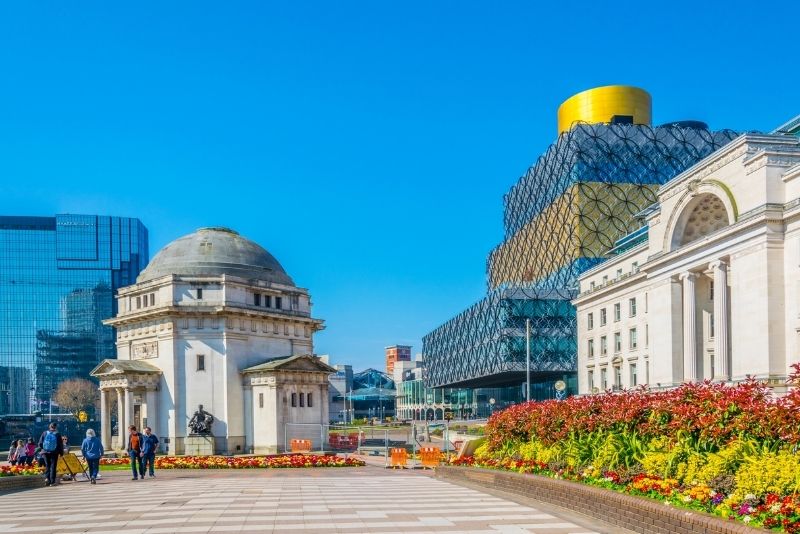 Birmingham boasts some of the United Kingdom's most ambitious shopping centers, a thriving and multicultural restaurant scene and tons of entertainment opportunities. Visitors can catch world-class theater shows, opera, live music and sports on any day of the week among the many things to do in Birmingham.
Once one of the largest industrial cities in the world, Birmingham was the birthplace of the world-famous Cadbury's chocolate and once one of the largest jewelry manufacturers in Europe. Maintaining its historic houses and estates, this bustling city portrays a potent mix of the old and new, making itself one of the most exciting urban destinations in the UK.
Just a step away from the city, discover the green hills and forests that influenced "The Shire" in J.R.R Tolkien's "Hobbit" and "Lord of the Rings" books. Walk by the Industrial-era waterways and you can still feel a strong presence of the heavy industries that shaped the city. After all, Birmingham has more miles of canal than even Venice.
1 – Taste delectable chocolates at Cadbury World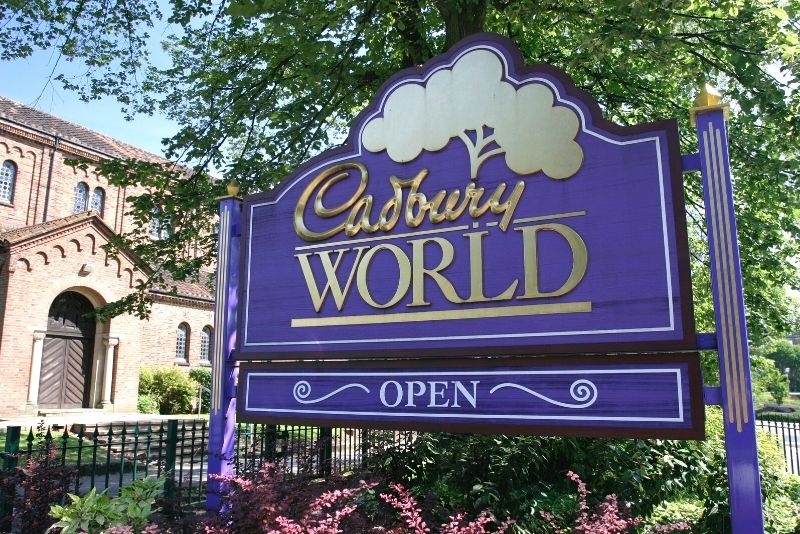 Cadbury's chocolate is known and loved throughout the world and is one of Britain's most popular exports. It was here in Birmingham that the company was first founded way back in 1824.
Cadbury World covers the history of the company's chocolate-making, from its humble beginnings in Bull Street and also has fun exhibits about the history of chocolate.
Visit the Aztec Jungles of Mexico where the cocoa bean originated and, of course, try some of the company's best-loved products.
2 – Meet sea turtles at the National SEA LIFE Centre Birmingham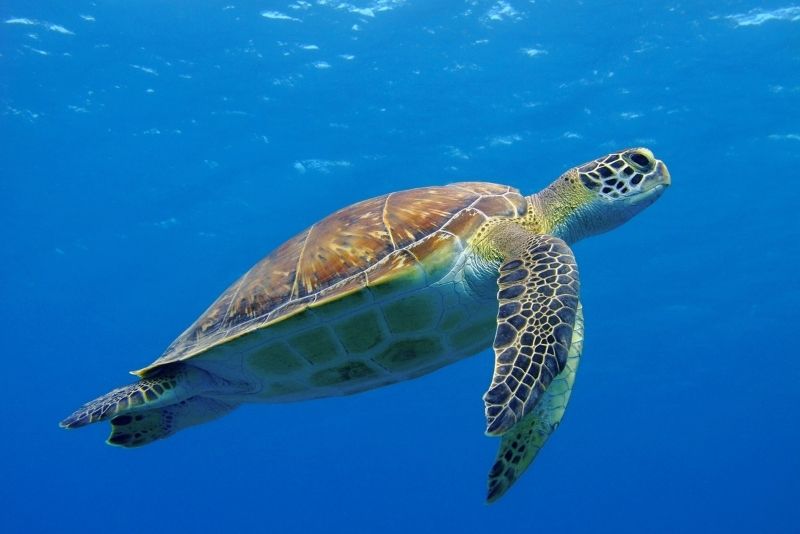 Take a trip deep beneath the world's oceans at the National SEA LIFE Centre. See fantastic fish and marvelous mammals in the UK's only 360-degree Ocean Tunnel.
Visit the aquarium's giant green sea turtles and learn about the rehabilitation program for injured and lost creatures.
See elegant Black Tip Reef Sharks and colorful clownfish and meet Bev, the Giant Pacific Octopus. There is so much to discover here it's sure to be a fun day out for the whole family.
3 – See the city's treasures at Birmingham Museum & Art Gallery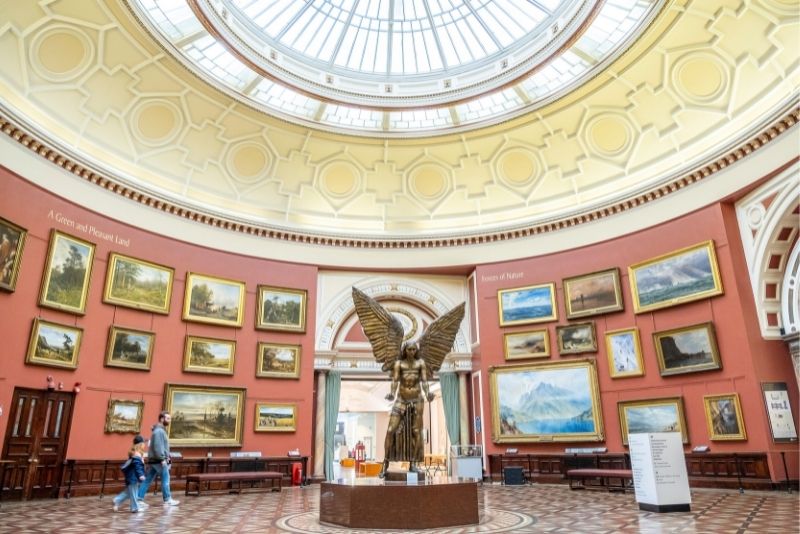 One of the city's most important museums, Birmingham Museum and Art Gallery (BMAG) includes over 40 galleries with important artworks, archeological finds and cultural items.
It has a significant collection of pre-Raphealite paintings as well as works from the French impressionist and Italian Renaissance eras.
It also has artifacts from Ancient Egypt, India and Central Asia as well as the sign from Birmingham's HP Sauce factory, which for British people is a cultural institution.
4 – Visit the National Exhibition Centre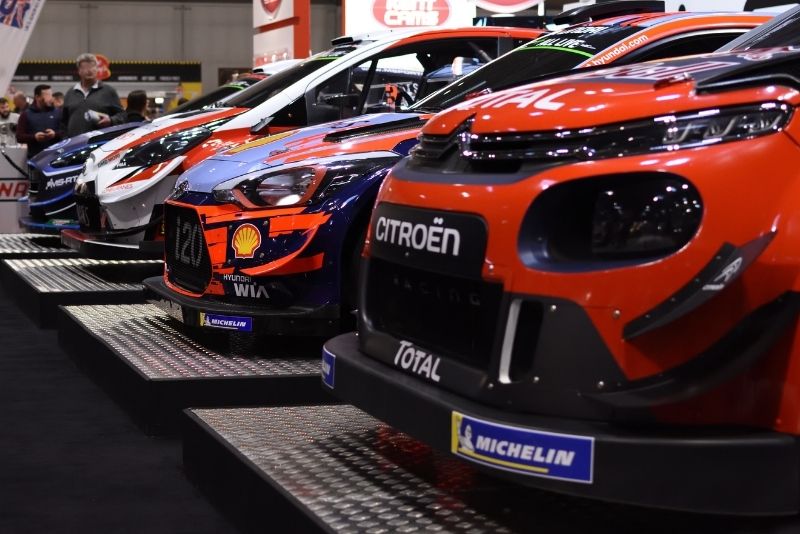 The National Exhibition Center, or NEC as it's more commonly known, is the largest event space in the UK.
It hosts many of Britain's favorite yearly exhibitions including Crufts International Dog Show, fashion, furniture and trade shows and food and gardening expos.
There's bound to be something happening at the NEC during your time in Birmingham. You can check out the website for a full list of events.
5 – Try a prison cell escape room at Shrewsbury Prison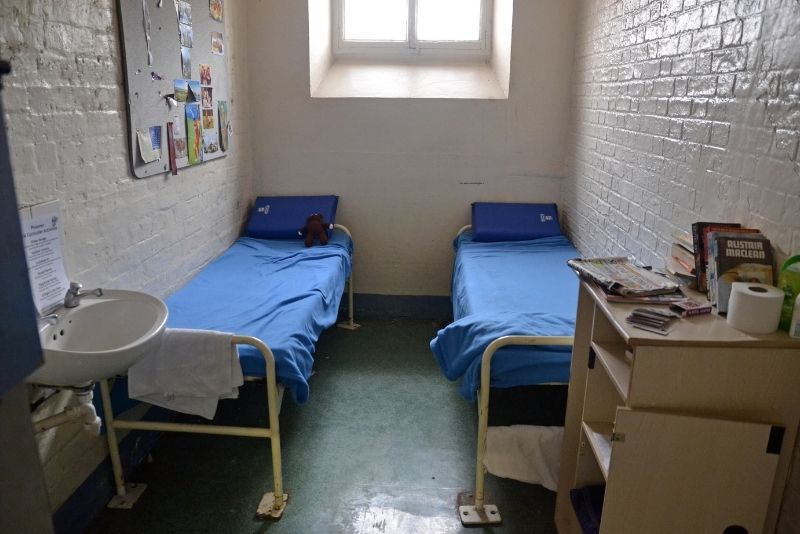 When it was built in the 1700s, Shrewsbury was one of Britain's more sanitary prisons. It regularly hosted public executions of prisoners and local people would turn out to watch and buy souvenirs of the event.
Now Shrewsbury is a much more pleasant place and even holds a yearly Christmas market.
Why not try a prison escape room challenge or take a nighttime ghost tour around the cells to discover the horrors that occurred in these walls.
Try a guided tour with an ex-Shrewsbury Prison guard and learn what life was like in this infamous UK prison.
6 – Step back in time at the Black Country Living Museum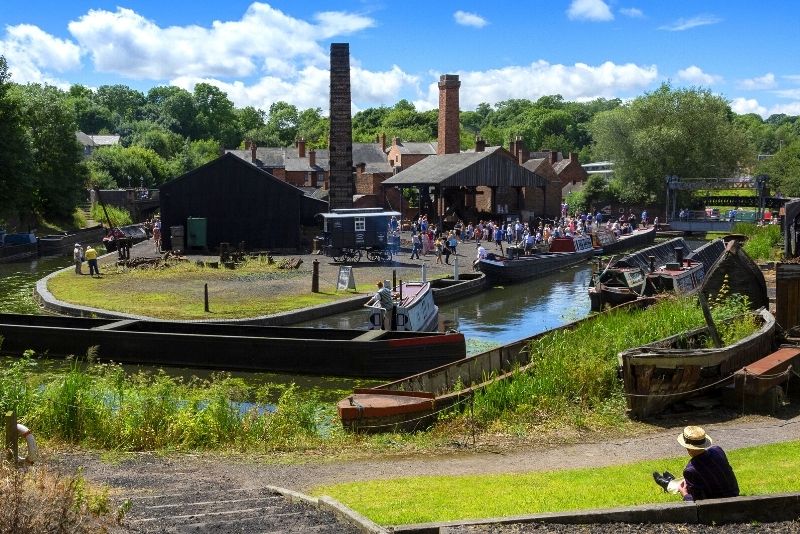 The Black Country is thought to be the world's first industrial landscape and from the 18th-20th centuries, its coal mining and metal industries were at the forefront of global technology.
See the Industrial era brought to life at the Black Country Living Museum.
Visitors can tour a reconstruction of a typical village and see the rows of redbrick houses and factory chimneys that were an ever-present part of life.
Discover the items of everyday life and the products that were produced here, including tableware, ships chains, nails and post boxes.
7 – Roam around the ruins at Dudley Zoo and Castle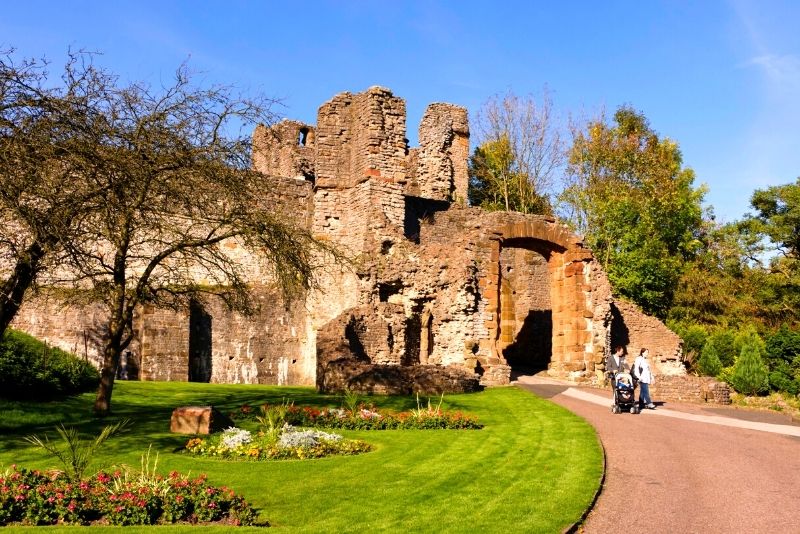 Dudley covers 40 acres on the grounds of Dudley Castle, which dates back to 1070. Though mostly ruins, it is possible to explore the castle and admission is free for visitors to the zoo.
Discover more than 1,300 animals and many exotic species of big cats, reptiles and insects — coming from all over the globe, including Giant Anteaters from South America, Arctic Foxes from the extreme north, and red pandas from the Himalayas.
Grab your chance to feed some of the more sociable creatures such as its lemurs, spider monkeys and penguins.
8 – Take a gardening course at The Birmingham Botanical Gardens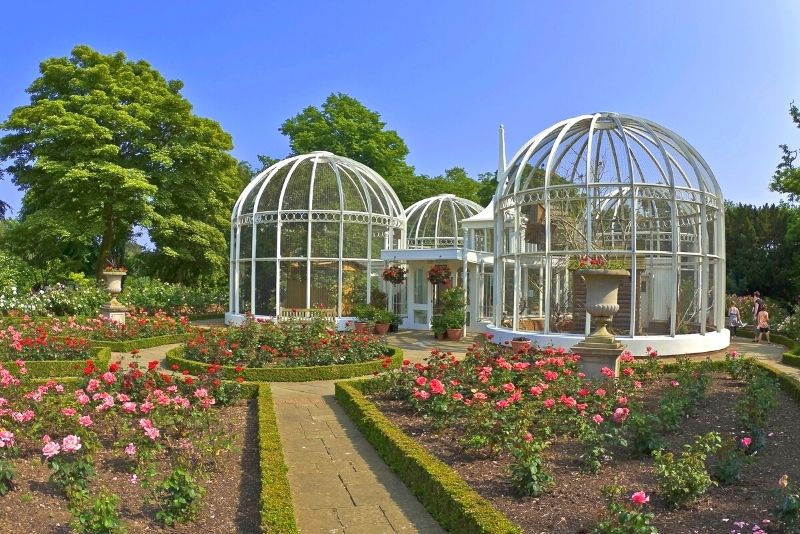 The design of Birmingham's Botanical Gardens has remained almost unchanged since it was first designed by prominent horticulturist and writer J.C. Loudon in 1830.
The gardens have a number of historic glasshouses that hold over 1,000 species of plants from tropical, subtropical, Mediterranean, Alpine and desert climates.
There is also a butterfly house that is home to tropical species from the Philippines, Central America and Africa.
The Botanical Gardens hosts a number of courses in organic gardening and garden design as well as guided tours.
9 – Explore the unique St. Philip's Cathedral (Birmingham Cathedral)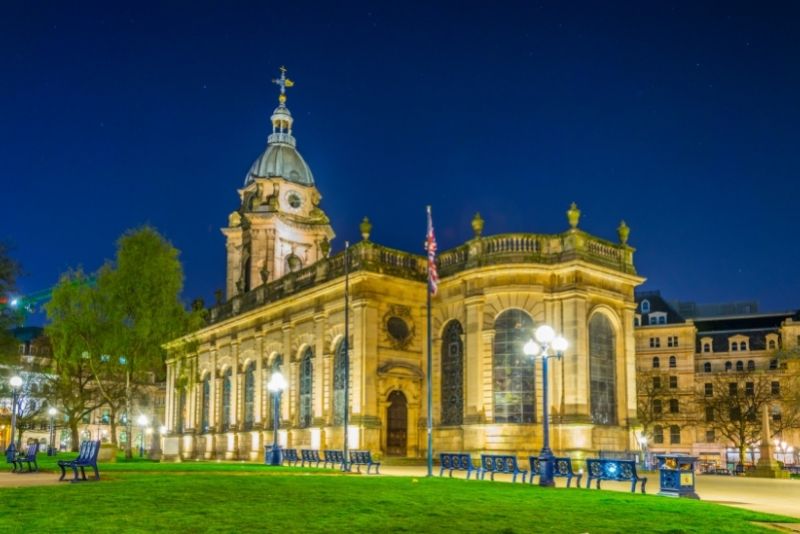 In the early 1700s when St. Phillip's was constructed, Birmingham was still a small town and the surrounding area was filled with fields and cottages.
Due to a rapidly expanding population, Birmingham became a city in 1889 and only 16 years later St. Phillips was granted cathedral status.
The church is one of few examples of English Baroque design and would have seemed very unusual to visitors to the town. Its architect, Thomas Archer, was heavily influenced by the Italian churches of Borromini which he had glimpsed on a tour of Europe.
Visit Birmingham Cathedral while in the city and take a free guided tour to learn more about this unique English church. Visitors can download a free audioguide if they prefer to take a self-guided tour of the Cathedral and its grounds.
10 – See the Library of Birmingham in Centenary Square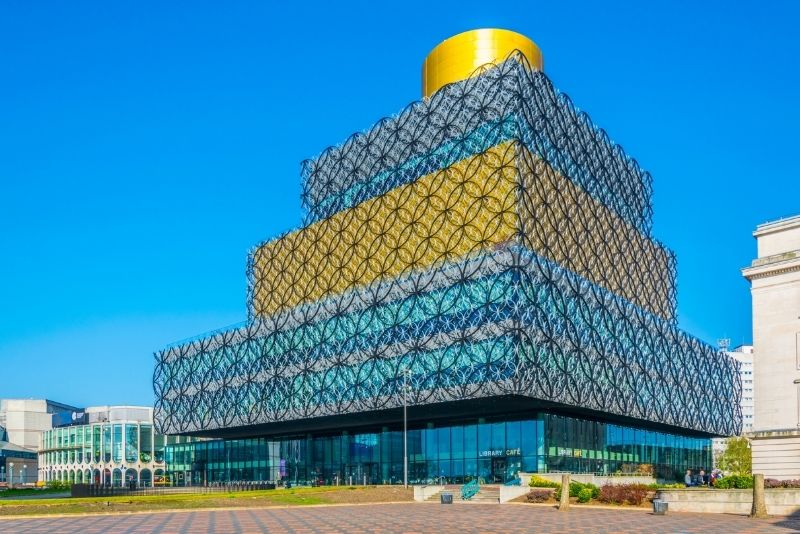 While you are touring the city, one of the most interesting things to do is to visit the Library of Birmingham. Sure libraries don't necessarily sound fun but this one is thought to be the largest library in all of Europe and is definitely the largest in Britain.
It opened in 2013 and cost over £180 million to build. The library contains a Shakespeare Memorial room that was formerly in Birmingham Central library since 1882.
The library is a popular stop on Birmingham City walking tours and sits in a prominent position in the city's Centenary Square near the International Convention Center.
11 – See the UK's biggest shows at Utilita Arena Birmingham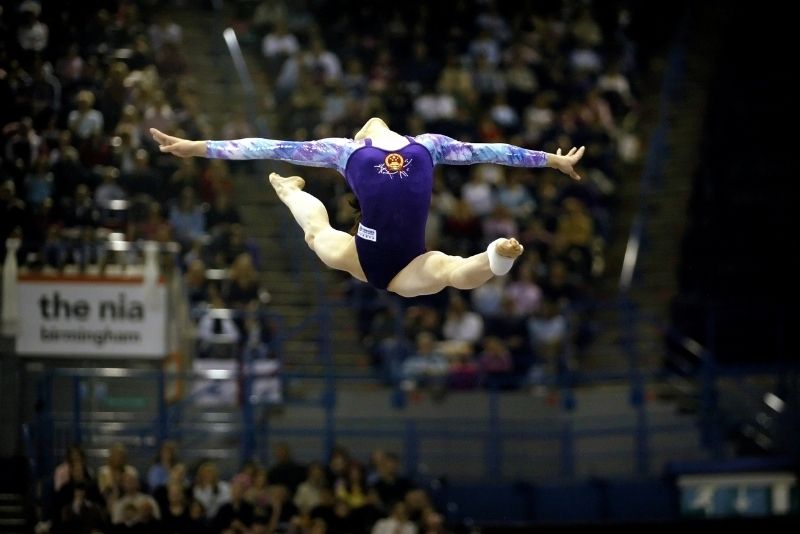 For some of the biggest live music, comedy, shows and sporting events in Birmingham, Utilita Arena is the place to be.
Host to big-name shows like Strictly Come Dancing and the country's most popular comedians, a night out at Utilita is sure to be a world-class event.
The biggest names in music including Billie Eilish, Stormzy and Dua Lipa have all appeared at this huge indoor. It also hosts major sporting events such as the National Indoor Athletics Championships as well as the UK Basketball finals.
There's sure to be something worth seeing during your time in the city.
12 – Ride the funfair at Cannon Hill Park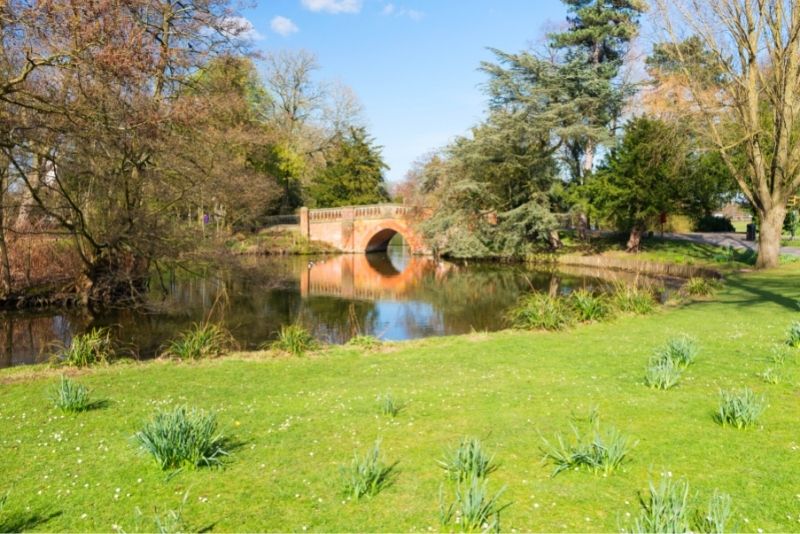 Jam-packed with attractions, spending the afternoon at Cannon Park is one of many fun things to do in Birmingham.
With sports galore, including tennis courts, fishing and running trails there's no wonder it's one of the most popular places to visit in the city.
The park's miniature funfair is great for kids up to 10 years old and has some stalls selling food and snacks.
There's also a 36 hole mini-golf course, a boating lake and a tea room. The Birmingham Wildlife Conservation Park and MAC (Midlands Arts Centre) are also both within the park grounds.
Don't miss this fantastic city center park during your time in Birmingham.
13 – See red pandas at Birmingham Wildlife Conservation Park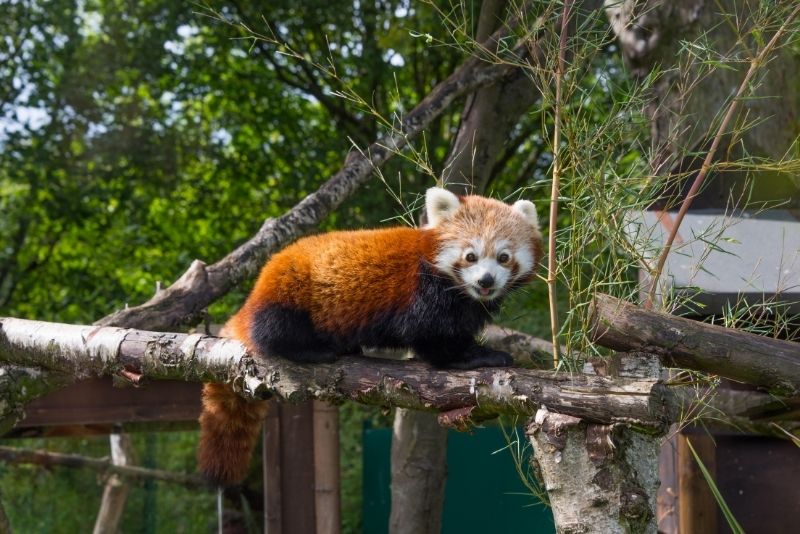 For a fun and lively afternoon in the city why not take a trip to the Wildlife Conservation Park.
Home to a large number of monkeys as well as lemurs, wallabies, otters and antelopes, every trip here is a joyous event. See the park's famous Red Pandas as well as the rare European Lynx which was once native to Britain.
The center has breeding programs for endangered species which is helping to preserve creatures at risk of extinction in the wild.
Try to visit around lunchtime to catch a glimpse of the animals being fed.
14 – Get creative at Midlands Arts Centre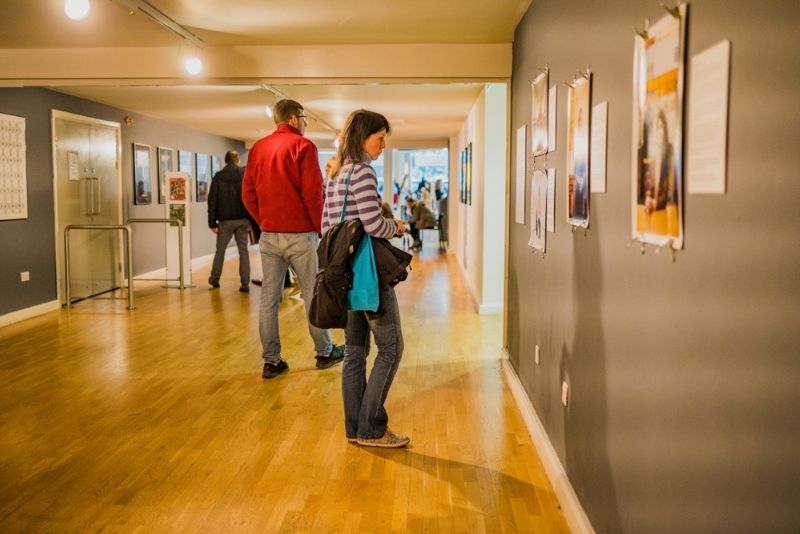 A great place to catch a performance, take a class or watch a movie, Midlands Arts Centre (or MAC as it's commonly known) has something for everyone.
The center puts on regular courses covering a range of creative activities from making ceramics to music lessons, comedy performances and printmaking.
Catch an intimate theater production or take a seat for a night of stand-up comedy.
MAC also screens movies regularly including the best new releases and old favorites in its small but cozy theater. Plan a visit and discover your creative side!
15 – Oggle classic British bikes at The National Motorcycle Museum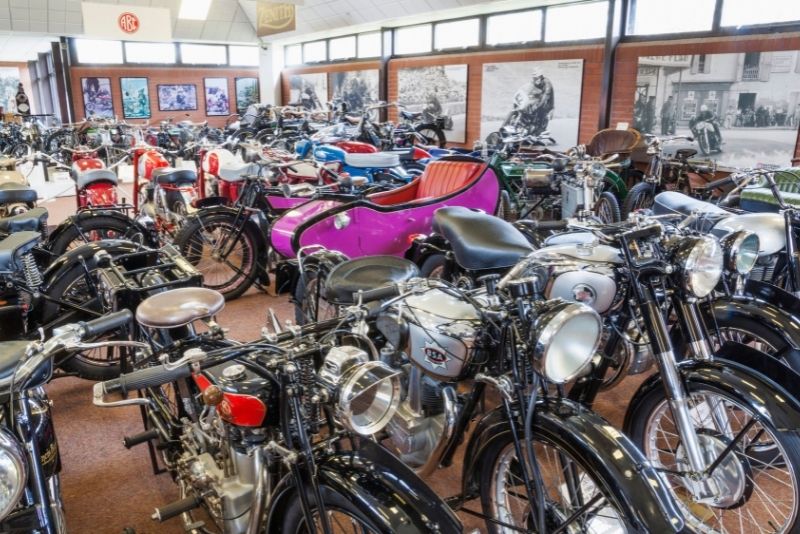 For all you petrolheads and bikers, this is gonna be at the top of the things to do in Birmingham. The National Motorcycle Museum is dedicated entirely to British bikes.
With roughly 1,000 bikes from 170 makers in the collection, this is the biggest collection of British-made bikes in the world.
In the 1950s, Birmingham bike builder BSA was the largest motorcycle producer in the world so the city has a proven motorcycle heritage.
Check out classic bikes from Norton, Triumph, BSA, Royal Enfield and more obscure brands you may not have ever seen.
16 – Discover MiniBrum at Thinktank Birmingham Science Museum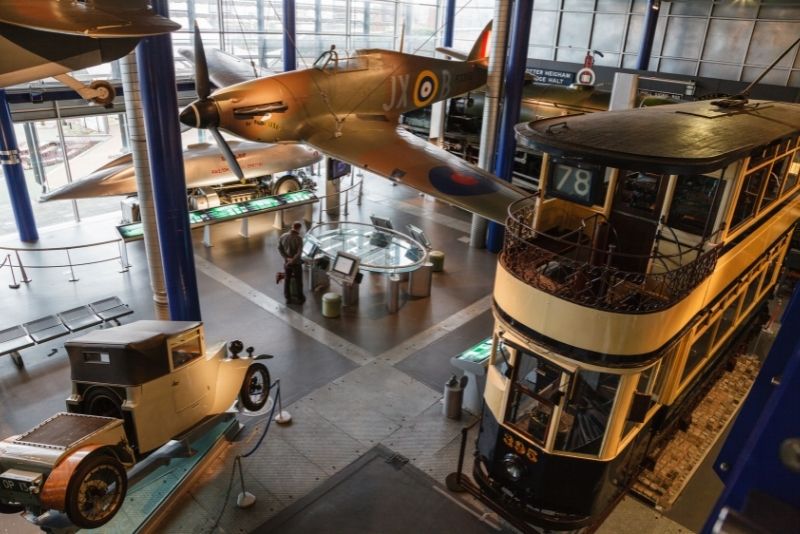 Study the world around you at Thinktank Birmingham Science Museum. Far from the stuffy museums of old, Thinktank is packed full of 200 fun and interactive exhibitions where you can really get to grips with science and technology.
Discover amazing robots, magnificent machines and the miracles of our own bodies explained through science.
Younger kids can explore MiniBrum miniature city and gaze in wonder at the universe around us in the 4K Planetarium. Thinktank is great fun for adults and children alike.
17 – Glimpse the world's smallest Primark at LEGOLAND Discovery Centre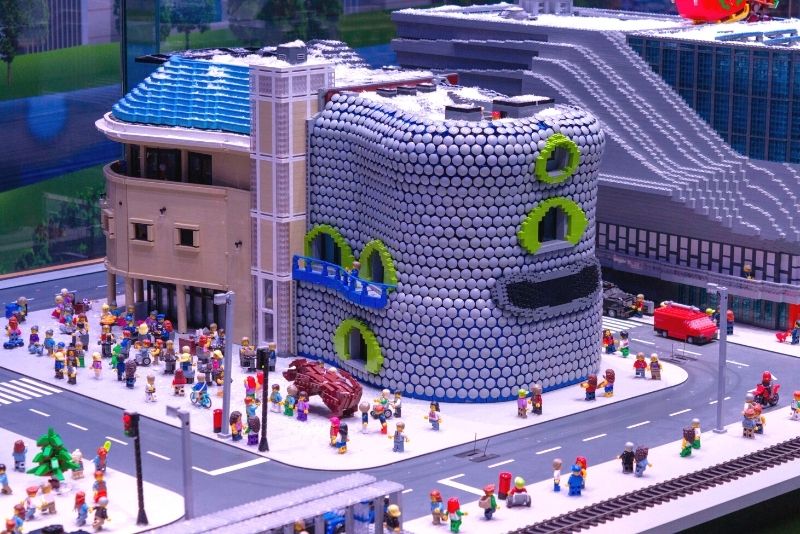 There are many mesmerizing things to do at Birmingham's LEGOLAND Discovery Center. One of the best is to visit MiniLand, a miniature world built from over 1 million LEGO bricks, that also features the world's smallest Primark store.
The 4D cinema experience is great fun too and allows you to watch 3D movies like NINJAGO and NEXO KNIGHTS and really feel the wind and rain on your face.
Jump aboard the Kingdom Quest ride and battle trolls and skeletons or run, bounce and slide in the soft play area. It also has a coffee shop for the less enthusiastic family members.
18 – Catch a live performance at Sutton Park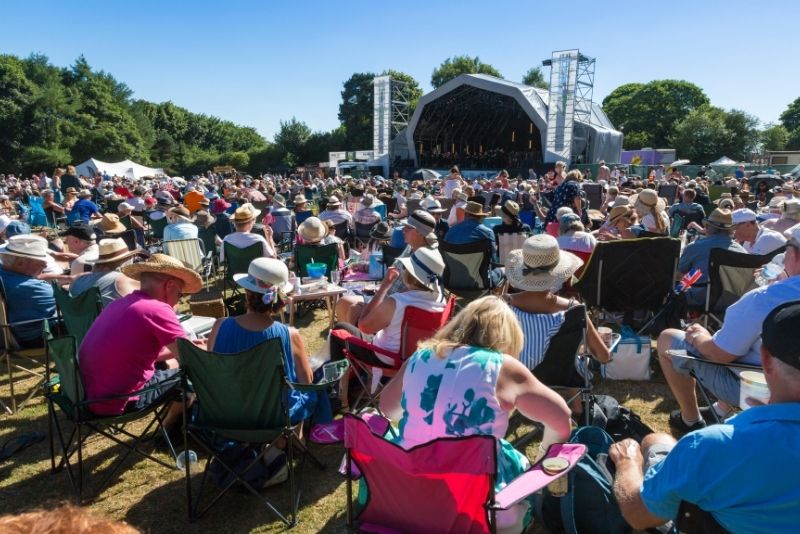 The 2,400-acre national nature reserve, Sutton Park can be found just outside the city center. It is one of the largest city parks in all Europe with almost a quarter of it covered in ancient woodland, making it a perfect venue for concerts by world-famous artists and musicians.
Visitors can kayak and canoe at Blackroot Pool and try their hand at sailing at Powell's Pool. There are some great cycling and running trails throughout the park, including a marked 5K route.
Birmingham Donkey Sanctuary can also be found in the park and is open to visitors on weekends, check out the website to book your visit.
19 – See modern dance at Birmingham Hippodrome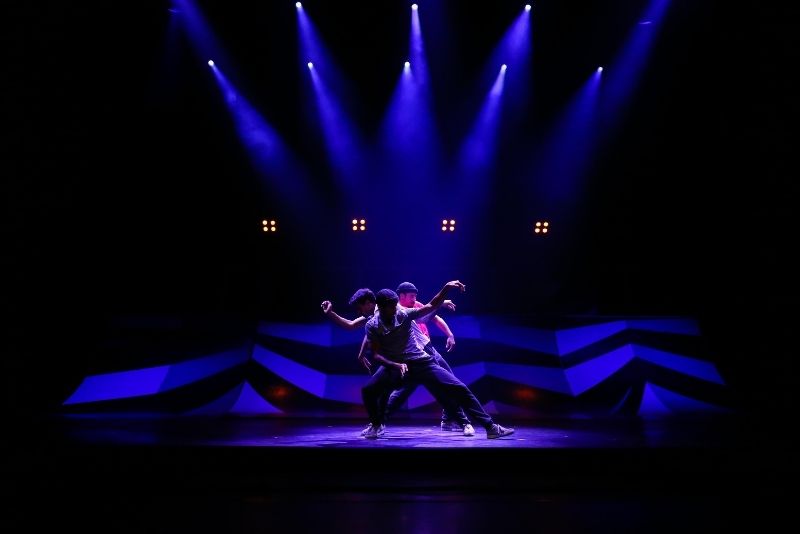 Home to the Birmingham Royal Ballet, the Hippodrome is one of the city's most diverse cultural spaces.
Hosting a wide selection of dance performances from traditional ballet to modern hip hop and experimental performances you're sure to find something to suit your taste.
The Hippodrome also puts on some of the big names in comedy and regular Opera and Broadway musical productions.
20 – Explore the Edwardian-era Winterbourne House and Garden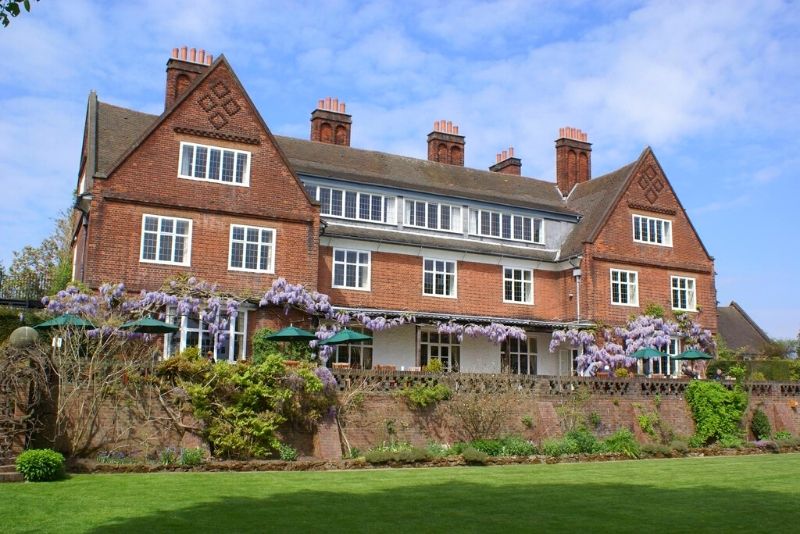 When it was built in the early 1900s, Winterbourne was full of the most modern conveniences such as a telephone, hot running water and electric lighting throughout.
It maintains its Edwardian charm and offers visitors the chance to see great examples of English Arts and Crafts design.
The site has been owned by the University of Birmingham since the 1940s and the seven-acre garden alone is worth a visit.
It has a Japanese-style bridge and tea house and a number of glasshouses featuring a diverse collection of orchids, cacti and carnivorous plants.
21 – Practice yoga at Shri Venkateswara Balaji Temple of UK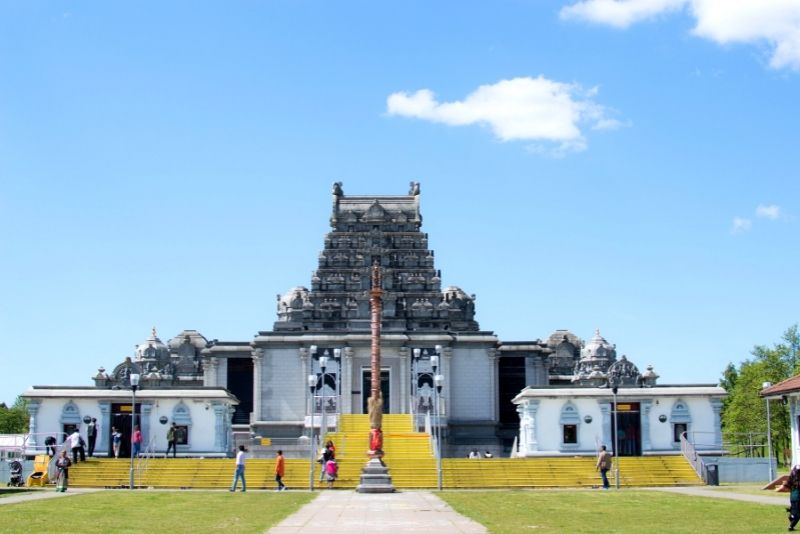 Visitors are sure to find the Shri Venkateswara Balaji Temple as an unusual sight in the Black Country landscape.
Its exotic architecture immediately transports you to another time and place and it feels modern and very old all at once.
It is one of the largest Hindu temples in the UK and Europe and, as well as the temple, includes a community center and the Gandhi Peace Center.
Visitors can take in the information about the life and times of Mahatma Gandhi and partake in yoga and meditation practices.
22 – Catch a concert at Symphony Hall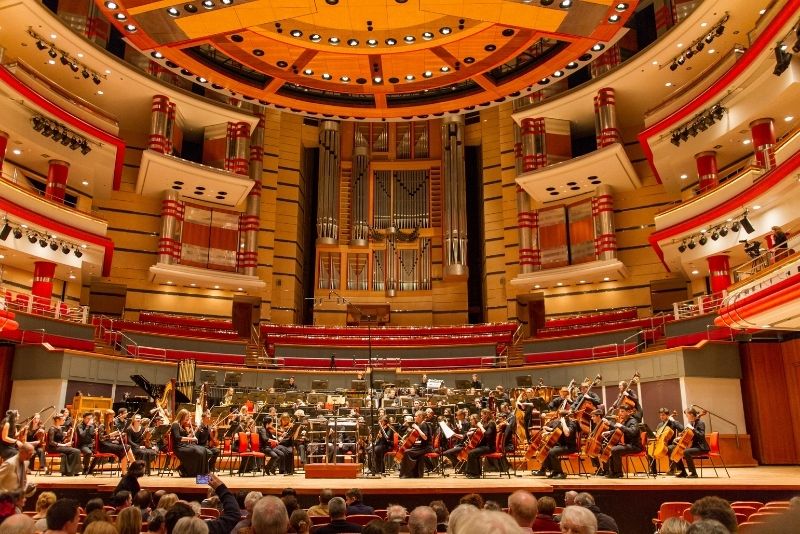 Contrary to its name, the recently renovated Symphony Hall puts on a wide range of concerts including jazz, world music, rock and pop as well as orchestral performances. Such musical luminaries as Van Morrison, Grace Jones and Bruce Springsteen have all made appearances here.
It's said that the acoustics of the building are so perfect, you can hear a pin drop on stage from anywhere in the auditorium.
Yes, they literally tested it by dropping a pin! Definitely see what's on at Symphony Hall, you won't find a finer building anywhere in Britain to catch a live show.
23 – Take a tour of Villa Park stadium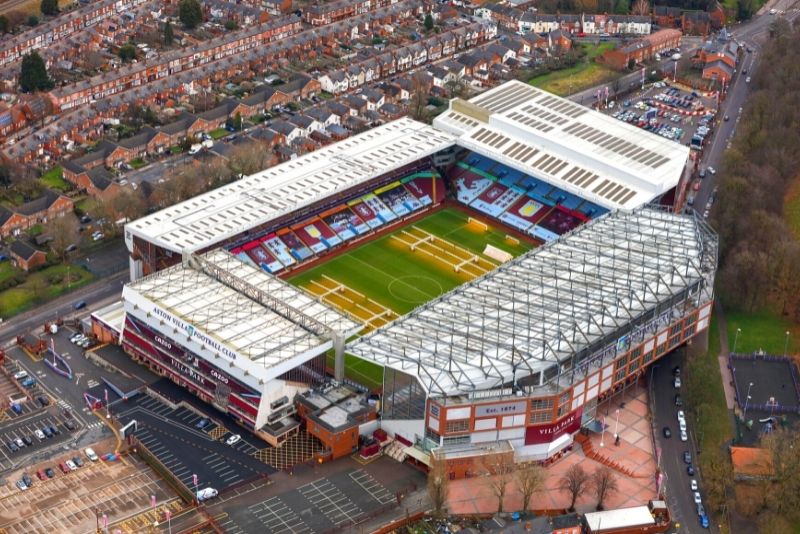 For football fans, one of the best things to do in Birmingham has to be a tour of Villa Park. It is the largest football stadium in the Midlands and has been home to Aston Villa, Birmingham's most successful Premier League club since 1897.
Tour the players' lounge and dressing rooms before you head down the tunnel and out onto Villa Park's legendary turf.
Sit in the manager's seat beside the pitch and visit the press room for the full Aston Villa experience. Don't forget to pick up a shirt from the Villa shop before you leave.
24 – Hit up Ghetto Golf Birmingham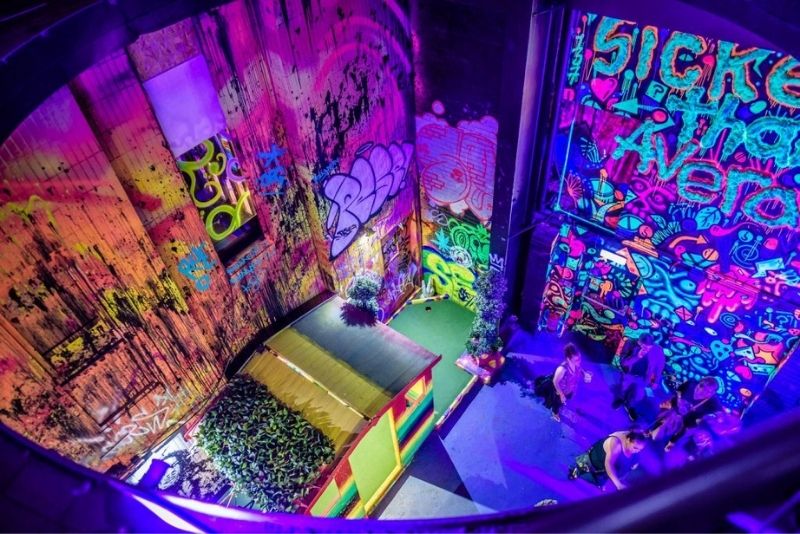 Definitely not your traditional golf game, Ghetto Golf is a glow-in-the-dark, graffiti gaming palace and cocktail bar. Visitors are greeted by unique artworks and locations around every corner of this psychedelic landscape.
Play a challenging round of 18-hole mini-golf in the heart of Birmingham's Custard Factory. Ghetto Golf also houses a bar and restaurant so is only suitable for ages 18 and over.
If you're looking for a fun night out in Birmingham, this is a good call.
25 -Pet the bunnies at Ash End House Children's Farm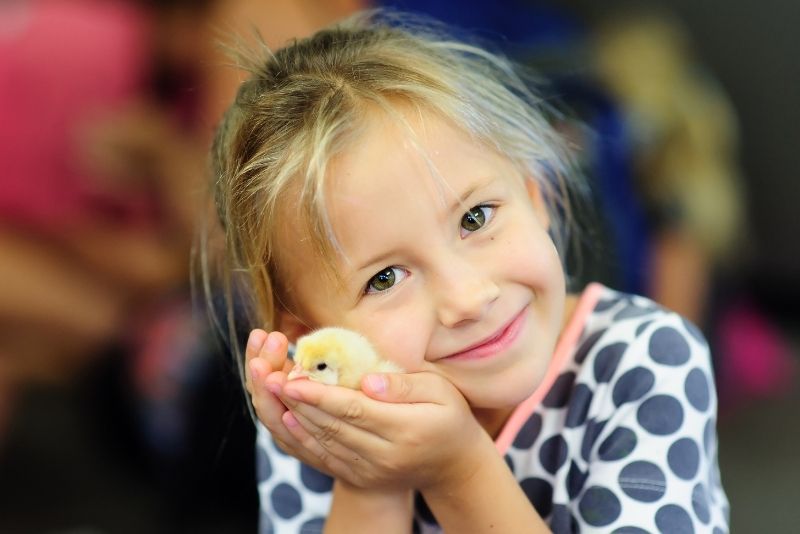 Ash End House Children's Farm is a great day out for family's with younger kids. With a whole farmyard of adorable animals to meet, small children will be thrilled with the new creatures they encounter.
Meet friendly pigs and goats and see how a farmyard runs. Pet cute bunnies and chicks and get to play on a digger, this is a great way for younger kids to learn about nature.
In addition to farmyard animals, Ash End also has reptiles and falcons to really capture the little ones' imagination.
26 – Visit Soho House in Handsworth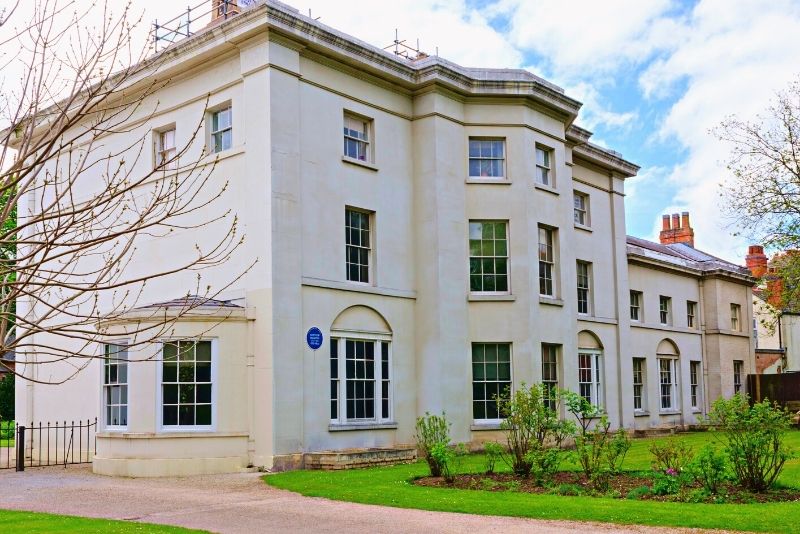 The historic Handsworth district of Birmingham is home to some intriguing attractions, most notably Soho House and Handsworth Park. Soho House is the late Georgian home that once belonged to the Birmingham industrialist Matthew Boulton.
In the 1700's it was a regular meeting place for The Lunar Society. It is now a museum focusing on key points of Boulton's life.
Handsworth Park is a huge urban green space with some great sports facilities including cricket grounds and a lake with walking trails. In the summer months, visitors can hire boats to take out onto the lake.
The park also hosts the city's biggest free reggae music festival, Simmer Down.
27 – Visit Moseley Bog, an inspiration for 'Lord of the Rings'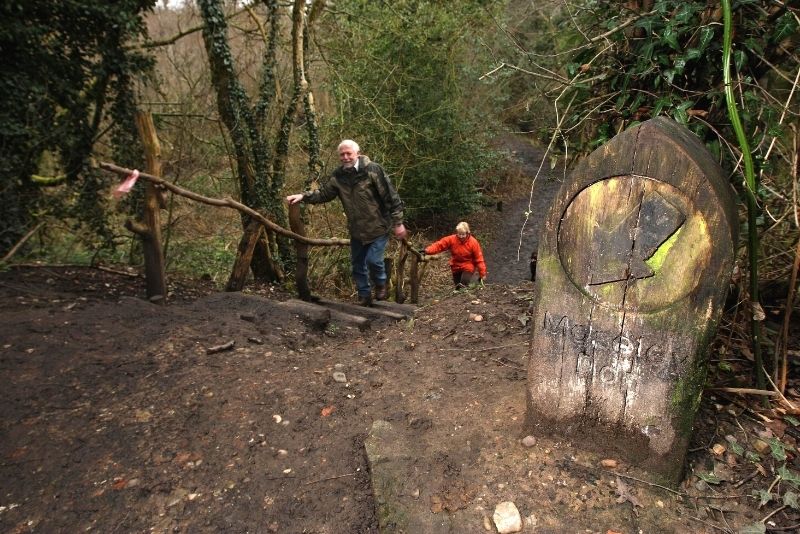 The wooded wetland reserve of Moseley Bog holds some interesting surprises for visitors. Though it may seem fairly ordinary it was the inspiration for the old forests in J.R.R Tolkien's Hobbit and Lord of the Rings books.
The author lived nearby as a child and the area has now become a popular destination for visitors from all over the globe.
You can also find some ancient burnt mounds which date back to the Bronze Age and the remains of an old Mill Pond and Victorian greenhouses.
28 – Visit Tolkien's 'The Shire' at Lickey Hills Country Park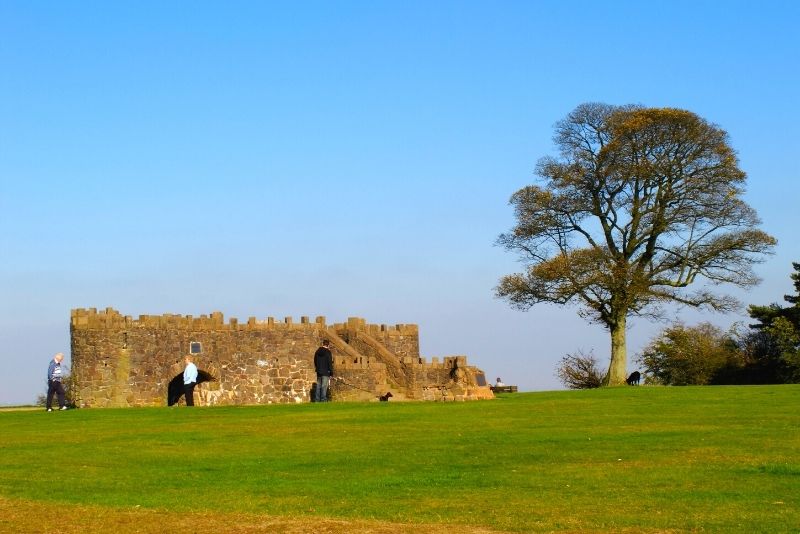 Located just outside of the city center, Lickey Hills Country Park has long been a favorite day trip for Birmingham locals and a place to escape the bustling city. It is considered one of the most beautiful places in the Midlands and is a must-visit on a trip to Birmingham.
J.R.R Tolkien lived nearby in Rednal as a child and Lickey Hills was the inspiration for The Shire in his Hobbit and Lord of the Rings books.
The area has been the site of significant archeological findings which include a Stone Age arrowhead, which is on show at Birmingham Museum, and the remains of a Roman road.
29 – Defy gravity at Rush UK Trampoline Park – Birmingham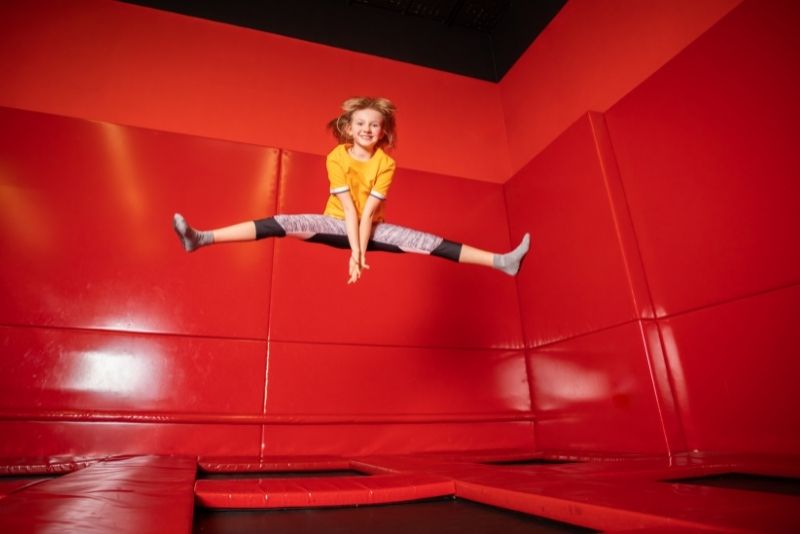 Trampoline parks are no longer just for kids, everybody's getting in on the action these days.
Indulge in a fun and high-energy day out at Rush UK that is perfect for the whole family. Play a game of dodge ball or slam dunk some baskets on a unique bouncy court.
Say goodbye to the shackles of gravity as you tackle assault courses and obstacles and do daring stunts into a cushioned foam pit.
Discover why people of all ages are having fun and keeping fit at this awesome trampoline park.
30 – Visit the National Trust's Birmingham Back to Backs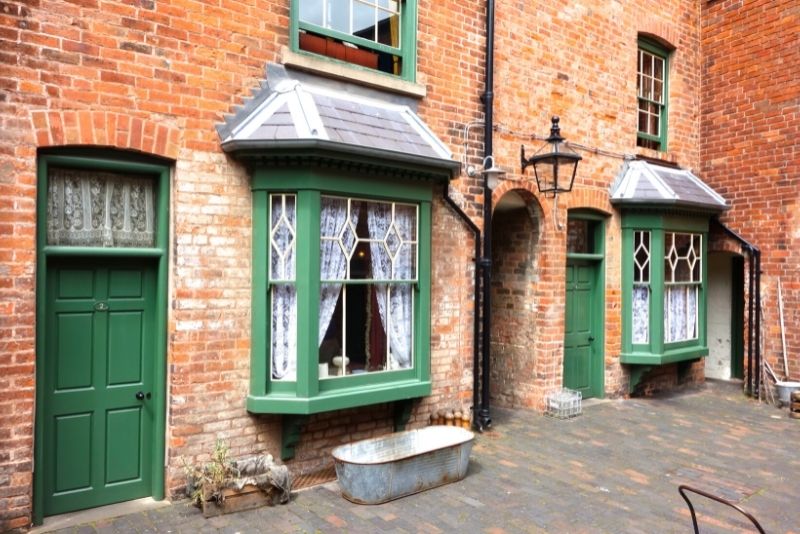 In the industrial heyday of the city people often lived in cramped housing built very close together. The houses were usually touching each other, centered around a communal courtyard and were known as Back to Backs.
The families who lived there were a diverse group of skilled tradespeople and factory workers. This style of housing was commonplace in the city up until the late 1960s when the city council declared them unfit for habitation.
Discover the city's only surviving example of back-to-back housing that has been restored to give an accurate representation of how many people here used to live. This is a fascinating look into the Birmingham of old.
31 – See world-class cricket at Edgbaston Stadium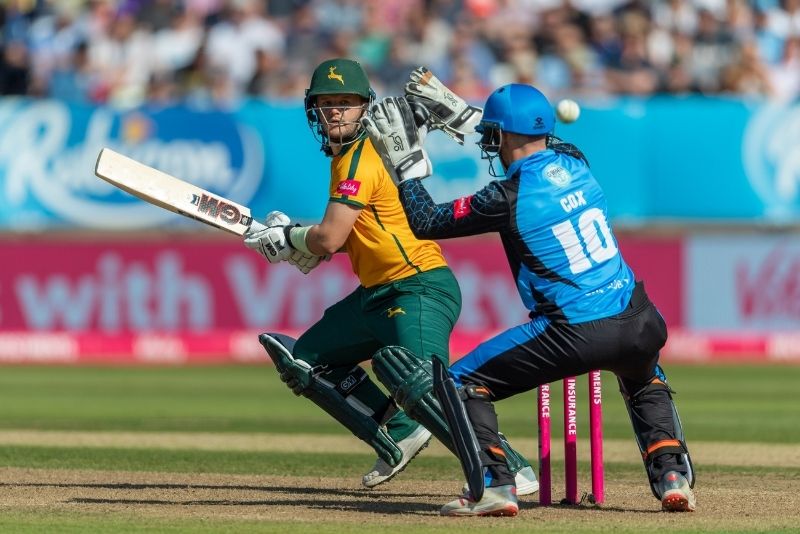 Home to Warwickshire County Cricket Club and the Birmingham Bears T20 Cricket team, Edgbaston stadium is a must-visit for sports fans.
It is the fourth-largest cricket stadium in England and hosts regular international games of the England Cricket team.
The stadium has been home to Warwickshire CCC since 1885 and hosted its first international match, against Australia, in 1902.
If you can't make it to a match at Edgbaston why not take a guided tour of the grounds and glimpse where the magic happens?
32 – Survive The Bear Grylls Adventure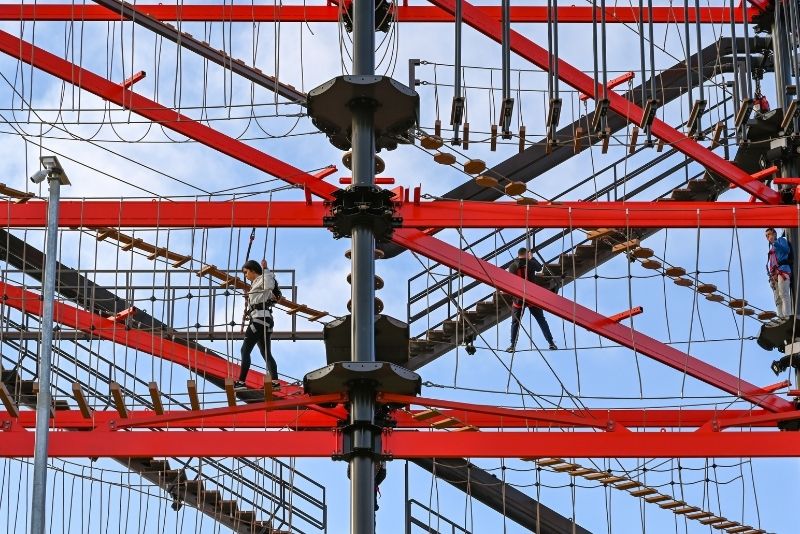 British television host and adventurer Bear Grylls is known for living life on the wild side. Channel his spirit at the Bear Grylls Adventure in Birmingham!
Take on a selection of mental and physical challenges as you evade escape rooms, clamber along high ropes and tackle assault courses.
Gather up your friends and take part in this unique survival experience. This is sure to be an adventure you'll never forget.
33 – Visit the Queen Victoria sculpture at Victoria Square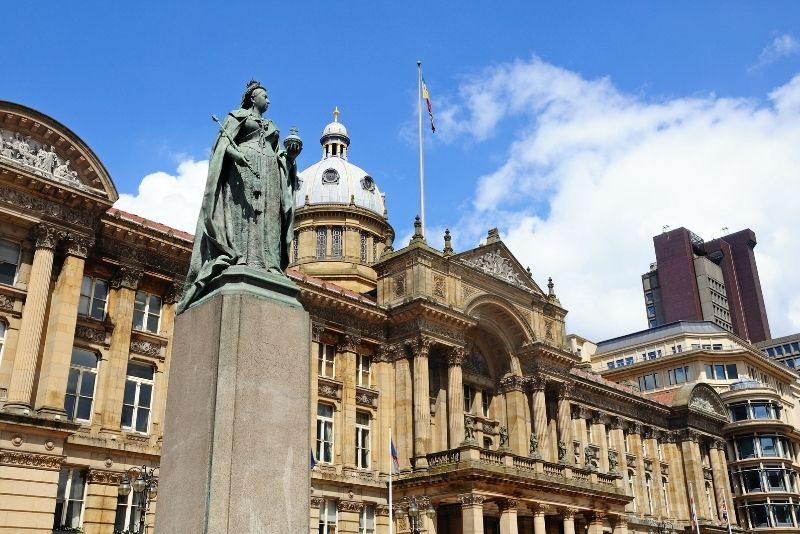 The very grand Victoria Square in Birmingham was once known by the somewhat less distinguished name of Council House Square.
It was renamed in 1901 in honor of Queen Victoria, just 12 days before the monarch's death. There is a bronze statue of Queen Victoria in front of the Town Hall.
In December each year, Victoria Square hosts the Frankfurt Christmas Market which sells seasonal crafts, gifts and traditional German foods.
34 – Cheer the 'Blues' Birmingham City F.C. at St. Andrew's Stadium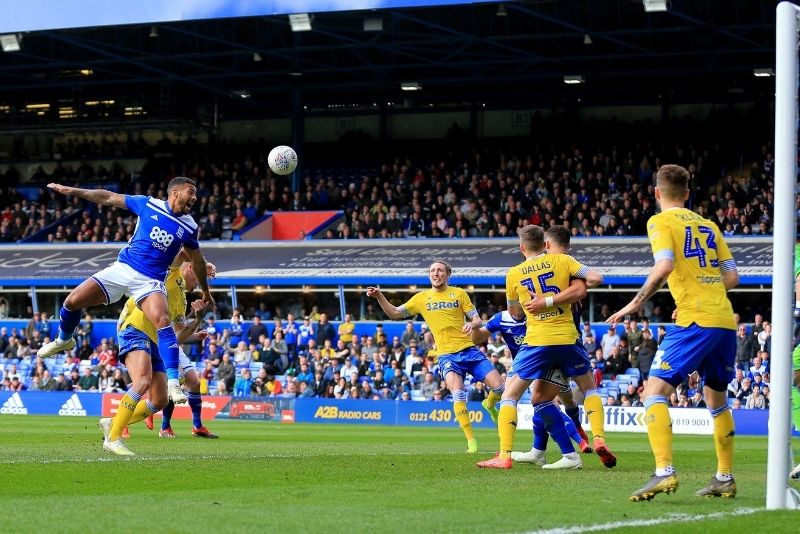 Birmingham's other professional football club is Birmingham F.C. The team has been around since 1875 and the St. Andrew's grounds has been the club's home turf since 1906.
The Birmingham club's local rivals, Aston Villa are based less than 3 miles away and the teams have met many times over their nearly 150-year histories.
Birmingham F.C currently plays in the English Football League Championship, the second-highest tier in English Football after the Premier League.
Why not check out their home grounds and catch a match during your time in the city?
35 – Explore Gas Street Basin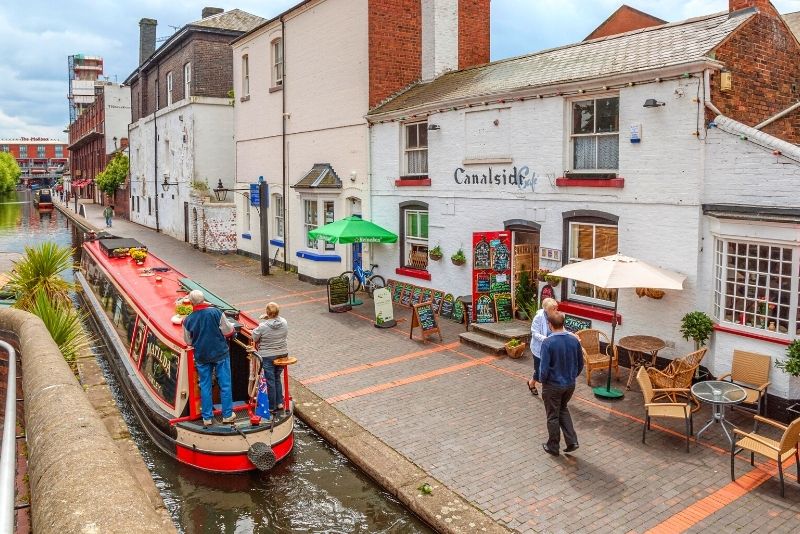 During the city's industrial period a number of canals were built to transfer vital goods like coal and iron between Birmingham and the surrounding area.
Gas Street Basin was the meeting point for several of these canals and was formerly a busy inland port.
Nowadays, visitors can explore the Industrial-era architecture of the area and its bustling restaurants and bars. The area offers a quieter respite from the hectic city and some nice walks away from the traffic.
There is also a pathway from the basin that heads out of the city into the scenic areas of the Midlands countryside.
36 – Discover Africa at the Akamba Heritage Centre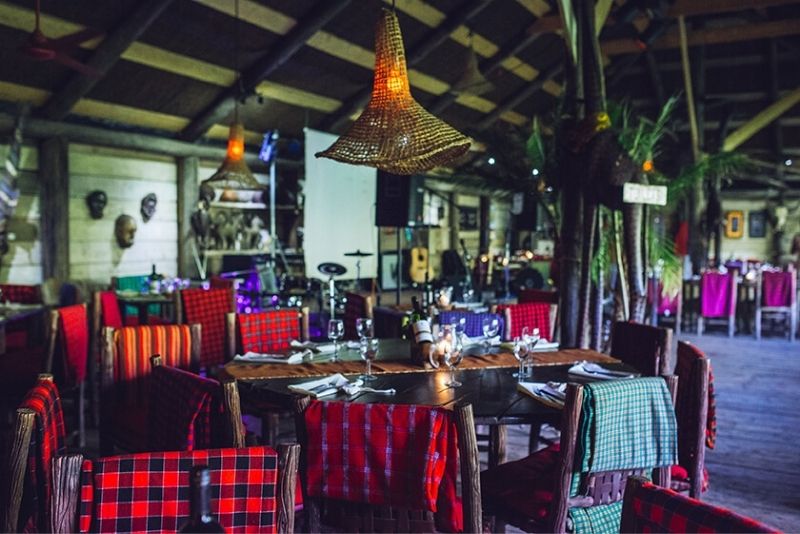 Visitors to the Akamba Heritage Center may feel like they have left Birmingham altogether. The African-themed heritage and garden center is an exotic paradise in the midst of the city.
Discover an array of hardy tropical plants and visit the reptile house and bird walk to see some of Akamba's most unfamiliar residents.
The center also has a restaurant that serves a selection of African and British dishes and hosts regular entertainment including live music.
There's probably nowhere as peaceful in the whole city as Akamba.
37 – Take a day trip to Kenilworth Castle and Elizabethan Garden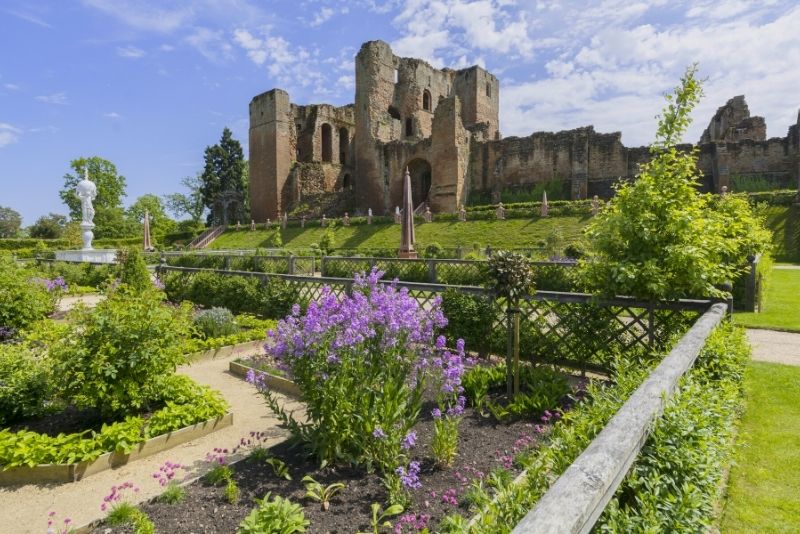 Kenilworth Castle was first constructed during the 1100s on top of an older fortress. It was extended and modified over the next five centuries and sat in the middle of a large man-made lake.
The castle was one of the grandest and most impressive in the country and belonged to a number of nobles through the centuries including John of Gaunt and Henry V.
Visitors can tour the ruins of Kenilworth Castle and its impressive Elizabethan Knot gardens, which are restored to how they would have looked in the late 1500s.
38 – See inspirational art at Ikon Gallery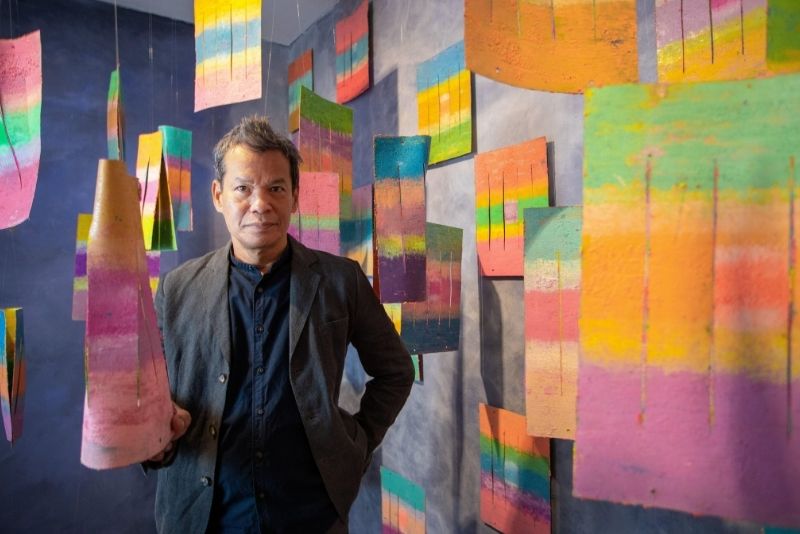 For the very best in contemporary art visitors to the city should definitely check out the Ikon Gallery.
Featuring exhibitions of painting, sculpture, mixed media and sound and video this is one of the coolest things to do in Birmingham for art lovers.
The gallery has been a fixture of the city's art scene since the 1960s and also houses the Ikon Shop, which is the only bookstore in the city dedicated specifically to art.
Admission is free of charge, what are you waiting for?
39 – Examine amazing fossils at Lapworth Museum of Geology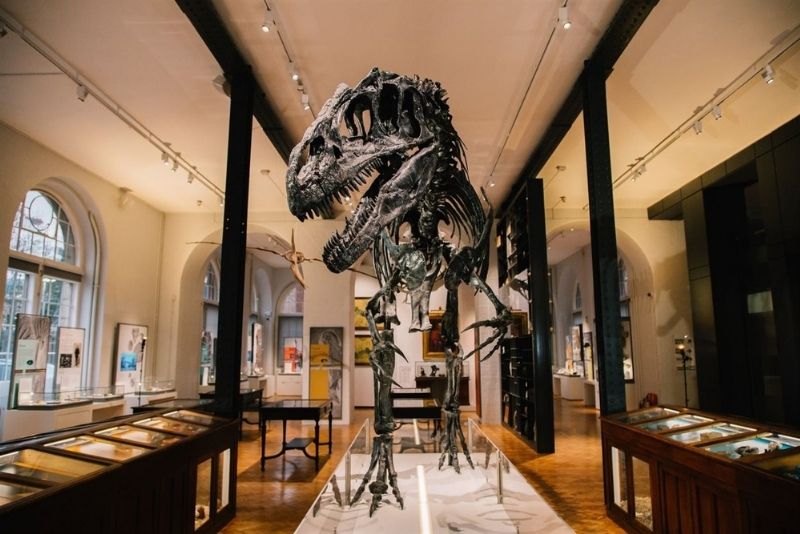 Home to one of the most extensive fossil collections around, Lapworth Museum tells the history of the Midlands from the early stages of the Earth's history to the present day.
It features lifesize replicas of dinosaur skeletons and is one of the oldest geology museums in the UK.
As well as housing over 250,000 fossil specimens, the museum also has maps and geological equipment and special collections of fossils from the Midlands and other coal mining areas of the country.
40 – Ride the Shockwave at Drayton Manor Theme Park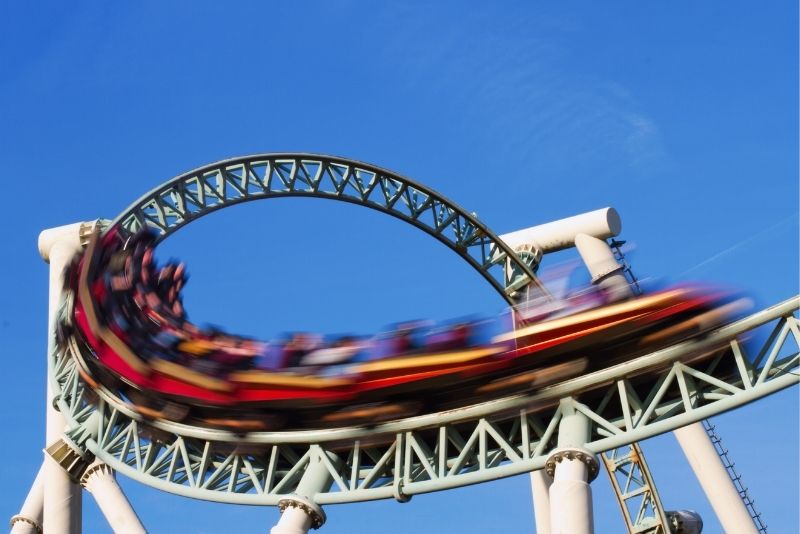 More than just a theme park, Drayton Manor houses 100 attractions, including rides and rollercoasters, a zoo, Thomas Land and a dinosaur trail.
Younger kids will really love exploring all the Thomas-themed attractions including Sodor Classic Cars and the Thomas Live Shows.
Everyone else can grab some white-knuckle thrills aboard the park's rides, like the stand-up rollercoaster Shockwave.
Take some time to relax and visit the zoo which is home to a huge number of primates, reptiles and birds as well as big cats like the Sumatran Tiger and the unusual Fishing Cat.
There's so much to see on a day out at Drayton Manor.
41 – Catch a concert at Birmingham Town Hall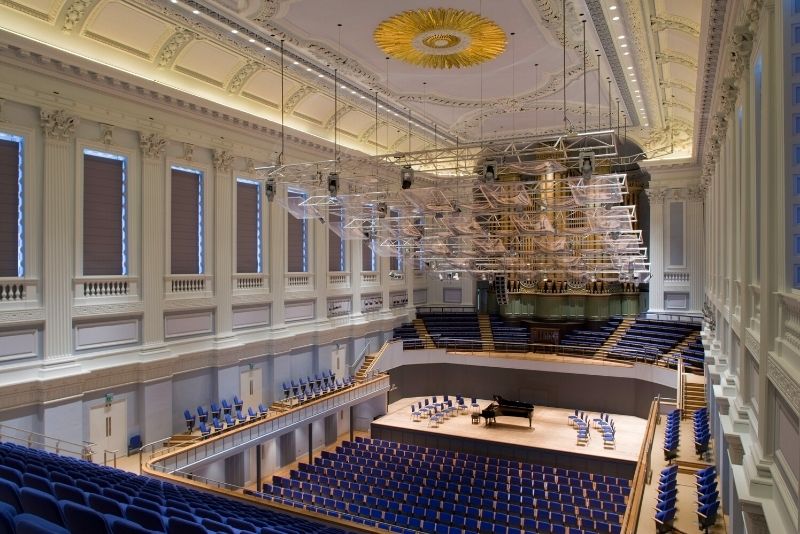 The attractive and very grand Birmingham Town Hall is one of the city's nicest venues to catch a live concert.
It hosts a variety of performances a few times weekly, including classical music, ballet, jazz, shows and movies and stand-up comedy.
Unusually, the town hall was designed for music and performances and has never been used for administrative purposes.
In 1853, Charles Dickens gave the first reading of A Christmas Carol in the Town Hall, momentous indeed.
42 – Visit the fascinating Museum of the Jewellery Quarter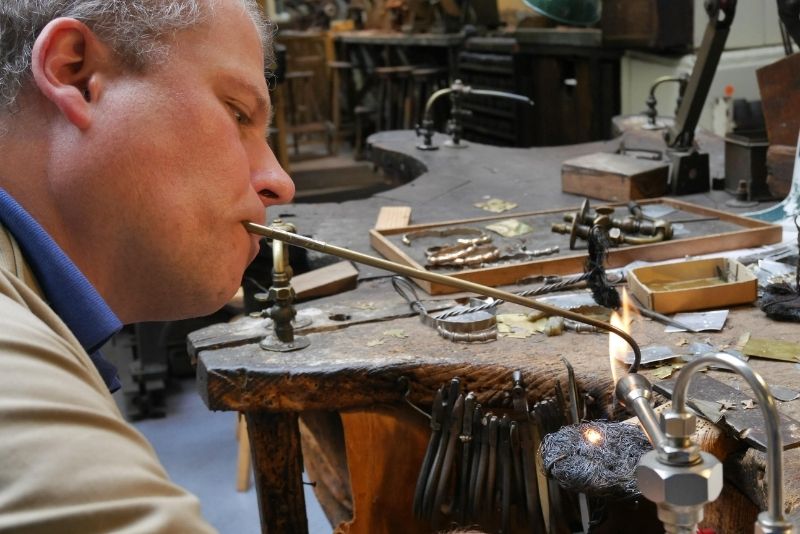 If you're looking for the most interesting things to do in Birmingham, the Museum of the Jewellery Quarter could be it.
The museum is an ex-jewelry factory that closed in the 1980s after over 80 years in business.
It is preserved as it was when the owners closed up for the last time, offering a peek into the industry that has been part of the area for 200 years.
See the array of tools and specialist equipment in this amazing and rare time capsule museum.
43 – Shop till you drop at Bullring & Grand Central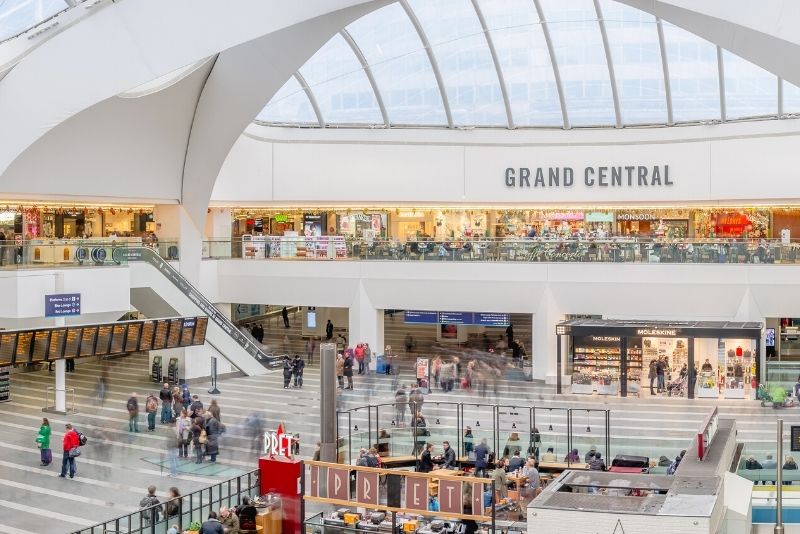 When it was built in the 1960s, the Bullring was the UK's first indoor shopping center. It was renovated in 2003 and is now one of the largest shopping centers in the country.
Home to over 130 stores, including some of the biggest names on the high street, you are sure to have a fun day shopping here.
The Bullring has easy access to Grand Central Shopping Center and is connected with a pedestrian bridge offering an even larger selection of stores and restaurants at your disposal.
You can't go to Birmingham without checking out this iconic city center shopping destination.
44 – Discover the history of Baddesley Clinton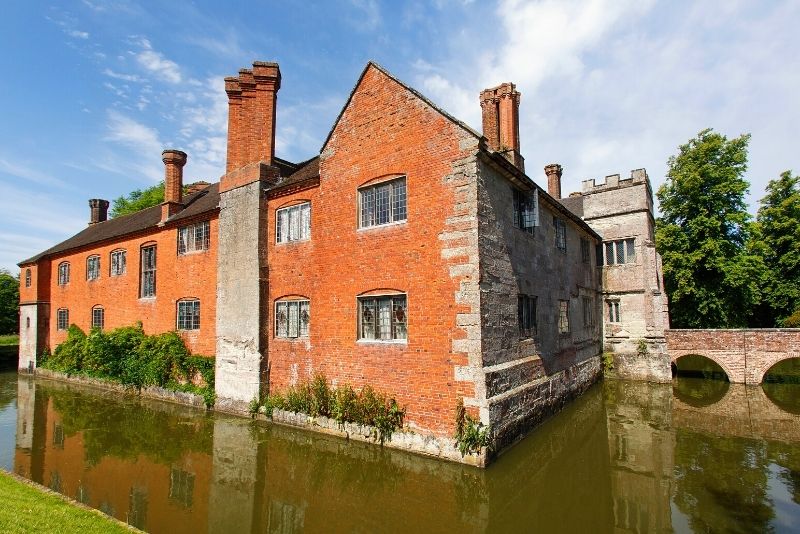 The beautiful estate of Baddesley Clinton is amazing in itself but the story behind it is even more so. The house had been in the same family for 500 years, passing through 12 generations of fathers and sons until it was sold and restored in the 1980s.
Visitors can tour the house and extensive grounds which feature a moat with a bridge and gatehouse around the entrance.
Inside, the house is packed full of historic features like a 500-year-old priest hide, which was used to shelter clergymen in volatile times.
This impressive estate is probably one of the most beautiful in all of England and Is well worth a trip.
45 – Visit the Pen Museum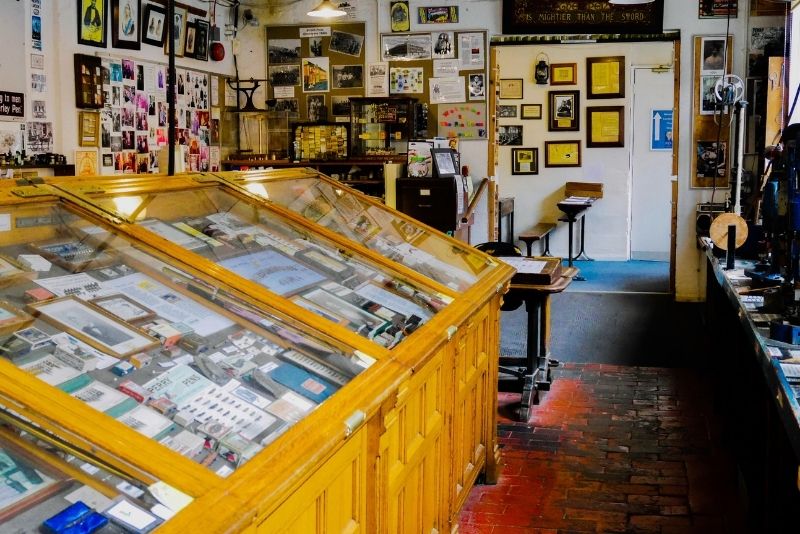 Now, it won't appeal to everyone but the Pen Museum is a great tribute to the city's steel pen trade.
Based in a former pen factory that once produced gold pen nibs, the museum houses an extensive collection of pens, machinery and objects to do with the city's pen production.
It also tells the story of the thousands of workers who were employed in the industry, of which the largest percentage were women and how mass availability of writing equipment increased literacy among the poorer people of the country. It could be fun!
46 – Ride on the Shakespeare Express steam locomotive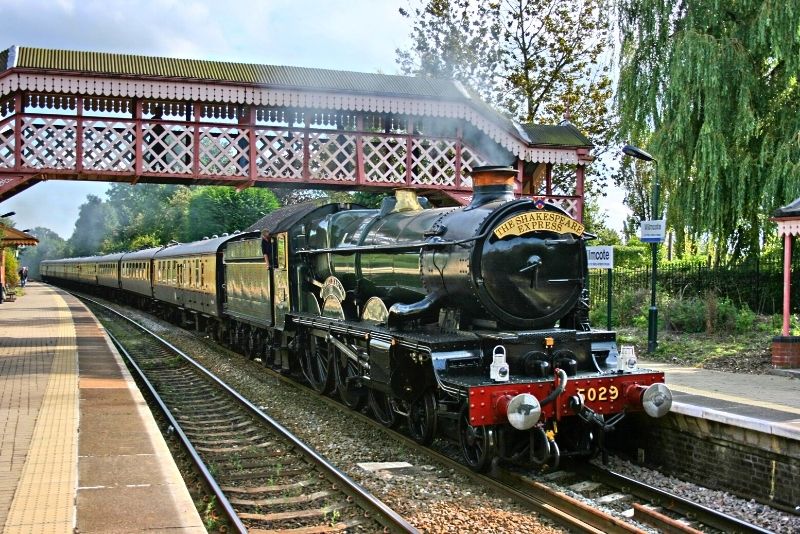 Step back to the early days of rail travel on one of the UK's few surviving steam engines.
The Shakespeare Express runs between Birmingham and Stratford Upon Avon, offering visitors the chance to experience all the sights, sounds and smells of a steam locomotive.
Journey through the British countryside in this thrilling and nostalgic way. Sample the delicacies of the restaurant car. and dine in style in the trains Pullman cars.
Lovers of vintage chic will definitely enjoy these fun retro excursions.
47 – Check out West Midland Police Museum at The Lock-up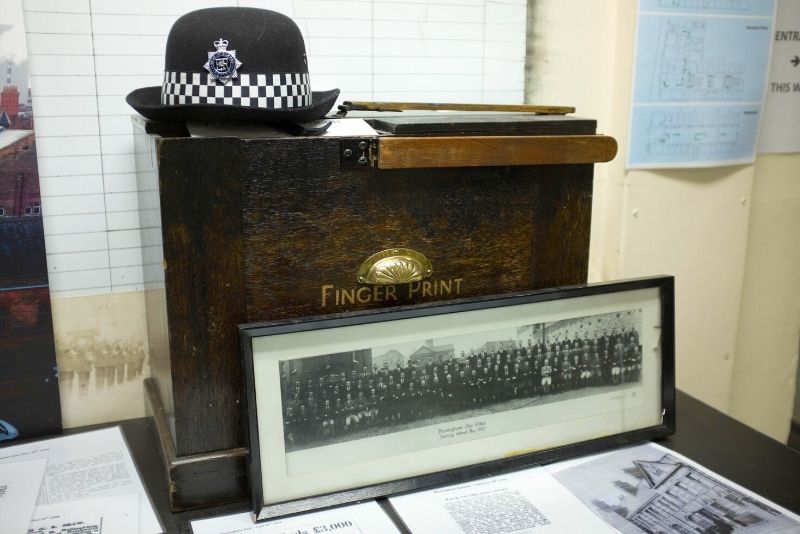 For an in-depth look at the history of the Birmingham Police Force, the West Midlands Police Museum is worth a visit.
Follow the history of the city's police from their formation in the 1830s to the present day.
The museum has archives of all the officers that have served with the force as well as a collection of paintings including one of the city's longest-serving copper, Sir Charles Horton Rafter.
48 – Beat the escape room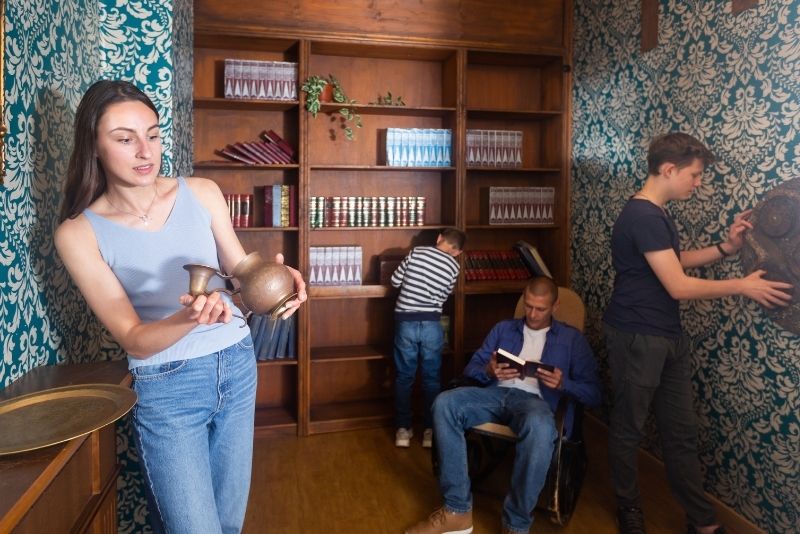 Looking for something fun to do as a group in Birmingham? Try an escape room for the ultimate mental challenge.
These fun immersive games require quick thinking and teamwork. Players can choose from a number of themed rooms and must solve puzzles to escape in time.
Some of Birmingham's best escape rooms are the horror-themed Survival, which includes a non-player character, Escape Live, Escape Hunt and Clue HQ. All offer a detailed gameplay experience that is sure to have you hooked.
49 – Discover the ghosts of Aston Hall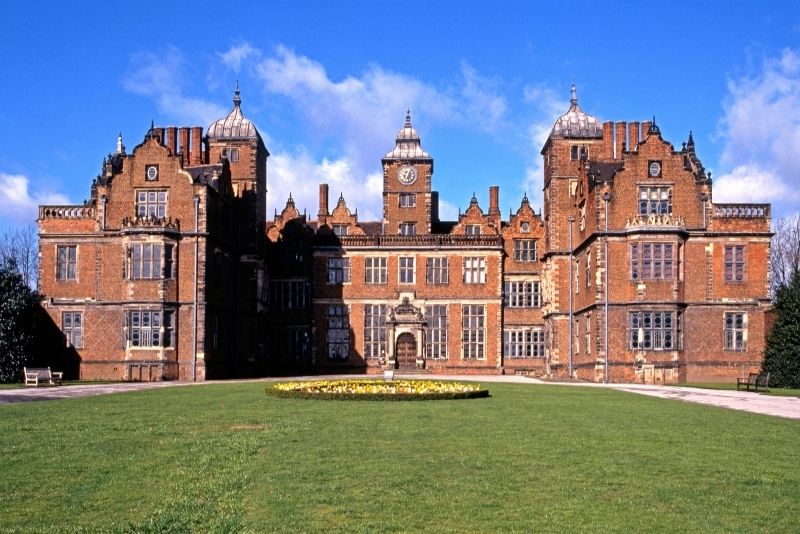 Take a peek inside one of Britain's best-preserved Jacobean houses at Aston Hall. The mansion was built by Sir Thomas Holte in the 1600s and has some beautiful design details.
The plasterwork of the ceiling is particularly impressive and features scenes of elephants, orange trees and elaborate patterns.
The hall has 30 rooms which can be visited, including a bed-chamber where King Charles stayed and the impressive long gallery.
The Hall has an interesting English Civil War history and is reportedly one of the "most haunted" buildings in the country.
50 – Go hiking at Sheldon Country Park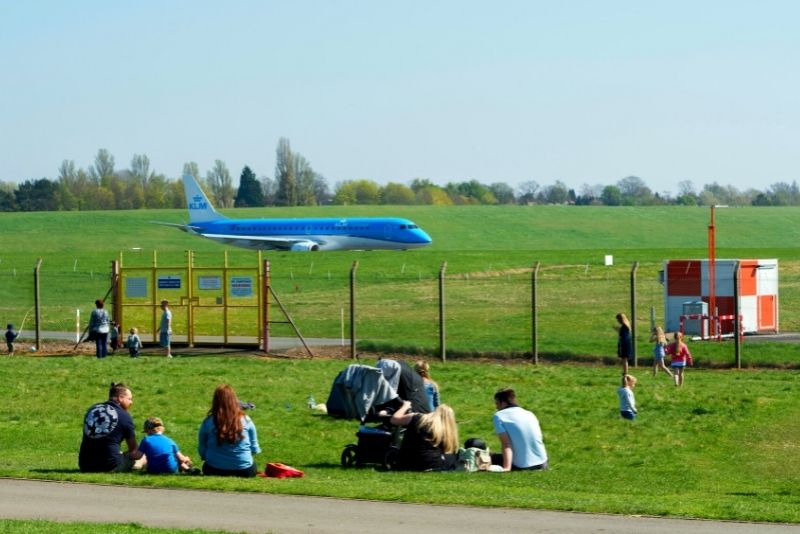 The 300-acre Sheldon Country Park is one of the city's best-loved natural places, offering miles of walking routes throughout its grounds. The park covers many types of terrain including picturesque woodlands, wetlands, meadows and old hedgerows.
Near the park's entrance visitors can find The Old Rectory, a restored farm that dates from the 17th-century. The farm is a living museum that shows traditional methods of farming and has farmyard animals, including Jersey cows, pigs, goats and geese.
The Country Park also has a play area for children, picnic areas, and sports facilities for football and golf. Definitely check this place out during your time in Birmingham.
51 – Study the fine art of The Barber Institute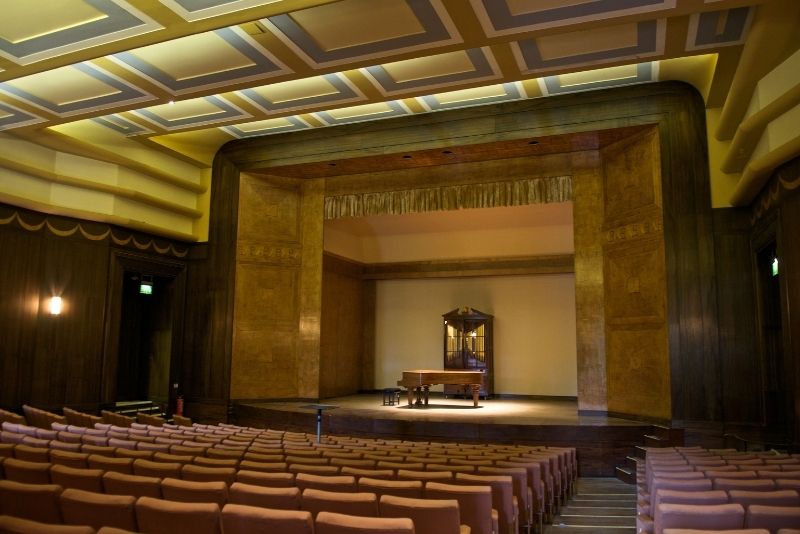 Located in a stunning purpose-built Art Deco building, The Barber Institute of Fine Arts features a magnificent collection of artworks including paintings, sculptures and prints.
Some of the artists in the collection include the impressionists, Vincent van Gogh, Claude Monet and Edgar Degas, as well as diverse British artists like J.M.W Turner and Aubrey Beardsley.
The institute also features a large concert hall, which has fantastic acoustics, and libraries for the study of art and music.
The Barber Institute is a must-see for art lovers in the city.
52 – Wander through Blakesley Hall Museum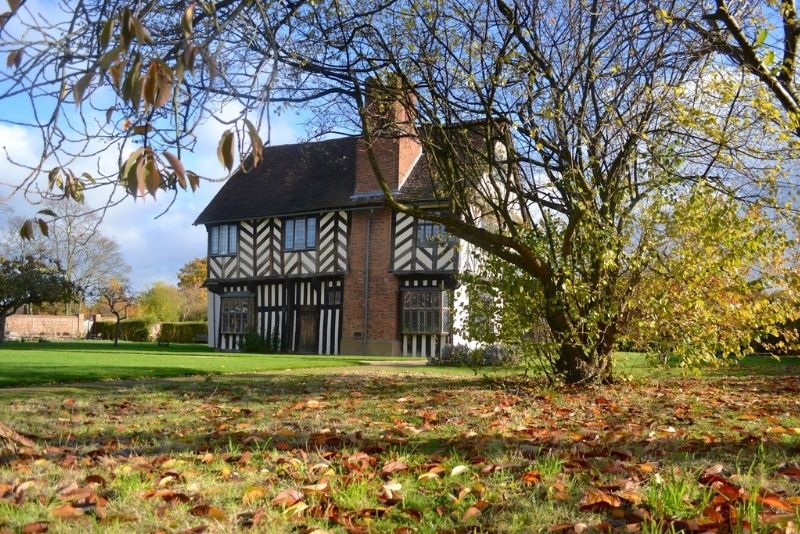 One of the finest surviving Tudor houses in England, Blakesley Hall shows the luxurious way the wealthy lived in the late 1500s.
The house was built by a local merchant in the times of Elizabeth I and features the timber framing that was common of the period.
The house has a painted chamber with walls that are decorated with patterns from the 1500s.
Visitors can explore its traditional herb gardens as well as the Great Parlour, Great Hall and Long Gallery.
53 – Have a picnic at Kingsbury Water Park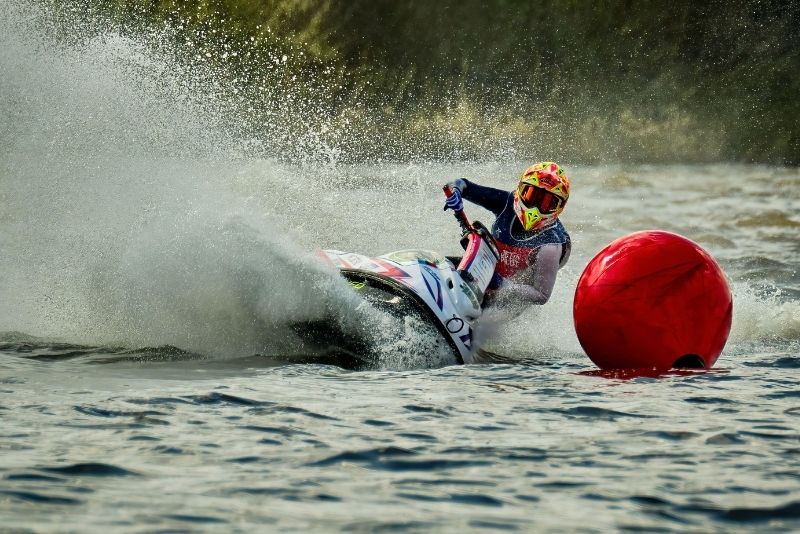 With 15 lakes spread over 600 acres, Kingsbury Water Park is a nature lover's dream.
Visitors can walk the many routes and pathways, enjoy a picnic outdoors and spy native wildlife on and around the water. The lakes vary in size as they are former gravel pits.
There are fishing spots located around 12 of the lakes and many other fun water activities to take part in.
The lakes offer access for model boats, powerboats and jet bikes and the more sedate activity of sailing. There's something for everyone at Kingsbury Water Park.
54 – Uncover the city on a scavenger hunt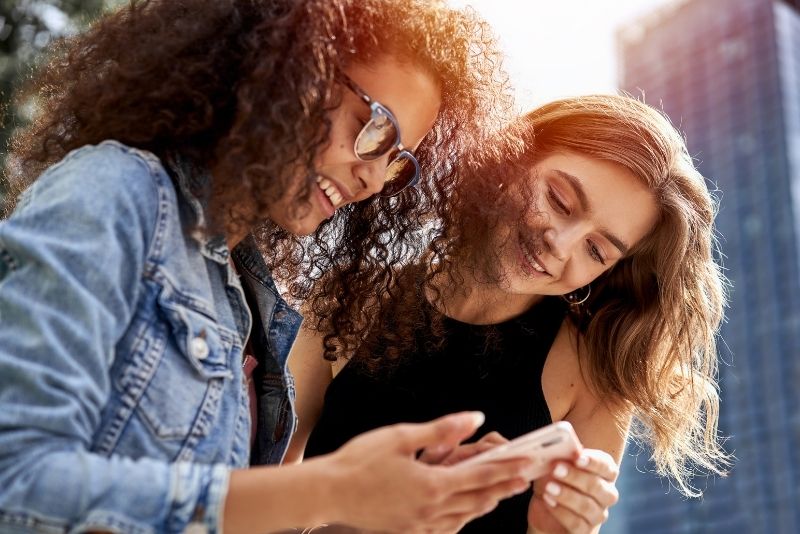 Scavenger hunts are a great way to get out and about and pick up some local info at the same time.
Play alone or as part of a team in these fun and challenging exploration games. Follow an app to places around the city then answer questions and solve puzzles to receive your next location.
Learn the history of the city and see some of its most popular as well as overlooked sights. These scavenger games could be just the thing for those searching for entertaining and active things to do in Birmingham.
55 – Shop, pamper and play at Mailbox Birmingham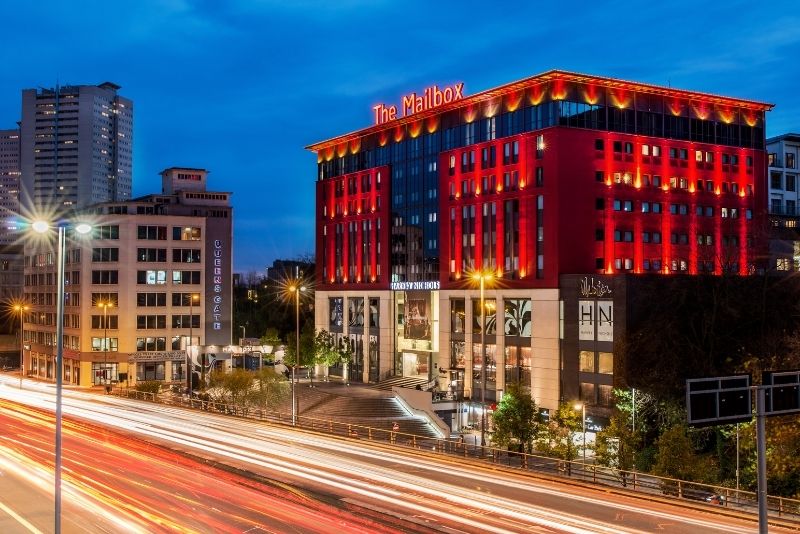 Filled with some of the hottest high street shops and restaurants, Mailbox is a great central spot for some quality rest and relaxation in the city.
The shopping and entertainment venue has luxury brands like Calvin Klein, Harvey Nichols and Tommy Hilfiger as well as an Everyman Cinema playing the latest blockbuster releases.
Mailbox is also home to BBC Birmingham, a number of salons and spas and hotels including Malmaison and AC by Marriott.
There's almost everything you could need all under one roof.
56 – Spend the afternoon go-karting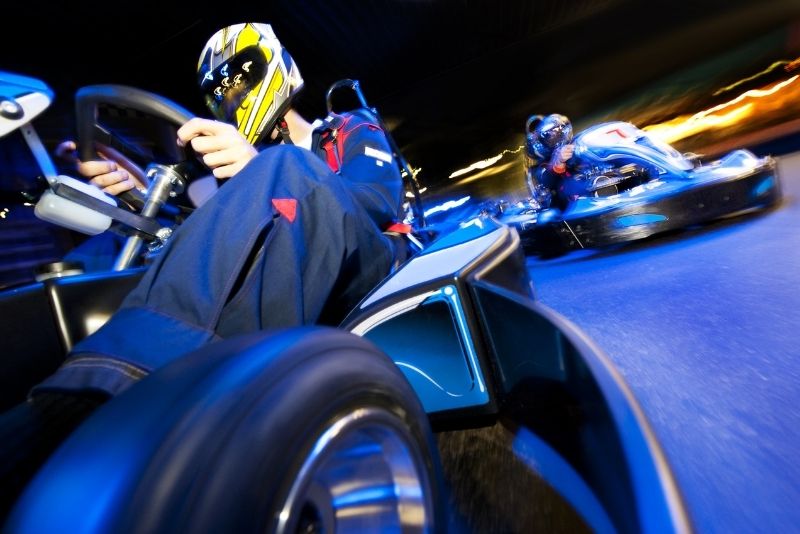 There's nothing better than gathering up your crew and hitting the track for a spot of go-karting. Birmingham has some excellent go-kart tracks to try out while you're in the city.
Teamworks Karting is in a great city center location and offers laser tag and racing simulators as well as kids and adult karting. Grand Prix Karting is a specially designed outdoor track that gives a true race experience to the drivers.
It is one of the longest and widest in the region and is definitely worth a visit if you are nearby.
57 – Explore the Coffin Works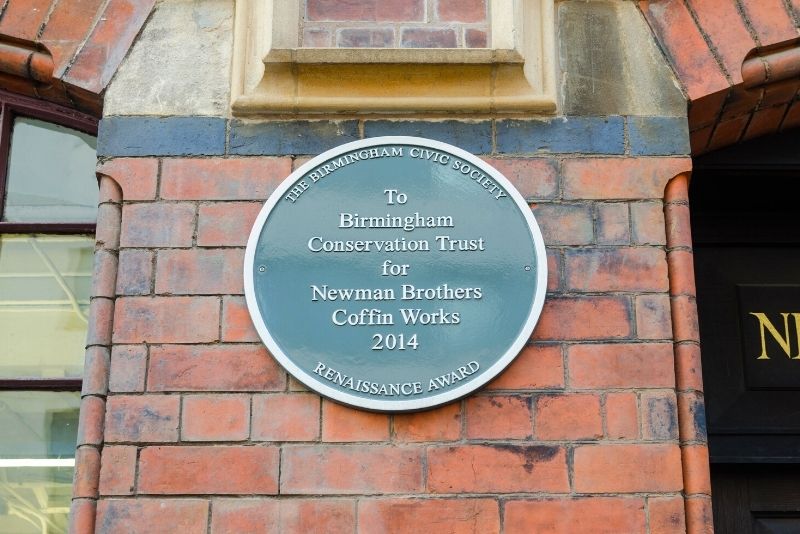 Quite possibly one of the most unusual things to do in Birmingham is to take a trip to the Coffin Works. This museum in the city's Jewellery Quarter was once one of the most revered workshops producing coffin ornaments in the world.
It reached its height in the 1960s and the firm created jewelry for the coffins of well-known British figures like Winston Churchill and the Queen Mother. The firm is older though and dates back to the late 1800s.
Many of the original tools are still in use today and visitors can catch a demonstration to see them in use and take a guided tour of the works.
58 – Take a spooky ghost tour of the city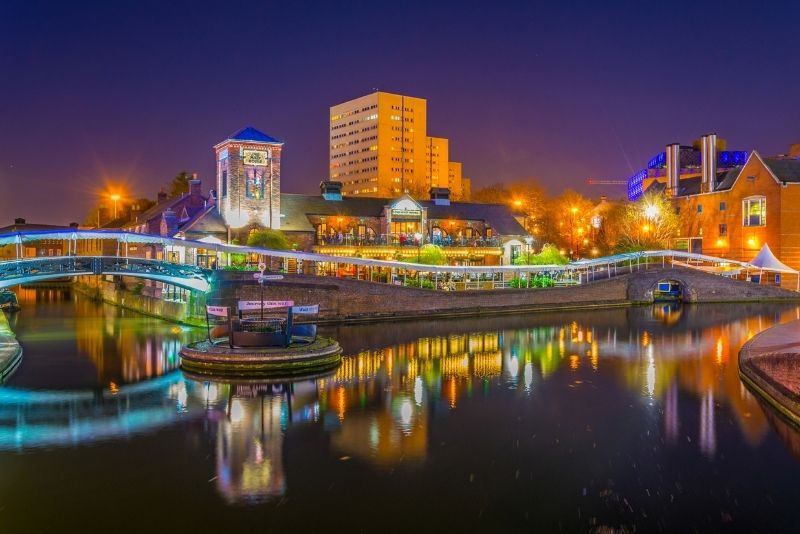 Uncover the spookier side of Birmingham on a ghost tour around this old and industrial city.
Visit some of the city's most infamous places such as Shrewsbury Prison, Gas Street Basin and the Town Hall on a self-guided tour of the city.
Here blood-curdling ghost stories and discover gruesome facts about the places you visit. These tours will have you sleeping with the light on for days.
59 – Shop independent at Great Western Arcade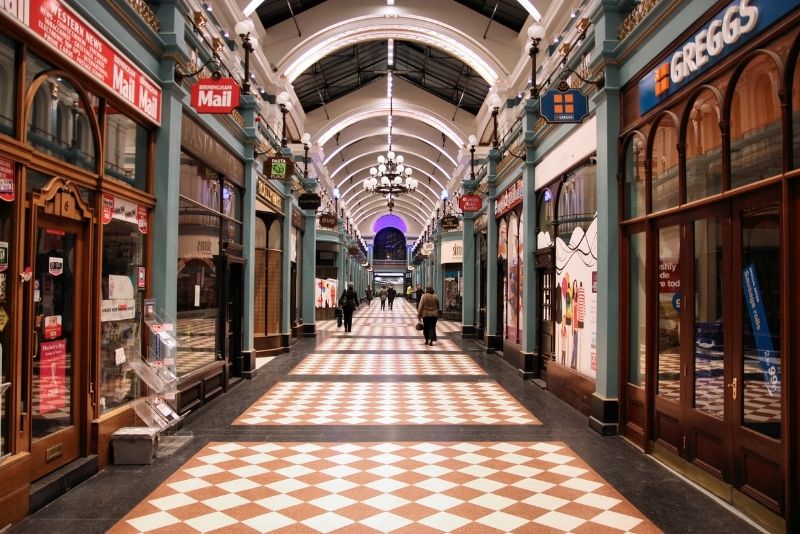 The very grand architecture of Great Western Arcade is just brimming with Victorian charm. The building was constructed in the late 1800s but was badly damaged by the bombing in World War II.
It still features much of the original brickwork and plaster and remains one of Birmingham's best-loved buildings.
Inside visitors can find a great selection of independent retailers and cafes alongside well-known shops selling clothing, accessories and services. Great for those who prefer boutiques and off stores.
60 – Play and dine at Broadway Plaza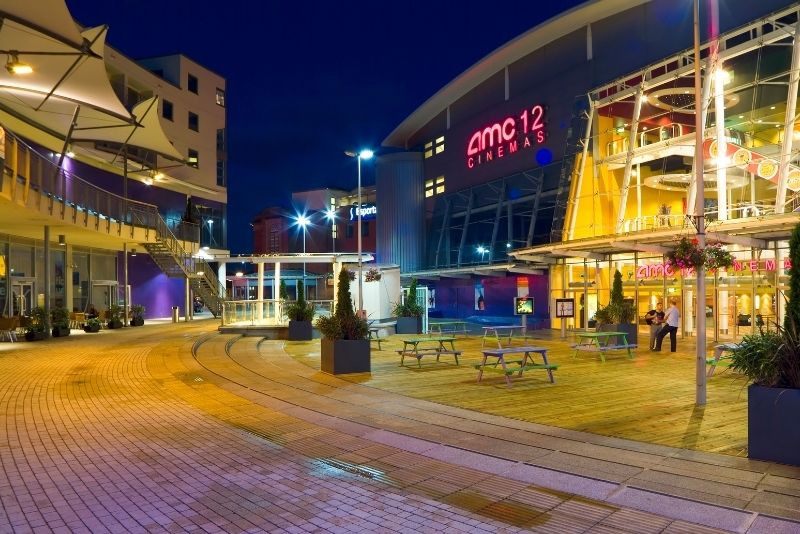 Broadway Plaza is your one-stop destination for entertainment in the city center. This Birmingham mall has a cinema, swimming pool, casino and 20-lane bowling alley packed inside. It also has an arcade, pool pit and adventure golf games so you'll never be bored.
There are a number of restaurants to choose from including Frankie & Benny's, Domino's Pizza and Subway. This all-in-one dining and leisure center offers a bit of something for everyone.
61 – Try the virtual reality arcade games at Resorts World Birmingham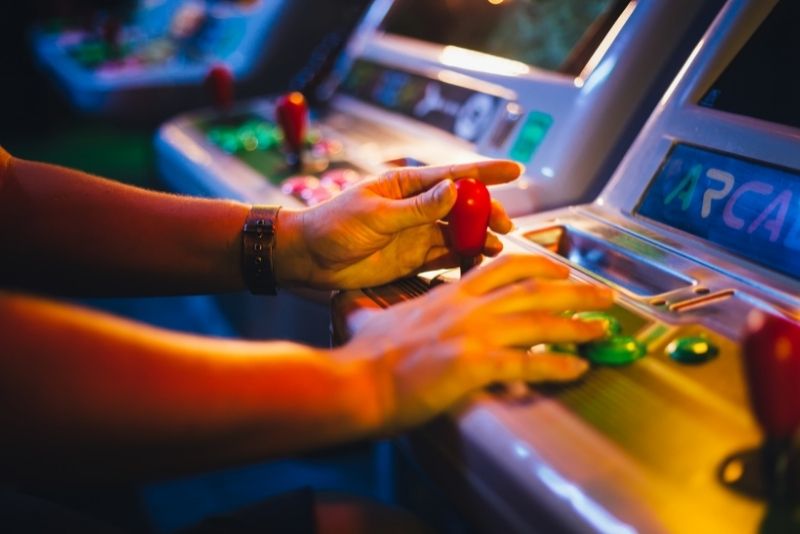 One of the newest mall complexes in the city, Resorts World is a strong contender for Birmingham's best all-in-one shopping and entertainment venue.
Being home to the largest casino in all of the UK is a feat on its own but Resorts World also houses an IMAX cinema, Virtual Reality and classic arcade games, a bowling alley and escape rooms.
Its shopping areas offer major brands at outlet prices featuring big names like Carharrt and Levi's. With over 17 restaurants and cafes and a hotel and spa on-site, you could stay here all day.
62 – Play laser tag at StarCity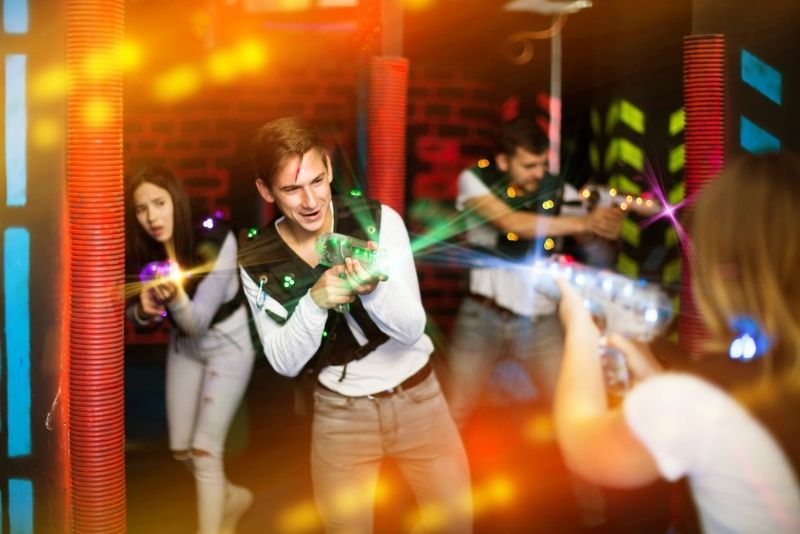 Just outside the city center is one of the best-loved venues for entertainment and family fun.
StarCity is packed with lively activities to try including, laser tag, England's biggest adventure golf course, 10-pin bowling and an indoor football center.
StarCity also has one of the country's largest Vue Cinemas, with 25 screens playing the latest blockbusters from Hollywood and Bollywood as well as some much-loved film classics.
On top of this, there are also fifteen restaurants serving the best of Asian, Indian and American dishes.
Fun, fun, fun!
63 – See a Broadway show at The Alexandra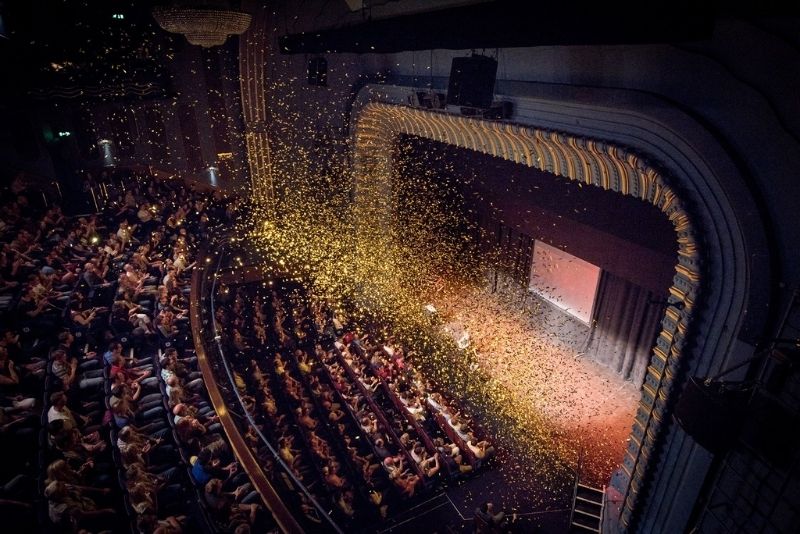 The Alexandra is a historic Birmingham theater that has been entertaining the city for 120 years.
First constructed in 1901, it mainly hosts productions of Broadway shows including Jersey Boys, Grease and Chicago.
It also welcomes some of the big names in stand-up comedy to its stage as well as opera performances and family shows.
Check out this eclectic theater while you're in the city.
64 – Roll the dice at Broadway Casino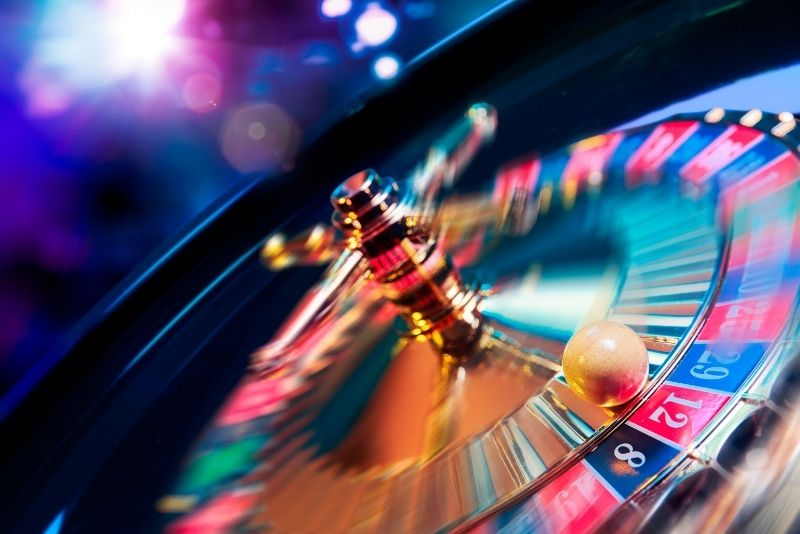 The leading independent gaming venue in the city, Broadway Casino is a fine option for those wanting to try their luck on the games of chance.
With six roulette tables and Mini Punto Banco as well blackjack and three-card poker, you will be spoiled for choice. Try your hand at roulette or bet on the slots in this chic, modern Casino.
Check out the restaurant which serves up some tasty and varied international dishes with live entertainment to match. Make a night of it at Broadway Casino, Birmingham.
65 – Stay at the historic Grand Hotel Birmingham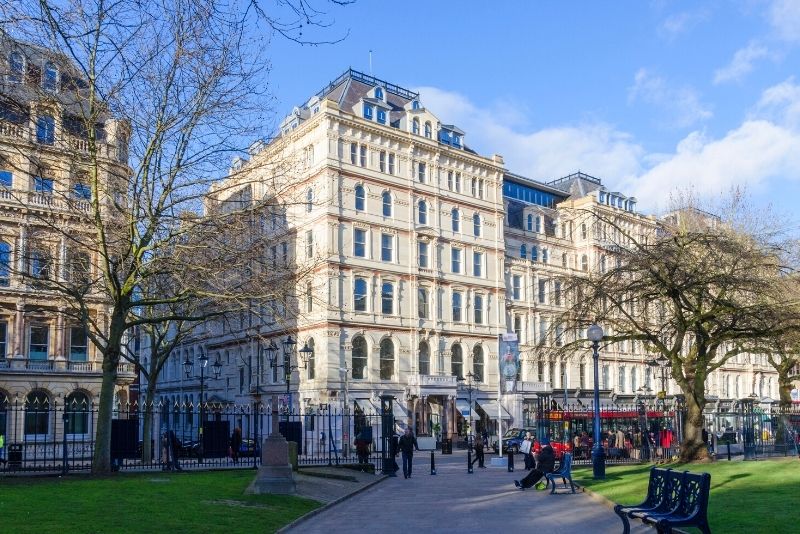 The newly reopened Grand Hotel is one of the most luxurious spots in the city. The historic hotel has hosted many popular public figures in the past, including King George VI, Charlie Chaplin and James Cagney.
Originally opened in 1879 but closed for the last 20 years, it has undergone a spectacular renovation. It offers five-star accommodation in the city center in sleek yet classic surroundings.
The Grand Hotel is conveniently located near the Bullring, Birmingham Museum and Art Gallery and The Coffinworks. The hotel features a fitness center, restaurant, two bars, a sunken garden roof terrace and a total of 180 guest rooms.
Where to stay in Birmingham?
If you have not booked your accommodation yet, check out the best hotels in Birmingham.
For the most budget-friendly stay in the city, it's worth checking out the ibis Birmingham Centre Irving Street. It is very close to Birmingham New Street Station and walking distance to the city center attractions.
The Holiday Inn Express is a popular three-star choice and offers a great value, city center location with breakfast included in the price.
The four-star No.8 Waterloo Street is in the heart of the Colmore Business District opposite St. Phillip's Cathedral and just a short walk to the Bullring Shopping Center, the ICC and Symphony Hall.
Hopefully, you enjoyed the list of fun things to do in Birmingham, UK. If you have other fun activities to recommend don't hesitate to leave a comment.
Happy travels!