Warwick Castle is an important landmark of medieval history and has close ties to British nobility through the ages. While a day trip to Warwick Castle gives you the opportunity to discover its rich past, it also allows you to participate in exciting activities, such as sword fighting.
From getting lost in a historic maze to learning how to use a bow and arrow, the whole family will enjoy a day spent at Warwick Castle.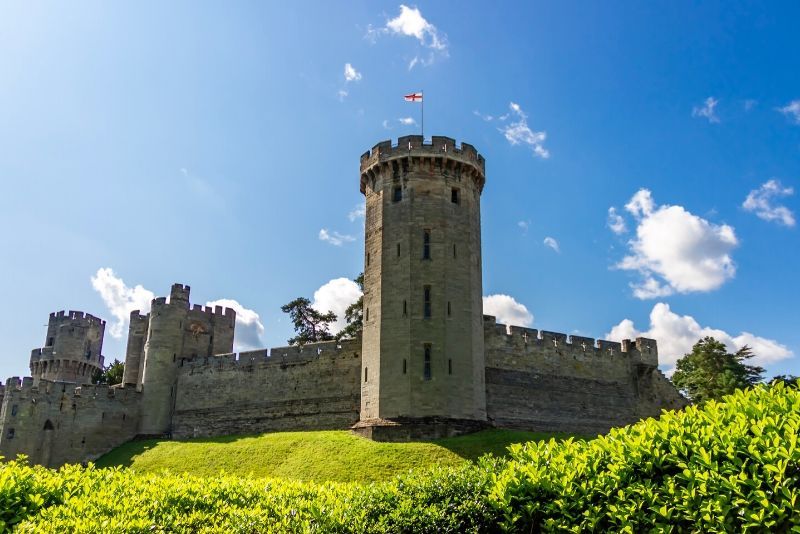 How to get to Warwick Castle from London?
Warwick Castle is located in the town of Warwick, just over 150 kilometers northwest of the capital city of London. This is one of the best destinations for day trips from London.
From London to Warwick Castle by car
It's an easy two-hour journey to Warwick Castle by car. You'll drive west out of London on the M40 and follow it all the way to the junction 15 exit for Warwick.
From London to Warwick Castle by train
You can hop on a direct train from London's Marylebone station to Warwick station, which takes approximately 1.5 hours. From there, it's a 15-minute jaunt to Warwick Castle on foot through the town.
Guided tour to Warwick Castle from London
Day tours to Warwick Castle start from a central meeting point in London. This is usually close to one of the city's easily-accessible underground rail stations. You'll begin between 8 AM and 9 AM. Most tours last between 9 and 10 hours, and return to London in the evening.
How much does the entrance ticket to Warwick Castle cost?
Individuals (aged 3 and over): £37
Children under 3: Free
You can save money by buying tickets online. Ticket prices vary depending on the week that you visit, but you can save up to £13 on tickets outside of the school's summer break.
The carer of any person with disabilities can access the castle for free.
What is the typical itinerary of a day tour to Warwick Castle from London?
Day trips to Warwick Castle usually travel by bus and stop at several locations en route. Journeying out of London, you'll pass through the enchanting villages and rolling hills that make up the Cotswolds.
Reaching Warwick Castle, you'll have the opportunity to participate in any of its medieval-themed activities or climb its tower for sweeping views over the English countryside. Continuing on, you'll discover William Shakespeare's roots in the market town of Stratford-upon-Avon.
The last destination on your Warwick Castle excursion is Oxford. This city is best known for its esteemed university, which educated many talented individuals, including J.R.R Tolkien and Oscar Wilde. After a guided walking tour of the university town, you'll head back to London in the evening.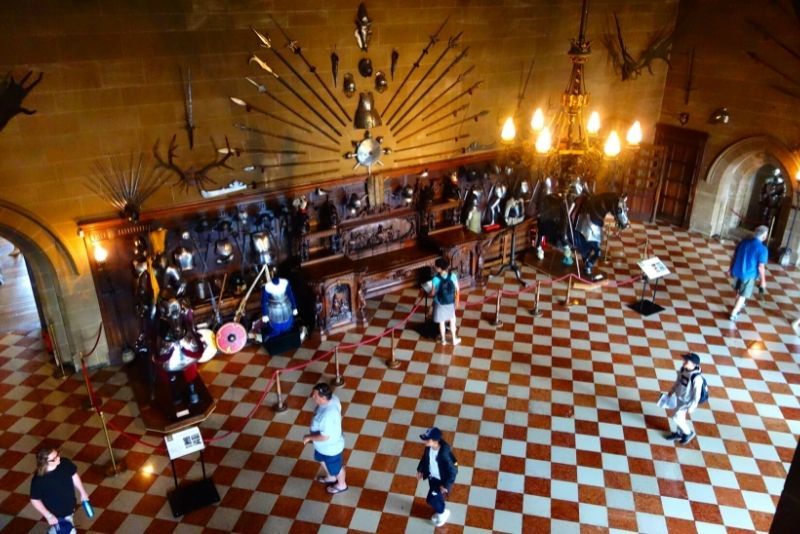 What kinds of tours are available to go to Warwick Castle?
There are several different types of day tours to Warwick Castle to choose from.
Day tour to Warwick Castle plus Stratford-upon-Avon, Oxford and the Cotswolds from London
This Warwick Castle day tour takes you on a scenic drive through the Cotswolds to discover several of England's most picturesque locations. You'll visit the medieval Warwick Castle before continuing to historic Stratford-upon-Avon and strolling through the streets that line England's most prestigious university in Oxford.
Private tour to Warwick Castle from London
If you want to learn about the Norman castle in greater detail, you should consider participating in a private day trip to Warwick Castle. You'll explore its Great Hall, discover the bedrooms where kings and queens slept, and climb its battlements, alongside a knowledgeable guide.
Private day trip to Warwick Castle plus Blenheim Palace from London
You'll begin your tour by visiting the town Shakespeare was born in and discover several spots that inspired his writing. You'll also see Blenheim Palace, which was the birthplace of Winston Churchill — England's brave leader during WWII. Additionally, you'll travel to the 11th-century Warwick Castle, which was built by William the Conqueror.
Christmas day trip to Warwick Castle plus Oxford and Stratford-upon-Avon from London
See Warwick Castle at its best — decked in fairy lights — in this tour that takes place at Christmas time. You'll participate in walking tours of the frosty streets of both Oxford and Stratford-upon-Avon, and take in the festive displays in both towns.
You'll also discover several noteworthy sites, as you amble along, including Christ Church and the Bodleian Library in Oxford.
How much does a tour to Warwick Castle from London cost?
Warwick Castle day trips that encompass other locations, such as Oxford and Stratford-upon-Avon cost between £70 and £110.
Private tours cost approximately £290 and include a professional guide and hotel pickup.
If you wish to visit Blenheim Palace, as well as Warwick Castle on a day tour, you can expect to pay around £430 for a private excursion. You can have up to eight guests in your party, and the larger your group size, the less you'll pay per person.
What will you see and do on a Warwick Castle day trip from London?
Warwick Castle is a medieval castle that was built by William the Conqueror in 1068. It is located on the River Avon in the namesake town of Warwick.
Over the centuries, it has been used as a palace by English royalty, including King Henry VIII and Queen Elizabeth I.
The castle has a bloody past, as several of its owners died in battle, through murder or execution. Warwick Castle also served briefly as a prison for King Edward IV in 1469.
Today, the 1,000-year-old castle serves as an interactive tourist destination, which combines important English history with a fun-filled day out.
Visitors can watch live jousting events — a popular sport in the Middle Ages. Other activities include puppet shows and themed parties. You can also discover the preparations needed for battle in medieval times or try your hand at the ancient sport of archery.
Those who wish to extend their medieval experience can choose to partake in a short break on the castle grounds.
What are the opening times?
Warwick Castle is open from 10 AM to 5PM every day during the peak season — between July and September. During the rest of the year, the castle closes at 4 PM.
However, regardless of the time of year, Warwick Castle stays open until 5 PM on weekends.
When is the best time to visit Warwick Castle?
The best time to participate in a day trip to Warwick Castle is during the height of summer. During this time, there are plenty of activities and shows taking place on-site, and the weather is warm and reliable.
Although this is undoubtedly the best time to visit the castle, you should be prepared for it to be busy.
Travel tips
Most Warwick Castle day trips incorporate walking tours of destinations, such as Oxford. For this reason, ensure you are wearing comfortable shoes.
Visit Warwick Castle on a sunny day to make the most of the abundance of activities available.
Consider taking a picnic with you to enjoy inside the castle grounds.