Thrill seekers who aren't satisfied by cruising leisurely along the Thames River can choose to experience London's landmarks at speed on a jet boat tour. These vessels travel at rip-roaring rates and are an exhilarating way to see the city's highlights.
On a jet boat tour in London, you can expect to see iconic attractions, such as the London Eye and the Tower of London as you zoom along the water with an enthusiastic guide.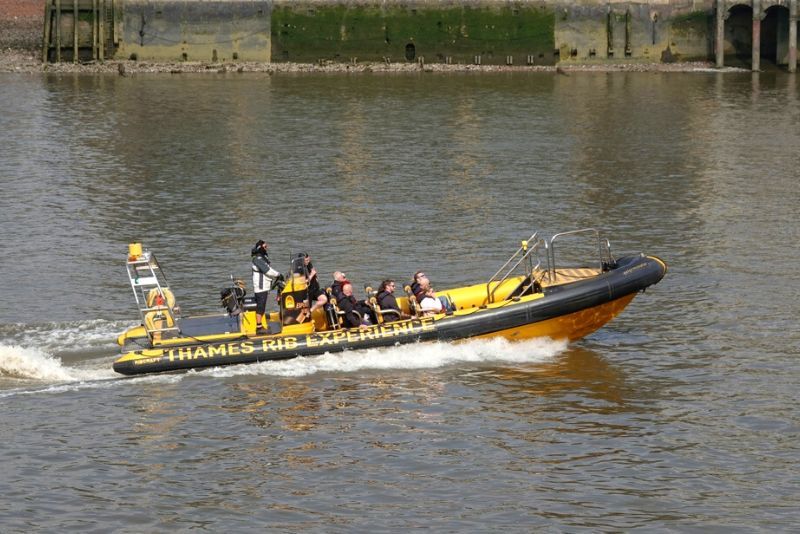 Here's all you need to know about jet boat tours, one of the most exciting outdoor activities in London.
What are the best jet boat tours in London?
Thames River jet boat tour
Hopping on a high-speed vessel, you'll race up the Thames River, feeling the rush of wind through your hair.
See some of London's most recognizable sights along the way, such as the London Eye, which was built to mark the millennium and the Houses of Parliament.
Pass under the spectacular London Bridge as you listen to a witty commentary of London's highlights from a comedian guide on this award-winning cruise.
Private London jet boat experience
With just your group on board, you'll set off on a tour of London from the unique perspective of the Thames River.
Starting at the London Eye, you'll make your way along the water, listening to your knowledgeable guide's take on the city's most famed attractions.
As a private experience, you'll have the opportunity to ask your guide questions about the landmarks you pass and enjoy a more peaceful sailing trip in London.
RIB river tour in London
Oh this speedy tour of London, you'll be placed on a RIB boat for an extra adrenaline rush. As you soar through the waters, you'll pass London's most memorable sights, such as the Shard and the HMS Belfast, at high speeds.
Shriek and squeal as you feel your boat bumping against the water, almost as though you're on a rollercoaster.
Private speedboat hire in London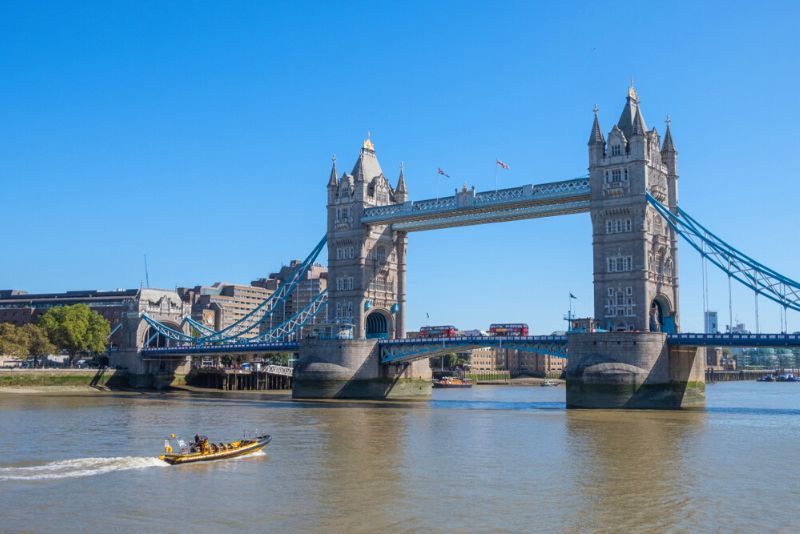 Alternatively, if you want more control over your itinerary, hire your own speedboat and let your skipper know the route you want to take.
Starting at Tower Bridge, you can make your way down the river with your own personal tour guide, pointing out the city's most remarkable landmarks along the way.
Work your way down to Greenwich where you'll see the historic Cutty Sark in dry harbor, as well as the famous O2 arena.
Toast your group with a complimentary drink before heading back up the river, under the Millennium Bridge, and past St. Paul's Cathedral.
How much do jet boat tours in London cost?
Many jet boat tours in London cost between £30 and £50 per person, and take place as part of a large group.
If you opt for a private Thames River cruise in London or hire a private speedboat, you'll pay between £490 and £500 for a group of up to 12 people. With the maximum number in your party, you'll each pay just over £40.
You can expect to pay £720 per person for a James Bond-themed experience, which includes a Thames River jet boat tour.
What is included in a jet boat tour in London?
Generally, speed boat tours in London include the services of a professional guide who will keep you entertained throughout your excursion.
If you choose to privately rent a speedboat, you may find that an alcoholic beverage is included in the price.
Combination James Bond tours in London include brunch, alcoholic beverages and discounts at some of the visited venues.
Where do jet boat tours in London start?
The majority of jet boat tours in London begin at Tower Millennium Pier, located next to the Tower of London.
The easiest way to reach this pier is by taking the District or Circle Line to Tower Hill underground station and completing the final 5 minutes of the journey on foot.
Alternatively, some excursions meet at other destinations along the river, such as the London Eye. You can see the starting point of each tour before booking so that you can arrange any necessary transportation in advance.
How long do jet boat tours in London last?
London speed boat tours usually last between 20 minutes and an hour, making them easy to slot into even the shortest city breaks.
If you choose a James Bond tour in London, you can expect your experience to last around 5 hours.
When is the best time for a jet boat tour in London?
Jet boat tours in London happen throughout the day, meaning you can choose a time slot that works for your itinerary.
You should consider embarking on this type of adventure during the summer months when London experiences warm weather and little rain.
The weather can be less predictable throughout the rest of the year, making for a potentially cold and rainy experience.
Are there any combo available with jet boat tours in London?
Private James Bond tour in London with speed boat adventure
On this private James Bond-themed experience, you'll enjoy a different take on a London city tour. You'll begin with a luxurious brunch, followed by a thrilling ride along the Thames River.
Back on dry land, you'll have the opportunity to smell like 007 himself as you head to an esteemed perfumery that created the official scent of James Bond.
Then, participate in a gripping tour of St. James's Park, Pall Mall and Queen Anne's Gate — all associated with the movie franchise. End your day relaxing with the secret agent's favorite drink — a Vespa.
Is it safe to take a jet boat tour in London?
Jet boat tours in London are completely safe and you'll be provided with a life jacket, just in case.
You'll also be in the hands of a professional skipper. However, as these boats move so quickly, the tours are not suitable for pregnant persons or those with back issues.
Are children allowed on a jet boat tour in London?
Children are usually welcome to join jet boat tours in London. However, some operators have minimum weight restrictions, meaning you should check your preferred tour before booking.
What happens in case of bad weather?
Speed boat trips in London only operate during fair weather. If you're unlucky enough to experience poor weather on the day of your tour, your provider will rebook the experience for another day. If this is not suitable, you can request a full refund.
Which other outdoor activities can be done in London?
Travel tips
While boat tours in London won't operate in harsh conditions, they will continue during light rain showers. Ensure you're prepared with an umbrella or a rain jacket.
Traveling at high speeds on the Thames River can be chilly, so pack a spare layer to keep yourself warm.
If you experience seasickness, take the appropriate medication half an hour before stepping foot on your vessel.