Once the fastest clipper in the world, Cutty Sark raced over the waters from China to London, delivering tea to thirsty Brits.
The United Kingdom's favorite beverage has been such an integral part of British life that it was fitting that a record-breaking vessel could speed the leaves to London as quickly as possible.
Now docked on dry land, Cutty Sark is a multifaceted interactive London museum that combines history, engineering and culture in one space. Get tickets to Cutty Sark for a hands-on seafaring event!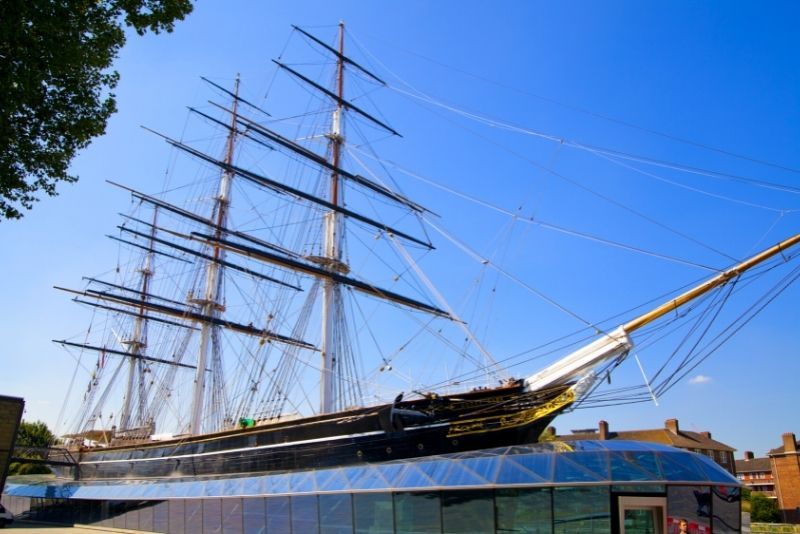 Here is everything you should know ahead of your visit to Cutty Sark, one of the most emblematic attractions in London.
How much do Cutty Sark tickets cost?
Adults:(over 24): £16
Youth: (16-24): £10
Children: (5-15): £8
Infants (0-5): free
Who is eligible for discounts?
Cutty Sark offers discounted tickets for students with school IDs for £10.
Should you book tickets in advance?
Booking tickets in advance for Cutty Sark is wise, especially on weekends and during school holidays. Pre-purchasing tickets is the best way to ensure that you can tour the museum at your desired time.
Are there any combined tickets or tours including Cutty Sark and other attractions?
Cutty Sark plus Royal Museums Greenwich day pass: A Greenwich day pass includes entry to Cutty Sark, as well as the Royal Observatory, the Queen's House, the Royal Maritime Museum and Flamsteed House. Wander the halls of Flamsteed House and the Royal Observatory where the Astronomers Royal lived and worked.
Private tours to Cutty Sark plus Greenwich: For a personalized experience, book a private tour to visit the ship and Greenwich area, a historical center for scientific innovation, at your own pace.
What will you see inside Cutty Sark?
A marvel of engineering on the banks of the Thames, Cutty Sark is an interactive museum with a multitude of exhibits. Watch films, take quizzes, ask questions about historic figures and even get a feel of how it was to steer the clipper.
Your ticket to Cutty Sark includes a downloadable audio guide and map to lead you through the vessel and provide interesting information during your tour.
The entire ship has been elevated 3 meters above the dry dock to afford you a view of its copper-clad hull. Complete your inspection of the exterior of the boat by strolling the main deck to see the master's cabin and views of London.
Peer up at the ship's 18 kilometers of rigging that you can climb for an extra cost!
Inside Cutty Sark, imagine what living aboard the ship was like, as you tour sleeping quarters and eating spaces.
Talk to reenactors of Jock Willis, the designer of Cutty Sark, and Captain Woodget, the ship's longest-serving master, who will add a human element to your tour.
The ship features a theater, several galleries and the largest collection of figureheads of ships from all over the world. Take in views of London and the Thames from several viewing platforms.
Children — and the young at heart — can learn with interactive quizzes and manipulatives scattered throughout the museum. There is also a cafe on the ship where you can enjoy a snack, meal or traditional tea.
How to get to Cutty Sark?
Cutty Sark is located in the Greenwich area of London, dry-docked on the Thames. To get there by train, disembark at the Greenwich or Maze Hill stops.
You can also take the light rail to the Maritime Greenwich stop, and there are riverboats that also drop visitors at the Greenwich Pier.
What are the opening times?
Cutty Sark opens at 10 AM daily and closes at 5 PM. The last admissions for the day are by 4 PM.
When is the best time to visit Cutty Sark?
Visiting Cutty Sark can be fun any time of year. May through October provide London's best weather.
Although most of the museum is inside the ship, viewing the ship's copper cladding from beneath and touring the decks is easiest in fair weather.
On weekends and school holidays, costumed reenactors perform for a more authentic experience.
Which other attractions can be visited in London?
Travel tips
Photo ID is required for entry into Cutty Sark and other museums.
Carry a charged smartphone for digital audio guides and maps.
Bring a credit card for additional purchases, as cash is not accepted.
Wear comfortable clothing and shoes for walking.