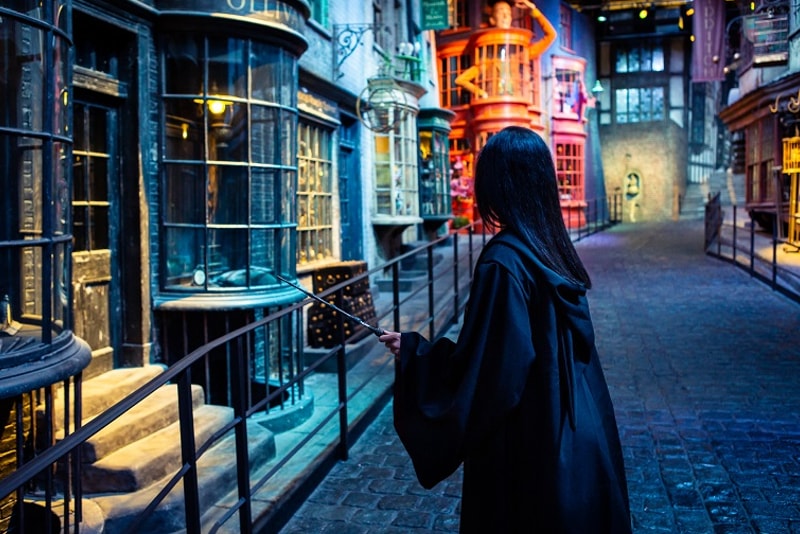 Are you looking to visit the Harry Potter Studio in London? Are you looking for Last Minute tickets and they are sold out on the official website?
Don't worry, we have the solution for you!
Updated information about the COVID-19 closure
The Harry Potter Studio has reopened on the 17th of May 2021 and the tickets are now on sale.
How to get last minute Harry Potter Studio Tickets when they are sold out on the official website?
As you have probably seen already on the official website, the tickets sell out very fast and it is almost impossible to get a ticket last minute. Normally, you need to book the tickets in advance, usually 3-4 months ahead.
However, the good news is that there are a lot of resellers that can sell the tickets and you can check all of them to see if something is available. You are also in the right place to avoid checking tens of websites: in fact, TourScanner aggregates all of them and you can easily check what is available.
There are also few tours leaving from Birmingham, if this is an option for you. You might book one and meet your group at the Warner Bros Studio if you are located in Central London and you cannot leave from Birmingham.
If you don't find anything available on TourScanner, then, it's probably really sold out everywhere. However, even though you will not be able to visit the Warner Bros Studio, you can visit other places and landmarks in London in which the movie was recorded, such a Diagon Alley, Platform 9 ¾, Gringott's Bank, etc. The price for such guided walking tours starts from £15 (about 17€). Click here to find several Harry Potter landmarks walking tours. 
The last option is to join a Harry Potter Locations Tour in Oxford, if you plan to visit Oxford. Many scenes were filmed in the old University of Oxford.
 Are the tickets available on resale?
Yes, the tickets are sold on resale very often. There are several resellers that offer several kinds of tours at a different price. We recommend using a search engine like TourScanner to many websites offering tickets on resale.
Is it possible that the tickets become available again in the next days?
Yes, it is possible and it happens quite frequently, especially on weekdays. It happens because people can cancel their visits and it might happen up to a few days in advance (very seldom 1-2 days before). If you do not find anything available now, we recommend keeping looking during the next days to see if something comes back again on resale. A good idea is always to check TourScanner, so you make sure to see if something becomes available on one of the several websites that offer the tickets on resale.
Can I see anything similar to the Harry Potter Studio?
If you are a fan of Harry Potter or your kids push you to see something about it, we recommend booking a tour showing the landmarks of the movie which are available in London outside the Warner Bros. Studios, such a Diagon Alley, Platform 9 ¾, Gringott's Bank, etc. These tours are designed on purpose for those who cannot get the tickets for the Studios cause they were sold out. The price is rather cheap (from £15) and the tours have excellent customer reviews. Check all the Harry Potter Locations tours.
Below you can find more info about what you will see in the Warner Bros. Studio, often referred as Harry Potter World or Harry Potter Museum; you will learn how much tickets cost and how to book them, how to get there and more!
Are there any cheap Harry Potter Studio tickets?
Yes and no. The price for this attraction is rather expensive, but it always depends on the value of the visit for each of us. The cheapest tickets that you can find are on the official website. However, they are sold out most of the time. Therefore, the second cheapest way to get a ticket for the Harry Potter Studio Tour is to compare all the websites reselling the tickets and get the cheapest deal.
Are there any 2 for 1 deals for Harry Potter Studio?
Usually, 2 for 1 offers are not available. However, there are deals for families.
This attraction is visited by many families and therefore there are special prices for kids or families. A family ticket includes entrance for 2 adults and 2 kids, or 1 adult and 3 kids. Read on to discover the prices.
Moreover, several resellers are offering different prices and therefore you can find cheap deals by comparing them. Sometimes the cost can be double from one website to the other, so, somehow, you can get a 2 for 1.
Are there any discounts?
From the official website, there are special prices available for primary, secondary schools or sixth form colleges within the UK who follow the National Curriculum. But, again, very often the tickets are sold out and, therefore, discounts and exclusive offers depend on the websites reselling the tickets. Use TourScanner's search to compare tours and prices. They usually offer discounts or sell good ticket packages.
What will I see at the Harry Potter Museum in London?
The Studio is sometimes referred as the Harry Potter Museum, since you will see many items used in the movie. The Harry Potter Museum is built inside the Warner Brothers Studio in London. You will delve into the world of Harry Potter and discover the magic hidden behind the most successful film series of all time. You can wander through some of the film's most famous sets and you can see the costumes on display.
Perfect for family fun as well as for wizardry lovers, this behind-the-scenes walking tour takes you to:
Stroll down Diagon Alley
Past the shop of Ollivanders Wand Shop
Flourish and Blotts
The Weasleys' Wizard Wheezes
Gringotts Wizarding Bank
Eeylops Owl Emporium
Check out Harry's Nimbus 2000
Hop on Hagrids's Motorcycle
Step into the actual Great Hall
The Gryffindor common room
Dumbledore's office
Try the popular beverage Butterbeer

How much does Harry Potter Studio Tour London cost in 2023?
Adult ticket (16+ years): £51.50
Child (5-15 years): £40
Family (2 adults & 2 children OR 1 adult & 3 children): £160.00
0-4 years: FREE
Adult Complete Studio Tour Package: £61.45. This package includes a Studio Tour Ticket, Digital Guide & Paperback Souvenir Guidebook.
Child Complete Studio Tour Package: £49.95. This package includes a Studio Tour Ticket, Digital Guide & Paperback Souvenir Guidebook.
Deluxe Package Tour: £250.00. The Deluxe tickets include entry to the Studio Tour with a complimentary two hour guided tour, designated parking, a souvenir guidebook, a Butterbeer, four free photographs and a video at one of our photo opportunities and a choice of hot meal and drink. If you are travelling by train, your Deluxe ticket will also include a return shuttle bus transportation between Watford Junction and Warner Bros.
How to book Harry Potter Museum tickets in advance?
The tickets for the Warner Brothers Studio Tour London must be purchased in advance in order to get the desired time and date you would like to go – they sell out quickly! You can book the tickets on their official website. You can also book tickets with other resellers, especially if you are last minute and the tickets are sold out on the official website.
How to get to the Harry Potter World?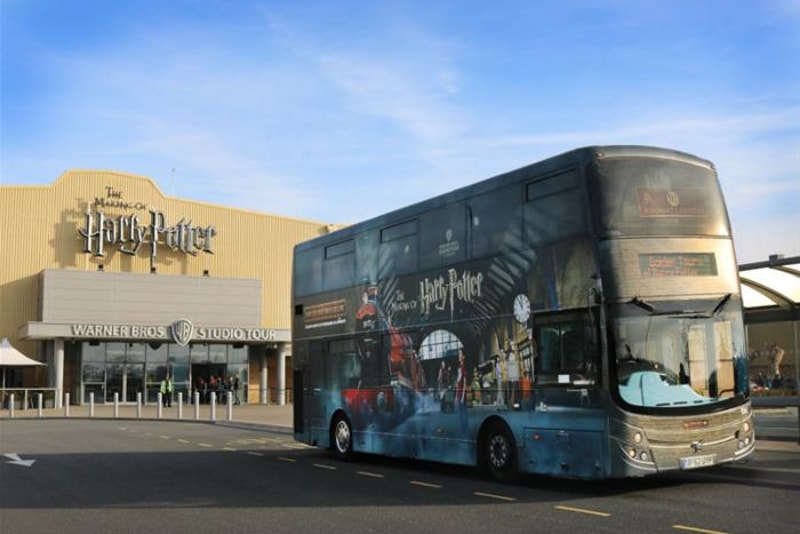 Shuttle Bus
There are regular shuttle buses (operated by Mullany's Coaches) which run from Watford Junction to the Studio Tour with a duration of around 15 minutes. Buses run every 20 minutes, starting from 9.20am. Note that the last return Shuttle Bus back to Watford Junction departs the Studio Tour when the Tour closes. A single ticket costs 2.00, return ticket 2.50. Read more additional information on the "Don't forget tips" list.
Train
The nearest railway station to Studio Tour is Watford Junction. Direct services arrive there from both London Euston (20-minute journey) and Birmingham New Street (1 hour journey). Oyster cards are valid between London Euston and Watford Junction.
Non-direct train services operate from London Euston but be aware that these may take much longer to arrive at Watford junction.
You may want to look at the possibility of booking your ticket with Musement or Viator as they provide you with transportation if you book your ticket with them.
Car
The Studio Tour is located 20 miles north-west of London and less than three miles from the M1 and M25 motorways. The postcode is WD25 7LR, as you approach the Studio Tour, brown signs labelled "Warner Brothers Studio Tour" which will help you get there easily.
Bus
The bus company Golden Tours offer a convenient return transfer and ticket packages on their buses. The transfer you from:
London Kings Cross
London Victoria
Birmingham Coach Station
Birmingham New Street
London Bus Transfer Only
Are there any Harry Potter World tickets without transport? 
Yes and no.
The entrance tickets for the official website do not include the transport.
Instead, the tickets from resellers include bus transport to the Studio. However, if you would like to reach the Studio with your private car and you are looking for Harry Potter Studio tickets without transport, you can still buy the ones including the transportation and contact the tour operator after booking it, saying that you will meet your guide directly at the Studio. Please remember to communicate it to the company; otherwise, you will not be able to meet the guide at the Studio and get the entrance ticket. Unfortunately, you will not be able to get a discount for not using the transport.
What are the opening hours?
The Studio Tour opens at 9.30am and closes at 20.00pm.
The first tour begins at 10.00am and final tour begins at 16.30pm.
Are there any special events?
Check the official website for special events that might be happening during the time of your visit. The studio puts on very special and exclusive events every month so you might want to have a peek on their website while you visit your trip to the Studio.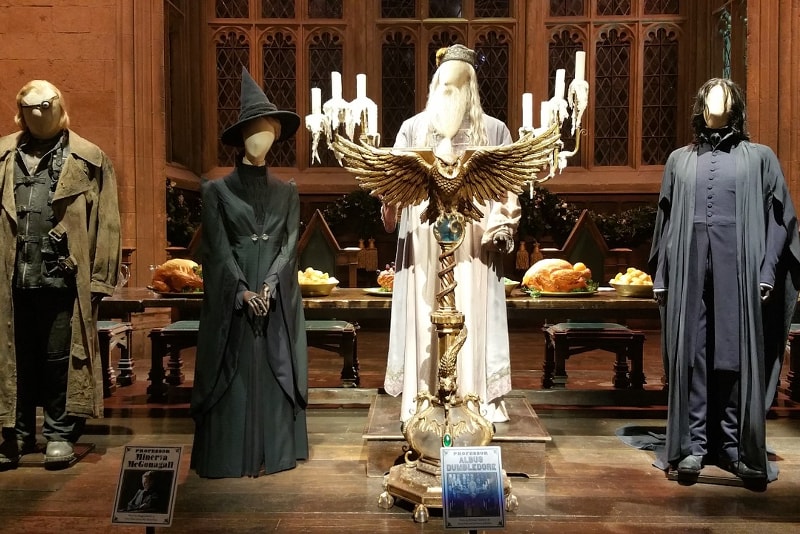 Don't forget tips
Tickets must be purchased in advance. Tickets are sold out very often. If the tickets are sold out on the official website, check the resellers and TourScanner is a great help for it.
The average visit lasts approximately 3 and a half hours. The earlier you book your visit slot the better in order to spend as much time you need in the studio. Wander, explore and read every single detail!
Make sure to print out your booking confirmation for entering the Harry Potter World London – this is absolutely necessary!
Please note they only accept cash if you're taking the Shuttle Bus service. Credit and debit cards are not accepted. You will need a valid Studio Tour Ticket or booking confirmation for the date of travel to use this service.
Oyster cards are valid between London Euston and Watford Junction railway stations.
I hope this comprehensive guide of everything you should know about the Warner Brothers Studio Tour London helps you! Please do not hesitate in asking if you have any queries!