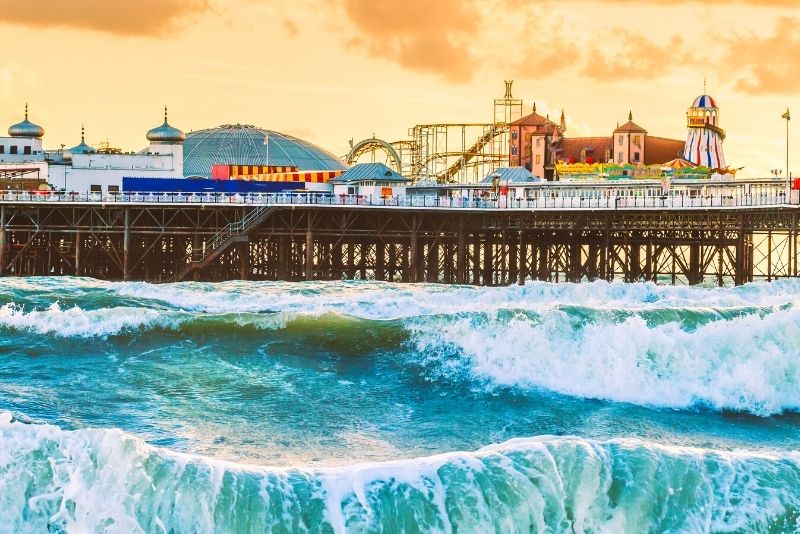 Skirting along England's sparkling southern coastline — and a popular holiday destination for Londoners, locals and travelers alike — artsy, cultural, vibrant Brighton delivers entertainment and activity in spades.
Very much selling itself as a seaside resort city, this quirky getaway town blends the history of Sussex with a tantalizing foodie scene, a diverse arts culture, live events throughout the year — and more boutiques and marketplaces than a shopaholic would know what to do with.
Don't let a little rain dampen your fun in Brighton! Some indoor activities include popping into the shops in funky Kemptown, getting trippy inside the Paradox Place House of Illusions, gazing at the art pieces inside the Brighton Museum & Art Gallery, and why not, sampling the best restaurants at The Lanes.
Throw in the amazing nightlife with rooftop bars, classic English pubs and electric nightclubs and the proximity to natural attractions (don't miss the Seven Sisters cliffs) — and it becomes clear that the variety of things to do in Brighton is nothing short of exemplary.
So, what are you waiting for? Start planning your seaside adventure!
1 – Ascend the British Airways i360 Viewing Tower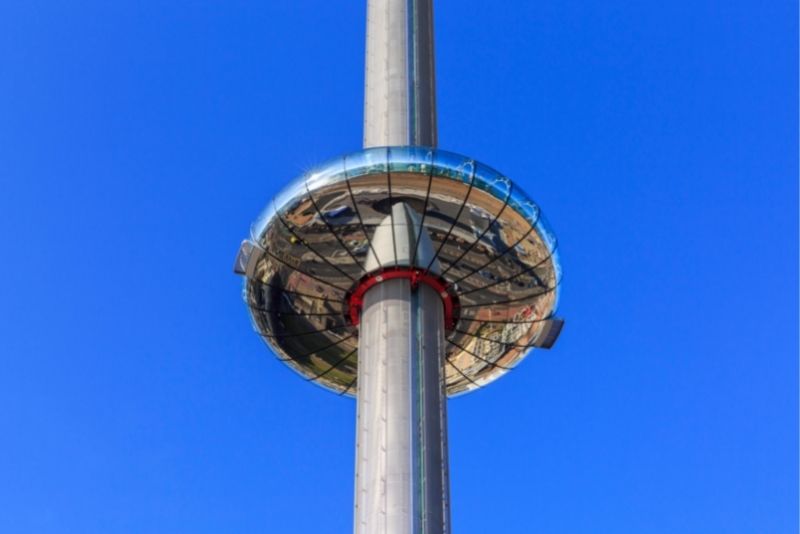 Located on the popular Brighton beachfront, the British Airways i360 Viewing Tower delivers panoramic views and a thrilling new perspective.
Ticket in hand, guests of all ages can take the relaxing 25-minute ride up to a height of almost 138 meters (450 feet), enjoying breathtaking 360-degree vistas of Brighton and the South Dawns along the way.
With a variety of unique packages to choose from — including a sky-high yoga class and a sparkling wine experience — the viewing tower is one of the ideal ways to kickstart any UK adventure.
2 – Discover the Royal Pavilion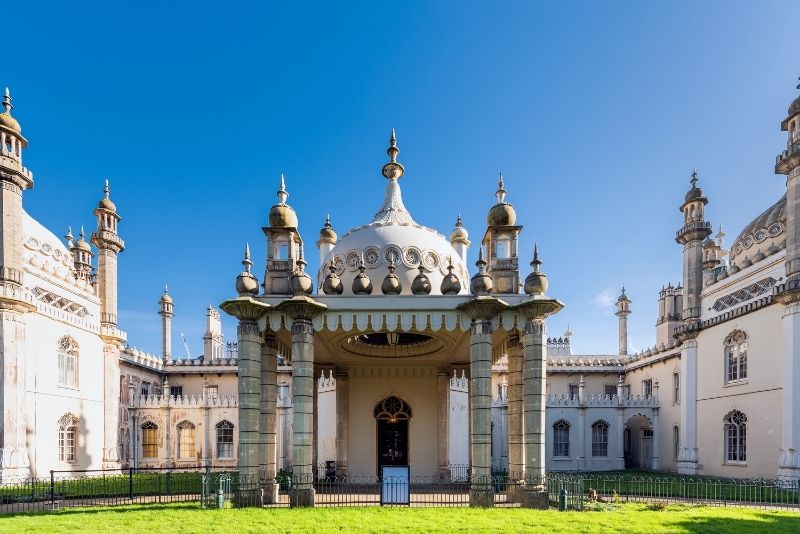 A revered locale that is both historic and mightily enviable, a trip down to the Royal Pavilion offers visitors the chance to walk in the footsteps of 19th-century royalty — where the beauty of a seaside palace meets a colorful, fascinating past.
Throughout the sprawling campus, you'll uncover a diverse architecture that has drawn influence from England, India and China (to name but a few), while exploring music rooms, saloons and lush gardens that sweep you into a life of yesterday.
With a variety of tours and packages available, led by local historians, this enchanting above offers the chance to be a part of living history.
3 – Enjoy the view at Brighton Palace Pier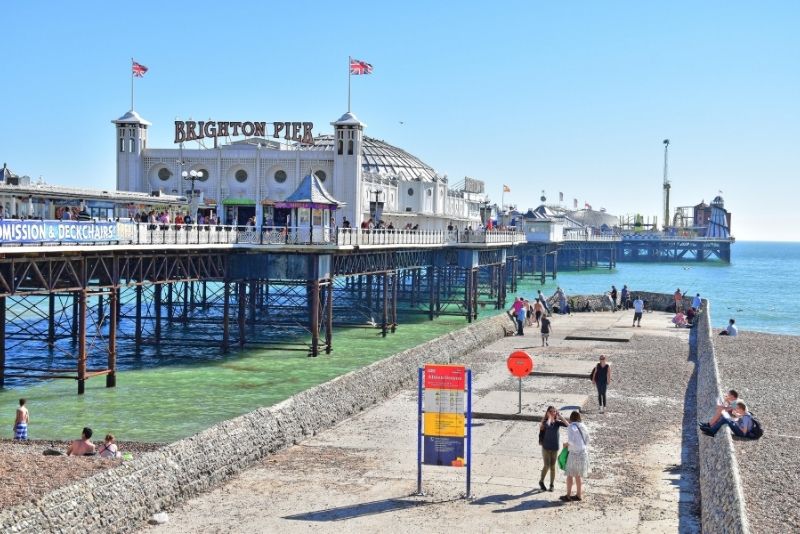 Oozing both history and excitement, thanks to first opening way back in 1899, the local favorite that Brighton Palace Pier is the ideal spot to spend a fun day under the sun.
After admiring the street performers and soaking the ocean view, you can venture inside to enjoy some of the pier's most popular eateries and bars, and then take a stroll down the boardwalk and find a souvenir or two (ice cream cone in hand, of course).
Once you've gotten your fill of sweets, spend an hour or two at one of the many family-friendly attractions that the pier has to offer — the arcade, Midway games, sideshow entertainment, and thrilling roller coasters are sure to keep the kids (and kids at heart) occupied.
4 – Have a bite to eat at The Lanes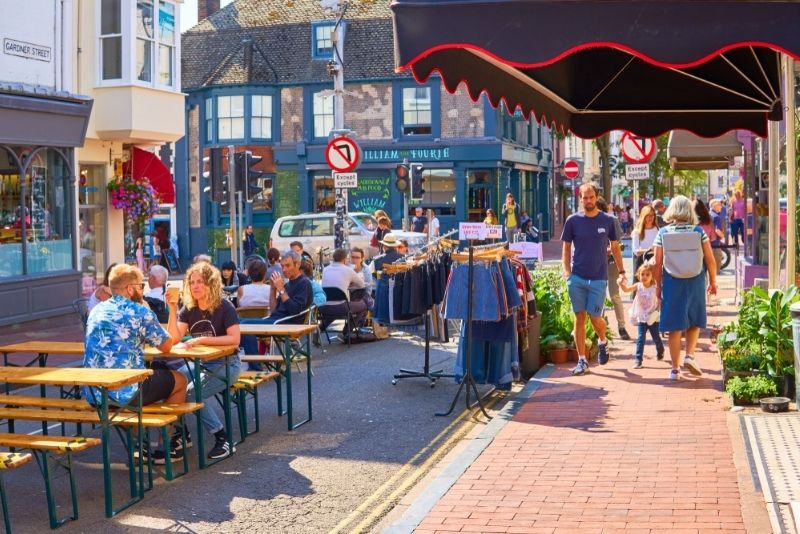 For all of the foodies looking to try out some local eateries, a walking food tour through The Lanes is an absolute must.
Led by an in-the-know local, you can experience signature seaside dishes from a variety of street vendors that are suited for vegans, vegetarians, and omnivores alike — and chat with some quirky locals along the way too.
The shopping and local food options — including staples like pies, bangers and mash, shepherd's pie, and some good old salted fish and chips — are a great way to experience the true nature of beloved Brighton.
5 – Ride the dodgems or jump on trampolines at Brighton Pier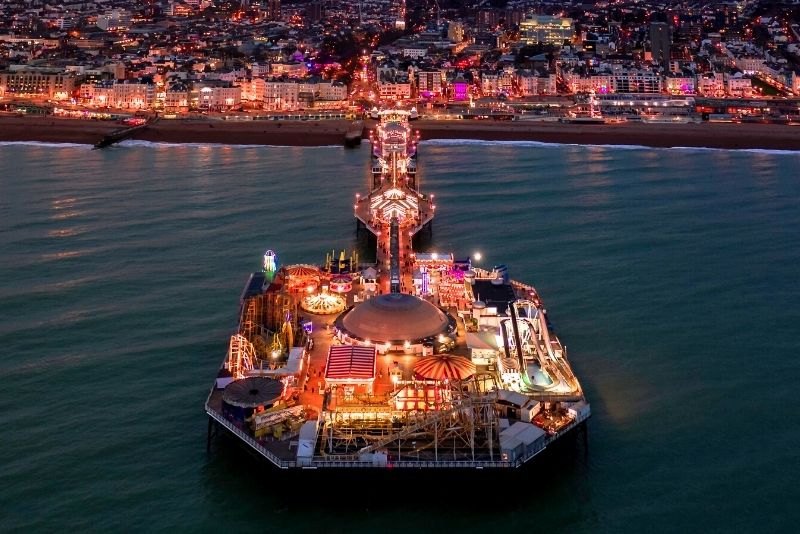 To really make the most of your time at the Brighton Pier, experiencing the rides and attractions is a must!
Thrill-seekers, you can get your adrenaline fix (and more) while riding the turbo coaster, while families can take things a little slower on the scenic carousel.
With rides (not to mention food and drink) offered for all age groups and a postcard-worthy view out onto the English Channel, there is no denying the allure of this popular landmark.
Pro tip: purchase your ride wristband online and get a discount!
6 – Stroll through Preston Park & Manor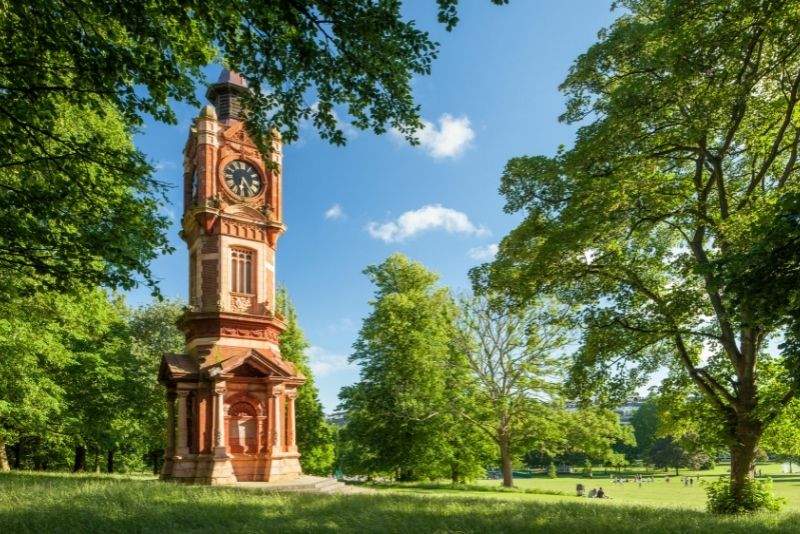 Sitting about a 10-minute drive inland from the pier, and originally built in the 13th century, Preston Park Manor is one of the older residences of its kind and boasts an equally complex history.
Despite being over 700 years old, the estate has been up kept and modernized to reflect a current Edwardian style — one which guests can take a stroll through and admire up close!
Feel free to walk around at your own pace, check out the sprawling estate, the dozens of bedrooms, the dining halls and servant's quarters, and don't miss the lavish grand entrance hall.
And for all you paranormal enthusiasts, the manor is also said to be haunted by a few friendly ghosts!
7 – Venture on the hop-on-hop-off bus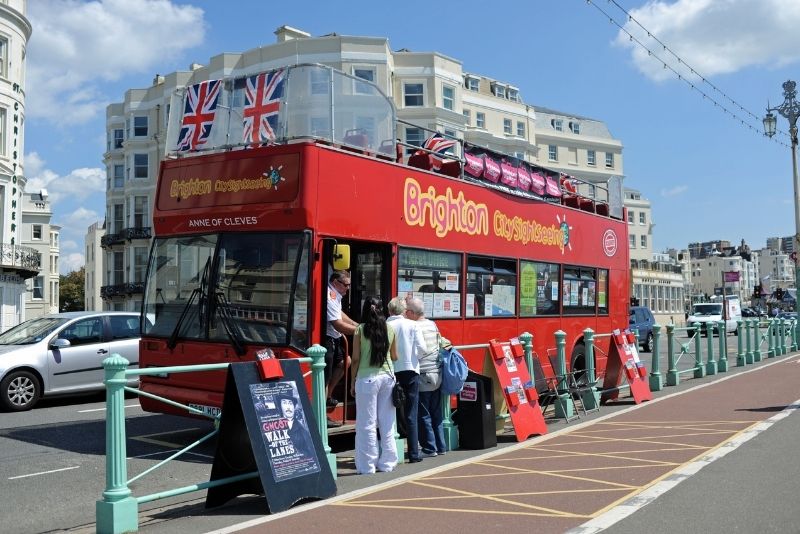 Short on time? Can't be bothered walking around? When days are limited, take advantage of the various Brighton bus tours to visit all of the most popular tourist destinations in one go!
Typically, tours run every hour and take visitors to a dozen unique landmarks located throughout the city — explore marvels like the Royal Pavilion, the Volks Bar and Club, and the Brighton Museum & Art Gallery, to name a few.
Not only do you get an unobstructed view of the city from the double-decker bus (in true UK fashion), but you can also experience the centuries worth of history with complimentary audio narration.
8 – Wander through the Brighton Museum & Art Gallery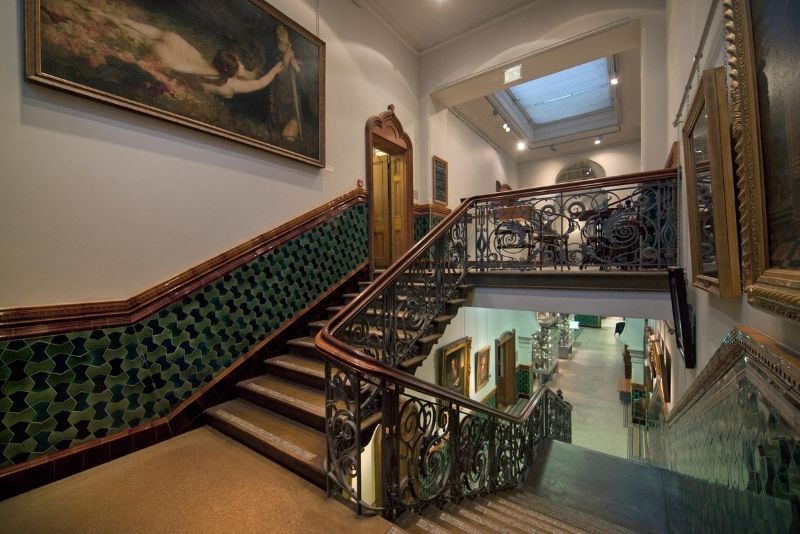 For those looking to experience refinement and culture, the Brighton Museum & Art Gallery screams a must-visit.
Spread across the multi-story building, art-savvy guests will be able to view a changing inventory of fine arts along with the centuries-old Egyptian artifacts from the land of pharaohs and kings.
Meanwhile, the museum's interactive and educational side is brought to life through a variety of exhibits and events throughout the year from workshops to performances.
The traveling exhibits educate visitors about everything from the Stone Age and Roman influence on the region to the modern side of Brighton history.
9 – Jump on a bike for a seaside adventure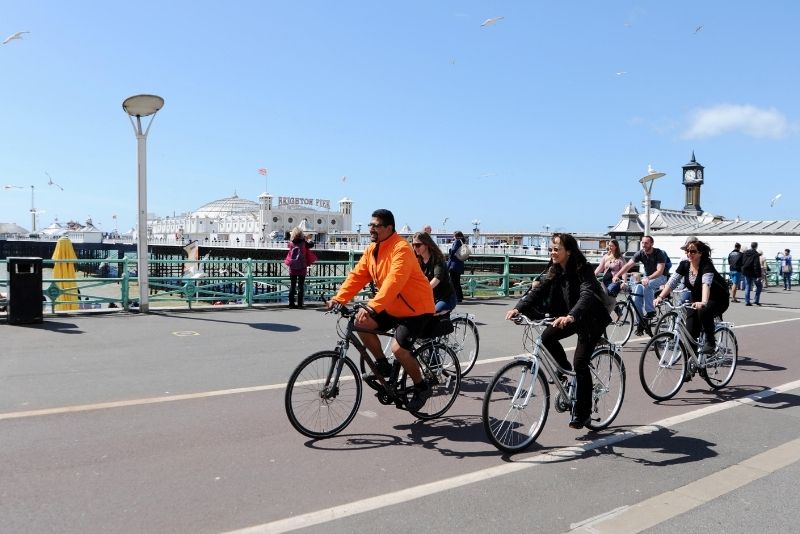 For many first-time visitors, the best way to experience the beauty of a new city is to simply be a part of it, and with so many Brighton locals skirting around on two wheels, taking a bike tour is a great way to do exactly that.
With a range of tours available that dive into the area's rich culture and heritage, you can choose to take a scenic ride through vibrant seaside towns during the morning.
You can join an afternoon tour and experience the essence of Brighton with a few stops at pubs and eateries.
Craving adventure? The e-bike tour of the Seven Sisters cliffs is an exhilarating trip worth taking.
10 – Marvel at the Lewes Castle & Museum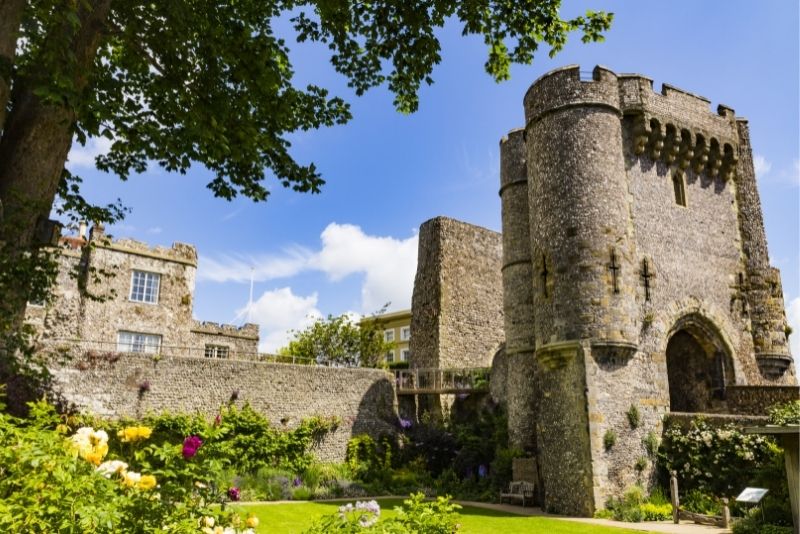 Truly a hidden gem located just outside of Brighton, the Lewes Castle & Museum stands as a testament to the history of a once magnificent stronghold.
After wandering around the grounds, ascend the winding staircases and explore the archaeological exhibits that highlight the history and culture of Sussex, and then wrap it up with a drink at the on-site cafe.
Oozing history and medieval-style architecture, it's a great stop for any history buff.
Admission starts at £6.50 for adults and £3.20 for children and students.
11 – Shop around at the Brighton Open Market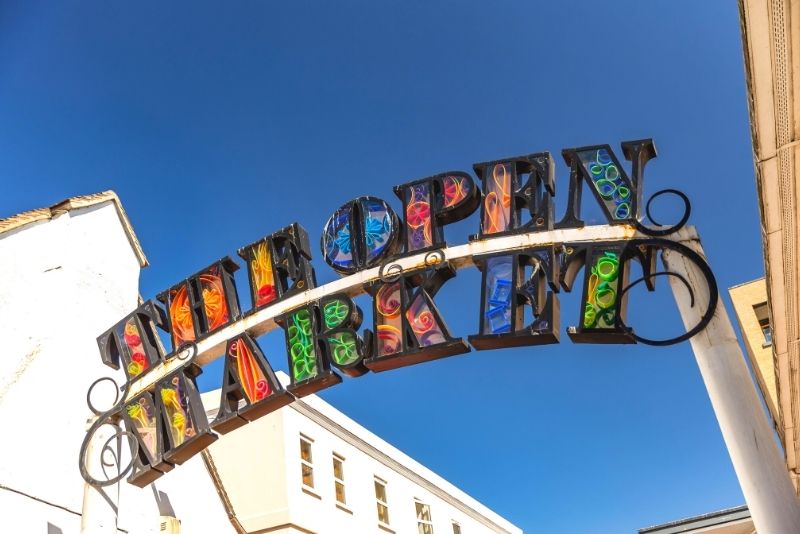 With over 40 unique stalls and traders selling everything from handmade jewelry to delicious vegan treats, the Brighton Open Market is a great option for shopaholics looking to get their fix.
And if you've got an eye (or appetite) for foodie-goodness, be sure not to miss out on sampling some of the local sweet treats at local gems like Rainbow Organic Chocolates or Real Patisserie.
When visiting the market, you will be supporting small local businesses as you try quality food and find handcrafted products. The market also plays host to a rotating calendar of local events that, best of all, are totally free!
12 – Meet the colorful residents at Sea Life Brighton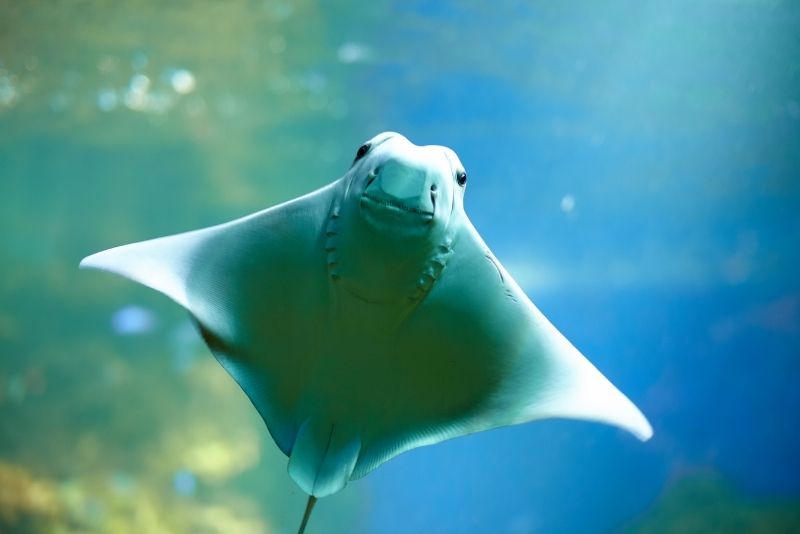 What trip to Brighton is complete without a visit to the world's oldest functioning aquarium?
With over 5,000 diverse species of all different shapes, sizes, colors and origins to see up close (and, in some cases, touch or feed), there is something for the whole family to enjoy at Sea Life Brighton.
While visitors can certainly walk around at their own pace, many opt for a tour through the underwater tunnel, where they not only can come face to face with some of the most ominous sea creatures on earth, including sharks and stingrays but learn all about them too.
13 – Zoom through the air on the Brighton zipline!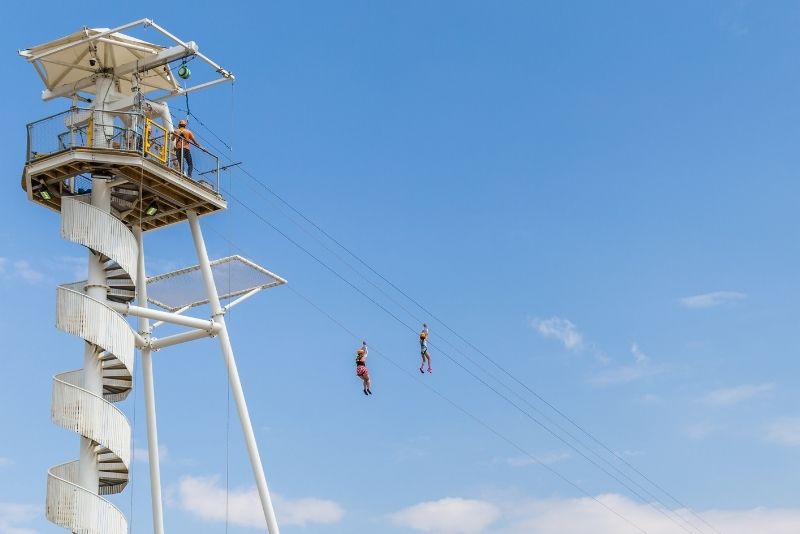 For all of the thrill-seekers looking to take their trip to Brighton to the next level, look no further!
So long as you don't drop the camera, amazing pictures and views from an entirely unique perspective await as you climb 32 meters and soar across the largest zip line on England's south coast.
With options for single and dual rides (fantastic for parents with kids or romantics looking for some thrills), you and your friends can race each other all the way to the beach landing zone.
14 – Wander around the Booth Museum of Natural History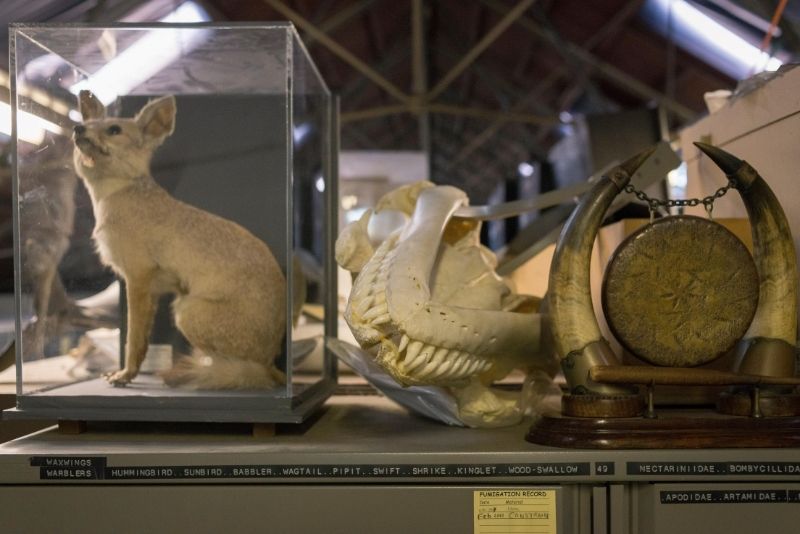 Birds, mammals, and bones, oh my! The Booth Museum of Natural History boasts a vast collection unlike any other.
With over 500,000 insects, 50,000 minerals, 30,000 unique plants and fossils that date back as far as 55 million years, this museum is no less than a living time capsule.
And it's not just the artifacts that are historic, so is the building itself! Founded in 1874 with the help of private collectors, the museum now boasts a number of tour options that allow guests to view some of the world's oldest creatures.
15 – Step into the world of magic at The Cauldron Brighton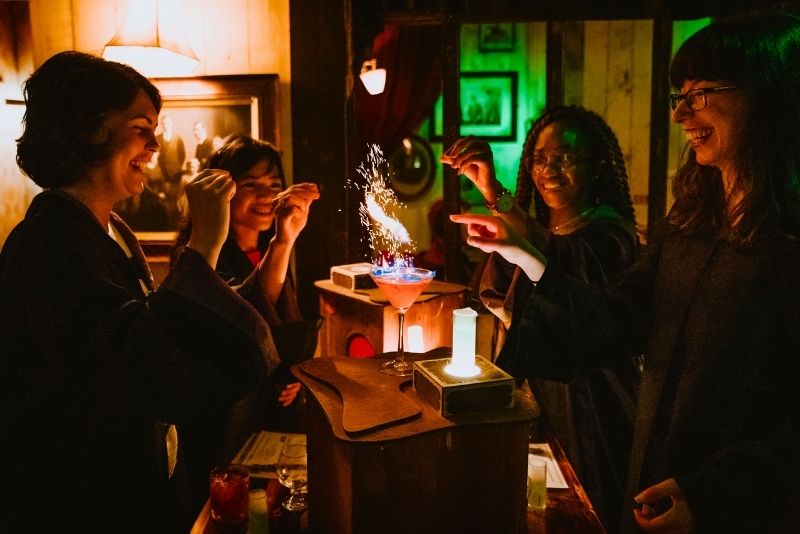 Are you ready for a magical adventure? At The Cauldron Brighton, you can unleash your inner wizard and learn the art of potion-making with working magic wands!
You'll receive a high-tech magic wand and learn how to cast a pouring spell to receive a welcome drink from a mythical creature. Your wand is the key to unlocking the magic of the space around you, so get ready to become the ultimate spell-caster!
Next, take a seat at a magic wand-interactive work station and start brewing two molecular cocktails with different properties and effects. With the guidance of expert mixologists, you'll use science and technology to create your own potions and become a master of molecular mixology.
Grab your wand and let's get brewing – The Cauldron Brighton is waiting for you!
16 – Photograph the Upside Down House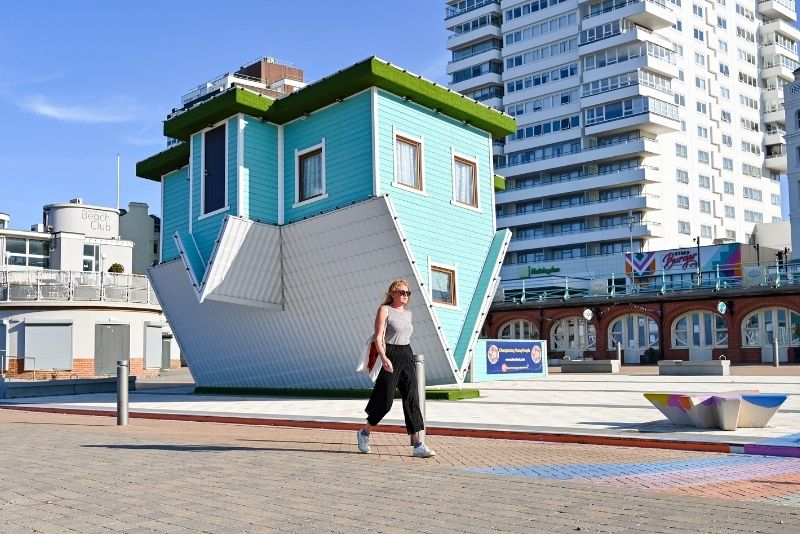 Certainly, one of the most unique and photo-worthy locations on this list, the Upside Down House on the Brighton West Pier is an oddity that's exactly what you'd expect: quite literally a house that is literally upside down.
From the outside, it's a great photo op sure to light up the 'gram; from the inside, visitors can observe the meticulously designed (upside-down) and head-scratching features.
Hot tip: Be sure to visit during the holidays to experience one of the Christmas or Halloween-themed homes.
17 – Eat Your way through a food tour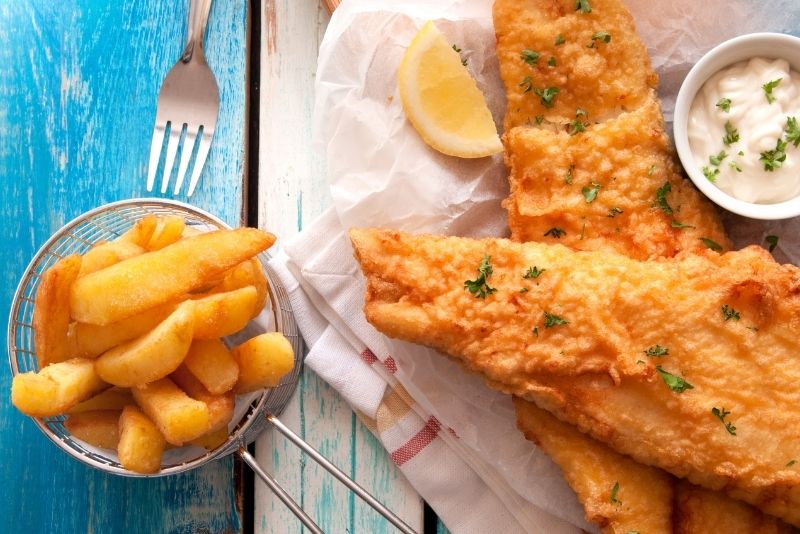 Whether you're walking, biking, bussing, or even drinking your way around town, there are multiple food tours to choose from which dive into the traditional English fare and local staples.
From general tours that take in multiple spots and tastes to focused tours on things like street food or vegan cuisine, you're spoilt for choice when it comes to finding the perfect culinary adventure for you.
Not sure where to start? The V.I.B, walking tour and food and beer tours let you sample all the local delicacies from hidden gems as opposed to busy tourist hot spots, while the beer and food tour is a great pre-game adventure before hitting the town.
18 – Relax and unwind at Queen's Park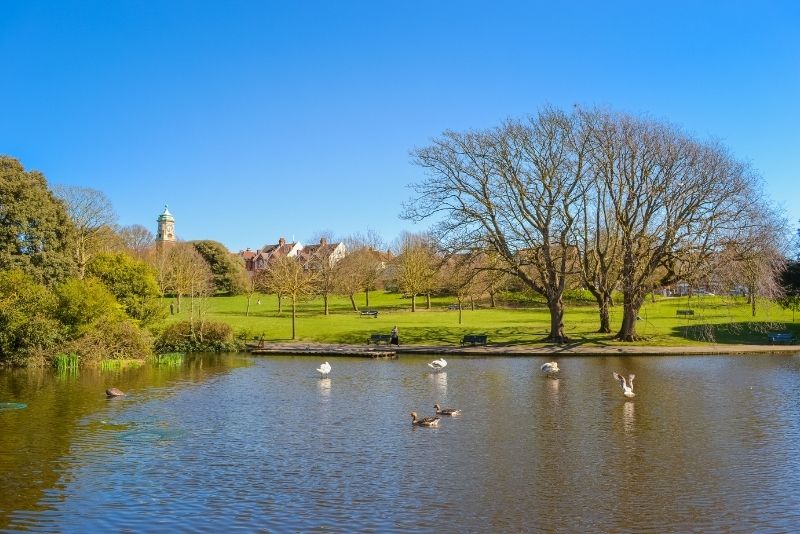 Need a break from a few days of non-stop sightseeing? If you're looking for a relaxing way to spend an afternoon, make a stop in the green-filled Queen's Park.
Selling itself as the go-to spot for a relaxing walk, brisk cycling, or a casual game of tennis, there is something for everyone to enjoy in this 200-year-old, 15-acre slice of greenery.
Open to the public year-round, with plenty of picnic tables and grassy areas ideal for a snooze in the sun, guests can experience the beauty of simplicity as they take in the natural calm ambiance of the park and its wildlife.
19 – Putt around at Globalls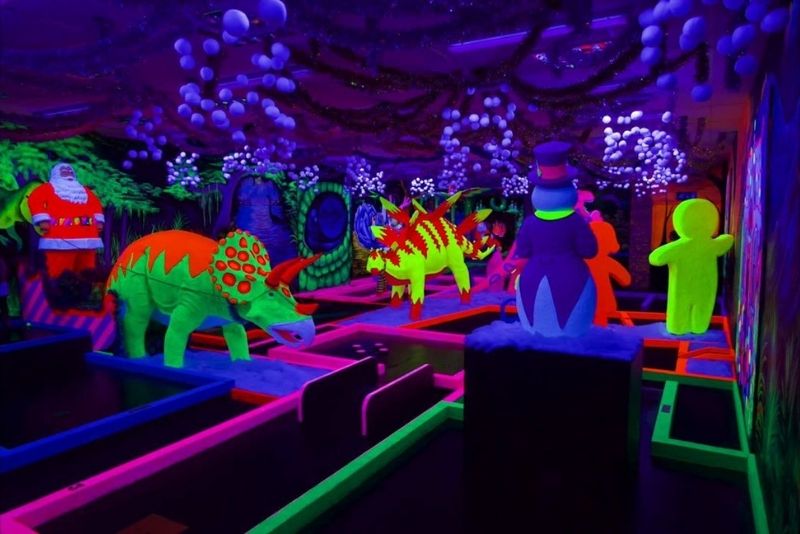 Ever wondered what Jurassic Park would look like as a rave? Well, at Globalls, you can see it for yourself and play some mini-golf too!
With three unique 12-hole indoor mini-golf courses, each littered with fluorescent creations (dinosaurs, sea creatures and animals, depending on your course) lit up by ultraviolet light. Your mission? Simple, really: finish the course without being too distracted by the fascinating creatures.
While you're there, don't miss the glow-in-the-dark bar (fancy a tipple, anyone?), where the drinks are just as colorful as the environment in which they're served!
20 – Race around the city with a scavenger game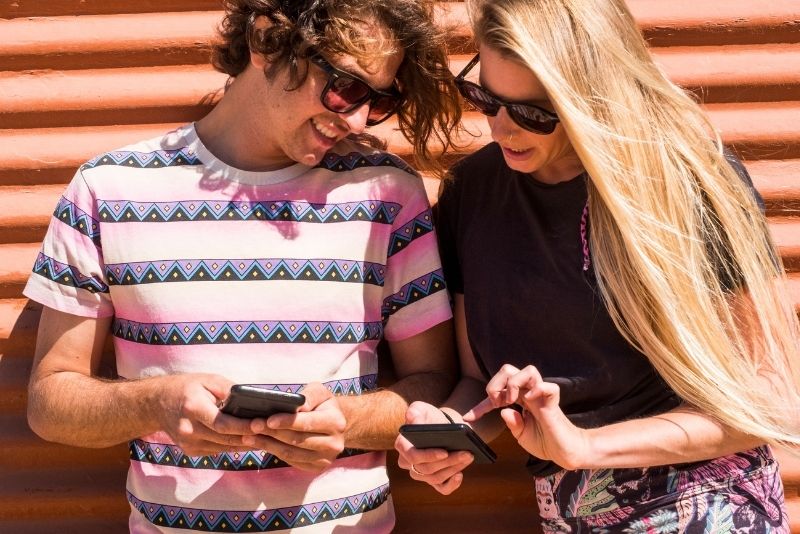 Whether you're after an interesting activity for a bachelor(ette) party or a most engaging, fast-paced way of exploring Brighton – Amazing Race-style scavenger games are the way to go.
Led from the convenience of a phone, groups are tasked with racing around town, solving riddles and taking photos of themselves in various locations. The first team to return with all the answers (and proof) is declared the winner!
Not only is this a great way to see Brighton, but it's also perfect for building teamwork and problem-solving skills.
21 – Spend a day in nature at the Seven Sisters and South Downs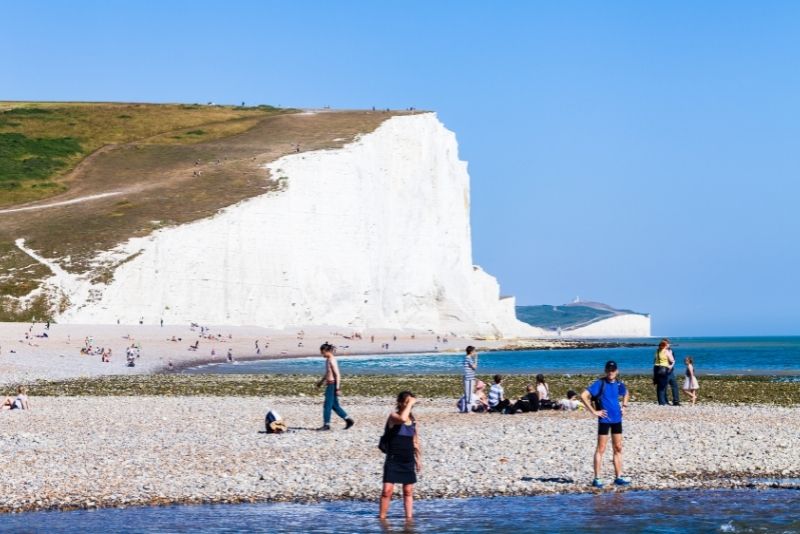 If you want to get out of the city and explore some of Brighton's natural surroundings, a day trip to the Seven Sisters (consecutive, towering chalk sea cliffs) and South Downs (the hills and National Park on which they sit) is perfect.
Located just 30 minutes outside of Brighton by car, these postcard-worthy landscapes allow curious travelers to experience breathtaking seascapes and beautiful photo opportunities from dawn to dusk.
You'll be able to take in sweeping views of the Sussex countryside from high up on the downland ridge, enjoy a picnic lunch among acres of wildflowers, and wander through what is the area's newest National Park.
It's an ideal trip for nature-lovers and hikers of all levels, and with plenty of photo opportunities along the way.
22 – Visit the UNESCO World Heritage Sights of Stonehenge and Bath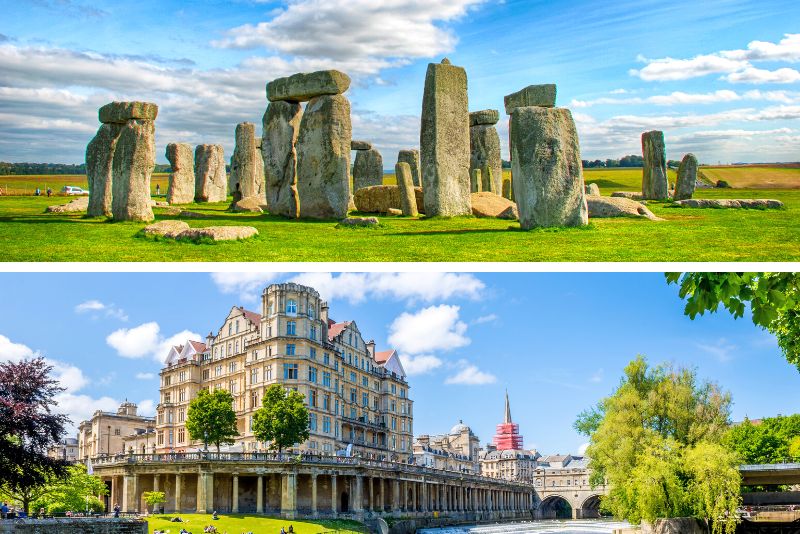 Prepare for a magnificent experience exploring the historic sights of Stonehenge and Bath on a smooth day trip from Brighton!
Prepare for the 10-12 hour day trip early in the morning, and be transported in a climate-controlled bus, making your route through the stunning English countryside.
Get all the historical information while walking around Stonedge with an audio guide, and then at Bath, enjoy the sight of Roman baths that date back to 70 AD.
Bonus tip: when you're at Stonehedge, stop inside the cafe and ask for the "rock cake".
23 – Mingle with monkeys and parrots at Drusillas Park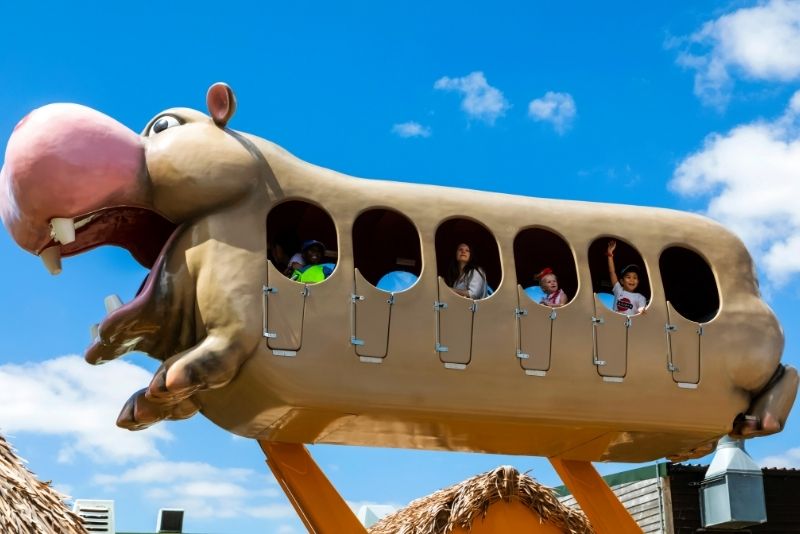 You can't visit Brighton and not visit the best small zoo in Europe! Whether or not you're traveling with kids in tow, there are several different play areas to explore and pass time.
They include Go Wild! (offering a hands-on mix of climbing, swinging and sliding activities) Go Bananas! and the jungle-themed Amazon Adventure, home to all kinds of beasts big and small.
If those aren't enough, you can enjoy the splash pad, Hello-Kitty themed garden (surprisingly the first Hello Kitty-themed attraction in Europe) and Go Safari!, home to the popular Safari Express Train Ride.
24 – Shop around at North Laine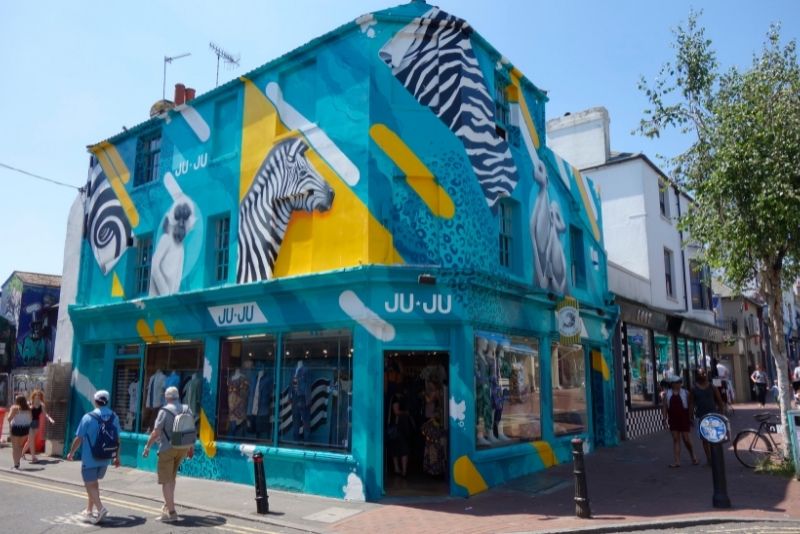 Itching to get your retail therapy fix? Take a trip down to the shopaholic haven that is North Laine — a former slum-turned bohemian zone where some 300 odd shops beckon in a half-square-mile area.
From quirky little boutiques to vintage stores and fashion retailers galore, with everything in between (including food and a magic shop) you'll be spoilt for choice when it comes to where to spend your pounds!
Nestled in the Cultural District, you'll also find the Brighton Museum & Art Gallery within walking distance.
25 – Do some kayaking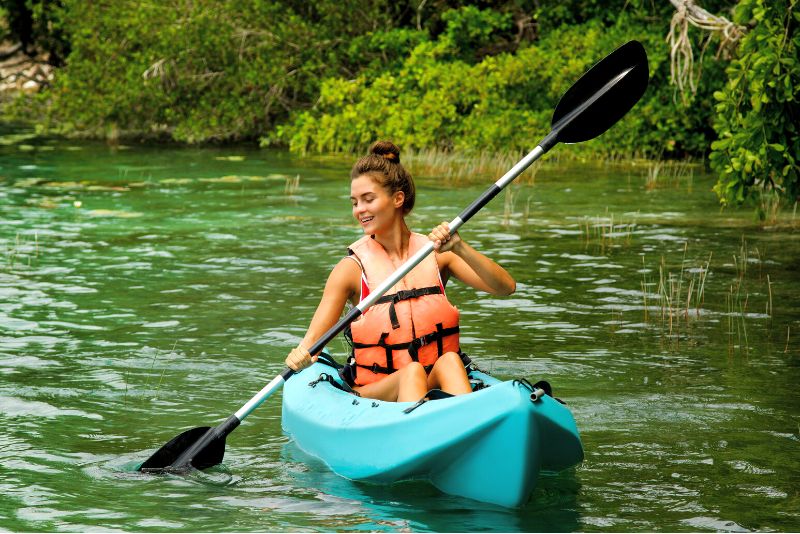 Travel 13 kilometers on River Arun, getting an eyeful of the quaint natural scenery nearby and a close look at the local wildlife.
For those in search of a unique experience, opt for the night kayaking experience. Encounter a glorious sunset as you take in the beautiful countryside atmosphere with your guide.
If you're tight on time, do the 1-hour kayak session on Brighton Beach, beautifully taking in the Brighton Beach pier from the water.
Whether you've kayaked before or not, these kayaking experiences are beginner friendly and include safety briefings and a life vest.
26 – Take the kids (or kids at heart) to the Brighton Toy and Model Museum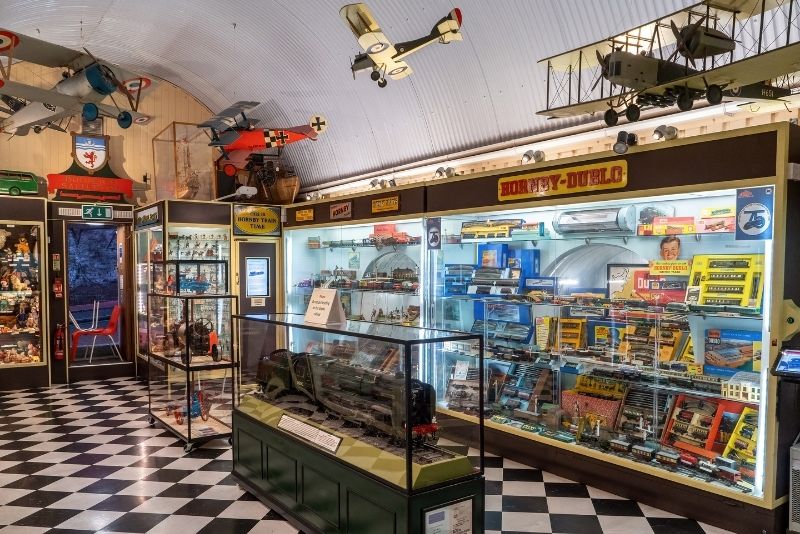 Having been around since 1991, the Brighton Toy and Model Museum isn't your average, run-of-the-mill museum. It's an interactive toy museum teeming with all kinds of toys from yesteryear, making it the perfect place to take your little ones for a day out.
From working model train layouts to construction kits, dolls houses and teddy bears, not to mention the Toy Museum Folk Club, it's a haven for those who love their toys and history — guaranteed that your kids will enjoy it too!
27 – Find some shade in a Hove Beach Hut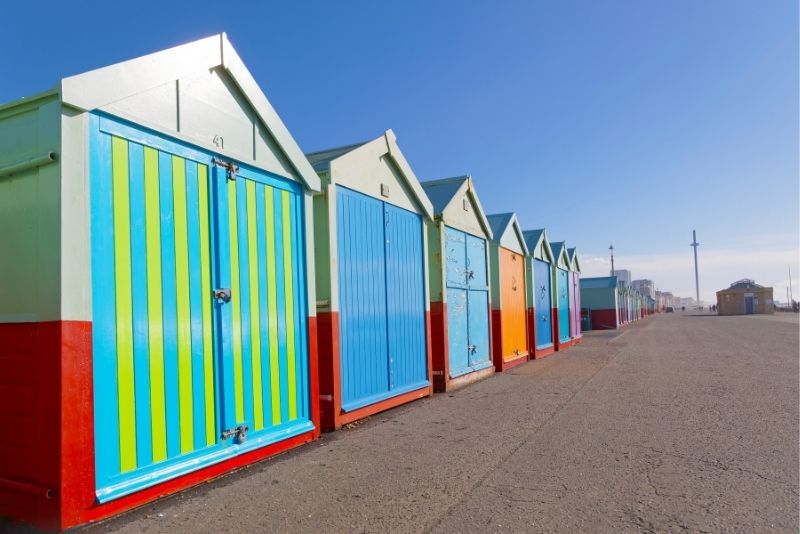 We've all been there: taking a trip to the beach can sometimes be a hassle as you lug your chairs, towels, and snacks while looking for the ideal place the setup shop … only for a seagull to sweep away your chippies!
For those looking for a simpler way to soak in the sun and have fun at the beach, try renting a Hove Beach Hut — offering a cozy beach shelter with the option of modern-day conveniences.
You'll find these convenient, Instagram-worthy shades at popular strips like Hove, Madeira Drive, Ovingdean, Rottingdean, and Saltdean.
28 – Go down a mesmerizing rabbit hole at the Paradox Place House of Illusions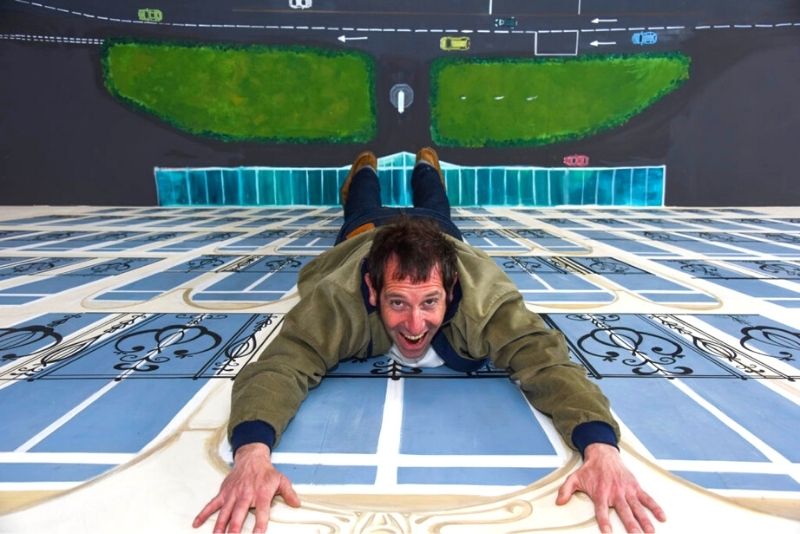 Are you a fan of magic? (And let's face it, who isn't?) Then experiencing Paradox Place, which is one of the most intriguing things to do in Brighton, is perfect for you!
From historical magic tricks to Alice in Wonderland-style changes to the scenery, the whole place is an illusion that'll have you mistrusting your own eyesight!
Every exhibit you step into launches you into a different illusion, from skydiving to becoming a live hologram; there's an illusion and picture-perfect moment in every nook and cranny.
29 – Take a trip down to the Isle of Wight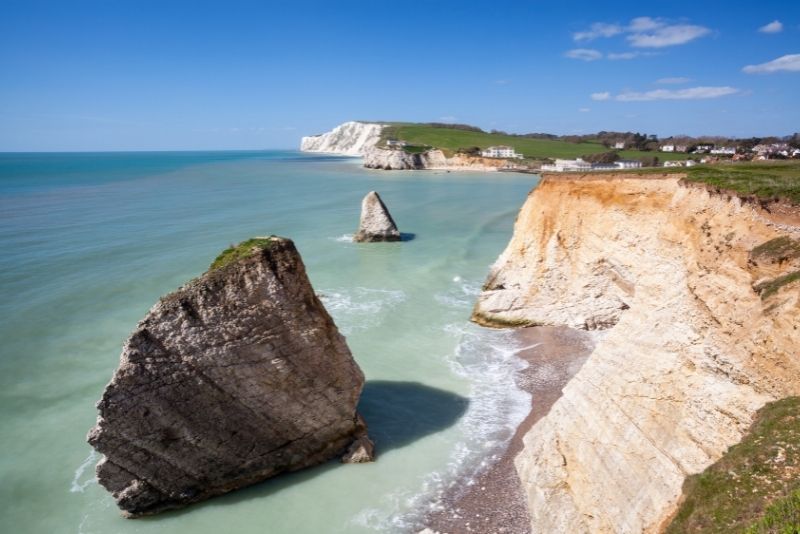 A quintessential English village that looks like something out of a magazine, the Isle of Wight is a short ferry ride (or drive across the bridge) from Southampton and Portsmouth the south coast of England — about two hours away from Brighton.
Once you're there, enjoy cycling and hiking trails that weave through picturesque villages (don't miss Godshill). Take a stroll along the beaches of Alum Bay and soak in the natural beauty of The Needles and Spinnaker Tower.
Explore some of the landmark sites such as Carisbrooke Castle, a near-1,000-year old fortress steeped in history. Don't forget to indulge in some local seafood while you're there!
Hot tip: While you're more than welcome to explore at your own pace, to take out all of the hassles of transports and organization, some travelers prefer to opt for the pre-arranged guided tour.
30 – Mosey around the Brighton Fishing Museum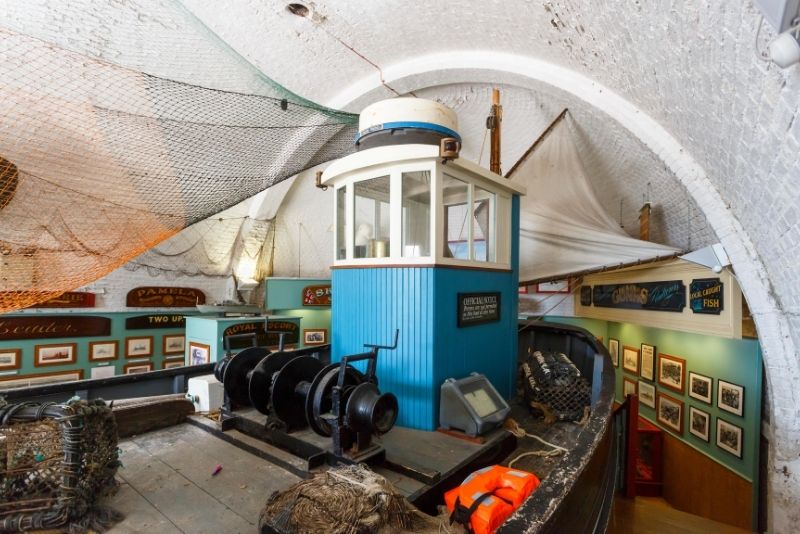 To really understand the history and culture of Brighton, a trip to the Brighton Fishing Museum, which explores the evolution of the town from fishing port to thriving tourist magnet, is quintessential.
This fishing quarter has been a staple in the community since the 1860s and now illustrates the advancement of fishing, boating, and the wider community throughout Brighton's history.
Funded privately by the local fishing community, the museum features artifacts and souvenirs from the many fishermen that have stopped into the area over the years.
31 – Savor fine British food at the best restaurants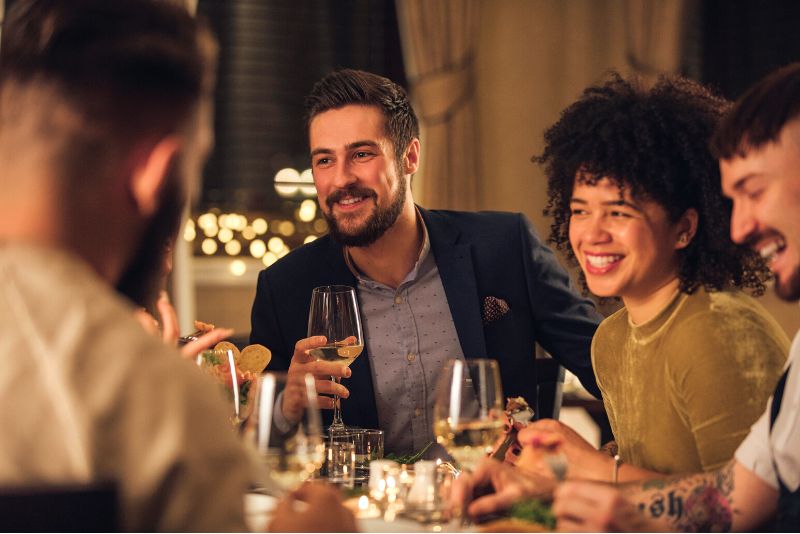 Vegans and vegetarians, your table is waiting for you at Kindling, featuring a menu comprised of the freshest dishes using locally grown ingredients.
Another farm-to-table foodie experience takes place at Wild Flor, where you can get your British dish fix, made with ingredients from local farmers.
Don't know what you want just yet? Head to Shelter Hall – a food hall offering more than a couple of lunch items to indulge in, from tender steaks to international dishes.
All the cool kid's going to Isaac Art, a contemporary restaurant featuring an extensive list of British wines to try.
32 – Compete for bragging rights at LaserZone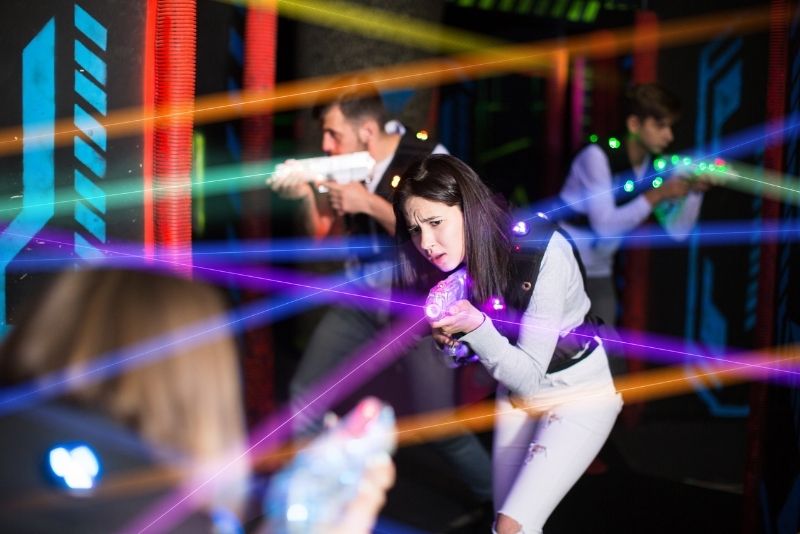 Imagine this: a rundown spacecraft crashed right into the heart of Brighton. Enemies have now overtaken West Street, and you need to get them all!
Bringing sci-fi combat to the real world, LaserZone provides 3000 square feet and multiple levels of galactic labyrinths for you and your group to run amok!
Defeat your enemies, score the most points, and reign victorious — a sublime activity and one of the best things to do in Brighton for a rainy day or anyone traveling with youngsters.
33 – Stroll around St. Ann's Well Gardens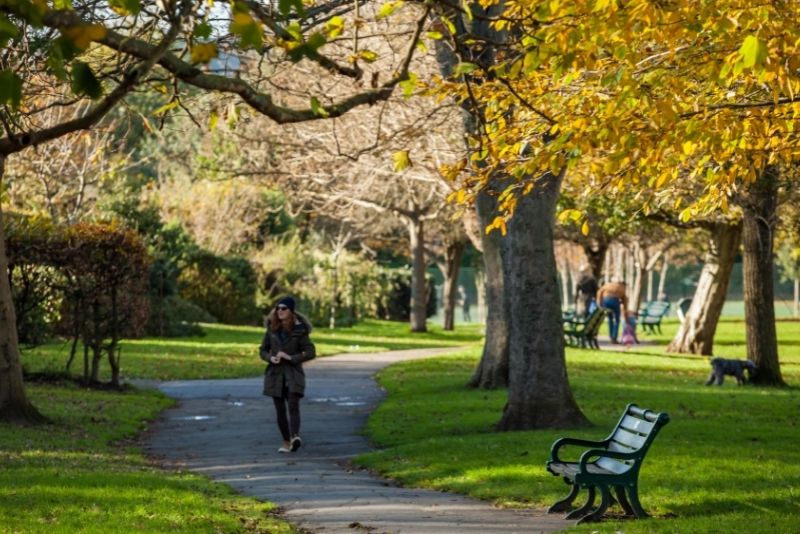 Home to a variety of native and exotic trees and flowers of all the colors of the rainbow, the St Ann's Well Gardens is a beautiful sight to behold.
Walk around the expansive grounds, visit the fish pond, or feed one of the many grey squirrels that frequent the area.
Visit the sensory garden, perfect for meditation or reflection.
Far more than just a garden, St Ann's also boasts a children's playground, some tennis courts, and a quaint café — all combined, a relaxing afternoon awaits.
34 – Tantalize your sweet tooth at a chocolate tasting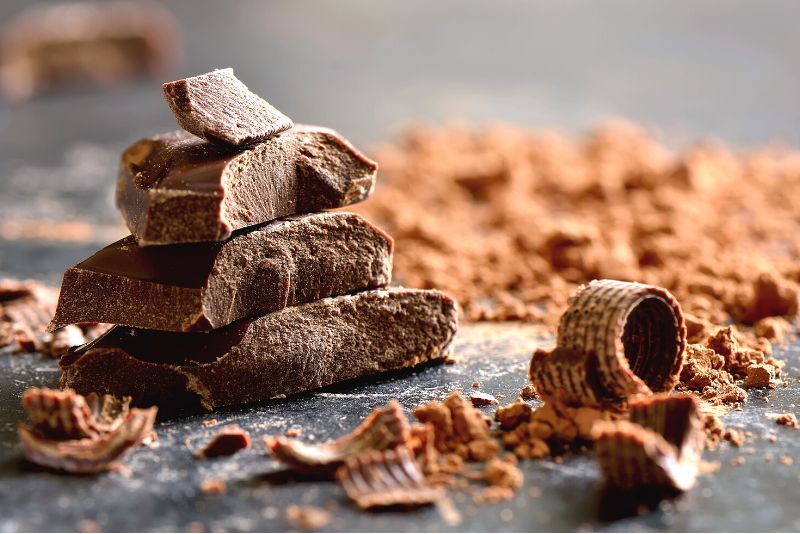 Want a sweet ending to your trip to Brighton? Opt for a lavish chocolate tasting through the best chocolatiers and chocolate shops in Brighton!
For 2 hours, you'll be chocolate hopping from sweet shop to chocolate shop, tasting a variety of exquisite chocolates, and enjoying a special tour discount if there are some chocolate goodies that you feel you cannot leave the UK without.
Other than the chocolate varieties, you'll also be able to sample a few other sweets and chocolate drinks.
Pro tip: bring your best walking shoes as this is a walking tour.
35 – Hop aboard Volk's Electric Railway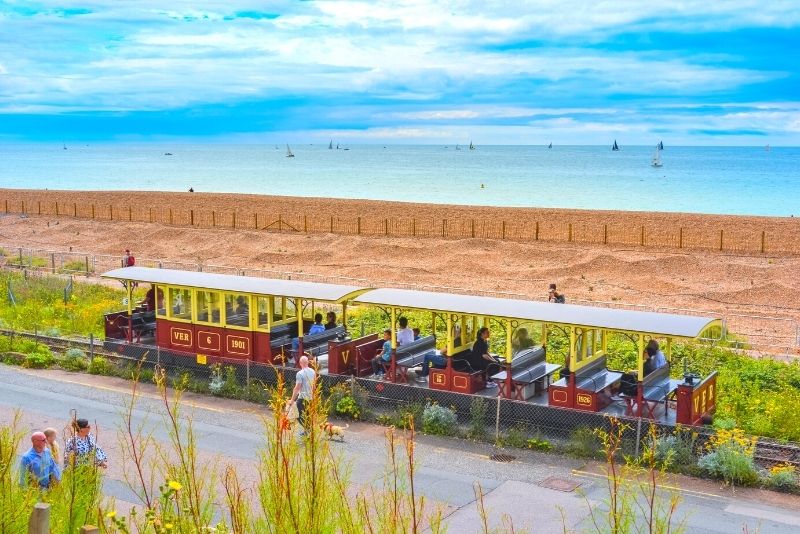 Combine history, a seaside view, and the joy of a train in one with Volk's Electric Railway — the area's oldest functional electric railway, operational for the majority of the year (closed in winter) for one-mile rides with truly stunning views.
Along the route, you'll chug past popular places like Palace Pier (the original terminus) and the Black Rock station, providing you with an opportunity to get up close and personal with some of Brighton's most iconic monuments.
Tickets can be purchased in person.
36 – Paint the worries away at The Painting Pottery Cafe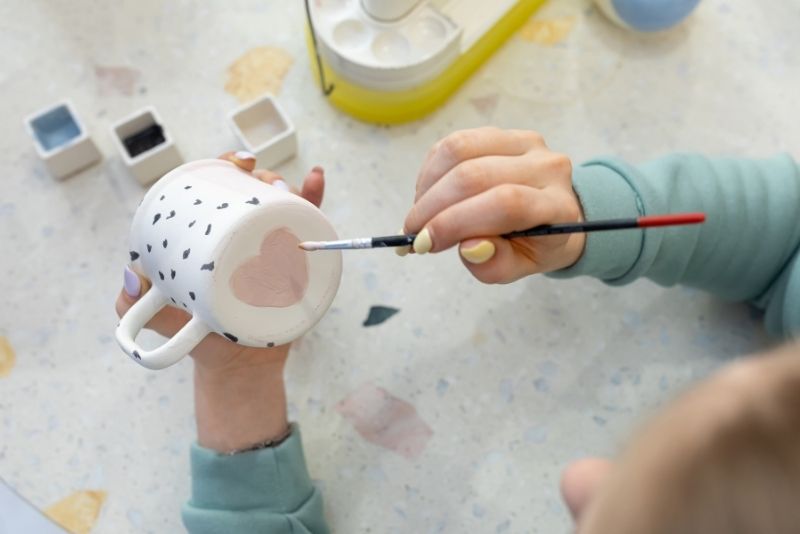 Let out your artistic side as you paint your very own ceramic pot at The Painting Pottery Cafe.
As the name suggests, it's all about releasing your inner artist on different pottery objects (which, of course, you can later take home as a souvenir)!
Choose from 100 different designs, or try to create one yourself if you dare. Even if you're not the artistic type, there's always the option to simply take a look at the exhibition to support local artists.
Make sure to book your spot ahead of time!
37 – Hit the bullseye with an archery outing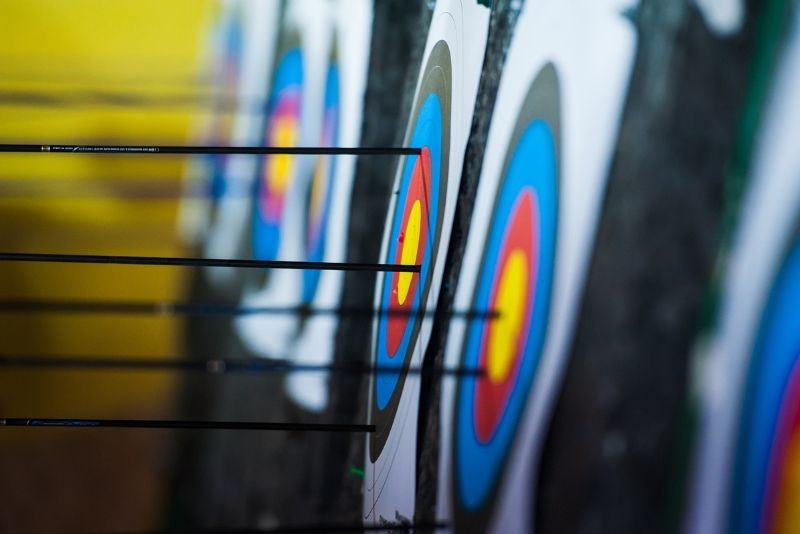 Whether you've dreamt of being Katniss Everdeen or representing your country at the Olympics, there's an archery range just for you in Brighton where you can let the arrows fly.
Depending on your venue of choice, you'll be able to choose between 2D targets and some moving 3D targets as well, so no matter your skill level, you'll have the chance to improve on it.
For those who are just starting out, there's plenty of helpful tips and advice on offer from expert coaches—and for seasoned pros looking for a new challenge or wanting some more pointers on their technique, that's available too!
38 – Hike around at Devil's Dyke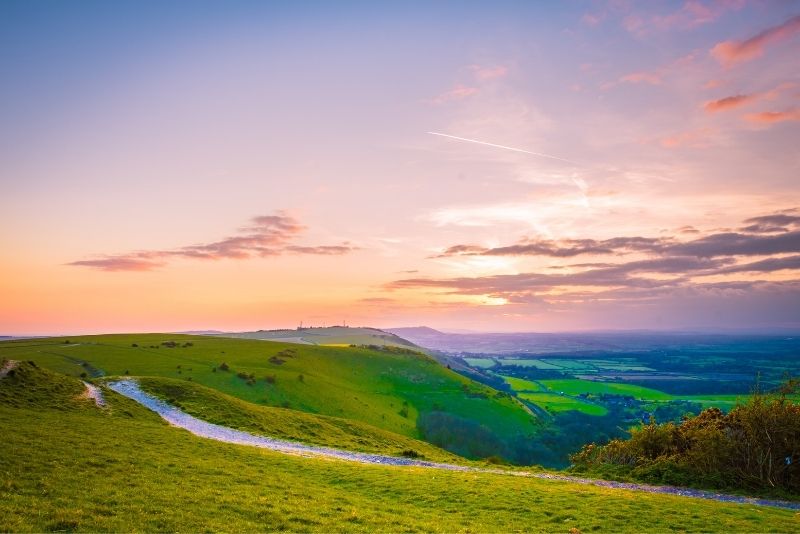 Tucked away in the magnificent South Downs, Devil's Dyke — as you might assume from the photo — is described as one of the most scenic locations in Brighton.
Shaped like a V, and descending some 100 meters into the valley below, the area around the Dyke offers widespread fields, vast hiking trails that are both challenging and rewarding yet accessible for almost anyone, and an abundance of wildlife to experience.
All combined, it's the perfect (and a conveniently close) outdoor activity for the whole family to enjoy. So disconnect from your devices and take a step into nature as you explore the rolling foothills or marvel at the paragliders overhead!
39 – Pop into St. Bartholomew's Church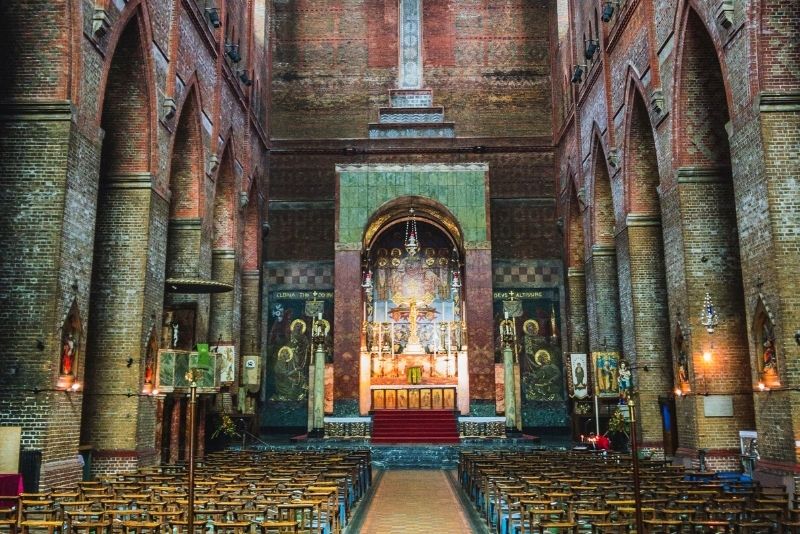 Whether you want to confess your sins or admire the history of a 150-year-old church, a quick trip to St. Bartholomew's is essential.
Just around the corner from the Brighton Open Market, the church is open to guests from Tuesday through to Saturday, with all welcome to mass as well.
But it's not just about prayer and worship; at least traditionally, multiple events are thrown year-round, catering to locals as well as visitors. Just make sure to check out their events calendar to see what catches your eye!
40 – Feel free as a bird paragliding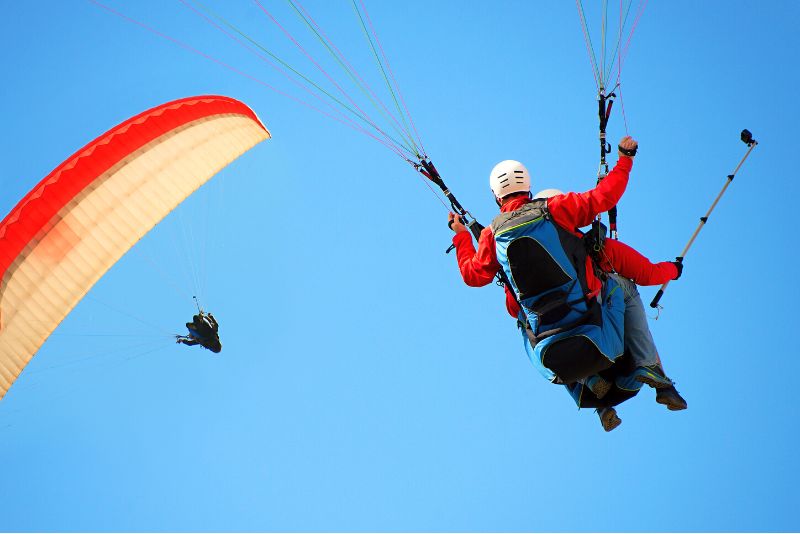 Get ready to take off on the ride of your life when you book a paragliding experience from Brighton Beach, overlooking the pier, sea, and the city from above.
With the guidance of an instructor taking care of all the mechanical details, the pilot will take care of maneuvering the paraglide. All you have to do is sit back and relax, gliding through the skies like never before.
Different experiences include professional film and photography to be taken of your experience, perfect for sharing with friends on social media later!
The experience takes around 15-20 minutes.
41 – See what's on at Brighton Dome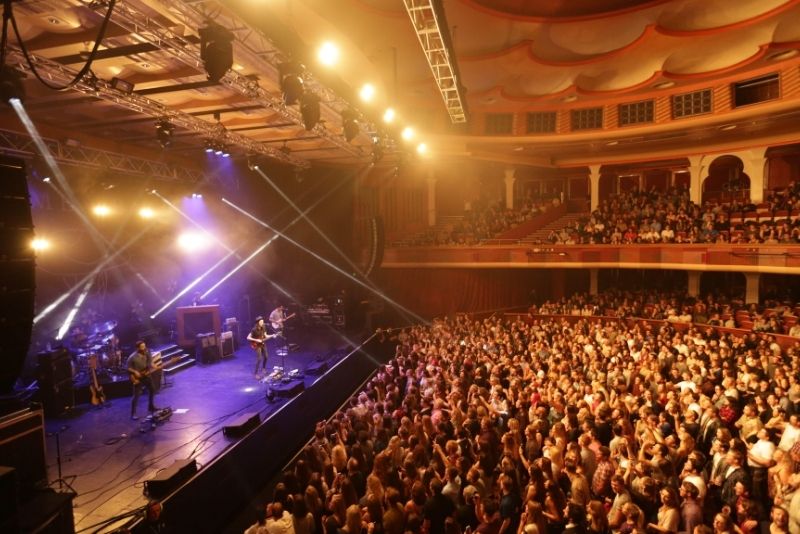 With the artsy vibe of Brighton, it should come as no surprise that you can find world-class entertainment at almost any hour — from ballet to rock concerts and comedy nights.
If there's something on the stage, you'll likely be able to see it in one of Brighton Dome's three main venues: Concert Hall, the Corn Exchange and the Studio Theatre.
If you love Broadway, then you'll love the 600 odd year-round! And, for all your art and history buffs, the old building (dating back to 1867) houses one of the area's most prolific arts charities.
42 – Explore vibrant Kemptown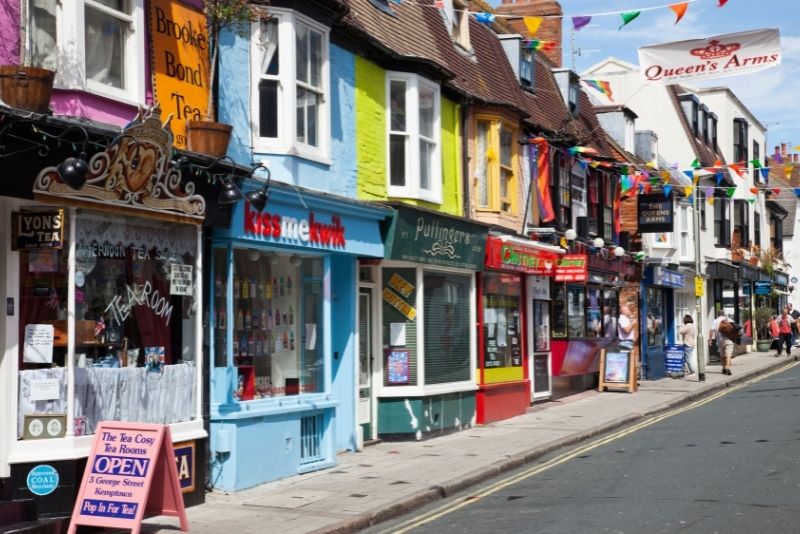 Sporting rainbow flags, vintage fashion boutiques, and a whole lot of hip style Kemptown is an eclectic mix of fashion, fun, and history.
The 'Gay Quarter' hosts the Brighton flea market on its High-Street shopping area, where you'll find no shortage of retro fashion, unique furniture, and quirky souvenirs.
Once you're all tuckered out from shopping, the myriad cafes, delis, and bars welcome guests with open arms for a cheeky refreshment!
Be sure to check out the Brighton Kemptown Flea Market for a mixed bag of items!
43 – Grab the popcorn at the Brighton Film Festival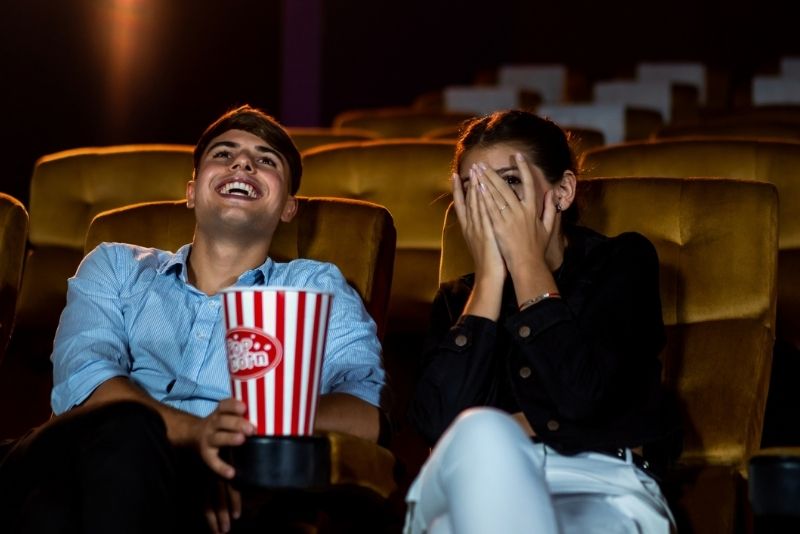 Cinephiles, listen up! If you happen to be venturing through Sussex in spring, add the notorious Film Festival to the top of your list of the things to do in Brighton.
While there are year-round special events such as premieres, previews and Q&A sessions, the crux of the festival, a two-week film fiesta in May, is where the movie magic really happens.
Simply check the website to see what's gracing the silver screen during your visit, as well as which venues to go to for film showings.
44 – Gallop over to Brighton Racecourse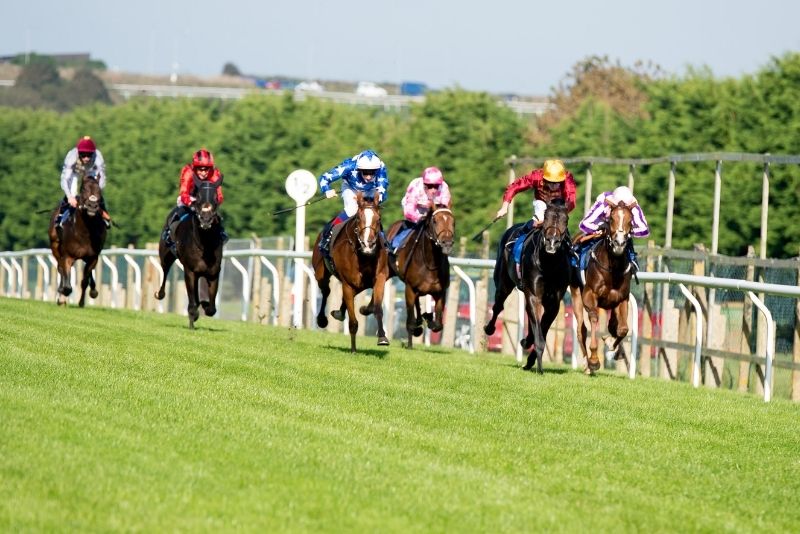 Nothing beats an exciting day at a racecourse and, ask any local and they'll yell it from the rooftops: Brighton boasts one of the most scenic tracks in England — a mainstay attraction for both racing and events for the better part of 250 years.
Located right on the banks of the English Channel, the Brighton Racecourse invites visitors young and old for a day of excitement.
Sample the variety of delectable food and drink options that cater to any budget, take a tour of the racecourse, cheer on the horses, or even test your luck and throw down a bet or two on lucky number 7 (or 13?).
45 – Crawl around town with a pub crawl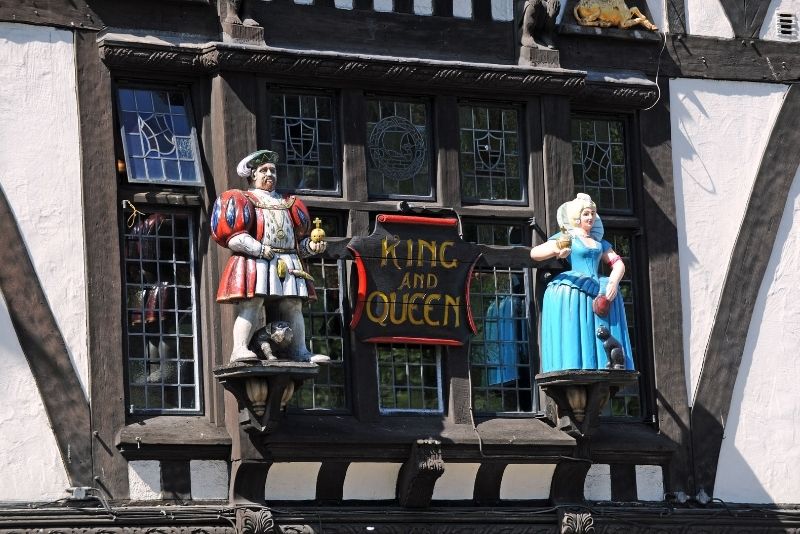 Want to try the best of pubs without having to research them yourself? Go on a pub crawl and find yourself in a group of like-minded individuals (read: thirsty socialites) looking to get, well, just the right amount of hammered.
If you're a student, there's a separate pub crawl to get you acquainted with the very best pubs for you to frequent! Meanwhile, other options are curated for foodies and sightseers alike.
Receive VIP entry, win swag as you win pub trivia, and make some of the best memories!
46 – Button-mash at World's End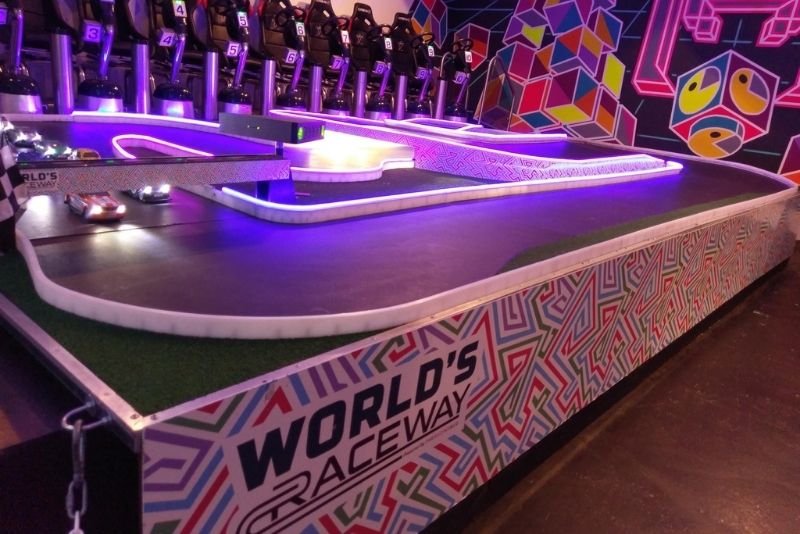 Gamers, listen up! Hidden away from the main haunts up in Round Hill, The World's End is a pub and arcade bar with a vast collection of the best retro arcade games, escape rooms and the remote control cars!
Kickstart the night by fueling up with a variety of craft brews, juicy burgers, and other bar snacks, and then play the night away to your heart's content!
Fancy a quiet evening? Just grab a board game or two. Hunting for something rowdier? Check out when the DJs are playing, and button-bash with a few beers in hand!
47 – Get a tan at Brighton Beach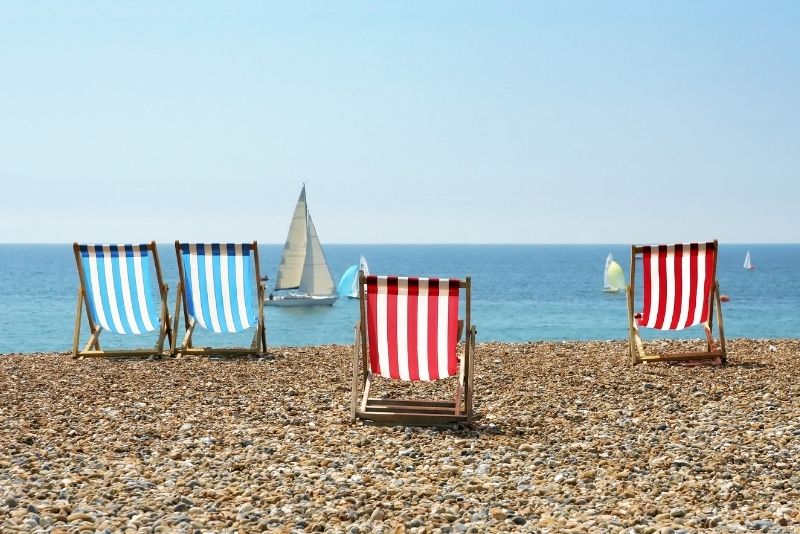 The beaches of Brighton have a reputation of being some of the most popular in all of South England, and once you plonk down on the golden sands, there is no doubt you'll see why.
There are several attractions to choose from within walking distance: that take a dip into the ocean, try out stand-up paddle-boarding, or get some air during a kite-surfing lesson — either way, be sure to end the day with a cold drink as you soak in the beautiful sunset.
48 – Take in the beauty of the Bandstand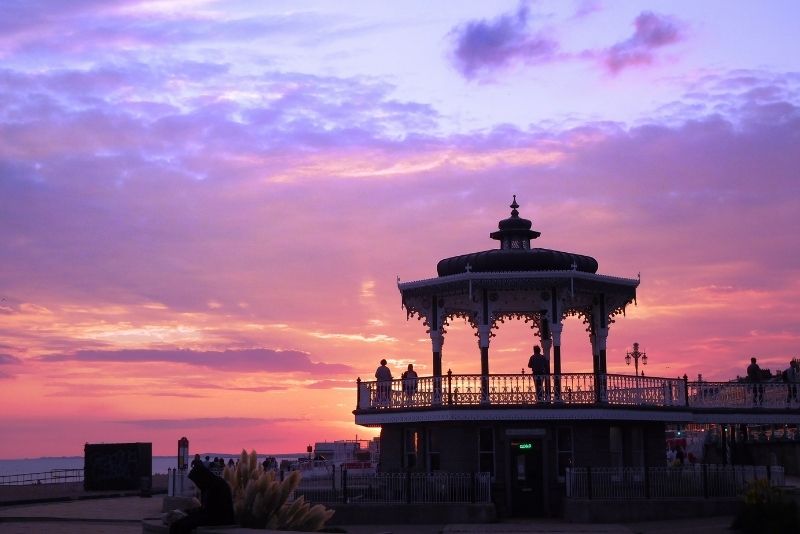 An ornate structure that overlooks Brighton's marvelous seafront, the locally adored Bandstand welcomes events and concerts of all kinds, notable for putting on lavish wedding ceremonies.
However, if tying the knot isn't on the agenda, visitors can still embrace the beauty of the 140-year-old seafront landmark with regular afternoon performances (typically around 2 p.m. to 4 p.m.) from June to August.
Once you're done with the performance, you can visit the Bandstand Cafe for a quick tea (it is the UK after all) before you leave!
49 – Take a swing at one of the many Brighton golf courses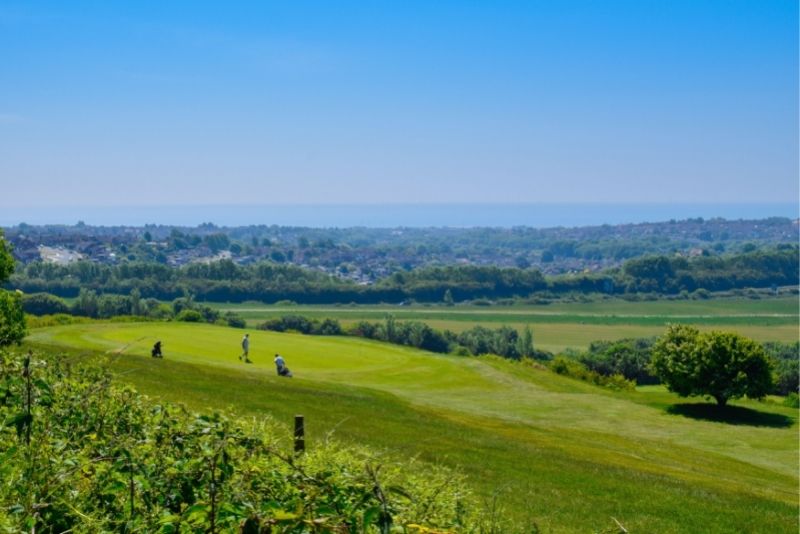 Need to work on your drive?
Some of Brighton's greatest assets are the numerous 5-star golf courses — with panoramic views, sea breezes and unique course layouts that challenge even the most seasoned pros. Taking some time to experience one of the many courses is a must for sports fanatics!
If you're not sure where to start, some of the highest-rated courses in Brighton include Hollingbury Park, East Brighton and Dyke Golf Club — each offering its own set of challenges, stunning backdrops and clubhouse facilities for golfers to enjoy.
For affordability, head to Hollingbury; for luxury, head to Dyke; and for a little bit of both, East Brighton ticks a lot of boxes.
50 – Listen to live music at Concorde 2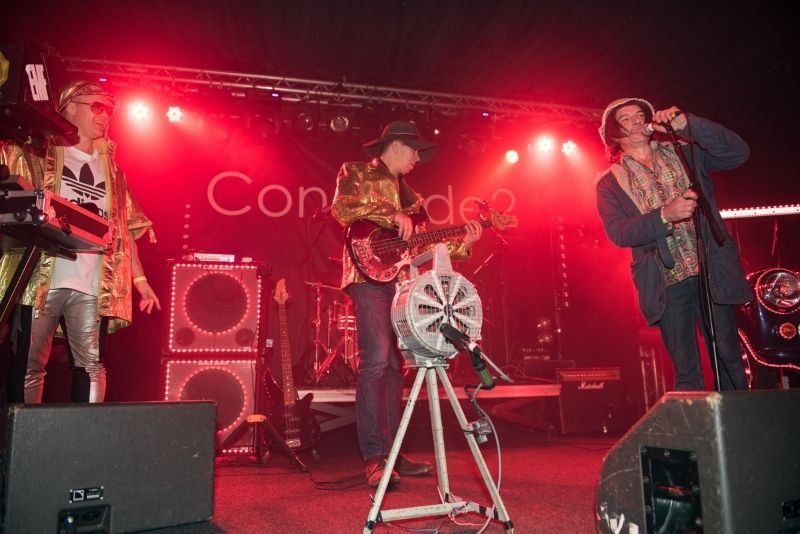 One of the most iconic music venues in all of the UK, Concorde plays host to some huge names on its stage (both up-and-coming and established).
Whether it's rock, indie or pop that you're in to — be sure to catch a gig at this historic landmark.
The award-winning entertainment venue (sometimes a pumping nightclub, sometimes a concert venue) has hosts some top-name bands of every genre imaginable.
Tributes to names like the Foo Fighters, the Doors and Nirvana have graced the stage, while the nightclub puts on regular themed nights to boot (ABBA and Jungle-themed, to name just a couple).
51 – Catch a show at The Brighton Centre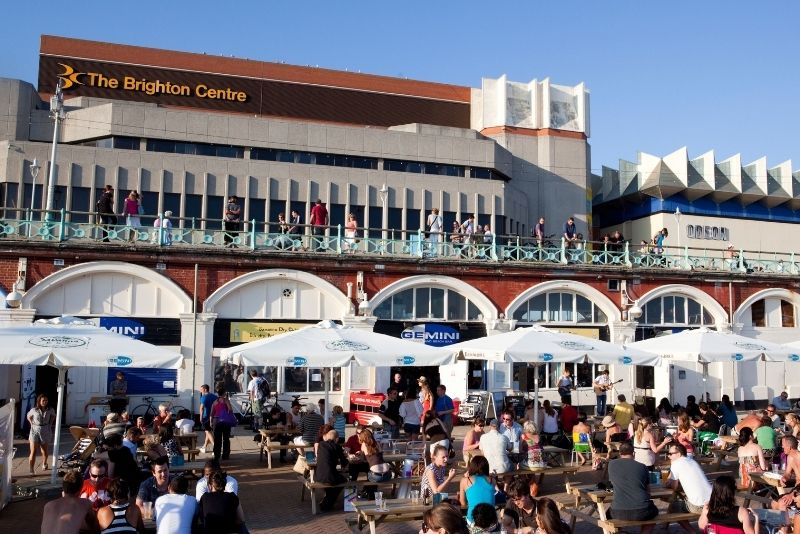 Notably, the biggest entertainment and exhibition center in Southern England — hidden in plain sight on the city's beautiful seafront — the Brighton Center can host everything from large-scale conferences to rock concerts, ballet shows and more.
Capable of holding nearly 5,000 guests, the auditorium has welcomed big names for decades. Just to give you a taste, everyone from comedy icons such as Jack Whitehall to infamous musicians like James Blunt graced the stage.
Not to mention that it hosted Broadway shows like Mamma Mia! and larger events along the lines of RuPaul's Drag Race.
With so much to see and do, it's no wonder why so many people flock to the Brighton Centre each year!
52 – Test your aim with a Brighton shooting experience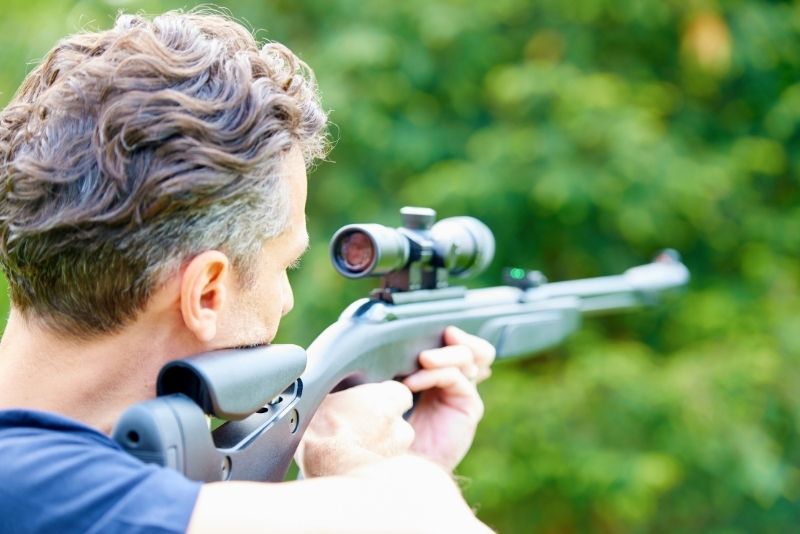 Ever shot an air rifle? If not, now's your chance! If you're looking to test your shooting ability, take a trip over to one of Brighton's various shooting ranges where you can practice hitting a bullseye with a bow and arrow, an ax, or the classic air rifle.
With trained instructors on-site to show the ropes to shooters of any skill level, it's easier than most realize to hit the target.
Traveling with a group? The ranges also offer private event bookings (did someone say stag party?).
53 – Play some beach volleyball at Yellowave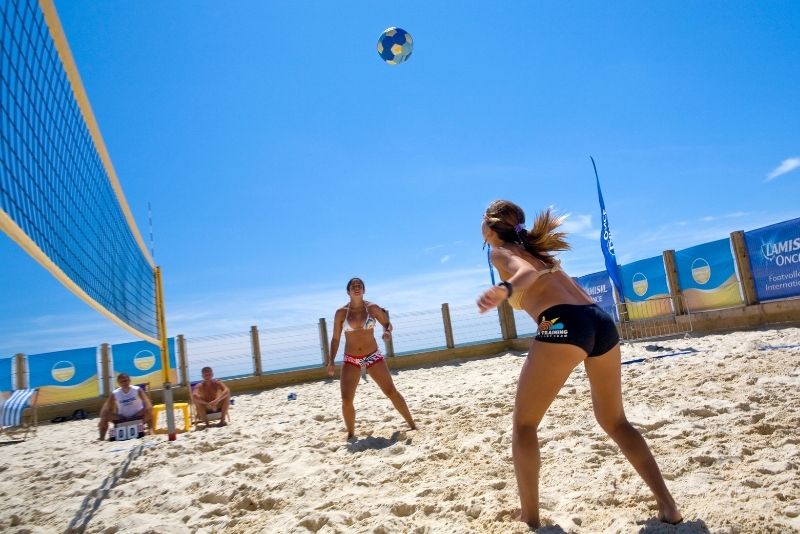 Tucking into some fish and chips on the beach is a must-do when in Brighton, but if you're looking for something seaside that's a bit more active, why not check out Yellowave — an artificial beach sandwiched between the Pier and the Marina.
This pop-up beach bar and club typically welcomes volleyballers (with six bookable courts), but it is also known to transition into a beach soccer and beach rugby field!
After a couple of hours of beach sports, you can grab a bite at Barefoot Cafe and soak in the sunset. What's not to love?
54 – Catch a movie at Luna Beach Cinema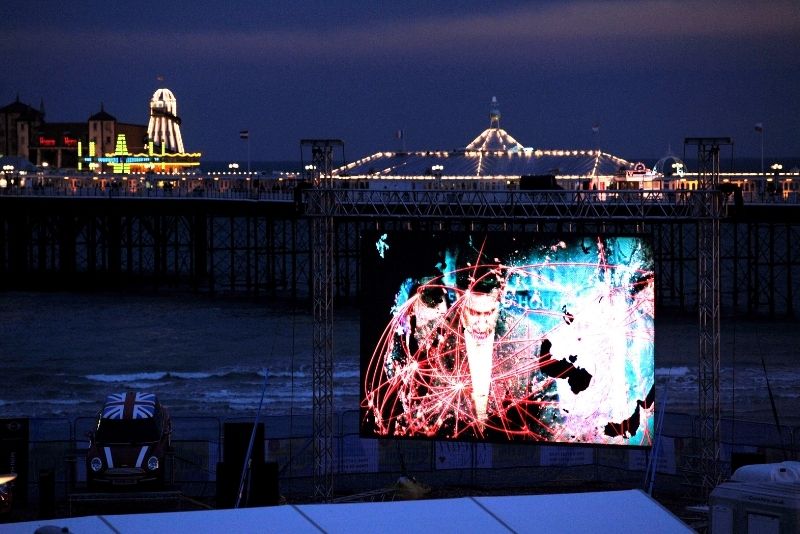 There's nothing more invigorating than a stiff sea breeze as you sit under the stars, popcorn in hand, with a classic flick on the big screen.
Over at the Luna Beach Cinema, right next to the Brighton Palace Pier, moviegoers are blessed with a truly unique cinematic experience.
Not only can you enjoy a movie surrounded by the sounds and smells of the ocean, but if the weather takes a turn for the worse (or you just want to save your spot).
Luna Beach Cinema also has bookable heated seating areas, hammocks and blankets available!
55 – Find a quirky souvenir at Snoopers Paradise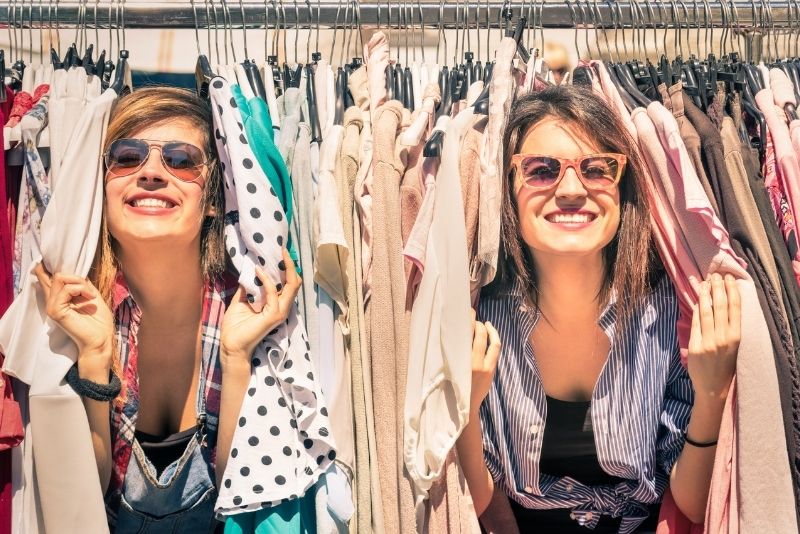 A flea market emporium like none other, Snooper Paradise is the culmination of some 90 different stalls that sell all sorts of weird and wonderful antiques, knick-knacks and souvenirs.
Spread across a whopping 7000 square feet, you'll uncover everything from taxidermy to vintage clothes, old-school bridal gowns, and bizarre jewelry if you're looking for a Brighton-themed gift that's a little bit different, this is the place to go!
Vendors aside, with so many quirky shopfronts and bright colors, it's become a bit of an Instagram haven in recent years too.
56 – Laugh out loud at the Secret Comedy Club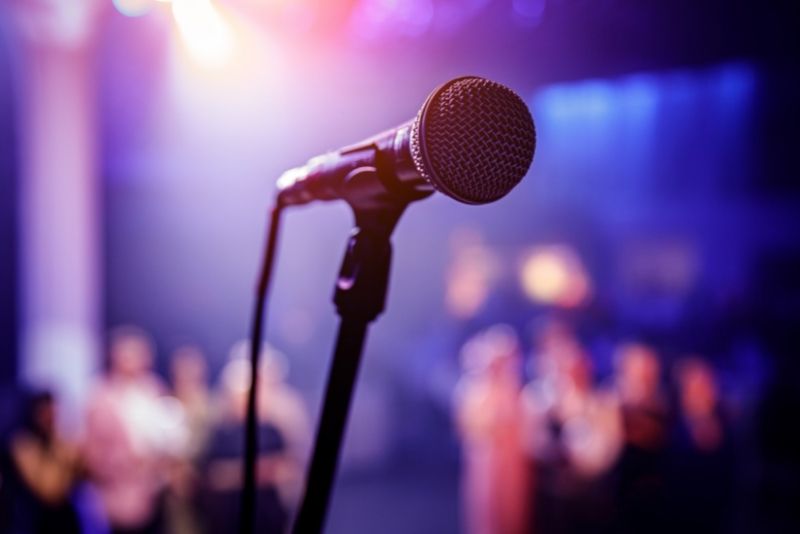 After words spread like wildfire of the sidesplitting acts that regularly graced this Brighton locale, the Secret Comedy Club is no longer a secret but a well-known spot to see some of the best in British comedy.
What was once a small basement show that happened once a week now has something happening at least 5 days a week!
So grab an ice-cold beer at the bar and take a seat (although not in the front row, unless you want to be a become part of the show) for a guaranteed night full of laughs.
57 – Sit front for at the Theatre Royal Brighton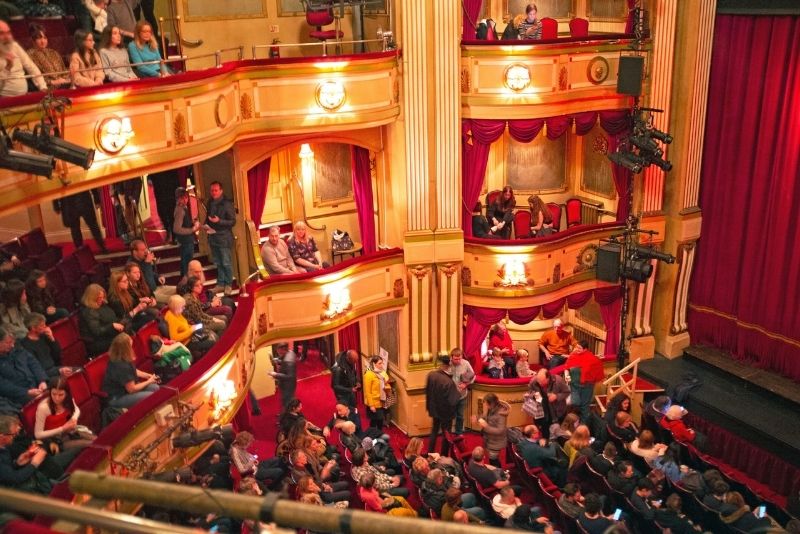 Looking for something a little more sophisticated than your typical pub-crawl night on the town?
Then head to the Theatre Royal Brighton — whether you're into toe-tapping musicals, homegrown plays, opera, or elegant ballet performances, the theatre hosts a wide range of events to suit all kinds of tastes.
So dress to the nines and head over to spend a night reveling in the arts in what's undisputedly one of the essential things to do in Brighton!
You can buy tickets both online or at the box office.
58 – Sing your heart out at Lucky Voice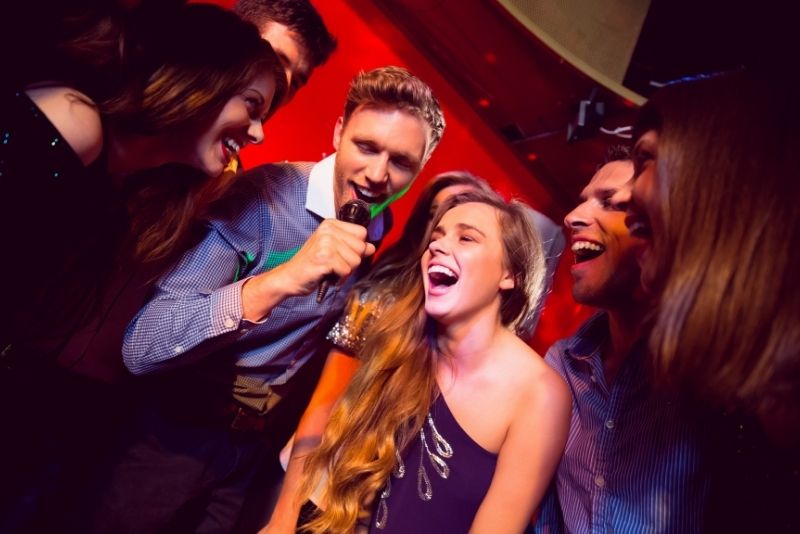 Because who doesn't love a rowdy night of karaoke?
Whether you're go-to is ABBA, The Killers, Celene Dion or the Backstreet Boys, at Lucky Voice, you can forget about the stagefright of performing in a packed venue.
Thanks to the option to rent your own room — two hours of singing your heart out with your friends without judgment await!
With the capacity to fit up to 30 people, it's one of the no-brainer things to do in Brighton for parties or bigger groups. And, somewhat bizarrely for a karaoke bar, it also dishes up a killer brunch menu!
59 – Try out axe throwing!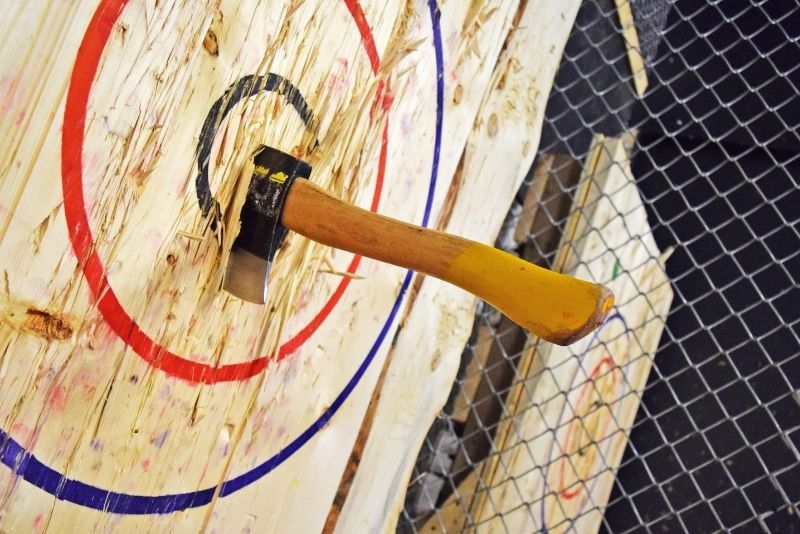 Want to let out some frustration or just pretend to be a Viking for an afternoon? Why not throw an axe around in Brighton and roleplay for a bit?
Far more than just throwing an old-school Tomahawk at a target, the outdoor Brighton ranges offer many different weapons to choose from: start with a small ninja axe, try your hand at throwing knives or throwing torpedos, test out a Bear Grills hunting axe, hammerhead axes, fireman axe, or even an ice pickaxe!
And if that wasn't enough to get the adrenaline up, with multiple styles of large double-handed axes, you'll be sure to get a good workout.
Of course, safety is paramount — the ranges have trainer instructors on hand to ensure that you not only have a great time but stay safe while doing so!
60 – Wet your whistle at a rooftop bar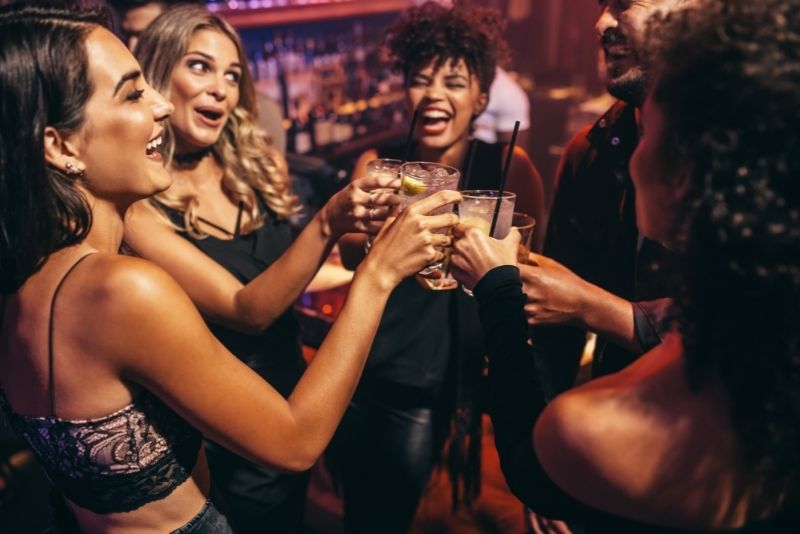 Combine a killer sunset with an ice-cold beer at some of the city's very best rooftop bars — a great way to kickstart a potential wild night on the town.
Over at No. 32 in The Lanes, you'll find a delicious brunch menu if you're looking for something more casual, as well as a broad wine list and a cocktail menu suited to an afternoon tipple.
Grand Central, on the other hand, toward the center of town, is far more laidback, with Insta-worthy murals and a no-frills deck allowing the craft beer and conversation to become the main event.
For something a little more high energy, The Mesmerist (also in The Lanes) welcomes DJs and regular live music, while some of Brighton's most coveted cocktails and views can be found at Lion and the Lobster, and Rockwater Hove!
61 – Watch a football match at the American Express Community Stadium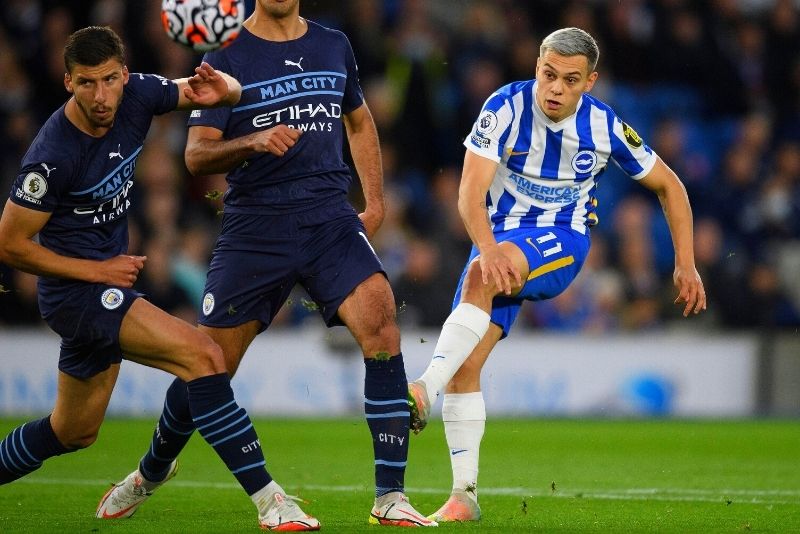 If you're truly a sports nut then skipping the Amex Stadium — home to Premier League club Brighton & Hove Albion — is a sin. On match day, the fans are as passionate as any, delivering a stadium-wide roar that's deafening.
However, outside of the scheduled kickoffs, visitors can still take an eye-opening stadium tour which grants access to typically unseen parts such as the director's lounge and media conference suite.
Learn a bit more about the history of the 120-year-old Seagulls and enjoy a refreshing drink at Dick's Bar, and don't forget to grab a souvenir from the on-site superstore!
62 – Join in on the fun at the Brighton Festival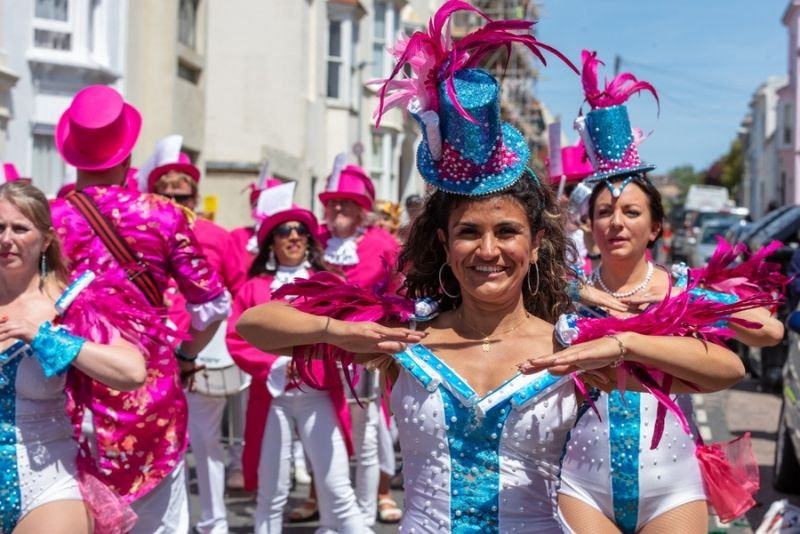 Held every May, the Brighton Festival is a massive celebration of arts and culture that sees everything from acclaimed theatre to film screening, dance performances and literature take over the city.
Featuring both free and ticketed events (indoors as well as outdoors), there's something for everyone at this month-long festival — even if you're not sure what you're into!
Just check the website to see what tickles your fancy, and be sure to book ahead as the most coveted performances often sell out.
63 – Enjoy dinner and a Drag Show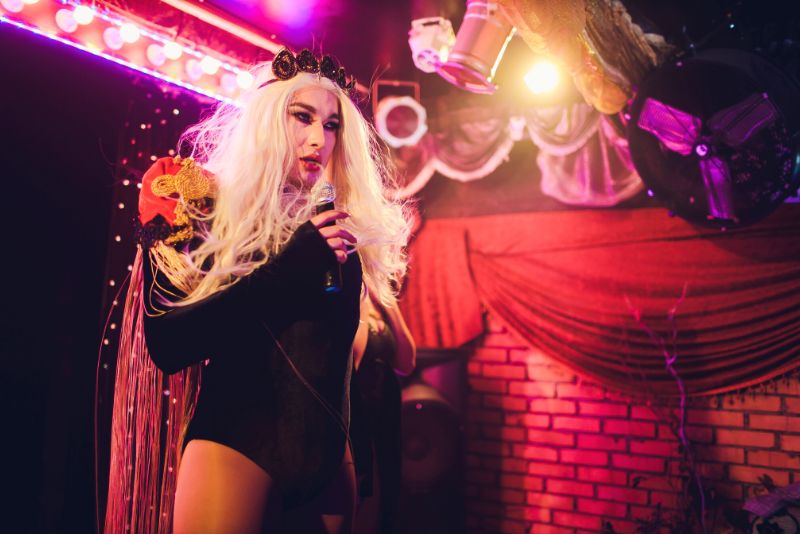 Enjoying a laugh-till-you-cry drag show in Brighton, featuring local drag queens putting on one heck of a show to be remembered for years to come.
With dozens of drag shows to choose from, you can choose anything from a brunch and a drag show, or dinner and a drag show.
When you book your tickets in advance, your ticket will also include unlimited drinks with your Thai dinner option, further adding to the fun!
Whether you're celebrating a birthday, or you're going for fun, you'll have the best time at the show!
64 – Drink away the night at the city's best breweries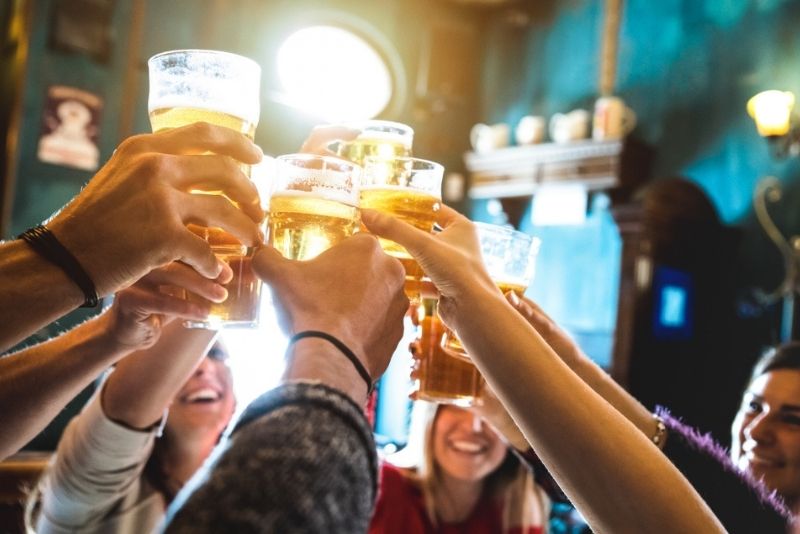 It wouldn't be a trip to Brighton (or the UK, for that matter) if there wasn't at least a handful of beers involved, right?
It might be stereotypical, but that doesn't mean that Brighton doesn't deliver some of the nation's very best craft beer pubs in spades.
Whether it's the North Laine for a nightclub turned pub vibe or Prince Albert for the grungy live music and beer, there's plenty to choose from.
If you're after big, hoppy, US-style beers, look no further than The Evening Star on Surrey Street, while Brighton Rocks in Kempton serves its lengthy list of ales alongside a hefty and impressive cocktail selection.
Still thirsty? The Southover offers a range of local beers from the Sussex region, and the aptly-named Brighton Beer Dispensary has become famous for its "mystery" light and dark beers — think you can guess what's in them?
There's only one way to find out …
65 – Dance the night away at Proud Cabaret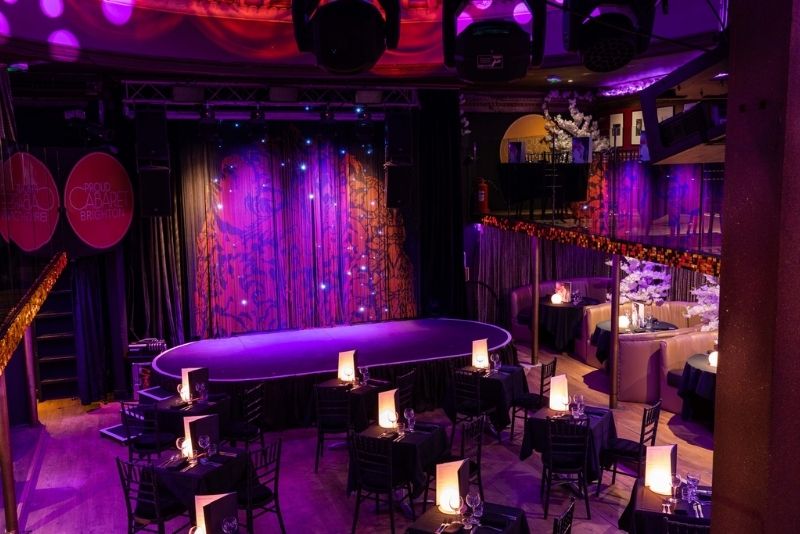 One for the party-goers, if you're looking for dinner with a show, Proud Cabaret has a set of variety shows just for you. Despite the name, burlesque and cabaret are the very least of what you'll experience in this plush ballroom!
Get some great food, enjoy a compelling show (with no shortage of audience interaction) and revel in the glittering lights and special effects. After a wine or two, if you're brave enough, jump onto the dance floor yourself!
Buy tickets for an upcoming show on the club's website.
66 – Test your luck at the Rendezvous Casino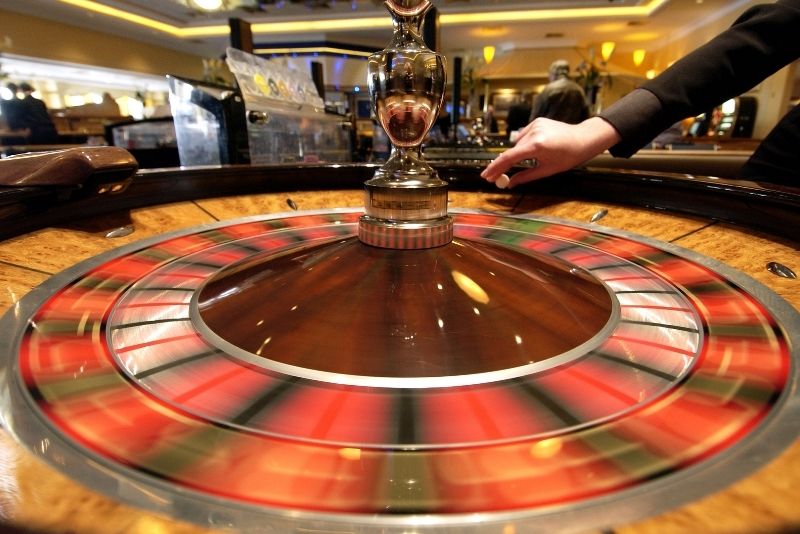 Vegas comes to Brighton in the form of the Rendezvous Casino! The casino is open 24/7, offering the chance to engage in a little risk with table games like Blackjack and Roulette, as well as pokie machines out the wazoo.
Plus, with bars and entertainment never too far away, it's easy to spend an evening (or two) enjoying the high-stakes action.
In between wins, head to in-house restaurants to refuel, or the bar for the signature cocktail!
Hot tip: Before you go, set a limit.
67 – Rock the dancefloor at a nightclub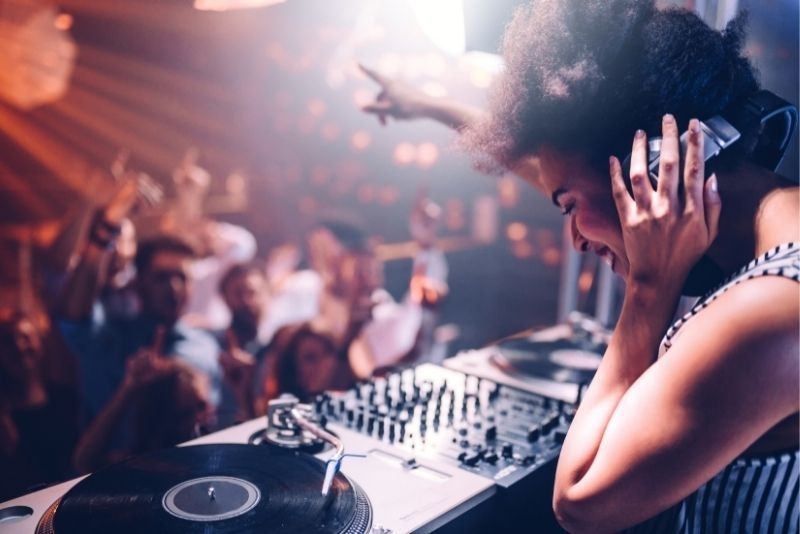 If you thought Brighton went to sleep after sunset, then you've not been to the right pubs.
The quaint seaside has some of the best nightclubs, including PRYZM, Popworld, Club Revenge and The Arch, just to name a few!
Whether you're into commercial pop, 70's karaoke full of nostalgia, or an LGBTQ-friendly space to let your guard down without judgment, Brighton has them all.
So down a couple of shots, put on your dancing shoes and enjoy one of the more underrated things to do in Brighton!
Where to stay in Brighton?
Visitors have a plethora of choices for where to stay and some of the best and most luxurious hotels in Brighton and Hove are right on the seafront.
These include The Grand Brighton, Red Brighton Blue (800 meters from The Royal Pavilion), Malmaison Brighton (overlooking the Marina), and Hotel Pelirocco — within walking distance of the water, guests can easily get to all the most coveted tourist spots from any of these lavish abodes.
A stone's throw from the shortline, The Grand Brighton Hotel oozes opulence, history, and stunning views all at once, with an acclaimed seafood restaurant and a well-stocked bar to boot.
If you're looking for a more affordable option, there are plenty of well-rated hostels in the city. Crowd favorites include Seadragon Backpackers and Happy Brighton, known for their great atmosphere, free breakfast and Wi-Fi.
Finally, if you're wanting to stay in a more residential or less central area of Brighton, there are still plenty of hotels to choose from.
A couple of great options are the Cappadocia Guest House in North Laine or Jurys Inn Waterfront over in the residential New England Quarter, each of which offers spacious rooms and modern amenities at fantastic rates.
Where to go next?
After you've explored all there is to do and see in Brighton, why not hop on a train and explore the rest of what the UK has to offer?
Music lovers and history buffs, Liverpool is calling your name! Indulge in Beatles' history, starting with a selfie with the OG Fab Four's statue at Pier Head, to climbing the stunning Royal Liver Building for panoramic views of the docks, sea, and the city.
Edinburgh charms visitors with its historic architecture, towering castles, and breathtaking nature. Take a walk through Royal Mile, peeking into the quaint shops, or head to the iconic Calton Hill for the perfect picture of the city.
You can't mention the UK without mentioning London, and it's an endless list of things to do and see. From a stunning view of the city with dinner at The Shard to visiting the English Parliament, and walking across the famous Tower Bridge.
Final thoughts
With all these ideas, we hope we gave you some inspiration to start planning your fabulous trip to Brighton!
From the fun you can get on with at Brighton Pier, to finding local knick knacks at the Brighton Open Market, and escaping to Seven Sisters, we hope you enjoyed our list of things to do in Brighton.
Happy travels!