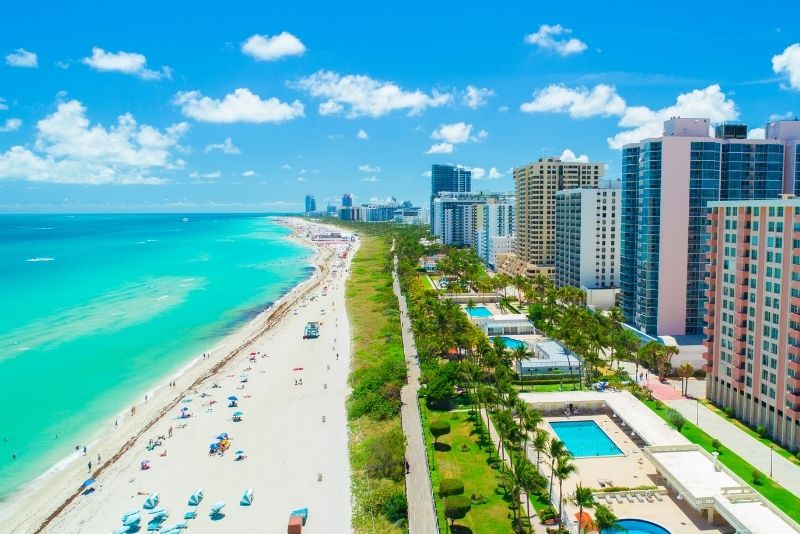 Blessed by year-round warmth and nearly 1,400 miles of sparkling coastline, the aptly-named Sunshine State welcomes tens of millions of visitors year after year.
From Orlando, the city that put theme parks on the map, and Miami, the Cuban-infused party town that never sleeps, to the shimmering golden sands of the Panhandle and the swampy wildlife-abundant national parks (none more famous than the Everglades), the diversity of things to do in Florida is arguably the greatest of anywhere in North America.
Wherever your Florida journey takes you, thanks to an endless list of museums, beaches, festivals, parks, nightclubs, restaurants, shopping districts, ancient forts, roller coasters, and more, an adventure of all sorts of fun awaits.
How this article works: Starting with Orlando, we've split up the list into cities and regions (for the most part), allowing you to quickly find what's most relevant and interesting to you.
ORLANDO
A city that needs little introduction, Orlando in Central Florida is the theme park capital of the world, with Disney and Universal just the tip of the iceberg when it comes to family-friendly entertainment.
While certainly more built-up and tourist-focused than other parts of Florida, the selection of things to do in Orlando is long enough to keep you entertained for weeks on end.
1 – Ride The Wheel at ICON Park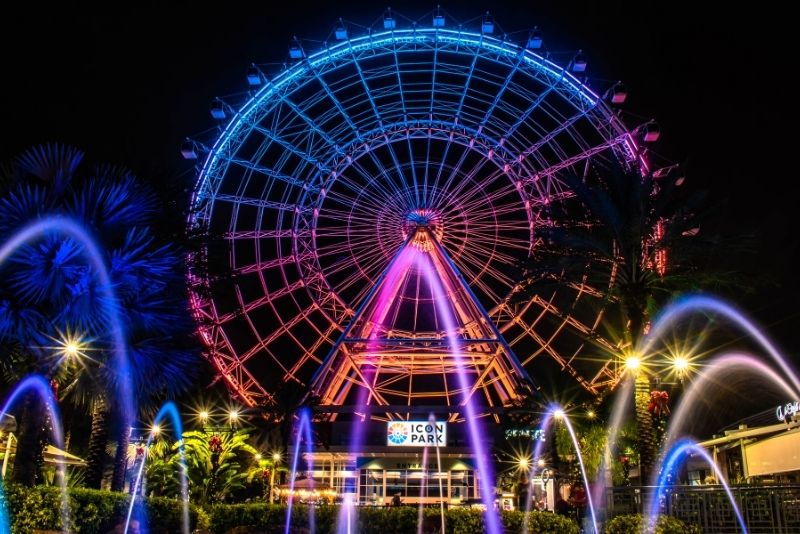 Home to Orlando's iconic 400-foot tall observation wheel, which turns into a neon-lit masterpiece as the sun goes down, ICON Park on Orlando's I-Drive is a hub of family fun and entertainment.
From dining and shopping options galore – with no less than 40 different eateries to suit all budgets – to an interactive fountain that puts on quite a show (seriously, bring your swimsuit), there's something for everyone here.
Meet your favorite celebrities at Madame Tussauds or meet vibrant marine creatures at Sea Life, before checking out the Museum of Illusions and taking a seat in the immersive 7D Motion Theater. And, for all you thrill-seekers, look no further than the 450-foot-tall StarFlyer, Orlando's tallest swing ride.
Open 365 days a year, the Park is free to explore (and free to park at!), making it an essential stop if only for the people-watching.
2 – Blast off to the Kennedy Space Center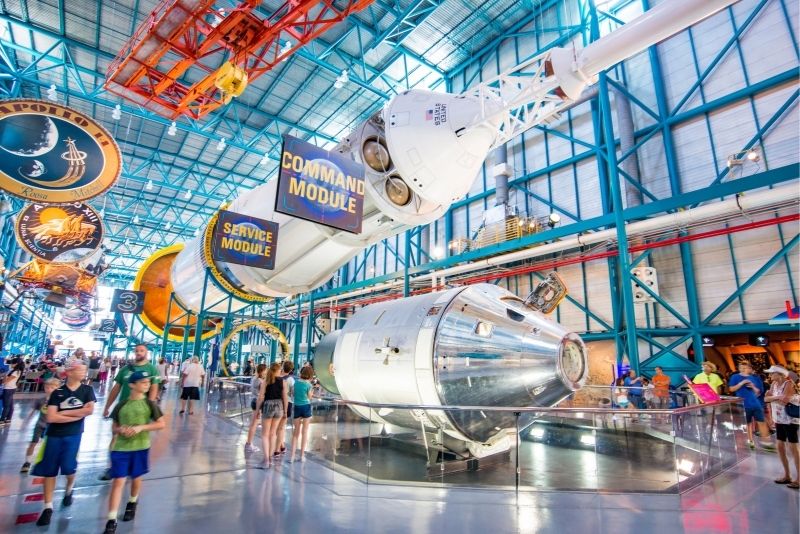 The undisputed leader for all things intergalactic in Florida, Kennedy Space Center on Cape Canaveral — about 45 minutes east of Orlando — is one of the mission-critical things to do in Florida for any fan of technology, astronomy or history.
From the floor-to-ceiling IMAX theater – which offers an out-of-this-world experience with films that explore our earth and our solar system, like Asteroid Hunters and Journey to Space – to the Astronaut Training Experience (which gives visitors a chance to feel what it's really like to train for a space mission) and the heart-racing Shuttle Launch Experience (which lets you feel what it's like to be on a rocket as it blasts off), there are hours of activity to keep the whole family entertained.
If that wasn't enough, you can also take part in a Q&A session with real-life astronauts and see inside their private crew quarters, and browse the diverse historic range of world-famous rockets and space shuttles in the Rocket Garden — Mercury, Gemini and Apollo await.
Save yourself the hassle of booking in-person and buy your Kennedy Space Center tickets ahead of time; when the day comes, you can head right in and spend more time with the rockets!
3 – Ogle at the orcas at Sea World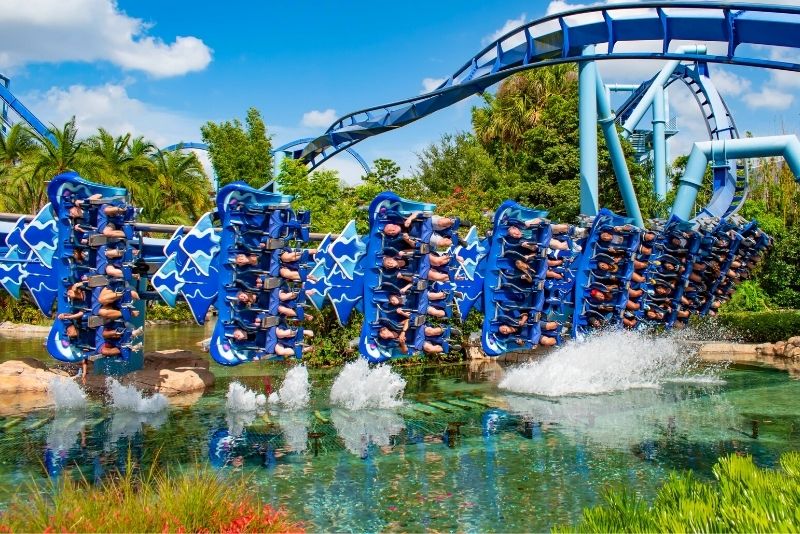 About 10 miles from the Disney resort and not too far from I-Drive, Seaworld holds its own as one of the most popular things to do in Florida, offering visitors rare chances to get up-close and personal with Mother Nature's stunning creatures: everything from dolphins and beluga whales to sharks and cute-as-a-button penguins.
Thrill-seekers aren't forgotten about; there are plenty of rides too, including the Manta roller coaster which simulates flying alongside rays in an underwater world, as well as Journey to Atlantis, a splashy water ride that takes you on a wild ride through dark caves, twisting tunnels, and an ancient kingdom; and Make, which rockets riders to speeds of up to 73 mph!
Plus, ideal for the whole family, there are captivating trainer-led shows galore: the Orca Encounter is a beloved classic, while the newer Dolphin Adventure experience is quickly becoming a fan-favorite!
4 – Head to Universal Studios Florida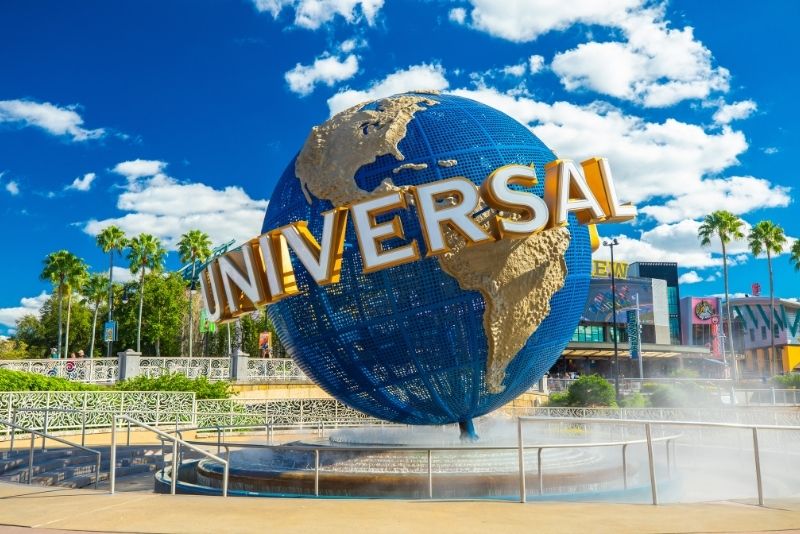 Where the wonder and enchanting of pop culture, cinema and TV come to life; if you're a fan of the silver screen, then there's no better place to be than Universal Studios!
From Harry Potter (you must try the butterbeer in Hogsmeade) and The Simpsons to Shrek, Jurassic Park and Despicable Me, you'll find yourself utterly immersed in your favorite movies as you explore every detail so painstakingly recreated by devoted movie buffs.
Whether it's taking pictures with life-size characters from some of the world's most beloved films or riding classic park attractions like Revenge Of The Mummy, Harry Potter and the Forbidden Journey, or the zero-gravity Incredible Hulk Coaster, you'll be spoiled for choice as far as entertainment is concerned.
And, as a little bonus, next door's Volcano Bay is perfect for those hot Floridian days, with its lazy rivers, raft rides, and body slides providing a much-needed reprieve.
Looking for a hotel or resort that's next to Universal? Delighting guests for years, both Loews Sapphire Falls Resort and the infamous Hard Rock Hotel are fantastic options.
5 – Learn a thing or two at the Orlando Science Center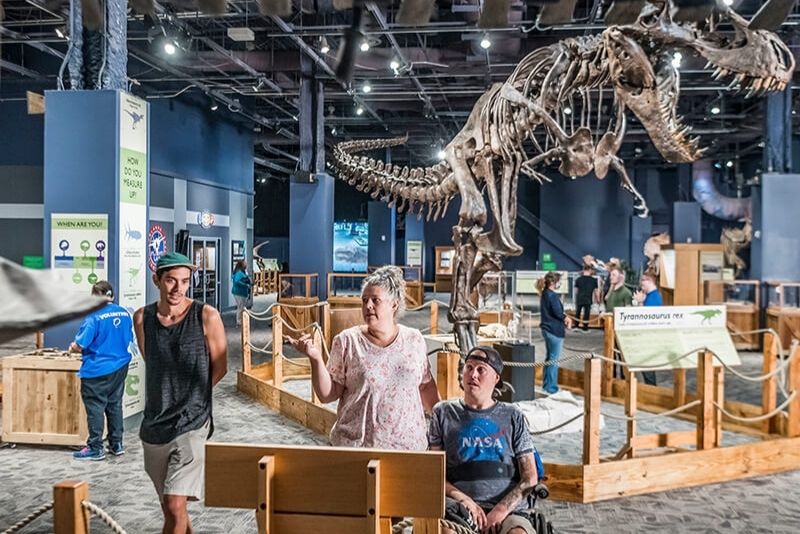 From the moment you enter, with its towering glass atrium and T-rex skeletons looming ominously, it's clear that the award-winning Orlando Science Center is no ordinary museum.
Boasting multiple floors of permanent exhibits (plus an ever-changing roster of temporary installations), as well as a planetarium (where you'll also find the largest publicly accessible refractor telescope) and a 180-degree movie screen in the Dr. Phillips CineDome, there's something to fascinate visitors of all ages here.
Some highlights include the Our Planet exhibit on everything space and stars; Nature Zone, where you can say hello to Florida's friendly animal residents; and the Design Zone, which takes a hands-on look at how engineering, construction and robots are changing our lives.
If visiting with youngsters, make sure to leave time for the interactive (yet highlight educational) games in KidsTown too.
6 – Take the youngsters to Legoland!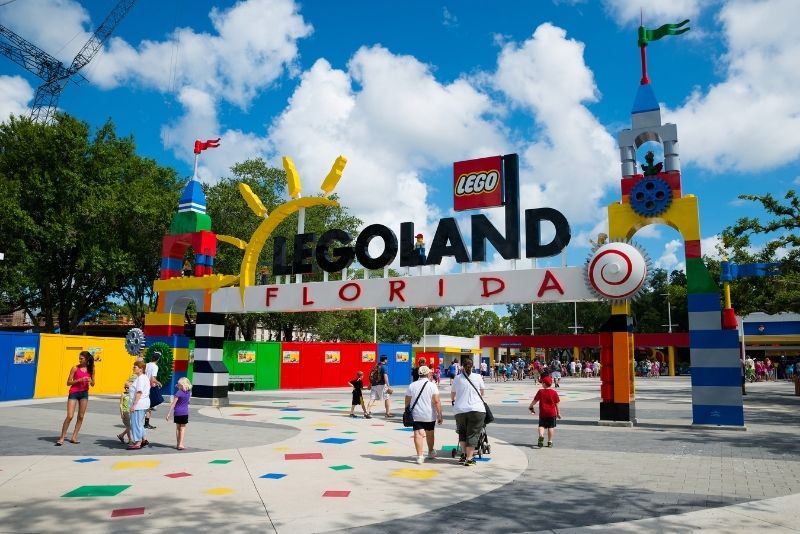 A chance of pace from the high-octane coasters at the likes of Disney, Universal and Seaworld, Legoland is a different kind of theme park, aimed squarely at kids aged two to twelve. Of course, that doesn't mean anything is stopping the adults from enjoying it too!
Spread over 150 acres in Winter Haven (about an hour drive from Orlando), the park is packed with more than 50 rides (don't miss the Coastersaurus or Lost Kingdom Adventure), attractions, and shows themed around everyone's favorite building blocks: LEGOs!
There are 12 distinct areas in all, each one bursting with colorful LEGO creations that will have both young and old alike entranced for hours on end. Highlights include Miniland USA, made up of incredibly detailed recreations of iconic American landmarks like Mount Rushmore and New York City; The Dragon roller coaster, the relaxing botanical garden, and the 5-acre on-site water park!
7 – Meet the local reptiles at Gatorland!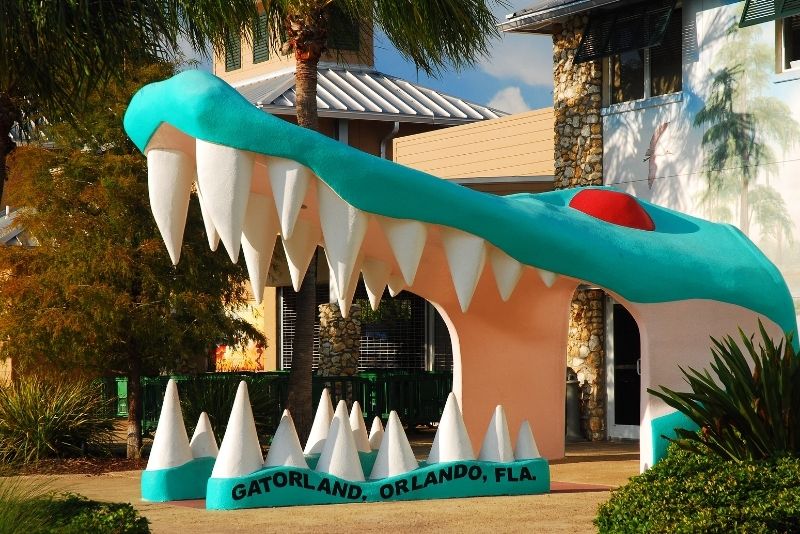 It is Florida, after all, which means an alligator (or in this case an alligator-themed amusement park) is never too far away!
Spread across 110 acres of gator-infested swampland, the park not only provides myriad opportunities to meet these intimidating reptiles in the flesh (safely, of course), there are exciting rides, zip lines, petting zoos perfect for the youngsters, and hiking trails galore.
While the Gatorland Express Train and Stompin' Gator Off-Road Adventure are the two non-negotiable activities, venturing deep into the swampland to admire the beasts in their natural habitat, don't miss the Gator Wrestlin' Show either, a wildlife spectacle you won't find anywhere else.
8 – Snap some selfies at Madame Tussauds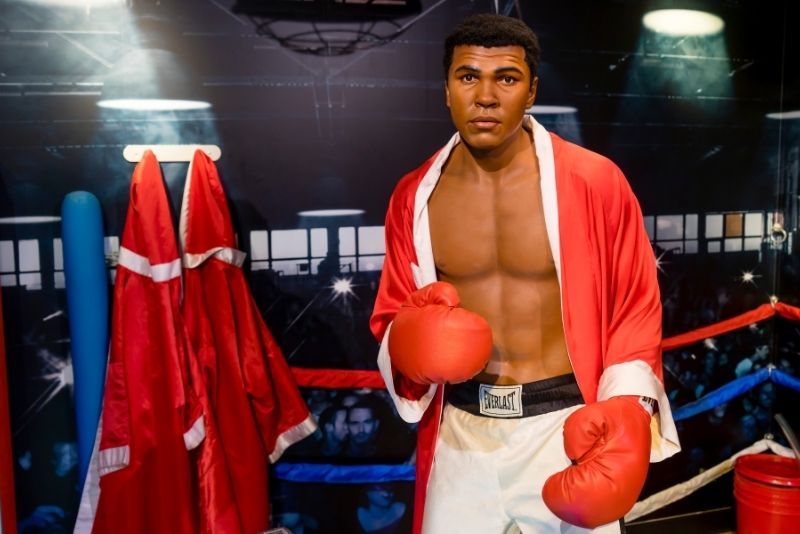 Providing a rare chance to meet and mingle with all of your favorite celebs — from sports icons like Mohammad Ali to movie stars like Brad Pitt, and no shortage of politicians, cult figures and Justice League superheroes — a visit to the so-called Worlds Greatest Wax Museum is sure to light up any social media feed.
Across the range of themed zones that aren't only impressive but also educational (learn about the real people behind the sculptures), you'll not only get to pose for snaps, but also, in some cases, become part of the interactive exhibit!
Located in the heart of Orlando's tourist action at ICON Park, Tussauds makes for a quick and easy addition to any day of exploring the area.
And as this wonderful and slightly strange institution proves, there are plenty of awesome things to do in Orlando besides theme parks… so be sure to book some extra time to explore the many other wonders that the city has to offer!
9 – Spend the morning at WonderWorks Orlando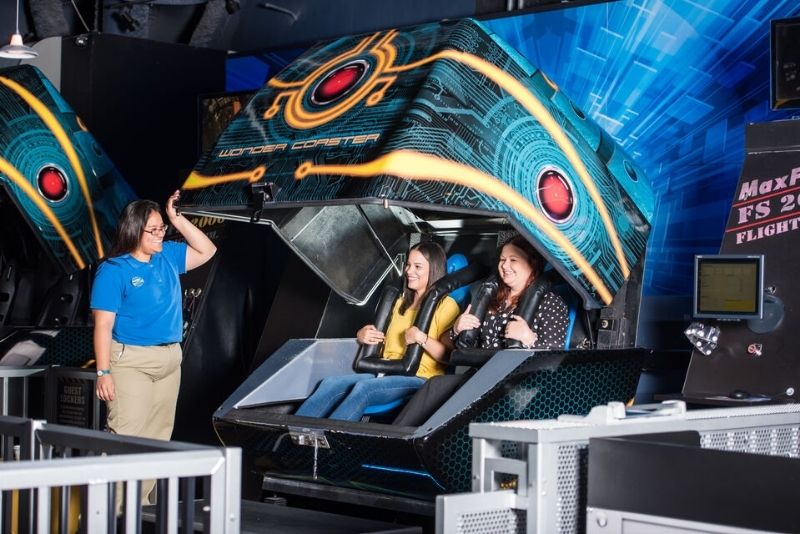 Meshing education with entertainment through more than 100 detailed and all-out-fun interactive exhibits, WonderWorks offers hours of family fun, right in the heart of the Orlando tourist bubble that is International Drive.
Under the (upside-down) roof, you'll find a 4D extreme motion ride that delivers more than its fair share of thrills and visual effects, while the WonderWorks Laser Maze is perfect for competitive types, as you try to navigate your way through the laser-filled labyrinth without getting zapped.
But your balance and bravery to the test with the challenging Glow-In-The-Dark Ropes Course, before capping off the visit with the nightly magic-themed dinner and comedy show — a surefire hit for kids and adults alike!
10 – Find some serenity at Blue Spring State Park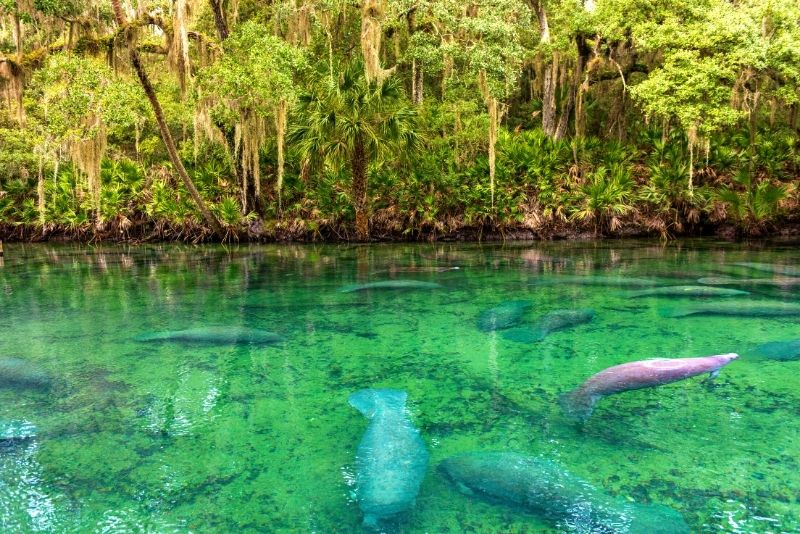 Sitting about 40 minutes drive from the center of Orlando in a lovely off-beat place called Orange City, this pristine slice of Mother Nature offers a much-need breath of fresh air from the hustle and bustle of the concrete-heavy theme parks.
With an air of peace and tranquility surrounding the crystal-clear waters, the colorful State Park is a wonderful chance to take a tip, grab the snorkeling gear, or hop in a kayak and admire the untouched side of Florida. Or, if you're feeling extra adventurous, consider a swim alongside the local manatees!
Prefer to stay out of the water? There are plenty of walking paths worth checking out too — the 4.5-mile Pine Island Trail skirts through both woodland and along the St. Johns River and is one of the area's most popular (and not too difficult) treks.
That's just the tip of the iceberg when it comes to Orlando-based attractions. We've got an entire article about its long list of tours, excursions, restaurants, bars, and theme parks.
Walt Disney World Resort
Dubbed The Happiest Place on Earth, the magical Walt Disney World Resort in Orlando is, quite simply, the ultimate family holiday destination.
With four amazing theme parks – Magic Kingdom, Epcot, Hollywood Studios and Animal Kingdom – as well as two water parks (Typhoon Lagoon and Blizzard Beach), over 25 luxurious and themed resorts to choose from, an unbeatable range of dining options, and world-class entertainment in spades, you could easily spend a whole week here and barely scratch the surface.
From the jaw-dropping Pirates of the Caribbean ride at Magic Kingdom, complete with animatronic pirates that come to life before your very eyes, to the awe-inspiring Soarin' simulator at Epcot, which takes you around the world from the Swiss Alps to the Sydney Harbor, the diversity of activities is second to none.
With so much magic and excitement bursting forth from every ride and building, it's little wonder that this is considered one of the best tourist attractions in Orlando… and one that will have you coming back for more!
11 – Meet Mickey at Magic Kingdom Park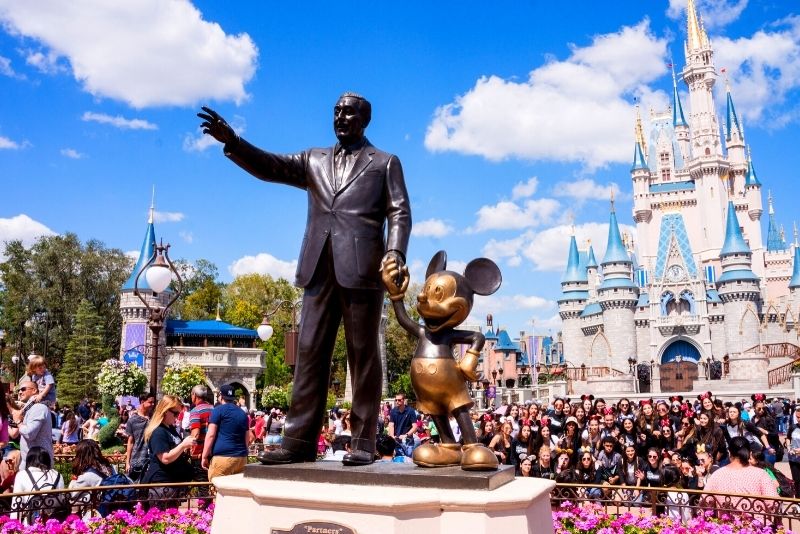 Infamous for Cinderella's castle, Magic Kingdom is deservedly a bucket-list destination for millions.
With all the classic Disney characters you know and love — from Dumbo the Elephant to Micky, Minnie and Goofy — to the long list of longstanding attractions (Thunder Mountain Railroad is a surefire hit for adrenaline junkies, likewise Space Mountain) — as well as live shows, energetic parades, and fireworks galore, this theme park really does have it all.
Make sure to ride It's A Small World (an absolute staple), and be sure to pop into the new Star Wars: Galaxy's Edge land to see what all the fuss is about!
Hot tip: if traveling during peak season or visiting on the weekend, a VIP ticket that allows you to skip the line is, for many, well worth the investment.
12 – Step into the world of the future at EPCOT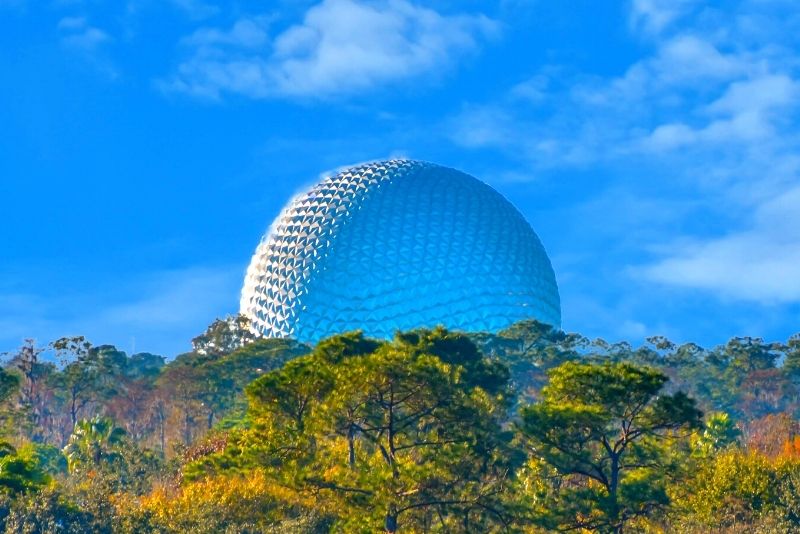 A theme park that celebrates human achievement and international culture, Epcot — which stands for Experimental Prototype Community of Tomorrow — is heaven on earth for tech geeks, roller coaster enthusiasts, and culture vultures looking to gain a new perspective on human society.
The park is divided into two sections: Future World, which celebrates technological innovation, and World Showcase, which features 11 pavilions representing different countries, each with its own fascinating architecture, food and drink, and cultural attractions.
While it's impossible to go wrong when it comes to activities, typical highlights include Soarin', an aerial adventure over some of the most famous global landscapes; Test Track, a high-octane racecar experience;
Mission: SPACE, where you can blast off on a simulated space mission; as well as The Seas with Nemo & Friends Pavilion, home to everyone's favorite forgetful fish and his pals in a 5.7-million-gallon saltwater aquarium.
13 – Join a safari at Disney's Animal Kingdom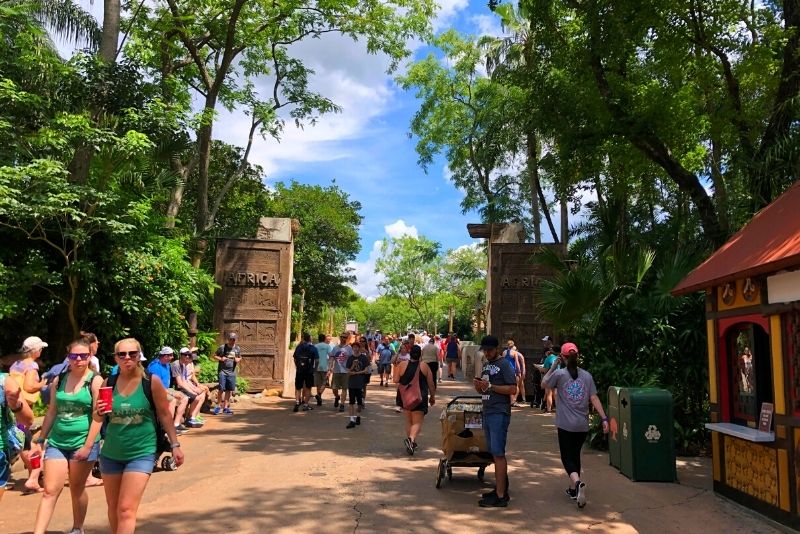 Walt Disney's vision for a park that would celebrate animals and their conservation came true in 1998 with the opening of Animal Kingdom. And it's quickly grown to become the second-most-visited Disney park behind Magic Kingdom!
The 580-acre park is home to thousands of live animals, from African lions to Indian rhinos, and has rides and attractions spread across seven themed areas: the five main zones are Oasis, Discovery Island, Africa, Asia, DinoLand USA, while Pandora and Rafiki's Planet Watch are both incredible additions in their own right.
While there's something for everyone at Animal Kingdom (try Avatar Flight of Passage if you're looking for an adrenaline rush), highlights include the Kilimanjaro Safaris, where you can get up close and personal with some of the world's most impressive creatures;
Kali River Rapids, a white-water rafting adventure through the rainforest; and Expedition Everest, a high-speed coaster that zips through icy Himalayan peaks.
14 – Cool off at Disney's Water Parks (Blizzard Beach and Typhoon Lagoon!)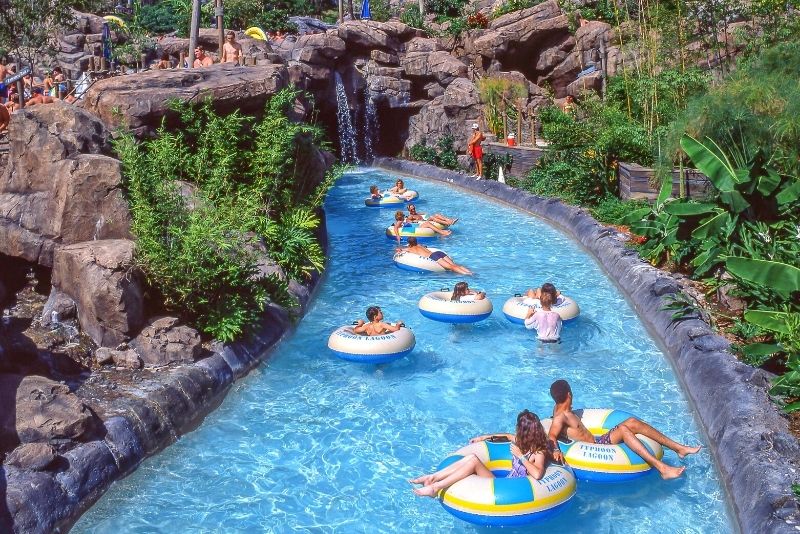 On those sizzling Florida summer days (and if you've never been there, rest assured, there's a truckload), diehard Disney fans can enjoy some refreshing fun in the sun while cooling down at the company's two main water parks: Disney's Blizzard Beach and Typhoon Lagoon!
Despite looking like a ski resort, with fake powder and a snowstorm theme, Blizzard Beach dishes up no shortage of summer thrills: exhilarating water slides, lazy rivers, and plenty of sunbeds await.
Typhoon Lagoon, on the other hand, offers some slightly tamer fun, with a giant surf wave pool, plenty of areas for the kids, and on-site eateries and entertainment — all combining for an idyllic spot for a day in the Florida sun.
If you're still looking for ways to cool off, check out some of the other best orlando water parks; they all have different motifs and ride specialities, but each place is guaranteed to provide a family-friendly outing that's refreshing in more ways than one!
15 – Walk the red carpet at Disney's Hollywood Studios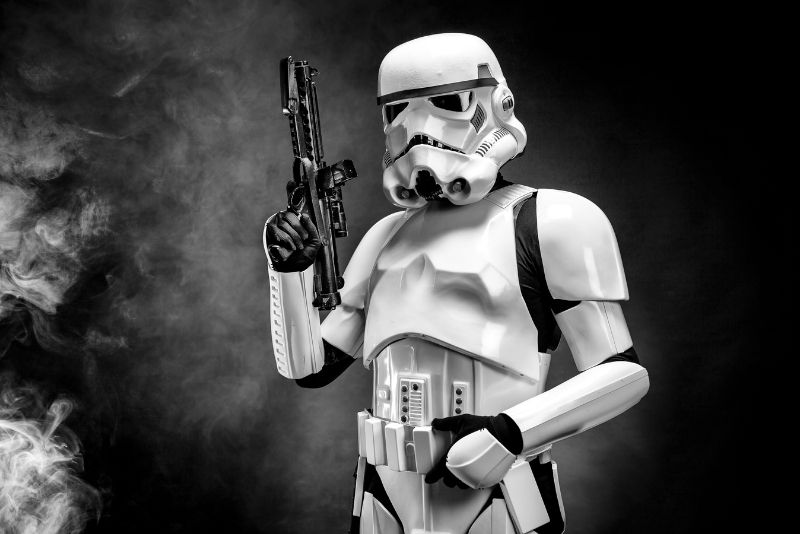 A little slice of Tinseltown on the East Coast, Disney's beloved Hollywood Studios invites film and TV buffs of all ages to be involved with the marvelous glitz and glamour of showbiz!
With an impressive roster of attractions including The Twilight Zone Tower Of Terror, which drops 13 stories at speeds reaching 40 mph; Toy Story Midway Mania!, a multi-sensory ride complete with giant arcade games;
Star Tours, a simulated trip through the galaxy based on George Lucas' iconic movie franchise; as well as Beauty & the Beast Live On Stage! it makes for an unforgettable day out.
While you're there, be sure to check out Sunset Boulevard too — home to Rock 'n' Roller Coaster starring Aerosmith (if you're looking for some high-energy thrills), plus the amazing Star Wars: A Galaxy Far, Far Away stage show!
Above all else, don't miss the nightly Fantasmic laser and light extravaganza!
Looking for a hotel in Orlando? There's plenty to choose from, however, with all the amenities you could need, and a convenient location, it's no wonder that travelers flock to the Hyatt Regency Orlando.
Feel free to check out more things to do in Orlando; otherwise, let's carry on to Tampa!
TAMPA
Sitting on the Gulf Coast side of the Sunshine State, theme park-rich and ever-sunny Tampa is an exciting city full of intrigue. Despite often being cast in Orlando's shadow, Tampa has grown into a major tourist destination for visitors all around the world.
With no shortage of family-friendly entertainment, Tampa is home to Busch Gardens, one of the most popular theme parks in Florida; and Adventure Island which offers family fun with water slides, go-karts and more! There's also Lowry Park Zoo where you can see animals from every continent, and the Sunken Gardens which houses over 20 acres of palms, mangroves and tropical plants.
History buffs won't be forgotten either: Fort De Soto Park tells a story that dates back to the turn of the 20th century, while there's no shortage of recreational activities like kayaking on Tampa Bay too!
16 – Ride the coasters at Busch Gardens Tampa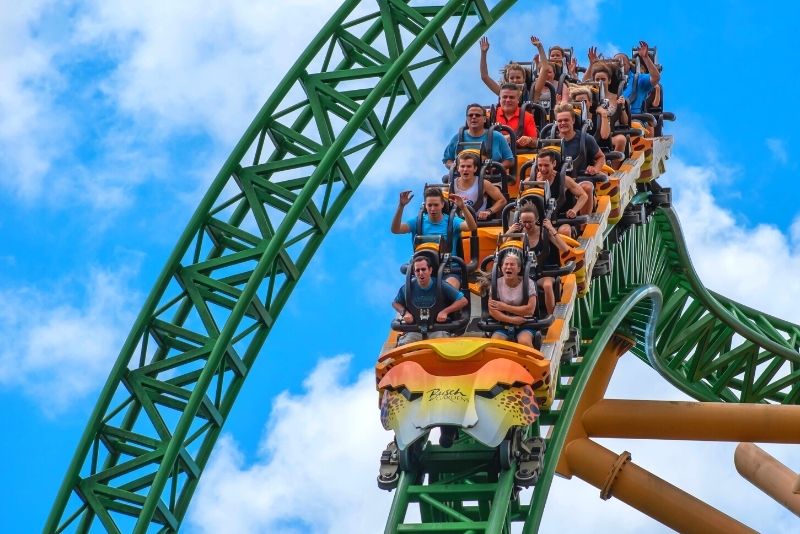 A thrill-seeker's mecca, this Tampa Bay theme park is 335 acres of pure Savannah-themed adrenaline, with giant roller coasters, live educational demonstrations, and plenty of animal-themed details to boot.
If you're craving some serious speed, jump in line for Iron Gwazi, the world's fastest and steepest Hybrid Coaster. Or, if you're after something a little more low-key, an open-aired ride through the 65-acre Serengeti Safari — where you'll find more than 200 species of all shapes and sizes wandering the plains — is a family favorite and a Busch Gardens staple.
Visiting between February and April? You're in luck! Every year, the gardens welcome the popular (and delicious) Food & Wine Festival.
17 – See sharks up close at the Florida Aquarium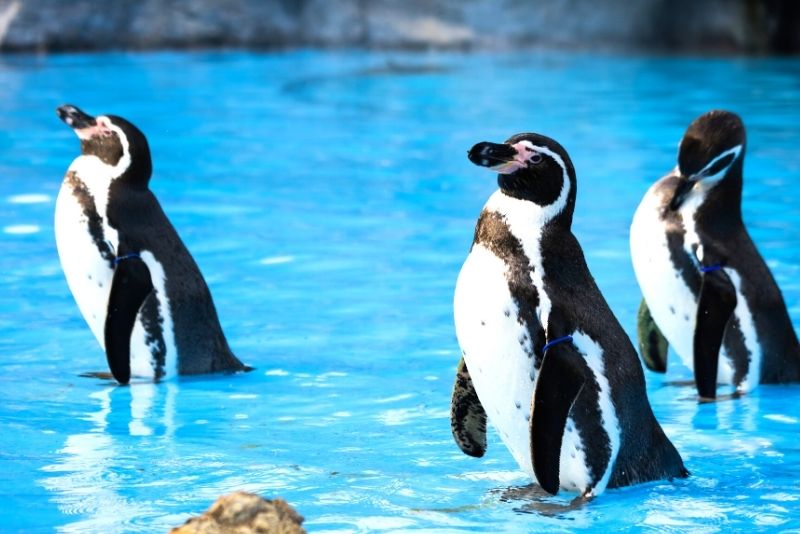 Ask any former family of tourists and they'll yell it from the rooftops: the Florida Aquarium, with more than 14,000 aquatic animals on display (yes, including sharks) is one of the essential things to do in Florida!
With nearly 500 species calling this Tampa attraction home, including everything from slippery eels to slow-paced turtles and adorable otters, there's truly something for everyone to marvel at.
Don't miss the chance to feel a stingray, jellyfish or starfish at one of the three touch pools; grab a seat in the 4D theater for an immersive trip into the (virtual) ocean, and learn all about the importance of conservation at the Waves of Wonder gallery.
And be sure to make time for the Penguin Meet & Greet, where you get up close and personal with the resident cuties. Because who doesn't love penguins, right?
18 – Spend the day at ZooTampa at Lowry Park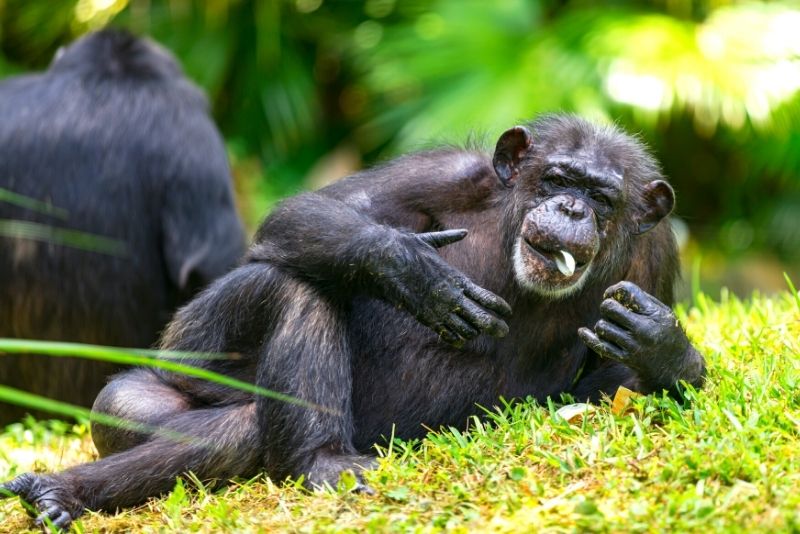 An oasis of all living things, big and small, furry and scaley, ZooTampa is a crowd favorite when it comes to family-friendly excursions.
More than 1,300 animals — from playful monkeys and lumbering elephants, to curious kangaroos and slithery snakes — call this Lowry Park Zoo home, making it a veritable Noah's Ark of Floridian wildlife.
The zoo is also constantly updating its exhibits, but it's typically the longstanding Manatee Conservation program that receives the most praise.
Come for a day of educational animal encounters, then stay for the nightlife: ZooTampa has its own amusement park (complete with rides and games — don't miss the Tasmanian Tiger Coaster) right on site, and regularly hosts events like comedy nights and seasonal shows like Halloween's Creatures of the Night!
19 – Race down water slides at Adventure Island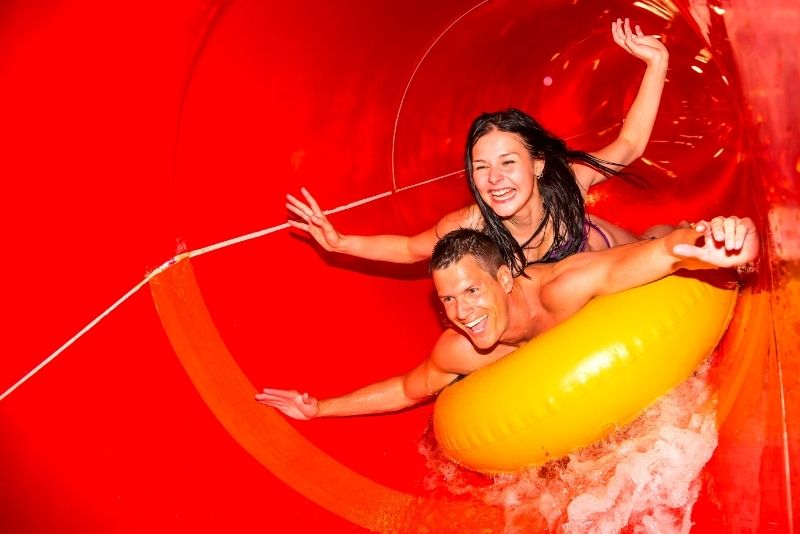 With 30 acres of water rides, roller coasters and family-friendly fun, Adventure Island is a must for anyone looking to beat the Florida heat.
The amusement park is tucked away right across the road from Busch Gardens, making it easy to combine with a day of safari-going (or just about any other activity on this list — we won't tell).
From the lazy river and wave pool for those who just want to relax, to the heart-pounding Solar Vortex for those who like their amusement park rides with a bit of an adrenaline rush, there's something for everyone at Adventure Island.
And if you're feeling really brave, take on Vanish Point, an exhilarating drop slide where the floor literally vanishes beneath your feet!
20 – Explore the Salvador Dali Museum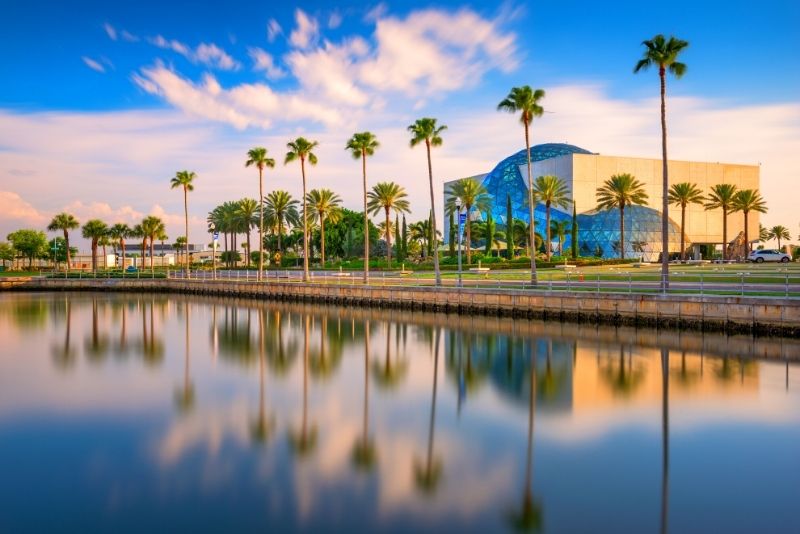 If you're a fan of surrealist artwork, or if you just want to experience some mind-bending creativity, the Salvador Dali Museum — a culture vulture's heaven on earth about 25 minutes drive from Tampa in St Petersburg — is an absolute must.
This Tampa museum is home to the world's largest collection of Dali's work outside of Spain, including close to 100 oil paintings, 100 watercolors, and thousands of complementary pieces of artwork and literature from all stages of his career (as well as personal effects and photographs).
Even the building itself is a work of art; sitting in front of a shimmering body of water, it reportedly cost $30 million to build!
And that's just a sneak peek when it comes to Tampa-based activities. Click here to see more things to do in Tampa and things to do in St Petersburg, including hot-air balloon rides, fishing trips, shopping malls, and family-friendly museums!
Looking for a hotel in Tampa? While there are myriad accommodation options in Tampa, from budget-friendly motels to five-star hotels, the Seminole Hard Rock Hotel and Casino Tampa is hard to beat.
CLEARWATER
Directly east of Tampa and Tampa Bay, straddling the white-sand shores and warm translucent water of the Gulf of Mexico, Clearwater (see, it's written on the tin) is an oasis of water sports, nature hikes, and theme park thrills.
As an oceanside retreat that feels rural but remains within striking distance of the major tourist hubs, it's no wonder that Clearwater has become a local favorite for escaping the hustle and bustle of city life.
21 – Take the kids to the Clearwater Marine Aquarium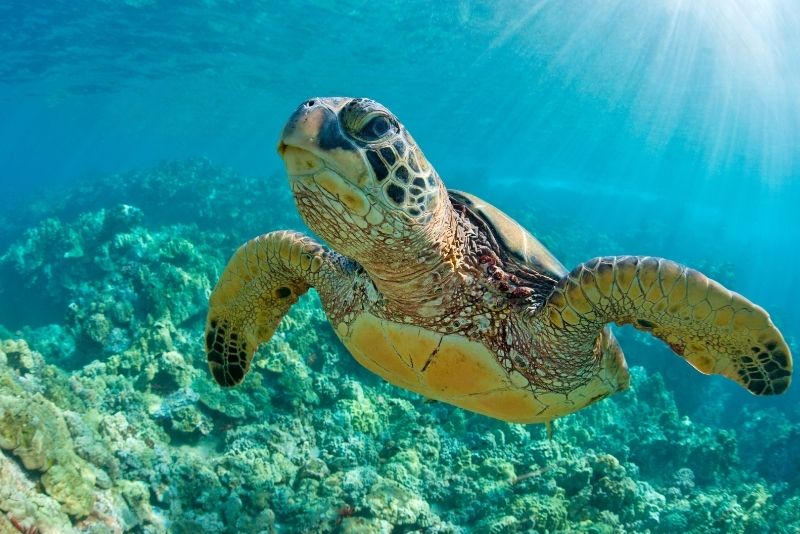 With a strong intention to educate the masses about the importance (and processes) of animal rehabilitation and rescue, the locally adored Clearwater Marine Aquarium is far more than just a collection of tanks full of vibrant fish; it's an insightful and moving experience perfect for all ages.
Youngsters are transfixed by the touch tanks, where you can get up close and personal with starfish and other friendly sea critters, while the dolphins, otters and sharks are always a hit!
To take your experience to the next level, the aquarium also offers boat trips, guided tours, and educational workshops.
For all you movie buffs, the Aquarium is also home to Winter the dolphin, the star of 2011's Dolphin Tale!
22 – Find your zen at Honeymoon Island State Park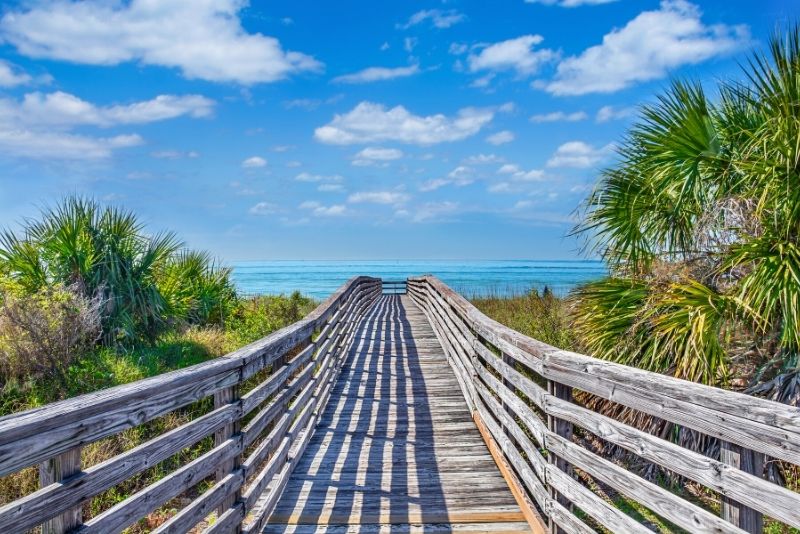 If you're looking to get away from it all and enjoy some natural beauty, then the 385 untouched acres of sand, sea and greenery on Honeymoon Island State Park is the perfect destination.
Just a stone's throw away from Clearwater Beach, this park offers serene walks through unspoiled forests, opportunities for fishing and kayaking on sheltered coves, and, of course, plenty of lovely sandy beaches.
Birdwatchers, rejoice; with over 100 species of birds calling this place home (not to mention turtles and fish), the nature is as diverse as any spot in the area.
If this area looks enticing, check out our list of all of the other things to do in Clearwater. Despite being famous for its sandy stretches, the activities are more diverse than meets the eye.
Looking for a hotel in the Clearwater Area? A favorite among both Florida travelers and international tourists, the Opal Sands Resort is just steps from Clearwater's lively beachside promenade and remains stylish and luxurious without breaking the bank.
MIAMI
Erupting with energy around the clock, Miami is Florida's non-stop party. World-renowned DJs flock to the long list of beachside clubs, and the tourists follow.
But this southern Floridian city isn't all about booze-fuelled nightlife; the beaches are as pristine as anywhere on the East Coast, the culture — largely inspired by nearby Cuba — is unique and full of flare, and the arts scene has been thriving for decades.
Miami might not have a Disney World or a Universal, but with its fascinating museums, rowdy festivals, Michelin-starred restaurants, natural attractions, and bubbly atmosphere, it holds its own as one of the most interesting cities in America.
23 – Escape the heat at the Pérez Art Museum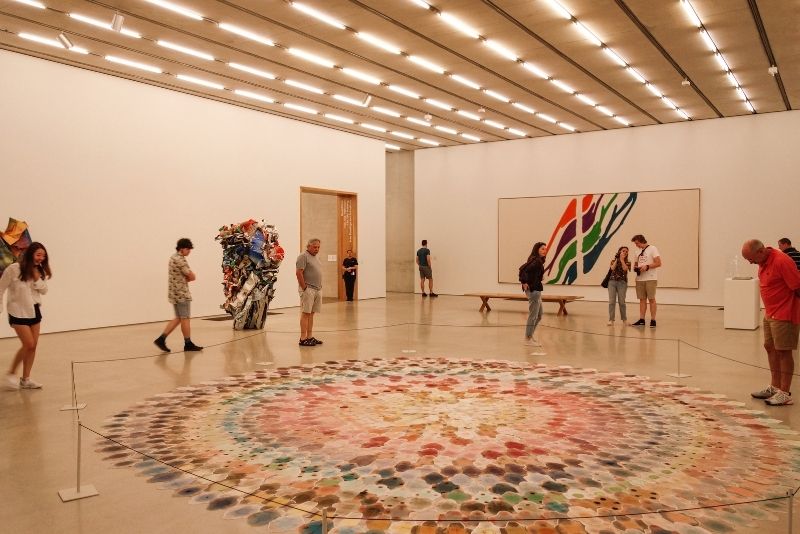 A quintessential Miami stop for art enthusiasts, the 120,000-square-foot waterfront Pérez Art Museum is eye-catching before you even set foot inside: the overhanging gardens of the facade provide a glimpse of the beauty on offer behind its walls, and once you step inside, it doesn't disappoint.
All up, the marvelous museum houses over 3,000 works of art, spread across eight distinct galleries. And while the focus is largely on 20th- and 21st-century international pieces (don't miss the insightful Cuban and Latin American sections), you'll find a range of temporary exhibits which make each and every visit unique.
Before you leave, recharge the batteries at the on-site cafe, pop into the gift shop for a memento or two, and take a stroll around the well-manicured and tranquil gardens.
24 – Swim with dolphins at the Seaquarium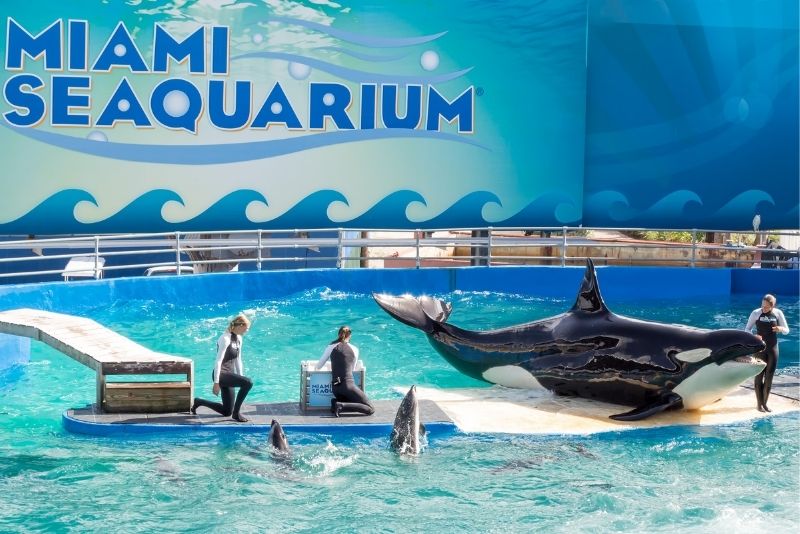 Right up there amongst the state's premier family-friendly attractions, the Seaquarium on Virginia Key is a great sunny day out for all ages.
Home to dolphins, whales, sharks, sea lions, and more than 400 other aquatic creatures, the aquarium offers shows and encounters with its star residents as well as educational talks, behind-the-scenes tours, and overnight camps (for an extra fee).
Plus, there are interactive experiences — including swimming with dolphins or petting a penguin — games, shopping opportunities, and restaurants on-site to keep everyone entertained.
If you're in Miami with kids (or just love marine life), it's definitely worth a visit.
25 – Test your luck at the Gulfstream Park Racing and Casino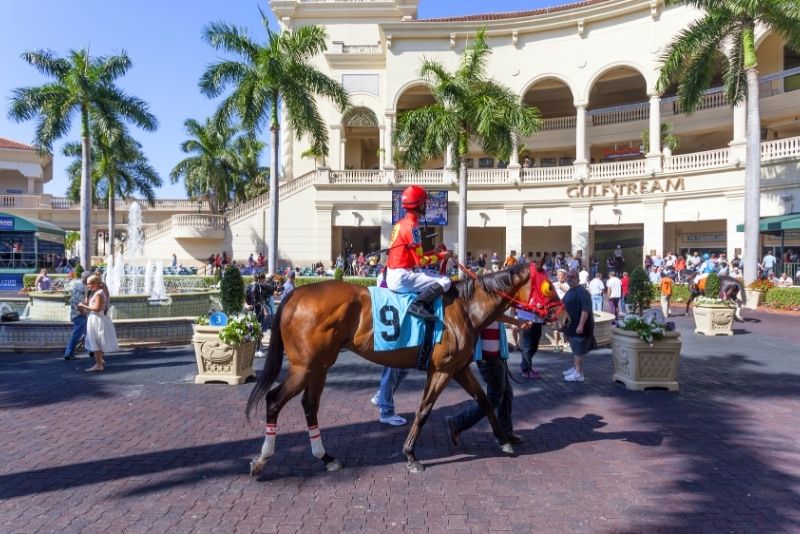 Just a short drive north of Miami, in the town of Hallandale Beach, you'll find Gulfstream Park Racing and Casino.
This world-class racetrack and casino complex offers live thoroughbred and greyhound racing most days throughout the year (the schedule is available on site), as well as simulcast betting on races from all over America and beyond.
There's also a huge range of slots and table games to keep gamblers entertained for hours on end.
And if that wasn't enough, there are several high-end restaurants on-site serving everything from sushi to steak, plus a couple of bars for cocktails or coffee. So whether you're looking for a day out at the races or an evening's entertainment, Gulfstream has you covered.
26 – Pop into the historic Villa Vizcaya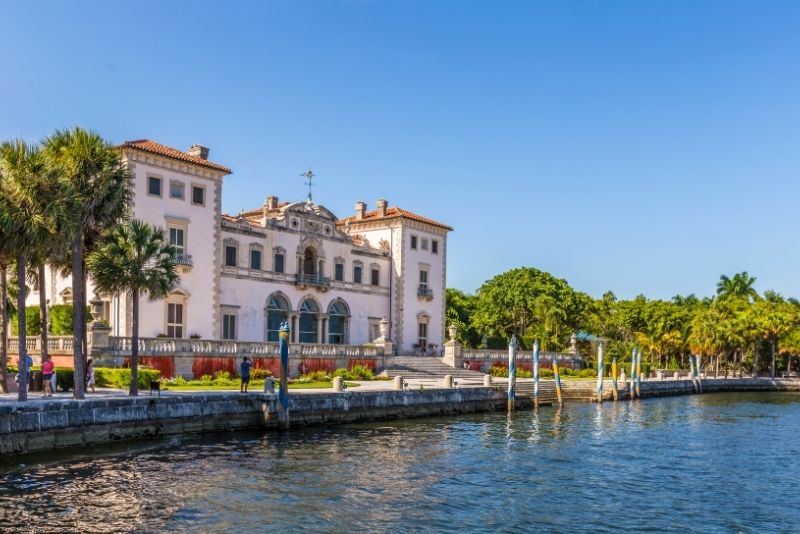 A stunning structure that fuses art with history and overlooks Biscayne Bay, the Villa Vizcaya (otherwise known as the Vizcaya Museum & Gardens) is a National Historic Landmark and an absolute must-visit on any history buff's trip to Miami.
The villa — or country home — had its finishing touches put on in 1916 by James Deering (wealthy owner of what's become Navistar) as his private residence.
Since then, it's hosted parties, welcomed celebrities, and been the victim of a $1.5 million robbery; these days, it remains one of America's most impressive estate museums.
Guided tours will take you through its rooms filled with period furniture, European and American artworks, and shimmering chandeliers; but it's the lush statue-lined gardens that steal the show.
27 – Admire the collection at The Bass Museum of Art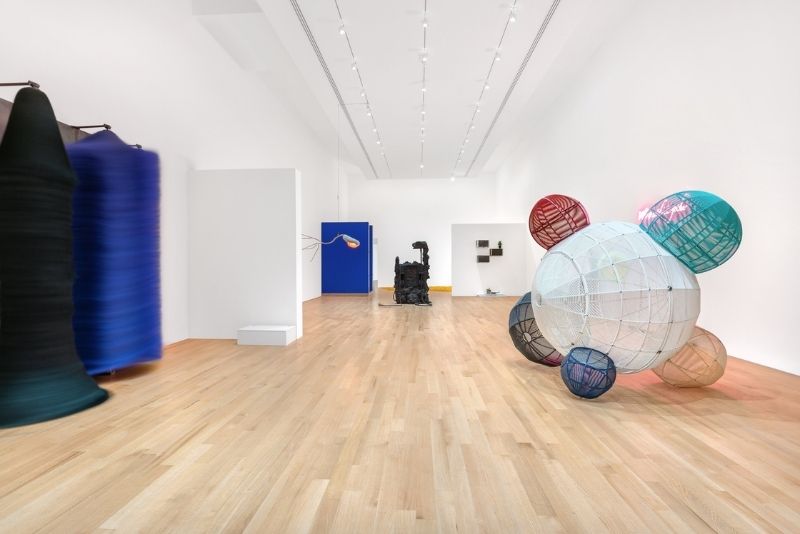 Just two minutes from Miami Beach tucked away at the back of the peaceful yet convenient Collins Park, you'll find modern art wrapped in a historic building — the thought-provoking Bass Museum of Art.
Exhibits here are well-curated, with both a permanent collection (while it includes works that date back to the 15th, the museum is known for its contemporary pieces) and fascinating traveling exhibitions from around the world.
Besides the main artistic attractions, there's also a diverse lineup of events for the whole family: kids' art sessions, brunch days, and culture crawls, to name a few.
At just $15 for adults and $8 for the little ones, it's surprisingly affordable too.
Hot tip: Discover our full list of fun things to do in South Beach, Miami.
28 – Snap a new profile pic at the Wynwood Walls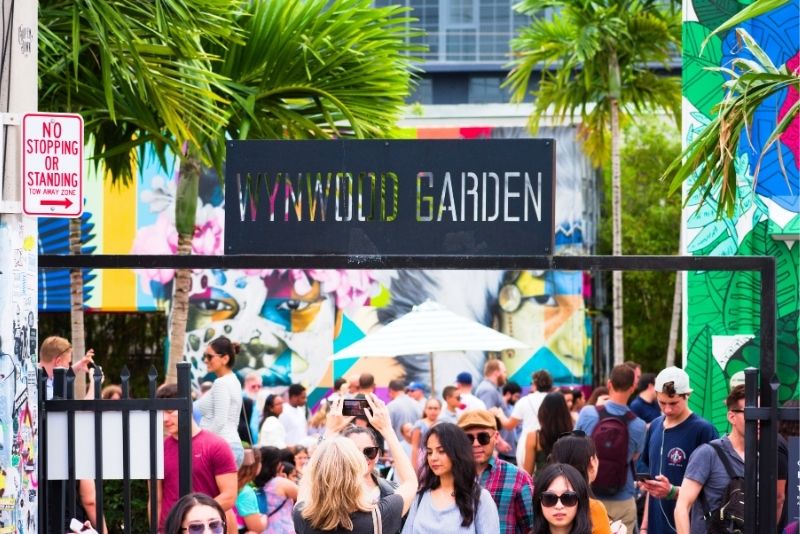 A coming together of color, culture and tourists looking to light up their social media feed with a new profile picture, the Wynwood Walls are the ultimate Instagram hotspot.
An outdoor gallery of enormous murals, this former low-key arts district has been taken over by street art and is now home to a collection that attracts thousands of visitors each day — not just from Miami but also around the world.
The walls themselves have grown in size as more artists enter into partnerships with the local businesses, and there are now dozens upon dozens of eccentric (and insightful) murals to be found.
New ones appear regularly, giving the whole area a vibrant ever-changing feel; and cap off your visit with a stop in to favorite eateries like Coyo Taco and Joey's Italian Café.
Hot tip: if you want to learn more about the fascinating history of this area, join a walking tour.
29 – Head to Bill Baggs Cape Florida State Park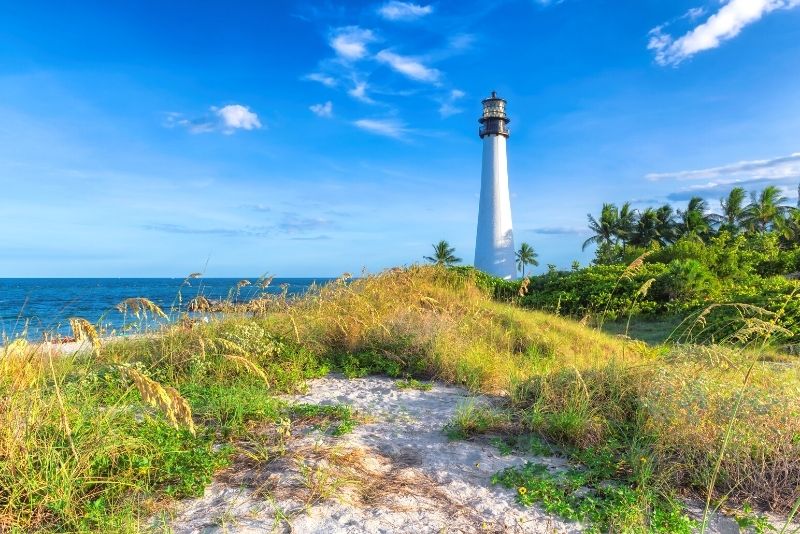 Famous for its postcard-worthy lighthouse, Cape Florida State Park sits at the southern tip of Key Biscayne and sells itself as one of the best places near Miami to admire sweeping ocean views and feel like you've escaped from the city.
Dishing up less-crowded but no-less-pristine beaches that the main Miami strip, and endless outdoor fun through fishing trips, hiking and bicycle trails, and water sports, there's something for everyone here.
And once you tire of the views (impossible, we know), take a break at one of the 18 picnic pavilions or learn a thing or two with a guided tour of the historic lighthouse (only available Thursday through Monday).
30 – Learn something new at the Phillip and Patricia Frost Museum of Science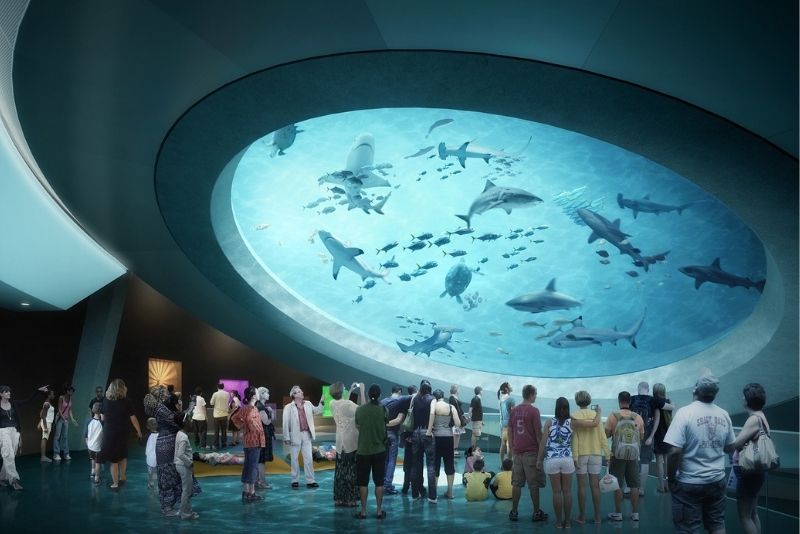 The ideal (air-conditioned) indoor activity for those toasty summer days, the Phillip and Patricia Frost Museum of Science is a museum, aquarium, and planetarium fused into one.
Once inside, you'll find permanent exhibits dedicated to ocean conservation and global warming, space exploration (trust us: be sure to book a spot for the planetarium show), biodiversity and more; plus rotating temporary exhibitions for all ages that are sure to wow visitors with their interactive displays.
And if you're feeling hungry (or just thirsty) there's a restaurant and bar on the top floor, too.
31 – Take in some fresh air at Biscayne National Park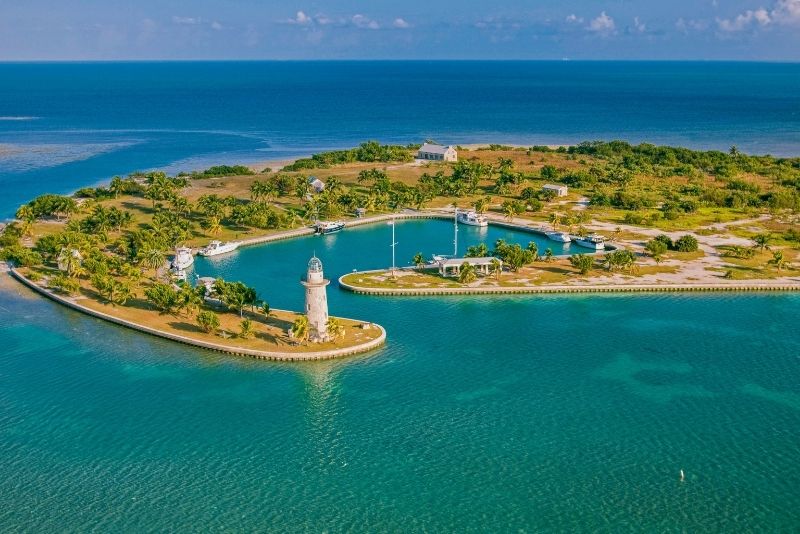 If you're looking for a Miami activity that takes you out onto the water, look no further than Biscayne National Park. Just a short drive from downtown Miami, this is your chance to explore miles of unspoiled mangroves, coral reefs and islands — making it one of the best things to do in Florida for those who love to get close to nature.
Adventurers, consider a parasailing excursion of a fishing charter; romantics, look no further than a sunset sail!
As well as being breathtakingly beautiful, the park is also home to endangered species like Atlantic bottlenose dolphins and West Indian manatees — so keep your eyes peeled while you're out there!
32 – Feed giraffes at Zoo Miami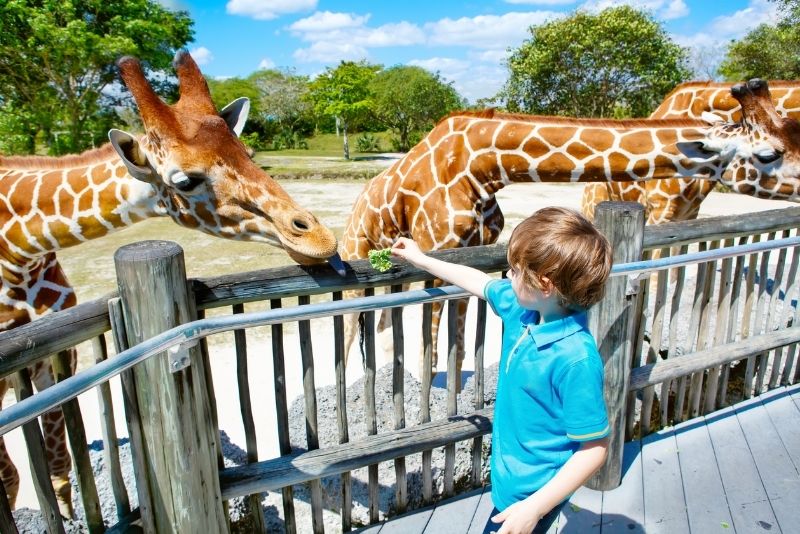 A surefire hit for vagabonding families, Zoo Miami is the largest and oldest zoo in Florida, as well as one of the most visited tourist attractions in the state.
Home to over 3,000 animals representing 500 species from all over the world (plus a botanical garden full of butterflies that's definitely worth a visit), there's plenty to see and learn here — with docents available throughout the grounds to answer any questions you may have.
And for the little ones, there are plenty of activities and rides to keep them entertained (and tire them out) throughout the day.
33 – Shop, party or simply wander around Ocean Drive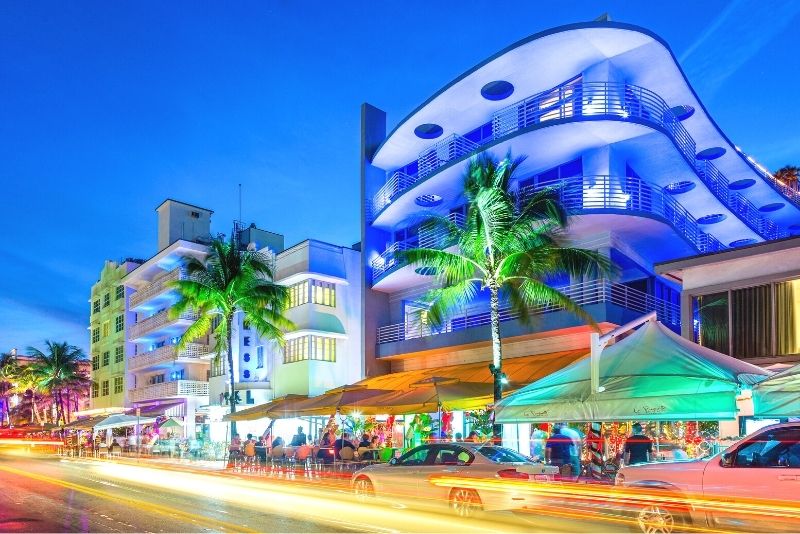 Miami's infamous beachfront street is lined with chic hotels, vibrant cocktail bars (Nikki Beach is always a good time), souvenir and clothing shops, and a variety of restaurants — regularly attracting foodies, socialites, and the thirstiest of travelers.
If shopping is your thing, the stretch of retail storefronts near Lincoln is the place to be, while art-lovers can appreciate the pastel-hued architecture that lines the street.
And, of course, the popular street is a stone's throw from the main Miami beaches, so there's always live entertainment and festivals happening.
Hot tip: if you don't have a car, the free Miami Beach Trolley runs every 30 minutes from dawn till late, stopping at different points within walking distance of Ocean Drive.
34 – Feel the rhythm of Little Havana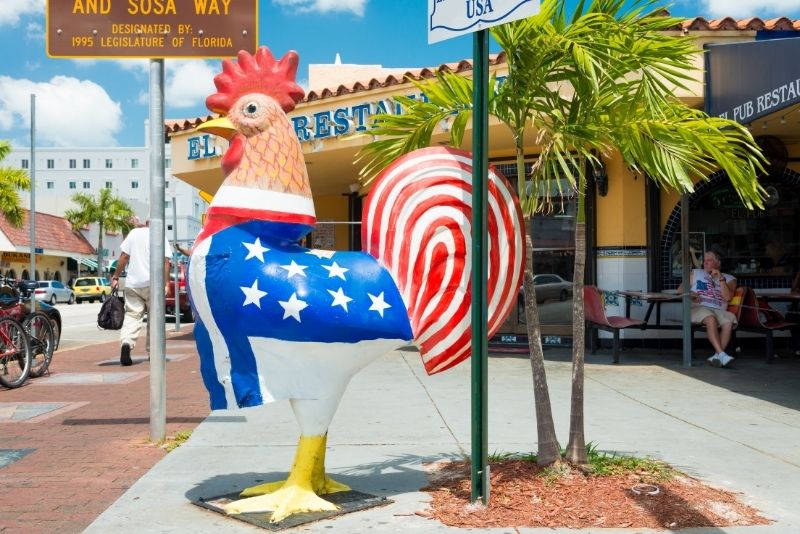 The closest thing you'll get to Cuba without leaving the US, Little Havana is a vibrant and colorful district in Miami that's home to many of the city's Cuban ex-pats — and, as such, comes with a unique and bubbly culture full of tantalizing restaurants, dancing in the streets, and regular live Latin music.
And, of course, there's a tour for that too. Walking tours, led by locals, give visitors an inside look at this fascinating slice of Miami, diving into everything from immigration to cigar-makers and that lip-smacking Cuban food.
At the heart of Little Havana is Calle Ocho (Eighth Street), where you'll find everything from cafés and nightclubs — but for an all-round (less touristy) experience, be sure to explore the side streets too.
35 – Head to Butterfly World in Coconut Creek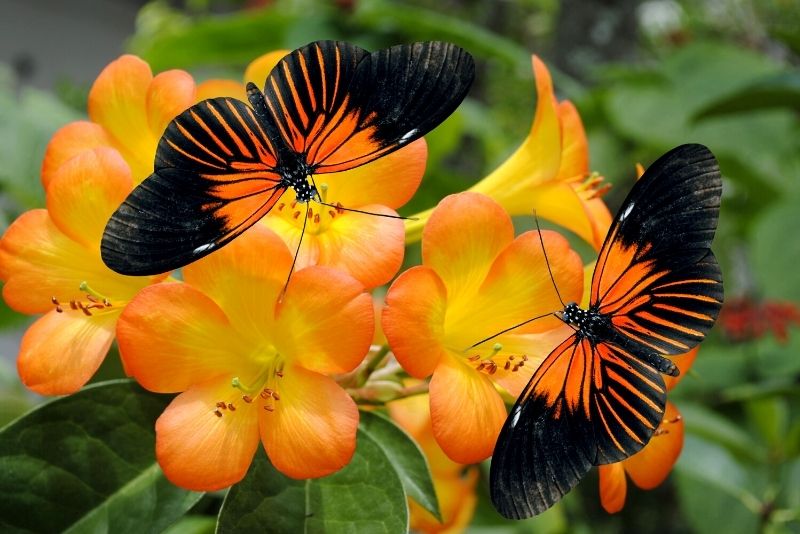 If you're looking to add a little more color to your day, Butterfly World — officially the largest butterfly park in the world — is a tropical oasis home to over 20,000 bright and beautiful butterflies, as well as a variety of other exotic insects and plants.
Along with the natural beauty on offer in the indoor rainforest room, there's also plenty to see outdoors: take a walk along the Lakeside Garden trail and the different themed gardens (the English Rose Garden is delightful).
About 40 minutes drive from Miami by car, it makes for a great half-day activity.
36 – Watch the NFL at Hard Rock Stadium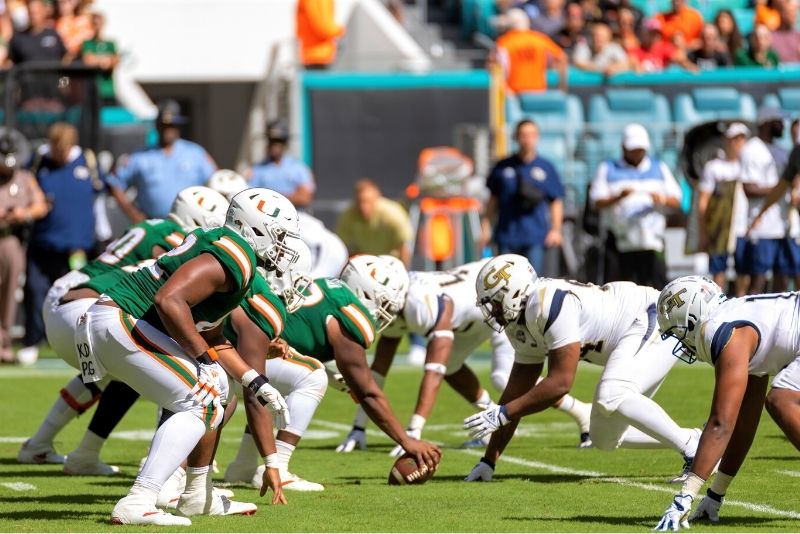 The stomping ground of the Miami Dolphins (NFL) and University of Miami Hurricanes (did someone say tailgating?), Hard Rock Stadium – formerly Sun Life Stadium – delivers a roaring atmosphere on any game day, and, for those looking to get behind the scenes, is also open to the public for tours.
During a tour, you'll get to see all the usual stadium amenities like locker rooms, press boxes, and even the field itself; plus you'll hear stories about some of the famous athletes and events of decades gone by.
37 – Immerse yourself in plants at the Fairchild Tropical Botanic Garden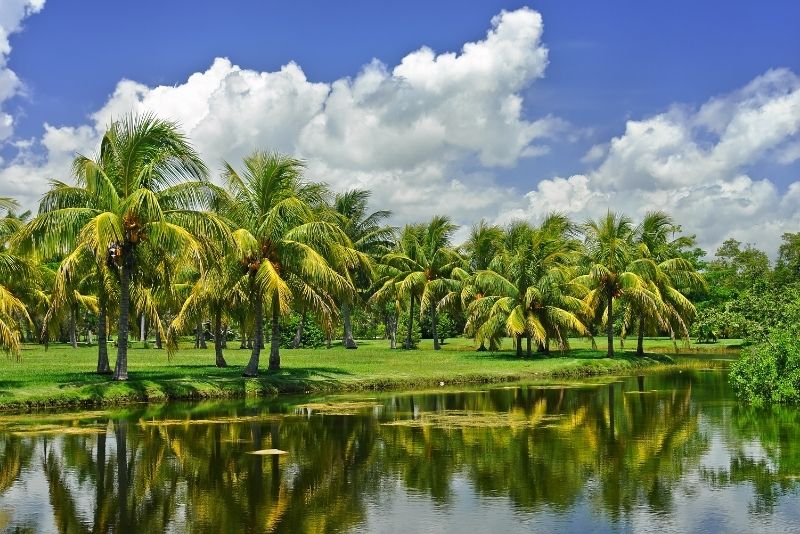 Found over in Coral Gables (where you'll also find the University of Miami Campus), the Fairchild Tropical Botanic Garden is an 83-acre oasis of lush gardens, towering trees, and tranquil ponds — not to mention diverse wildlife like lizards, crocodiles, fish, and birds.
As well as the beauty on offer in the gardens themselves (which change with the seasons), there's also a magical Wings of the Tropics exhibition, where over 40 species of butterflies flutter by, and an insightful, staff-led tram tour.
And, as a little bonus, because of the unique tropical South Florida climate, the Garden plays host to endemic plants like the petticoat palm!
38 – Swim in the Venetian Pool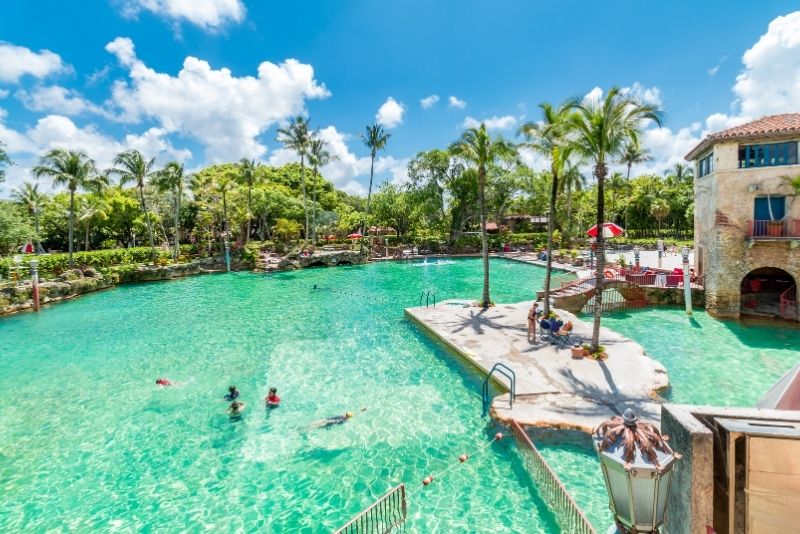 While you're over in Coral Gables, you might as well take a dip in the Venetian Pool, an architectural beauty that has welcomed the area's rich and famous for over a century.
The 820,000-gallon pool, which, remarkably, was originally carved out of coral rock, is fed by freshwater from a natural underground spring.
And with caves, grottos, and waterfalls adding the finishing touches to the tranquil lagoon, it's a sight to behold (and a much-appreciated summer reprieve).
We've only just scratched the surface when it comes to things to do in Miami. If you're looking for more museums, more family-friendly attractions, or some of the rowdiest nightclubs, pubs and bars in the city, take a look at our comprehensive list of Miami activities and attractions.
Need help deciding between Miami hotels? While you'll find no shortage of choices, for a resort that offers everything you could need — nightclubs, restaurants, beach access, pools, and all the luxury amenities — it's hard to go past Fontainebleau Miami Beach.
FLORIDA KEYS
Infamous worldwide for their go-slow lifestyle, pristine waters, and year-round sun, the Florida Keys sits high atop many a traveler's bucket list. Spend a week there are you'll quickly understand why.
Spanning five major keys (areas of islands) — from Key Largo in the north to Islamorada, Marathon, Lower Keys, and finally Key West — the archipelago offers everything from beachside party resorts to tranquil nature parks, and water activities out the wazoo.
39 – Snorkel at John Pennekamp Coral Reef State Park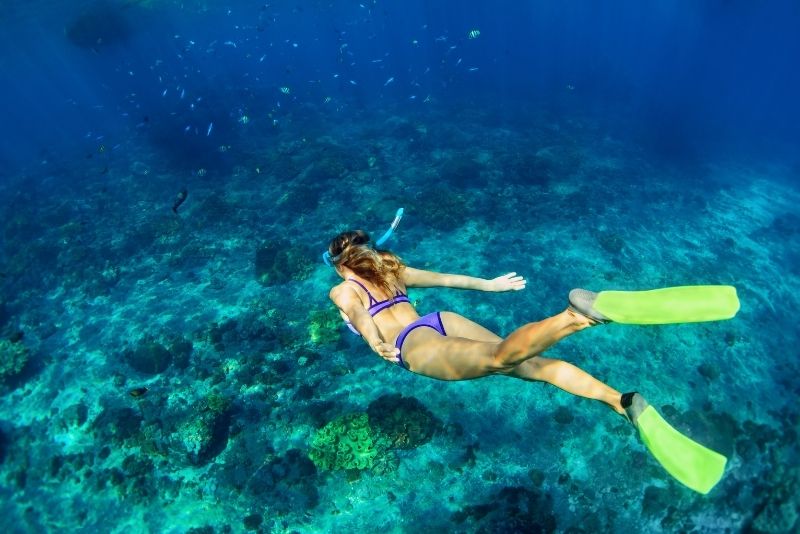 With colorful fish aplenty, crystalline (warm) waters and a range of your operators who can escort you to the best swim zones, John Pennekamp Coral Reef State Park in Key Largo is a hot spot for snorkelers and divers alike.
Stretching some 25 miles long (don't let this fool you though, as most of the park is underwater), the State Park connects with what is the coral reef in the United States.
If you prefer to stay (mostly) dry, opt for a kayak or glass-bottom boat tour; or, soak in the sun on one of the quiet beaches of short walking trails that twist through lush tropical hammocks.
Do not miss our selection of fun things to do in Key Largo.
40 – Drive or cycle along Seven Mile Bridge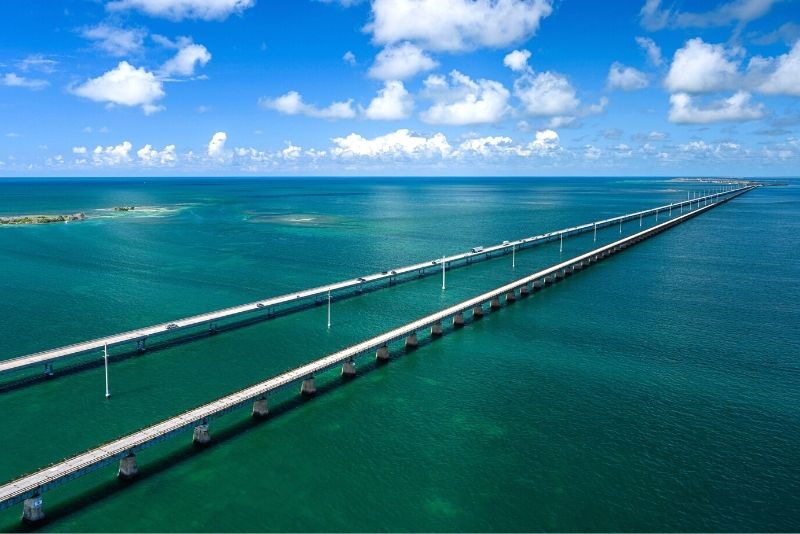 While it delivers no shortage of wonderful ocean views from 65 feet about the greeny-blue waters below, Seven Mile Bridge is best known for its special resident: Fred the Tree.
A towering Australian pine, Fred managed to stay standing after a hurricane tore through the region, and has since become a symbol of strength and hope for the locals.
Located in between the Middle Keys and the Lower Keys, it's an unavoidable, yet beautiful stretch of — yep, you guessed it — seven miles for drivers (on the new bridge), bikers and walkers alike (on the old bridge).
41 – Get a little bit of everything at Fort Zachary Taylor Park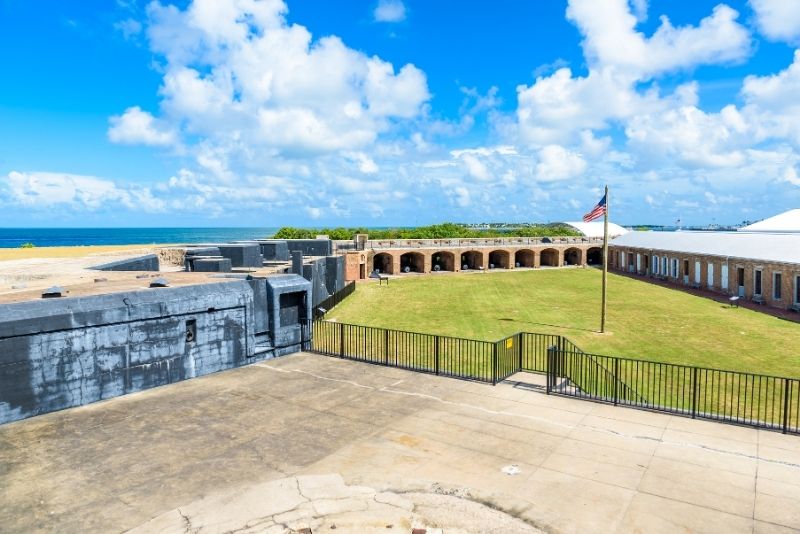 A highly-deserved National Historic Monument, this well-maintained attraction — which holds the title of Florida's southernmost state park — offers 54 acres of activities, ranging from swimming and sunbathing to kayaking and fishing.
Nature lovers will find plenty of trails to explore, history buffs can admire the cannons and learn about Fort Zachary Taylor's role in both the Civil War and the Spanish-American War, and everyone can enjoy a picnic lunch on the lawn!
For a more in-depth look at the Fort's role in American history, try to make it to the historical demonstrations, held once a month of every third weekend.
42 – Learn about a literary icon at Key West's Hemingway Home & Museum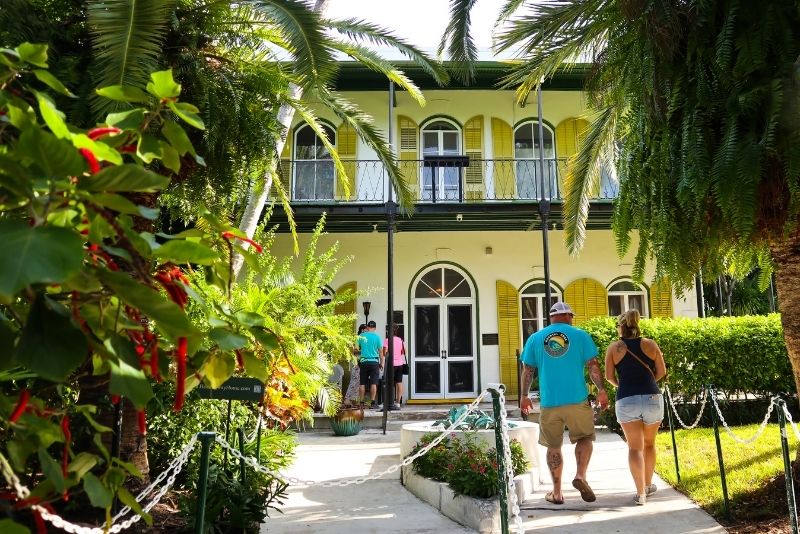 For any true bookworm, a visit to Key West is not complete without a stop at the Hemingway Home & Museum, which offers an insight into a famed Nobel prize-winner and one of America's most famous writers.
While Ernest Hemingway lived in the house from 1931-1940 (when he wrote — and completed some of his best works), today you can see pictures of him, his family and friends, his writing desk, and a whole lot more, best appreciated on a historian-led guided tour.
The grounds are a piece of work, but what truly catches visitors by surprise are the cats — dozens and dozens of resident felines wander the premises!
43 – Go dolphin-watching in Key West!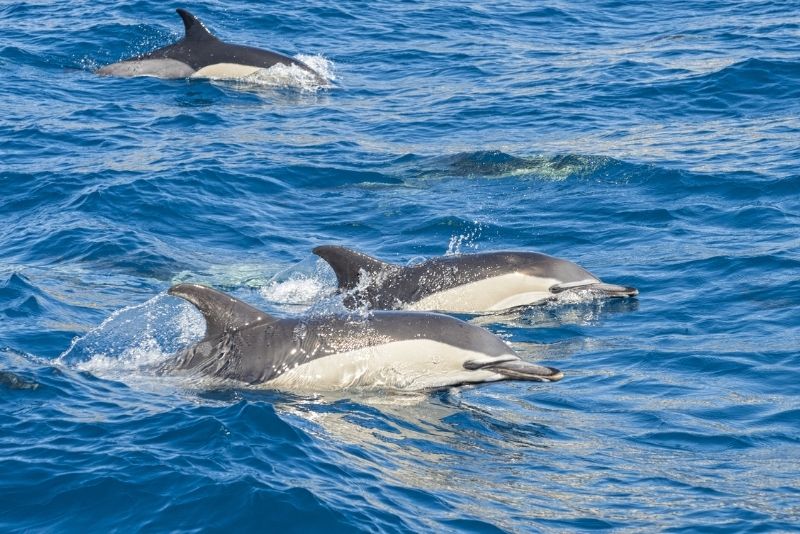 The dolphins of Key West are a major tourist attraction and for good reason; they're playful, curious creatures that love to get up close to vessels to say hello, and make for some amazing photo ops.
There are a few different ways to go dolphin watching in Key West: you can join an organized tour (from the pier or a boat), hire a private guide, or rent your own vessel and test your luck — either way, make sure to leave a half-day allocated to seeing the glorious creatures frolic in their natural habitat.
44 – Scratch that political itch at the Truman Little White House
As the only presidential museum in Florida, and one of just a handful nationwide, a visit to Key West's Truman Little White House is an absolute must for history buffs.
Learn about Harry S. Truman's years as President (1945-1953), his life after politics, and the legacy he left behind both in Key West (his winter home) and on a global scale.
The house is furnished in the style of the period, with original family photos and memorabilia on display — and, to top it all off, you can even see (and ride!) in his originally 1950s limousine.
45 – Wander around Duval Street and Mallory Square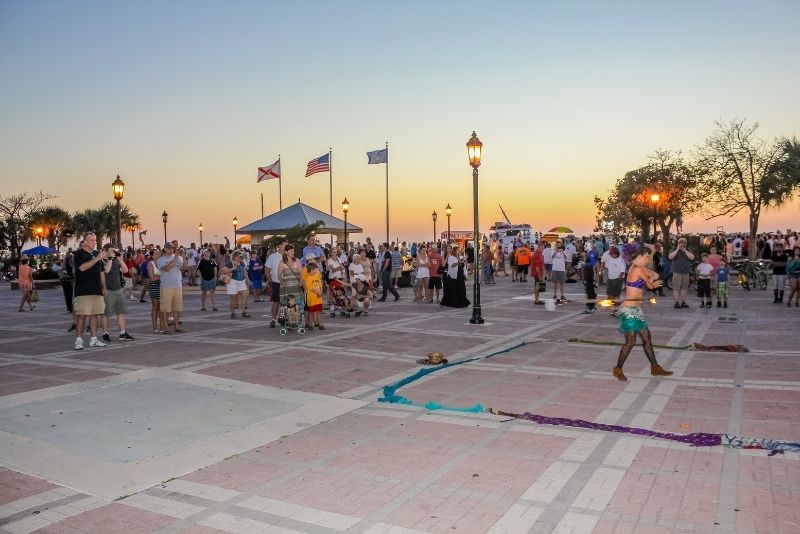 Seldom dull; always bustling with street performers and live music, the colorful and eclectic Duval Street is one of Key West's most popular tourist areas.
Located in Old Town (the northern half of the city), it offers all sorts of shopping opportunities, from souvenirs to high-end gifts and family-owned jewelry boutiques; landmarks like the 1933 Sloppy Joe's Bar, Mile Marker Zero, and White Street Pier, and, of course, Mallory Square.
If you're looking for a Florida Keys pub crawl, a restaurant dinner with a view, or a little dose of retail therapy, Duval Street has you covered.
46 – Admire the iconic fort at Dry Tortugas National Park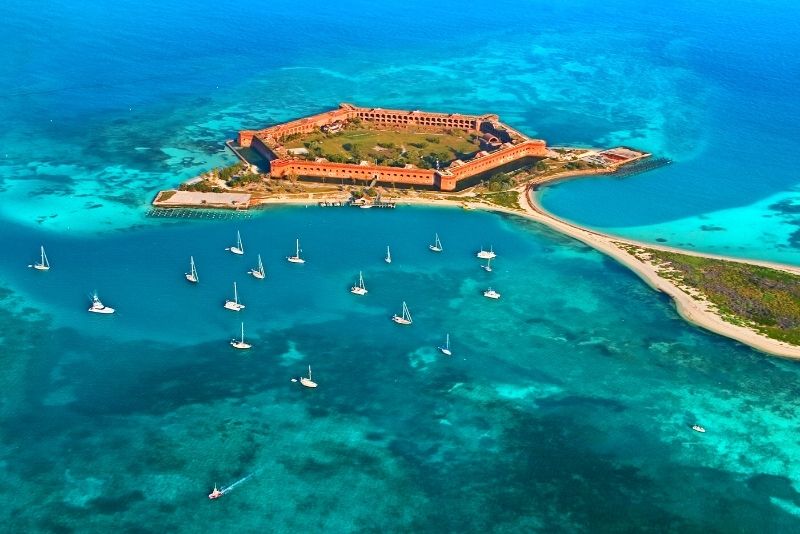 Roughly 70 miles west of Key West lies picturesque Dry Tortugas National Park, a remote and beautiful island chain and underwater zone that's definitely worth the trip if you have time.
The main attraction here is the historic, hexagonal Fort Jefferson (a massive but unfinished coastal fortress), which can be explored on guided tours.
History aside, there's plenty of ranger-led snorkeling and diving tours to add to the itinerary too — and with turtles, dolphins and thousands of tropical fish calling the waters home, an incredible underwater experience is all but guaranteed.
Keep in mind: the park is accessible only by boat or seaplane, so an official tour can make the trip much easier.
47 – Visit the Southernmost Point buoy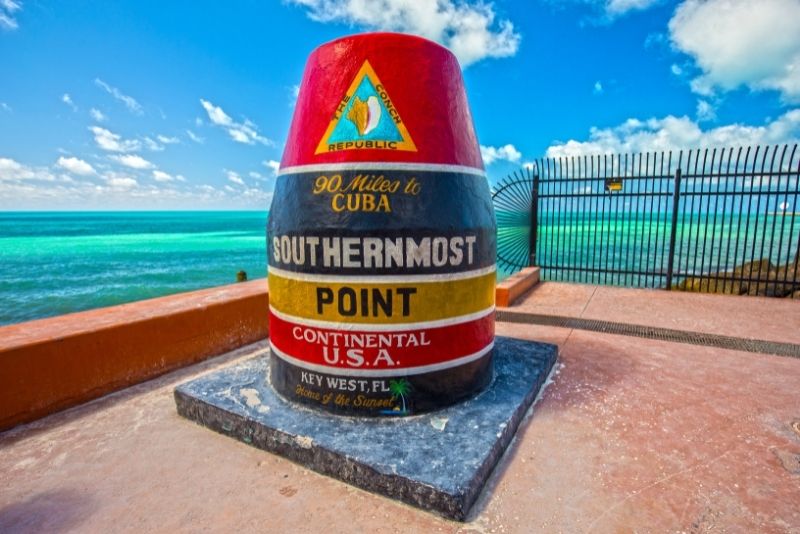 Making for a quick but essential stop if, for nothing less than a selfie or two, the Southernmost Point buoy is a significant marker located at the southern end of Duval Street in Key West, just a few blocks from Mallory Square.
Highlighting what's officially the southernmost point on the contiguous United States, the landmark is colorfully painted with the words "90 Miles to Cuba", making it one of the quintessential things to do in Florida, for obvious reasons.
Looking for more activities? Check out our complete list of fun things to do in Key West. And all those activities are merely a taste of the long list of things to do in the Florida Keys. If you're looking to learn more about the area, check out our in-depth Florida Keys article about all the tours, beaches, bars, restaurants, and national parks!
Need a hotel in the Florida Keys? On Key Largo, the Key Largo Bay Marriott Beach Resort oozes style and sophistication; over in Marathon, the Tranquility Bay Beachfront resort, true to its name, delivers plenty of chances to relax and unwind while being spoiled with all the essential amenities. Over in Islamorada, the Cheeca Lodge & Spa is a crowd favorite, while the Parrot Key Hotel & Villas in Key West is glowing with excellent reviews.
JACKSONVILLE
While often sitting in the shadow of nearly Orlando, Jacksonville — as what is officially the largest city in Florida (surprise!) — is known for its long list of diverse attractions that cater to all kinds of travelers. There's a little bit of nature, a little bit of culture, a little bit of art, and a treasure trove of hidden gems just waiting to be discovered.
48 – Check out Jacksonville's Cummer Museum of Art & Gardens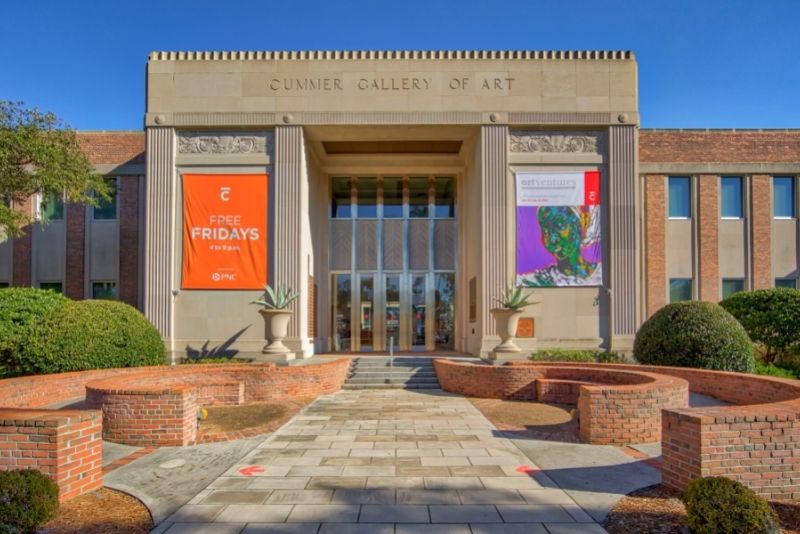 Boasting more than 6,000 different paintings, photos, and sculptures (a dramatic step up from the 60 from which it started a half-century ago), with a lush and tranquil garden to boot, the Cummer Museum is a justified first stop for many an art-hunting Jacksonville visitor.
Sitting along the St James River and encompassing 8,000 years of art history, spanning the globe from Ancient Greece to Ancient Egypt, North America, Europe, Africa, and Africa, the Museum provides hours of insightful and thought-provoking dawdling for curious minds.
Hot tip: since this is, after all, the largest fine arts museum in Northeast Florida, a guided tour comes highly recommended.
49 – Admire the dancing waters of the Friendship Fountain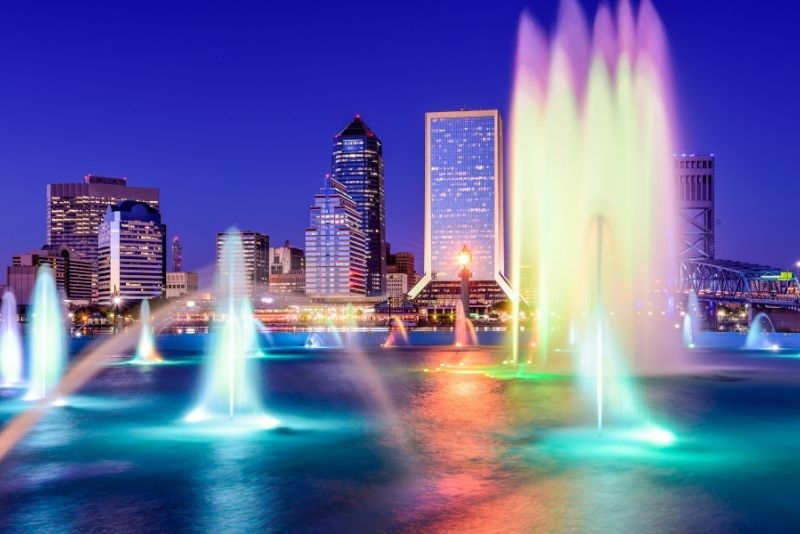 Synonymous with Jacksonville and welcoming locals for a reprieve and tourists for a photo op since 1965, the enchanting Friendship Fountain sits next to St. Johns River Park on the south bank of the river, a stone's throw from the main haunts of Southbank and Downtown.
Back when it was first built, it held the coveted title of the world's largest and tallest fountain, spraying thousands of gallons over 120 feet in the air! Throw in colorful LED projects, a host of nearby bars and restaurants, and ample picnic space and it's easy to see why it's become a city staple.
50 – See what's on at Jacksonville's Southbank Riverwalk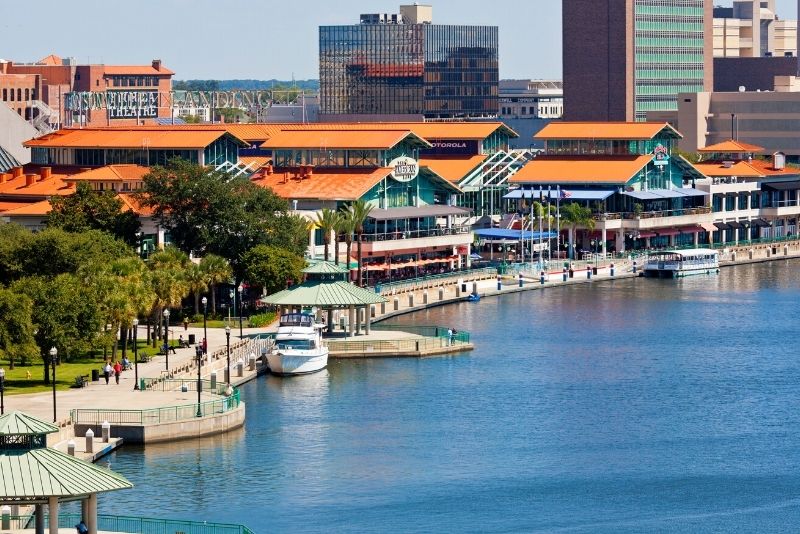 Always buzzing with locals and tourists alike, Southbank is Jacksonville's main waterfront district and home to a bevy of activities and attractions.
From the aforementioned Friendship Fountain to Riverside Arts Market on Saturdays (a must-visit for local produce, arts, handicrafts, and live music); and from eclectic bars and restaurants to kayaking or paddleboarding down the St Johns River itself, there's always something new to explore here.
Foodies, make a beeline for Ruth's Chris Steak House, and then wash it down with an ice-cold beer at the beloved River City Brewing Company.
51 – Wander along the Jacksonville Beach Pier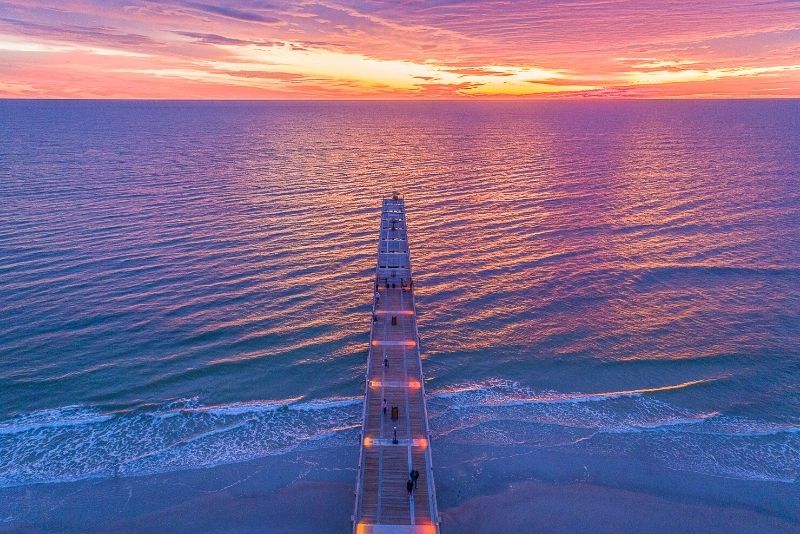 Providing stunning views of the horizon and stretching a quarter-mile into the Atlantic Ocean, Jacksonville Beach Pier is a popular spot for fishing (particularly for Redfish to Kingfish) or a simple and relaxing stroll.
Locals know to come here for tasty seafood at one of the restaurants or food trucks lining the pier, and despite being about a 25-minute drive from downtown, the sandy coastline is well worth the trip.
There are bucketloads more things to do in Jacksonville — just click the link to head more about what's on offer. Sports fans, get excited about the Jaguars games; socialites, gear up for the happening bar scene, and culture vultures make sure to add the Catty Shack Ranch to the to-do list and try to line up your visit with the Jacksonville Music or Jazz Festival!
Hunting for a Jacksonville hotel? Offering a convenient downtown location with sparkling waterfront views, room service, and an on-site pool, the Hyatt Regency Jacksonville Riverfront is popular for good reason.
ST. AUGUSTINE
Just a short drive south from Jacksonville, the charming and historic city of St Augustine is well worth a visit.
Founded by Spanish explorer Pedro Menendez de Aviles in 1565 (making it the oldest European settlement in the US), its well-preserved colonial architecture and cobblestone streets have earned it UNESCO World Heritage Site status.
Here, you'll find a host of historical attractions to suit all tastes and interests (including the Fort Matanzas National Monument, Castillo de San Marcos National Monument, and Flagler College Museum & Gardens) as well as ample spots to relax in nature or get acquainted with local culture.
52 – Check off the famous Castillo de San Marcos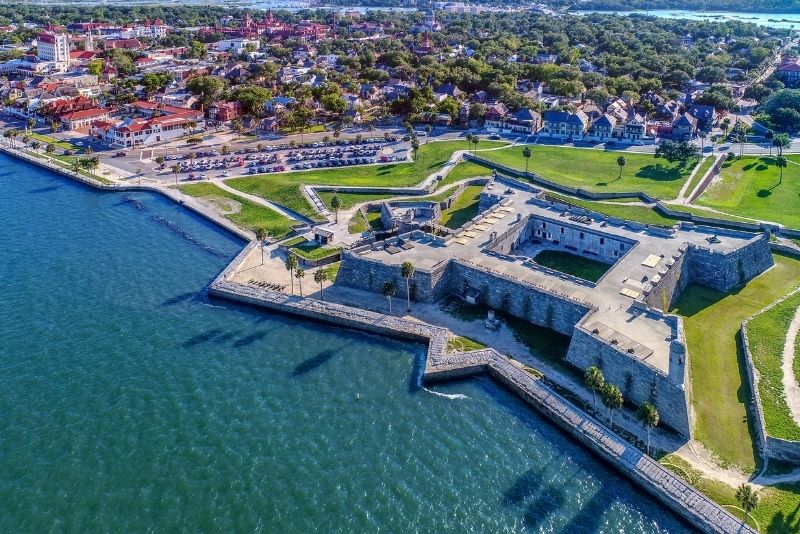 Florida's oldest masonry fort still standing, the Castillo de San Marcos in St. Augustine oozes American military significance and provides a jam-packed history lesson full of artifacts, photos, furnishings, and decades-old maps.
Nestled between a harbor and a river mouth, it's managed to bear several hurricanes and battles in its long tenure since 1695, but has miraculously survived to this day and is now open for visitors to explore at their leisure or take one of its guided tours detailing its history from Spanish Colonial times up until Hurricane Mathew struck back in 2016.
53 – Peer into the paranormal with a St Augustine ghost tour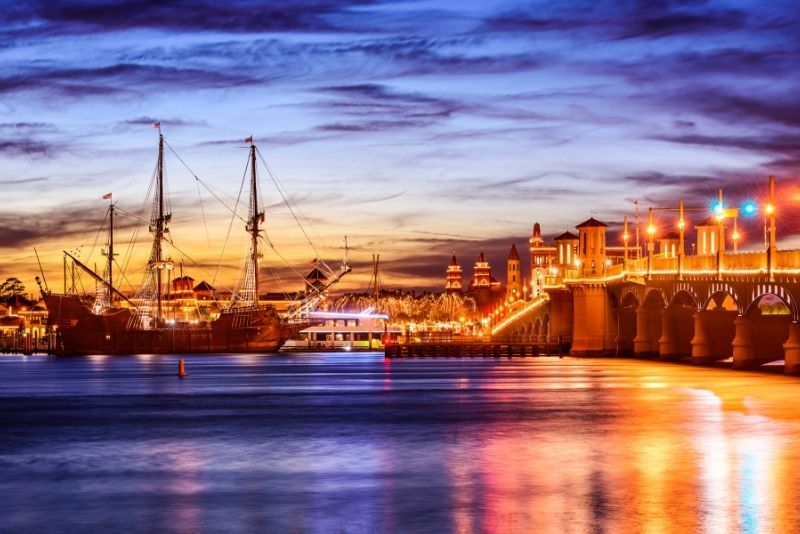 Designated for the fearless, these nightly ghost tours, where the guides share hair-raising tales from haunted locations that stretch back centuries, are sure to add a touch of spooky spice to any evening of St Augustine walkabout.
With tales from all over town — whether it's old graveyards, the Old Jail, the Spanish Military Hospital, or tucked-away alleyways known for their paranormal presence — there are plenty of spine-tingling stories to discover.
For a little bit of a scary mixed with a heavy dash of debauchery, consider signing up for a Haunted Pub Crawl!
54 – Pop into the Lighthouse & Maritime Museum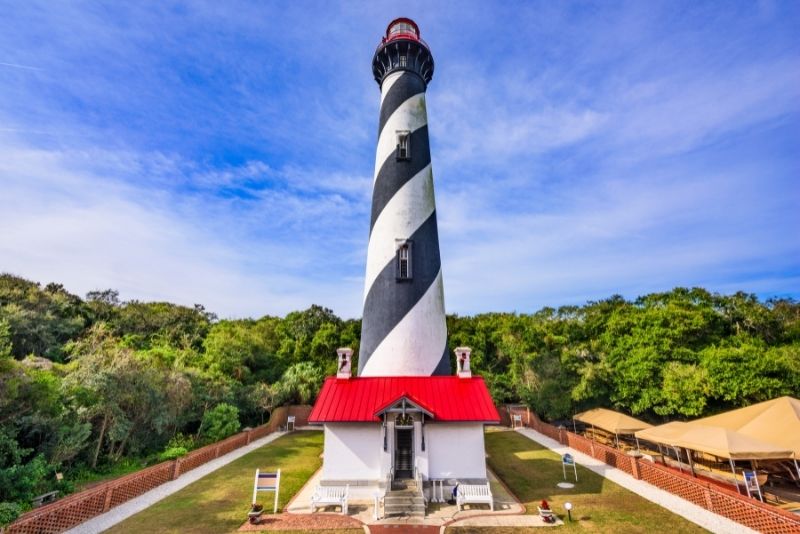 Aptly housing the St. Augustine Light Station, this lighthouse museum is a must for maritime fanatics and historians alike, telling the story of Florida's coastal communities and their connection with the sea from way back when.
In addition to being home to one of America's oldest working lighthouses (dating back to the late 1800s), there are also exhibits detailing shipwrecks, underwater archaeology, navigation, and fishing — making it an interesting stop for those enthralled by the seven seas.
With hands-on activities and nearby nature trails too, it's a popular stop for families.
55 – Meet crocs and gators at the Alligator Zoological Farm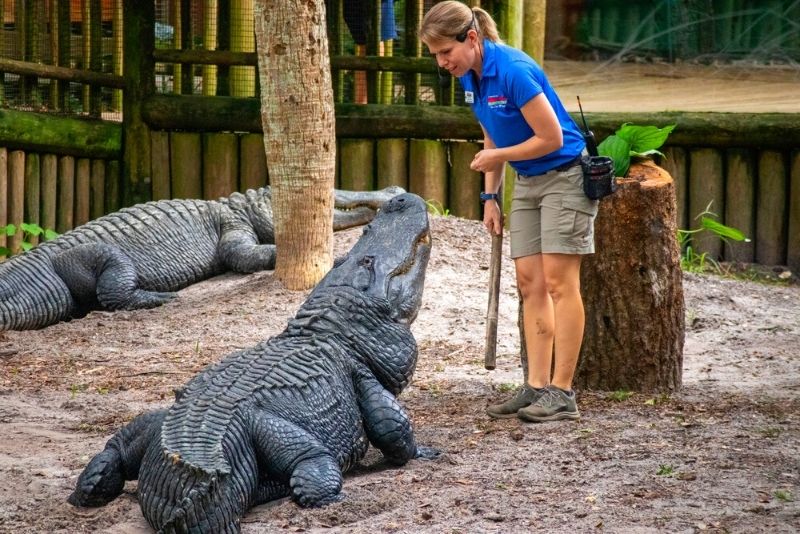 Home to dozens of alligators and crocodiles of no less than 24 different species (plus birds and a handful of mammals), this adventure-centric zoo farm is a must for reptile enthusiasts and those with a soft spot for our scaly friends.
Offering everything from educational talks and feeding demonstrations to hands-on encounters (for an additional fee) and photo ops, the farm provides visitors with a one-of-a-kind opportunity to get up close and personal with some of the world's largest (and most feared) reptiles.
What really sets the Alligator Zoological Farm apart, however, is its zipline course; allowing you to whiz over the snappy reptiles and gain an entirely new perspective!
56 – Check out an original Jolly Roger flag at the Pirate & Treasure Museum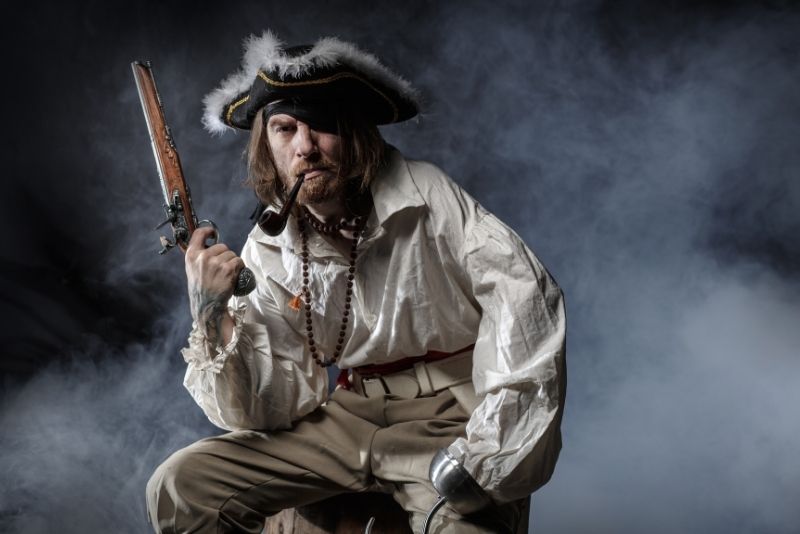 Quirky and unusual, this museum is the go-to place for those with a passion for all swashbuckling things!
With interactive exhibits showcasing everything from piratical artifacts and gifts to treasure maps, as well as a replica pirate ship deck and a cannon to fire, this underrated attraction has grown to now host the world's largest collection of authentic pirate goodies!
Add in some piratey dress-up opportunities and a section devoted to items from Hollywood pirate movies and you've got yourself one heck of a day!
If you want to spend more time in this historic seafront city — which, thanks to its long list of activities, you definitely should — make sure to check out our comprehensive list of things to do in St. Augustine.
Hotel hunting? Look no further than the Casa Monica Resort & Spa, a Moorish-style building that dates back to the late 1800s — and while it's bursting with history, its amenities (pool, spa, bar, and restaurants) are modern, luxurious, and seldom disappointed.
NAPLES
Considered the crown jewel of Southwest Florida, tucked in between the Gulf of Mexico and the edge of the Everglades, Naples has developed a reputation in recent years of extravagance: known for world-class shopping, fine dining, and some of the nation's premier golf courses.
Still, with myriad beaches, museums, water sports, and budget-friendly activities, there's a list of things to do in Naples for all kinds of visitors.
57 – Check out the alien-looking Cape Romano Dome Houses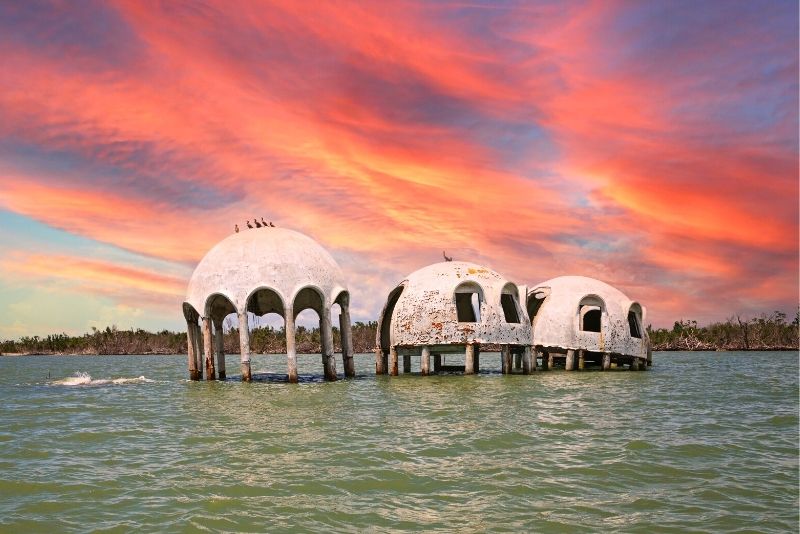 While technically part of the Ten Thousand Islands region, at the very top at Cape Romano, these bizarrely iconic domes (part of one house, in fact) deserve a mention of their own.
Sitting about 300 yards offshore, these igloo-shaped concrete structures were once attached to the roof of a luxury getaway home that changed hands multiple times as part of a peculiar story, but ultimately fell victim to erosion and rising tides, with the majority of the home now swimming with the fishies.
From a tourist perspective, they make for an interesting (and Instagrammable) day trip, with plenty of boat tour companies offering trips out to see them up close.
58 – Stop to smell the roses at the Naples Botanical Garden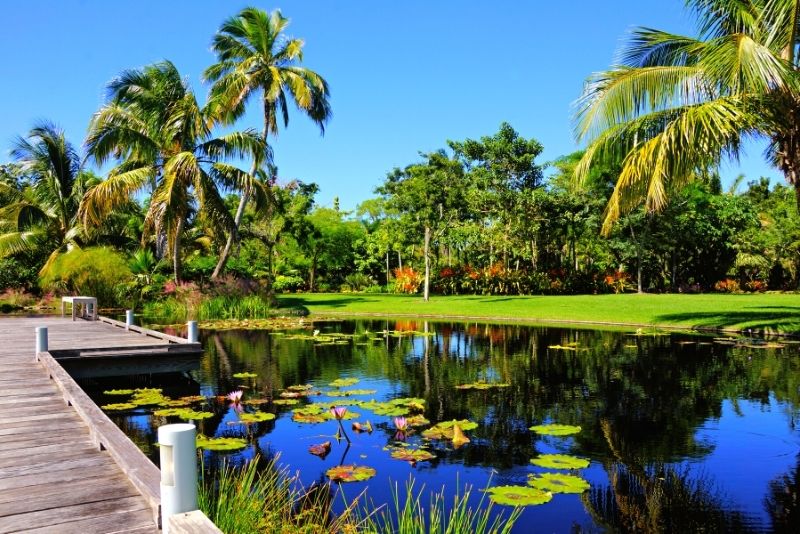 A hidden 170-acre oasis in the heart of Naples, this lush botanical garden is a beloved breath of fresh air, home to a vast array of plants from all around the world, as well as an interactive and magic children's garden and a butterfly exhibit bursting with color.
Perfect for those who love nature (or those with little ones in tow), there's plenty to do here, including daily guided tours and kid-friendly nature walks too. And, once you're all tuckered out, there's always time to grab a drink at the Fogg Café.
59 – Watch the famous Swamp Buggy Race in Naples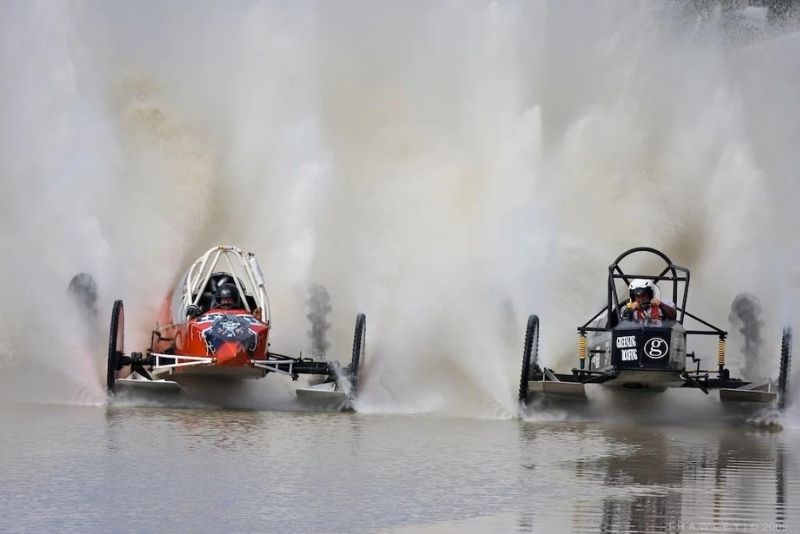 About as quintessential Florida as you can get, the Swamp Buggy Races — which has grown in stature since its humble beginnings after WWII — sees competitors take to the swamps in specially crafted swamp buggies as they speed around a 20-mile course.
It's not exactly for everyone, but if you're looking for something adventurous and slightly out of the ordinary then this is it! Expect to come across lots of families, a bunch of American flags, and regular music — all combined, creating a lively festival-style atmosphere.
60 – Stroll the boardwalk at the Corkscrew Swamp Sanctuary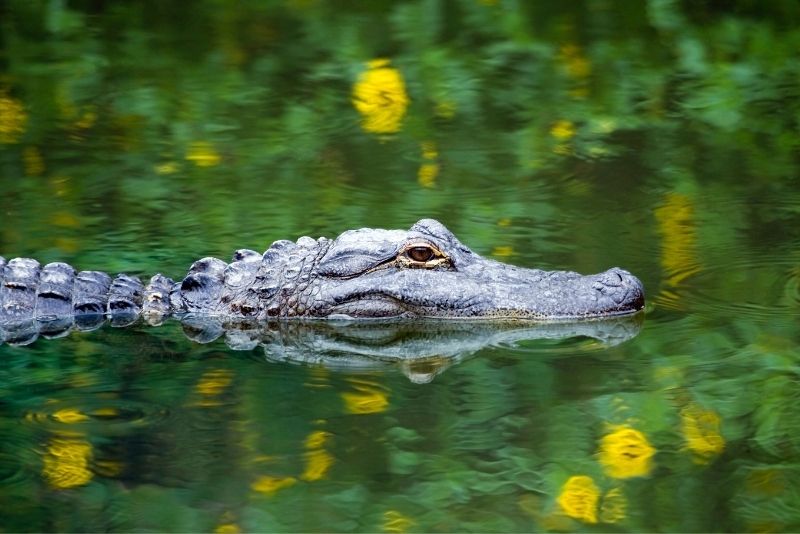 Located a short drive inland from Naples, the family-favorited sanctuary is home to all manner of wildlife, including American alligators, deer, turtles, playful otters, and a whole host of chirpy birds and waterfowl.
You'll find it hard to resist venturing along Corkscrew's two-plus-mile boardwalk system in search of some close encounters too — home to an array of native plants, including towering redwood trees which provide ample shade and nesting for the local animal residents, the twisting trail moves through flatwoods, marshland, prairies before finishing at North America's biggest old-growth Bald Cypress forest.
61 – Take a day trip to Marco Island…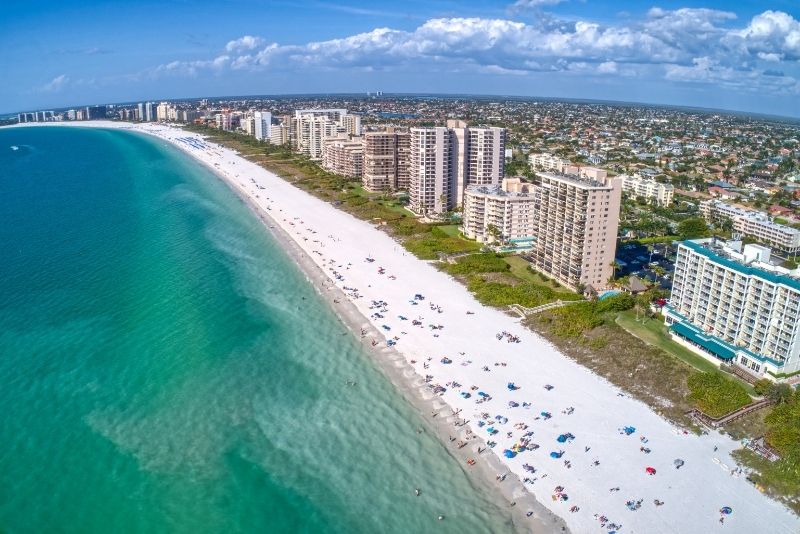 About 25 minutes south of Naples, straddling the glistening shores of the Gulf of Mexico, lies Marco Island — a luxurious and laid-back getaway that's all about beaches, boats, and bikes.
From working on the tan on Tigertail beach to parasailing above the blue waters, there's plenty to do in this pristine area (which is unsurprisingly a favorite spot of the rich and famous).
Be sure to pencil in a time to visit Keewaydin Island, a peaceful paradise without cars, bridges or roads, and pop into the Marco Island Historical Museum to learn more about the area.
Feel free to check out more things to do in Marco Island.
62 – … and another day trip to Ten Thousand Islands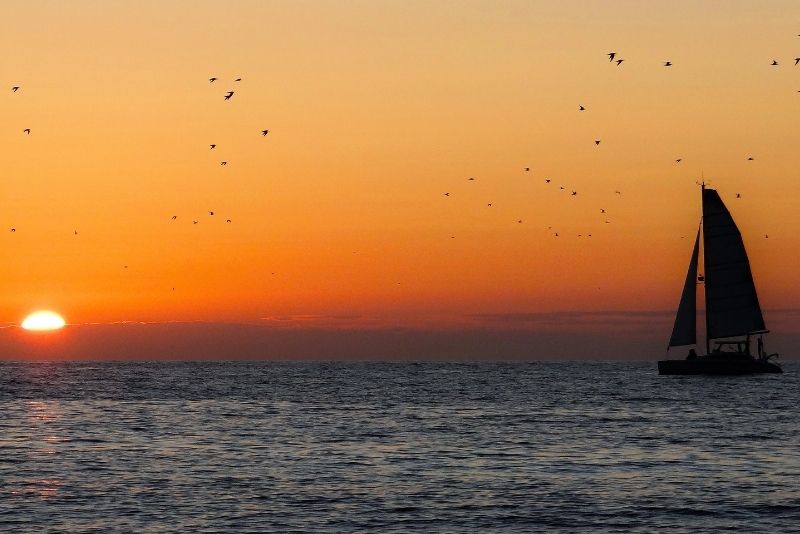 This sprawling, 35,000-acre collection of winding waterways is made up of a series of hundreds of islands (we know, the name's a little misleading) and wildlife-rich mangroves, stretching from the south of Marco Island to the mouth of Lostmans River.
Home to a vast array of plant and animal life (including over 200 different species of birds), the wildlife refuge is one for nature lovers and outdoor enthusiasts alike, with opportunities for fishing, kayaking, camping, and wildlife spotting aplenty.
If you don't feel like organizing, a variety of boat tours navigate the area's best highlights, with friendly local tour guides sharing plenty of tidbits about the area's ecosystem and history along the way.
The adventures in greater Naples don't have to end there. Click here to see more things to do in Naples; from segway tours to escape rooms and scenic seaplane flights, the list is endless.
Need some help choosing a Naples hotel? If luxury is what the heart desires, The Ritz-Carlton does not disappoint. Offering Gulf of Mexico-view rooms, as well as a private beach area and on-site spa, it's the perfect place to relax after a day of adventuring.
SARASOTA
Home to some of the state's premier beaches, Sarasota — which sits just south of Tampa on the Gulf Coast — is known for its unique personality.
Sure, its beaches are unrivaled, however, with a vibrant arts scene, plentiful rooftop bars, and pockets that embody a small-time seaside ambiance, the variety of things to do in Sarasota is as impressive as any coastal city — and for that reason, it's quickly climbing up the Florida tourist ranks.
63 – Spend a few hours at the John and Mable Ringling Museum of Art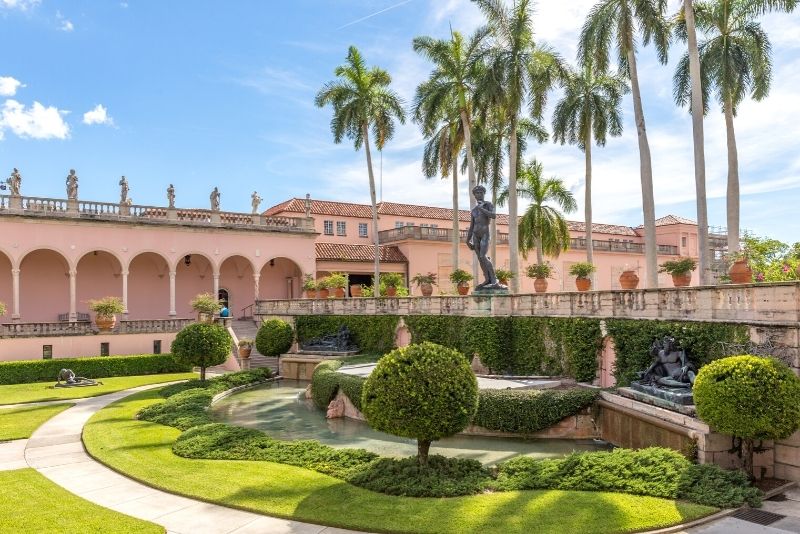 An essential stop for Sarasota art and architecture fiends, the Ringling Museum houses a vast collection of American and European art, with a particular focus on 16th–to-20th-century European paintings.
Beyond its walls, however, even the building itself is a work of art; with giant palm trees, lush gardens, calming fountains, spending archways, and a facade that dates back to 1927, you'll be tossing up whether to stay inside or out!
Either way, make sure to leave time for the Circus Museum. With displays on tightropes, performing props, costumes, parade wagons, and a whole lot more. As a former circus entrepreneur who made millions from the Big Top industry, it's only fitting.
64 – Spend some time on Sarasota's world-class beaches!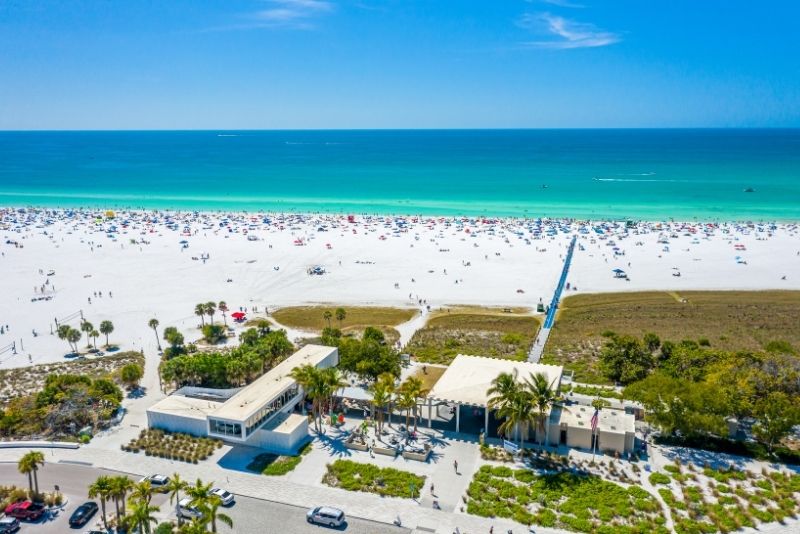 Sarasota is well known for its beaches, with Siesta Key being the most popular. And, thanks to its accolade as TripAdvisor's #1 Beach in the U.S, it's not hard to see why!
Known as one of Florida's best Gulf Coast Beach destinations, this white sand beach attracts sunbathers from all over to bask in its warm waters and stunning views throughout the year!
Not to be overlooked, however, is Lido Key Beach, a little further north. Far quieter than Siesta, Lido Key beach is a locals' favorite for its more relaxing setting. Still, with lifeguards on duty as well as a snack bar, swimming pool, and selection of walking trails, there's still plenty of activity on offer.
65 – Wander down memory lane at the Sarasota Classic Car Museum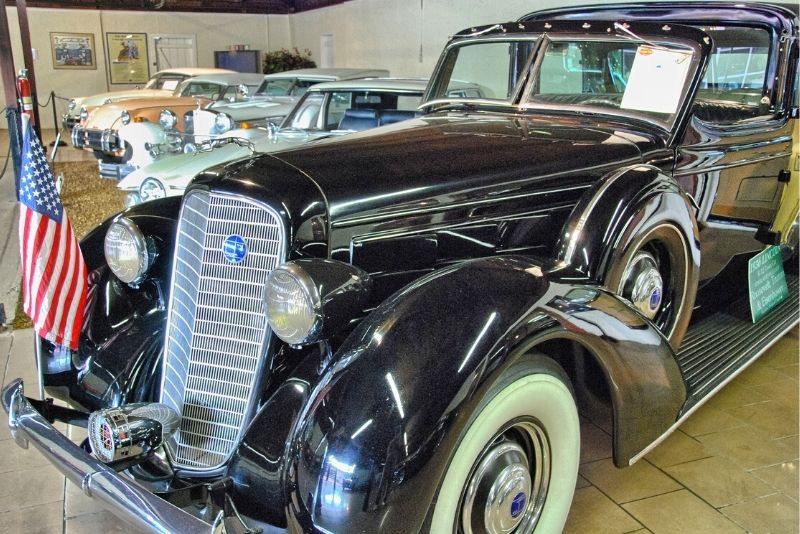 Petrolheads, listen up! If you're anywhere near Sarasota and have a love for all things automotive, then a visit to the Sarasota Classic Car Museum is undeniable one of the essential things to do in Florida.
Boasting one of the largest collections of classic cars on the West Coast, this museum is home to over 100 rare and vintage vehicles from some of the biggest names in motoring history, spanning over a century of innovation.
From Ford Model Ts to Cadillacs, and Rolls Royce units that date back to the early 1920s (as well as a modern supercar or two), it's a petrolhead paradise!
66 – Mingle with the jungle kings at Big Cat Habitat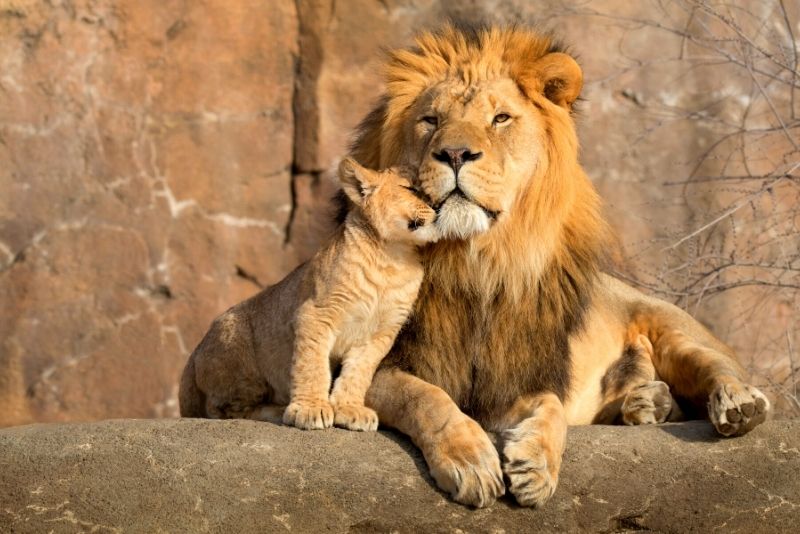 If you're looking to get up close and personal with the natural world, look no further than the Big Cat Habitat.
About 15 minutes drive inland from downtown Sarasota, this animal-oriented attraction is home to dozens of big cats (including lions, tigers, cougars, leopards, and bobcats) among its 150 exotic residents (zebra, camels, alligators, monkeys… shall we go on?).
Both the Big Cat show and bear exhibit are impressive even for adults, while the petting zoo tends to captivate the attention of the youngsters.
That's just one piece of the pie when it comes to Sarasota attractions and activities. For the full scope of what's on offer — bars, restaurants, theme parks and nature trials — click here to see more things to do in Sarasota.
Need a Sarasota hotel? Away from the giant crowds, yet still boasting incredible views, location and amenities, the Lido Beach Resort is one of the area's most underrated accommodation options.
FORT MYERS & CAPE CORAL
Not too far from Tampa on the western side of Florida, Fort Myers has long been a tourist magnet. Combining long stretches of white beaches with that infamous Gulf Coast sunset, and tourist bars serving ice-cold drinks right in the sand, this is a place that's hard to resist.
But there's more to Fort Myers than just the beach! From historic estates of former inventors and celebrities to sports stadiums, museums, and seafood-tastic restaurants lining the shore, there's a little something in store for everyone.
From waterparks and butterfly gardens to art festivals and museums holding millennia of history within their walls, Cape Coral is another vacation spot that caters to every interest… and of course, it has some great beaches as well!
Much like its neighbor, this charming town offers the perfect blend of action and relaxation; you'll quickly find yourself envying the locals!
67 – Catch some baseball action at JetBlue Park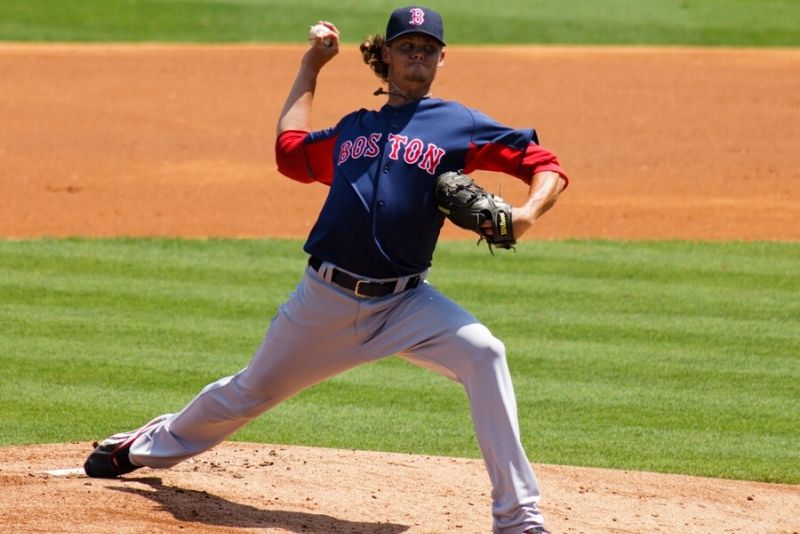 As the spring training ground for the Boston Red Sox, the JetBlue Park Fort Myers is a must for any baseball fan! Located on the outskirts of Fort Myers, the stadium is an identical replica of the original Fenway Park, complete with iconic Green Monster and all!
Live baseball games aside, the stadium also provides behind-the-scenes tours which explore the dugouts and locker rooms (available on match days too), and regularly hosts local festivals, circuses, and performances outside of the main roster.
68 – Take a stroll through Lovers Key State Park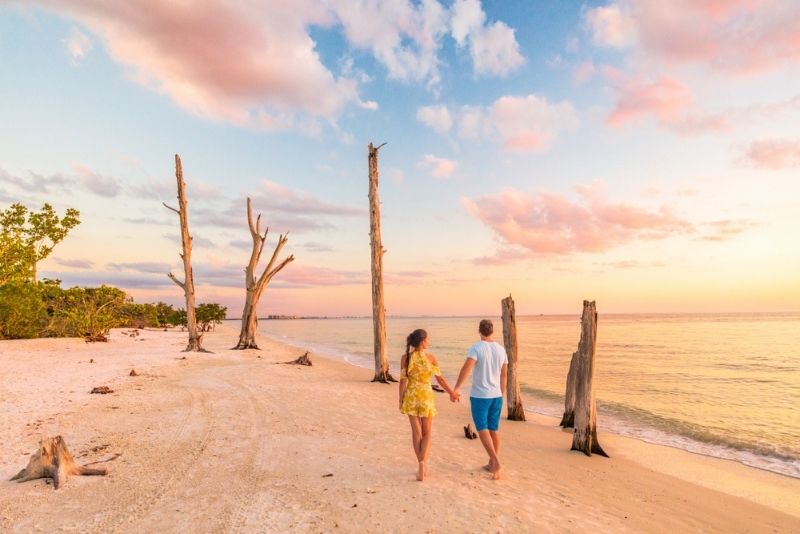 If you're looking for a nature getaway, there's no better place than Lovers Key State Park. Spanning four different barrier islands just below Fort Myers Beach, this park offers visitors kayaking and canoeing in its sheltered waterways, over 5 miles of trails for hiking and biking (check out the Black Island Trail), fishing from its docks or piers, bird watching and manatee-spotting galore, and more than 2.5 miles of beautiful beachfront to work on the tan.
Seldom crowded, this unspoiled 712-acre slice of nature is relaxing, romantic and well worth the cheap entry fee (between $2 and $8 per vehicle).
69 – Indulge your curiosity at the IMAG History & Science Center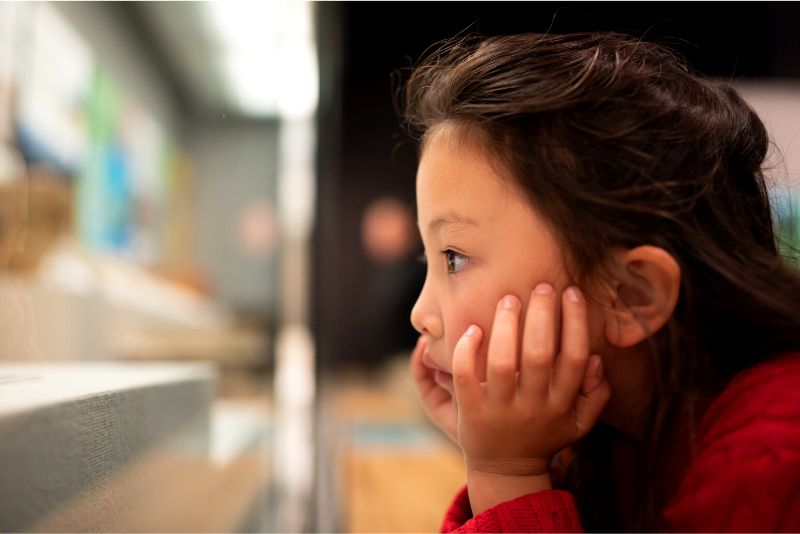 Experience Florida as it looked thousands of years ago.
Explore the nuances of the weather as it shifts and forms patterns around you. Admire some of the coolest specimens of the ocean… and even touch a few!
At IMAG History & Science Center, the possibilities are endless! This massive complex is a multisensory tribute to the wonders of the world around us, with tons of interactive exhibits to help visitors better engage with the concepts.
And be sure to check out the regional history exhibits as well; stretching back to the days of the earliest Indigenous tribes, the stories contained here will help you better understand the deep past of the area.
70 – Chill out on Sanibel and Captiva Islands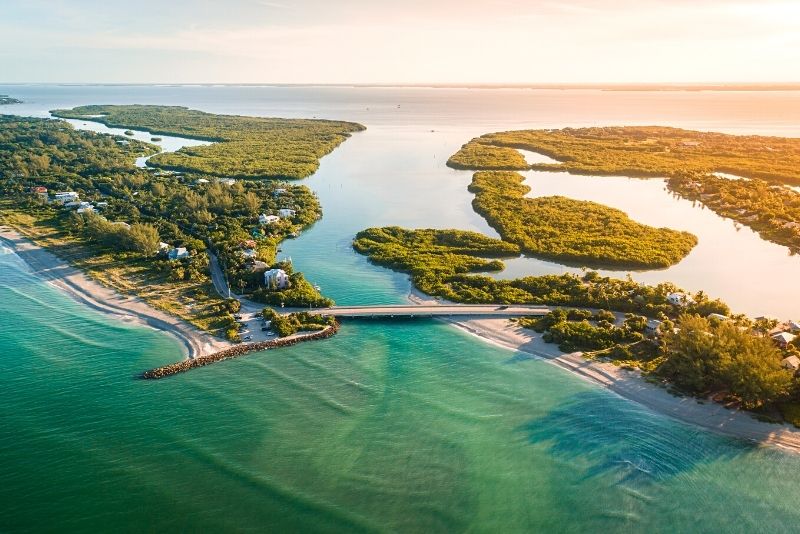 Want a condensed version of a tropical getaway? Take a little time to hang out in the Sanibel and Captiva Islands!
This lovely region is just half an hour from the cities, but with its many amenities, pristine beaches, and relaxed vibes, you'll feel like you're in a whole different world!
Of course, you could easily spend a whole trip happily living life as a beach bum; whether you prefer fishing, seashell hunting, or faster-paced pursuits like windsurfing and parasailing, the water is always ready to welcome you.
But with tons of great shops and restaurants, plus a small but mighty art scene, there's plenty to do inland as well.
So slow down and set your watches to island time!
But that's not all – not even close. Follow this link to check out more of the things to do in Fort Myers. From twilight sailing trips to party boats, breweries and historical museums, there's something for everyone.
And practically next door, you'll find even more exciting things to do in Cape Coral!
In search of a Fort Myers hotel? Sitting right on the water and boating top-tier amenities like a jacuzzi, sauna and massage center, the Marriott Sanibel Harbour Resort & Spa is an excellent choice.
FORT LAUDERDALE
Dubbed America's Venice for its endless waterways which intersect their way through the city, Fort Lauderdale is a tropical paradise of white-sand beaches and palm trees, vibrant nightlife and gastronomic delights.
Roughly halfway between Miami and Boca Raton on the Atlantic Coast, this city by the sea is a major tourist destination for Floridians and international visitors alike — with multi-million-dollar beachfront homes, luxury yachts and world-renowned art galleries, Fort Lauderdale has lots to offer.
71 – Explore the Bonnet House Museum & Gardens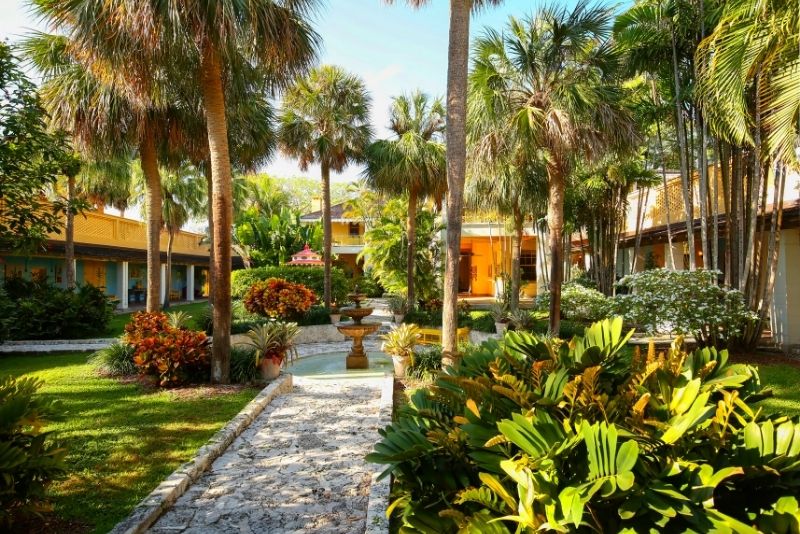 With the perfect mixture of aesthetic beauty and historical intrigue, Bonnet House has been a beloved part of life in Fort Lauderdale since 1920.
This beautiful residence got its start as the beach estate of the renowned artist Frederic Clay Bartlett, and when you roam through the halls, you'll get a great perspective on art and culture in the 20th century, as well as some great architectural details.
Be sure to leave plenty of time to explore the grounds as well; along with the beautiful gardens bursting with blooms, the property itself is a unique showcase of the local ecosystem, from wetlands and sand dunes to beaches and nesting sites for migratory birds.
72 – Explore the natural jungle at the Flamingo Gardens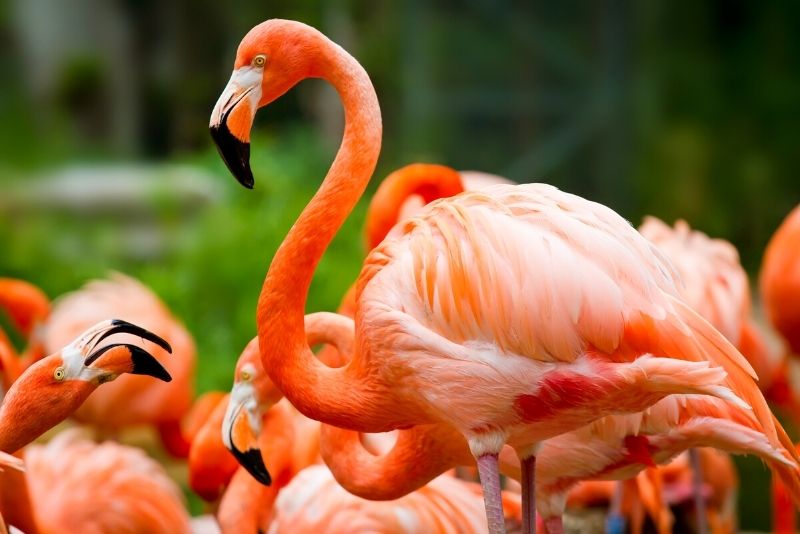 Located on the inland outskirts of Fort Lauderdale, Flamingo Gardens has been a popular attraction since 1927, providing a wondrous insight into the Everglades ecosystem with wildlife, fauna and educational talks to boot (don't miss the 30-minute narrated tram ride).
As well as its extensive collection of 3,000+ plant species spread across 60 acres of beautiful natural habitat, you'll also find one of the largest collection of birds and animals in America inside the Everglades aviary houses — besides flamingoes, keep your eyes peeled for American black bears, bobcats, Florida panthers, turtles, swans, and all kinds of birds.
73 – Join a Jungle Queen river cruise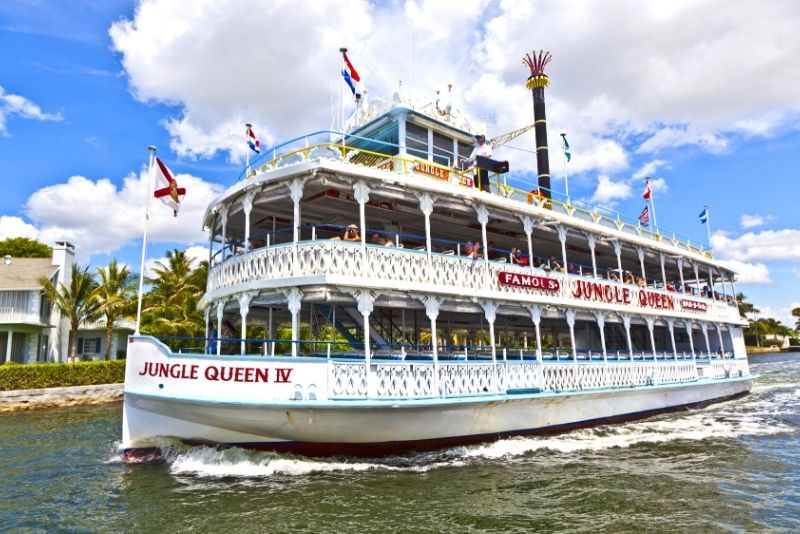 If you're looking for a more unique Fort Lauderdale experience, look no further than the Jungle Queen.
This old-school sightseeing cruise takes passengers down the beautiful Miami River and through the Everglades swamps — and has been doing so since 1935! — providing commentary from departure to docking on all the fascinating points of interest.
You'll see everything from the lavish homes and giant yachts at Millionaire's Row to tropical isles full of exotic birds, monkeys and alligators; the oldest house in Fort Lauderdale (the Stranahan House), as well as glorious views of the water and the skyline the whole way through.
Want to see more? Check out our full selection of things to do in Fort Lauderdale and discover an array of fun options. There's bike tours, surfing lessons, sunset sailing cruises (champagne included, of course), the Antique Car Museum, and a whole lot more!
DAYTONA BEACH
About an hour from Orlando and an hour and a half south of Jacksonville, Daytona Beach is sandwiched between 23 miles of Atlantic coastline and endless aces of green forest and marshes, making it a destination for nature lovers and thrill-seekers alike, as well as being a mecca for motorsport,
If all that sounds a little too fast-paced for you, don't fret: there's no shortage of beachfront bars, soft sands, and rolling waves to keep you entertained.
74 – Walk down the Daytona Boardwalk & Pier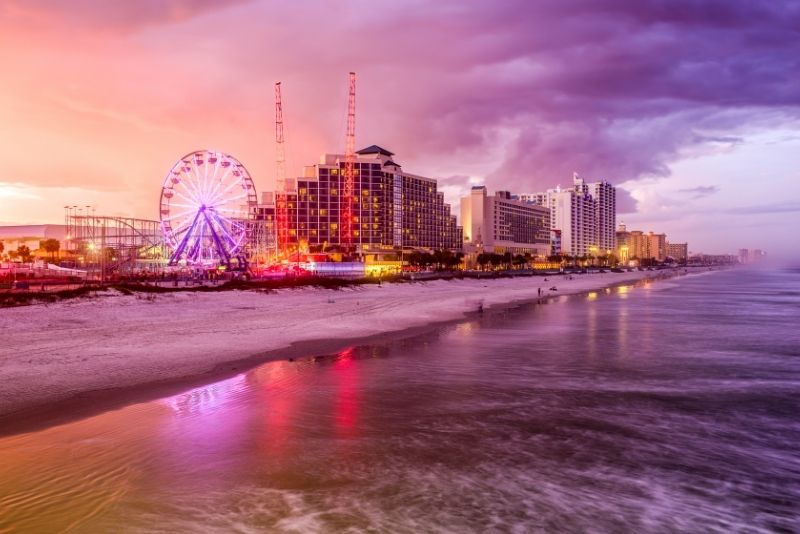 If you're looking for a more traditional seaside amusement park experience, Daytona Boardwalk & Pier is the place to go.
With its classic wooden pier, roller coasters, Ferris wheel and old-timey shops, it's like stepping back in time to when arcades were king and the only thing that mattered was having fun.
The boardwalk itself is just as great, taking visitors on a stroll past everything from restaurants and bars to souvenir shops, the Daytona Beach Bandshell, and children's play areas. While most travelers don't mind a solo stroll, walking tours which provide a more local perspective of the area are also well worth consideration.
75 – Spend a sunny day at Daytona Lagoon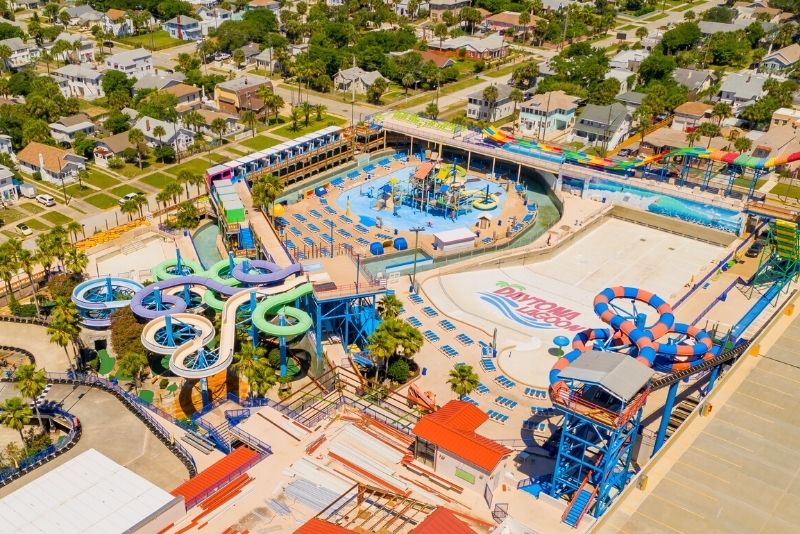 Not only is this family-friendly amusement park a hub for thrills and adventure, with a go-kart track and over a dozen thrill rides (Kraken's Revenge is a crowd favorite) but thanks to its variety of water activities, it also provides the perfect spot to cool down on a hot day.
There's everything from lazy rivers and swimming pools, to water slides and splash pads, as well as a challenging SkyMaze Ropes Course, laser tag arena, and arcade.
76 – Hear the engines roar at the Daytona International Speedway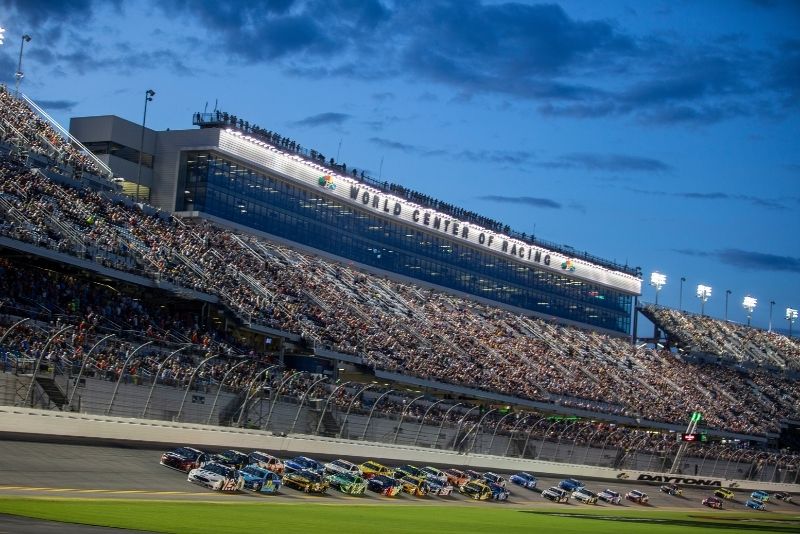 Home to the "Super Bowl of Stock Car Racing" – the NASCAR Daytona 500 – as well as a range of other motorsports events, the Daytona International Speedway is one of Florida's most iconic motorsport destinations.
There's a range of ways to get up close and personal with the action at this world-famous racetrack: sign up for the Richard Petty Driving Experience and get behind the wheel yourself (or ride shotgun), browse the Motorsports Hall of Fame of America Museum, take a behind-the-scenes racetrack tour, or, of course, secure a seat for what's become the most prestigious race on the NASCAR calendar.
For an extra special treat, make sure you time your visit to coincide with one of the many major events that take place throughout the year, like March's Bike Week or February's Speedweeks.
As far as things to do in Daytona Beach is concerned, that's only the start of it! You can climb to the top of Florida's tallest lighthouse, explore picturesque state parks, pop into the Cici & Hyatt Brown Museum of Art, or kick back on the 20 miles of unspoiled scenic beaches.
Hunting for a Daytona Beach hotel? With stellar views, A-grade amenities, and a convenient location right on the Atlantic, look no further than the Hilton Daytona Beach Oceanfront Resort.
PANAMA CITY BEACH
A tourist beacon on Florida's Emerald Coast, Panama City Beach is one of the Sunshine State's most popular beach towns. With sugar-white sand, emerald green waters, and a seemingly endless variety of things to do, it's not hard to see why.
Whether you're looking for a laidback seaside vacation or an action-packed adventure getaway, PCB has just what the doctor ordered.
77 – Unwind at St. Andrews State Park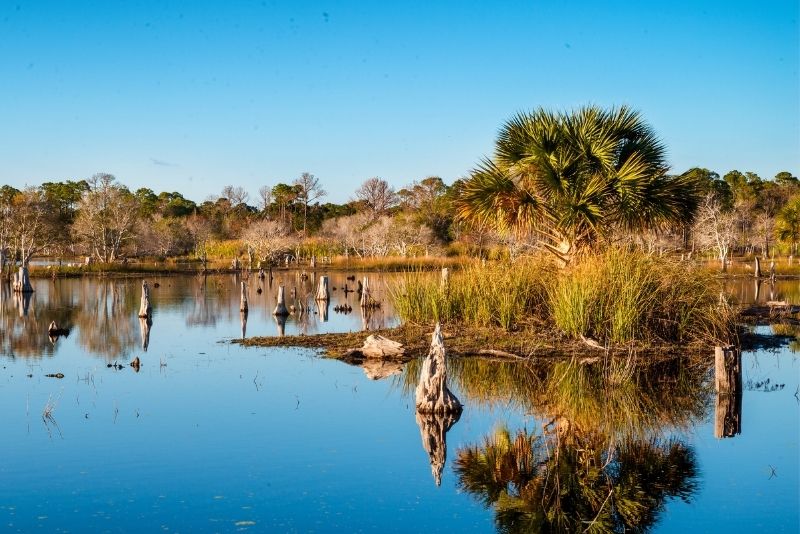 Just north of Panama City Beach is the crescent-shaped St. Andrews State Park, a stretch of land which offers everything from winding natural trails to peaceful lakeside retreats in Florida's interior.
Thanks to its unique location — bordered by the waves of the Gulf of Mexico on one side and the calm lagoon of St. Andrews Bay on the other — the Park provides very different experiences depending on which area you find yourself in.
Take your pick between swimming, snorkeling or surfing in the waters, or stay dry with a hike or day or two camping — either way, a visit is quintessential PCB.
78 – Play with dolphins at Gulf World Marine Park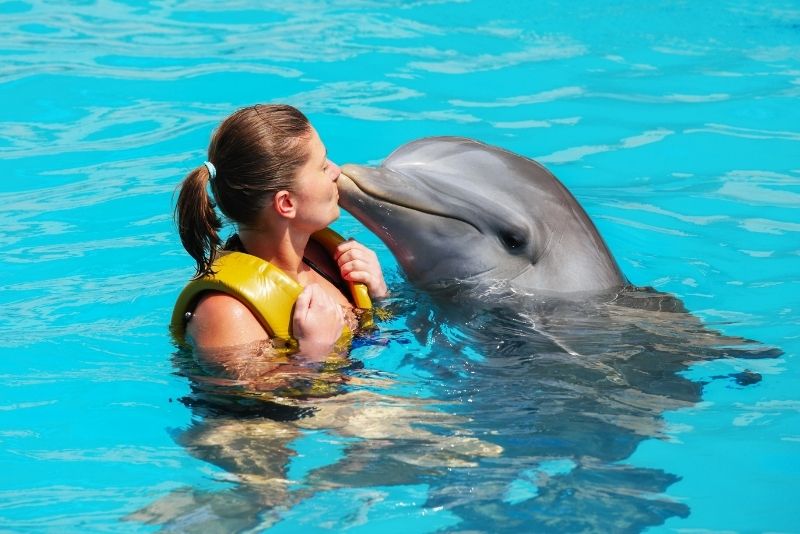 Offering a rare chance to meet and greet Mother Nature's most playful ocean creatures, Gulf World Marine Park is one of PCB's most unique attractions.
Packed with interactive exhibits, educational shows, and hands-on activities, from swimming with dolphins to shark feedings, it gives visitors a chance to get close up and personal with the local wildlife in an environment which has been carefully designed for maximum safety for both humans and animals alike.
79 – Shop till you drop at Pier Park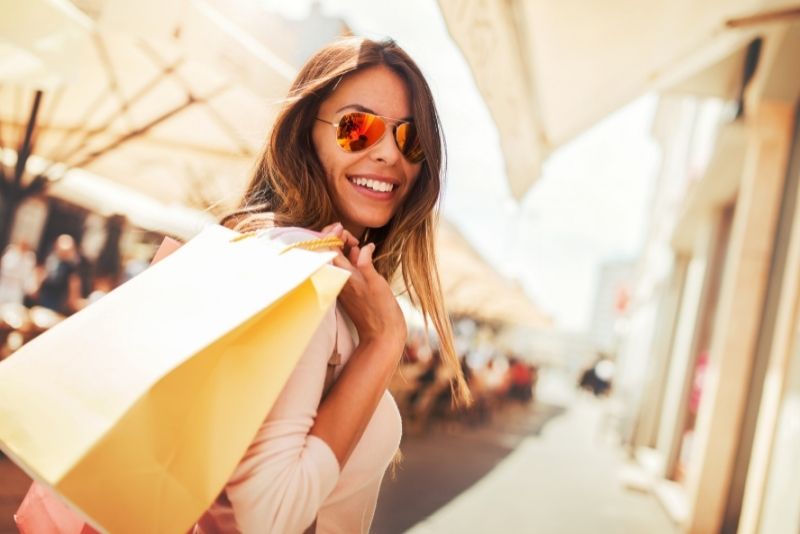 Craving some retail therapy? Pier Park is the place to go.
With over 100 different shops, boutiques and restaurants (not to mention The Grand Theatre, an ideal spot for a couple hours of air-conditioned cinematic reprieve), you're sure to find something (or, more likely, a lot of somethings) to tempt your wallet.
From major brands like Old Navy and Forever 21 to local favorites like Ron Jon Surf Shop and the Marble Slab Creamers, there's pretty much everything you could want, plus a few things you never even knew you needed.
80 – Walk the plank on the Sea Dragon Pirate Cruise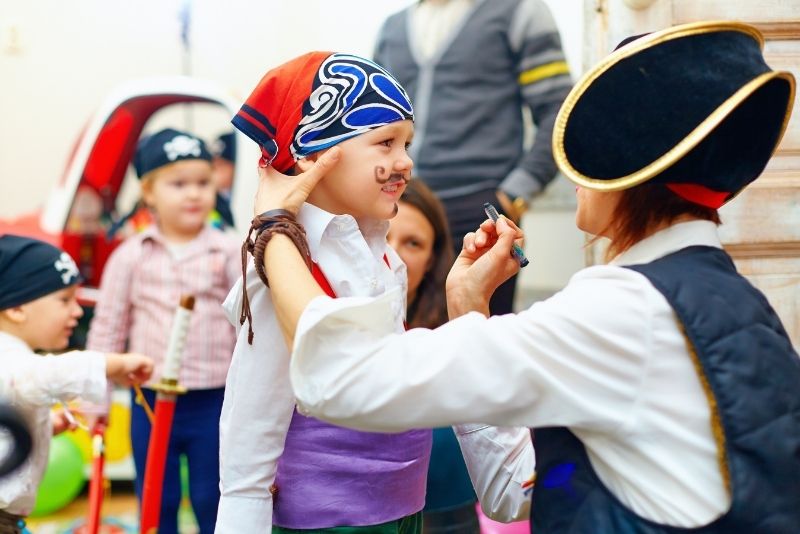 Ahoy, matey! If you're looking for a swashbuckling good time sure to keep the kids entertained look no further than the Sea Dragon Pirate Cruise.
A family-friendly adventure that takes in the sights of Panama City Beach from the water, the themed cruises feature everything from treasure hunts to face painting, pirate singalongs, and water gun fights.
But it's not all about the kids; with dolphin sightings, onboard meals, and a solid selection of beer, wine, margaritas, and rum punch, parents are in for a great time too.
Click here to see more things to do in Panama City Beach. And, if you're looking for a lavish hotel with all of the vacation staples you could ask for, check out the Edgewater Beach & Golf Resort.
PENSACOLA
With a rich cultural history, sugar-white sand beaches, and beautiful nature, Pensacola is one of the best places to visit in Florida.
Whether you're yearning to discover the most popular attractions by day or hit up the pulsating nightlife, Pensacola truly has something for everyone.
81 – Admire stunning airplanes at National Naval Aviation Museum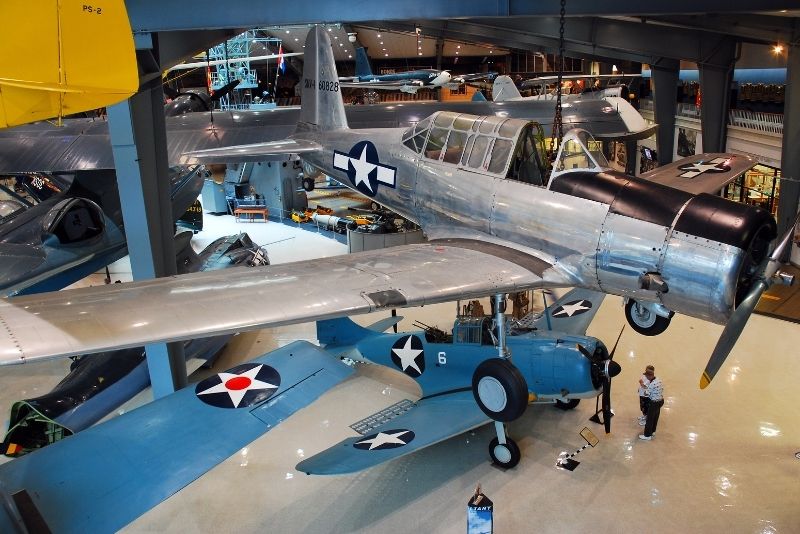 Pensacola is home to several great museums, arguably none more impressive than the National Naval Aviation Museum
The museum showcases over 150 crafts including the first plane to cross the Atlantic, the Curtiss NC4. Visitors will find modern fighter jets too and fun flight simulators.
Check out our complete list of things to do in Pensacola to explore and know more about this fantastic Florida destination.
ST. PETERSBURG
While this lovely little city doesn't always get as much attention as its neighbors, it offers more than enough amenities to be a vacation in its own right!
Tucked along the sunny Gulf coast, St. Petersburg has long been a famous outdoor destination, from its pristine golf links to its many gorgeous stretches of sand.
But it also offers plenty of unique artistic amenities, including one of the biggest Salvador Dali museums in the world!
For a vacation that indulges every sense, this place can't be beat.
82 – Root, root, root for the home team at Tropicana Field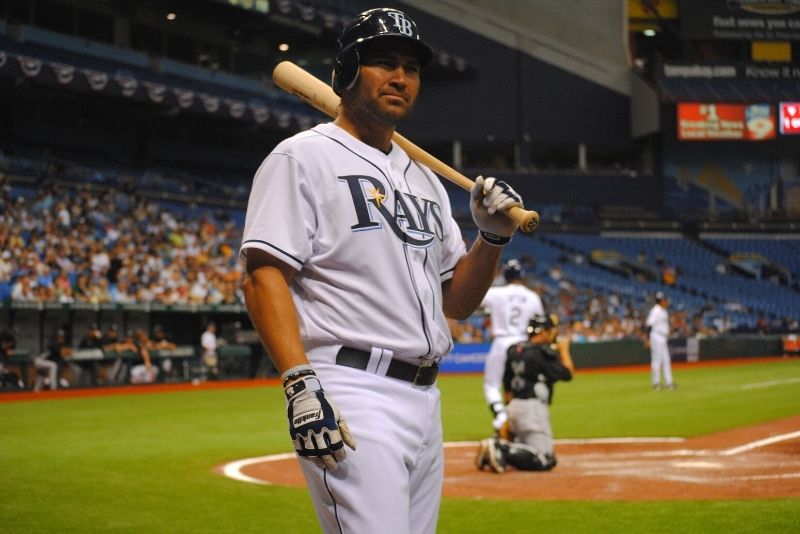 Baseball fans will find plenty to cheer about at Tropicana Field, the playground of the Tampa Bay Rays for the past 25 years.
With a seating capacity of 42,735, you'll have little trouble scoring a seat on game day, so long as you plan ahead; and it's well worth it to watch some genuine MLB action in the warm Florida sun.
But the venue also serves plenty of other functions, hosting everything from WWE wrestling matches to jaw-dropping concerts.
And be sure to save time for a stop at the massive touch tank outside, which features tons of, you guessed it, stingrays!
Comfortably straddling the line between upscale and laidback, this city provides amenities for visitors of every stripe, all with spectacular scenery to enjoy.
Contemporary art galleries and gorgeous waterfronts mingle comfortably with state-of-the-art museums, fantastic nightlife, and abundant animal-watching opportunities.
Check out the full list of things to do in St. Petersburg.
DESTIN
Highly underrated but offering no shortage of seaside activities, Destin — which you'll find halfway between Pensacola and Panama City Beach on the panhandle — is full of pleasant surprises.
The warm Gulf waters dish up adventure activities in spades, while the seaside dining and lively bars provide the perfect starting point for a memorable holiday.
83 – Book a spot on a sunset tiki boat cruise!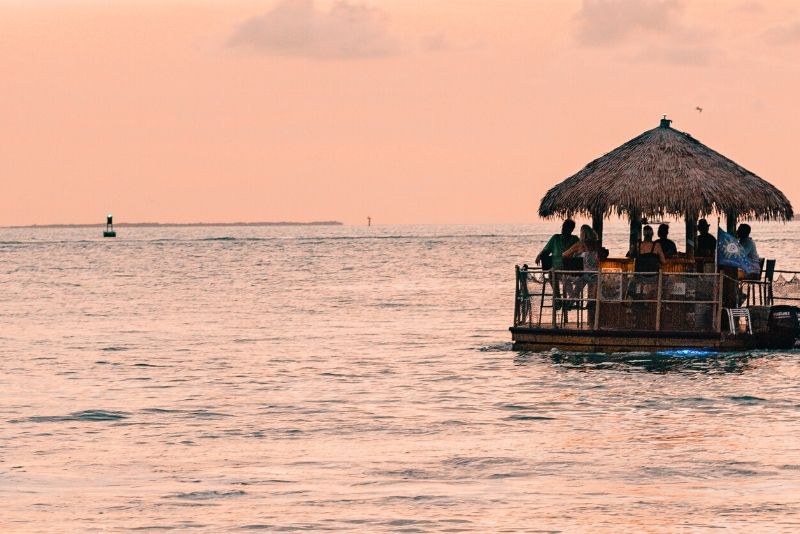 Infamous for its glorious sunsets, Destin is the place to be if you're looking for a beach vacation that will leave a long-lasting memory.
And with sunset tiki boat cruises, where the music pumps and the drinks flow as you cruise through the Destin Harbor, it's possible to make those sunsets even more memorable!
Of course, if you prefer a more traditional sunset cruise on something that isn't a quirky straw hut (but seriously, don't knock it till you try it), there's plenty of those too.
84 – See what's on at Destin's HarborWalk Village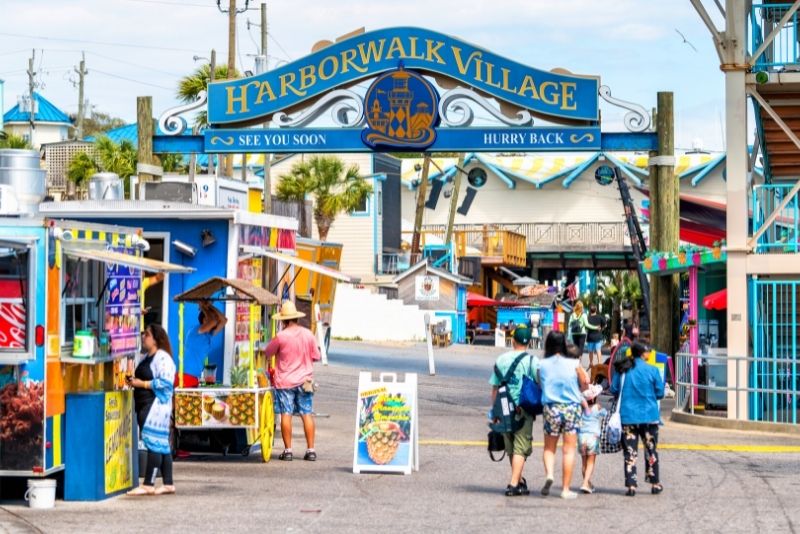 The city's main tourist area, located in the heart of Destin on the waterfront, this lively complex is home to a plethora of restaurants, bars, rides, and shops — as well as an amphitheater that regularly plays host to live music performances and special events.
And if that's not enough, there's also a zip line, mirror maze (at America's Fun Spots), large bungee trampolines, an axe-throwing house, and (for the little ones) a Cubby Caboose that steams through the Village.
85 – Camp for a night at Henderson Beach State Park Destin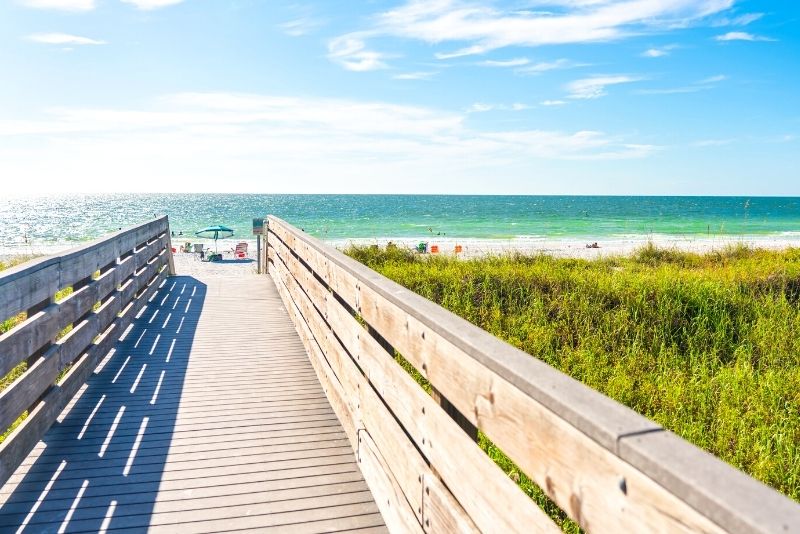 One of the most popular state parks in Florida, Henderson Beach offers stunning white-sand beaches and crystal-clear waters.
And it's not just the scenery that's captivating: dolphins can often be seen playing in the waves, while loggerhead and green sea turtles often pop y to say hello.
The park has several walking trails, including a nice boardwalk that leads to the sand, as well as 60 campsites perfect for a night under the stars.
86 – Drift around corners at The Track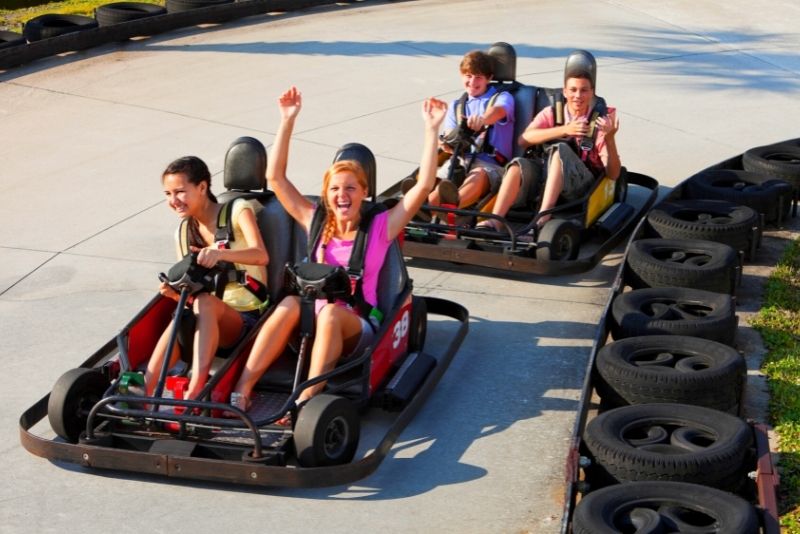 Got a need for speed? Far from your typical go-karting experience, The Track sends adrenaline junkies drifting around a three-story course (dubbed the Wild Woody), up and down hills in either one of two-seater karts.
Once you've burned some rubber, take your pick from the pair of Mini Golf Courses, blaster boats, bumper cars, or arcade — or if you're seriously craving a thrill, jump on the superhero-esque SkyFlyer, where you'll soar through the air (with 2 of your buddies) 75 feet above the ground!
87 – Race down slides at Big Kahuna's Water & Adventure Park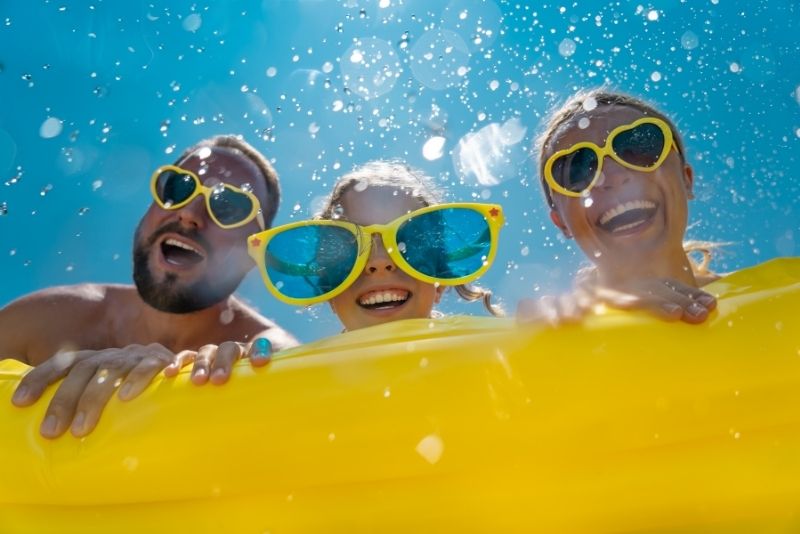 Home to over 40 rides and attractions suitable for every level of thrill-seeker or sun-soaker, a trip to Big Kahuna's is one of the best things to do in Florida on those hot summer days.
Rides include everything from lazy rivers and wave pools to family raft rides and aqua racers — with several dry activities (mini-golf for the young ones, and the 160-foot-high Cyclone for the adrenaline junkies), eateries, and cabanas to top it off.
Want to discover more things to do in Destin? Then check out our comprehensive article, exploring the best beaches, magic shows, escape rooms, restaurants, nightclubs, and a whole lot more.
Need a tip for a Destin hotel? Sitting on the waterfront, The Henderson Beach Resort & Spa is all about relaxation, pampering, and luxury, coming in at more affordable prices than you might expect (if you book online in advance).
PALM BEACH
Sitting about 70 miles north of Miami on the southeastern coast, Palm Beach is all about glitz and glam and sun-kissed shorelines.
While there are ample luxury resorts, exquisite mansions, and historic landmarks, there's also a bounty of budget-friendly activities too — whether that's a day lazing on the public beach or a few happy-hour fishbowls, this Atlantic getaway can serve up a notable vacation for all sorts of travelers.
88 – Learn about the "frogmen" at the National Navy UDT-SEAL Museum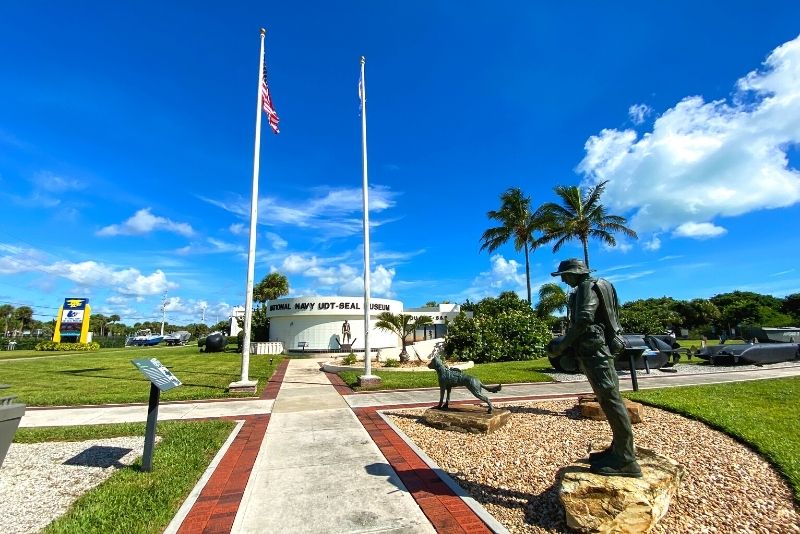 If you're looking for a break from the sun and sand, Palm Beach is also home to the National Navy UDT-SEAL Museum, telling the story of America's elite naval warfare force and those who came before them.
From interactive exhibits that take you through key moments in SEAL history to the actual lifeboat that rescued "Captain Phillips" after his pirate capture, the museum is educational and eye-opening, giving visitors a rare look into what it takes to be one of America's most elite warriors.
89 – Spend some time in Okeeheelee Park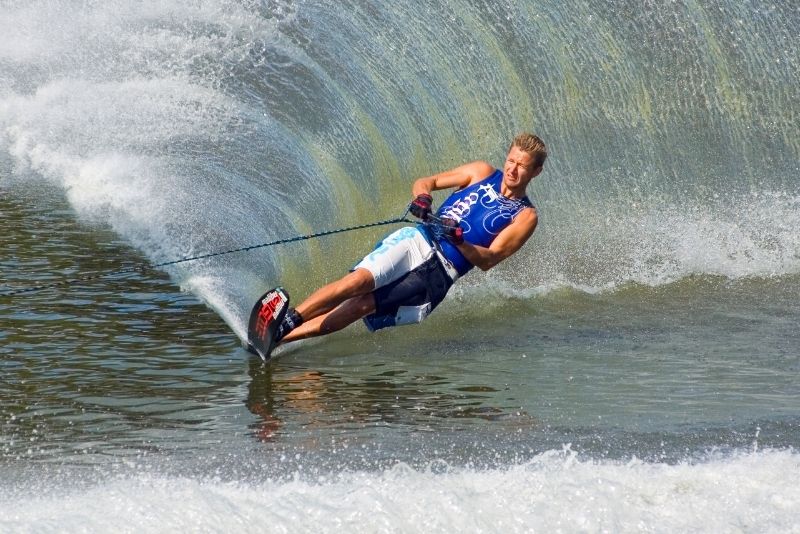 A little inland from West Palm Beach, covering over 1,700 acres of grassy swampland and forest, Okeeheelee Park is a nature lover's paradise and one of the largest parks in South Florida.
As you'd expect from an enormous plot of land, the list of activities is exhaustive.
With more than 2 miles of hiking and biking trails, fishing piers, picnic areas, a Nature Center, BMX biking area, two lakes for water skiing, and even a 27-hole golf course (rated one of the best in Palm Beach County).
There's something for everyone at this expansive park — making it one of the most popular things to do in Florida (particularly with kids).
90 – Meet owls at McCarthy's Wildlife Sanctuary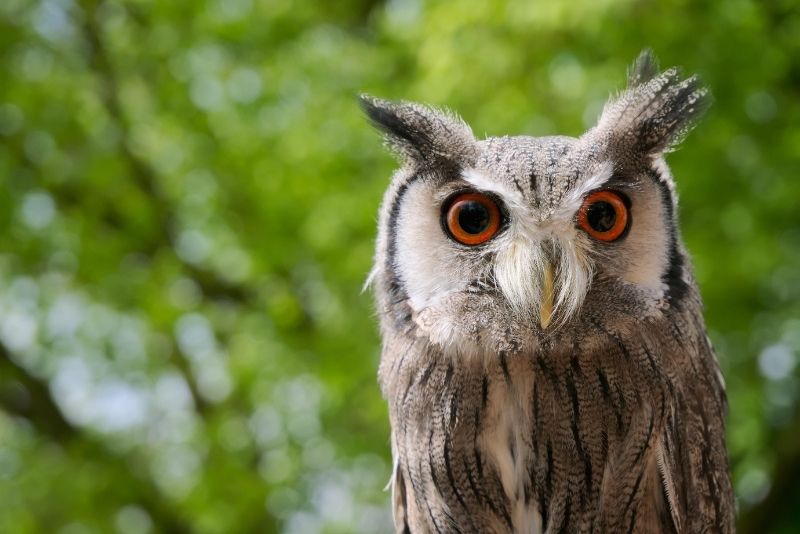 A rescue and rehabilitation sanctuary home to over 170 animals including primates, big cats, bears, owls, and reptiles, all of which can be viewed in their fascinating staff-led tours, McCarthy's Wildlife Sanctuary is an amazing place to visit and explore.
Depending on how the animals are feeling on any given day, there are options to meet and touch tortoises, parrots, alligators, and snakes, and for those brave enough, even a tarantula.
McCarthy's is rated as the top attraction in West Palm Beach, and thanks to its non-profit status and track record of caring for 4,000+ injured native animals over the past two decades, you can rest assured that your ticket fees are going to an important cause.
91 – Hit up the South Florida Fair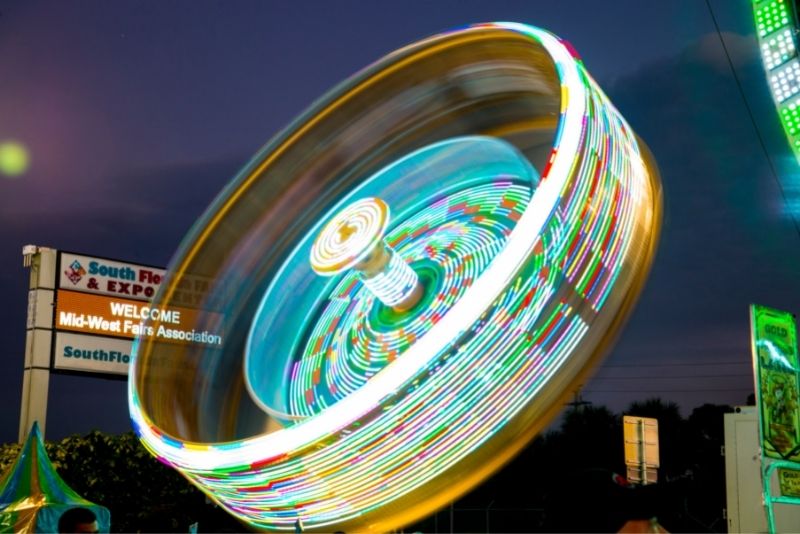 Held annually in West Palm Beach with a different theme every year, the South Florida Fair is a massive event that takes over the entire grounds of the former Palm Beach Speedway for two weeks in January.
With more than 200 amusement rides, games, and attractions (including live concerts), plus bake-offs, arts and crafts workshops, and no shortage of artisanal food products to sample, the South Florida Fair is a great way to spend the winter months, particularly if you're traveling with kids who are looking for a little bit of everything.
The best way to see it all? Aboard the Midway Sky Eye, North America's largest traveling Ferris wheel!
92 – Go shopping at Rosemary Square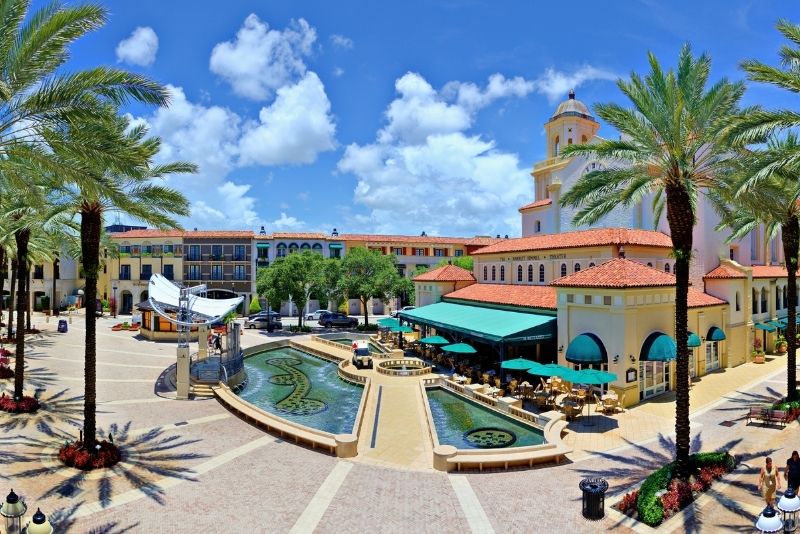 A mixture of indoor and outdoor shopping malls that also serves as a central point for entertainment and nightlife, West Palm Beach's Rosemary Square is a great place to visit in the afternoon for some retail therapy and stay in the evening for a cocktail (or three).
The Square's mix of high-end and affordable stores makes it perfect for window shopping, and with over 60 restaurants to choose from (plus bars and coffee shops and a theater), you're sure to find something to your taste.
And, for all you architecture and history buffs, the Mission Revival style of the buildings provides a look into West Palm Beach's past.
Keen to explore more of what Palm Beach has to offer? Check out all of the things to do in West Palm Beach. To name but a few; browse the Norton Museum of Art, see a performance at the Kravis Center or saddle up for a horseback riding adventure!
For a hotel recommendation, look no further than the all-out luxury resort that is The Breakers Palm Beach. With spa treatments and restaurants that'll tantalize the tastebuds, it's everything you'd want in a vacation stay.
KISSIMMEE
Often falling under the same umbrella as Orlando because of its high concentration of award-winning theme parks and adventure opportunities, Kissimmee is a great place to visit on its own merits, too.
It boasts a fascinating historical side, plays host to an array of museums, and offers a breath of fresh air through lakes and parks that complement the built-up tourist areas.
93 – Choose from 20 rides at Fun Spot America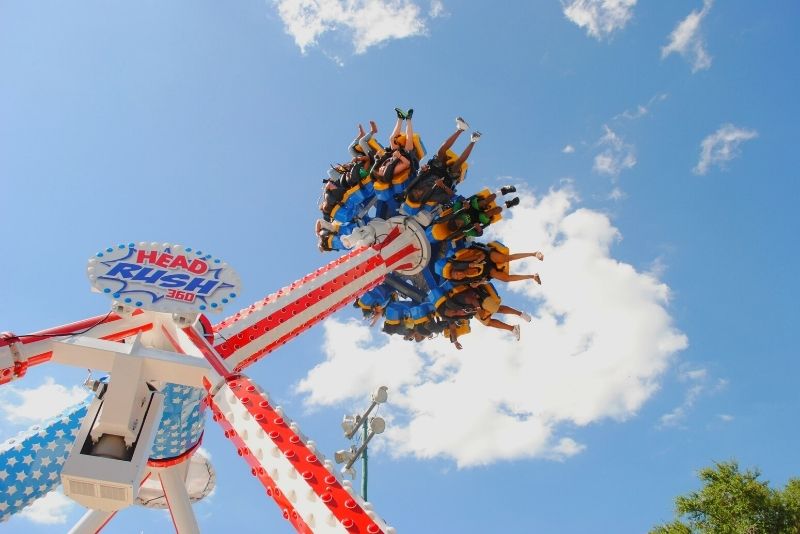 Promising a day of fun for all ages, this spot offers roller coasters, family rides, multi-level go-kart tracks, and a whole lot more.
Thrill-seekers, make a beeline for the wooden Mine Blower and the world's tallest SkyCoaster (standing at 300 feet); families, look no further than the Kiddie Bumper Kars, arcade, and Scooby Doo-themed obstacle course.
Best of all, unlike most theme parks in the area, entry is free for non-riders.
94 – Honor veterans at the Museum of Military History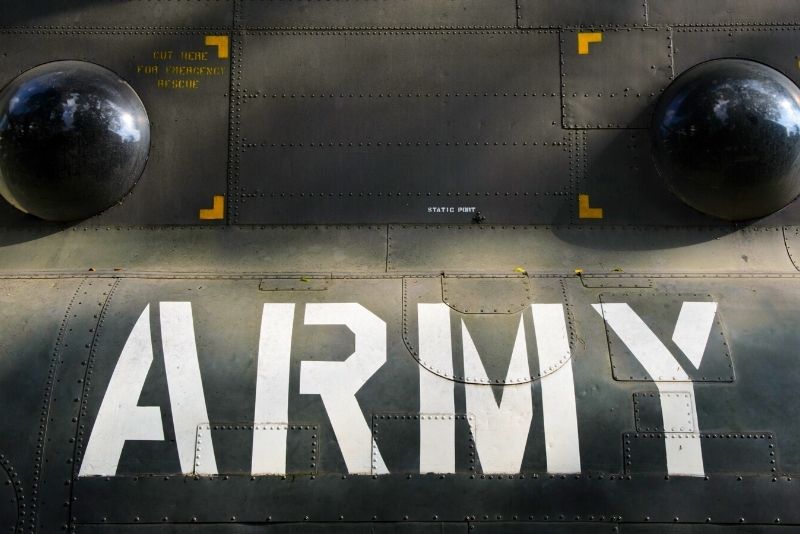 Sharing the stories of the US military; covering triumphs, sacrifices, and the men and women who've bravely served for their country through generations, the Museum of Military History provides a typically-unseen insight into a pivotal part of American history and society.
With the help of informative, friendly, and helpful staff, plus videos and literature, the Museum details the rich and complex heritage through a vast array of artifacts, vehicles, uniforms, and weaponry.
Would you like to see more things to do in Kissimmee? Satisfy your cravings at the Chocolate Kingdom, learn about war-era planes at the Kissimmee Air Museum, or try local wines at Formosa Gardens. Details on those, and more, can be found in our comprehensive Kissimmee guide.
For a great hotel in the Kissimmee and Orlando area, past travelers rave about the Embassy Suites by Hilton Orlando (Lake Buena Vista South). It's close to the Walt Disney World Resort and comes with made-to-order breakfast and an on-site pool.
ACROSS FLORIDA
95 – Hear the bells ring at the Bok Tower Gardens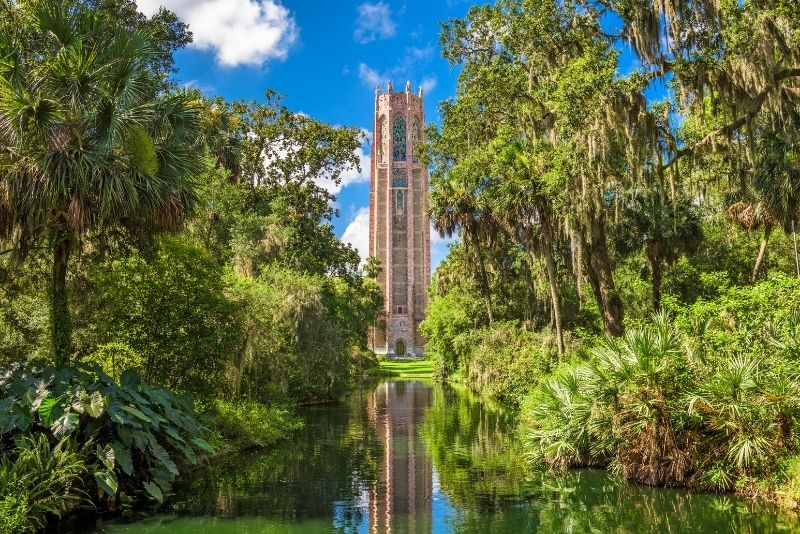 A National Historic Landmark and an easy half-day visit from either Orlando, Kissimmee, or Tampa, Bok Tower Gardens is 250 mountaintop acres of lush greenery, tranquil ponds, and colorful birds.
At its peak sits the century-old, 205-foot marble and granite tower (the Singing Tower), which puts on carillon musical shows daily at 1 pm and 3 pm.
Hot tip: check the online calendar to see when live musicians are due to perform a concert under the stars.
96 – Go scuba diving at Devil's Den Prehistoric Spring
Found in the small city of Williston, not too far from Gainesville, Devil's Den is an unmissable spot for snorkeling or scuba diving that's like mirrors Mexico's world-famous cenotes.
This 85-foot deep spring is a natural oasis of crystal clear, cool water and beautiful rock formations — however, can only be accessed as part of an official tour.
Thankfully, with the underground river maintaining a constant temperature of 72 °F, visiting is possible (and encouraged) all year round.
97 – Go fishing!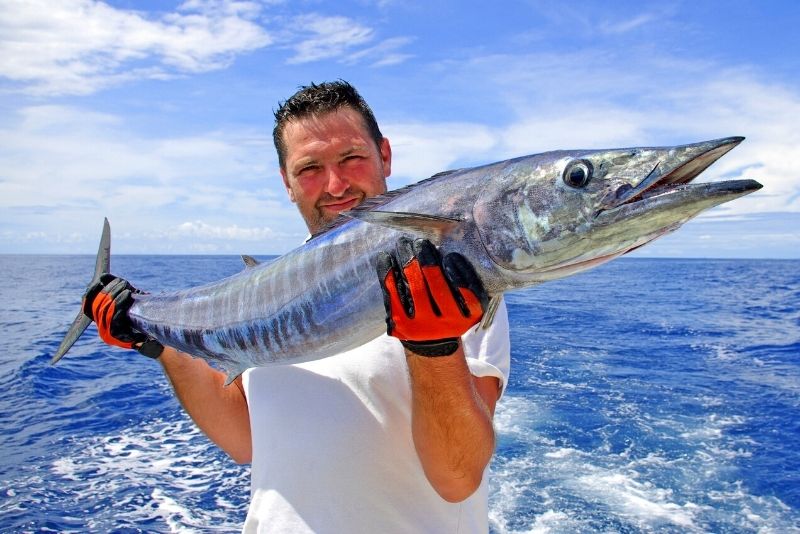 Regardless of whether you're on the Atlantic Coast, Gulf Coast, or checking out one of the thousands of island lakes and marshes, the Sunshine State is teeming with both fresh and saltwater sealife, making that popular fishing spots are never too far away.
Experienced visitors can rent their own vessels, while beginners can join an organized fishing tour for a more social and laid-back outing.
Both Destin and the Florida Keys are considered top-tier spots, but in reality, find yourself a body of water and you're all but guaranteed to reel something in.
98 – Peer into the peculiar at Ripley's Believe It or Not!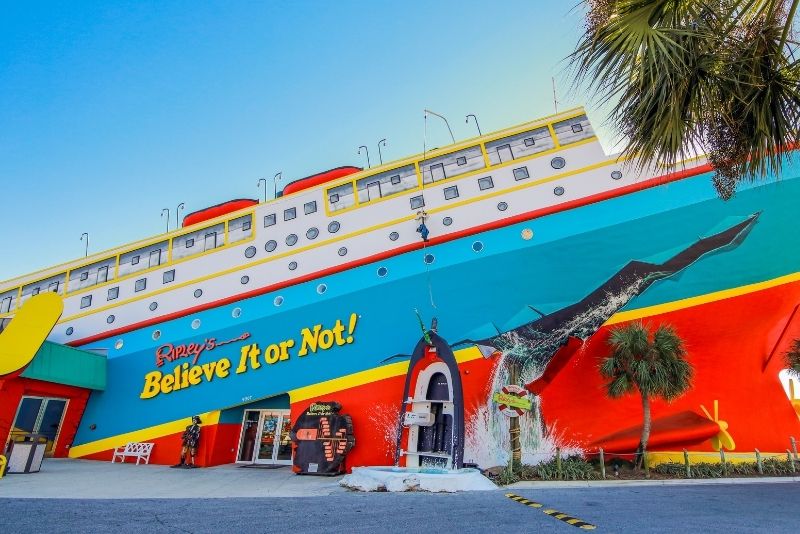 With locations in Orlando, Panama City Beach, and St. Augustine, Ripley's is the world-famous museum of all things bizarre — and a surefire hit for voyaging families.
From a 10-foot section of the Berlin Wall to a room full of optical illusions, to an actual shrunken human head (no kidding!), there are hundreds of quirky exhibits on display.
How do you measure up to the world's tallest man? There's only one way to find out.
99 – Take a tour of the Everglades National Park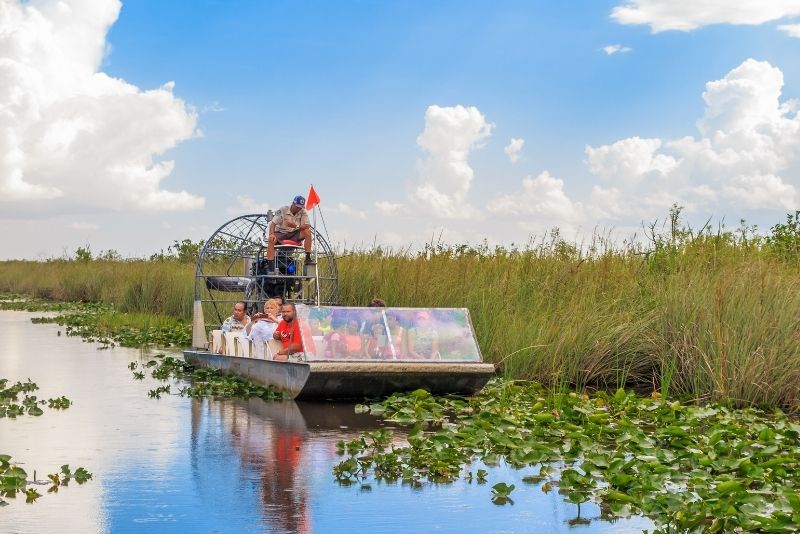 Synonymous with Florida, the Everglades National Park is an unusual ecosystem of subtropical wilderness that's home to everything from mangrove swamps to tropical hardwood forests, and, of course, plenty of sneaky gators (and panthers, here and there, too).
Covering a near-incomprehensible 1.5 million acres, it's impossible to cover the entire area. That's why joining a guided swamp buggy tour, which escorts guests to the highlights of any given section, is the best way to tick this unique wilderness off the bucket list.
See also: best Everglades airboat tours
100 – Visit the best beaches in Florida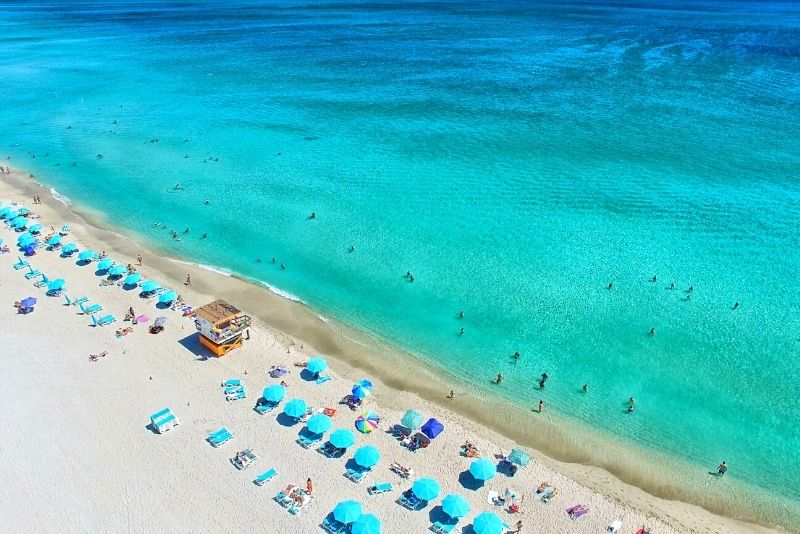 Thanks to year-round sunshine, silky white sand, and warm ocean waters that make for perfect swimming conditions. Almost every seaside town has its own stunning beach worth exploring:
But the question remains: which Florida beaches take the take?
Siesta Beach in Siesta Key has won a stack of awards, so there's no need to harp on. Lesser-known Sanibel Island near Fort Myers oozes small-town charm and has a range of nearby hiking trails.
Aptly named Clearwater Beach is buzzing with partygoers and beach bums alike, with no shortage of restaurants and beachfront bars; while Santa Rosa Beach on Florida's Emerald Coast is a quieter haven for water sports, likewise Amelia Island near Jacksonville.
Down in the Keys, Bahia Honda State Park is a nature-lover's dream, and Caladesi Island near Clearwater has been voted one of the best beaches in America.
If you're craving more, heck out the five intertwined shores and warm Gulf currents of Fort DeSoto Park; dive into the many water sports available at Clearwater Beach; snorkel past the vibrant reefs of Bahia Honda State Park in the Keys; or relax on the powder-white sands of Las Olas Beach, a classic Fort Lauderdale haunt.
101 – Play a few rounds at Florida's best golf courses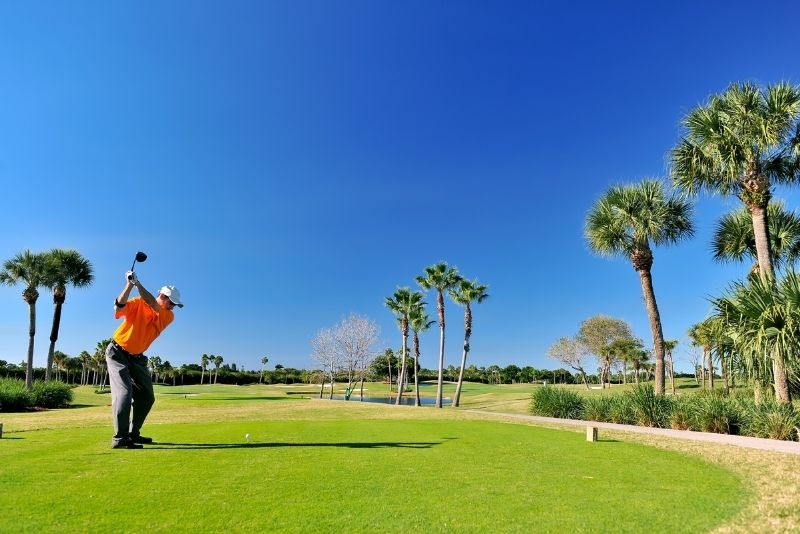 Packed with lush greenery and boasting more than 700 miles of coastline, it's no surprise that golf is one of the most popular sports in Florida.
The good news for visitors? No matter where you are in the state, there's a world-class golf course nearby, with challenging layouts and stunning settings that will make any avid golfer's heart swell.
So, where to begin? As one of America's most exclusive clubs, the Seminole Golf Club at Juno Beach overlooks the Atlantic and features challenging elevation changes. For public access, it's hard to beat the par-72 TPC Sawgrass course at Ponte Vedra Beach — the first stadium-style course designed for spectators.
Ranked number 20 on Golf Digest's list of America's Greatest Public Courses, Streamsong (Red) is peacefully tucked away from major cities; while Calusa Pines, surrounded by oak trees, sits atop the highest land point in south Florida.
Booking discounted hotels
In addition to the few hotels we've mentioned, there are discounts available for a stack of accommodation options all over Florida. The trick is to look at a comparative website that analyses all of the Florida hotels from across the internet — a nifty trick that can save you up to 40% on the walk-in price!
Final thoughts
Well, there you have it, folks! Your comprehensive guide to all of the things to do in Florida — the ultimate bucket list!
If you have any other must-see suggestions, feel free to let us know in the comments!
As always, happy travels!