Tucked between the Caloosahatchee River and the Gulf of Mexico, Cape Coral, Florida is full of charm.
Its small-town feel makes it a great place for a relaxing getaway, but it's also big enough to offer a variety of fun activities, from festivals to waterparks to nature-watching and day trips.
Add in some quality food and drink spots and a thriving art scene, and you have all the makings of a classic vacation spot.
Whether you want thrills, a place to chill, or something in between, there are plenty of things to do in Cape Coral.
1 – Slide and swim at Sunsplash Waterpark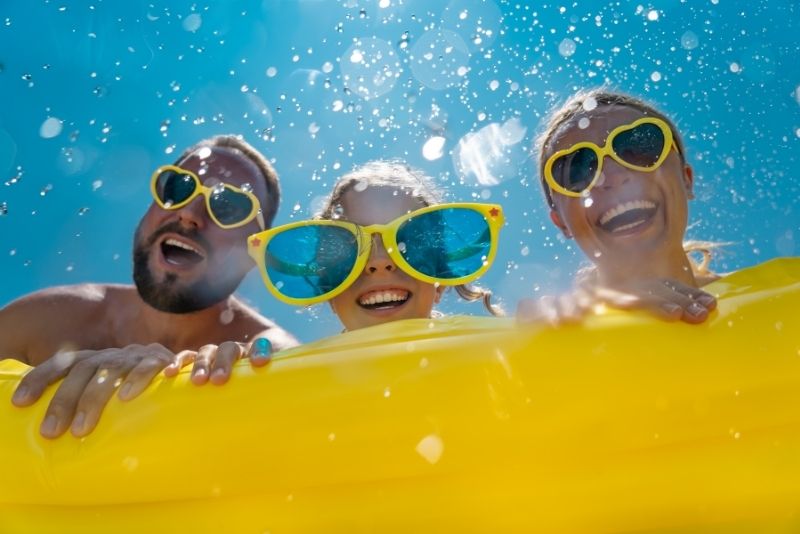 Who doesn't love a good waterslide?
At Sunsplash Waterpark, you can spend the day taking in some of the best attractions Southwestern Florida has to offer.
With over a dozen rides, there's something for every type of park goer.
Check out the Electric Slide and Power Surge, two intertwined slides that take you on a twisting, high-speed trip.
Up the adrenaline on the Drop Slides, whose steep slopes make you feel like you're flying on your way to the bottom.
And if you're feeling really adventurous, try the fast, sharp drops of Terror Tube, Thunder Bump, and the X-Cellerator.
For younger (or less wild) guests, there are plenty of options as well, including the Main Stream River Tube Ride and the Pirate's Cove play area.
Grab your swimsuit and dive into the fun at Sunsplash!
2 – Relax and catch up at Jaycee Park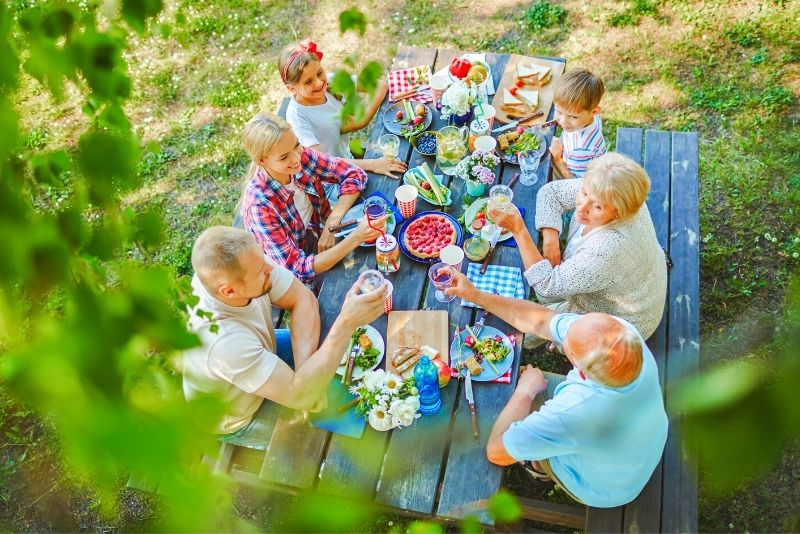 If you want to experience Cape Coral like a local, head over to Jaycee Park.
This 8-acre slice of tranquility includes picnic areas, a playground, and plenty of walking paths of various lengths. It's the go-to place for family parties, birthdays, and other group events.
And thanks to its waterfront location, there are lots of lovely views to take in during your visit.
Take some time to admire the local trees and the scenic vistas of the river, or squeeze in a quick workout at one of the fitness stations.
Whether you're having a big reunion, planning a simple picnic, or just looking for a place to relax during the afternoon, Jaycee Park has you covered.
3 – Live it up in Cape Harbour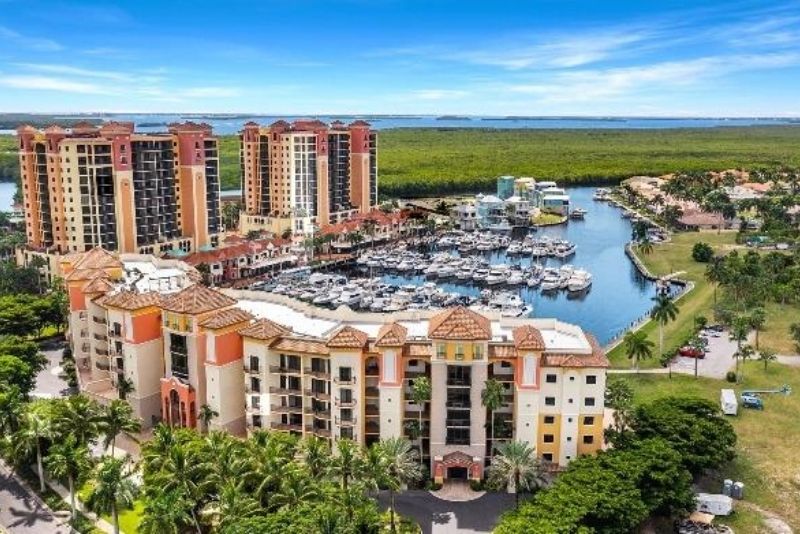 Being by the Gulf, Cape Coral has no shortage of beautiful waterfront areas. But Cape Harbour is a particularly dynamic neighborhood.
A collection of restaurants, retail options, and living areas, this upscale community offers gorgeous scenery and top-notch amenities.
Spend some time shopping around at Tropics & Paradise for some quality beachwear, or Divine Diva's Boutique for one-of-a-kind dresses and tops.
Afterward, grab some shellfish at Cape Harbour Oyster Bar, or a steak at Rum Runners.
The area also features a large marina, perfect for parking your boat while you shop, eat, or relax.
If you are staying in one of the condos in the community, you'll have access to a wide array of offerings, including a community center, a pool, athletic courts, and a gym.
For a high-end outing with spectacular views, Cape Harbour is well worth a visit.
4 – Go on a day trip and explore Fort Myers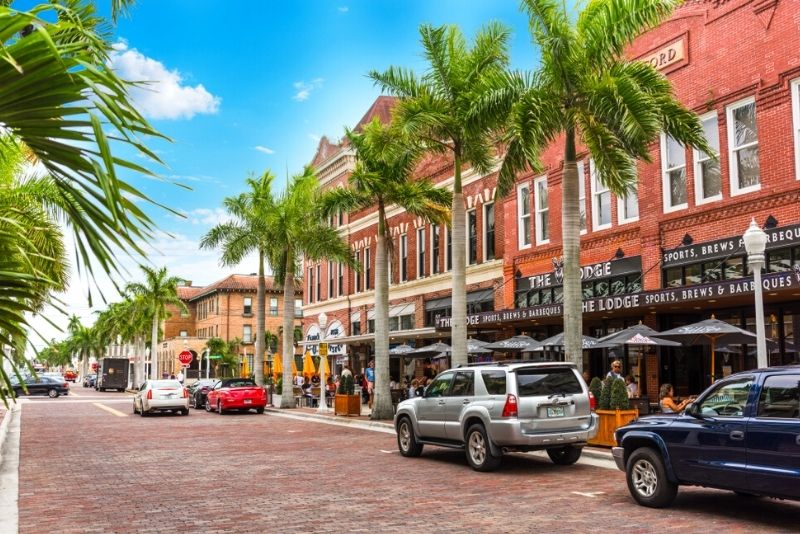 If you're looking for even more of the beachy atmosphere that you can find in Cape Coral, try a day trip to Fort Myers, 30 minutes to the north.
You could spend a whole day just doing water-based activities: jet skiing, parasailing, fishing, and so on.
But you can also try some more unique activities, from butterfly-watching to museum-hopping.
All these things and more await you in this delightful little city. It's well worth taking a day to check out some of the fun things to do in Fort Myers.
5 – Practice your swing with a round of golf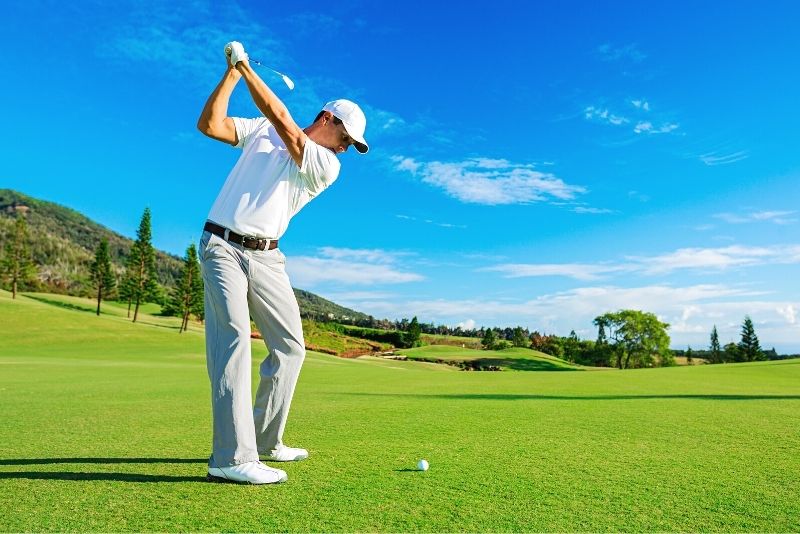 With its beautiful weather, pleasant scenery, and laid-back atmosphere, Florida is a great place for a round of golf.
And if you happen to be in Cape Coral, you have two stellar options for tee off time.
Coral Oaks Golf Course, a championship course tucked into a beautiful oak hammock environment, features 37 bunkers and eight lakes to keep both the views and the game interesting.
There's also an extensive practice area and on-site instructors for those hoping to improve their putting skills.
Meanwhile, the Cape Royal Golf Club features 27 holes and a variety of obstacles – from sand traps to water hazards – that make for a fun and challenging day on the links.
When you're done, be sure to stop by the Caloosa Club for some delicious treats.
Whatever type of golfing experience you're looking for, Cape Coral's got you covered!
6 – Check out the activities at Yacht Club Community Park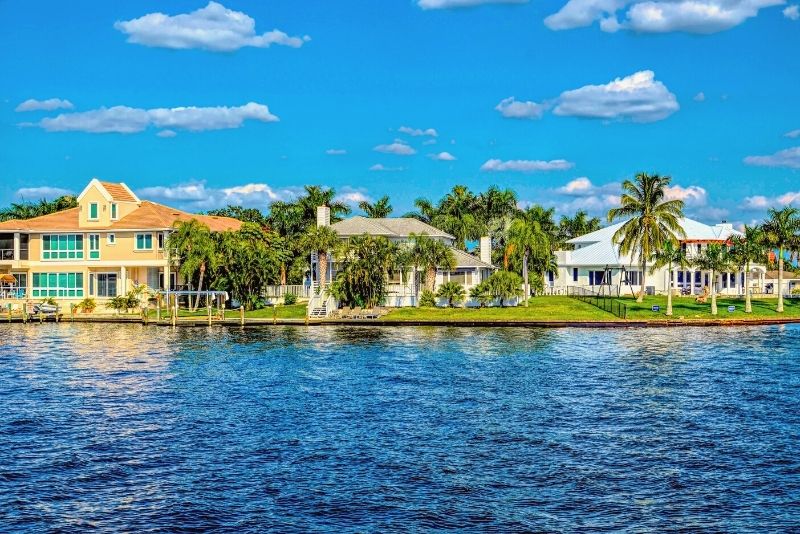 Can't get enough of those waterfront views? Then stop by Yacht Club Community Park.
Since it opened in 1962, Yacht Club Community Park has been hailed as a "waterfront landmark," and it also has plenty of activities to offer alongside some beautiful sights.
If you like sports, this is a great place to practice some old favorites – or discover some new ones!
Try your hand at racquetball or tennis on one of the many available courts.
If watersports are more your speed, take a boat for a spin, go for a swim at the pool or the public beach, or fish off of the piers.
Even if you're not a sports fan, you're bound to find some entertaining options at the park.
For older travelers interested in taking some fun classes and meeting like-minded people, check out the roster of programs at the Tony Rotino Center.
With dances, bingo games, quilting classes, and more, there are always great options at the center for mature individuals to enjoy.
And if you're just looking for a simple picnic spot, fear not. There are plenty of grills available in the park, so pick a spot, pack some food, and get to barbecuing!
If you're seeking things to do in Cape Coral that the whole family can enjoy, make sure to stop by Yacht Club Community Park.
7 – Search for manatees at Sirenia Vista Park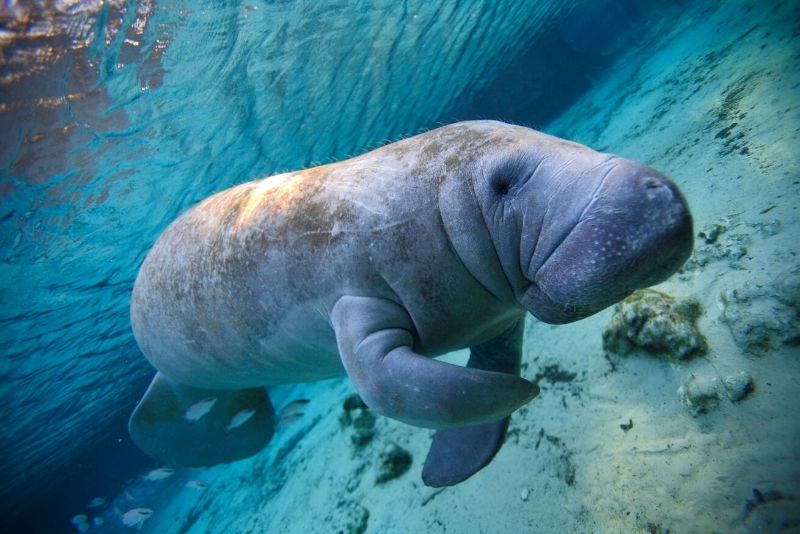 Perhaps one of Florida's greatest animal icons, the mellow, blimp-like manatee is a welcome sight in the state's waters.
And no trip to the area would be complete without a sightseeing trip to catch a glimpse of these delightful mammals as they go about their daily routines.
Fortunately, Cape Coral offers a great place to look for them: Sirenia Vista Park.
Located on the waterway, this 8-acre space is also good for birdwatching and kayaking. But it's the chance to spot some sea cows that really makes it stand out.
Thanks to the sheltered canal and an abundance of available food, this is a favorite spot for the local manatees to congregate.
Take a stroll down the paths and stop at the viewing areas for a chance to see the creatures in action as they float and feed in the crystalline waters.
Manatees are considered endangered, so don't miss a chance to see a healthy, happy population in the wild.
Although there's decent viewing all year round, your odds are particularly good in winter, when vast herds migrate south from chillier climates.
As an added bonus for birders, the park has several nesting houses for purple martins. Keep your eye out for some hatchlings!
8 – Channel your wild side with some axe throwing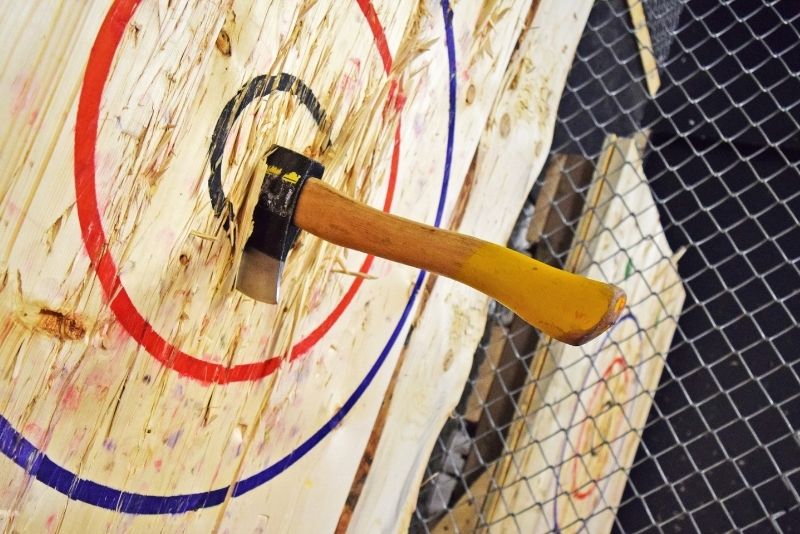 Highly entertaining and slightly rambunctious, ax throwing has become an increasingly popular social event and date-night activity in recent years.
So it's little surprise that Cape Coral has its own scene for visitors looking to try their hands at tossing some blades.
With numerous venues in the surrounding area, you have plenty of chances to give the sport a go.
At Gator Mike's Family Fun Park, you can book a 60-minute session with your family or friends. After a briefing from the "axe-perts," it's time to unleash your inner lumberjack.
The activity itself is pretty simple: stand behind the painted line, aim for the giant target, and throw. Like a high-octane version of darts, you get points depending on where in the bullseye your hatchet hits.
Try out different styles of throws and other fun challenges for an extra level of competition. Just be sure not to toss your blade backward!
If you've ever wanted to spend an hour feeling like a Viking, this is your chance.
9 – Get in touch with nature at Four Mile Cove Ecological Preserve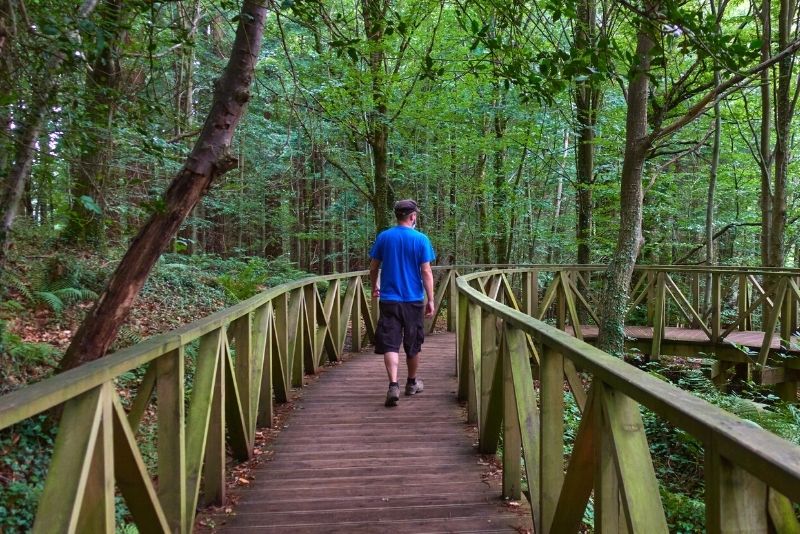 There are lots of wonderful, high-energy things to do in Cape Coral, but if you're a nature-lover seeking some quieter options, be sure to stop by Four Mile Cove.
This secluded area features many of the beautiful natural attributes that make the region famous: wetlands, mangrove forests, and an abundance of wildlife, including snakes, ibises, raccoons, and herons.
Kayaking is available November through May, offering the chance to explore the dense, tranquil waterways more in-depth.
For walkers, there's a short nature trail that winds its way through some truly stunning ecosystems. You'll pass through a thicket of mangroves, as well as a rare stretch of coastal prairie.
With 365 acres of space – much of it undeveloped -, Four Mile Cove is sure to delight the casual visitor and outdoor enthusiast alike.
10 – Pay a visit to the Southwest Florida Military Museum & Library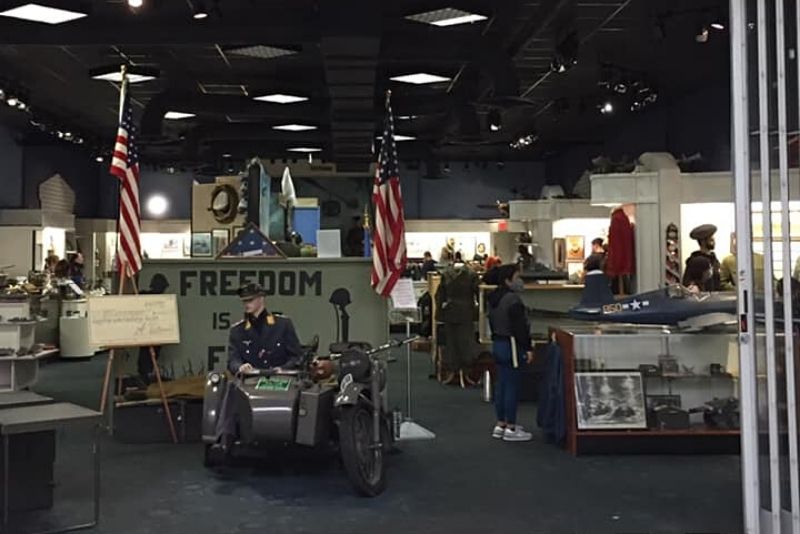 Cape Coral has a long history with the military – in fact, the town is well known as a relocation spot for veterans and their families, especially retirees.
And at the Southwest Florida Military Museum and Library, you can explore that legacy in-depth, as well as the broader story of America's soldiers and wars.
The museum's extensive collections literally span the length of American history – from the Revolutionary War to Afghanistan.
See well-preserved uniforms and weapons from these conflicts, as well as historical artifacts from the eras in which they took place.
Be sure to check out the collection of military vehicles, including a working World War II Jeep!
You can also browse through their extensive research library for articles about battles and their participants.
Additionally, the museum hosts a monthly "Hometown Hero Speaker Series," in which local veterans discuss their time in the service and how it impacted their lives.
Whether you're a service member, a veteran, or a history fan, this establishment offers plenty to reflect on.
11 – Celebrate the talent at the Cape Coral Art Festival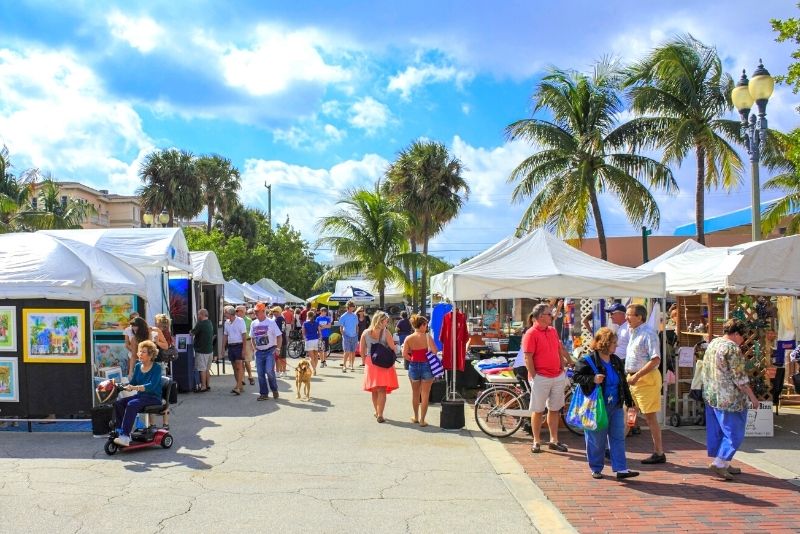 For one weekend every January, the streets of Cape Coral bloom with art.
The Cape Coral Art Festival and Marketplace hosts an abundance of multi-medium talent, and if you stop by, you may find a wonderful piece of your own to take home.
With works ranging from sculpture to photography to jewelry and digital art, there's bound to be something for every taste.
The festival also showcases art projects from local elementary, middle, and high-school students. You may get a glimpse of the next Picasso in training!
As you peruse the creative offerings, you can also try delicious food and drinks from various vendors.
If you want to celebrate the local artistic community and find a unique souvenir in the process, add this fun festival to your calendar!
12 – Visit the Tom Allen Memorial Butterfly House at Rotary Park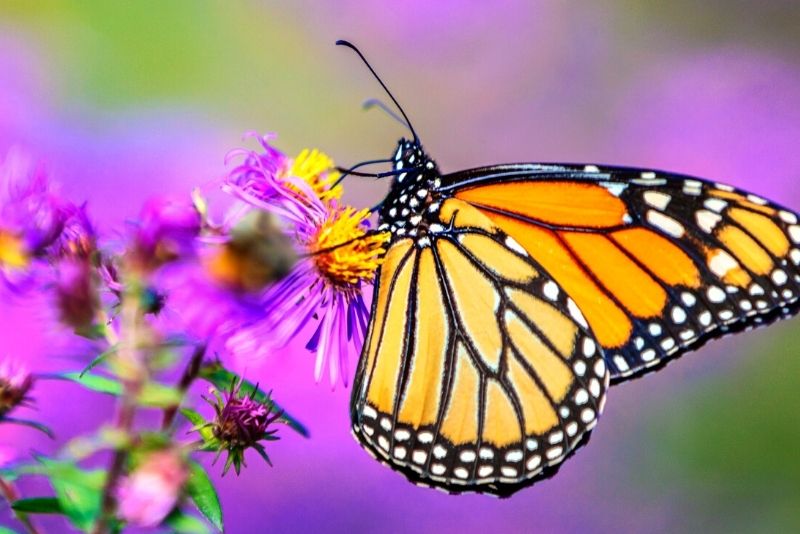 Another wonderful place to engage with wildlife while in town, Rotary Park's 97 acres are full of beautiful sights and great nature-viewing opportunities.
Located on the Great Florida Birding Trail, the park offers some wonderful walking paths to take in the scenery and try to spot some flocks.
It also features a 4,200 square foot environmental center, which hosts classes and workshops throughout the year. If you visit, you may come face to face with the wide variety of reptiles and fish – many of them former pets – that call the building home.
And no visit to the park would be complete without a trip to the Tom Allen Memorial Butterfly House. Established in 2009 and staffed by volunteers, it features a dazzling array of butterflies native to Florida, including the Zebra Longwing, which is the state butterfly.
Free tours of the butterfly house are available Mondays, Fridays, and Saturdays, 10:30 – 12:00.
While there are plenty of things to do in Cape Coral for nature lovers, a visit with these delicate beautiful insects is sure to stand out.
13 – Take a day trip to Naples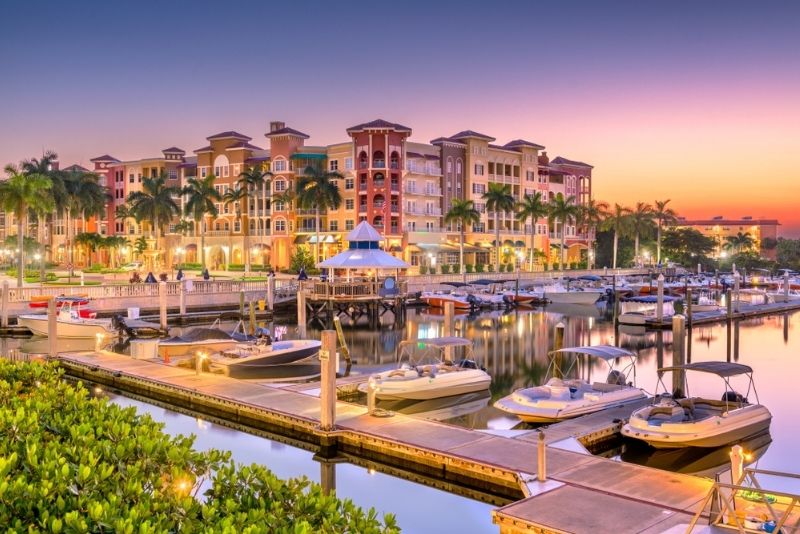 Another nearby locale with a lot to offer, Naples (one hour's drive south) offers excitement and tranquility in equal measure.
Go wild at the arcade, hop on a dolphin-watching tour, or do some sightseeing by catamaran or moped. Or just relax and unwind at one of the town's many excellent spas.
There are so many fun things to do in Naples that a day will hardly seem to be enough!
14 – Support the arts at Harbour View Gallery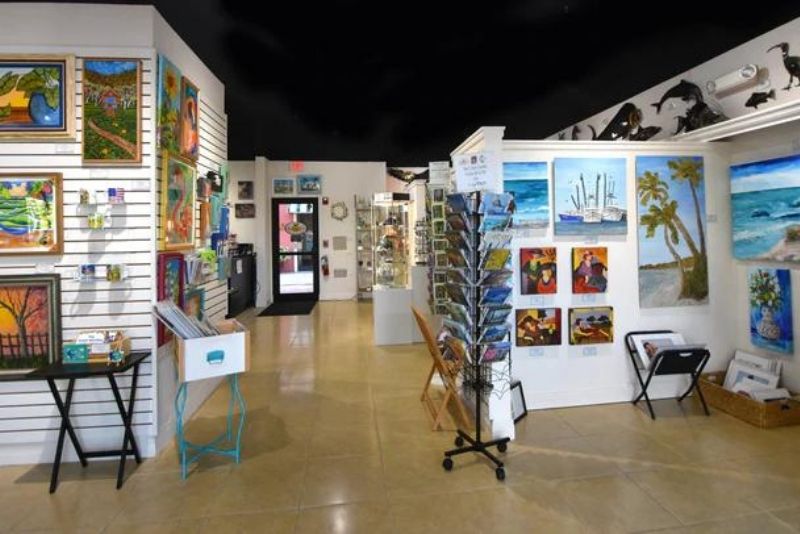 Even if you can't make it to the Art Festival, you can still support the creative culture all year round with a visit to Harbour View Gallery.
In addition to a regularly rotating showcase of spectacular works, the gallery is a uniquely run space; it functions on a co-op model, owned by the same people whose pieces hang on its walls.
All of the works on display are selected by a jury of peers, and the artists whose works are being presented are also in charge of staffing the space.
This offers a rare opportunity for the art-lover: the chance to appreciate a work, and then immediately talk to its creator.
The gallery also hosts monthly exhibitions, and of course, if you see something you love, you can take it home.
Be sure to stop by to view some wonderful works and support local artists!
15 – Try some treats at the Cape Coral Farmers Market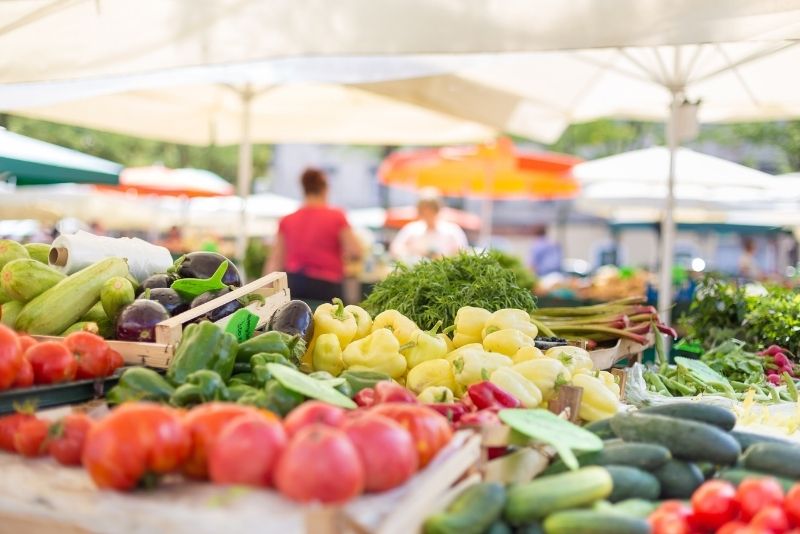 If all this sightseeing puts you in the mood for something scrumptious, stop by the Cape Coral Farmers Market to enjoy some quality produce.
The market runs every Saturday from 8:00 a.m. to 1:00 p.m. and features some of the freshest produce in the region.
Shop for some delicious local foods, and jam out to an ever-rotating set of musical talent.
With different crops throughout the year – not to mention booths selling flowers, shirts, and other offerings – this is a fun (and delicious) way to spend a Saturday.
16 – Take the family to Fellowship Park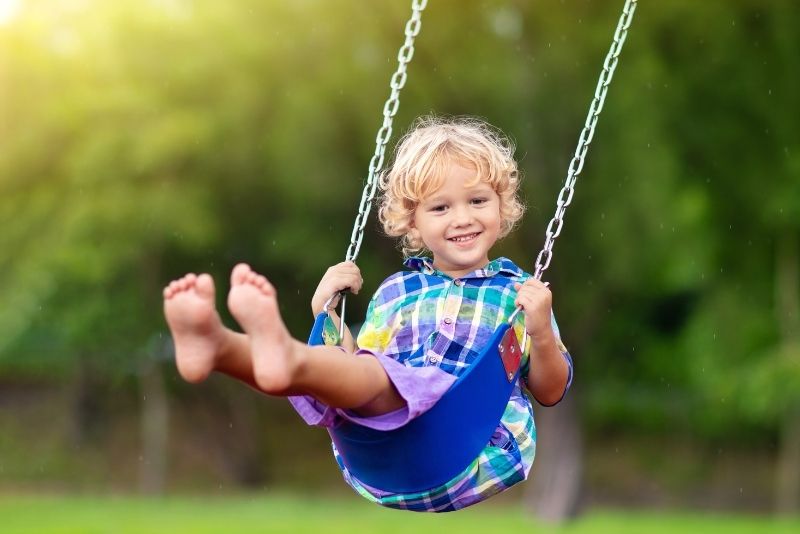 If you're traveling with kids and looking for things to do in Cape Coral, Fellowship Park is a great place to spend some time.
In addition to a nice playground, the park also offers a splash pad for kids looking to blow off steam and keep cool during the warm Florida days.
Adults can supervise and unwind with a nice cup of java from nearby Tony & Ada's Coffee.
Best of all,  speakers around the park pipe in cheerful music all day long, giving the whole area a fun and whimsical feel.
This charming, creative area is a fun interlude for the younger vacationers in your group.
17 – Get away from it all at Sanibel and Captiva Islands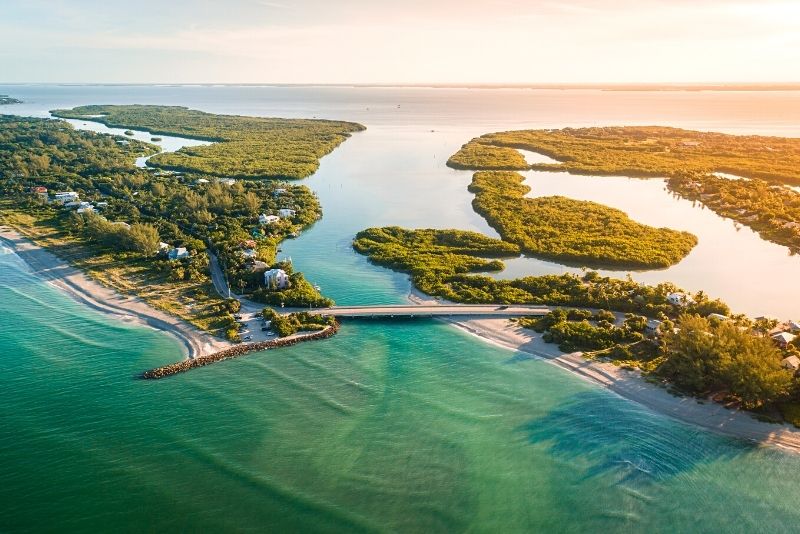 Just half an hour from Cape Coral, Sanibel Island and Captiva Island offer easy access to a tropical getaway.
But they also have plenty of things to do beyond working on your tan.
With miles of pristine beaches, wonderful hotels, and activities ranging from paddleboarding to eco-tours, there is no shortage of options for travelers.
Go shelling, snorkeling, or wildlife watching on some of the beautiful beaches, or visit the massive, biodiverse J.N. "Ding" Darling National Wildlife Refuge.
If the arts are more your speed, stop by the BIG ARTS Strauss Theater to see a play, or enjoy some live music at one of the many excellent restaurants in town.
And if you're a museum buff, check out the Sanibel Historical Museum and Village, or the Bailey-Matthews National Shell Museum.
There is also plenty of shopping, dining, and entertainment to check out in between all of these adventures.
For a relaxing getaway that also offers plenty of excitement, give these nice little islands a try.
18 – Tee off with some mini golf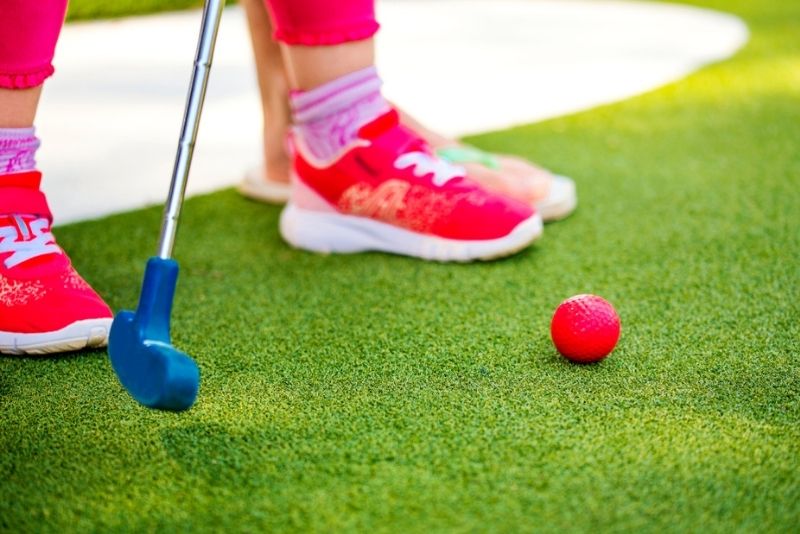 Gator Mike's isn't just the place to go for ax-throwing. It also offers an excellent mini-golf course for the whole family to enjoy.
With unique challenges and decorations at every hole, this putting green offers plenty of entertainment, not to mention some friendly competition.
Teeing off under the palm trees, you'll feel like you're one of the pros. So pick your putter and take a shot at victory!
19 – Discover the past at the Cape Coral Museum of History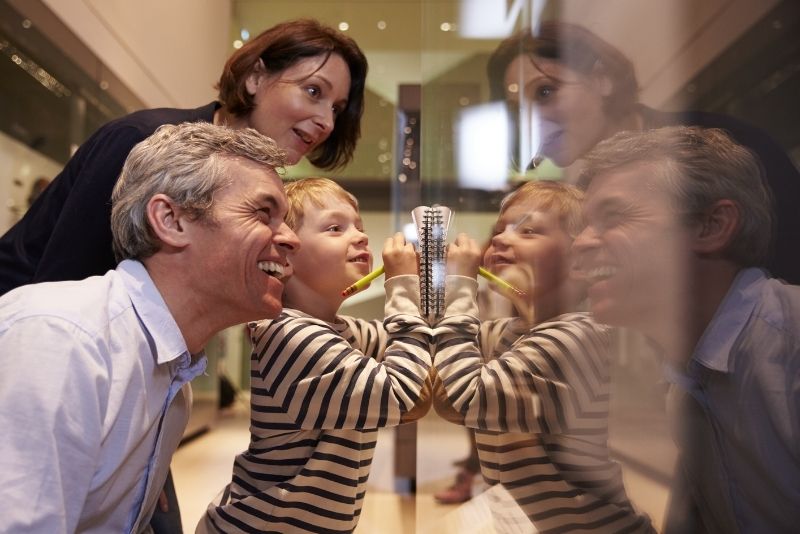 Cape Coral has a rich heritage that includes Native American civilizations, farmers, and veterans. You can learn all about this, and much more, at the Cape Coral Museum of History.
Stroll through the galleries and check out the stories of Floridians' past, as depicted in photographs and displays.
Learn about the town's origins as a planned community and its astronomical growth over the decades, as well as the development of its public services.
And be sure to check out the many artifacts donated by community members, which add context to the history of the city.
Spend an afternoon in the archives, exploring how your vacation spot came to be.
20 – Unwind at Yacht Club Public Beach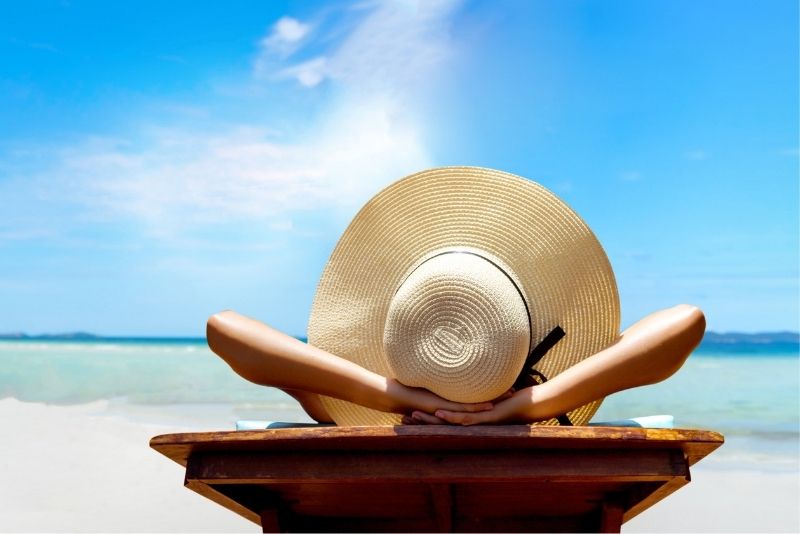 Spending some time chilling in the sun is practically a requirement in this area, and Yacht Club Public Beach is a great place to do so.
Sitting right on the Caloosahatchee River, the beach is part of the larger Yacht Club Public Park.
With soft sand and gentle waters, it's a great place for some low-key fun.
Swim, tan, and socialize at this beautiful locale, then check out the rest of the park next door.
21 – Channel your inner Tony Hawk at Eagle Skate Park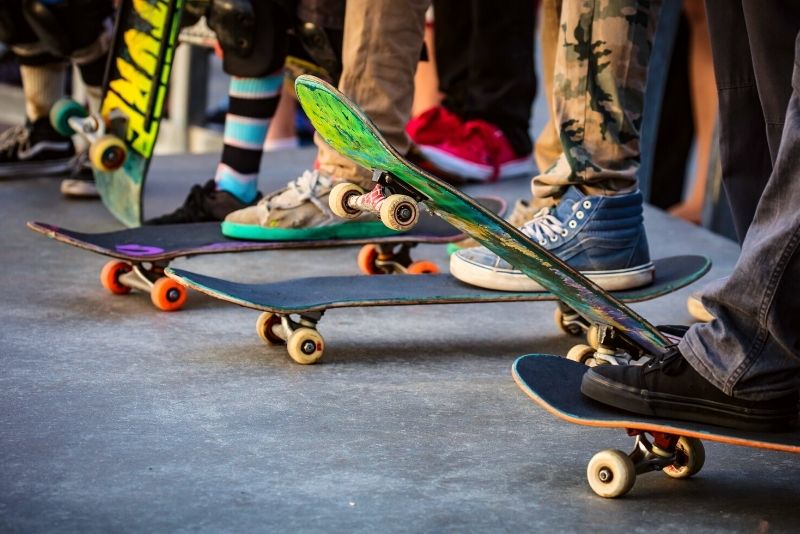 For some more high-adrenaline endeavors, hit the attractions at Eagle Skate Park.
With almost 27,000 square feet of courses, the park is one of the largest facilities of its kind in Southern Florida.
Bring your skateboard, bike, or scooter, and get ready for some action! Shred on the rails, fly up and down the ramps, or try out the massive bowl in the center.
You can also take a breather in the nearby Skate Park building and fuel up with snacks and beverages before heading out for another session.
Whether you're perfecting your Quadruple 360 or still trying to figure out which side of the board is the front, this place is well worth a visit.
22 – Join forces to Escape the Cape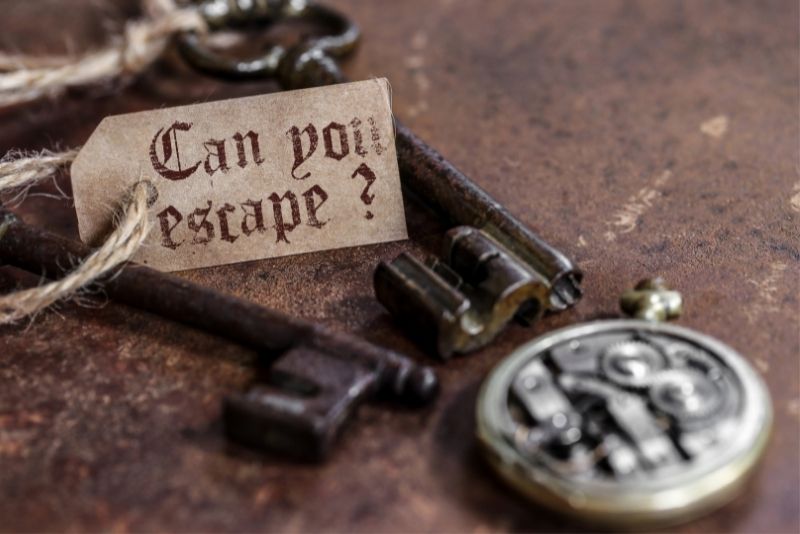 Get in touch with your inner child – and then flee from them – at the Haunted Toy Store, where nothing is as it seems.
Try to pull off a heist undetected as you navigate the high-stakes games and tough security of Casino Royale.
Or boogie down and solve a murder – with the help of some time travel – as you experience a Blast From The Past.
Whatever your preferred adventure style is, Escape the Cape has fun in store for you.
This popular immersive experience gets some creative twists in Cape Coral. Groups of 2-10 have 60 minutes to solve the puzzle, choosing from one of three rooms at varying levels of difficulty.
These puzzles are perfect for families, friends, workgroups, and more. All you need to play are curiosity, teamwork skills, and a little bit of imagination.
Whether you're brand new to the genre or an expert escapee, you're bound to have a good time!
23 – Try some extreme fishing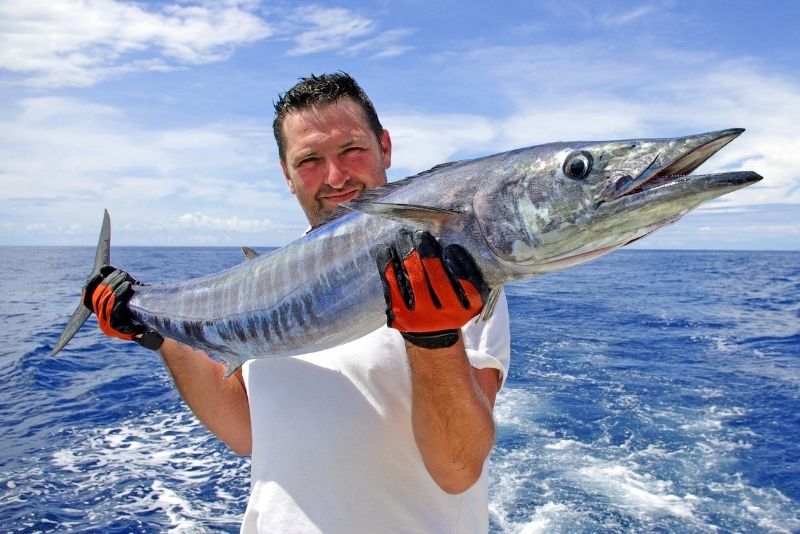 With so many beautiful waterways around Cape Coral, a fishing expedition is a must.
Companies all over town offer charters of varying lengths, providing lots of opportunities to catch some prize specimens.
Captain George Howell Fishing Charters offers a wide variety of options for groups of up to four.
Try a relaxed day angling for popular game fish such as trout and snook, or go on a wilder excursion in search of the bigger game, such as massive goliath groupers -or even sharks!
Captain George has spent years fishing in the area and loves working with guests to tailor each trip to their individual preferences.
Meanwhile, Salty Fishing Charters is the place to go if you want to try some deep-sea fishing.
Head up to 100 miles offshore to search for barracuda, snappers, porgies, and more. Tours range from 6 to 18 hours, depending on individual preferences.
They also offer back bay and inlet trips in case you're looking for different types of catch.
Spend a day on the water and see if you can haul up a trophy-worthy specimen!
24 –  Watch the Cardboard Boat Regatta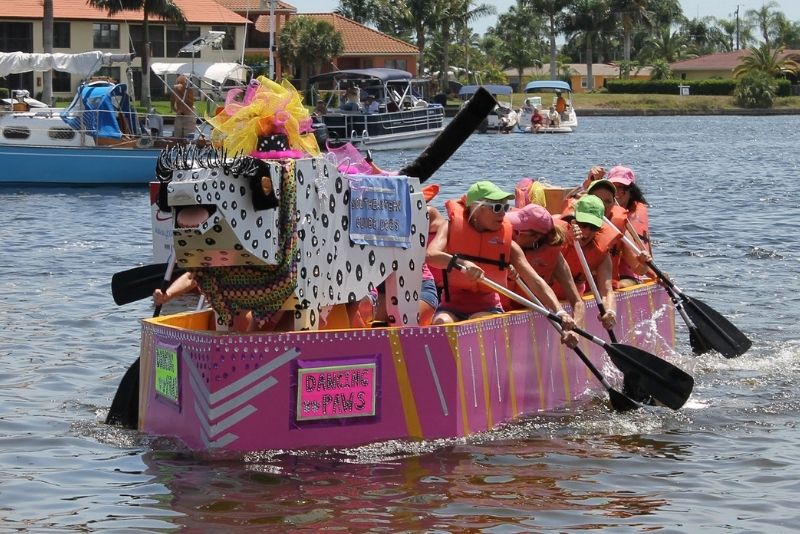 One of the most entertaining and unique things to do in Cape Coral is undoubtedly observing the Cape Coral Cardboard Boat Regatta.
The race, which is organized by the Cape Coral Rotary Club, began in 1994, and has become a beloved part of the town's social calendar.
Every April, hundreds of participants – ranging from local businesses and nonprofits to schoolchildren and groups of friends – take to the water in a flotilla of boats built out of, you guessed it, cardboard.
With comical and creative designs – not to mention the occasional themed costume – the actual winner of the race is unimportant. The best part is cheering on the contestants and enjoying the ingenuity of the watercraft.
If a spring trip to Cape Coral is in your plans, be sure to stop by and enjoy the show.
25 – Play around at HeadPinz Family Entertainment Center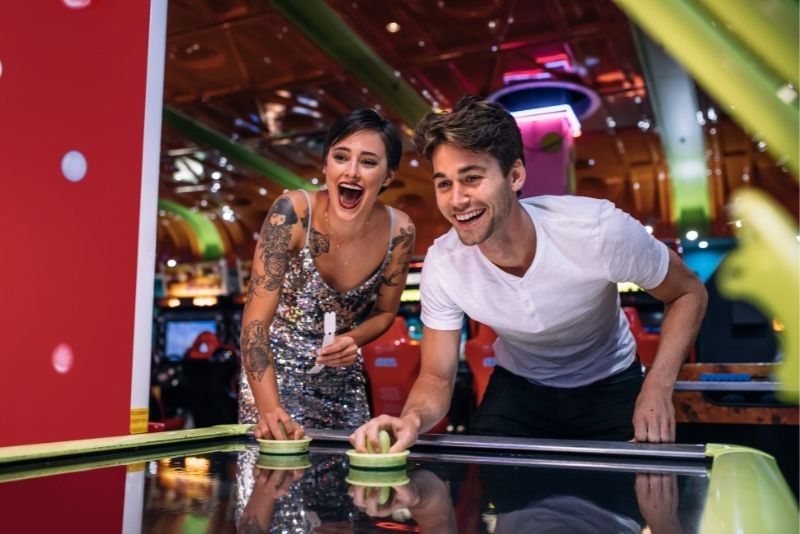 Spend a day in electronic bliss at HeadPinz, a massive entertainment center with an incredible selection of games for every taste.
Try for a strike at the top-notch bowling alley, or make your way through the ever-changing obstacles of Laser Frenzy, where you'll have to navigate past fields of laser beams to rack up points.
Or go wild with over 40 top-of-the-line arcade games, including such favorites as Fruit Ninja, NBA Hoops, and Super Bikes Racing.
If all of that action makes you hungry, try the selections at Nemo's, with a massive, bar-food-inspired menu. But be sure to pace yourself – you'll need time to get back to the games.
If you're looking for things to do in Cape Coral for the whole family, HeadPinz has you covered!
26 – Take in the scenery with a Sunset & dolphin cruise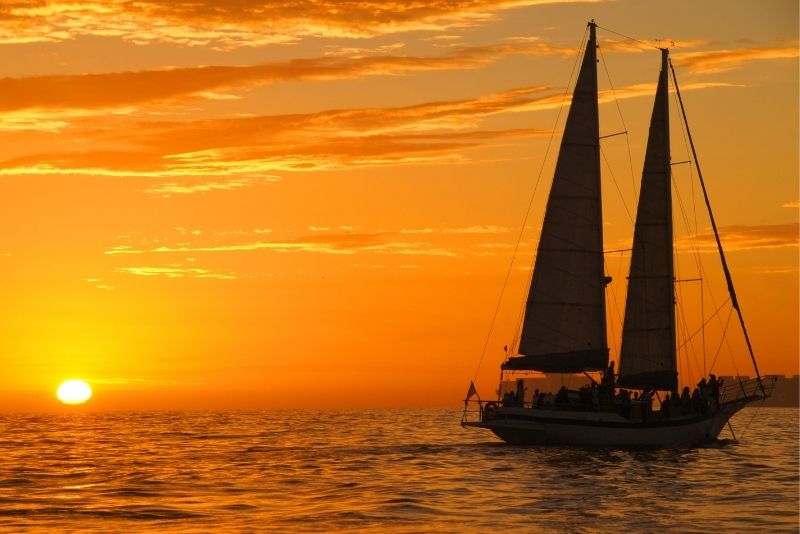 If you want to truly enjoy the stunning views and wildlife in the area, try booking a sunset and dolphin cruise with Banana Bay Tour Company.
This tour offers the best of both worlds: ample opportunities to spot some of the area's most playful and popular aquatic residents, and the chance to witness one of Southern Florida's famed sunsets.
You'll get to admire the scenery of the Caloosahatchee River and the pristine waters of San Carlos Bay as you watch bottlenoses cavorting around you.
The dolphins are famously intelligent and playful, so you're likely to see some amusing antics as they swim around. They're as interested in humans as we are in them!
Best of all, each tour includes a captain with deep knowledge of the local wildlife, so you can spend your evening learning all about the unique and valuable ecology of the region.
With two iconic experiences in one place, this cruise is an ideal way to cap off a day of fun.
27 – Take a taste of Wicked Dolphin Artisan Rum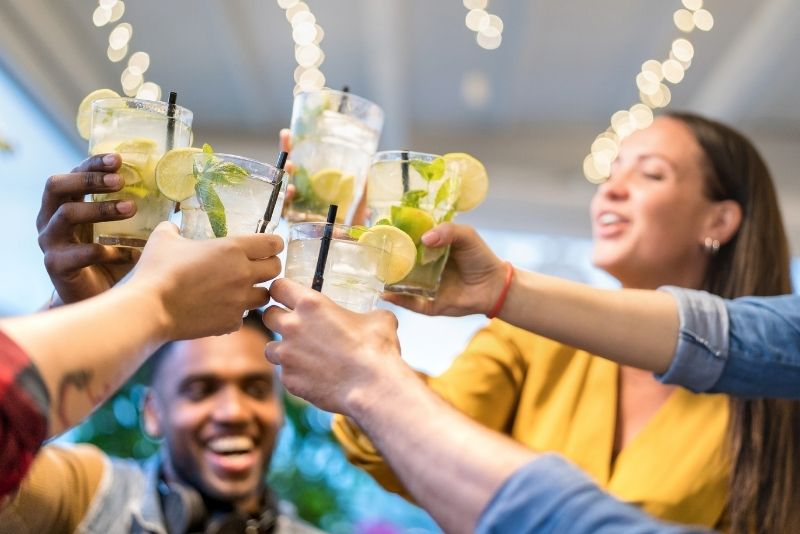 For a classy happy hour with a hyperlocal twist, try the spirits at Wicked Dolphin.
This artisan rum distillery offers a rotating selection of finely curated drinks, all made with Florida sugarcane.
With both dark and light styles, and a variety of fun flavors such as key lime, coconut, and even cold brew coffee, there's sure to be something for every palate.
And of course, if you like what you try, you can pick up a bottle of your own to take home!
28 – Try the flavors at Wild About Popcorn
If your tastes run less towards happy hour and more towards movie theaters, be sure to stop by Wild About Popcorn.
You may not picture it as a gourmet offering, but this classic snack has gotten a major redesign.
With over 60 flavors from salty to sweet and everything in between, the shop has tons of options to try.
Get adventurous with such funky offerings as Sour Patch Kids and Loaded Baked Potato, or mix and match colorful selections such as strawberry, blue raspberry, or apple.
And if you like what you taste, you can even buy your own tin and fill it up with the combination of your choice.
Enjoy a fun and versatile treat as you explore a fun and versatile town!
29 – Enjoy a show at Cultural Park Theatre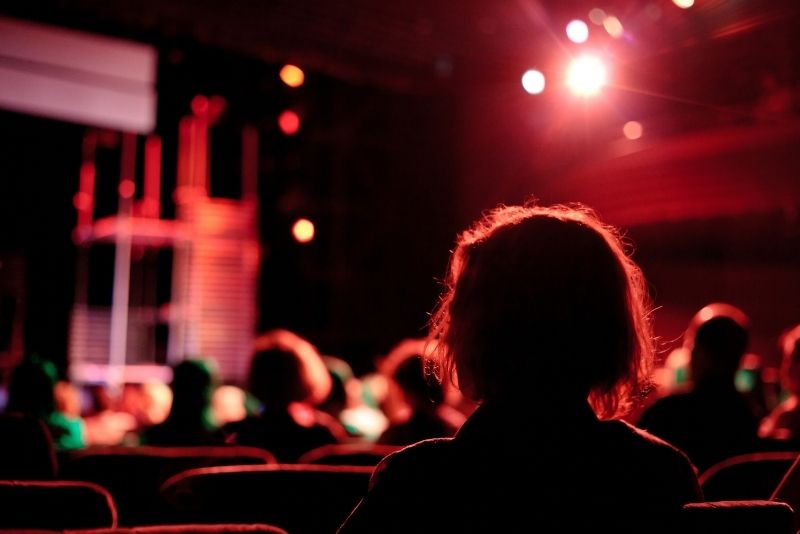 One of the premier artistic venues in the area, Cultural Park Theater offers a continually rotating roster of shows that can appeal to every type of audience.
From concerts to Broadway-style plays, there is always some sort of programming available at this beloved theater.
Best of all, the performers and crew are all local, so when you buy a ticket, you're supporting the creative community at every level.
The theater also offers an art gallery to visit between productions, as well as acting classes for all ages.
Check the upcoming shows before your visit and drop by for some quality entertainment!
30 – Sail and stroll at Tarpon Point Marina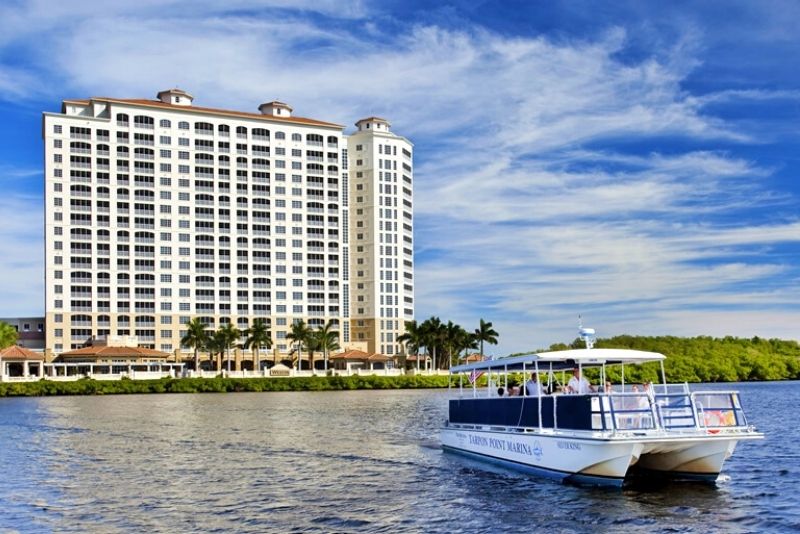 Much like Cape Harbor, Tarpon Point Marina is an upscale development with a lot to offer for visitors.
Even if you don't live there, you can still enjoy its many amenities, including fine dining (unsurprisingly, seafood is a popular option here), boutique shopping, and a spa and fitness center.
With 216 boat slips and easy access to the Gulf of Mexico, it's also a great launching point for sailing tours, whether you're joining a cruise or renting your own vessel.
And if you'd like to further immerse yourself in the luxurious vibes, book a room at the Westin Cape Coral Resort at Marina Village.
With all the neighborhood's amenities just outside your door, and easy access to the rest of town, Tarpon Point Marina is well worth a stay.
31 – Make the rounds (and buy some) while beer tasting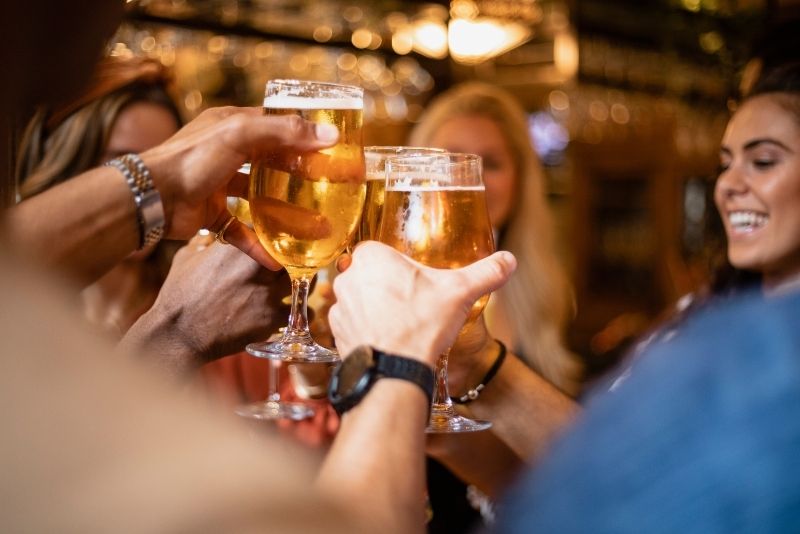 Cape Coral has a thriving brewery scene, and it's well worth taking some time to explore some of the top-notch establishments in town.
No. 3 Craft Brews & Beer Bar, whose motto is, "Beer geeks welcome," offers a wide variety of craft brews to try.
With an extensive tap list and helpful, educated staff, they celebrate the process of learning about beers just as much as the joy of tasting it.
At Big Storm Brewing Co., you can pair your brew with a range of tasty culinary options, or try some spirits from their personal distillery, all while enjoying a regular lineup of live music.
And for a smaller, locally-focused option, stop by Eight-Foot Brewing. With a focus on small-batch brewing and cultivating a community space, this independent establishment has plenty to offer.
Check the weekly calendar and stop by for various events, including trivia, game nights, and a walking/running club.
Sip some delicious beers and take in the ambiance at these lovely local spots.
32 – Explore Matlacha Aquatic Pass Preserve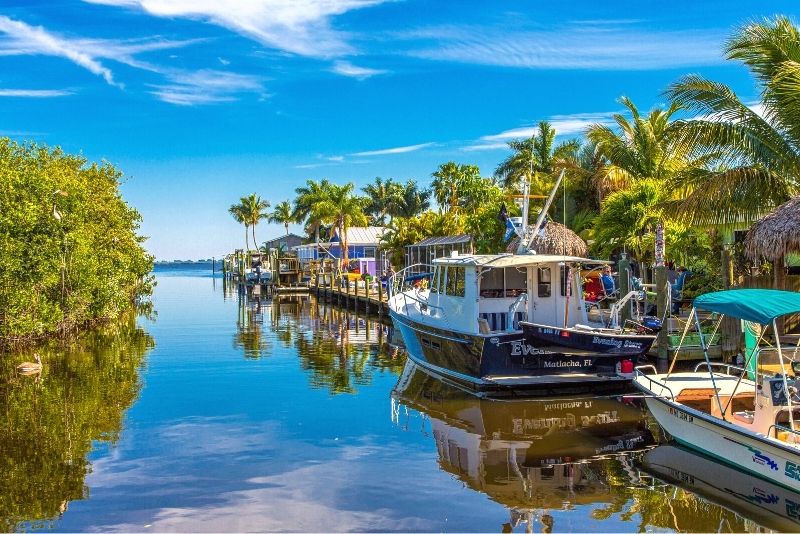 For a beautiful and educational trip, stop by the estuaries of Matlacha Pass. Connecting Charlotte Harbor to San Carlos Bay and Caloosahatchee River, the preserve's dark waters house a variety of fish and birds.
The refuge started as three islands set aside for birding; today, it is made up of 23 islands, plus the surrounding estuary.
It remains an excellent place to look for birds, as well as other local wildlife, such as manatees and sea turtles. You can also go fishing in the area.
Rent a kayak or lace up your hiking boots, and travel through a realm of beautiful environments. From fields of seagrass to the ever-present mangroves, you will be able to see Southern Florida at its finest.
Matlacha Pass is carefully preserved and monitored by staff and scientists, and depending on the season, you can kayak or snorkel around the area and learn about their findings with one of several eco-tours.
Don't miss the chance to explore this dynamic and striking waterway up close.
33 – Chow down at The Boathouse Tiki Bar & Grill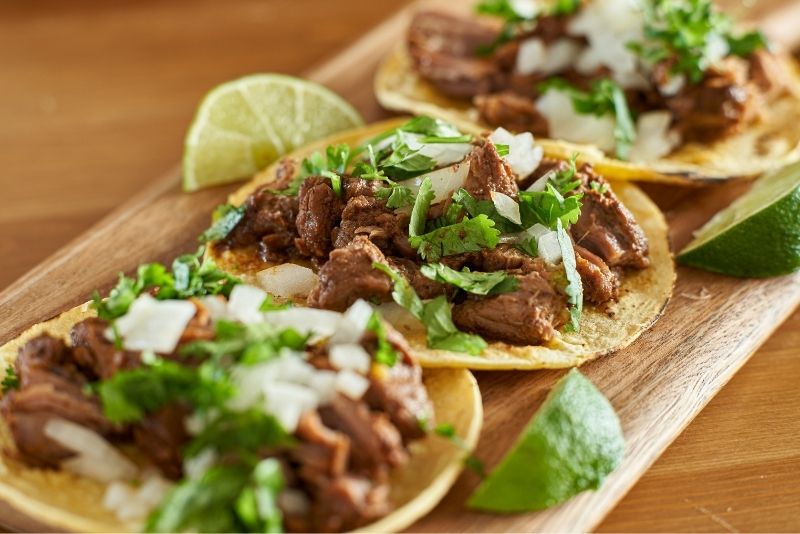 When you're ready to kick back a bit after trying all the things to do in Cape Coral, stop by the Boathouse Tiki Bar & Grill.
Located right on the dock, this laidback, open-air establishment features live music, great views, and a massive menu of food and drinks.
Chow down on a Cuban sandwich or the Famous Boathouse Burger, then wash it all down with a festive cocktail.
With daily concerts and happy hours, this is the place to go for the sort of fun, mellow vibes that you would expect from the area.
Where to stay?
For art, nature, a relaxed atmosphere, and games of all types, Cape Coral is the place to go.
You can have an action-packed trip or a nature-filled one. You can immerse yourself in the arts, or try out any number of sports and games. Or you can just eat, drink, and unwind.
Whichever options you choose, you're bound to have a fantastic time in Cape Coral!
For places to stay while you play, try The Westin Cape Coral Resort at Marina Village, Hampton Inn & Suites, Dolphin Key Resort, or the Holiday Inn Express Cape Coral-Fort Myers Area.
Where to next?
If you head an hour and 45 minutes north, you can experience the museums, wildlife, and action-packed fun in Sarasota.
Whether you're learning about the circus, doing yoga next to lions, or trying your hand at skydiving, there's no shortage of unique adventures to be had!
Half an hour to the east, there's outdoorsy and charming Fort Myers.
Spend the day getting in touch with the tremendous amounts of local wildlife, then spend the evening experiencing the thrills and chills of a ghost tour. And in between, you can snack, shop, and more.
An hour to the south, there's the scenic and dynamic town of Naples. See it by kayak, jet ski, bike, or even Segway!
And an hour and a half south, the varied culinary scene, stunning wildlife, and peaceful public parks of Marco Island await you.
Whether you're sightseeing, sailing, or enjoying the many local beaches, this quaint little coastal town offers the chance to get away from it all while still enjoying city amenities.