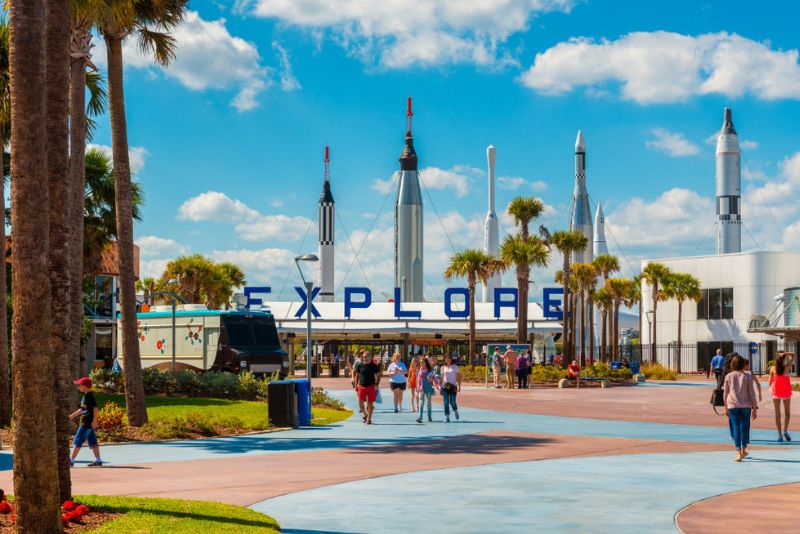 It's blessed by warm rays year-round, made all the better with the cool Atlantic sea breeze. Yet still, Florida's Cape Canaveral is far more than merely a beachy getaway; it's a treasure trove of nature, science, museums, and history, all rolled into one – and served with a hefty side of rocket launches thanks to its role as a space force base.
And with a diverse range of events (none more famous than the shuttle and rocket launches), restaurants, celebrations, and beaches (look no further than Playalinda Beach); not to mention the infamous Kennedy Space Center, beloved Manatee Sanctuary, and quintessential Ron Jon Surf Shop, seldom does this slice of entertainment-rich paradise disappoint.
So whether you're young of age or young at heart, a beach bum or science geek (or a little bit of both), a foodie or a nature lover, there's definitely something for everyone in this Floridian town. So, without further ado, here are fun things to do in Cape Canaveral the next time you find yourself journeying through eastern Florida.
1 – Meet the local wildlife at Manatee Sanctuary Park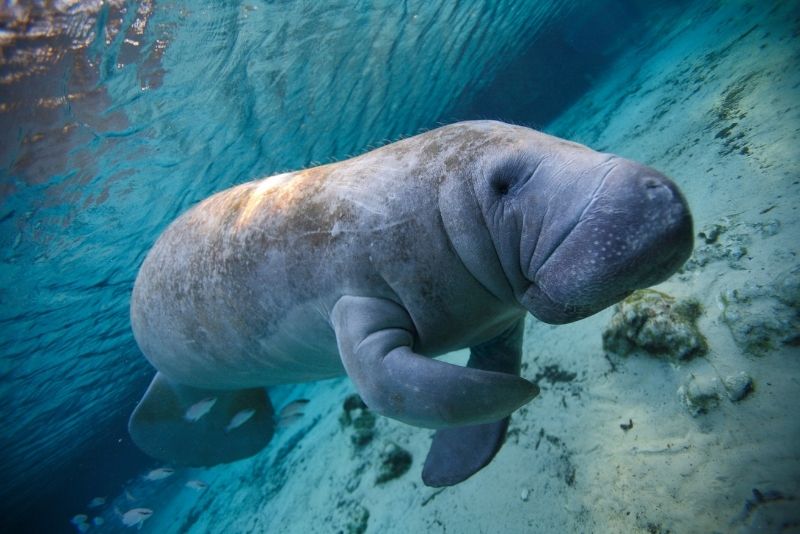 Set against the Banana River and spread over some 10 acres of land, Manatee Sanctuary Park is a serene and beautiful spot that's perfect for picnicking, fishing, kayaking, or just taking a leisurely stroll.
As its name suggests, the park is also home to a large number of manatees (Florida's state marine mammal), which you're a chance to see lazing in the shallow waters or basking on the banks.
Friendly and bubbly, these blubbery beauties are known to come and feed off the seagrass along the boardwalk from time to time. But if you don't spot one, keep your eyes peeled for occasional dolphins, osprey, waterfowl, and colorful birds.
Animals aside, it's a splendid place to watch the sunset and forget about the hustle and bustle of big city life for a couple of hours. And with a handful of serene walking paths, workout stations, a playground for the youngsters, quirky statues, and covered picnic areas to boot, there's something for everyone to enjoy.
2 – Enjoy the view (and learn a thing or two) at Exploration Tower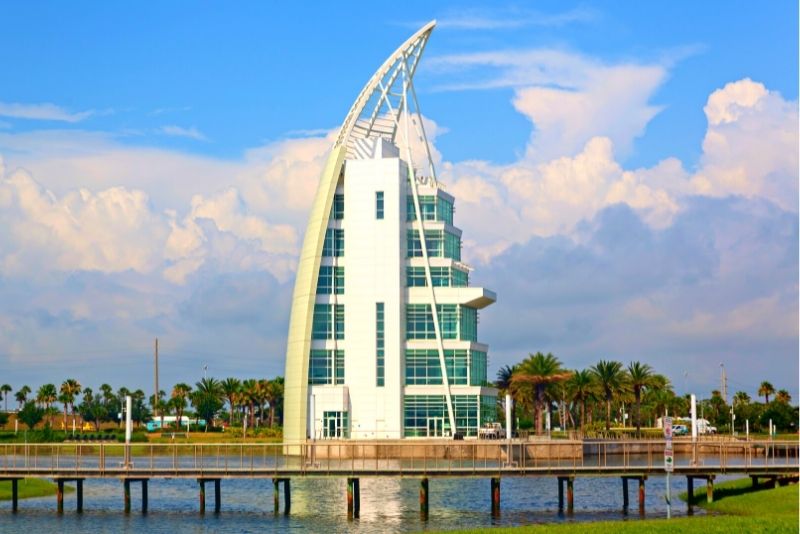 [Please note that the Exploration Tower is closed until at least February 2023 due to a maintenance project. Updates will be provided once the project is complete.]
Soaring some seven stories high, just off the waterfront and right next to the Cape Canaveral cruise ship terminals, the Exploration Tower – looking like a boat's sail (not too dissimilar from the 7-star Dubai hotel, in fact, just smaller-scale) offers up unbeatable views over the harbor, the Kennedy Space Center (perfect for viewing launches!), the Air Force Station, Cocoa Beach and beyond.
But this is more than just a lookout point – it's also an interactive museum that tells the story of the area, from its earliest days as an integral part of Florida's space program to its role as one of the busiest cruise ports in all of North America.
Each of the building's seven floors serves a specific purpose; be that a viewpoint, a museum, or a spot to eat. With hands-on exhibits about the air and space frontiers (level 6), the many ships and boats that pass through Port Canaveral (level 5), or the history of the local environment (level two), there's plenty to be learned.
Throw in a 72 seat state-of-the-art theater showing regular short films (exclusive to the Tower), and a top-floor outdoor deck where you can snap some photos or simply take in the views, this is well worth an hour or two of your time – especially if you have kids in tow.
3 – Join a dolphin-watching or kayaking trip!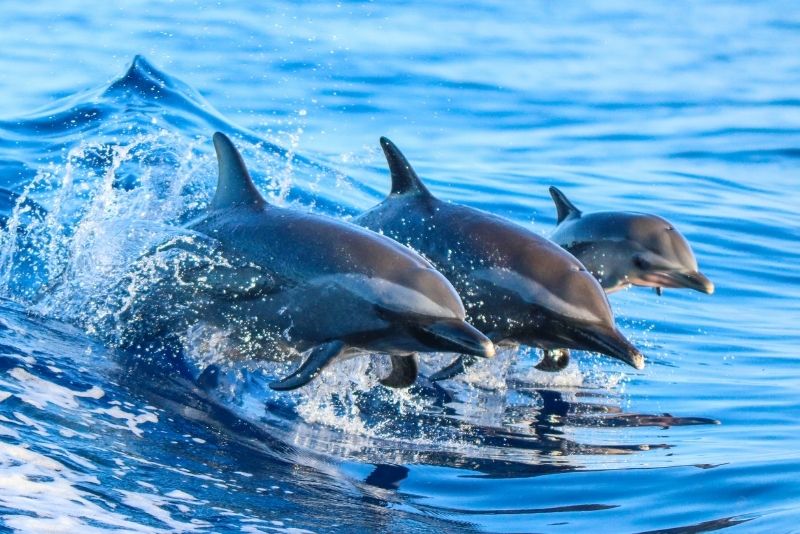 Famous for its friendly residents, there's no better place to go dolphin watching than the shores of Atlantic Florida. You can often spot them frolicking in the waves right from the shore, but for a closer encounter, consider heading out on a boat or kayak tour.
There are plenty of operators offering up tours – some lasting as little as an hour, others going for half a day or more – so you're sure to find something that suits your schedule and budget. And with knowledgeable guides leading the way, you're bound to learn all sorts of fun facts about these amazing creatures over the course of your adventure.
Don't forget to keep your eyes peeled for other wildlife too; manatees, turtles, stingrays, pelicans, and more call this stretch of coast home, so you never know what you might see.
Suitable for both experienced kayakers and first-timers (including kids), these tours offer the chance to get off the beaten path, wandering into the backwaters and along mangrove shorelines to see these wild animals in their natural habitat!
4 – Soak in the serenity of Canaveral National Seashore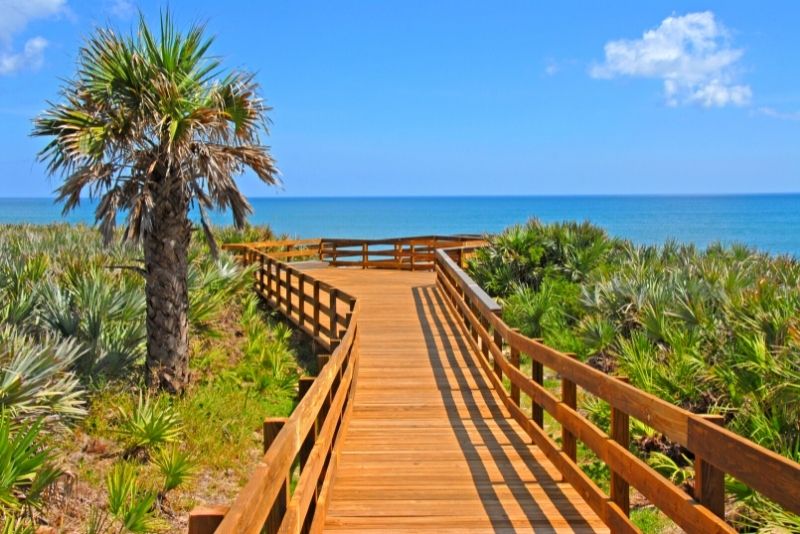 An absolutely stunning slice of old Florida, Canaveral National Seashore is a must-visit for anyone spending time in the area.
Comprising more than 24 miles of unspoiled beaches (including Playalinda Beach, where you can often spot turtles nesting), this is a place where nature truly comes first. As such, there are no high-rise buildings or busy boardwalks to be found; just miles and miles of pristine sand dunes, lagoons, marshes, and mangroves to explore.
Whether you're looking to relax on the beach, go for a swim, fish from the shoreline, paddle a canoe or kayak through the inland waterways, or simply take in the views with a leisurely stroll along with one of the many nature trails, Canaveral National Seashore has something for everyone. And as the longest stretch of undeveloped public beach on the state's eastern seaboard, you'll never feel crowded.
Oh, and did we mention that it's also home to the Kennedy Space Center? Time your trip and you might even be lucky enough to spot a rocket taking off in the distance – just check their website for the most up-to-date launch info.
If you're looking to escape the hustle and bustle of everyday life and connect with nature, this is most definitely the place for you.
Entrance fees will set you back $20 per vehicle or $15 per motorcycle and are valid for 7 days. But if you plan on staying a while, a $40 annual pass is the best bang for your buck. Or, if it lines up with your trip, there are 5 free entrance days during the year (Martin Luther King Day, the first day of National Park Week, August 4th – Anniversary of the Great American Outdoors Act, Veterans Day, and the National Public Lands Day).
5 – Set up a picnic at Alan Shepard Beachfront Park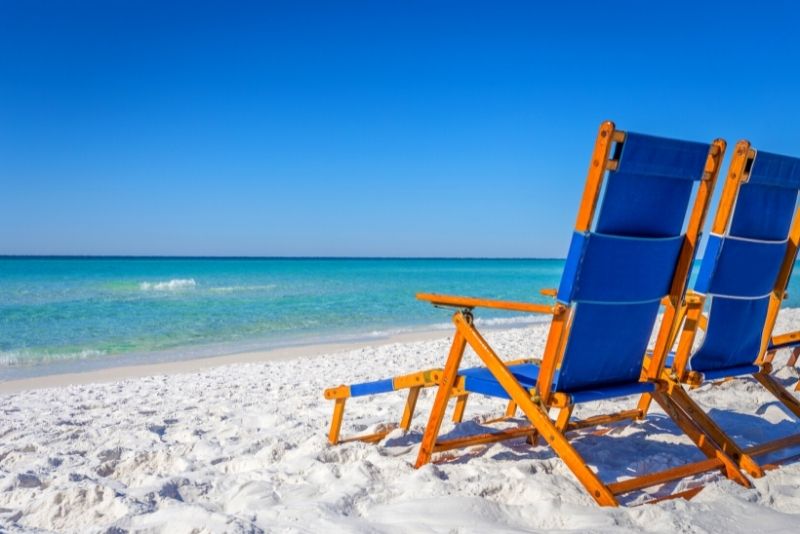 Named for the first American to journey into space (with a suborbital flight aboard Freedom 7), Alan Shepard Beachfront Park is a great place to spend an afternoon if you're looking for something low-key in the fresh, open air.
This unique, five-acre park grants access to the beach, however, is typically far quieter than the neighboring Cocoa Beach, making it perfect for a relaxing day in the sun.
And with plenty of amenities on offer – including picnic pavilions, grills, a playground, lifeguard tower, and more – you can easily while away a few hours here.
But the real highlight is definitely the boardwalk that winds its way through the park, offering up stunning views of the Atlantic Ocean as you go and acting as a prime location for watching any rocket launches. Keep your eyes peeled for dolphins frolicking offshore as you stroll!
The park is open from sunrise to sunset every day and best of all, admission is totally free (just pay for parking – $2.50 per hour)! With a handful of nearby restaurants, as well as the Ron Jon Surf Shop (self-dubbed the world's most famous surf shop), there's plenty to keep you busy.
6 – Meet actual astronauts at the iconic Kennedy Space Center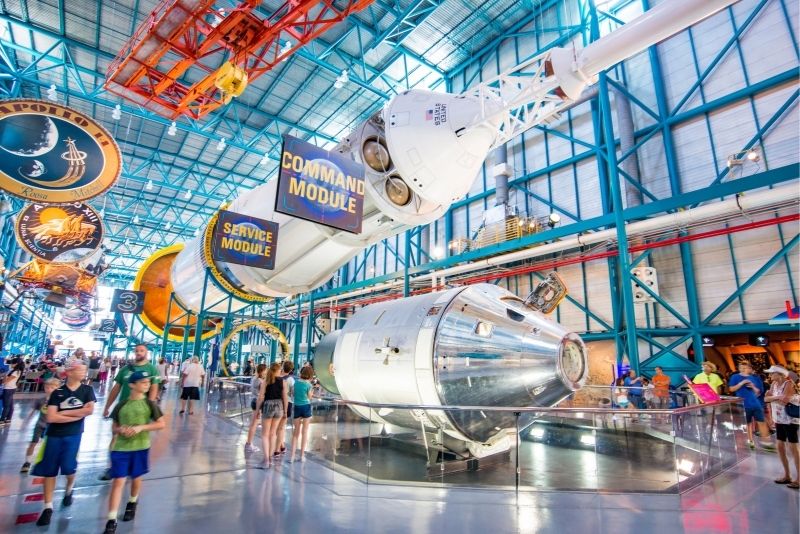 Simply put, a trip to Cape Canaveral wouldn't be complete without a visit to the Kennedy Space Center Visitor Complex – it's not just one of the best things to do in Cape Canaveral, but statewide!
As one of America's most coveted tourist destinations, you'll need to block out the whole day. With so much on offer – from tours and simulators to movies in the IMAX theater; and exhibits on spacecraft, space heroes, the science of intergalactic exploration, and a slew of Mission Zones (to name just a few of the attractions) – there's something for everyone, regardless of your age or interest level in space travel.
And with an up-close look at historic spacecraft like the Atlantis, 60 interactive displays celebrating the history and technology of NASA's Space Shuttle Program, and inspiring presentations by former and current astronauts, you're sure to leave feeling inspired.
For those looking to feel the rocketman thrill, the heart-racing Shuttle Launch Experience will have the adrenaline surging like no tomorrow, while the Astronaut Training Simulator will show you the ropes of operating one of mankind's most complex machines.
Of course, if you're lucky enough to time it right, the undisputed highlight of the Space Center is the live rocket launches. But even if you don't, the experience of touring actual NASA Control Rooms and standing alongside actual enormous rockets in the Rocket Garden is sure to be a memorable one.
While you can grab tickets at the door, if you book online you'll also have access to VIP packages, hotel pickup, and dropoff options, and transport from Orlando, depending on which tour you choose. And with plenty of restaurants and cafes on-site, you won't go hungry either.
Learn more about Kennedy Space Center tickets price.
7 – Step back in time at the Dinosaur Store and Museum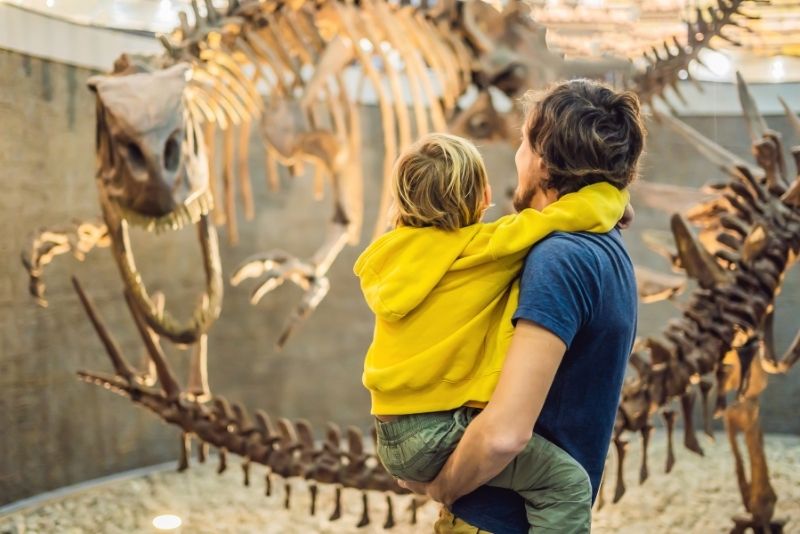 Tucked away in the streets of Cocoa Beach just 2 blocks from the Ocean is one of the most unique attractions in all of Florida: the Dinosaur Store and Museum.
As its name suggests, the museum is packed with all kinds of information (and real fossils!) on these incredible prehistoric creatures. But even if you're not a budding paleontologist, it's still worth checking out for its sheer quirkiness factor – after all, where else can you see a life-size dinosaur skull hanging from the ceiling?
With dozens of different dinosaur replicas and actual skeletons on display – as well as fascinating replicas of the French Lascaux cave-paintings and a host of Egyptian, Chinese and Mesoamerican relics, fossils, and ancient minerals (including life-sized replicas of King Tut's tomb and Chinese terra-cotta soldiers) this place is sure to be a hit with the history buffs and dinosaur lovers alike.
For the extra adventurous, don't miss the new Adventure Zone: a heavily interactive area featuring live alligators and reptiles, a space to dig for fossils, and a slew of fun yet educational hands-on displays.
And if you want to take away a prehistoric souvenir, the onsite store stocks everything from T-shirts and toys to replica fossils that you show off to all the folks back home.
The Dinosaur Store and Museum is open daily from 10 am – 5 pm all days except for Tuesday, with slightly shorter hours on Sunday (12 pm – 5 pm), with admission costing just $14 for adults and $12 for kids.
8 – Join a bike tour in the Cocoa Beach Pier area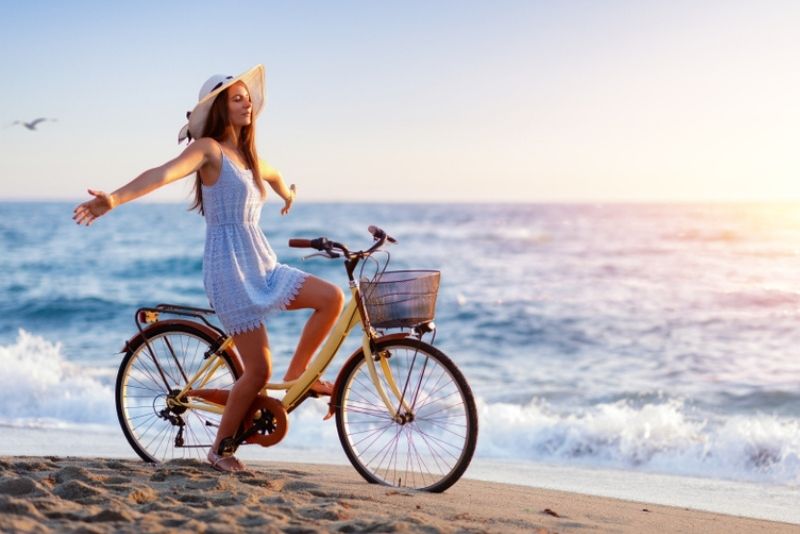 Ditch the car and the traffic – this time, it's all about two wheels and the open road.
Cocoa Beach Bike Tours offer a great way to see the sights of this beautiful coastal town, with tours led by knowledgeable local guides who are more than happy to share their insight into the area's history, culture, and ecology – and dish up a handful of local secrets along the way that you won't find on the typical tourist maps or blogs.
WItnessing a highlight reel of the Cape, you'll pedal your way down tree-lined streets past pretty beach houses, historic landmarks, and some of the best surf spots in Florida as you make your way through the quaint downtown area and past must-see spots like Ports End Locks Observation Deck, Exploration Tower, and Jetty Park. Depending on your tour, you'll likely spend some time at lagoon-front parks eyeing for manatees and dolphins.
And what better place to finish your tour than at the world-famous Cocoa Beach Pier? A local landmark for well over 50 years, and stretching 800 feet out over the Atlantic Ocean, it's the perfect spot to take in some fresh sea air, try your hand at fishing (or people watching), or simply enjoy a refreshing beverage or bite to eat at one of the many restaurants and cafes that line its length.
Typically lasting around 3-4 hours, you'll find a range of Cocoa Beach bike tours available and be able to choose between regular bikes and pushbikes.
9 – Take it easy for a day at Cherie Down Park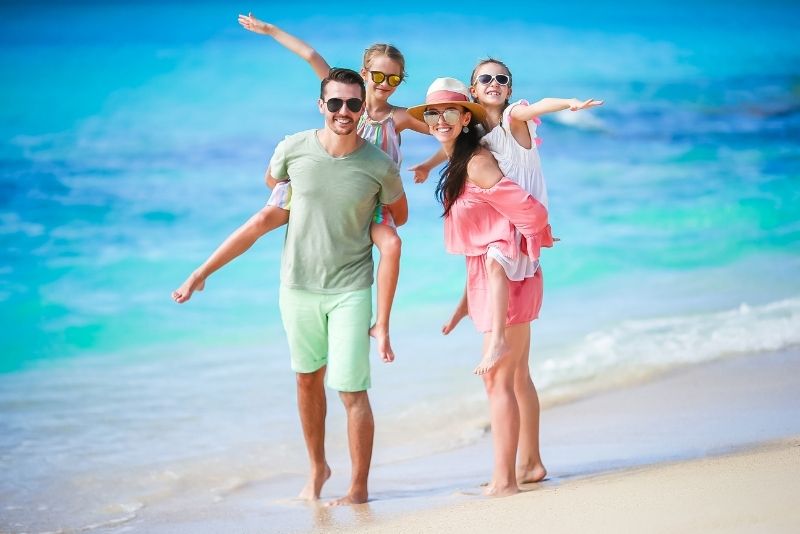 If you're looking for a place to relax and take in the natural beauty of Cocoa Beach, the hidden gem that is the beachfront Cherie Down Park is the perfect spot.
This pretty little park sits up in the quieter northern suburbs of Cape Canaveral, about 3 miles north of Cocoa Beach and a stone's through from the warm Atlantic Waters.
Just off the back of Peacock Beach, the seven-acre park offers stunning views of the water (where you'll have plenty of opportunities to fish, paddleboard, boogie board, surf, or kayak),
A great spot to set up for lunch, Cherie Down has several BBQ grills and picnic tables, with restrooms and showers if you need to rinse off after a dip in the ocean. You'll find lots of free parking here, as well as a beautiful 350-foot boardwalk that crosses over sand dunes if you feel like stretching your legs. The park is open daily from sunrise to sunset and best of all, admission is free.
Hot tip: from Cherie Down Park, it's about a 20-30 minute walk along the sand to Jetty Park – a great option if you want to skip the fee to drive into Jetty Park.
10 – Head to Orlando for a thrilling day trip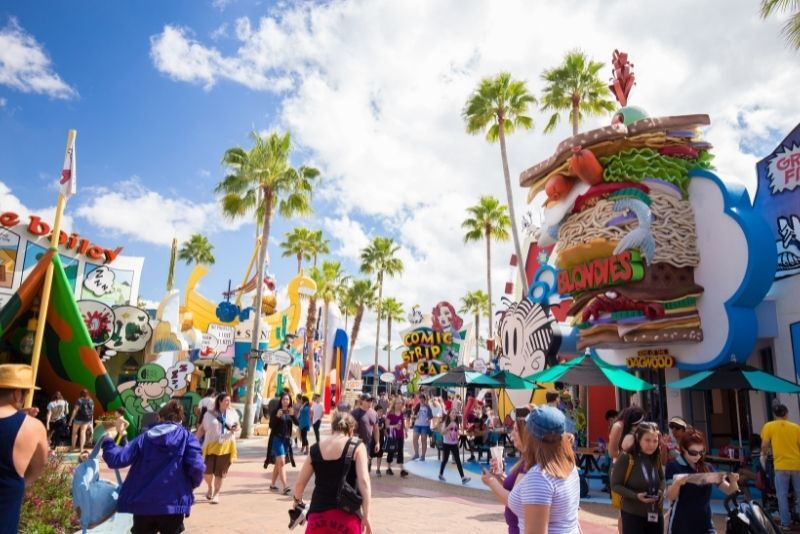 The theme park capital of the world where entertainment is endless, Orlando is just an hour's drive from Cape Canaveral, making it the perfect day trip option for families and thrillseekers alike.
From world-famous attractions like Walt Disney World, Universal Studios, and SeaWorld, to lesser-known (but no less fun) spots like Gatorland, Wonderworks, and Ripley's Believe It Or Not!, there really is something for everyone in the family in Orlando. With no shortage of options to choose from when it comes to the best Orlando theme parks, you could easily spend a week here checking off the different venues.
Despite being inland and built over humid marshland, Orlando still knows how to help visitors cool off during the summer months, when the mercury's blaring down. The best Orlando water parks provide much-needed relief from the heat, with Wet 'n Wild, Aquatica, and Typhoon Lagoon (to name but a few) all offering their own unique take on fun in the sun.
There are no shortage of fun things to do in Orlando besides theme parks.
Orlando is also a shopper's paradise, with world-class malls like the Mall at Millenia, Florida Mall, and Orlando International Premium Outlets all pulling in the crowds – especially during those post-Thanksgiving sales!
And for all you sports fans, Orlando also plays host to the beloved Orlando Magic (NBA) and Orlando City Soccer Club (MLS), meaning there's always something going on in the city if you're a fan of catching a live game.
If all that isn't enough to fill your days, rounding out the list of fun things to do in Orlando, there are also a number of top-notch golf courses, as well as some great options for dining out and partying into the night.
11 – Head off the beaten bath with Canaveral Wildlife Tours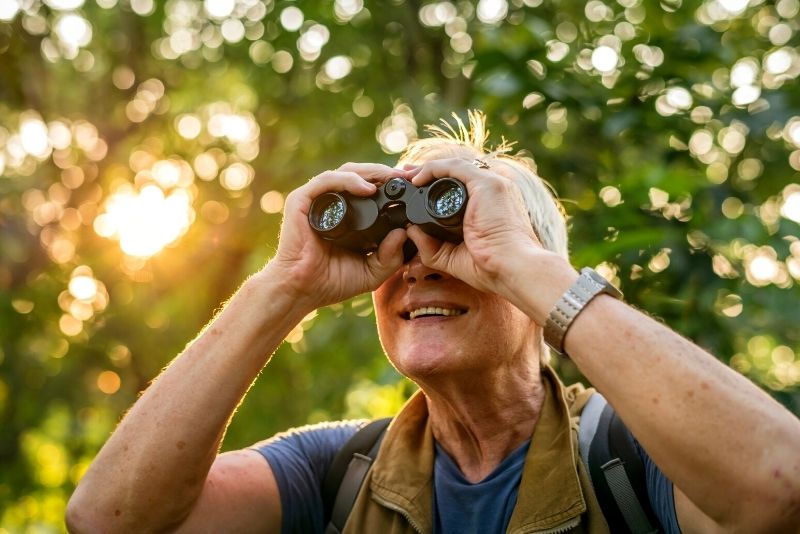 Despite the Cape being most known for its rocket launches and space programs, there's actually a lot of wonderful wildlife to be found in and around the ecologically diverse area. Over the 140,000 acres and 24 miles of barrier island, you'll find no less than 500 different species, many of which are endangered and rare to see in any other part of the world.
A crowd favorite among nature-loving tourists, dedicated and locally-led Canaveral wildlife tours offer visitors the chance to get up close and personal with – and learn a heck of a lot about – some of the more unique creatures that make this part of Florida their home.
From alligators to bald eagles, manatees, vibrant schools of fish, and even a friendly dolphin or two if you're lucky, the diversity of wildlife on offer in and around the Cape is astounding.
The tours last around four to six hours depending on which you choose (and usually include hotel pickup and dropoff) – giving you plenty of chances to spot some incredible animals in their natural habitat.
With lunch included, an air-conditioned executive coach to whisk you around, and a knowledgable and friendly guide on hand to answer any questions, these wildlife tours are considered one of the quintessential things to do in Cape Canaveral (especially if you don't want the hassle of organizing your own trip).
12 – Put your balance to the test at Cocoa Beach Aerial Adventures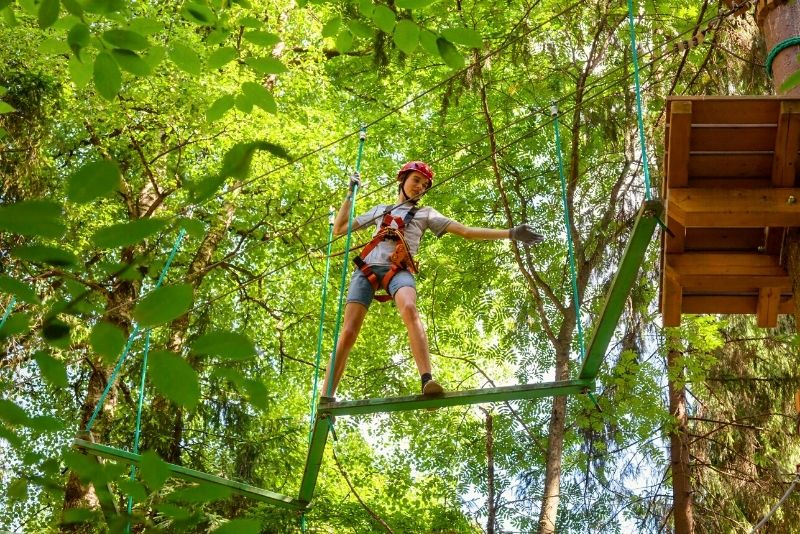 Soaring some 45 feet above the ground, and jam-packed with all kinds of obstacles and zip lines, the Aerial Adventures Park in Cocoa Beach is one of the most popular things to do in Cape Canaveral for both kids and adults.
With close to 50 different challenges to overcome (spread across 7 different high courses ranging from Beginner to Extreme), this aerial ropes course is not for the faint of heart – but it's an absolute blast, with breathtaking views of the beautiful canopy of 100-year-old oak trees, and with the Atlantic Ocean to one side and the Banana River to the other.
One minute you'll be tiptoeing across wide balance beams and tricky balancing logs; the next you'll be climbing through tunnels, zooming down zip lines, mustering up your arm strength for the monkey bars, and then hopping over wobbly suspension bridges.
So if you're looking for an activity that's a little bit out of the ordinary, and guaranteed to get your adrenaline pumping, then be sure to check out Aerial Adventures the next time you're in Cape Canaveral!
13 – See how space travel has evolved at the Air Force Space & Missile Museum
Space fans rejoice – the Air Force Space & Missile Museum at the Space Center's Launch Complex 26 is one of the best things to do in Cape Canaveral, and it's completely free to enter (although donations are accepted!
Dedicated to preserving the history of the United States space program, this fascinating museum offers visitors a chance to learn about and witness some pretty incredible artifacts from throughout the years that chronicle the fascinating space and missile history of the US Space Force.
From old photographs and documents of space launches, through to well over two dozen missiles, rockets and spacecraft, there are all kinds of interesting exhibitions on offer – making it well worth a visit for anyone with even a passing interest in space travel.
Hot tip: one of the best ways to reach the museum is as part of the free "Cape Canaveral: Then and Now" tour that runs from Thursday to Sunday and stops at several historic sites around the Cape Canaveral Air Force Station (for a fee).
14 – Opt for some reptilian recreation at Golf N Gator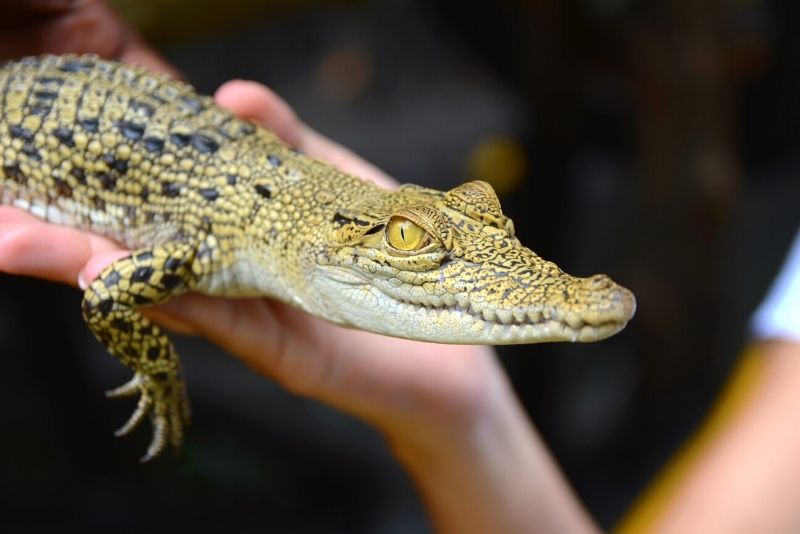 Promising great fun for the whole clan, Golf N Gator is a surefire delight for anyone traveling with kids in tow. A unique mini-golf experience, the family-friendly attraction offers two 18-hole tropical-themed putt-putt courses, as well as the chance to feed live alligators (from a safe distance, of course)!
With a water feature and lush vegetation surrounding the greens, the courses at Golf N Gator are both picturesque and challenging – making for an enjoyable few hours of putt-putting fun; either buy a ticket for one round, or opt for the all-you-can-putt option if you want to stick around a little longer.
With fun obstacles like waterfalls and bridges, as well as a couple of challenging holes towards the end, this is a great activity for both kids and adults alike – and it's sure to be a memorable experience!
More than just putting, Golf N Gator also boasts a treasure mining experience, put on regular wildlife shows with its resident snakes, tortoises, gators, birds, and lizards; and the Beach Grand Prix go-kart racing to boot!
15 – Pay a visit to the historic Cape Canaveral Lighthouse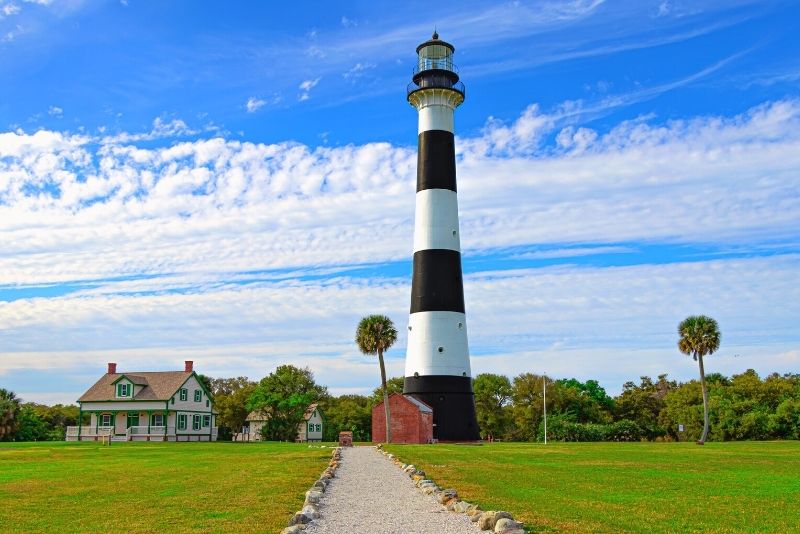 Finding itself smacked on many a postcard of the area, the Cape Canaveral Lighthouse has been standing tall since 1848 and is one of the oldest structures in Brevard County. Erected to warn ships of the treacherous shoals that lie just offshore, the lighthouse has been an iconic fixture of the area's coastline ever since; and it now stands as a National Historic Landmark, having been lovingly maintained and restored to its former glory.
At 151 feet (46 meters) tall, the black-and-white-striped lighthouse is certainly a striking sight, and it's well worth clambering up the five floors to the top for some spectacular views out over Port Canaveral, Cocoa Beach, and beyond.
As part of an official lighthouse tour, you'll have the chance to learn about the history of this famous structure, as well as the current efforts to protect and preserve it for future generations.
16 – Test your luck with a Casino Cruise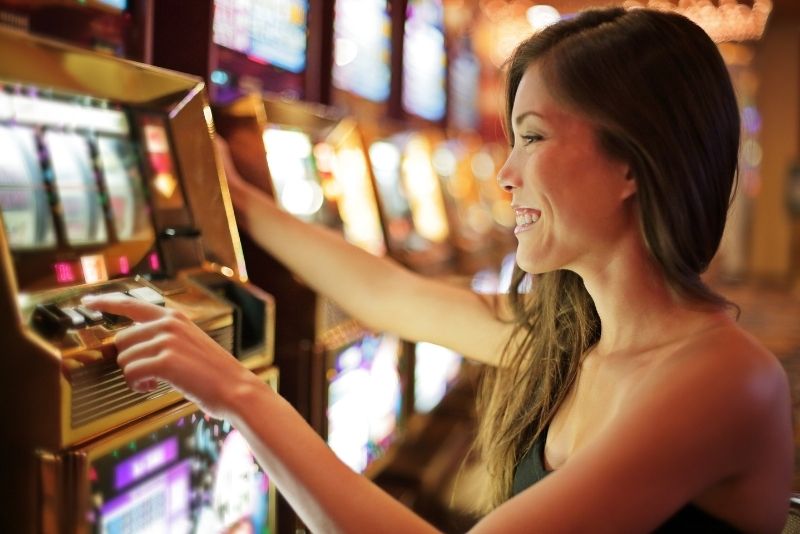 Part Las Vegas-style casino, part lunch or dinner cruise, part live entertainment – a casino cruise is the perfect way to add a touch of glamor and sophistication (and adrenaline as you wait for that roulette ball to stop) to your trip.
Setting sail from Port Canaveral twice daily (at 11:00 am and again at seven pm), Victory Casino Cruises' five-hour cruises offer visitors the chance to try their luck at more than 600 slot machines and 30 gaming tables (everything from Blackjack to Roulette, Texas Hold Em, Baccarat, and Craps) as well as enjoy some great views out over the sparkling Atlantic as you sail along on your merry way.
With two drink tickets included (with the option to purchase more if you're feeling thirsty), as well as an a la carte lunch or dinner (depending on which adventure you choose), plus five hours of sailing for just $20, so long as you don't run out of luck on the tables, this can be a great value-for-money activity.
17 – Expand your knowledge at the Sands Space History Center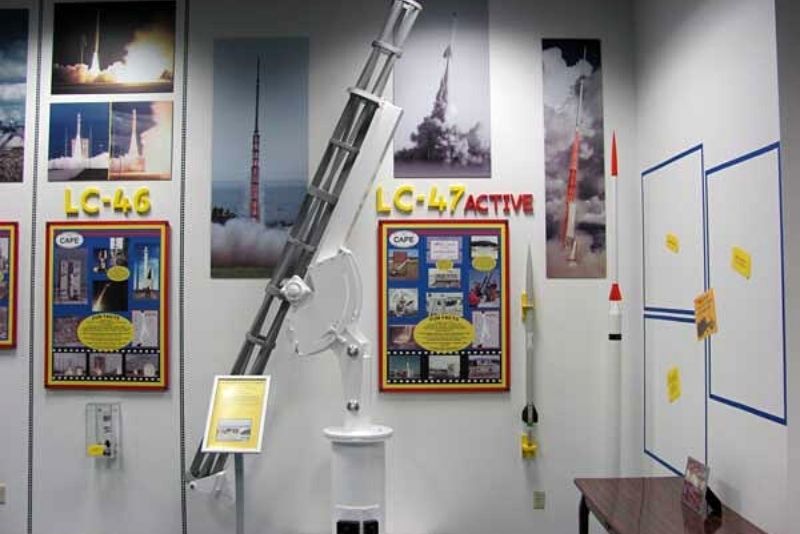 History buffs, listen up. With myriad engaging exhibits on early rocketry, Apollo missions, and so much more, The Sands Space History Center is a prime spot to learn about the history of the area, as well as the role that Cape Canaveral has played in America's complex and ever-developing space program.
While smaller than other museums in the area, there's a bounty of fascinating equipment and displays to keep you intrigued for a good hour or two. From the Atlas booster engine to the Mercury Boilerplate Capsule, and countless photographs of historic launches in the area (including the inaugural), space geeks will surely rejoice.
It's free to enter, and since the History Center sits just outside of Cape Canaveral Space Force Station, you don't need to buy a Cape access pass.
Plus, for all of you hunting for unique souvenirs to bring back home, the gift shop has a wide variety of NASA, Air Force, and Space X trinkets and knickknacks.
18 – Race against the clock at Escape Cocoa Beach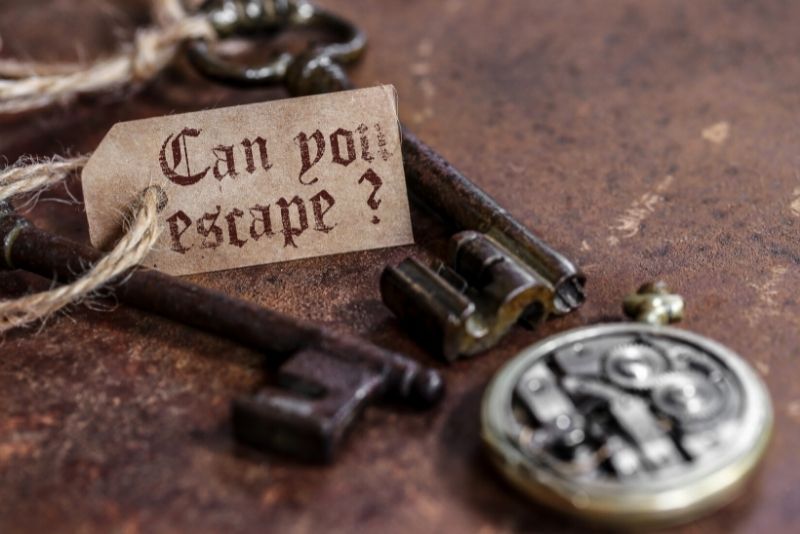 Consider yourself somewhat of a budding detective? The next Sherlock Holmes, perhaps? Well, thanks to Espace Cocoa Beach, now's the chance to prove it! With four meticulously detailed scenario rooms – Jailbreak, Rocket Science, Bank Heist, and Mystery of the Black Dahlia – you'll have plenty of opportunities to show off your problem-solving and wit under pressure.
You and your team will have one hour to work together to figure out the clues, solve the puzzles and riddles, crack codes, and ultimately escape the room before time runs out.
Located on Atlantic Avenue in the heart of Cocoa Beach, the escape room is not only a prime activity for a (rare) rainy day, but also a popular precursor to the area's lively nightlife – and less than 10 minutes from the Westgate Pier, your favorite restaurants or watering holes won't be far away.
19 – Chill out at the Jetty Park & Campground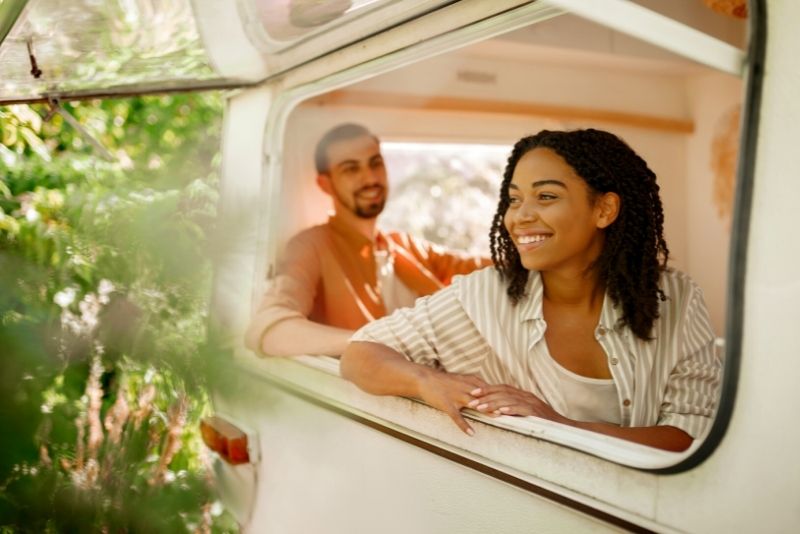 Just across the Canaveral Barge from the Space Force station, Jetty Park is a prime spot for many a reason. If you're just visiting for a few hours, the pristine beach (with lifeguards on deck) and pier which juts out into the Atlantic provide the perfect space to relax and soak in the view, let the kids loose on the playground, or spot some local wildlife in the shallow shores (keep an eye out for turtles)
If you plan on staying longer, however, Jetty Park also hosts a range of accommodation options – tent sites, rustic cabins, and RV hookups – as well as a general store and picnic pavilions, so you can make a real vacation of it.
Either way, thanks to its location, Jetty Park makes for a killer spot to watch the boats, submarines, and rockets do their thing; with plenty of marine life for snorkelers (and fishing from the pier), and a host of water-based activities like kayaking or jet ski rentals.
20 – Admire the colossal ships at Port Canaveral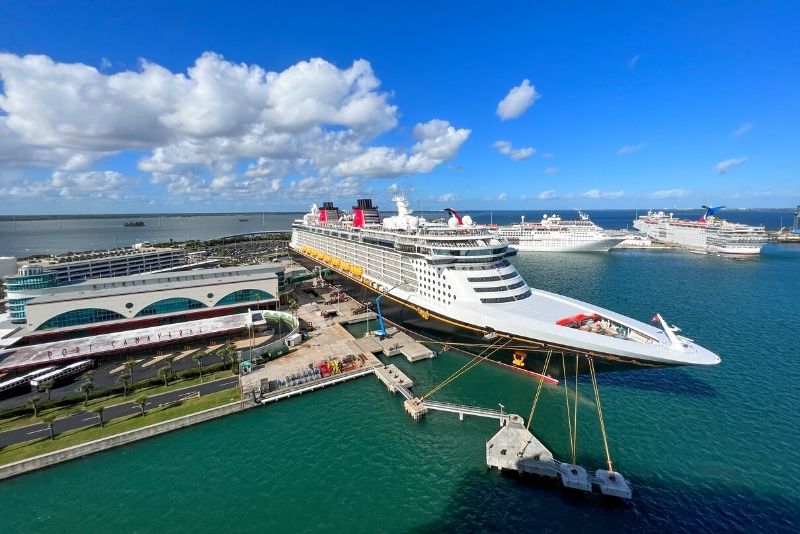 Regularly welcoming enormous cruise ships (and submarines!), Port Canaveral is a hub of activity day and night.
As the second busiest cruise port in the world (first place goes to the Port of Miami, in case you were wondering), there's always something going on – whether it be one of Royal Caribbean's gargantuan vessels making its way in or out of the dock, or watching the many private yachts and charter boats bobbing up and down in the water.
Even if you're not planning on boarding a cruise during your stay, Port Canaveral is definitely worth a visit. With plenty of restaurants, cafes, and bars lining the boardwalk – as well as some excellent seafood spots should you fancy something fresh – it's easy to make an afternoon or evening of people-watching and taking in the atmosphere.
Not to be forgotten is the view: thanks to its location just south of the Space Force base, the unobstructed port is a prime spot to watch rocket launches (if you're lucky!)
21 – Try your hand at paddleboarding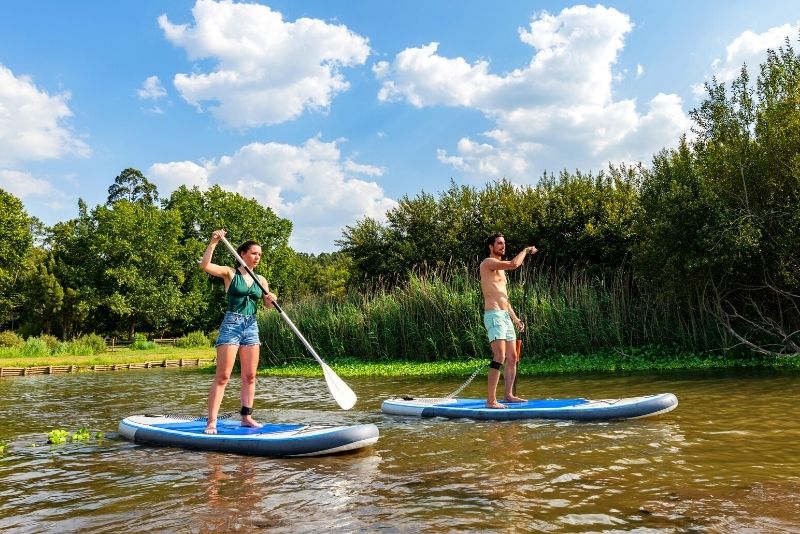 A sport that's both relaxing and much more of a workout than meets the eye, stand-up paddleboarding has taken the world by storm over the past decade (albeit an age-old activity), and Cape Canaveral is no exception.
Down at Cocoa Beach (just a short drive from Cape Canaveral proper), you can find a number of SUP rental companies, offering boards and lessons for all levels – even if you've never tried SUPing before, you'll get the hang of it in no time.
Once you've got the hang of it, it's time to explore! Paddle your way around the shallow waters of the Banana River, keeping an eye out for turtles and rays, or make your way out to the open ocean for a real workout.
If you're feeling extra adventurous, why not try your hand at SUP yoga? It's a great way to zen out and get in some exercise while you're at it. Or, if traveling in a group, consider the giant inflatable 10+ person board!
22 – Play a round or two of golf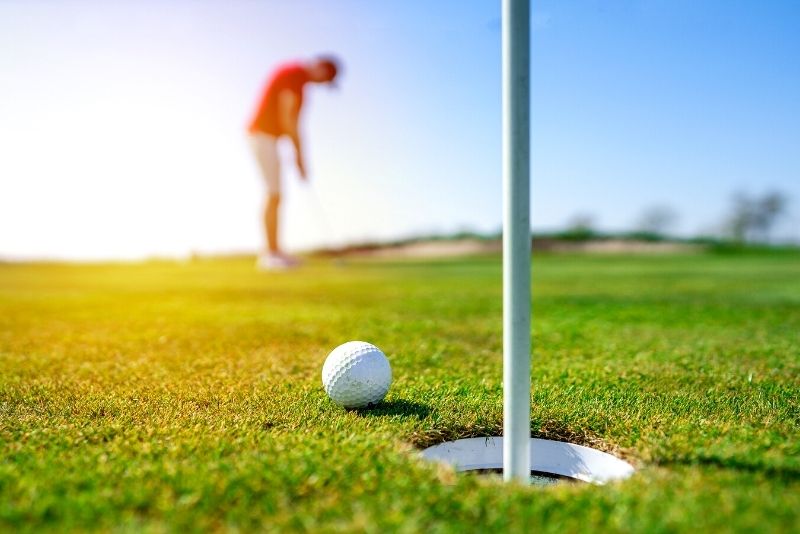 Florida and spectacular golf courses go together like, well, peanut butter and jelly.
And while you might not think of Cape Canaveral as a golfer's paradise, there are actually quite a few excellent courses in and around the area, perfect for an afternoon on the fairways under that toasty sun.
Just minutes from Cocoa Beach, the Cocoa Beach Country Club is a public club with some of the most breathtaking views in all of Florida. Each of its three courses – Dolphin (shorter,) Lakes (longer,) and River (most scenic) – feature 9 holes (27 total) with over 40 sand bunkers per course. If you still need some practice, you'll find a driving range on-site, while the 19th Hole Restaurant dishes up a hearty meal once you've worked up an appetite.
Not too far away on Merritt Island sits The Savannahs Golf Course, a lush, peaceful course that's perfect for a game or two.
With its subtropical landscape and unique, natural elevation changes, The Savannahs is unlike any other course you'll play in Florida, not to mention the fact that it's home to a slew of wildlife – keep your eyes peeled for alligators! You'll find the Savannahs just minutes away from Kennedy Space Center,
Fancy a challenge? The 525-yard, par-5 7th hole is considered to be one of Central Florida's most difficult fairways. Think you've got what it takes?
For those willing to travel a little further afield, the nearby Viera East Golf Club on the mainland is another great option, boasting 18 holes of championship golf on greens designed by renowned golf course architect, Joe Lee.
If you're looking for something on the more affordable side and suited to the whole family, both Brevard Miniature Golf and Golf N Gator should do the trick.
23 – Enjoy all that the Banana River Aquatic Preserve has to offer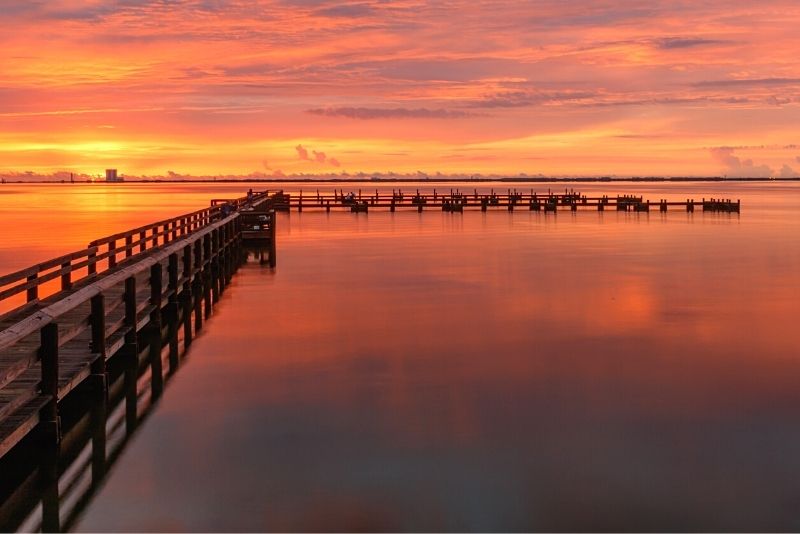 A visit to the Banana River Aquatic Preserve is one of the quintessential things to do in Cape Canaveral and, simply put, a must for any nature lover.
Comprising more than 30,000 acres of mangrove forests, seagrass beds, and salt marshes, the preserve is home to an abundance of wildlife, including manatees, dolphins, and bald eagles. Moreover, you'll be greeted by the largest pelican rookery on the Atlantic Coast, have a high chance of spotting many an alligator, and are likely to run into a diamondback terrapin turtle or two!
There are numerous ways to explore the preserve, but perhaps the most popular is by kayak. You can rent a kayak from one of the many companies in Cocoa Beach and head out on your own, or sign up for a guided tour for a more educational experience.
If you're feeling really adventurous, why not try your hand at stand-up paddleboarding? SUPing is a great way to get some exercise while taking in the stunning scenery.
And, of course, if you prefer to travel around in style, you'll find no shortage of VIP boat tours or boat rentals to choose from.
24 – Walk the Yellow Brick Road at the Wizard of Oz Museum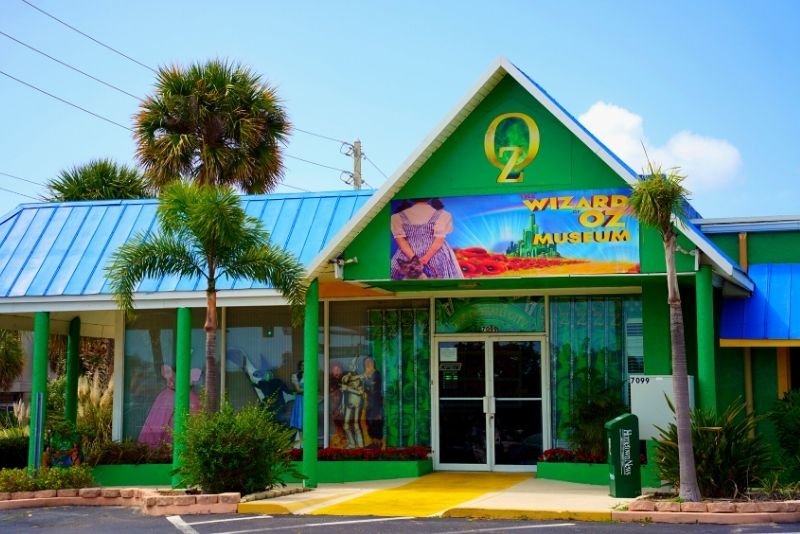 We're off to see the wizard!
Full of nostalgia, magic, and plenty of tributes to our favorite mishmash of oddballs (looking at you Lion, Tinman, and Scarecrow), The Wizard of Oz Museum in Cape Canaveral, just a 5-minute drive from Cocoa Beach, should be high on the list for any devout cinephile or fan of the classic tale.
Having opened in 2021, this new 20,000-cubic-feet museum is highly interactive, with modern displays that let you try on Dorothy's shoes, travel through that infamous Kansas tornado, wander around Munchkin Land, and the dark forest, and stroll through poppy fields into the sparkling Emerald City.
A treat for movie (and book) fans, the museum contains a vast array of memorabilia, including Dorothy's outfits, original film posters, comics, toys, maps, original props and costumes, collectible figurines, fine first edition books, and even the Wicked Witch's broom! You'll also find hands-on exhibits where you can have your photo taken in Oz with an 'Immersive Van Gogh'-style 360-degree projection, or take a stroll down the museum's very own Yellow Brick Road.
Not to be missed is the wide collection of original puppets and backdrops that were used in the 1950s and 1960s Chicago theater performances.
The museum is open every day from 8 am to 5 pm, with the option to have a guided tour with the owner if you book online in advance!
25 – Drift around corners at the Beachside Grand Prix go-kart track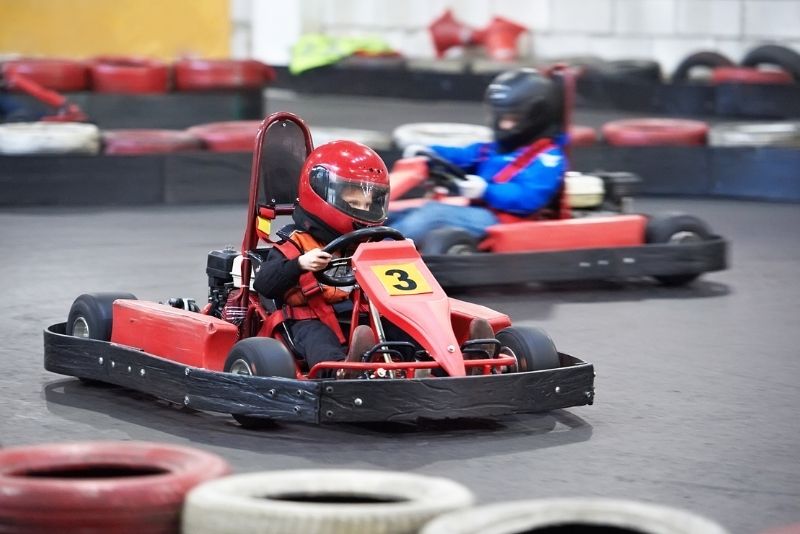 Whether you're a seasoned racer or simply looking for some fun things to do in Cape Canaveral with the family, the Beachside Grand Prix – found in the center of Cape Canaveral – is sure to get your heart racing!
With a large outdoor track designed for (safe) speed and thrills, there's plenty of chance to drift around corners and put the pedal to the metal at speeds of up to 30 miles per hour. With fast, fully electric karts and a track that (in addition to the classic twists and turns) includes vertical challenges with hills, this popular outdoor track is great for those who want to put their driving skills to the test.
Not only that, but Beachside Grand Prix also plays host to a mini-golf course to perfect your putting and snack bar serving up delicious food and drinks. So what are you waiting for? Start your engines and head on down to Beachside Grand Prix!
Hot tip: if you book a kart race, it's only an extra $5 for a mini-golf session – so it's better value to do both rather than just one or the other.
26 – Head to one of the rocket launch viewpoints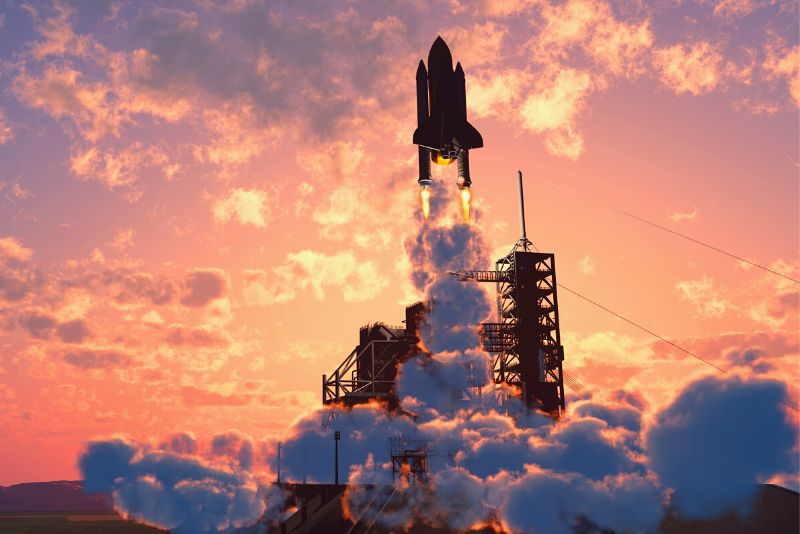 Dubbed the 'Space Coast' for good reason, Cape Canaveral is the perfect place to check out a rocket launch and witness the roar and exhilaration of thousands of gallons of burning fuel!
There are numerous viewing spots along Highway A1A, with most people heading to Playalinda Beach, Jetty Park, or Cocoa Beach Pier to watch the action.
If you want to avoid the crowds (and get a little closer to the launch site), try one of the many parks and nature reserves in Canaveral National Seashore – just remember that you'll need a permit to enter these areas. Or, if you want to combine the experience with a dose of education, the U.S. Astronaut Hall of Fame in Titusville is a solid choice.
Of course, if you want the full VIP experience, there are plenty of tour companies that offer bus transport and access to private viewing areas for an up-close-and-personal view of take-off – check the Kennedy Space Center launch tickets website for the most up to date information.
27 – Go surfing!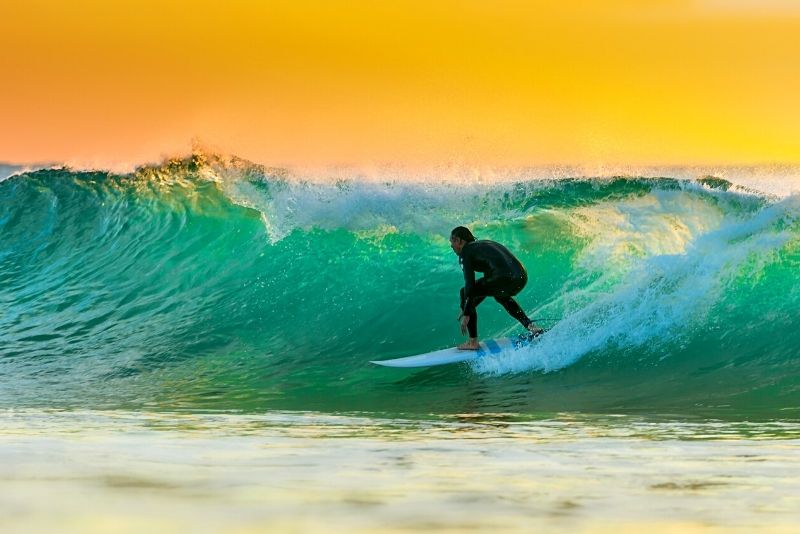 Sun-kissed and always exuding a relaxed vibe (with launch days being the rare exception), Cape Canaveral is the perfect place to learn how to surf – or, if you already can hang ten like a pro, simply enjoy some time out on the waves in the warm Atlantic waters.
With a host of beaches to choose from (Playalinda and Cocoa Beach being two of the most well-known), great surfing conditions are easy to find. With long, consistent waves that make for an enjoyable ride, it's no wonder that the Space Coast is a favorite spot for surfers from all over the globe – it is, after all, the stomping ground of many a pro including multiple-time world champion Kelly Slater.
If you want more of a local feel, away from the tourists near the infamous Ron Jon surf shop, then either of the Streets near downtown Cocoa Beach or 2nd Light Beach are great options; offering excellent breaks without the crowds.
The break most synonymous with all of East Coast surfing is Sebastian Inlet (a beautiful 45-minute drive south from Cocoa Beach); closer to home, Tables Beach is a crowd favorite, likewise the mediums tides of Indialantic Boardwalk.
But, if you're not sure where to start, there are plenty of surf schools in the Cocoa Beach area that can provide lessons and rentals for surfers of all levels.
28 – Cruise around with Space Coast Slingshots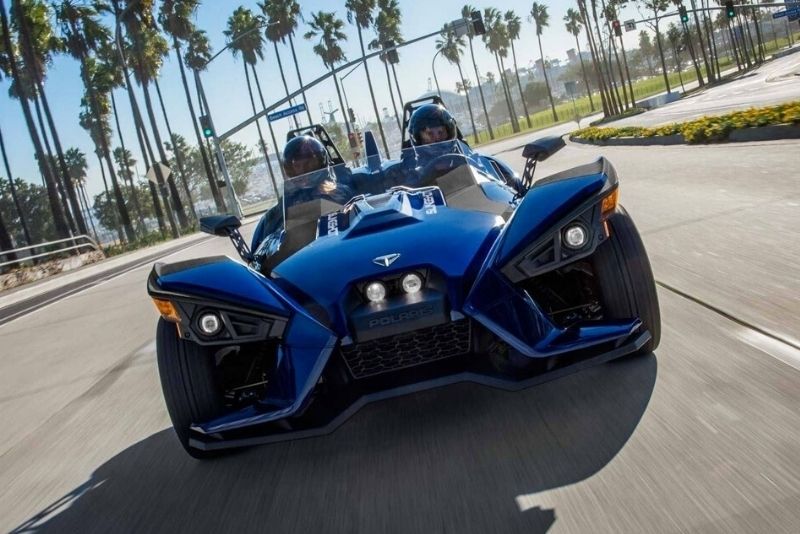 What better way to soak in that synonymous Florida sun than by cruising down the A1A Highway with the wind flowing through your hair?
Well, you can do just that with Space Coast Slingshots – a company offering fun and exciting open-air driving experiences in its fleet of snazzy Polaris Slingshots!
With a collection of differently colored three-wheeled vehicles to choose from (each complete with a sound system, GPS navigation system, and backup camera), you'll be stylishly zipping around in no time.
If you want to explore the Space Coast on your own, then you can hire a Slingshot for the day or half-day. However, if you want someone else to take care of all the organization, then opt for one of the company's guided tours: in a follow the leader style, your local guide will skirt you around town ticking off all of the main highlights (from Cocoa Beach Pier to Ron Jon Surf Shop, Cocoa Village and Canaveral Causeway) with plenty of photo ops along the way.
29 – Book a table at the best waterfront restaurants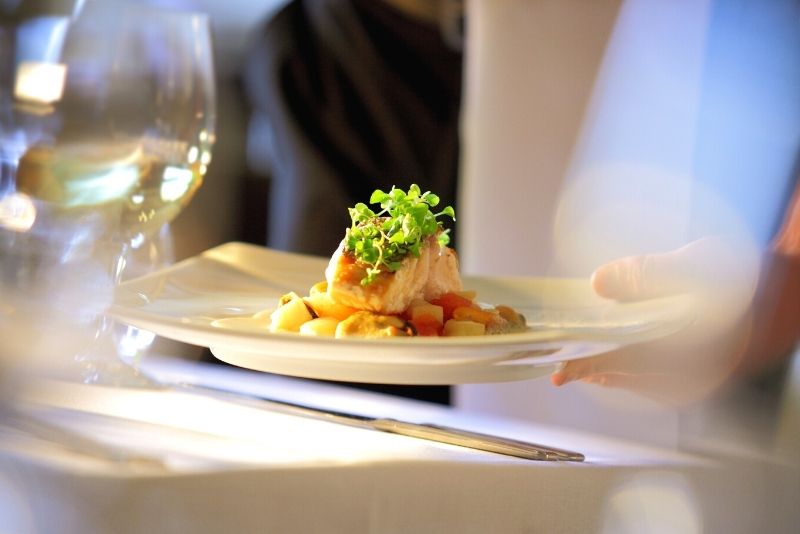 When you're that close to the water, it would be rude not to make the most of it and enjoy some of the freshest seafood on offer.
Fortunately, Cape Canaveral is home to a great selection of waterfront restaurants where you can indulge in all manner of local seafood dishes – from shrimp tacos and lobster rolls to grilled mahi-mahi and fish & chips.
With such an abundance of fresh catches, it's no surprise that many of the best restaurants in town have a seafood focus; here are just a few of the crowd favorites.
Right next to Exploration Tower, Rising Tide Tap & Table dishes up comfort eats with a local twist, overlooking the calm lake.
Just around the corner and directly facing port Canaveral, you'll find Fishlips Waterfront Bar & Grill – a nautically themed open-air seafood restaurant serving up everything from crab cakes to Po-Boys, yellowfin tuna sandwiches, and a slew of pasta, steaks, burgers, and salads.
Right next door is a perfect spot to combine sunset dinner with a cocktail or three: Grills Seafood Deck & Tiki Bar. Meanwhile, on the other side of Fishlips sits Rusty's Seafood and Oyster Bar, a buffet-style seafood joint that's hugely popular with the locals. So, hungry yet?
30 – Get a birds-eye view with a helicopter tour (Cocoa Beach Helicopters)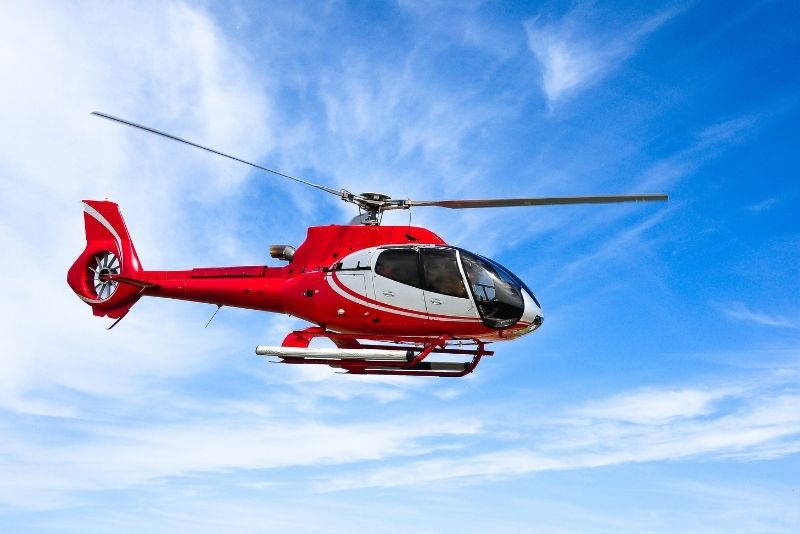 Sure to leave one hell of a lasting impression, one of the best ways to see Cape Canaveral and the Space Coast is from above, and there's no better way to do that than with a helicopter tour courtesy of Cocoa Beach Helicopters.
With years of experience, the team offers a variety of different tour options to suit everyone from first-time flyers looking for a quick highlight reel to those looking for an adrenaline-fueled thrill ride.
The quickest and cheapest choice is the Port Canaveral & Locks flight – starting at just $19.99 per person (seriously, have you ever heard of a flight that affordable?), it checks off the marinas, piers, and NASA launch pads of the port area. All up, you've got about a half-dozen options to choose from, each offering a different experience and a different price point.
Craving a thrill? Consider the doors-off option! How about a touch of romance? Then the sunset add-on is guaranteed to impress. With a range of options to choose from, there's something for every budget.
31 – Hop around the area's best bars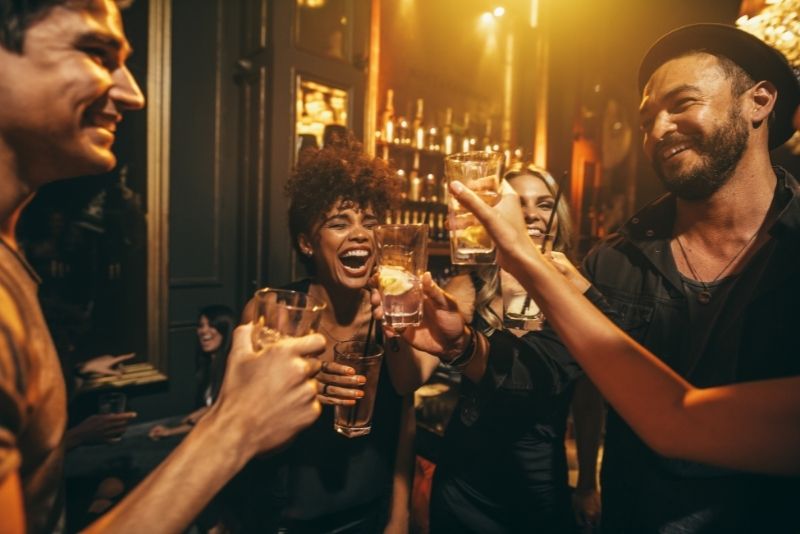 You're on vacation, after all, so why not make the most of it and indulge in a little R&R at one of Cape Canaveral's many bars?
From low-key wine bars and beachside tiki bars to rowdy sports bars and everything in between, there's something to suit every mood and every taste.
If you're looking for a place to chill and chat with a pint (or two), then head on over to Preacher Bar – specialists in craft beers, handmade cocktails, and soulful food, it's popular for a reason.
For those who like their drinks in the open air, the Rikki Tiki Tavern at the end of the 800-foot long Cocoa Beach Beach combines cold beers with killer views, and for those on the hunt for something a little wilder, Kennedys Lamp Post Tavern is a dive bar that puts on one heck of a karaoke night.
32 – Go fishing for a day

Make no mistake, on the surface Cape Canaveral, is a space town; but git dig a little deeper and you'll find it's a fishing town to its roots, and whether you're an experienced angler or someone who's never so much as held a rod before, there are plenty of ways to get involved.
If you don't have your own gear, no problem – just head on down to one of the many charter companies that line the port area and they'll sort you out with everything from rods and bait to licenses (if you need them) and advice.
Not sure what kind of fish you're after? Or don't want to organize anything? Then consider going on a chartered boat tour; with several different boats to choose from, these tours give you the chance to try your hand at deep-sea fishing, bottom fishing, trolling, jigging… the list goes on!
Depending on the tour too, you might even get to keep what you catch, so it's definitely worth considering if you're hoping to add a little seafood to your vacation menu.
33 – Wet your whistle with a beer tasting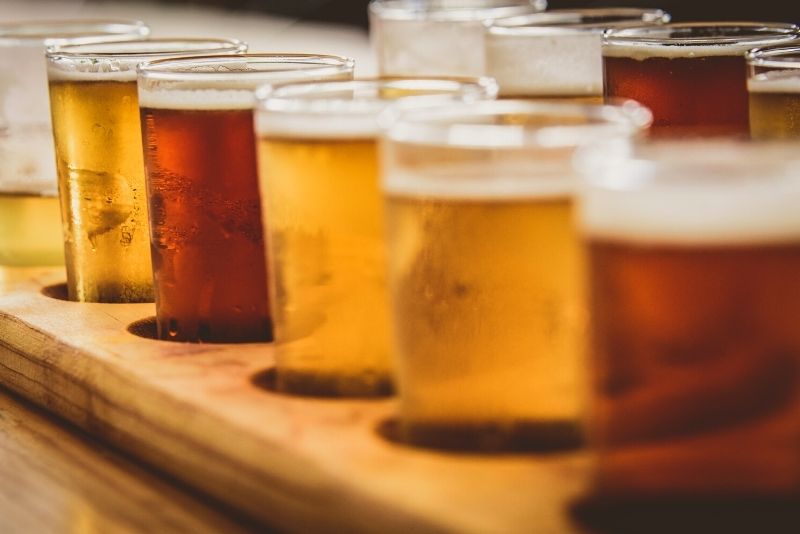 Easily one of the unmissable things to do in Cape Canaveral for all of you thirsty travelers, a beer tasting at one of the local breweries is a lip-smacking way to spend an afternoon.
Kick off the watering hole journey at the coveted Florida Beer Co. where you'll find a slew of award-winning brewery-fresh lagers, ales, and ciders. Whether you're just after a tasting flight, want to join the monthly brewery tour and tasting event, or are looking to stay awhile and chow down on some local eats, this is a perfect place to start.
Next on the list should be Bugnutty Brewing Company in the heart of Cocoa Village where you can find small-batch brews that are big on flavor. Carrying on the beery bonanza is Playalinda Brewing Company – sample their latest seasonal offerings in the taproom before stocking up on cans to go.
Not to be overlooked either, Carib Brewery on Imperial Boulevard is home to a range of traditional and experimental brews and is equally inspired by both Carribian island vibes and Space Coast innovation.
Looking for a Cape Canaveral hotel?
Whether you're traveling on a dime or searching for a smattering of luxury, there's a Cape Canaveral hotel to suit every budget.
From beachfront Airbnbs and cheap (but cheerful) motels to swanky high-rise suites with all the works, it's easy to find a place to crash that won't leave your wallet weeping.
To help you on your way, we've put together a list of our top picks for the best hotels in Cape Canaveral – check it out and get planning your dream vacation today!
Country Inn & Suites by Radisson, in Port Canaveral – one of the top-rated and more affordable accommodation options, with easy access to the cruise terminal at Port Canaveral.
Radisson Resort at the Port – within arm's reach of the port-front restaurants and bars, and boasting a great pool and jacuzzi combo.
La Quinta Inn & Suites by Wyndham Cocoa Beach – sitting right on the ocean, you'll be at the beach surfing or walking down the famous pier within minutes.
Where to next?
Well, that's all for now! We hope you've loved our diverse list of fun, quirky, and lesser-known things to do in Cape Canaveral, Florida. But who says the fun has to end after a rocket launch and a surf lesson?
Looking inland, nearby Orlando is booming with entertainment across its myriad theme parks – from Disney to Universal, LEGOLAND Fun Spot, and more, you'll be spoiled for choice. If we head up the coast, Daytona Beach is just an hour's drive from Cape Canaveral and boasts 23 miles of white sand beaches as well as a host of family-friendly attractions like the Daytona International Speedway and Tomoka State Park.
Further north, Daytona Beach offers fun activities for everyone. St. Augustine oozes history and culture (not to mention stunning beaches), and further up still, with the largest population in Florida, you can bet your bottom dollar that Jacksonville has little something for everyone.
On the other hand, if you plan on heading south from Cape Canaveral, West Palm Beach is a beautiful stop with an array of art galleries, museums, and performances to enjoy. Or for those who want to get away from the hustle and bustle for a little while, Fort Lauderdale offers up some quieter beaches and a more relaxed pace of life.
Far from relaxed, Miami is a city that needs no introduction – think world-class shopping, Cuban-inspired dining, and forever rowdy nightlife.
If you have anything you'd like to add to the list, feel free to leave a comment below. As always, happy travels!