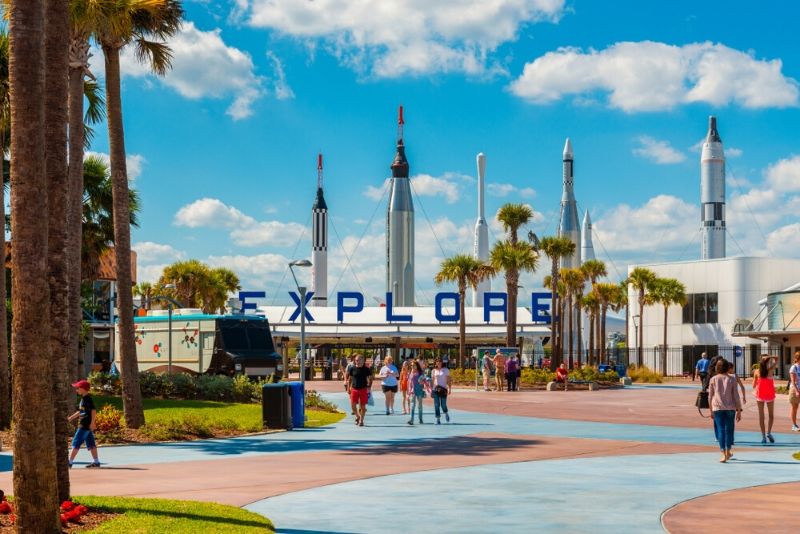 In this post, you will learn everything you need to know about Kennedy Space Center tickets, including tickets price, how to book tickets online, what are the best attractions to see, opening hours, and some other useful travel tips.
You don't need to travel through space to enjoy the galaxy. Instead, purchase Kennedy Space Center tickets and visit NASA's primary launch center of human spaceflight.
Don't feel like reading ahead? Book your Kennedy Space Center tickets right now.
How much do Kennedy Space Center tickets cost?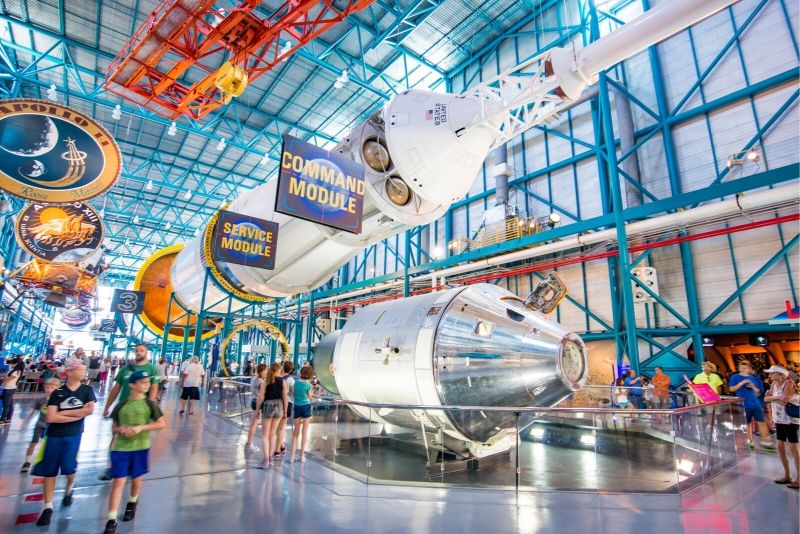 You may find below Kennedy Space Center tickets price.
General admission tickets price
Daily admission adult (ages 12+) – US$ 29.99
Daily admission child (ages 3-11) – US$ 24.99
Multi-day admission adult (ages 12+) – US$ 82
Multi-day admission child (ages 3-11) – US$ 67
Guided tour (adults and children) – US$ 49.99
General admission tickets give you access to the Kennedy Space Center, which includes space shuttle simulators, 3D IMAX showings and more.
Guided tours feature a space expert, who takes you on a walking tour and exhibits such as Heroes and Legends, Space Shuttle Atlantis and Astronaut Training Experience. Lunch, parking and admission are all included with the ticket.
Annual pass price
Atlantis annual pass adult (ages 12+) – US$ 96
Atlantis annual pass child (ages 3-11) – US$ 78
Explorer annual pass adult (ages 12+) – US$ 146
Explorer annual pass child (ages 3-11) – US$ 116
Annual passes provide you with return visits and in-park discounts. With Atlantis, for example, an annual pass includes free parking, 10% off admission for up to six accompanying guests per visit, discounts on food, retail and select educational programs.
The Explorer annual pass includes one complimentary Special Interest Tour and one Dine With An Astronaut meal as well as everything offered in the Atlantis pass.
How can I book Kennedy Space Center tickets online?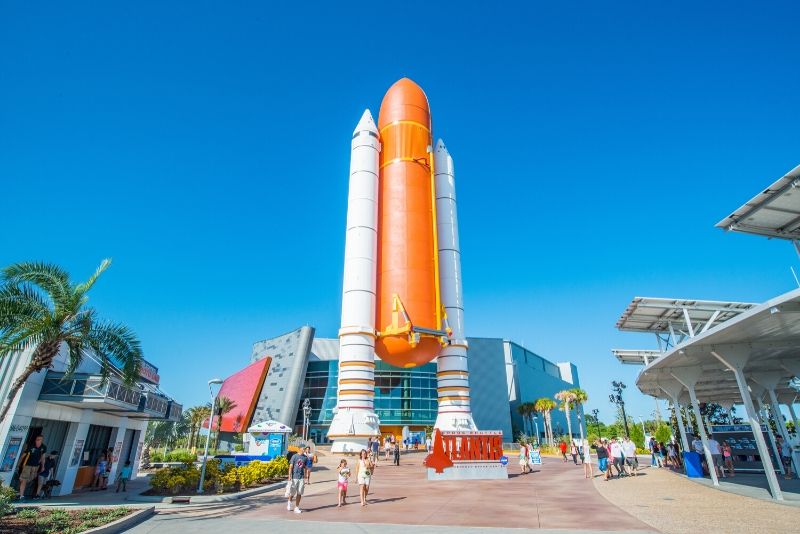 The primary way of booking tickets is through the official Kennedy Space Center website, which has a range of offers that include general admission and package tours. Prices are the same whether you purchase online or in person, though you will most likely need to queue if you buy tickets at the center.
Another option for buying Kennedy Space Center tickets online is with an online tour operator such as Viator, GetYourGuide, or Klook. Make sure to use our search engine to compare all the different deals and book the cheapest tickets available for your desired date.
Are there any Kennedy Space Center tickets including transportation from/to Orlando?
Absolutely. There are many tour operators organizing tours including Kennedy Space Center tickets and transportation from/to Orlando. There are also some trips to the Kennedy Space Center combined with other Florida attractions, such as a visit to the Everglades.
Use our search engine, read the reviews, and book the tour that fits best your needs and budget.
What are the best things to see at the Kennedy Space Center?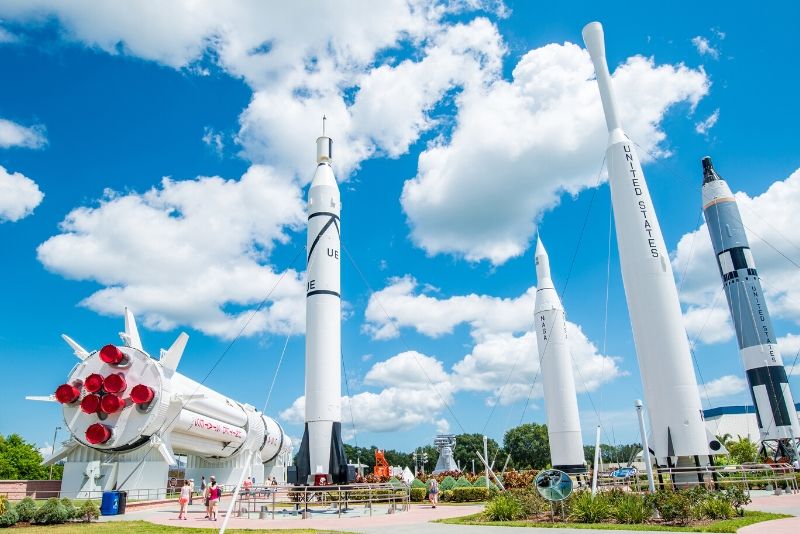 Located in Florida, there's plenty for you to see at the center – from the Space Shuttle Atlantis to meeting real astronauts.
There is a range of fun things to do at the Kennedy Space Center, so much so that tours can last up to 10 hours. The primary ticket type is for general admission, which includes plenty of exciting activities.
Space Shuttle Atlantis
The Kennedy Space Center Space Shuttle Atlantis is the main attraction and a full-scale shuttle. This is the stuff which dreams are made of and your chance to see a real-life spaceship. The shuttle is only one of three in the US that has actually been to space.
Journey to Mars
One day we might all live on Mars, but for now, you'll have to make do with journeying there at the Space Center. Get insight into the inner workings of NASA's Mars Exploration Programme and find out what it might be like to live on the Red Planet.
Kennedy Space Center bus tour
Get a detailed view of the Kennedy Space Center with a bus tour. Hop on the bus and see launch pads, restricted areas and the landmark Vehicle Assembly Building up close and personal. You'll learn everything about NASA and the birthplace of American spaceflight.
Meet an astronaut
Kennedy Space Center tickets allow you to meet a real-life astronaut. You can converse with someone who has seen the depths of space and get all the glorious details about their experience. Enhance the moment and make it a memorable moment with a photo with the astronaut.
Watch a live rocket launch
Time your visit right and you can watch a live rocket launch at the Space Center. The Kennedy Space Center offers the closest public viewings of rocket launches, and features live launch commentary from space experts. Experience the shattering earth force as the rocket takes off into space.
3D IMAX space cinema
Grab some popcorn and experience the next best thing to being in space. The 3D IMAX space cinema lets you enjoy a space-related show that makes you feel like you're going into orbit. Two shows play daily at the center.
When is the best time to visit the Kennedy Space Center?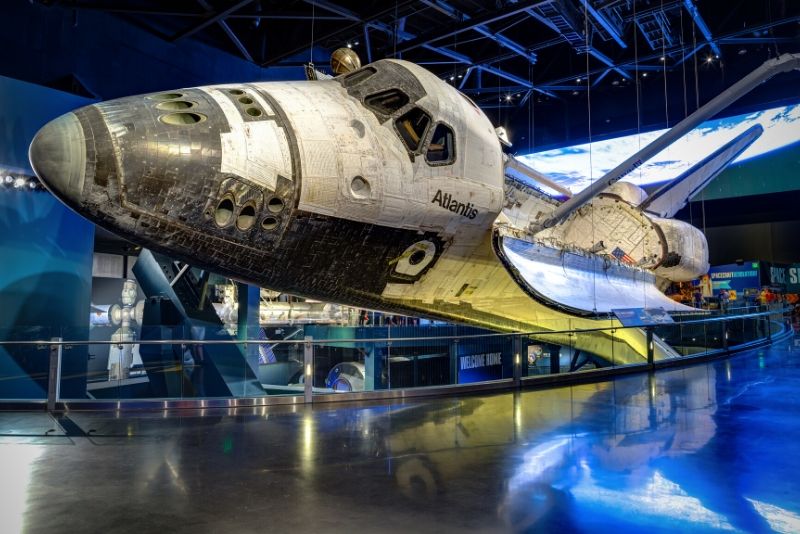 The Kennedy Space Center is a year-round attraction and mostly takes place indoors. From a weather perspective, there's no ideal time to plan your visit. However, you can expect the center to be at its busiest during the holidays, as this is the ideal time for families to take their trips. Easter, Summer, and the holiday season are busiest and see peak crowds.
Off-season in Florida is in January and February and September to November, so the center may be quieter during these months. If you're visiting specifically for a rocket launch, expect crowds to be larger than usual. The center accommodates for bigger crowds during rocket launches and can change its opening times.
The Kennedy Space Center sees peak business during the middle of the day, so it's worth visiting early in the morning if you want to avoid the crowds. Alternatively, you can leave your visit later in the day when it's slightly quieter.
What are the Kennedy Space Center opening hours?
The Kennedy Space Center is open from Monday to Sunday at 9 am every day of the year. Closing times vary, with off-season seeing closing at 6 pm and peak season closing at 8 pm.
Travel tips
Book tickets online to avoid lengthy queues
Arrive early
Atlantis is the most popular attraction
Food and beverages are available at the Space Center, but you can also bring snacks
Tours can last up to 10 hours
Wear comfortable shoes as you'll do plenty of walking
Download the app prior to your visit
Use the map to plan your day
You can pay extra and have lunch with an astronaut
There's a gift shop at the center
Bring a camera
All backpacks will be checked by security