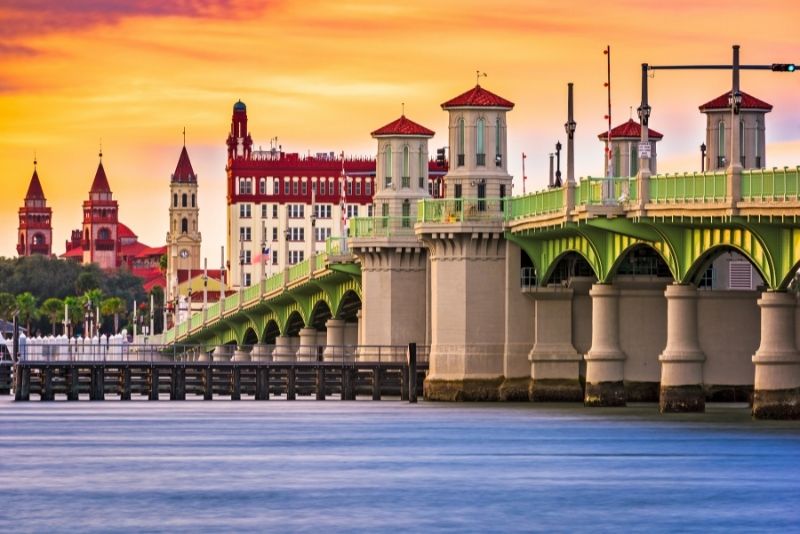 Despite wielding the official title of the nation's longest continually inhabited European-founded city, St Augustine still remains one of the most underrated and under-appreciated cities on the American east coast.
With that sort of legacy, it's no surprise that this Florida city is a history buff's heaven on earth. But there's so much more to this place than just a timeline of events: it can give an adventure junkie, partygoer, art lover, or beach bum one highly memorable vacation, that's for sure.
So whether you spend your time in the Floridian destination diving into unique museums like the Castillo de San Marcos, exploring Gilded-Age hotels, dancing into the night or simply working on the tan on the warm sands, it's fair to say that the array of things to do in St. Augustine is as intriguing and diverse as any city in the area.
1 – Get spooked on a ghost tour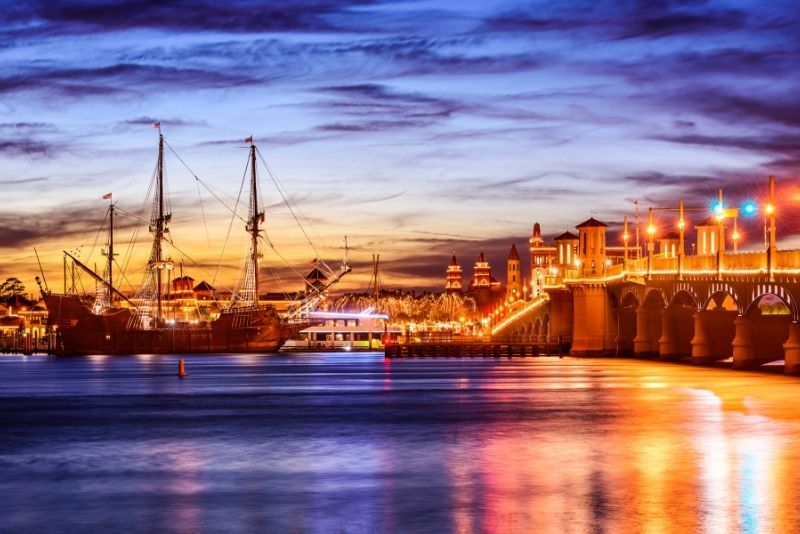 As a city booming with history, it should come as no surprise that St. Augustine has somewhat of a haunted past.
On a dedicated walking tour through the Old Town (that usually lasts for about an hour and a half), expert guides will lead you through cemeteries and historic buildings, sharing eerie tales along the way about the town's paranormal residents.
2 – Cover the whole city with a hop-on-hop-off trolley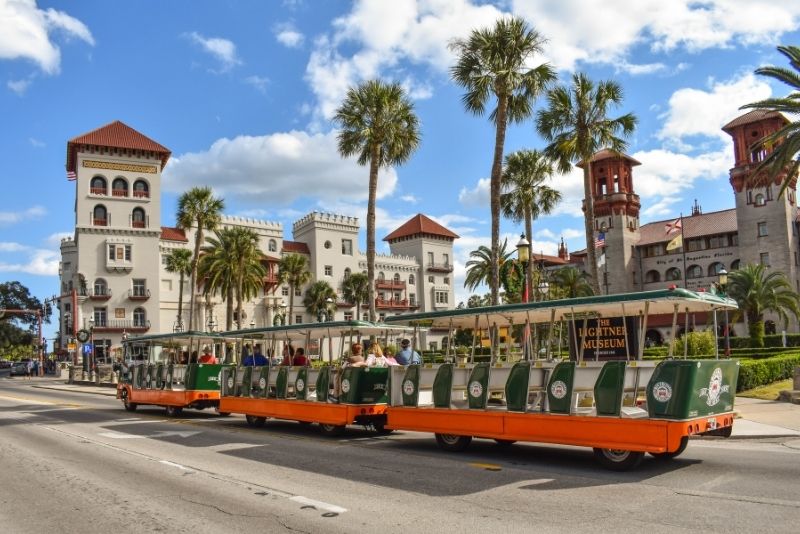 If you're crunched for time and need to tick off as many bucket list items as possible as quickly as possible, then St Augustine's hop-on-hop-off trolley tour is the way to do it.
The trolley conveniently passes by more than 100 interesting landmarks, including the popular Old Jail, Flagler College, and through the beautiful and historic Spanish Colonial neighborhoods.
For something a little different, wait until the sun goes down and sign up for the ghost-themed experience instead.
3 – Cruise through St. Augustine on a sightseeing boat tour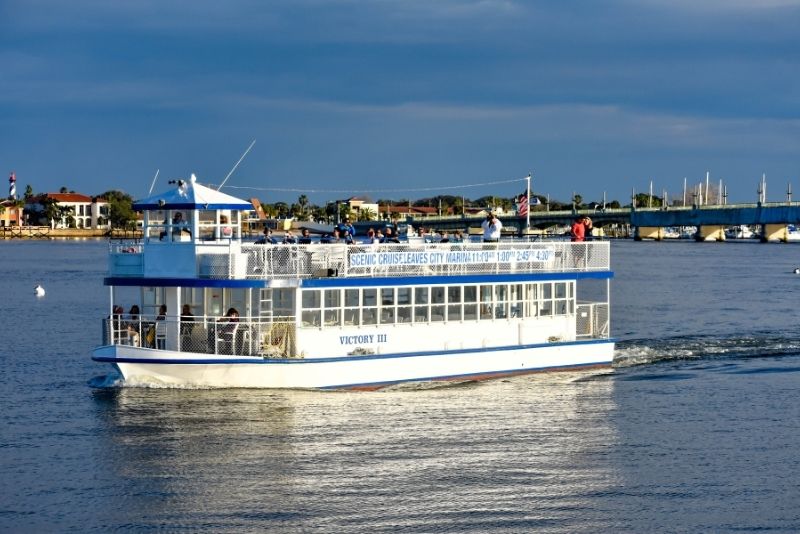 If traffic drives you nuts, why not explore the beautiful city on the water instead?
Take the sunset sightseeing boat tour and cruise through the scenic city, where views of the shoreline and the picturesque St. Augustine's Lighthouse await.
What's more, you can sip on a drink (or three) at the onboard bar, learn about all the area's significant landmarks thanks to a live commentary as you float under the Bridge of Lions, Fountain of Youth Archaeological Park, and more.
4 – Get up close with friendly dolphins!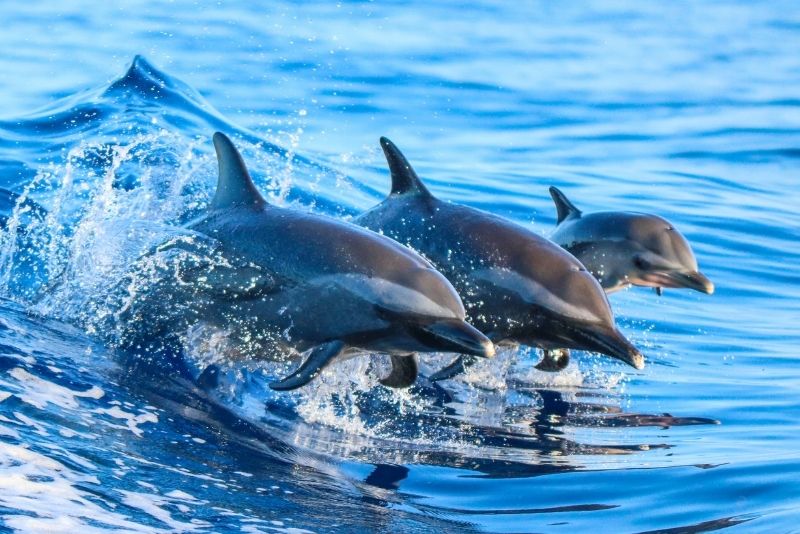 Are you a marine life enthusiast? Then step right up to the city's highly-regarded Intercoastal Waterway cruises!
With dolphins, sea turtles, pelicans, and other creatures roaming the waters,  these educational tours are both exciting thanks to the marine life, and relaxing thanks to the slow-moving vessel and calm waters.
On most trips, the onboard bar and live commentary help guarantee an unforgettable time.
5 – Lock yourself up at the Old Jail Museum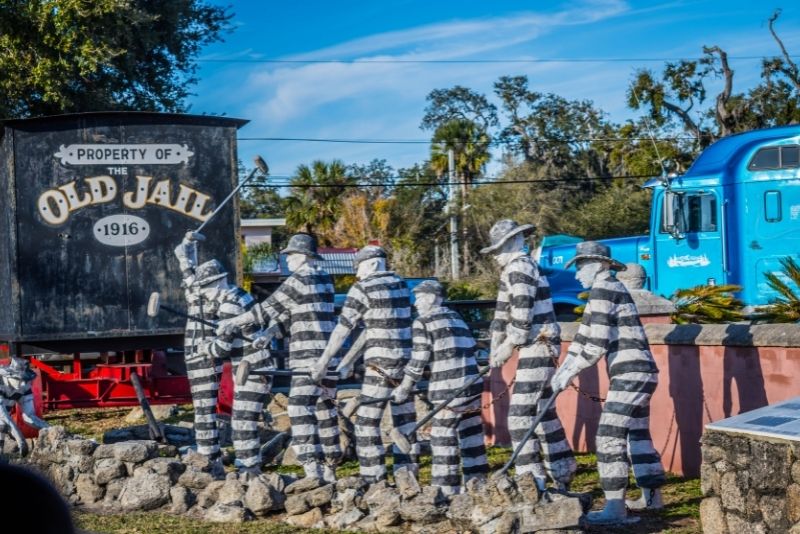 History buffs, listen up: St. Augustine's hardest criminals were once held in this jail.
Fast forward to today and it now acts as a museum that gives tourists a peek into the life of the notorious prisoners who occupied these cells until 1935.
With an entry ticket in hand, visitors can explore the maximum-security holding area, check out where the warden and his family lived, and dive into the history of the city's most infamous lowlifes and gangsters.
6 – Experience the Oldest Store Museum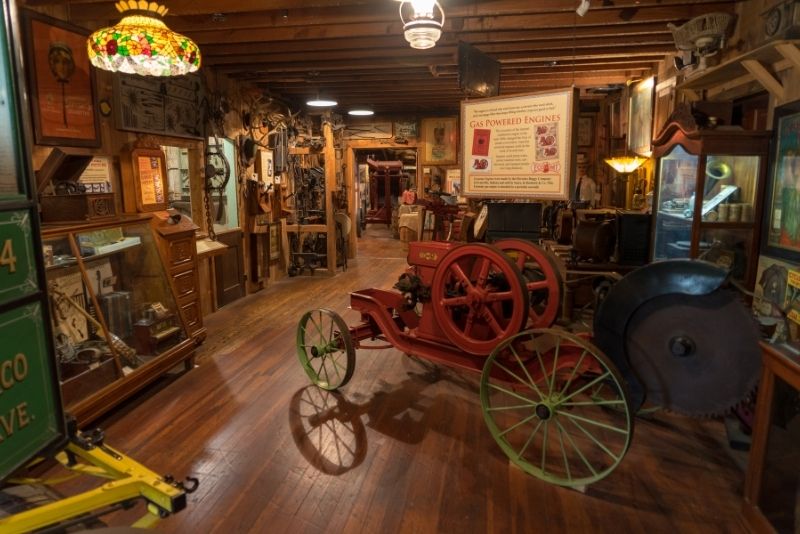 Ever fancied trying your hand at time travel? Well, this might just be the next best thing.
At the ever-popular The Oldest Store Museum, guests can dive into what 20th-century life felt like with the chance to interact with costumed guides and see over 100,000 historical products.
From goat-powered washing machines to bottles of warm syrup, and a whole host of other obscure products, the stories told here won't soon be forgotten.
7 – Wet your whistle at the St. Augustine Distillery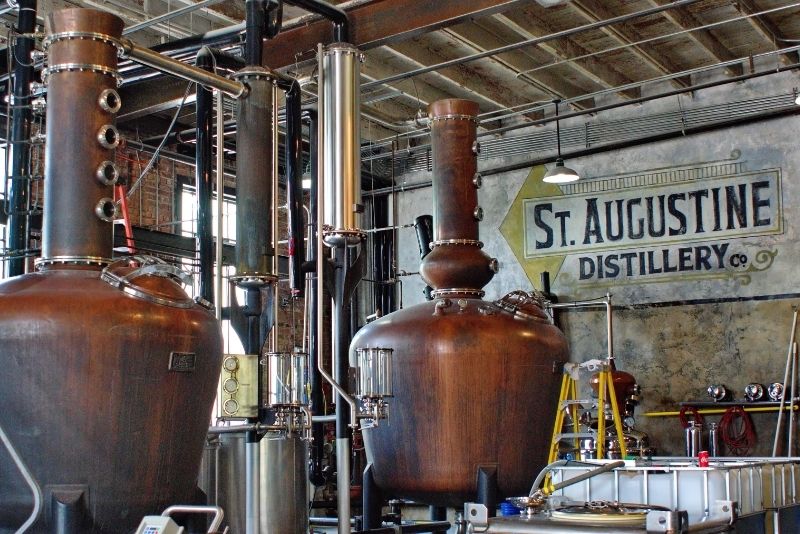 Often dubbed the spirit of Florida, the St. Augustine Distillery is known for its handmade Bourbon and alcoholic drinks.
Established in 2013, this family-owned business slings all kinds of tasty drinks: Florida Straight Bourbon, Port Finished Bourbon, Pot Distilled Rum, and Florida Cane Gin just to name a few.
If you're extra thirsty, you might also want to try the Craft Beer Tour — the walking tour showcases the history of Beer History in Florida, taking you door to door of some of the area's best brewpubs where cold craft beer awaits!
8 – Experience the Whetstone Chocolates Store and Tasting Tour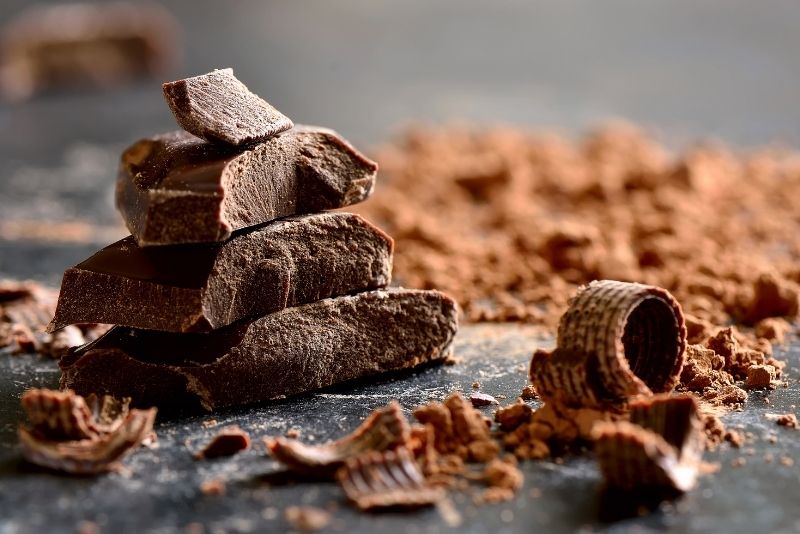 Chocoholics, take note: don't miss the delicious sweets at the Whetstone Chocolate Store when you stop into town!
The Whetstones started this historic Chocolate store in 1966 with ice cream, but it's since expanded to selling unique chocolates and scrumptious homemade fudge.
It is vacation, after all, so why not treat yourself with a chocolate and pralines tasting tour? There's plenty to be learned about the city's rich history along the way too.
9 – Enjoy the Airboat safari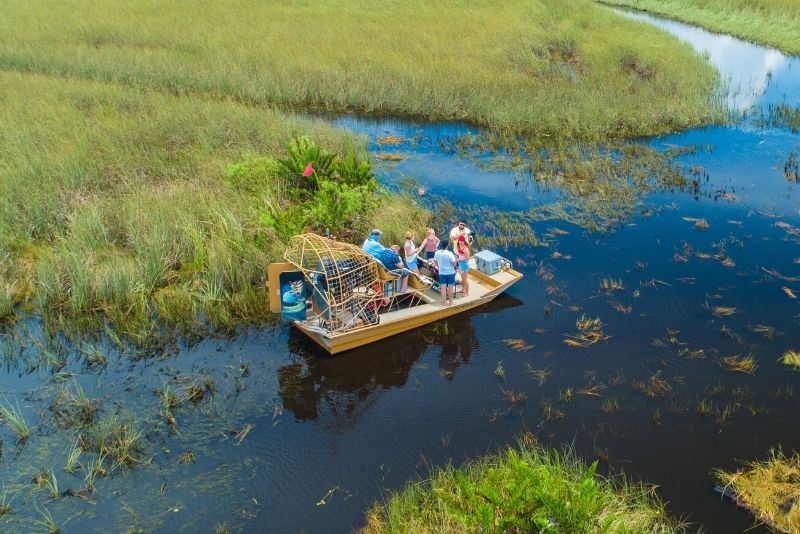 Take the Sea Dragon Airboat safari and marvel at the wildlife in the Freshwater Tributaries on St. Johns River!
As a high-speed airboat tour, it's one of the most exhilarating ways to witness wildlife in their natural habitat.
Keep your eyes peeled for alligators, turtles, snakes, manatees, and more as you traverse through the shallow river water.
10 – Brave the Medieval Torture Museum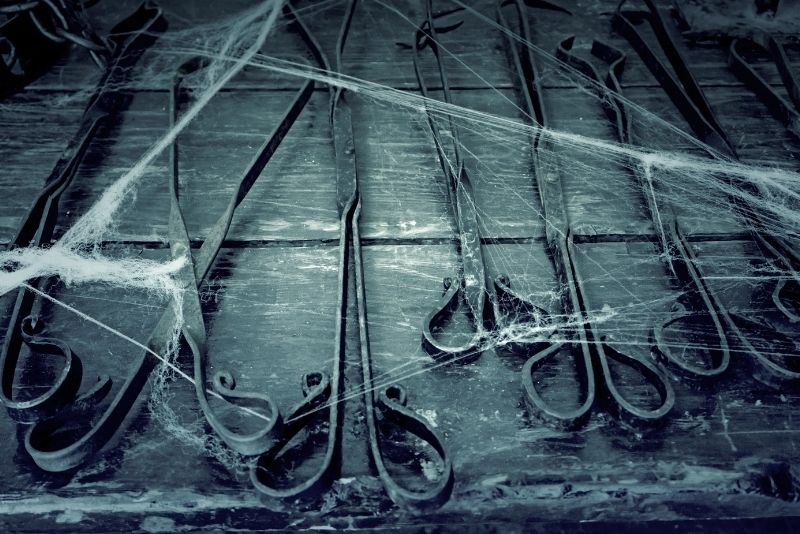 One of the most bizarre things to do in St. Augustine is to brave the Medieval Torture Museum — best experiences as a combination tour of the Medieval Torture Museum and Micro Masterpieces Art Gallery.
The Medieval Torture Museum boasts an array of interactive exhibits and pieces that explore the Middle Ages' most traumatic machines.
Spread across more than 4,000 square feet, the floor is filled with torture devices like the guillotine, Metal Gossiper's Viella, Chastity belts, and vises for hands… and heads.
11 – Go kayaking!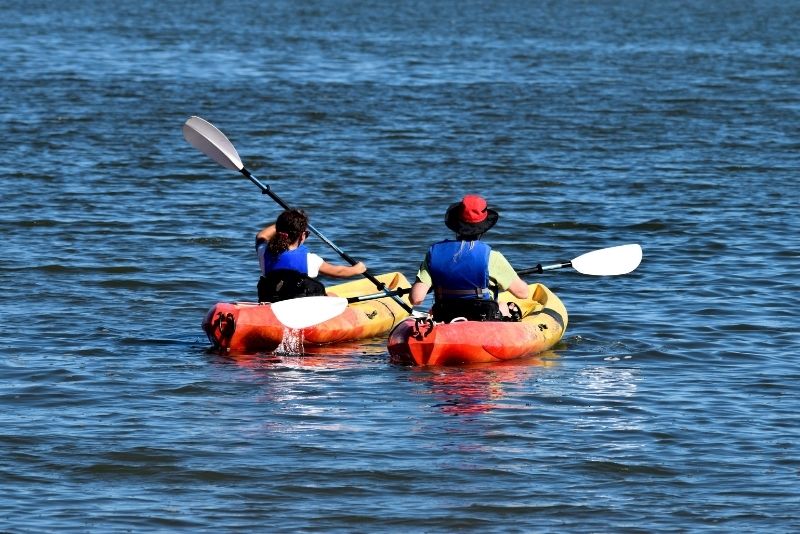 For an afternoon that toes the line between exercise and relaxation, jump in a kayak and tackle the Matanzas River and Moses Creek. You'll start your journey at a historical landmark, the Genung's Fish Camp, and traverse across the intercoastal from Crescent beach.
Never hopped in a kayak before? No dramas. You'll have an expert guide leading the way, guaranteeing a safe, adventurous and educational experience.
Keep you eyes peeled for animals along the way too (did someone say gators?).
12 – Run around town with a scavenger game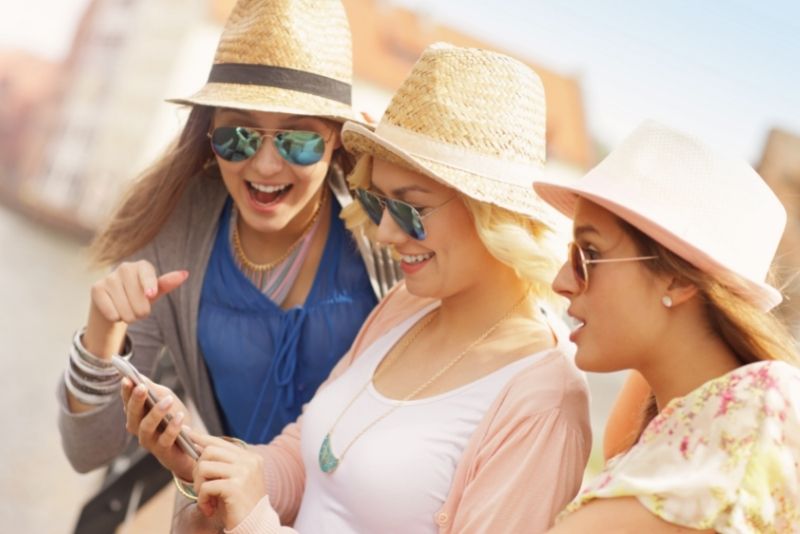 Fed up with slow walking tours? Got a bit of a competitive edge? Then, St. Augustine has several scavenger games screaming "book me!".
Take The 13 Keys Scavenger Hunt, for example: this fast-paced challenge starts in The Odd Macabre Company before moving through the main haunts with plenty of clues and riddles to solve along the way.
It's a wonderfully interactive way to understand St. Augustine's history.
13 – Channel your inner Jack Sparrow at the St. Augustine Pirate & Treasure Museum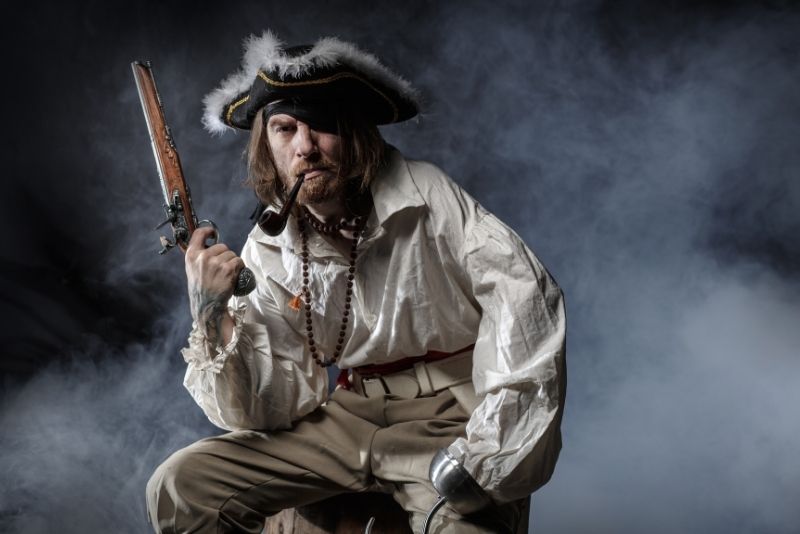 Transport yourself 300 years in the past to Port Royal, Jamaica — the epicenter of the Golden Age of piracy (no, not the DVD kind).
At this one-of-a-kind museum, tour guests are invited to explore some of the best-preserved pirate treasure chests in the world.
As you zoom through the museum's interactive sections there's plenty to be learned about the history of pirates, naval warfare, and the legacy of Sir Francis Drake.
14 – Explore the city in a private golf cart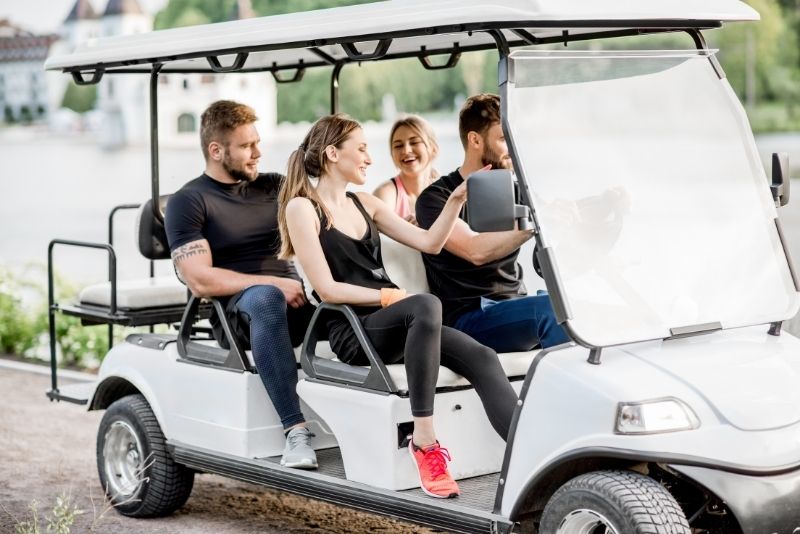 Indulge yourself in a VIP experience on a slow-moving vehicle that helps you enjoy the sights of this quaint, historic city at a comfortable pace.
If you're a small group and prefer traveling together without being surrounded by a bunch of selfie-weirding strangers, this is for you.
Driven by a local, you'll whip around town to important places like Plaza De La Constitucion, the Lightner Museum, Aviles Street, Magnolia Street, and plenty more.
15 – Ride on the famous Old Town Cycle Cruise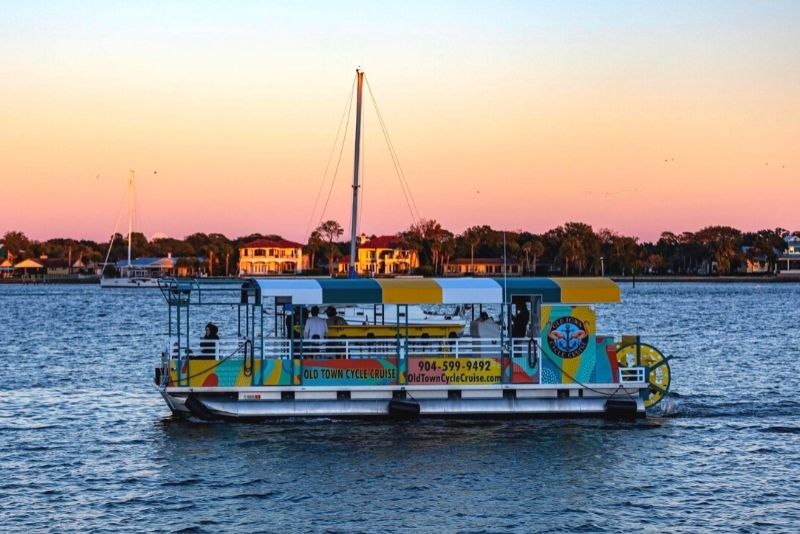 One of the more popular things to do in St. Augustine, without a doubt, is taking the Old Town Cycle Cruise.
These 90-minute tours, taking place on the city's first cycle boat, are both relaxing and educational, with blissful views of the shortline for departure to docking.
Traveling for a special occasion? Then strongly consider booking out this ship for a birthday, bachelorette, or wedding celebration — the crew knows how to dish up a wild party.
16 – Snap a selfie at the Potter's Wax Museum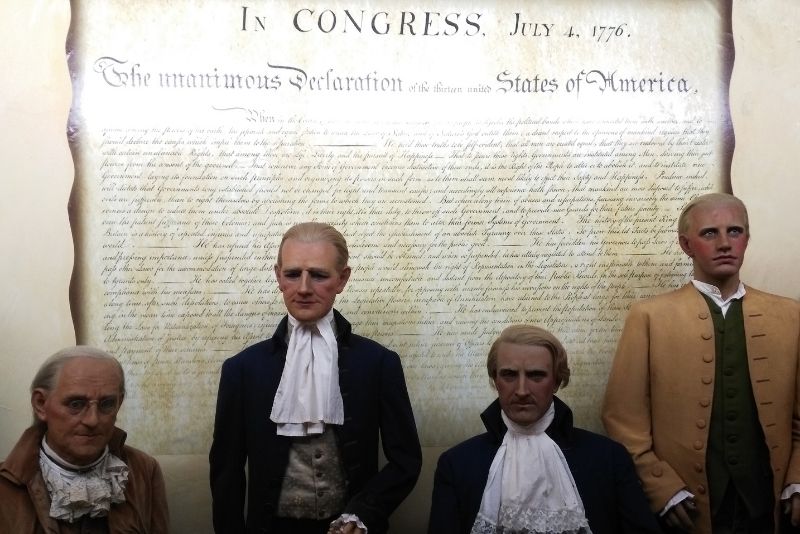 At the esteemed Potter's Wax Museum — America's First Wax Museum established way back in 1949 — guests can stroll the halls and admire more than 160 individual wax sculptors, with celebrities like Princess Diana, Albert Einstein, Ponce De Leon, and everyone in between.
The Potter's Wax Museum Tour is self-guided, giving you plenty of time to snap a selfie or two with all of your favorite A-listers historical figures.
17 – Fly around St. Augustine in a biplane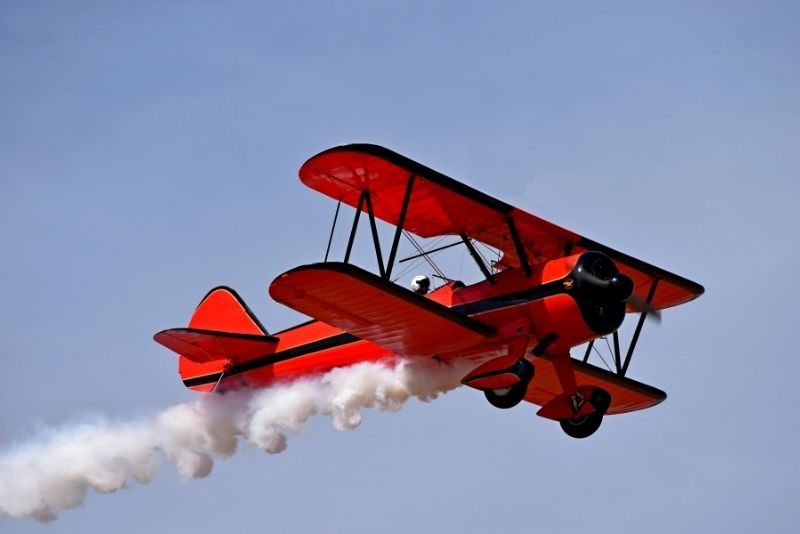 For the unforgettable chance to soak in the sights of St. Augustine from above, there's no better way to do so than strapped into a vintage Waco Biplane — equipped with an open cockpit and all!
With nothing but fresh air and blue skies as far as the eye can see, you'll fly over the Castillo De San Marcos National Monument, the St. Augustine Lighthouse, and miles of golden beaches.
18 – Reel in a trophy fish!
With so many personalized fishing tours available in St. Augustine (and all across the east coast), it's fair to say that Florida is a budding fisherman's paradise.
On a fishing charter, visitors will traverse the inshore backwaters of Matanzas River, Salt Run, and Tolomato River, likely reeling in a bucketful of Tarpon, spotted sea trout, flounder, or cobia.
All equipment is provided — just bring a hat, sunnies, and sunscreen.
19 – Swim with dolphins at Marineland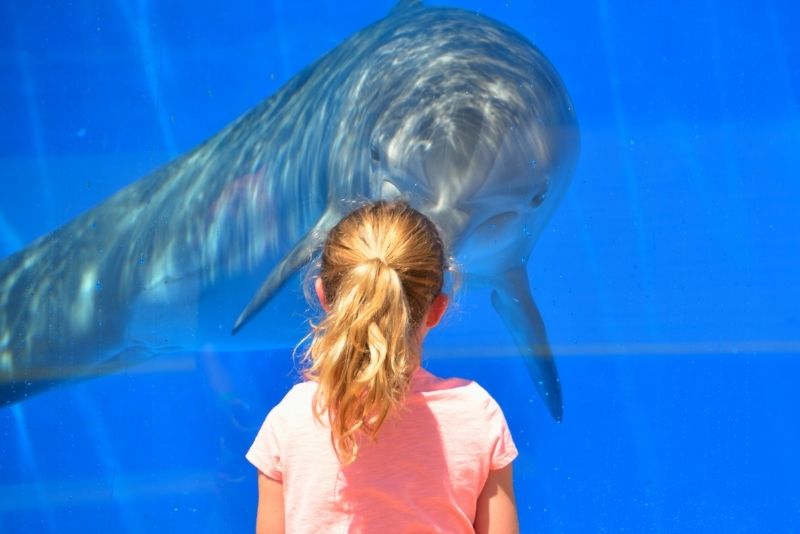 Watching dolphins jump above the surface is one thing. Swimming alongside then is another!
At St. Augustine's Marineland, travelers can choose from a Dolphin Encounter, Dolphin Swim Adventure, and a Dolphin Meet and Greet — depending on your budget.
For the perfect souvenir, the oceanarium also runs an incredible dolphin painting experience, where youngsters (or parents) can interact with the bubbly mammals and collectively paint a masterpiece.
20 – Get swingin' at the World Golf Hall of Fame and Museum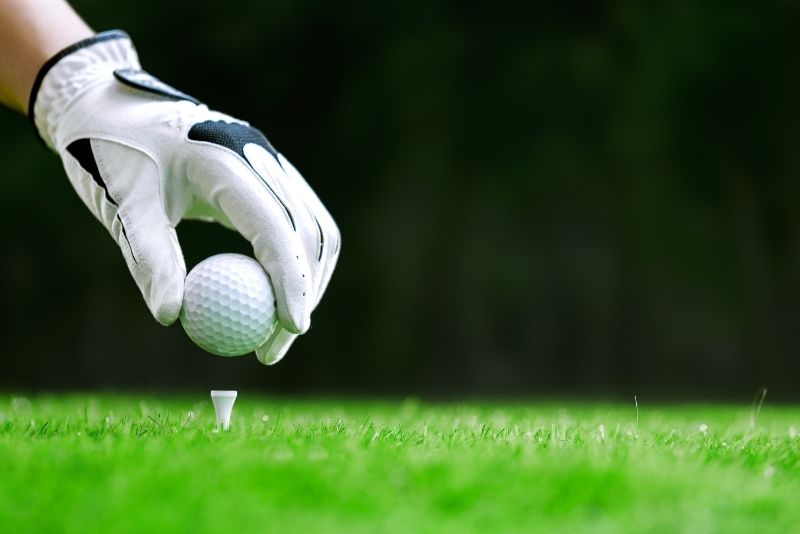 Get your Tiger Woods on at the World Golf Hall of Fame and Museum tour!
Even though these tours are typically self-guided, allowing you to roam and appreciate the 4000 pieces of memorabilia at your own pace, there's still plenty of time to play a few rounds on the museum's 18-hole putting course.
Hot tip: Cap off your museum journey at the World of Golf Hall of Fame IMAX Theatre, you won't regret it.
21- Get a glimpse into the Victorian era at the Villa Zorayda Museum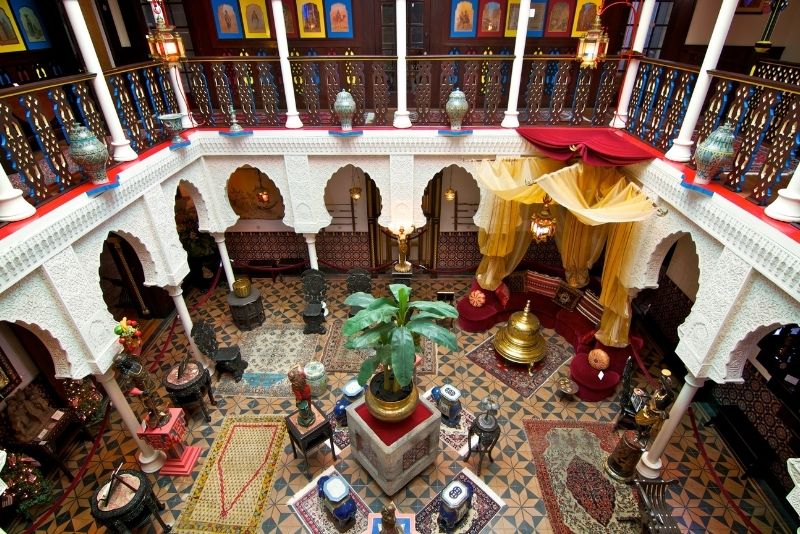 A charming, Gilded-Age museum, the Villa Zorayda Museum presents an intriguing array of historical artifacts from all around the world.
Built in 1883, this beloved attraction was once the winter residence of Franklin Webster Smith, and that's just one chapter in its exciting story.
On 40–60-minute tours, guests are given the chance to dive into the building's rich history and learn first-hand about Moorish Spanish Revival-style architecture.
22 – Confuse yourself at Ripley's Believe It or Not!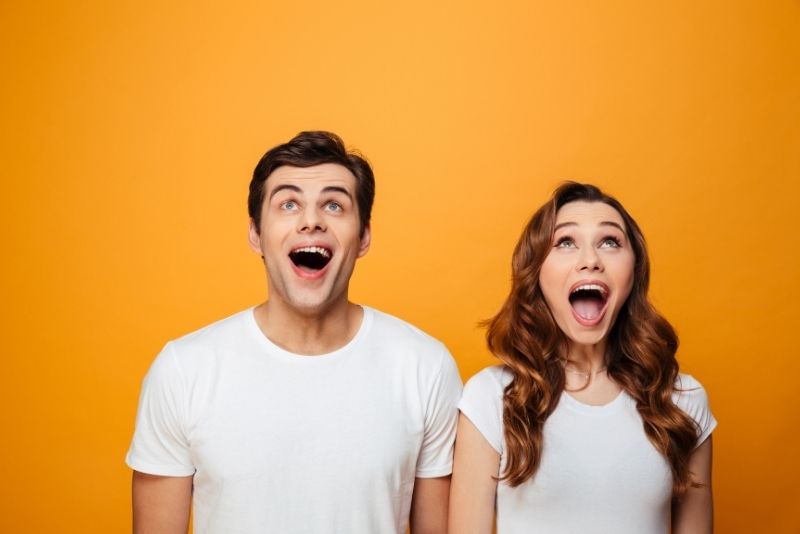 Conveniently located on San Marco Avenue in St. Augustine's main strip, Ripley's Believe It or Not dishes up all kinds of strange, beautiful, and shocking exhibits.
Start your adventure by interacting with the world's tallest man; get lost in the visual illusions; ride Ripley's Red Train; tick off the mini-golf experience, and play detective at the Haunted Castle!
With plenty more exhibits and attractions on offer, this bizarre place is always a surefire hit.
23 – Visit the St. Augustine Aquarium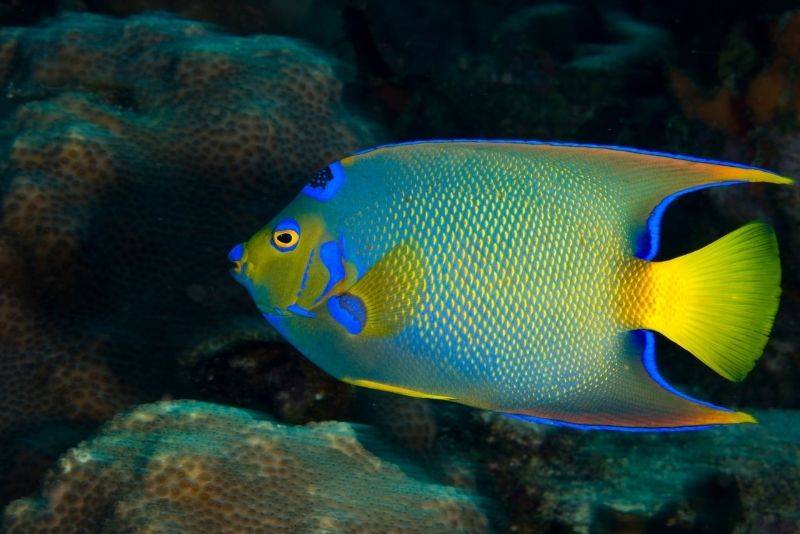 A regular delight for families and youngsters, the outdoor, open-air St. Augustine Aquarium is the area's premier destination to interact with interesting sea creatures.
You can snorkel and touch starfish, urchins, horseshoe crabs; learn everything there is to learn about marine conservation; and, if you're brave enough, go diving with sharks!
24 – Stroll down eclectic St. George Street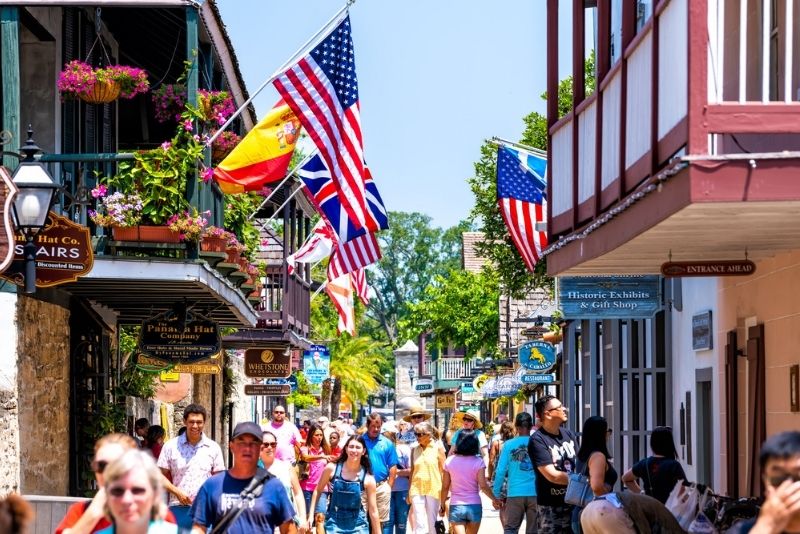 One for the bucket list, you simply can't miss this pedestrian-only street — as a beacon for nightlife, entertainment, restaurants, and activity, it's one of the most essential things to do in St. Augustine.
The street sits a stone's throw to the beaches and is home to popular shops like The Bunnery, Whetstone Chocolates, The Historic Pena-Peck House, St. Photios Greek Orthodox National Shrine, and more.
25 – Check out the St. Augustine Lighthouse & Maritime Museum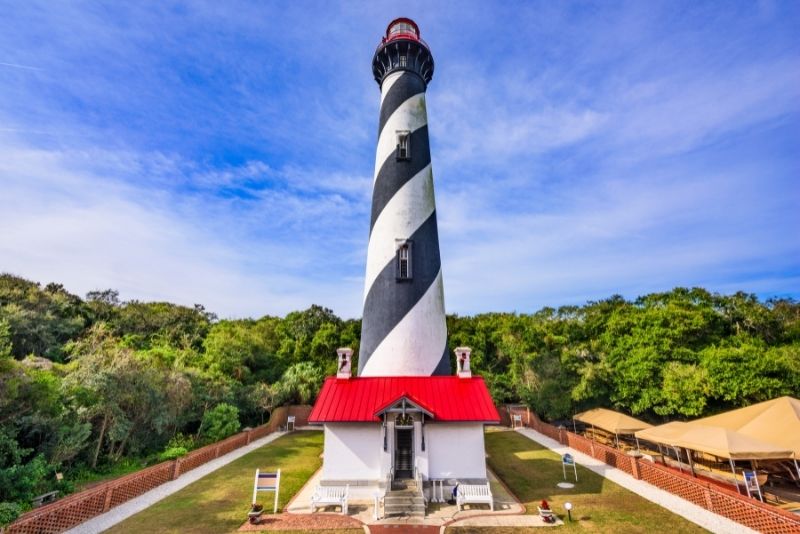 Guarding the city on the North end of Anastasia Island, the St. Augustine Lighthouse dates back to 1589. The Museum, which opened in 1994, preserves items from shipwrecks and studies them.
Still active to this day, the frequently-postcarded, 147-year-old lighthouse tower is a navigation system for military defense, fishing, and boating.
But, of course, it's also a great tourist attraction, offering a range of interesting exhibits, hands-on activities, heritage Boatworks, and nearby nature trails.
26 – Engage your artsy side at the Lightner Museum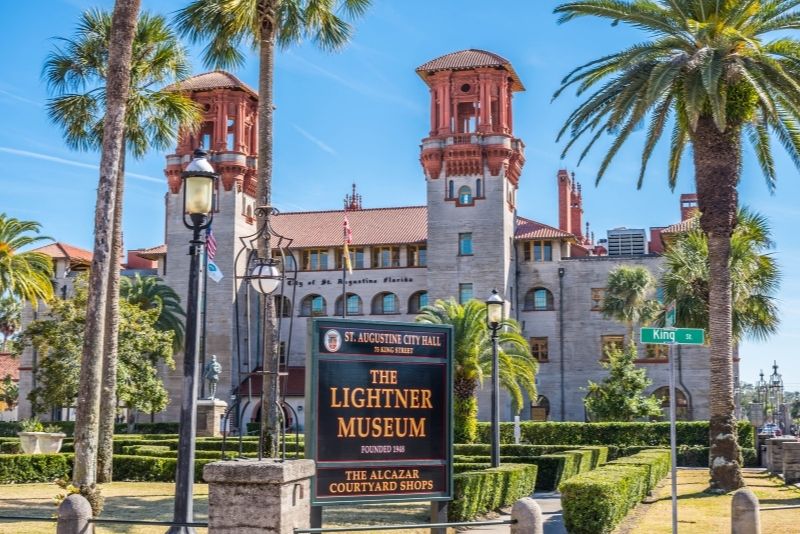 Explore and engage your artistic senses at the St. Augustine's Lightner Museum, a place that delves into the 19th century decorative and fine arts.
Housed in the beautiful former Alcazar Hotel, the Lightner Museum Tour certainly will make you appreciate the Spanish Renaissance style.
Before you leave be sure to take a moment to admire the range of artifacts: from Tiffany's glass to Thomas Rahner's work, impressionist paintings and more, this museum has it all.
27 – Tour the Castillo de San Marcos National Monument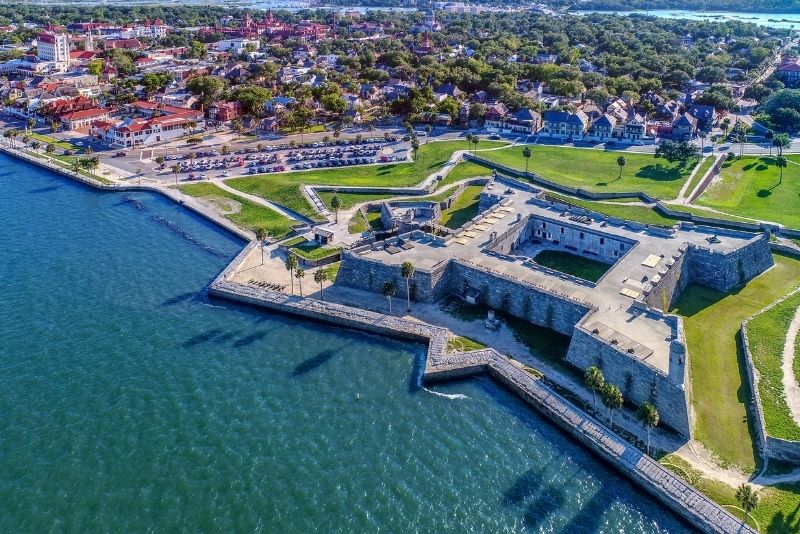 An unmissable and invigorating insight into America's history, this Spanish-built monument is known today for its preservation of some of the nation's oldest masonry and cannons.
With a near-endless display of artifacts, photos, furnishings and maps in the Castillo's Museum storage facility, it's heaven on earth for history buffs.
28 – Zip through St. Augustine Alligator Farm Zoological Park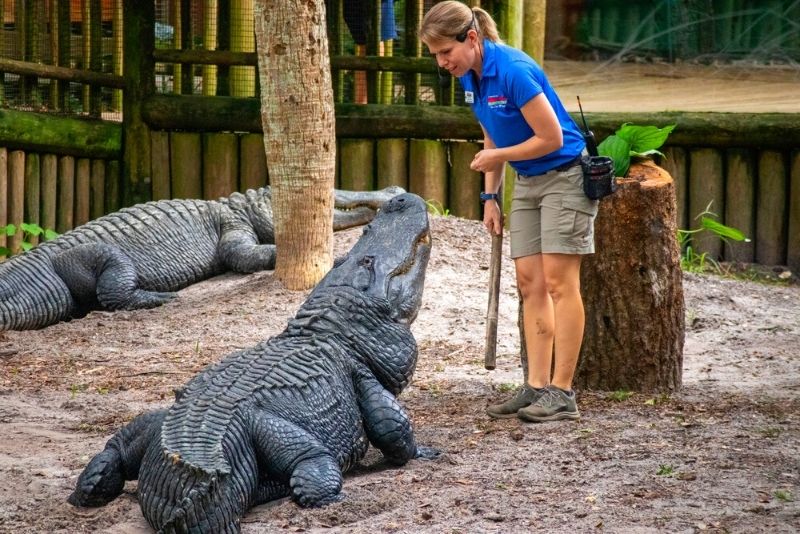 Quench that thirst for adventure by ziplining through the St. Augustine Alligator Zoological Farm — a one-of-a-kind thrill made up of aerial obstacles, jumps, and ziplines through the zoo.
As you whiz over the enclosures, keep an eye out for live alligators and crocodiles.
After you're all adventured out, the behind-the-scenes tour is a great option to learn about wildlife conservation and see the animals up close.
29 – Perfect the tan on St. Augustine Beach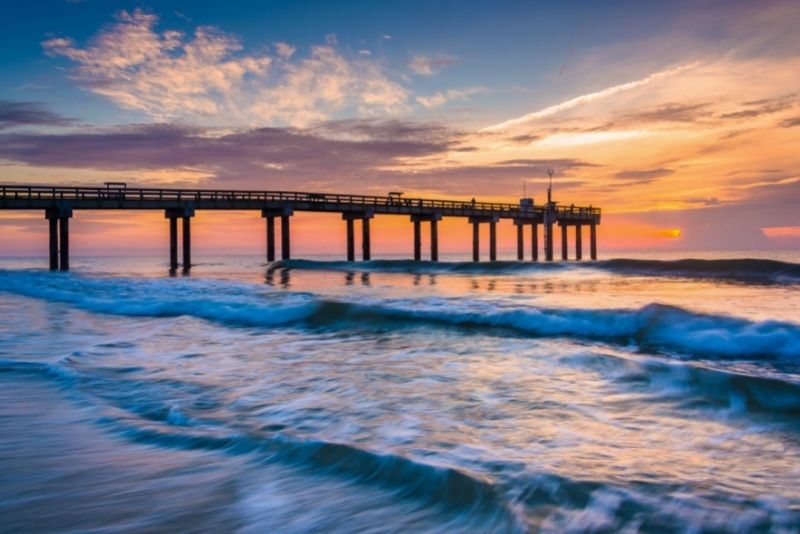 Home to a fishing pier, beachside pavilion, splash park, sand volleyball court, and beachfront park, there's something for everyone at the popular St. Augustine Beach.
Laze on the sand, kick back and relax; or burn some calories with a surf, cycle, or paddle.
After working up an appetite, there are several tropical seaside restaurants worth checking out.
30 – Spend the afternoon at the St. Augustine History Museum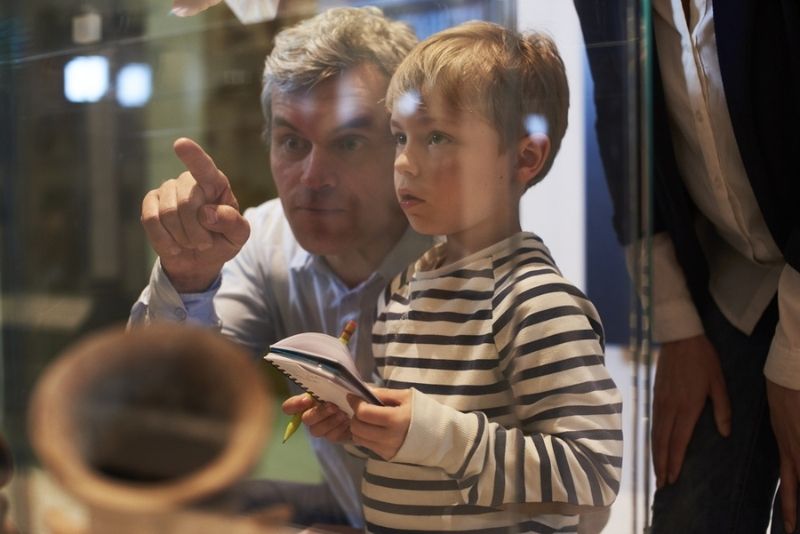 Want to know about the fascinating history of this 16-century Spanish colony? You can learn about its 400+ year timeline at the St. Augustine History Museum, where its tour takes you through this ancient city's private collection of artifacts.
With a diverse selection of galleries highlighting everything from the area's Spanish influence to its changing culture through time, history buffs will have a ball here.
31 – Visit the stunning Flagler College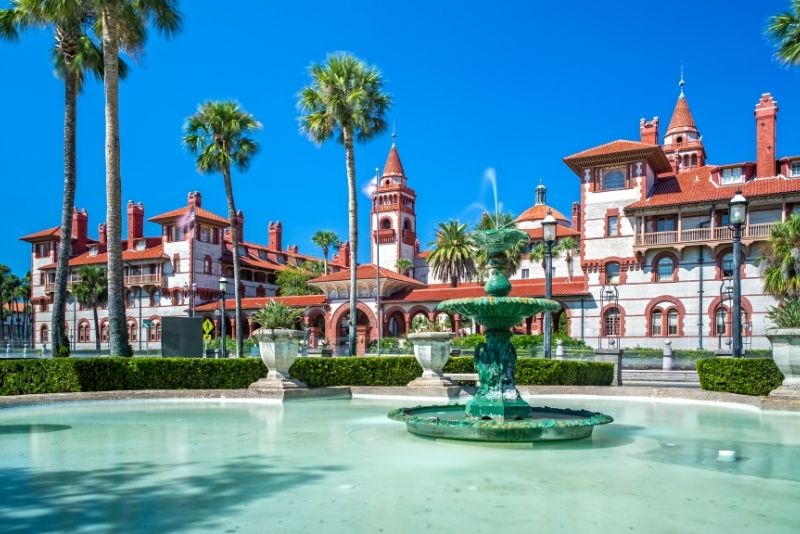 Operating for more than 50 years, the widely-known Flagler College is a heritage institution that focuses on providing liberal arts education. But it's so much more than that: it's a beautiful, intricate building full of enchanting courtyards, impressive art, and lush gardens.
As Henry Flagler's 19th-century hotel transitioned to a college in the late 1960s, it wrote yet another chapter in its rich history — all of this and more can be learned with a walk through its walls.
32 – Take a stroll through the St. Augustine Wild Reserve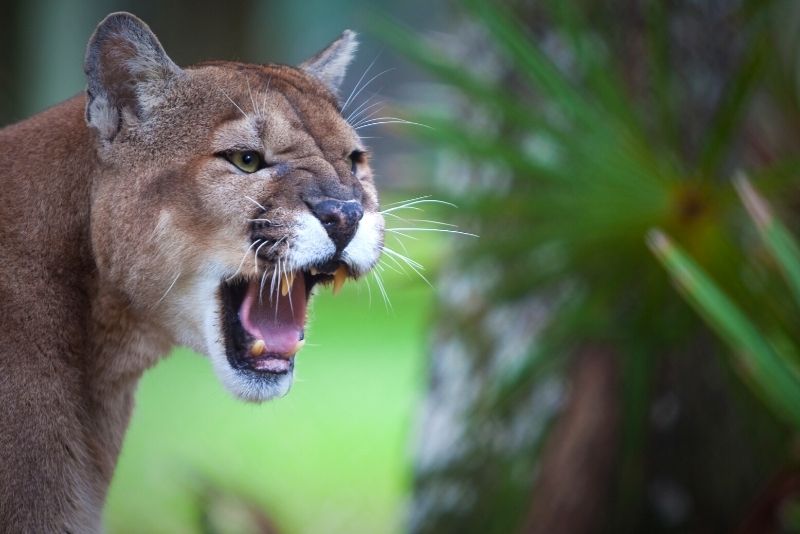 The perfect place for a breath of fresh air, the St. Augustine Wild Reserve is home to some of the rarest animals in the country.
With big cats like cougars, spotted jaguars, and melanistic jaguars roaming around, it's a surefire hit amongst animal enthusiasts, not to mention curious kids.
Keep in mind, however, that this isn't your typical for-profit zoo; the St. Augustine Wild Reserve works with volunteers and donations in its commitment to preserving all exotic wildlife.
33 – Take a hike in Anastasia State Park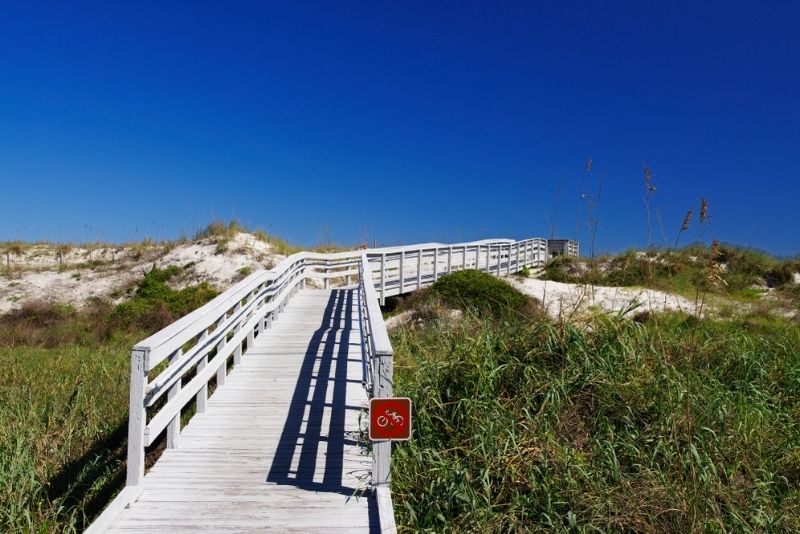 Time to dust off those hiking shoes! The Anastasia State Park has white sand beaches and vibrant history, not to mention all of the picturesque hiking trails, sand dunes, and tidal marshes.
Hot tip: if you can't decide which route to take, make a beeline for the Ancient Dunes Nature Trail — it's ideal for observing wildlife along the beach.
For a multi-day adventure, there are also campsites available.
34 – Admire the architecture of the Cathedral Basilica of St. Augustine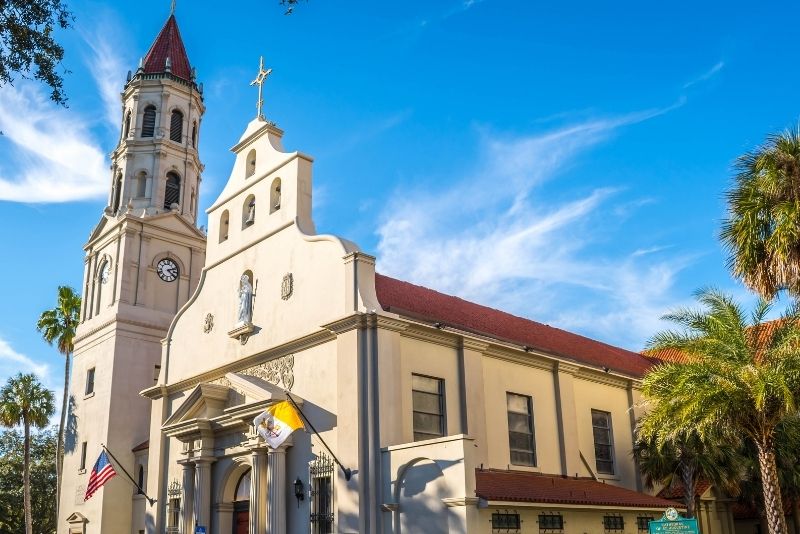 As one of the easy — but certainly worthwhile — things to do in St. Augustine, a visit to the Cathedral Basilica of St. Augustine promises a unique experience.
The Catholic church is more than 450 years old, is home to America's First Parish, and is the pilgrimage ground of this ancient city.
Join their prayer session or simply drop in to take a squiz at the splendor of the interior.
35 – Explore the Spanish Military Hospital Museum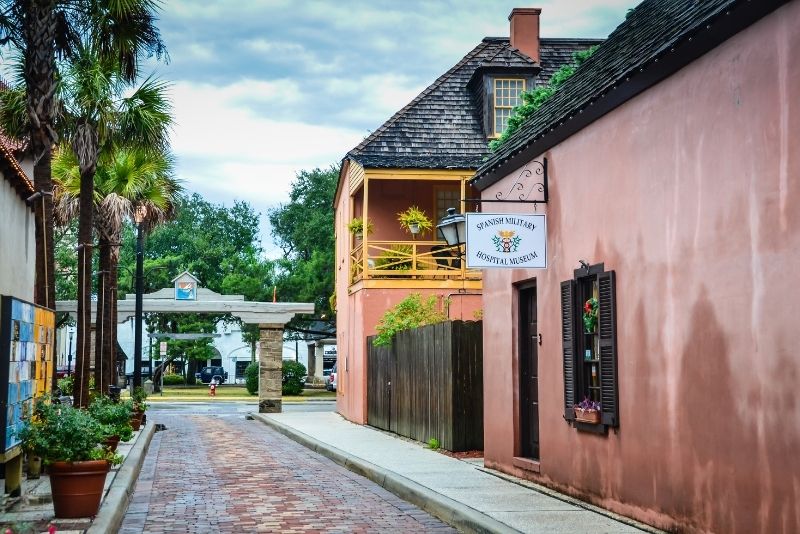 Attention, history buffs: here, at the Spanish Military Hospital Museum, travelers are given a rare chance to see how medicine worked centuries ago during the Colonial Spanish days.
The distinctive museum puts on historical surgical demonstrations, dives into the world of apothecary medicine creation, and displays a range of tools, herbs, and treatments old and new.
36 – Grab some trinkets at the St. Augustine Beach Wednesday Farmers Market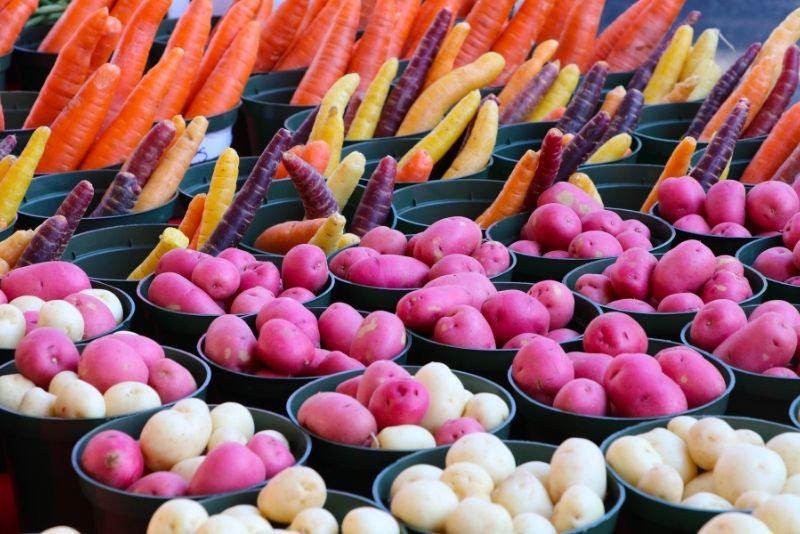 Created with the conscious aim at support local small businesses, the ever-charming  St. Augustine Beach Wednesday Farmers Market dishes up vendors ranging from farmers to artists, craft-makers, and everything in between.
Make sure to check out Tiles By The Sea, Ecopurposed, and Wreaths By Flo, some of the most popular market stalls.
37 – Visit the Fort Matanzas National Monument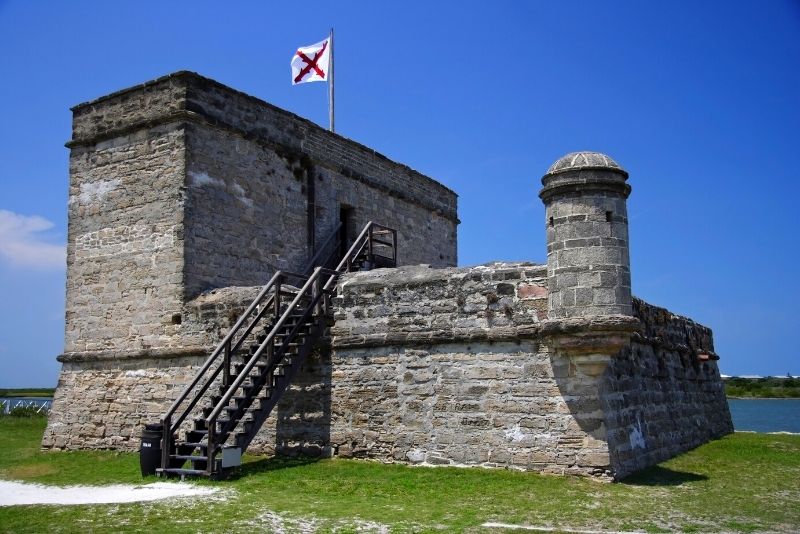 Transport yourself all the way back to 1742 by visiting the Fort Matanzas National Monument, the former location that saw the Spanish settle on the southern end of St. Augustine.
With more than 300 acres of stunning coastal landscapes and all kinds of flora and fauna dotting its fields, there's plenty to see in its immediate vicinity too.
As a little bonus, the main Fort can only be accessed via ferry — so a relaxing boat ride awaits!
38 – Sample delicious blends at the San Sebastian Winery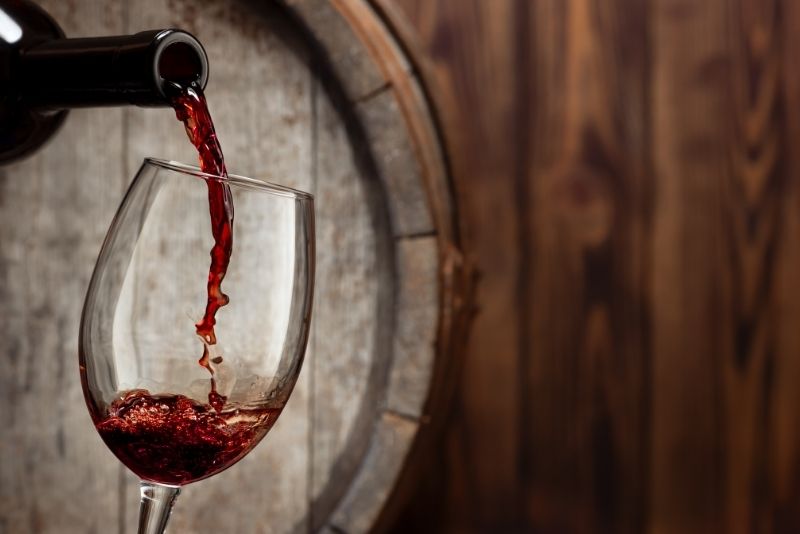 If you consider yourself a connoisseur when it comes to all things wine, a visit to the San Sebastian Winery presents as one of the unmissable things to do in St. Augustine.
Sitting on King Street in one of Henry Flagler's old east coast railway buildings, the 25-year-old popular winery offers a vast selection of blends; choose from dessert wines made from muscadine grapes, Cabernet Sauvignon, Port, Chardonnay, Pinot Grigio, and plenty more.
If you're thirsty, don't miss the tasting tour.
39 – Plan a visit to Ponce de Leon's Fountain of Youth Archaeological Park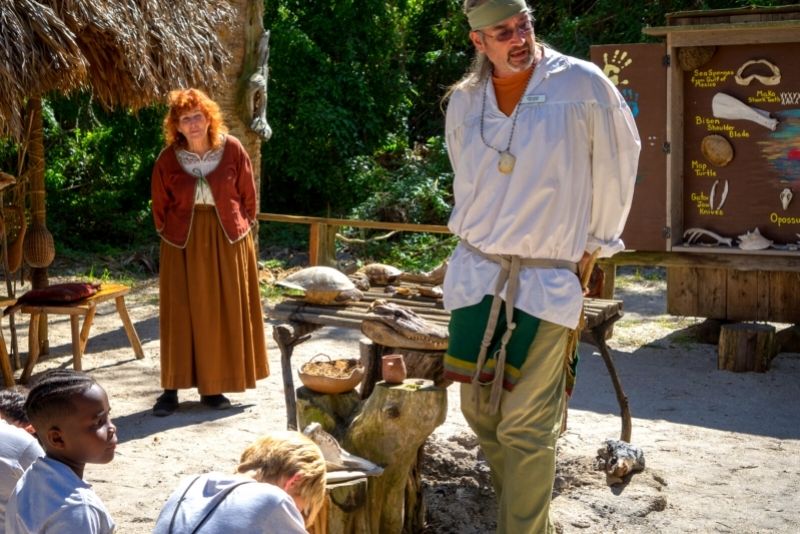 First explored by Juan Ponce De Leon way back in 1513, Ponce de Leon's Fountain of Youth Archaeological Park holds the coveted title of being the oldest European settlement in the USA.
That alone makes it a bucket list destination. However, throw in the Timucua Indian Exhibit, Planetarium, and Discovery Globe scattered across its 15-acre greenery, and it becomes quintessential.
With more than 500 years' worth of history, an enriching and fun experience at this park is all but guaranteed.
40 – Walk through the Historic District and Old City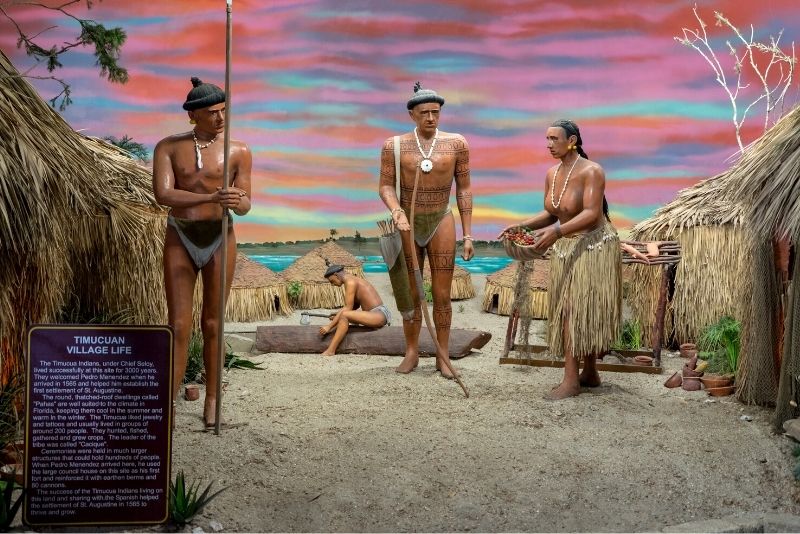 Ask anyone who's been there before and they'll admit it: St. Augustine is best explored on foot.
So grab your walking shoes and avail yourself of a walking tour of the Historic District!
With a licensed guide leading the way as you traverse through the quaint ancient city you'll learn about Timucuan Natives, hear interesting tales of the Spanish settlement, stroll past ancient buildings, and almost certainly get a few insider tips for restaurants and bars too.
41 – Wander around the magical Colonial Quarter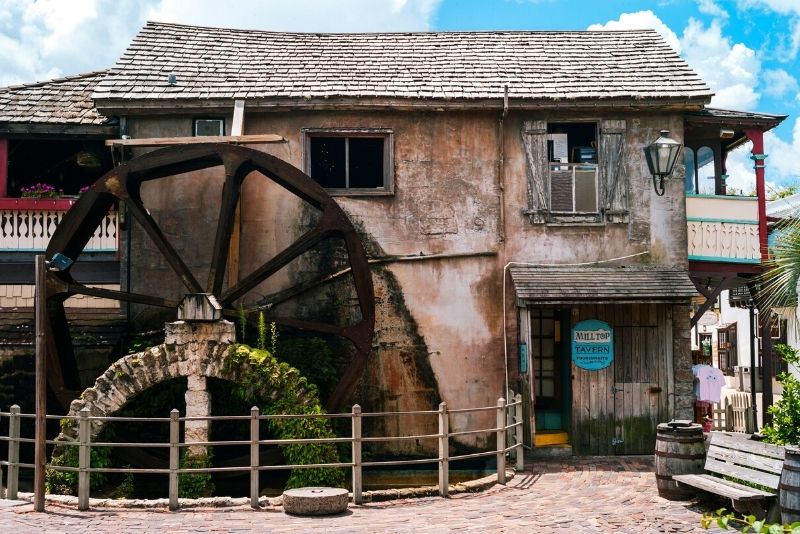 The appropriate-themed Colonial Quarter attraction is teeming with interesting activities: check out the colonial Blacksmithing, witness a live Musket demonstration, climb the watchtower, or stroll across the St. Augustine boardwalk and admire flags of old.
It's a wonderful way to learn about how people lived centuries ago — made all the more memorable with a complete colonial walk-through tour.
42 – Step inside the National Shrine of Our Lady of La Leche at Mission Nombre de Dios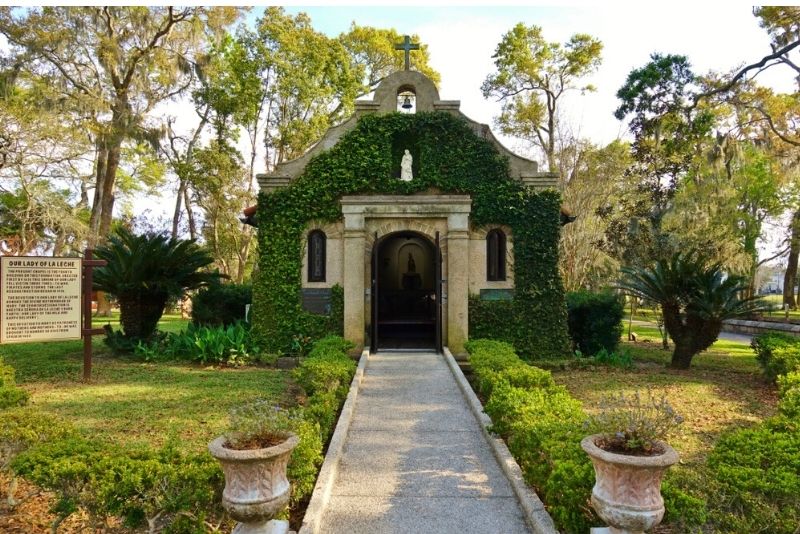 The National Shrine of Our Lady of La Leche at Mission Nombre De Dios (say that 10 times fast, right?) holds the esteemed title of being America's first Marian Shrine.
Established back in the 1600s, it's now more than 450 years old — and while teeming with history it still resonates beauty.
While its appearance is noteworthy, this Shrine's unique selling point is that it has become highly popular for expecting women who come to pray for fertility, their children's health, and safe delivery.
43 – Admire the aptly-named Oldest Wooden School House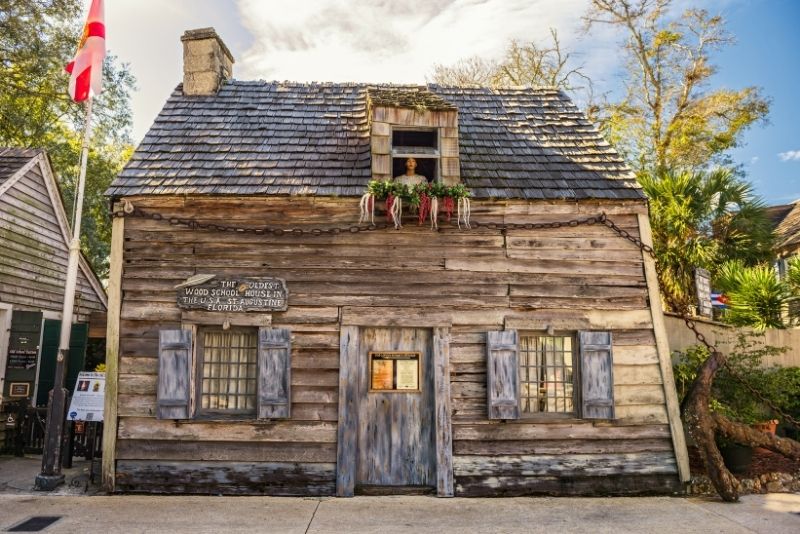 Make no mistake: the Oldest Wooden School House is an American treasure, still standing in its original form.
The schoolhouse does an excellent job of depicting how schools operated centuries ago, with an emphasis on the education and livelihood of Minorcan settlers'.
Thanks to its location on St. George Street by the City Gate, it's an easy one to fit into any itinerary.
44 – Walk the plank on the Black Raven pirate ship!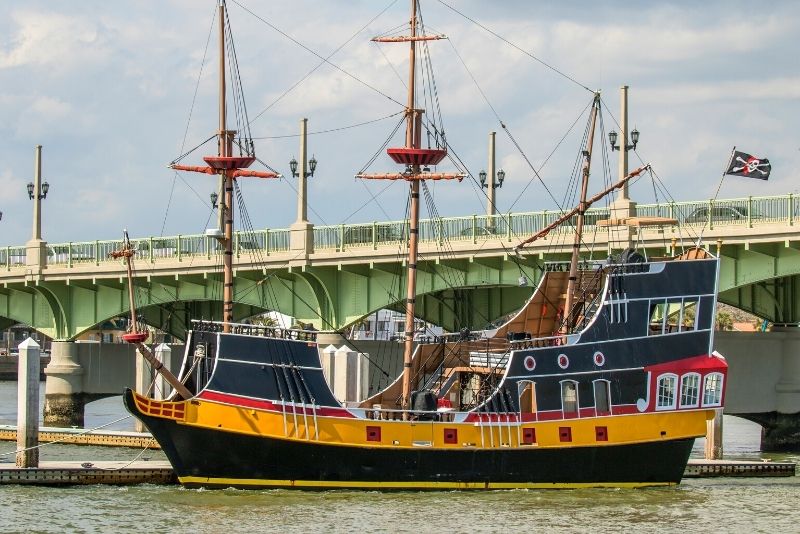 Arrr me hearties, who's ready for their very own battle on the seven seas?
On the Black Raven Pirate ship — a hit for travelers young and old — guests take part in a treasure hunt featuring live actors, eccentric costumes, authentic-looking props and plenty of fun.
Hot tip: who says you need to have kids to have fun on this ship? Adults, sign up for the swashbuckling 18+ Rum Runner adventure!
45 – Grab a table at Sunset Grille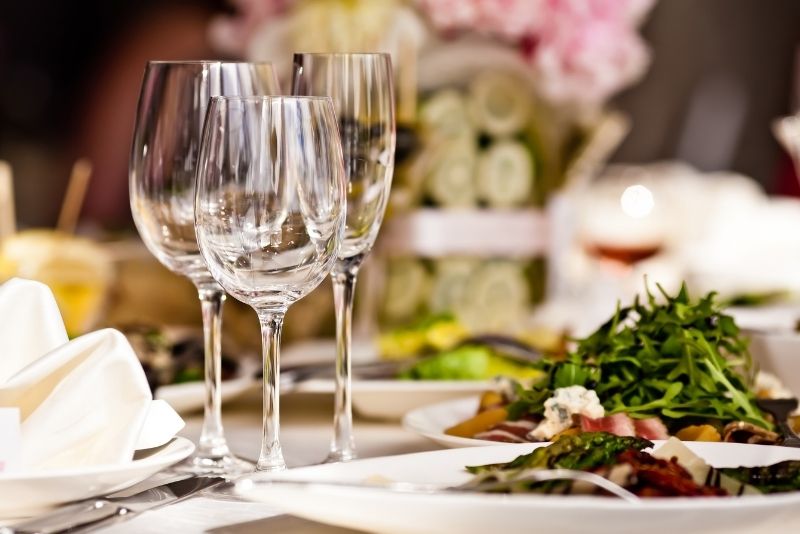 Who's hungry?
Known for its impeccable service and bring is one of St. Augustine's top beachside restaurants, it's no surprise that Sunset Grille often sits high atop travelers' bucket lists.
A local destination that has been around for 30 years, this eaterie dishes up delicacies like Coconut Shrimp, Chowders, Datil Chicken wings, and more.
With a full-service bar and sun-soaked outdoor seating facing the beach, it's the ideal date spot.
46 – Soak in the ambiance at Harry's Seafood Bar and Grille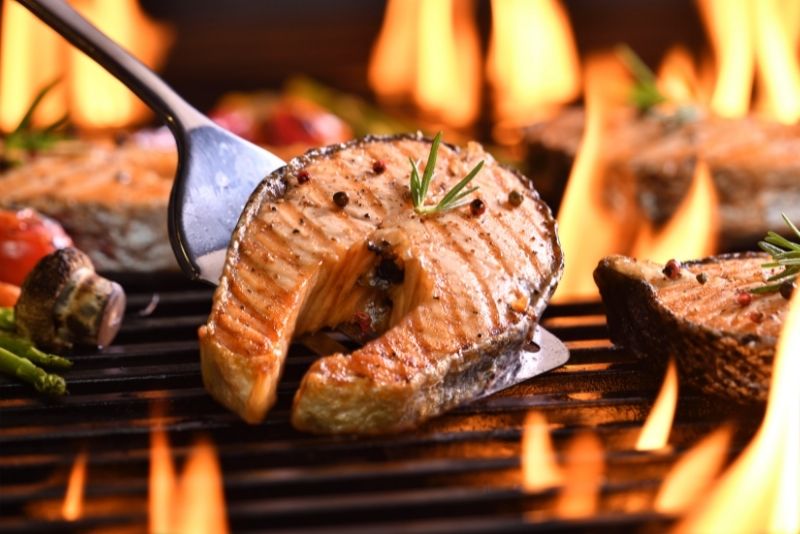 Harry's Seafood Bar and Grille have been around since 1987, so they must be doing something right!
The Fried Green Tomatoes, French Baked Scallops, and Blackened Shrimp are some of the crowd favorites, but based on the reviews, it's hard to go wrong.
And, of course, since you're on vacation, the popular St. Augustine restaurant also offers a fully-stocked bar complete with more beer, wine, and liquor than you could dream of.
47 – Dig into a fresh plate of seafood at Catch 27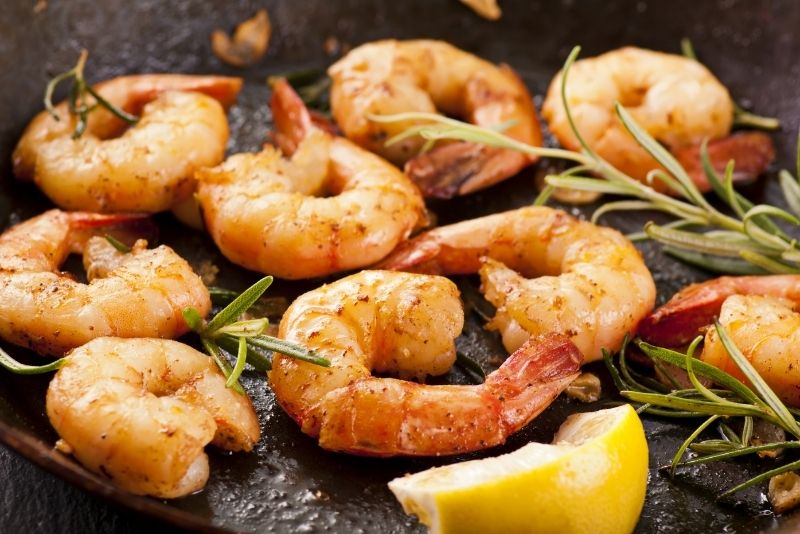 Located in the heart of the Historic city on Charlotte Street, the locally-adored Catch 27 prepares freshly caught seafood day in, day out, serving up everything from mahi-mahi to flounder, black drum, and Sheepshead.
If fish isn't your cup of tea, the shrimp cocktails and gumbo empanadas are both highly popular alternatives too.
Don't worry: these guys also have a bar.
48 – Cool off with a delicious ice pop at the Hyppo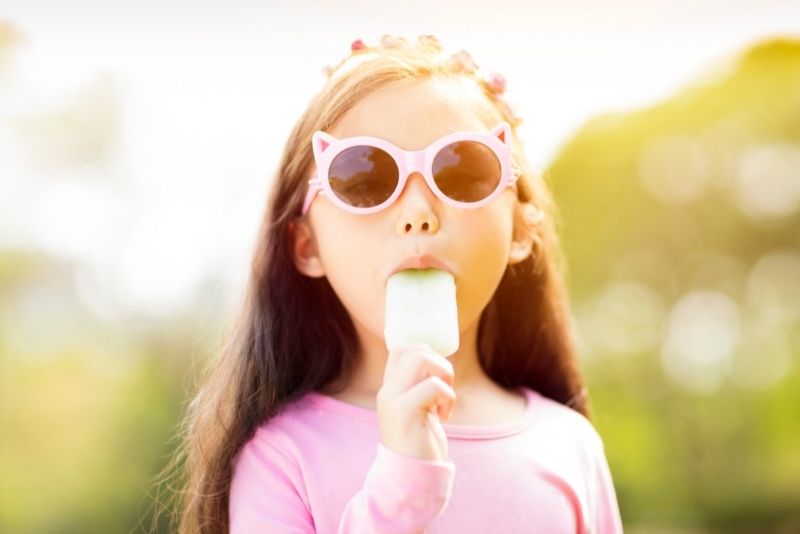 For when the St. Augustine summer sun is wreaking havoc, do as the locals do; there's no better way to cool off and than with a soothing ice pop or two from The Hyppo.
While the prices aren't the cheapest in the city, with so many mouth-watering flavors on offer — from Strawberry Lemonade to Champagne Mango and Espresso Horchata — it's simply non-negotiable.
49 – Chow down at Cousteau's Waffle and Milkshake Bar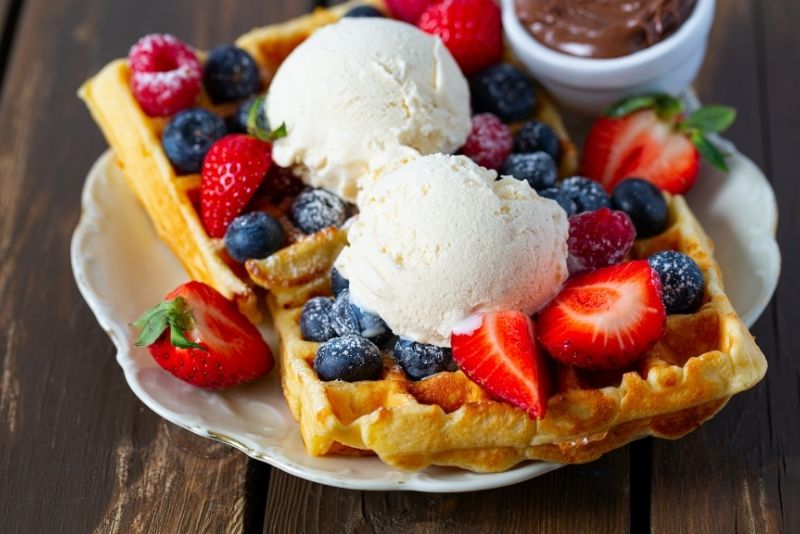 Paradise on earth for anyone with a sweet tooth, Cousteau's Waffle and Milkshake Bar is located in the heart of St. Augustine on Hypolita Street and has been serving up scrumptious handmade Belgian waffles for years.
Plimpton, Kingsly, and Life on Mars are some of the popular waffles worthy of a taste test, while Sonny, Air Kentucky, and Ping Island round out the list of must-try hand-spun milkshakes.
50 – Set sail on the Schooner Freedom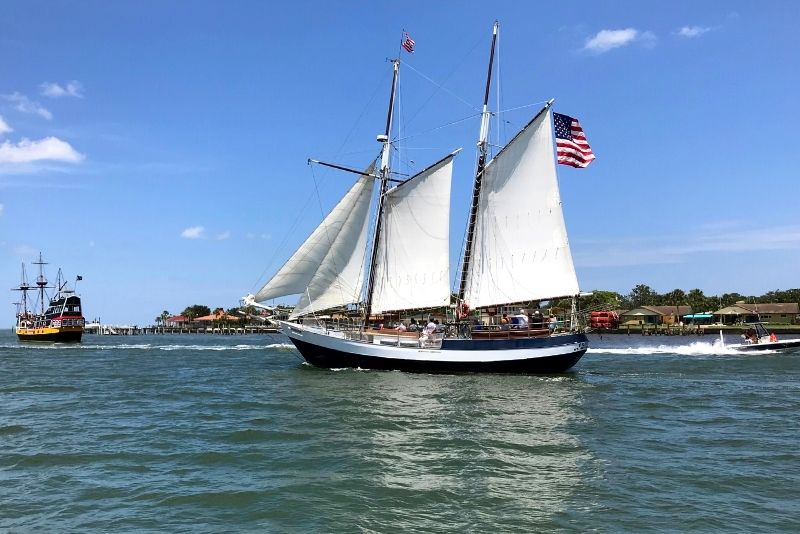 The Schooner Freedom is St. Augustine's famous postcard-worthy tall ship.
But it's not just for show; you can actually sail on this Freedom Ship over the historic waters of St. Augustine, raising the sails, enjoying the view, and then kicking back to learn about the local marine life and ecosystems.
Don't forget the camera — sightings of wild dolphins, turtles, and birds are common.
51 – Play a round at one of many mini-golf courses!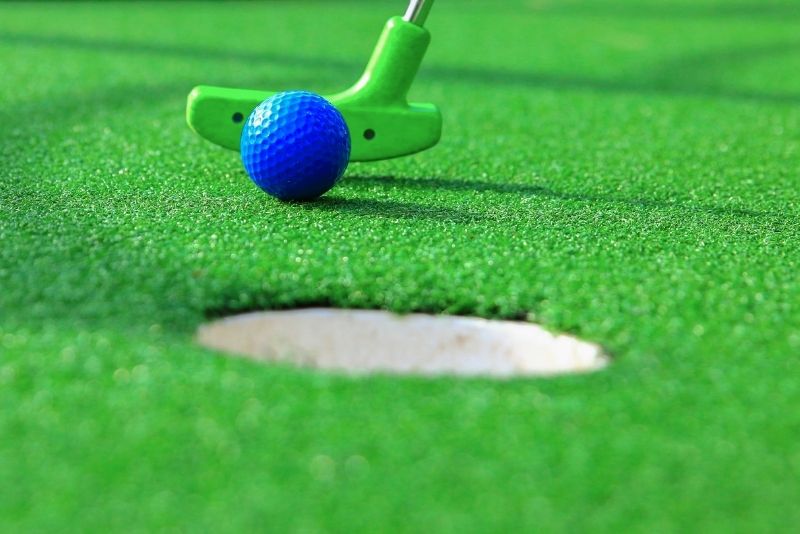 If you are a golf aficionado (or, honestly, even if you're not), then playing a few holes at one of the city's famous mini-golf courses is a great way to pass the time.
Ripley's Bayfront Mini Golf is full of bizarre decorations (it is Ripley's, after all); and Pirates Cove Adventure Golf and Fiesta Falls Miniature Golf each have unique features of their own.
If vacationing with youngsters, it's one of the most enjoyable things to do in St. Augustine.
52 – Stroll along Aviles Street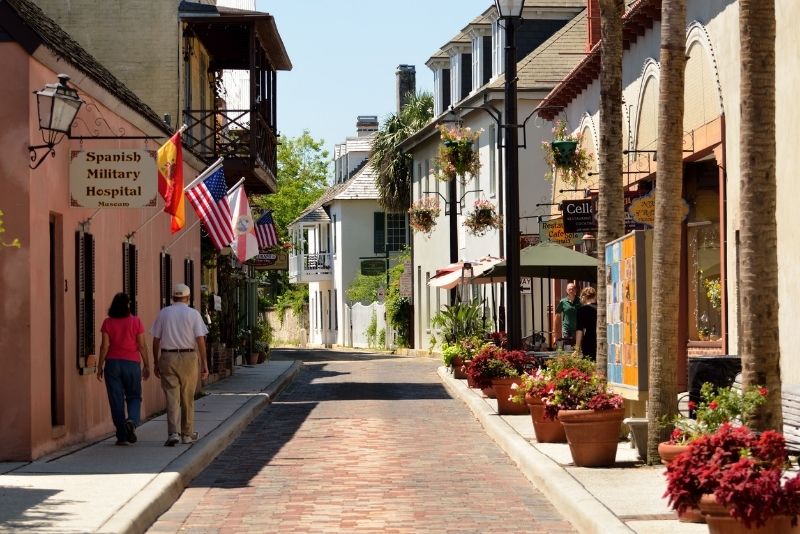 With the enviable title of being the oldest street in the USA, located on the south side in between St George Street and St Charlotte Street, Aviles Street has become a beacon for entertainment and activity.
On any given day you can explore amazing local art galleries and historical museums, dine at award-winning restaurants, or tour schools, jails, cemeteries, and more.
Many of the city's free walking tours will stroll past this landmark, so that could be your best bet.
53 – Catch a show at the St. Augustine Amphitheatre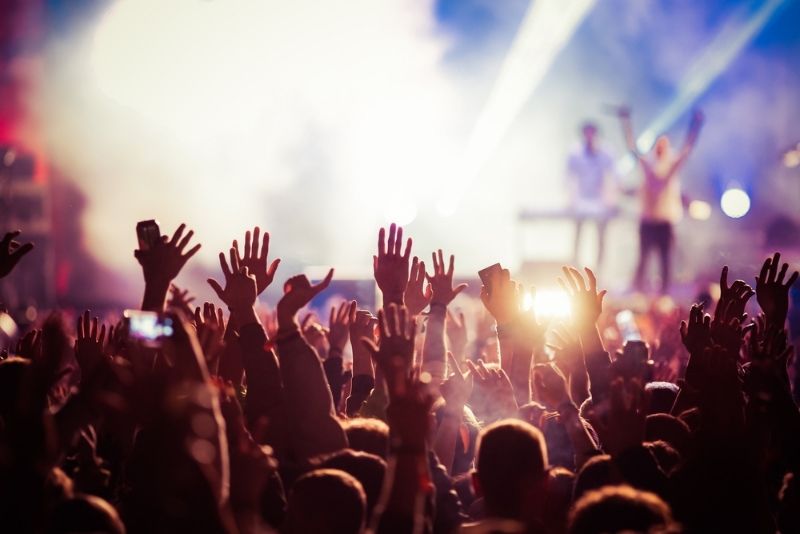 Sitting on the gorgeous Anastasia Island and just 0.5 miles from the beach, this next destination is an absolute treat.
Whether you prefer a concert, play, silent disco, stand-up comedy session, or something obscurely in between, you're almost certain to find it on the calendar at the St. Augustine Amphitheatre.
Hot tip: check the website —  with about 40 performances taking place each year, it helps to plan ahead.
54 – Get buzzed on a walking pub crawl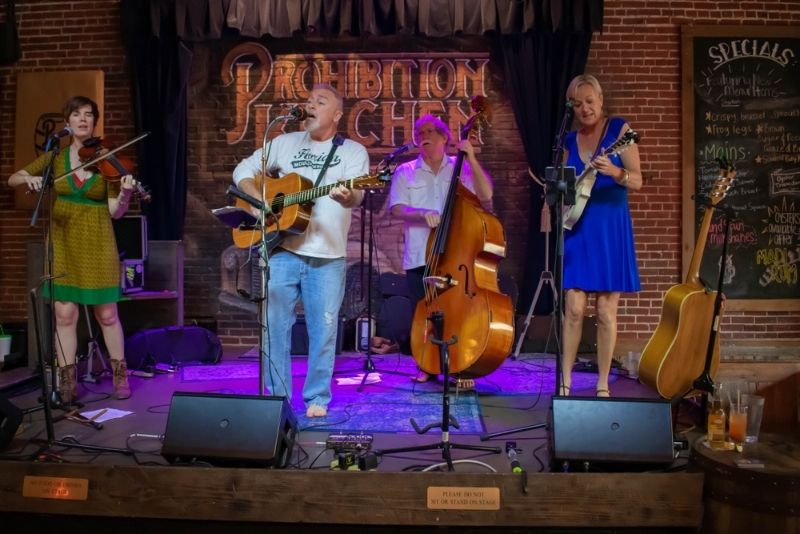 It's vacation. Leave the stress at home and why not get a little wild, right?
The city's walking pub crawls take you through the historic streets, stopping into an array of international, multi-cultural bars — some large clubs, some little-known dive bars.
While the itinerary can change from day to day, there's a high chance you'll end up downing shots at The Gifted Cork, Taberna Del Caballo, Isabella's Bar Cuba, Prohibition Kitchen Gastropub or The Chatsworth Pub and Tea Room (or all of the above, if you can last that long).
55 – Spend the night in a historic hotel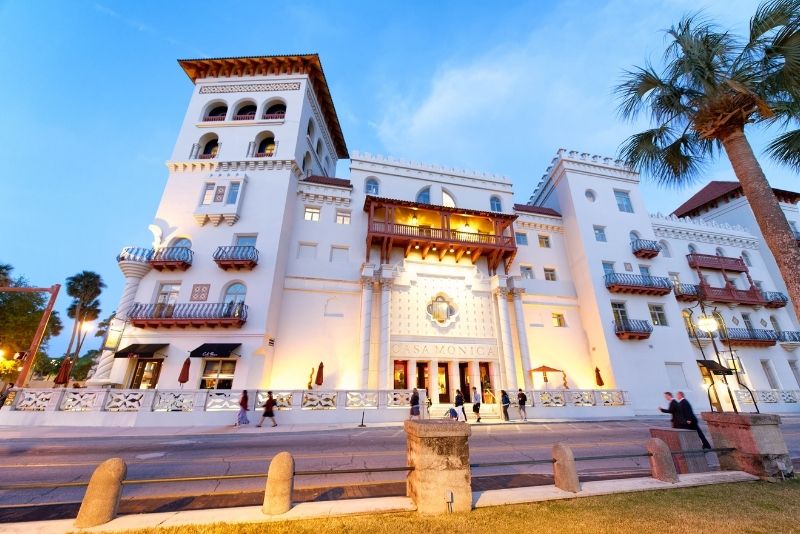 As a city built on history, it should come as no surprise that St. Augustine is absolutely littered with esteemed hotels — and despite their old age, their architecture remains marvelous and their service exquisite.
The Collector, Casa Monica, Bayfront Inn, Bella Bay Inn, and Spanish Street Inn are just a sliver of the long list of historic hotels worth checking out.
Fancy a bit of a day trip?
You'll be spoiled for choice, that's for sure.
Jacksonville is just 40 miles north; the famous Daytona Beach is just an hour south down the coast, and what's more, Orlando is reachable in just two hours, where a magical day at Disney World awaits.
If you're looking for something further out, travelers often choose to make the journey a few hours north to Savannah's Tybee Island, and then further north yet again up to the Isle of Palms near Charleston.
So, what are you waiting for? Start booking all your tours in St. Augustine now, before they sell out on your chosen days!
Whether you've called Florida home for years and just want to explore your own backyard, or you're visiting the area for the first time, we hope you'll enjoy checking out some of the activities featured on our list of things to do in St. Augustine!
If you have any other must-see suggestions in St. Augustine (or anywhere in Florida, for that matter), feel free to let us know in the comments!
As always, wishing you happy and safe travels.