Sun-kissed 365 days a year and home to what's been dubbed the World's Most Famous Beach for well over a century, Atlantic Florida's Daytona Beach welcomes over 10 million ocean-seekers year after year.
And with a diverse range of museums, events, restaurants, and wild parties, not to mention the infamous Daytona International Speedway NASCAR races, seldom does it disappoint.
Whether you're a beach bum looking to laze around and work on the tan, a culture vulture in need of art galleries and live music, or a nature-lover who wants nothing more than to tackle a good hiking trail or two, the selection of things to do in Daytona Beach — the wide spectrum of which often takes visitors by surprise — can suit each and every type of traveler.
So, what are you waiting for? Start thinking about hotels, transport, and activities, and get planning your Daytona Beach adventure now!
1 – Get your adrenaline fix at Daytona Lagoon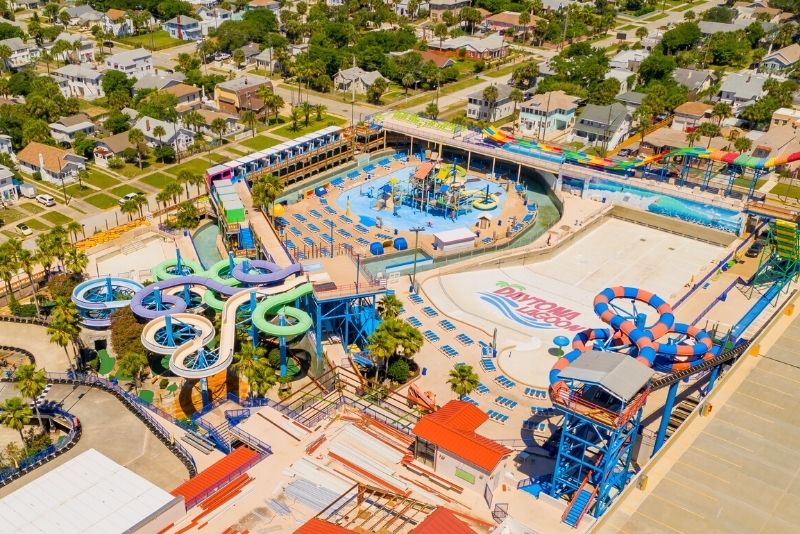 A splash-tastic waterpark, high-speed go-kart track, and decorated mini-golf course all rolled into one, Daytona Lagoon sells itself is the perfect place to cool off and pass the time on any sizzling Florida summer day.
Sitting in the heart of Daytona Beach at Oceanwalk Village, the Lagoon appeals to visitors of all ages; with its massive waterpark packed full of over a dozen thrill rides (don't miss the 54-foot tall Kraken's Revenge) and lazy rivers.
Plus a giant wave pool, the challenging SkyMaze Ropes Course, a laser tag arena, and an onsite arcade to boot, this beacon of entertainment is perfect for all the family.
Daytona Lagoon also offers up eateries for refueling and cabanas for relaxing too, so you can make a day of it.
2 – Enjoy the view from the Ponce de Leon Inlet Lighthouse & Museum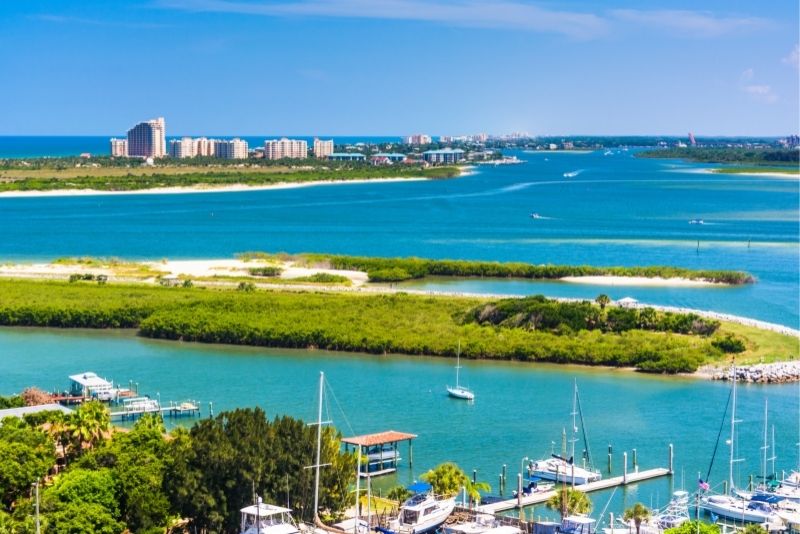 One of the most iconic sites in all of Florida, the 175-foot-tall Ponce de Leon Inlet Lighthouse has stood guard over New Smyrna Beach for well over a century.
Originally constructed back in 1887 and then added as a National Historic Landmark back in 1998, this sentinel is now open to visitors keen on learning more about its history and that of Florida's lighthouses in general.
From the museum at its base, visitors can ascend to the top of the lighthouse itself for unbeatable panoramic views over the Atlantic Ocean and surrounding coastline (including Daytona Beach in the distance), before descending back down to explore more of the exhibits on display.
After soaking in the views and the history, and checking out one of the world's finest collections of restored Fresnel lenses, spend a few minutes soaking in the fresh air at Lighthouse Point Park, where you'll find picnic areas, a public beach, and wooden boardwalks aplenty.
3 – Explore the city with a segway tour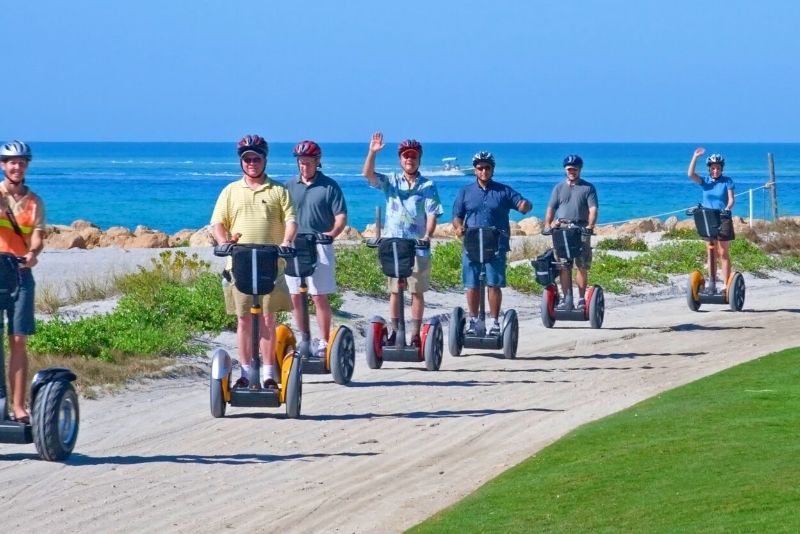 With paved boardwalks aplenty, why walk around town and tire out the legs when you can see more of what Daytona Beach has to offer with a bit of Segwaying around?
Tours, which are led by friendly and in-the-know locals, typically last about an hour, skirting along the beachfront and exploring the surrounding streets, and are ideal for visitors to get a feel for the city in a short period of time.
Looking for something a little more unique? Consider a dusk tour that dives into the underground and haunted side of this waterfront city.
4 – Set sail on the Atlantic with a sailing tour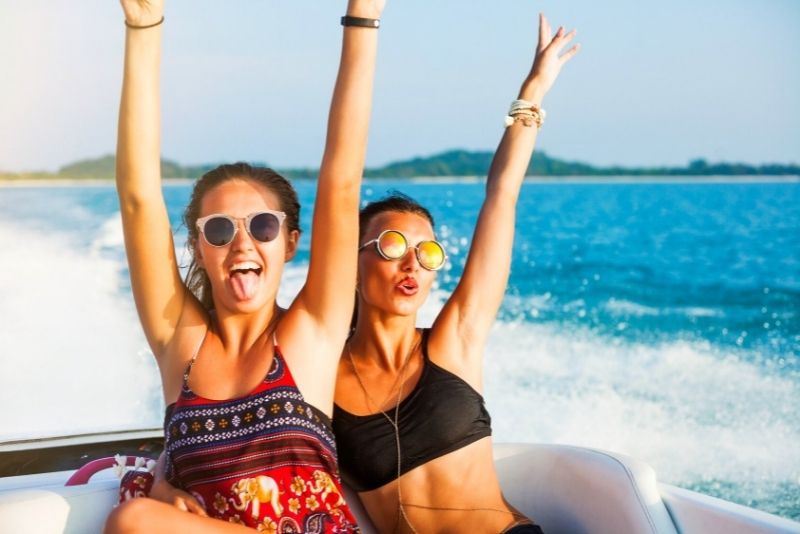 Nothing quite screams 'vacation' like a selfie on a yacht, and Daytona Beach offers plenty of opportunities to do exactly that — getting off the beaten track, away from the tourist traps, and out on the open seas for a breathtaking and relaxed (yet still exhilarating) sailing excursion.
From half-day trips that take in the sights of Ponce Inlet Lighthouse, dolphins leaping in the waves, and manatees swimming in the shallows, to full-day adventures that head further afield to explore natural wonders and deserted islands, there's a sailing tour to suit everyone and every budget.
5 – Head to the sprawling Museum of Arts & Sciences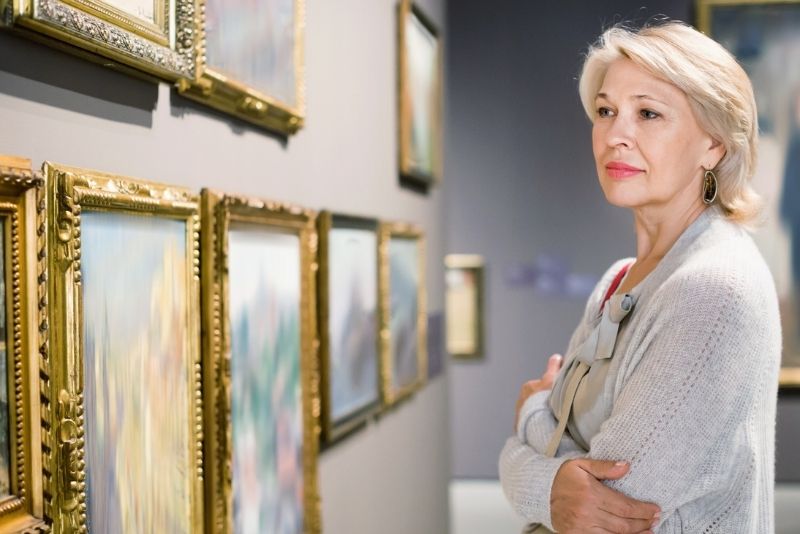 Home to a world-renowned collection of art, archaeological treasures, and mechanical marvels, the Museum of Arts & Sciences (or MOAS, for short) is arguably Daytona Beach's premier cultural attraction.
As a Smithsonian affiliate, as expected, the museum is enormous, offering up over 30,000 objects spanning Cuban paintings to vintage cars, the largest collection of Coca-Cola memorabilia in Florida; interactive exhibits that explore science, animals, and prehistory, and everything in between.
Ideal for all ages and with regularly updated temporary exhibitions, this cultural powerhouse is well worth the investment in time.
6 – Soak in the fresh air at Smyrna Dunes Park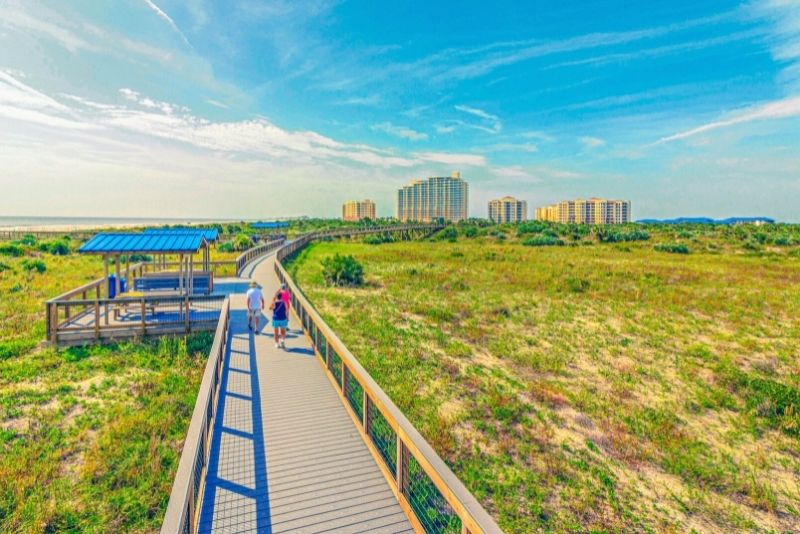 A beloved slice of nature sitting at the northern tip of the New Smyrna Beach peninsula – about 30 minutes drive from the heart of Daytona Beach – 184-acre Smyrna Dunes Park offers up a little bit of everything for visitors looking to escape into the great outdoors.
From picnic areas and playgrounds, to nature trails that wind their way through maritime hammocks and no less than coastal dune ecosystems (ocean, river, dunes, scrub zone, saltwater marsh), this park is perfect for an afternoon spent with friends or family.
Traveling with pets? Bring them along! Just be mindful of the $10 entry fee per vehicle.
7 – Hit up the area's best beaches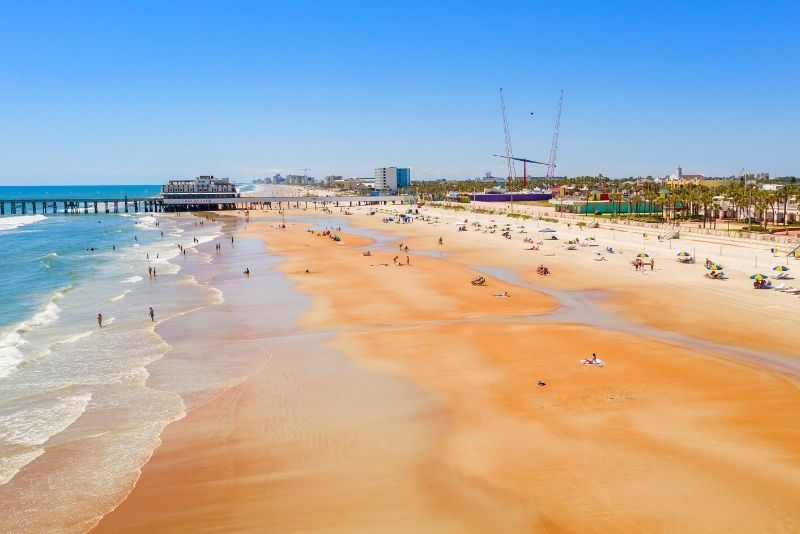 You're in Atlantic Florida, after all, so it would be a sin not to spend at least some time soaking up the sun on the area's most gorgeous shorelines.
From Daytona Beach proper and its world-famous boardwalk to New Smyrna's miles of undeveloped coastline and the turtle-abundant Canaveral National Seashore, there are plenty of sandy spots to enjoy.
So, where to start? For family-friendly water activities with lifeguards on-site, look no further than Sun Splash Park Beach at Daytona, or for that killer view, Daytona Beach proper (dubbed by locals as the World's Most Famous Beach) is a bucket-list spot, even if just for a quick visit.
Ormond-By-The-Sea is about 10 miles north of Daytona, offering a long stretch of sandy shoreline and is seldom crowded; while true undeveloped coastline can be found down at Apollo Beach in the New Smyrna Beach area. Meanwhile, for all you surfers, look no further than the actual New Smyrna Beach – also great for trying your hand at boogie boarding, skimboarding, and paddleboarding.
8 – Learn about the local creatures at the Marine Science Center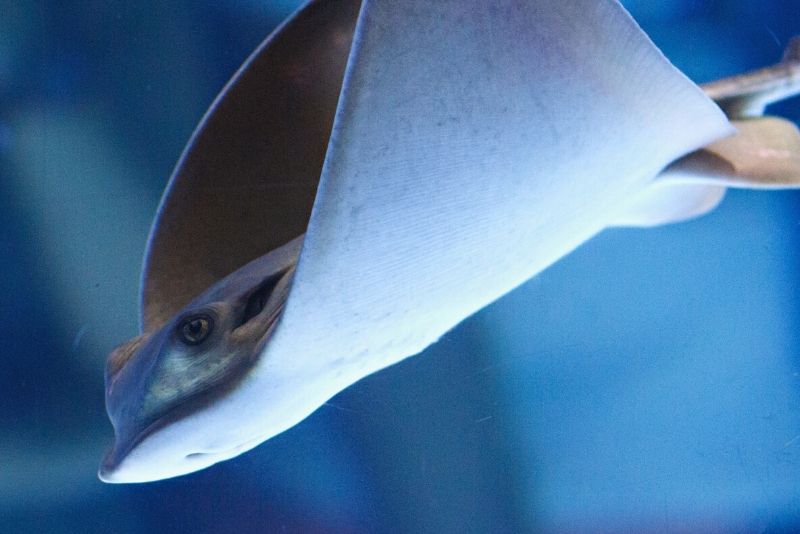 One of Daytona Beach's best family friendly attractions, the Ponce Inlet's Marine Science Center is a wonderful way to spend an afternoon learning more about the area's vibrant sea life and diverse, complicated marine ecosystems.
From hands-on exhibits that let you touch stingrays to the Turtle Terrace, which educates visitors on the nesting and hatching process of sea turtles, the Blue Room which showcases all kinds of weird and wacky Floridian sea creatures, and the turtle hospital which treats injured wildlife, this place has something for everyone.
Be sure to check out the schedule of daily activities – which can include anything from talks by local experts to paddle-boarding in the ocean, nature walks, or field trips – as there's always something new to learn at the Marine Science Center.
9 – Play detective in an escape room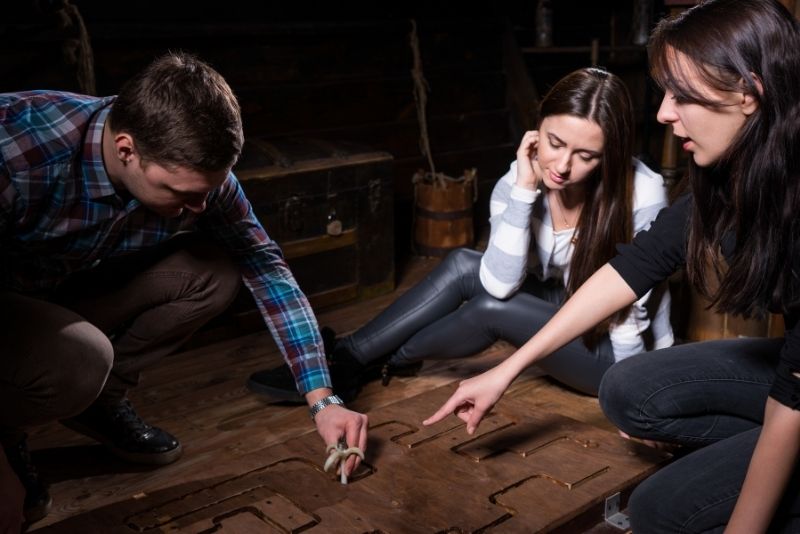 Consider yourself a keen problem-solver? The next Sherlock Holmes, perhaps? Then imagine this: your group of friends has been locked in a room and it's up to you to muster up all your wit, teamwork, and brainpower to get out before the clock strikes zero.
Sound fun? Escape rooms are all the rage these days, with the Daytona Beach area home to its very own selection of code-cracking activities!
Take New Smyrna Beach Escape Room, for example: choose from themes like Alien Autopsy, the circus tent-themed Side Show game, or break out of a Tijuana prison in the Warden's Office room.
So, think you've got what it takes?
10 – Get off the beaten track at Tomoka State Park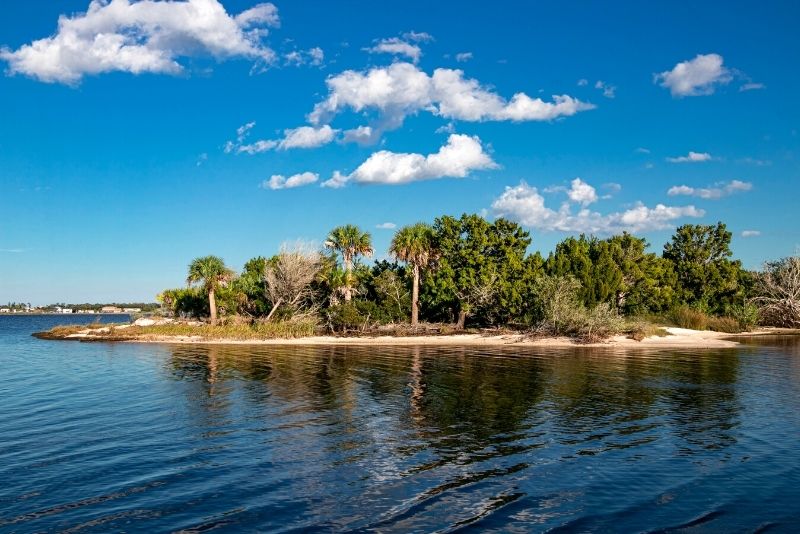 About three miles north of peaceful Ormond Beach and about a 20-minute drive from Daytona proper, the 2000-acre Tomoka State Park serves up natural Florida beauty and history in spades.
This quiet, serene spot is perfect for hiking (be sure to check out the two-mile boardwalk as well as the half-mile interpretive trail that explores the history of Timucuan Indians) or bird watching; while its campsites, marshes, and nature trails offer a chance to see some wildlife up close.
Take a bike and go off-road; rent a boat and go fishing, or kayak through the marshes — as you'll quickly discover, there's plenty to do at Tomoka State Park.
Looking for a hotel near Tomoka State Park? Consider somewhere in nearby Ormond-by-the-Sea, such as Coral Sands Inn & Seaside Cottages or the affordable Best Western Castillo Del Sol.
11 – Take the family to Romano Beachfront Park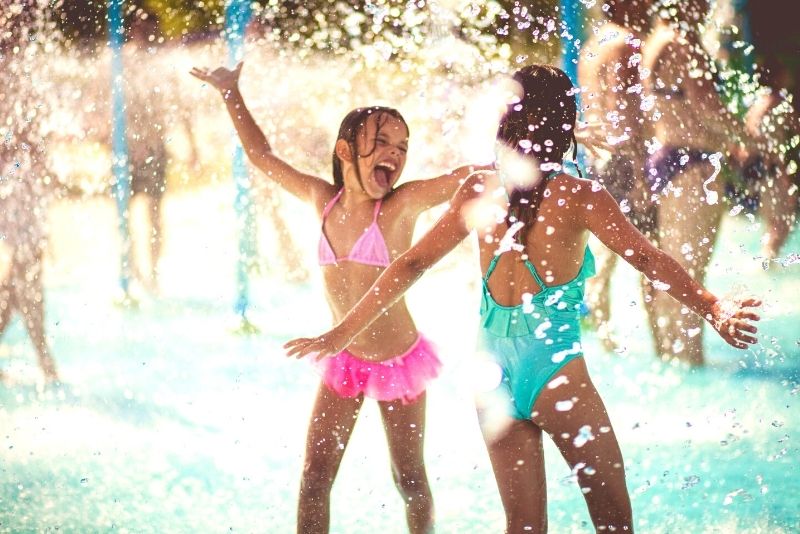 While Daytona Beach boasts a long stretch of pretty, sandy coastline – from the undeveloped Apollo Beach in the south to the family-friendly Sun Splash Park at Daytoa's northern end — if you're looking for one family-friend beach that offers it all under one roof (so to speak), it's hard to go past Romano.
Ideal for anyone traveling with kids in town, this park is jam-packed with activities: there's a splash pad and playground for the little ones, lifeguard towers to ensure everyone's looked after, free public bathrooms, and picnic tables — not to mention, of course, absolutely gorgeous ocean views year-round.
12 – Go kayaking!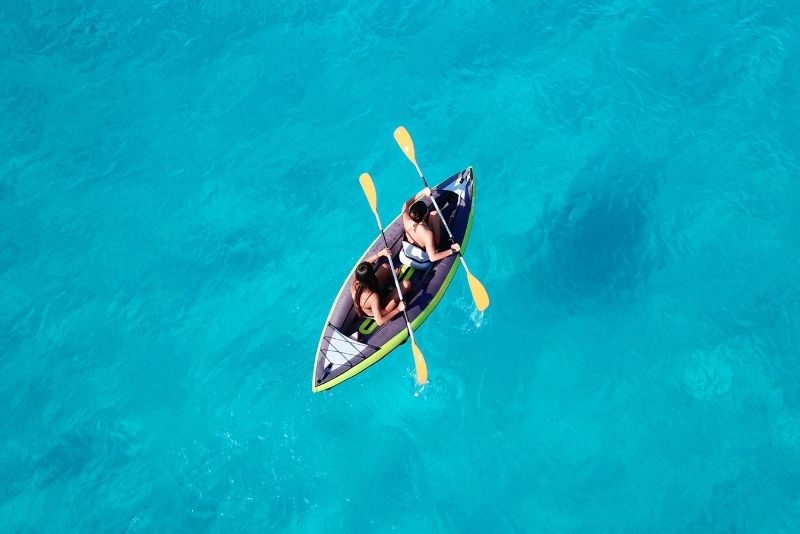 With marshlands and streams galore in hot spots like Tomoka (see #10) and Blue Spring State Park (ideal for manatee-spotting) as well as the protected Halifax River, the Daytona Beach area is a kayaking lover's dream come true.
While there are lots of options for guided tours and excursions (including some that explore the backwaters of Rose Bay where tourists are few and far between), if you're looking to explore on your own terms, there's no shortage of seafront rental outlets either.
13 – Cool off at Sun Splash Park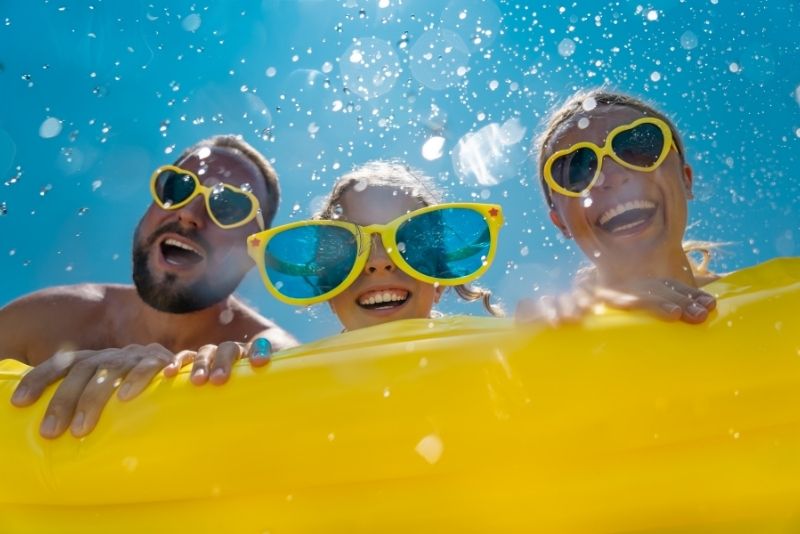 A go-to outdoor spot for family fun, Sun Splash is one of Daytona's most popular and well-known beaches, offers hours of wet 'n' wild fun for all ages in both the sea and in its playful fountain area.
Sitting at the intersection of South Atlantic Avenue and Revilo Boulevard, within walking distance from the actual Daytona Beach, Sun Splash is surrounded by amenities, restaurants, cafes, and bars – making it perfect for an afternoon of post-beach fun!
Hot tip: since the outdoor water park is free, it's best to arrive early to avoid the big crowds on those hot summer days.
14 – Immerse yourself in the beauty of Bulow Creek State Park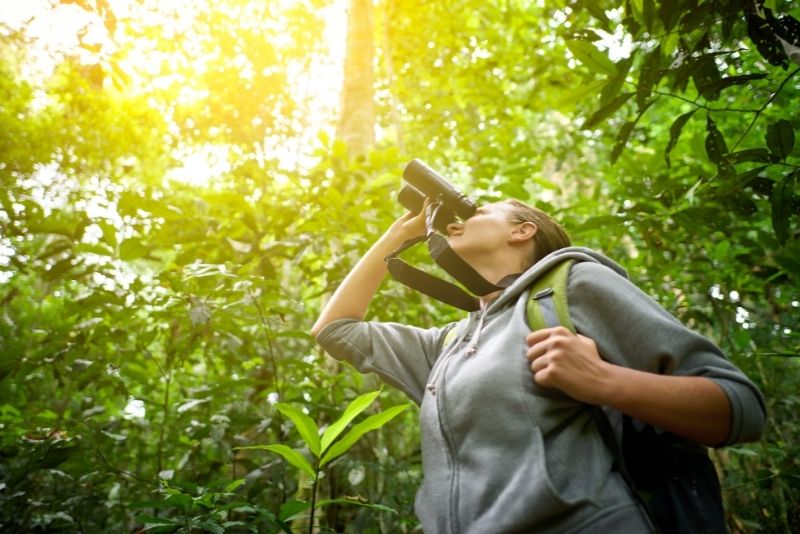 If you're looking for a nature escape — whether that's a casual hike, bike, picnic under the giant trees, or paddle through the marshes — that's close to Daytona Beach, Bulow Creek State Park is your spot.
Spanning a whopping 5,600 acres and located about 5 miles above Ormond Beach (which is far enough to ditch the crowds but still easily accessible by car), this lush park offers trails teeming with nature, as well as kayaking and canoeing on the creek itself.
Birdwatchers, make a beeline for the Bulow Woods Trail, but also keep your eyes peeled for the alligators and wild pigs which roam the woods.
15 – Wander around the Dunlawton Sugar Mill Gardens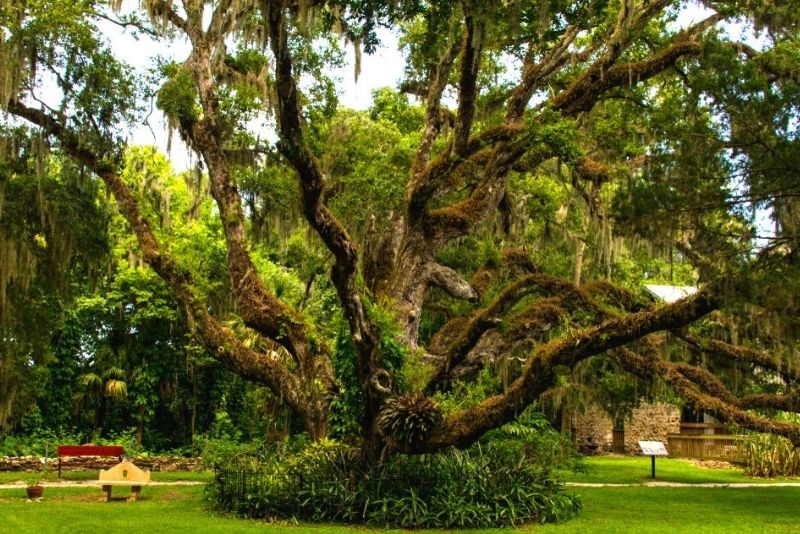 Tucked away in an inland setting just minutes from Daytona's beaches and attractions is Dunlawton Sugar Mill Gardens: an unexpected oasis of beauty-meets-history that makes for a wonderful afternoon activity.
Once the site of the ruins of a 19th-century colonial sugar mill (surprise!), these botanical gardens have been lovingly restored and now offer visitors more than 12 acres of lush, colorful flora that flank the web of peaceful walking trails.
From the formal rose gardens to the babbling brooks and waterfalls, not to mention the dinosaur sculptures adored by little ones, this serene spot sells itself as one of the more tranquil things to do in Daytona Beach, with plenty of photo ops along the way.
Keep in mind that while admission is free, the Gardens are fully volunteer-run, so donations are greatly appreciated.
16 – Hear the racecars roar at the Daytona International Speedway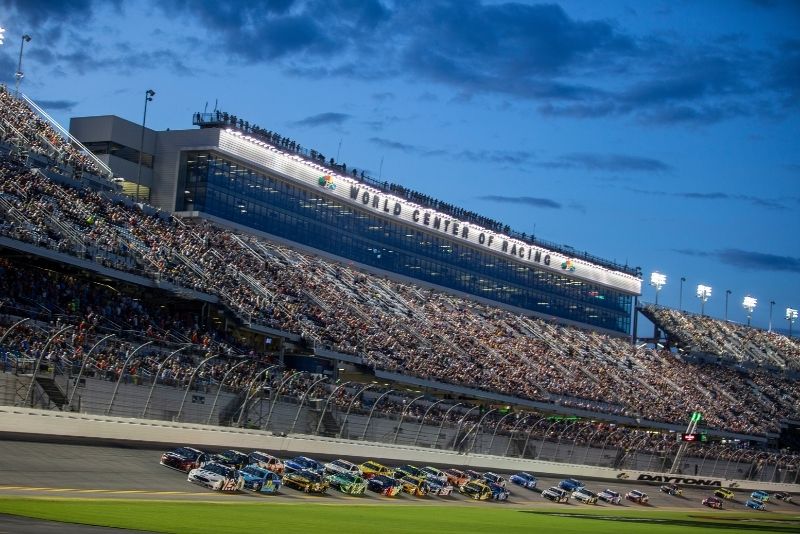 Petrolheads, listen up! Rev your engines and hit the high-speed track at the infamous Daytona International Speedway, where you'll find roaring racing and automotive events all year long.
Just a short drive inland from the main beaches, this mecca of speed is home to NASCAR races, monster truck shows, international sports car racing series like the IMSA SportsCar Championship, and more — and you can learn about it all on a behind the scenes tour.
For something truly special – for the adrenaline junkies and speed demons – consider the Richard Petty Driving Experience, where you can buckle up and take the wheel for a high octane ride.
Looking for a hotel near the Speedway? The Daytona (Autograph Collection), the Courtyard by Marriott Daytona Beach, and the Home2 Suites (by Hilton Daytona Beach Speedway) are all a stone's throw from both the racing and the airport.
17 – Drift around corners in a go-kart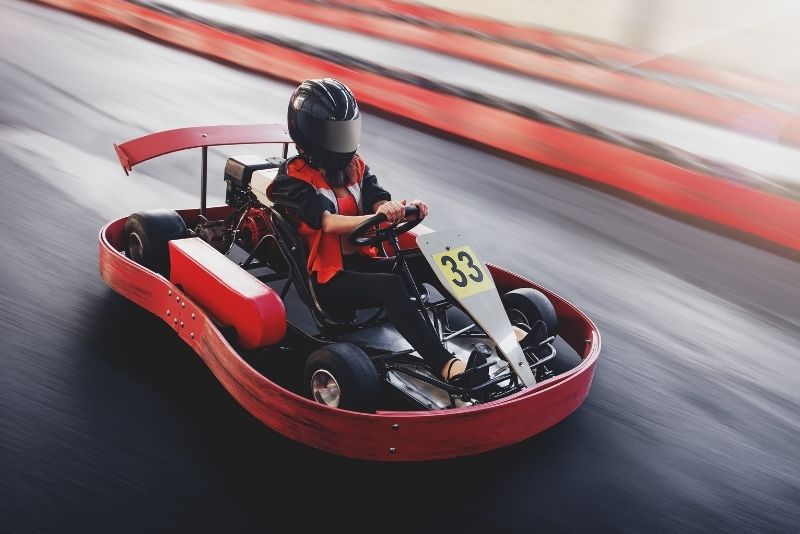 If you're a thrill-seeker who's into speed and competitive racing – but don't want to fork out for a NASCAR hot lap – then it's time to try your hand at go-karting!
Whether you hit up Speedway Indoor Karting on the grounds of the actual Daytona International Speedway, or put the pedal to the metal at the 1/4 mile long outdoor track at Go-Kart City (where you'll also find batting cages and an 18-hole putt-putt course), you'll be quenching that thirst for speed in no time.
The tracks are ideal for beginners and seasoned drivers alike, with all equipment provided and a safety briefing included in your session.
18 – Reel something in at the Sunglow Fishing Pier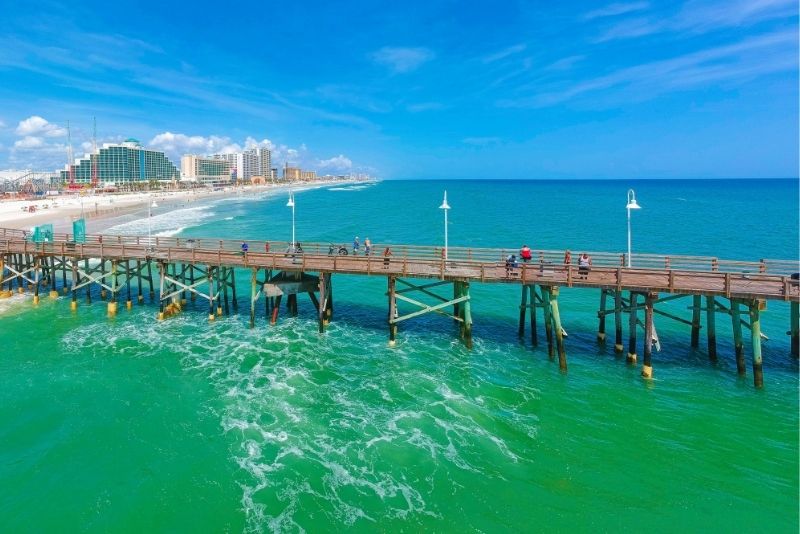 One of the more popular things to do in Daytona Beach, especially with families, is a spot of fishing from the Sunglow Fishing Pier.
Stretching hundreds of feet into the Atlantic Ocean and offering saltwater fishing opportunities aplenty, this well-loved pier has seen fishermen come morning, noon, and night for over 60 years to try their luck at reeling in a big one — whiting, pompanos, flounder, trout, and Spanish mackerel frequent the area.
The pier is also home to a bait and tackle shop, as well as the locally adored Crabby Joe's Deck and Grill where you can buy food and drinks; so it's the perfect place for a full day out on the waves.
While it'll cost you around $7 to fish (for adults, and $3 for kids), you're welcome to stroll out and simply enjoy the view, away from the crowds, for just a buck.
19 – Get your culture fix at the Cici & Hyatt Brown Museum of Art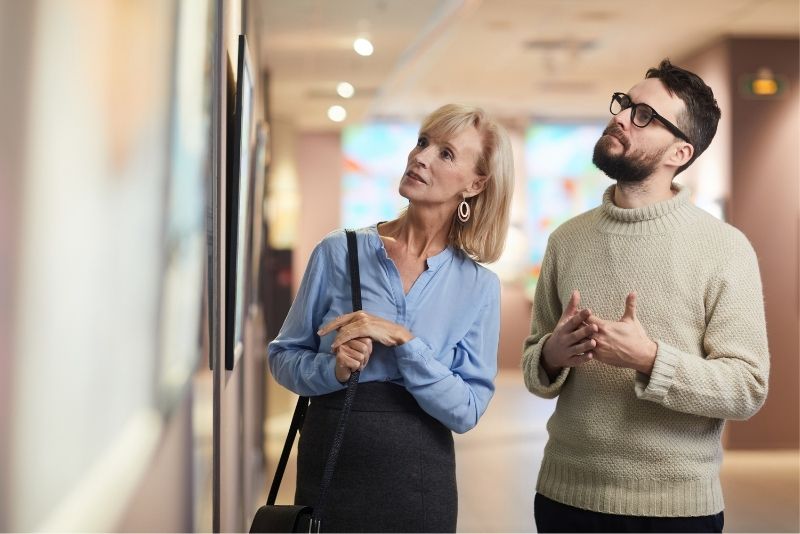 A crowd favorite for culture vultures, the Cici & Hyatt Brown Museum of Art is a must-see for anyone interested in the history and development of art on the east coast of Florida.
The museum, which sits on the campus of the Museum of Arts and Sciences, is most famous for its collection of specifically Florida-themed paintings, boasting the largest collection of Florida art in the world.
With 2,600 oil and watercolor paintings highlighting the natural beauty of the panhandle state, themed around topics like Florida Weather, Volusia County, and the local fishing scene.
Permanent collection aside, the 26,000-square-foot South Nova Road institution also features rotating exhibitions from both local and international artists, so expect something new and exciting every time.
Hot tip: for free entry, visit on the first Tuesday of every month.
20 – Play a round of golf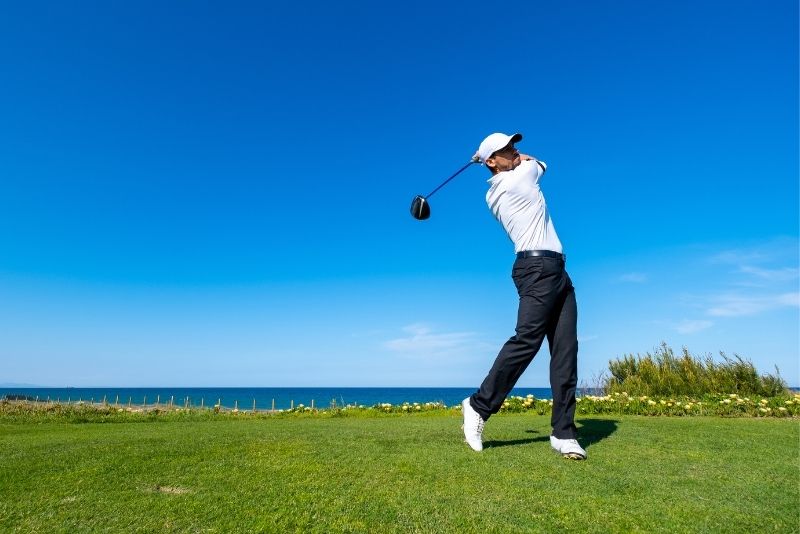 If golf is your game, you're in luck: Daytona Beach has some of the best courses around.
None is more famous than the LPGA International, whose two equally impressive courses have acted as the stomping ground for the LPGA Tour since 1994.
You'll find another two options over at the Daytona Beach Golf Club, whose century-old reputation precedes it.
Meanwhile, lush greens and challenging par-5s await at the Cypress Head Golf Club, and the meticulously maintained DeBary Golf and Country Club has acted as the U.S.
Open Qualifying course on multiple occasions, showcasing its pristine yet challenging layouts. And that, folks, is just the tip of the iceberg.
21 – Head out on a pedal boat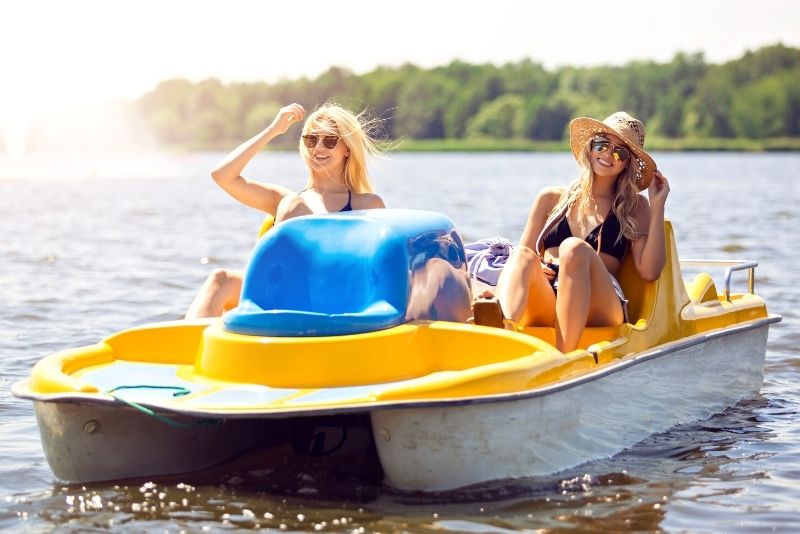 For a more relaxing way to explore Daytona Beach, grab your nearest and dearest, rent your very own pedal, and head out onto the waters of Rose Bay or the Halifax River!
While, first and foremost, these two-person boasts present a relaxing hour or two, they're also a surefire way to burn a few calories.
It's an affordable, family-friendly option to pedal your way around the bay, take in the sights and sounds of Daytona Beach from a different perspective, and enjoy a bit of sunshine while you're at it.
22 – Step back in time at the Lilian Place Heritage Center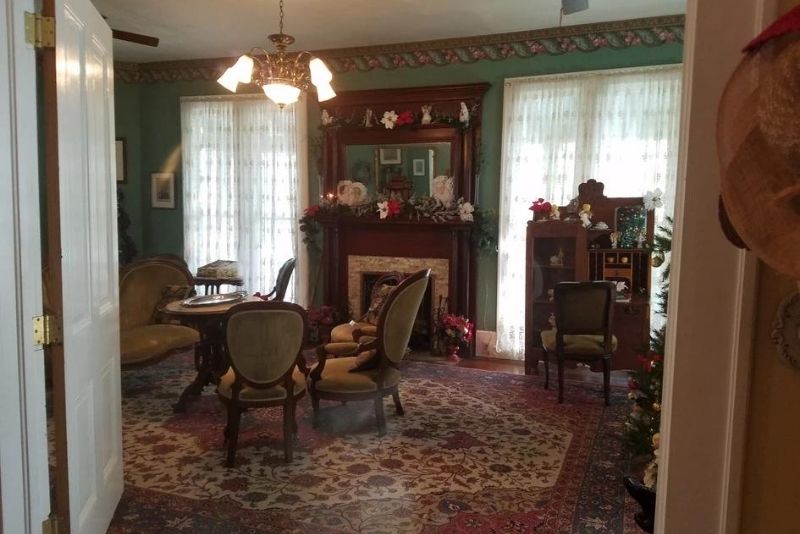 Built by a local philanthropist who was determined to preserve Florida history, the Lilian Place Heritage Center is a slice of pre-20th century Americana, originally constructed by one of the city's inaugural settlers.
Today, the historical house and its beautiful grounds house a museum that features displays all about the history of Daytona, specifically in the Victorian age, and that counts itself among the oldest structures in Daytona Beach (built in 1884)!
Led by historians, the guided tour of the home is a fascinating look into how people lived more than 100 years ago, and kids will love checking out the authentic artifacts on display.
Hot tip: if you love the history and architecture, try to align your visit with one of the monthly afternoon teas at Hotchkiss House next door.
23 – Spend an hour or two at the New Smyrna Museum of History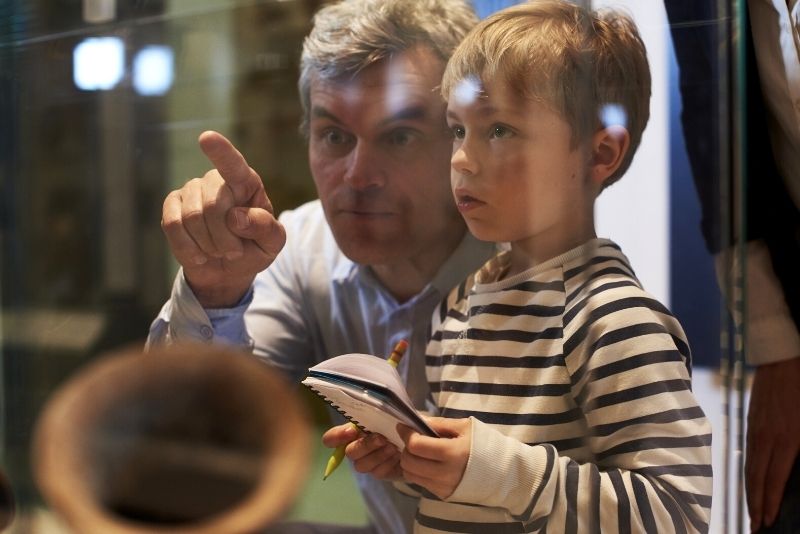 Tucked away in the historic New Smyrna Beach, you'll find another slice of Florida history waiting to be explored.
The museum, housed in the 100-year-old original local post office, is home to a wealth of artifacts and exhibits that cover everything about one of Florida's oldest and most charming areas. From the Native American Indians who used to call this area home, through to the maritime history and its evolution into a modern tourist magnet, there's plenty to see.
Hunting for a New Smyrna Beach hotel? Past travelers have raved about the opulent SpringHill Suites by Marriott and The Riverview Hotel, while more budget-conscious travelers recommend the likes of the Islander Beach Resort and Coconut Palms Beach Resort.
24 – Venture around the Tiger Bay State Forest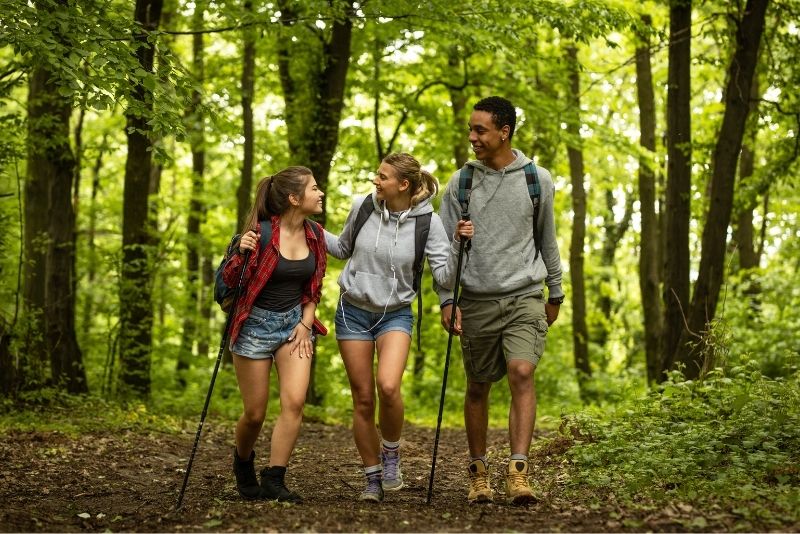 A slice of the jungle in a beach and marsh-dominated region, Tiger Bay State Forest is one of Florida's largest nature preserves.
Covering more than 31000 acres and home to a section of the Tomoka River, you'll find dense vegetation brimming with birdlife alongside expansive salt marshes that are perfect for paddling through in your kayak or canoe.
Hiking trails suitable for all ages run throughout the Forest — don't miss the easy, 2-mile Buncombe Hill Interpretive Trail or the slightly longer Pershing Highway Interpretive Trail — as well as camping sites, biking routes, and fishing spots sure to appeal to the nature-lover in your family.
25 – Hold on for dear life on the Daytona Sling Shot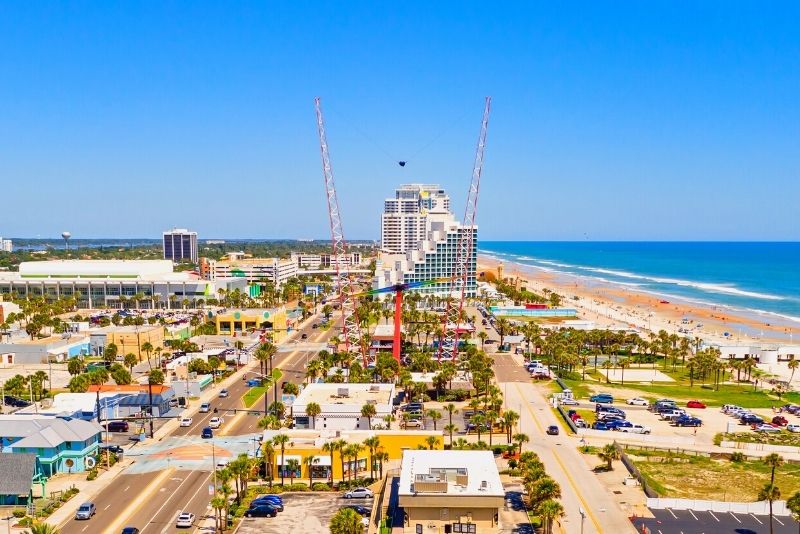 Craving an adrenaline rush? Look no further than the Daytona Sling Shot!
This amusement park ride, located at Daytona Beach Boardwalk and Pier, catapults you over 365 feet into the air in just three seconds in a reverse bungee style, reaching an exhilarating top speed of 100 miles per hour!
It's billed as "The World's fastest Slingshot" and we're not about to argue! But if that's still not hair-raising enough, the swinging Vomatron next door, which reaches 5G-force, ought to do the trick.
26 – Join a dolphin-watching adventure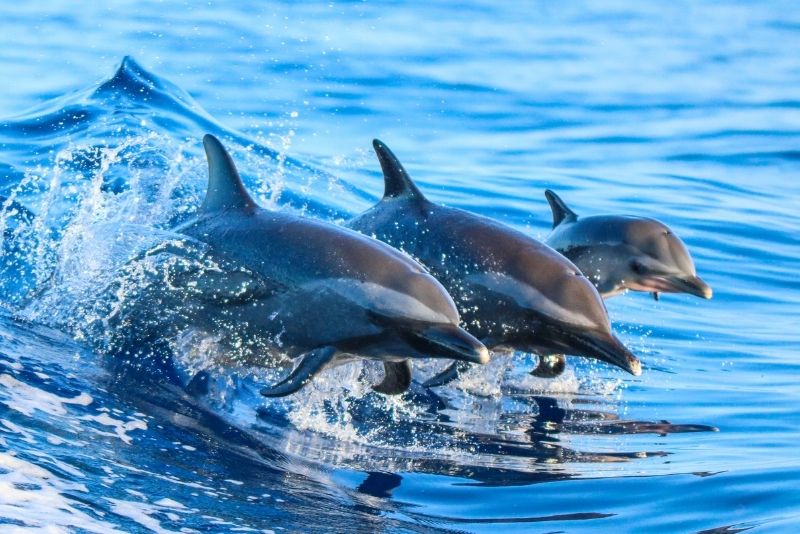 One of the most popular things to do in Daytona Beach — scratch that; along the Florida coastline, in general — is dolphin watching.
With its location on the Atlantic Coast, this sun-kissed stretch of sand and shoreline, there are several boat tours and marine excursions.
And while dolphin watching is the main event, many of them also include other activities such as fishing, snorkeling, kayaking, paddle boarding, and more.
Simply pick your preferred adventure, whichever suits your schedule and budget, make sure the camera batteries are charged, listen up to the knowledgable guides who'll wax lyrical about the local ecology and marine systems, and enjoy!
27 – Admire the collection at the Ormond Memorial Art Museum and Gardens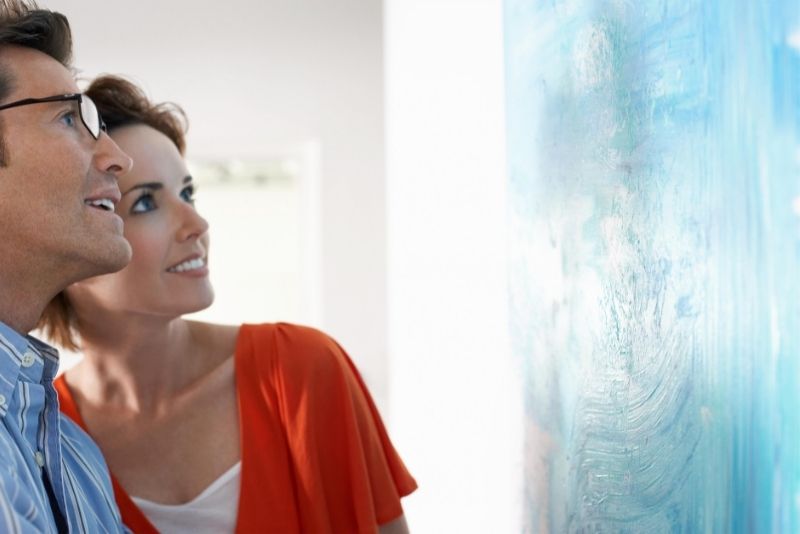 Hidden away in an Ormond Beach garden oasis yet close enough to the thick of the action, the Ormond Memorial Art Museum and Gardens is home to a world-class collection of art and artifacts that's been delighting visitors since 1946.
From paintings by local luminaries from both prominent Florida and international artists like Malcolm Fraser and Kelley Batson-Howard, through to military tributes and old relics, there's something for everyone at this museum.
And with its location on lush, lush grounds, you can also enjoy a day in the park-like gardens while you're there — even the garden path stroll from the parking lot to the museum is an unexpected treat!
28 – Admire the boats at Halifax Harbor Marina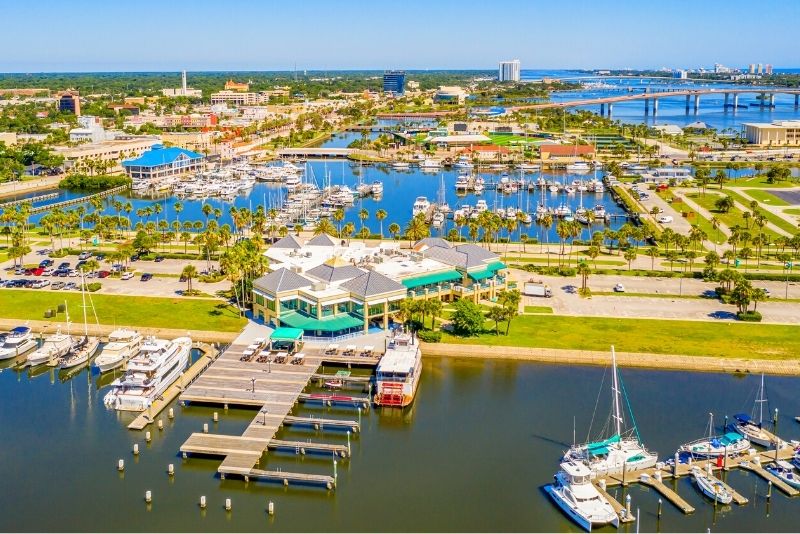 If you're looking for Daytona Beach activities that involve a little bit of luxury and a whole lot of waterfront views, look no further than the Halifax Harbor Marina.
Offering both transient and permanent dockage, this full-service marina caters to boaters of all types with amenities like fuel pumps, electrical hookups, pump-out stations, and more.
Of course, nobody's saying you need a boat to visit — pedestrians and locals alike flock here for the salty sea breeze and energetic atmosphere, to admire the expensive yachts on display, and to pop into the wide selection of envied waterfront shops, restaurants, and bars.
29 – Tick skydiving off the bucket list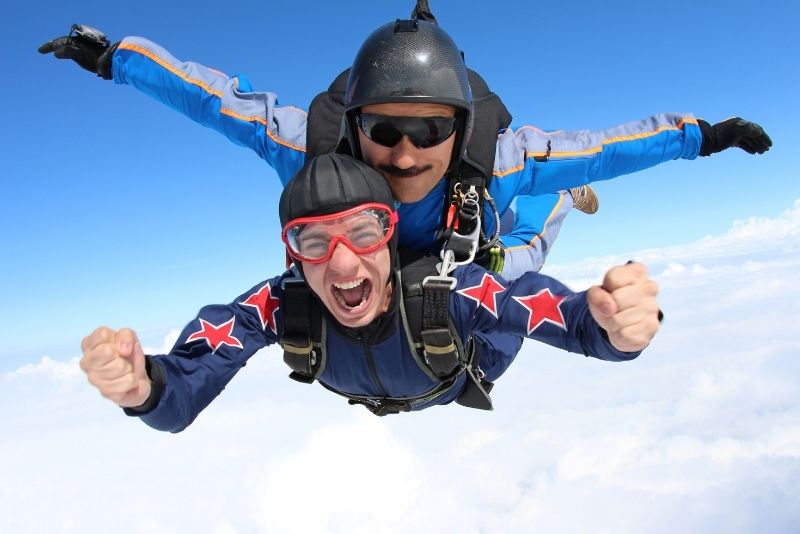 Ready for the ultimate thrill? Nothing quite beats the pure feeling of elation – of exhilaration – of hurtling toward Earth at 120 miles an hour from 12,000 feet with nothing but a parachute strapped to your back.
Ideal for first-timers and seasoned adrenaline junkies alike, the area's plethora of companies (i.e. the Daytona Beach Skydiving Center) come with expert tandem guides who control all the safety measures and deploy the parachute.
So, for you, all that's left to do is enjoy the ride!
30 – Catch the Tortugas in action at the Jackie Robinson Ballpark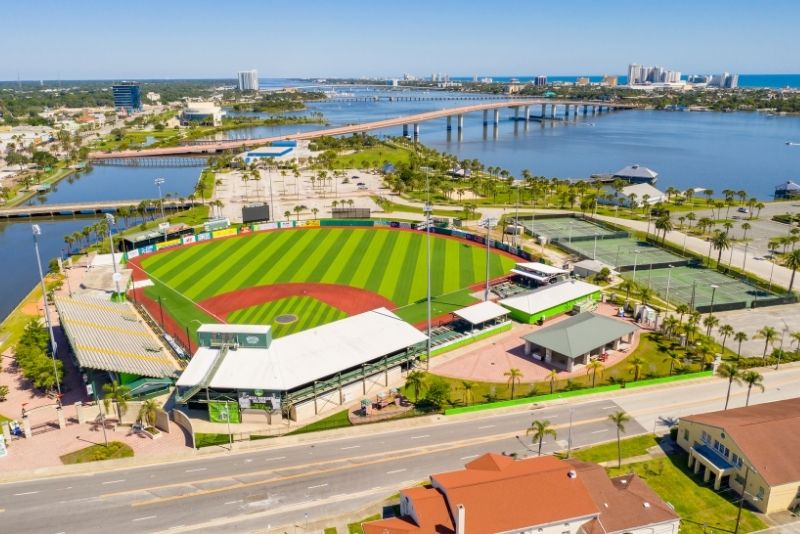 One for the sporty types, the Jackie Robinson Ballpark is home to both the Daytona Tortugas (the Florida State League affiliate of the Chicago Cubs' A team) and their quirky, uniformed turtle mascot.
The stadium itself, which sits along the Halifax River, holds the title of being the 4th oldest ballpark still used in professional baseball.
Still, it oozes modern touches having undergone recent renovations, boasting state-of-the-art facilities including a modernized press box, luxury suites, HD video board, and plenty of eateries and watering holes on site.
31 – Aim for a hole-in-one at Congo River Golf
A little bit of fun for the young ones, Congo River Golf is a whimsical and wholly engaging 18-hole mini-golf course full of intricate decorations (think rocky summits, mysterious caves, and tropical rainforests) that's been going strong and delighting voyaging families for decades.
Located right on one of Daytona Beach's most famous thoroughfares (as well as several other spots along the Florida coast), it's easy enough to find and even easier to have a good time here.
And if you're looking to make the most of it, why not opt for the chance to feed live gators, go mining for gemstones and fossils, or unleash your inner Indiana Jones with a safari-themed exploration game — evidently, this is far more than your typical putt-putt.
32 – Pay a visit to the Basilica of St. Paul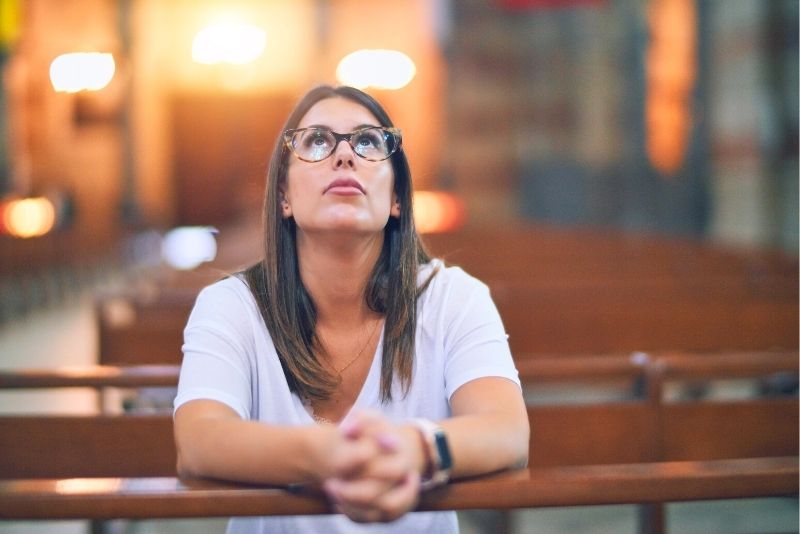 If you're looking to take a break from the sun and sand, Daytona Beach's Basilica of St. Paul is an excellent option for some spiritual contemplation and architectural appreciation.
Known for its high ceilings and marble finishes, as well as its beautiful stained glassed windows and complex frescoes.
Built in the classic Mission Revival structure, the Basilica welcomes visitors, Catholic or otherwise, to pop in for services, sermons, or just to admire the impressive architecture and historic value.
33 – Get up close and personal with some manatees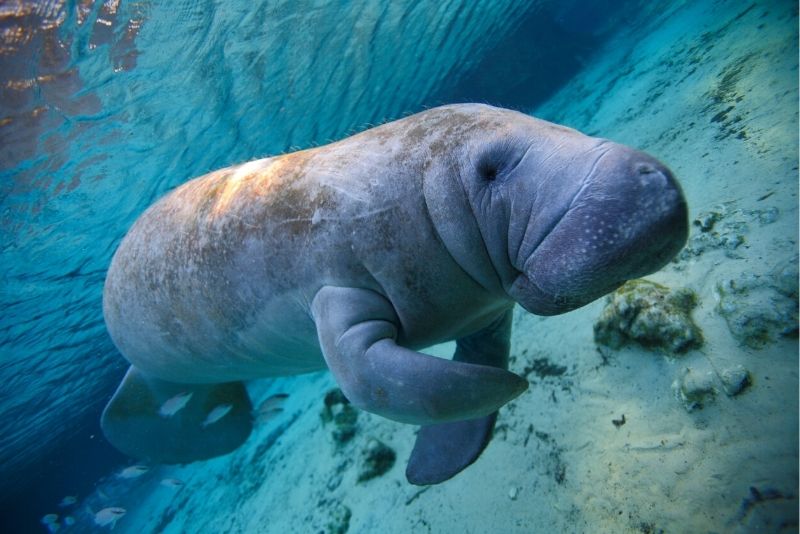 One for nature enthusiasts and animal lovers, guided manatee encounters are a unique and up-close way to enjoy Daytona Beach's aquatic wildlife – whether by kayak, paddleboard, or boat.
While gators get all the attention, as you'll quickly come to realize Florida is known for its large population of manatees; gentle creatures that often rest on the surface of rivers and springs as they migrate.
Thanks to its location along several key manatee habitats — Blue Spring State Park, in particular — exciting excursions are never hard to come by.
34 – See what's on at the Rockefeller Gardens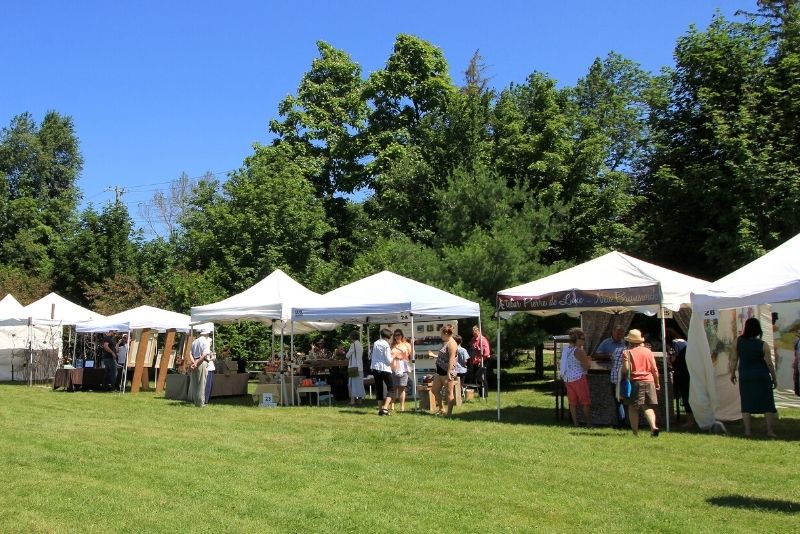 A focal point for all kinds of regular entertainment, Daytona Beach's Rockefeller Gardens is a great place to take in some performance art, catch up on the latest blockbusters with a movie under the moonlight, or simply relax with friends over drinks.
The brainchild of real-estate mogul John D. Rockerfeller Jr., near his old winter getaway home and just two blocks from the Atlantic Ocean, the gardens serve up walking paths and picnic tables, fishing spots, and jogging routes.
It also hosts events like the Art in the Park – held annually at the end of April or start of May with artisan vendors and food trucks galore – and Movies on the Halifax, where classics and new favorites are accessible free of charge.
35 – Join in the two-wheeled party that is Daytona Bike Week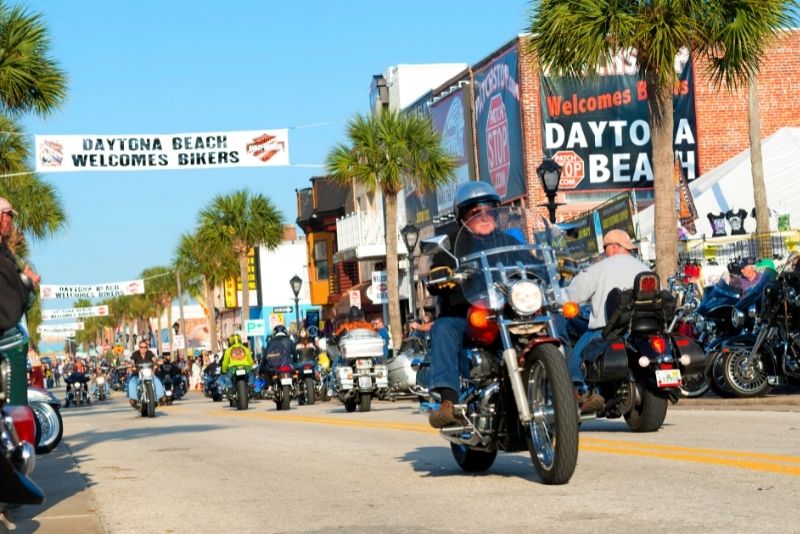 If there's one week in the year that Daytona Beach really comes alive, it's Bike Week – a ten-day festival held annually in March that sees a half-million bikers of all stripes descend on the city for some serious revelry.
From exhibitions and trade shows to concerts and parties, as well as plenty of opportunities to get out on the open road and roar those engines.
Bike Week has something for everyone who loves two wheels – and plenty of places to let off some steam when the sun goes down.
36 – Get flippin' at Sky Zone Trampoline Park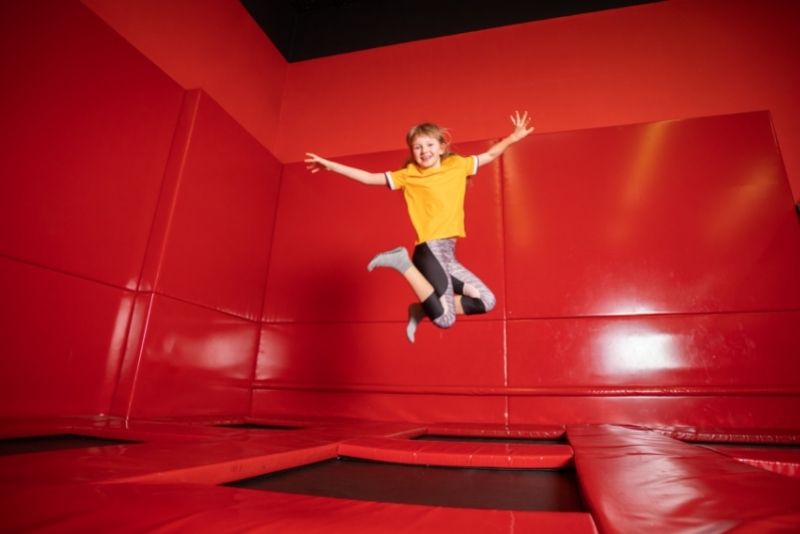 Known for its combination of high-energy entertainment with a full range of activities, from dodgeball and basketball to slacklining, foam pits, giant airbags, and parkour classes, Sky Zone makes a great destination for the whole family — and trust us, it's a helluva lot more tiring than it looks.
With locations across Florida – including in Daytona Beach itself – as well as plenty more around the country, this unique trampoline park provides a great workout and a great reprieve from days where an air-conditioned indoor venue is top of the to-do list.
37 – Drive, windows down, on the Ormond Beach Scenic Loop And Trail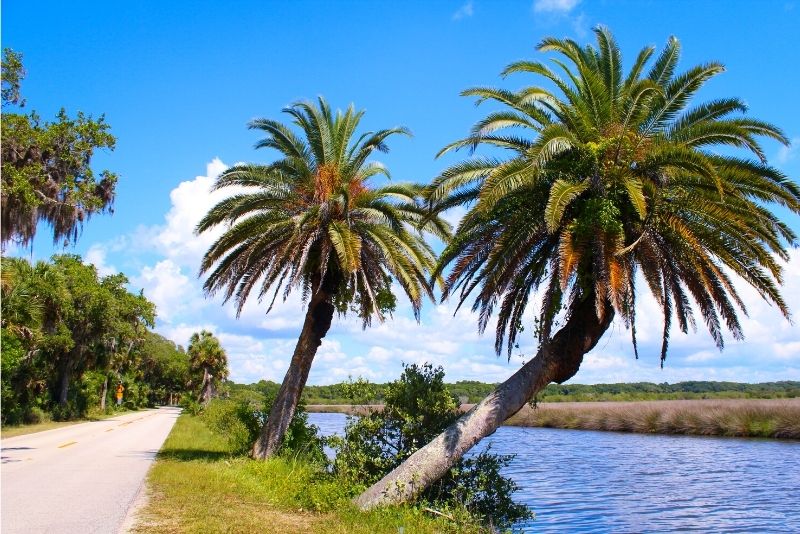 Taking in the best of Daytona Beach's natural beauty, this popular walking trail is a formidable option for when you're looking to get out and about with friends or family – especially on sunny days when cool ocean breezes are at their most refreshing.
Stretching over 34 miles in total, with no stoplights or shopping centers to take the attention away from the immersive nature.
The scenic loop is an incredibly popular destination with locals and tourists alike – not least because it's one of the most picturesque spots in all of Florida thanks to towering oak trees, sparkling waterways, and abundant wildlife to boot.
Hot tip: with plenty of spots to stretch the legs along the way, like Tomoka State Park, Bulow Creek State Park, and the Halifax River, don't try to rush the route – make a day of it.
38 – Zoom down an inner-city zipline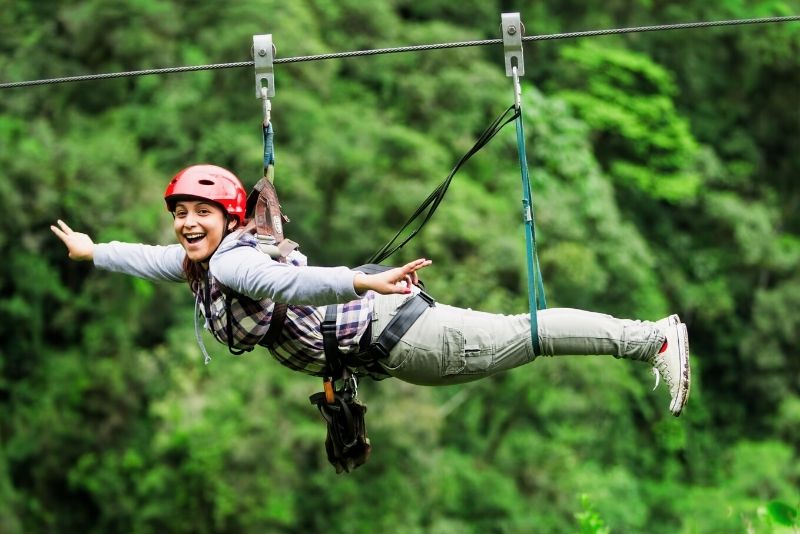 A simple and ever-exciting activity for the adventure-seekers, Daytona Beach's zip lining options deliver excellent views, a subtle yet exhilarating thrill, and a new perspective of the area: from above.
While there is no shortage of zip lines along the Atlantic coast, if you don't feel like venturing too far away from the main haunts, head to the aerial ropes course at Tuscawilla Park.
Here, guests of all ages can gear up for an off-the-ground adventure full of obstacles and ziplines, testing both skill and courage.
39 – Cheer on the Wildcats at Daytona Stadium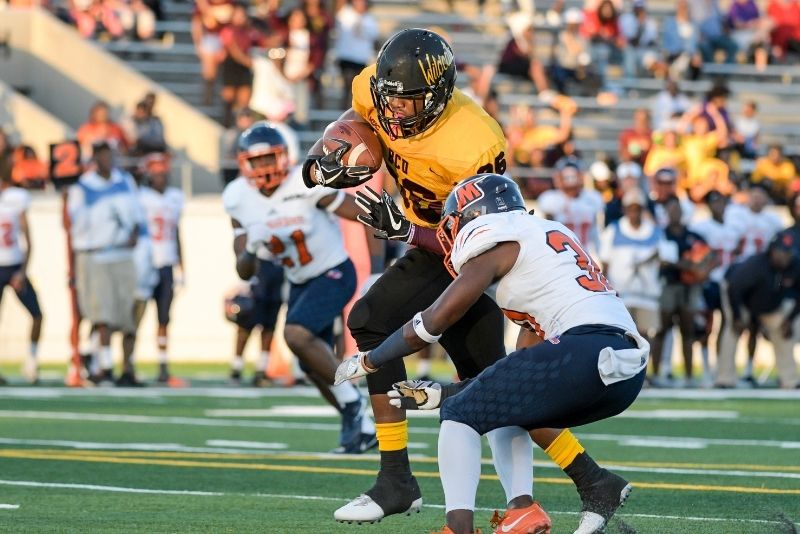 Home to the locally beloved Bethune-Cookman University Wildcats football team (as well as the Mainland High School and Seabreeze High School football teams, which draw much smaller crowds).
The stadium is iconic for locals and visitors alike – hosting games throughout the year, as well as special events like concerts, festivals, and more.
With plenty of space to explore before or after the touchdowns roll in — from its scenic gardens to fast food stands — it's easy to see why the stadium is a beacon for sports fans.
40 – Catch a show at the Daytona Playhouse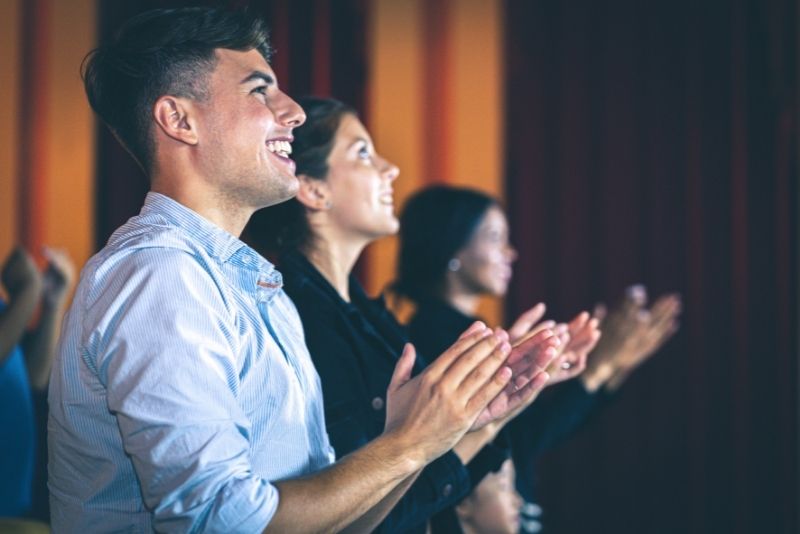 A local institution that's been delighting theater-goers since 1946, the Daytona Playhouse is a cultural mainstay in the area.
Offering both classic and contemporary productions throughout the year as well as children's theater and summer camps for aspiring young actors and actresses.
This affordable, nonprofit organization provides high-quality entertainment in spades, so check the website to see what's on the calendar during your stay.
You're sure to find something that piques your interest, whether it's a murder mystery, a night of comedy, or the latest family-friendly musical.
41 – Pass by the famous clock tower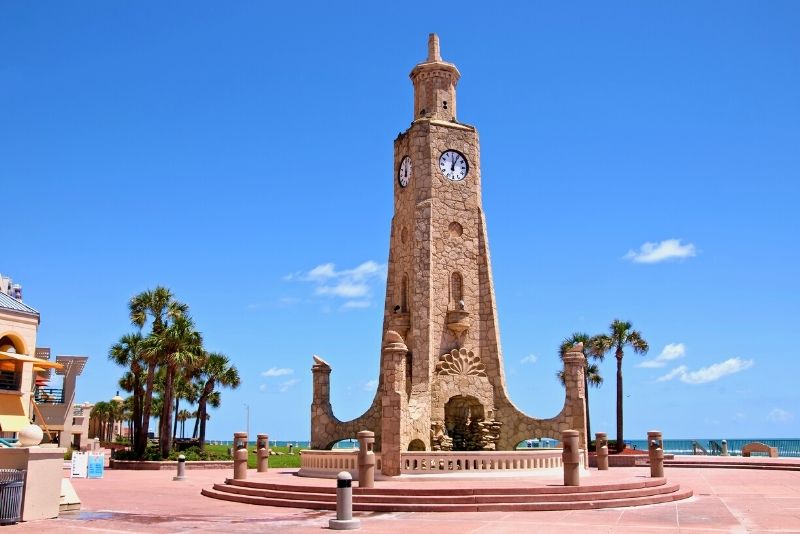 A heavily photographed landmark and symbol of Daytona Beach for the better part of a century, the iconic brick Coquina Clock Tower is impossible to miss – and makes for a great spot to snap a selfie or two.
Originally built in 1938, this imposing structure has been a fixture in the area for generations, even serving as a filming location for several TV shows.
With the letters D-A-Y-T-O-N-A-B-E-A-C-H inscribed on the clock face instead of the typical twelve numbers, it's one of the quintessential things to do in Daytona Beach.
42 – Go ice-skating at the Daytona Ice Arena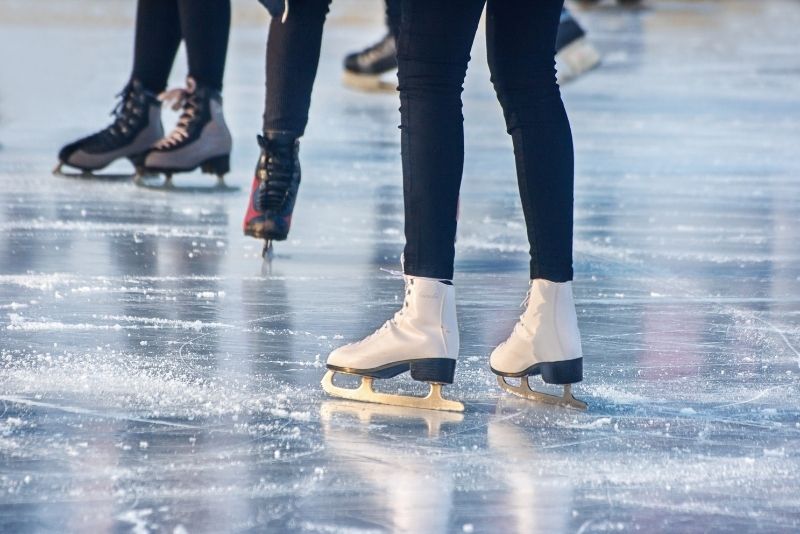 Home to the local hockey team, the Daytona Waverunners (and also open for public skating), this family-friendly facility delivers a welcomed change of pace from the blaring southern Florida sun.
Over 300 hockey matches are played here each year, with figure skating, speed skating, and hockey lessons available on demand, there's always fun granted at Daytona Ice Arena.
Throw in the Hockey Town Pro Shop, a couple of party rooms, a full-service concession stand, and even a hockey academy run by former Stanley Cup Champion Eric Perrin, and you've got yourself a range of reasons to lace on the skates!
43 – Race around town with a scavenger game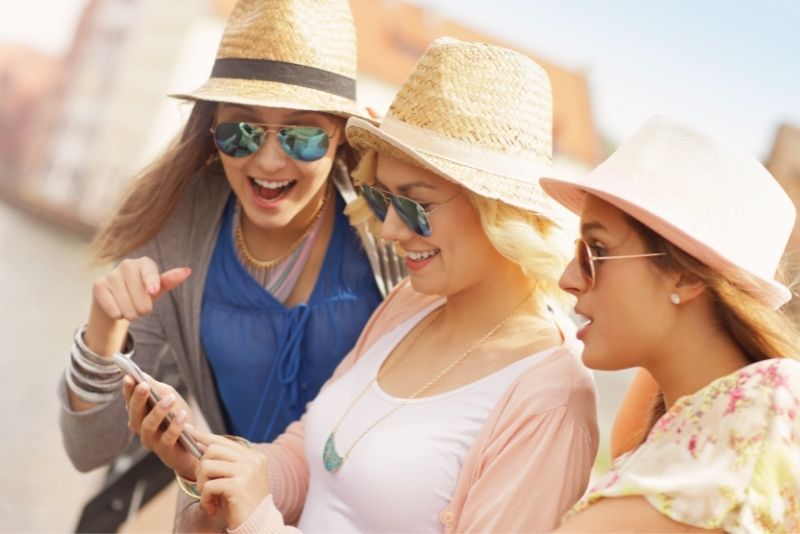 Forget about typical walking tours! For something far more interactive and fast-paced, take your pick of the range of Amazing Race-style scavenger hunts that are available in Daytona Beach.
From solving puzzles and cracking clues to completing challenges and racing against the clock, these team-based games will have you exploring every corner of the city, spotting quintessential landmarks as well as lesser-known haunts off the beaten track, and laughing all the way.
Choose from a range of themes including history or adventure, make sure the phone is charged (since the games are app-led), or bring a spare charger, and let your competitive spirit shine!
44 – Support local artists in the Ormond Beach Arts District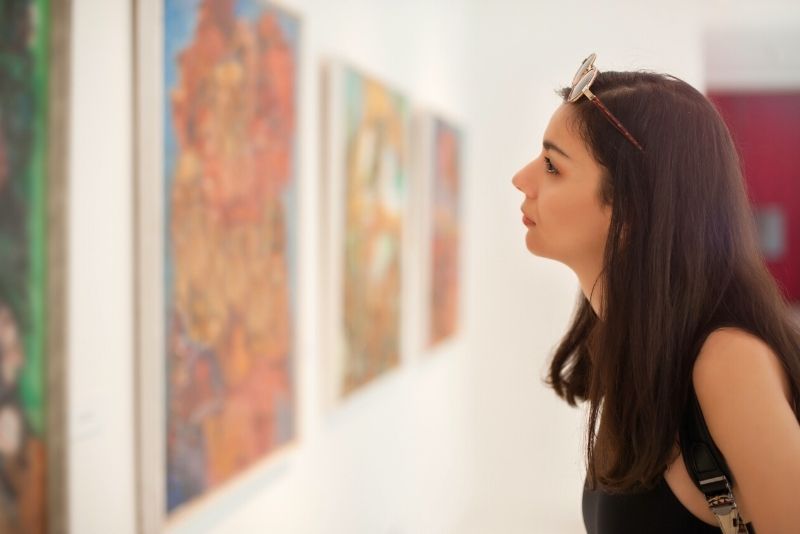 For a different kind of adventure, the Ormond Beach Arts District welcomes visitors with open arms, showcasing the work of local artists in a range of mediums.
From paintings and sculptures to photography and jewelry, there's something for everyone here, with galleries, studios, and shops spread out over several blocks in this charming district just 10 minutes up the road from the main attractions of Daytona Beach.
Drop by during one of the frequent events held here such as art battles, outdoor markets, exhibitions, or artist talks – by doing so, you'll help this community-driven project continue to grow.
45 – See world-famous performers at the Peabody Auditorium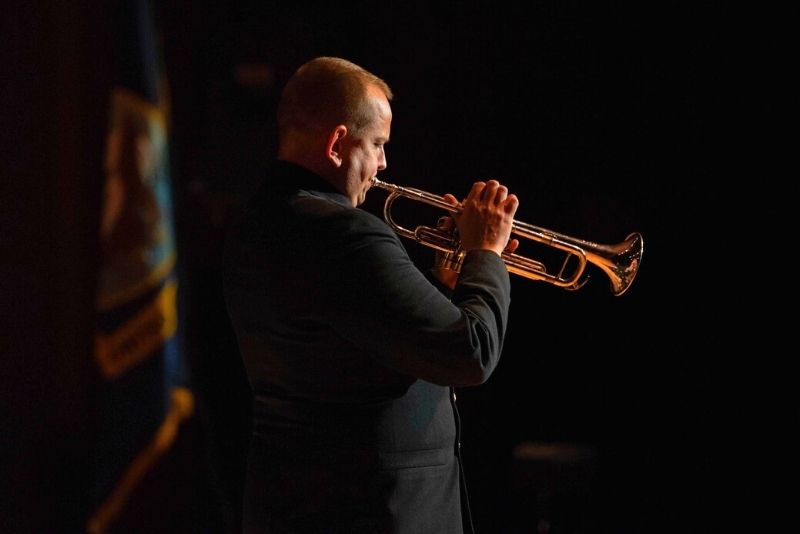 Hosting Broadway shows (like Chicago and Cats), symphony performances, community film festivals, and tribute concerts, the historic Peabody Auditorium is a unique sight to behold, boasting more than 100 years of history and a list of impressive past performers that reads like a who's-who of Hollywood legends.
From Elvis Presley to Ray Charles, from Liza Minelli to Frank Sinatra and David Copperfield, this one-of-a-kind venue has been the backdrop for countless iconic moments in music history and is well worth a visit for any fan of the performing arts.
There are 2,545 seats in the theatre and not a poor one in the house.
46 – Enter a sports car Mecca at the Motorsports Hall of Fame of America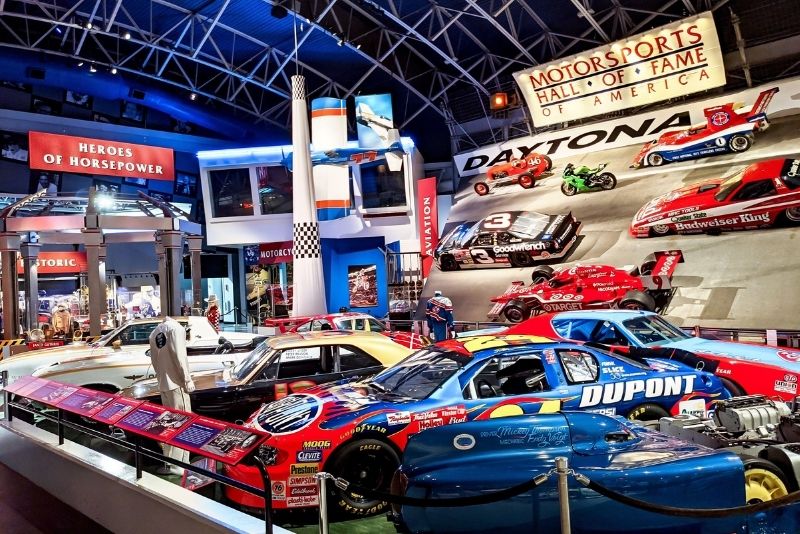 A veritable shrine to high-octane excitement, The Motorsports Hall of Fame of America over at the Daytona International Speedway, is the perfect place for fans, racers, and speed freaks alike.
With a startling collection of vehicles (including everything from IndyCars and Shelby Cobras to motorcycles, offroad buggies, and even planes), this hall's got it all: milestones, memorabilia, and motorsports legends from all over the world.
Plus, there's a regularly updated calendar of events (including driving clinics and meet-and-greets with famous drivers), so you can always be sure that the thrills are coming thick and fast.
47 – Order some lip-smacking goodness at Donnie's Donuts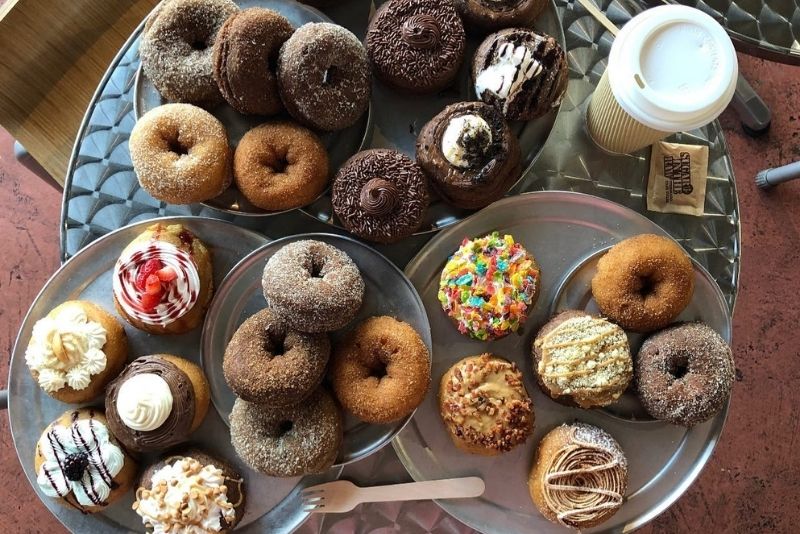 Feeling a little peckish after so much sightseeing? Daytona Beach is well known for its eclectic range of eateries, from seafood restaurants to Cuban cafés – and, of course, donut shops.
And the king of Daytona's doughnut scene is unquestionably Donnie's Donuts, a family-owned business with locations at Ormond Beach and New Smyrna Beach that's been serving up fresh, handcrafted, mouth-watering pastries for years.
Choose from classic glazed, cream-filled, or chocolate-coated donuts (or go for something a little more adventurous like a fruity pebble variety), and prepare to indulge in some serious carb overload.
48 – Go surfing!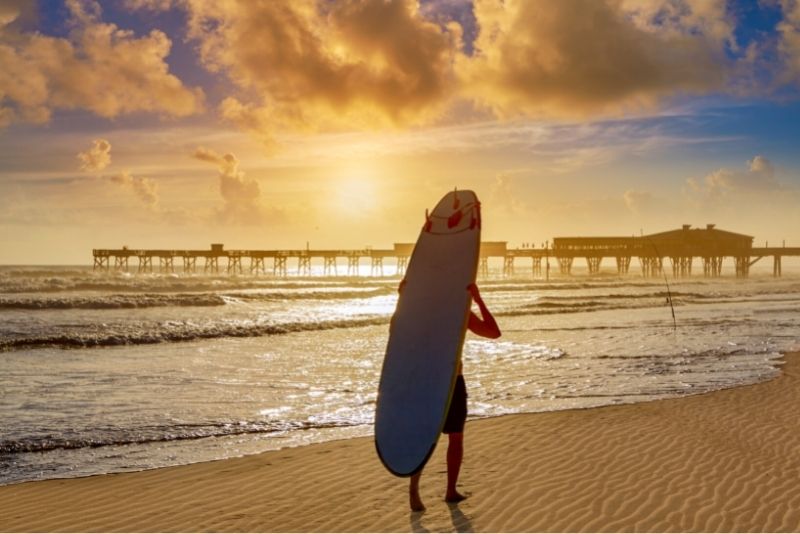 With endless stretches of golden (and white sand) coastline and a climate that keeps the waters warm enough to swim in all year round, it should come as no surprise to discover that Daytona Beach is also one of the best places in Florida to learn how to surf.
From classes at beginner-friendly beaches like New Smyrna right through to experienced-only spots like Ponce Inlet where you can rent your own board, there's a wave for everyone here.
Plus, with the Daytona Beach Boardwalk and Pier just a few minutes' walk away from most of the main surfing areas, it's easy to find somewhere to take a break (or grab some lunch) after a long day out on the water.
49 – Browse the Riverfront Shops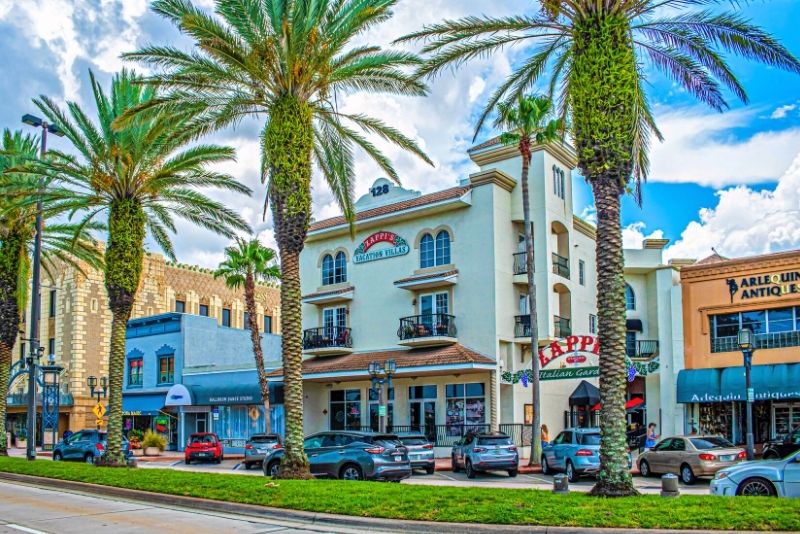 Overlooking the Halifax River, this picturesque shopping center is brimming with boutique shops, restaurants for all budgets, quaint cafés, and edgy galleries — with no less than 60 different storefronts to pop into throughout the day.
Whether you're a trendy fashionista, vintage collector, bargain hunter, or culture vultures, you're sure to stumble across a unique souvenir at the Riverfront Shops.
And even if shopping isn't a priority, with regular events and entertainment lining the area on Beach Street between Bay Street and Orange Avenue, a dull moment doesn't exist.
50 – Grab a bite at Crabby Joe's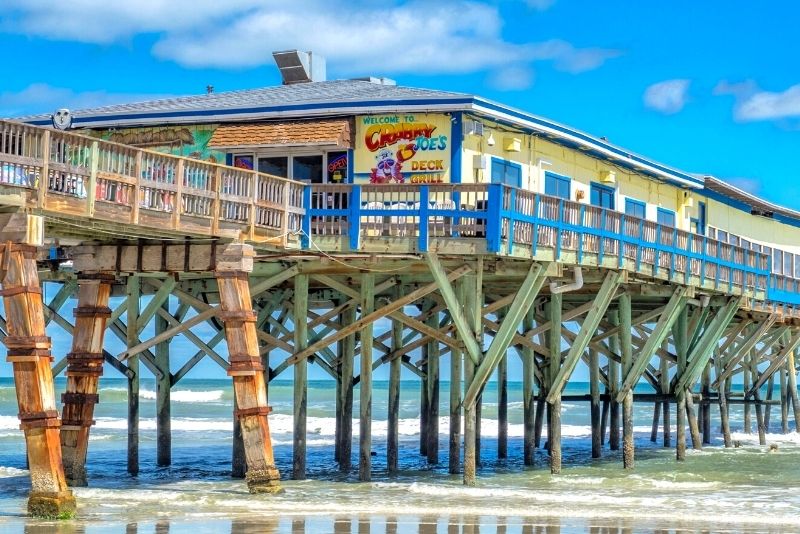 An undisputed local stable, Crabby Joe's has been providing Daytona Beach with its famed breakfast menu (and a helluva lot more) for decades now.
Open from early until late with a bar on-site, this laid-back and no-nonsense eatery on the pier (see #18) offers everything from classic bacon and eggs to towering crabcake Benedicts, as well as a range of lighter bites like salads and sandwiches.
Breakfast aside, the shrimp didn't disappoint, and the crispy, fluffy, deep-fried hush puppies are always a hit.
51 – Sign up for a paintball session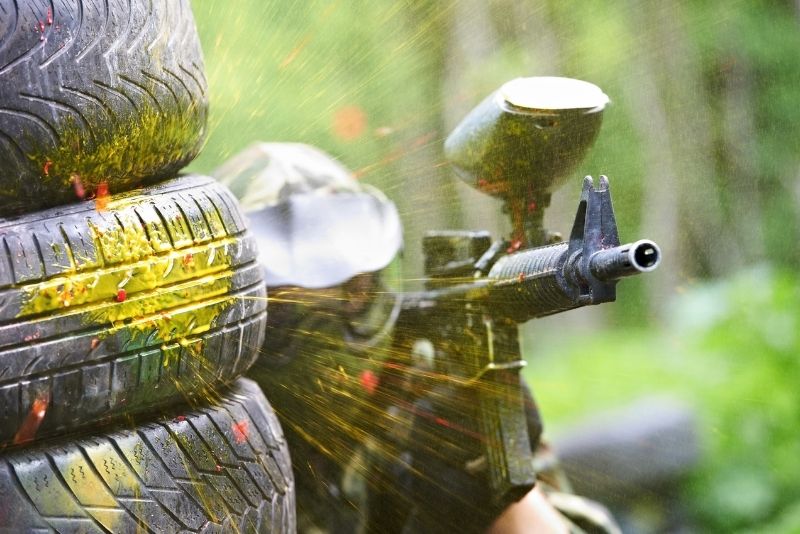 For a memorable day out with friends (or complete strangers), there's nothing quite like unleashing your inner Rambo at a paintball session.
Luckily, Daytona Beach is home to a decent selection of outdoor venues — such as X-Plex Paintball at New Smyrna Beach — where you can do just that.
Prices start at very affordable rates, especially if booked online, in advance, and the adrenaline-pumping action will have you hooked from start to finish.
52 – Grab a table at the LandShark Bar & Grill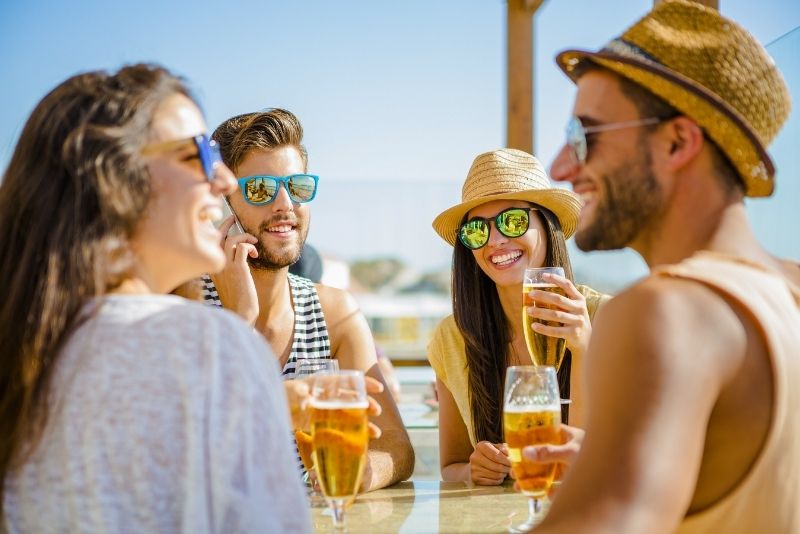 The popular open-air LandShark Bar & Grill on the Daytona Beach Boardwalk is a great place to relax after a long day of sightseeing (or surfing, or shopping…).
With cold beers on tap, an extensive menu of American classics like burgers and ribs, live music most nights from local bands, and stunning views over the oceanfront sands, it's a perfect spot to unwind and enjoy the laidback beach vibe.
And, for all of you thirsty travelers, the $4 domestic draft happy hour specials run nightly from 8pm till close!
53 – See who's playing at the Daytona Beach Bandshell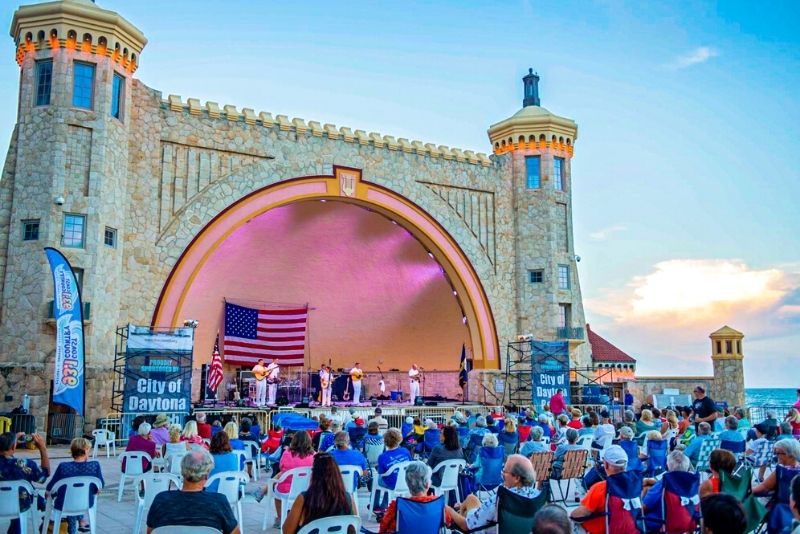 Located next to the shores of the Atlantic, just down the road from Daytona Beach Main Street Pier, this historical amphitheater has been a near-century-long popular spot for toe-tapping concerts and special events.
With a capacity of over 5,000 people, it's the perfect place to catch some live music or watch a movie under the stars.
Don't miss the Bandshell Summer Concert Series, where live concerts are held every Saturday night from late May through to September.
54 – Treat yourself at the Angell & Phelps Chocolate Factory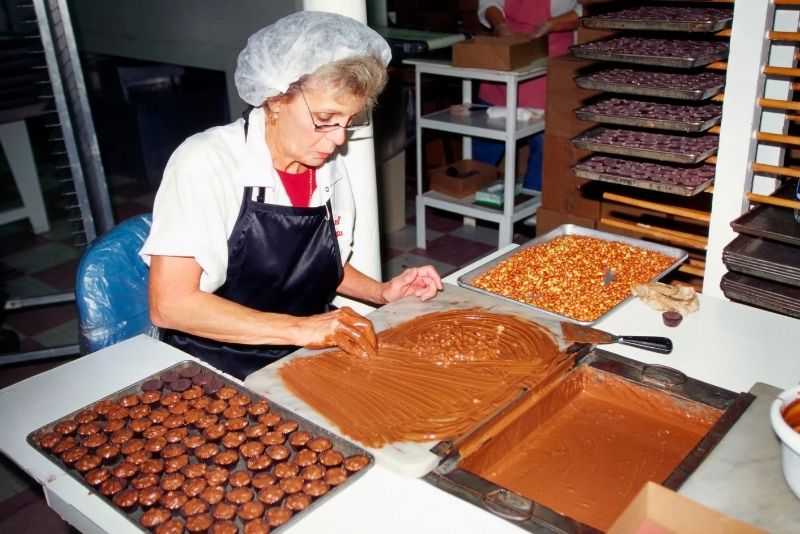 Got a sweet tooth? Then say hello to your heaven on earth. Hidden in plain sight on Beach St as part of the Riverfront shopping district, Angell & Phelps has been manufacturing some of the finest chocolate in Florida since 1925.
Take a guided tour of the factory to see (and smell) how the sweet stuff is made, and then indulge in free samples galore in the on-site shop.
Whether you grab some pecan pralines, chocolate-covered bacon, or the classic handmade box of assorted goodies, you're in for one mighty drool-worthy treat.
55 – Atlantic Center for the Arts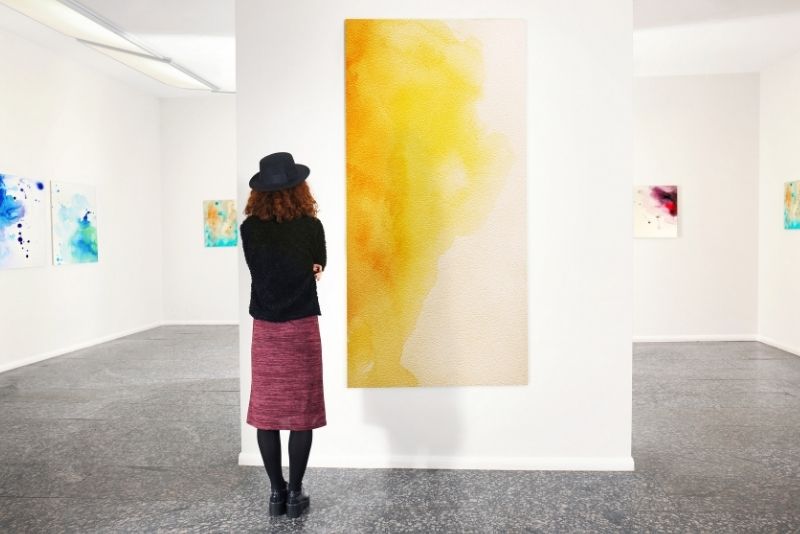 If you're wandering around New Smyrna Beach and hunting for something a dose of culture to whish away an hour or two, the Atlantic Center for the Arts dishes up more than its fair share of art galleries, events, and community spaces.
Photography buffs, check out The Jack Mitchell Portrait Gallery, where 180 different artist photographs are on display; everyone else, check out the ever-changing list of exhibitions via the Center's website.
56 – Grab a meal at Off The Hook at Inlet Harbor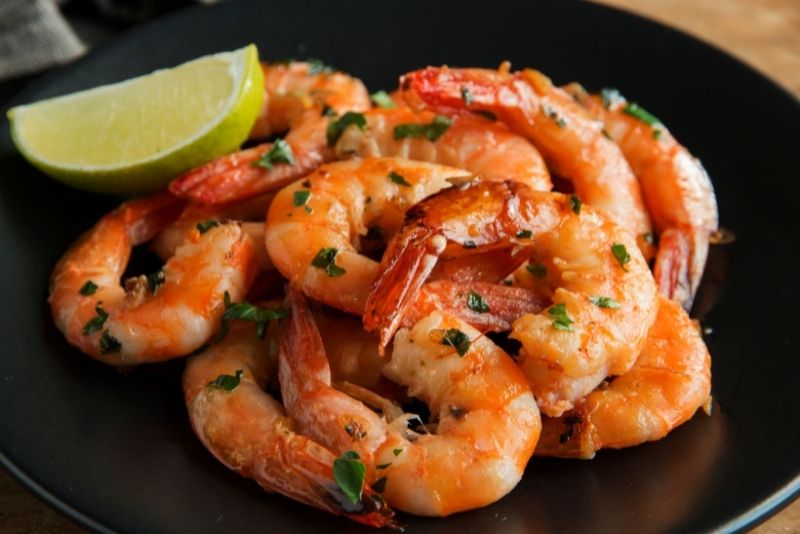 A bar and grill that's been celebrated by Florida locals for years, Off The Hook at Inlet Harbor is a fresh seafood staple known for the wonderful waterfront views on offer from its large, open-aired terrace.
Located right next to the Halifax River, it's got one of the prime spots in town for watching boats go by, but it also has all your favorite beers (including local craft brews) and a seafood-heavy menu.
57 – Book a table at the Ocean Deck Restaurant & Beach Bar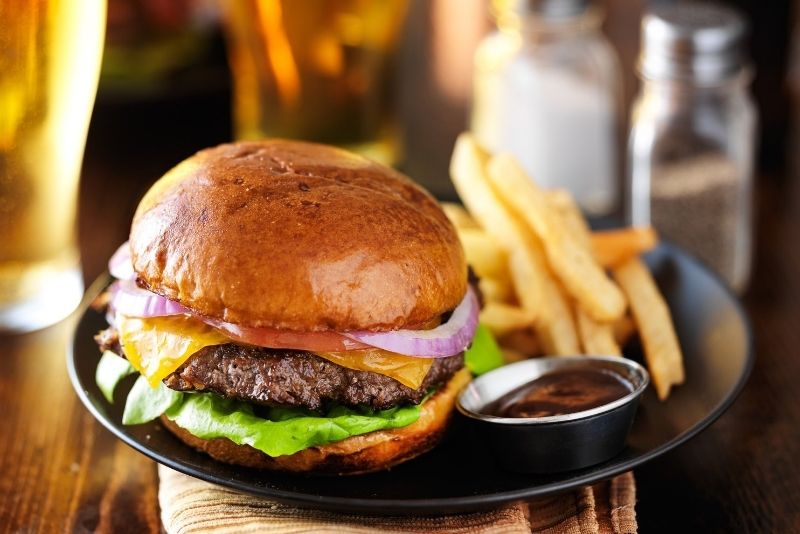 Since way back in 1940, this family-owned eaterie has been dishing up casual seafood classics to hungry beach-goers from its iconic location right on the sands.
With a laidback vibe and views over the wide expanse of Daytona Beach, it's a great spot for drinking cocktails or grabbing an early bite before setting off to explore all that this wonderful city has to offer.
Both the burgers and seafood meals come highly recommended but it's the Italian-style coffee that keeps locals coming back again and again.
And after dark, when the nightly live music and dancing take center stage, that's when Ocean Deck truly comes alive.
58 – Unwind with a spa session!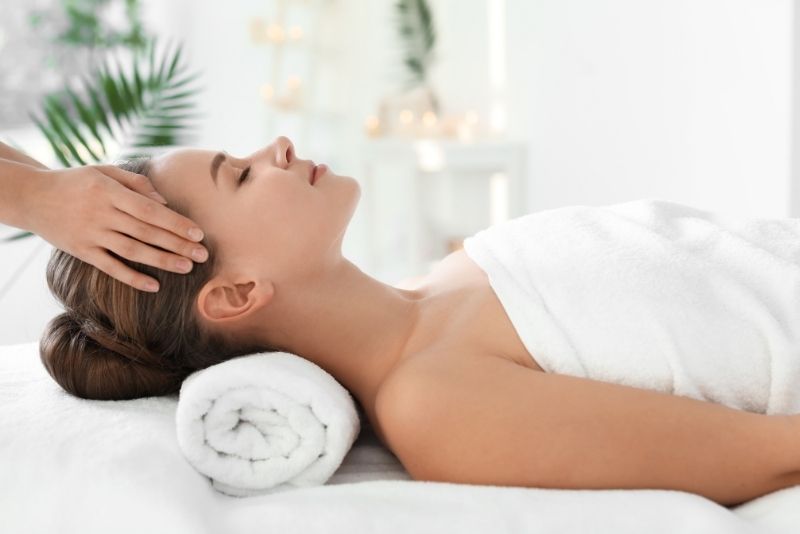 You're on vacation, after all, so why not take some time out for a bit of pampering?
Daytona Beach is home to a whole host of excellent spas, from high-end establishments to budget-friendly day spas offering a wide variety of traditional and modern packages.
Choose from Thai, remedial, or couples massages, facials, and full-body wraps, Ayurvedic treatments, and much more.
Looking to save a few bucks? More so than any other attraction, heavy discounts can be locked in by booking spa treatments online and in advance, sometimes saving visitors up to 50%.
59 – Wet your whistle at a local brewery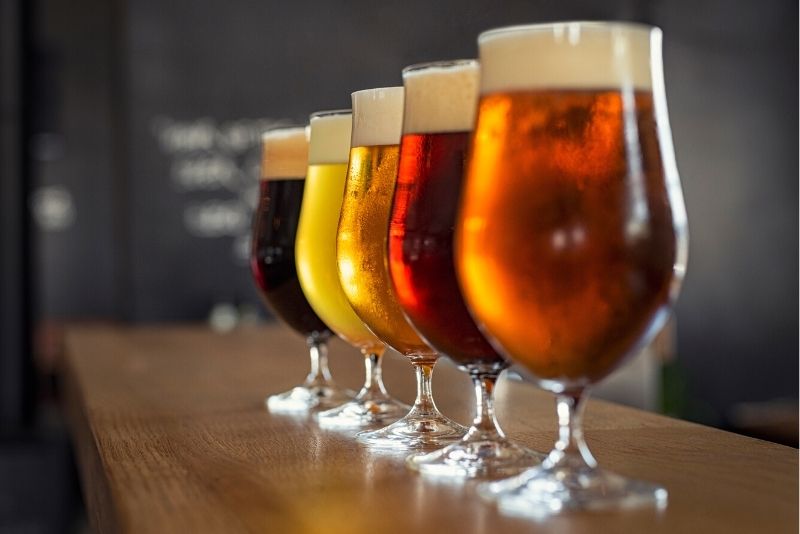 One for the beer-drinkers who crave hops and bubbles, Daytona Beach is home to a handful of small, independent breweries—offering up some seriously satiating craft beer.
Not sure where to start? Look no further than the appropriately-dubbed Ale Trail! Try Ormond Brewing Company, the first to hit the region where you'll find live music and food trucks galore.
Next to the Speedway, the Daytona Beach Brewing Co. boasts 11 rotating beers on tap; the New Smyrna Beach Brewing Co. sits right next to the Old Fort landmark, making for a great back-to-back itinerary.
Make sure to try the Trekker Bier at the dog-friendly Central 28 Beer Company, and finish off the tasting trail with a free brewery tour at the Beachside Brew Pub and an oatmeal stout to boot.
60 – Meet some locals at the Daytona Flea & Farmers Market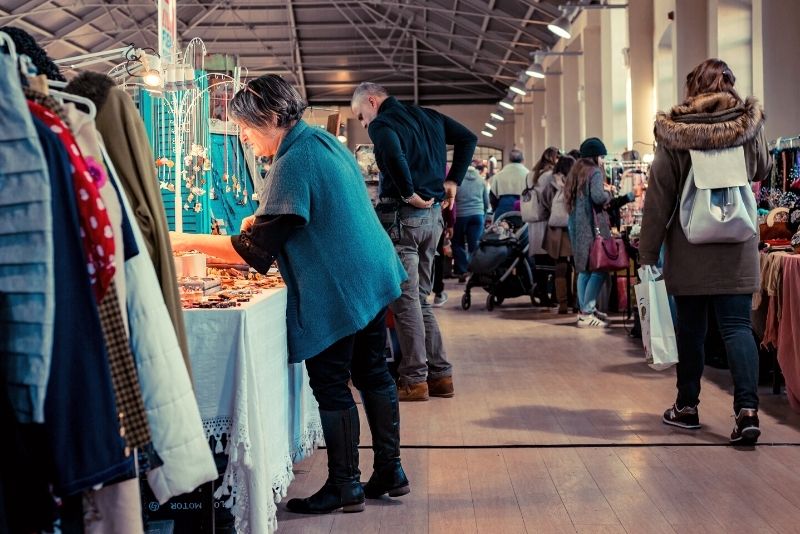 This huge flea market—or farmers' market if you prefer—is three times the size of a football field and has more than 600 stalls hawking everything from vintage clothes to antiques, artwork, jewelry, snacks, and truckloads more.
Located in the heart of Historic Downtown Daytona Beach every Friday, Saturday & Sunday from 9 am to 5 pm, it's the perfect place to while away a few hours browsing and bargaining with some of the friendliest stall-holders around.
Still need convincing? The Travel Channel dubbed it "The 6th Best Market in the World".
61 – Hop around the city's best rooftop bars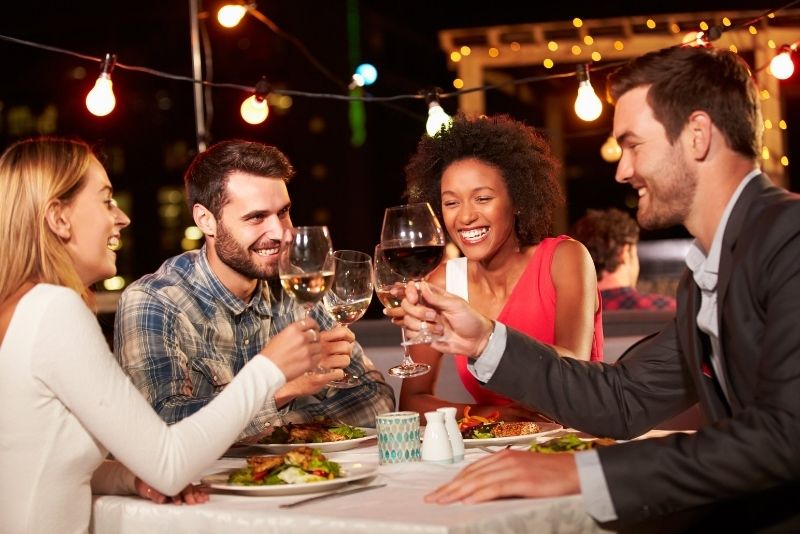 Seriously, does anything beat the combination of a cold beer (or cocktail), killer ocean view, and a slice of laidback local life?
The answer is no. No, nothing beats it. So why not make the most out of your trip to Daytona Beach by visiting its best rooftop bars?
Right on top of the water, perched above Joes Crab Shack, The ROOF Daytona Beach Pier is popular for a reason, dishing up 270 degrees of ocean views to compliment the Daytona Beach cityscape.
Down at Flagger Beach, Finn's Beachside Pub is a lively hotspot for younger travelers, hosting upbeat karaoke on Tuesdays through Thursdays with ice-cold tap beers to wash down the classic pub fare.
Still thirsty? Dimitri's Bar Deck & Grill has a 6-hour Happy Hour from midday; while the upscale Streamline Hotel's Sky Lounge serves up handcrafted cocktails in style.
62 – Be mesmerized by a Polynesian fire dance and dinner show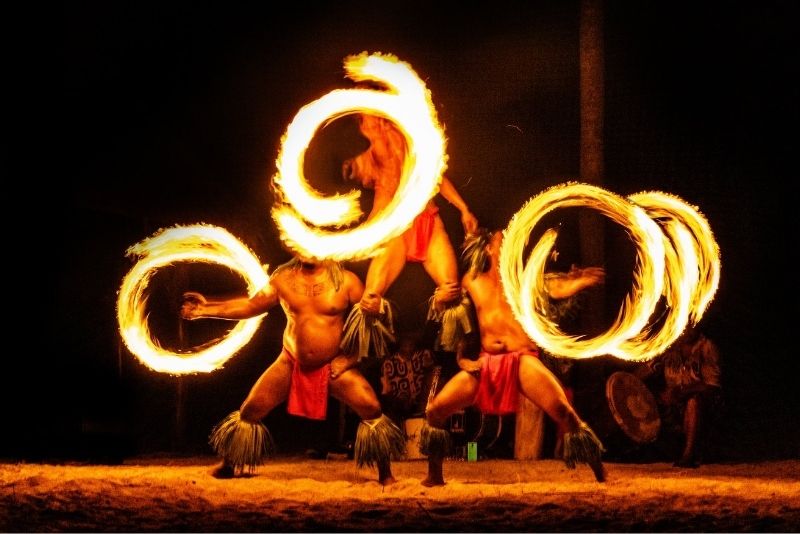 A one-of-a-kind night of Hawaiin-style entertainment sure to leave a mark as one of the more unique things to do in Daytona Beach, the Polynesian Fire dinner show is a summer night's non-negotiable.
Combining a buffet meal served in the open air, with a tropical setting, and song and dance that pays homage to traditional Polynesian rituals not just of Hawaii but Tahiti, Tonga, New Zealand, and Samoa as well, the show is a feast for the eyes and ears.
63 – Play Texas Hold 'Em at the Daytona Beach Racing and Card Club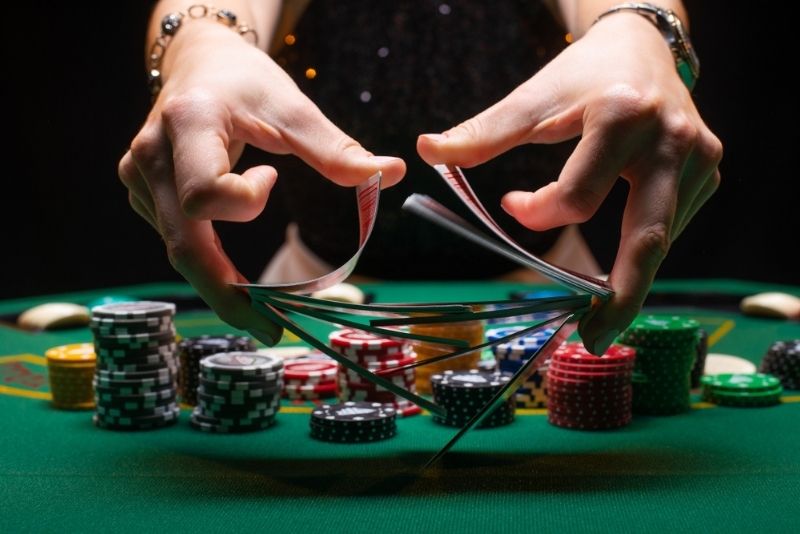 A favorite haunt for poker players, the Daytona Beach Racing & Card Club is a well-established hub for those who enjoy their greyhound racing, table games, and slot machines.
Offering year-round live table games across no less than 50 tables, in addition to on-site restaurants and official Great American Poker Tournaments, this hallowed institution has everything serious card sharks need to scratch their competitive itch.
64 – Soak in the atmosphere at the boardwalk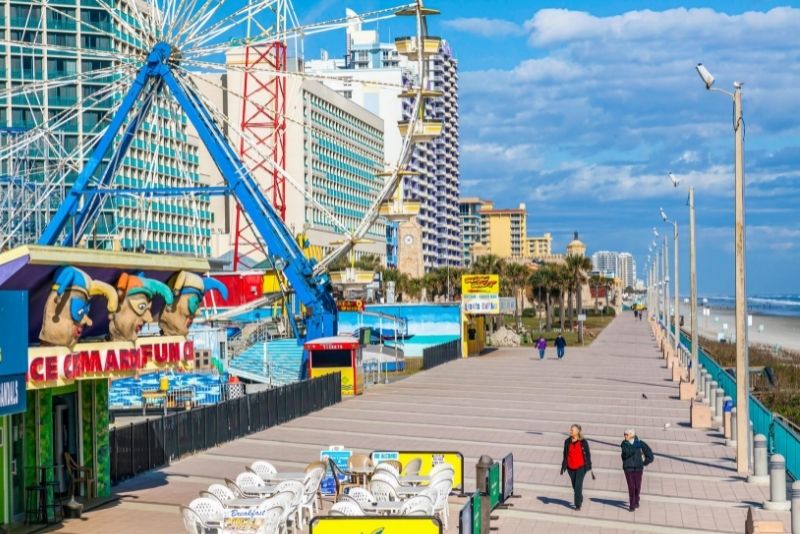 The focal point of Daytona Beach, where street entertainers and food vendors and tourists from near and far congregate, the Boardwalk & Pier is a must-see for any first-timer.
Lined with souvenir shops, arcades, and restaurants on one side, and the ocean on the other, this historic pier stretches almost half a mile into Daytona Beach's sparkling waters and makes for an excellent spot to people watch, take a spin on the heart-racing rides, or catch some live music or fireworks in the summer.
65 – Spend a night at the Hard Rock Hotel Daytona Beach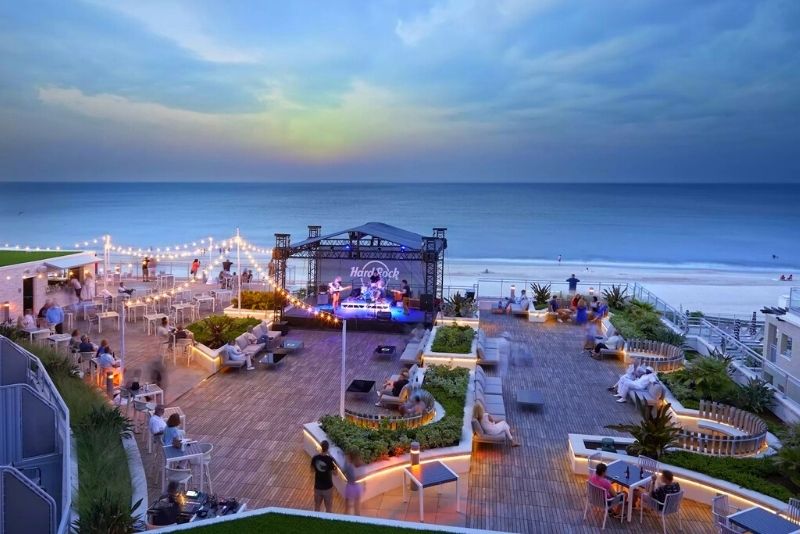 An infamous name not just on the Florida coast but worldwide, the Hard Rock Hotel Daytona Beach is the place to stay for those who want a touch of luxury and rock 'n' roll glamour in their beach break.
Boasting plush rooms and suites, world-famous restaurants lined with musical memorabilia, an Insta-worthy oceanfront pool and bar area, a spa, and direct access to the sands of Daytona Beach, this luxury-oozing hotel ticks all the boxes.
Make sure to head upstairs to the third-floor Wave Terrace where fire pits, live music, stellar vistas, and chic cocktails await.
Where to next?
Well, that's all for now! We hope you've loved our diverse list of fun, quirky, and lesser-known activities to do in Daytona Beach, Florida. But who says the fun has to come to an end?
Nearby Cape Canaveral is a must visit if you wish to meet actual astronauts, St. Augustine is booming with history and unique museums; Jacksonville is the most populous city in Florida and as such offers a little something for everyone, while Tampa, over on the Gulf Coast side, welcomes beautiful sunsets year-round.
And, of course, Orlando is infamous for its theme parks: Disney, Universal, and LEGOLAND, just to name a few.
If you have anything you'd like to add to the list, feel free to leave a comment below. Happy travels!