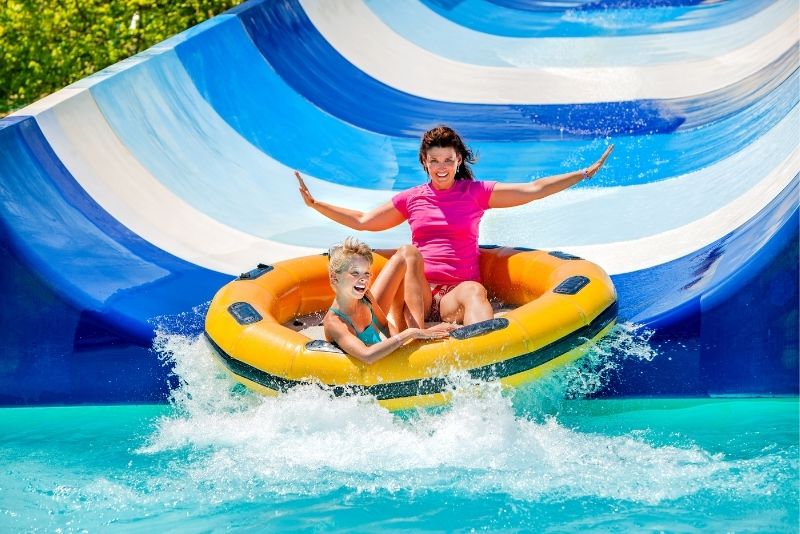 The undisputed theme park capital of the country (take that, Los Angeles), with dozens of world-class amusement parks, Orlando has long been a magnet for thrill-seekers, sun-soakers, and voyaging families looking to quench their thirst for holiday fun in the Florida sun!
However, it's not all about Mickey Mouse and high-speed roller coasters. If you look beyond the main, land-based attractions — Universal Studios; Disney's Animal Kingdom, EPCOT, and Magic Kingdom; and the sleuth or tourist hubs on International Drive (looking at you, Ripley's) — you'll uncover a wet and wild world of some of America's most impressive waterparks.
So whether you're galavanting around the Sunshine State with kids in tow, searching for family-friendly lazy rivers and wave pools; or on the hunt for some high-octane water slides that will have you cannoning through shark tunnels and screaming at the top of your lungs (and then quickly running back to the front of the line to go again), Orlando has got you covered.
Ideal not only during the toasty summer months but all-year-round thanks to (mostly) heated waters, these Orlando water parks are overflowing with entertainment. So, what are you waiting for? Start planning your adventure!
1 – Volcano Bay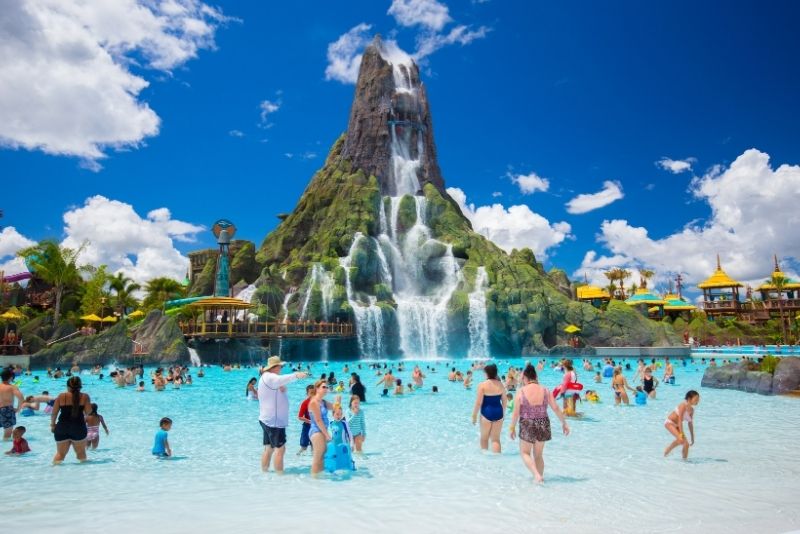 Water lovers rejoice! Universal's Volcano Bay is a mecca for those who love to spend their days splashing around in the sun (or cooling off in the shade). And, since it's open year-round thanks to heated waters, there's never a poor time to visit.
This third Orlando-based park from Universal Studios has something for everyone, whether you're looking to relax on a lazy river or brave one of the many heart-pounding water slides that cascade down (or nearby) the 200-foot-tall Krakatau volcano.
With an impressive 21 different attractions, there's no way you'll be bored here — and that's not even including the shows and dining options! So, if you're looking for a waterpark that's a little different from the rest, Volcano Bay is well worth checking out. Themed around tropical islands and volcanoes, like stepping into the mountains of Hawaii, this park oozes classic Universal detail — whether you're after family-friendly splash pads, intense waterslides (of which there is certainly no shortage), or opportunities to get your hair wet (and we mean REALLY wet).
Ideal for families and a common visitor delight, the Kopiko Wai Winding River is perfect for those who just want to relax in the sun on a lazy river ride.
As for thrill sides, you'll be spoiled for choice. From the Ko'okiri Body Plunge which will have you cannoning down 125 feet into pools below, to the Kala and Ta Nui Serpentine Body Slides — where a trap door suddenly disappears under your feet to reveal a pair of intertwining tubes — to the Punga Racers — a four-land slide that runs through underwater sea caves and sparks a little competitive edge is visitors of all ages — stomach-churning adrenaline is never too far away. Still craving a rush? Then grab your friends and pop over to the Krakatau Aqua Coaster, the flagship ride of this beloved water park.
Then, after splashing around in the wave pool at Waturi Beach (the best spot to snap a selfie in front of the volcano), when it comes time to refuel, there are plenty of dining options available — from quick bites to sit-down restaurants or takeout options to enjoy in the extra-comfy rentable cabanas.
Speaking of breaks, one thing that's really great about Volcano Bay is that, compared to the main Orlando theme parks like the Disney cluster and Universal Studios, there are seldom long queues! On most days, you can easily spend a day here without having to wait more than a few minutes for your turn on the rides. During peak season, however, consider a Universal Express Pass that allows you to skip the lines at all three Universal Parks (Studios, Islands of Adventure, and Volcano Bay).
Location: You'll find this family-favorite attraction nested in the heart of the Univeral Orlando Resort, just a hop, skip, and jump away from both Universal Studios and Islands of Adventure — 15 minutes from downtown Orlando, and 20 minutes from both the airport and the Disney parks.
2 – Discovery Cove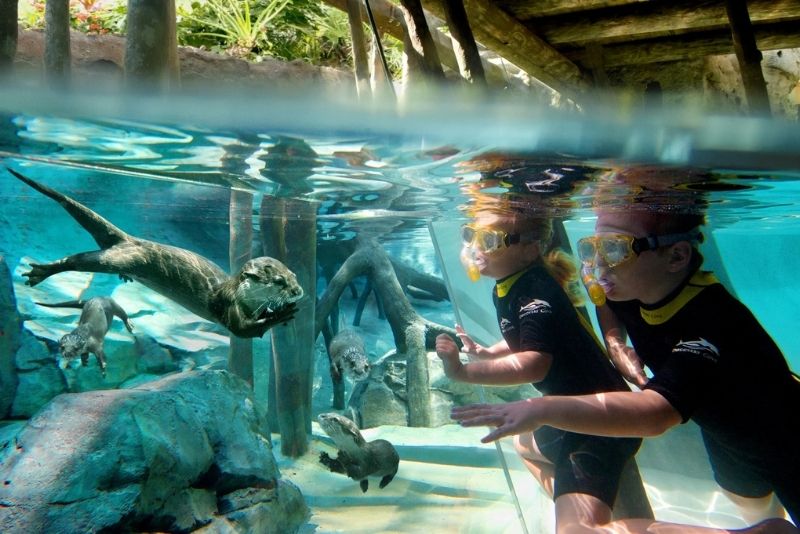 Certainly one of the most underrated Orlando water parks, Discovery Cove is a true hidden gem.
What makes this park so special? Well, for one thing, it's an all-inclusive day out. That means that once you're in the gates, everything from your food and drink to snorkeling equipment (and even towels) are taken care of. You can simply relax by the pool or the manmade beach and take in the stunning scenery without having to worry about a thing (hint: for ultimate relaxation, make a beeline for the serene Wind-Away River which twists and turns through cascading waterfalls and sandy beaches before lounging out in a breezy hammock, drink in hand).
Another major selling point is its exclusivity. Discovery Cove limits visitor numbers each day to just 1300 guests, meaning you'll often have the place pretty much to yourself (well, except for the dolphins!). This also guarantees a more personal experience with staff members who are always on hand to help make your day perfect. And, of course, you won't be wasting hours waiting in lines!
When it comes to rides and attractions, it's less about the roller coasters and more about the unique experiences — like swimming with bubbly bottlenose dolphins, snorkeling with swift rays and vibrant tropical fish in the Grand Reef, or hand-feeding exotic birds in the Explorer's Aviary while learning all about the diverse critters that call this place home thanks to the friendly and knowledgeable staff.
In the middle of Freshwater Oasis sits a little island inhabited by cute-as-a-button marmosets that you won't find at many other Orlando haunts. Throw in playful otters and sharp-toothed sharks viewable in glass enclosures, and you've got yourself a mini-zoo!
Feeling thirsty? Unlike the other Orlando water parks, Discovery Cove boasts an adults-only swim-up bar serving up boozy concoctions to sip on while you soak up the rays.
And, as the sister park of SeaWorld Orlando and Aquatica Orlando, you can bet your bottom dollar that the entertainment is top-notch too. Eager guests have the option to go behind the scenes with the 'trainer for a day' program, join the self-explanatory Flamingo Mingle, and devour endless snacks and drinks, including beer and wine.
As a bonus — ideal for penny-pinchers looking to get the best bang for their buck on their vacation — tickets to Discovery Cove also grant access to SeaWorld and Aquatica for 2 weeks around your reservation!
Location: This watery oasis sits just south of Orlando on I-Drive, about a 25-minute drive from downtown and the airport, and about halfway in between the Universal and Disney resorts — in other words, right in the middle of all the action.
3 – Legoland Water Park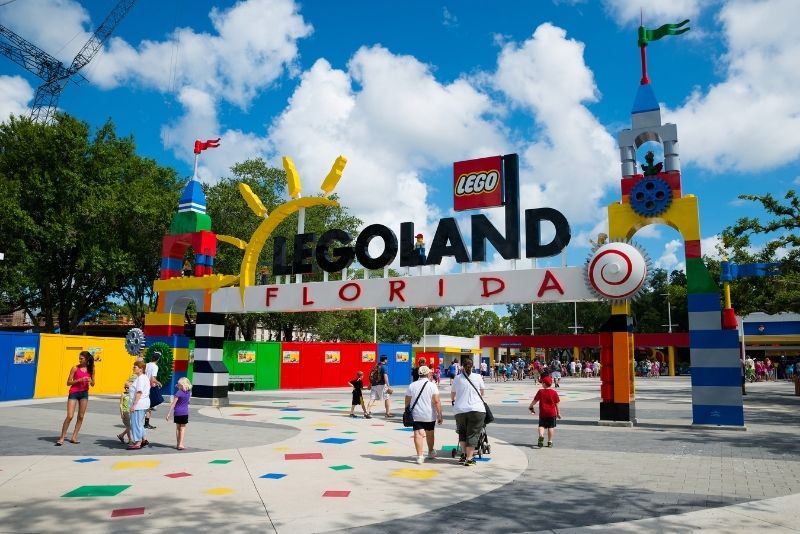 A longstanding favorite for families traveling through Central Florida, Legoland is a magnet for pint-sized LEGO fans (let's not forget the kids at heart either) with over 50 rides, shows, and attractions to enjoy on any given day.
With different brick-tastic rides and creations around every corner, there's always something new and exciting to entertain the youngsters at this beloved theme park — and, despite being targetted mostly at kids two through twelve, there remains enough live entertainment to keep the entire family occupied for hours on end, especially if you're a fan of the movies and toys.
While there's plenty to do when staying dry (we'll touch on that in a moment), Legoland's water park is a surefire delight on those toasty summer days. Spread across 5 acres, the water park has a decent selection of slides, flumes, and rides for all ages to enjoy — from the tiny tots paddling around in the Joker Soaker (a wading pool with pop-up sprinklers and interactive play elements like a giant bucket) to more adventurous types hurtling down the 375-foot-long Twin Chasers raft slide or cannon down a 60-foot drop on the Splash Out slide. There's also a LEGO Wave Pool where you can catch some gentle waves or simply lounge on a floating tube on the Build-A-Raft lazy river as you soak up the Florida sun.
Don't miss the stunt-filled show at Pirate's Cove either! Live and involving a range of actors and classic Lego characters (starring Brickbeard), the impressive spectacle featuring gravity-defying water routines that include wakeboarding, barefoot-skiing, jump acts, and, the finalé: a jaw-dropping ski pyramid (read: don't try this at home!).
Of course, while you're at the park, for those who prefer staying on solid ground, it'd be remiss of us to skip over Legoland itself:
At the dry section of the park, young thrillseekers can test their mettle on the dizzying Dragon Coaster, an indoor and outdoor ride that reaches impressive (well, for kids and teens at least) speeds of 28.5 miles per hour; little ones can splash about in DUPLO Valley and jump on the train that rolls its way through countryside-themed scenery of LEGO-style farms and campground; while visitors of all ages can enjoy meeting the Lego Movie character in Bricksburg and take in all the brilliant details that Miniland USA has to offer: with towering models of world-famous landmarks made entirely out of LEGO bricks, killer selfies await.
Location: Legoland and its hotel are found in Winter Haven, away from the majority of the main tourist traps in Orlando, in between Orlando and Tampa, about a 45-minute drive from each.
4 – Disney's Typhoon Lagoon Water Park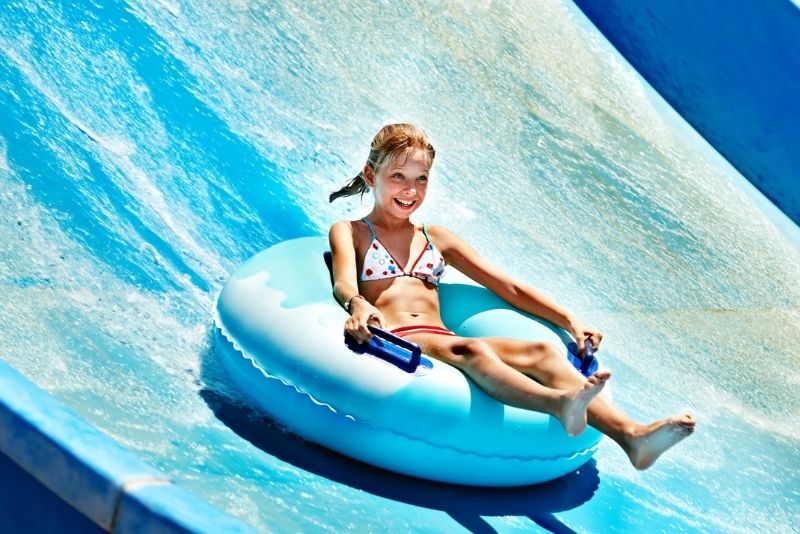 The most famous of the Orlando water parks, thanks to its affiliation with the world's most popular theme park, Typhoon Lagoon definitely doesn't disappoint. With something for everyone, from gentle lazy rivers and meandering tubing paths to hair-raising waterslides that will have you shrieking all the way down, there's no shortage of aquatic fun to be had here on any given day of the year.
So, with a dozen attractions and ten different eateries, where to begin?
Start your day with an easy-going ride on Miss Adventure Falls, a family raft ride that takes you through manmade caves and cascading waterfalls. Coming up next, it's time to turn the thrill levels up a notch with Humunga Kowabunga: three near-vertical body slides that will have you hurling through the twists and turns of a rainforest and descends a whopping five stories in a matter of mere seconds at 30 miles an hour, and then follow it up with the 400-foot "water coaster" that is the Crush 'n' Gusher.
For those who prefer something a little more chilled out, take to Castaway Creek, a meandering, 2000-foot-long lazy river that circles the entire park; grab an inner tube and float your way around as you take in the sights and sounds of the jungle all around you, getting in or out at any of the 5 landings; or simply relax at the Surf Pool or on one of the many beaches that are peppered throughout Typhoon Lagoon.
Rides, attractions, and the popular wave pool (that produces 6-foot swells at the deep end) aside, in classic Disney style, the park is covered in intricate details around every corner of its simple circular layout. At its center sits the Miss Tilly ship, a shipwreck atop Mount Mayday — check your watch, because every 30 minutes, it will fire a geyser full of water through the bowels of the ship into the air above. And, of course, souvenirs are aplenty at Singapore Sal's, the on-site store where you'll also find the lockers and changing rooms (so there's no need to carry around your valuables all day).
Feeling hungry after all that sliding and swimming? Fair enough! For a hearty meal, Leaning Palms dishes up significant portions of classic American fare, while Happy Landings Ice Cream, with its rainbow cones to boot, promises a photo-op guaranteed to light up the social media feed.
Location: Just off Disney's main property and adjacent to the free-to-roam Disney Springs area (a complex full of bars, shops, and restaurants, not to mention the world's largest Disney store), Typhoon Lagoon is about 25 minutes from the airport and rather central to most of the Orlando water parks.
5 – Disney's Blizzard Beach Water Park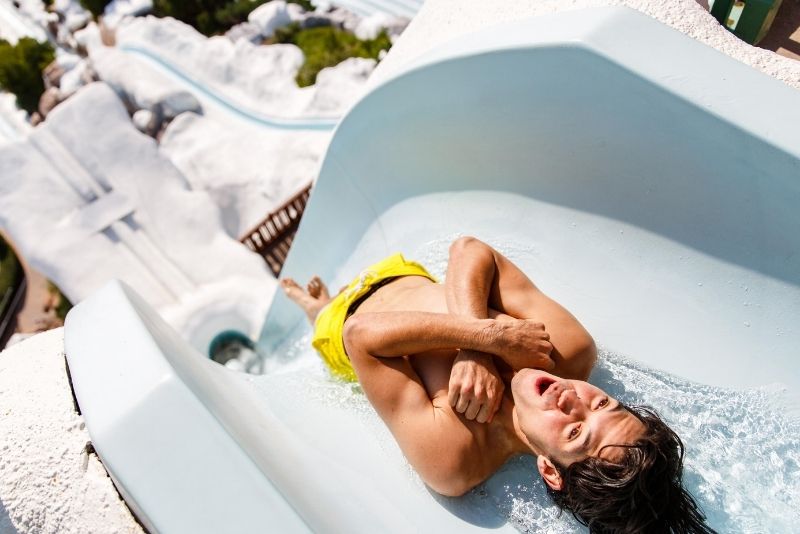 The second of the two beloved Disney water parks, Blizzard Beach is the more recent of the two (opening in 1995) and pays homage to a ski resort that has melted into a water park.
Whimsically themed around an epic snowstorm that left behind a ski resort, complete with fake icicles hanging from every surface and a functioning chairlift up the mountain, Blizzard Beach definitely nails the atmosphere and offers some truly unique rides that aren't afraid to embrace the fusion of hot and cold (one of the highlights being Summit Plummet: at 120 feet tall, it's one of the tallest waterslides on Earth, sending brave riders hurling down the slide at over 60 miles per hour).
Much like Typhoon Lagoon, Blizzard Beach has something for everyone, from gentle slopes for those who just want to float around in a tube and soak in that glorious year-round Florida sun, to hair-raising toboggan runs down Mount Gushmore.
For all of you adrenaline junkies, take your pick: the Slush Gusher is all about high speed and high thrills, featuring 2 dips and a 90-foot drop that'll have you soaring down Mount Gusmore at speeds up to 35 miles per hour. For the competitive beasts, the family-friendly 8-lane Toboggan Racers allows friends and family to cannon down icy slopes in the battle for bragging rights, while the Downhill Double Dipper takes that competitive edge (with a two-lane race) and fuses it with a black hole and a 50-foot drop!
As for bites, there are plenty of places to refuel throughout the day, from Lottawatta Lodge (a full-service restaurant where burgers, pizza, and beer await – and, if you're feeling thirsty, try the Piña CoLAVA) to Avalunch (a counter-service spot that offers up an array of quick sandwiches, salads, and nachos that you take enjoy on one of the myriad deck chairs or cabanas. Adults, make sure to grab a refreshing cocktail (or three?) from the polar pub too — the frozen margs go down a treat on those sizzling summer days.
If you happen to be visiting Orlando with younger children in tow, they'll have a blast at Tike's Peak: an area of the park reserved for kiddliwinks under 48 inches tall, where they can enjoy smaller slides and pools designed just for them.
Location: you'll find Disney's Blizzard Beach Water Park at the southern end of the Walt Disney World Resort area (25 minutes from the airport and downtown Orlando), a few minutes further inland compared to Typhoon Lagoon, next to Disney's Winter Summerland Miniature Golf Course and around the corner from the lesser-known ESPN Wide World of Sports Complex.
6 – Aquatica Orlando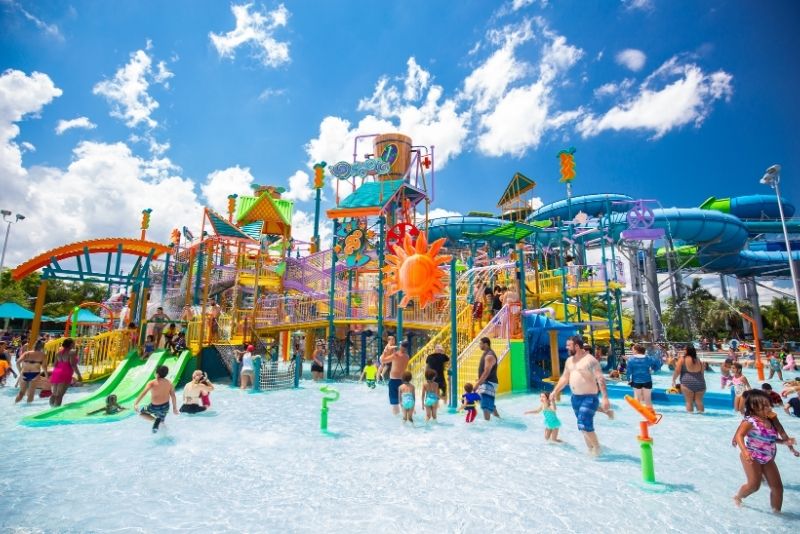 Often swept under the radar in favor of its big sister, SeaWorld, Aquatica regularly leaves visitors of all ages grinning ear to ear (and totally soaked) thanks to its diverse selection of whimsical, wacky, water-tastic fun (and high-octane water rides, of course).
Opened in 2008, Aquatica (situated on the grounds of SeaWorld) is home to a whopping 42 slides, rivers, and lagoons spread across no less than 59 acres – making it easily one of the largest water parks in Florida.
Delightfully themed to mimic the southern Pacific — think Australia, New Zealand, Fiji, and the traditional Pacific islands — the park boasts a combination of body slides, raft slides (single rider and multi-person), lazy rivers, wave pools, and dedicated splash zones for the youngsters, meaning that there's an itinerary waiting for thrill-seekers, sun-soakers, and everyone in between. Plus, with Aussie and Kiwi mascots like kookaburras, geckos, turtles, and dolphins plastered around the park, the whole family can enjoy a day out at Aquatica while learning about some of the amazing creatures that call the South Pacific home.
As for the rides, you're in for a treat. To get that fleeting butterflies-in-the-stomach feeling, look no further than Ihu's Breakaway Falls. With a reputation for being the tallest, steepest, and only multi-drop tower slide in Orlando, excitement is guaranteed.
But it doesn't end there! Extra highlights include the leisurely and ever-popular Loggerhead Lane lazy river, the exhilarating family raft ride HooRoo Run which sends guests cascading down 48 vertical feet of open and closed sections into refreshing pools below, Stingray Falls, which journeys guests through an underwater grotto where giant glass windows introduce you to rays and fish up close, and Walhalla Wave, a unique 4-person raft that features a zero-gravity wall, giving riders the sense of surreal weightlessness.
And, as of 2022, there's a new highlight to hit the park: Reef Plunge! The reimagined Dolphin Plunge attraction now sees brave-enough guests slide through colorful hoops before racing through an authentic reef environment filled with sharks and marine creatures!
For those who prefer their thrills with a bit more chill (pun intended), grab a book and lounge around on the 80,000 square feet worth of manmade beaches — with so many spaces to relax, it seldom feels crowded. And, for those old enough for a tipple, turn the vacation mode up to eleven with a stop at Ke-re's Bar or Motu's Beach Bar before a heart feed of empanadas at Papa's Cantina.
Location: You'll find SeaWorld's Aquatica Orlando right next to its sister park, SeaWorld, on International Drive – around 20 minutes from both Disney World and Universal Studios.
7 – Island H2O Live! Waterpark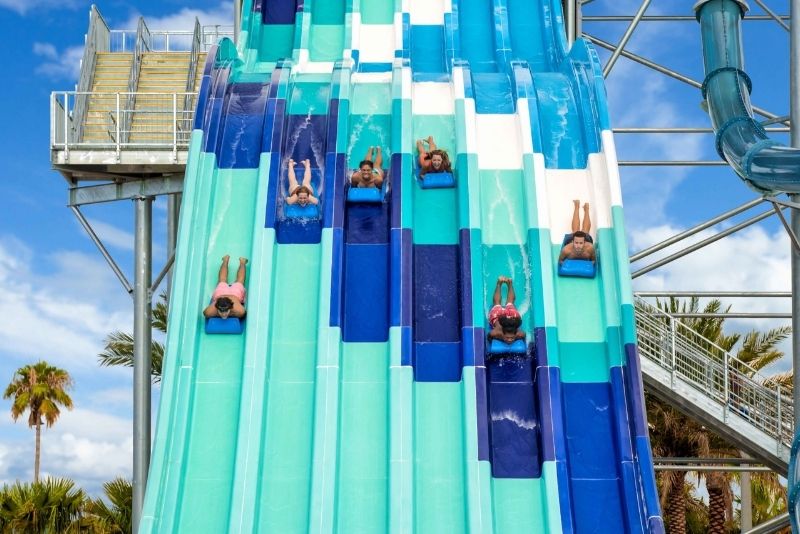 Totally unique compared to the myriad Orlando water parks (and most of the water parks in the country, for that matter), Island H20 Live! is a next-generation social media-inspired water park that's all about the modern and high-tech, the internet, and, of course, the rides.
As the first water park of its kind to embrace the cutting-edge theme, streaming and posting aren't just encouraged, it's practically mandatory. And, thanks to the state-of-the-art wristband system, riders can customize their ride experiences with their favorite music, lighting schemes, and colors, making this contemporary attraction far more interactive than those which came before it!
But it's not just the rides that embrace modern life; what Island H20 Live! apart is its use of technology at every turn – whether it's the use of a special app that lets visitors post photos and videos directly to their social media accounts while in the park or the ability to order food and drinks right from your lounge chair using your phone, not to mention interactive games and experiences that accrue points in exchange for food and drink discounts, this is one water park that truly embraces the 21st century.
Of course, with 20 different attractions fit for all ages spread across 12 acres of prime real estate, there's plenty to explore even if you're not obsessed with social media. Kickstarting with the max-level thrill rides, attractions like the 326-foot-long trap-door Live Stream body slide and boomerang-style Hashtag Heights will leave your heart racing. If that's not enough action for you, take on Follow Me Falls, a 2-person tube ride that delivers a feeling of zero-gravity weightlessness!
While thrill-seekers get a kick out of this new-wave park, there's plenty for families and more timid guests too: the Pelican's Paradise Cove play area is perfect for the little ones looking for some splash-tastic fun, while calmer rides like the six-lane Reply Racers and Chat Creek lazy river are ideal for those who want to take it easy.
And, with an on-site food court (brilliant named Megabytes) that boasts all of your fast-food faves, as well as plenty of cabanas and lounge chairs to relax in, not to, mention an adults-only area where the booze is on tap, you could easily spend an entire day here without ever getting bored.
Location: as part of the Margaritaville Resort Orlando, Island H20 Live! is found down in Kissimmee, about 35 minutes southwest of downtown Orlando (just past Disney) and a similar drive from the international airport.
8 – Nona Adventure Park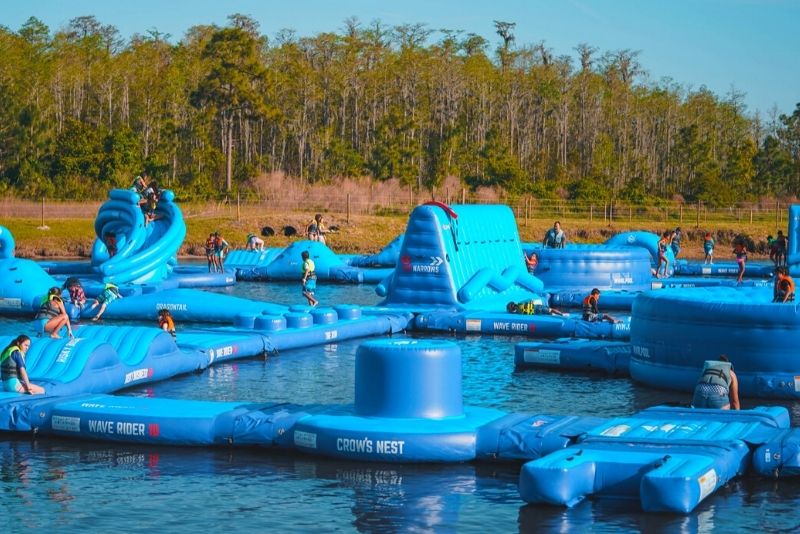 Off the beaten track and often overlooked in favor of the big boys closer to I-drive (yet purely to the detriment of those who choose to do so), Nona Adventure Park is a local favorite that delivers a thoroughly different — and just as exciting — waterpark experience.
Nestled away in the Lake Nona area of Orlando, this outdoor recreation hub boasts not one but major water park attractions: a diverse, obstacle-filled aqua park, and a wakeboarding course designed to test the skills of both beginners and experts alike.
Let's dive into the aqua park first then, shall we? Both kids and adults will need to test their balance (read: no matter how hard you try, you will fall off — that's just part of the fun) and bravery on the outdoor inflatable course which features over 1,000 feet of different obstacles, including swings, slides, stairs, slanted runs, balance beams, tire hops, and monkey bars all floating atop the water.
Aquapark hot tip: if you plan on signing up for the 50-minute session, book online in advance for a solid discount.
The main event, however, is the 60-foot climbing tower — the gateway to one of the largest (and most exhilarating) ropes courses in Orlando! Here, you'll find three 50-foot climbing walls, as well as a twin sky ropes course (60 feet above the ground if you don't mind) where you can race against your friends in pursuit of ultimate bragging rights!
Hot tip: if you plan on signing up for the 50-minute session, book online in advance for a solid discount.
If Wipeout-style thrills and spills aren't enough of a challenge for you (or if you're just looking to add some speed to your aqua park experience), then head on over to the Nona Wake Zone where you can take part in one of two different wakeboarding courses!
For beginners learning the ropes, the 320-foot-long cable system allows you to get a feel for the sport without too much speed or height. Once you've mastered the basics, progress onto the 2,500-foot advanced course for a real adrenaline rush of speeds of up to 19 miles per hour (that might not sound like much, but when you're skidding along the water, it feels 10 times faster)!
After conquering the ropes courses, aqua park, and wakeboarding zones (is anyone else exhausted just at the idea of all of these in one afternoon?), pop over to the bistro to recharge the batteries before browsing the pro shop to learn more about water sports and pick up a souvenir.
Location: floating atop Adventure Lake in the Lake Nona region, Nona Adventure Park is just south of the airport, about 30 minutes drive from both downtown Orlando and the Disney resort area.
9 – Treasure Cove Water Park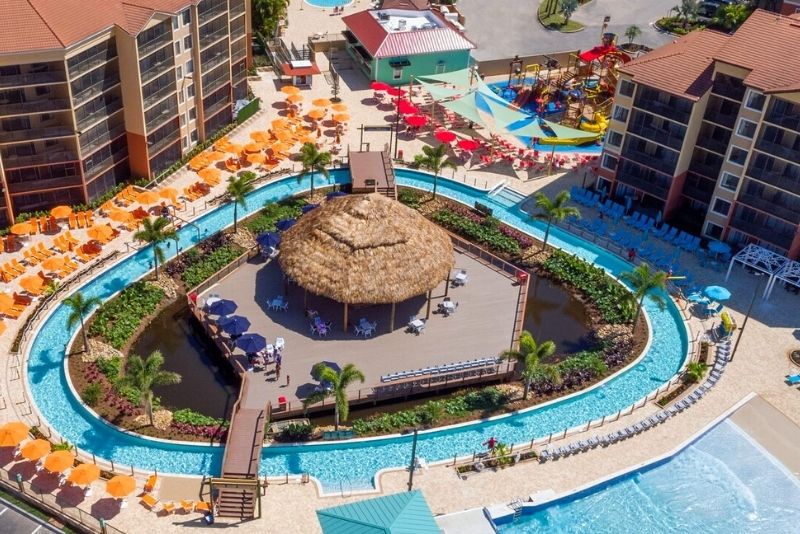 If you're staying on I-Drive and are on the hunt for a refreshing day of water rides without the need to venture too far away from the tourist hub, look no further than Treasure Cove Water Park!
A firm favorite with tourists thanks to its proximity to a plethora of hotels and attractions, this pirate-themed water park on Turkey Lake Rd boasts a treasure trove (pun intended) of slides, flumes, splash zones, and amenities for both the little ones and big kids, and is quickly gaining a reputation for family fun after opening its doors in 2021 as the fourth (and easily most impressive and modern) of the multi-million-dollars Westgate Resorts.
So, where to begin? With water rides, of course! And, luckily for sun-seeking travelers, there is no shortage of them at this small yet mighty watery oasis.
Kickstart your day with a dip in the 258-foot Buccaneer Bay wave pool, where nearly 42,000 gallons of water turn from still to rocky at regular intervals — kids can stay in the shallow end for some simple splashing (or make their way to the Little Parrots Splash Zone) while those brave enough can tackle the bigger swells in the deep end.
To level up the excitement, make a feeling for either the Dolphin Drop or Pirate's Plunge slides — both 30 foot high, the high-octane rides not only dish up awesome views of Big Sand Lake and the park beyond, but also show off fancy new technology with its trademark lighted kaleidoscopic Aquatube! Then, when it comes time to wind down, look no further than the crowd-favorite Castaway Creek Lazy River, a 575-foot-long journey that skirts past a tiki bar (with bar-mounted TVs, if you don't mind).
When you're all dried off and ready to explore again, take a walk around the park before plinking down on one of the 600 lounge chairs or consider renting one of the private cabanas if you're on the hunt for some VIP treatment — you're on vacation, after all, so why not treat yourself?
And, for when you're feeling peckish, the water park shows off two full-service restaurants sure to satisfy any hunger pangs: the Hawaiian-inspired Rikki Tiki Tavern sits in the middle of the lazy river offers classic tiki cocktails and hearty Pacific-themed fare, and The Buccaneer Galley Snack Bar serves up all your classic American specialties — burgers, hot dogs, pizza, sandwiches, and the like.
Location: just off I-Drive next to the Orange County Convention Center and iFly Orlando, Treasure Cove Water Park is one of the most central water parks on this list, reaching SeaWorld, Aquatica, Universal, and ICON Park is less than 10 minutes by car — on that note, why not consider staying at one of the new 400 villas?
10 – Orlando Watersports Complex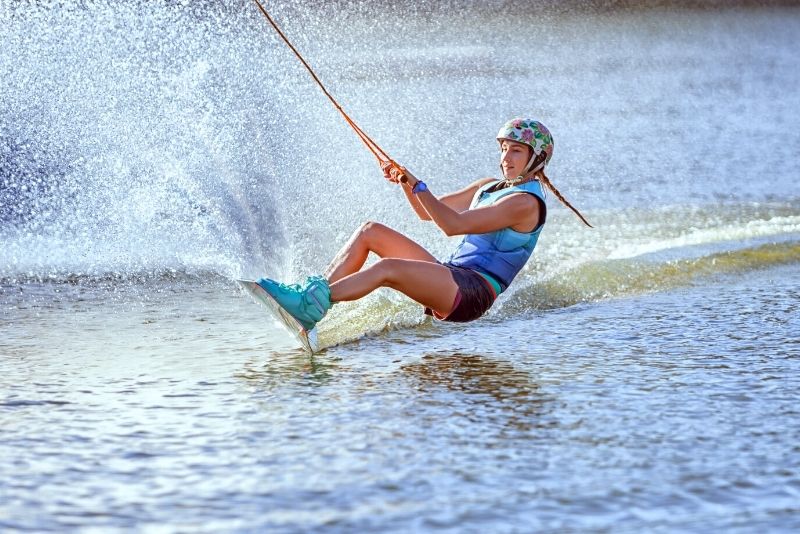 Your Central Florida go-to for all things jetski, water-skiing, kneeboarding, waterskiing, tubing, and more, the Orlando Watersports Complex has been a veritable oasis for locals and tourists alike since the turn of the 21st century, offering an evergreen escape from the hustle and bustle of city life.
Full of exciting and hands-on activities for the whole family to enjoy, this lakeside complex offers rentals and lessons for all sorts of aquatic activities on its water sports course, not to mention an inflatable structure full of Wipeout and Ninja Warrior-style obstacles and challenges! (Think you've got what it takes to complete a lap without falling off? So did the tens of thousands of visitors who came before you who ultimately met their watery match… )
On the water sports side of the complex, adrenaline-seeking visitors can sign up for an array of wakeboarding lessons — be that cable or boat-style (on the former, you're pulled along by a mechanical and predictable cable system with the latter leave you at the beck and call of your boat's captain — each exhilarating in their own ways). Even if you've never touched a wakeboard, the "Get Up" program guarantees to have you standing and carving through the waves in a matter of hours.
Or, for those who've already mastered the basic technique, OWS boasts two different cable systems where you can hone your craft — whether that be waterskiing, wakeboarding, wakeskating (basically the same as wakeboarding, but you're not bound to the board), and kneeboarding. Consider yourself somewhat of a pro? Then prove it by taking your boarding to a new level on the freestyle park, practicing your grinds, jumps, and twists along the way.
Want to experience all the boat-towed thrills without actually needing to learn how to board? Then the tubing option — a popular choice for families — has got you covered.
Now, onto the second main attraction of the park (and arguably, the highlight for those with kids in tow): the aquapark! Floating on top of the lake, the aquapark is made up of a series of interconnected trampolines, rock climbing walls, slides, walkways, and monkey bars that all lead to a giant inflatable pyramid structure where you can jump into the water below.
And, with one-hour sessions from just $26 (not including a yummy bite at the snack bar), it's an affordable way to cool off in that Florida sun while burning off a stack of energy along the way.
Hot tip: be sure to check the "specials" section on the park's website — every day of the week boasts a different penny-pinching deal, like two-for-one Tuesdays or discounted Monday kids days!
Location: you'll find the Orlando Watersports Complex on Florida Rock Road, just west of the international airports and about 15 minutes by car from the main haunts on I-Drive.
11 – CoCo Key Hotel and Water Resort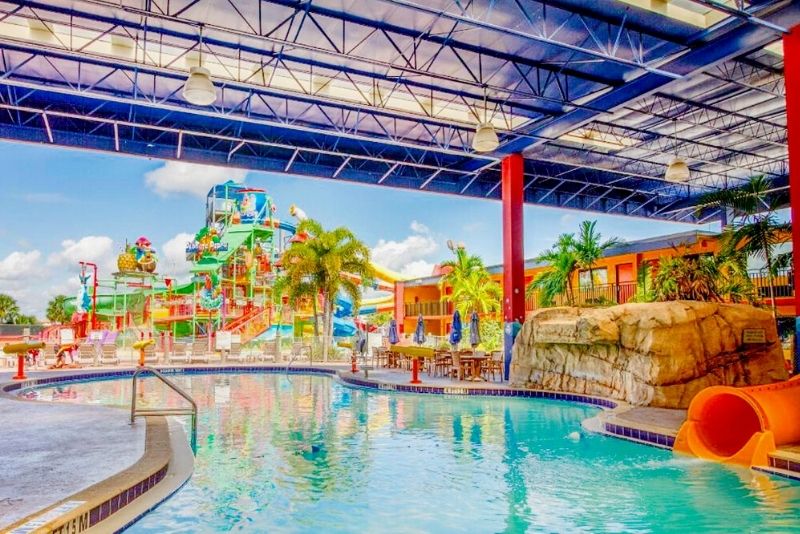 Delivering on its promise of tropical fun for the whole family, CoCo Key Hotel and Water Resort is one of the more affordable Orlando water parks that should be at the top of your list, especially if you're staying in the area with young (and highly energetic) kids.
With a name like CoCo Key, it's no surprise that this place takes its cues from all things Caribbean — think palm trees, pineapples, tiki hut bars, and colorful fish and birds for decorations throughout the park.
And while it might not boast as many slides or activities as some of the other parks on this list, what it lacks in quantity, it makes up for in quality (and certainly value for money).
Let's take a closer look at those slides then, shall we? Spread across the 54,000-square foot park (a large portion of which is shaded by a giant canopy) you'll find 14 slides and rides designed with youngsters in mind. The 300-foot lazy river is always a hit, likewise the interactive Parrot's Perch play area where kids rejoice in the water cannons and 300-gallon-dumping giant water bucket! If you're on the hunt for an adrenaline rush, any of the three main slides: 4-story-high Sharks Slam, 350-feet-long Barracuda Blast, or 300-foot-long Pelican Plunge are sure to elevate the heart rate.
Exclusive to the tiniest of tourists, the Dip-In wading pool is only a foot deep and lets the little ones get used to the water; on the flip side, the adults-only spa and bar areas present the parents with some much-needed reprieve.
Once all dried off, the park also boasts a state-of-the-art Key Quest Arcade with prizes to boot, as well as a handful of spots to refuel with a meal — head to Talia's Restaurant and Bar for something heavier, or pop into Gator's Grab-n-Go for a quick fix.
Location: smack-dab in the middle of the International Drive tourist hub, you can't miss this one! Hence why many a tourist likes to bunk up in the CoCo Key Hotel.
Where to stay in Orlando:
With so many resorts, hotels, hostels, and motels spread throughout this theme-park Mecca, it can be tough to decide on where to stay in Orlando.
If you're looking for convenience, it's hard to go beat the location of the CoCo Key Resort we just mentioned — situated as it is right in the heart of I-Drive. Around the corner, still amid the tourist hub, and more budget-friendly, you'll find the Best Western Orlando Gateway Hotel, Country Inn & Suites by Radisson, Rosen Inn International, and Monumental Movieland Hotel — each casual options that tick all of the boxes without breaking the bank.
If you're on the hunt for luxury, you won't be spoiled for choice here either. Oozing sophistication, The Ritz-Carlton Orlando (Grande Lakes) is chock-full of lavish touches and 5-star amenities (including spas, pools, room service, on-site restaurants, tourist shuttles, and more), while the Embassy Suites by Hilton and Hyatt Regency Orlando both sport royal touches complemented by convenient inner-city locations.
But, of course, not to be overlooked are the plethora of award-winning, magical, intricately detailed theme park-associated resorts. Whether you opt for Disney's Grand Floridian Resort and Spa, SeaWorld's Renaissance Orlando Resort, or Universal's Loews Portofino Bay Hotel or Loews Sapphire Falls Resort — not to mention the on-site hotels at Legoland or Margaritaville — you're in for one heck of a treat.
Besides often featuring themed rooms based on your chosen resort, by staying at one of these popular accommodations, you'll also receive discounted entry to the relevant Orlando water parks (i.e. a stay at the Walt Disney World Dolphin Resort will offer package deals to go to Typhoon Lagoon or Blizzard Beach).
Final thoughts
Thanks for checking out our list of the best Orlando water parks! If you have anything you'd like to add to the list, feel free to leave a comment below. Don't forget the sunscreen and hat, and, as always, happy travels!