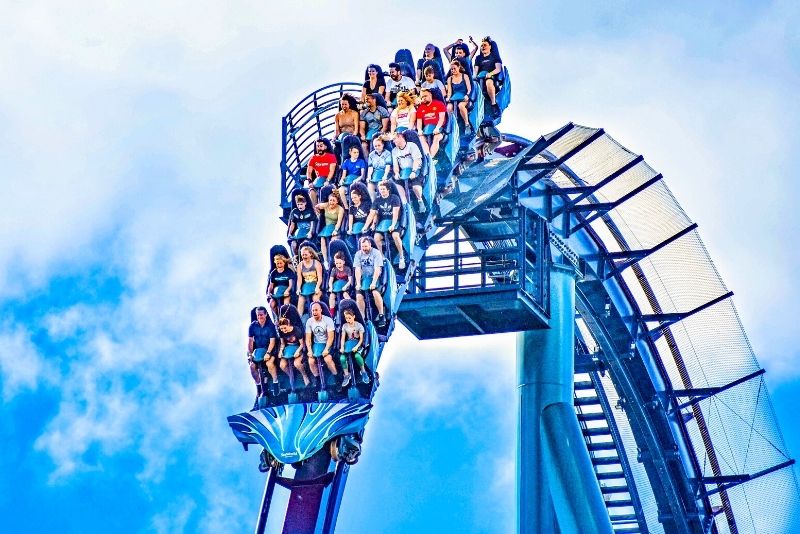 When you think of Orlando, what comes to mind? Exactly. Theme parks around every corner. Overflowing with high-octane rides, family-friendly amusement parks, water parks, safari zoos, and everything in between, this Central Florida city has long sat atop many a bucket list, and for mighty good reason!
Welcoming just shy of 10 million eager visitors every year, Orlando has become the American amusement park Mecca, delivering nonstop fun and excitement for all ages.
Infamous and leading the charge is, of course, Disney World. With four theme parks (Magic Kingdom, Epcot, Hollywood Studios, and Animal Kingdom), two water parks (Typhoon Lagoon and Blizzard Beach), and over twenty on-site resorts to choose from, there's simply no shortage of things to do at Walt Disney World Resort.
Just as popular—but with a decidedly different2 feel—is Universal Orlando Resort. Comprised of the immensely popular Islands of Adventure and Universal Studios Florida theme parks, along with the free and always-buzzing CityWalk entertainment district, this resort offers an exciting mix of thrills and classic movie magic.
Rounding out the "big three" is SeaWorld Orlando, home to some truly amazing marine life exhibits as well as roller coasters like Kraken Unleashed and Manta, not to mention dolphin-diving opportunities.
However, the list of Orlando theme parks extends far beyond those royal names. Dig a little deeper and you'll uncover that the area actually boasts an incredibly diverse array of entertainment options.
If you're looking to cross some of the biggest attractions off your bucket list, look no further – we've compiled a roundup of the best Orlando theme parks!
How this article works: while focused on Orlando, this article also showcases the award-winning and crowd-favorite parks in Kissimmee and Tampa Bay — because if you've come all this way in search of thrills, you might as well make the most of it!
We've also included a few "hidden gem" Orlando theme parks that are definitely worth a visit, despite not sporting an international reputation.
Okay! Now that we've got that out of the way, let's move on to the fun stuff: the theme parks! As we mentioned before, Orlando is absolutely bursting at the seams with them, so we're going to do our best to give you a well-rounded overview of all your options.
So, without further ado, let's get started!
1 – Magic Kingdom Park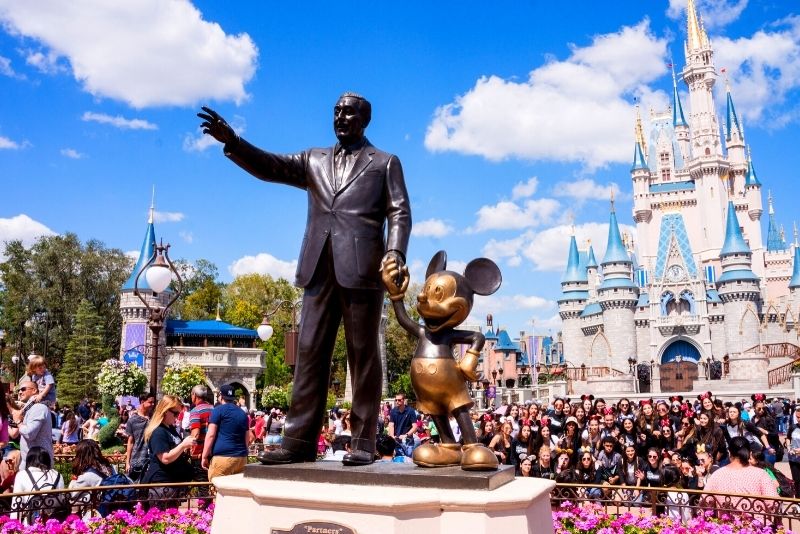 Consider by millions (including Disney itself) to be The Happiest Place on Earth — and rightfully so, considering the whimsical details found in every nook and cranny around the park — Magic Kingdom is the OG of Orlando's world-famous theme parks.
With the title of Orlando's #1 attraction, rest assured that the entertainment here never runs dry; From classic Disney rides and attractions to musical parades and dazzling fireworks shows every night that are simply unforgettable, there's something for everyone at the city's most famous theme park.
The family-favorite park is split into six themed areas: Main Street, U.S.A., Tomorrowland, Fantasyland, Frontierland, Liberty Square, and Adventureland, each of which boasts an array of thrilling and beautifully decorated rides, magical details, food stalls (don't miss the corn dogs!), costumed characters, quirky souvenir shops, and a whole lot more.
For the true adrenaline junkies, you'll be spoiled for choice: Space Mountain transports you into the dark depths of outer space at breakneck speeds, while Splash Mountain has you hurtling down a five-story waterfall in log flume-style.
Meanwhile, if you're looking for something a little more relaxed then take a leisurely ride down Main Street on the vintage Walt Disney World Railroad or float serenely through It's A Small World in your very own rowboat!
No matter how you choose to spend your time at Magic Kingdom, one thing's for sure: it'll be magical.
2 – EPCOT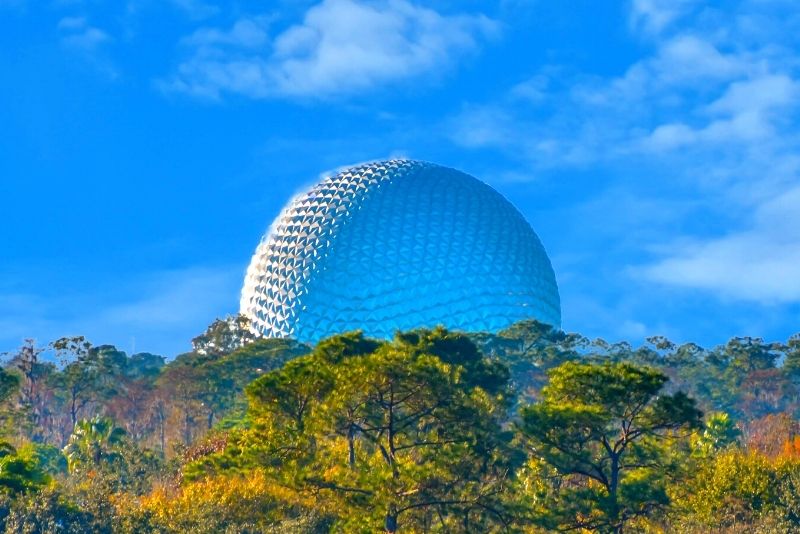 Attracting over 4 million people every year, Disney's EPCOT — which, little known to many, is actually an acronym for Experimental Prototype Community of Tomorrow — is the second most popular park in Orlando and is well-deserving of the momentous hype. Despite being closely related to Magic Kingdom, it's truly a world of its own.
Split into two main areas, Future World and World Showcase, EPCOT is dedicated to technological innovation and international culture respectively;
Future World is home to awe-inspiring attractions like Spaceship Earth (a giant golf ball that takes you on a journey through time), The Seas with Nemo & Friends (an aquarium featuring everyone's favorite clownfish), Test Track (a high-speed car ride testing your mettle against the forces of nature), and Mission: SPACE (the closest thing you'll get to being an astronaut).
Meanwhile, over in World Showcase guests can wander around pavilions representing 11 countries from all corners of the globe, sampling food, drinks, and shopping along the way;
Take a stroll around the picturesque canals of Venice in Italy, marvel at the towering Mayan pyramid of Ancient Mexico, or wander through a replica Bavarian village in Germany.
EPCOT is truly a unique experience that celebrates both the future and the past, and is perfect for anyone looking for an educational yet entertaining day out.
Hot tip: don't miss Soarin', a simulated hang-glider ride that takes you over some of the world's most beautiful landscapes!
3 – Disney's Hollywood Studios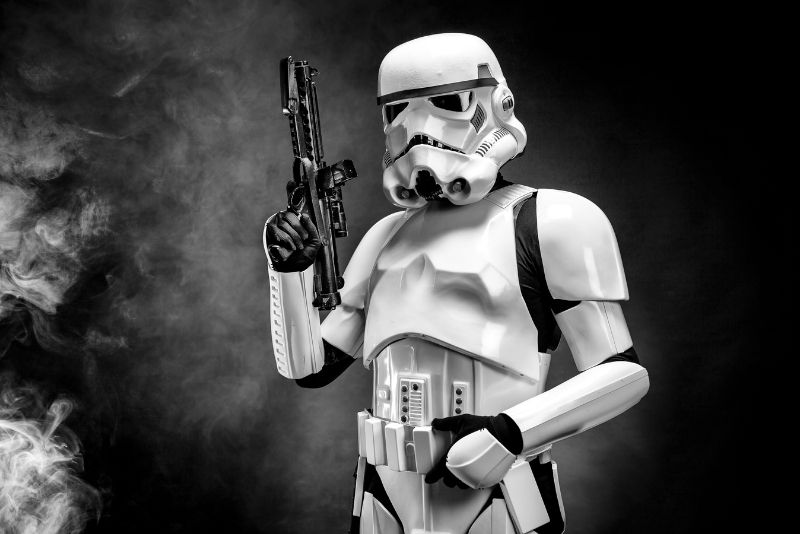 Heaven on Earth for movie buffs and TV fanatics, Hollywood Studios is a must-visit for anyone looking to get a taste of the celebrity lifestyle.
Featuring some of the most popular rides and attractions in Orlando, the park is based on — you guessed it! — Tinseltown itself, with glitzy Art Deco buildings and replica Hollywood landmarks adorning every street.
As well as iconic high-octane rides like The Twilight Zone Tower of Terror (a 13-story elevator drop that's not for the faint-hearted!) and Rock 'n' Roller Coaster Starring Aerosmith (a high-speed indoor rollercoaster in the dark with the iconic tunes blaring at full volume in the background), there are also plenty of kid-friendly activities to — get behind the wheel with Mater and Lightning McQueen in Cars Land or hang out with Woody Woodpecker himself at Woody's Kidzone Coaster!
Plus, with shows to enjoy throughout the day, including Beauty & The Beast Live on Stage, a live stage show featuring everyone's favorite Frozen princesses, and Indiana Jones™ Epic Stunt Spectacular, there's something for everyone!
For the ultimate Hollywood sci-fi experience, make sure to catch the most recent addition to the park: Star Wars: Galaxy's Edge, where you can build your own droid, drink alien cocktails in the cantina, and take a spin on the Millennium Falcon!
4 – Animal Kingdom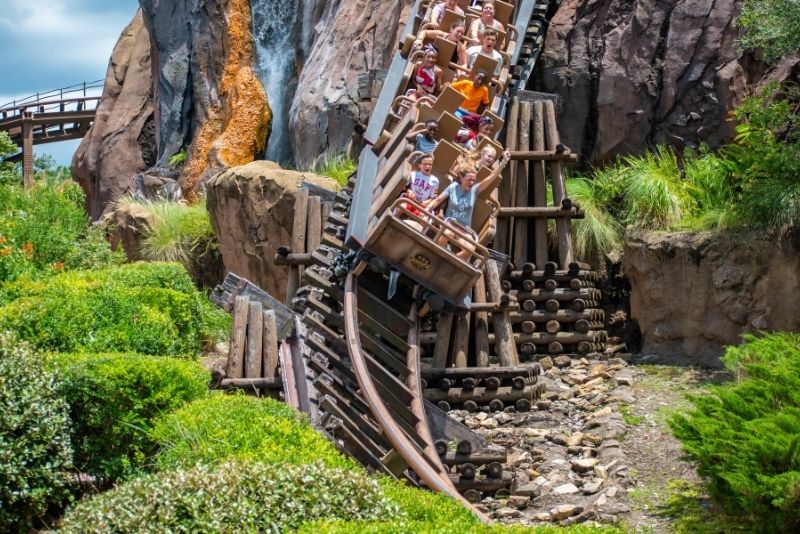 Like journeying into the heart of the jungle? Then you'll love Disney's Animal Kingdom, the largest animal-themed park in the world!
Home to countless different species of animals from all around the globe, the park is designed to resemble an African savannah, with bumpy dirt trails winding their way through dense forests and wide-open plains.
Sure to put a smile on the faces of kids and adults alike, Animal Kingdom is made up of seven different lands, each with its own unique draw (and accompanying themed eateries to boot): Oasis (the entrance area), Discovery Island, Africa, Rafiki's Planet Watch, Asia, DinoLand U.S.A., and the ever-impressive Pandora – The World of Avatar.
With so much to see and do, just a sliver of the highlights include the Kilimanjaro Safari (a guide-led ride through the African savannah where you'll get to meet lions and giraffes up close), Expedition Everest (a rollercoaster that takes you on a thrilling journey through the Himalayas — and one of the more intense rides at Disney World), Kali River Rapids (a white-knuckle rafting adventure ideal for a hot summer's day), and the Na'vi River Journey (a family-friendly boat ride through the world of Pandora with animatronics and bioluminescent flora all the way through.).
No matter what your age, Animal Kingdom is sure to be a roaring good time!
5 – Disney's Typhoon Lagoon Water Park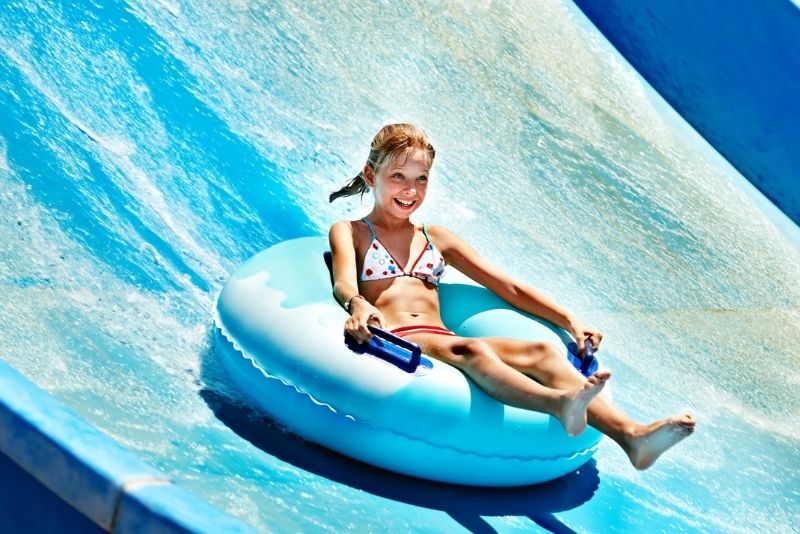 With year-round sunshine and a track record of scorching summers, it's no wonder that Orlando is home to some of the best water parks in the world!
And topping many a list (just like it does Disney's!) is Typhoon Lagoon, a mammoth water park with something for everyone — kids, parents, traveling adventurers, and everyone in between.
From relaxing lazy rivers and family-friendly wave pools to heart-stopping speed slides and jaw-dropping roller coasters, there's enough here to keep you entertained all day long.
Not forgetting the little ones either, there are plenty of kiddie areas where they can splash about without fear of getting lost or too out of their depth, like wave pools, lazy rivers, and slides designed specifically with them in mind.
As for the heart-stopping rides, while everyone has a different threshold for thrills and spills, some of the most beloved by adrenaline junkies are Miss Adventure Falls (a slow but scenic two-minute raft ride through caves and waterfalls), Humunga Kowabunga (a near-vertical speed slide that drops you five stories in seconds), Storm Slides (a trio of enclosed body slides that send you spiraling down through a mix of blissfully scenery and darkness at 30 miles per hour), and Crush 'n' Gusher (three intertwining fruit-themed waterslides where you'll be propelled up and down hills and around curves at high speeds with one or two of your nearest and dearest).
So, to beat the heat and have a blast doing it, make sure to head on over to Typhoon Lagoon — if, for nothing else, to try the surf pool!
6 – Disney's Blizzard Beach Water Park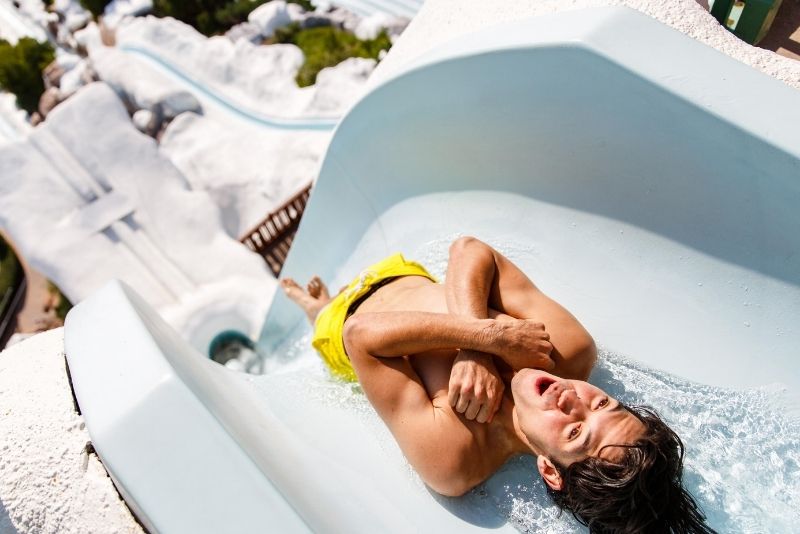 While the idea of swimming in a blizzard might not sound overly enticing, as expected, the folks at Disney have turned this quirky idea into a major selling point for their Blizzard Beach water park!
Set in the snowy surrounds of 90-foot-high Mount Gushmore, the park is home to some of the most impressive (and daunting) waterslides in all of Orlando, as well as a whole host of other family-friendly activities. And, in keeping with the theme, all of the attractions are given names that reflect their icy surroundings.
If you're traveling with younger children, they'll be spoilt for choice too with an entire kiddie area dedicated to them; from lazy rivers and toboggan runs (or "slushes" as they're called here) to death-defying speed slides and plunge pools, there's something for everyone — no matter how young or old you are.
And if you're feeling brave enough (or have kids that are), don't miss the Downhill Double Dipper (where you'll disappear into a black hole before plummeting over 50 feet), Summit Plummet (a 120-foot speed slide that's one of the tallest and fastest in the world), Slush Gusher (a 90-foot drop that reaches speeds up to 35 miles per hour), and Toboggan Racers (where you can race your friends and family down an icy slope on toboggans in chase of ultimate bragging rights).
So, if you're looking for a cool — quite literally — way to spend a hot day in Orlando, Blizzard Beach is well worth checking out!
7 – Fun Spot America Orlando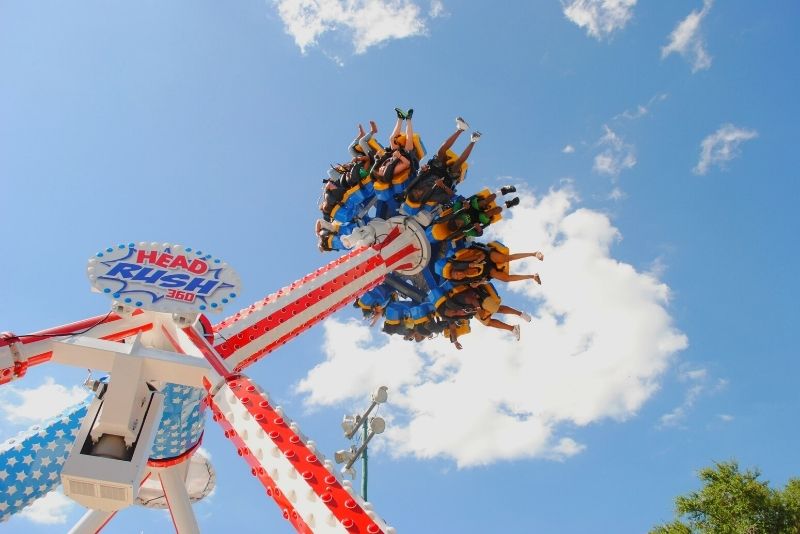 Moving away from the world of Disney for a tick, Fun Spot America is one of the best places in Orlando to get your thrills.
With two locations in the city (one near International Drive and the other near Kissimmee), it's easy to get to no matter where you're staying, and there's plenty to keep you entertained for hours on end.
From heart-stopping coasters like White Lightning (a wooden roller coaster that reaches speeds of up to 55 miles per hour) and Mine Blower (an indoor steel coaster that hurtles you through the dark at 50 miles per hour) to family-friendly rides like bumper cars, go-karts, and a Ferris wheel, there are hours of entertainment at this underrated Orlando attraction.
Craving a need for speed? At the family-owned Orlando branch, you'll discover no less than four different go-kart tracks, each with its own unique twists, turns, and challenges. There's also a 101-foot high Ferris wheel, an arcade full of classic games, and plenty of places to refuel with some tasty grub.
So, if you're looking for a fun-filled day out that won't cost you an arm and a leg (compared to Disney), be sure to add Fun Spot America to your list of Orlando Theme Parks!
8 – SeaWorld Orlando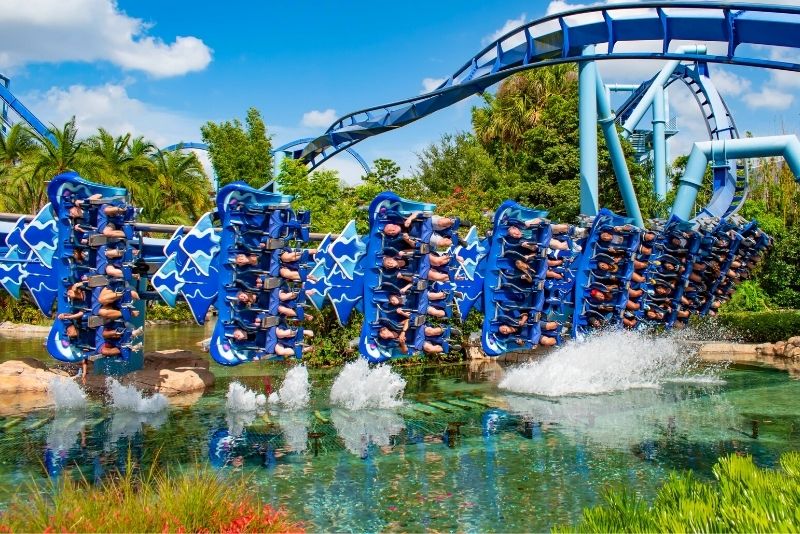 A wonderful mix of diverse marine life, thrilling rides, and energetic live shows, family-favorite SeaWorld Orlando is a must-visit for any animal lover venturing through Central Florida.
With a huge variety of both land and water-based animals on show (from bubbly dolphins and scary sharks to flamingos and cute-as-a-button turtles), there's plenty to see and learn about at this world-famous marine park.
And if you're looking for an adrenaline rush, you won't be disappointed either! Kickstart the day with some of the best roller coasters in Orlando (like Mako — SeaWorld's fastest coaster that hits speeds of up to 73 miles per hour — and Manta — a flying coaster that gives you the sensation of swooping and diving like a real manta ray).
On hotter days, the Journey to Atlantis splash coaster delivers a refreshing change of pace, while the world-famous Orca Encounter and the Sesame Street Parade are sure to delight the youngest members of the family.
As for food, you can bet your bottom dollar that the park's theme transitions onto the dinner plate too — with an array of delightful dishes on offer at eateries like Dine with Shamu (a special event meal, no doubt), Seaport Pizza, and Shark's Underwater Grill.
So, if you're looking for a fun-filled day out that the whole family can enjoy, SeaWorld Orlando has got you (and the other 4 million annual visitors) covered.
Hot tip: as one of the busier Orlando theme parks, particularly during peak season, a skip-the-line pass is often well worth the extra few bucks.
9 – Universal Studios Florida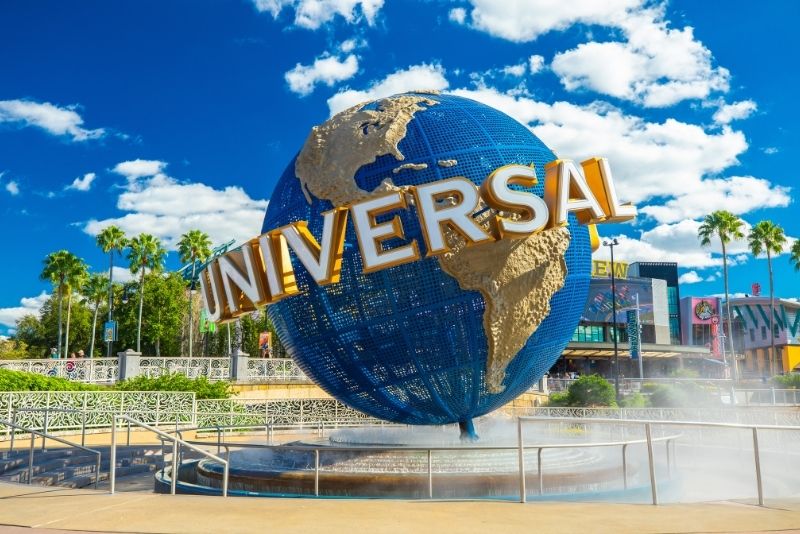 One of the most popular Orlando theme parks for good reason, Universal Studios Florida takes eager visitors on a journey to the magic, glitz, and glam of Hollywood, highlighting the ins and out of the world of entertainment production, and delivering some of the biggest and best rides in town along the way.
From Despicable Me Minion Mayhem (a family-friendly ride that takes you on a wacky journey with Gru, his daughters, and those pesky Minions) and the heart-racing, 65-miles-per-hour Hollywood Rip Ride Rockit (a high-speed coaster where you choose your own music track), to the exciting (but not too scary) Revenge of the Mummy roller coaster, the high-tech Simpsons Ride that combines simulation with classic yellow family animations, and the 3D simulation of Race Through New York Starring Jimmy Fallon, you'll find a diverse selection of attraction to keep the whole family entertained.
And that's not even mentioning the shows! From The Tales of Beedle the Bard Trunk Show to the 20-minute-long Animal Actors on Location, and the dangerous and exciting showcase of stunts, creepy crawlies, and high-octane risk that is Fear Factor Live, the entertainment never stops.
And if that's not enough, the roster of live performances is second to none: old-school music lovers froth over The Blues Brothers Show, while budding witches and wizards love when Celestina Warbeck & The Banshees regularly take center stage in Diagon Alley.
Throw in endless shopping and dining options — most of which are whimsically themed — and you'll have options to keep you busy all day long.
Tip: try and plan your visit around one of the park's special events, like Halloween Horror Nights (a must-do for horror movie fans) or Grinchmas (where you can meet the mean, green one himself).
10 – Islands of Adventure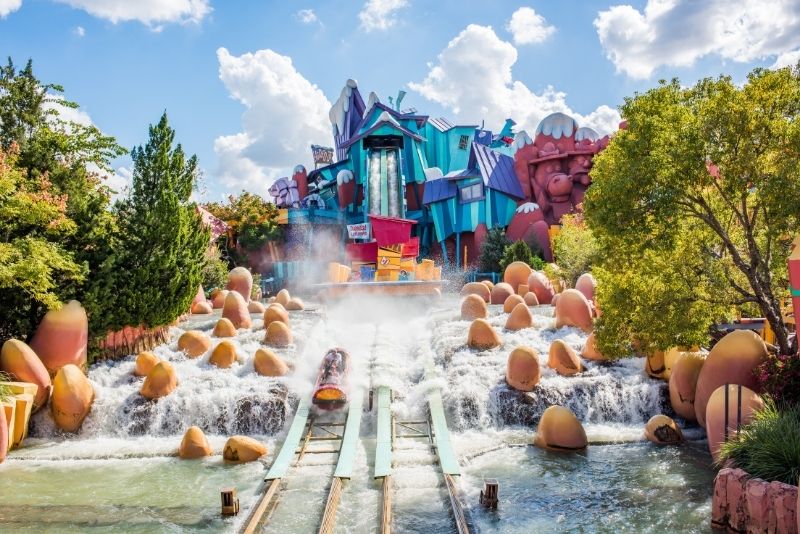 A beloved part of the Universal family, Islands of Adventure is packed to the brim with thrilling rides, live shows, and opportunities to meet your favorite characters — all up, considered to be the better suited to children and families compared to the main Universal park.
From the moment you enter (through the iconic, Jurassic Park-themed gates), you'll be spoilt for choice when it comes to what to do first: should you head straight for The Incredible Hulk Coaster and feel the force of being strapped into a speeding vehicle that's just about to take off? Or would you rather get wet on Dudley Do-Right's Ripsaw Falls?
How about taking in a show? Poseidon's Fury (which uses 200 individual flame effects) will have your heart racing with excitement, while the Happy Potter-themed Frog Choir is sure to leave you in stitches.
And if meeting characters is more your thing, why not head over to Seuss Landing where you can snap selfies with the Cat in the Hat or Thing One and Thing Two (before grabbing a snack at the Green Eggs and Ham Cafe, of course).
With all this and more, it's no wonder that Islands of Adventure is one of the most popular Orlando theme parks.
Hot tip: make use of the Single Rider Lines where available to avoid wasting time queuing for rides with long wait times!
11 – The Wizarding World of Harry Potter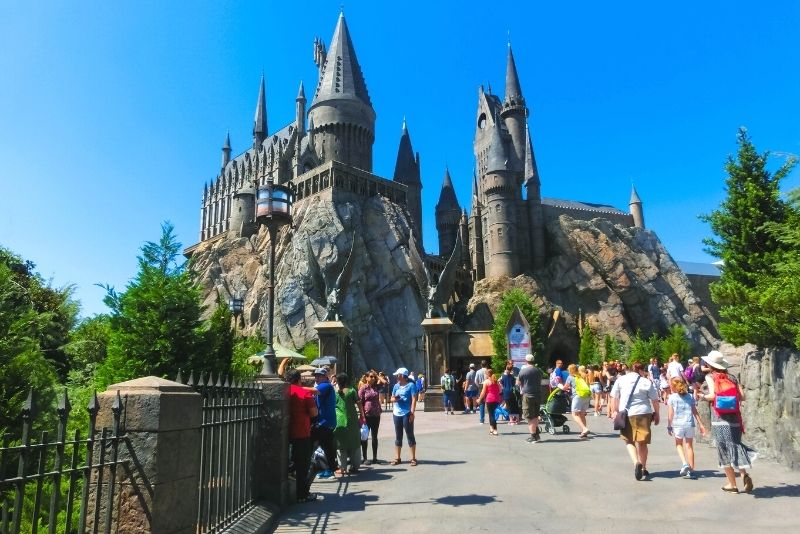 Double the lands; double the magic! At Universal, budding witches and wizards (and muggles too) are blessed with a pair of whimsically detailed Harry Potter-themed areas: Diagon Alley at Universal Studios and Hogsmeade at Universal's Islands of Adventure.
Starting with the latter housed in a replica of Hogwarts castle, with spellbinding magical moments around every corner, The Wizarding World of Harry Potter – Hogsmeade — one of the modern highlights of Universal Resort's Islands of Adventure park — is a must for any fan of the books or films.
Wandering the streets of Hogsmeade, take a moment to marvel at the attention to detail in every store (including Zonko's Joke Shop and Honeydukes Sweetshop) before enjoying a drink (read: a mug of butterbeer!) or bite at one of the themed eateries. And, to cap it off, marvel at the truly spellbinding Nighttime Lights at Hogwarts Castle projection display.
And if that's not enough, a handful of amazing rides are waiting for you too: Flight of the Hippogriff is perfect for young fans, while those looking for something more thrilling should head straight for Hagrid's Magical Creatures Motorbike Adventure or The Forbidden Journey, the latter of which takes you through scenes from the movies and locations on the magical campus — Dumbledore's office, the Defence Against the Dark Arts classroom, and the Gryffindor common room, to name a few!
The magic continues at Diagon Alley at Universal Studios. Connected to Hogsmeade via the Hogwarts Express at King's Cross Station (park-hopper ticket required), before you know it you'll be immersed in all things Harry Potter as you cross through the British countryside en route.
Sure to deliver magical thrills, Diagon Alley's multi-dimensional Escape from Gringotts ride will have you evading Voldemort, Bellatrix, and trolls, coming face to face with familiar Gryffindor comrades along the way. Follow it up with a feed at the Leaky Cauldron, browse Ollivanders in search of a souvenir wand, and don't forget to check out the fire-breathing dragon perched atop Gringotts.
12 – Volcano Bay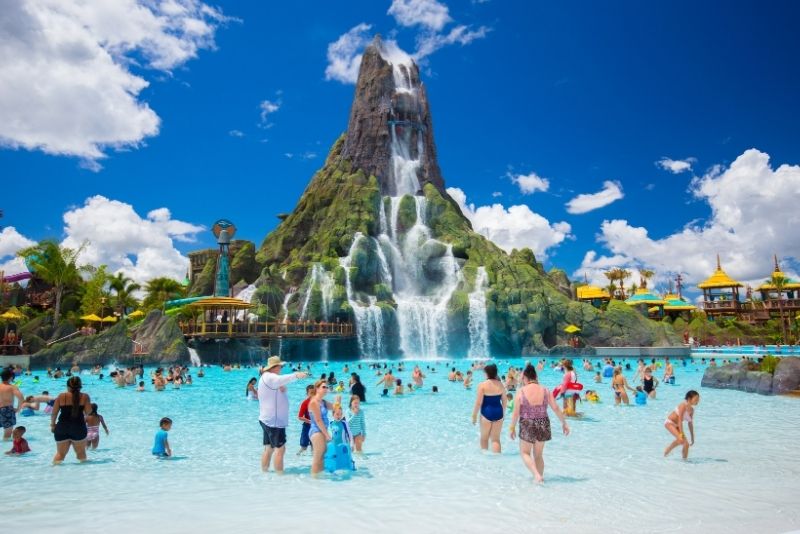 A splashtastic water park that's perfect for those hot Florida days (and thanks to its location as the southernmost US state, those sizzlers are aplenty), Volcano Bay is one of the newer additions to Universal Orlando Resort and has quickly become a fan favorite.
From the moment you step through the entrance and pinpoint the mighty 200-foot-tall Krakatau volcano — the park's centerpiece — you'll be in for a day of fun-filled family activities.
For a heavy dose of thrills, ride the Ko'okiri Body Plunge down 125 feet into fiery waters (if you dare), or brave the Ohyah and Ohno Drop Slides that will have you careening down at high speeds before plunging into pools below. If your idea of a great day out is more about serenity and relaxation, take a ride on the tropically-themed Kopiko Wai — a serene lazy river that winds its way around the entire park — before lounging on one of the poolside cabanas with a good book and ice-cold themed drink.
Best of all, the 27-acre park remains open year-round thanks to heated water.
13 – ICON Park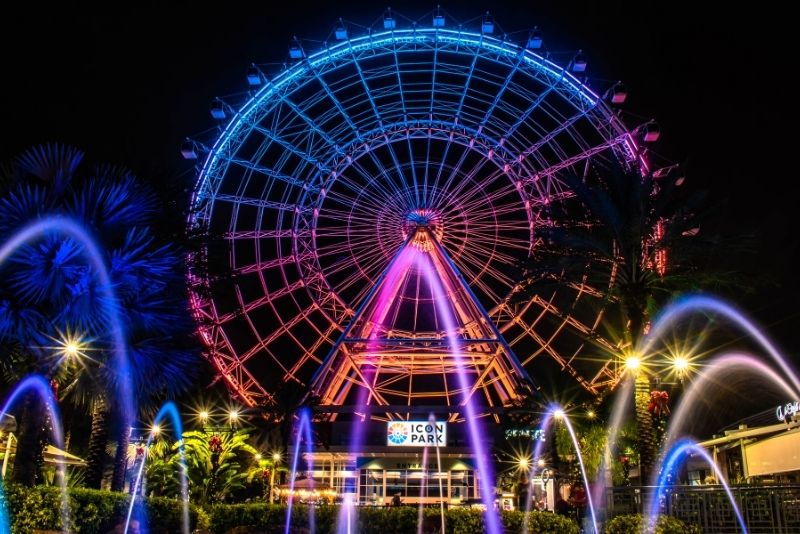 Tucked away in the heart of Orlando's tourist district is ICON Park, a 20-acre entertainment complex that's home to some of the best attractions in town — all within easy walking distance of one another.
At its center is The Wheel, a 400-foot tall observation wheel that offers breathtaking views of the cityscape (be sure to ride at twilight for a truly spectacular experience).
Once you're done taking in the sights, there are plenty of other things to do: enjoy a meal or drink at one of the many restaurants and bars on offer — try one of the 100 different beers on tap at Yard House or satisfy your sweet tooth at the Sugar Factory; be dazzled by the Museum of Illusions, or snap a few selfies with your favorite A-listers at Madame Tussauds Orlando.
With so much to see and do, ICON Park is widely considered for of the essential Orlando theme parks based on its combination of convenience, variety, free admission (just pay for rides), and family fun!
14 – Fun Spot America Kissimmee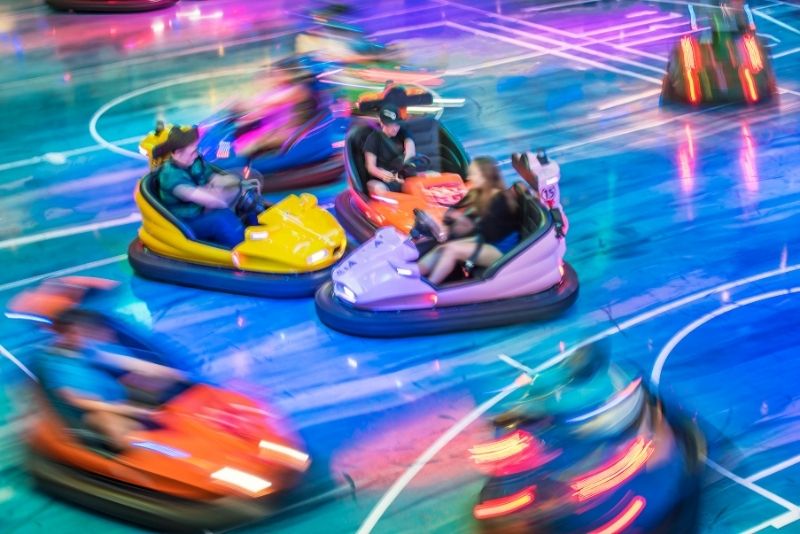 The sister park to Fun Spot America Orlando, this smaller but no less exciting park is located in the city of Kissimmee — about 20 minutes from downtown Orlando.
One of the main draws here is Headrush 360, a swinging pendulum-style ride that literally turns your world upside-down as you dangle above the ground.
If you're not one for heights (or simply want to take it easy), there are plenty of other options available, including bumper cars, a plethora of prize-winning arcade games, and whimsical rides for the kiddlywinks to enjoy.
And if you're still raving about the go-karts over at Orlando, two more exhilarating and multi-level go-kart tracks, you'll find an array of spine-tingling rides like the only wooden coaster in Florida to go upside down, not to mention the world's tallest Skycoaster, which sends thrillseekers flying superman-style 300 feet above the park!
Best of all, Fun Spot America Kissimmee is one of the most affordable theme parks in town — it's free to visit, with option ride tickets available by the day or by the ride.
15 – SEA LIFE Orlando Aquarium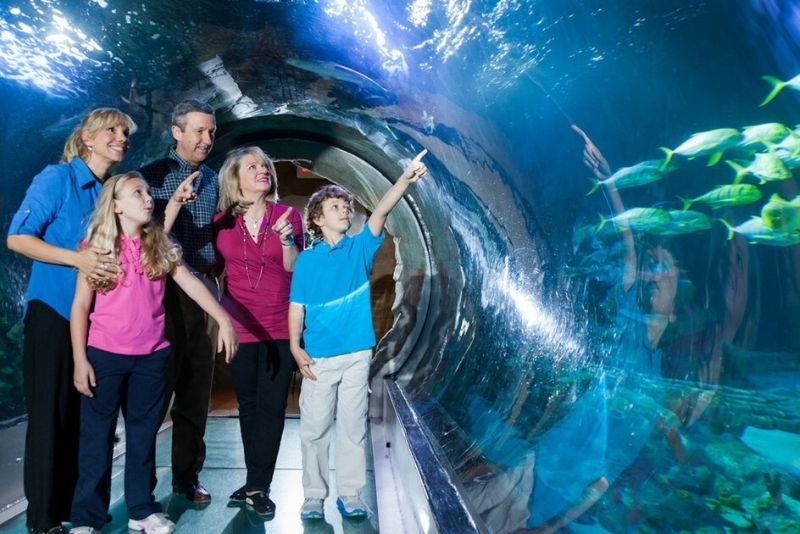 Sitting within ICON Park in the heart of Orlando's tourist district, SEA LIFE Orlando Aquarium is home to more than 5,000 unique creatures from all over the world.
From playful seahorses and colorful clownfish to giant rays and menacing sharks, the vibrant marine life of each of the seven seas is covered at this award-winning attraction, which offers both indoor and outdoor exhibits (the latter perfect for a sunny day out).
One of the highlights here is definitely the 360-degree underwater tunnel (the only one of its kind in Florida, mind you), where you can come face-to-fin with some of the aquarium's most impressive residents.
For those who prefer their destinations to be immersive, there are also plenty of interactive activities available throughout the aquarium too, including touch tanks where you can get up close and personal with starfish and crabs (if you're brave enough), as well as engaging talks and feeds with the aquarium's expert staff!
Looking to take your visit to the next level? Then consider signing up for one of the aquarium's VIP experiences: if you don't mind shelling out a few extra bucks, you can join an exclusive behind-the-scenes tour that not only educates but also gives visitors the chance to help the staff during feeding time!
16 – Gatorland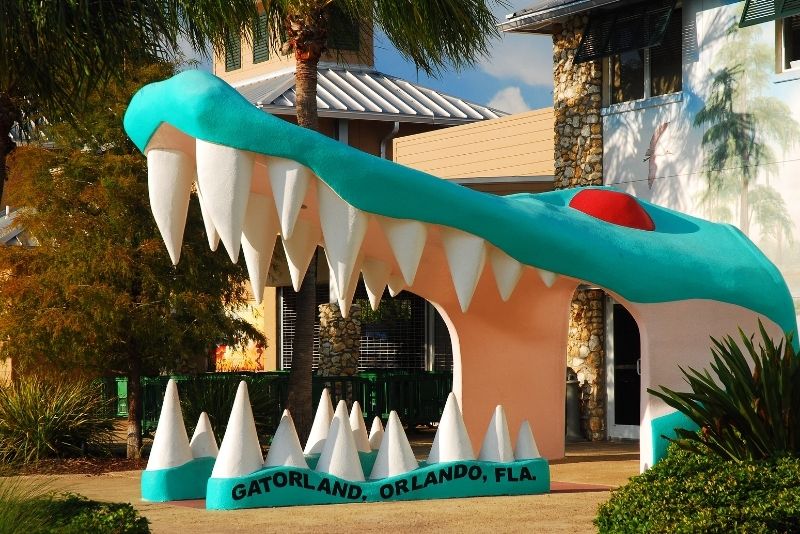 Embracing the animal synonymous with the Sunshine State, Gatorland is one of the oldest and most respected theme parks in Orlando, with a focus on all things reptilian.
From baby gators to giant old-timers (some over 12 feet long), this 110-acre park is home to a fleet of American alligators and crocodiles, making it the perfect place for anyone who's fascinated by these prehistoric creatures.
Besides the chance to see these intimidating (yet misunderstood) apex predators, up close, Gatorland is also home to a wide variety of other animals too, including deer, slithery snakes (perfect for that scroll-stopping tourist photo!), turtles, and birds of prey.
Hosting plenty of activities available here for visitors young and old alike, guests explore the park on foot via its many nature trails; take a zip line through the trees on the Screamin' Gator Zip Line; get up close and personal with the animals in the Stompin' Gator Off-Road Adventure ride, a monster-truck-style vehicle tour that explores the swamps and the several different ecosystems that feed the headwaters of the Everglades.
Don't forget to pop into the gift store for a unique souvenir, or opt for the Trainer-for-a-Day program if you want to get to know the scaley residents on a deeper level.
17 – Magical Midway Thrill Park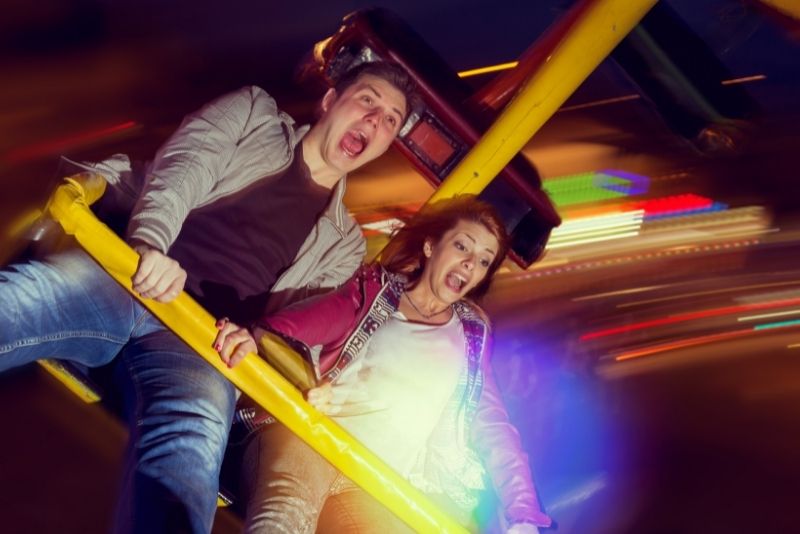 What started off as a humble family-owned and operated business has now turned into one of the most popular Orlando theme parks, with something to offer thrillseekers of all ages.
Boasting more than 20 rides and attractions, Magical Midway Thrill Park is home to some of the biggest, baddest, and most extreme amusement park rides in Florida — none more stomach-churning than the world's largest Sling Shot!
While the heart-racing mega-thrill rides draw adrenaline junkies like moths to a flame, the park's actually better known for its enormous arcade and pair of wooden elevated go-kart tracks.
In the family-friendly arcade, test your skills in Air hockey, pool tables, basketball, skee ball, and dozens more, competing not just for ultimate bragging rights, but also a stack of cool prizes. Meanwhile, if you're craving the smell of burning rubber, three different go-kart tracks await: for the adults, the Avalanche and Apline twist and turn on multiple levels, Mario Kart-style, while the kids can don their own helmet and take a spin on the flat junior track.
Traveling as a group? If you don't want to drive, there's always the option to ride shotgun in a dual-rider kart and share in the fun.
18 – Dinosaur World
Like stepping back in time to the prehistoric era, Dinosaur World is a one-of-a-kind Orlando theme park that's dedicated to — you guessed it — dinosaurs!
A must for any dino-lover (or anyone who's even remotely interested in these fascinating creatures of bygone millennia), this park boasts hundreds of life-size dinosaur models spread out across its 60 acres of land, surrounded by centuries-old oak trees and explorable by shaded boardwalks.
Guests can explore the different exhibits at their own pace, learning about the different species of dinosaurs along the way, and burn off some energy in the Dino-themed playground; or, for something a little more hands-on, can embark on the Dino Gem Excavation, where fossils and minerals buried beneath the sand must be uncovered — and where you get to keep everything you find!
A surefire hit for kids, the Bone Yard lets you dig up a 27-foot dino skeleton, while the Prehistoric Museum is full of motion-activated animatronics guaranteed to capture the imagination.
Always staying relevant, Dinosaur World offers several special events throughout the year too, from Easter egg hunts and Halloween nights, and also encourages guests to bring their own healthy snacks and drinks.
19 – Central Florida Zoo & Botanical Gardens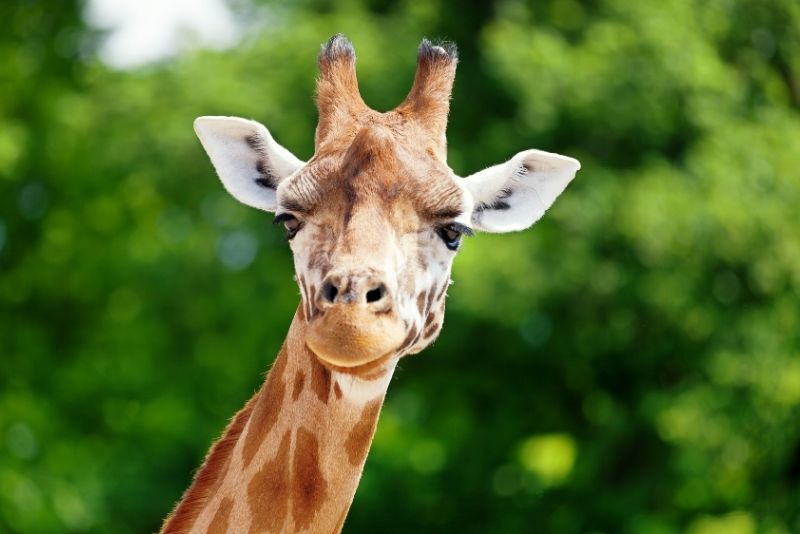 A unique combination of animal-abundant zoo and blissfully peaceful and colorful plant showcase, the Central Florida Zoo & Botanical Gardens is home to more than 400 animals representing close to 200 species, as well as hundreds of different plants.
Set on 115 acres of land in Sanford, this Orlando theme park offers guests the chance to get up close and personal with some of the world's most exotic animals through encounters, feedings, and educational shows.
There are also plenty of opportunities to learn about the wildflowers and majestic plant life that surrounds you, from the butterfly garden (which is home to flocks of native butterflies) to the Health and Wellness Garden, which explores plants in both food and medicine.
Wander along shaded boardwalks and groomed trails, let the kids loose on the Animal Carousel, cool off at the Wharton Smith Tropical Splash Ground, try your hand at zip-lining, a thing or two at one of the daily keeper shows, and be sure to browse the Reptile House — home to the largest reptilian collection in the southeast USA!
20 – Busch Gardens Tampa Bay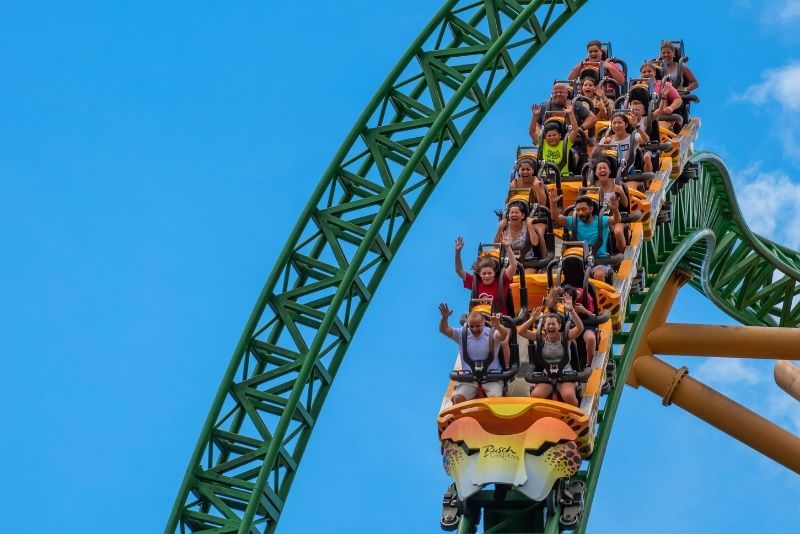 Ideal for when you're craving a break from the crowded Orlando theme parks, about 90 minutes drive away toward the Gulf Coast sits Busch Gardens Tampa Bay: a vast and varied African-themed amusement park that's part of the SeaWorld Parks & Entertainment family.
The diversity of rides here is nothing short of impressive, from adrenaline-pumping roller coasters to tranquil gardens, with plenty of Broadway-style shows and attractions in between.
Home to more than 12,000 creatures of all shapes and sizes, Busch Gardens is a wonderful place to meet friendly animals up close — case in point: the Serengeti Express Train Ride, a relaxing staff-narrator adventure that lets you see some of Africa's most exotic animals up close.
Free-roaming creatures aside, you'll find all the classic high-octane rides too, like Montu (an inverted coaster that includes a zero-G roll), Kumba (which boasts one of the world's largest vertical loops), and SheiKra, a floorless dive coaster sure to get the butterflies pumping at speeds of 70 mph.
While you're in the Tampa Bay region, if you're still craving more savannah-style encounters, consider a quick detour to ZooTampa at Lowry Park.
21 – Safari Wilderness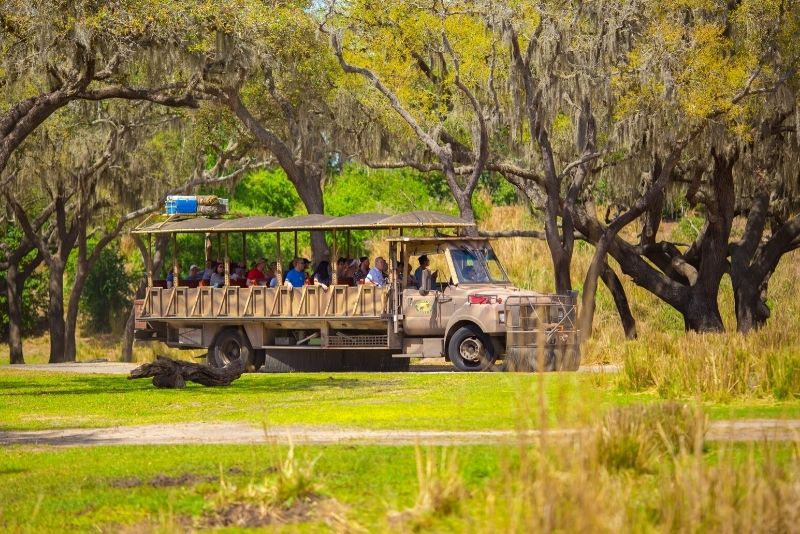 Well and truly off the beaten track in Lakeland, about halfway between Orlando and Tampa, Safari Wilderness is a 260-acre preserve that's home to more than 450 different animals from all walks of life, all of which are free to roam as they please in natural and spacious surroundings is in the heart of The Green Swamp (the second-largest swamp in Florida after the Everglades).
Sure to leave both adults and kids grinning ear to ear, the roster of residents includes zebras, rhinos, antelopes, lemurs, defassa waterbuck, cheetahs, ostriches, and even camels — not something you see every day!
During your visit, you can take a narrated safari tour through the wetlands and dryland areas (which takes place in an open-air vehicle), go on a sunset jeep tour for prime wildlife spotting opportunities (don't forget your camera!), or even sign up for a rare camelback, horseback or kayak adventure!
There's also a full calendar of special events throughout the year if you want to take your experience to the next level, none more popular than the cheetah encounters, ring-tailed lemur feedings, and overnight camping (read: glamping) trips!
22 – Nona Adventure Park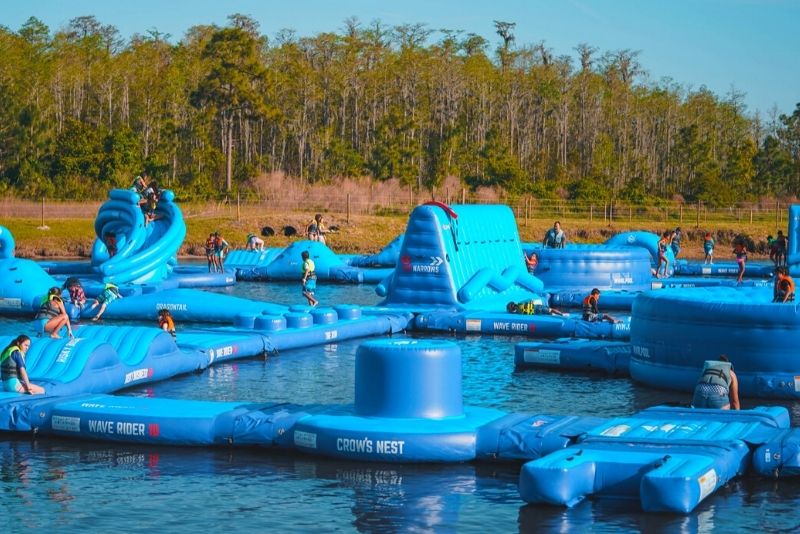 A summertime staple that acts as a magnet for locals and tourists alike, Nona Adventure Park is a sprawling, action-packed waterpark located in the heart of Orlando — a city which, justifiably so, has often been dubbed the watersports capital of the world.
Located on Adventure Lake near Lake Nona, not too far from the airport, this outdoor aqua park oozes water-filled excitement. Start your day with a run-around on the inflatable obstacle course before tackling the challenging ropes courses and 60-foot climbing tower!
And, if you're craving some serious water-based thrills, there's no better spot to try your hand at wakeboarding. Designed for riders of all levels, and accommodating for BYO gear or rentals from the pro shop, the wakeboarding area has two main tracks: the first is short and sweet, made up of 320 feet of cable.
With one-on-one instruction and a slow pace, you'll be mastering the trade in no time. The second, stretched over 2,500 feet, is made for the brave and the advanced, featuring kickers and rails, and reaching speeds of close to 20 miles per hour!
Once you're all tuckered out — because both the aqua park and wakeboarding tracks are far more tiring than they look, trust us — refuel at the bistro with a slice of pizza or a sandwich before popping into the pro shop for a keepsake or two.
23 – WonderWorks Orlando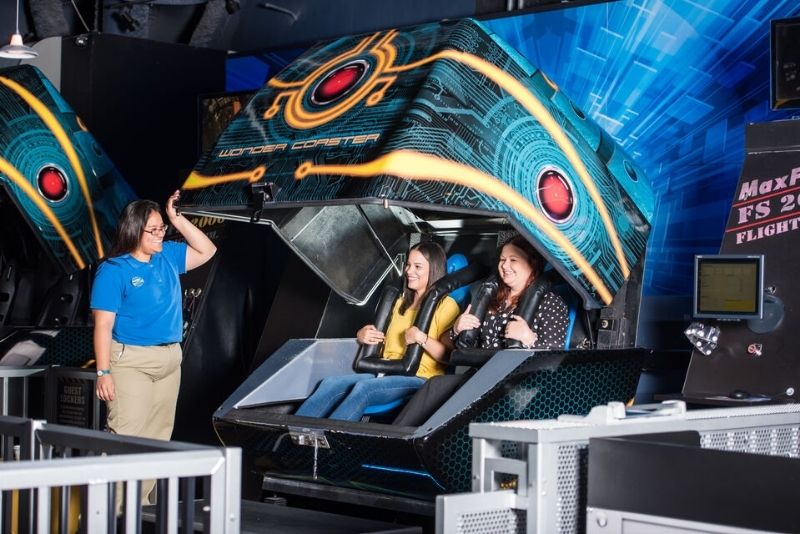 A one-of-a-kind experience, WonderWorks Orlando is an indoor amusement park for the mind that features over 100 hands-on and interactive exhibits for visitors of all ages — all in an upside-down house, if you don't mind.
As you walk in, you'll be greeted by three floors of nonstop "edu-tainment". From there, explore exhibits on natural disasters, the human body, space discovery, and a whole lot more.
Sure to engage parents and kids alike, there's also the Hurricane Shack that shows what it feels like to find yourself amidst gale-force wins, a 6D virtual reality simulator ride that will have your heart racing, a space where you can design and ride your own rollercoaster (the Wonder Coaster), a laser tag arena where you can put your competitive skills to the test, a ropes course that'll require both strength and balance, and a chance to create your own masterpiece in the onsite art gallery.
And if you get hungry during your visit (which is highly likely, given how much energy you'll be burning off), 35,000-square-feet WonderWorks has its own food court serving up tasty snacks and meals. Or, better yet, devour the all-you-can-eat pizza as you tune in for the nightly magic comedy dinner show!
You'll find this underappreciated indoor attraction on International Drive, just south of ICON Park, making it an easy addition to any day of wandering about the tourist hot spots. If you're looking for something to do afterward, consider popping into iFly for some indoor skydiving, or see what's on at the nearby Orange County Convention Center.
24 – Aquatica Orlando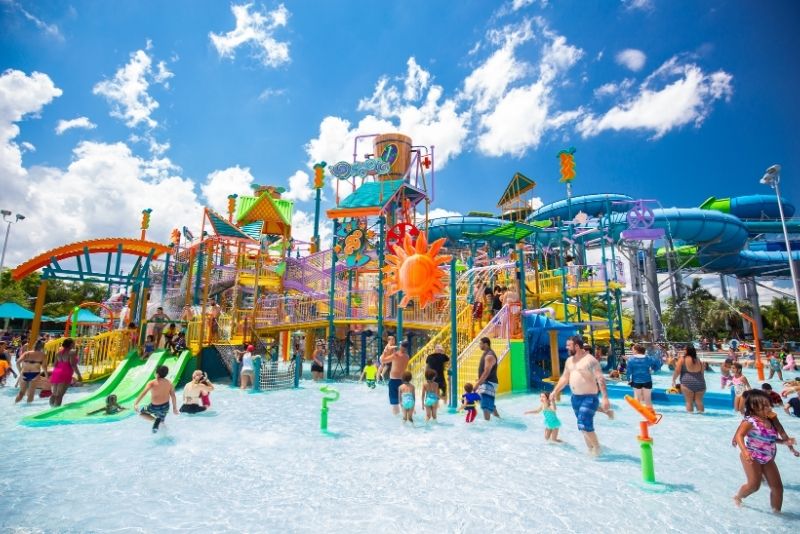 Dishing up fun in the sun for the entire family, Aquatica Orlando is a water park like no other, offering guests the chance to experience up-close encounters with some of the world's most amazing animals.
From stingrays and sharks to sea lions and dolphins, there are plenty of opportunities to get wet and wild at this one-of-a-kind attraction. And, if you're brave enough, you can even take a dip with the dolphins and penguins!
With slides, rivers, and pools galore — totaling no less than 42 thrilling water rides ±— Aquatica Orlando is the perfect place to cool off on a hot day. Or, even if the day's weather isn't all too flash, with heated water running through the park year-round, a great day out is guaranteed regardless of the forecast.
And, when you need a break from the action, you can take a seat and enjoy one of the trainer-led Marine life shows or relax in one of the many cabanas or enjoy a bite to eat at one of the onsite restaurants!
Thrill-seekers, take note: As the tallest, steepest, and only multi-drop tower slide of its kind in Orlando, Ihu's Breakaway Falls (jump in the right-hand funnel), is a must for the get-drenched bucket list.
25 – Giraffe Ranch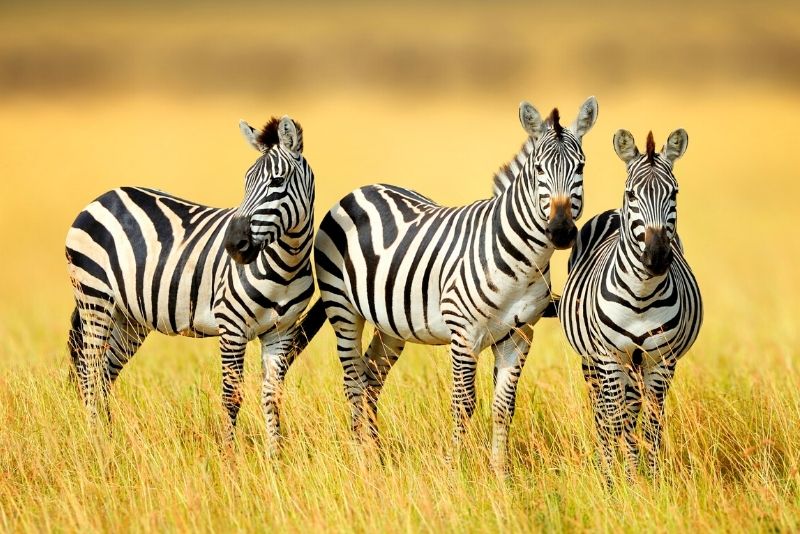 A slice of the Serengeti in the heart of Central Florida's Green Swamp Wilderness Preserve (about an hour's drive from Orlando), Giraffe Ranch offers visitors the chance to come nose-to-neck with some of the world's tallest animals.
Home to over a hundred reticulated giraffes, as well as zebra, buffalo, watusi cattle, and other exotic hoofstock from around the globe, this 500-acre ranch is one of Florida's most unique attractions. And it's not just about getting up close and personal with the animals: There are also nature trails to explore on foot, segway, or camel, an animal petting area where kids can hand-feed otters and lemurs (and maybe even get a hug!), a gift shop, picnic areas… you name it!
Undeniably, the main event is the hour-plus safari ride — with a friendly driver at the helm, you'll be guided throughout the ground and given the rare chance to meet these wild beasts up close. If you're lucky, you can personally feed giraffes and pet a camel or two while learning all about the critters' ecosystems!
While, at over $100, it might seem a little on the pricier side, ask yourself: when will you ever get the chance to give a few rhinos a bath in America? If you're crafting a list of Orlando theme parks worthy of a visit, despite the drive, this place is non-negotiable.
26 – ZooTampa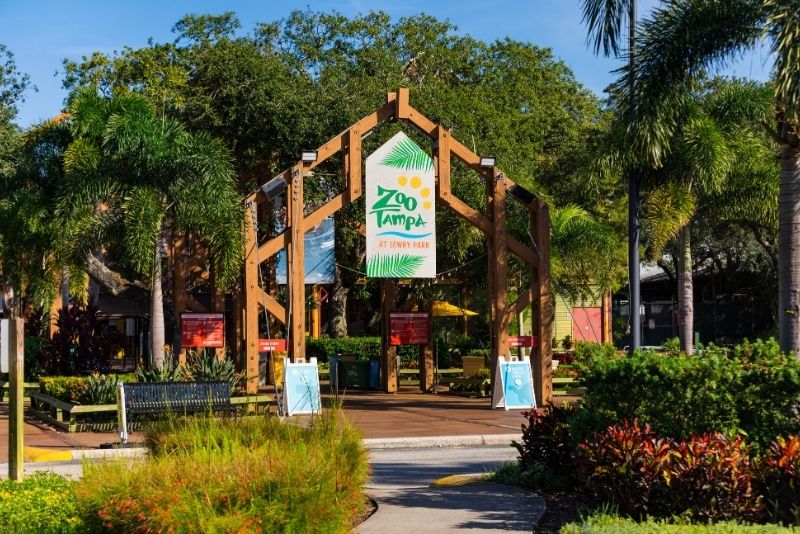 The stomping ground of over 1,300 animals from all over the world, ZooTampa is a must for any animal-lover, voyaging family, or nature-seeker visiting Orlando and looking to get away from the hustle and bustle of I-Drive for a day.
From elephants and tigers to gorillas and kangaroos, this expansive zoo has it all — plus a few surprises (like the free-flight aviary and petting zoo). If you're looking to get up close and personal with some of nature's most impressive creatures, look no further.
This world-class attraction also offers a number of behind-the-scenes tours (for an additional fee), where you can learn about the inner workings of the zoo and get to know some of the staff who work tirelessly to ensure that the animals are well taken care of.
And, if you need a break from walking, there's always the chance to take a ride on the Expedition Wild Africa tour bus for a guided tour around the 63-acre park or cool off at the Roaring springs log flume ride.
Despite everything aforementioned, this is still far from your typical zoo. Home to a range of events, like ZooBrews — where you can be gluttonous with bottomless food and drink alongside live music and the chance to meet the animals — and yoga classes in the African savannah, there's never a dull day. Just check the website to see what's on during your trip.
27 – Island H2O Live! Waterpark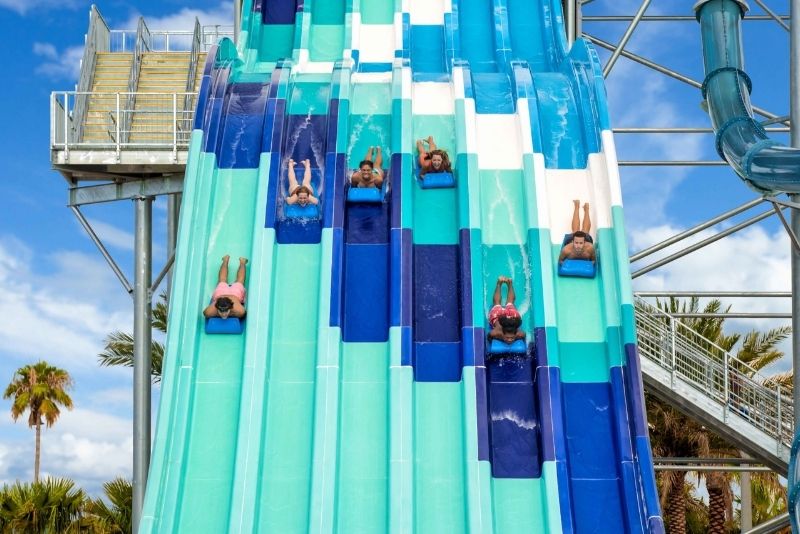 A crowd favorite waterpark, but not as you've seen before, Island H20 Live is an experience that the entire family can enjoy with plenty of excitement and relaxation — all themed around the modern-day social media and internet obsession!
As the first and only waterpark of its kind, this cutting-edge and Insta-focused attraction boasts dozens of slides, a lazy river, private cabanas, and an expansive pool area that will make you feel as if you're on a (slightly) more exotic vacation.
Whether you're catching some waves on one of the many slides or just chilling in the lazy river, there's no doubt that this is one of the premier Orlando theme parks (well, technically it's just around the corner in Kissimmee, but we'll still count it).
A common qualm with waterparks — unless you're a family who wants to let the kids run loose — is exactly that, long lines full of school-aged kids. Thankfully, H20 has heard the cries and has created an adults-only area exclusively for guests 21 and up, where live DJs pump the tunes at the wave pool!
Island H20 Live also offers cabanas and deck chairs throughout the park so you can relax in between rides without having to worry about your belongings. And, if hunger strikes, never fear! There are multiple restaurants located both inside and outside of the park to choose from with options for everyone.
28 – Orlando Starflyer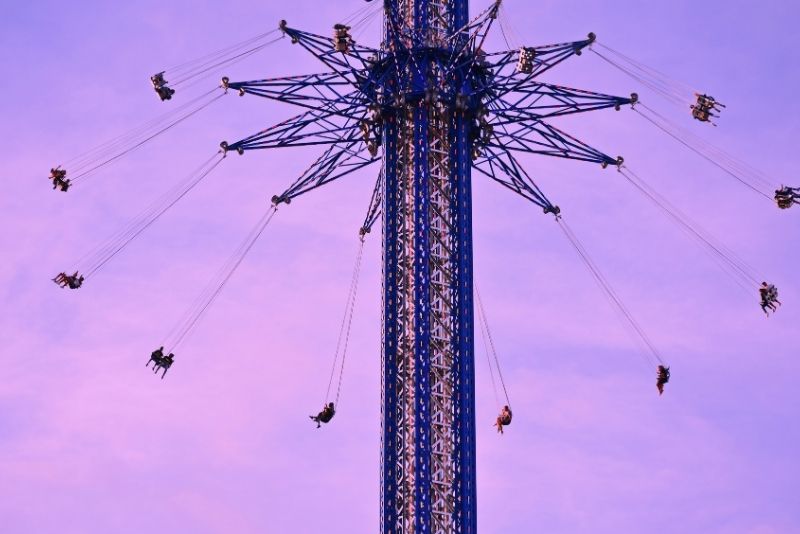 Craving an adrenaline rush? Look no further than the Orlando Starflyer! Towering over 450 feet in the air, this massive swing ride will have you soaring through the sky at speeds of up to 45 miles per hour, enjoying 360-degree views of the area along the way and guaranteed to have you yelling your lungs out as you twist and turn your way through the balmy Orlando air.
Tickets for the Starflyer are priced affordably too, meaning that you aren't just scoring an unforgettable experience (that just so happens to offer stunning views of the city, the Wheel at ICON Park, and the Orlando theme parks in the distance), but also excellent bang for your buck — allowing you to keep a few dollars spare to splurge at the on-site Star Bar.
You'll find the Starflyer — which officially owns the title of The World's Tallest Stand-Alone Swing Ride — located right next to Ripley's and Sleuths Mystery Dinner Shows, on I-Drive, making it an easy addition to any evening of exploring the ICON Park area. And, if you happen to be galavanting around I-Drive on a debaucherous night out, the attraction stays open until 2 in the morning!
29 – Old Town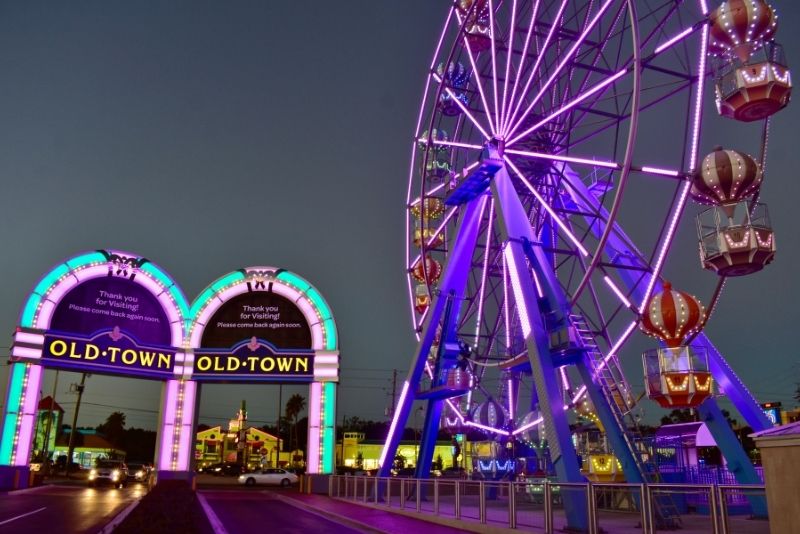 Not to be confused with the historic section of Downtown Orlando, Old Town is actually a theme park — and a mighty underrated one at that!
Spanning across 10 acres, this park is packed full of classic amusement park rides and games as well as live entertainment, making it the perfect place to spend a few hours looking for old-school family fun.
With boardwalk-style streets reminiscent of 1950s Florida, 8 restaurants to choose from for a spot of dinner (Flippers Pizzeria has been around since 1987 and is a justified crowd favorite), and no less than 75 specialty stores full of quirky keepsakes and souvenirs (with dedicated beef jerky outlets and a place where you can dip your feet int a tub of garra rufa fish for a ticklish pedicure like no other), not to mention its iconic Ferris Wheel, Old Town is a must-visit for anyone looking for an authentically Floridian theme park experience. Throw in the 5-story-tall Hurricane roller coaster, wit-testing escape room, and the Xtreme Ninja Challenge ropes and climbing course, and it's easy to see why this joint has become an adored locale.
Hot tip: for all you diehard petrolheads out there, be sure to pop into Old Town on Saturday from 1pm, when The Old Town Classic Car Show – a revved-up collection of hot rods – takes center stage.
30 – Orlando Tree Trek Adventure Park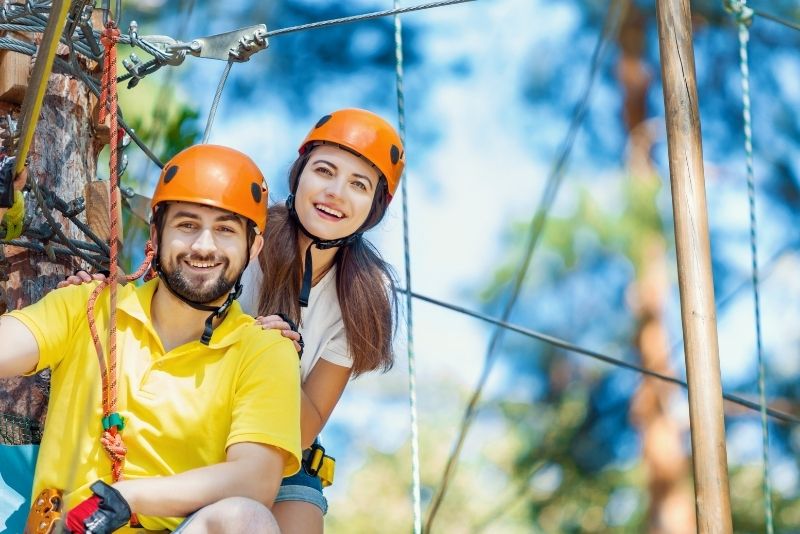 For a spot of immersive nature in an otherwise concrete-laden city, look no further than the action-packed Tree Trek Adventure Park.
This family-friendly attraction is made up of a series of high ropes and zip lines courses that take you on a journey through some of Central Florida's lush forestry, with a 425-foot plunging zip-line focal point thrown in for good measure.
With six different courses to choose from (each with varying degrees of difficulty, and the tallest of which sits 50 feet above the pine forest), as well as standalone activities such as rock climbing walls, balance beams, and swings, whether you're a teenage adrenaline junkie, a family looking for a bit of a group challenge, or a thrill-seeker who wants to tackle every single one of the 97 tricky elements, Tree Trek delivers entertainment in spades — even for the timidest adventurers in your group!
Worried about safety? Don't be! Whether you're gearing up for the cargo nets, swinging logs, or Tarzan-style rope swings, all participants are kitted out with state-of-the-art harnesses before being given a comprehensive safety briefing by the friendly and professional staff.
Found down in Kissimmee, about 15 minutes from the Walt Disney World Resort and 30 minutes from Downtown Orlando, Tree Trek is easy to get to but guarantees an unforgettable day out in the open air.
31 – LEGOLAND® Florida Resort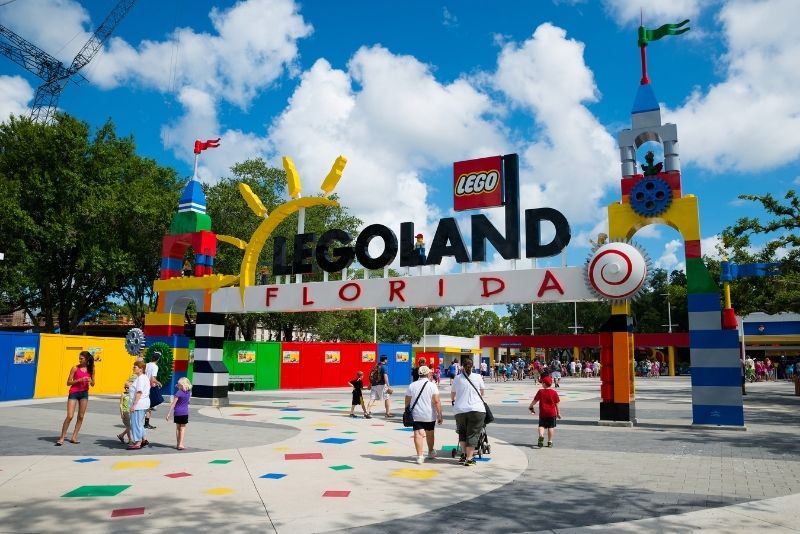 A 150-acre paradise for the younger set (or, let's face it, the young at heart), LEGOLAND® Florida Resort is a theme park, water park, and hotel all rolled into one giant ball of outdoor brick-themed entertainment!
As you'd expect from LEGO®, there are plenty of building-based rides and attractions — more than 50 in fact — as well as an impressive Miniland USA featuring iconic landmarks from across the States, made entirely out of everyone's favorite colorful bricks.
Designed to delight families with kids aged 2 to 12, but not forgetting about the playful parents either, there are heaps of opportunities to get involved in some hands-on fun with LEGO, including classes on how to build certain characters or objects, meaning that even if you don't have kids in tow, you can still enjoy getting stuck into some creative action.
Topping it off, the revered resort also boasts its very own on-site 5-acre water park ideal for those sizzling summer days (which is included in the price of your ticket), a near-century-old botanical garden, as well as a LEGO-themed hotel if you want to make a real weekend of it. Why stay at the hotel, you ask? Besides being literally 130 steps away from the front gate, the hotel also offers nightly kid's entertainment, free workshops, and ensures you'll get all the energy you need with a daily breakfast buffet.
You'll find this family-oriented attraction over in Winter Haven, an off-the-beaten-track area that sits about halfway between Orlando and Tampa, a cruisey 45 minutes by car.
32 – Peppa Pig Theme Park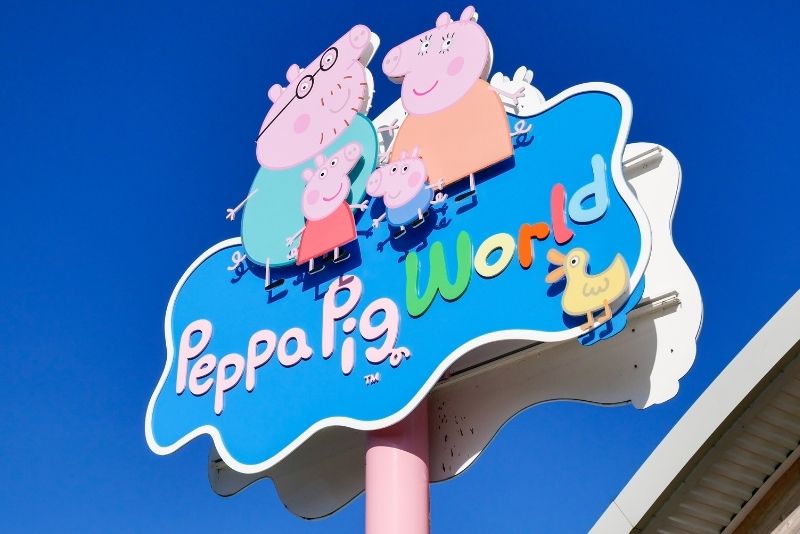 A surefire hit for the little ones, the first-ever Peppa Pig World of Play will transport your mini porkers right into the cartoon characters' much-loved animated and playful world.
Found in Winter Haven, a stone's throw from LEGOland (did someone say back-to-back theme park visits?), this 2022-opened park made headlines, promising to deliver "the ultimate day out for preschoolers". And, as any parent who's had the privilege of taking their youngsters there will attest, it hits that nail smack-bang on the head.
With six piggy-themed rides, another six play areas, and splash zones to cool off during the toasty summer days, as well as a selection of shops and restaurants, this is one theme park that's guaranteed to leave the little ones (and their appreciative parents) oinking for more.
While the park has been designed primarily with preschool kids in mind, there are plenty of activities that the whole family can get stuck into together, leaving mamma and daddy pigs squealing in delight alongside their youngsters — just to name a few, Muddy PuddlesSplash Pool, Grampy Rabbit's Dinosaur Adventure, and Daddy Pig's Roller Coaster are sure to delight!
33 – Discovery Cove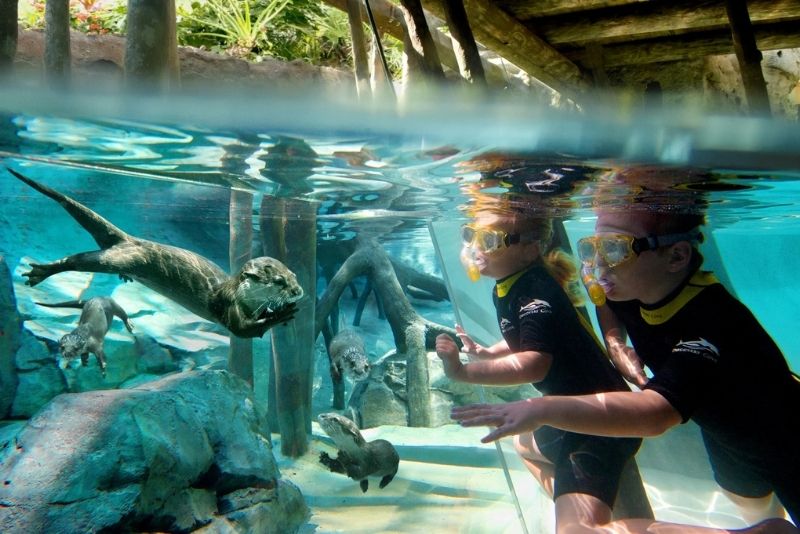 If you're on the hunt for a reprieve from the fast-paced lifestyle of the chart-topping Orlando theme parks (looking at you, Disney and Universal), then look no further than Discovery Cove, an idyllic ocean oasis that offers a unique and exclusive opportunity to swim with dolphins — and that's just the tip of the iceberg.
As the name hints, here you'll be able to explore all sorts of underwater worlds, come nose-to-nose with colorful fish in the coral reef, and even hand-feed exotic birds while learning all about them from the friendly staff.
And if that's not enough aquatic action for you, there's also an exhilarating snorkeling experience waiting to be had amongst thousands of tropical fish at The Grant Reef (plus you can get up close and personal with those aforementioned dolphins).
In addition to the watery wonders on offer, guests can also enjoy peaceful walks around the park's picturesque pathways, relax on one of the poolside deck chairs (cold beer or wine in hand for those 21+), or take a break from the stresses of life with a relaxing wade down the Wind-Away River.
With no lines throughout the park (yes, you read the right), underwater walking tours, and even the chance to swim with sharks for those brave enough, this lesser-known theme park allows guests of all ages to connect with nature in a way that few other Orlando theme parks can match
Hot tip: as the sister resort to SeaWorld Orlando, Aquatica Orlando, and Busch Gardens Tampa Bay, consider shelling out for one of the 14-day unlimited entry packages — if you're planning to see them all, it will save you a few bucks, not to mention the hassle of multiple bookings.
Where to stay in Orlando?
Fortunately, no matter your budget or stylistic taste, myriad diverse accommodation options await in Orlando.
If you're looking for luxurious digs that put the "resort" in theme park resort, there are a plethora of world-class properties to choose from, including Disney's Grand Floridian Resort and Spa, Universal's Portofino Bay Hotel, and 4-star Loews Sapphire Falls Resort, and SeaWorld's Renaissance Orlando Resort.
For non-resort-affiliated rooms that ooze luxury and sophistication, any of the Embassy Suites by Hilton, Hyatt Regency Orlando (tucked away conveniently next to the airport), or Rosen Plaza ought to do the trick.
On the other end of the spectrum, if spending loads on a place to lay your head is simply not an option, never fear – there are plenty of affordable motels and hotels scattered around town as well. Just to name a few, the Comfort Inn, Avanti International, and Monumental Movieland all come in at affordable rates without being too far from the thick of the action.
For those who prefer to "rough it" a bit, there are also a handful of campgrounds in the Orlando area, such as Disney's Fort Wilderness Resort & Campground and — relaxing and very off the beaten track — the Westgate River Ranch Resort & Rodeo.
That's a wrap!
We hope you've enjoyed our selection of the best Orlando theme parks! If you have any other must-see suggestions for kids or adults alike — whether that be in Orlando itself or nearby in Kissimmee or Tampa, feel free to let us know in the comments!
Need a break from theme parks? Make sure to check our list of fun things to do in Orlando besides theme parks.
Before you go, if you've got a few days on either side of your trip, why not extend the vacation and see more of what the Sunshine State has to offer?
With a bounty of attractions in Jacksonville, Tampa, St. Petersburg, Clearwater Beach (a sun-seeker's paradise if we don't say so ourselves), Daytona Beach (home of the illustrious Daytona International Speedway), and St. Augustine (the oldest city in the country), you're sure to find something to whet your appetite!
As always, happy travels (and say hi to Mickey Mouse for us!).