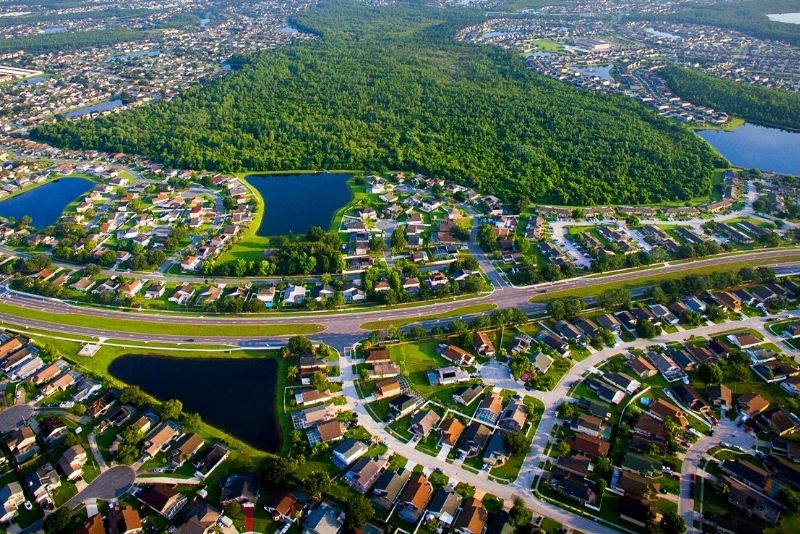 As its larger and more famous neighbor Orlando shines brightly in the tourist spotlight each and every year, renowned for its world-class theme parks, endless entertainment, and non-stop shopping opportunities, Kissimmee remains a hidden gem when it comes to central Floridian tourism.
Boasting all the perks of being a stone's throw from Orlando — Disney, Universal, Legoland, and the rest — yet smaller crowds, oft-cheaper hotels, and the serenity of Lake Toho on its doorstop, most travelers are pleasantly surprised by the diversity and excitement of all the things to do in Kissimmee.
Not sure where to start your trip? Need some help planning the adventure of a lifetime? Then read on!
1 – Kick off your trip at Fun Spot America!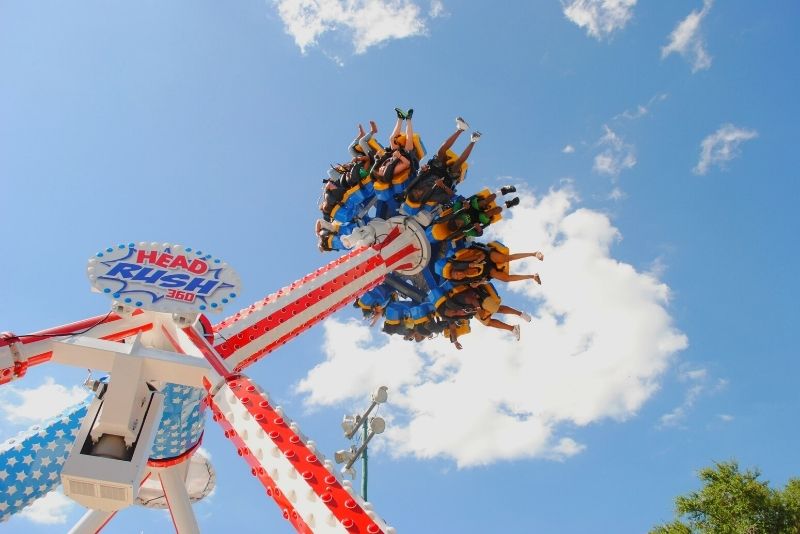 Not to be confused with Fun Spot Orlando (but with just as many laughs and thrills to be expected), Fun Spot America is a theme park for those who want thrills without the chaotic crowd levels of Disney.
Put the pedal to the metal as you zip around the enormous, multi-level go-kart tracks; hold on for dear life as you twist and turn at high speeds on the thrilling Galaxy Spin; or literally turn your world upside down on Headrush 360.
Of course, for something a little tamer, there's also plenty of classic Midway games and kid-friendly rides like the Crazy Couch or Ferris Wheel.
2 – Zoom down the slides at Island H2O Live!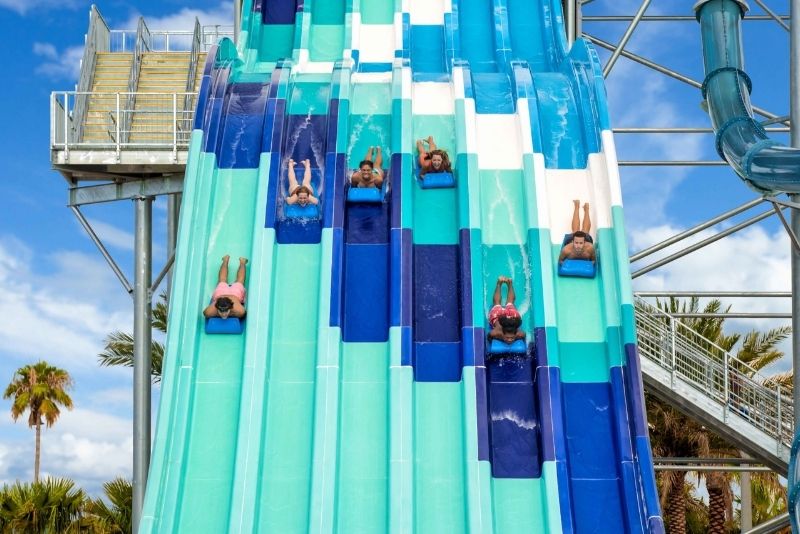 As one of sunny Florida's newest theme parks, Island H2O combines our favorite water rides with the latest technology and innovation for an enjoyable day in the sun.
Unlike most water parks, H20 Live! is a distinctly modern experience: themes of social media and internet-savvy entertainment dominate.
With an enormous wave pool, a variety of slides (some daringly dark), and even a surf simulator that lets you feel what it's like to ride waves on your own body, there's something here for everyone
3 – Spy some gators on a Boggy Creek airboat ride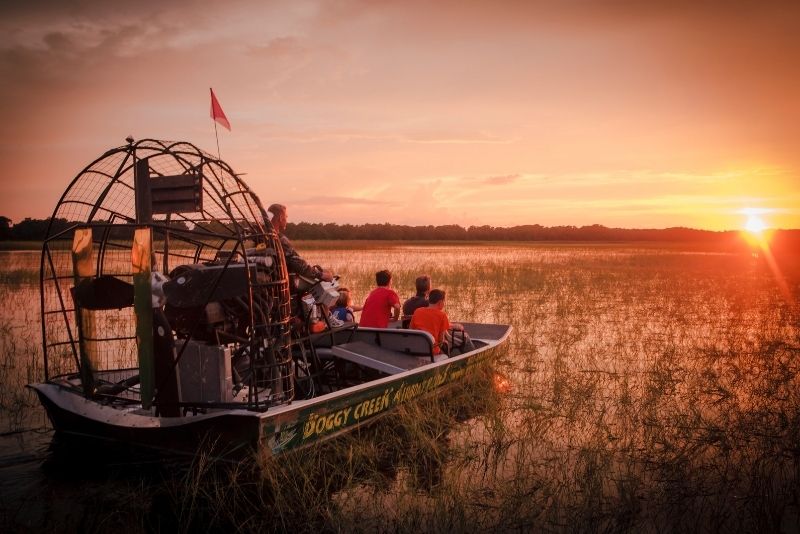 Ever wanted to see a gator up close? Or experience the swampy wilderness of Florida's Lake Tohopekaliga?
If so, then this is your chance as you take an airboat ride around the boggy creeks (hence the name). Along the way, keep your eyes peeled for herons or otters, or even an ominous gator lurking in the shadows.
Besides being arguably Florida's most authentic wildlife experience, the thrill of the airboat itself — which can transition from calm and slow to hair-raising in the blink of an eye — is a worthy experience in and of itself.
4 – Wander the streets of Old Town Kissimmee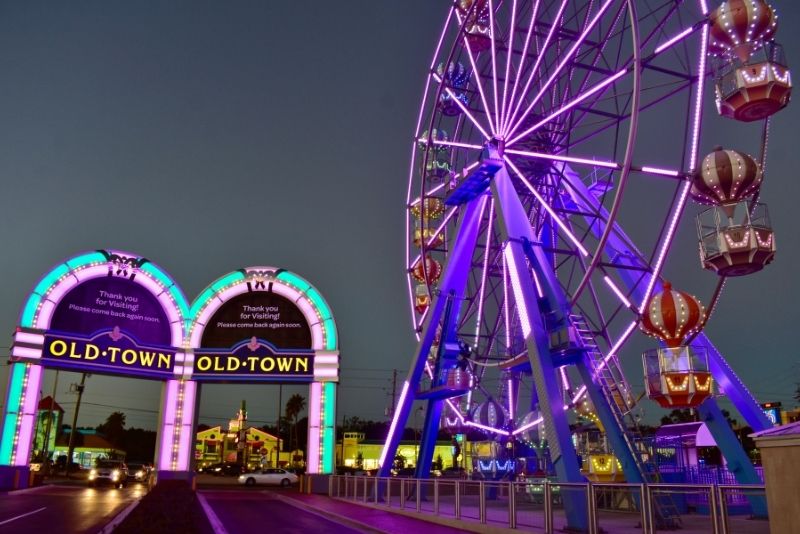 If you're looking for some of the most unique shopping and dining opportunities in the Orlando-Kissimmee region, then the quaint Old Town Kissimmee is an absolute must-see.
Home to over 75 different restaurants, shops, and entertainment options, plus old-school games and the highly-regarded Saturday Classic Car Show among a host of other events, there's never a dull moment in Old Town.
5 – Take to the skies with Stallion 51!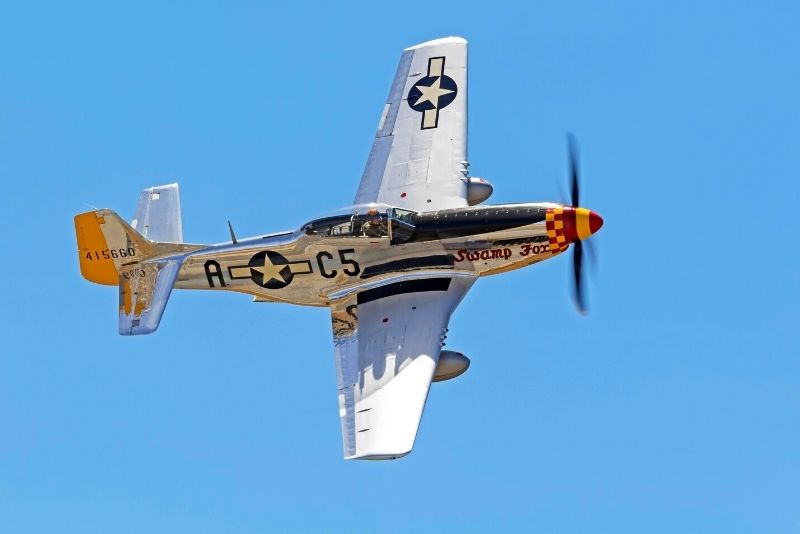 To all the aviation nuts and thrill-seekers, take note.
For more than 30 years, the Stallion51 Corporation has been taking locals and tourists alike into the skies via an exciting range of training programs, orientation lessons, and scenic flights.
With an emphasis on WWII planes, particularly Mustangs, Texans, and the L39 Turbojet, plus an impressive air show, it's certainly worth stopping in.
6 – Drift around corners at Kissimmee Go-Karts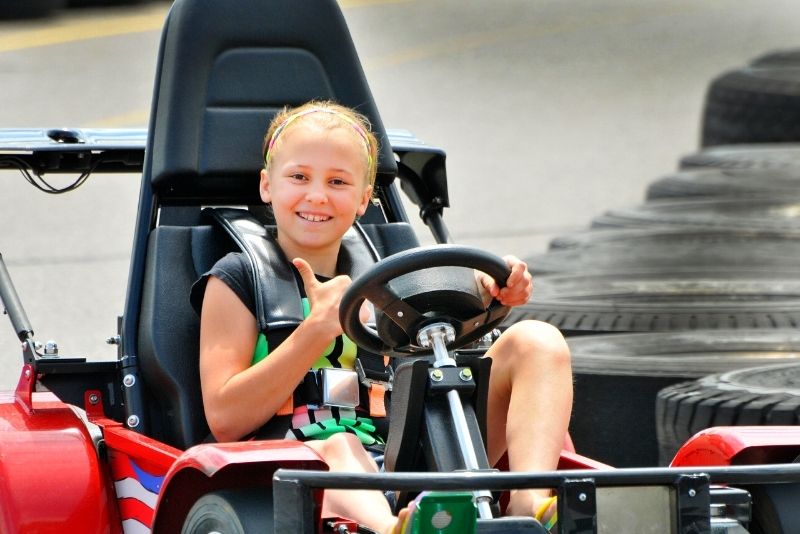 While a handful of theme parks in the area include a go-kart experience, the fact of the matter is none of them can compare to the nearly-1-mile long outdoor track at Kissimmee Go-Karts — the longest track in Central Florida!
Combine that with over 50 arcade games like Ms. Pac-Man and Galaga, plus a pool full of real alligators, and you've got yourself quite an adventurous afternoon ahead.
7 – Take a stroll through Kissimmee Lakefront Park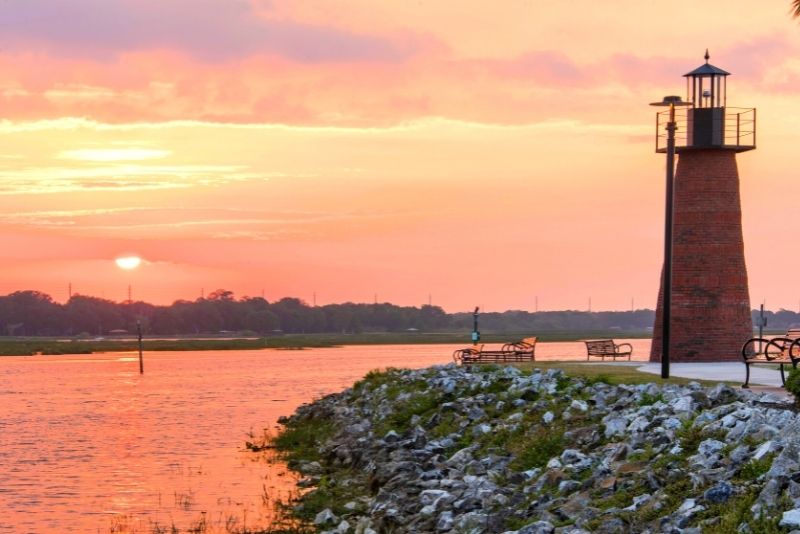 Kissimmee Lakefront Park is a beautiful place to escape the heat and hustle of Orlando.
With breathtaking views overlooking the calm waters of Lake Toho, picnic areas, a fishing pier, playgrounds and a splash zone for the kids, and a selection of walking and jogging trails, there's no shortage of things to do in this gorgeous oasis.
8 – Race against the clock at The Escape Game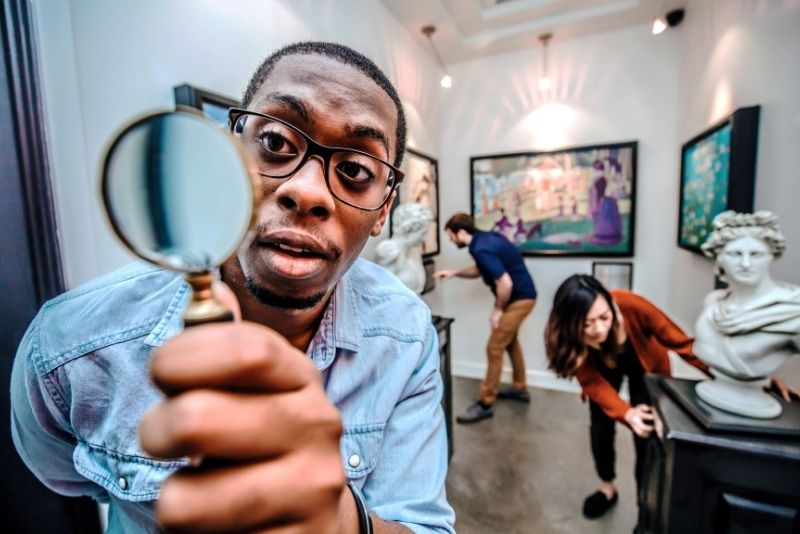 Over on International Drive in neighboring Orlando, The Escape Game is not your average puzzle room.
In this real-life Sherlock Holmes experience, you and your team will work together to crack codes, solve puzzles, find clues, and complete missions in order to get out as winners before the clock ticks down.
With themes like Prison Break, Gold Rush, Special Ops, Mission: Mars, and The Heist, there's no shortage of challenges awaiting.
9 – Watch reptilian beasts wrestle at Gatorland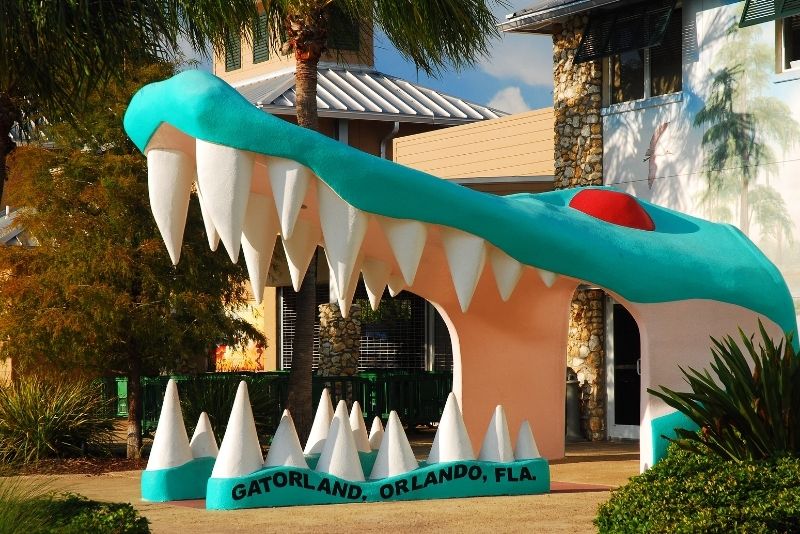 You want gators? You got 'em!
The bucket list-worthy attraction for those animal enthusiasts who want nothing more than to see these terrifying (yet misunderstood) reptiles in the flesh is Gatorland, a 110-acre park full of exhibits and attractions all about these apex predators.
Visitors can even experience the fun through various wildlife shows, including an alligator wrestling performance!
10 – Satisfy your cravings at the Chocolate Kingdom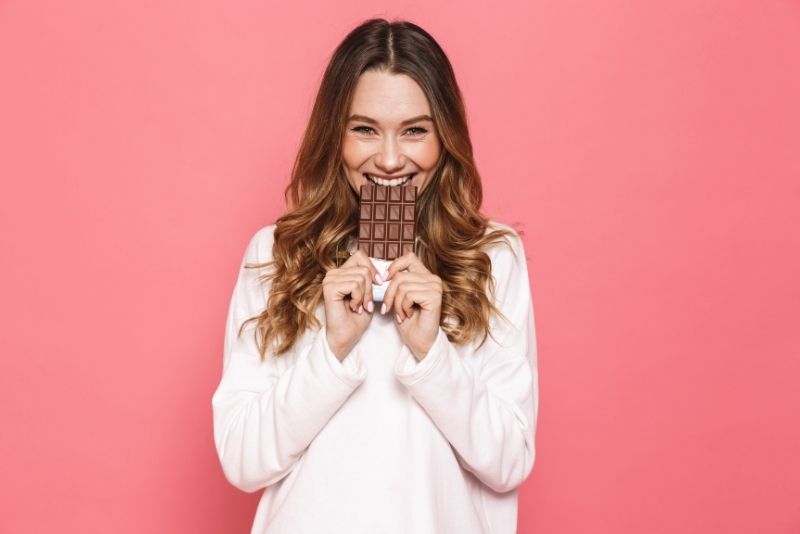 If you're a sweet tooth, the Willy Wonka-esque Chocolate Kingdom is without a doubt one of the most deliciously enjoyable things to do in Kissimmee.
Part museum, part factory, 100% good times, visitors embark on an interactive journey through a chocolate world, led through the Cacao Tree Greenhouse, Chocolate Museum, Mystical River of Chocolate, and Bean-to-the-Bar Factory.
Leave some room for dessert because there'll be plenty of taste tests!
11 – Admire the memorabilia at the Museum of Military History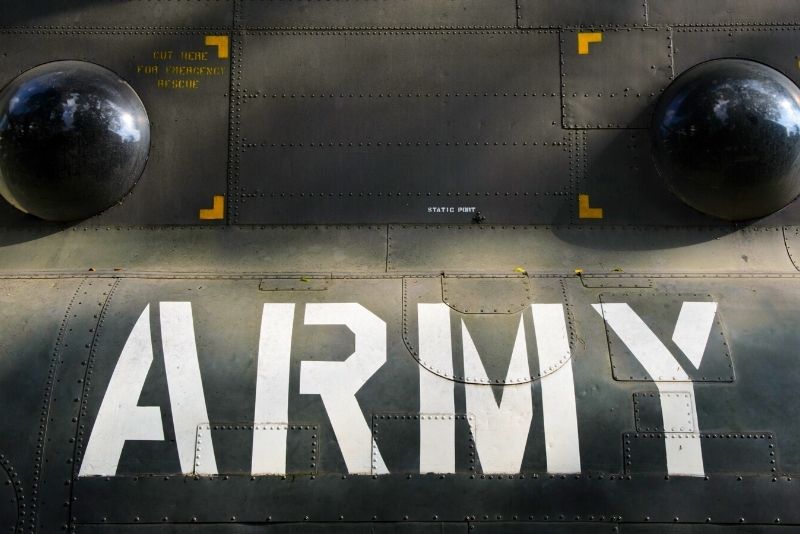 One for the history buffs, the Museum of Military History is the place for anyone fascinated by the stories of the brave men and women who have served in America's armed forces, offering hours worth of fascinating reading, listening, and watching.
Expect to see pieces from the Civil War and World War II, through to more recent conflicts like Vietnam and Desert Storm.
Curious visitors can get up close and personal with a variety of military vehicles on display, including tanks and artillery pieces.
12 – Sink a hole-in-one at Pirates Island Adventure Golf, Kissimmee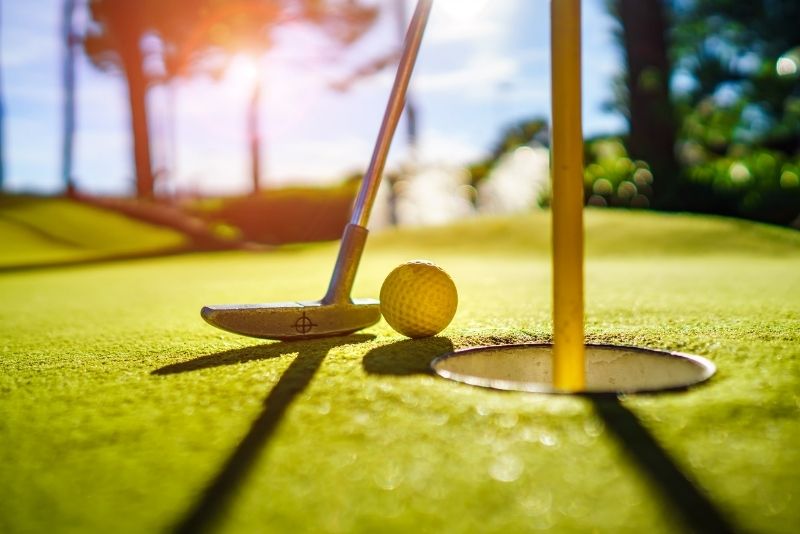 For anyone traveling with kids, Pirates Island Adventure Golf is a great spot to spend an afternoon.
This family-friendly well-decorated mini-golf attraction has two 18-hole courses, with waterfalls, caves, rolling greens, and pirate ships all around to add that extra enjoyment factor.
13 – Take the family to SeaWorld Orlando!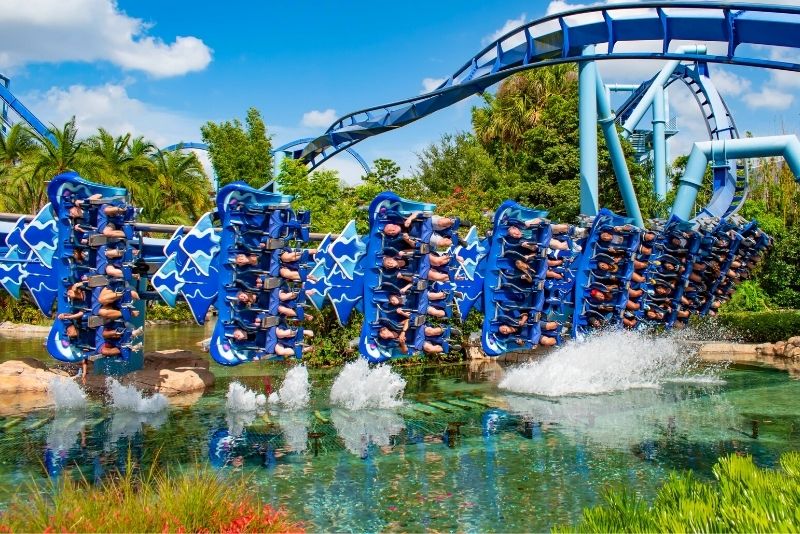 One of the most famous theme parks in the country, SeaWorld Orlando is the place to visit for thrills, chills, and marine-themed fun in the sun.
The giant marine park is home to an array of interactive attractions, animal meet-and-greets, and live shows including the world-famous Orca Encounter and the Sesame Street Parade.
For thrill-seekers, don't miss the Mako roller coaster as well as the Journey to Atlantis, and for the more impatient, be sure to grab a skip-the-line pass.
14 – Head out on a fishing tour!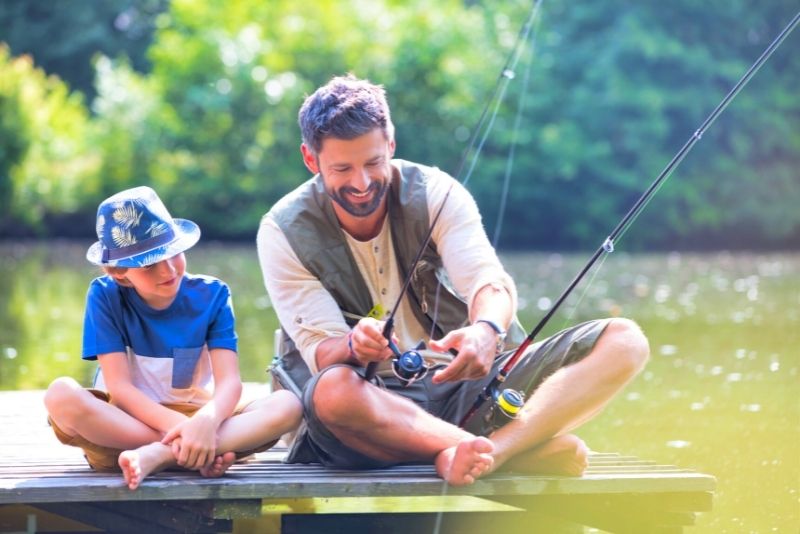 For those with a keen interest in marine life, there's no better way to spend an afternoon than by soaking in the sun, cold drink in hand, on the deck of a fishing vessel.
While inland, Kissimmee is close to a range of fishing hotspots: stay local and reel in some trophy bass with a half-day adventure on Lake Tohopekaliga, or arrange a day trip to Clearwater Beach and the Gulf of Mexico!
15 – Swing like monkeys at Orlando Tree Trek Adventure Park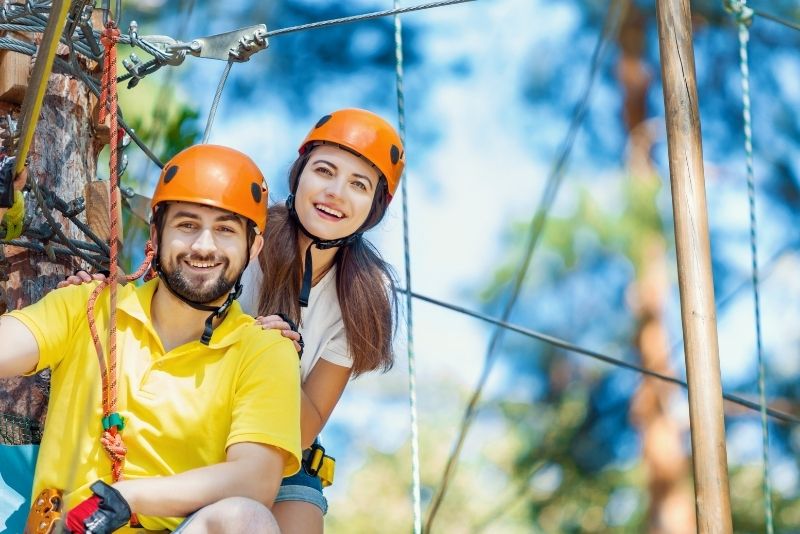 For the outdoor enthusiasts and Tarzan wannabes, the open-air Orlando Tree Trek Adventure Park is a haven for those with an insatiable appetite for adventure.
With zip-lines (some of which are 50 feet high), giant cargo nets, swinging logs, ropes courses, and heart-racing trapeze swings spread across 15 acres of sprawling wilderness, visitors will be taken aback by the range offered here.
16 – Go kayaking or paddleboarding at Shingle Creek Regional Park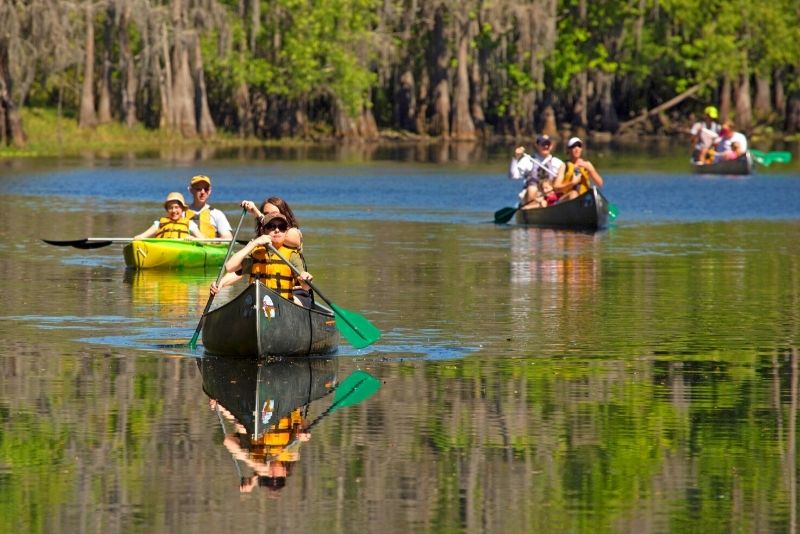 Spanning some 1,000 acres, and easily accessible for anyone staying in Kissimmee or Orlando, this vast woodland and swampland region has everything from peaceful walking trails and picnic areas to canoeing, kayaking, and paddleboarding opportunities.
If you consider yourself an avid hiker, the 32-mile Shingle Creek Regional Trail that stretches all the way to Wekiva Springs State Park is definitely worth consideration.
17 – Soar over central Florida in a hot air balloon!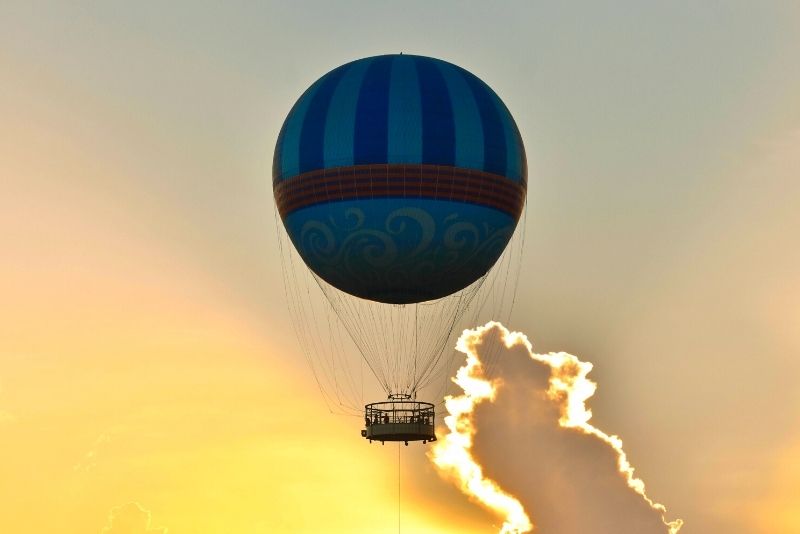 For a bird's-eye view over the fields and forests of Kissimmee, Orlando, and far beyond, book a sunrise ride in a hot air balloon — the perfect mix of peace and adventure.
Balloon companies offer everything from flights for one or two people to romantic couples' packages complete with champagne, strawberries, and chocolates.
To top it off, not only is the FAA-certified pilot focused on safety and enjoyment, they're also tourism experts and will be happy to point out all of the impressive attractions as you fly over them.
18 – Learn about war-era planes at the Kissimmee Air Museum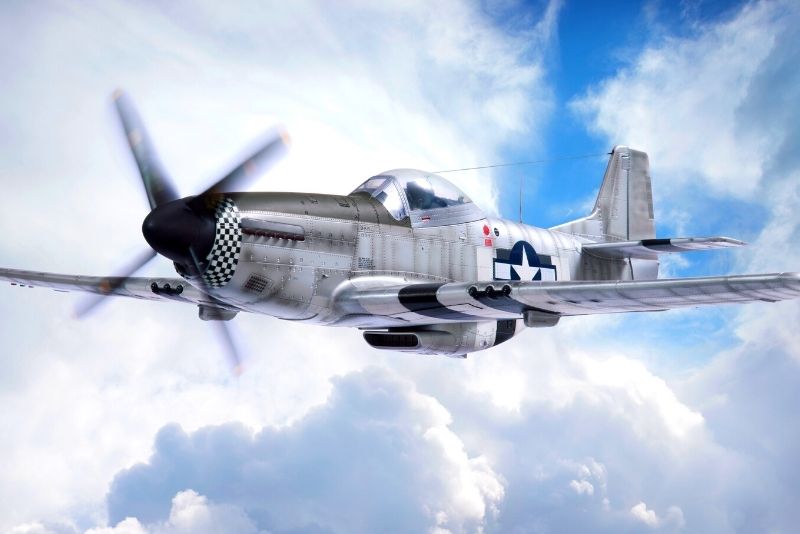 For a decidedly more educational experience, the Kissimmee Air Museum is an interactive and well-preserved museum that celebrates aviation history, with a particularly fascinating insight into the history of military aircraft highlighted by an authentic P-51 XR Mustang.
The expansive outdoor space features dozens of historic aircraft on display, as well as offers introductory flight lessons.
Explore the 4 parks of Walt Disney Resort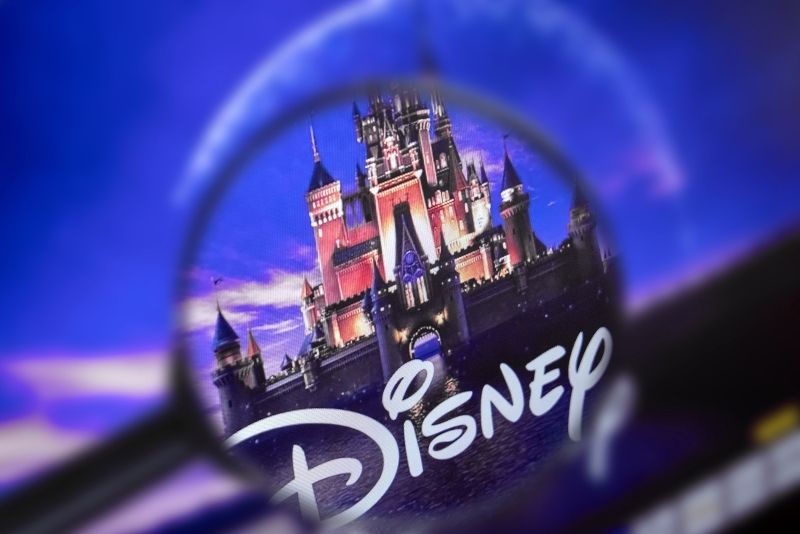 Easily the most popular theme park in the country and the top-rated attraction in Florida, Walt Disney World is a bucket-list destination for tens of millions of people from all walks of life.
The complex dishes up everything from enchanting fireworks displays to Broadway-quality live productions, exhilarating roller coasters and thrill rides, and magical entertainment executed to immaculate detail in every direction you look.
Despite often simply dubbed "Disney World", the Orlando resort is actually made up of four separate main parks: Magic Kingdom, Epcot, Hollywood Studios, and Animal Kingdom.
Choose from single-day entry, multi-day, skip-the-line, or VIP guided access — either way, Disney World promises to be utterly magical. Which park should you start at? Read on…
19 – Magic Kingdom Park (1/4)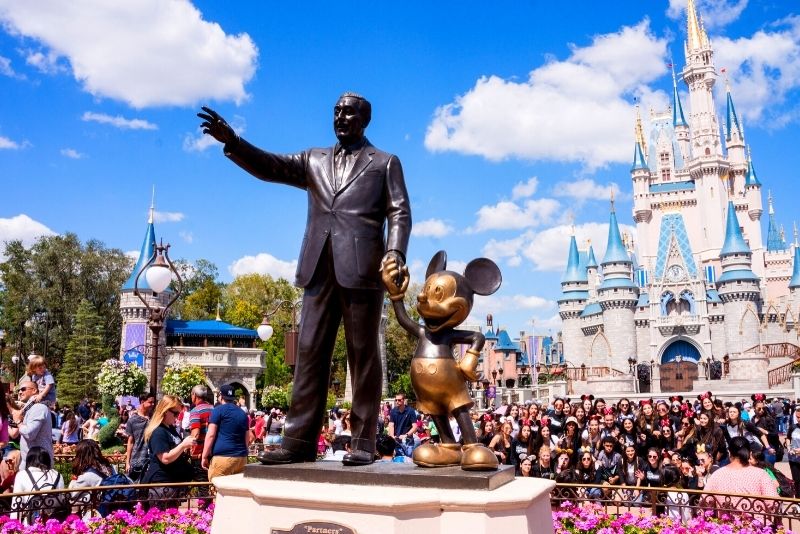 The original Disney Park, Magic Kingdom is a must-visit for the intrepid traveler who's keen to experience everything Walt Disney World has on offer.
Complete with Main Street USA and Cinderella Castle at its heart, it also features 50 acres of beautiful gardens, not to mention thrilling attractions such as Splash Mountain and Space Mountain that make this a day out to remember.
Many of the rides here are geared towards a younger audience (though there's plenty for adults too), so it might be best as an introduction if you're traveling with children in tow, or taking little ones on their first Disney adventure.
20 – Epcot (2/4)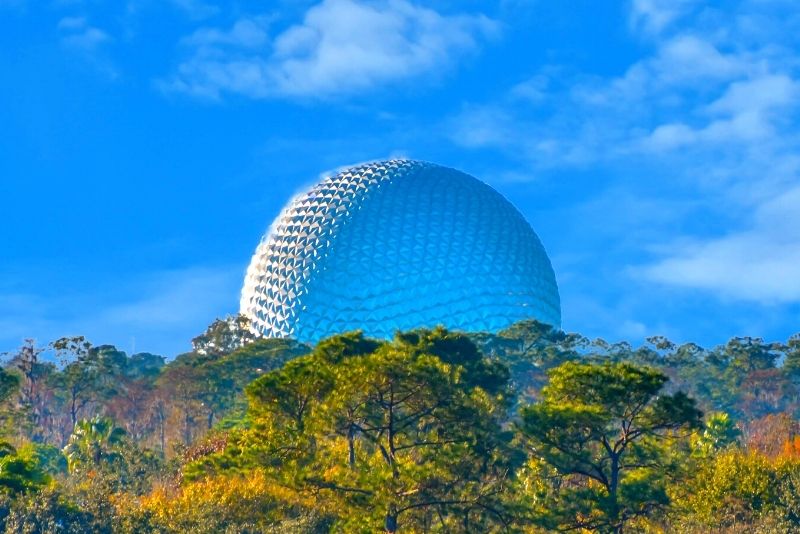 If you're looking for a Disney park that's perhaps filled with more culture and sophistication, then Epcot Park is your best bet.
Originally intended to be an experimental community of tomorrow (hence its name, which is an acronym for Experimental Prototype Community of Tomorrow), it encompasses 11 different "countries", complete with food stalls from around the world, attractions like Mission: Space and Living with the Land, and a distinctly futuristic vibe.
Keep in mind that, at nearly double the size of Magic Kingdom, you'll be doing a LOT of walking.
21 – Hollywood Studios (3/4)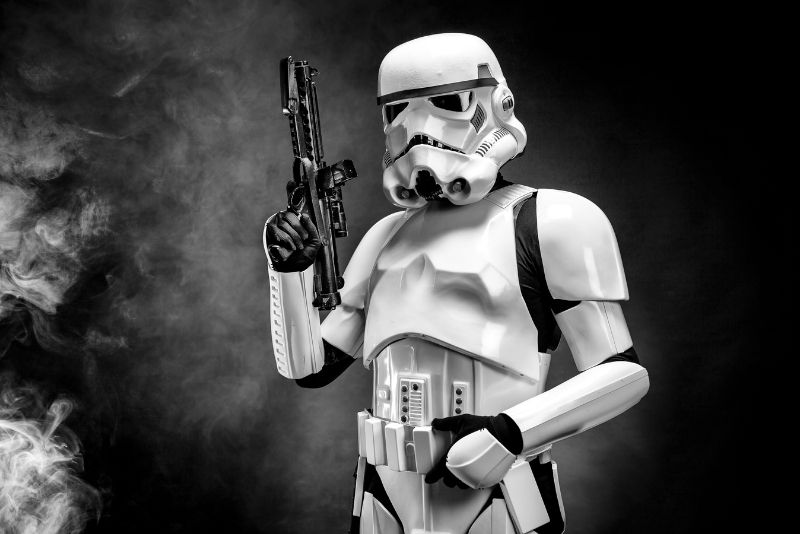 If you love the movies and want to experience them in a whole new way, then Hollywood Studios, a fun-filled testament to animation and live-action film-making, is your Disney destination.
As well as being home to some of the best rides out there — Toy Story Mania!, Rock 'n' Roller Coaster Starring Aerosmith, Twilight Zone Tower of Terror — this park also has some of the best character-themed rides around. For example, take a spin with Mater and Lightning McQueen in Cars Land or brush elbows with Woody Woodpecker on Woody's Kidzone Coaster!
Hot tip: Be sure to check out the all-new Star Wars: Galaxy's Edge section!
22 – Disney's Animal Kingdom (4/4)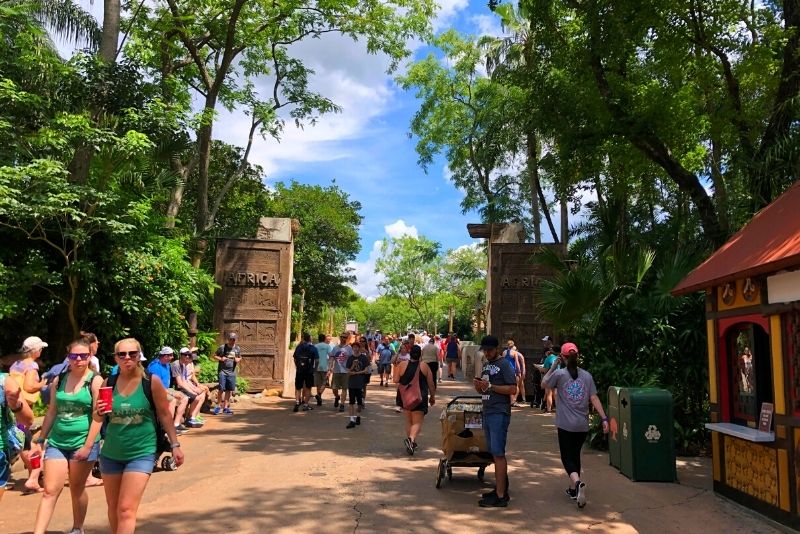 If the idea of getting up close and personal with some exotic creatures appeals to you, then head over to Disney's Animal Kingdom, home to the African savannah, Amazon Jungle, and Asian wetlands all in one.
As well as being home to the famous Kilimanjaro Safari, where you can spot animals including giraffes and lions, this park is also host to some of Disney's most entertaining and family-friendly rides: soar through the sky on Avatar Flight of Passage before riding Expedition Everest, just to name a couple.
23 – Shop and dine at Disney Springs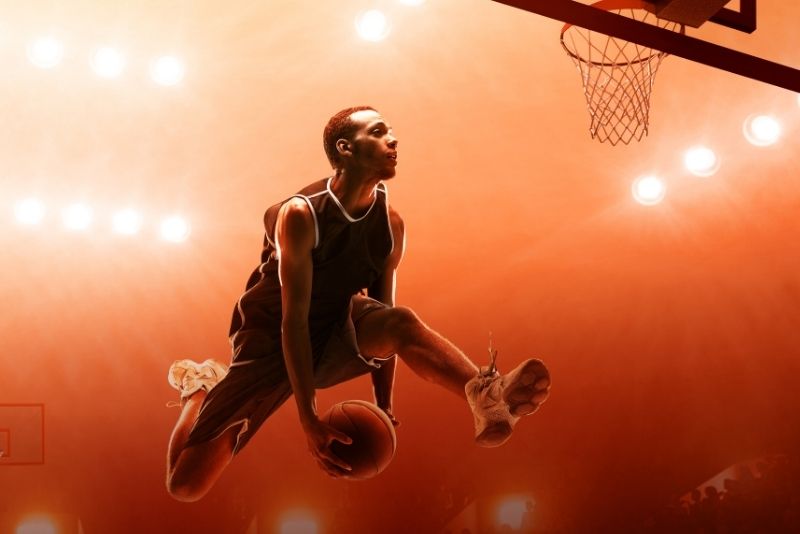 Travelers often overlook Disney Springs in favor of the big four parks, but it's actually a great spot for shopping and dining.
Featuring venues like The LEGO Store, World of Disney Shopping Center, and T-Rex restaurant (not to mention the likes of Rainforest Café), this is an excellent spot if you're looking to mix things up with some retail therapy before, say, heading to Hollywood Studios.
Plus there's the added bonus of Disney Springs being home to some fantastic restaurants like Morimoto Asia (the only place you'll find Iron Chef Masaharu Morimoto in Orlando) and The Boathouse — so don't forget it when you're planning your trip!
24 – Spot seahorses at SEA LIFE Orlando Aquarium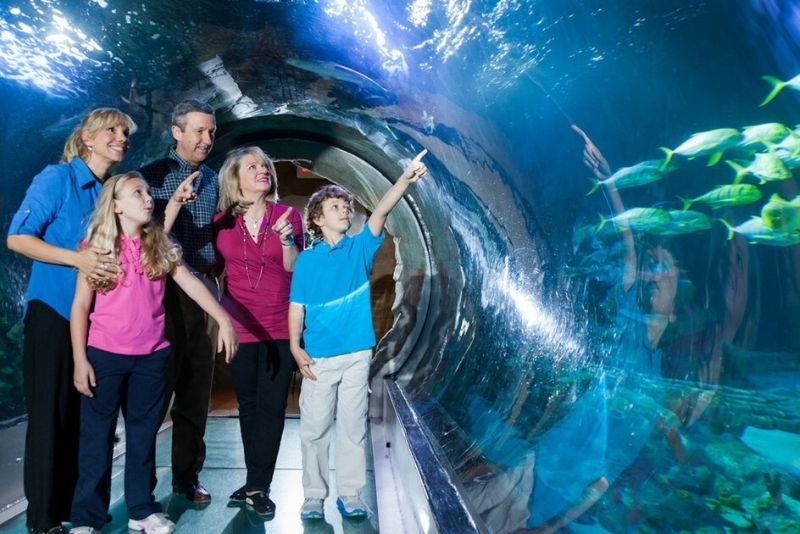 Found in the popular ICON park in Orlando, the SEA LIFE Aquarium is an underwater adventure that's sure to thrill any traveler, no matter their age.
As the stomping ground of over 5000 unique species (hailing from the Pacific, Atlantic, and Indian oceans), you'll be able to meet sharks, stingrays, and sea turtles up close, walk through an immersive 360-degree ocean tunnel, and witness a range of exciting live animal feeding shows.
25 – Spend 18 minutes above the city on The Wheel at ICON Park™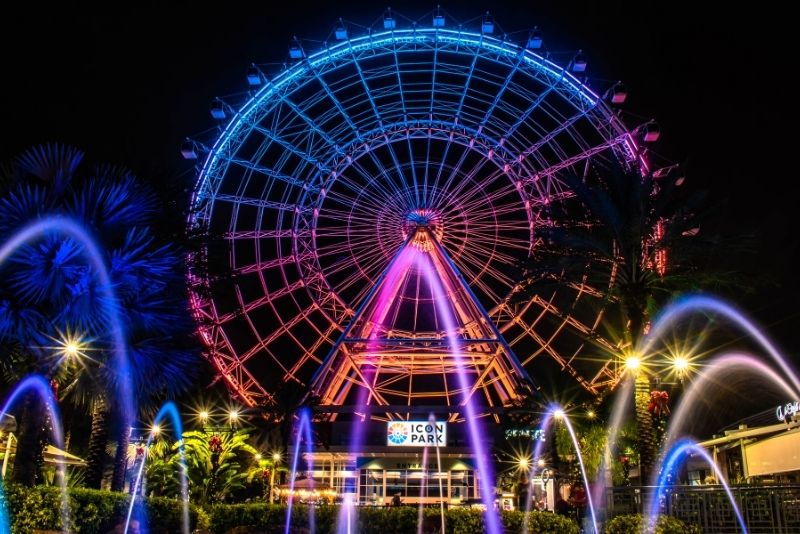 If you're feeling brave enough, this 400-foot tall Ferris wheel (officially the tallest of its kind on the East Coast) offers spectacular views of I-Drive, the nearby theme parks, and greater Orlando beyond.
For the partiers, head to the ICON Park Sky Bar; and for the luxury travelers, consider a VIP option.
Hot tip: if you're planning on visiting SEA LIFE, The Wheel, and/or Madame Tussauds, buying a combo ticket in advance will save you a few bucks.
26 – Go fishing or biking at Lake Tohopekaliga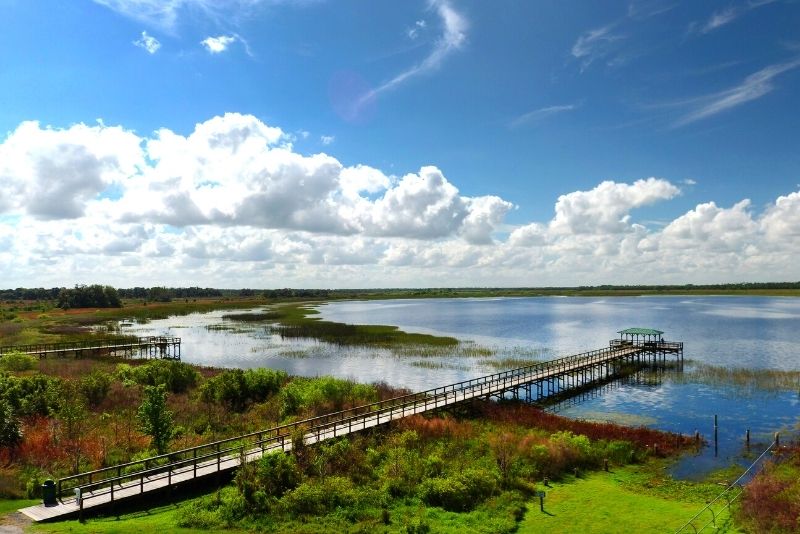 If you feel like your Florida trip is missing a bit of nature, then head to Lake Tohopekaliga. With nearly 23,000 acres of water and over 40 miles of shoreline waiting for you, this lake offers fishing opportunities (famous for its giant bass) as well as hiking and biking trails overlooking the water.
A short drive from the main haunts of Kissimmee, it's an easy addition to any trip and a welcomed change of pace from the theme parks.
27 – Saddle up at Horse World Stables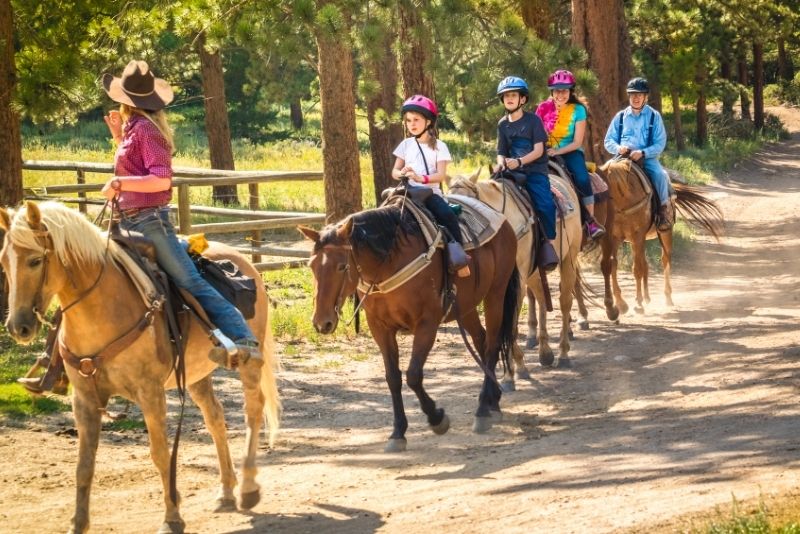 A wonderful way to get out and about in nature, ditching the inner-city crowd and traffic, the Horse World Riding Stables offer horse trail rides for all ages (as young as four); as well as lessons in riding, horse care, grooming, and more.
A family-friendly activity that's a guaranteed hit with kids — let the little ones unleash their inner cowboy or cowgirl!
28 – Dive into a world of color at the Crayola Experience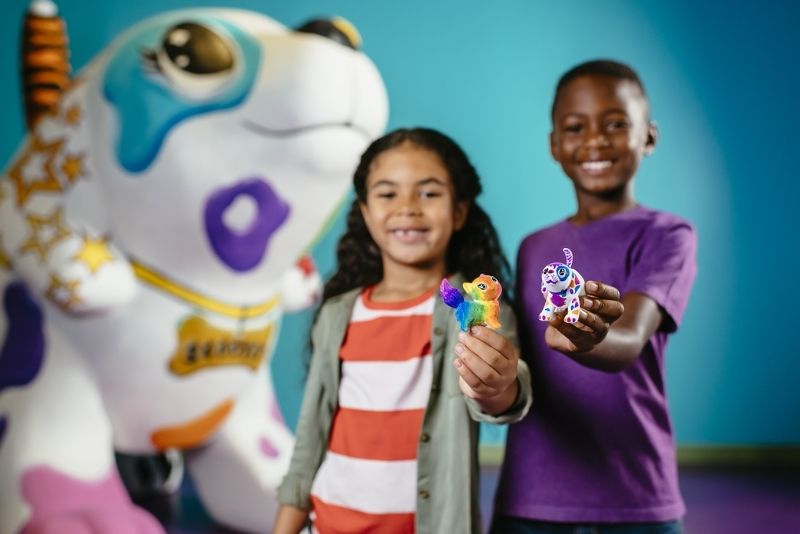 Featuring 27 interactive exhibits like the Crayon Factory Show, Melt & Mold, and Scribble Square where youngsters can literally draw on the walls, all spread across more than 70,000 square feet of bright colors, this Orlando-based attraction offers hands-on fun that's sure to keep children of all ages entertained for hours.
Plus, it's a great place for adults to get in touch with their inner child and unleash some creative energy.
29 – Step back in time at Titanic: The Artifact Exhibition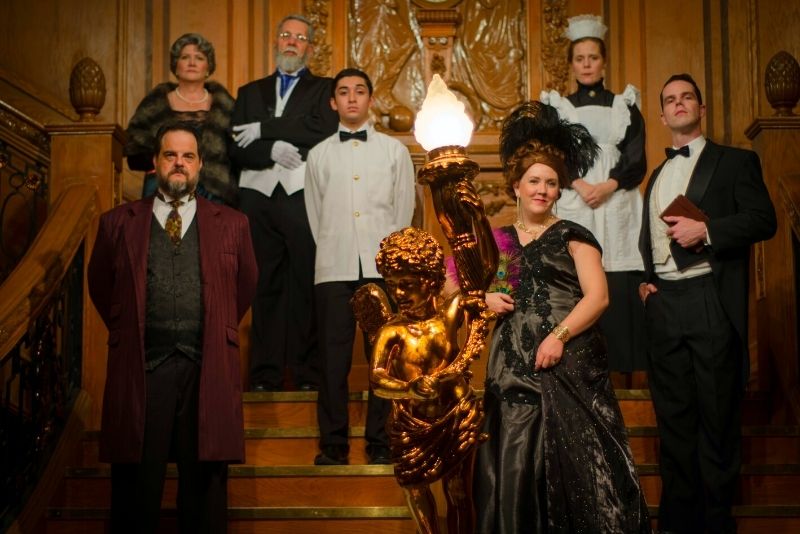 The Artifact Exhibition is a great way to learn about one of history's most famous, although most tragic ships: the RMS Titanic.
Although far more than just a museum of its lifeboats, paintings, and letters, the experience offers the chance to walk through recreated rooms, immerse yourself in elegance by dressing up for the dinner gala, and listening to costumed actors tell stories of the ill-fated ship and its passengers.
30 – Snap selfies with celebs at Madame Tussauds Orlando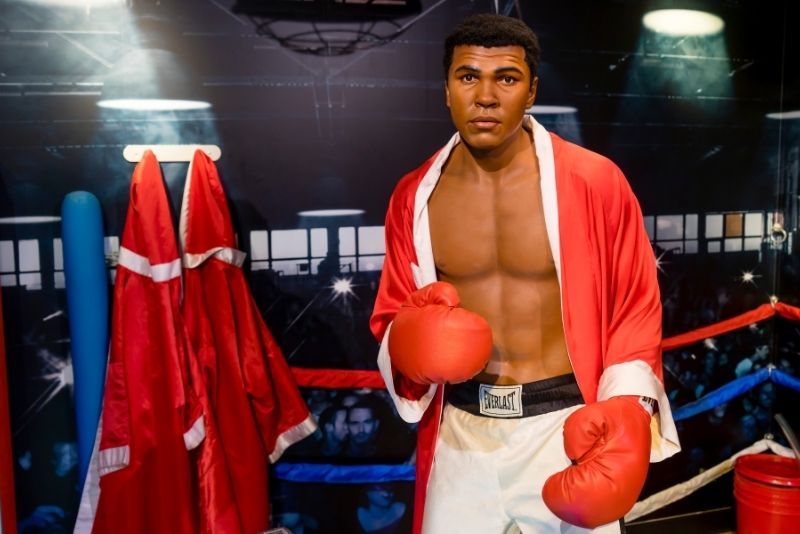 Want to trick your friends on social media into thinking you've just bumped into a celebrity? Then plan ahead and book a visit to Madame Tussauds' famous wax museum, home of eerily accurate life-size sculptures of the likes of Elvis Presley, Lady Gaga, and The Beatles.
Located in ICON Park by The Wheel, it's an easy addition to any day of exploring Orlando's I-Drive.
31 – See blacksmiths in action at the Pioneer Village in Osceola County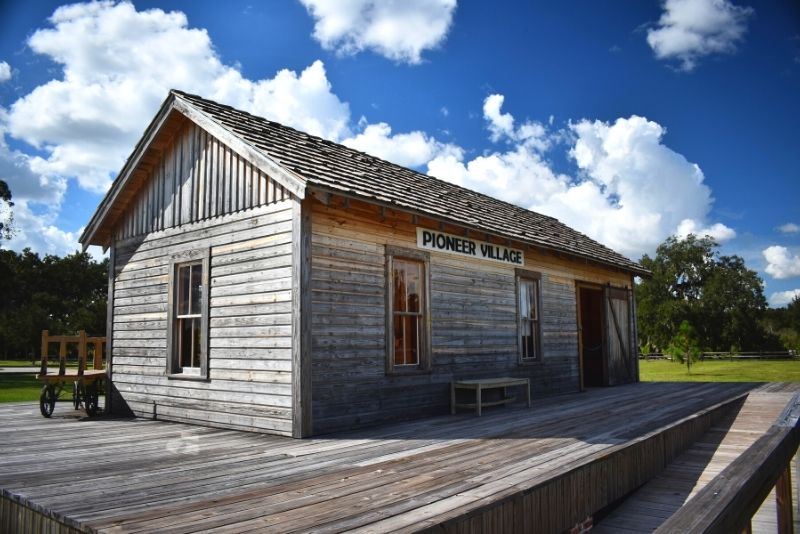 Set just outside of Kissimmee, Pioneer Village is a living history museum that preserves the heritage and lifestyles of Florida's early settlers.
Home to original pioneer homes and a small museum with artifacts — plus demonstrations from local artisans such as blacksmithing, pottery making, weaving, and cane grinding — it's an immersive opportunity to learn about Florida's little-known past.
32 – Swim with dolphins at Discovery Cove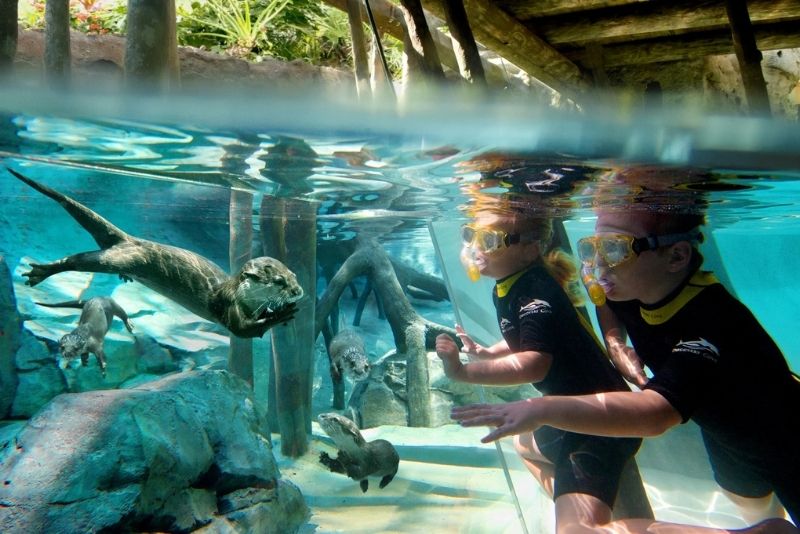 If you're looking for a day trip to get away from the crowds of Orlando and Kissimmee, while ticking off some truly bucket list-worthy activities (swimming with dolphins, anyone?) then look no further than Discovery Cove.
An all-inclusive day resort (meaning all the food and drink you could possibly shove down) and one of the world's premier dolphin swim-with attractions, Discovery Cove visitors can feed exotic birds, play with otters, relax on manmade beaches, snorkel with stingrays, and of course, swim with dolphins.
33 – Get sippin' at Formosa Gardens' Island Grove Wine Company
A grassy paradise on the edge of Kissimmee, Formosa Gardens is a cultural landmark known for hosting beautiful weddings and parties, but it's also home to some seriously good wine.
A calm oasis in an otherwise busy part of Florida, Island Grove features  7+ acres of lush botanical gardens and winding paths; plus a range of unique and flavorful fruit wines, traditional grape-style wines, and ice-cold craft beers.
To learn a thing or two, take a tasting tour of the wine-making area.
34 – Spend the day at Legoland Florida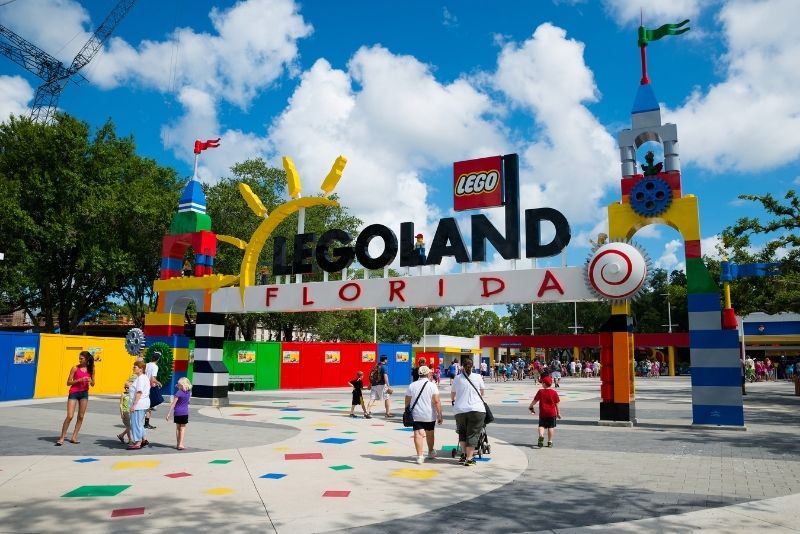 This one-of-a-kind place is more than just a theme park — it's a paradise for LEGO fans, with one of the largest Lego stores on the planet, over 50 Lego-themed rides, and a 5-acre water park to cool off during the summer.
The park is also home to one of the world's largest Miniland, where miniature versions of some of Florida's and America's most famous landmarks are constructed out of Lego bricks.
35 – Feel the freefall rush at iFLY Orlando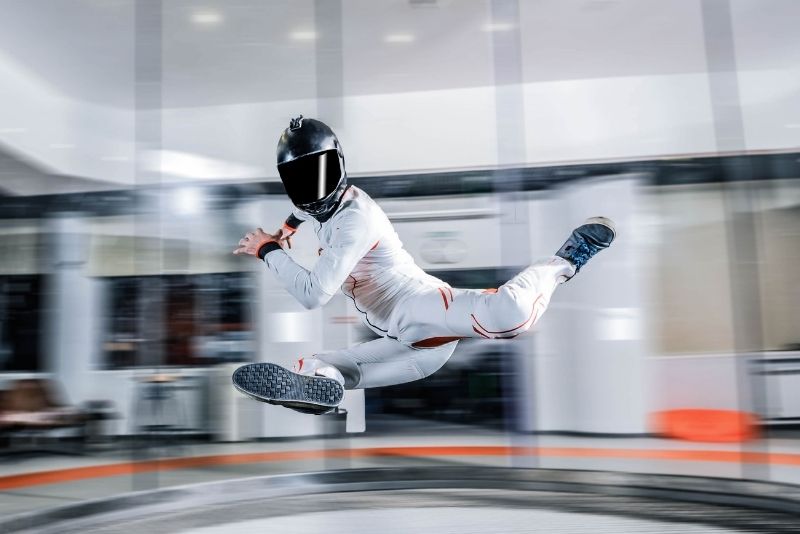 Seeking that adrenaline of skydiving but not quite ready to leap out of a plane? Then head to iFLY Orlando, one of America's most popular indoor skydiving centers!
With expert instructors on hand to show newbies the ropes, this is your chance to experience free-falling without ever leaving the ground — you'll be somersaulting and nosediving before you know it!
36 – Join an Everglades tour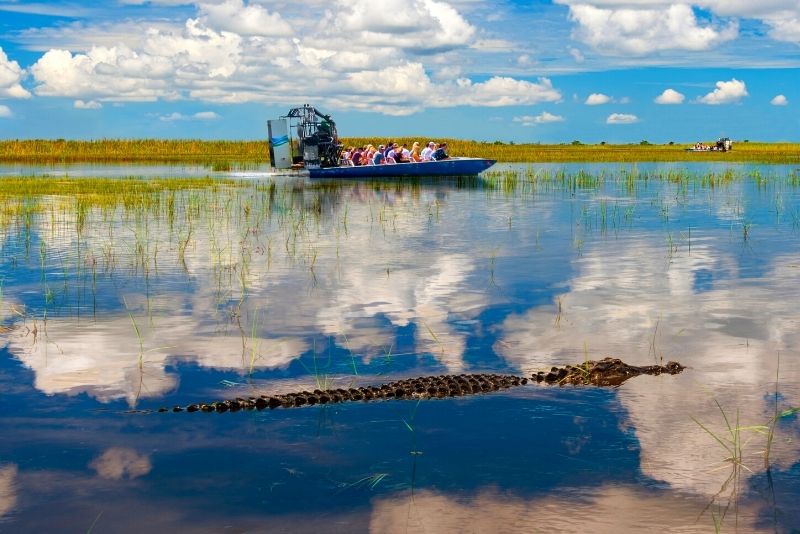 It's no secret that Florida is home to some of the most beautiful natural scenery in America. The Everglades National Park (just a short drive from Kissimmee) is one such gem, and its wildlife-rich wilderness is worth the visit.
There are plenty of ways to explore this vast biodiverse region, including boat tours with an expert guide, or scenic flights that offer views from above.
If joining an airboat adventure, keep your eyes peeled for alligators, turtles, birds and swamp snakes along the way!
Universal Orlando Resort
Primarily themed around famous movies and television shows — loved by both kids and adults alike — the Universal Studios Complex is second only to Disney in terms of annual visitors and size.
All up, Universal Resort is a 540-acre complex made up of three giant parks (Universal Studios Florida, Islands of Adventure, and Volcano Bay), plus the free-entry Universal CityWalk (but we'll touch on that one later on).
37 – Meet the Simpsons at Universal Studios (Universal park 1/3)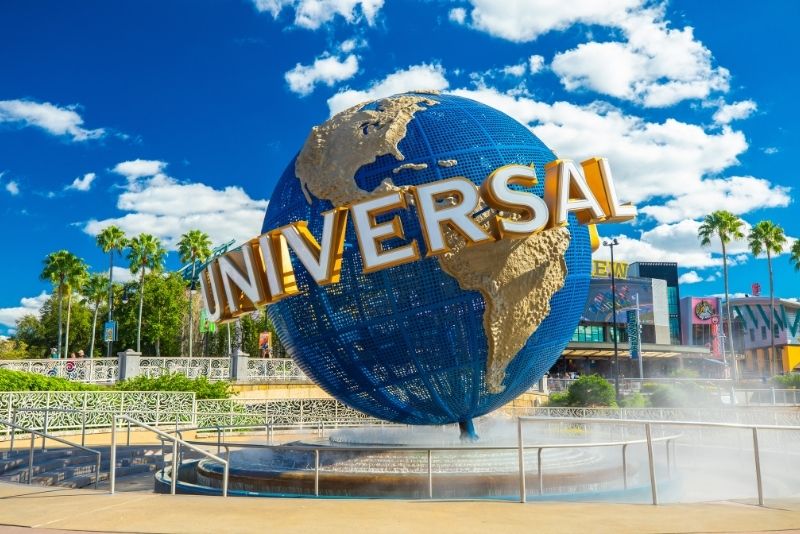 Easily one of the essential things to do in Kissimmee, the beloved Universal Studios theme park offers a whole bunch of family-friendly rides and attractions that leave guests feeling like they've stepped into their favorite movies and TV shows.
With a mix of old-school favorites (like Shrek's 4D Adventure) and newer attractions in the form of the Simpsons-themed Springfield USA, the opportunities for fun are endless.
Throw in The Wizarding World of Harry Potter (Diagon Alley), plus rides like Men In Black Alien Attack, The Mummy, and Despicable Me (just to name a few) and it's easy to see why over 9 million tourists visit every year.
38 – Ride the coasters at Islands of Adventure (Universal park 2/3)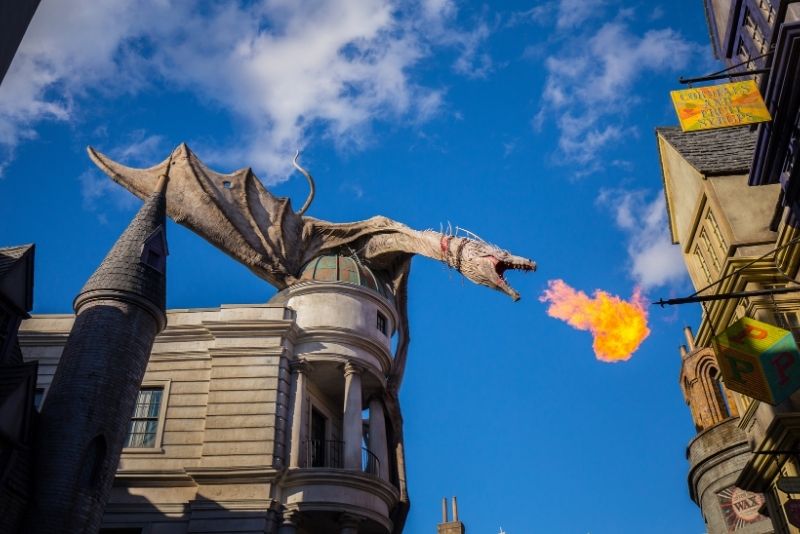 The second of three theme parks at Universal Orlando Resort, Islands of Adventure is best known for its many heart-racing roller coasters.
With the likes of The Incredible Hulk Coaster (which reaches a hair-raising 67 miles per hour) and The Amazing Adventures of Spiderman 3D dark ride, as well as an assortment of other entertaining attractions and live shows, guests will never grow bored during their visit!
A recent addition and non-stop hit, budding wizards and witches can also explore Hogwarts Castle and Hogsmeade Village at another section of The Wizarding World of Harry Potter.
39 – Cool off at Volcano Bay (Universal park 3/3)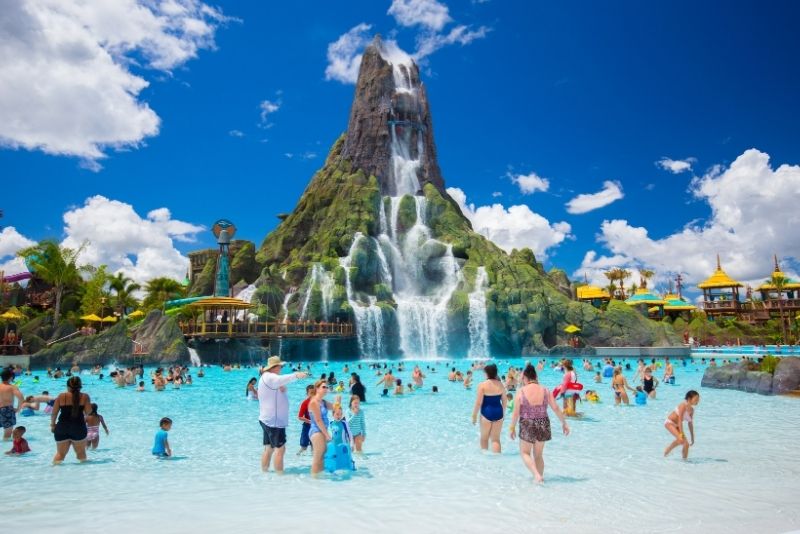 The third and final theme park at Universal Orlando Resort, Volcano Bay is a water park with the signature Krakatau Aqua Coaster, wave pool, and lazy river ride among a host of other splashtastic attractions.
Hot tip: As is the case with all the Universal parks, book online in advance to find the best prices and, if visiting during summer (peak season), consider a skip-the-line pass!
40 – Check out Busch Gardens: A zoo with a difference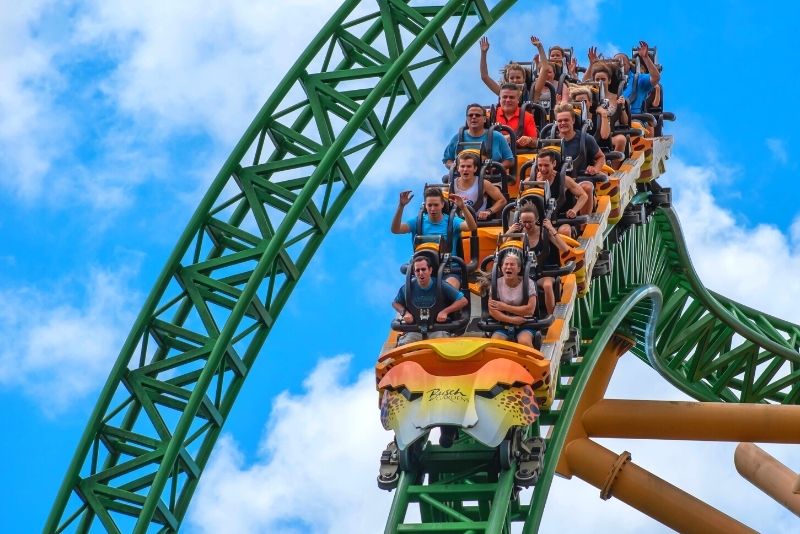 Less than a 90-minute drive from Kissimmee you'll find Tampa Bay's African-themed Busch Gardens, a theme park that not only houses over 12,000 animals but also has a number of thrilling rides and shows.
Arguably the most popular attraction is SheiKra, one of the world's tallest drop rides that sends you cannoning back toward earth at a 90° angle. For something a little more low-key, jump on the Serengeti Express Train Ride, a relaxing guided tour that takes you up close to some of Africa's most exotic free-roaming animals.
41 – Transport yourself back to the middle ages at Medieval Times Dinner & Tournament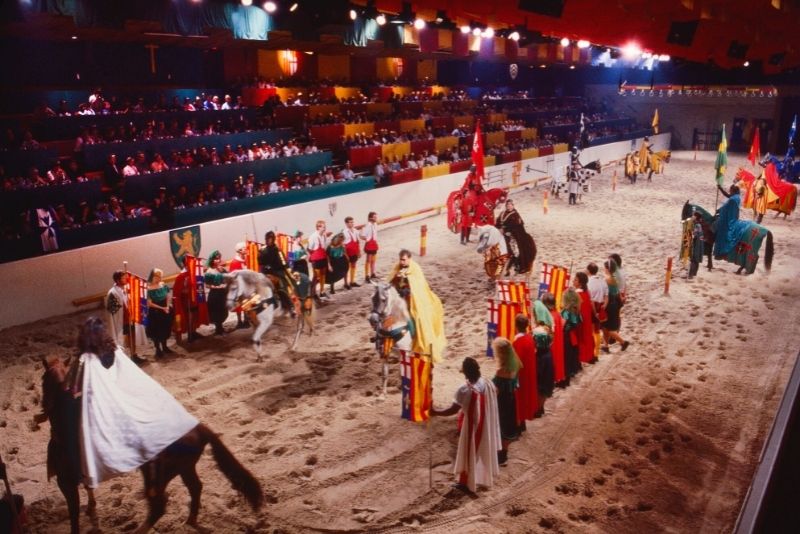 There's no better way to immerse yourself in the past than a Medieval Times Dinner & Tournament, a night of unique entertainment where guests are treated to an authentic medieval-style feast and tournament, complete with knights on horseback jousting for victory, side-splitting comedy from court jesters and a spectacular sword fight finale.
Keep in mind that reservations are highly recommended!
42 – Shout BLASTOFF at the Kennedy Space Center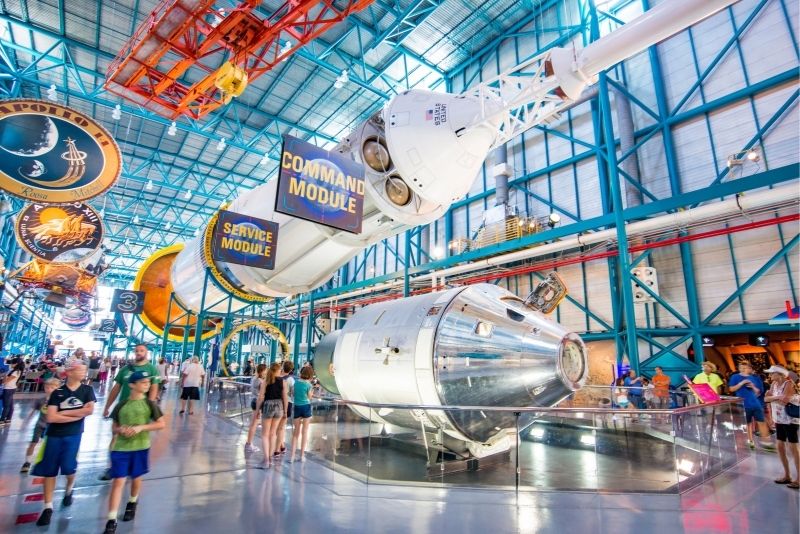 While a bit of a drive away (although pre-booked tours can arrange the transport for you), Cape Canaveral's Kennedy Space Center provides a truly out-of-this-world experience.
Budding astronauts can step inside a real NASA spaceflight facility, pick the brains of actual astronauts, learn about shuttle launches and landings, appreciate some of humankind's most important achievements, and plenty more.
Don't forget to check online to see if there are any launches planned during your visit too.
43 – See shrunken human heads at Ripley's Believe It or Not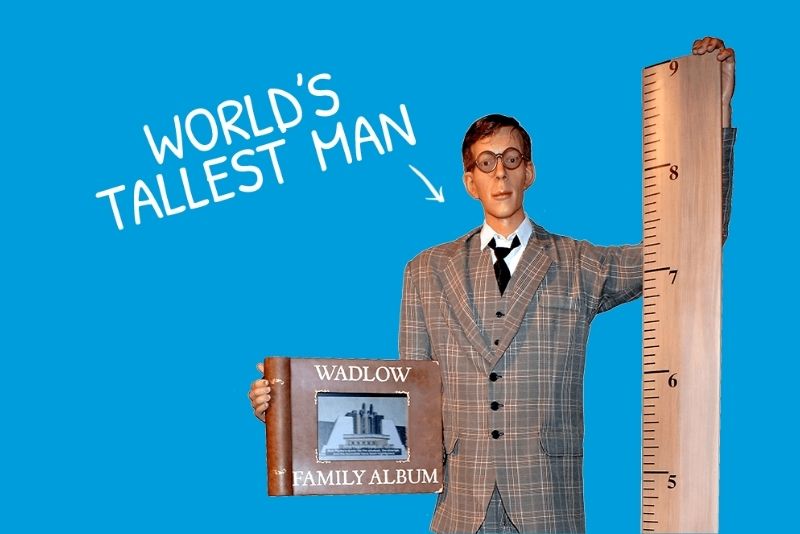 Crazy has a new address! The wondrous Ripley's Believe It or Not Museum is home to hundreds of incredible artifacts and exhibits spread across 16 unique galleries, including ancient alligators, two-headed animals, and so much more.
Located on I-Drive amongst the hustle and bustle of Orlando's tourist area, it's an easy and quirky addition to any day of walkabout.
44 – Sit front row for a show at Osceola Arts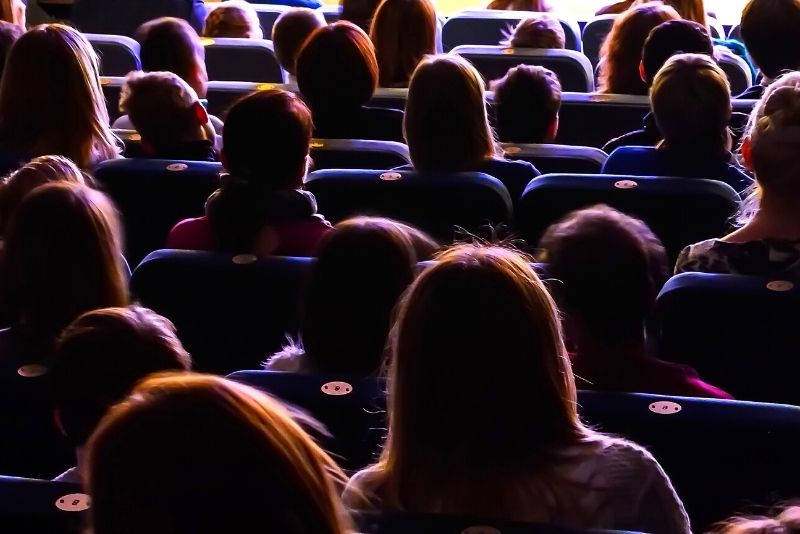 Beyond the theme parks, Kissimmee is also home to a number of top-notch cultural attractions.
One such gem is Osceola Art Center, a performing arts center dedicated to showcasing local, interstate, and international talent and offering workshops for children and adults alike in a variety of disciplines like painting, drawing, photography, and more — not to mention the Visual Arts exhibits.
With over 150 events each season, including names like Elton John and shows like The Wizard of Oz, there's something for everyone — just check the website to see what's on during your trip.
45 – Design and ride your own rollercoaster at WonderWorks Orlando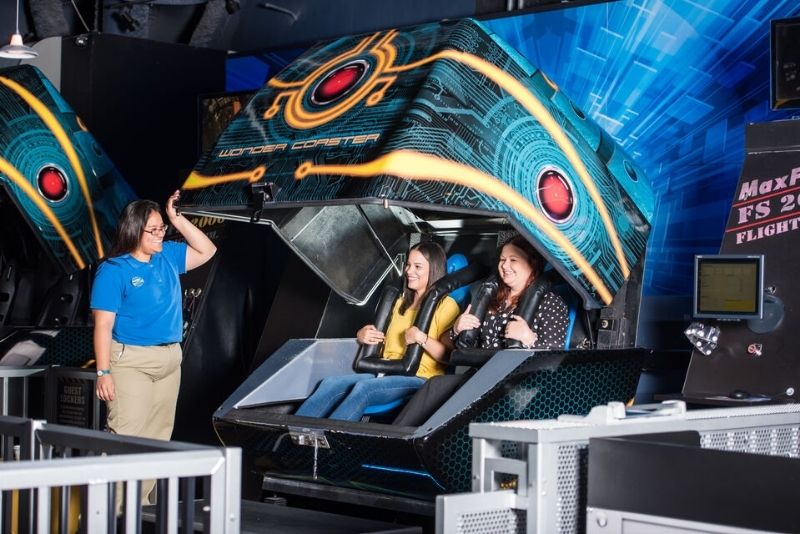 If you're looking for an out-of-this-world experience that's as fun as it is educational, WonderWorks might just be the most underrated of all the things to do in Kissimmee and Orlando.
This imaginative, interactive family attraction is the perfect place for science enthusiasts of all ages to explore a variety of hands-on exhibits (over 100) that range from brain teasers to laser tag and plenty more.
If you can't decide where to start, the 4D motion ride is a regular hit, likewise, the magical dinner and comedy show, held nightly.
46 – Check out the towering Monument Of States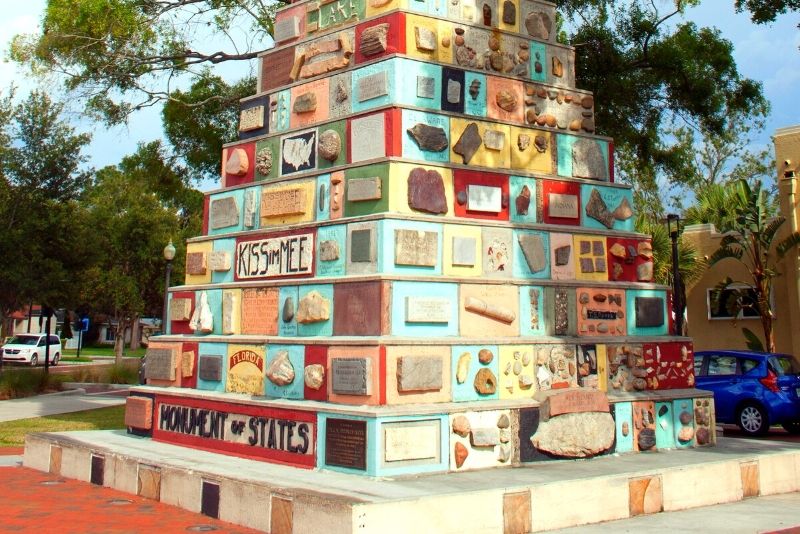 Standing some 50 feet tall, the obscure Monument Of States is made up of rocks, stones, and fossils shipped from every American state.
While initially created as a symbol of unity after Pearl Harbour as well as a conscious tourism effort, it has since been mostly forgotten by locals and visitors alike with the area's theme parks taking center stage.
That said, the unique pyramid is still worth a quick look.
47 – Get soaked at Aquatica Orlando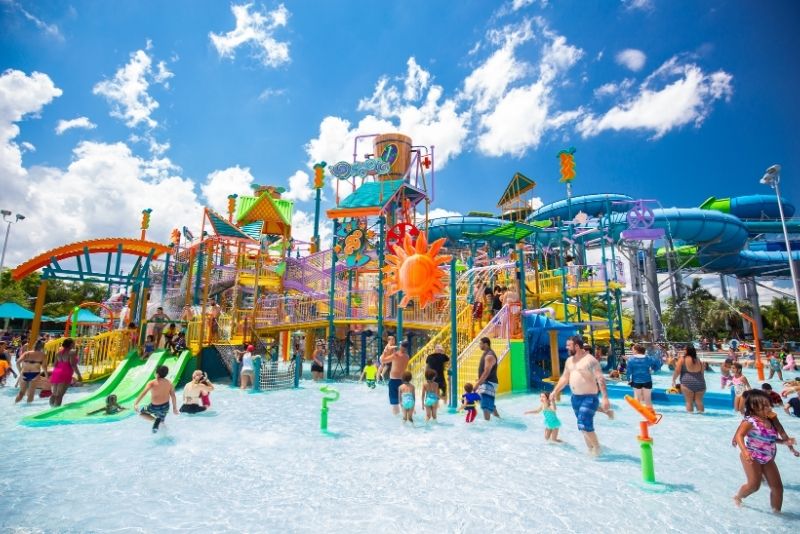 In keeping with the theme parks, Aquatica is a massive waterpark that boasts some of the best and most varied soak-worthy rides in the Orlando/Kissimmee area!
Aquatica sits second in popularity to SeaWorld, and while some might overlook it because of that, clever travelers realize that also equates to smaller crowds!
Offering hands-on animal encounters (photos included), over 40 water slides of all thrill levels, a lazy river, and plenty of sunbeds to work on the tan, it's a wonderful way to cool off during summer.
Hot tip: grab your tickets online before visiting to secure a likely discount and skip the lines.
48 – Cheer on the Orlando Magic at an NBA basketball game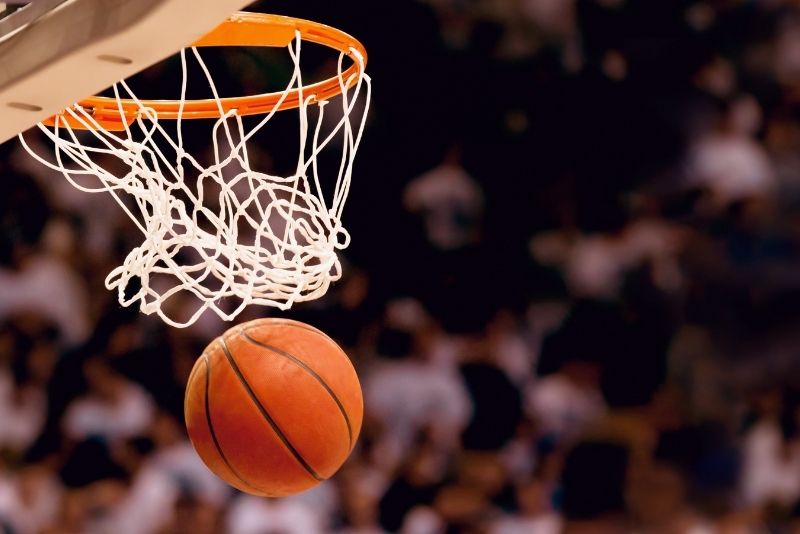 As the most famous professional sports team in central Florida, and with their arena, the Amway Center, smack dab in downtown Orlando, there's no excuse to skip an Orlando Magic game.
Besides the rostered pre- and regular-season games, the arena also hosts occasional concerts or family shows.
49 – Tick Universal CityWalk off the list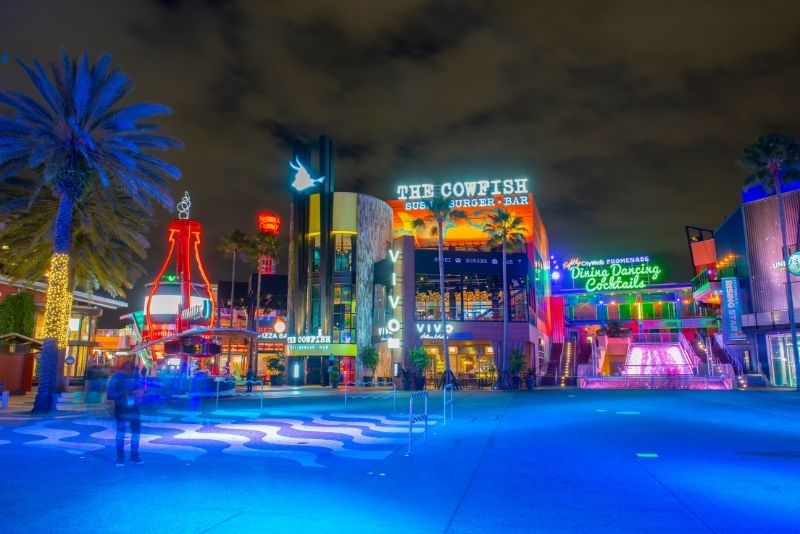 As a major attraction in Orlando, the wonder-filled Universal CityWalk is the perfect place to start or end your day — and best of all, it's totally free (until you cave and buy too many souvenirs).
With dozens of restaurants (try the bizarrely brilliant Cowfish Sushi Burger Bar or Antojitos for mouth-watering Mexican) and bars, as well as mini-golf, Blue Man Group performances, The Groove's multi-level dance club, and more dessert shops than a sweet tooth could dream of (don't miss Voodoo Doughnuts!), it's safe to say you'll never run out of activities.
50 – Stroll down the quarter-mile Disney Boardwalk
If you're a Disney fan, then it's no surprise that the Boardwalk is our lucky last (but not last) of the awesomely essential things do in Kissimmee.
You'll be able to shop from dozens of retailers as well as score some fantastic meals and snacks (be sure to stop at the Disney Boardwalk Bakery) while taking in the Instagram-worthy Bay Lake scenery. Enjoy the art on display at the Wyland Galleries, rent a classic Surrey Bike, party it up at the Atlantic Dance Hall after sundown, or become enchantingly tipsy at the vintage magician-themed AbracadaBar!
Like Universal Citywalk, the magic of Disney Boardwalk is entirely free to explore (until you buy the oversized Mickey Mouse hand, of course).
We hope you've enjoyed our selection of things to do in Kissimmee, Florida! If you have any other must-see suggestions, feel free to let us know in the comments! If you want to keep traveling, check out nearby Orlando, Tampa, West Palm Beach, Fort Lauderdale, Miami, Charleston, or work on the tan at the beautiful Panama City Beach — all within a few hours' drive.
If you're looking for somewhere to stay, check out the best hotels in Kissimmee.
As always, happy travels!