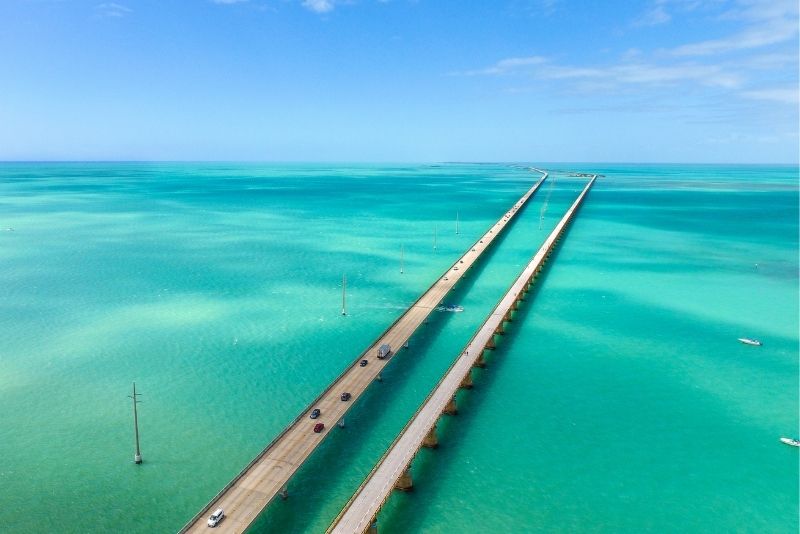 With year-round sunshine, endless stretches of white sands, a go-slow atmosphere that epitomizes what vacation is all about, and more untouched nature (on land and water) than any in the mainland of the United States, it's no wonder that the Florida Keys have been a favorite vacation spot for decades.
The area is made up of over 800 islands, most notably Key Largo, Key West and Islamorada, where you'll find some of the best fishing, diving, boating and sunbathing spots in North America.
All up, the Keys stretch over 180 miles, running from northeast to southwest in a near-perfect line and connected by 42 bridges along the way. This rundown kickstarts with things at the top — Virginia Key and Key Biscayne, the closest to Miami — and then making its way down to Cuba's neighbor, Key West.
If you're looking for things to do in the Florida Keys, this, folks, is the ultimate bucket list.
Virginia Key and Key Biscayne
Nature lovers, get stoked because this can be your perfect place to kick off this all-encompassing rundown! Both Virginia Key and Key Biscayne are known for epic outdoor adventures, beautiful scenery and fascinating wildlife!
1 – Explore the beloved Miami Seaquarium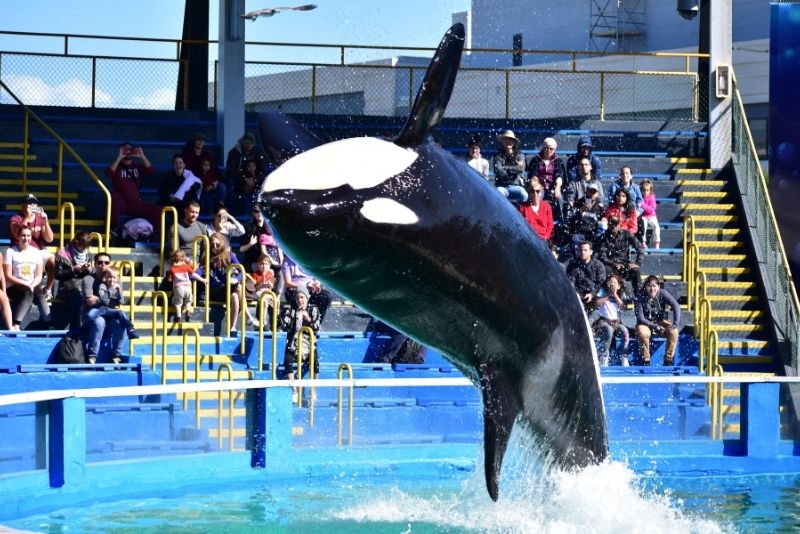 Sea lions, penguins, turtles… and much more at the Miami Seaquarium!
A favorite for young and old, this popular, Sea World-style, family-friendly attraction offers the thrill of seeing sharks up close, feeding turtles and mingling with manatees at one of the eight daily shows and programs offered.
From interactive educational displays to animal acrobatics, and even the chance for hands-on experiences with the cheeky residents of Dolphin Harbor, you can find something for all ages.
Hot tip: Grab your ticket online to skip the lines!
2 – Try out a new water sport on Key Biscayne Bay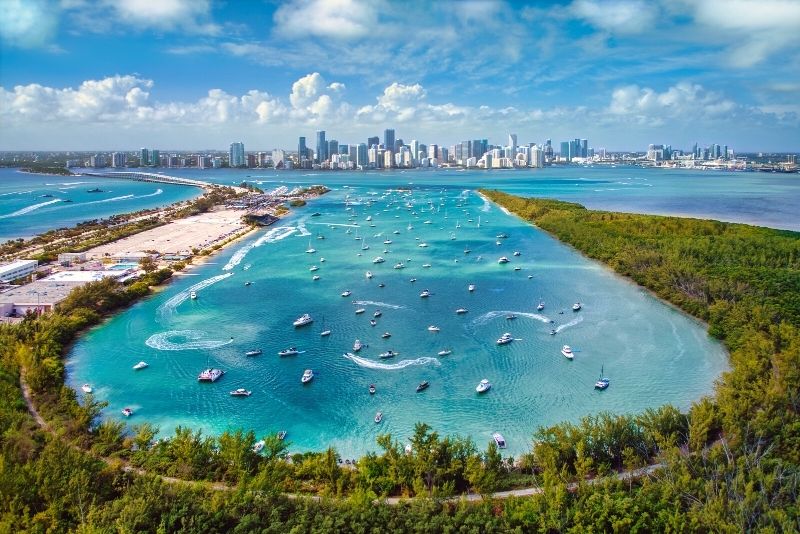 Okay, adrenaline junkies, this is your time to shine! For that sought-after water-in-your-face thrill, grab your sunscreen and head to Key Biscayne Bay for a full day of high-octane water sports!
Go parasailing over the bright blue water or enjoy a sunset cruise to check out the Miami skyline. Zip through the water on a jet ski or enjoy a low-key afternoon fishing for your next big catch. Feeling extra sporty? Test your balance against the waves on a standup paddleboard.
Biscayne National Park
Just 20 miles south of Miami, Biscayne National Park is home to some epic scenery. This isn't your typical "park," however, with 95% of it being water! With islands, reefs and plenty of areas to explore, spend a day connecting with nature!
3 – Go snorkeling or scuba diving in shipwrecks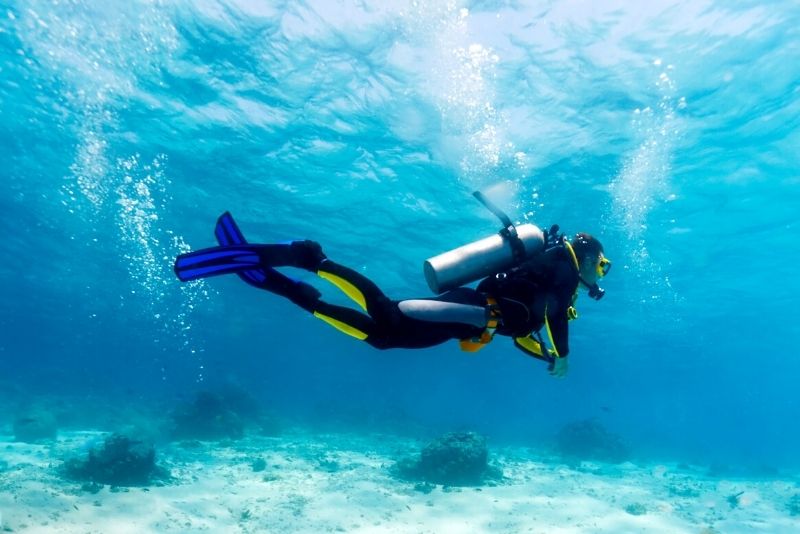 As any fellow water-dwelling visitor will attest, Biscayne National Park is home to top-tier snorkeling and dive sites — the countless wrecks onsite provide a home for exotic and colorful wildlife, and, of course, make for fascinating views for us land-walkers.
With no shortage of options, there are multiple famous sites in the area: Mandalay Wreck is the shallowest of the bunch; Lugano Wreck is more challenging at 25 feet deep; Erl King Wreck is perfect for something a little spookier; and finally, the unnamed remains of a 19th-century wooden vessel has intrigued divers for decades – its lack of backstory making for a few haunting tales.
4 – Spot wildlife from a kayak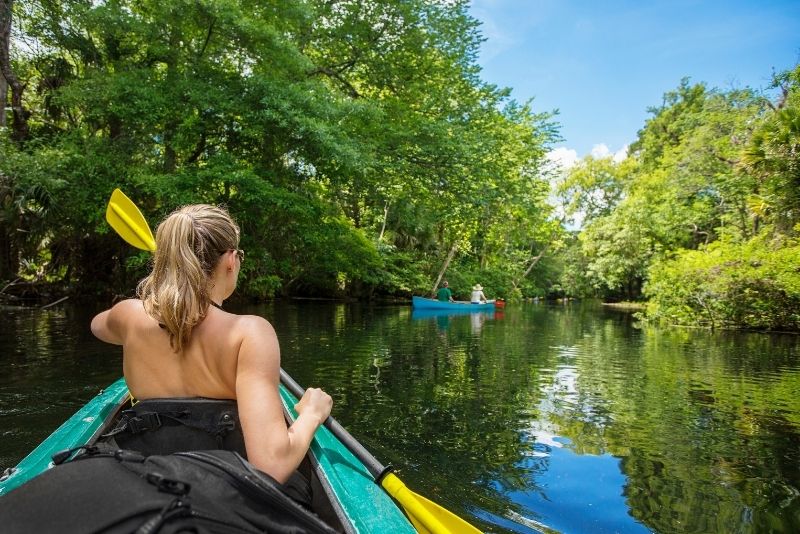 As the home to an extensive circuit of mangrove canals teeming with nature and wildlife, a relaxing kayak or paddleboard adventure sells itself as one of the most intimate ways to explore the natural oasis that is Biscayne National Park.
The mangrove jungles provide a haven for many creatures — the likes of sea turtles, manatees, and no shortage of alligators — so keep your eyes peeled and your hands and feet inside the vehicle!
North Key Largo
North Key Largo is a fisherman's haven. As one of the best deep-sea fishing spots in the country, make sure to bring a pole to spend the day on the water!
5 – Take a stroll to the Key Largo Hammock State Botanical Site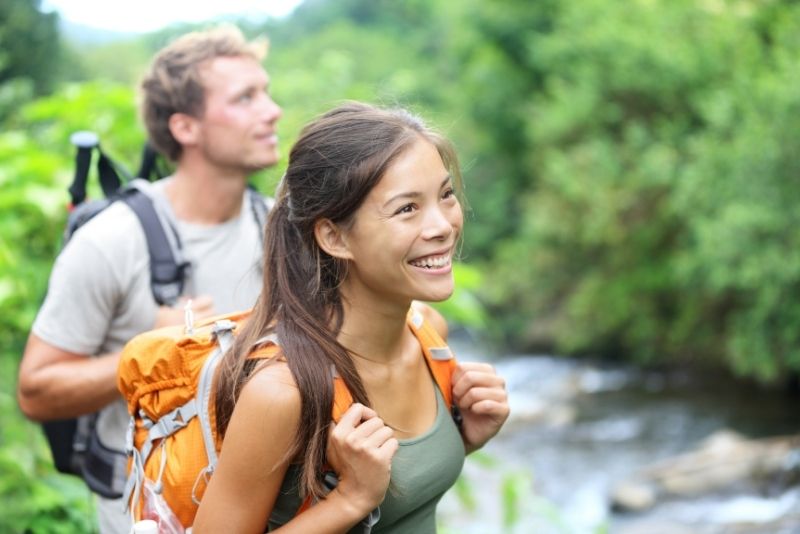 If fishing isn't your thing, no worries — North Key Largo is also home to some of the lushest tropical landscapes in the southern US. This means you can find gems like the Key Largo Hammock State Botanical Site!
As a birdwatcher's paradise, this is a great place to simply soak in the atmosphere and the sounds, or take a walk down one of the shaded trails, keeping an eye out for the rare plants and animals along the way!
6 – Soak in the atmosphere of Crocodile Lake National Wildlife Refuge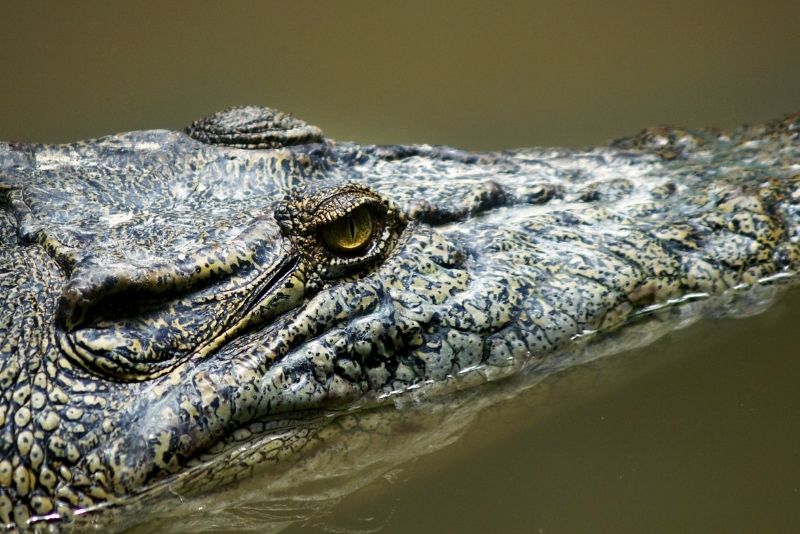 Looking to connect with nature? Take a browse through the Crocodile Lake National Wildlife Refuge.
This massive refuge (over 6,700 acres!) is home to various protected species of crocodiles, snakes, and other native animals and the land remains completely undisturbed. To learn a thing or two about the area's inhabitants, stop at any of the kiosks to learn more; otherwise, just enjoy the surroundings on a leisurely stroll.
7 – Explore the Florida Keys National Marine Sanctuary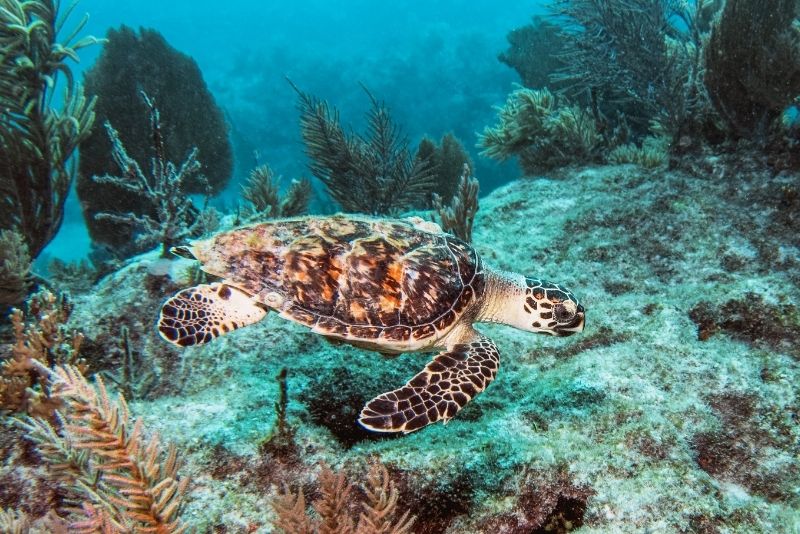 Another natural oasis (as you'll see, the Keys are overflowing with them), this sanctuary covers almost 3,000 square nautical miles around the Keys and serves a tremendous protective purpose.
With many historical monuments, sandbars, islands, a coral reef, and thousands of species of marine animals off the coast, there's no shortage of activities for visitors to experience all that this ecosystem has to offer!
Key Largo
Key Largo locals claim this island is the "Dive Capital of the World." Thanks to its many impressive dive sites, including the world's largest artificial reef, it's hard to disagree with this self-proclaimed award.
Hot tip: Don't miss our selection of fun things to do in Key Largo.
8 – Head underwater at John Pennekamp Coral Reef State Park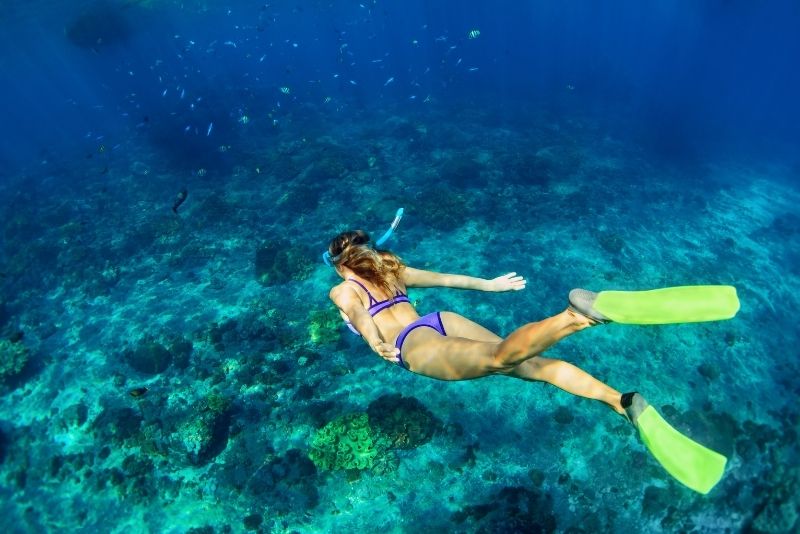 Most state parks we mention here are sort of what you expect: green and land-based. So let's try something different this time, shall we?
John Pennekamp Coral Reef State Park is almost entirely underwater. Hosting the only living coral reef in the United States, this is a perfect snorkeling spot to check out eels, sea turtles, and colorful fish!
Don't worry if you don't own gear — book a tour that provides the fins, goggles, and the boat ride out to sea, and simply sit back and enjoy!
9 – Be the star of your own adventure at Kingdom Escape Games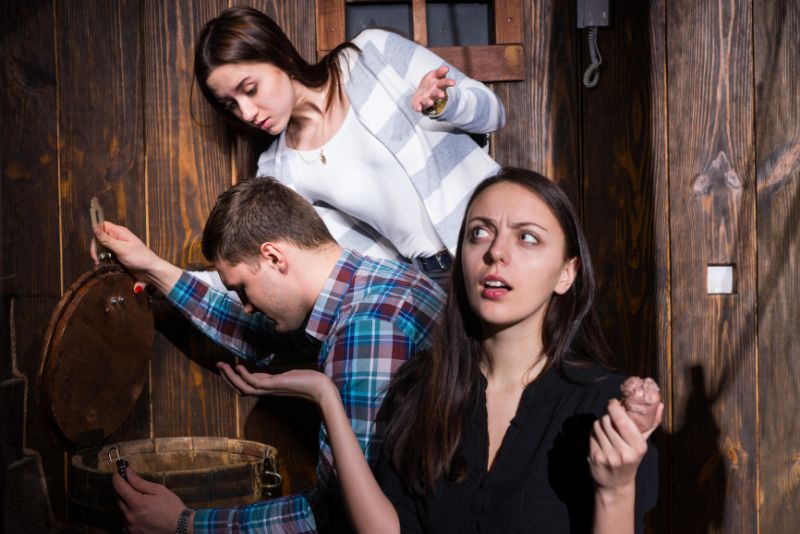 If you like a little bit of flavor in your fantasy realms, check out the wild world of Kingdom Escape Games!
The fortress-style design of the building makes it hard to miss, and there are some excellent medieval-style adventures inside, whether you're teaming up with dragons or trying to escape the royal guards.
Choose your own adventure, and prepare your puzzle-busting brain… you only have an hour to get out!
10 – Don the scuba suit at the Key Largo Dry Rocks Sanctuary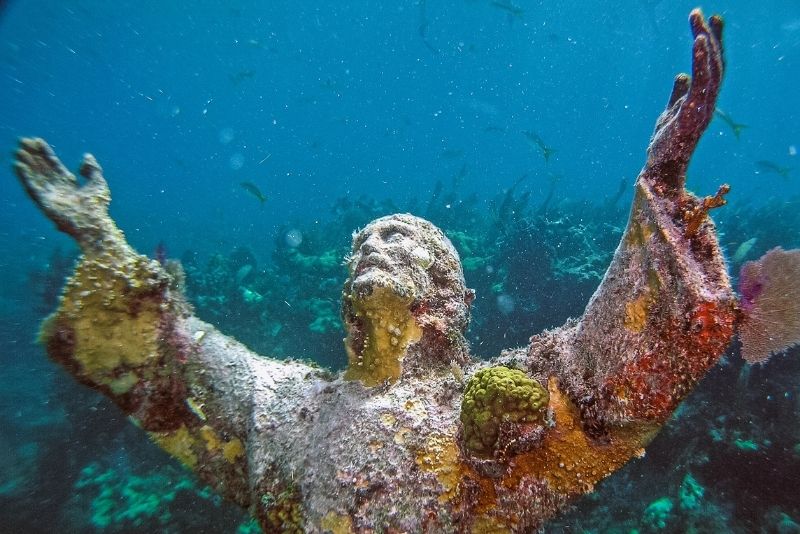 Scuba certified? You've come to the right place!
A famous diving area thanks to its stunning location on one of only three coral reefs in the United States, Key Largo Dry Rocks Sanctuary is full of unique spots, like the eerie Christ of the Abyss — a 9-foot bronze statue tucked away in the sand and rocks.
With options for beginners and experts alike, lasting a couple of hours or stretching nearly a full day, there's something for everyone.
11 – Take a walk at Dagny Johnson Key Largo Hammock Botanical State Park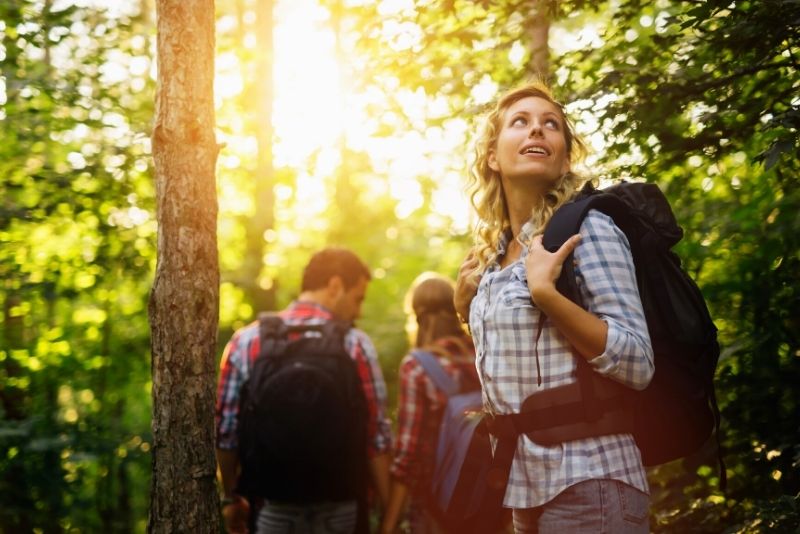 Despite its reputation for beautiful beaches and flat swampland, Florida still dishes up some solid hiking trails, and this state park at Mile Marker 106 is no exception.
For just $2.50 per person, visitors can embark on a blissful six-mile trek around this secluded natural oasis to get the blood pumping and clear the mind, or even tackle a mountain biking trail before heading back to the highway before dark.
12 – Swim around at Dolphins Plus Bayside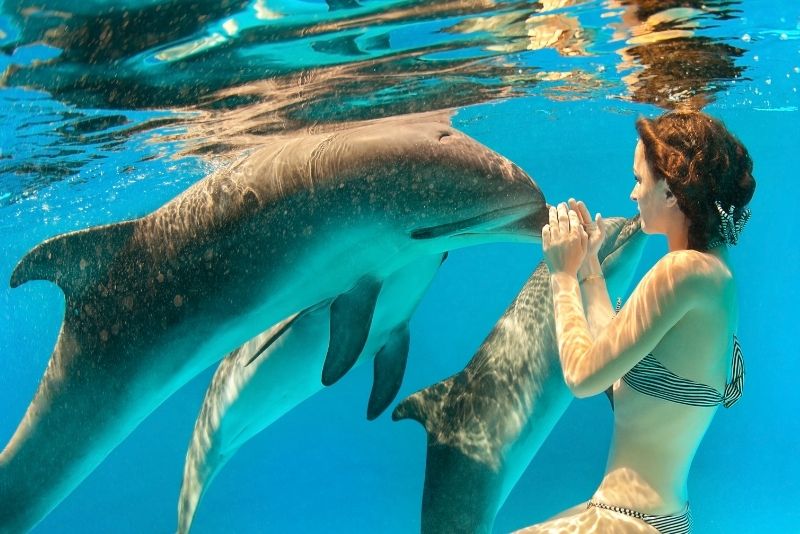 Have you ever wanted to swim with dolphins? Now's your chance! Get up close and personal with these amazing creatures at Dolphins Plus Bayside.
All programs are tailored to the individual, so whether you want to go for a swim or just say hi, they provide a safe place for curious visitors of all ages to make a new fishy friend (well, a mammal-y friend, technically)!
13 – Take a ride on The African Queen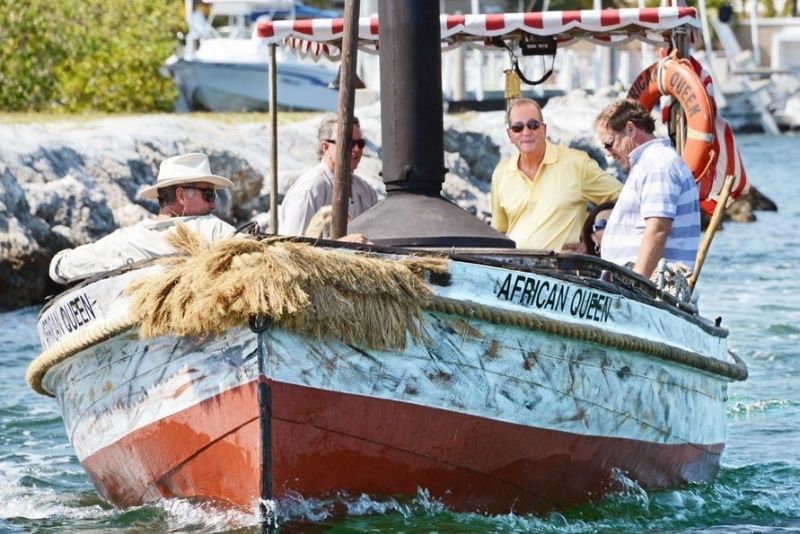 While this is a travel guide, trust us when we say "The African Queen" is a movie worth checking out. Not only that, but in Key Largo, you can chug along the canals on the actual boat used in the film!
This iconic steamboat is open to the public for relaxing daytime cruises or high-energy private events (bachelor/ette party, perhaps?). So if you want to see the shoreline and beautiful canal-front neighborhoods from the water, this is the perfect tour for you!
14 – Try your hand at inshore fishing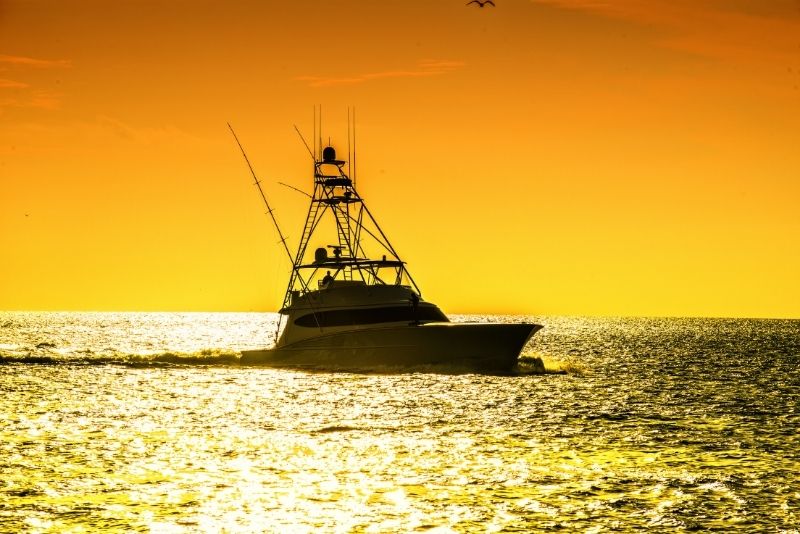 Whether you're a hardcore fisherman or looking for something fun for the whole family, a coastal fishing trip in Key Largo fits the bill!
Grab your hat and sunscreen as you take a ride out to some of the best fishing spots on the Atlantic Ocean. Then, catch dinner or catch some rays on a beautiful boat!
With so many tours to choose from, you can book a half-day, full-day, sunset trip, or even overnight excursion to make the most of your time in paradise.
15 – Grab a table at The Buzzard's Roost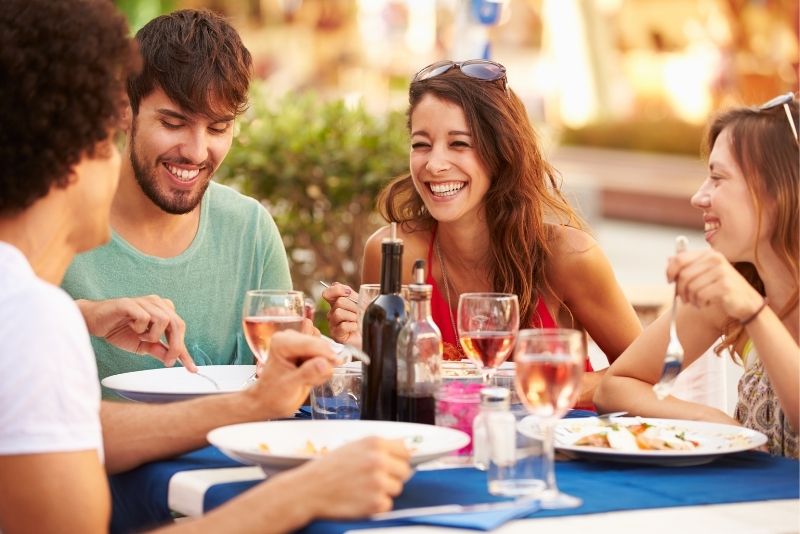 Looking for a kickin' local meal? Then Buzzard's Roost at Mile Marker 106.5 has you covered.
Known for its funky tiki bar and regular live music on the weekends, you'll find some of the island's fresh seafood, juiciest steaks, and biggest desserts on the menu — made all the better with a breathtaking waterfront view.
16 – Kayak at Key Largo Mangrove Trails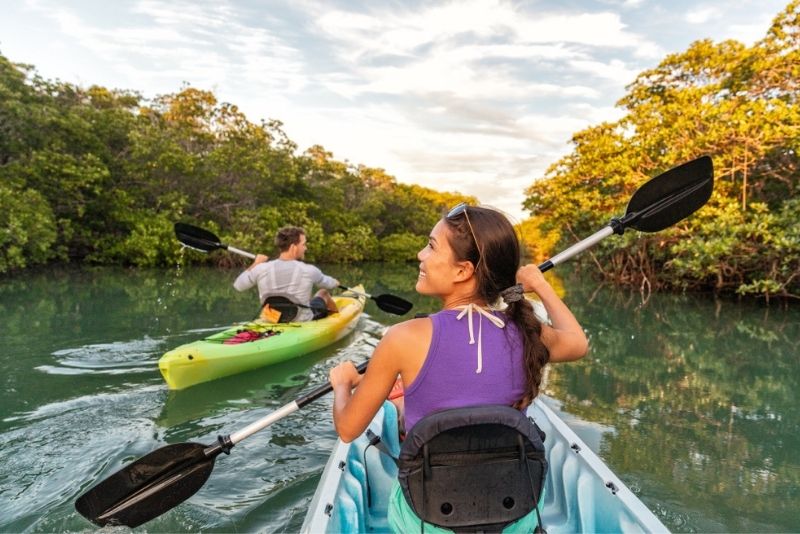 The Florida Keys are already a nature lover's paradise, but a few spots stand out amongst the rest. The Key Largo Mangrove Trails, for example, with the waters of Florida Bay on one side and miles of dense tropical swampland on the other, is a peaceful kayaking paradise with nature trails and boardwalks to boot.
Enjoy a kayak tour along the clear shallow water, where fish swim through the grass willy-nilly, take a guided sunset tour and keep your eyes peeled for dolphins and manatees, or simply rent your own kayak (the most budget-friendly option) and go at your own pace!
17 – Snap a few photos at Sunset Point Park
Cameras at the ready! If you're chasing sunsets, the aptly-named Sunset Point Park won't disappoint. This small but popular slice of greenery is a great spot to explore via kayak or canoe, but the real draw is the view of the sky at dusk.
A surefire hit for the 'gram, you'll be able to watch the sun slowly disappear on the horizon as the water turns every shade of orange imaginable!
18 – Relax (or party) on a boat tour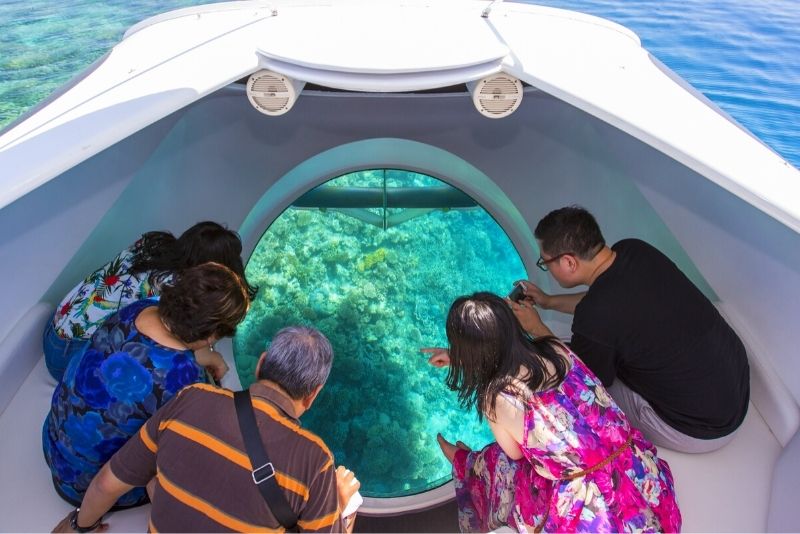 What better way to see an island than by boat? Since you're on vacation, take the stress out of navigating the water on your own by booking a boat tour with a friendly local captain instead.
For a truly unique experience, consider a glass-bottom boat. Guests are regularly amazed at the opaqueness of the water — you can see all the way to the bottom of the ocean while staying dry!
Or, if you're feeling extra adventurous, opt for a multi-day catamaran cruise (the drinks will be flowing, don't you worry) down to the Bahamas to really live it up at sea!
19 – Check out a floating tiki bar!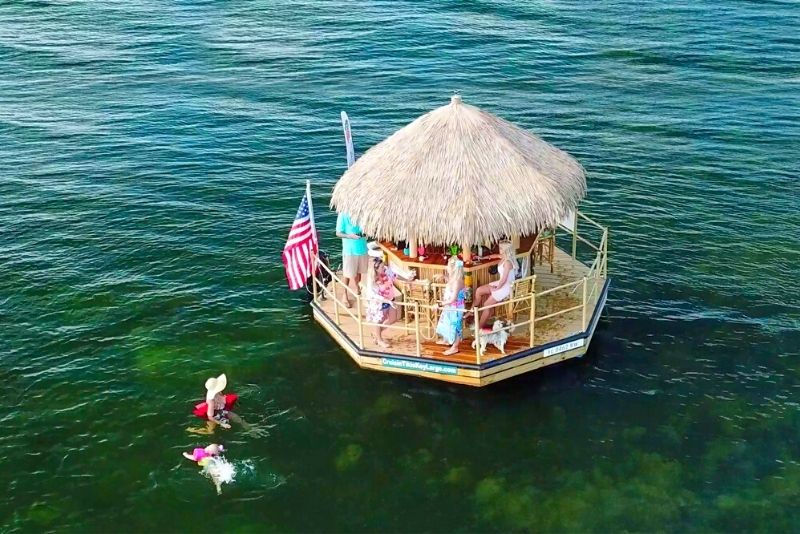 Out of all the things to do in the Florida Keys, you can't leave without first visiting a tiki bar. Cruisin' Tikis is a great option in Key Largo for one reason in particular: it floats!
This buoyant hut may look a little strange, but it can't beat it when it comes to having a good time. Sip on a tropical cocktail, dip your toes in the water, and take in the views.
20 – Down a few cheap drinks at the Caribbean Club!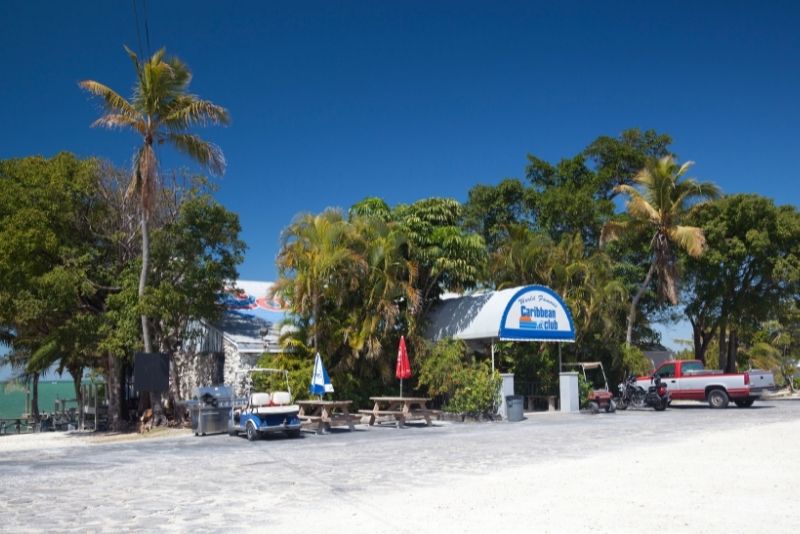 Made famous for starring as a beautiful setting in the Key Largo film starring Humphrey Bogart, not to mention appearing in Netflix's Bloodline series too, this longstanding beachside watering hole has been serving up cold ones — and extremely cheap cold ones, for that matter — for decades.
Nowadays, don't expect anything fancy, but the dive bar-esque Caribbean Club is still a wildly popular place to stop by and enjoy some delicious mojitos (or the occasional Key Lime Pie Rum Punch drink special!) while taking in that famous Florida Keys sunshine.
Consider arriving (whether by boat or by land, that's up to you) during happy hour for some generous discounts and to secure the prime sunset viewing spots, then enjoy the live music (hosted nightly every Thursday through Sunday) and mingle with the eccentric locals!
Tavernier
Small but mighty and just south of Key Largo, Tavernier earns its own place on our list. Famous for its wildlife viewing and outdoor activities, this low-key island is a perfect place to settle in for a day.
21 – Explore the Florida Keys Wild Bird Rehabilitation Center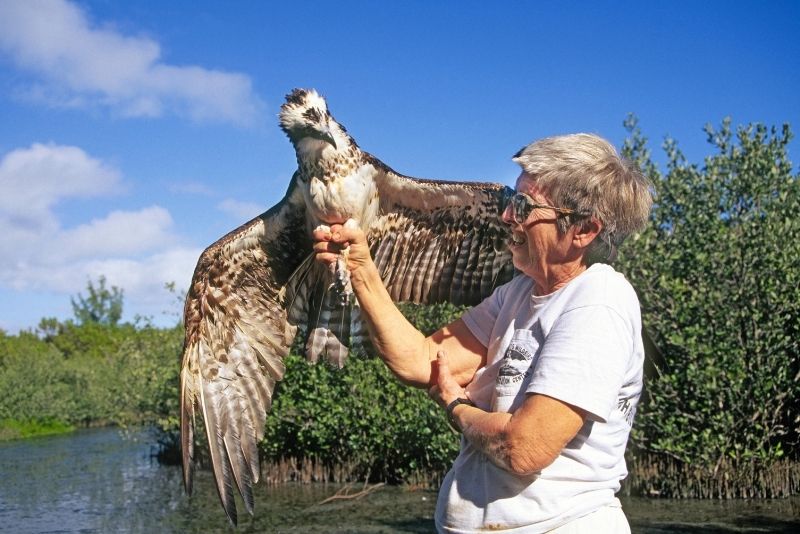 Looking for an up-close view of some of the most majestic birds in the world? Then add the Laura Quinn Wild Bird Sanctuary to the top of the bucket list.
It's found within the Florida Keys Wild Bird Rehabilitation Center, which acts as a home for birds who were deemed too injured to be released back into the wild, giving them a safe place to stay for the rest of their lives.
While you're there, check out Mission Wild Bird, which holds the rehab hospital, as well as the gift shop and educational center!
22 – Work on the tan at Harry Harris Beach and Park
Cozy picnic on the beach, anyone?
Harry Harris Beach and Park offer plenty of pavilions, grills, picnic tables, and amenities to make for a picture-perfect picnic, whether you're planning a cutesie date lunch or a casual family outing.
For when that summer sun starts to sizzle and roast, Harry Harris also boasts its own protected beach and swimming area ideal for a quick cool-off.
23 – Satisfy your sweet tooth at the Blond Giraffe Key Lime Pie Factory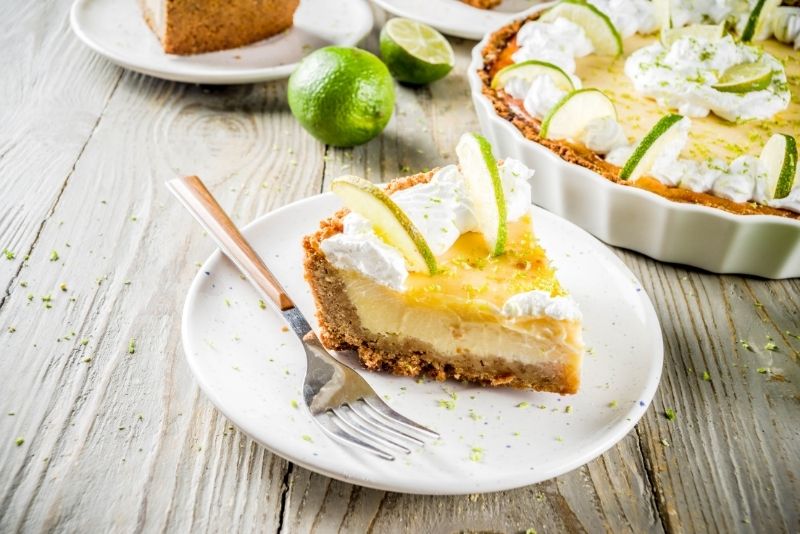 As a staple in the Florida Keys, no vacation to the islands is complete without trying the world-famous lip-smacking key lime pie. Sure, you'll find plenty of places that offer the notorious dish, but Blond Giraffe really takes the cake (… er, pie?).
So if you aren't worried about shoveling down a few calories, it makes sense to choose a place that's been a magnet for awards, right?
Hot tip: If you really want to splurge, go for the Chocolate-Dipped Frozen Key Lime Pie on a Stick (a mouthful to say, but trust us, it's worth it).
24 – Head out to Mangrove Marina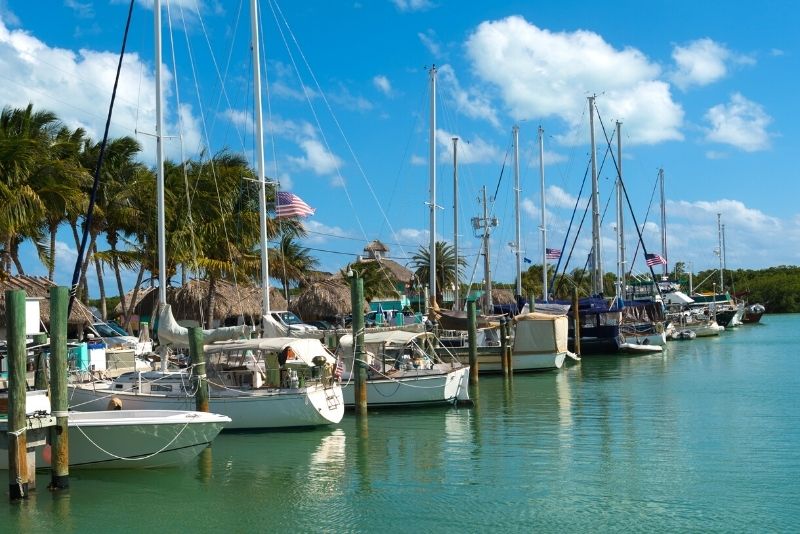 If you're looking for an entirely unique thing to do in the Florida Keys, staying in a houseboat might just do the trick!
At Mangrove Marina, which sits in a natural "hurricane hole", visitors can find all the typical marina amenities — wet slips, racks, boat services, and the like — as well as eco-tours, a casual restaurant (Chad's Family Restaurant), and plenty of rental bikes, canoes, and boats.
25 – Picnic at the historic Old Settler's Park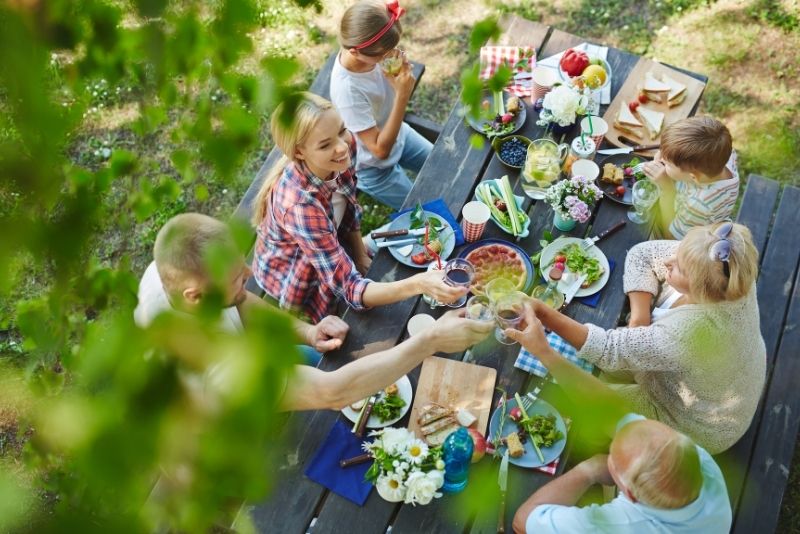 A crowd favorite among history buffs that's hidden in plain sight, Old Settler's Park offers shaded paths and a cool ocean breeze alongside various native plants and colorful butterflies.
With a handful of fun facts and history lessons to be learned, make sure to check out the markers and signs throughout the property to see what this relaxing place looked like back in its founding era during the late 1800s!
Plantation Key and Islamorada
Known as the Sport Fishing Capital of the World, Islamorada and Plantation Key draw people from all over. If fishing isn't your thing, fret not; you're sure to enjoy the upscale atmosphere, picturesque views, charming galleries, and diverse restaurants.
26 – Splash around at Theater of the Sea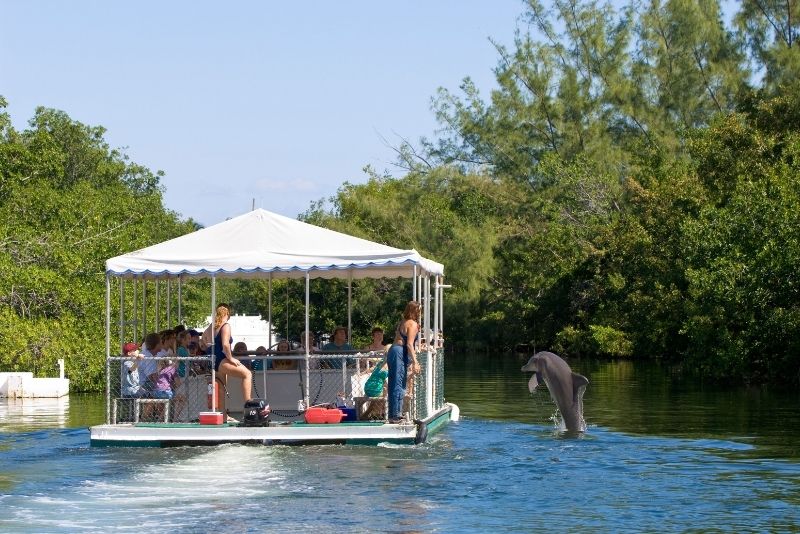 Need some family-friendly fun? Theater of the Sea offers shows and interactive programs to get up close to dolphins, sea turtles, sea lions, sharks and more!
You can watch from a distance or wade in the water, depending on your comfort level. However, if you don't care to swim but want in on the close-up fun, paint with a sea lion for a one-of-a-kind souvenir!
27 – Step back in time at the History of Diving Museum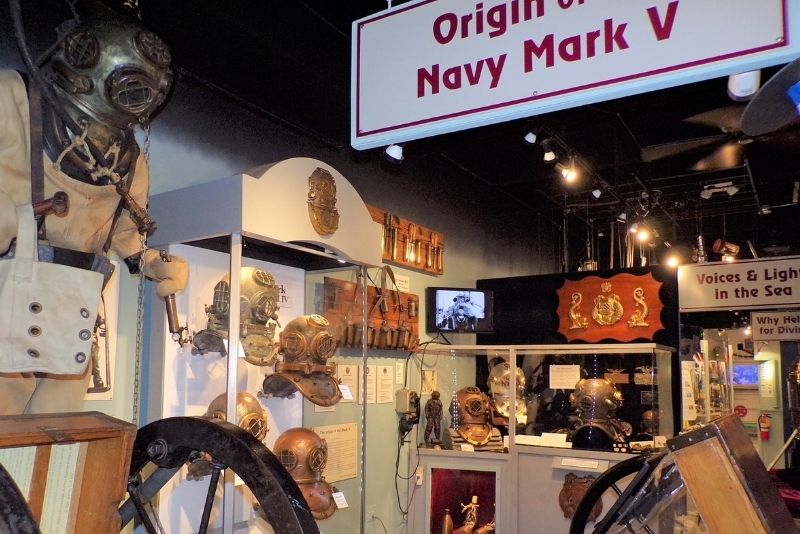 These days, scuba diving is high-tech, and safety is the highest priority. But that wasn't always the case — as you'll discover by the initial contraptions on display at the Diving Museum, humanity has come a long way since its first attempt to explore beneath the surface.
Housing an enormous collection of dive gear that showcases the evolution of the adventure sport — from eerie masks to decompression chambers, and huge deep-sea diving suits equipped with hooks instead of gloves — this unique non-for-profit attraction is a must for enthusiasts and casual divers alike.
28 – Enjoy the atmosphere at Islamorada Brewery & Distillery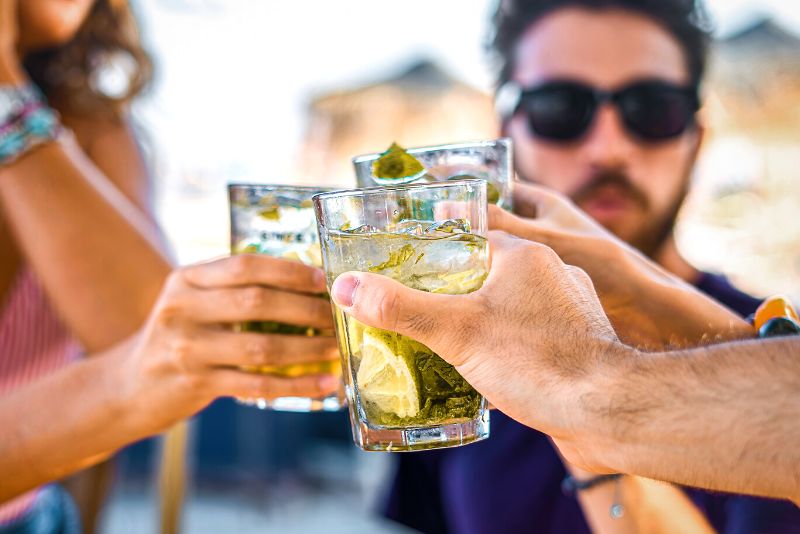 Another great place to blend beverages with a relaxed social scene, Islamorada Brewery & Distillery will quickly feel like a second home.
While the company is known for its excellent selection of craft beers, it also offers a wide variety of fabulous cocktails, plus a food truck providing mouth-watering barbecue.
Relax in the beer garden, and enjoy some of the excellent live events taking place throughout the week, including trivia and live music. Bring your friends, your kids, and even your dogs… this social space welcomes everyone!
29 – Spend the day in the Windley Key Fossil Reef Geological State Park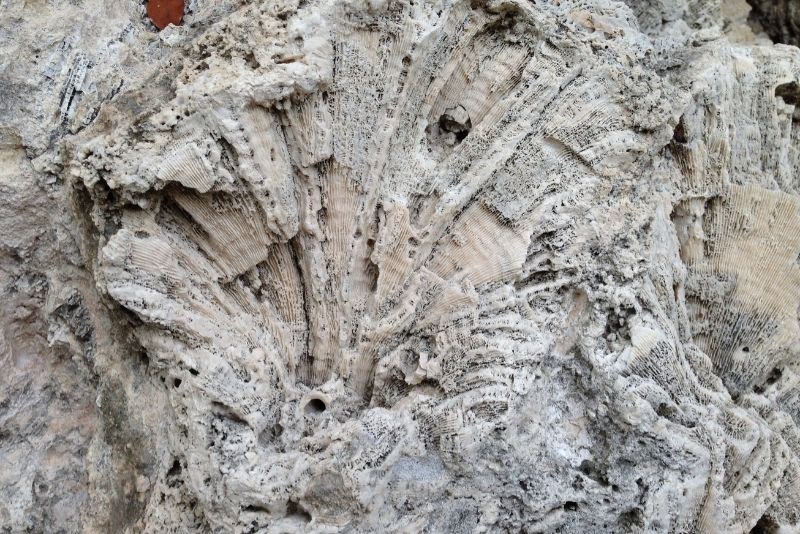 For birdwatchers, hikers and picnickers alike, the Windley Key Fossil Reef Geological State Park is quite simply, paradise.
Once a thriving quarry dating back to the mid-1900s, this beautiful park is now home to trails lined with ground coral pebbles that wind through acres of peaceful protected land.
Where else can you walk along 8-foot-high quarry walls? At just $2.50 per person, for a unique parkland experience, it's as affordable as they come.
Hot tip: Wear bug spray! The mosquitos here can be relentless.
30 – Grab a souvenir from Rain Barrel Village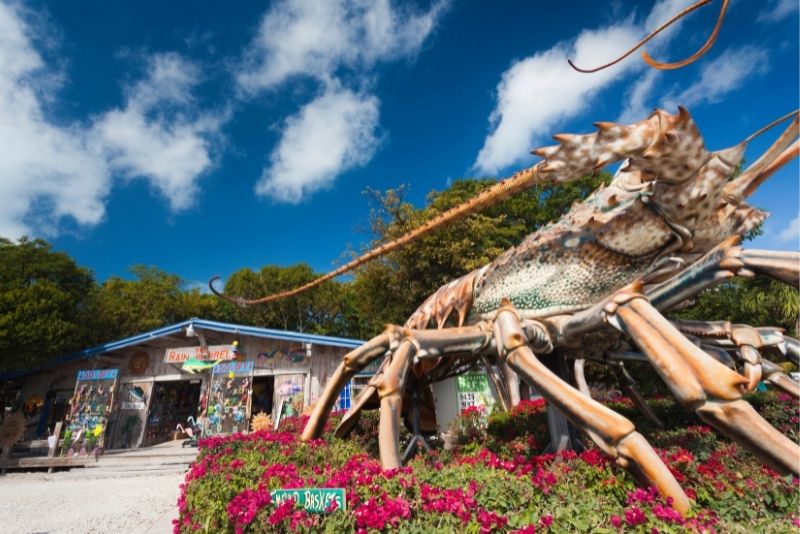 Easily spotted from the highway thanks to Betsy the giant lobster perched 30 feet high in the front yard, Rain Barrel Village is a popular quick stop for anyone driving through the area.
The artsy compound — which aims to embody the true Florida Keys vibe — is full of friendly locals selling unique trinkets and souvenirs, a handful of galleries and boutiques displaying local art and handmade jewelry, and a few spots to grab a bite or have a drink.
Even if you're not on the hunt for souvenirs, it's worth just walking through the garden and getting a cup of coffee.
31 – Catch some tunes at Lorelei Restaurant & Cabana Bar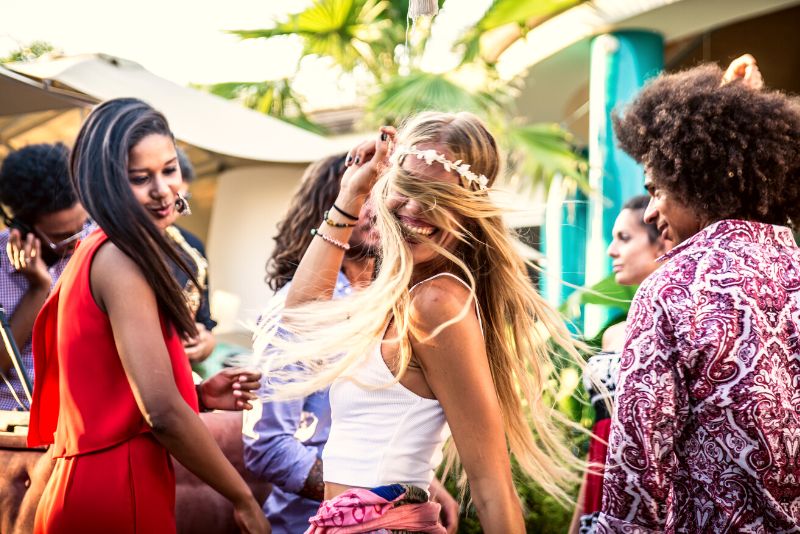 If dinner and a show are an ideal part of your vacation, then Lorelai Restaurant and Cabana Bar is a must-see during your visit! This fun-filled institution is renowned for its live music, a regular roundup of local bands… plus occasional magic acts!
And the entertainment is even better when paired with breathtaking sunset views, where the colors of the evening sky perfectly meld into the water to create a scene worthy of any painting or postcard.
It's the perfect place for a meal or a nightcap!
32 – Explore the shores and waters of Indian Key Historic State Park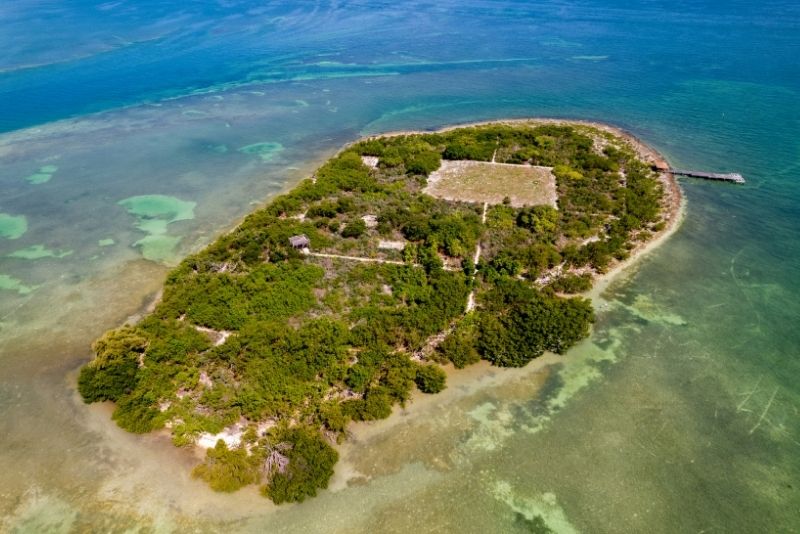 For a small, deserted 11-acre island accessible only by boat, Indian Key packs in quite the history.
Housing ruins of an 1800s town that thrived on salvaging shipwrecks, these days Indian Key is a charming getaway for swimmers, snorkelers, sunbathers, and hikers looking to escape the typical tourist crowds on the Keys' hotspots.
For an easy walk that's both beautiful and educational, the Interpretive Trail takes dives into the island's historic community and comes highly recommended.
33 – Snorkle at Anne's Beach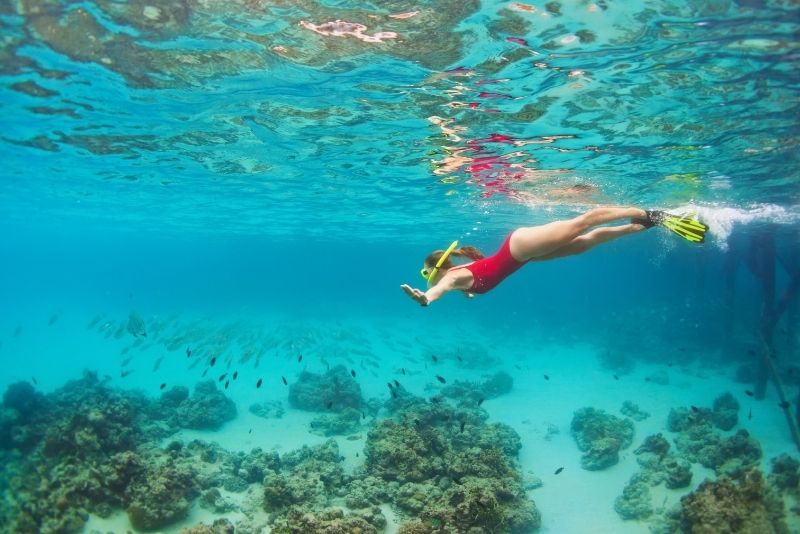 A quaint stretch of white sand just south of the Caloosa Cove Resort, Anne's Beach is a welcomed change of pace from the swanky (and overcrowded) Key West beaches.
Perfect for anyone looking to get away and relax, this slow-paced little spot offers some of the best snorkeling in the area — with its shallow waters and abundance of colorful fish — as well as fantastic views across Florida Bay from its lovely boardwalk (which boasts plenty of built-in picnic area).
34 – Admire the sculptures at the Old Road Gallery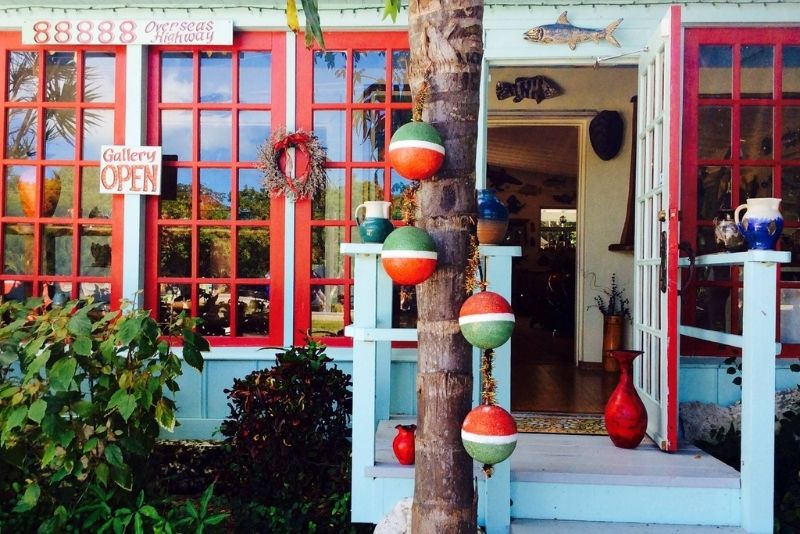 A splendid combination of working studio and gallery, Old Road Gallery is a must-visit for any culture vultures looking to expand their artistic appreciation.
It showcases whimsical pottery, knick-knacks, sculptures and surprises around every corner. This family-run institution (run by artists Dwayne and Cindy King) has plenty of room to display its rotating array of works from local artists indoors in its gallery and outdoors in its winding pathways — perfectly summing up the tranquil, natural Keys environment.
35 – Get a little buzzed at the Florida Keys Brewing Company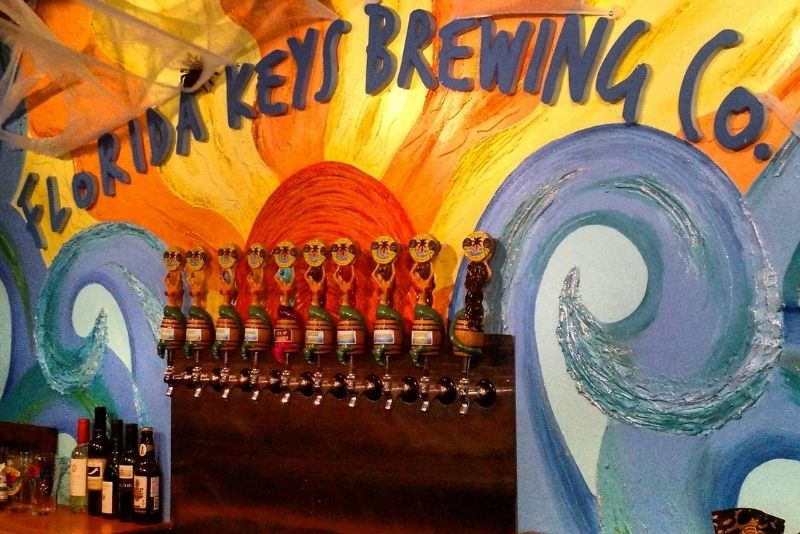 A true microbrewery and taproom, and the first official of its kind in the Upper Keys region, Islamorada's Florida Keys Brewing Company at mile marker 81.6 is a must-visit for thirsty travelers and beer connoisseurs.
It's using locally sourced ingredients to produce both seasonal and regular on-tap brews — from the Spearfish Amber Ale to the Starvin Marvin Dunkelweizen or the Chocolate Cherry Sour. This local hangout also offers a relaxing beer garden full of games (giant Jenga, cornhole, and the like) and a tasting room that's open to the public every day of the week!
36 – Pass by the Highway Piers Historical Marker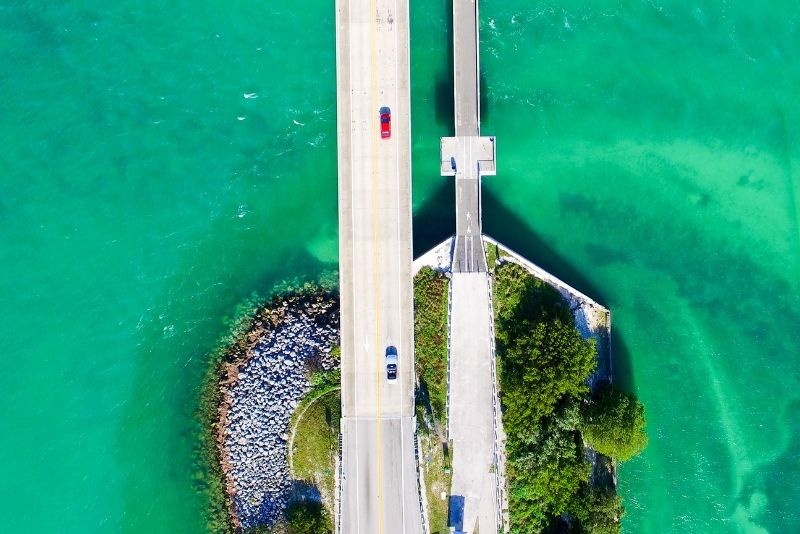 A short and simple stop for anyone driving through Islamorada toward Marathon or Big Pine Key further south, the Highway Piers Historical Marker is a quick and easy landmark that offers up two distinct reasons to take a pit stop.
On the one hand, the views from the shoreline and simply sublime — the aquamarine waters provide the ideal landscape for nature photographers, particularly at sunset. However, and more importantly, on the other hand, it provides a fascinating, little-known insight into the military history of the Florida Keys.
37 – Feed the tarpon at Robbie's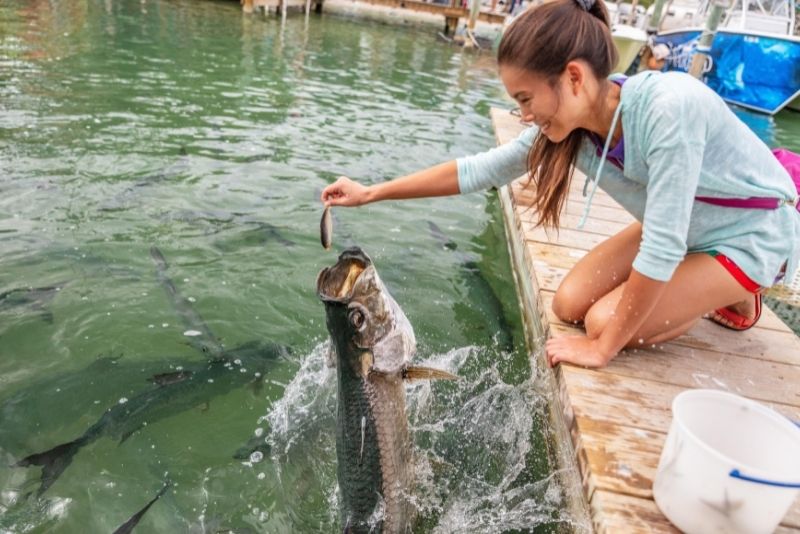 One of the most well-known spots in Islamorada for feeding tarpon — which, if you've never seen one, are MUCH bigger than most people realize — Robbie's Marina is not only a tourist draw for getting up close with wildlife, thanks to the school of 100+ Silver Kings that appear daily.
However, it also boasts a delightful open-air marketplace, jet ski rentals, boat cruises, a waterside restaurant, and plenty more. For a heartwarming story, be sure to ask the locals about "Scarface" — the reason why this pier has become so famous over the years.
38 – Shop for lunch at Florida Keys Farmers Market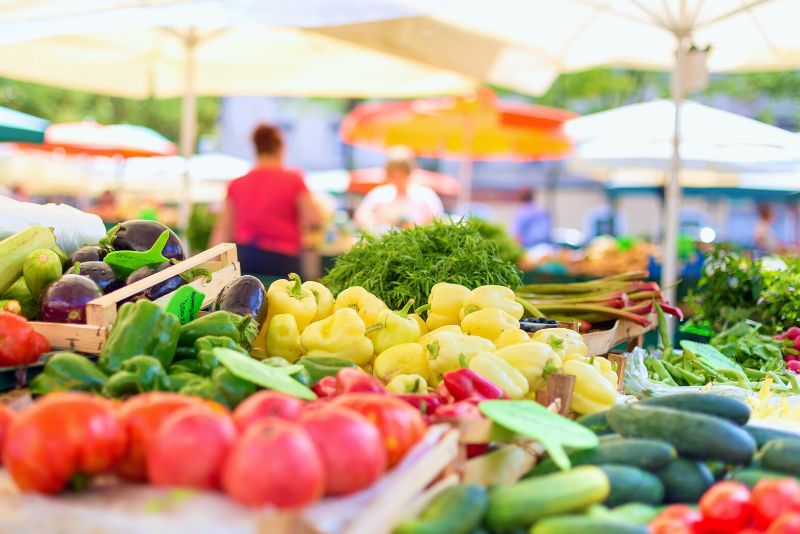 If you're craving some fresh produce in between all of your partying, take heart… there's a place with everything you need!
Operating every Sunday, the Florida Keys Farmers Market is the perfect place to score some delicious fruits and veggies, plus fresh seafood, scrumptious pastries, delicious cheeses and meats, and crisp juices.
Throw in awesome artworks, live music, and a bustling, welcoming atmosphere, and you have the perfect weekend activity that will have you feeling like a local – and eating like one, too!
39 – Read the story etched onto the Hurricane Monument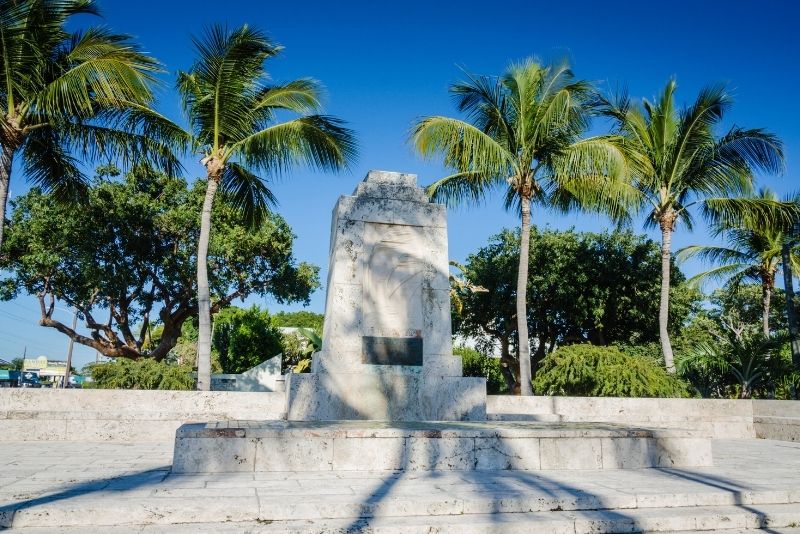 Though it's not necessarily the most obvious highlight in the Florida Keys, for any history buffs on the road who appreciate tales of Mother Nature's wrath, this monument in downtown Islamorada is sobering and well-preserved.
Built to commemorate and memorialize the 400+ WWI veterans and civilians who lost their lives in the Great Labor Day Hurricane of 1935, this monument has stood the test of time, and remains today to mark the devastating tragedy that brought widespread destruction through much of South Florida.
Looking to learn more? Consider flicking through the pages of "Storm of the Century: The Labor Day Hurricane of 1935" by Willie Drye.
40 – Relax and unwind at Library Beach Park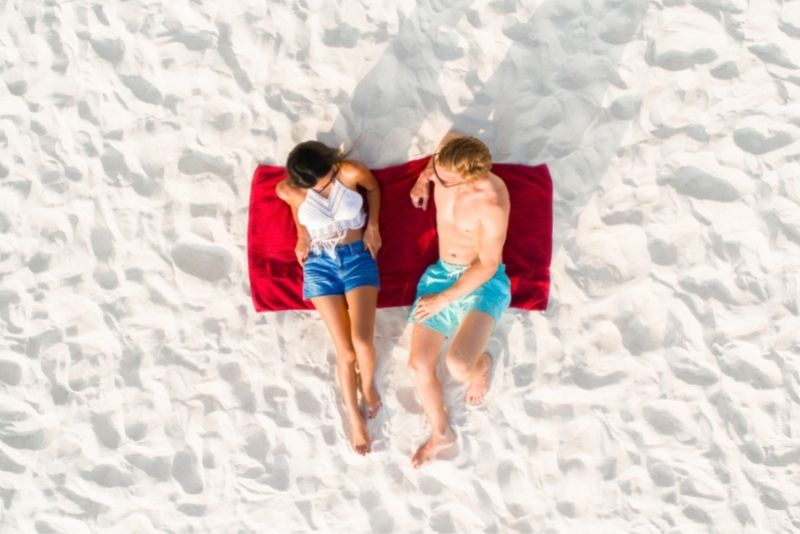 A quick and easy spot for the whole family to enjoy, Library Beach Park in Islamorada (on the Upper Matecumbe Key) is a great place to take a moment to breathe, relax and recharge.
Located right on Highway U-95 at mile marker 81 — just south of Robbie's Marina — this small beach park might not dish up big waves of breathtaking views (it's built on a mangrove, but the ocean itself). However, it still sells itself as the ideal spot to read a book, work the tan and have a cheeky picnic.
41 – Grab some grub at the Marker 88 beachfront bar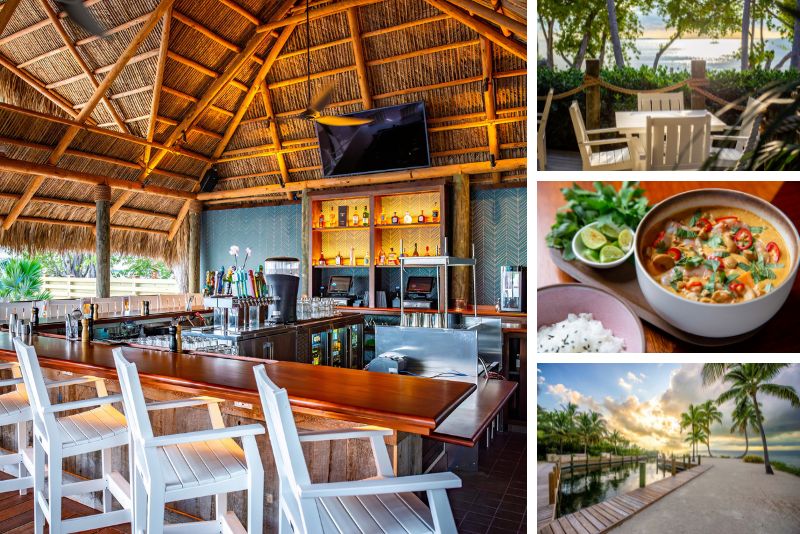 Immerse yourself in Florida Keys history at Marker 88, an eatery established in 1967. Known for its delicious seafood, succulent steaks and handcrafted cocktails, Marker 88 offers a dining experience as unique as it is delicious.
Enjoy views of the sun-drenched tropical mangrove islands and sample a diverse menu of dishes inspired by the West Indies, Polynesia, and the French Caribbean.
Whether you enjoy their signature Floridian-style jerk chicken fajitas or indulge in a traditional key lime pie, every bite is a celebration of the rich maritime history and culture.
The newly reopened and expanded Marker 88 invites you to create memories in this iconic Florida Keys destination.
Long Key
Despite its name, Long Key is rather small, located in between Lower Matecumbe and Vaca Key along Highway 1. Nevertheless, the island is a haven for nature lovers, boasting a diverse range of flora and fauna — including many endangered species that have been preserved by its status as federally protected land.
42 – Embrace the slow pace of Long Key State Park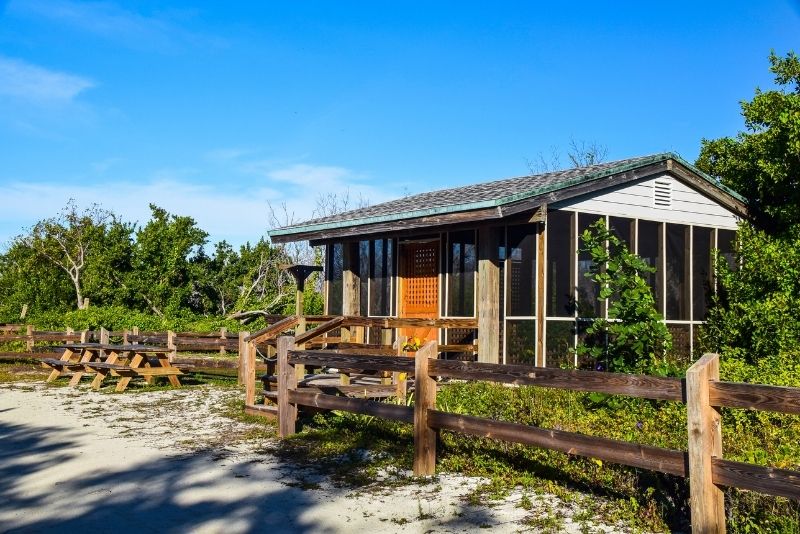 Spanning a whopping 965 acres of protected land, Long Key State Park isn't just a great place to enjoy some of the finest fishing in the Keys, but also an idyllic spot for birdwatching, bushwalking, beach-side camping and wildlife spotting.
With no shortage of nature trails, beaches and mountain biking routes, nature-lovers are spoiled for choice. But if you're looking for something a little more urbanized, the park also boasts modern campgrounds and lodges, restaurants, playgrounds, picnic pavilions, shower stations and even a museum and historic fort!
Duck Key
Smack-bang halfway between Key Largo and Key West, Duck Key boasts a small but thriving community that's never short on activity.
All year round, the island is a haven for water sports enthusiasts with its endless supply of kayaking and paddleboarding routes — not to mention deep sea fishing, sportfishing charters, snorkeling tours, and wildlife cruises.
In addition to this, there are also countless ways to get around the island including scooter rental, bike tours (of course!), and even kayak rentals.
43 – Mingle with the mammals at Dolphin Connection!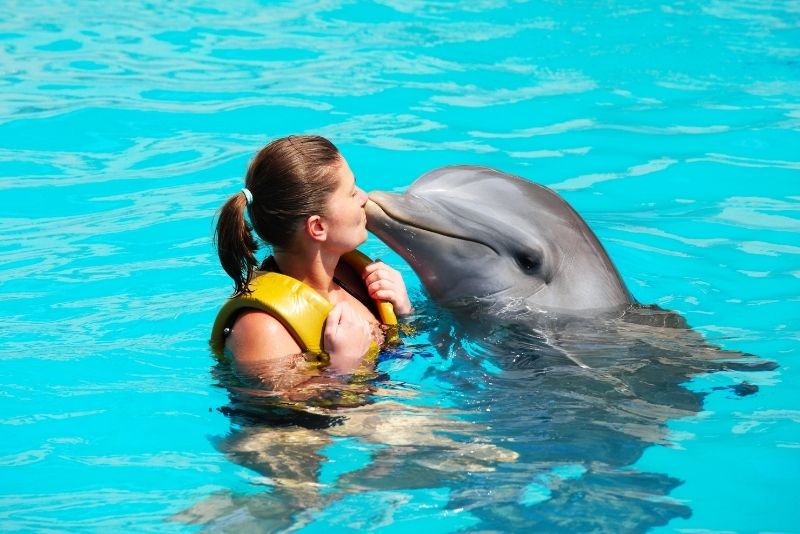 If swimming with dolphins Flipper and Lopaka style has always been on the bucket list, then Dolphin Connection is the perfect place to make it happen!
Located on a saltwater lagoon at the Hawks Cay Resort, this family-friendly experience offers an intimate chance to swim alongside a pod of adorable and playful bottlenose dolphins!
Plus, with expert trainers always on hand, there's plenty to be learned about these friendly mammals too!
Marathon
Situated in the middle of the Keys island chain, in between Duck Key to the east and Big Pine Key to the west, Marathon is home to some of the most laid-back family-friendly attractions along Highway 1, known for its particular focus on marine life and wildlife.
44 – Paint and play with animals at the Dolphin Research Center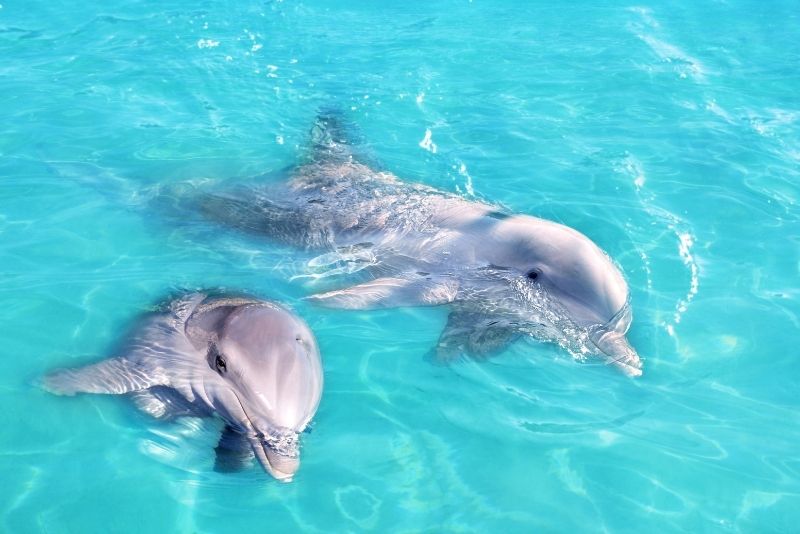 A nonprofit organization that's been working to provide a home for rescued and orphaned dolphins since 1984, the Dolphin Research Center is an excellent place to get up close with these marine mammals, putting on a range of fascinating interactive demos in its shallow lagoon.
Home to a number of daily dolphins shows alongside informative talks from the trainers themselves and incredible painting activities, it's also one of few places in Florida where you can grab onto a dorsal fin and be pulled along!
45 – Chat with a Marine Biologist at Aquarium Encounters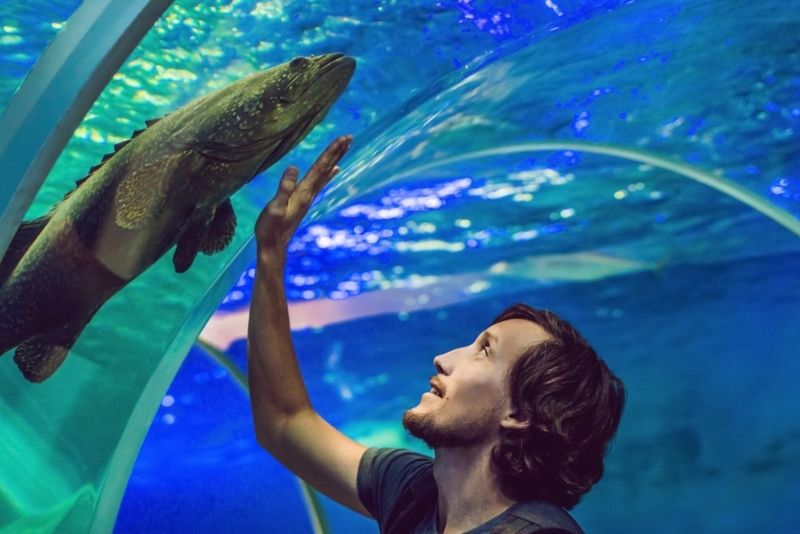 If you didn't get enough of being surrounded by the sea on your Dolphin Research Center experience, then Florida Keys Aquarium Encounters is another great way to immerse yourself in all things sea life!
Stretching across both indoor and outdoor zones and housing dozens and dozens of species from around the world including sharks, seahorses, electric eels, turtles, gators, and seahorses, this beloved locale isn't your typical tourist magnet aquarium; with touch tanks, interactive feedings, and educational workshops, it's far more hands-on and personal!
Plus, for adventure-seekers of all ages, Encounters also offers diving and snorkeling packages.
46 – Try kiteboarding at Curry Hammock State Park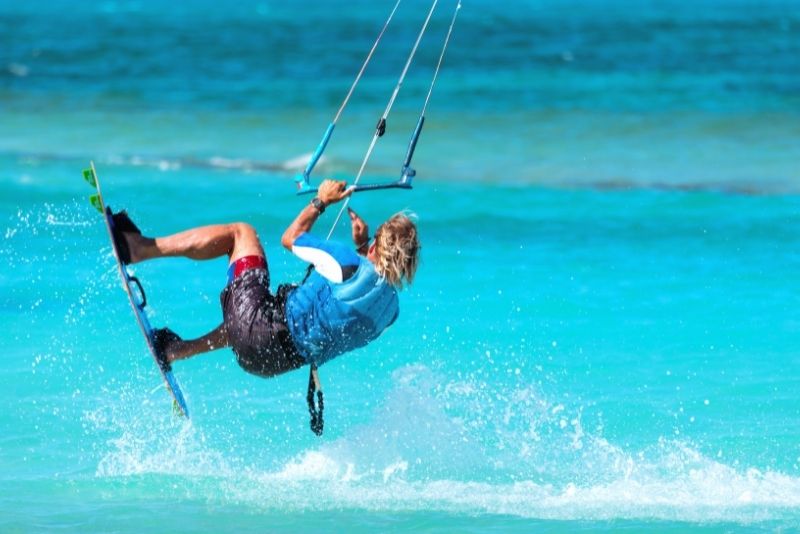 One of the best places for coastal camping and kiteboarding, the 1,000-acre Curry Hammock State Park is also a great spot to get out on the water — whether it's in your own kayak or with one of their guided tours!
There are plenty of other activities too like biking (rentals available within the park) and a 1.5-mile nature trail, along with fishing charters and sailing trips to boot.
Despite the selection of activities, with some of the most stunning opaque waters in the country, don't forget to simply sit back and enjoy the vibrant orange sunsets.
47 – Head to Sunset Park just before dusk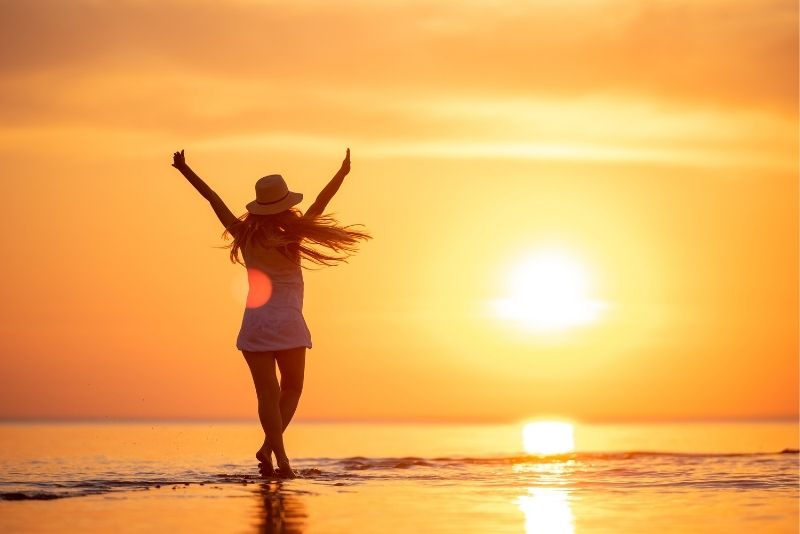 Speaking of sunsets, you'd be hard-pressed to find a more perfect place than Sunset Park in Marathon for watching the most incredible sunset put on by Mother Nature.
While the park isn't known for its swimming, it still boasts a gorgeous natural rock pier and some of the most coveted picnic areas in all of Marathon, with nearby restrooms and restaurants for your convenience, and no shortage of sprawling mansions nearby worth admiring on a stroll.
48 – Admire old planes at the Marathon Air Museum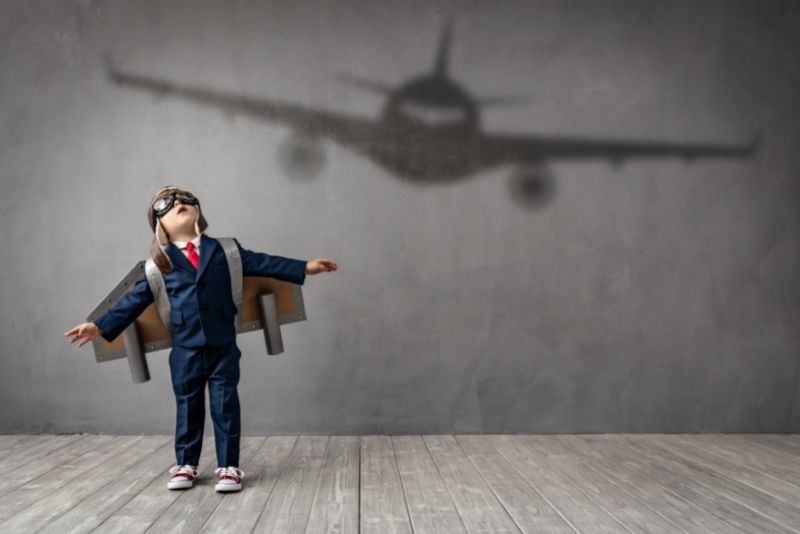 If you're an aviation enthusiast, then the EEA Air Museum in Marathon will be right up your alley!
It's located in a hangar at the Florida Keys/Marathon International Airport and housing some truly unique aircraft (including a replica of the Red Barrons plane), as well as aviation memorabilia dating back to WWII. This museum is a small but mighty collection of all things flight.
While the displays are intriguing, the really fascinating stories come from the volunteer caretakers whose pride and enthusiasm are palpable.
49 – Take a hike at Crane Point Hammock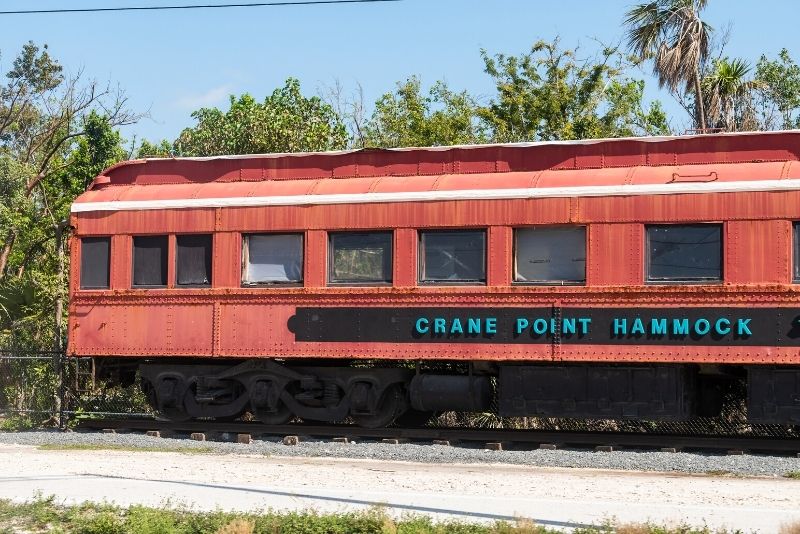 If you're looking for natural Florida, then this dense tropical hammock is it.
Home to gorgeous nature walks that don't require much of a fitness level (the main looped trail is just 1.5 miles), an array of local wildlife (keep an eye out for bright-colored iguanas), and a fish pedicure station, Crane Point Hammock is the perfect place to soak in some fresh air.
After conquering the trials, make sure to stop into the Marathon Wild Bird Center as well as the Hammock's two museums: the Museum of Natural History and, if you're traveling with youngsters, the Children's Museum.
50 – Stop for a quick selfie with Fred the Tree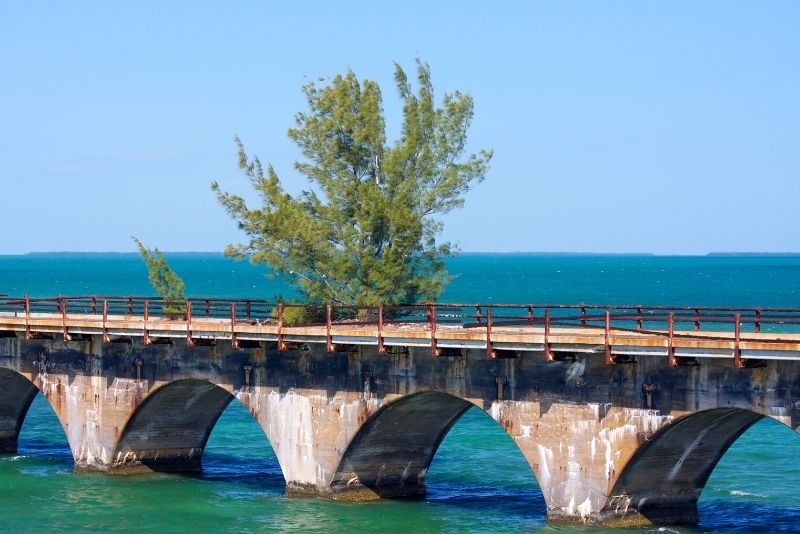 At face value, Fred is simply a big Australian pine tree majestically sticking out of the historic Old Seven Mile Bridge (how he got there, nobody really knows). But the leafy legend of this tree is far more compelling.
Following the devastating Hurricane Irma, Fred somehow managed to stay standing — a gallant show of strength that became a symbol of hope and residence for the many returning locals.
The local favorite tree has, as a result, become a bonafide landmark, and has since appeared in books and media far and wide.
51 – Swim through the reef at Coffins Patch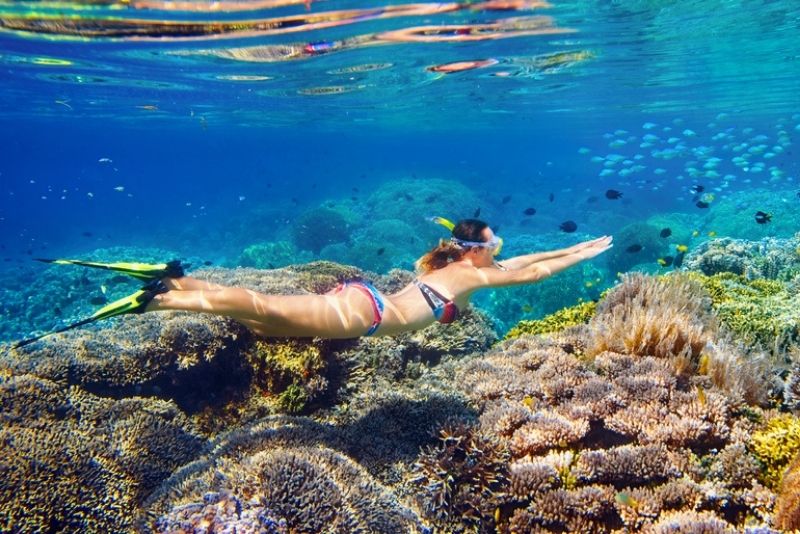 If you're looking for a little underwater thrill, then head to Coffins Patch — one of the most snorkeling infamous in the Keys and part of the vibrant and sealife-abundant Florida Keys National Marine Sanctuary.
With six different reefs of varying depths and ecosystems — The Stake is a haven for snorkelers while The Donut (about 15-20 feet deep) is preferred for divers — you're guaranteed to find a spot to explore no matter you're experience level.
52 – Join a tour of the Turtle Hospital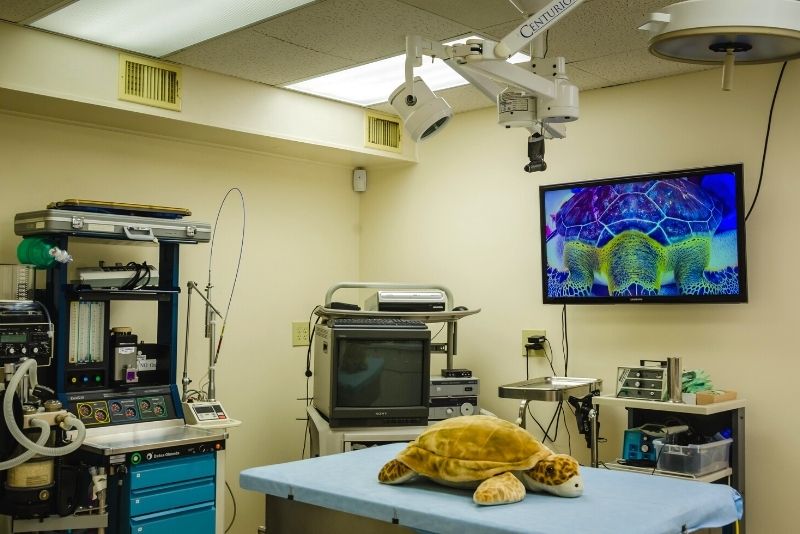 A heartwarming nonprofit organization dedicated to rescuing, rehabilitating, and releasing sick and injured Sea Turtles, Turtle Hospital has been doing God's work since 1988 — and while the numbers have changed over the years, currently more than 60 shelled critters call this place home.
After a friendly debrief from the instructors, guests can embark on a 90-minute tour of the facility, watch the turtles being fed, learn all about the 5 species of sea turtle found in the Keys area, and even touch and hold them (gently, and under supervision, of course).
53 – Soak up the tropical Florida sun at Sombrero Beach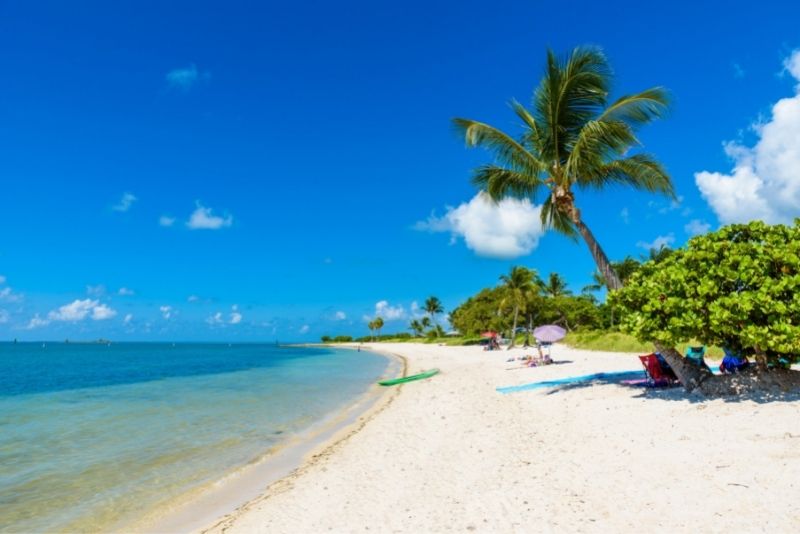 If you need a little more time to relax, do as the locals do and head to Sombrero Beach, undoubtedly one of Marathon's most visited beaches.
A great place for swimming and picnicking with family or friends (there are covered picnic areas, playgrounds for kids, and volleyball courts), this public beach is also an ideal spot for kayaking or snorkeling as well as those looking to fly-fish close by.
Big Pine Key
Thirty miles before Key West you'll find the natural oasis that is Big Pine Key — a large, north-west Key that's widely spoken of as home to the premier snorkeling and diving spots in the entire region — not to mention boasting the only freshwater lake in the Florida Keys (the Blue Hole).
Be mindful, if you're only driving through Big Pine, Highway 1 has a night-time speed limit of 35 miles per hour because of the large Key deer population (which is discussed below).
While Mother Nature is the main attraction here, there are several bars and restaurants along the Highway 1 corridor for something a little more social too.
54 – Plonk down at the beach in Bahia Honda State Park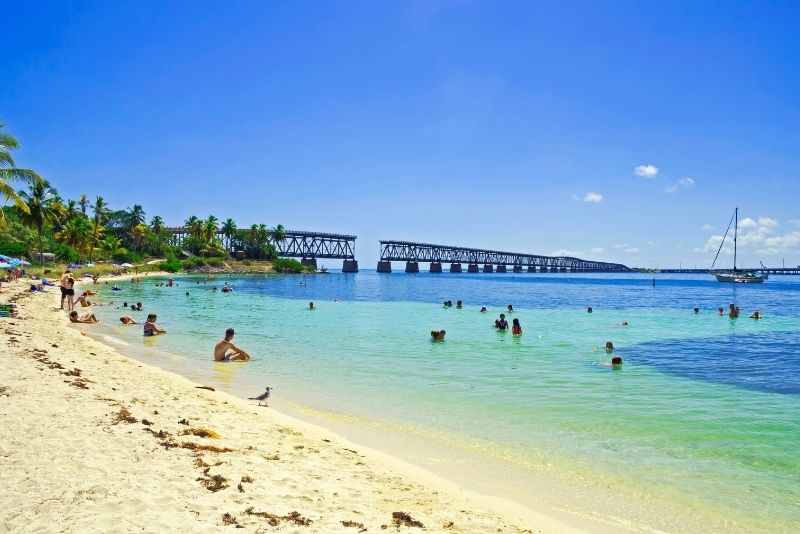 While Big Pine itself is a well-known destination, it's Bahia Honda State Park at mile marker 37that people often flock to.
As part of the Great Florida Birding Trail, it should come as no surprise that the wildlife is abundant — throw in 150 species of flora along the nature walks and 50 species of colorful coral in the snorkeling spots, and three distinct beaches, and it's clear why Bahai Honda is a nature lover's go-to.
Hot tip: For any avid stargazers, pop down a beach towel at Loggerhead beach after the sun goes down for epic Milky Way vistas (on clear nights).
55 – Say "awwww" at the National Key Deer Refuge Nature Center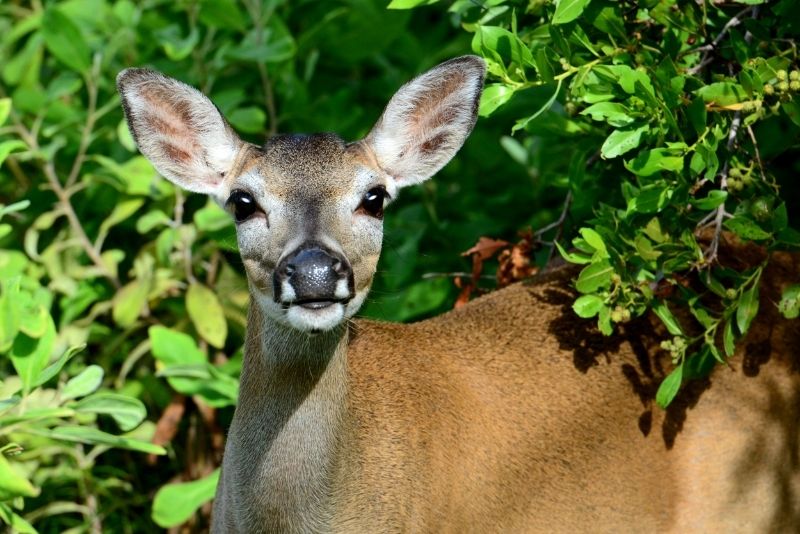 Since the majority of the endangered Key deer population is found on and around Big Pine, the enormous and untouched National Key Deer Refuge Nature Center sells itself as a required stop for visitors.
After getting an education on this small deer population at the Nature Center itself — where there are many educational displays and exhibits — you can also take some time to explore the surrounding area. Make no mistake, with 25 islands and nearly 90,000 acres falling under the Refuge's jurisdiction, there's no shortage of nearby nature trails to hike.
Once you've got your fix of the cute and docile deer, be sure to check out the Blue Hole Observation Platform, a hotspot for gator-spotting!
Summerland Key
A few miles down the road from Big Pine Key en route to Key West, Summerland Key is known for its serene and tranquil shores, its laid-back vibe (and that of the locals), fishing charters, and eco-tours.
While there's little in terms of shops or restaurants here, the Key makes up for it with world-class dive spots and killer sunsets.
56 – Escape the crowds at the Ramrod Swimming Hole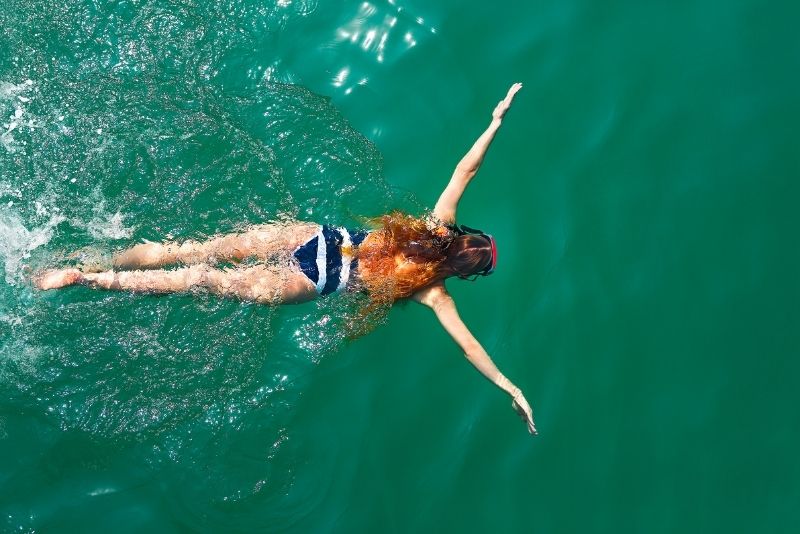 While technically on Ramrod Key, this spot is just 3 miles by far from Summerland Key Airport. The no-nonsense swimming hole is underrated (yet cherished by those in the know) but it slowly gaining traction for its tranquil swimming and kayaking opportunities.
If you're sick of run-of-the-mill tourists swarming beaches, Ramrod delivers a highly welcomed air of tranquility.
57 – Take a boat out to Picnic Island… for a picnic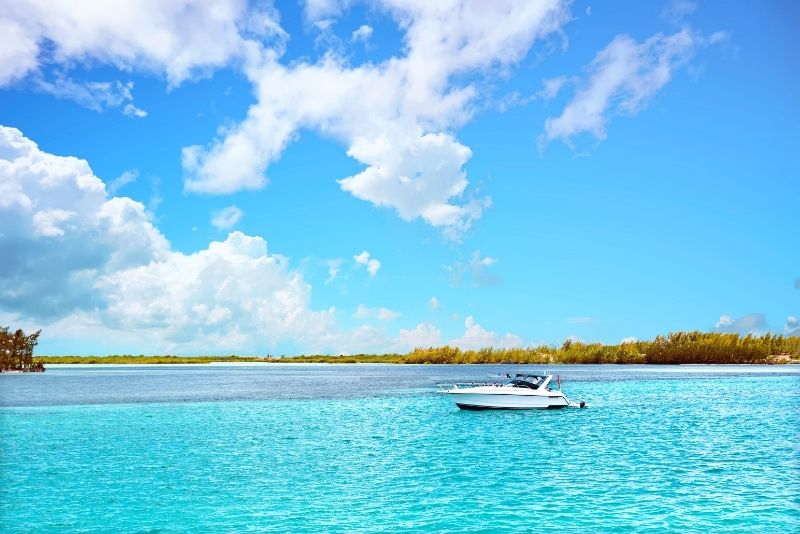 A quick boat trip from either Summerland or Cudjoe will bring you to a tiny, sandy island perfect for anchoring the boat for a couple of hours and relaxing or socializing with friends (drink in hand, of course).
Hot tip: If traveling around July 4th, Picnic Island should be your top destination! The otherwise quiet slice of land transforms into a huge, floating concert known as Wetstock.
Cudjoe Key
Perhaps best known for its military significance and blimp-shaped Air Force surveillance balloon, Cudjoe Key (right next to Summerland) still delivers in spades when it comes to food and drink spots, luxurious resorts, noteworthy beaches, and open-water activities.
58 – Visit the Great White Heron National Wildlife Refuge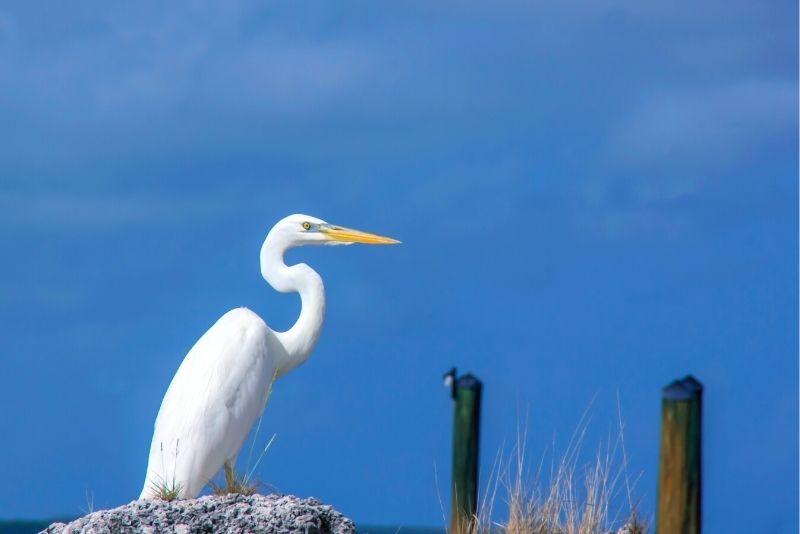 Another of the many US Fish and Wildlife Service-managed lands in Florida, Great White Heron National Wildlife Refuge is spread across some 1,900 acres and, as expected by its name, is home to countless great white herons amongst a host of other friendly and furry wildlife in its bird sanctuary and beyond (including loggerhead and green sea turtles).
An oft-overlooked hidden gem, the Wildlife Refuge presents some fantastic opportunities for kayaking, canoeing, bird watching, fishing, and simply boating around, soaking in the sun.
59 – Grab a bite at the Broil Small Island Steakhouse
An oldie but a goody, this Old State Road eaterie has been a local favorite for decades, with its fresh seafood and steaks cooked to perfection in the family-run kitchen.
Alongside the top-notch service, Broil also boasts a sizeable wine list and selection of craft beers brewed both locally and on the mainland.
Note: Typically, the steakhouse is only open from 5–10 p.m. Wednesday through Saturday. On Tuesdays, you're better off heading down the road to the Square Grouper Bar and Grill, where equally lip-smacking meals and friendly service await.
Key West
The world-famous Key West is a one-of-a-kind destination. Full of vibrant colors, amazing food and drink spots (including the Smokin' Tuna Saloon), sandy beaches, and friendly locals in an eclectic mix of architecture, this island town has much more than meets the eye when compared with other parts of Florida.
Hot tip: Check out our full list of fun things to do in Key West.
60 – Go on a snorkeling excursion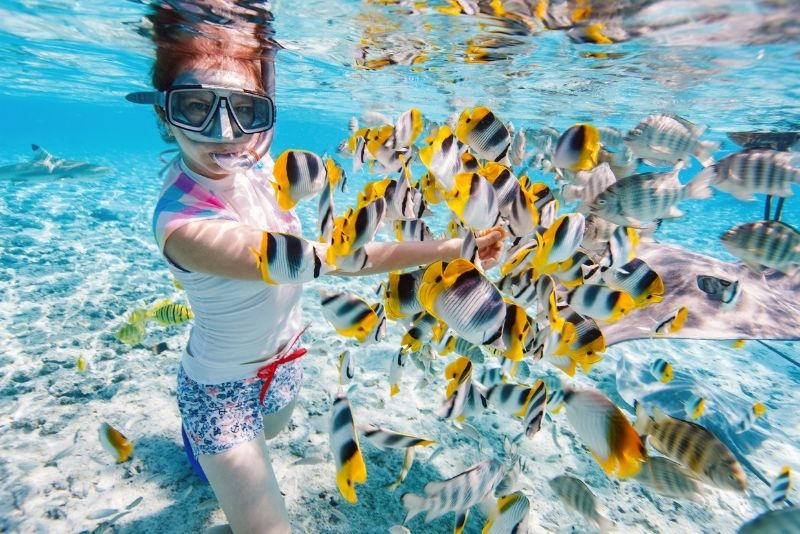 As any former sunseeker will attest, snorkeling on the Key West coast is one of the best things to do in the Florida Keys. Home to North America's only coral barrier reef, novice and expert divers alike can soak in the unforgettable sights of fish, reefs, aqua blue waters, and more!
Arguably the best part, however, is the chance to sail aboard a luxury Catamaran! Regardless of the tour of choice, snorkeling cruises will include all the professional gear and plenty of drinks to quench your thirst.
61 – Camp out at Geiger Key Marina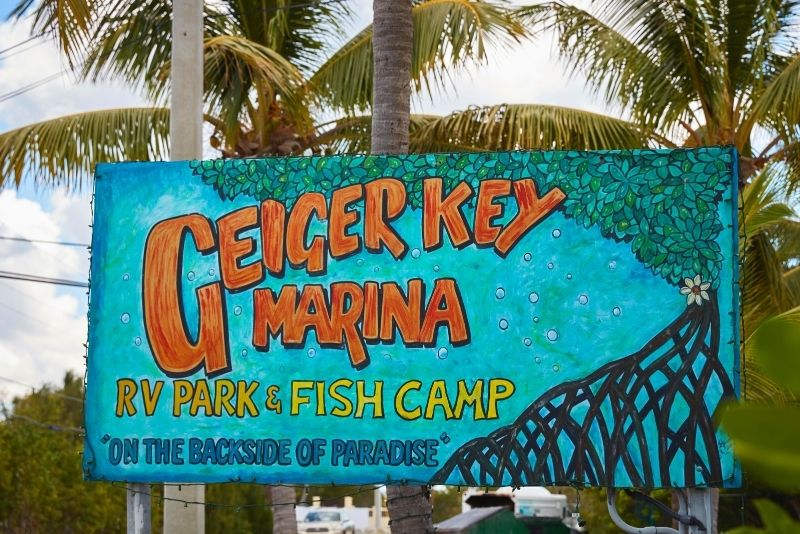 Heading down the Gulf Coast in an RV? Then consider parking down at the Geiger Key Marina RV Park & Fish Camp, a popular vacation locale known for its delicious seafood, friendly locals and service, and stellar views.
In terms of the RV park itself, it comes chock-full of modern camping and hook-up facilities, and gives guests the chance to join a deep-water fishing charter, or rent a kayak or paddleboard to explore the mangroves.
62 – Ski across the waves on a jet ski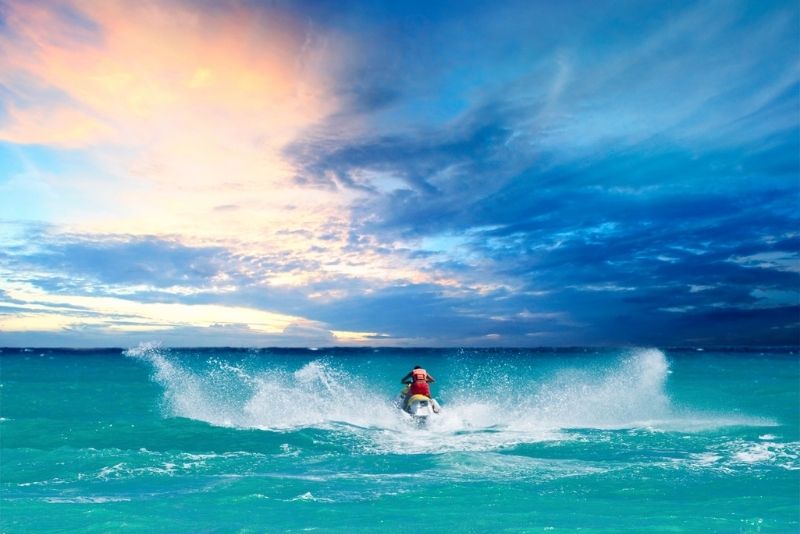 A surefire way for thrillseekers to scratch that itch for adrenaline, hopping on the back of a jet ski — whether as part of a guided tour or simply your own rental — offers the rare chance to explore the turquoise blue waters of the Atlantic Ocean and the Gulf of Mexico.
Keep your eyes peeled — so long as luck's your friend, you'll get to see dolphins, manatees, sea turtles, stingrays, and plenty more!
63 – Marvel at nature while you kayak through the mangroves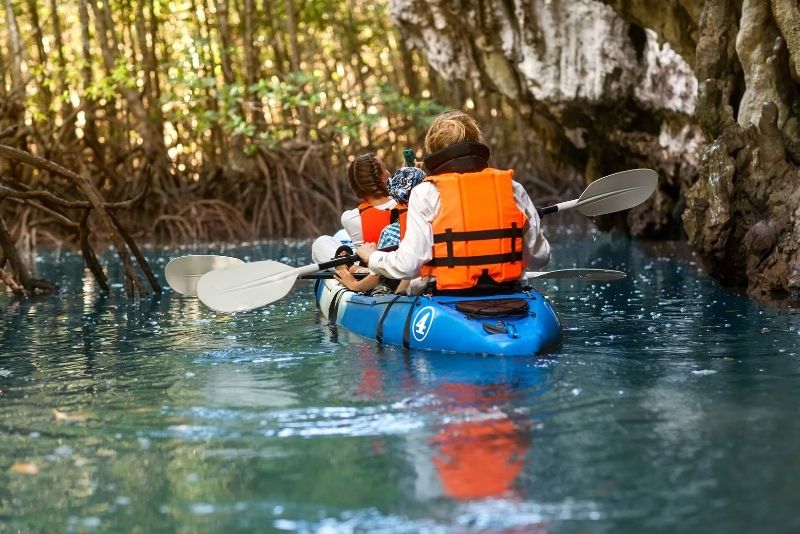 For one of the more popular ways to see the diverse Florida wildlife in their natural habitat, why not hop in a kayak and paddle through the shallow Key West mangrove creeks?
At the heart of any Eco Tour, if following along with a friendly guide, you'll get to learn all about the local geology and witness groups of marine life and aquatic birds doing their thing.
64 – Make a stop at The Basilica of St. Mary Star of the Sea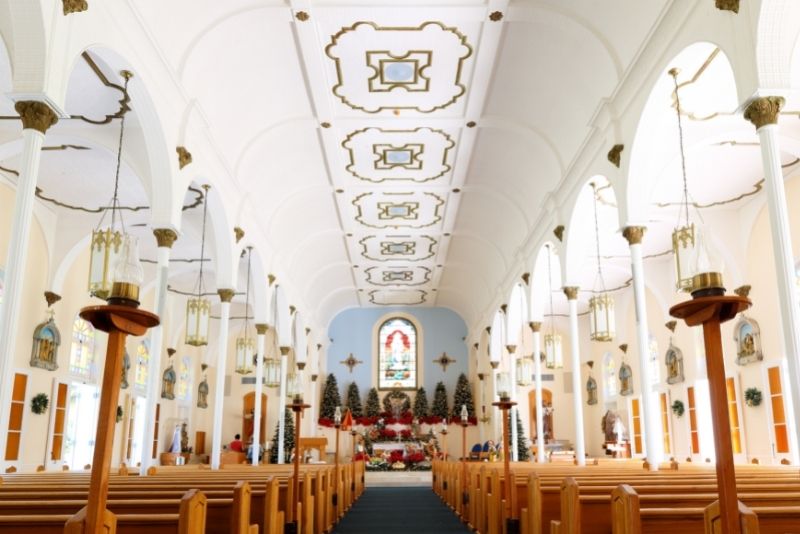 A rare, non-water-related landmark, visitors and locals alike can stroll through The Basilica of St. Mary Star of the Sea, admiring the architecture and, if you feel so inclined, confess your sins.
After checking out the Historic Grotto Lady of Lourdes and The Stations of Cross Garden, don't forget to stop into the chapel, visit the gift shop, and admire the sculptures of Saint Mary and the stained-glass paintings in the beautiful church.
65 – Marvel at The Kapok Tree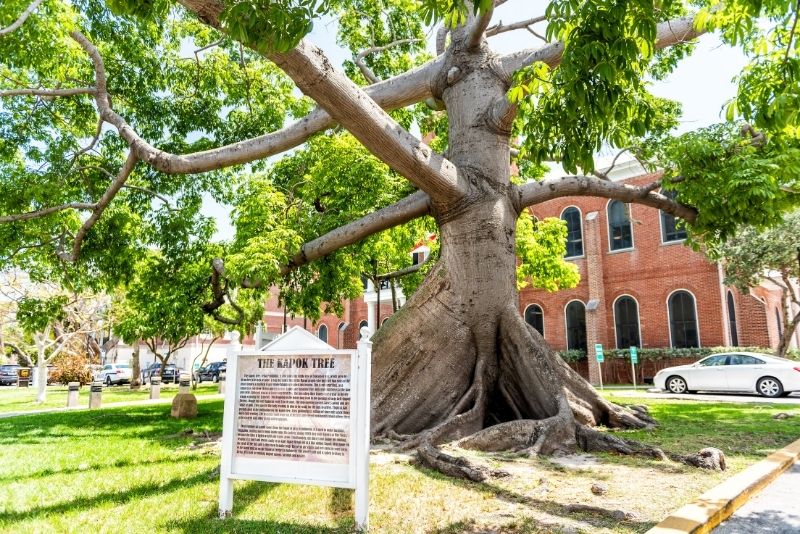 Found over at Whitehead, the towering, infamous Kapok Tree is shrouded in mystery. The tropical tree is a symbol of Mayan Mythology (read about it on the monument there), stands a whopping 130 feet tall, and (for all your skincare fanatics out there) has pods that have oil-producing seeds that are used in soap!
Whether you're just wanting to snap a photo underneath or roll out the picnic blanket on the nearby benches, it's a worthwhile stop.
66 – See the Key West sights on the Conch Tour Train!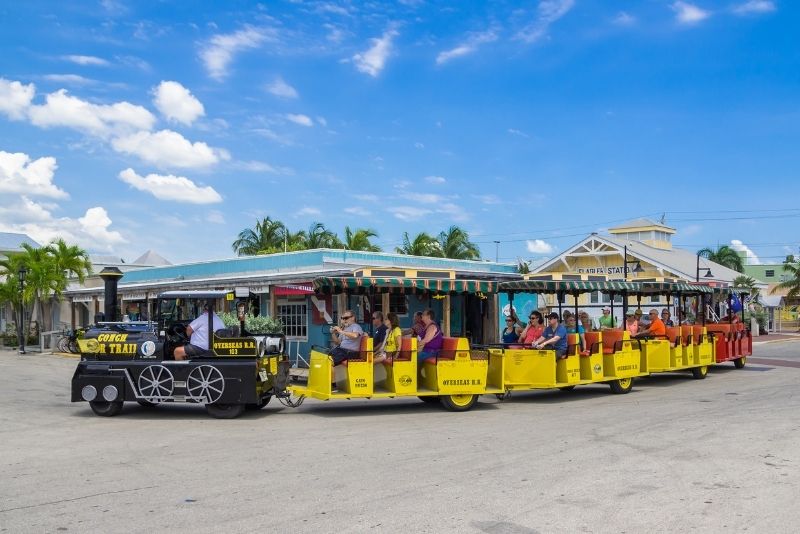 Typically kickstarting at the Front Street Depot and ending in Mallory Square (both in Key West), visitors can check off all of the area's important sights on the 75-minute-long Conch Tour Train ride.
You'll get to see the Key West Old Town, stretch your legs for a 10-minute shopping break at Station Depon, and even get the chance to admire the historic Key West of old at the Truval Village stop!
With complimentary admission to the Sails and Rails Museum included, it's a must for the bucket list.
67 – Get a history lesson at the US Coast Guard Cutter Ingham Maritime Museum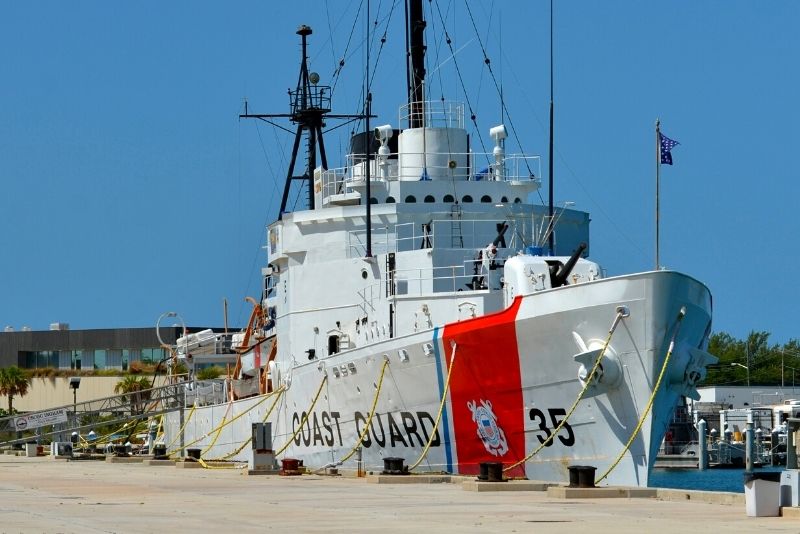 A wonderful, sobering way to learn about the brave National Guardians who lost their lives to World War I, II and Vietnam, the US Coast Guard Cutter Ingham Maritime Museum showcases the history of the USCGC Ingham, diving into its decorated past that stretches from 1936 to 1988.
Fun fact: As well as being a museum ship, it's also a National Historic Landmark.
68 – Check out the Truman Little White House
Truman Little White House is the only Presidential Museum in Florida, where politically-savvy visitors can learn all about the life, career and story of Missouri's Harry S. Truman.
Led by expert locals, you'll get to explore his presidential journey through a range of artifacts, and even take a peek at his original 1950 limousine!
Hot tip: For something extra special, you can actually ride in the presidential limousine with a White Glove Tour.
69 – Head out on a dolphin-watching cruise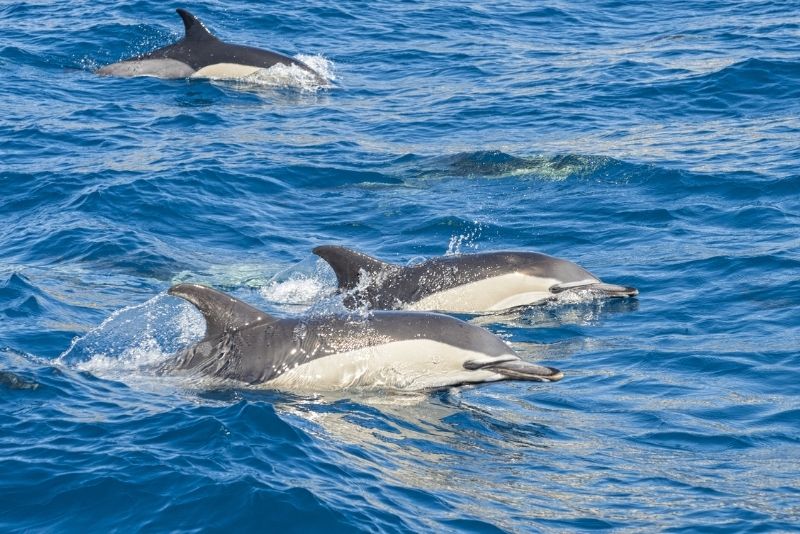 As you've probably realized, the Keys boast no shortage of opportunities to get up close and personal with these majestic marine creatures — whether with a snorkeling trip, boat cruise, scuba dive, or a fun-filled combination of the bunch. Key West is no exception.
After hanging with the cheeky swimmers, you can sit back, relax and enjoy a refreshing drink. Take in the beautiful scenery and let the cheerful captain entertain you en route back to shore.
70 – Walk up the Key West Lighthouse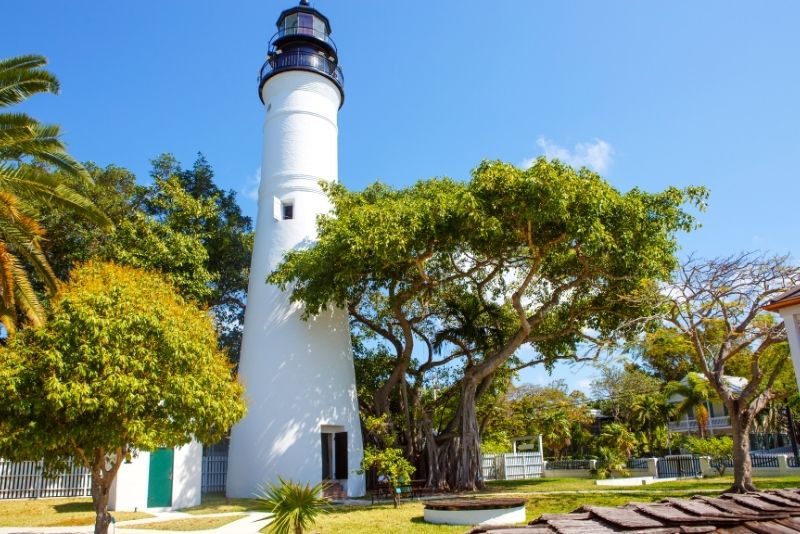 One for the history buffs, this underrated landmark offers travelers the chance to see what was the only female-run Key West lighthouse of the mid-1800s.
You can climb its 88 steps to the rooftop, as well as check out the various photos, belongings, and letters that belonged to the former lighthouse keepers and their families.
71 – Soak in the sights with a bike tour around Old Town Key West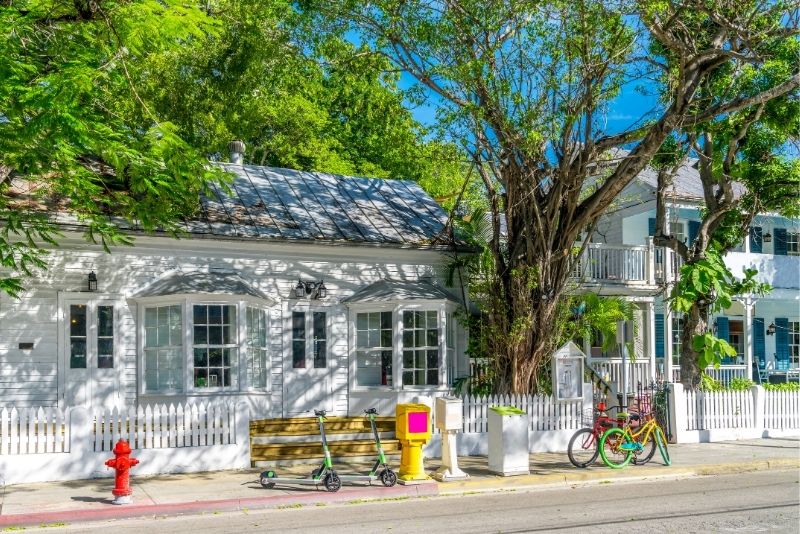 Whether you're an avid or casual rider, Old Town Key West has the perfect bike tour for everyone!
For not much more than the cost of a decent meal, grab your helmet and head to the meeting point. After joining your friendly local guide, you'll be escorted to all of the town's highlights along Duval Street (Mallory Square, Mile Marker Zero, White Street Pier, and more). Learn all about the island's history, and get to enjoy the scenic views at the southernmost Point Buoy.
72 – Don't get spooked at the Fort East Martello Museum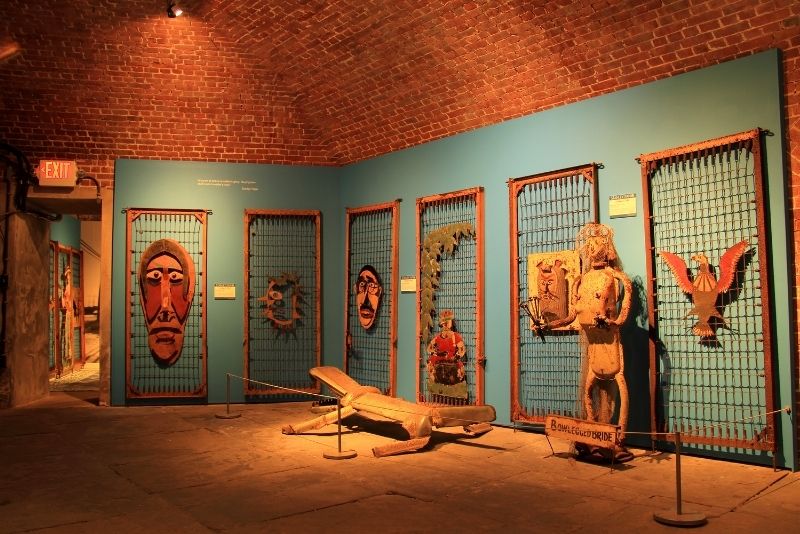 Are you a history and civil war buff? Then step right up to the Fort East Martello Museum, a fan-favorite that opened its doors in 1950 and has since grown to hold an extensive collection of Civil War relics.
There's plenty to be learned about the cigar manufacturing industries too (and its downfall). Add the stunning and creative sculptures of Stanley Papio, and the spooky stories about Robert The Doll and other Ghosts of East Martello to the list, and it becomes a rather diverse attraction.
73 – Stop into the West Martello Tower and Key West Garden Club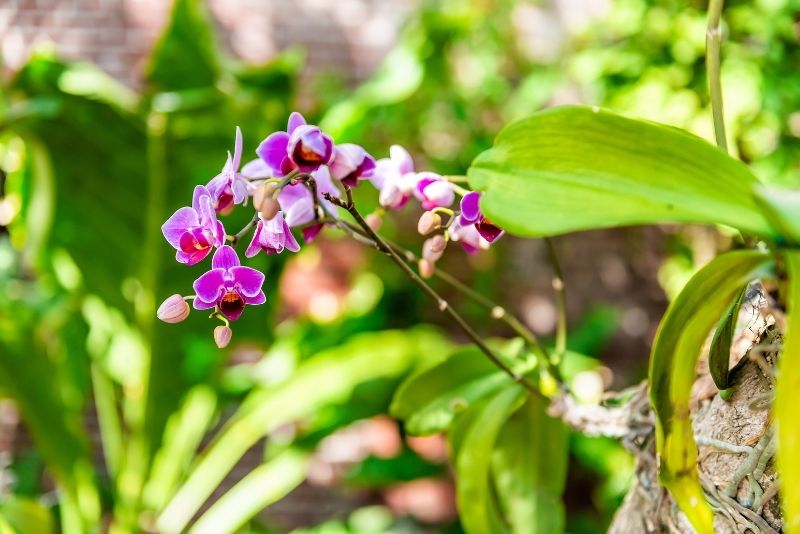 A true slice of paradise with a historic twist, the West Martello Tower (maintained by the Key West Garden Club) is located by the sea on the site of a former Civil War fort.
Explore the garden rooms, courtyard, and fort ruins; learn about the area's intriguing history, and finish off the afternoon with a casual walk along the beach
Best of all? It's free!
74 – Sunbake at Smathers Beach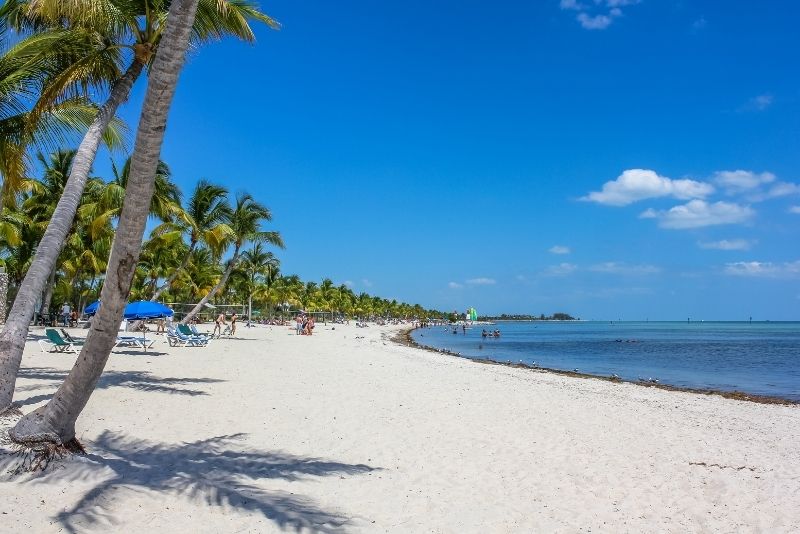 To all you spring-breakers, Smathers Beach presents as the perfect spot to get a little tipsy and soak in the sunshine!
With so many activity options — volleyball, windsurfing, jet-skiing, swimming, and more — this public beach can be a popular family oasis or, a wild party haven, depending on when you visit.
Either way, with a 2-mile-long shoreline with sand (apparently) swept in from the Bahamas, you'll find no shortage of spots to lay a towel down and simply doze off.
75 – Experience history at the Key West Shipwreck Treasure Museum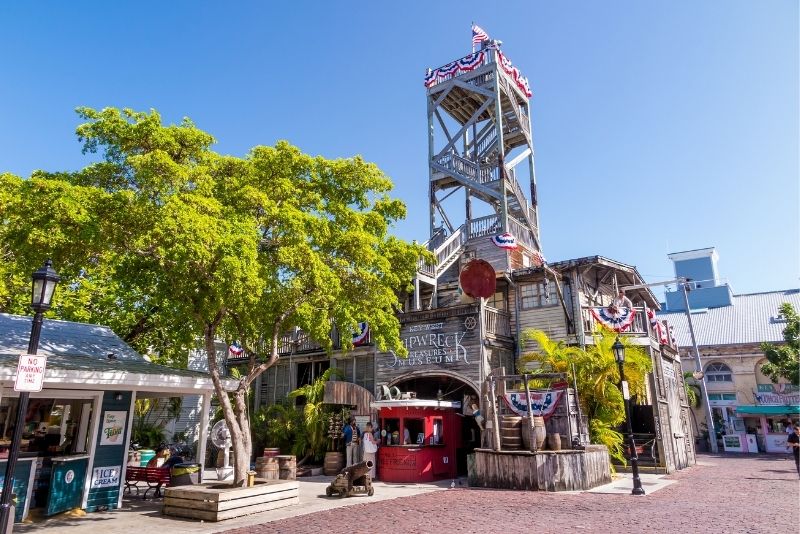 Just one look at the museum's website will tell you that this is no ordinary attraction.
Key West Shipwreck Treasure Museum offers a unique insight into 'the shipwreck capital of the world', where visitors can take part in an underwater treasure hunt and learn about the 100+ vessels that ran into trouble through a range of interactive exhibits.
76 – Take Fido to Higgs Memorial Beach Park (Higgs Beach Dog Park)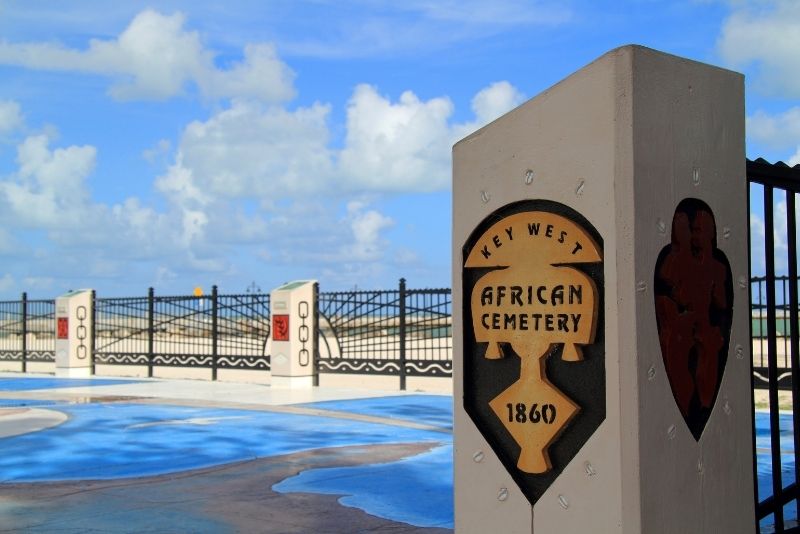 Puppy parents, take note! The county-owned beach is a memorial — because of its Civil War Era Fort. However, it is renowned more for its nature, with over 16.5 acres of oceanfront landscapes — dishing up postcard-worthy contrasting vistas of tropical blue waters, white sandy beaches and green vegetation.
With loads of beach activities on offer, you'd be forgiven for visiting without a dog, too.
77 – Visit the Key West Museum of Art & History at the Custom House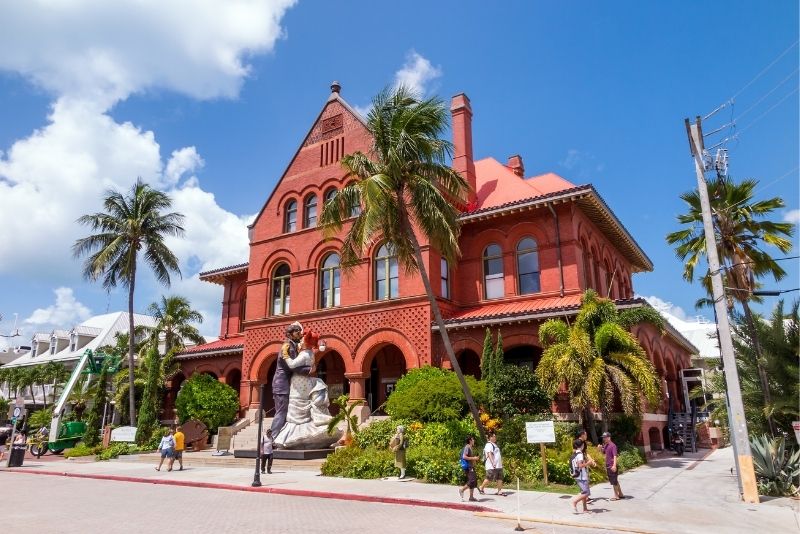 A brilliant way to explore the history of not just Florida but the entire Caribbean region, the Key West Museum of Art & History at the Custom House has been open since 1891. Its four-story Romanesque tower identifies what has transformed over the years — from a postal service to the district court, customs office and now popular tourist attraction.
Housing over two centuries worth of artifacts from settlers' relics to Civil War artwork, it's a fascinating look at how one of America's most popular destinations came to be.
78 – Set sail with a boat tour!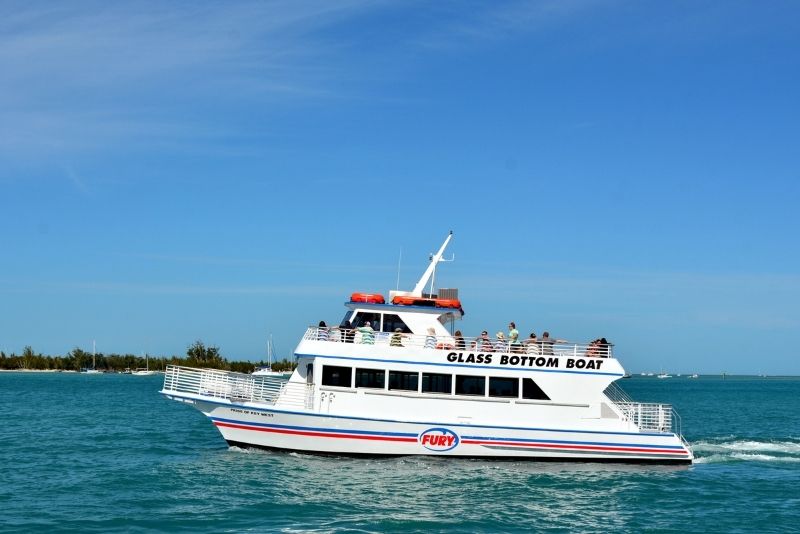 A top activity for a reason, boat tours offer a unique vantage point to take in the beauty of Key West and its surrounding waters.
With dozens of different companies offering everything from sunset cruises to snorkeling trips offshore, there's something on offer that will suit any budget or group size!
Need help deciding? Consider a luxury private tour with a 2-hour sunset sail on the Schooner America 2.0, or join a cameraman sightseeing trip. You'll be able to check off hot spots like Fort Zachary Taylor, Sandy Key Reef, Mallory Square, and Sunset Pier from the water — not to mention the range of marine life who often swim up to the bow and say hello!
79 – Make the journey to Fort Jefferson on Dry Tortugas National Park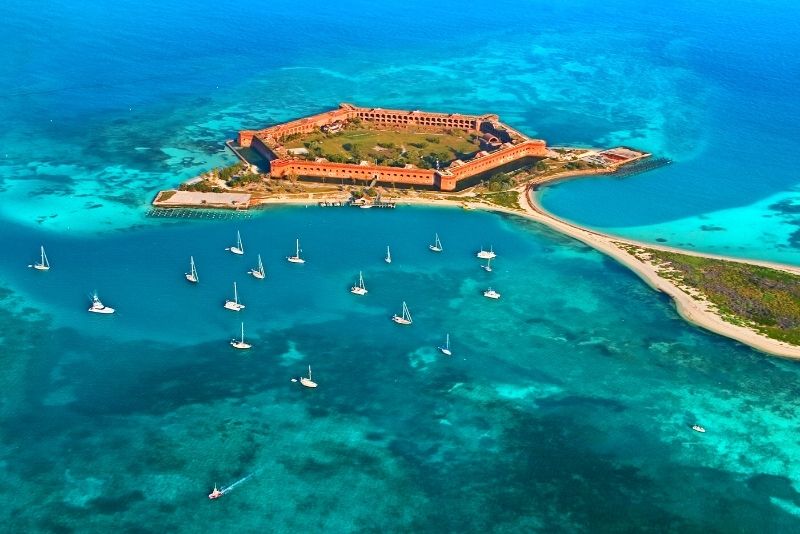 Undeniably one of the world's most unique military structures, Fort Jefferson was built to protect the harbor years ago, and the famous fort still stands today as a historical marvel flanked by water in all directions in Dry Tortugas National Park.
A day trip to the park is an absolute must for history lovers, nature-buffs, and adventure seekers alike!
More than just a cultural site, depending on your tour, you'll also get the chance to fish in crystal clear waters or join one of the ranger-led snorkeling tours where turtles are often spotted.
80 – Step back in time at the Audubon House & Tropical Gardens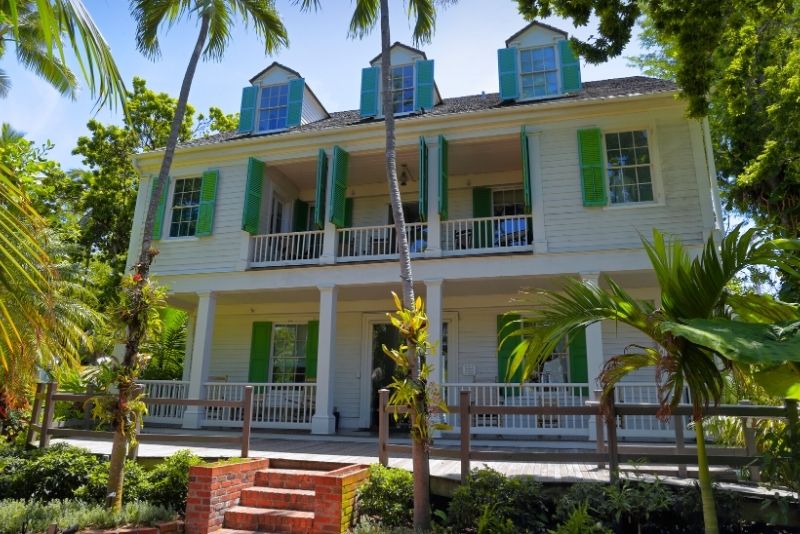 If you're even the slightest bit passionate about nature, then a visit to The Audubon House & Tropical Gardens is sure to be well worth your time.
Formerly the lavish work of Captain John Huling Geiger back in the 1840s — Key West's wealthiest men in the mid-1800 — these days, the House on the end of Whitehead St. is a museum renowned for its artistic displays, quaint tropical garden, rare species of plants on display, and fine period furnishings throughout the home.
While the space is dazzling during the day, it's equally fascinating at night, when it takes on a more "spirited" demeanor. Local ghost tours frequently make stops here, exploring the surprisingly haunted legacy behind this seemingly tranquil realm.
81 – Stuff your face on a food tour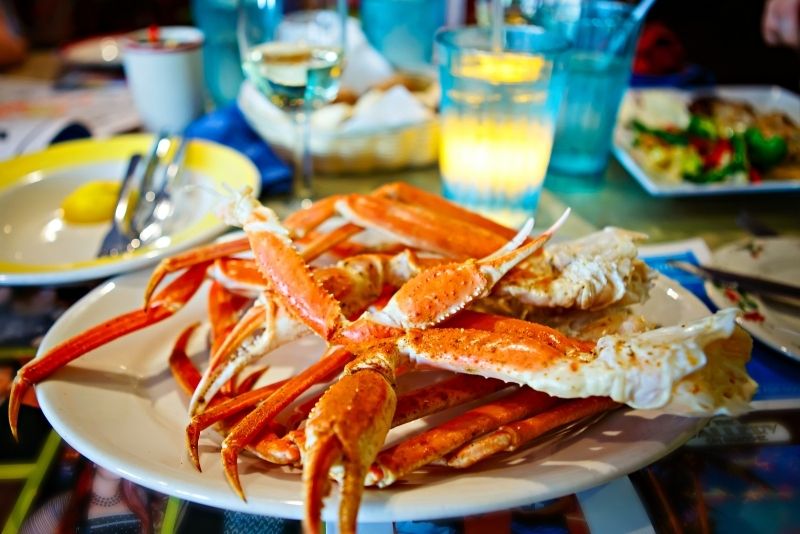 Foodies, listen up! No Keys trip is complete without indulging in the delicacies that this coastal oasis has to offer. Led by in-the-know locals, expect to walk (or bike) around town, sampling a range of delicacies at Old Town 'mom and pop' eateries.
While every trip is a little different, expect to try some Cuban cuisine, seafood, and, of course, a giant slice of key lime pies. Plus, since it's a walking tour, you'll get to soak in architecture and history along the way!
82 – Tour the Oldest House & Gardens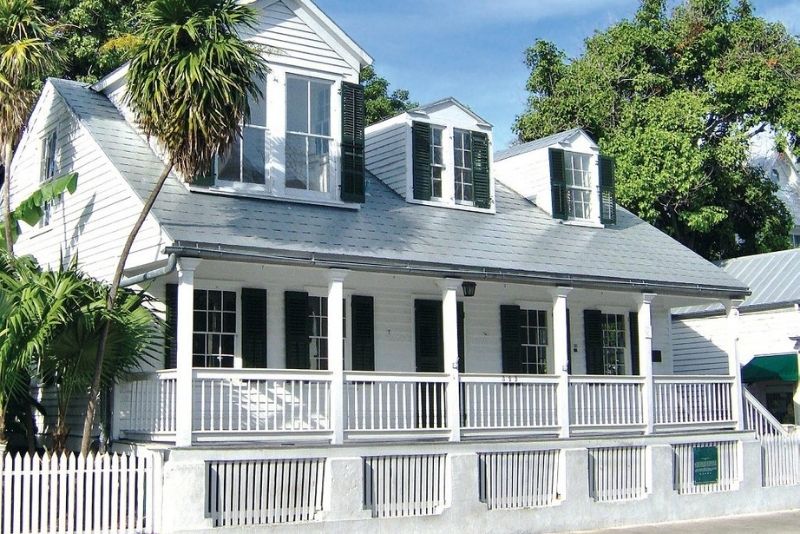 Sitting at 322 Duval Street, smack-bang in the middle of Old Town, this ancient abode was built in 1829 yet still boasts its original furnishings and family portraits!
Plus, it's home to other period pieces, documents, and ship models; features a spacious garden that's peaceful and green; showcases the oldest cookhouse dating back to 1838 (and is one of the last ones in Key West), and even has an on-site gift shop perfect for picking up a unique souvenir!
83 – Feel the groove of Mallory Square's nightly Sunset Celebration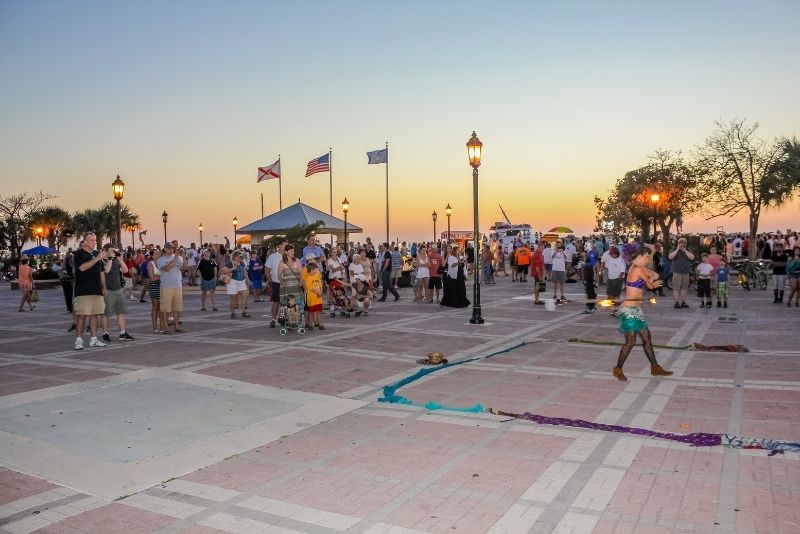 Welcome to locals and visitors alike, Sunset Celebration at Mallory Square is an event that's been around since the late 1960s. Starting two hours before sunset, attendees can enjoy the captivating pink and red sunset, as it bounces off the Atlantic Ocean while embracing the atmosphere and enjoying the live entertainment.
With talented magicians, jugglers, psychics, musicians, artists, food vendors and more, there's no shortage of said entertainment!
And you can see it all in style on a trolley tour, which is a great way to see the town in general. Utilizing the classic hop-on, hop-off model, these flashy little vehicles allow you to enjoy all of the best sights in town and explore your favorite spots at your own pace.
84 – Take the youngsters to the Key West Aquarium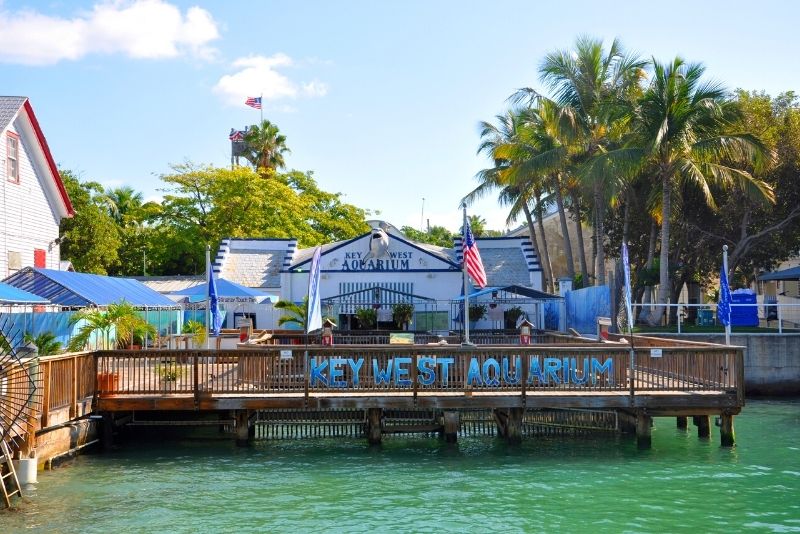 Traveling with kids? You might want to visit the Key West Aquarium, the island's first (and arguably most popular) attraction!
With more than 100 different species on show, you'll stare at sharks, mingle with manatees, and touch all kinds of prickly and slimy sea creatures in the touch tank (if you're brave enough).
For something extra memorable, consider signing up for the sea turtle conservation tour to get up close with some adorable slow-movers.
85 – Taste delicious food at Pepe's Café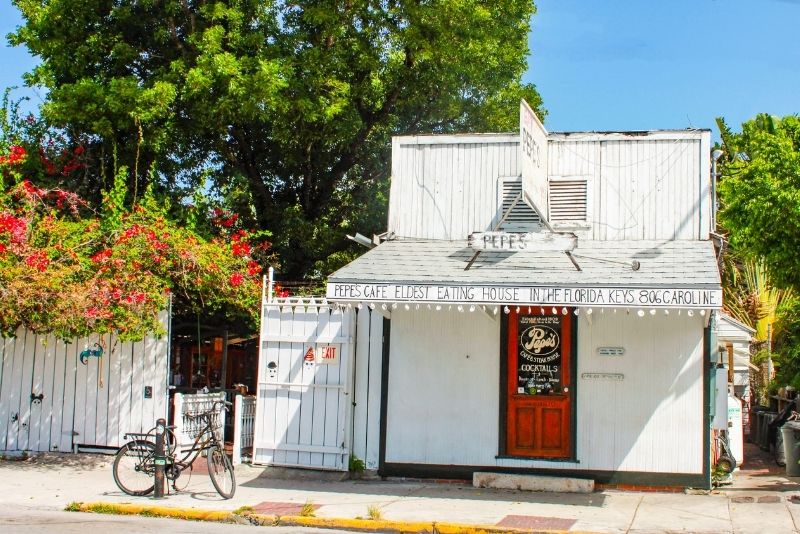 A unique blend of café and steak house, Pepe's is the local go-to for a hearty dinner in Old Town ( or lunch or breakfast, for that matter), dishing up drool-worthy surf 'n' turf since the early 1900s with a quirky gift shop to boot.
Feeling thirsty too? The beloved eaterie also has a full bar that offers diners imported and domestic wines, craft beers, and some stronger options.
86 – Visit the four main sections of the Key West Art and Historical Society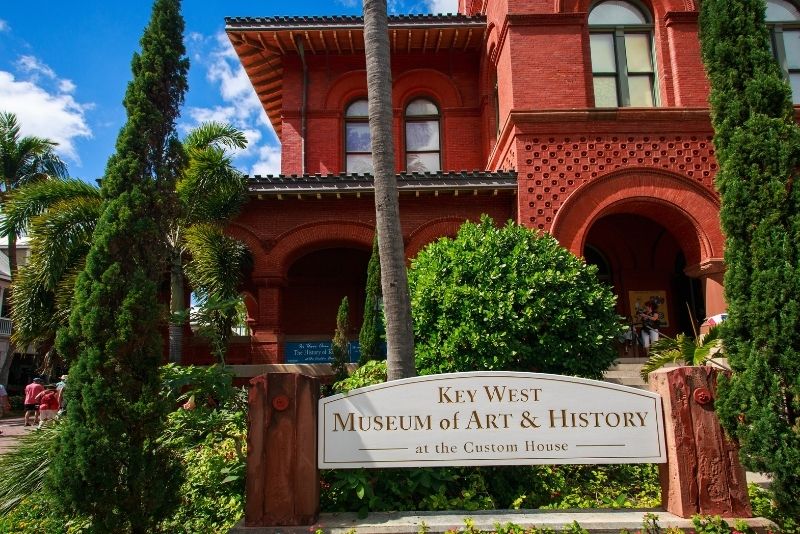 While the attractions themselves have got a quick mention already, the governing body — the Key West Art & Historical Society — deserves a mention of its own.
Besides looking after four major points of interest: the Key West Museum of Art and History at the Custom House, the Key West Lighthouse & Keeper's Quarters, Fort East Martello, and the Tennessee Williams Museum, the Society also regularly puts on engaging, fun events, from walking tours to workshops and art openings, and even happy hour with historians!
The calendar's always changing, so check in with the KWAHS website for more info.
87 – Go fishing at the Edward B. Knight Pier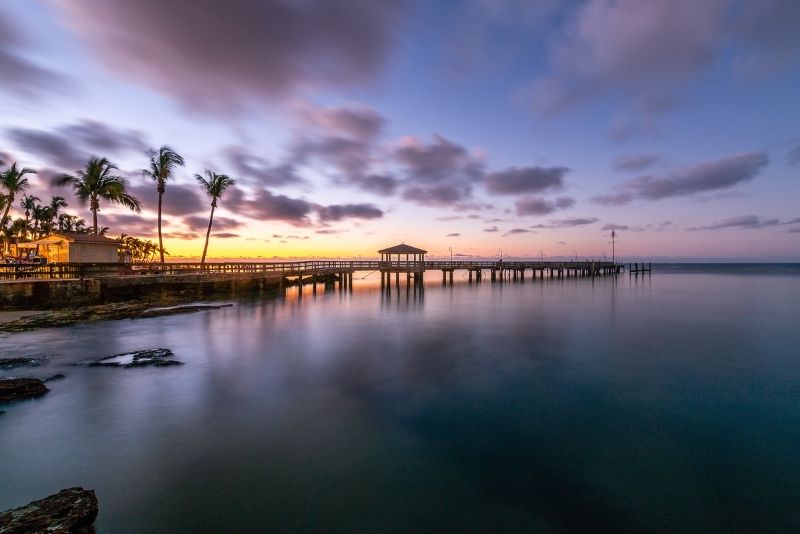 If you want a relaxing afternoon, head to the Edward B. Knight Pier and fish.
Previously known as White Street Pier, the quiet fishing spot is dog-friendly, welcomes bike rides, and delivers one of the premier sunrise and sunset viewpoints!
If you're lucky, you might even catch something worth taking home!
88 – Get inspired at the Wyland Gallery of the Florida Keys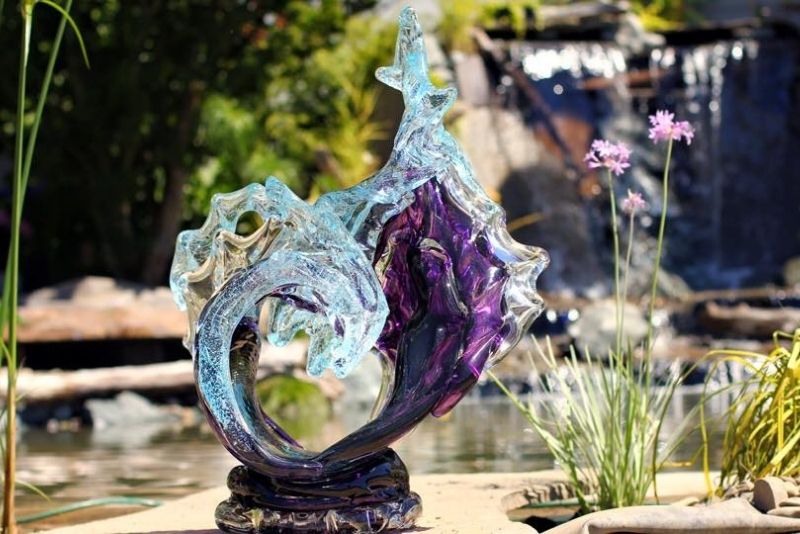 A non-negotiable for the artsy travelers tucked away in the heart of Key West's eclectic Duval Street precinct, the Wyland Gallery boasts breathtaking pieces of art from all over the world, covering everything from decades-old sculptures, to handcrafted paintings, abstract work, mixed media pieces (using quirky new technology), and plenty more.
Arguably the gallery's highlight, Wyland has a permanent collection of marine life paintings and sculptures that couldn't be any more Caribbean if it tried.
89 – Slide down a fireman's pole at the Key West Firehouse Museum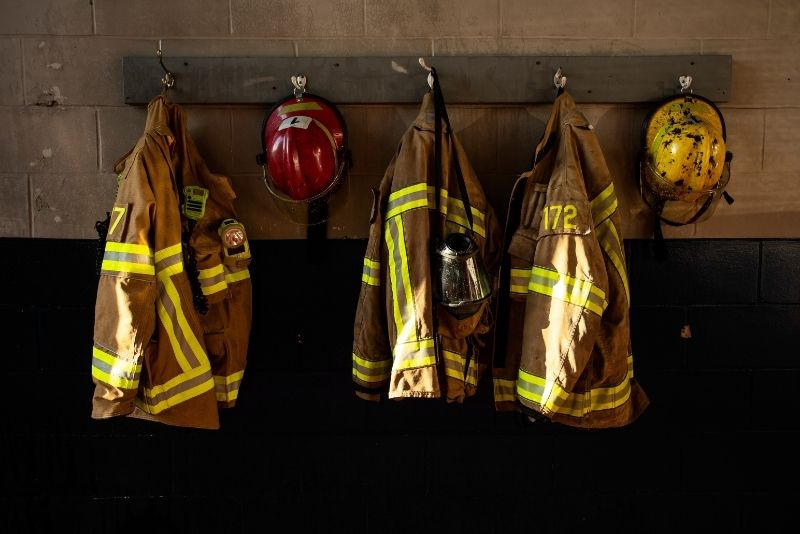 A unique and eye-opening attraction found on the corner of Grinnell and Virginia Streets, the Key West Firehouse Museum was built in 1907 and is one of the oldest fire stations in Florida, run largely off the back of some 200 volunteers.
Step inside to learn all about our first responders; and check out the antique machinery and engines, the early 1900s alarm systems, scorched uniforms, oxygen tanks, and the living quarters of the famed Fire Station No. 3.
90 – Try parasailing for the first time!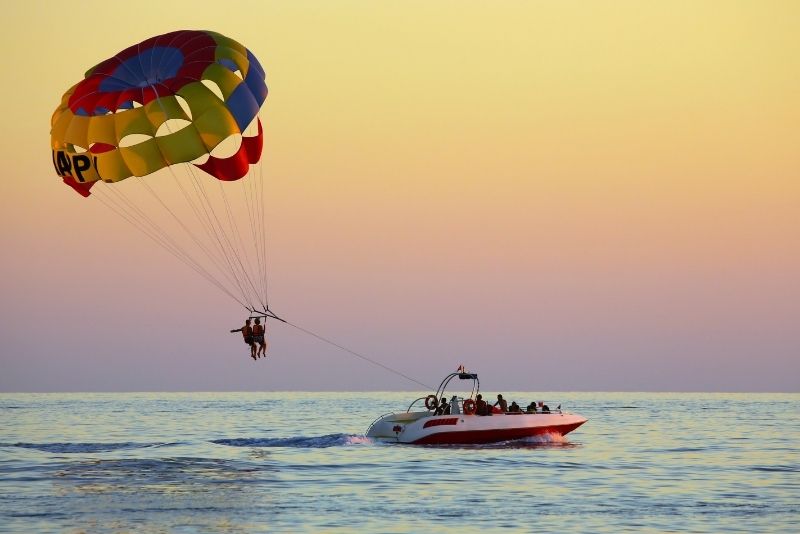 One of the world's most popular water sports, parasailing allows you to fly high above the ocean and take in an unforgettable view of Key West, tugged along by a boat to ensure you don't end up where you shouldn't.
With one-hour flights departing daily (weather dependant, of course, but rarely do the Keys dish up a cloudy day), there's no better activity for a day out on the water — especially if it's your first time!
91 – Wander around the Sails To Rails Museum at Flagler Station

Providing a fascinating insight into the history of Florida's key transport infrastructure — boats and trains, of course — the Flagler Station Museum teaches visits all about sail power and the transition into rails throughout the 19th and 20th centuries.
Filled with an array of hands-on artifacts, video lessons, and centuries-old memorabilia — including artwork, equipment, and more — there's easily a couple of hours' worth of things to see.
If you don't plan on boating out to Fort. Jefferson, the Museum showcases a brilliant miniature diorama!
92 – Taste delicious rum at Key West First Legal Rum Distillery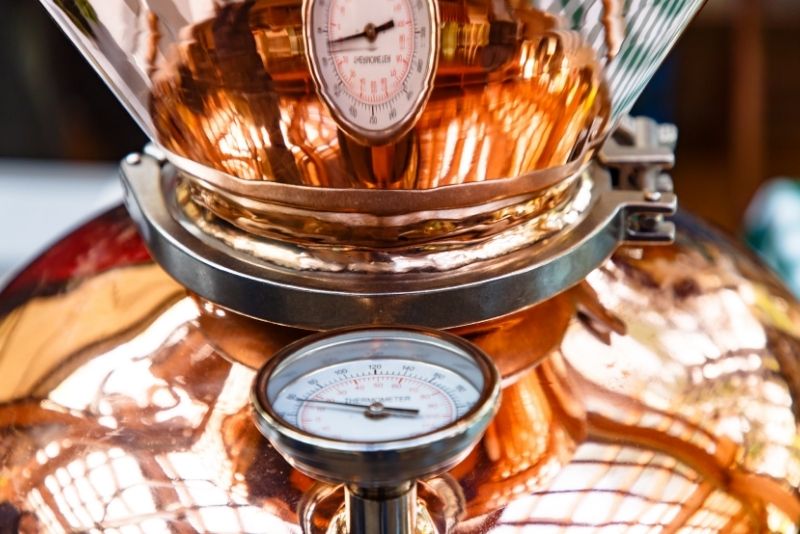 With a passion for the island's rum heritage, this family-run distillery (located on Simonton St) opened its doors in 2012 and has been producing masterful spirits ever since.
Best of all? They offer daily, free 15-minute tours to help you understand how your favorite tipple comes into being — plus there are tastings along the way, and plenty to be learned about the story of Spanish Marie and her rum.
Prefer a cocktail to a straight shooter? If you're intrigued, you can learn to make your own mojito on one of their private mojito tours.
93 – Step inside the Hemingway Home and Museum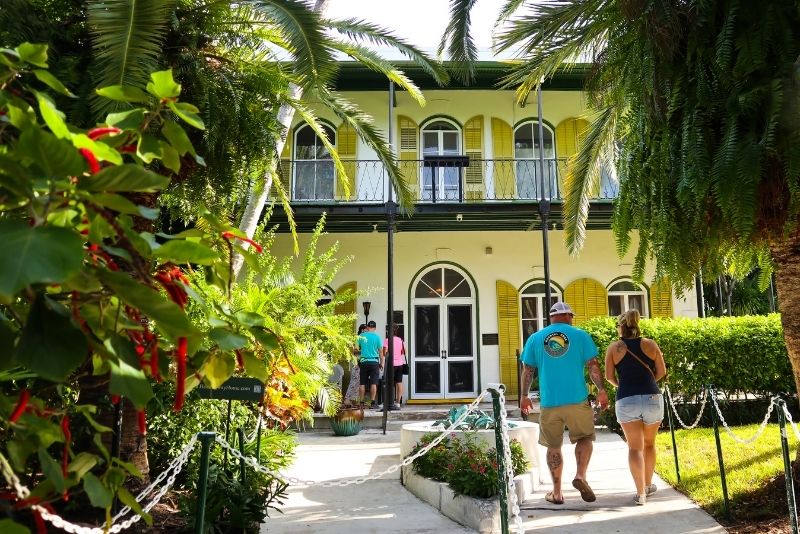 One for the literature lovers and bookworms, the Hemingway Home and Museum — as you'd guess — was once the home of the famed Nobel prize-winning author.
As you tour the Museum, you'll come across the various fishing adventure photos of Hemingway, uncover a treasure trove of written notes and stories, and can visit the shop to pick up a memento or two as well.
94 – Learn about pirates at the Mel Fisher Maritime Museum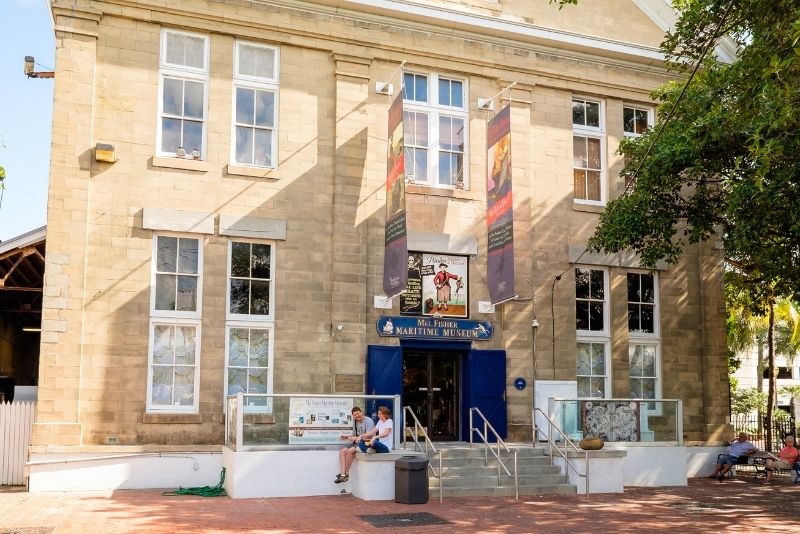 Located near the aquarium on Greene Street, Mel Fisher Maritime Museum gives visitors a fascinating insight into local maritime history.
As well as housing an impressive collection of artifacts (like cannonballs and gold chains), there are also stories to be told about piracy in the region.
However, you can't miss out on seeing the main attractions: St. John's Wreck, the 1622 Fleet, the Henrietta Marie, and the so-called Last Slave Ships.
95 – Check out the Key West Butterfly and Nature Conservatory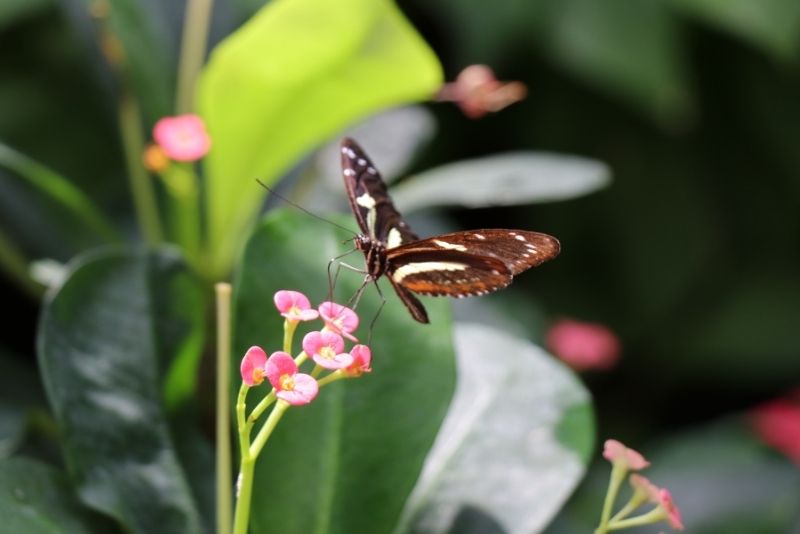 As one of the largest butterfly atriums in America, this delightful conservatory is home to hundreds of beautiful butterflies.
And while there are plenty of species to get up close to the colorful fliers, you'll also find birds and fish inside too; plus an incredible array of tropical plants from all across the world!
Plus, you can step into its learning center and discover plenty more about butterflies and their intriguing physiology.
96 – Take the family to the Florida Keys Eco-Discovery Center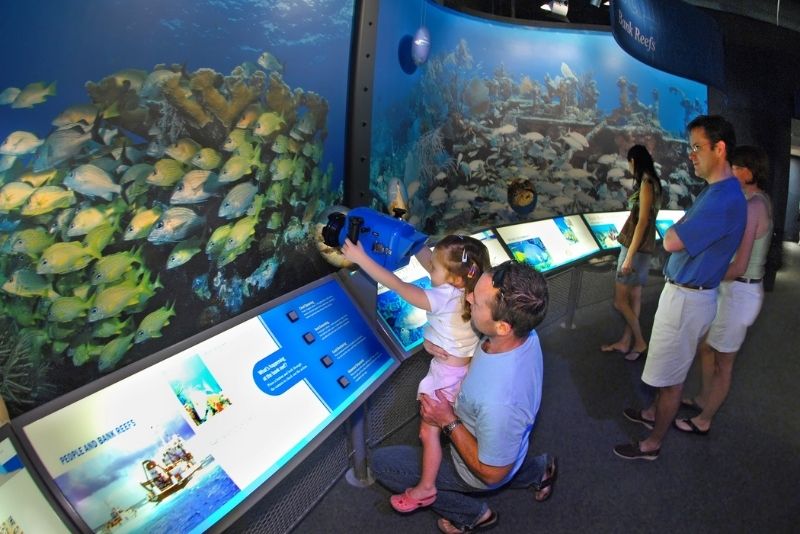 Step into the Florida Keys Eco-Discovery Center and explore the world of nature!
Through a diverse range of interactive and dynamic exhibits that show you the intricate Keys' ecosystem, You'll get to learn about native plants, animals, marine animals, and more.
Hot tip: Don't forget to stop into the Aquarius Exhibit for a glimpse of the beautiful marine life.
97 – Pass by Fort Zachary Taylor Historic State Park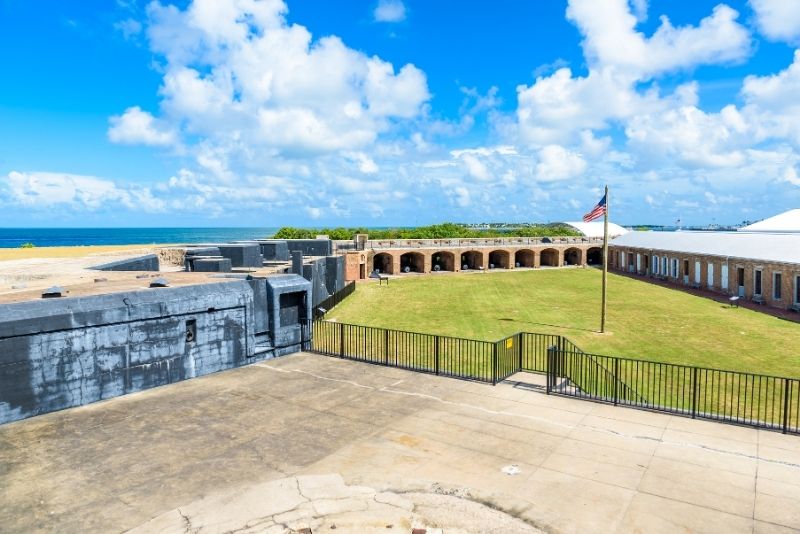 As you stroll by the beach and soak up some of that Florida sunshine, it's worth taking a quick pause to admire this grand historic site.
Originally constructed as a Civil War-era fort, today, Fort Taylor is open for visitors; so be sure to stop off at the Visitor Center to discover all the fascinating facts about how it was built, and its role in history.
Check out the local re-enactments of historical demonstrations every third weekend of the month, and snap a quick photo with the cannons and gun ports.
98 – Get wild on a Duval Street pub crawl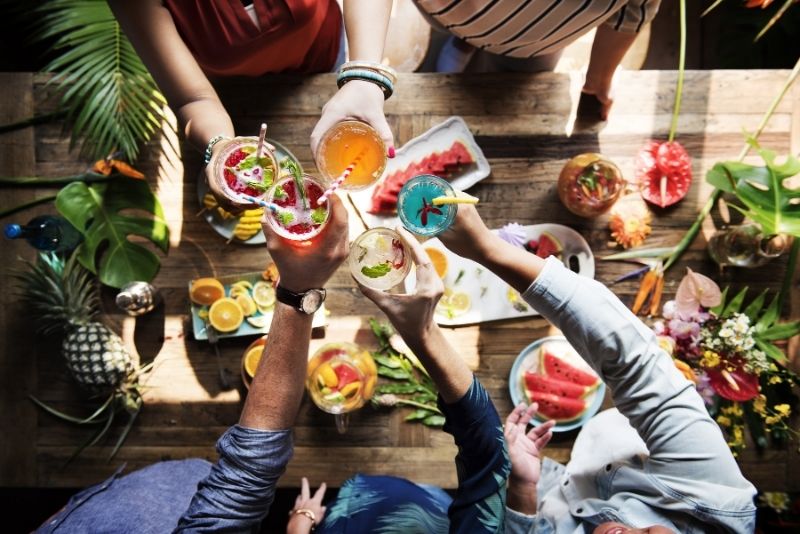 How could your beachy vacation possibly be complete without letting your hair down and letting loose for a night?
Typically beginning downtown and exploring various historic establishments en route to Duval Street (like the historic seaport), locally-led crawls will take you on a debaucherous journey of discovery — where you can learn all about the local culture and people while downing some (read: probably a couple too many) fantastic drinks!
99 – Touch the Southernmost Point of the Continental US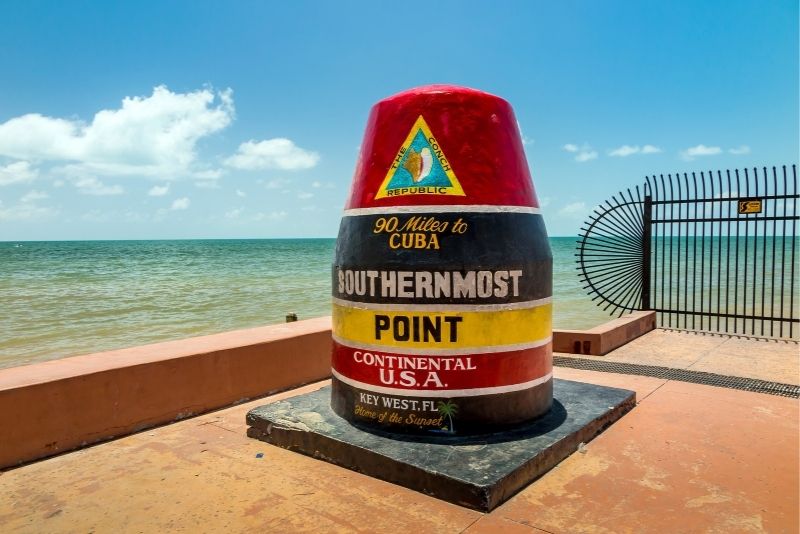 A great way to wrap up any trip, head towards the convergence of Whitehead and South streets and touch the Southernmost Point of the Continental US.
From the viewpoint you can see a buoy that sticks out of the coral bedrock — it's a heavy piece of concrete storm drain, and it sits, remarkably, just 90 miles from Cuba.
The area around the monument is filled with shops, hotels, and more. So, you can hit the point and then stroll around the nearby lanes.
How to get to the Florida Keys?
Sure, the Keys have airports, but they're small and usually not flown to directly from other major US cities. With that in mind, visits typically prefer to fly direct to Miami and then travel down the Keys in style with a pre-arranged airport transfer service.
The drivers are friendly, you don't have to worry about hailing a cab or jumping on a humid bus, and (if you're willing to fork out a few bucks extra) you can even get a limo or convertible!
Where to stay in the Florida Keys?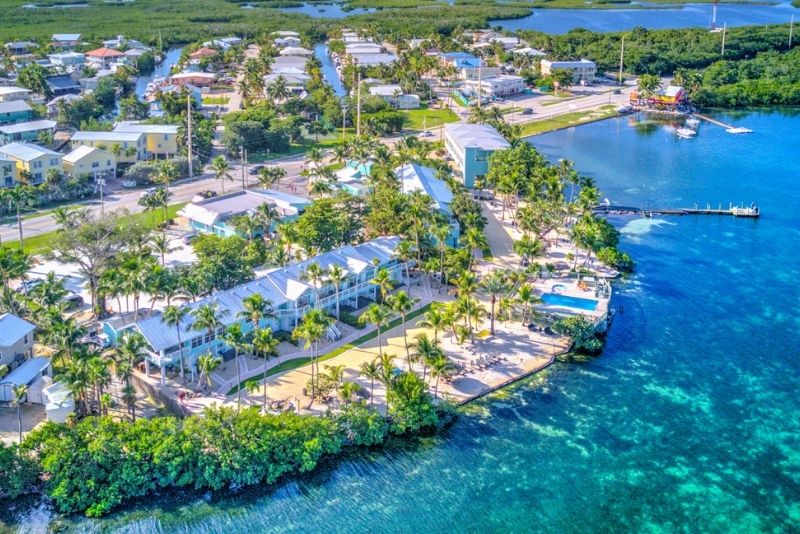 A notably laid-back resort typical of the stereotypical Keys vibe, Lime Tree Bay sits right on the water — the shimmering gulf on one side and a channel on the other. Throw in all the essential amenities and activities like swimming, kayaking, bike rental, tennis and paddleboarding (all of which are free for guests!).
At Isa Bella Beach Resort & Spa, you have a gym, restaurant, and private beach to enjoy on-site, plus dive centers and other attractions just a short drive away. And at Kimpton Winslow's Bungalows, you can indulge in a personalized outdoor paradise, from the gorgeous gardens to the multiple swimming pools.
Simonton Court Historic Inn & Cottages, an adults-only property, blends tranquility with convenience, featuring places to swim and sit, plus a fleet of bikes in case you want to explore the surrounding town.
Wicker Guesthouse is perfect if you want a bit of everything; it's walking distance from the beach, the Ernest Hemingway House and Museum, and all the other attractions of Key West proper, but also offers its own luxurious spaces to relax in when you're tired of sightseeing.
And Douglas House offers a similarly convenient location, plus green areas, a pool, and another opportunity to enjoy an adults-only space during your vacation.
A luxury resort that's perfect for the whole family, Hawks Cay boasts on-site restaurants, bars, and even a spa (and, of course, Dolphin Connection). As far as rooms go there are cushy cottages and bungalows just waiting to be explored!
Where to go next?
While the Keys feel like a world unto themselves, it takes almost no time to get back to the mainland. And that's great news for you, because it means you have even more time to explore the other fantastic things to do in Florida!
A delightful hodgepodge of lively cities, world-famous theme parks, charming little towns, and natural landscapes unlike any other in the U.S., the Sunshine State caters to the wild, the mild, and everyone in between.
If you want to keep exploring close to the Keys, you can go clubbing and art-watching in Miami, or admire coral reefs and shop until you drop in Fort Lauderdale. You can also go beachcombing or bar-hopping in Naples, or squeeze in some time on a boat or the golf course in Marco Island.
Like the rest of the state, these towns offer fun and relaxation in equal measure – and their unique styles are sure to capture your heart!
Final thoughts
As soon as the warm breeze hits your face and the smell of saltwater fills the air, you'll see why this region is such a hit with travelers!
The list of things to do in the Florida Keys is forever growing, but you're always guaranteed a hearty dose of fun, whether you're learning new things or just relaxing on the beach.
So what are you waiting for? Treat yourself to some magic!