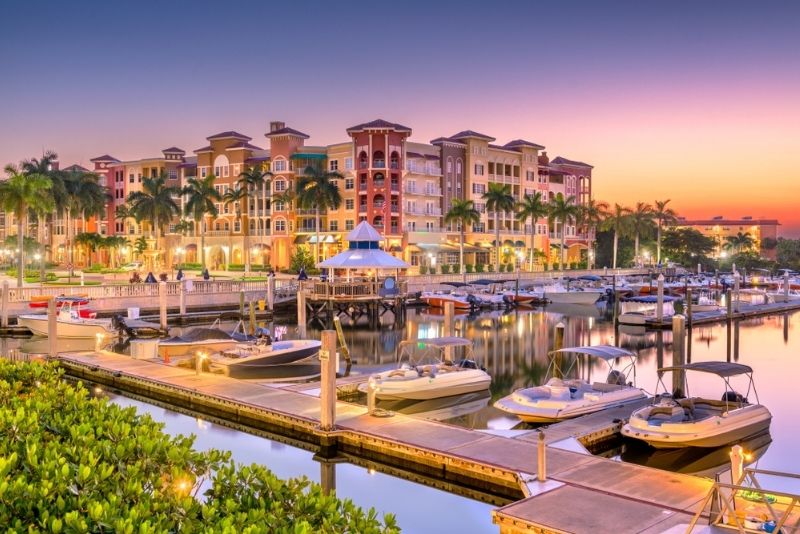 While its Italian namesake might steal the spotlight, Florida's very own Naples — a luxurious waterfront oasis teeming with natural and manmade attractions — is a worthy destination in its own right.
With seldom-crowded white sand beaches that dish up some of Southern USA's most exquisite sunsets and incredible shopping and golfing opportunities, you'll quickly realize why this sun-drenched city is ascending the tourist ranks.
Whether you're looking to get your art fix (did someone say 'Artis—Naples'?), wet your whistle and let your hair down (bar crawl, anyone?), or simply enjoy the rare and stunning nature and wildlife that the region has to offer, you're bound to be impressed by the plethora of things to do in Naples, Florida.
1 – Discover Naples rich marine life on a manatee tour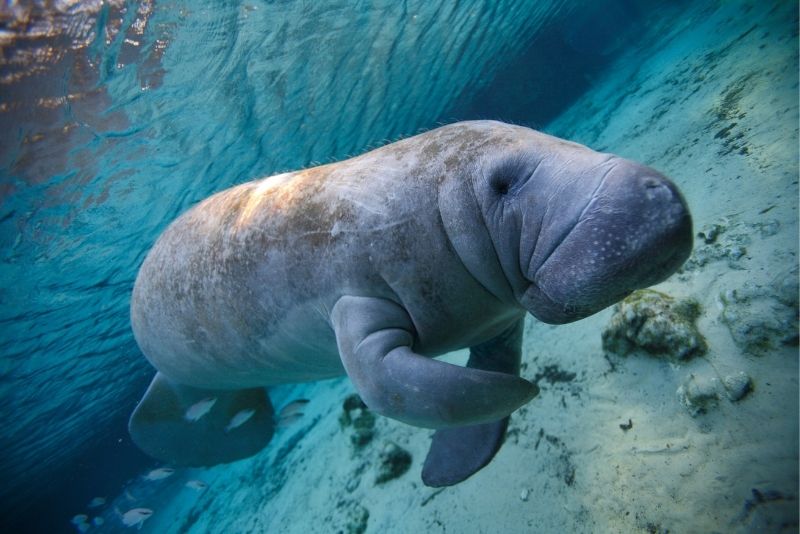 For an unforgettable day out on the Gulf of Mexico's shimmering waters, why not spend a day spotting manatees and other bubbly sea creatures?
People flock to the coast every year in the hope of getting up close and personal to these gentle giants — with a 2-3-hour boat ride, that's exactly what you'll get.
Even if the wildlife is sparse, the boat cruise is an enjoyable activity in its own right.
2 – Zip around the city on a Segway tour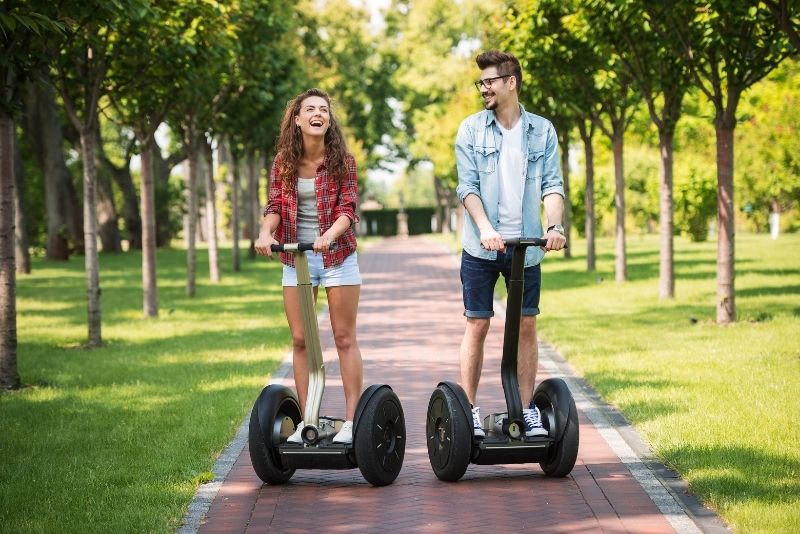 Walking around the city on a hot day doesn't exactly scream relaxation, does it?
Rest those weary legs and dial up the relaxation with a smooth-moving Segway tour instead!
With Segway tours scattered conveniently around the city's main areas, a friendly and knowledgeable guide will lead you to all of Naples' most popular places, including Cambier Park, Naples Pier, Third Street South, and many more.
3 – Play Sherlock Holmes in an escape room!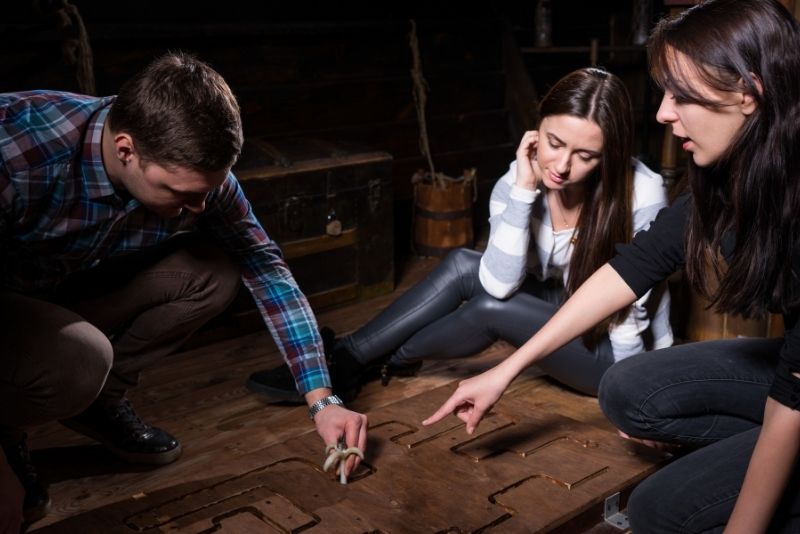 A perfect activity for those days that are just a tad too toasty, escape rooms allow puzzle-solving visitors to race against the clock, solving riddles and uncovering clues in one of many uniquely themed setups.
Choose from themes like abandoned houses, mystical lairs, and Viking lore, just to name a few.
So, think you've got what it takes to make it out in time?
4 – Kayak through the winding mangrove tunnels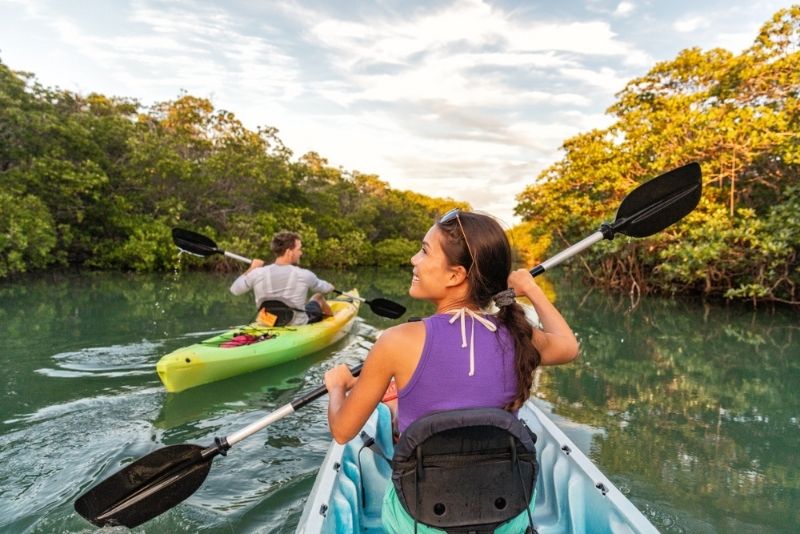 Typically, mangroves form in places where saltwater and freshwater meet, welcoming a vast array of stunning (in their own way, right) wildlife — of course, Naples is no exception.
With a host of spectacular winding tunnel-like mangroves in and around the Naples area, they're something that every visitor should see at least once.
Luckily for us, kayaking tours provide all the necessary equipment — just bring yourself and your camera!
5 – Keep your balance on a stand-up paddleboard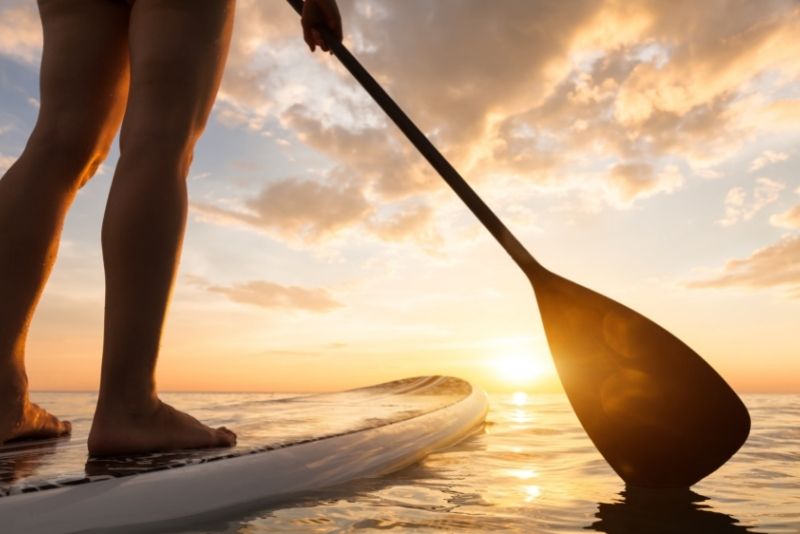 Splash around the coastline and watch the sun bounce off the water as it sets on a relaxing stand-up paddleboard adventure — sounds pretty incredible, right?
Whether you opt to rent your own board by the hour or join a leisurely tour, during which the instructor will show you the ropes, a paddleboard adventure promises to be a wonderful way to soak in those Florida rays.
6 – Admire majestic creatures on a dolphin-watching adventure!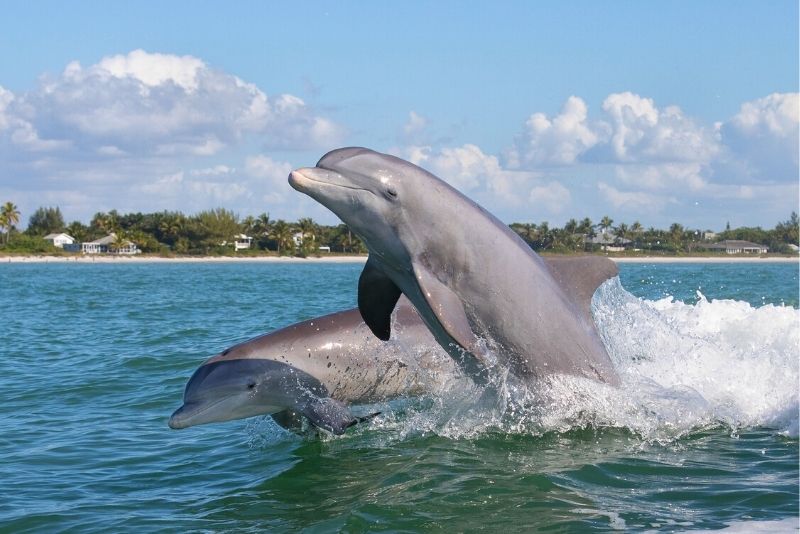 If you're looking for things to do in Naples, Florida, dolphin watching should be at the top of your list!
Venture through and discover the unique ecosystem that Florida is built open; get up close and personal with these friendly and majestic creatures; and learn about their habits, habitats, and history.
Cruises can last up to 3 hours so make sure to pack some sunblock and a hat.
7 – Cruise around town on two (or three) wheels!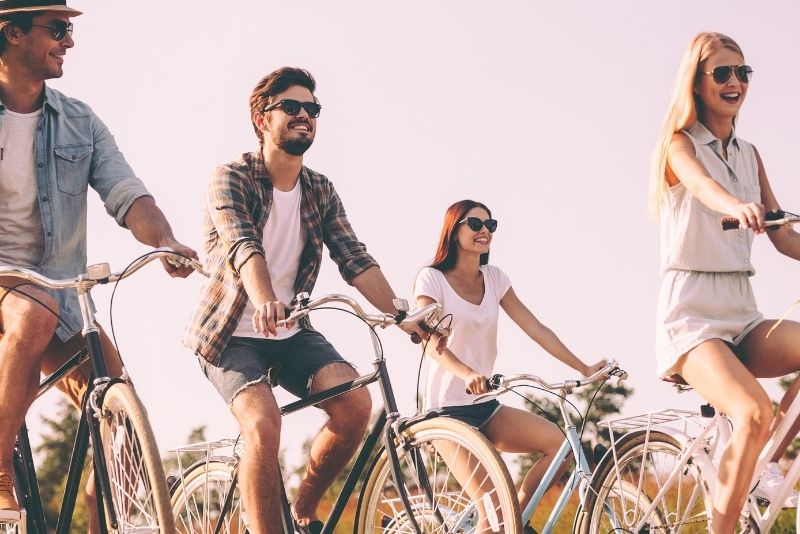 Sick of walking tours? Looking for a more adventurous way to see the sights in Naples? Well, a bike or electric trike tour could be just what the doctor ordered.
Locally-led bike tours whiz past beloved spots such as Port Royal, the Naples Yacht Club, Cambier Park, Naples Pier, the Naples City Dock, and more.
It's a great way to meet new people and get off the beaten track.
8 – Glide across the water on a high-speed jet ski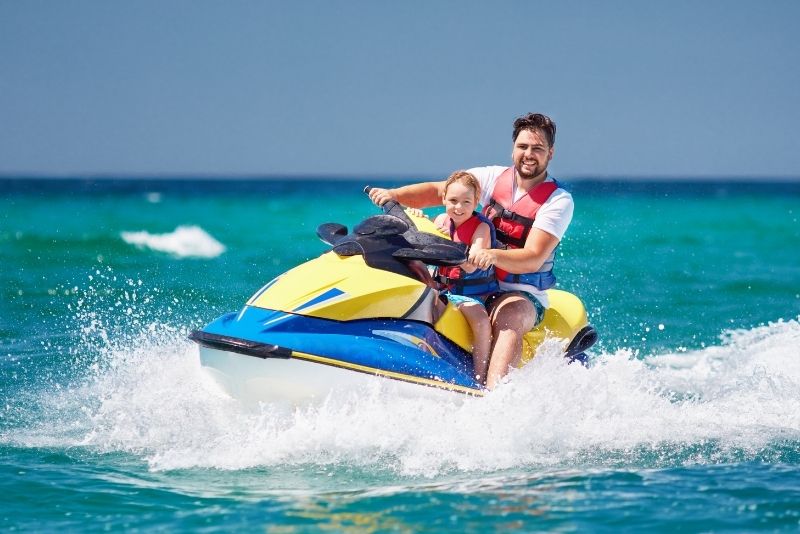 Who says beaches are all about relaxation and sunbaking?
At the helm of a jet ski, a day on the Naples shores is an adrenaline junkie's delight!
There are plenty of different places to rent jet skis by the hour, however, for the newbies out there signing up for a guided tour is typically your best bet.
9 – Soar over the city in an airplane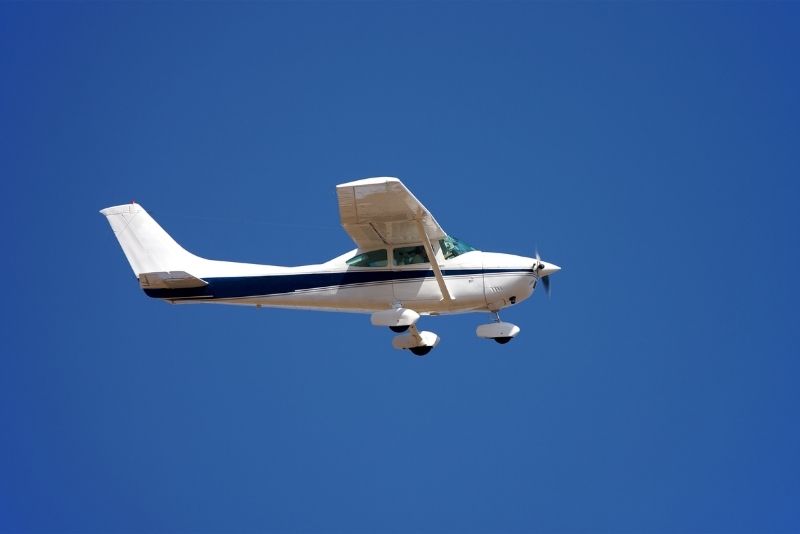 If you're on the hunt for unmatched views of the city straddling the Gulf of Mexico, then look no further than an airplane tour!
Not only do visitors get to soak in panoramic views of the skyline and coast, but they also get to learn the basics of flying — that's right, it's time to unleash your inner Maverick.
Tours typically take off at the Naples Air Center where guests are teamed up with an experienced pilot.
10 – Look for clues in a scavenger game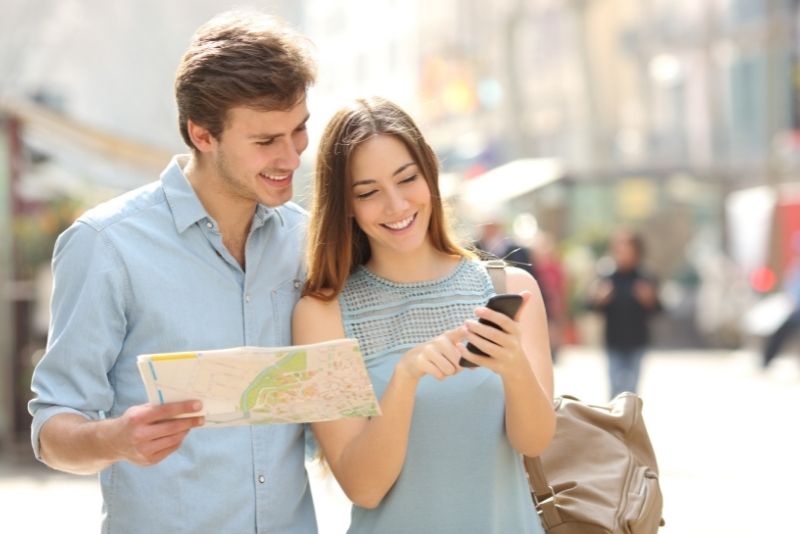 No matter what Floridian city you find yourself in, scavenger games are always a fantastic way to explore the city and get off the beaten track — all while putting your detective skills to the test, of course.
Operated (usually) through an app that gives users a map to follow, the game prompts travelers to use the map and the clues provided to uncover certain must-see locations across Naples.
Race against the clock or race against your friends. Either way, it's a great day out.
11 – Get your adrenaline pumping at Sun-N-Fun Lagoon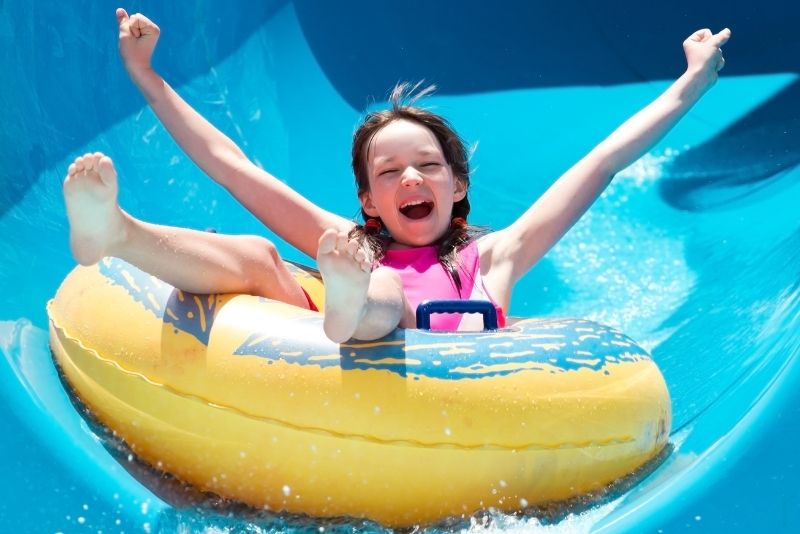 With the reputation of being the number one water park in all of Naples, Sun-N-Fun Lagoon presents as a great place for families to spend the day, keeping entertained and cooling down during the toast summer months.
The outdoor theme park offers a huge variety of water slides, man-made rivers (featuring a lazy river, of course), and pools suitable for kids of all ages.
There are also plenty of restaurants, restrooms, and seating areas for parents who prefer to stay dry and read a book.
12 – Venture into the unknown with a deep-sea fishing adventure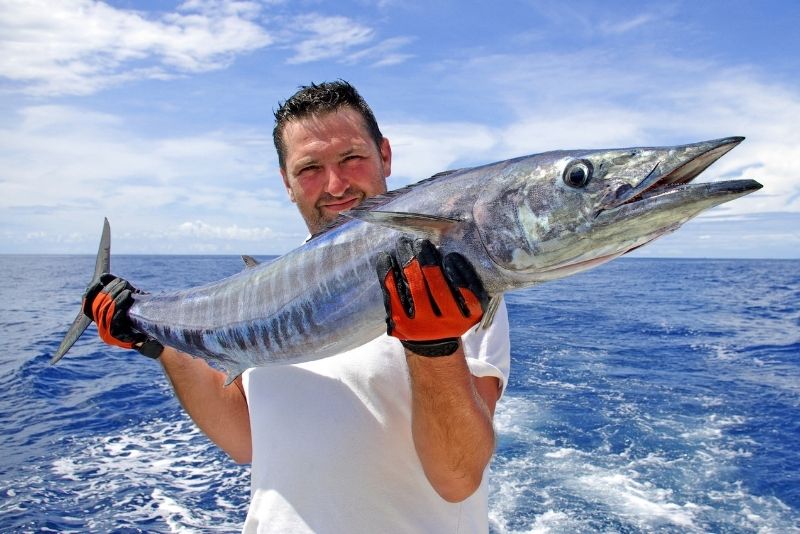 Looking to learn something new? Then why not try your hand at deep-sea fishing!
Learn from the pros as they reel in redfish, grouper, mangrove snapper, sheepshead, snook, and more, and then, of course, catch a few yourself!
Most tours last from 2 to 4 hours; no experience is necessary, and all equipment (and some refreshing snacks) is provided by the captain;
13 – Dial up the romance with a twilight cruise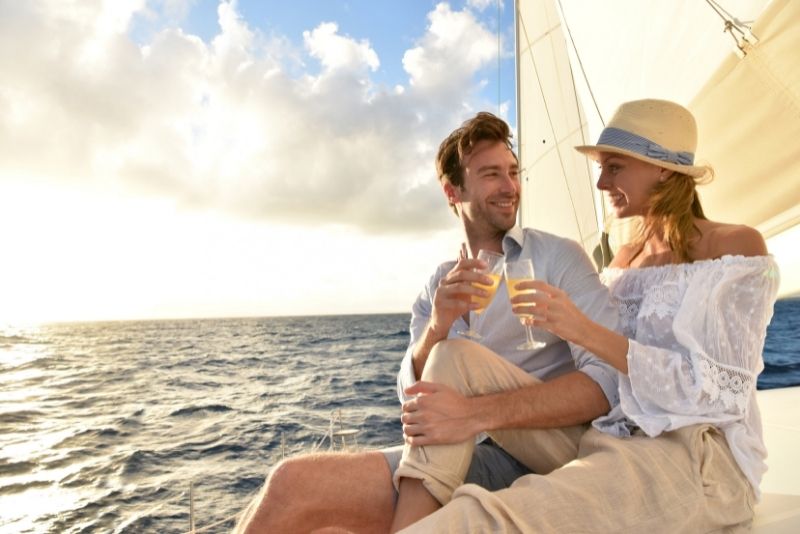 A sunset sailing cruise in Naples isn't just super romantic for couples, it can also be a blast for singles!
Most sunset cruises offer guests a night of tasty appetizers, an open bar (hence the aforementioned singles comment), and toe-tapping onboard live entertainment.
Guests can drink, eat, mingle, and dance the night away, making it easily one of the more popular things to do in Naples!
14 – Explore the stunning Marco Island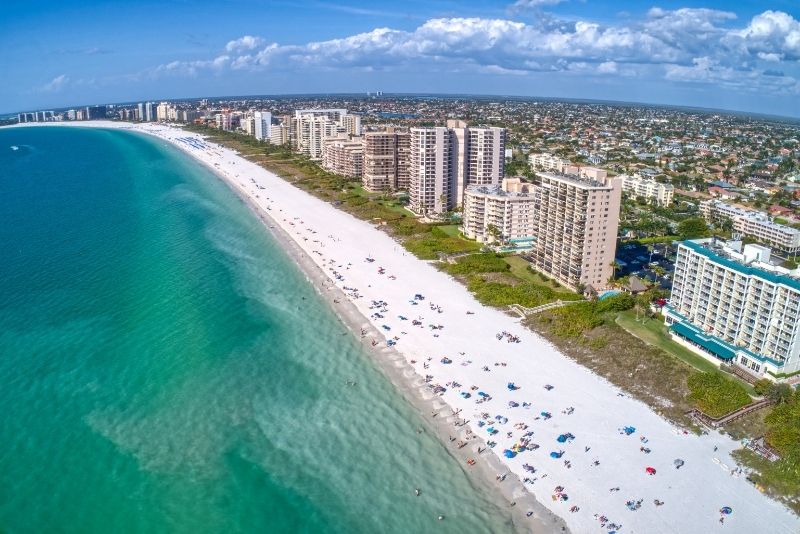 If you love nature then Marco Island is a non-negotiable for the Naples bucket list!
Catch one of many boats that make the 20-mile journey there every day; spend the afternoon marveling at the wildlife and marine life; and try your hand at one of the many tourist activities on offer: fishing, kayaking, shelling, and more.
15 – Unwind with a relaxing spa day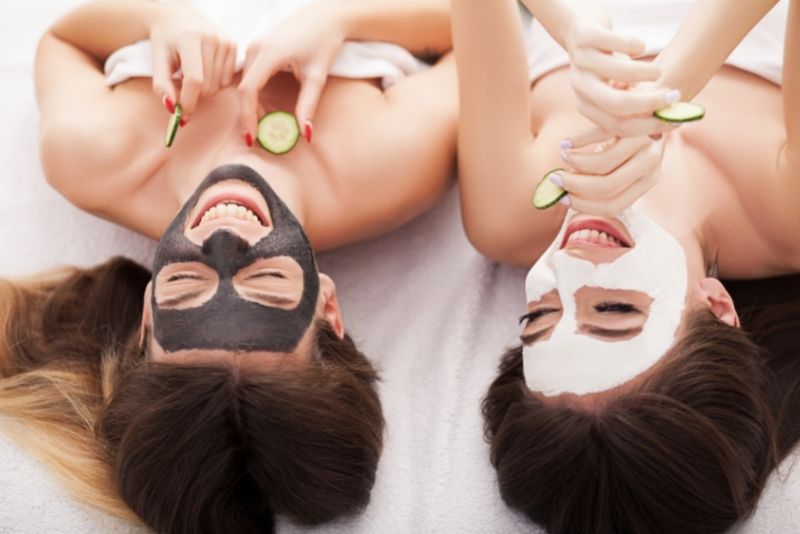 After a long few days of exploring the city and ticking off the staple tourist attractions, a day at the spa and a massage is exactly the kind of rejuvenation needed. So why not make it a part of your itinerary?
Take your pick from a standard massage, a romantic couples massage, manicures, pedicures, facials, aromatherapy, and plenty more.
You deserve it — you're on vacation, after all.
16 – Explore the stunning Everglades National Park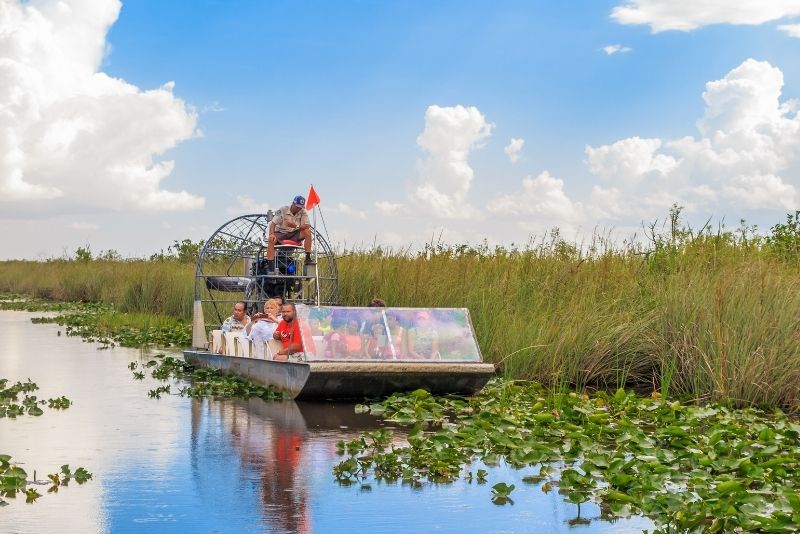 While it might not get the same tourist attention as the likes of Miami or Disneyland, Everglades National Park is one of Florida's best-kept secrets.
If you're someone who wants to get up-close and personal with the wildlife — be that birds, manatees, or alligators — this is the place to do it.
Hot tip: don't explore alone. Choose a guided tour, eliminate all the hassle, and let the experts show you the park's most incredible sights.
17 – Meet the cats at the Florida Panther National Wildlife Refuge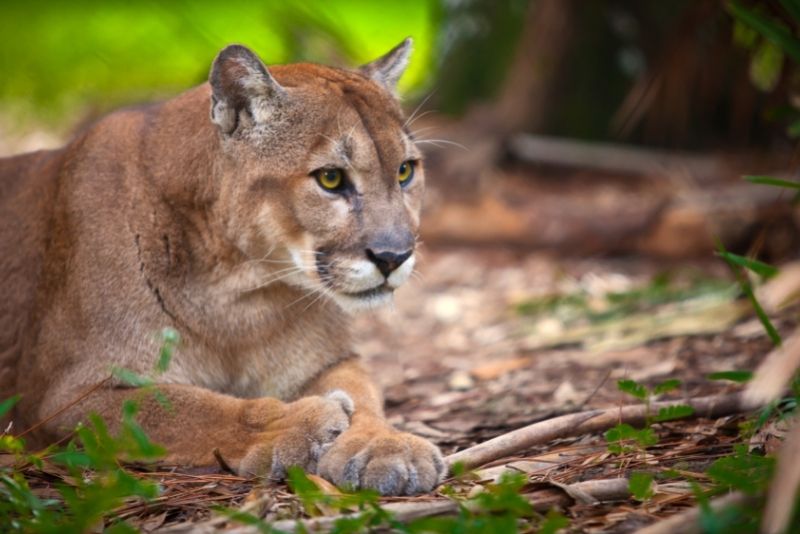 Far from your run-of-the-mill zoo or sanctuary, the Florida Panther National Wildlife Refuge is one of few places not just in the state, but in the world, where exclusive panther habitats exist and are preserved.
With plenty of short and long walking trails that wind through the park, it's a great option for a day of hiking too.
18 – Hear the chirps at the Bird Gardens of Naples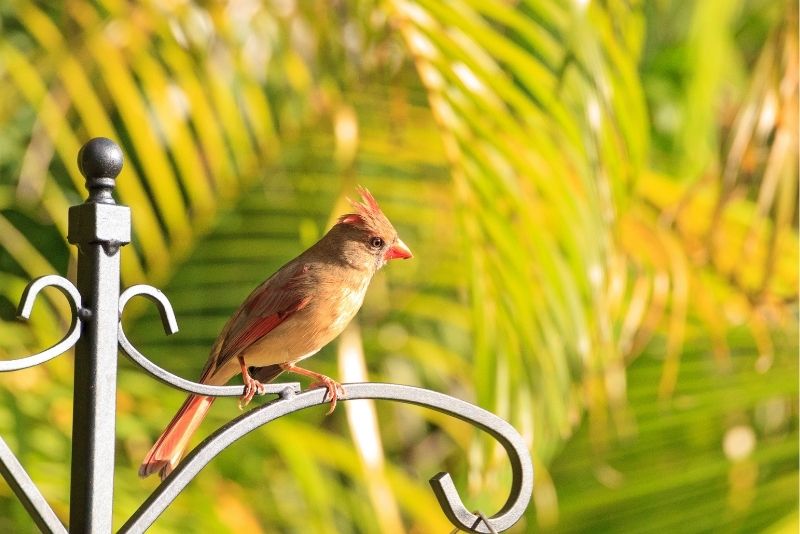 The Bird Gardens of Naples is a sanctuary dedicated to the conservation of wild parrots and parrot welfare.
Besides its colorful main residents, the popular attraction is also home to a wide variety of flora, fauna, butterflies, and bees, and over 100 different birds in total.
On guided tours, guests can interact with, hold, and take pictures with the beautiful birds.
19 – Stroll through the Everglades Wonder Gardens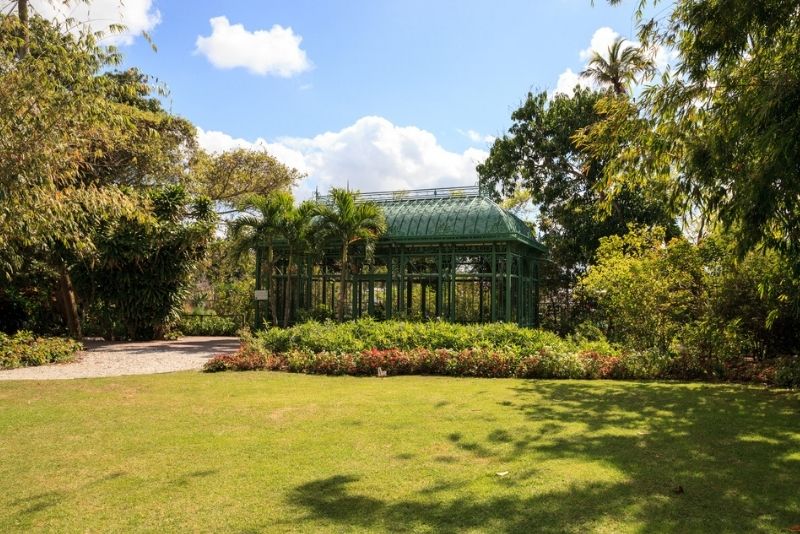 For a blissful day out and about in the fresh air, the magnificent Everglades Wonder Gardens await.
Take a stroll through the botanical gardens and check out the animal displays too — the center houses turtles, alligators, flamingoes, pythons, macaws, and even Chinese golden pheasants!
Hot tip: check the website's 'special events' calendar! If you're lucky, you'll find yourself doing yoga with peacocks or hanging out with rainbow lorikeets!
20 – Explore the Barefoot Beach County Preserve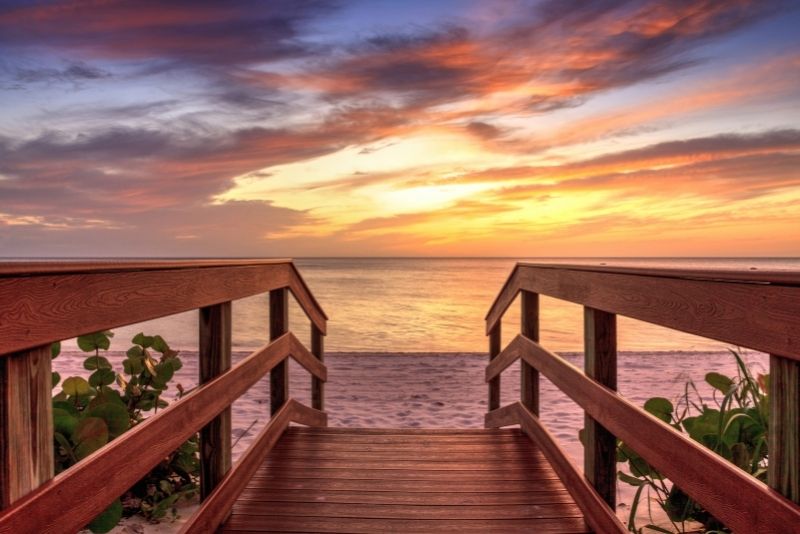 While you'd assume that the best way to explore the preserve is on foot, in reality, it's by joining a kayaking tour!
Exclusive tours take guests off the main roads and into the heart of the preserve where they can see marine life and birds of prey, and venture through the mangrove estuaries.
Most tours last for up to 2 hours and all equipment is provided. So, what are you waiting for?
Oh, and while you're there, don't miss the butterfly garden.
21 – Hike through luscious greenery at the Rookery Bay Reserve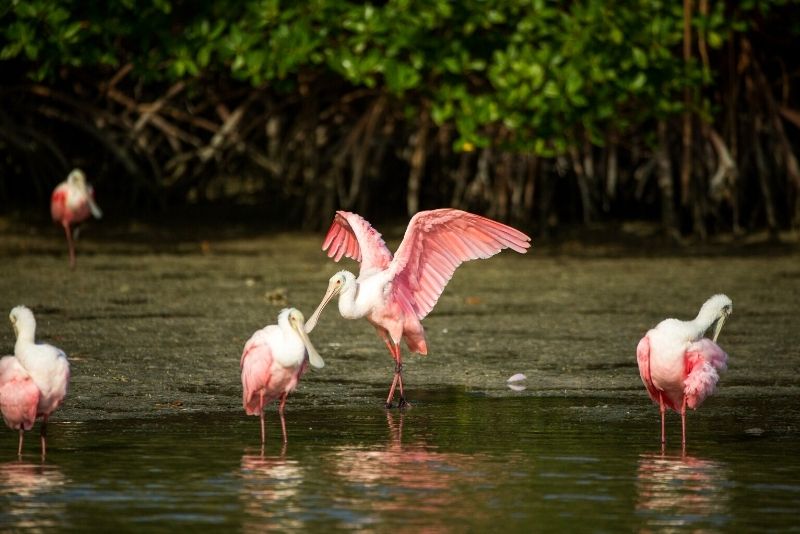 Stretches a whopping 110,000 acres, made up of encroaching mangrove forests and bodies of protected waters, it's fair to say that the Rookery Bay Reserve is a hiker's heaven on earth.
Besides the plethora of trails, the reserve also has an environmental learning center, where there's plenty to be discovered about the local ecology; as well as kayaking, fishing, swimming, and camping opportunities.
22 – Find hidden treasure by going on a shelling tour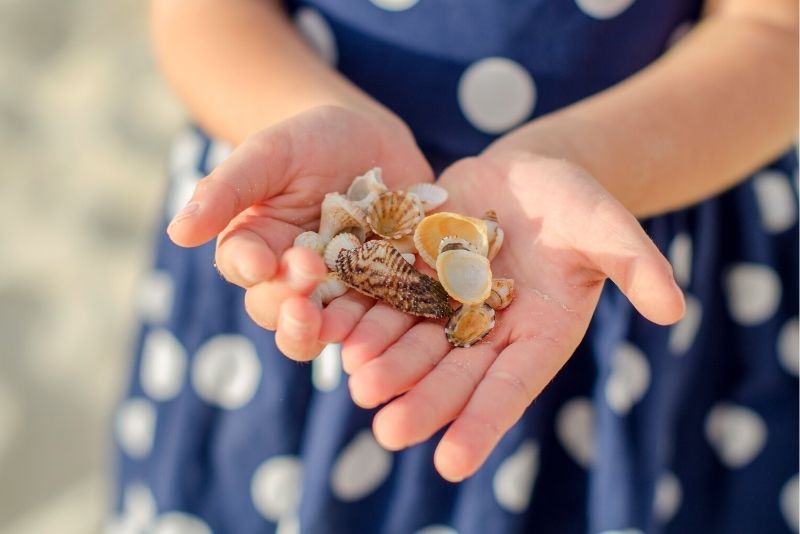 Who knew that shells could be worth so much cash? No wonder it's a popular pastime in places like Naples and Fort Myers!
A dedicated shelling tour promises to be a unique way to discover Naples Bay and all the beauty that surrounds it.
Board a ship with an experienced captain, make a few stops along the way on remote islands, fill your shelling bag with treasures that you find on the beach, and then cross your fingers for something valuable!
23 – Golf like a pro on one of many Naples fairways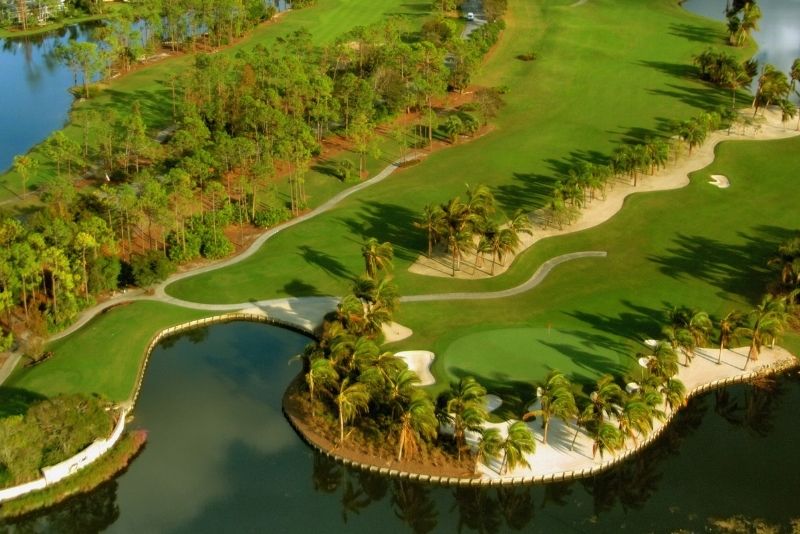 If golf is your sport, you will be pleased to know that the list of world-class courses in Naples is as exhaustive as anywhere in the state.
Arrowhead Golf Club has 18 holes flanked by pristine lakes; Valencia Golf and Country Club often hosts professional and amateur tournaments, and Forest Glen Golf and Country Club prides itself as a destination for the more experienced golfers.
24 – Travel in luxury on a private boat charter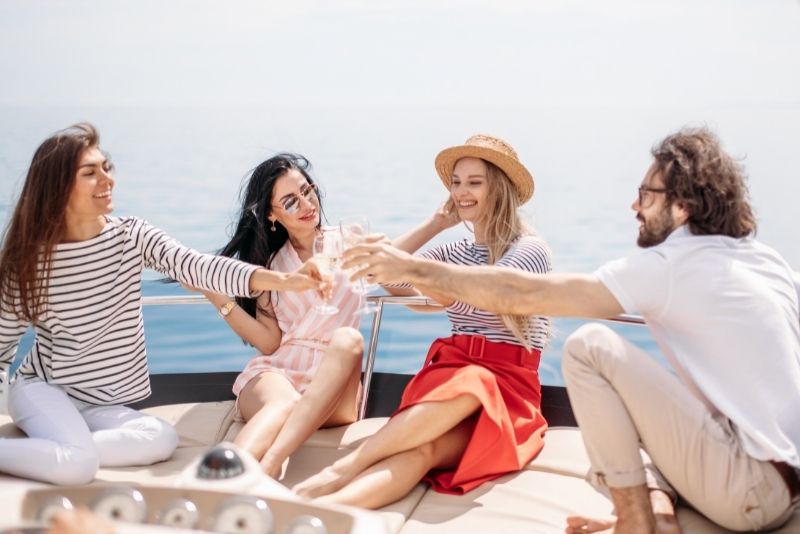 For the more bourgeois of travelers among us, this is your chance to discover the Naples coast in ultimate VIP style — with your own private vessel!
The day can be whatever you make of it — learn about sailing, explore hidden gems along the coast, spot marine life like dolphins and sea turtles; or just work in the tan, cocktail in hand.
25 – Discover ecosystems at the Corkscrew Swamp Sanctuary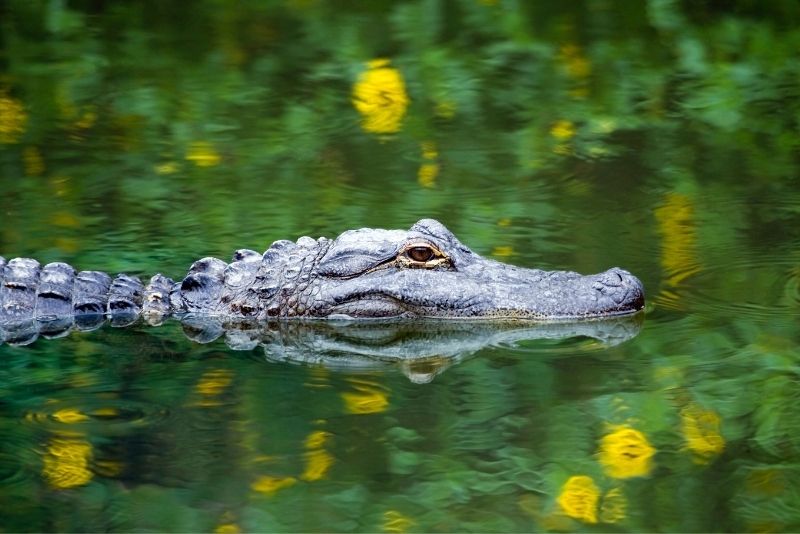 A place that is filled with rugged, natural beauty just waiting to be explored, the Corkscrew Swamp Sanctuary is home to a range of endemic Floridian wildlife, including alligators, songbirds, and more.
The Sanctuary's arguable highlight, however, is its boardwalk, one that goes deep inside its forests, immersing you in the sights and sounds of Mother Nature.
Located about 30 minutes outside of Naples, it's an easy and convenient addition to any itinerary.
26 – Wander along the buzzing Naples Pier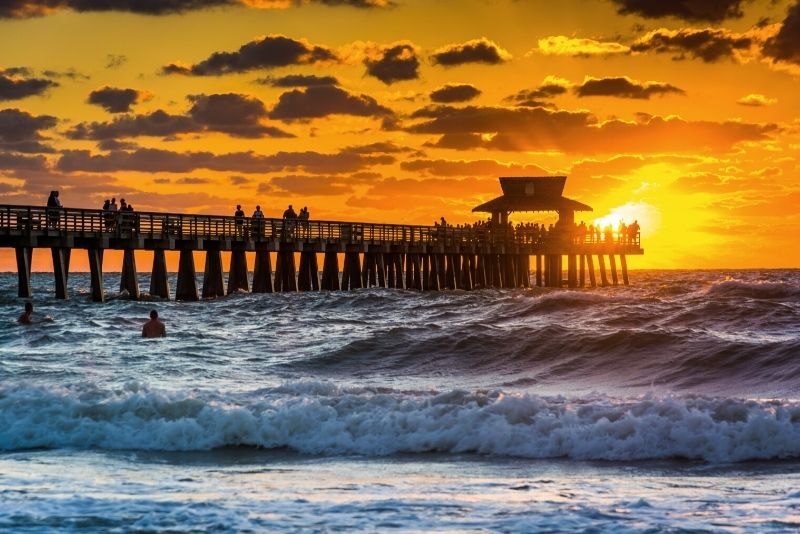 A definitive crowd favorite in terms of things to do in Naples, Florida (for both locals and tourists alike), the Naples Pier offers spectacular views of the coastline and is always teeming with people and entertainment.
With a near-endless selection of restaurants, cafes, and bars in the area, it's the perfect spot to unwind as the sun sets and the nightlife awakens.
27 – Spend a day in the sun at Lowdermilk Beach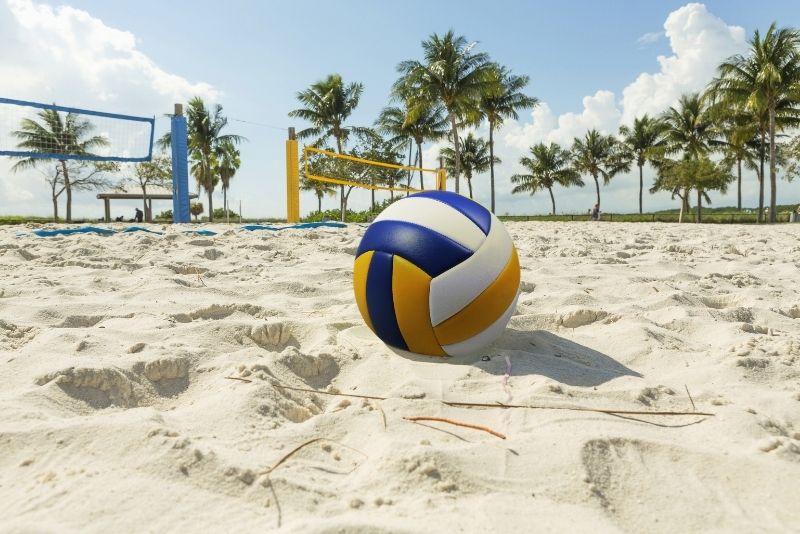 Thanks to its warm, white sands, Lowdermilk Beach is considered one of the most famous pieces of shoreline in the Naples area.
It has been a local hot spot for decades and tourists are finally catching on — but with such a long stretch of sand, it seldom gets overcrowded.
Spend the day playing volleyball on one of the courts; have a picnic; keep the kids entertained on the playgrounds, or just read and relax on the sand.
28 – Learn all about automotive history at Revs Institute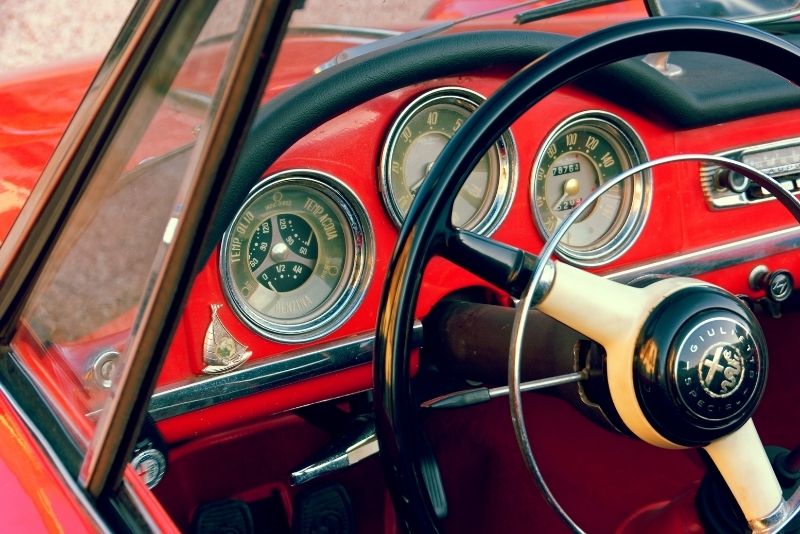 With a formidable collection of over 100 automobiles that were built between 1896 and 1995, the esteemed Revs Institute is a haven for the kind of person who lives and breathes vintage cars.
On top of that, the venue boasts an extensive library where people can learn all about how the manufacturing of cars has transformed over the decades.
29 – Spend the day in the outdoors at Delnor-Wiggins Pass State Park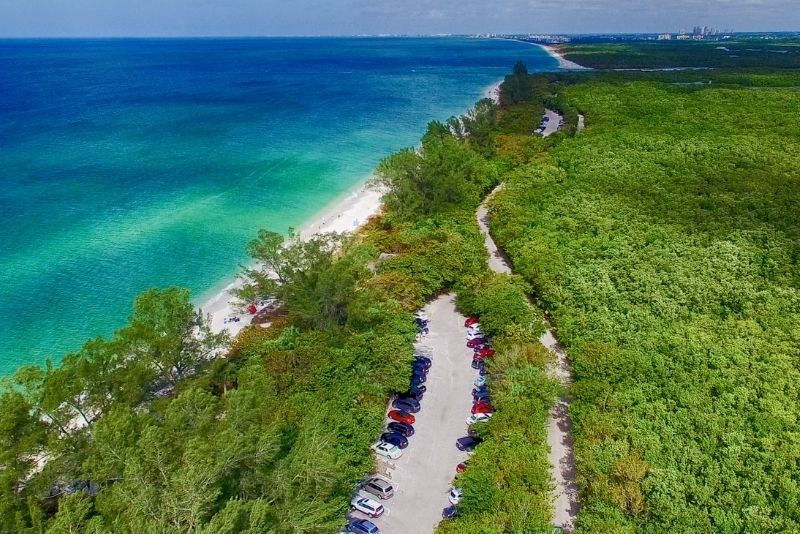 Boasting a wide variety of things to do including boating, fishing, geo-seeking, hiking, paddling, picnicking, scuba diving, snorkeling, swimming, and wildlife viewing, there really is something for everyone at Delnor-Wiggins Pass State Park!
Its beach, in particular, is something to marvel at.
Keep in mind: the parking lot fills up and closes rather early, so it's wise to arrive in the morning.
30 – Laugh with the hyenas at Naples Zoo at Caribbean Gardens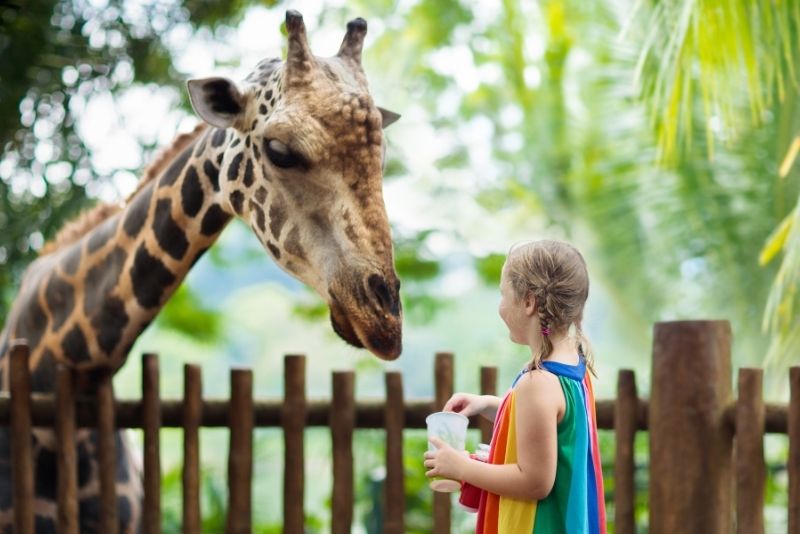 Located within a historic botanical garden, the Naples Zoo is a surefire hit for anyone traveling with kids and the perfect place for getting up close to a long list of exotic animals.
With a collection of bears, cheetahs, hyenas, tigers, leopards, lions, alligators, and zebras, not to mention the impressive primate exhibit, the hours will fly by.
31 – Soak up the sun at Clam Pass Park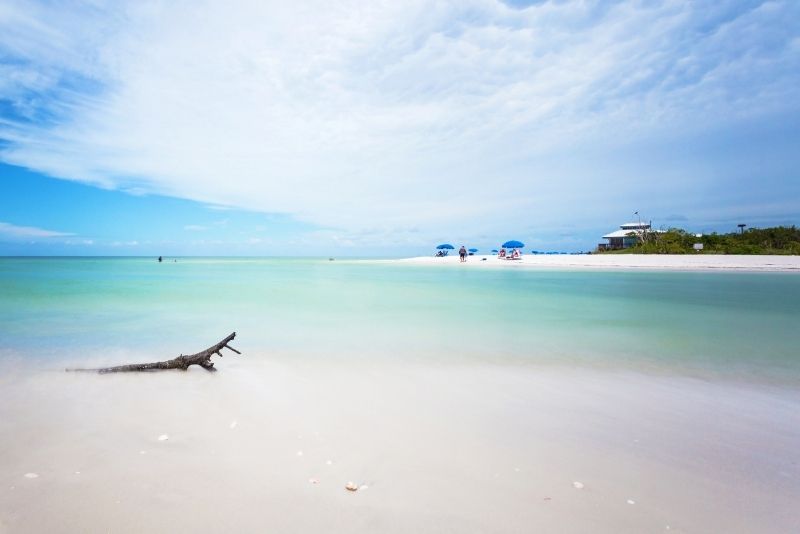 With white sands stretching over 35 acres of coastal habitat, it's no wonder that Clam Pass Park has become a crown jewel among the locals.
Despite being one of the most popular things to do in Naples, the beach never feels crowded, with more than enough space to tan, read, have a picnic or BBQ, or just veg out.
Keep in mind: Unfortunately, this isn't a pet-friendly beach, so Fido will have to stay at home.
32 – Watch a bizarrely thrilling Swamp Buggy Race!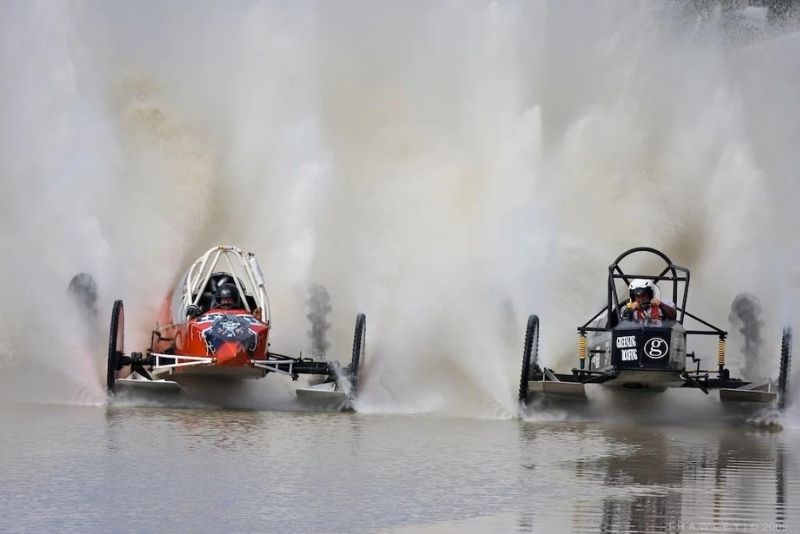 Alright, we know what you're thinking: "What on earth is a swamp buggy race!?" You're about to find out.
As an exciting and high-action sporting event (that has been a tradition in Naples since the 1950s), at the Swamp Buggy Races, drivers gear up and zoom around the muddy track in their decked-out motor vehicles, all for your viewing pleasure.
In the same way that the demolition derby has become a sight to behold, so has this bizarre pastime.
33 – Experience the best of Florida on a Ten Thousand Islands day trip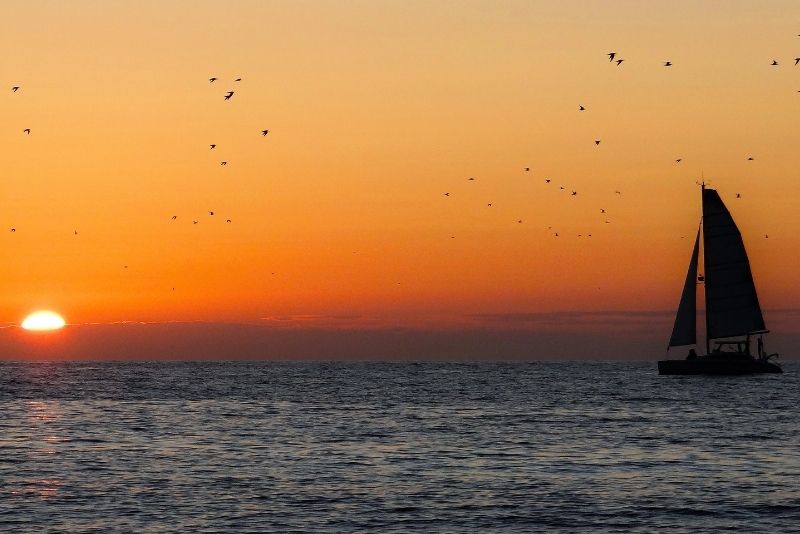 Most tourists would describe a Ten Thousand Islands trip as one of the best things to do in Florida, so if you're hitting up Naples, then a quick detour is a must!
While exact schedules change depending on who you book with, a typical tour includes a day of cruising along through the Ten Thousand Islands National Wildlife Refuge (home to a great assortment of marine life and birds), ride in a hair-raising Go Cats speedboat, and discover sights like the Cape Romano Dome House.
34 – Take the youngsters to the Golisano Children's Museum of Naples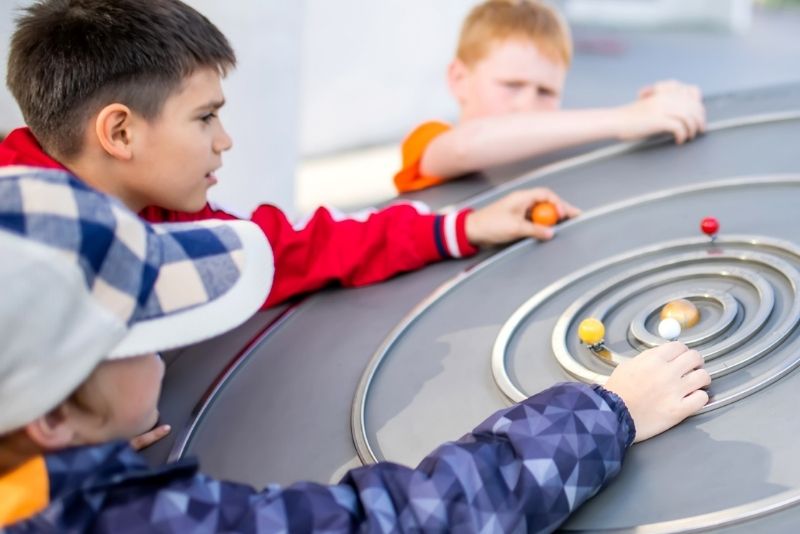 Home to a range of interactive exhibits designed to ignite the imagination and inspire our next generation, the Golisano Children's Museum of Naples covers topics including space, animals, engineering, earth, farming, and much more.
It's regularly praised as a great place for kids not only to learn about the world around them but to experience it first-hand too.
Thanks to its location in the North Collier Regional Park, there's plenty to do before and after the visit as well.
35 – Learn about the environment at the Conservancy of Southwest Florida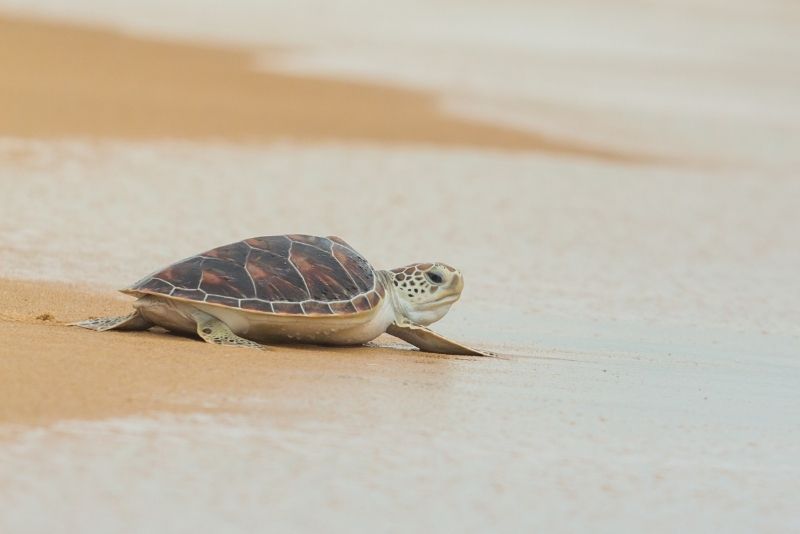 Known as one of Florida's most respected environmental organizations, the 21-acre nature preserve that is the Conservancy of Southwest Florida is a delight for anyone interested in sustainability, ecology, and wildlife.
With more than 150 species of native and exotic wildlife within its (metaphorical) walls, the highly-regarded Conservancy offers hands-on exhibits, meet-and-greets, and a 45-minute boat ride on which the captain shares fascinating insights about the area.
36 – Experience the vast entertainment at Artis—Naples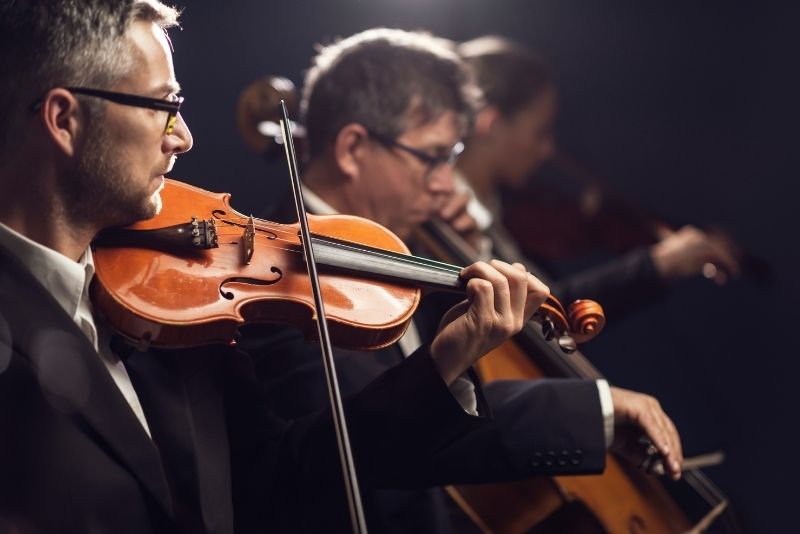 As the home of both the Naples Philharmonic and The Baker Museum (displaying a wonderful collection of modern and contemporary art), Artis—Naples is often described as Southwest Florida's premier destination for visual and performing arts.
Offering a unique range of programs including exhibits from new artists, concerts, theatre performances, lectures, comedy shows, and dance routines, there's never a dull moment with these walls.
Just make sure to check the schedule to see what's on.
37 – Trek through the Bird Rookery Swamp (but watch your step)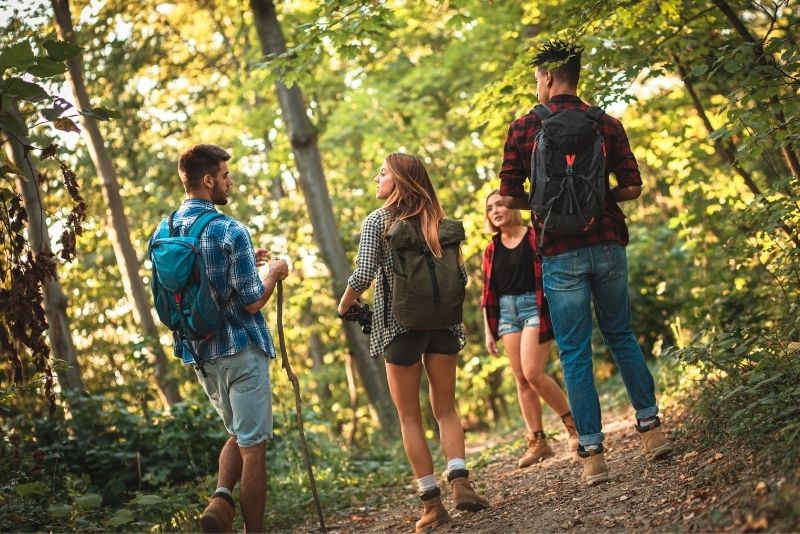 The Bird Rookery Swamp offers visitors an up-close and personal look at nature in Naples.
Grab your hiking boots; there are plenty of different trails where people can hike or bike through and meet (but don't touch) the wildlife in the area.
But visitor beware, it's not for the faint of heart! There are plenty of alligators in this area so make sure to watch your step!
38 – Shop till you drop at The Village Shops on Venetian Bay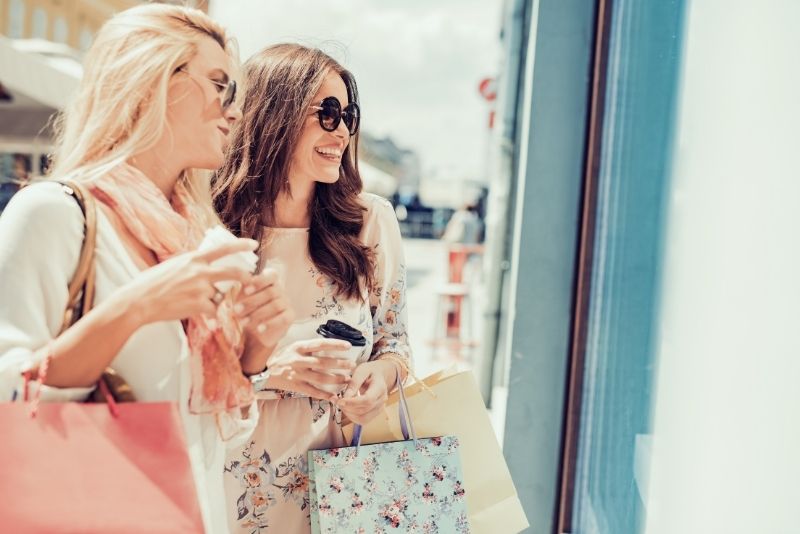 Looking for a souvenir? What about a fancy new bathing suit? Or even just a nice romantic dinner date? Either way, The Village Shops on Venetian Bay has got you covered.
Dishing up over 45 waterfront shops, as well as restaurants, hair salons, and much more, visitors can find all kinds of different stores that sell clothes, jewelry, shoes, home decor, and knick-knacks.
39 – Learn about the city's history at the Naples Depot Museum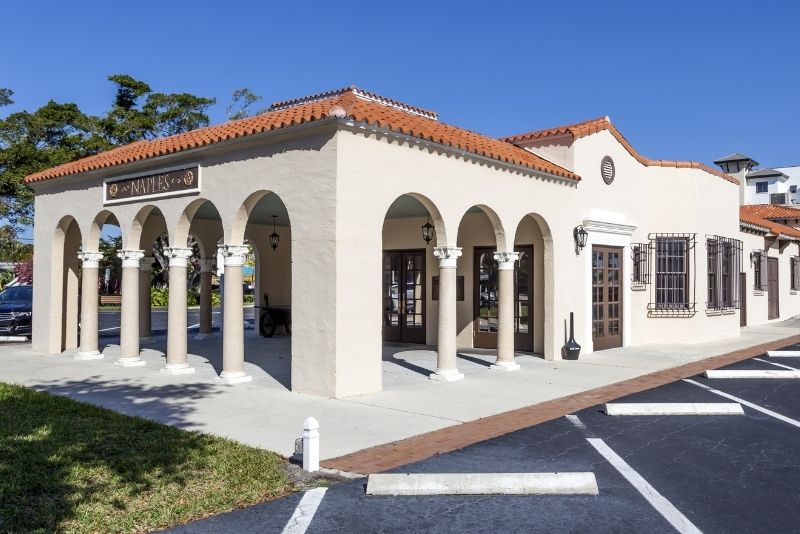 One for the history buffs, the Naples Depot Museum showcases a diverse range of exhibits that dive into the area's unique past.
And when we say 'unique', we mean it — some of the exhibits explore the history of mosquitoes and mosquito control, the legacy of Barron Collier's Bank of Everglades, art collections from local artists, and truckloads more.
40 – Step back in time at Naples Historical Society's Historic Palm Cottage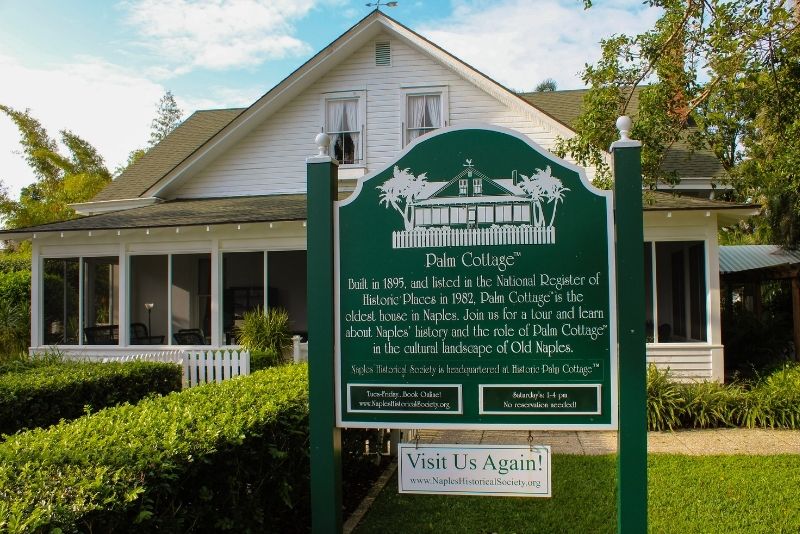 Experience the rustic, hand-crafted charm of old Naples when you step into the historic Palm Cottage — the oldest standing house in the area built all the way back in 1895.
Tours through the cottage are led by educated guides who will fill guests in on all of the historic facts and colorful tales that Naples has to offer.
41 – Learn about the first settlers at the Collier Museum at Government Center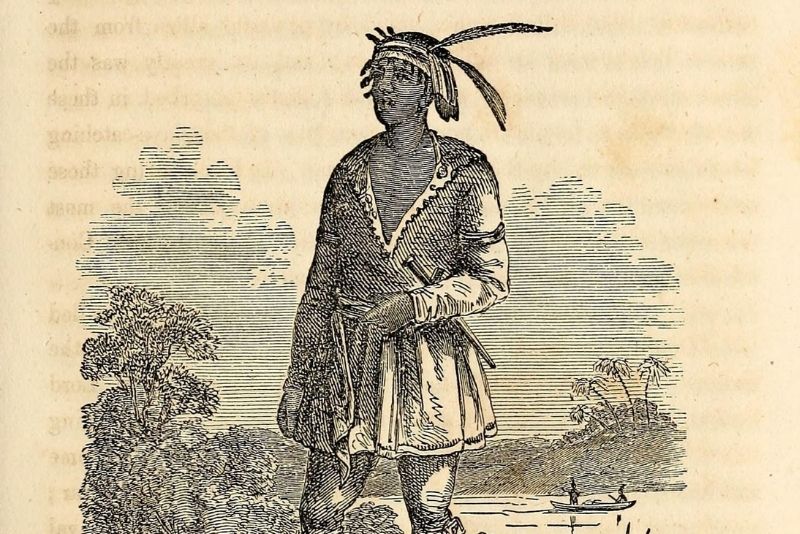 If you're eager to delve into American history and learn about its first settlers, then add The Collier Museum to your list of things to do in Naples
As you wander through its displays, expect to learn all about the different kinds of people that came together to make Naples what it is today.
Some of the notable highlights include tales of cattlemen, trailblazers, railroaders, rum runners, Indian traders, clam diggers, and hermits.
42 – Catch a play at the Sugden Community Theatre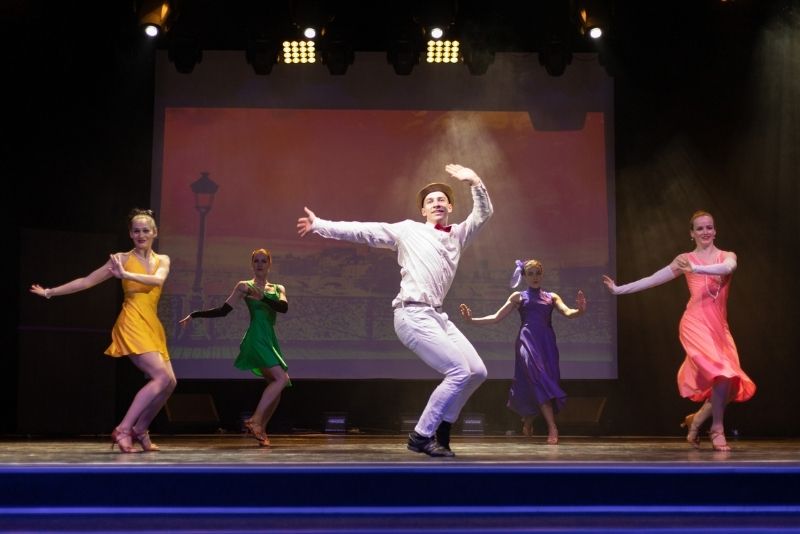 One for the musical theater lovers, the Naples Players (at the Sugden Community Theatre) produces a variety of shows spanning classic plays to new musicals, kids theater, comedy shows, live book readings, and plenty more.
If you need a change of scenery from the sands and swamps, you'll be hard-pressed to find better live entertainment.
43 – Sip a cold brew at the Naples Beach Brewery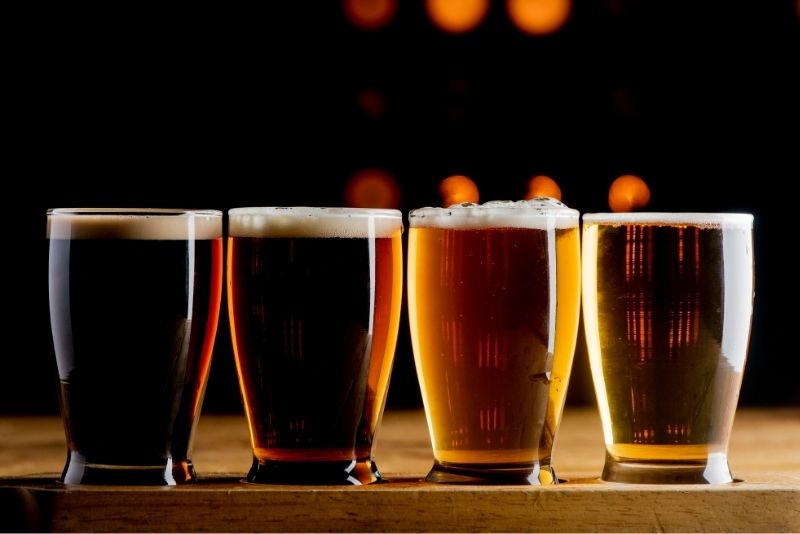 Do you love a cold beer on a toasty day? Or a cold beer or any day, for that matter? Then the glorious watering hole that is the Naples Beach Brewery should be your next stop.
The locally-adored brewery hosts all kinds of events including trivia nights, tasting, and parties.
After trying a flight of their craft beers in the tasting room — with some of the most popular brews being the Classic Ale, Cubano, and Irish Mike — grab a pint or two of your favorite and simply enjoy the vibrant atmosphere.
44 –  Go on a shopping spree at Tin City Waterfront Shops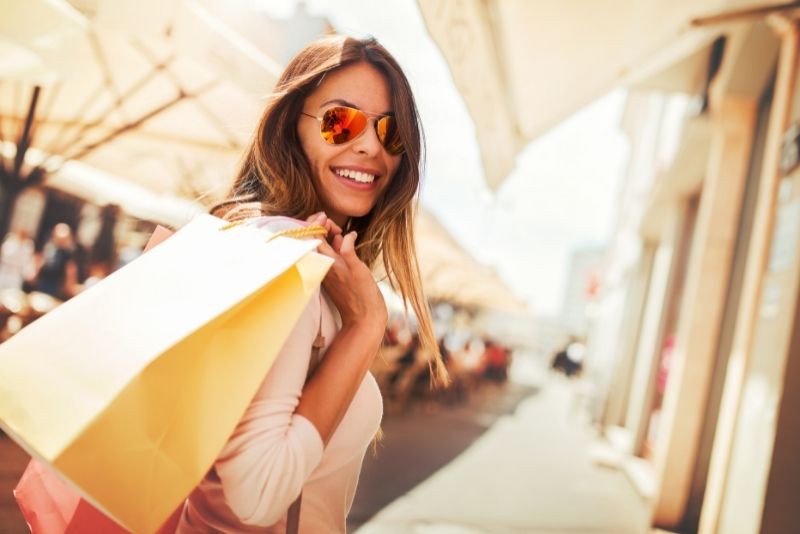 Shopaholics, listen up. Tin City Waterfront Shops has a vast selection of stores just waiting to be explored.
After maxing out the credit card on new clothes; a plethora of restaurants, cafes, salons, galleries, and bars line the area.
On top of that, there's even a boat ride available for tourists.
45 – Shop designer brands on Fifth Avenue South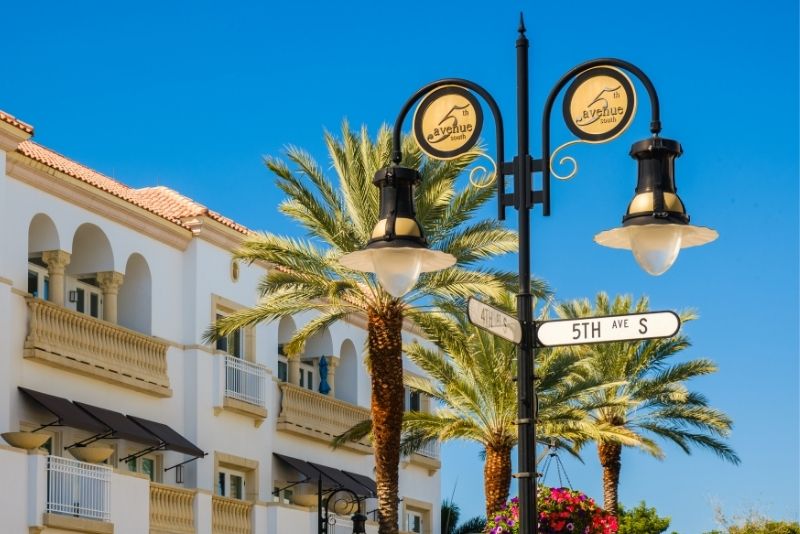 As an iconic Naples street filled with high-end brands and notable restaurants, if luxury is what you're after then Fifth Avenue South is the place to be.
Spend the day shopping, browsing through art galleries, getting a manicure in a salon, or eating fine foods — no matter how you plan your day, it's a must-visit for the atmosphere alone.
46 – Get crazy (and a little wobbly) on a pub crawl!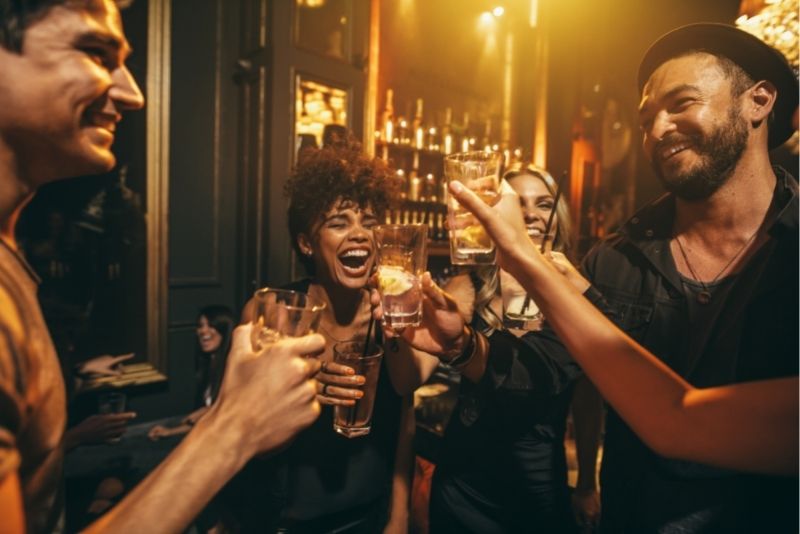 Is there any better way to get to meet fellow tourists and discover all of the city's hottest pubs and clubs than a pub crawl? We'll answer that one for you: nope, there's not.
Stop at places like Old Naples Pub, The Village Pub, Dylan's Drafthouse, Tavern on the Bay, and many more, with free drinks and plenty of organized games throughout the evening to break the ice.
For those of you traveling alone or with friends, it's a great way to meet a few new faces!
Looking to extend your trip and see more of Florida?
If you enjoyed your time in Naples, why not see some of the other cities that Florida has to offer?
Marco Island, only 30-min drive, is a lovely beach destination offering fun activities for everyone.
Discover our selection of fun things to do in Marco Island.
Fort Myers, a family-friendly beachside oasis known for its picturesque white-sand beaches, is only an hour north (with the option for a beautiful coastal drive via Estero Island). Make sure to check out Cape Coral too, right next door.
Discover our selection of fun things to do in Fort Myers, Florida.
Discover our selection of fun things to do in Cape Coral.
Miami, which is a 2-hour drive, is a bustling city with plenty of nightlife perfect for the younger crowd.
Discover our selection of fun things to do in Miami, Florida.
Venice, on the other hand, is known for its gorgeous beaches and relaxing atmosphere and is just 1 hour and 45 minutes away.
Or, if you're on the hunt for theme parks and adventure, why not consider Tampa? Just 2 and a half hours away by car, it's another built-up tourist haven definitely worth visiting if you've got a spare few days.
Discover our selection of fun things to do in Tampa, Florida.
We hope you've enjoyed our selection of things to do in Naples, Florida! If you have any other must-see suggestions, feel free to let us know in the comments!
As always, happy travels!