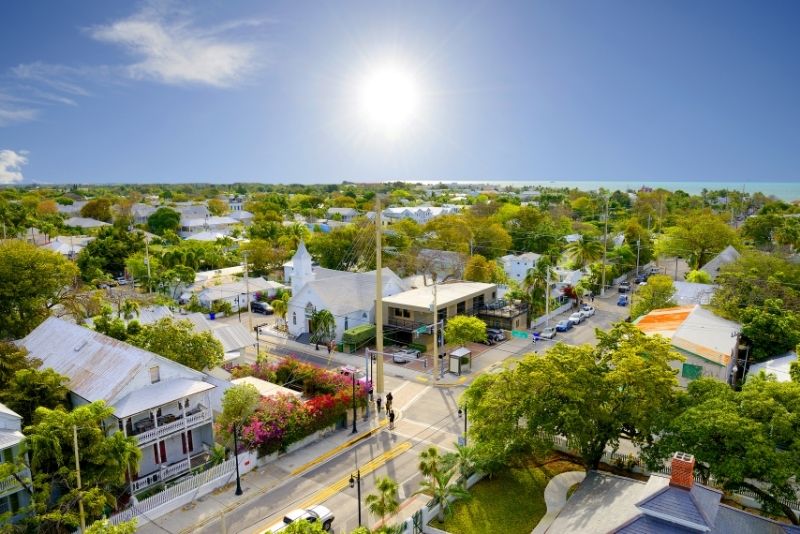 Get a taste for the fabulous food scene, soar above the area in a seaplane, see dolphins up close on a cruise, or snorkel through the crystal clear waters — with so many fun things to do in Key West, you'll truly be spoiled for choice.
A perfect mix of watersports, historic sightings, impressive art galleries, and beach-style architecture, Key West calls out to various interests, no matter what they may be.
Offering an average of 104 days of clear, sunny skies, a heavenly high average temperature of 91 degrees Fahrenheit, and a low of 67 degrees Fahrenheit, the year-round warmth is definitely a plus for many visiting this beautiful destination.
Whether you're after thrills, relaxation, or anything in between, Key West is a fantastic destination year-round.
From Duval Street's lively nightlife and bar hopping, the fresh seafood scene beachside, to trying key lime pie (which has origins in Key West!), your appetite will surely be satisfied with the best of Key West.
So, without further ado, let's dive in and explore the best things to do in Key West!
1 – Snorkel along North America's only living coral reef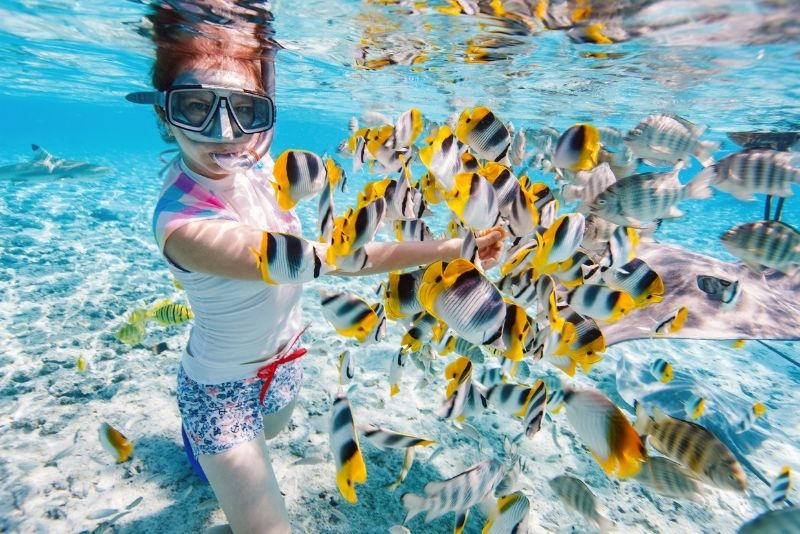 Looking for a fun day out in the water?
Travel by catamaran and snorkel in the clear blue waters of the Keys!
Discover some of the most diverse coral reefs on the planet and meet sea turtles, parrotfishes, angelfish, and so many more aquatic friends.
2 – Set sail to watch the sunset over Key West from the deck of the schooner America 2.0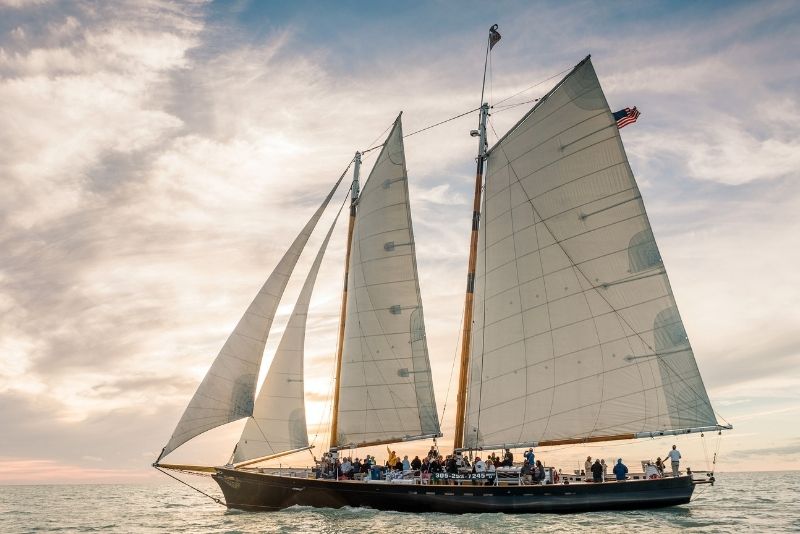 Get ready for an enchanting evening like none other!
With a stunning sunset sailing cruise aboard a classic schooner, you'll be able to admire iconic Key West landmarks from the water, including Mallory Square, Fort Zachary, and the Sand Key Lighthouse, to name a few.
For that extra special touch, drinks and appetizers are served throughout the cruise.
3 – Explore Fort Zachary Taylor Historic State Park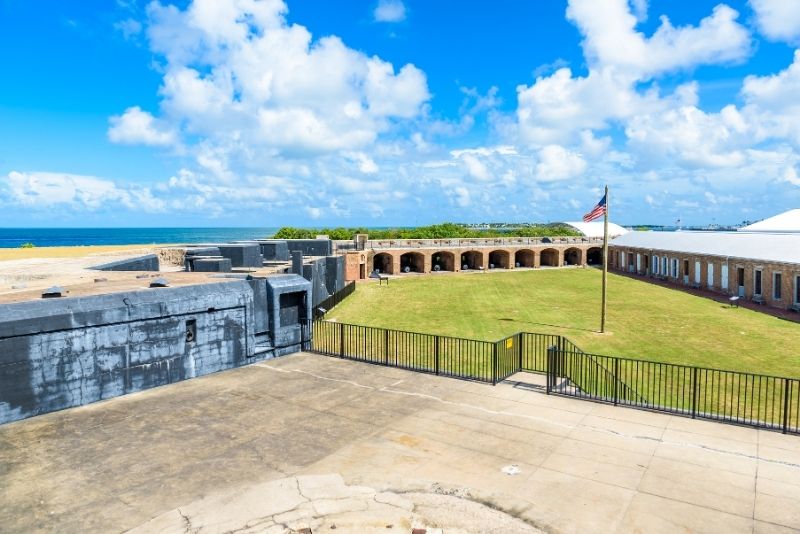 Built-in 1866 to defend the nation's southeastern coastline, the Fort Zachary Taylor Historic State Park played essential roles in the Civil War and Spanish-American War — and there's no better way to learn the ins and outs of US history than with a guided tour of the well-preserved fortress.
Located on the westernmost tip of Key West, this historic landmark also offers some fantastic snorkeling opportunities and excellent cycling trails.
4 – Kayaking through the Key West mangroves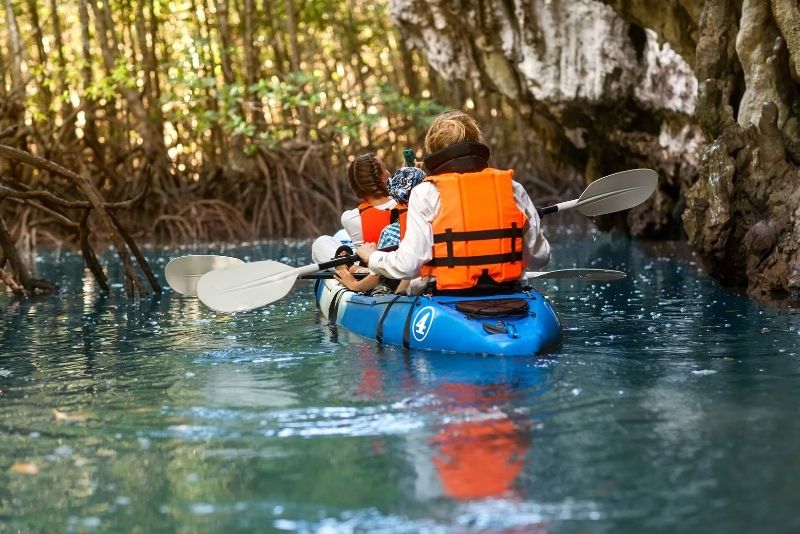 Spot Florida wildlife in their natural habitat, learn more about why the mangroves are essential for the local ecosystem, and discuss how to become more sustainable in today's world with your tour guide — all on an exciting kayak tour through the Key West mangroves!
With warm waters year-round, there's never a bad time to give it a try.
5 – Slather up some sunscreen before heading to the Best Beaches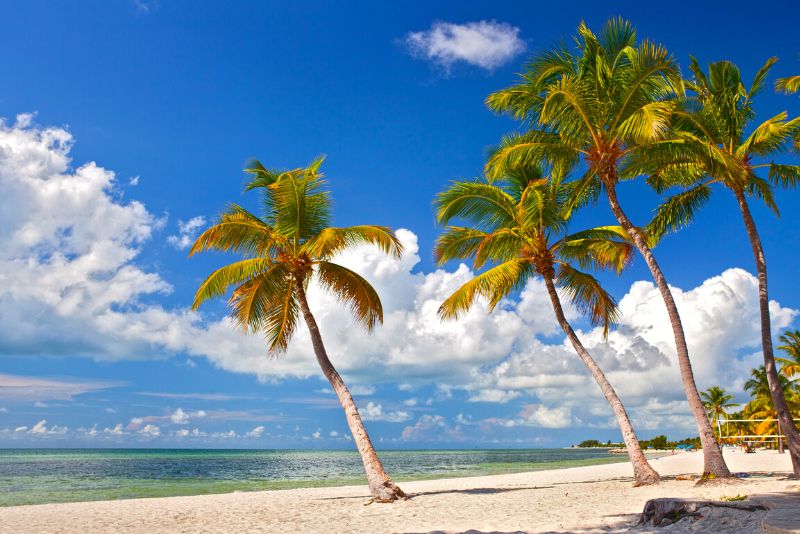 Head to Smathers Beach, considered to be Key West's best and largest beach. Equipped with proper changing rooms, volleyball nets, and water activity rentals.
Take a walk through the scenic wooden pier at Higgs Memorial Beach Park a pristine turquoise blue beach with access to Key West Garden Club, a former Civil War fort turned tropical garden and education space.
For the best snorkeling spot, check out Fort Zachary Taylor Beach, and for the best family beaches, check out South Beach for its calm waters.
6 – Take a dolphin-watching cruise!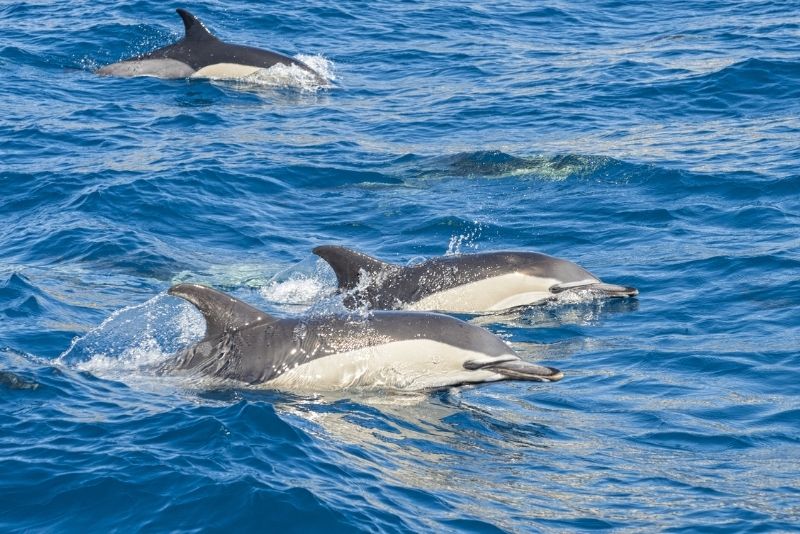 If you're a wildlife lover, then a cruise to the Key West National Wildlife Refuge should sit high atop the Florida bucket list!
The dolphins often come within arm's reach of the modern catamaran, more than happy to say hello from the comfort of their natural environment.
With an expert marine biologist, there's plenty to be learned about the local ecosystem too.
7 – Discover Key West on a hop-on hop-off trolley bus tour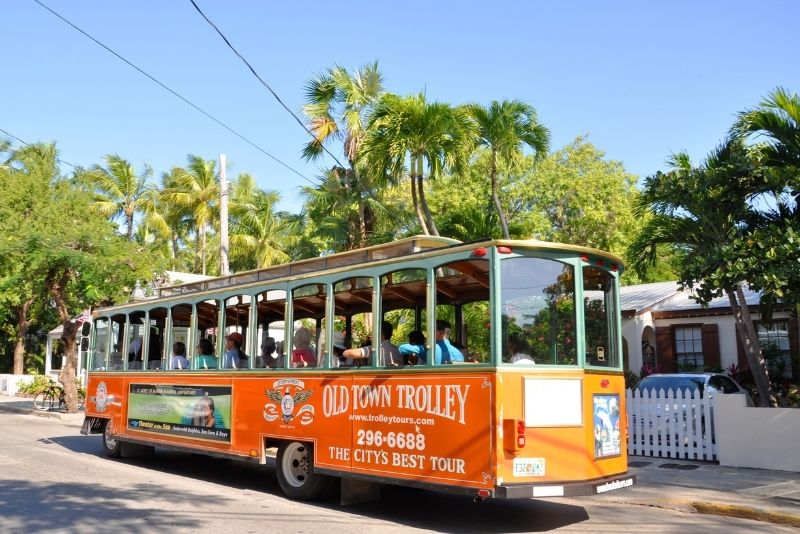 The simple solution to seeing as many of Key West's 100+ points of interest as possible, the trolley offers 13 convenient stops perfect for exploring the best that Key West has to offer.
With both 1-day and 2-day tickets available, there's a hassle-free option to suit every schedule.
Be sure to hop off at Clinton Square Market, a historic U.S. Navy coal depot, which today houses some of the best shopping and coffee locals.
8 – Visit the famous U.S. Coast Guard Cutter Ingham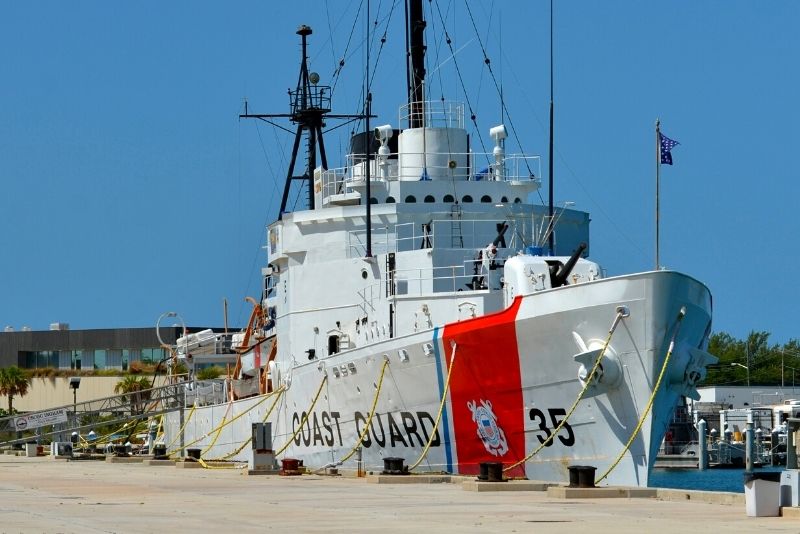 Serving in active duty from 1936 to 1988, the Cutter Ingham is a quintessential portrait of U.S. coast guard history, a must-visit site for every history buff.
So why not explore the U.S. Coast Guard Cutter Ingham museum and learn about one of the country's most decorated ships?
9 – Feel the thrill of a jet ski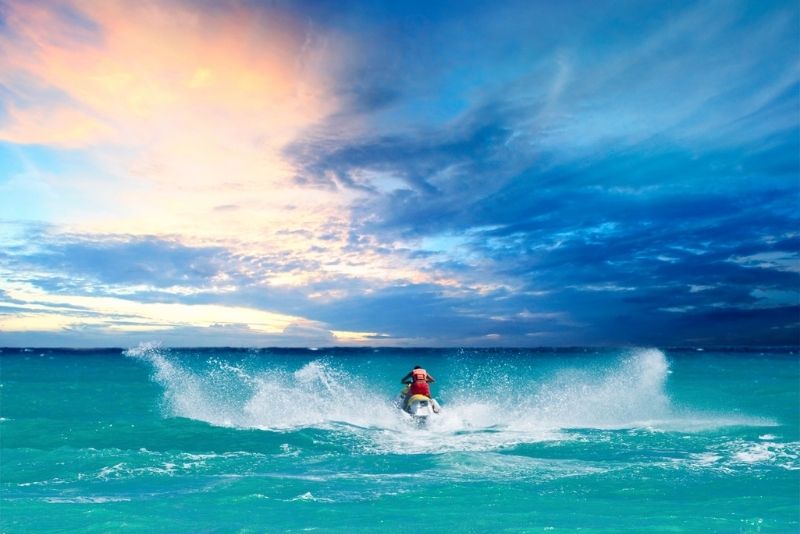 Looking for a genuine adrenaline-pumping experience?
Book a jet ski tour, ride around on Florida's tropical waters, and see some of the most unique scenery in the country — it's a surefire way to add some high-speed thrills to your Key West holiday, and it's fun for all ages!
10 – Step inside The Basilica of St. Mary Star of the Sea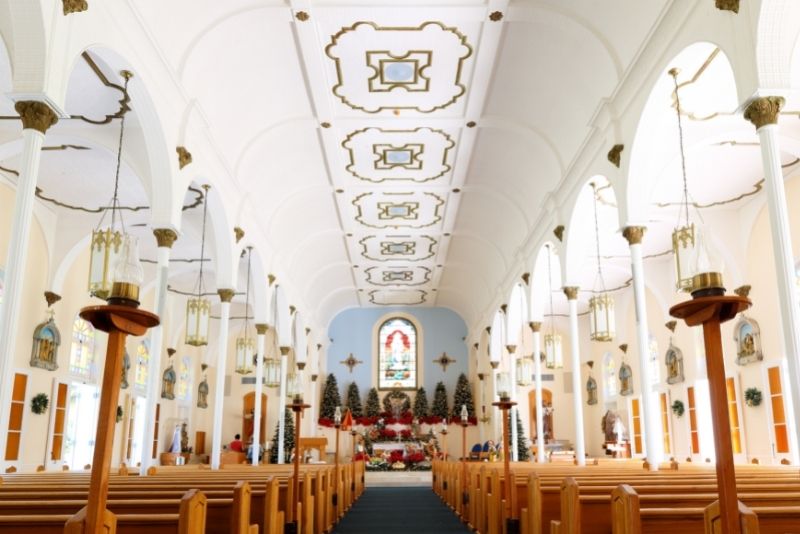 Soak in the quaint and meditative ambiance at the Basilica of St. Mary Star of the Sea, one of the oldest catholic churches in Florida, dedicated to the Virgin Mary and adored by various sailors.
Built on an oolitic limestone rock, and built with limestone dug from the beach sand, the church has an American Victorian style.
Walk around to view the Grotto where the statues of Our Lady of Lourdes and Bernadette are, as well as its gorgeous vegetation.
11 – Discover the wonders of Key West by bike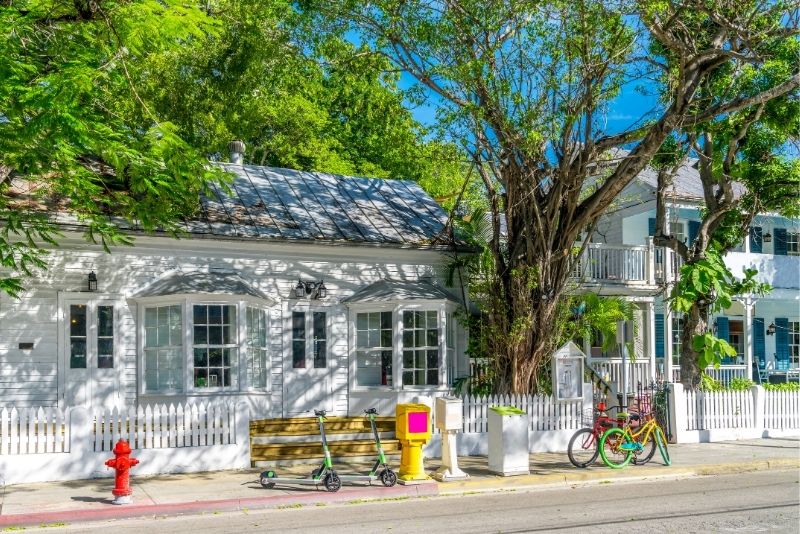 With barely any traffic and a go-slow atmosphere blanketing the area, there's no better way to explore Key West's historic Old Town than on two wheels!
Pedal past famous landmarks on dedicated bike paths, stop into a staple eaterie or three, and let the local guide share all of the region's most fascinating tidbits the whole way through.
A bike tour is a perfect introduction for first-time visitors.
12 – Enjoy a culinary adventure through the Key West Historic Seaport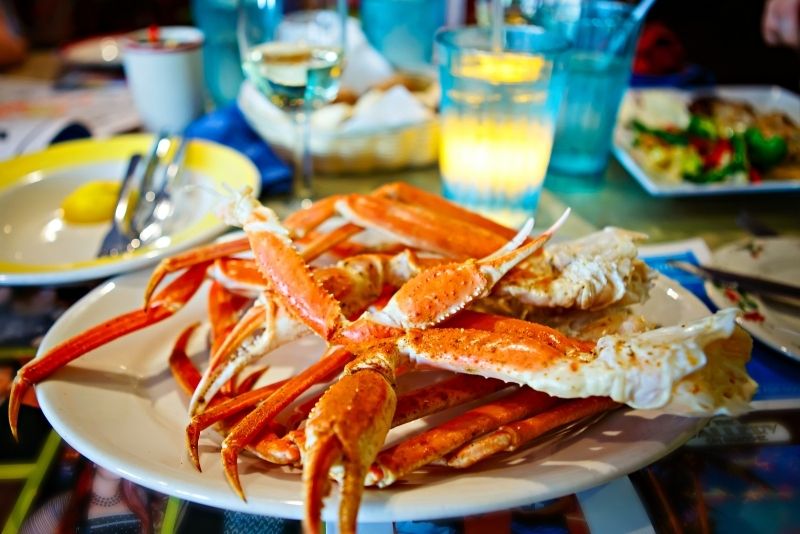 Ready to fall in love with the city's flavors?
Then make a beeline for Key West's charming Seaport neighborhood, where the sights, sounds, and, of course, indulgent flavors regularly take visitors on unforgettable culinary journeys!
Besides the seafood, Cuban cuisine, and the decadent key lime pie, the seaport also sports a riveting history.
13 – Discover the wonder of the aquatic animal world at  Key West Aquarium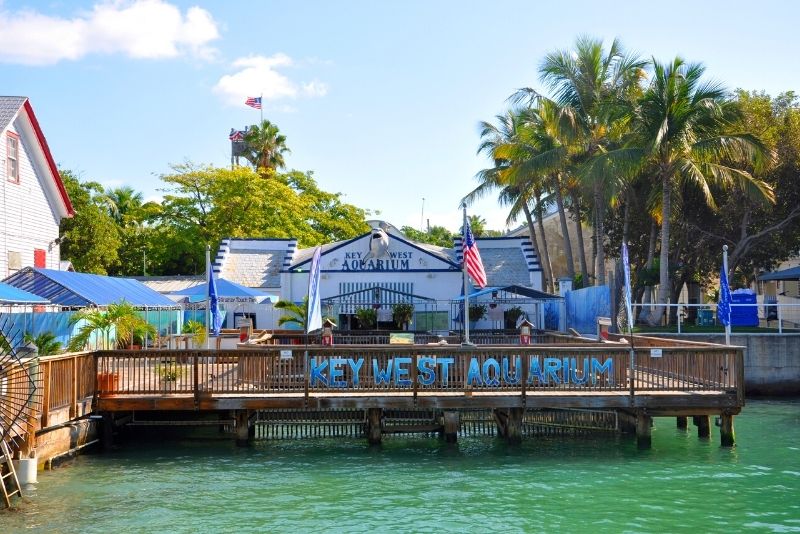 Located in Mallory Square, Key West Aquarium is one of the city's most beloved attractions, offering the perfect outing for families and animal lovers.
With the opportunity to feed sharks, touch cow nose rays, meet alligators, and learn why sea turtles are endangered, it's sure to satisfy any traveler's curiosity.
14 – Find an art piece for your home at Wyland Gallery of the Florida Keys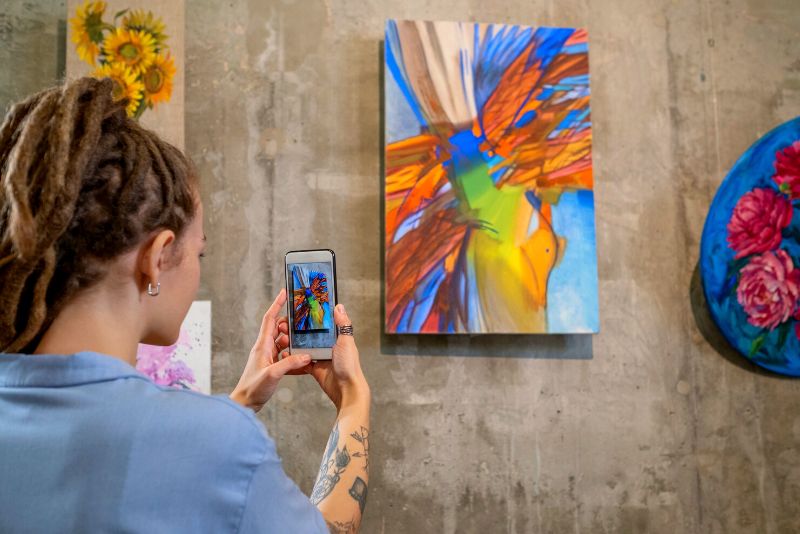 Art lovers this one is for you! Pay a visit to Wyland Gallery of the Florida Keys, a space where artists and collectors come together to showcase the best of local art, from paintings to glass, bronze, and lucite sculptures.
All pieces follow a marine theme, serving as the perfect reminder of the beauty of Key West, from dolphins to other marine animals, and scenes of the beach.
Visit the art gallery anytime, or during a special event.
15 – See turtles up close on a glass bottom boat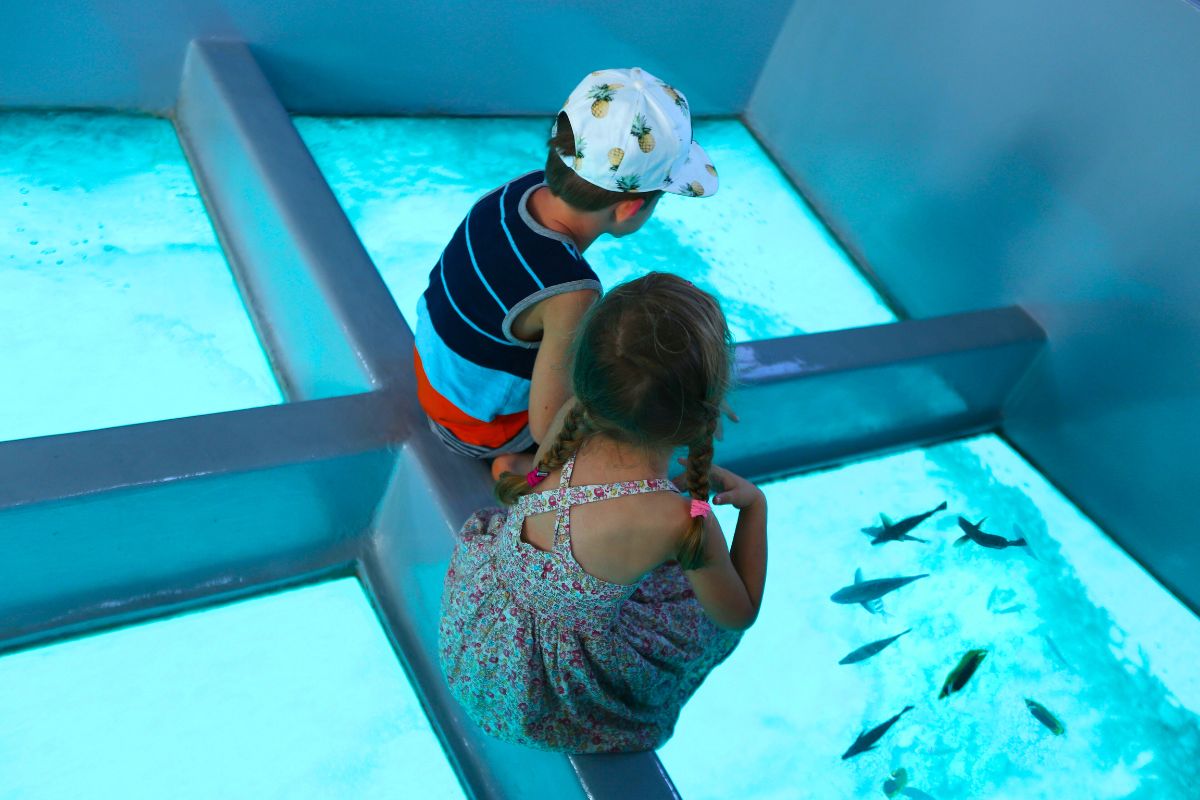 Beneath the surface, the waters around the Florida Keys come alive with diverse, fascinating, and incredibly colorful marine life. And while snorkeling and scuba diving are always a hot ticket, you can just as easily get your fill of the underwater world without actually getting wet.
Enter: glass bottom boat tours! With a friendly crew alongside you the whole time (who know the best spots to hit), you'll get an up-close look at the underwater reefs, their corals, and the creatures that call this part of Florida home — and learn all about their habitats, life cycles, and more along the way.
While every day welcomes a different find, you could get lucky and spot sea turtles, sharks, stingrays or even the odd manatee or two. At the very least, you can expect to witness dozens of the 600+ species of tropical fish that swim through these waters daily.
An educational and mesmerizing experience — what more could you ask for?
16 – Spice things up with a romantic dinner at Latitude's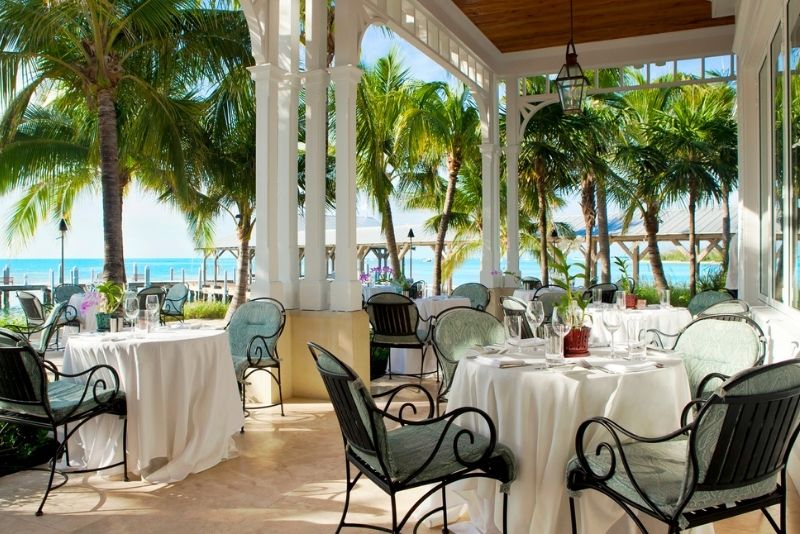 No visit to Key West is truly complete without a dinner at the award-winning Latitude's Restaurant.
While the wide range of delicious dishes is second to none, the 5-star service and breathtaking sunset views combine to make these dinners truly special.
Since it's so popular, advanced reservations are usually required.
17 –  Parasail above the Keys' shimmering waters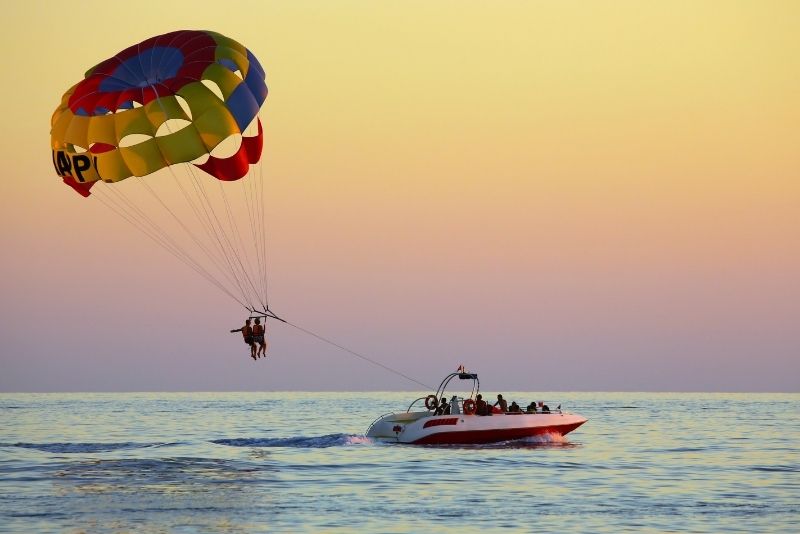 Thinking of trying something totally unique during your time in Key West? Well, look no further!
With a thrilling (yet oddly relaxing) parasailing ride, travelers are greeted by unparalleled views of the Florida Keys below.
It's one of the most exciting adventure activities in Key West, without a doubt.
18 – Watch an independent film at the Tropic Cinema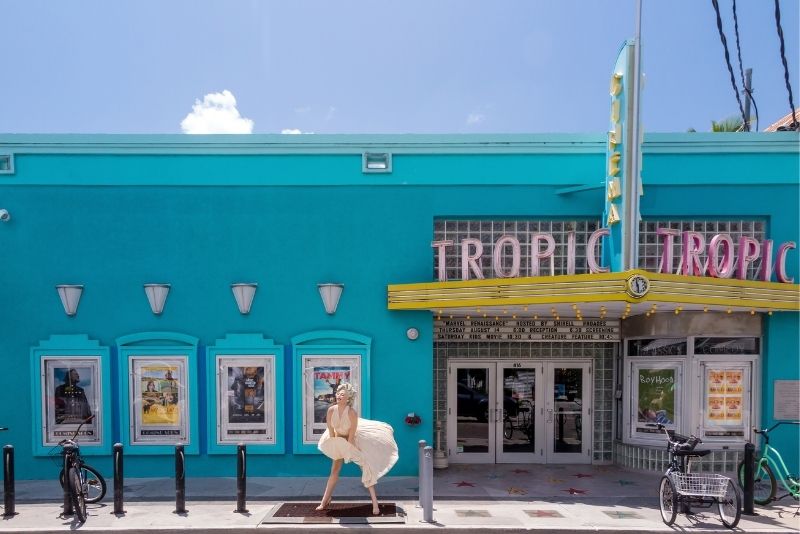 One for the Hollywood film buffs, the Tropic Cinema arthouse promises to provide the ultimate movie fix, with rotating films of every genre, old and new.
Screenings are usually limited, so check the calendar in advance to guarantee your seat at the latest independent blockbuster.
19 – Tour the historic Harry S. Truman Little White House
For history aficionados (particularly presidential history), this place should sit high atop any list of things to do in Key West.
With a visit to the Harry S. Truman Little White House, intrigued guests can explore the rooms where Truman held meetings and discussed government matters, discover an essential part of Florida's history, and learn the ins and outs of Truman's years as president.
20 – Immerse yourself in hundreds of colorful butterflies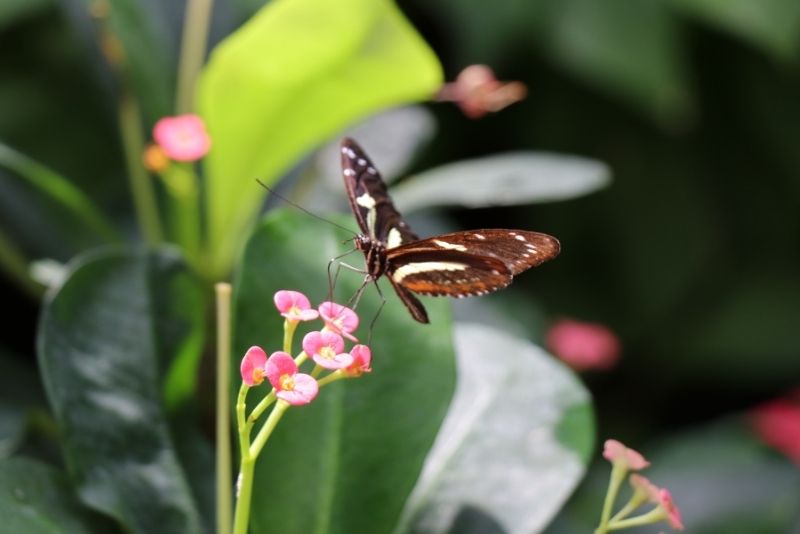 Stroll through a magical environment filled with hundreds of the most beautiful winged creatures in nature — featuring 60 types of butterflies in a truly enchanting setting, the Key West Butterfly and Nature Conservatory is one of the island's most popular attractions for photographers and nature enthusiasts.
21 – Rent your very own hydrobike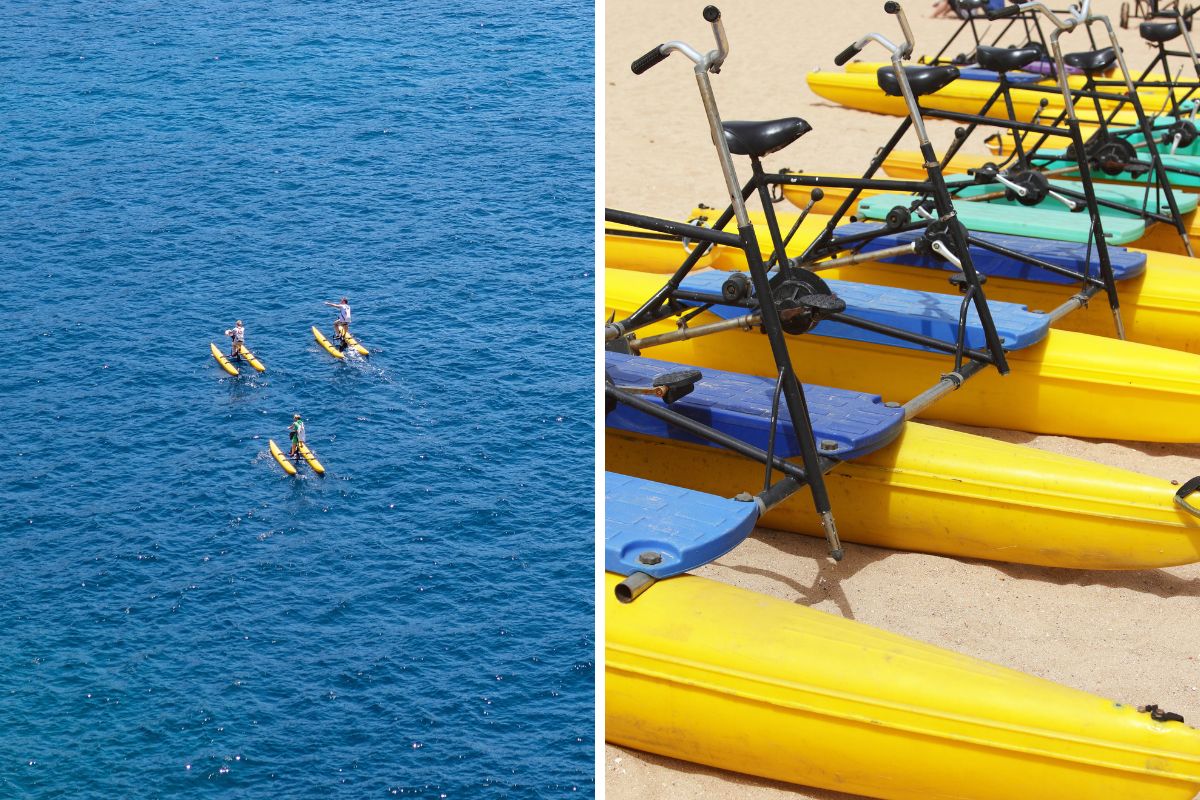 One of the hottest activities to hit the Florida Keys in recent years, hydro biking is part cycling, part kayaking, and 100% a good time.
With no prior experience required, these beginner-friendly waterbikes are perfect for checkout out the islands at your own pace. Pedal casually along the coastline, past the crowds at Mallory Square; crack open a cold one (with a mini cooler included, you can BYO) and simply enjoy the views; or jump into the water and cool off.
If you opt for a tour, you'll have a local guide show you all the spots. On the flip side, you can always hire your own tandem bike (at twilight, if possible!) and go at your own pace. Either way, you're in for top-notch views and an unexpected workout to boot.
22 – Say hello to the Keys' friendly sea turtles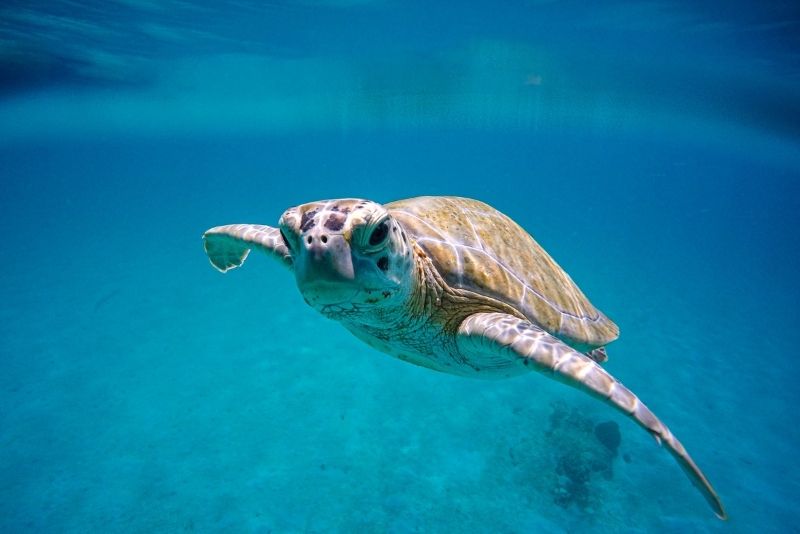 Who doesn't love turtles, right?
At the Key West Turtle Museum, besides unforgettable meet-and-greet opportunities, visitors are taught all about the protection efforts to save the endangered sea turtles.
This is one of the best places to dive into Key West' unique maritime history.
23 – Fly in style in a helicopter over the Florida Keys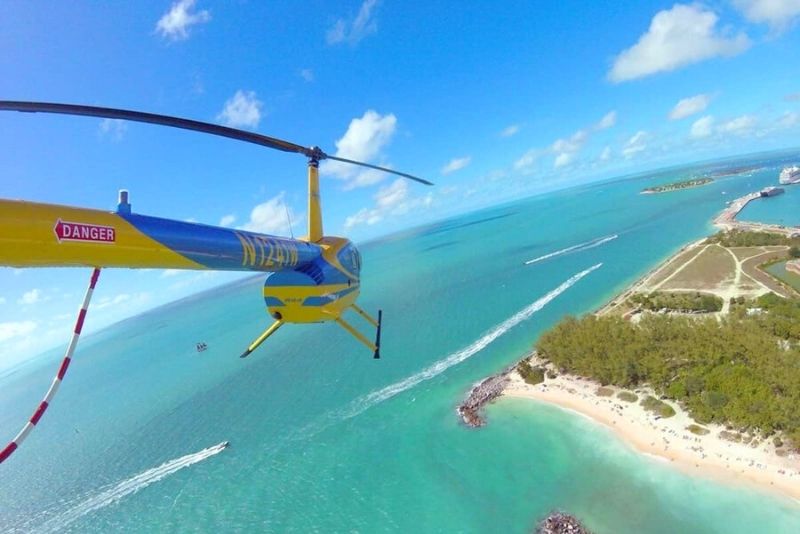 Fly like a rockstar above Florida's most beautiful landscape in a luxurious helicopter!
Camera at the ready, people; from thousands of feet above the ground you'll be able to spot the Keys' best beaches, admire the mangrove maze, spot dolphins, and discover parts of the island that are only accessible by air.
For the ultimate adventure, book your experience with either Fly-KeyWest or Key West Helicopters, offering a good mix of experiences, budget options, and even schedules.
24 – Visit the Fort East Martello Museum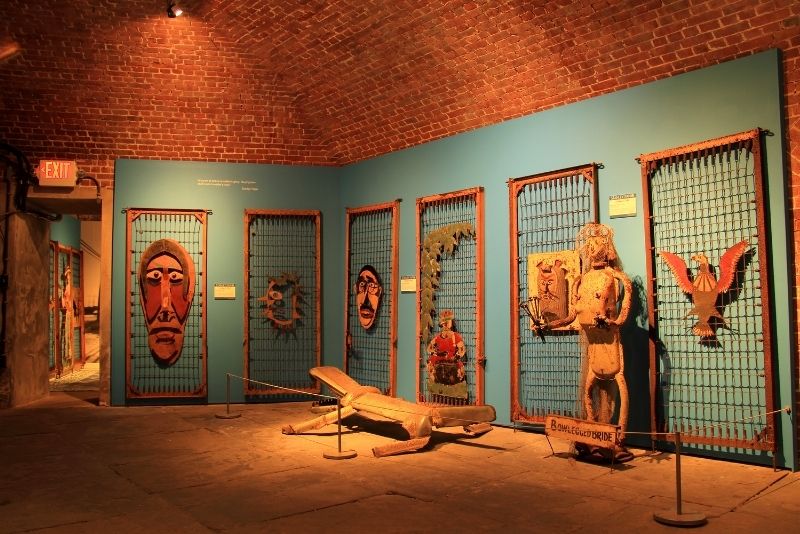 Fort East Martello is nowadays the home of the Fort East Martello Museum, featuring historical exhibits spanning the 19th and 20th centuries.
Discover the fantastic collection of Civil War artifacts, admire Stanley Papio's unique metal sculptures, learn about the wrecking industry that shaped the Florida Keys, and (if you're brave enough) meet the Ghosts of East Martello, none more famous than Robert the Doll.
25 – Experience a world-class fishing day trip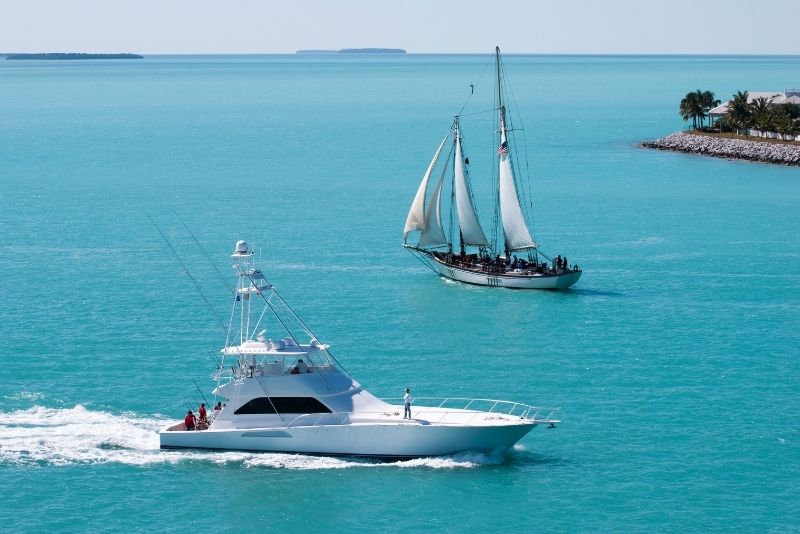 Key West is nothing short of an angler's paradise, and its fishing charters have built up a strong reputation among anglers from around the globe as a result.
With so many fantastic fishing trips to choose from — set on beautiful boats with expert crews — there are plenty of opportunities to catch all kinds of species, including sailfish, marlin, mako sharks, red snappers, and giant groupers.
26 – Visit the Key West Shipwreck Treasure Museum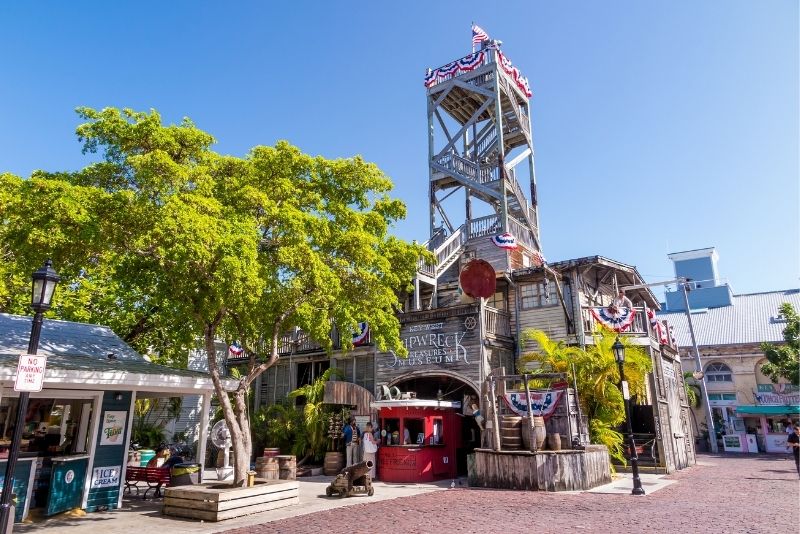 Step back into time as you learn all about the region's maritime past with a trip to the fantastic Key West Shipwreck Treasures Museum.
Besides seeing real treasures salvaged from sinking ships, guests are also told daring tales of 'wrecking' — the foundation of Key West's economy during the 18th century. It's a fun experience for the entire family!
27 – Visit the San Carlos Institute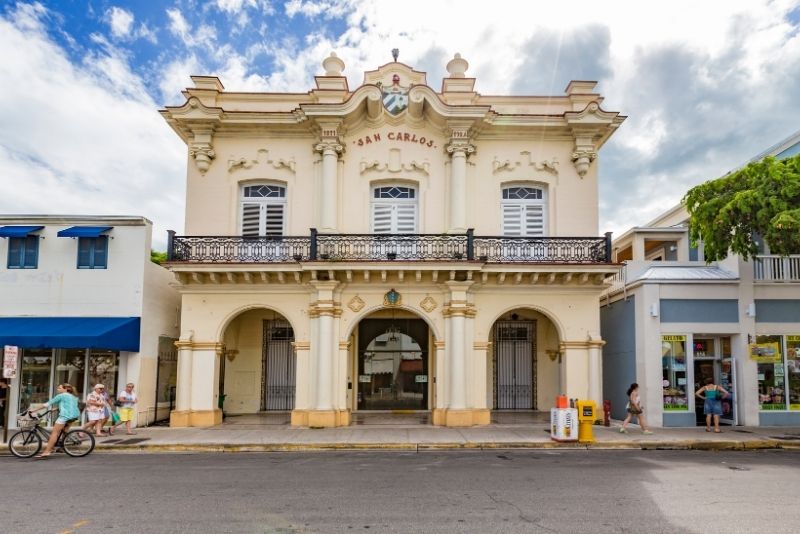 Established in 1871 by Cuban exiles, the San Carlos Institute aims to preserve the Cuban people's language, culture, and traditions.
It also helped unite the exiled Cuban community and has been considered the cradle of Cuba's independence movement.
Simply put, this place is a Key West must-visit for any history buff.
28 – Grab a seat on the Trolley of the Doomed!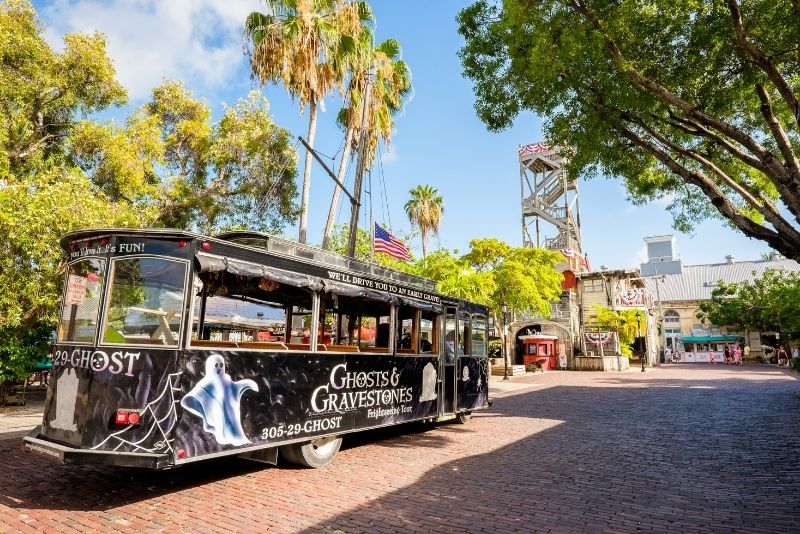 Believe it or not, Key West has a dark side; with a number of haunted sites scattering the island, there's plenty of spooky tales to be told.
Eager to learn all about Key West's supernatural history then?
Just Hop aboard the Trolley of the Doomed, where local experts share frightening tales of years gone by as you traverse the dark and narrow streets of Old Town.
29 – Pamper your better half at the Better Than Sex dessert restaurant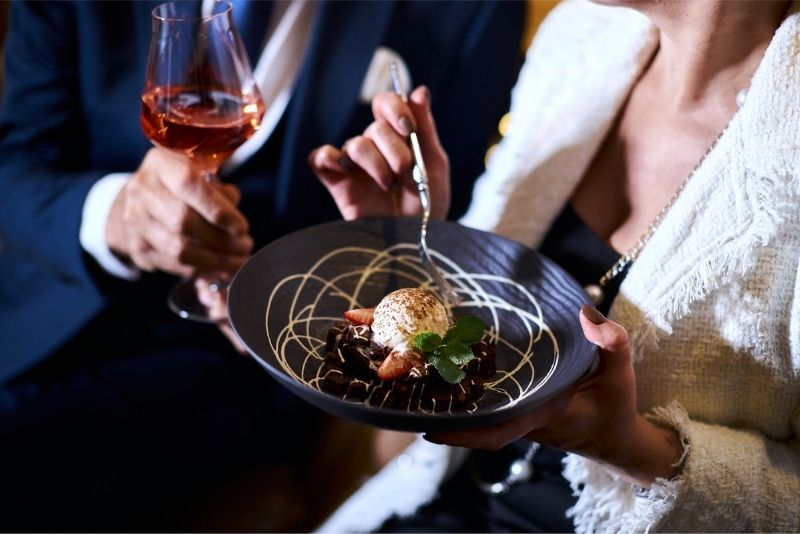 Looking for a romantic dining experience?
Then pay a visit to Better Than Sex, the perfect spot for celebrating Valentine's Day, anniversaries, birthdays, or even a first date!
To say that your sweet tooth will be satisfied is an understatement — to truly appreciate the romantic flavors and atmosphere, you've got to experience it for yourself.
30 – Have a swashbuckling good time on a pirate ship cruise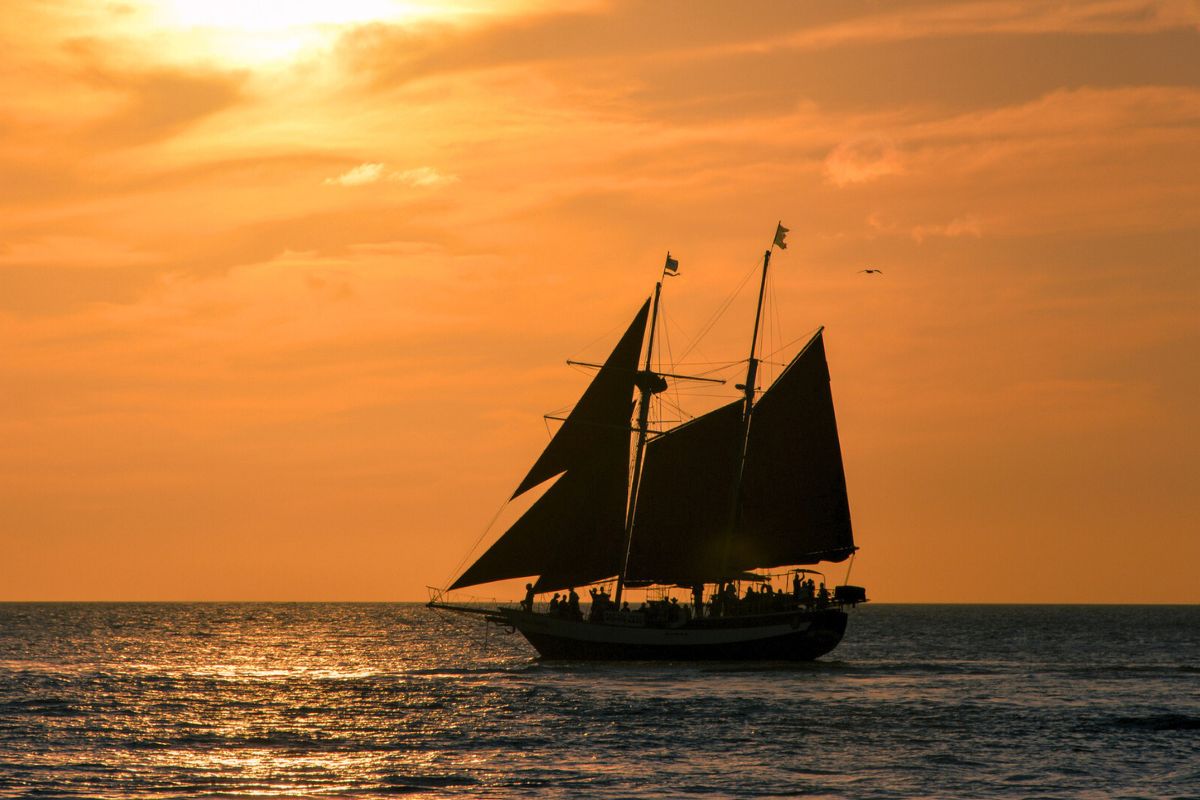 A family favorite, with cannons, swashbucklers, and treasure maps ahoy, this sunset sail is the perfect way to add a bit of adventure to your holiday.
From Key West's Historic Seaport, you'll climb aboard the Schooner Jolly II Rover in search of lost riches (read: dolphins, turtles, flying fish and pelicans) as you traverse the waters of the Atlantic Ocean.
Far more interactive than your typical sunset sail, you'll get to help the crew pull up the anchor, raise the sails, steer the ship, and(for all you 21+ pirates) down a couple of swigs of good old-fashioned pirate rum.
Most adventures make their way past Sunset Key (famous for its multi-million dollar celebrity homes) and points of interest like The Navy Mole, the Truman Annex, and Christmas Tree Island – as you pass by each, your friendly crew will share all kinds of fun facts about the area.
31 – Enjoy a day trip to Dry Tortugas National Park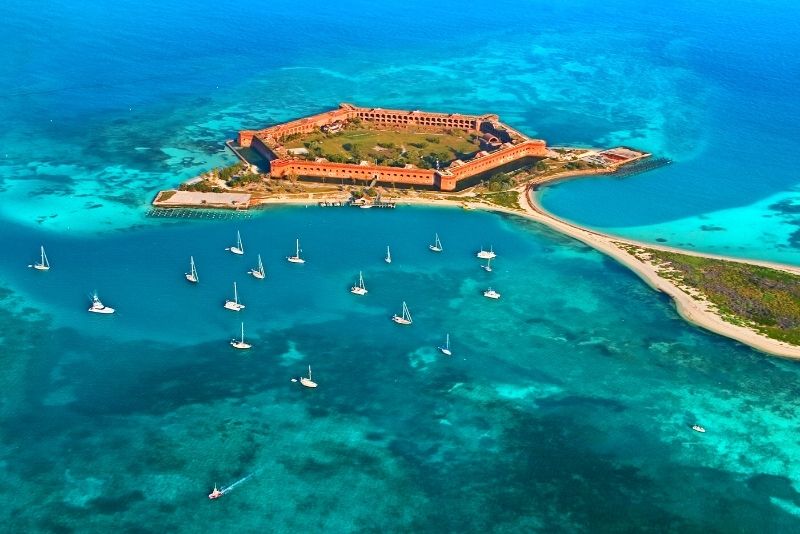 Experience the day trip of a lifetime, filled with beachcombing, kayaking, snorkeling, fishing, wildlife viewing, and plenty of sightseeing!
Only accessible via boat or seaplane, the secluded islands of Dry Tortugas National Park offer an unforgettable day trip for the entire family.
32 – Step back in time and visit the Ernest Hemingway Home and Museum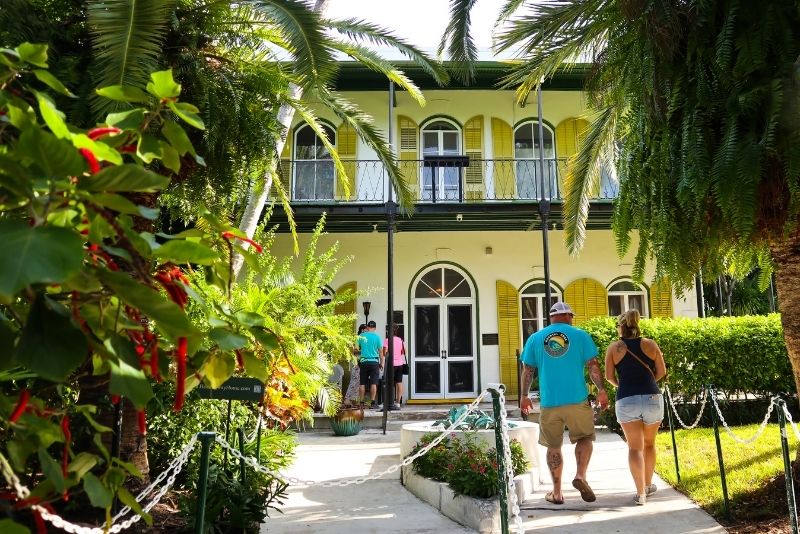 Nestled among towering palm trees on the western end of the island in Old Town, Hemingway's former home is one of Key West's most popular attractions (and a must-see for literary buffs visiting the Keys!).
After wandering around the lush garden, head inside to discover the well-preserved rooms filled with Hemingway memorabilia including photos, books, and furniture.
33 – Dine at the legendary Hard Rock Cafe Key West
Visit the iconic Hard Rock Cafe Key West for great American food and thirst-quenching drinks wrapped in a unique musical experience.
Set within a beautiful historical building on the historic Duval Street, Hard Rock Cafe Key West is the perfect place to dine in style and feel like a star.
34 – Watch the thrilling Key West Offshore Racing World Championships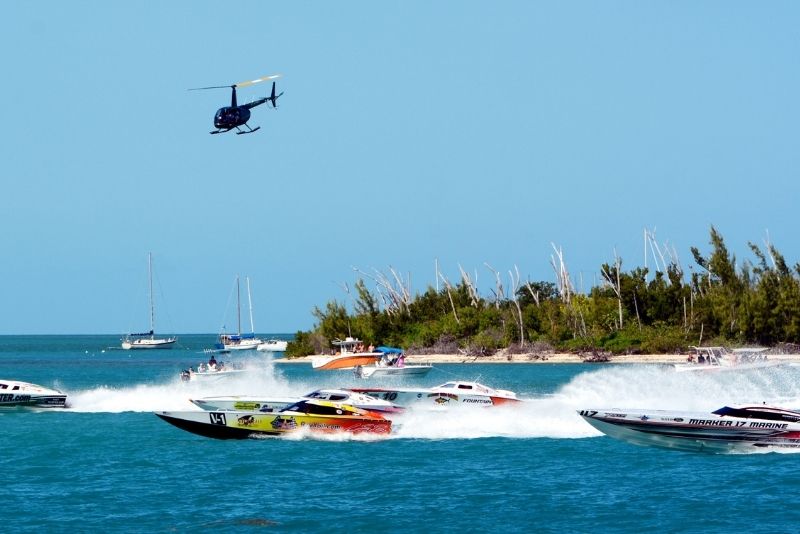 Speed, power, and fun come to Key West every year for the area's most exciting water event on the calendar: the roaring Offshore Racing World Championships, where the world's top offshore boat racers fly across the harbor!
If the dates line up with your vacation, then buckle up for an unforgettable spectacle. To keep up with all the latest news, visit Race World Offshore.
35 – See the nightly Key West's Sunset Celebration at Mallory Square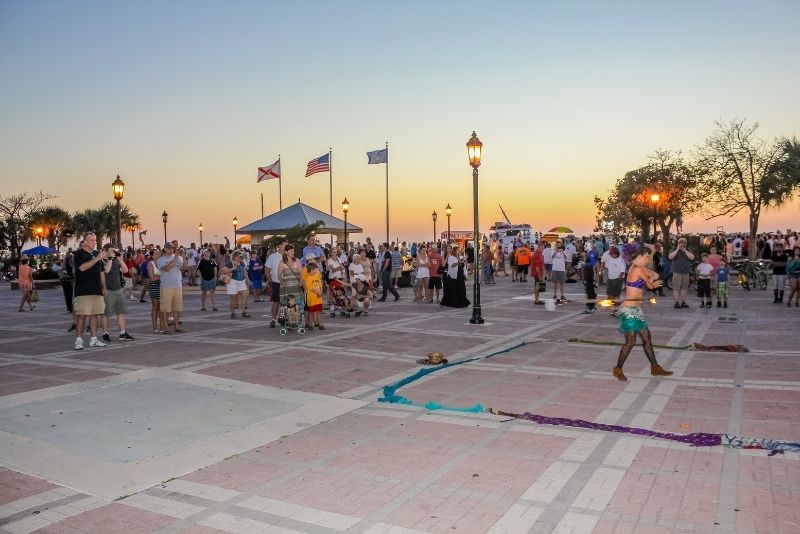 Arguably the best way to transition a relaxing afternoon into a lively evening, gather at Mallory Square just as the sun goes down.
Making the famous Key West sunset all the more special, extraordinary jugglers, local musicians, clowns, and magicians create a bustling atmosphere unmatched by anywhere else in the region.
It's a quintessential cultural experience and fun for all ages.
Walk for 3 minutes to Sunset Pier, to continue the laid-back vibes with more restaurants, bars, entertainment, and extraordinary water and sunset views.
36 – Level up the romance with a sunset cruise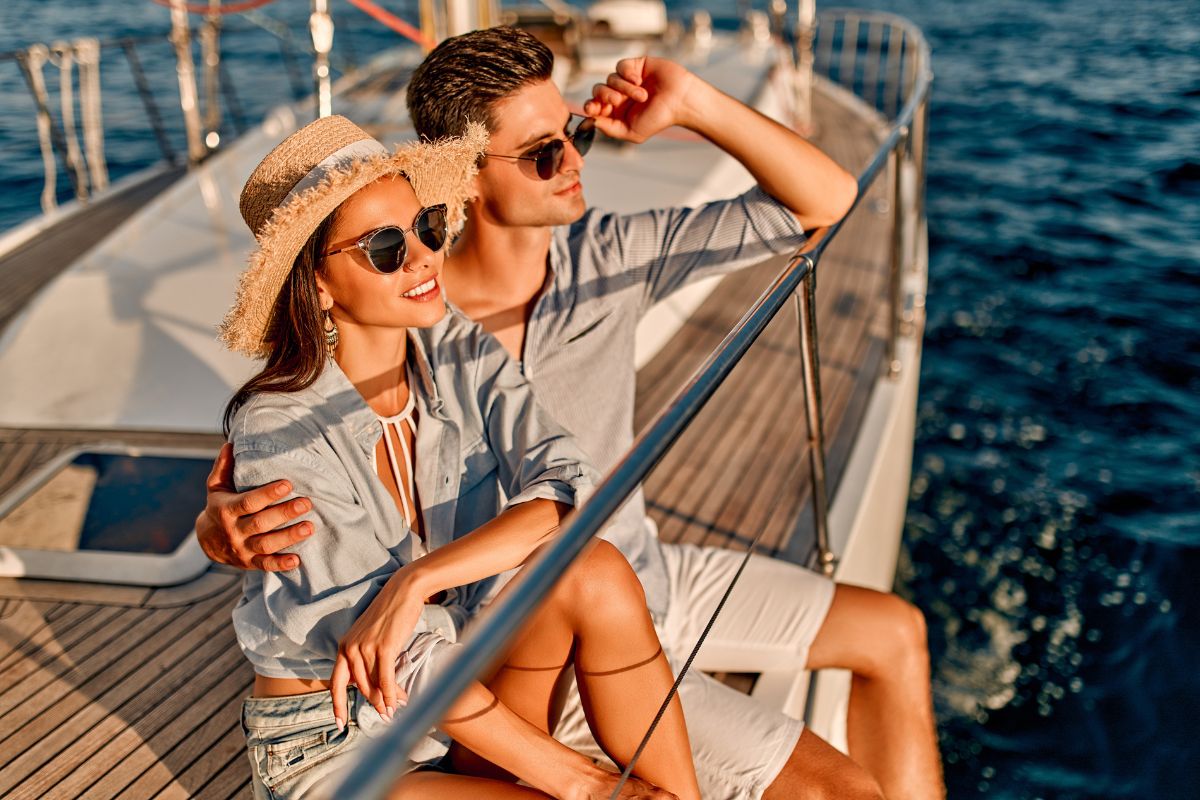 As the sun goes down, Key West comes alive in a different way, and one of the best ways to witness this is from the comfort of a cruise.
With a glass of bubbly (or two) in hand, you'll get to take in all kinds of beautiful shades as the sun dips below the horizon, casting an ethereal glow onto the hundreds of islands that make up the Florida Keys.
From romantic sunset sails with buffet dinners to more upbeat cruises with live music and hors d'oeuvres, as well as party boats that spice things up a bit, there's something for everyone.
Adventures typically last a couple of hours; that said, there's nothing stopping you from booking a private boat and staying out until the stars come out.
37 – Stop into Pepe's Café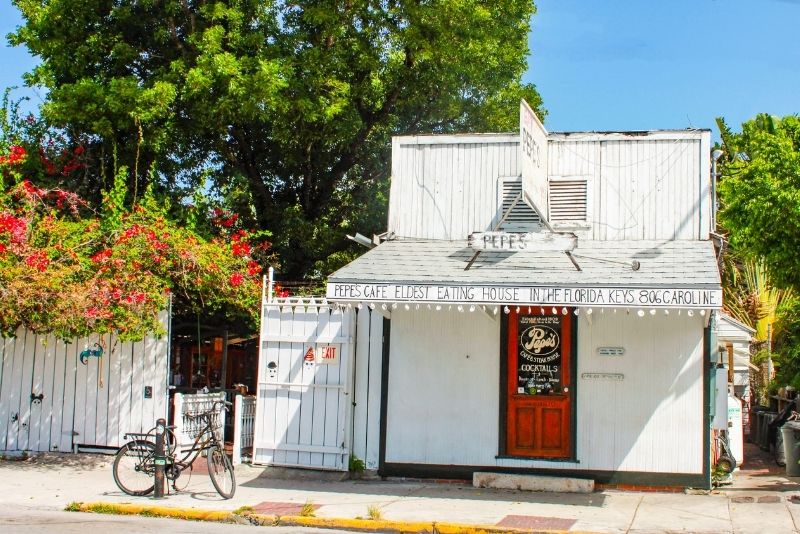 Where old-school dining meets modern flavors, the 111-year-old Pepe's Café is billed as the oldest eaterie in the Florida Keys.
Situated in the Old Town neighborhood of Key West, the restaurant serves excellent island cuisine and delicious cocktails — but even if you're not a diehard foodie, the funky atmosphere alone is worthy of an afternoon visit.
38 – Visit the Mel Fisher Maritime Heritage Museum and let out your inner treasure hunter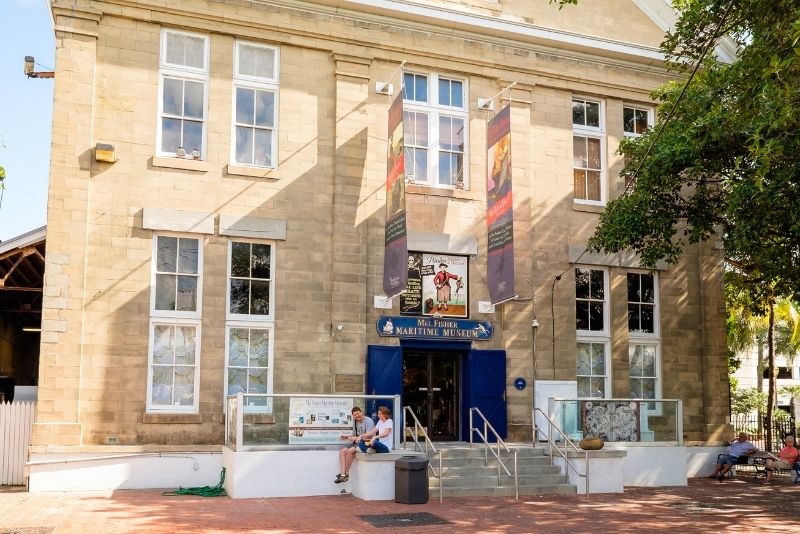 Any Pirates of the Caribbean fans in the house?
At the Mel Fisher Maritime Heritage Museum, curious visitors learn how Mel Fisher and his crew found the biggest prize in treasure-hunting history: $450 million worth of gold, jewels, coins, and artifacts.
It's a fascinating story, but not the only one; the museum also showcases other ancient Spanish ships' treasures.
39 – Have fun at Key West's world-famous Fantasy Fest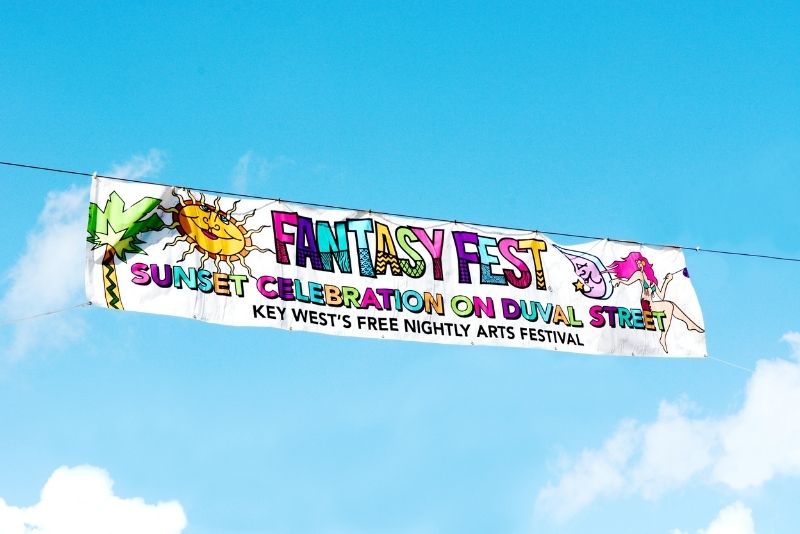 Held annually in the last week of October, Fantasy Fest is the biggest event of the year in the Florida Keys, attracting thousands of fun-loving party-goers from all corners of the globe.
With a parade tradition stretching as far back as 1979, everyone gets decked out in the most colorful, creative, and outrageous costumes they can cobble together — a lot of fun is guaranteed!
40 – Taste some of Florida Keys finest rums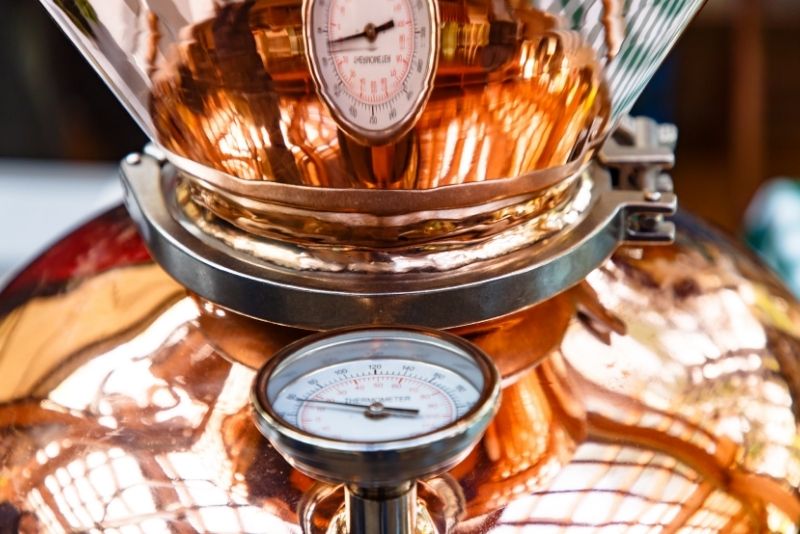 You're on vacation, after all, so why not have a drink or two and unwind?
At the Key West First Legal Rum Distillery, not only are guests welcome to try a selection of exquisite rums, but they're also taught how the venue uses centuries-old distillation techniques to transform sugarcane into smooth white rum.
Can't decide what to drink? Opt for a tasting flight, with various award-winning rums, or learn how to make a Cuban mojito!
41 – Enjoy a beautiful sunset and concert at the Coffee Butler Amphitheater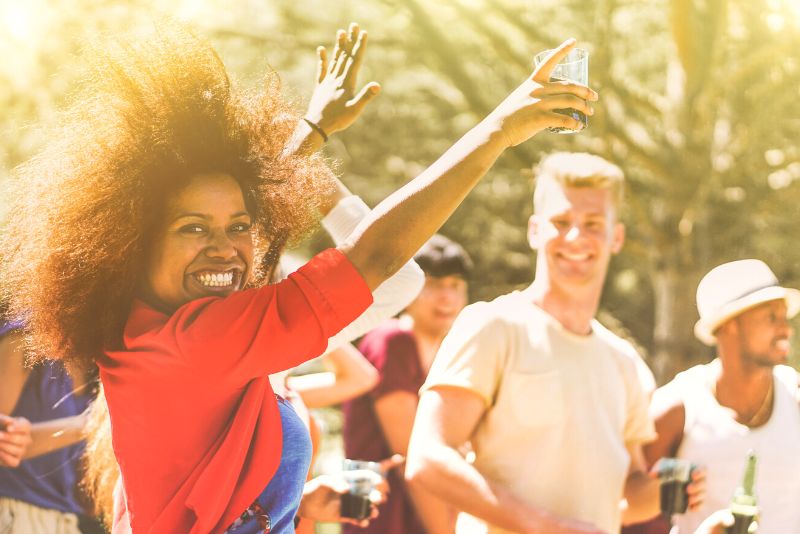 Check out a musical concert taking place at the Coffee Butler Amphitheater, where the musical experience is complemented by the outstandingly beautiful concert venue.
Book tickets for the grassy general admission section, and witness a true Key West sunset setting behind the palm trees.
Check out the list of items permitted to bring and what is not to avoid issues at the door.
42 – Encounter chatty parrots at Nancy Forrester's Secret Garden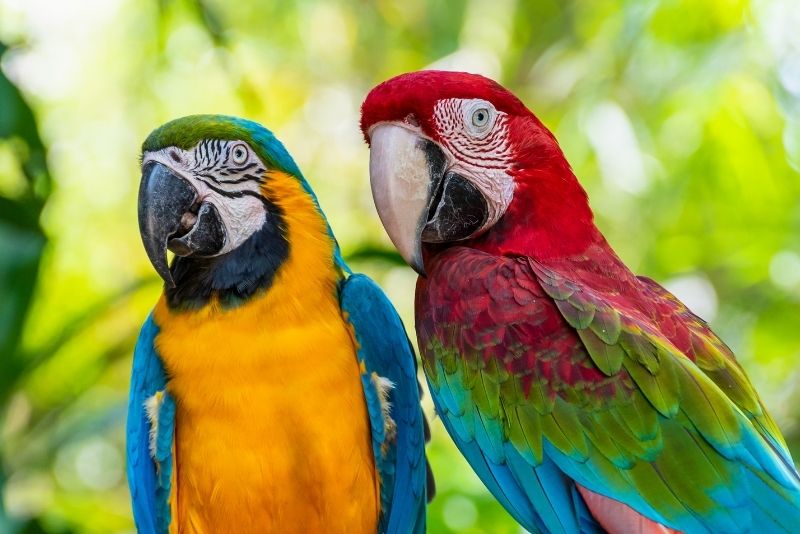 Nancy, an environmental artist, has created a magical bird sanctuary that is quickly becoming a popular tourist attraction.
Here, travelers are blessed with the opportunity to meet and interact with rescued parrots and macaws, some of which can talk!
The reviews say it all: Nancy Forrester's Secret Garden is an unbelievable place that all holidaymakers in Key West should visit.
43 – Scuba dive through a Cold War-era ship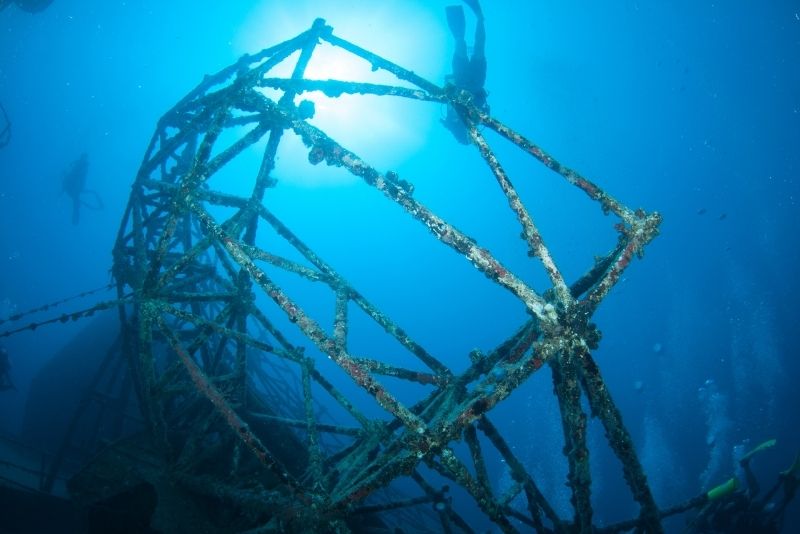 Key West is home to world-class diving, scattered all over the island's shores.
One of the undisputed highlights, however, is the USNS Vandenberg — located off the coast of Key West, this wreck has become a popular site for divers from all over the world.
Considered the world's second-largest artificial reef, the Vandenberg wreck is a fantastic oceanic playground to explore.
44 – Check out the iconic Audubon House & Tropical Gardens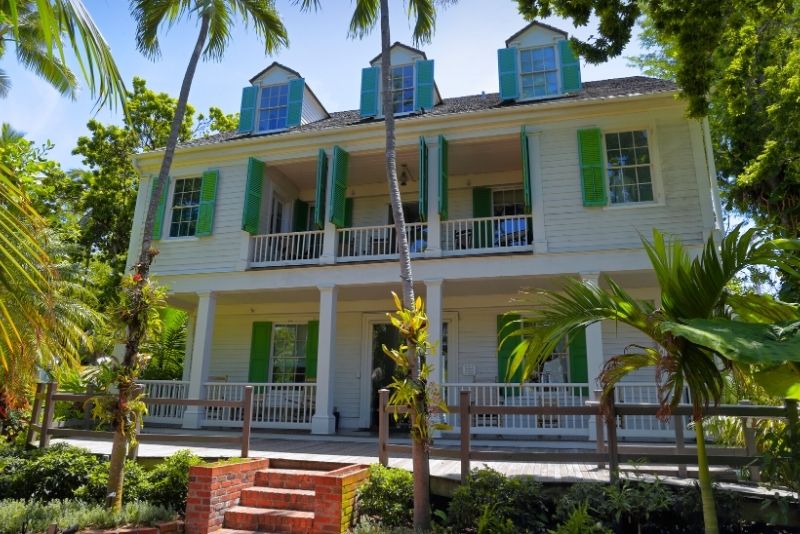 Dating back to the 1840s and named after well-known ornithologist John James Audubon, the Audubon House Gallery offers an impressive collection of Audubon artworks.
For nature lovers, stroll the lush grounds and admire beautiful orchids and other tropical plants.
45 – Chill out at the Best beach bars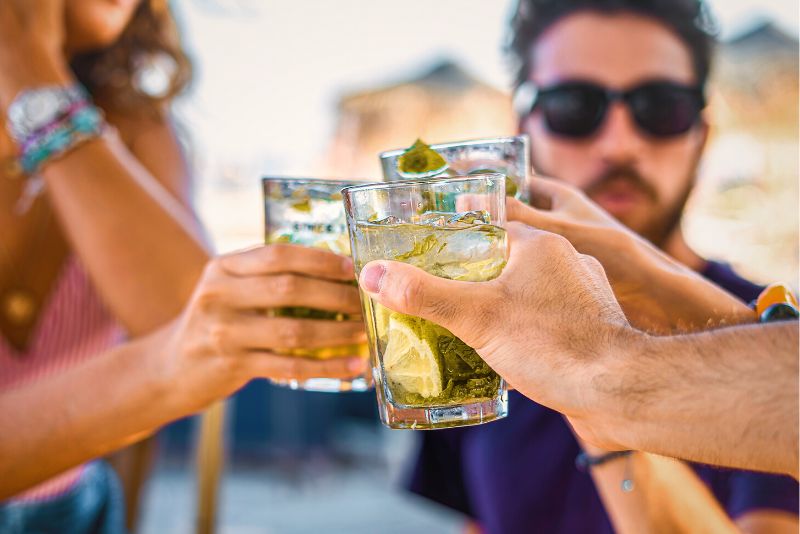 Grab a drink and stay for incredible sunsets at Southernmost Beach Cafe, located on the southern coast of Key West, 105 miles away from Cuba.
Known as the "last little piece of Old Key West" Schooner Wharf Bar is the place for all the local vibes, plus a menu complete with frozen drinks, wine, and beers.
For luxurious beach vibes, go to Hot Tin Roof, situated inside the Ocean Key Resort & Spa, for a glass of wine and Floridian-inspired dishes.
46 – Attend a music concert at the Tennessee Williams Theatre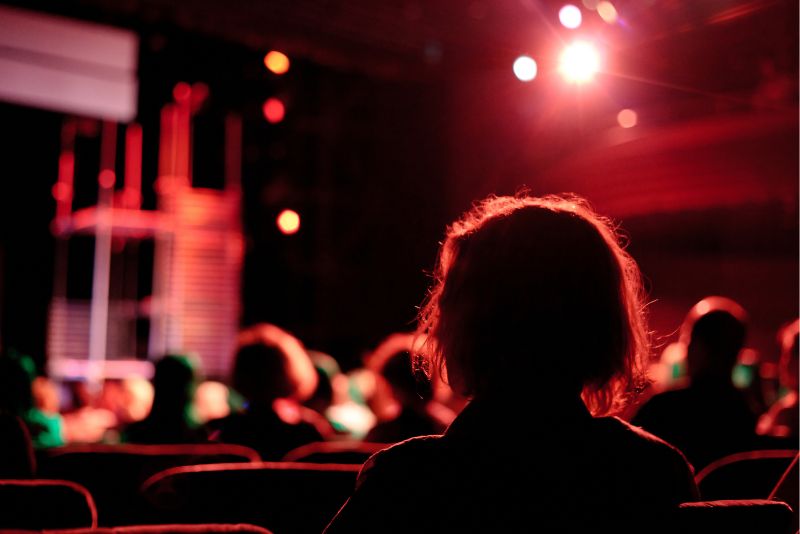 Settled around 10 minutes from the center of Key West on Stock Island is the Tennessee Williams Theatre, named after the famous American dramatist.
Mainly showing live music concerts, from symphony concerts to Big Band music, to acrobatics and classic rock and roll, the programming at the theater is one worth checking out.
Consider their Encore Series 2023, an offer that includes attending 5 shows for one payment, guaranteeing your same seats for the 5 shows.
47 – Stand at the southernmost point in America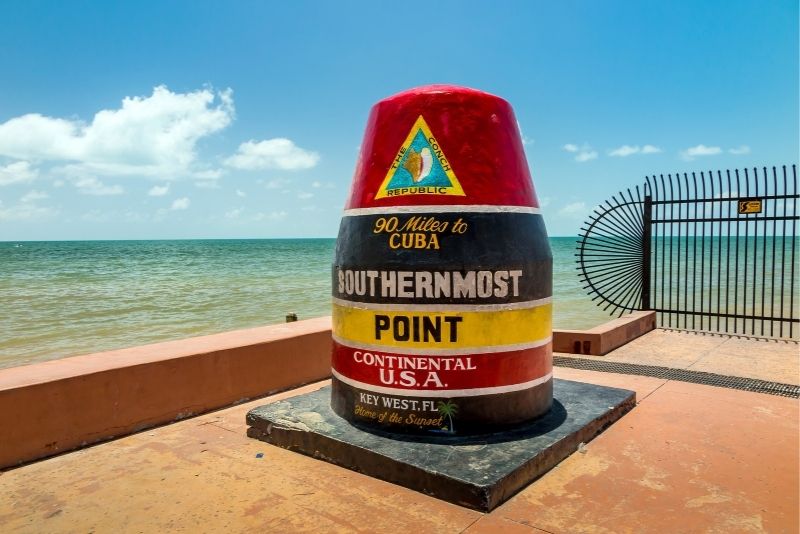 Visited by thousands of people each day, the iconic Southernmost Point Buoy is a must-visit landmark for every Key West first-time visitor.
If you squint hard enough, you *might* (read: with some imagination) be able to see Cuba.
Of course, don't forget to snap a photo with the colorful buoy
48 – Get to know native plants and animals at the Keys Eco-Discovery Center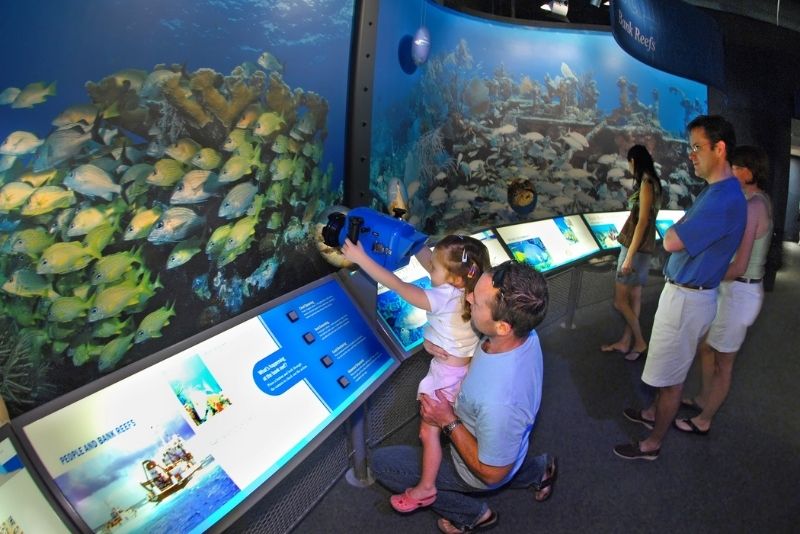 Located in the heart of Key West, the Florida Keys Eco-Discovery Center features exhibits that cover the plants and animals of both Florida's underwater and above-ground worlds.
With plenty of hands-on activities, it's a fantastic place to bring the kids — not only will they have a blast, but they'll also learn the importance of protecting and conserving Florida's ecosystem.
49 – Taste Floridian-Caribbean cuisine at the quirky Blue Heaven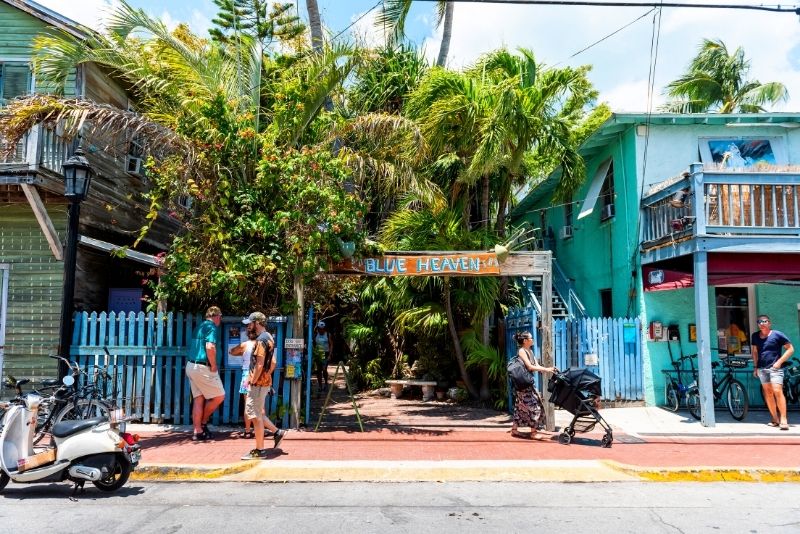 Filled with rich Key West history, Blue Heaven is a local staple and one of Key West's most unique restaurants.
Grab a seat under the shaded canopy, let the live music whisk you away, keep an eye on the roaming chickens, and dig into one of many delectable dishes.
Don't miss the chance to order their famous key lime pie — an iconic dessert featured on countless TV shows over the years.
50 – Sing along to a musical performance at Key West Theater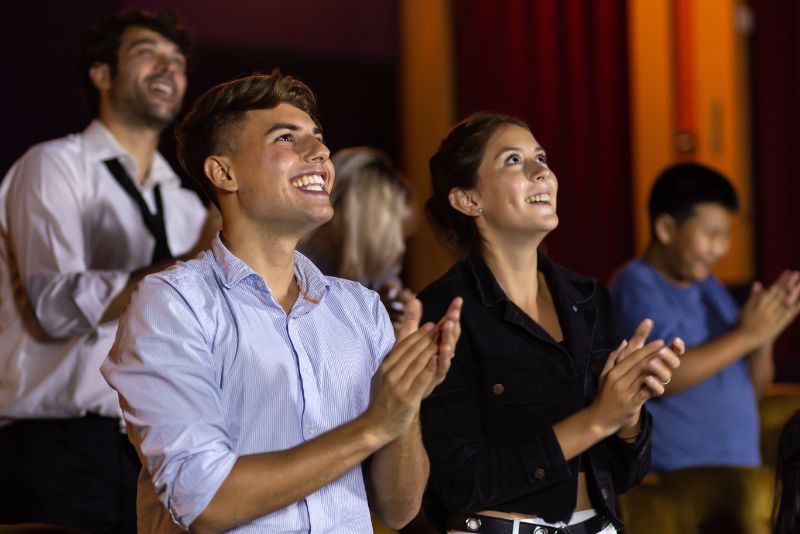 Book tickets for the next show at the award-winning Key West Theater, a church-turned-theater originally built in 1848.
Offering a variety of entertaining acts, from musical, and comedy specials, to skits, and concerts, head over to their website to check the next show, and plan ahead for which one you'd want to attend!
Tickets start as low as $40 USD depending on the show.
51 – Climb the top of Key West lighthouse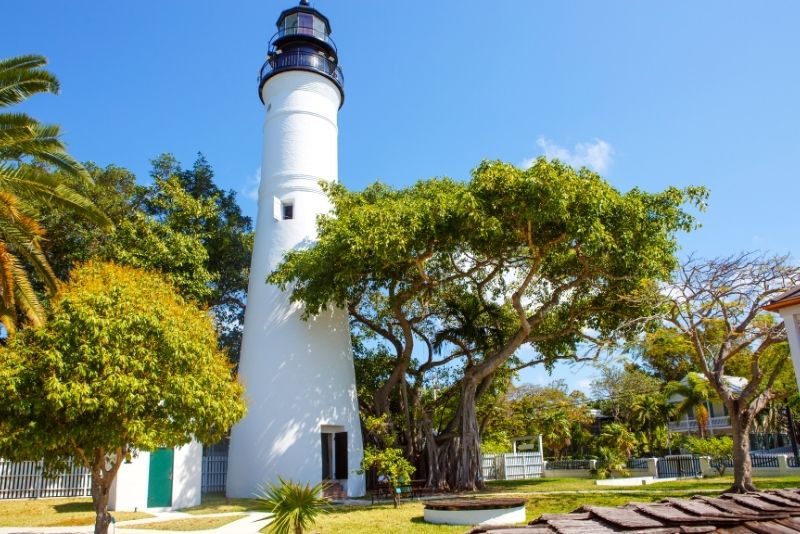 Built back in 1825 to help the ships navigate the Lower Keys' shallow and hazardous reefs, the Key West lighthouse is one of the oldest structures and an important island attraction.
Today, guests are given the chance to climb the 88 steps to the top of the lighthouse and enjoy the breathtaking views.
52 – Have a boat party with your friends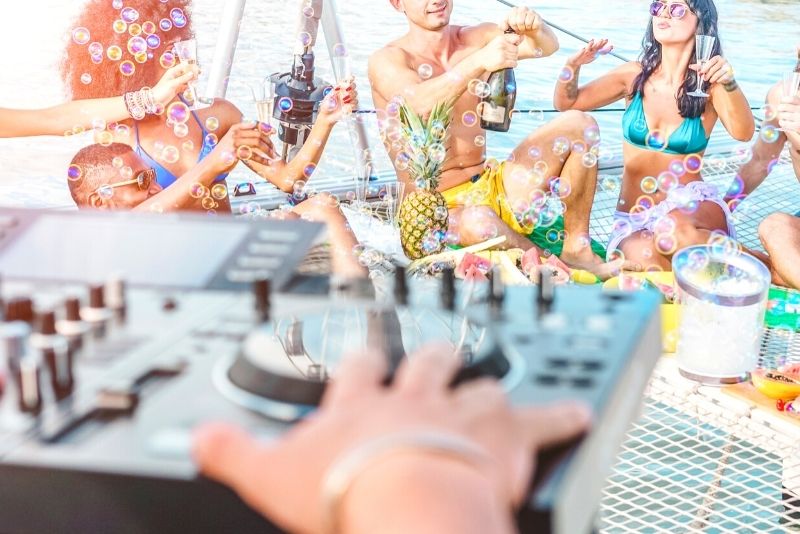 It wouldn't be Florida without at least a few parties, now would it?
Cut loose on one of Key West's most exciting party boats, where tasty cocktails, pumping music, stunning coastal views, and hours of rowdy fun with your friends await.
Boat parties are perfect for celebrating a special moment, as well as for meeting fellow like-minded travelers.
53 – Visit Key West's oldest wood-frame vernacular house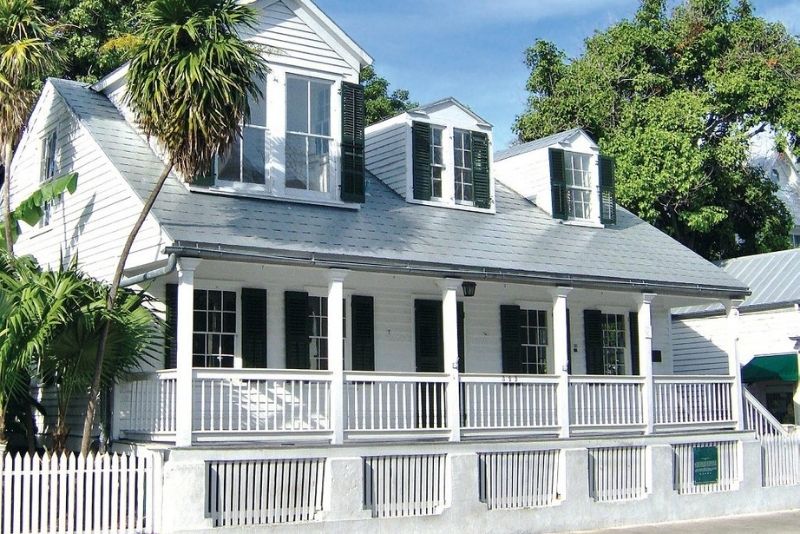 Located on Duval Street, the Oldest House Museum is (akin to its name) the oldest house in South Florida that still stands today. Built back in 1829 by a ship's captain, it's a true hidden gem — and one architecture lovers are sure to drool over.
If you're thinking about hosting an event — a wedding, a birthday, or a private party — Oldest House offers the perfect backdrop for creating a memorable scene.
54 – Enjoy a unique floating Tiki bar cruise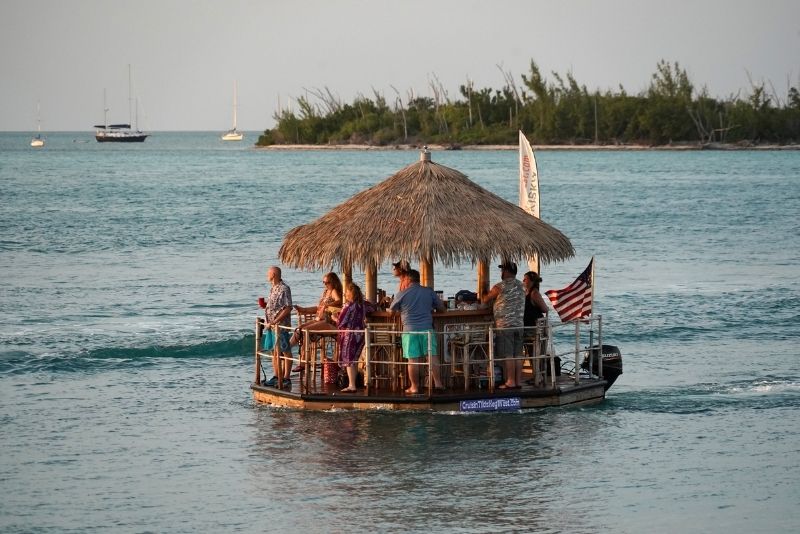 Looking for something unique, something with a little bit of flair to add that extra fun twist to your Key West holiday? Then book a Tiki bar boat, an experience beloved by locals and tourists alike.
The departure points are 'Mellow Ventures Café' and 'Hurricane Hole Marina.'
55 – Explore the Key West Museum of Art & History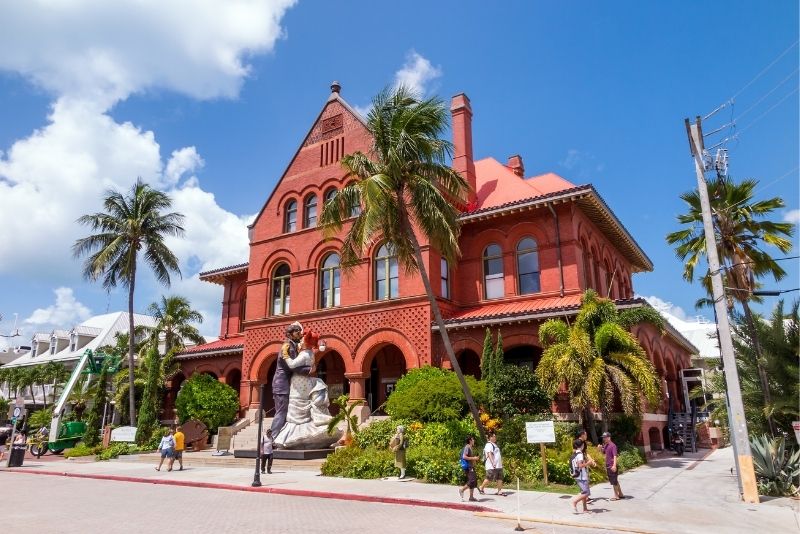 No visit to the Keys would be complete without a visit to the award-winning Key West Museum of Art & History.
Located in Mallory Square, formerly the city's post office, this four-story red brick building features an impressive collection of artworks centered on the  Florida Keys' fascinating history.
56 – Gaze at the colorful blossoms at Key West Tropical Forest & Botanical Garden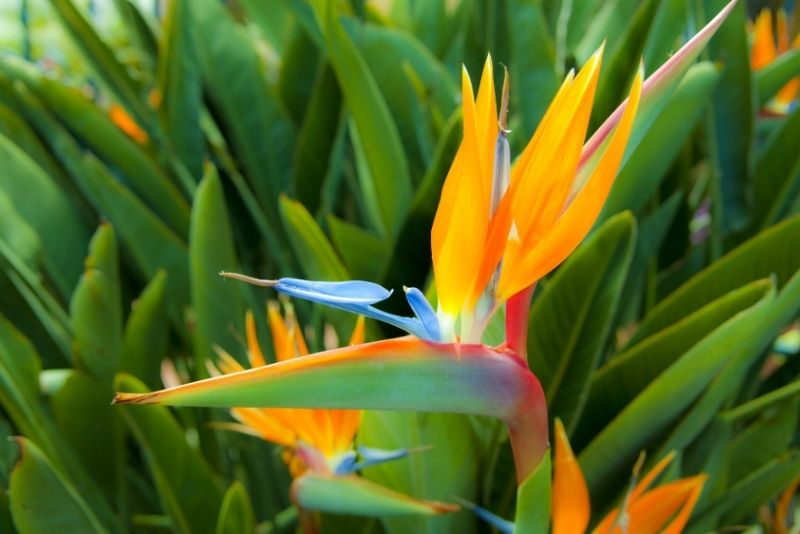 With the claim to fame of being the continental USA's only sub-tropical conservation habitat, this natural Key West oasis has been delighting travelers for over 85 years.
However, it's so much more than just a peaceful slice of nature:
Besides flora and fauna galore, visitors can also admire the art and sculptures displayed all over Stock Island — or, take it one step further and create the art yourself with a student artist workshop at the Garden Exhibit.
Bring your walking shoes; there are countless boardwalks and nature trails (as well as nearby marina piers) throughout the 15-acre living museum!
57 – Wet your whistle with a social pub crawl!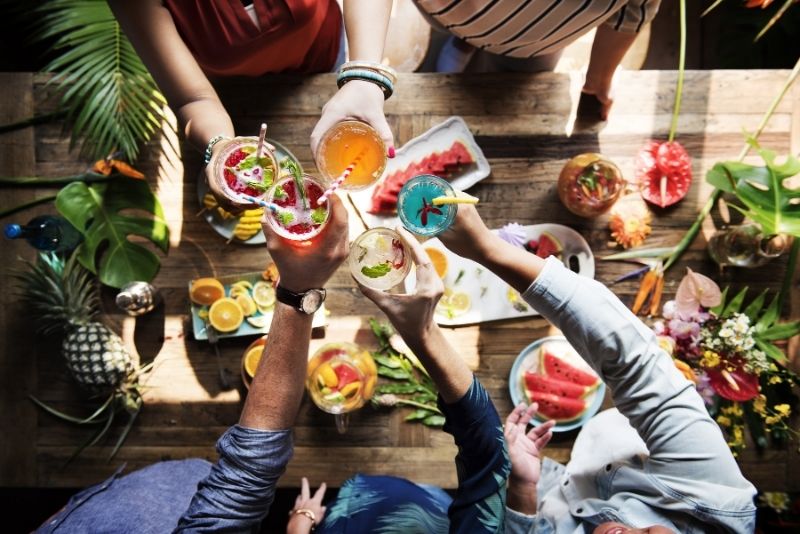 Looking to meet people? Keen to sample the best brews from the Keys' finest watering holes? Then a locally-led pub crawl may be just what the doctor ordered!
Hope between Key West's trendiest bars — including cocktails bars, music bars, local breweries, and historical lounges — and make plenty of new friends along the way.
Some places to keep an eye out for include Ernest Hemingway's old stomping grounds at Sloppy Joe's, for a Sloppy Rita drink, and the "Last bar on U.S. Highway 1" – The Green Parrot, decorated with funky items, and especially good live music.
Try the Key Lime Pie Pina Colada at the Tipsy Rooster, and soak in the never-ending fun vibes on the open-air terrace.
Where to stay in Key West?
Wake up to palm tree and ocean views right from your balcony at Hampton Inn Key West, featuring continental breakfast for all its guests. Equipped with a poolside restaurant and coffee bar, guests will also relish the complimentary two alcoholic/non-alcoholic drinks, water, and a shuttle to downtown Key West, daily.
Feel relaxed and taken care of at Pier House Resort & Spa, offering beach access, a complete spa facility where you can book indoor or outdoor massages, and more treatments. Enjoy the flavorful and fresh seafood dishes at the on-site restaurants, and celebrate each night with a well-made cocktail at Beach Bar.
For the budget-conscious, don't sacrifice quality for the price, and consider a stay at Southwinds Motel – a renovated and quaint hotel with a kitchenette, patio, laundry facilities, and luggage storage. Continental breakfast is served daily, perfect before heading to Higgs Memorial Beach Park, only a 3-minute drive away.
Where to go next?
With the abundant things to do in the Florida Keys, we recommend following up with Key Largo. Get in the water when visiting Key Largo, known for its unmatched aquatic activities from snorkeling at the John Pennekamp Coral Reef State Park to visiting the Florida Keys National Marine Sanctuary for an encounter with sea turtles.
Head north to Miami, iconically known for its flashy nightlife, vivacious Cuban influence in Little Havana (we recommend doing a food tour here!), and amazing art scene at Wynwood Art District.
Head to South Beach, for a wellness yoga session on the white sandy shores of Miami Beach-South Beach, and afterward, head to Lincoln Road to check out the Antiques and Collectibles Market.
Come face to face with the bright flamingos at the Flamingo Gardens in Fort Lauderdale, and afterward, hop on a sightseeing cruise showing you some beautiful properties while passing large yachts.
Final thoughts
Have you explored all the things to do in Key West yet? We hope our list got your inspiration going!
Offering one of the best sunset spots in the country and serving as inspiration for various creatives in the past, like Ernest Hemingway, the U.S.' southernmost city deserves a visit at least once.
While you're there, have some key lime pie for us!
Happy travels!