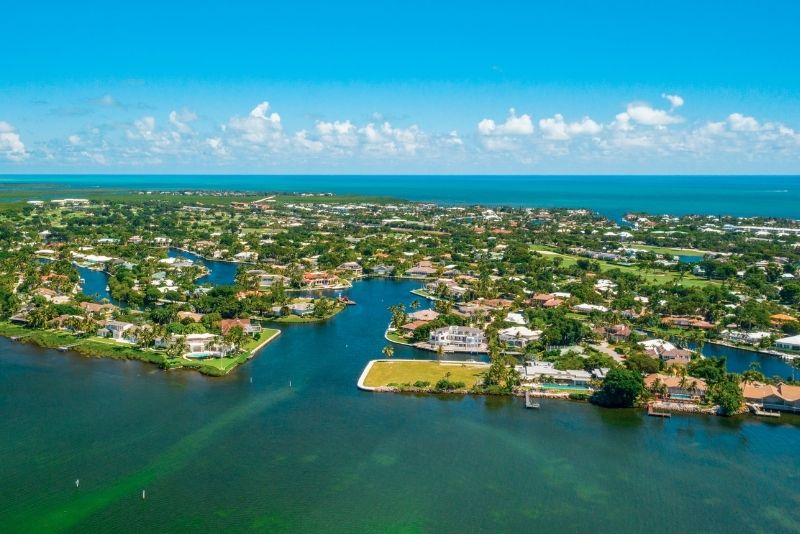 There are many incredible spots to explore across the landscape of Florida, but the sad thing is that Key Largo isn't talked about nearly as much as it should be. And given the tremendous amount of excitement, leisure, and jaw-dropping natural splendor in the area, it's well worth more acclaim!
The area is often overshadowed by the rest of the Florida Keys, where it can be found tucked between the mainland and the iconic Key West. But as the largest of the islands in the archipelago, it offers plenty of adventures of its own.
Unsurprisingly, the aquatic activities are the big draw here; whether you're snorkeling or swimming alongside dolphins, you could easily spend a whole vacation submerged. But it's well worth coming back to shore – and not just for the delicious seafood!
Sample mead, meet wild birds up close, or hike around on pristine trails. And, of course, you have to leave some time for the beach! From water sports to basking in the sunshine, there are many great things to do in Key Largo – and we're here to help you explore them!
1 – Snorkel at John Pennekamp Coral Reef State Park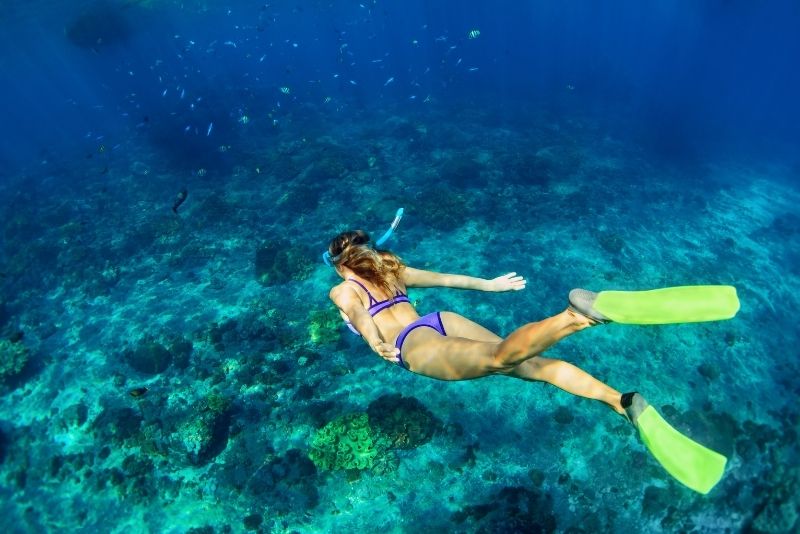 The Sunshine State often produces some magnificent weather for all to enjoy but sometimes, it's nice to cool off in the shallow end!
John Pennekamp Coral Reef State Park allows visitors to not only see the crystal blue waters up close and personal but also gives us a chance to see the coral reefs that would even make the Great Barrier Reef weep.
2 – Learn about Florida at the magnificent Keys History & Discovery Center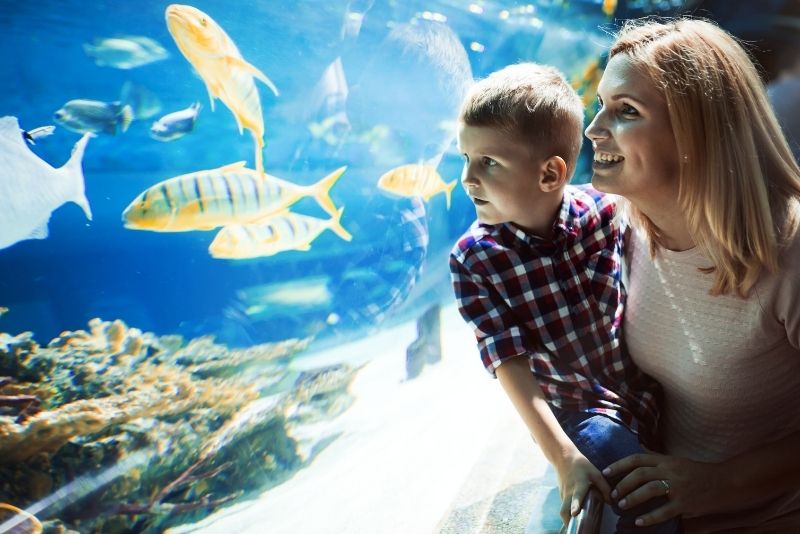 Even those who aren't a big fan of taking a trip down memory lane will have to give the Keys History & Discovery Center a shot.
The building alone is worth checking out for just how regal it is but, in addition to that, everything comes across as being really thoughtful. The history of the Keys is expansive but in an environment like this, the whole place starts to seem very homely.
This is the perfect place to dive into the long, storied history of the region, going all the way back to the first Indigenous tribes.
With every step, you'll be drawn into another amazing chapter of this area's adventurous past, from the golden age of piracy to the railroad industry and early days of European settlement.
3 – Pay your respects at Florida Keys National Marine Sanctuary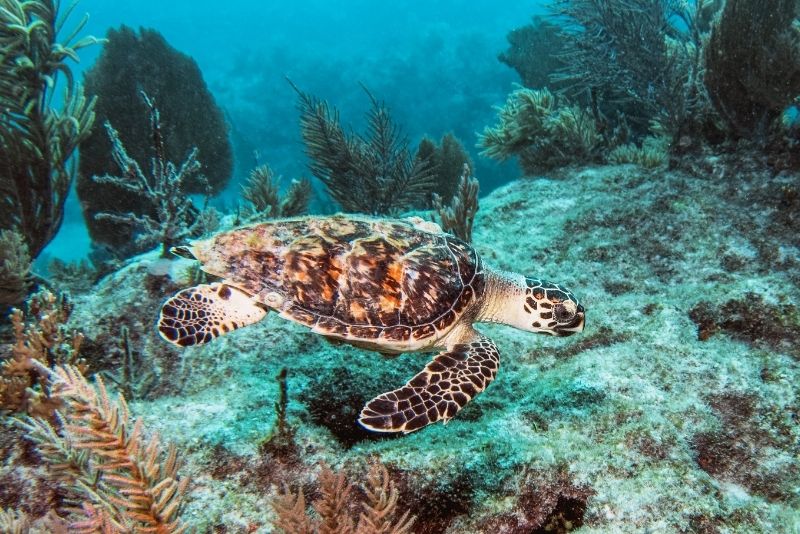 The Florida Reef is the only barrier coral reef in North America and the third-largest in the world, and as such, the Florida Keys National Marine Sanctuary has a duty to protect it.
This 30-year-old organisation expands the knowledge of all those who had no clue what the Florida Keys actually are, and in doing so, they help to educate us all.
Explore this remarkable area at length, and you'll be amazed at just how many different aspects it contains!
From colorful corals to sedate sea turtles, hulking shipwrecks to expertly constructed artificial reefs, there's a wonderful world beneath the waves to admire.
4 – Go scuba diving at Spiegel Grove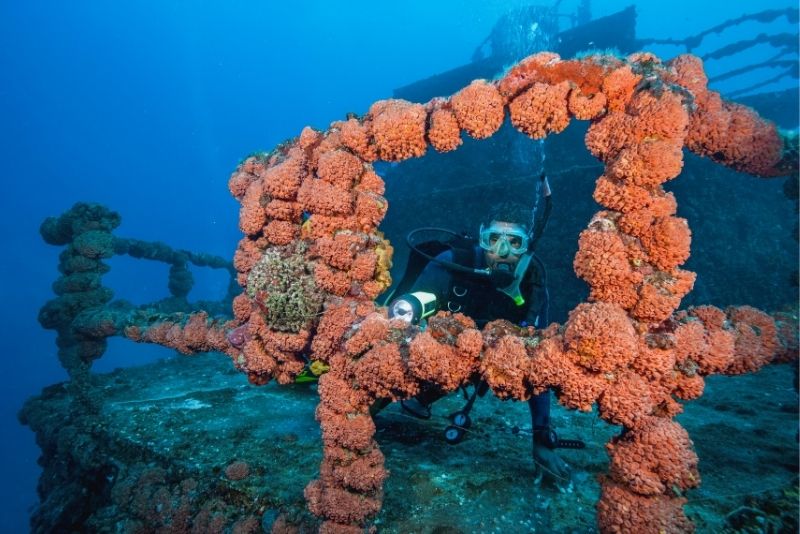 Sure, there are plenty of great natural reefs to dive in Key Largo… but how about one made out of a warship?
Spiegel Grove is a retired, 500+ foot naval ship that was sunk in the name of creating a reef for those who love a bit of scuba diving and general underwater fun!
After nearly three decades of service, the ship was dropped to the ocean floor in 2002; today, it's a crucial part of the ecosystem, covered in thriving corals and surrounded by tropical fish.
It may seem spooky at first but after digging beneath the surface, you'll soon find that it's full of nuisance and history.
5 – Explore Florida Keys Overseas Heritage Trail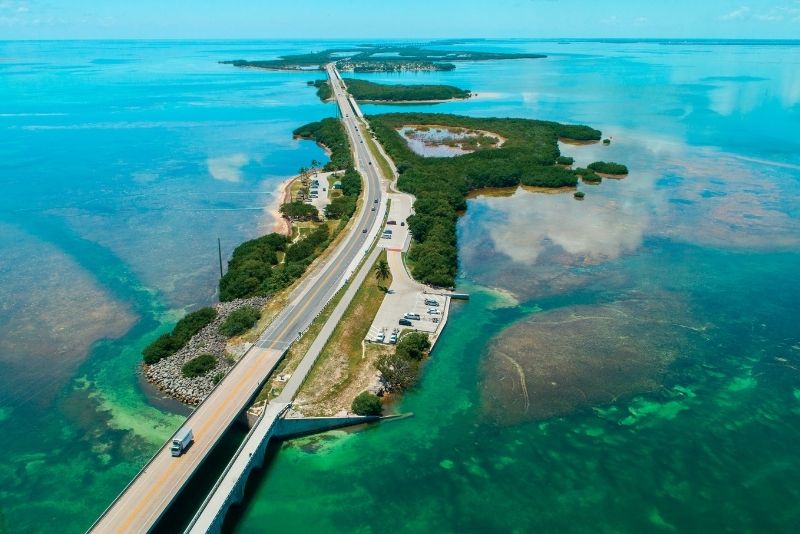 Heritage is an important part of any region's story and telling that tale is important if it's to be kept alive.
The Florida Keys Overseas Heritage Trail stretches over 100 miles and connects the dots between Key Largo and the Key West, serving as the perfect bridge with which to explore the Keys in the way that was always intended.
The backbone of the path is a throwback to local history; it's made up of 23 railroad bridges, which once served as a crucial main transit route for the islands.
Whether on foot or by bike (or boat, or rollerskate…), you'll be able to experience a whole new side of the archipelago on a self-powered adventure!
6 – Have fun for all the family at Harry Harris Park and Beach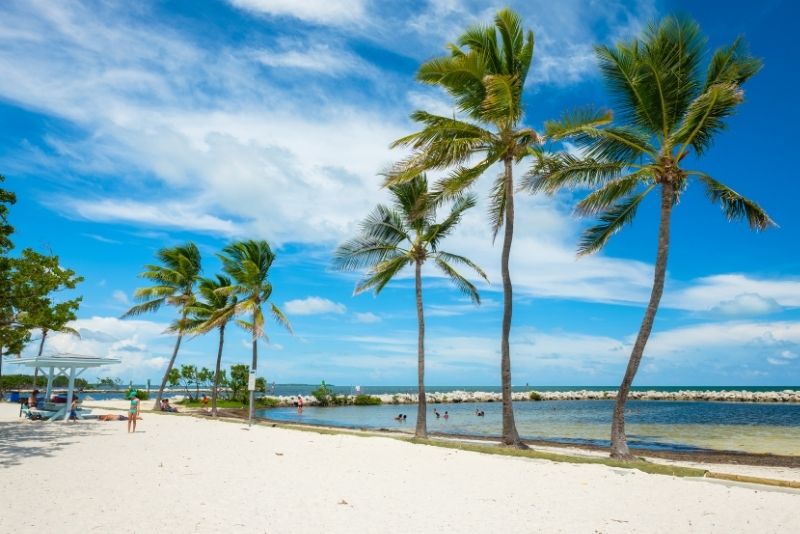 The simple things really do open the door up to happiness. Harry Harris Park and Beach is a sheltered spot for swimming, water sports and as many barbecues as you desire.
The white sand is complemented by the palm trees, the locals are friendly, and if you zone out the madness it's easy to forget you're even in the United States of America. And this fabulous communal area is just one of the best beaches in Key Largo!
Check out the boardwalk and shallow currents at Anne's Beach, or explore the historical exhibits and tales of past shipwrecks at Indian Key Historic State Park. You can also snorkel and admire the antique weapons at Cannon Beach, or sunbathe under the palm trees at Far Beach.
7 – Experience a new reality on the glass bottom boat tour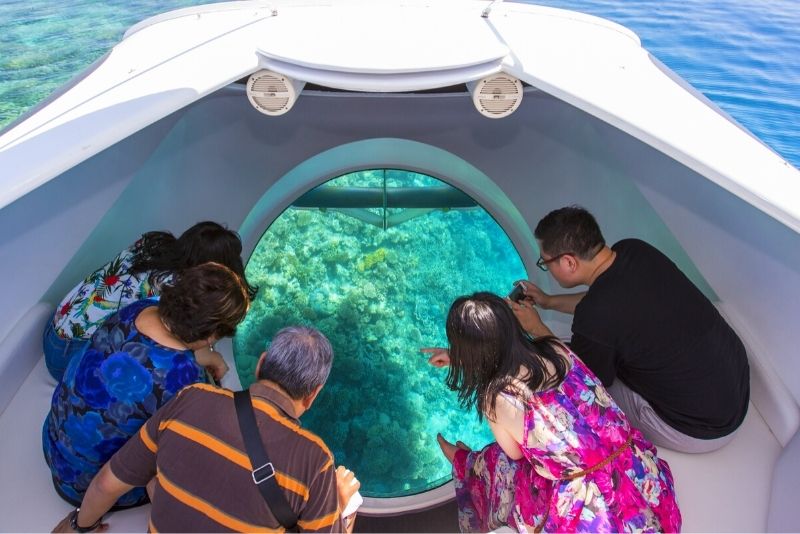 Glass bottom boats, you make the rockin' world go round!
The endless pursuit of knowledge often takes us beneath the waters to places we didn't even know existed. It's exciting and nerve-inducing, but there really is nothing like seeing the fish and creatures of the sea fly by your face in the blink of an eye.
8 – Adopt a bird at Florida Keys Wild Bird Rehabilitation Center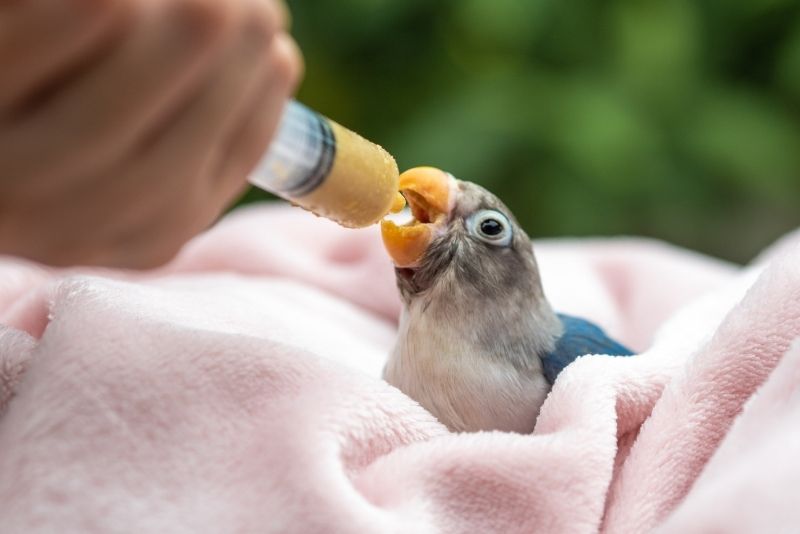 We all want to see the majestic birds of everyday life keep on flying, and that's what the Florida Keys Wild Bird Rehabilitation Center intends to do.
Since 1988, this remarkable space has focused on protecting and rehabilitating the local avian populations – and you can help them directly with your visit!
As you tour the sanctuary, you'll be treated to a glimpse of how the center works day to day, and get the chance to meet some of its beautiful tenants.
From the pelicans feeding to the Wild Bird Hospital, you'll see things here that'll well and truly restore your faith in humanity.
9 – Admire the unique landscape of Everglades National Park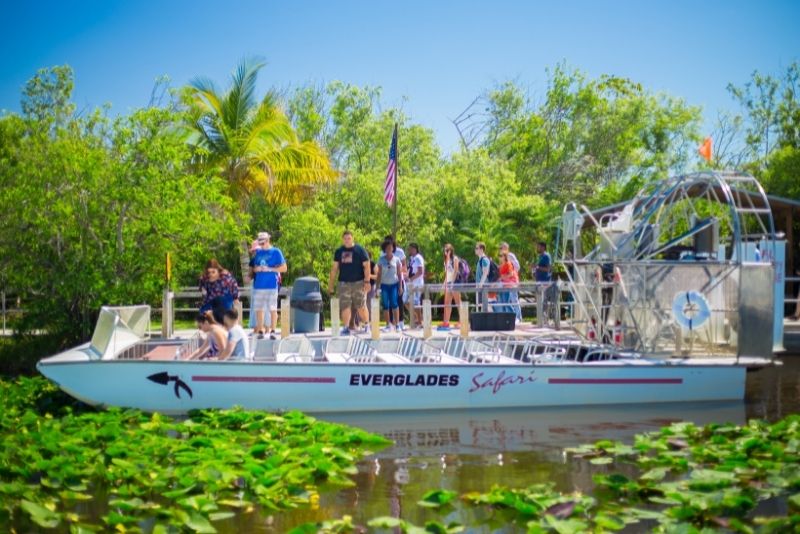 Fancy a trip into the heart and soul of what it means to embrace the Florida culture? Then look no further than the Everglades National Park!
The grassy river consists of turtles, manatees, marshes and flatwoods, encapsulating the spirit of this place and all of those who reside within it. National parks aren't usually to everyone's taste, but this one is special.
With hundreds of unique species – many of them endangered – and a lush ecosystem, it's little wonder that this biosphere has captured the imagination of scientists and visitors alike.
Whether you're hiking, sailing, or peeking through the plants in search of wildlife, it's a perfect way to explore this vibrant, fragile world.
10 – Travel back in time at Windley Key Fossil Reef Geological State Park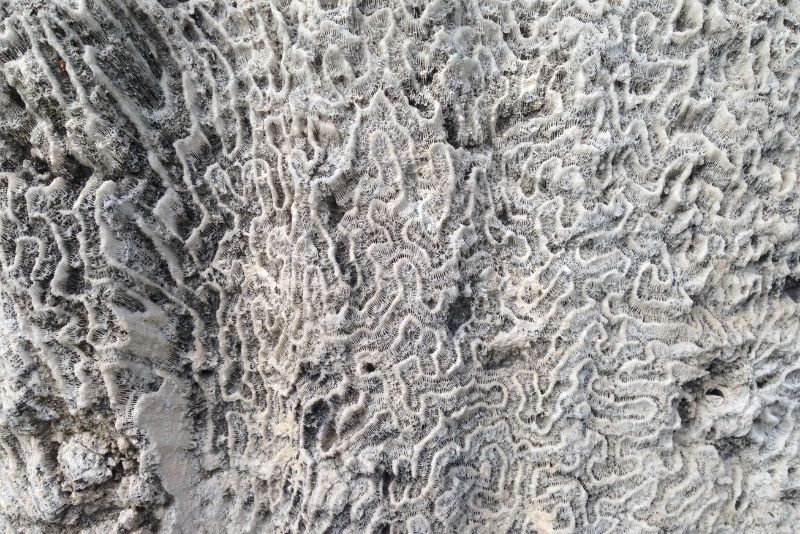 This former quarry turned geological wonderland is all about exploration. The fossils, the coral, and the history of the quarry makes Windley Key as eerie as it is intense.
Throughout the 1900s, the area's abundant limestone was used to help build the Overseas Railroad, as well as various infrastructure projects.
Today, you can still see some of those former work sites as you move along the wooded trails, along with the delicate imprints of sea life, still perfectly preserved in stone.
It'd be a smart place to film some kind of spooky horror but in equal measure, it also offers up a glimpse into the livelihood of those from years gone by.
11 – Visit the Christ of the Deep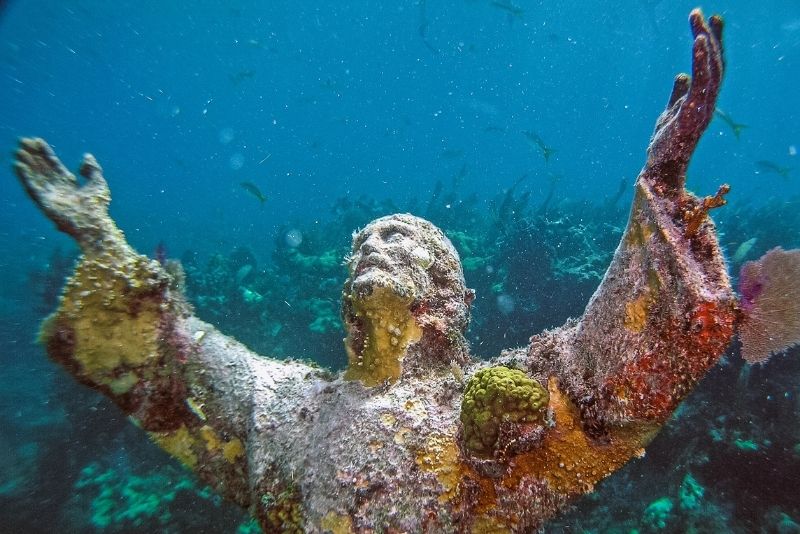 The lord above can help us with many things in life, but as it turns out, there's a fairly incredible bronze statue of Christ that can be found right underneath our feet.
As part of the Key Largo National Marine Sanctuary, Christ of the Deep is the kind of attraction that needs to be seen in order to be believed.
12 – Explore Port Largo canals aboard The African Queen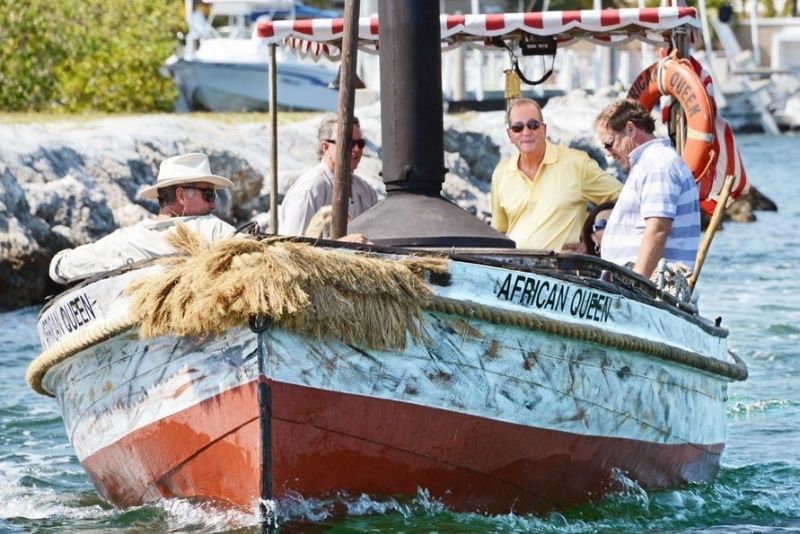 Within the context of fun things to do in Key Largo, this bad boy is right up there.
The African Queen canal cruise departs from the Marina Del Mar and takes you on a themed experience like no other, jetting across the Port Largo canals with the captain giving you a chance to take charge of the boat yourself!
Standing an impressive nine feet tall, this bronze creation has been greeting intrepid visitors since 1965.
There's something truly moving about seeing the figure looking upwards, surrounded by the many creatures that call the area home. And if you're diving, you can get even closer to this remarkable artwork!
13 – Learn about marine life protection at Dolphins Plus Marine Mammal Responder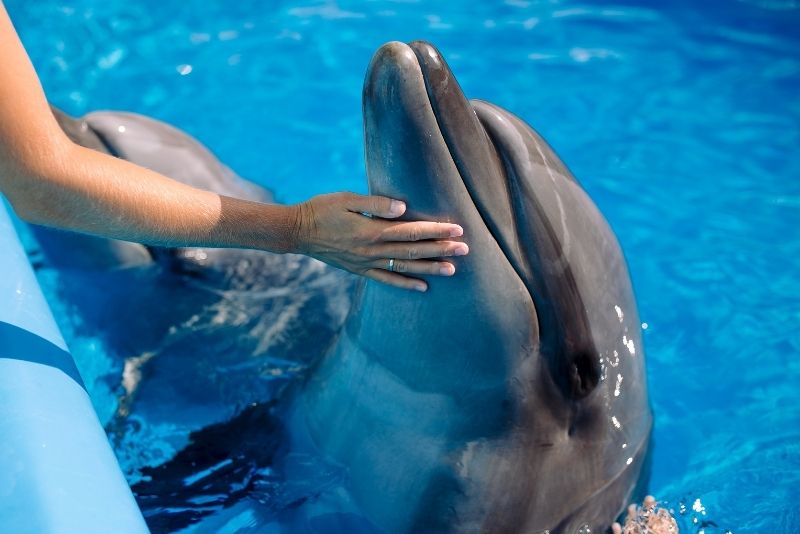 We've already touched on the wildlife side of things, but it's really hard to even scratch the surface with a state like Florida!
The Dolphins Plus Marine Mammal Responder dedicates itself to protecting marine mammals both within their own facilities and out there in the wild. It's a complex mission, but it's one that'll leave you smiling.
During your visit, you'll be able to see some of these incredible creatures up close, and learn about the complex process of caring for them and releasing them back to the wild.
As an added bonus, you can even swim with some of the non-releasable dolphins – a memorable experience for everyone!
14 – Catch your own dinner with Key Largo fishing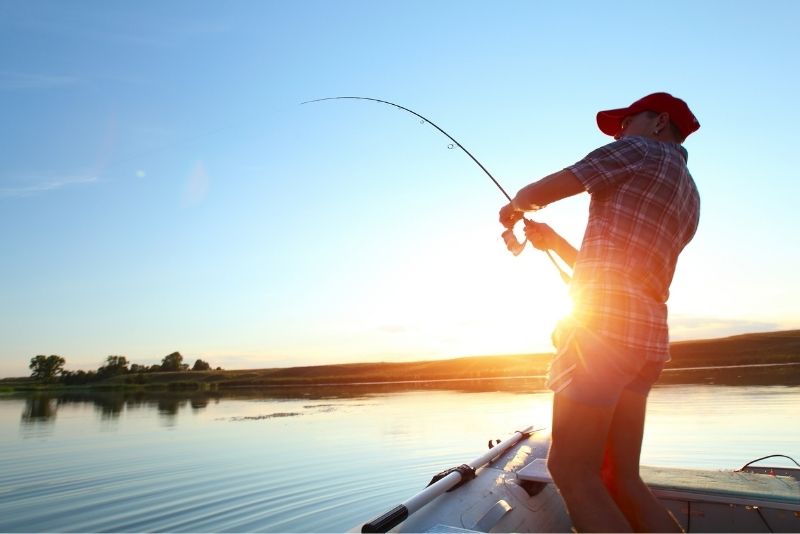 Sometimes we have to take a step back from all of the noise and just be one with the water.
There are multiple in-shore fishing expeditions that you can head out on through a variety of special offers and deals, and even if you've never been before, Key Largo is perfect for all kinds of fishers – whether it be beginners or veterans.
15 – Get wild with tarpon feeding at Robbie's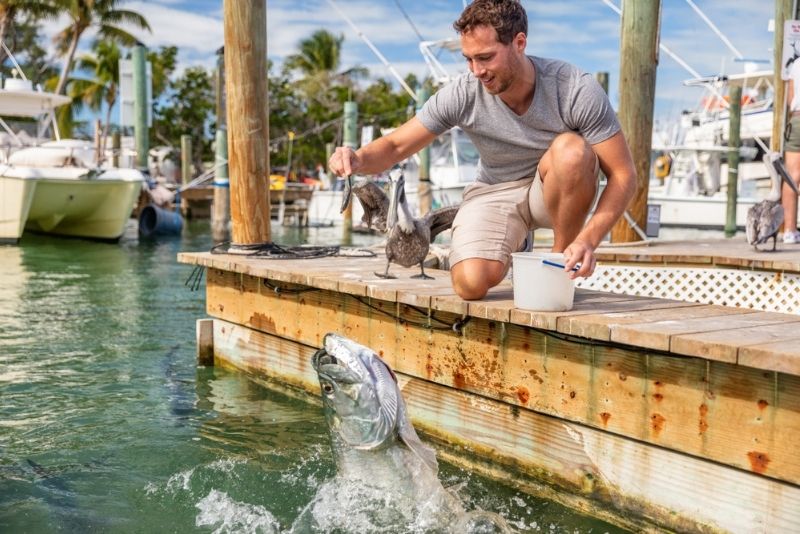 Tarpon truly are beautiful and magnificent creatures and can be found in different waters, rivers and even lagoons!
At Robbie's, you can meet and greet over 10 tarpon that linger around for hours at a time. These silver kings like the attention of the humans, of course, but we'd like to think they've also grown a connection to Robbie's that stands the test of time.
16 – Spot rare species at Dagny Johnson Key Largo Hammock Botanical State Park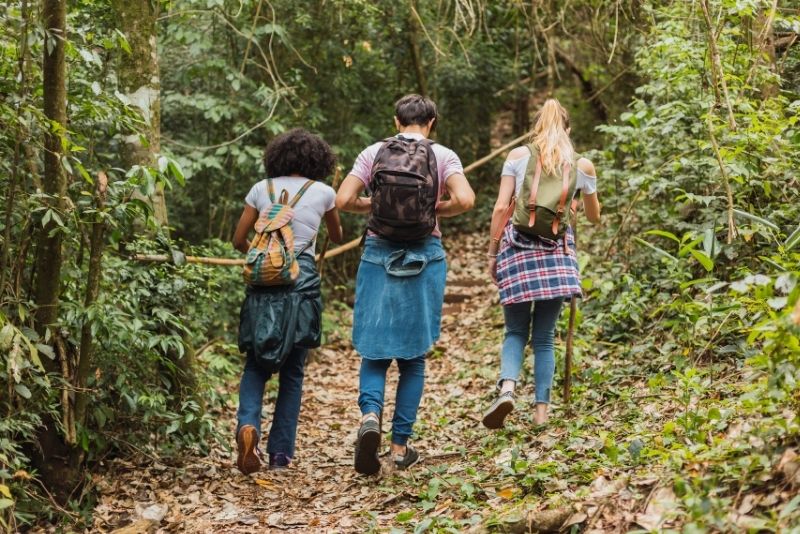 The word hammock alone should be enough to convince the masses that this is a must-see destination! The Dagny Johnson Key Largo Hammock Botanical State Park may seem like a mouthful when in reality, it's one of the most diverse things to do in all of Key Largo.
This tropical paradise takes you down the path of multiple trails to really enhance your viewpoint of the Florida landscape. Your stroll won't just offer some beautiful scenery; it also showcases some of the most distinctive plants and animals in the region.
With roughly 84 species calling the park home – from mistletoe to crocodiles -, there's no telling what you'll encounter on your walk. Unsurprisingly, it's also a popular bird watching location!
17 – See the dolphin and manatees on this insane boat tour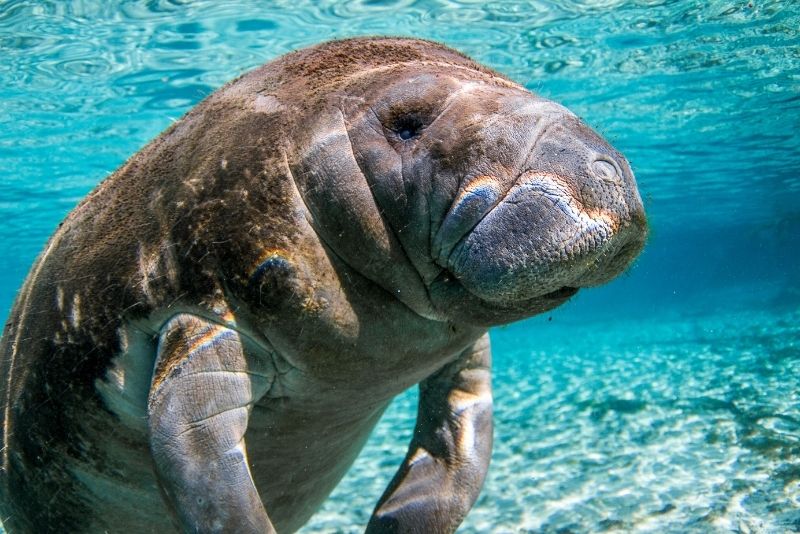 The definition of culture is a tough thing to work out, especially in a place like Florida, but there are some really niche things to do in Key Largo that we think sum up the location perfectly.
In this instance, visitors are given the opportunity to head out onto the open water and see some dolphins and manatees whilst exploring the ecosystem beneath the Florida Keys.
18 – Learn to dive at the History of Diving Museum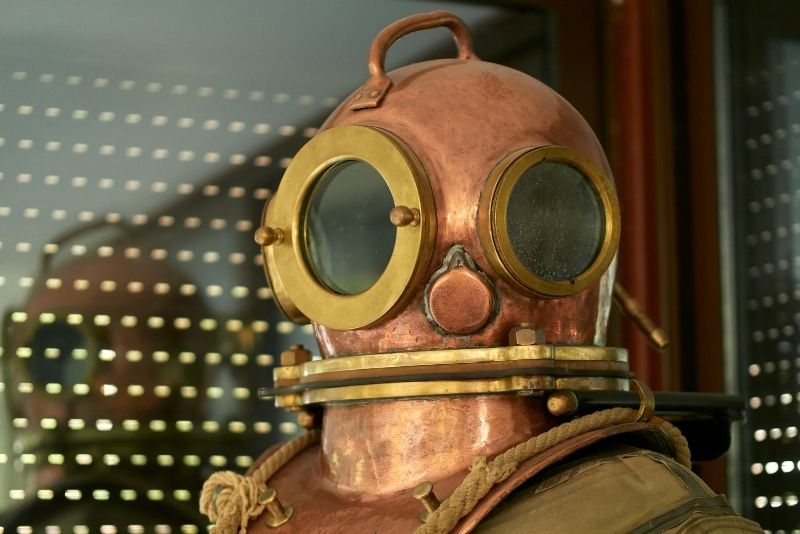 From the outside looking in this might appear to be a stereotypical walk through a popular Floridian activity – but you'd be wrong!
The History of Diving Museum is seriously impressive with the preservation of antiques, books, photos and artefacts being at the forefront of the entertainment.
Be sure to check out the antique diving outfits and breathing mechanisms; they may look like something out of science fiction, but they were once at the forefront of science fact!
The museum also features frequent talks by experts from all parts of the business, so see if you can catch one during your visit!
Some will call it niche, but others will rightly suggest it's a masterpiece.
19 – Feel on top of the world with a jet ski ride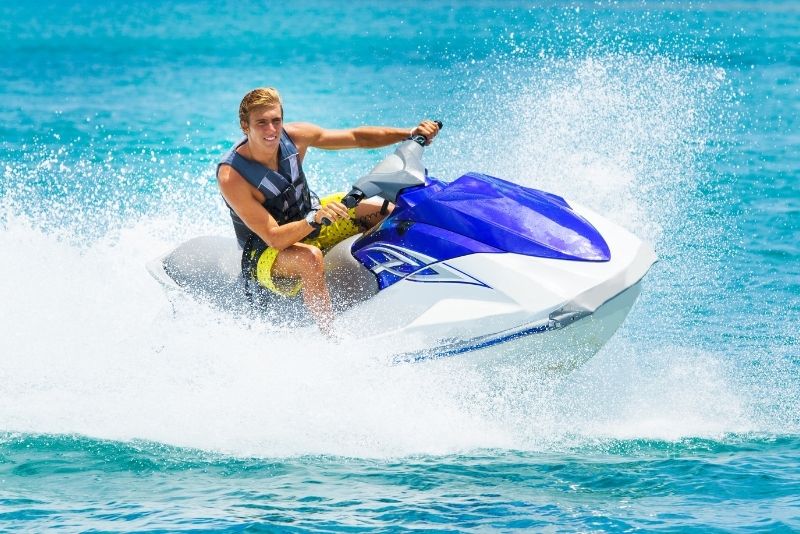 Ever wanted to know how the other half lives? Then buckle up – because you're about to go on a jet ski ride like no other.
Forget about work and any of the other troubles that come in life, because even just a few minutes on a good old jet ski can get the engines running in all the best ways.
20 – Enjoy delicious meals at the best restaurants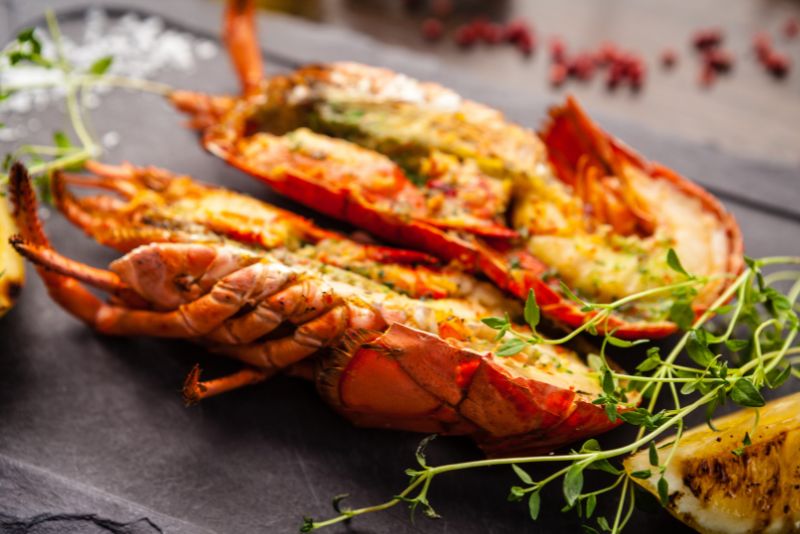 From the hearty to the homegrown, Key Largo's restaurants have it all!
There are great restaurants, there are unique restaurants, and then there's Sundowners. Pairing its great drinks with some excellent fresh seafood, as does Snook's Bayside Restaurant, with its daily catch.
You can also try lobster and snapper at The Fish House, the crab and mahi mahi at Hobo's Cafe, or the alligator sausage or conch salad at Mrs. Mac's Kitchen, or the massive muffins at Harriette's Restaurant.
21 – Florida Keys Brewing: enjoy the finest beer tasting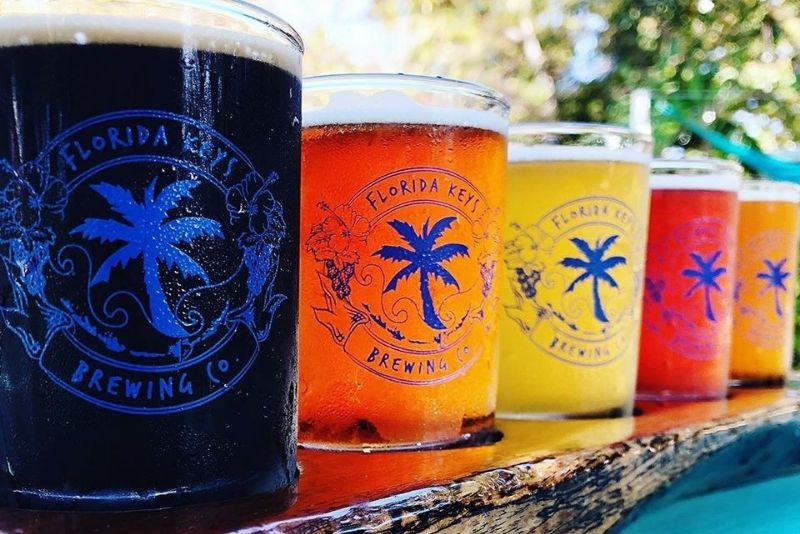 Because who doesn't love the taste of a good brew in the morning?
The land of IPAs, and brewing in general, continues to grow with every passing day – and the Florida Keys Brewing Company wants to get in on the action.
Head out on a tour, have a taste test or two, and get your weekend off to an idyllic start.
22 – Meet the seafood gods at Marker 88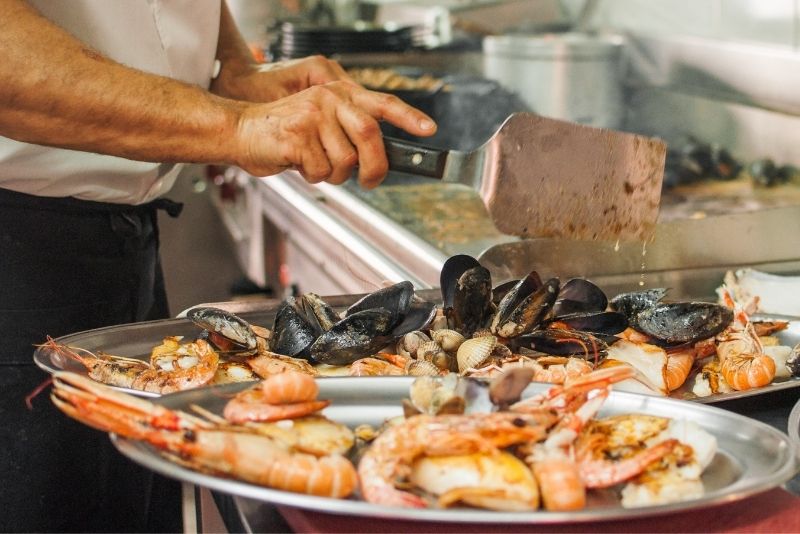 Seafood, cocktails, brews and key lime pie makes for the definition of a good time!
Located on what is described as one of the only natural beaches in the Florida Keys, Marker 88 is so cool that it almost hurts us to think we can't be there 24/7.
With that being said, they are open seven days a week, so there's always a chance to head down there!
Kick back and listen to some live music, and enjoy great views of the water, where that fresh catch on your plate came from! And if you're traveling with pets, take heart, because the restaurant is dog friendly!
23 – Learn kayaking 101 in the Keys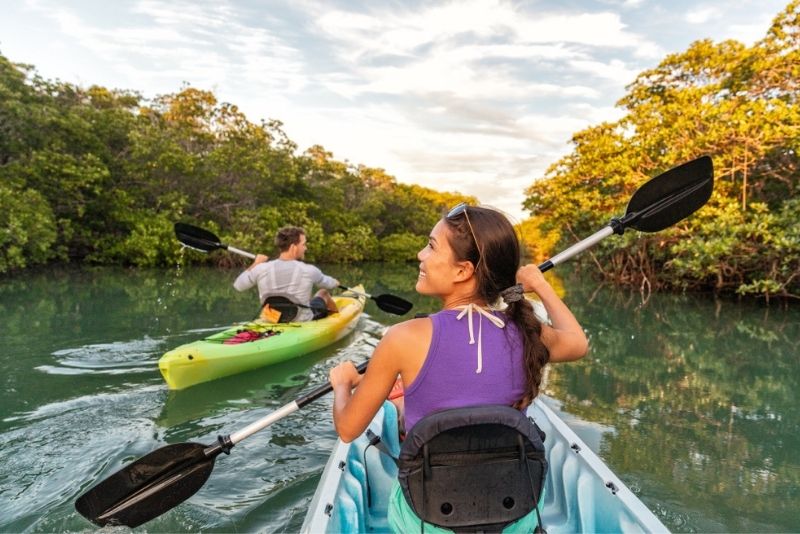 Sometimes you have to really put in the effort in the name of having a good time, and that's precisely why kayaking is so popular.
Paddle through dense tunnels of mangrove trees, soaking up the tropical experience. Or head out to the open sea, navigating the gently bobbing waves and watching for wildlife. If you're lucky, you might even get a visit from a manatee!
It's all about blending together the comfort of a holiday with the challenge of paddles. Whether it be in the hefty rivers or the calm ocean, kayaking is one way to keep your mind occupied!
24 – Jules Undersea Lodge: have a weird yet wonderful stay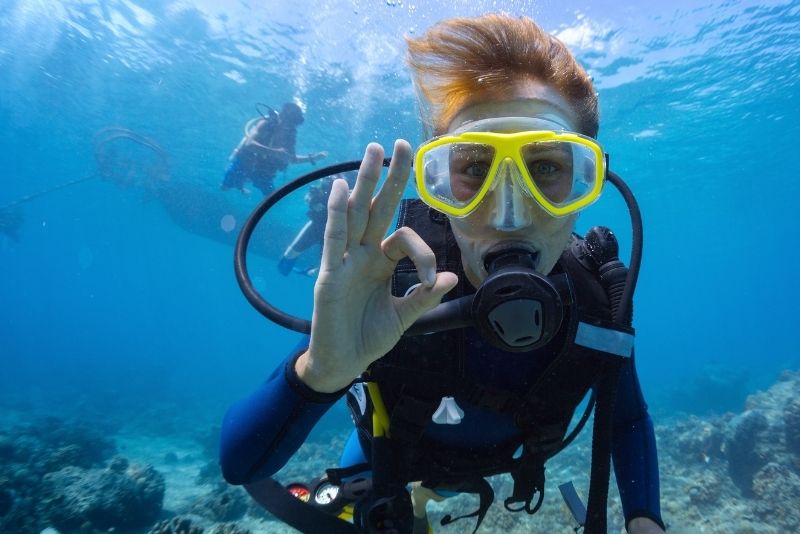 If you want something unique, then we'd say you've come to the right place with Jules Undersea Lodge!
It's advertised as the only underwater hotel in the United States with a 30-foot drop to the ocean floor. Oh, and in case that isn't exciting enough, guests have to scuba dive their way down to their rooms!
Once you reach your underwater abode, you can kick back and watch the marine world go by, or explore your cool and kitschy surroundings. And when you get hungry, you can even get pizza delivered right to your door – by another diver, naturally!
25 – Try something new with parasailing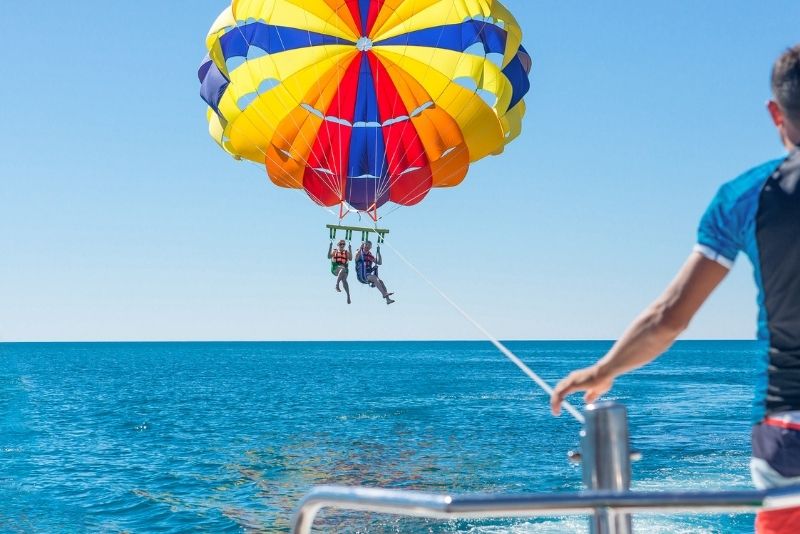 Everyone wants to feel like they can fly high into the sky and never look back – which is the kind of thrill that parasailing can provide.
Whether it be during the heat of the daytime or the cool breeze of the sunset, couples or even solo flyers can experience what can only be described as one of the funnest things to do in Key Largo.
26 – Shell World Florida Keys: shopping done the right way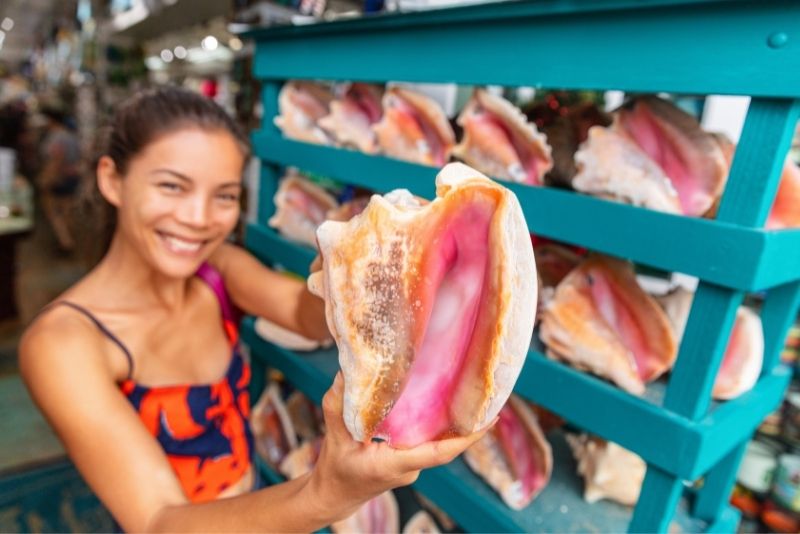 As far as shopping spots go, Shell World Florida Keys takes the biscuit and then some.
It may not sound like the adventure of a lifetime on paper but it's highly respected for selling all kinds of great shell-based products. Seashells, t-shirts, jewellery, nautical theming, you name it and they'll have it from open til close.
It's the aquatic items that really stand out here; along with the aforementioned shells, you can browse through dried coral, and even take a peek at some small preserved sharks!
Pick the keepsakes of your choosing, and you can bring a little bit of the beach home with you!
27 – Save the fish at Dolphins Plus Bayside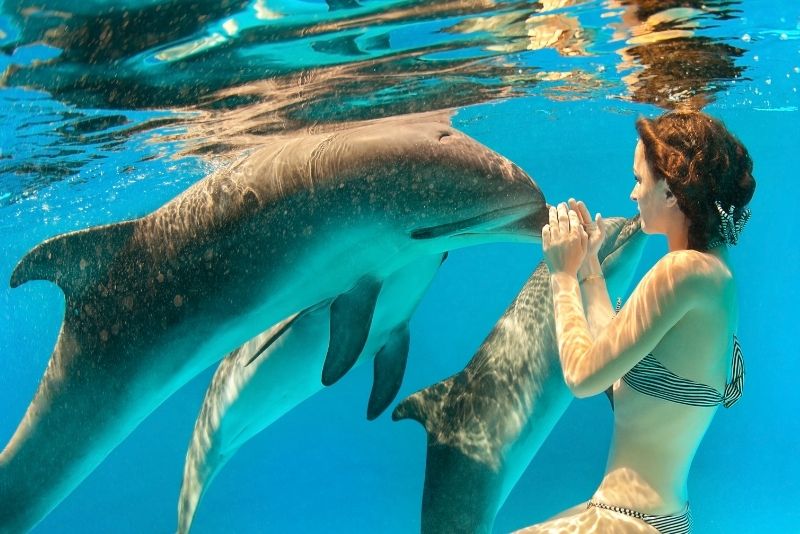 The preservation and safety of all animals should be a central theme in how we move forward as a species, and in Florida, that's especially true for dolphins.
We all know how cruelly they can be treated but instead of celebrating that, Dolphins Plus Bayside aims to give punters a personalized experience with these stunning beauties.
This is another great place to interact with these dynamic marine mammals up close, and whether you're swimming with them or just observing from nearby, you'll get plenty of time to see their behavior at length.
For an extra-creative option, you can help one of the critters do some watercolor painting – eat your heart out, Picasso!
28 – Visit the Crocodile Lake National Wildlife Refuge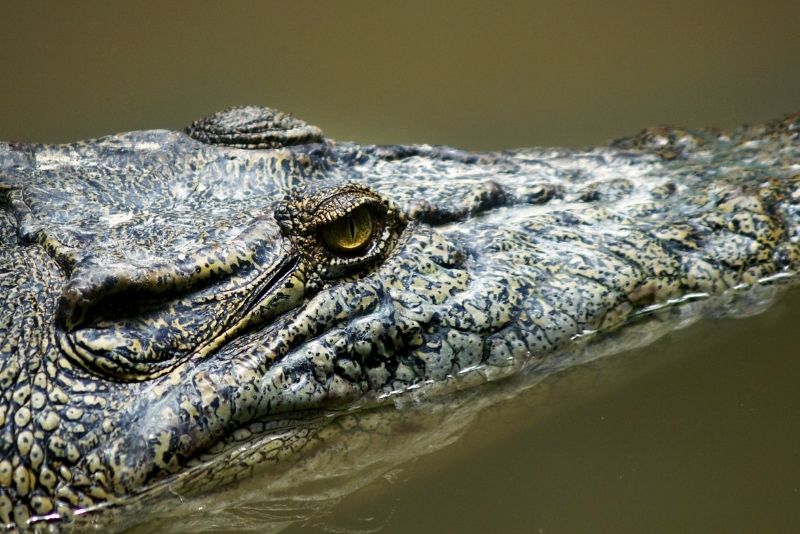 If you go searching long enough then there's a good chance you'll stumble across a few crocs down in Florida.
If left to themselves these fascinating beings will simply go about their day with a tip of the cap, and the Crocodile Lake National Wildlife Refuge is a great place to see them do that.
If they aren't worth protecting, we don't know what is! You can also delve into the wealth of vibrant environments in the area, including salt marshes and hardwood hammocks.
And along with some cool crocs, you can see plenty of other unique local animals and plants, including tree snails, woodrats, and two types of cacti.
29 – Chill and imbibe at some beach bars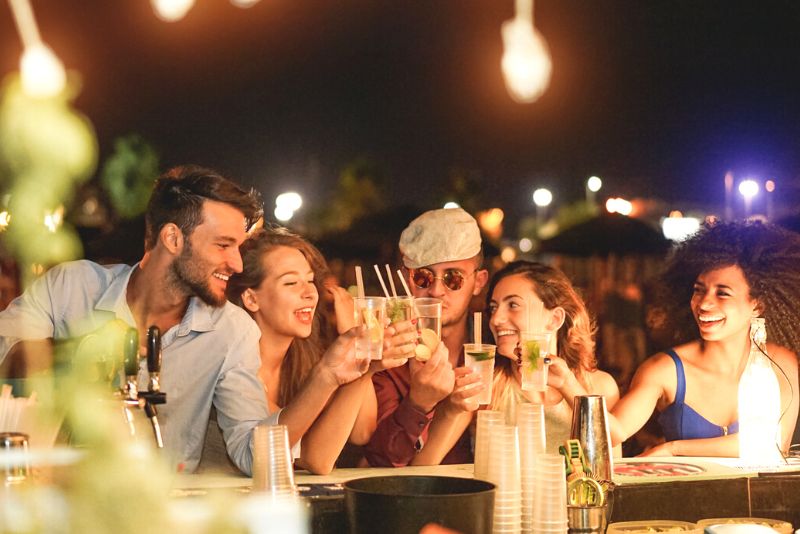 Whether you're jamming out to live music at the Caribbean Club (which has starred in many movies) or enjoying some decadent tropical drinks at Snook's Bayside Restaurant & Grand Tiki, you'll have an excellent time at Key Largo's world-class beach bars.
Try the specialty cocktails and daily wine selection at Bayside Grille & Sunset Bar, or relax on the patio at Jimmy Johnson's Big Chill.
And for a full beach bum experience, Sundowners, with its daily happy hour and frequent performances, is a must.
30 – Anyone for a drink at a Tiki Bar?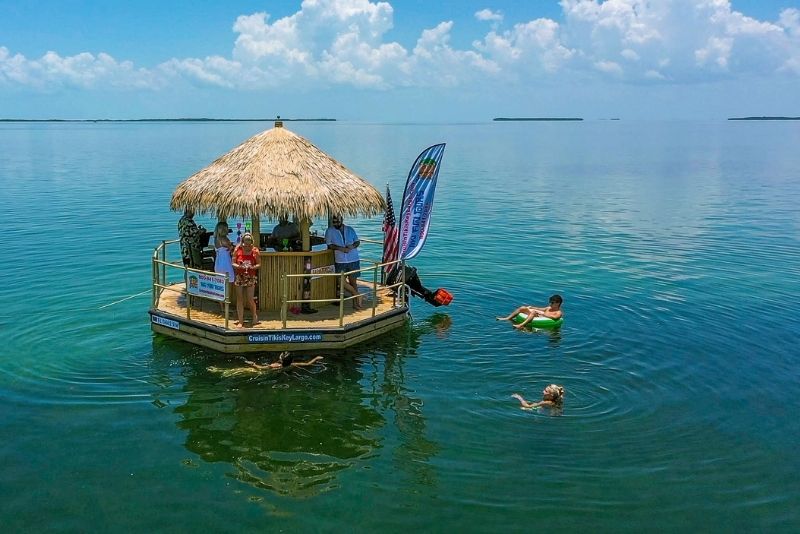 Sitting right alongside Snook's Bayside Restaurant is the Cruisin' Tikis cruise experience! Combining two classic local icons – tiki bars and scenic boat cruises -, this unique little watering hole is perfect for sipping in style.
The grand tiki bar is the tip of the iceberg for a really personal trip out onto the open water. Sure, having a few drinks and sharing a good time is part of it, but going that extra mile to make this a trip to remember is what Cruisin' Tikis is all about.
Although your jaunt around the water only lasts 90 minutes, trust us… you'll love every second!
31 – Keep the balance on your stand-up paddle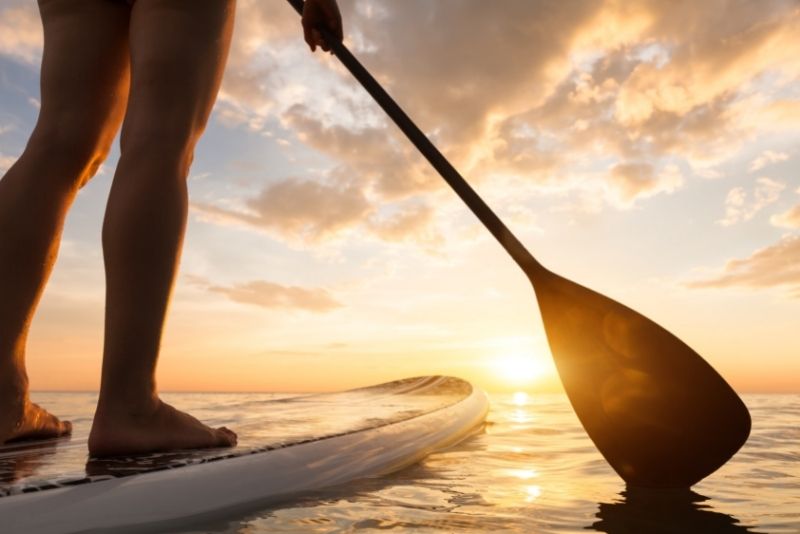 Falling into the water shouldn't be a reason for or against not doing something outside of there being a shark waiting for you upon arrival.
PADDLE! The Florida Keys, Pirates Cove Watersports, and Aquaholic Adventures are all excellent companies to rent through, with great equipment and lessons available.
Whether you're searching for manatees, exploring the Blackwater Sound, or navigating through some marvelous mangrove tunnels, there's plenty of adventure to be had when you pick up a paddle!
Stand up paddling requires a whole lot of composure but even if you don't fit into that description, it's still going to be insanely entertaining for as long as you're up there.
32 – Remember your trip forever with a jetpack ride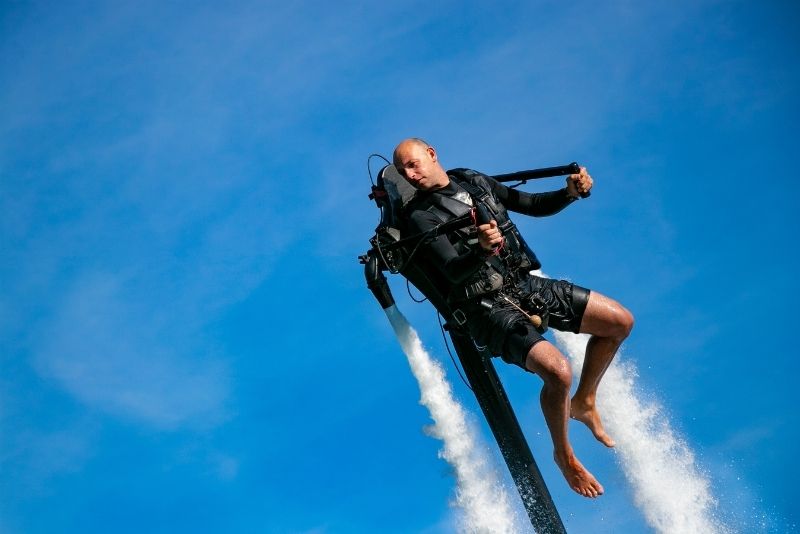 Buckle up for, simply put, a ride you'll never forget!
Florida Keys Jetpacks invites us to see what the year 3000 is really going to look like. As you emerge out of the water like a dolphin flying through the sky, take a look and think about just how far technology has been able to advance over the years.
Scary? Yes. Worth it? Absolutely!
33 – Can you handle an escape game?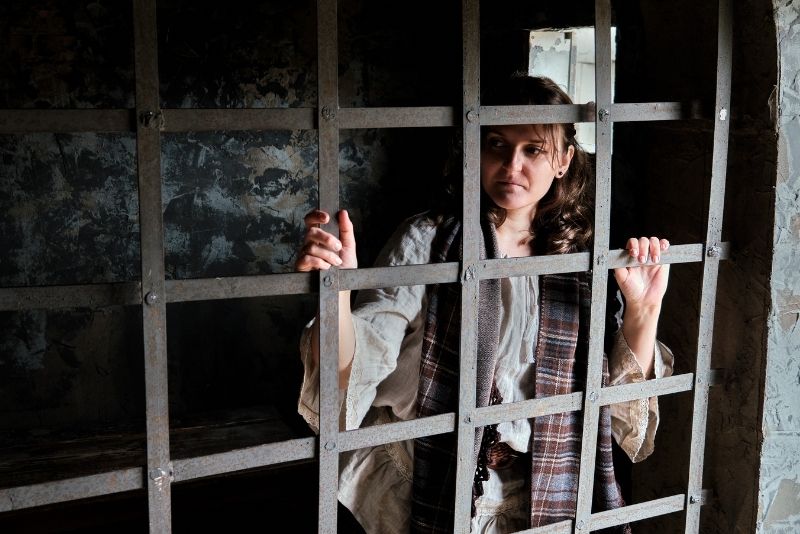 Everyone loves a good escape room, but how about an entire castle dedicated to Kingdom Escape Games.
Rendyth's Revenge, Robert's Relics and Blamsfar's Basement will take you on a journey unlike any other. It's billed as being the best place in Key Largo to have fun indoors and as strange as it may appear, this place really does make you think.
34 – Try Keys' Meads honey wine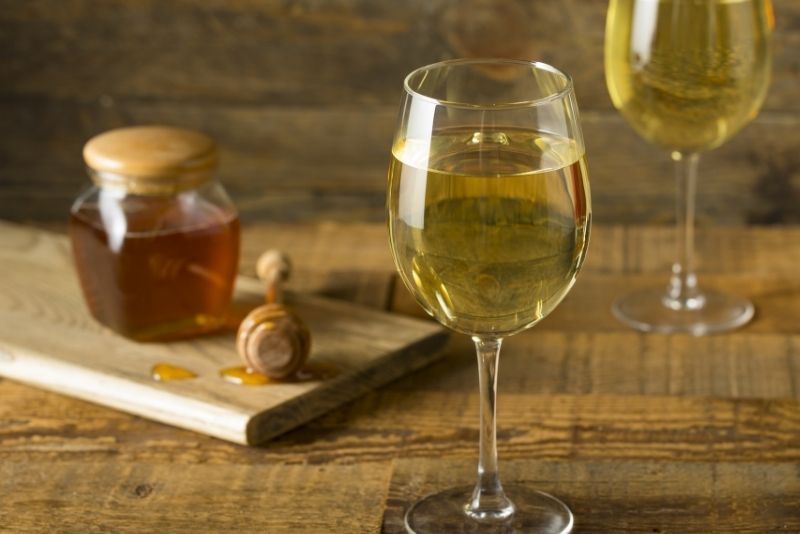 Everyone likes to visit attractions whereby the owners consider themselves specialists and Keys' Mead is no different.
This one is for the adults in the room as Keys' Mead is a Florida Key winery specialising in honey wine. On the face of it that might not feel like an attractive proposal, but it really will surprise you in all the best ways after taking a sip or two.
Your tour comes with an excellent set of tastings; try the ten flavor option, or splurge and drink your way through their entire catalog. And if you have a broader palate, they also serve some fabulous beers and cocktails.
35 – Just keep swimming at Jacobs Aquatic Center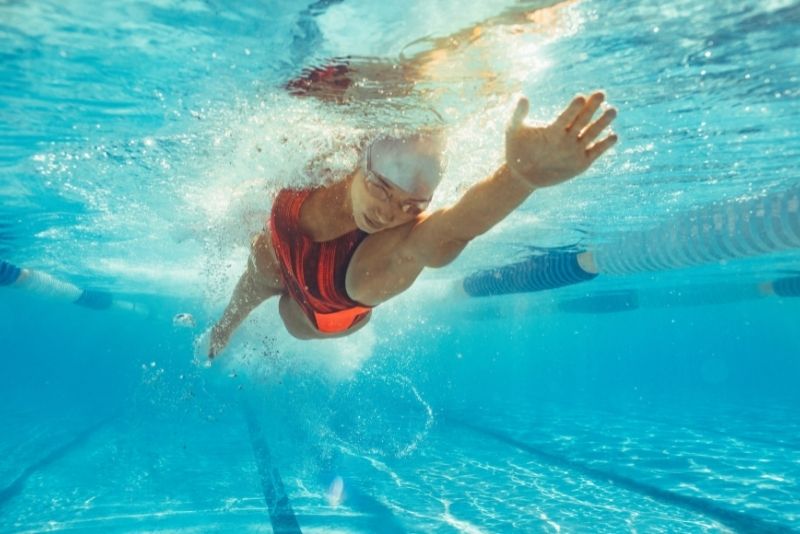 If you want to take the first step towards an Olympic gold medal or perhaps you just want to have a good old swim, Jacobs Aquatic Center should be on your bucket list.
This is truly a world-class facility with three pools that are as big as they are intimidating. It's located directly in the heart of Key Largo with classes and bookings being available all year round.
36 – Watch the sun go down on the sunset cruise
As the sun goes down and we're greeted by a sunset to light up the sky, why not enjoy it in the comfort of a good old fashioned cruise?
There are some wonderful boat tours to be found across the globe but as Floridians well know, the sunset cruise in Key Largo produces quite the spectacle.
37 – Enjoy the chilled vibes of Islamorada Sandbar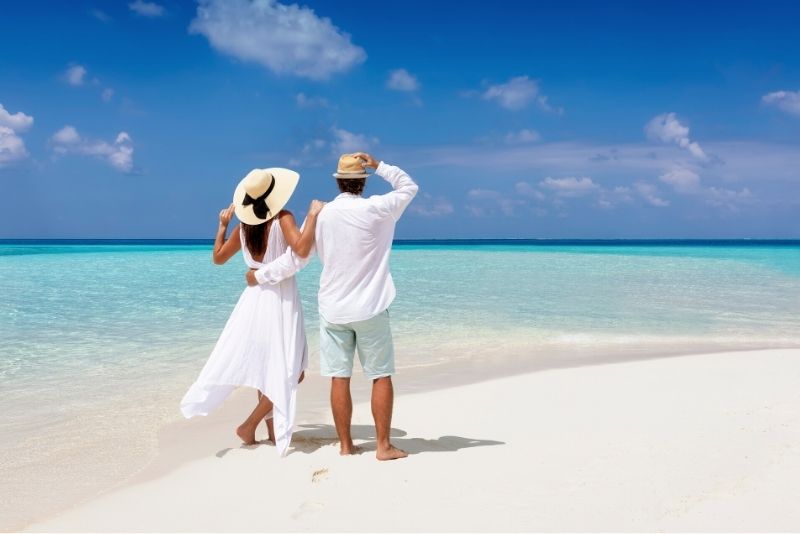 In the penultimate entry of our sprint through fun things to do in Key Largo, we arrive at Islamorada Sandbar.
Long considered one of the island's most famous beaches (which is really saying something!), it's the perfect place for vacationers to swim, sunbathe, and relish the tropical vibes.
It's also known for its boisterous boat parties, when hundreds of vessels congregate for an informal, nonstop beach festival.
Pull up on a boat, swim down with a beer in hand or just enjoy the positive vibes emanating from this super social spot in the ocean. It's fun, it's different, and it marks everything Key Largo is supposed to be.
38 – Play and unwind at Key Largo Kampground & Marina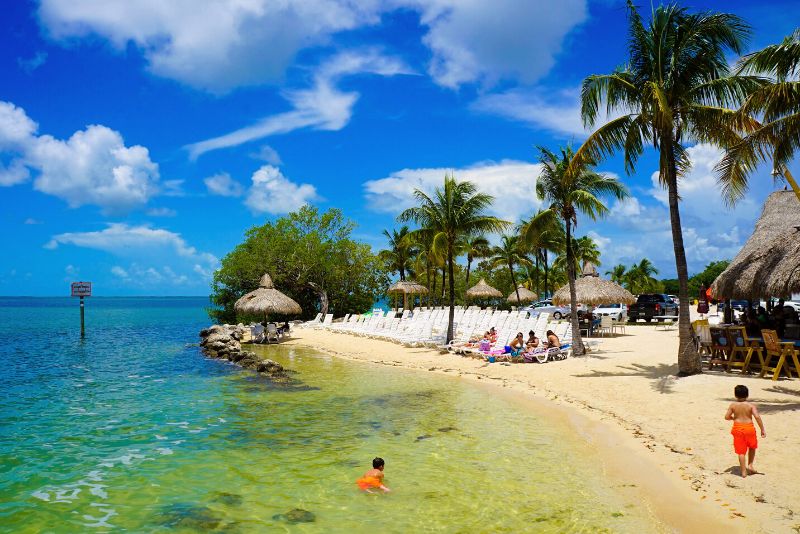 If you want somewhat rustic accommodation that doesn't skimp on the amenities, set your sights on Key Largo Kampground & Marina!
Along with sites for tents, RVs, and boats, the property offers pools for doing laps, great waterfront views, and sporting venues for every type of game from bocce ball to horseshoes.
And it's all right in town, offering convenient access and seclusion all in one.
How to get to Key Largo?
The easiest way to reach this slice of heaven is to drive; just half an hour from mainland Miami, it's easily reachable by car.
And if you don't feel like driving, there are also shuttle buses that run directly to and from the Miami and Fort Lauderdale Airports.
But if you're of a more nautical mindset, you can sail over as well!
Where to stay in Key Largo?
You'll feel like a proper hotshot when you stay at Playa Largo Resort & Spa, where you can swim in the pool, relax on the private shore, or treat yourself to a session at the spa.
And at Baker's Cay Resort Key Largo, you can return from a day of exploring nearby John Pennekamp National Marine Sanctuary to enjoy some quality watersports, from boat excursions to snorkeling.
Bayside Inn Key Largo blends on-site amenities like yard games and a private beach with easy access to local hotspots such as Dolphin Cove Research & Education Center.
Unwind at the cafe at Ocean Pointe Suites, then play a round of tennis, or head out to nearby dive sites and fishing areas. And if you really love the water, you can't go wrong with Hampton Inn Key Largo… it features its own boat dock!
Where to go next?
If you keep cruising south, you'll find plenty of amazing things to do in the Florida Keys! Along with a classic island experience, these dynamic spots offer enough wildlife-watching opportunities, outdoor sports, and quirky historical venues to satisfy every palate.
And of course, you can't miss Key West, the notoriously funky spot at the southernmost tip of the U.S. that has drawn tourists and celebrities for decades with its fishing, beaches, and laidback atmosphere.
Back on the mainland, there are oodles of awesome things to do in Florida, which boasts an unbeatable combination of world-class cities, charming vacation towns, and stunning landscapes unlike anywhere else in the country.
Check out the active nightlife and art scenes of Miami, or the shopping, dining, and unique canal systems of Fort Lauderdale. You can also enjoy the beaches, fishing, and low-key charms of Marco Island, or the glamorous boat cruises and biodiversity of Naples.
Final thoughts
With so many amazing things to do in Key Largo, you'll feel tempted to cancel your ticket home as soon as you arrive!
Its natural splendor and relaxing amenities tend to hog the limelight, but with such a distinguished culture stretching back centuries – not to mention some top-notch contemporary restaurants and bars -, it offers something for everyone.
So grab your sunglasses and a towel, and get yourself on island time!