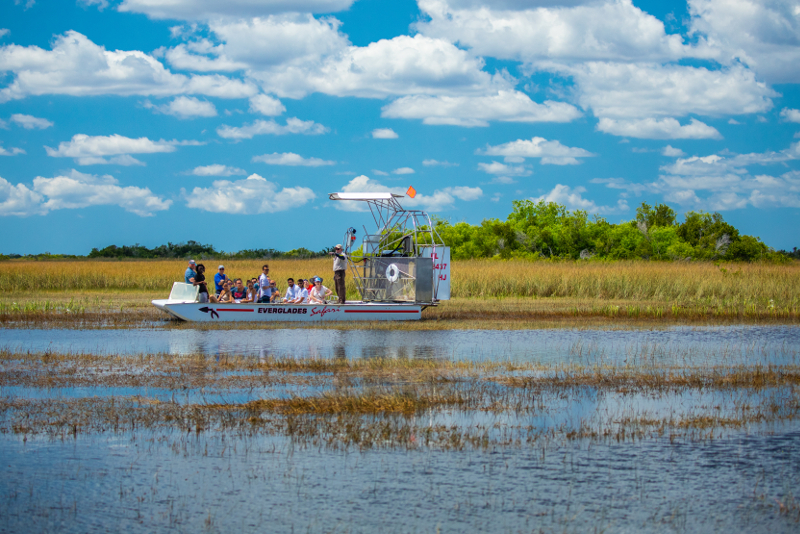 Are you looking for the best Everglades Airboat Tours? Many tour operators offer awesome airboat tours. Discover the best tours available from Miami, Orlando. Fort Lauderdale, and from Fort Myers.
The Everglades cap southern Florida in endless greenery. They are vast and impenetrable, ranging from the Kissimmee River and Orlando's thrill-filled parks to the glistening waters of the Atlantic Ocean. In the west, they fragment into the Gulf of Mexico with countless white-sand isles and sweeps of mangrove. In the east, they crash into the sprawl of Miami with sawgrass prairies and swamps.
Coming to the Sunshine State and not seeing this amazing reserve is like skipping the Eiffel Tower in Paris! That's why there are now oodles of Everglades airboat tours out there to make things easy. They offer to whisk you away from nearby towns and cities on classic wetland boats powered by fan engines. The journey is usually rife with wildlife (think alligators, manatees, sea turtles – there's loads) and adrenaline (those airboats move fast!), and proves to be one of the most unforgettable experiences in the Sunshine State…
Everglades Airboat Tours from Miami 
1 – From Miami: Everglades Park Alligator & Airboat Tour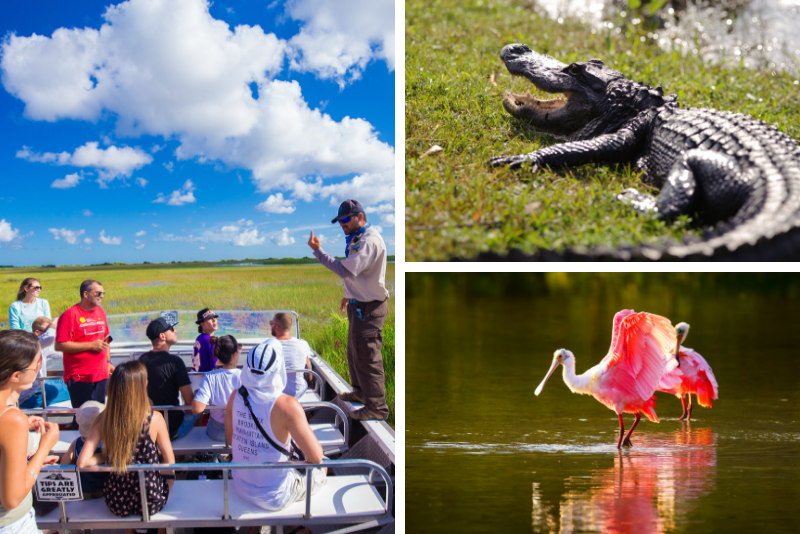 Combine science and adventure on this five-hour outing into the wilds of southern Florida. After departing the Magic City of Miami on an air-conditioned bus, you'll hop on a hydrofoil and whiz through the famous River of Grass. There will be chances to spot sharp-toothed reptiles and rare water birds as you go. And then comes an enthralling 40-minute presentation on alligators, helping you learn all about their habitats and ecology. The day winds up with oodles of free time, so you can explore the sawgrass-fringed trails and gator exhibits just a little more.
2 – Everglades, Miami City Tour & Bay Cruise: 1-Day, 3-Part Tour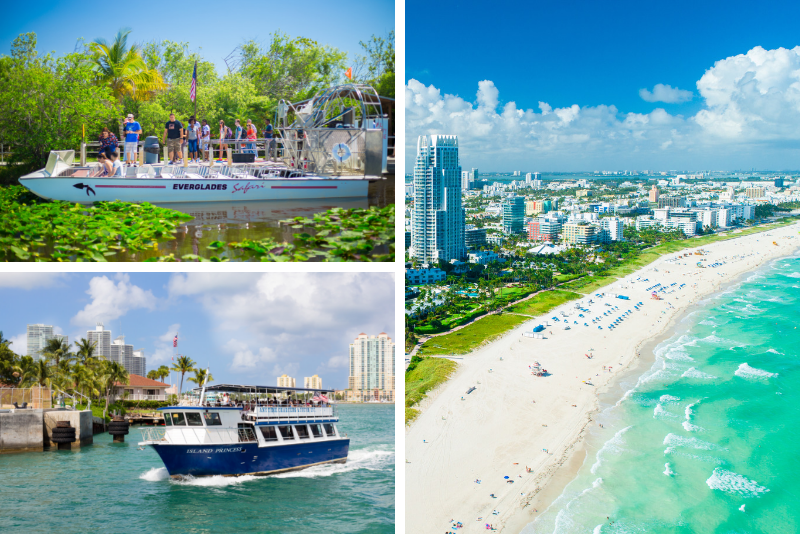 This action-packed excursion is one of the most comprehensive day-long adventures it's possible to find in south Florida. It lasts a whole nine hours from start to finish, and includes three individual tours in a single bout. First there's that all-important outing to the Everglades, where you'll come face to face with baby gators and spot sea turtles in the murky swamps. Then comes the cultural fix of Miami Beach, where Art Deco mansions mingle with the shimmering sands of the Atlantic Ocean. Finally, you hop aboard a boat to cruise over Biscayne Bay and see the houses of A-lister celebrities on Millionaire's Row.
3 – Miami: Everglades Park, Bus Tour, & Yacht Tour
There's a trio of transportation modes on the menu for travelers who opt for this multi-faceted tour. You get the day rolling on a fan-propelled airboat, which weaves and wiggles through the waters of the Everglades in search of snapping alligators, formidable crocs, storks, panthers – you name it! After that, it's all about returning to Miami to flit between the chic homes of Coconut Grove and the tobacco-scented cantinas of Little Havana in an open-top bus. To cap it off, you get to channel your inner George Clooney with a stint on a luxury yacht, sailing up the sky-blue waters of Biscayne Bay past mansions and exclusive malls.
4 – Everglades Indian Reservation Daytime Safari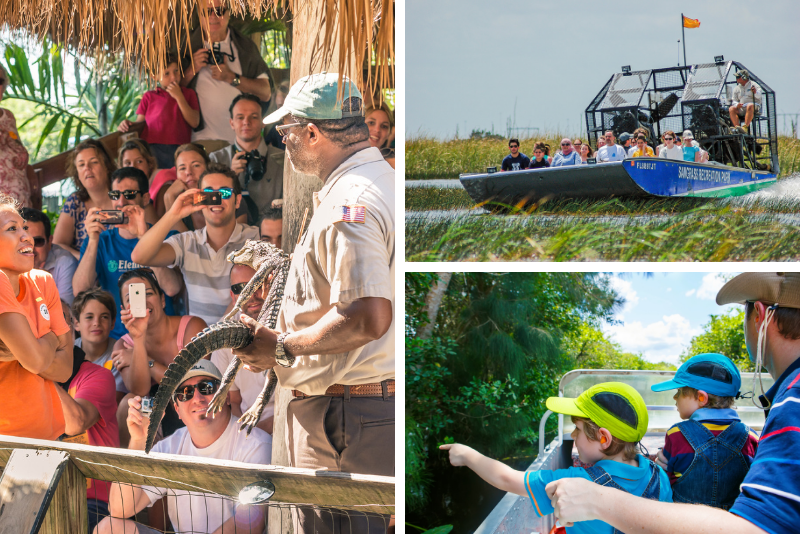 Transport yourself back to a time before Spanish galleons and American highways had come to the Sunshine State, all with this day-long jaunt through an age-old Seminole reservation. Your journey will take you to the heart of the Everglades, which means there are often moments of wonder involving a sighting of a wild alligator or multi-colored tropical bird along the way. That's all bolstered by guided tours of traditional Indian villages in the wetlands, along with talks on the long-held traditions of Florida's native people.
5 – Sawgrass Recreation Park: 1-Hour Airboat Night Tour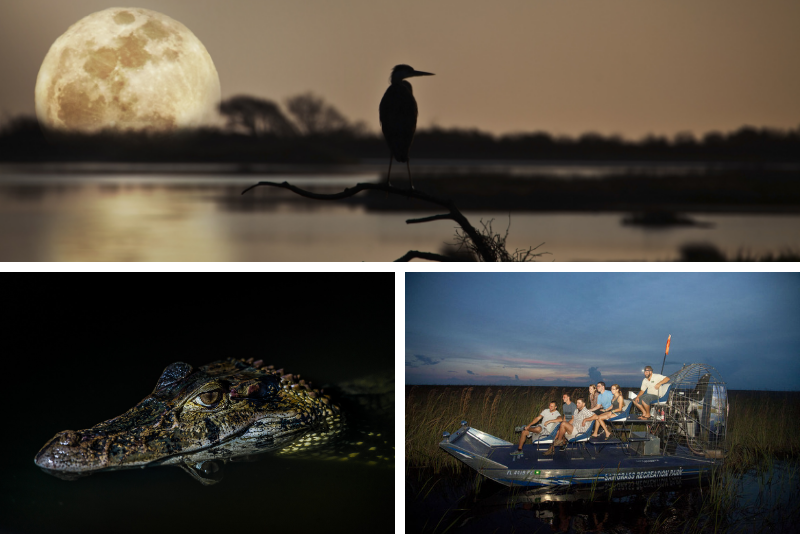 Wait until the sun dips behind the cypresses and the mangroves before heading to the middle of the Everglades. Then, you'll get to see this iconic American wilderness in a totally different light – literally! As twilight claims the River of Grass, the waters glow mysteriously, ripples echo off slithering snakes, and alligator's eyes glint like jewels between the hammocks. It's a feast for the senses witnessing the ecosystems come alive in the evening, offering sightings of unique creatures, birds, and insects that simply don't reveal themselves during the day.
6 – Private Tour: Everglades Sightseeing at Big Cypress National Preserve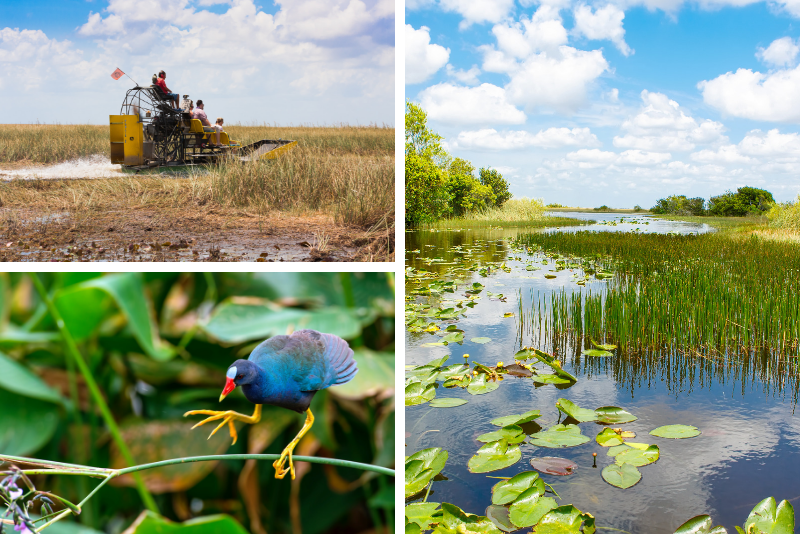 Calling all budding ecologists – this six-hour tour encompasses some of the most legendary swathes of backcountry in the Sunshine State. Come morning, you'll find your hair billowing in the humid tropical air as you cruise across Florida in an African-style safari Jeep. A dedicated naturalist guide helps to explain the unique ecosystems of the region as you conquer the Tamiami Trail road. And then you delve into the far-flung hinterlands of the Big Cypress National Preserve. That's 729,000 acres of rare river otters and hardwood hammocks. Lastly, you take to the water and sail the sawgrasses, where visions of crocs, gators, manatees and more are all possibilities.
7 – Everglades Swamp Walk with a Naturalist and Ten Thousand Islands Boat Tour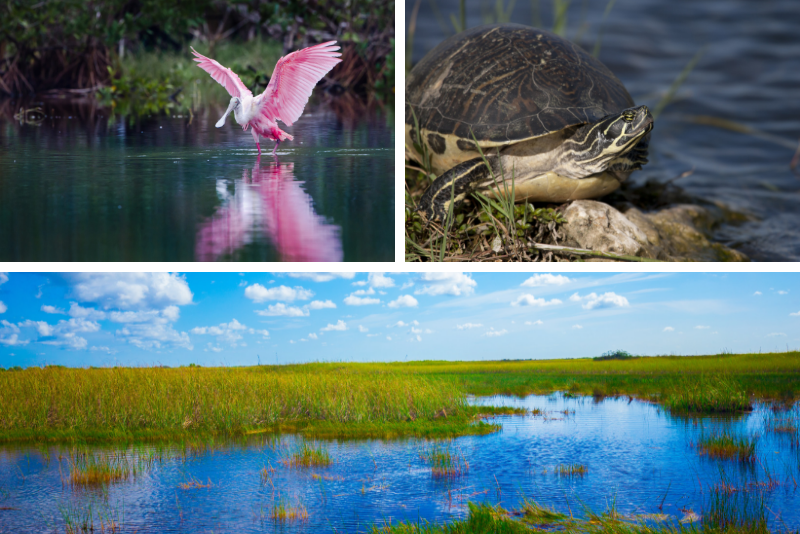 Pull on the walking boots and prepare to get muddy, because this adventure-filled expedition sees guests wade through sawgrasses and swamps in the midst of the Everglades National Park. Without the distraction of a purring airboat, you'll hike ancient Indian trails in the company of a Florida Master Naturalist. It all makes sightings of unique wildlife all the more likely, as you hop from water-logged marshes to boardwalk trails fringed by orchids. There's a stop for lunch in salt-washed Everglades City before breaking out to the Ten Thousand Islands, where white-sand beaches mingle with thickets of mangrove on the Mexican Gulf.
8 – Miami Florida Seaplane Tour With Everglades Airboat Adventure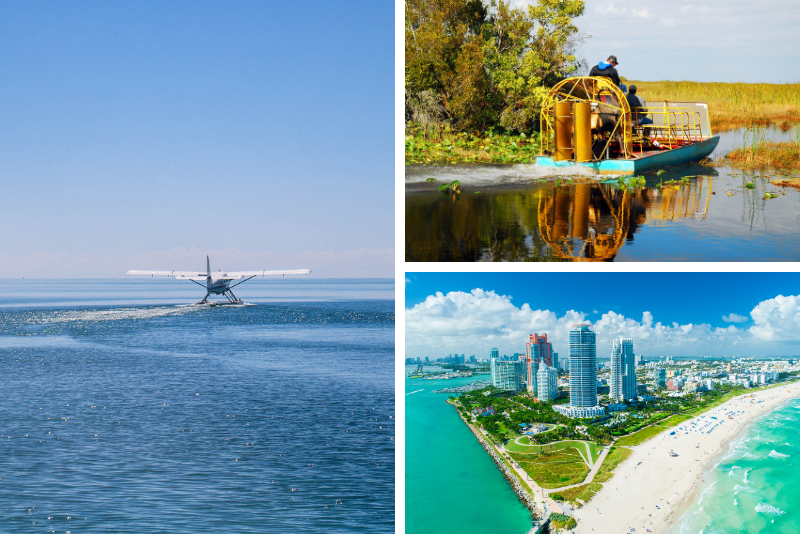 Prepare to gasp as you see the endless sawgrass prairies of the Everglades extend out in all directions. That's how this seaplane tour starts; by swapping Miami's buzzing streets with eye-watering vistas of croc-snapping wetlands from above. The flyover is just the beginning, though. After landing on a riverway in the midst of the national park, you'll transfer to an airboat and get to tour a rustic Miccosukee Indian camp. What's more, the return journey promises visions of the Magic City from above, with the azure Atlantic Ocean rolling into the white-sand shores of Miami Beach on the horizon.
9 – Everglades National Park Airboat Tour and Wildlife Show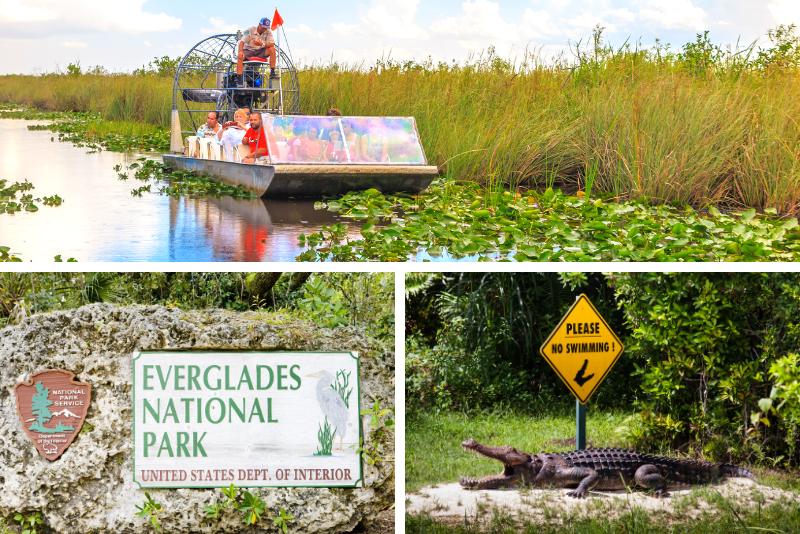 You can keep things simple by opting for this ticket-only tour of the Everglades National Park. It includes all the bucket-list experiences you'd expect of the largest tropical wetland in the United States. That means high-speed airboat circuits through the sawgrass swamps. It means glimpses of cypress forests and hardwood hammocks. And – of course – it means a chance to see those primeval alligators in their natural habitat! Departures are every 20-30 minutes and children go free.
Everglades Airboat Tours from Orlando
10 – Orlando: Wild Florida Everglades Airboat & Wildlife Park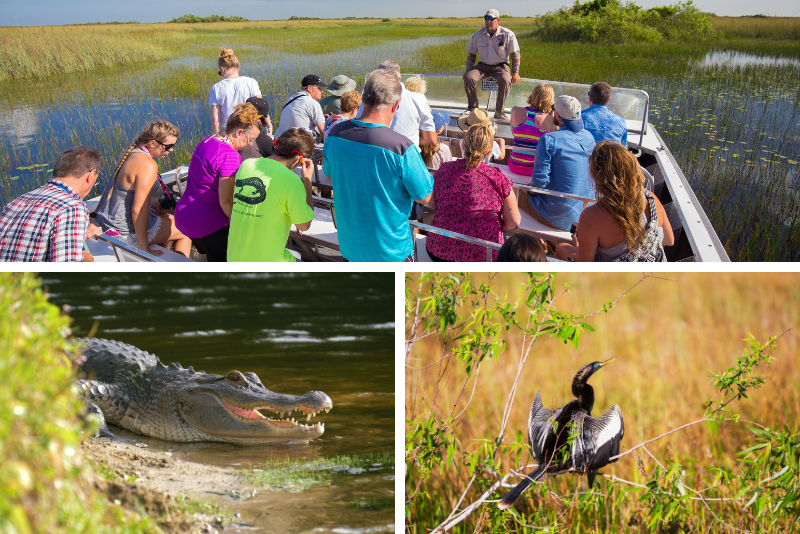 This 90-minute outing is your chance to trade the fairy-tale castle spires and rollicking rollercoasters of Orlando for a wilder slice of the Sunshine State. The starting point sits on the Kissimmee Chain of Lakes, less than 40 minutes' drive from Disney World. There, you'll board an airboat and delve into more than 4,000 acres of the Central Florida Everglades. Protected alligator sanctuaries and tropical bird aviaries are all part of the trip. You also get to hold a baby gator, and enjoy a traditional Southern BBQ – think smoky ribs, brisket, and finger-licking pulled pork.
11 – Kissimmee: 1-Hour Airboat Everglades Adventure Tour
Fun-filled Kissimmee is a prime jump-off point for expeditions into the Central Florida Everglades. Cue this tour, which trades lively Historic Downtown Kissimmee and its old lemon depots for the cypress hammocks and swamps. First stop? Shingle Creek Regional Park. A jewel of Osceola County, it's laden with freshwater springs and tropical forests. From there, you push on into the wet prairies, where alligators creep through the undergrowth. The whole way you get the company of an in-the-know guide, who can spin tales of American Indians, Floridian history, and Everglades ecology alike.
12 – Crystal River Tour with Everglades Airboat Ride and Optional Manatee Adventures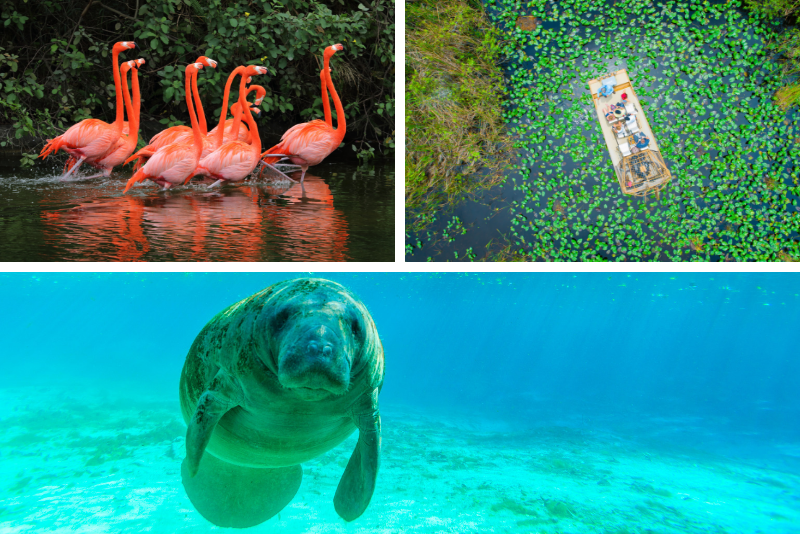 While most Everglades airboat tours will focus on chasing the sharp-toothed gators and crocs, this one prefers the region's gentle giants: manatees. You're likely to meet them in the morning, because your first port of call is the turquoise spring water of the Crystal River. There, you can canoe and snorkel and swim in the company of the so-called sea cow. After that, the adrenaline is sure to flow as you shoot down the winding Withlacoochee River. And then it's over to the Homosassa Springs Wildlife State Park. That acclaimed reserve is a Sunshine State safari mecca. It's got red wolves, bobcats, bears, panthers, and a whole load more!
13 – Miami Day Trip with Optional Everglades Airboat Ride or Star Island Cruise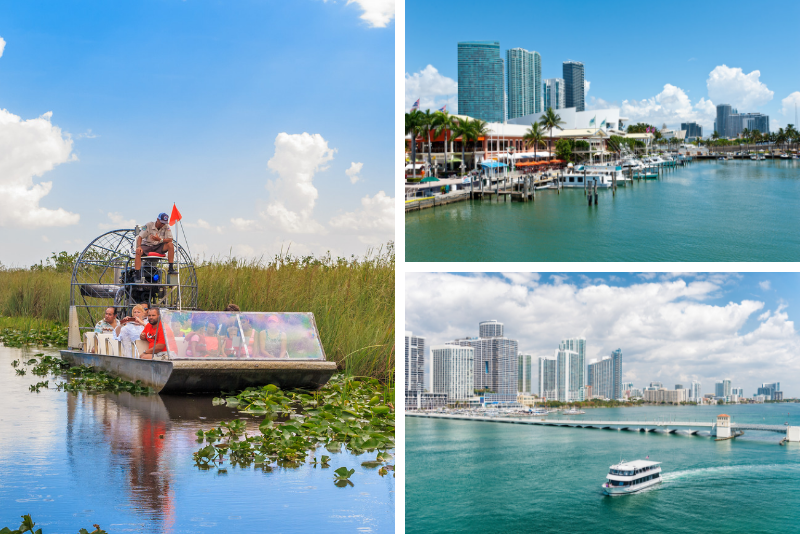 You can add a little bit of Magic City spice to your choice of Everglades airboat tours by choosing this two-in-one outing. Lasting 15 hours in total, it'll breeze you into the shimmering beach strips, buzzy esplanades, and cool Art Deco mansions of Miami Beach. You'll get a chance to peer into the celebrity mansions of Millionaire's Row. You can shop your way through the chic halls of Bayside Marketplace. But before you get city bound, the Everglades call with their misty hammocks, swamps and crocodile sanctuaries. A high-speed airboat tour promises to make that part of the trip truly unforgettable.
14 – Orlando: 2-Hour Airboat Everglades Tour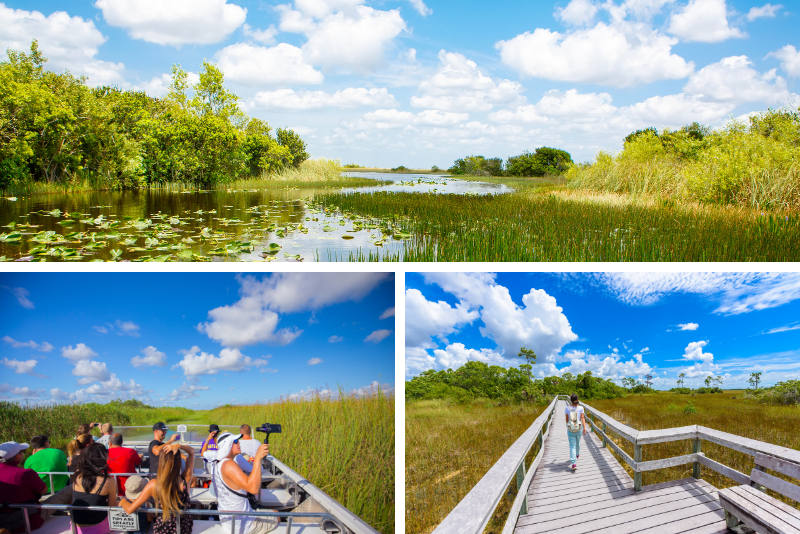 Get ready to be immersed in the feral backcountry of Florida, as you hop on a six-seater airboat and fire up the fan engine to take you into the reserves of Shingle Creek. That sits at the northernmost end of the world-famous Everglades. It's a region that's known for its vine-strewn, grass-sprouting swamps, and high numbers of American alligators. Your journey will last around two hours, and the package includes a dedicated guide with local knowledge of the best wildlife hotspots.
15 – Florida Everglades Airboat Ride & Gatorland Adventure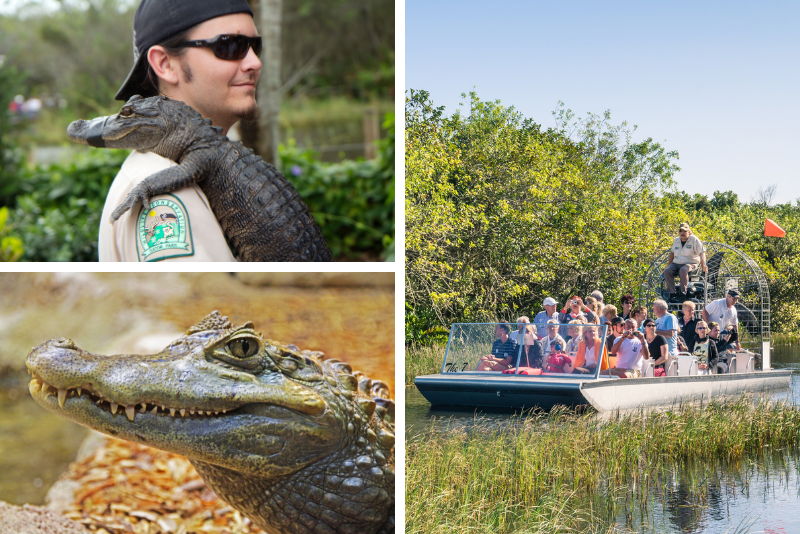 Gators, gators, and more gators – that's the name of the game on this jaw-snapping, tooth-gleaming Everglades airboat tour. It all starts as you whirr on a classic Floridian airboat across the heart of the Central Florida Everglades south of Orlando. As you spin around bends in the riverways, your captain will point out rare wading birds, crocodiles, and exotic plant species. Afterwards, the compass is set for the South Orange Blossom Trail. That's where Gatorland awaits. It's America's premier alligator preserve come theme park, which means the afternoon promises to be filled with heart-thumping rides on ziplines, and unforgettable encounters with primeval reptiles!
16 – Orlando: Everglades Moonlight Swamp Safari Airboat Tour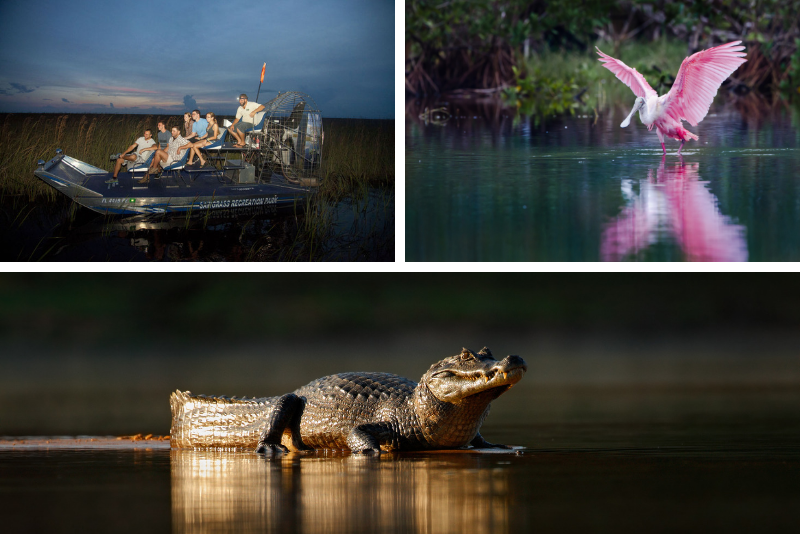 Ask any naturalist and they'll tell you – evening is prime time for wildlife viewing. That's where twilight Everglades airboat tours like this come in. Whisking you out to the vast Central Florida Everglades from the villas and theme parks of Orlando, it arrives just in time to watch the sunset glow orange, yellow, and rust red over the swamps. Then, the natural show begins. Bald eagles take to the skies, crocs start snapping in the reeds, and gator eyes glow like gemstones between the sawgrass. The tour also includes a jaunt to Hawk Swamp boardwalk, where you'll explore an untouched Floridian cypress hammock.
Everglades Airboat Tours from Fort Myers
17 – Small-Group Tour: Everglades Adventure Day Trip from Greater Fort Myers/Naples Area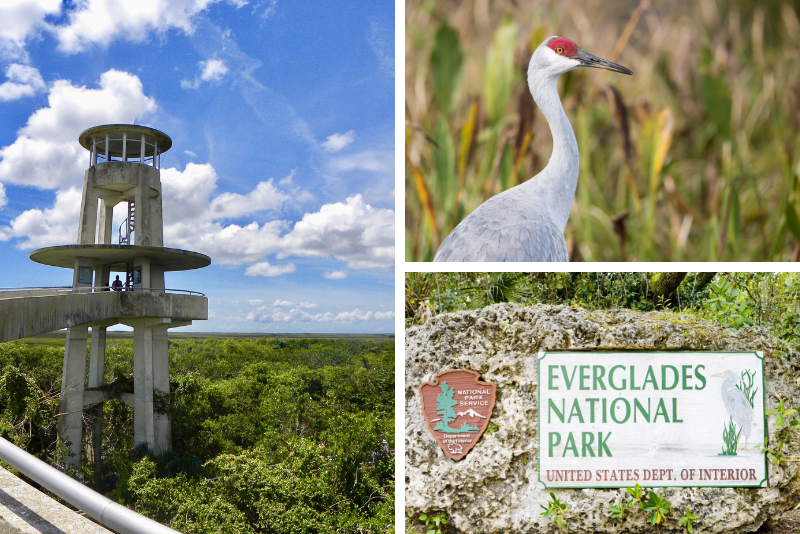 Venturing into the Florida Everglades from the west means venturing into the wilder and more unexplored portions of the region. It also means going off the beaten track to vast Big Cypress National Preserve, home to babbling springs, mist-filled bayous, and hammocks of old-growth hardwoods. That's precisely where this expedition leads groups. In all, the trip takes over nine hours. It encompasses the Western Everglades and their gator-speckled swamps, along with coastal corners of the Everglades National Park, which come with gleaming lagoons and mangrove forests filled with manatees.
18 – Everglades Family Adventure Tour from Greater Fort Myers/Naples Area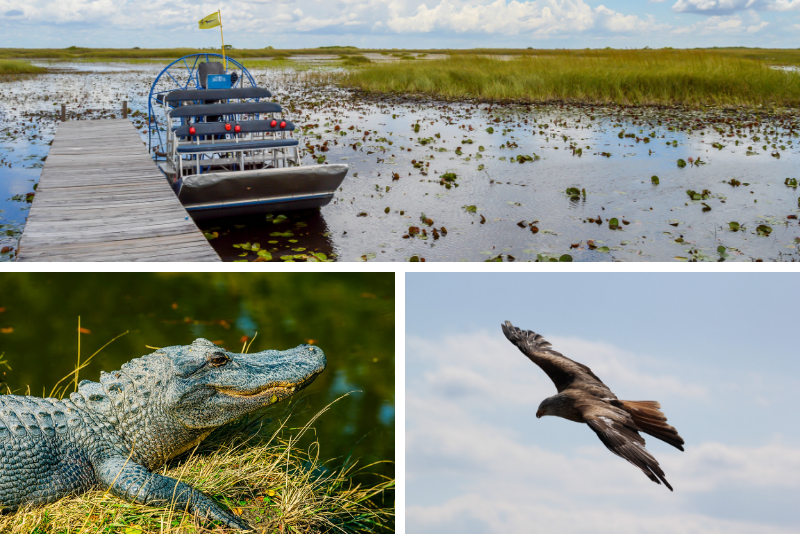 There's something for the whole crew to enjoy on this family-orientated expedition into the Western Everglades. Airboats are the transport of choice as you start the day hurtling over the murky waterways through blankets of grass prairie and swamp. Before hopping on board, you'll get to learn all about the local ecosystems and their menagerie of tropical wildlife. Trained guides help you spy out turtles and eagles and more as you go, while up-close encounters with alligators are all but guaranteed!
Everglades Airboat Tours from Fort Lauderdale
19 – Everglades: Sawgrass Park Airboat Tour with Exhibit Entrance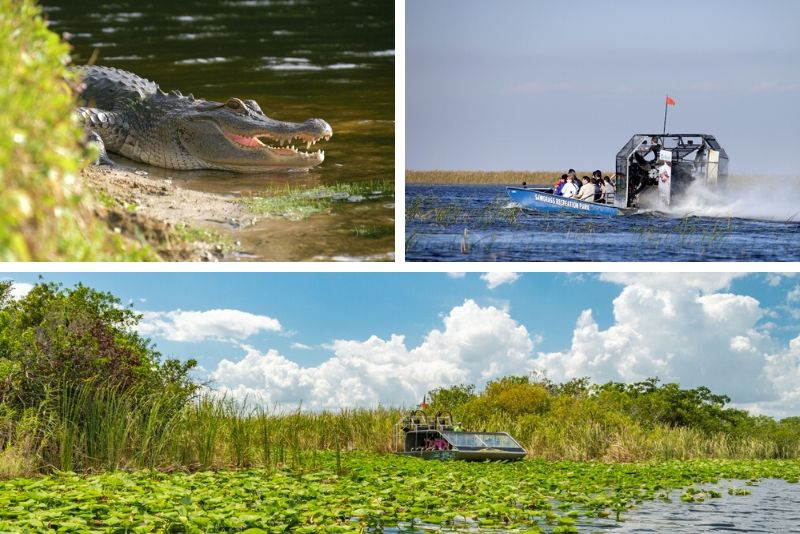 Enjoy a fun-filled airboat ride speeding up to 40 miles per hour. Watch for alligator and local wildlife while your guide tells you everything about the park. Finish your tour by visiting the reptile exhibition with the opportunity to hold a baby alligator! This tour is a fast and cheap option that can be included in a 1-hour slot.
20 – Everglades Airboat Tour & Gator Boys Alligator Rescue Show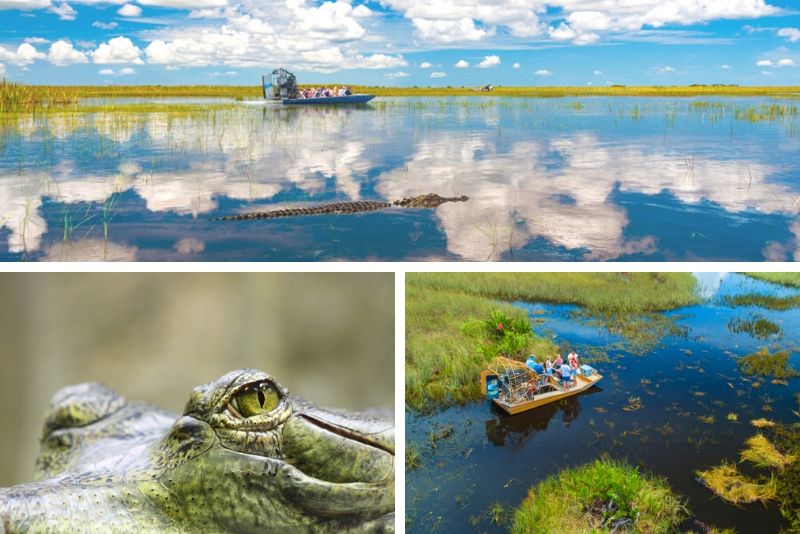 A ride on an air-powered boat is not the only fun thing to do in the Everglades. Of course, this tour includes an airboat ride with a duration of 60 minutes. You will then complete your tour to the park by attending the show of the Gator Boys Alligator Rescue team.