Swap glitzy beaches for gator-infested wetlands on a day trip to the Everglades National Park from Miami. As your boat nudges stealthily through the channels, you'll be plunged into the adventure of a lifetime. This is a domain where nature rules the roost!
Watch as sea turtles sun themselves on submerged branches, and keep your eyes peeled for alligators. You never know where they might pop up next in this extensive subtropical wilderness!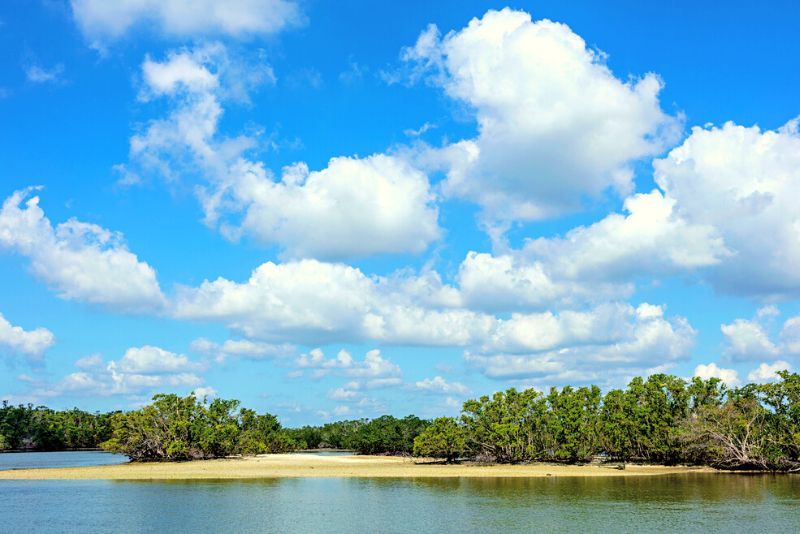 How to get to the Everglades National Park from Miami?
The Everglades National Park sprawls across a vast area of southern Florida, just west of Miami. You can take an Everglades jaunt by car or visit on a guided excursion, and enjoy one of the most jaw-dropping destinations for day trips from Miami.
From Miami to the Everglades National Park by car
If you want to visit the Everglades independently, then you can do so by car. It takes around 50 minutes to drive from Miami to the Everglades. This is an easy route that follows Highway 41 west to the park.
There are several entrances to the Everglades National Park, but for independent day trips from Miami, the Shark Valley gate gives the easiest access.
There is parking at the Shark Valley Visitor Center. Spaces are limited so expect to queue during the dry season if you arrive after 10 AM. Note that there are no boat rides operating from the Shark Valley Entrance – to experience these it's best to join a guided tour.
Guided tour to the Everglades National Park from Miami
If you want to enjoy a boat tour of the Everglades from Miami, then a guided visit is the best way to explore. Pickups are usually from a pre-arranged meeting point rather than your hotel, although a few operators do offer roundtrip transfers.
Tours last between 4 hours and a full day, depending on which activities are included in the itinerary.
How much does the entrance ticket to the Everglades National Park cost?
To enter the Everglades National Park, all visitors must pay an entrance fee. You can purchase a digital pass online before your trip, and show this at the entry gate.
For travelers visiting on an Everglades tour from Miami, the entrance fee is often included in the excursion price.
Everglades National Park entry prices are as follows:
Car: US$30
Motorcycle: US$25
Pedestrian: $15
The vehicle fee covers all occupants. These passes give you entry for seven consecutive days, which is good news if you want to thoroughly explore the park.
Park fees are waived on certain days of the year. These include:
17th January
16th April
4th August
24th September
11th November
What is the typical itinerary of a day tour to the Everglades National Park from Miami?
You will journey to the Everglades from Miami by bus or minivan. Some tours offer hotel pickups in the Miami area, while others have a designated meeting point.
On arrival in the Everglades, you'll enjoy a scenic drive through the wetlands. Your guide will explain the mysteries of this unusual ecosystem, while resident birds go about their day on the water. Keep your camera handy for photos from the bridges that overlook the vast River of Grass.
Next up on your day trip from Miami to the Everglades is an airboat ride. This is the ultimate way to go wildlife watching, and your expert guide will point out everything from alligators to turtles during the ride.
You may also stop at a traditional Indian village during the boat ride. Here, you'll discover how the landscape has shaped the culture and lifestyle of those who live here.
The final event of the day is a nature walk with a local naturalist in the Everglades National Park itself. This is your chance to encounter wildlife up close and personal – reptiles and birds are often spotted. You will also have free time to wander the trails and pop into the Shark Valley Visitor Center.
After your explorations, it's time to head back to Miami, full of stories from your day of adventure. You will be returned to your point of departure.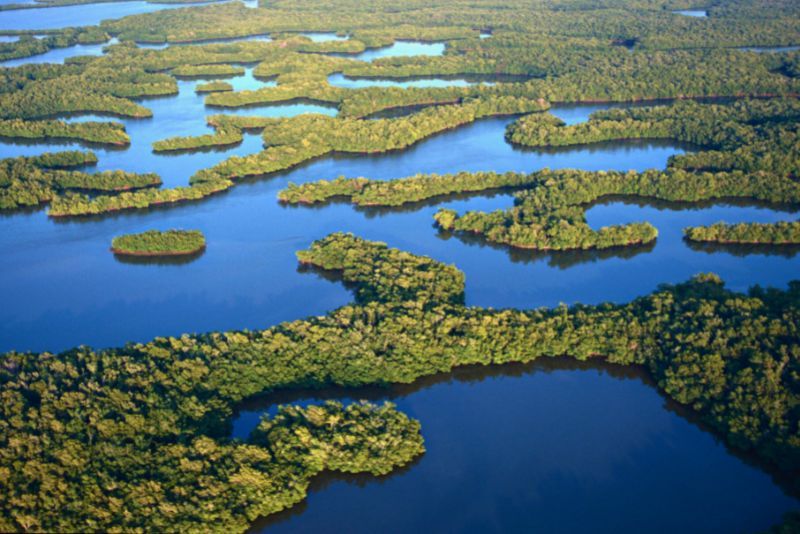 What kind of tours are available to go to the Everglades National Park?
You have several options for day tours to the Everglades from Miami. Here are the main contenders:
Group tour to the Everglades from Miami
The most popular Everglades National Park day trip from Miami operates on a group basis. This is a fun way to discover the famous UNESCO World Heritage site as you'll be traveling by bus with a group of like-minded explorers. If you want to keep costs down, this is the way to go!
Some tours are self-guided while on others you will be accompanied by a local expert to help you make the most of your experience. These trips usually include an airboat ride, a wildlife hiking experience and a scenic drive. Itineraries differ according to tour length.
Private tour to the Everglades from Miami
If you're after a more exclusive day trip to the Everglades, choose a private tour. You will be picked up from your hotel and transferred to the national park in air-conditioned comfort. The ride will be just for you and your travel companions.
A private airboat trip and wildlife encounter are usually included in the tour package. This guided excursion is ideal for those who want to be a bit more flexible without the pressures of a larger group. You'll be able to stop for photos more often and soak up the environment in peace.
Hop-on hop-off bus tour of the Everglades from Miami
For this Everglades jaunt, you'll be taking the ultimate hop-on hop-off bus tour. The trip includes a return coach ride from Miami to the Everglades, with a pickup from a central meeting point in the city.
There will be multiple stops for activities along the route. An airboat ride, a wildlife show and photos with alligators are all on the cards. There will be free time to buy lunch, shop for souvenirs and relax beside the water on this fun tour. This is one of the cheapest and most convivial ways to travel to the Everglades.
Day trip to the Everglades plus Biscayne Bay Cruise from Miami
This trip combines the best of both worlds with a close-up look at urban Miami as well as the wild Everglades. There are three excursions included for a fully rounded experience on this group adventure. A Miami city tour, a boat journey around Biscayne Bay and an airboat ride in the Everglades make for a thrilling day out.
The starting point is Miami Beach, so you will have to make your own way there. Your group will be accompanied by a guide who can answer questions and make sure the day runs smoothly.
How much does a tour to the Everglades National Park from Miami cost?
For a group Everglades day tour, prices start at US$45 per person. Transport, tour activities and entrances are provided. Some excursions also include a guide.
A private day trip to the Everglades with transfers, hotel pickups and an exclusive boat tour costs US$600 per person. If you have your own transport, and just want to book a private airboat ride, this costs about US$135 per person for an hour.
The hop-on hop-off bus excursion to the Everglades costs around US$45. This includes the return coach journey, an airboat ride, the wildlife show and a photo with an alligator. The national park entrance is also covered.
For the Miami city and Everglades combination tour, expect to pay US$70. You will be traveling in a large group with transfers and excursions included.
What will you see and do in the Everglades National Park?
The Everglades National Park is a UNESCO World Heritage site – it's one of the most popular wilderness areas to visit in the country. The subtropical wetlands cover 1.5 million acres of southern Florida and are known for their wildlife.
Here are the highlights of a day trip to the Everglades:
Airboat ride
These thrilling Everglades boat tours are the most iconic way to venture into the mangrove swamps. The flat-bottomed boat can venture where other watercraft can't go, making it the perfect vessel for wildlife watching.
You'll be seated high up, giving you prime views of the scenery and any animals that may make an appearance. The airboats can skim along the water at a fast rate of knots, so hang on for a ride to remember!
Alligators, turtles and birds are frequently seen, and you'll explore hidden channels to increase your chances of encountering something special. Manatees also live in these waters, although they're rather elusive.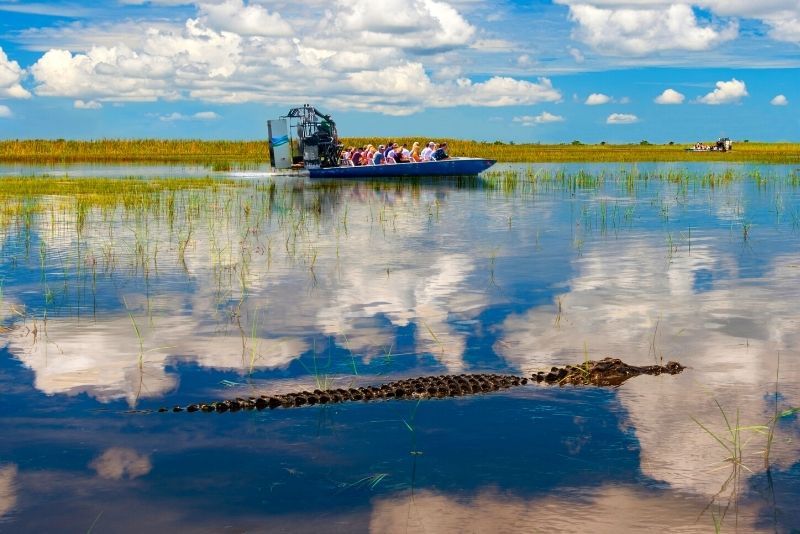 Nature walk
To truly get a feel for the Everglades, a wildlife walk is a must. You'll be accompanied by a local naturalist who will take you deep into the park in the search of adventure. Hikes are gentle and often take place on boardwalk trails that meander through the sawgrass beds.
Alligators and turtles are the main events, but you may also spot deer in the pinewoods, and bald eagles circling overhead. If you remain quiet and keep your eyes peeled, you never know what you might encounter.
Native American village
Some tours also visit a Native American village that is only accessible by water. Here, you will learn how the Miccosukee people survive in this wild terrain and discover tribal arts and crafts. Take a moment to check out the village museum which documents the Miccosukee way of life through the years.
There's also a gift shop for purchasing some unique souvenirs, and an eatery that serves burgers and alligator bites if you're feeling hungry.
Wildlife show
Several Everglades day tours take in a wildlife show. This is a fun and engaging way to learn about the creatures that live here. During the talk, you'll encounter alligators up close and have your photo taken with one of these toothsome reptiles.
Tram tour
If you've driven independently to the Everglades from Miami, the Shark Valley Visitor Center will be your entry point. From here you can enjoy a tram tour through the park. The naturalist guide will teach you about the ecology and history of the area, as well as point out wildlife along the way.
Halfway through this Everglades excursion, you can climb the Shark Valley observation tower for sweeping views of the national park.
When is the Everglades National Park open over the year?
The Everglades National Park is open all year round, 24 hours a day come rain or shine. You can visit during any season, so this is an easy excursion to fit into your trip to Miami.
What are the opening times?
Bear in mind that while the park itself is always open, some entrance gates close overnight. Independent day tours to the Everglades from Miami are easiest using the Shark Valley gate.
There is no vehicular access here after 6 PM so do factor this into your day trip schedule. The Shark Valley Visitor Center is open between 9 AM and 5 PM.
When is the best time to visit the Everglades National Park?
Dry season
While you can enjoy an Everglades day tour at any time of year, the dry winter season offers the most pleasant conditions. Between November and April, the temperatures are mild, and the humidity is less intense than during the summer. There are fewer mosquitoes too, which is always a bonus.
Winter is the ultimate time for wildlife viewing as the water levels drop significantly during this period. Animals congregate around the remaining watering holes, making them easier to spot. This is a superb time for bird watching too.
Wet season
If you want to avoid the crowds, you might want to consider visiting the Everglades in the wet season. It does rain quite a bit between May and November, and humidity levels are high, but bird and reptile sightings are still common.
This is a great time for airboat excursions as you can venture even deeper into the Everglades.
Are there any tours to Everglades Park from other cities in Florida?
Yes, there are tours departing from other cities in Florida:
Travel tips
Book your day trip from Miami to the Everglades in good time. It's one of Florida's most coveted excursions and places can sell out in the dry season.
If you're going on an airboat ride, take a waterproof bag for your camera to protect it from the spray.
Insect repellent is a good idea if you are heading into the Everglades during the wet summer season.
Wear lightweight clothing and comfortable footwear – this is especially important if hiking is on the agenda.
Lunch is included on the full-day tours, but you might want to take your own snacks on the shorter excursions.