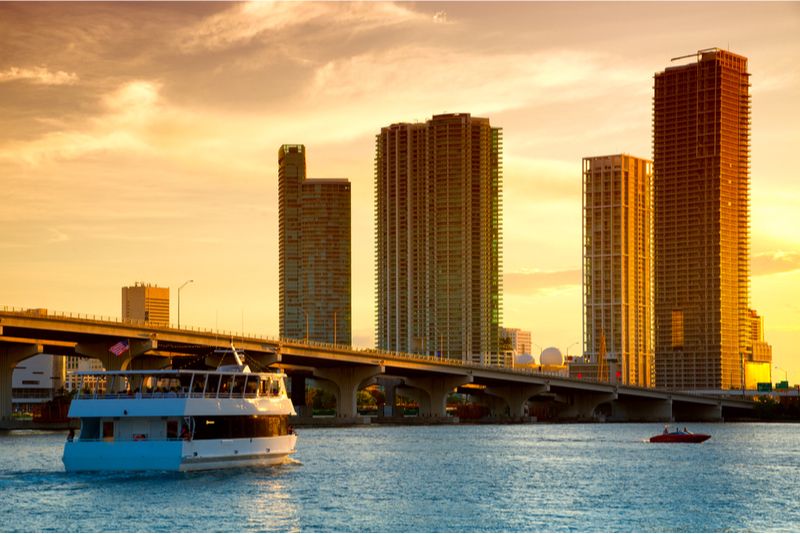 Cruising along Millionaire's Row is among the most coveted Miami tours. You'll have the best seats on the water as you sail through Biscayne Bay, with onboard narration revealing some of the celebrities who call these mansions home. P. Diddy, Shakira, and Gloria Estefan all own some prime real estate here, and you might even catch a glimpse of Jennifer Lopez or Enrique Iglesias too!
Finish up with superb views of the Venetian Islands, which boast some of the glitziest Miami neighborhoods. Boat trips usually last around 90 minutes, with enviable panoramas of the city skyline from the open-top deck.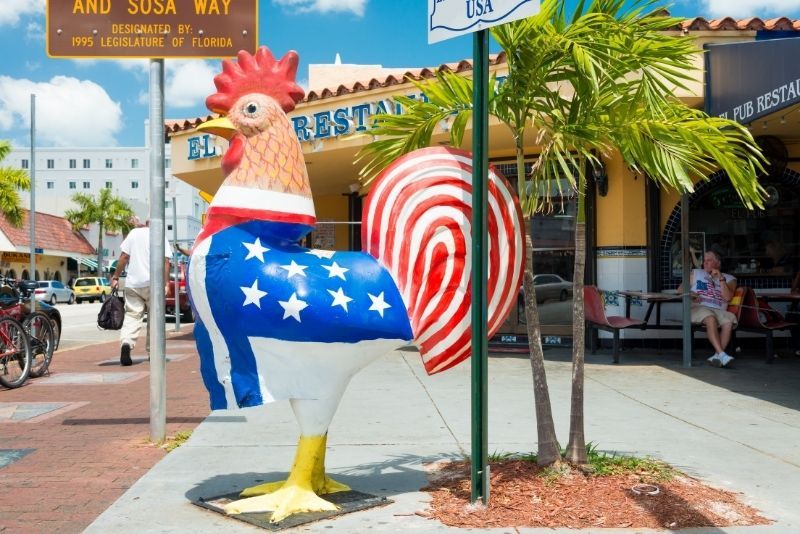 If you want to set your taste buds ablaze, then a food tour in Little Havana should do the job. Here you'll find Cuban flavors fused with American favorites to create some rather unique local delicacies. Stop at restaurants and bars to sample everything from cheesy empanadas to chicken plantain cups, with flan ice cream to finish. Then wash it all down with a tot of rum or glass of fresh sugarcane juice.
Free walking tours that take in the other sights of Little Havana are also available, where you just pay the guide what you feel the experience was worth.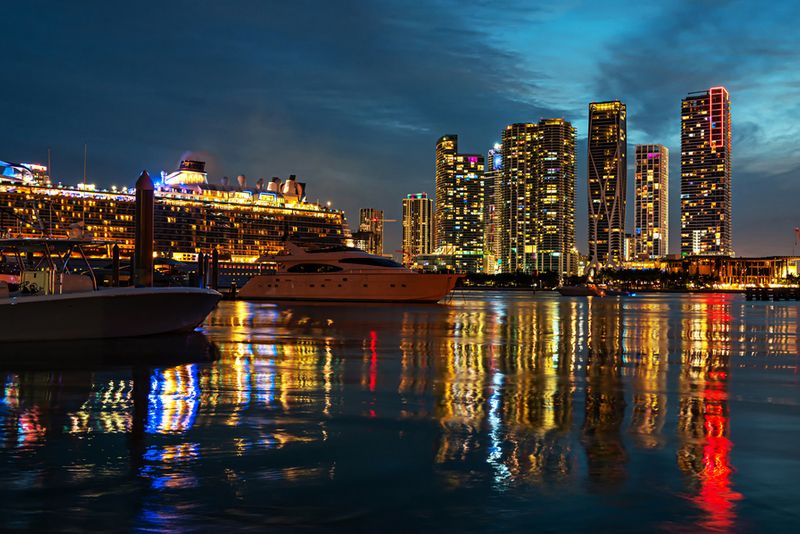 Up the romance with one of these special sunset Miami tours. Is there anything more perfect than drifting along the illuminated city skyline as the sun sinks slowly over the horizon, painting the scene in golds and reds? If you think Miami is buzzing during the day, you'll soon discover it really comes to life after dark!
These evening cruises take in South Beach as well as rows of celebrity houses all lit up against the night sky. There will be live commentary, so you know what you're looking at as you meander around the tranquil Biscayne Bay.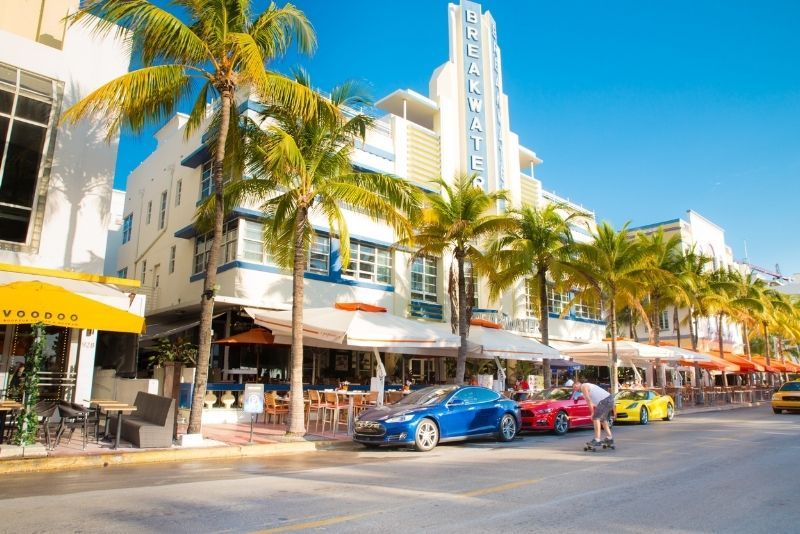 There are lots of Miami tours to enjoy, whether you want to explore the city on foot, by bus, with a bike, or even by Segway! Your guide will show you around some of the best districts, with lots of insider secrets to keep you enthralled. Visiting on a tour means you'll discover places far off the beaten tourist trail that you'd otherwise have missed.
Popular areas covered include Little Havana, Downtown Miami, and the Wynwood Art District. Some combination tours also offer a boat trip in Biscayne Bay, for a balanced introduction to Florida's shiniest city.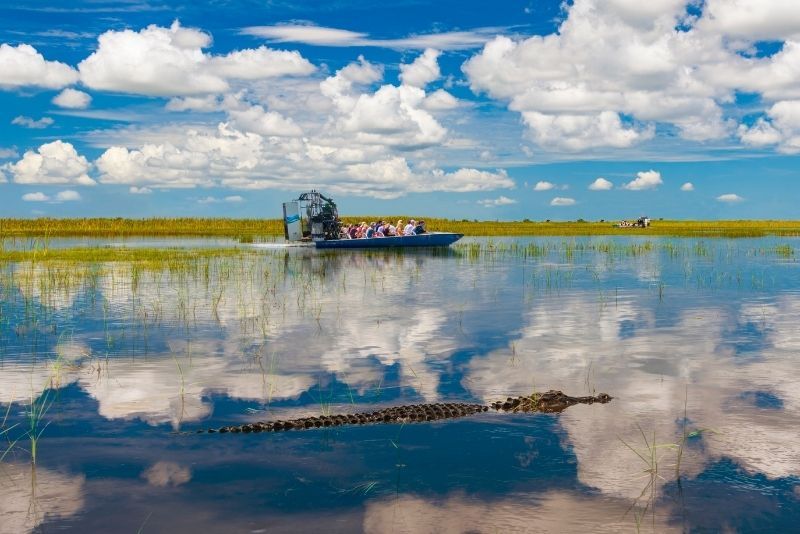 The famous Everglades National Park is just a short hop from Miami, so if you've ever wanted to meet an alligator, this is your chance! These remote swamplands are the natural habitat of turtles and birds as well as the ancient reptiles, so keep your camera handy as you glide along on an exhilarating airboat ride.
Some Miami tours to the Everglades also include a spectacular wildlife show, where you'll learn how alligators were nearly hunted to extinction before making a remarkable recovery. You can have your photo taken with a baby gator if you're feeling brave! Round-trip bus transport is included.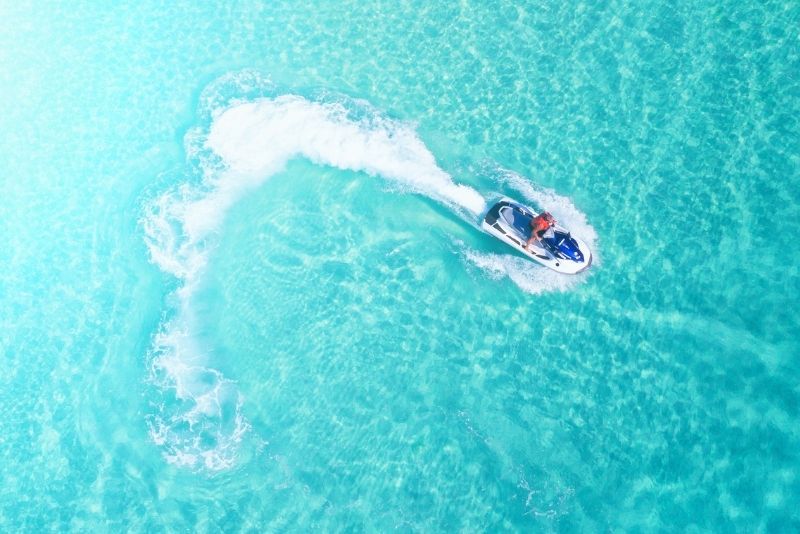 Thrill-seekers and water junkies will love zooming around the Miami shoreline by jet ski. You can go as fast or slow as you like, perfecting some turns as your confidence grows. The backdrop for this aquatic playground is of course the glittering skyline, giving you a privileged view of the city that few tourists get to experience. Watch out for dolphins as you power along, they might just come and say hi!
Biscayne Bay is protected from the currents and waves of the open ocean, so it's a great place to learn how to handle a jet ski.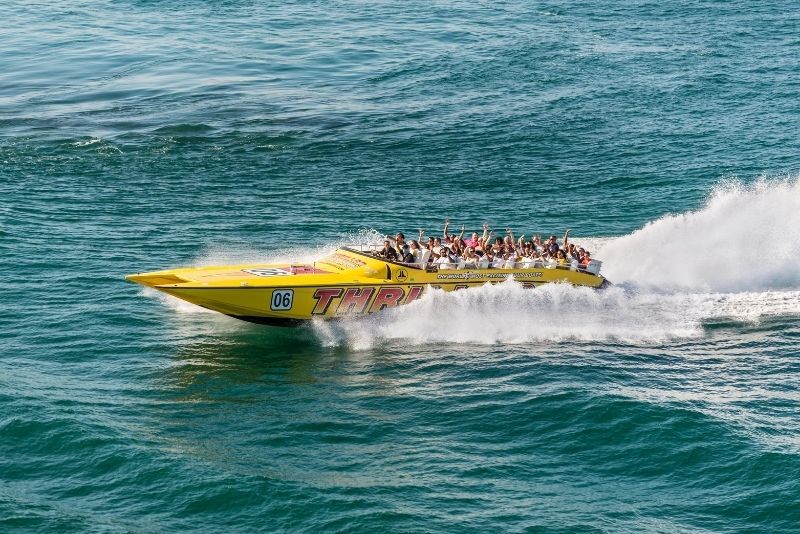 Hold onto your hats on a high-octane speedboat tour along the glitzy Miami coastline. You'll take in some of the most iconic city landmarks and enjoy prime vantage points for photos as you skim over the ocean surface. South Beach has never looked so good!
Your guide will point out the multi-million-dollar mansions on Star Island and at Miami Beach for a glimpse into the lives of celebrities who call this neck of the woods home. These thrilling Miami tours last around 45 minutes, which is plenty of time to admire the cityscape and get that adrenaline pumping.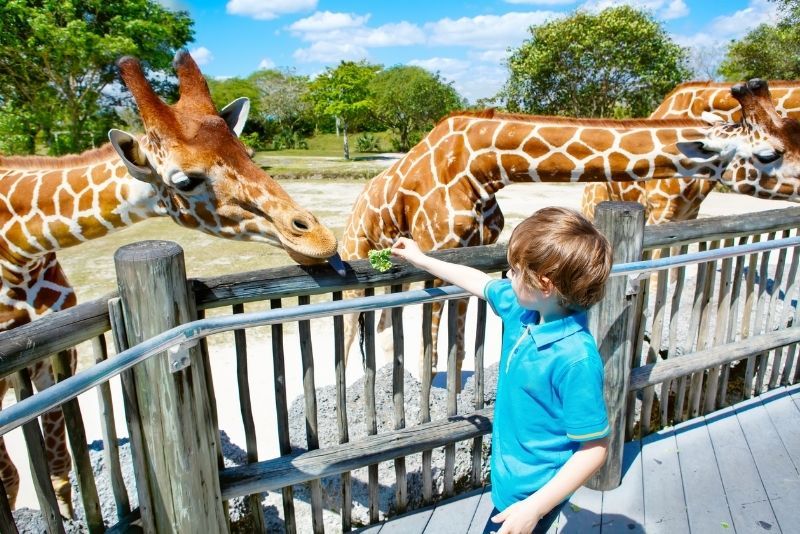 This one is for kids and animal lovers who want to meet their favorite icons up close. At 340 acres, Zoo Miami is the largest wildlife park in Florida, with over 3,000 creatures ready to welcome you.
You will spend the day wandering the park trails, observing everything from rhinos and elephants to camels and monkeys along the way. Get hands-on by feeding the giraffes or take in one of the zookeepers' talks for close encounters with some of the residents. If it's marine wildlife you're after, then you might also want to visit the Seaquarium during your vacation.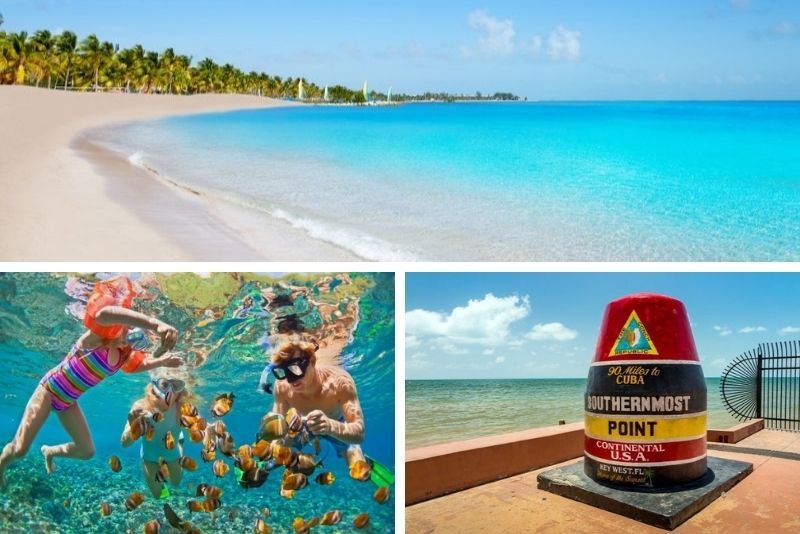 One of the best out-of-town Miami tours is the day trip to Key West. You'll enjoy a scenic journey through the Florida Keys, crossing no less than 34 islands and 42 bridges on the way! The famous Seven Mile Bridge is a real highlight of this excursion.
Famed for its beaches and outdoor activities, Key West is the perfect spot for a taste of island life. You can sunbathe, shop for souvenirs, and wander around town to take in the vibe. Or ramp up the action with optional activities like snorkeling, kayaking, and boat rides.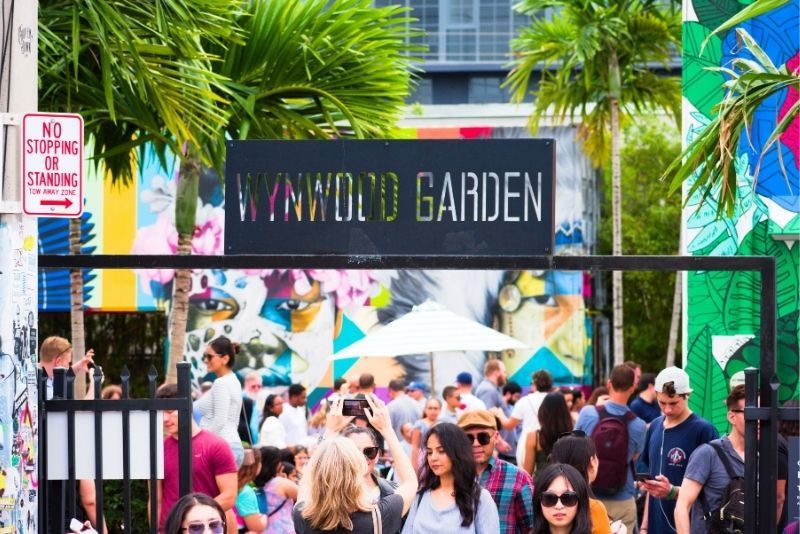 The vibrant Wynwood Walls are one of the most photographed spots in all of Miami. These colorful murals change regularly, and street-art tours are a great way to discover the meaning behind the pieces. Known as one of the most show-stopping outdoor street art museums in the world, the Wynwood District is an Instagrammer's dream.
The neighborhood is famed for its cutting-edge galleries, where up-and-coming local artists can display their work. It's a great place for a bit of souvenir shopping! Excursions are sometimes enjoyed by golf buggy so you can cover a greater distance and give your feet a break!
Planning your visit to Miami
About Miami
Miami is one of the world's most popular vacation cities, with some of the best beaches in Florida right on the doorstep. The climate is idyllic, with warm sun and fresh ocean breezes keeping the vibe chilled.
There's a distinct Cuban influence in town, bringing creativity and soul to the city streets. You can dive into the vibrant cultural scene on one of the popular Miami tours, or lounge around on the sand with a cocktail and some laid-back Latin beats. Whether you're into museums, fine dining, or sightseeing, Miami never fails to impress.
Good to know before arriving
Miami is a sprawling city, so don't even think about getting around on foot. The Metrobus network is extensive and widely used, while the popular trolley bus is a charming way to travel, and it's free too.
Downtown Miami is a great place to stay if it's your first time visiting the city. You'll be in the heart of the action with restaurants, museums, and bars at your fingertips.
If you're hanging around for a few days, it's worth getting your hands on a Miami Pass, which gives you discounted access to 25 of the best attractions in the city.
Places and experiences that cannot be missed
You'll visit some of the must-see city neighborhoods during your Miami tours, with the Design District, Wynwood, and Little Havana crowning the list. To get your bearings on arrival, we recommend taking a hop-on hop-off bus excursion.
If you are keeping an eye on your budget, there are lots of free things to do in Miami. Favorites include the Art Deco Museum and strolling down Ocean Drive. Meanwhile, for a glimpse into 20th-century Miami life head to the Coconut Grove area and visit the Vizcaya Museum. Finally, embrace the outdoors with a fishing charter or paddle with wild manatees on a kayaking tour.