Miami, with its flat terrain and year-round good weather is ideal for cycling and has recently been ranked as one of the most picturesque cycling cities. With a snow-free winter and no steep hills, cycling is possible throughout the year.
A bike tour in Miami is a great way to appreciate the beautiful outdoor climate and tree-lined streets and paved pathways.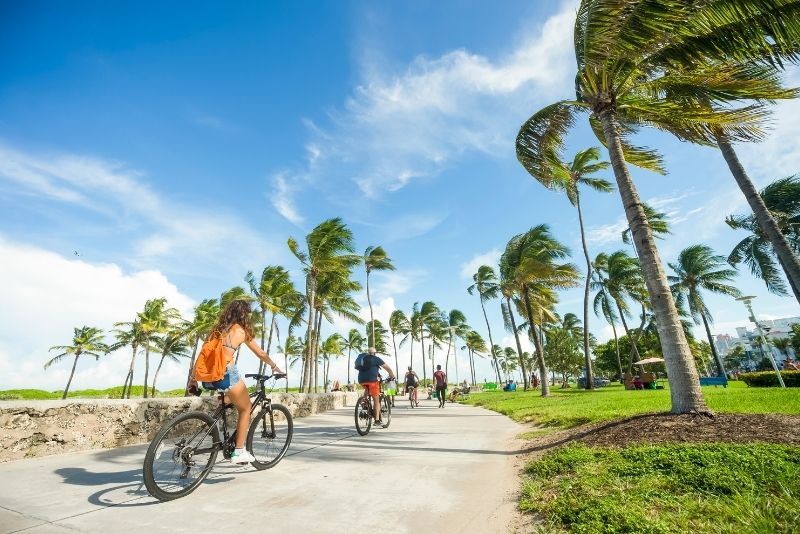 You will find below all you need to know about bike tours, one of the most fun outdoor activities in Miami.
What are the best bike tours in Miami?
In such a beautiful location, it can be difficult to decide where to cycle. Here are some of the best bike tours in the Miami area:
Art Deco bike tour in Miami
This 2-hour guided bike tour begins in the heart of South Beach and takes you on an 8.5 kilometer tour of the Art Deco district. On your tour you will see famous art deco sites including the Versace Mansion and the Bass Art Museum.
In hot weather you will have the chance to take a quick swim at Nikki Beach before enjoying a drink at Monty's Restaurant and Bar, a local favorite.
This tour is perfect for cyclists of all ages and fitness levels.
Small group South Beach by bicycle tour
In a group of no more than 15 riders, you can explore all that South Beach has to offer in the company of your guide. Enroute you will learn about the history and culture of South Beach and see some of the city's top sites, including the famous Art Deco District.
This tour is available to participants over 12-years of age.
South Beach dual trike tour
If you think you'd enjoy having some company as you pedal, a dual trike tour in Miami is perfect for you. Pedalling side by side, follow your tour guide past attractions that include South Pointe Park and Pier, Washington Avenue, Ocean Drive and the Miami Beach Boardwalk.
With ocean views on one side and the city skyline on the other, your guide will ensure that you are both entertained and informed. Towards the end of the tour, you will have an opportunity to stop for a refreshing drink.
South Beach history, art deco, crime & scandals bike tour
Experience Miami Beach from a different perspective with your local guide. On this bike tour, you can expect to visit some of Miami's hotspots while also ducking off the tourist trail to discover some of the city's local haunts and less known places of interest.
As you ride, you will learn more about Miami's with interesting facts about the history, architecture, movies, culture and true stories of crime and corruption.
This bike tour is suitable for people over the age of 18 but is not recommended for people with serious medical conditions or pregnant travelers.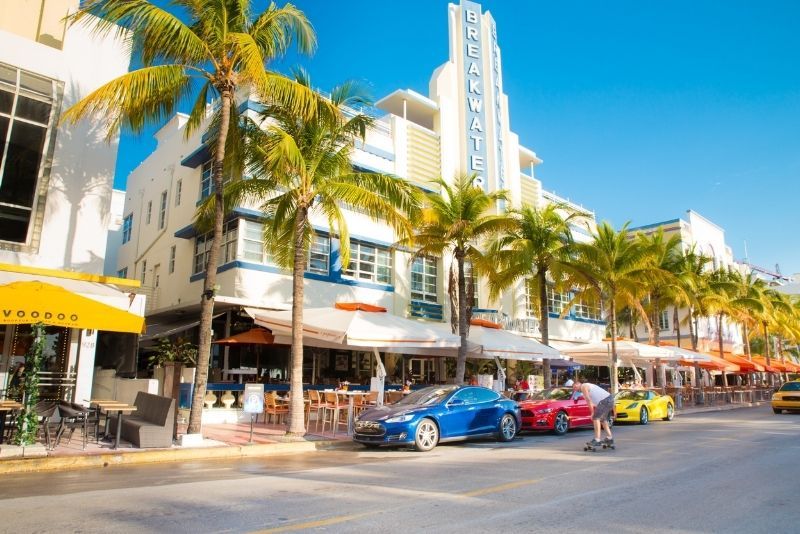 Private electric bike tour in South Beach
On this private bike tour, you will explore Miami's South Beach on electric bicycles. The tour is suitable for cyclists of all ages and takes you along the Miami Beach Boardwalk before heading off to explore the Art Deco District along Ocean Drive. Cycling through South Pointe Park you will be able to appreciate the panoramic views of the shoreline, Miami skyline, and Fisher Island.
Private scavenger hunt bike tour in Miami
If you're looking for something a little different, a private scavenger hunt with a group of 10-15 riders plus a pilot-guide is a lot of fun. With a 2-hour scavenger hunt tour in the trendy area of Wynwood, you can choose between a classic scavenger hunt, a drinking hunt or even spy vs spy with secret objectives to complete throughout the tour.
A minimum of 6 riders are needed for a tour to confirm with a minimum age requirement of 18 (16 with parental consent and 21 for tours including bar stops).
How much do bike tours in Miami cost?
A 2-hour Art Deco bike tour around the South Beach area of Miami costs from US$50 per person.
A small group tour of South Beach by bicycle starts at around US$55 per person.
The price of a South Beach dual team trike tour is US$80.
You will pay in the region of US$65 for a history, art deco, crime and scandals bike tour in South Beach, Miami.
A private electric bike tour in South Beach will cost around US$75 per person while a private scavenger hunt tour on a standard non-electric bicycle will cost from US$60 per participant.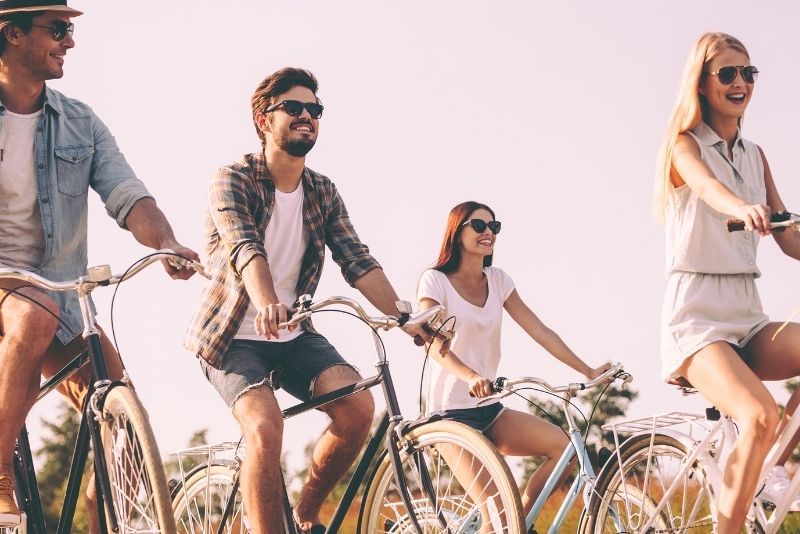 What is included in a bike tour in Miami?
On your bike tour in Miami you can expect to be accompanied by a knowledgeable guide, unless you have opted for a bike hire only excluding a guided tour.
The use of a bicycle and helmet is included for the duration of your tour, and some operators also offer bicycle hire if you would like to continue exploring Miami at your leisure.
Some tours include a drink along the way. Tips for your guide are not included in the tour price.
Where do bike tours in Miami start?
Bike tours in Miami typically start close to Miami Beach. Washington Avenue is a popular meeting point. For the private scavenger hunt bike tour, the meeting point is in Wynwood.
How long do bike tours in Miami last?
The average length of a bike tour in Miami is 1.5 to 2 hours. There are however, some tours that last for up to 3 hours.
When is the best time for a bike tour in Miami?
Miami has a great climate all year round, but autumn (September to November) and spring (March to May) offer great weather and smaller crowds.
Is it safe to take a bike tour in Miami?
Bike tours in Miami are generally considered safe, but it is necessary to remain alert while cycling. If you have a pre-existing medical condition, please check with the operator before starting your tour. Although bike tours take place at a leisurely pace, they are not recommended for people with back problems or a heart condition. If you have any allergies, you should carry your medication with you.
Are children allowed on a bike tour in Miami?
Some bike tours in Miami are family friendly and children are welcome. Other bike tours are only available to people over the age of 12 or sometimes 18. All tour participant's need to be confident bicycle riders.
What happens in case of bad weather?
If your tour operator cancels your tour due to bad weather, they will offer you a full refund or assist you with booking your tour on another day. The weather can get hot and humid in the summer months and you should take this into account when making your bike tour booking.
Which other outdoor activities can be done in Miami?
Travel tips
Wear comfortable clothes and flat closed shoes.
Bring sunscreen.
Drink plenty of water, especially on hot and balmy days.
Carry your camera in a protective case.
Pack your valuables out of sight.