Miami is home to an explosion of tastes, smells, sounds and sights, thanks to its diverse crowd from every corner of the world. Situated at the meeting point of the American continent, this vibrant city is a center for culture, the arts, and, more importantly, food.
Whether you've come to Miami for sightseeing, creative designs or beaches, a trip to this trendy coastal city wouldn't be complete without exploring its rich and varied food scene that has a distinct Latino flavor.
Food tours in Miami allow you to experience it all, and who knows, you might even learn how to order an empanada or mojito in Spanish by the end of your trip.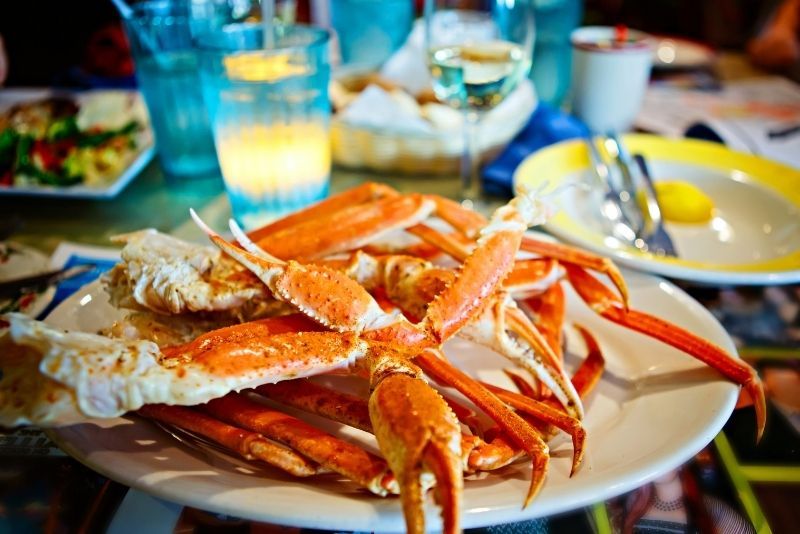 Here's all you need to know about the most delicious food experiences in Miami.
What are the best food tours in Miami?
South Beach food tour
This 3-hour guided food tour takes you on an exploration of various global culinary delicacies. You'll savor the hottest Cuban, Colombian, Italian and Jewish comfort foods, as you explore the cultural gem that is South Beach Miami. You can expect to marvel at architectural wonders, as you taste your way around Europe and the Americas on this exotic excursion.
Guided Little Havana food and walking tour
If you're looking to combine two experiences of Miami in one, then choose an organized Little Havana food and walking tour. Explore the Little Havana neighborhood's top attractions, as you embark on a sightseeing and food adventure.
Pause to take snaps of famed theaters, cultural institutions and beautiful street art with a number of pit stops at family-run Cuban restaurants along the way.
Private Little Havana food, culture and mojito tour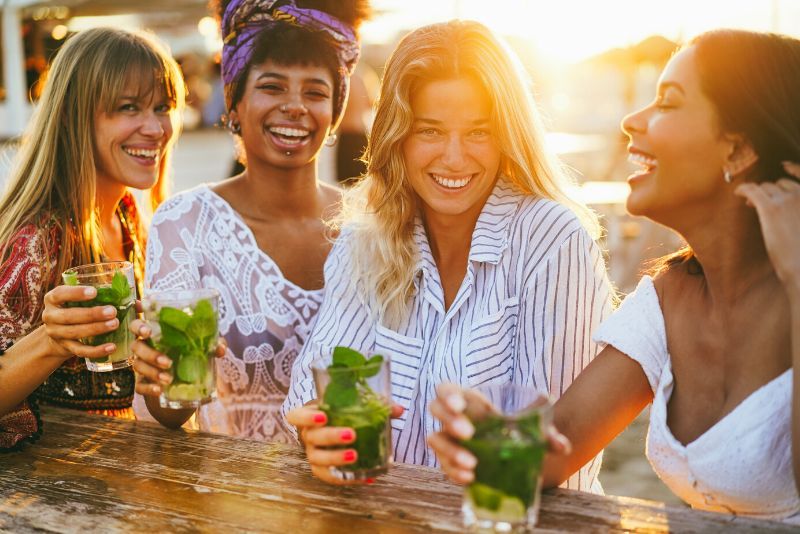 This 2-hour private food tour is perfect for those seeking to discover Little Havana in a more intimate fashion. Your personal guide will guarantee that you receive VIP treatment throughout your trip, as you experience a Latino infusion of cultures.
Discover social hangouts where the locals mingle, savor Cuban flavors and sip drinks at a familial restaurant. Learn about the rich cultural history of some of Miami's most significant landmarks.
Private South Beach and Art Deco tour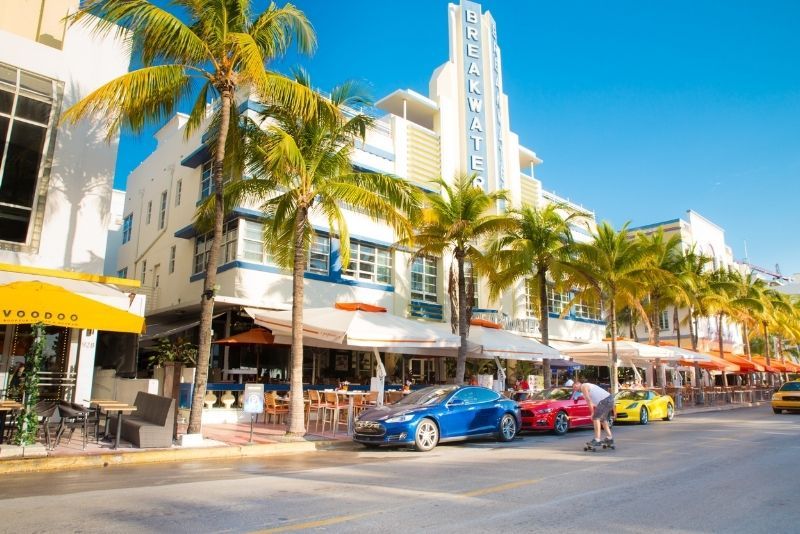 South Beach is an Art Deco paradise and this in-depth food tour of South Beach with your very own private guide on hand will show you the best Art Deco buildings that only the locals know about.
After sightseeing, you'll tuck into hefty portions of tasty grub from all over the world, while your guide teaches you about the cultural evolution of this fascinating part of Miami.
How much does it cost?
Miami food tours start around US$60 per person, and typically include a knowledgeable guide who will inform you about the cultural and culinary evolution of the city. You can expect plenty of food tastings during your trip.
A guided Little Havana food and walking tour costs around US$70 per person, and includes an expert local guide, a wide selection of Cuban foods to taste, a mojito, and an insightful cultural narration of the city.
The private Little Havana food, culture and mojito tour is priced at around US$100 per person, and comes with your personal expert guide. You will have, coffee and juice samples, snacks, and a cocktail, as well as entrance fees to galleries.
The private South Beach and Art Deco tour costs around US$130 per person, and includes food and drink tastings, as well as a private tour of South Beach's Art Deco district.
What is included?
Food tours in Miami include a sightseeing tour of the main cultural jaunts of the city aside from food and drink samples.
The majority of food tours in Miami offer the opportunity to try some of its world-class cocktails, most notably, mojitos. There are also juices and non-alcoholic beverages available for those that don't consume alcohol.
The culinary delicacies you can expect to savor on your food tour are varied, reflecting the multicultural essence of Miami. You'll sample everything from Cuban empanadas to Colombian coffee to Peruvian ceviche and Caribbean-style stone crab, among others. A number of excursions include a visit to an ice cream parlor touting Cuban-style ice creams.
Some food excursions also include entrance to various cultural institutions and galleries scattered across the city. You'll have a knowledgeable guide on hand to tell you tales about Miami's thriving communities and offer insight into the fascinating history and culture of this metropolis.
Where does it start?
Food tours in Miami begin at a number of different locations. The majority of food tours start at central, pre-determined popular meeting points such as Tavernas and the Bay of the Pigs monument on 8th Street. They tend to be conveniently located for all and are often situated fairly close to street parking.
How long does it last?
Food tours around the city of Miami that include food and drink tastings, and a guided cultural excursion typically last from 1.5 to 4 hours. Guided food and walking tours in Little Havana last for 2.5 hours
If you're seeking a more thorough tour that explores the city's top attractions, as well as secret spots in more depth, then it's best to take a tour that lasts around 3 to 4 hours.
When is the best time for a food tour in Miami?
Consider taking a food tour in Miami at the beginning of your trip. This way, you'll know what dishes and drinks to order over the duration of your holiday, as well as have the chance to tick off Miami's cultural highlights early on.
Take a food tour in Miami at either lunch or dinner time when you will have worked up a healthy appetite for the food tastings ahead.
Are there any combos available?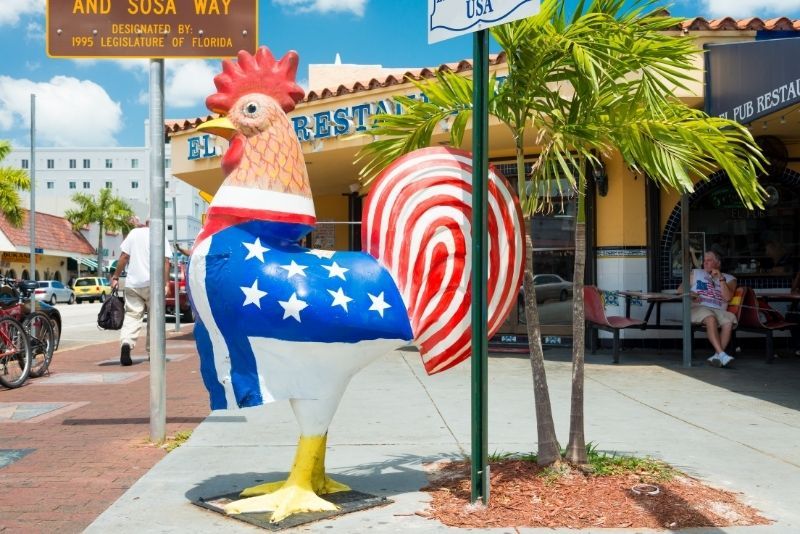 On this half-day audio tour, you'll embark on three different experiences in one trip. You can expect to dive headfirst into the Cuban lifestyle and culture as you mingle with locals. Join in on the fun and play a dominoes game, try the best Agua Maria ice cream in town and wash it down with an ice-cold mojito. If that wasn't enough to get your adventure juices flowing, enjoy a private audio tour of Little Havana's top attractions.
You can even have a cooking class of regional Indian or Cuban cuisine. It is an absolute must-try experience!
Latin cocktail lesson and tapas tasting in Florida
If you fancy learning to make cocktails from the best, then you can't go wrong with a Latin cocktail lesson and tapas tasting tour. You'll be experiencing Latino flavors hands-on, as you learn to make cocktails from the comfort of a backyard oasis.
The cocktail menu is seasonal to allow for the freshest ingredients and you'll wash down your mojitos and pisco sours with delicious global dishes, including empanadas and stuffed plantain. Non-alcoholic cocktails are also available.
Black history and food tour in Miami
Venture off the beaten track and experience the diversity of Miami on this Black history and food tour. You'll set off on your history adventure by discovering the city's Overtown District – a mecca for Miami's African-American and Caribbean-American population.
Follow your local guide to learn about the city's civil rights act, while you trace the footsteps of some of the movement's most inspiring figures, including Muhammad Ali. You'll polish off your tour with a delicious restaurant meal of Miami's quintessential 'soul food.
Travel tips
Come to your tour with an empty stomach, as portions often equate to the equivalent of a large meal.
Make sure you wear comfortable walking boots for venturing down the city's winding alleys.
Bring an umbrella in case you get caught in the rain during your tour.