Little Havana is the beating Cuban heart of Miami, with bustling restaurants, vibrant murals, and Latin music providing the intoxicating pulse. Hispanic culture is king in this fiery neighborhood where coffee and cigars go hand-in-hand with politics and street art.
The best way to get to know a place is through its food, which is why the cuisine here features on most Little Havana tours. Go with an open mind and an empty stomach and you'll have heaps of fun.
Where is Little Havana located?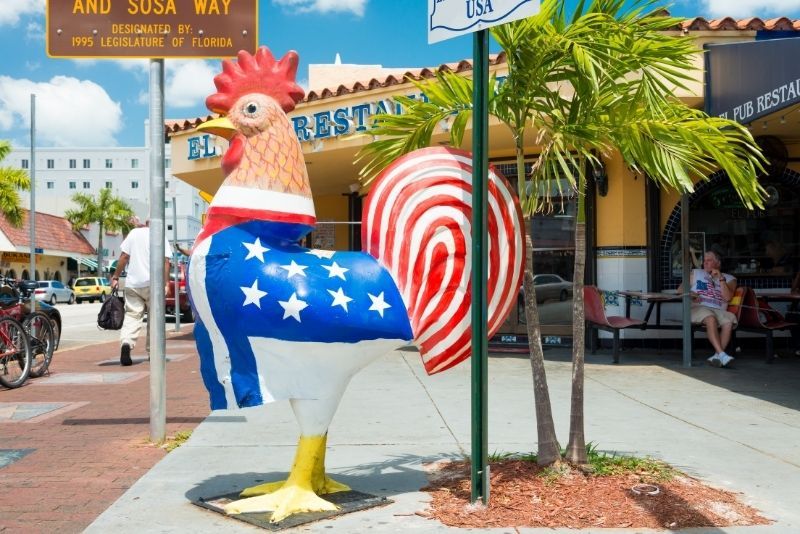 You'll find the district of Little Havana south of the Miami River, just west of Downtown Miami. The neighborhood centers on the main street, Calle Ocho, which is where you'll find the heart of the action.
It's easy to get to Calle Ocho from anywhere in Miami using public transport. As a guide, it's about a 25-minute drive from South Beach.
Once you're there, the most immersive way to explore is on a Little Havana tour with a local expert. That way you'll get the most out of your experience.
What are the best things to do in Little Havana?
Home to Cuban exiles and immigrants from South and Central America, Little Havana has a distinct Latin flavor. The culture here is alluring and welcoming, allowing visitors to throw themselves right into the heart of Little Havana life.
Here are the experiences you shouldn't miss:
Stroll down Calle Ocho
Calle Ocho – or Eighth Street – is the center of the neighborhood, and the place where most Little Havana tours start. This is where you'll find most of the restaurants, bars, and art galleries.
There's a Hispanic street festival held here every March, which is well worth attending if you're in the area.
Eat all the food
The food scene in Little Havana is world-renowned, and if you haven't sunk your teeth into a guava pasty or cheesy empanada, have you even really been?
The cuisine here has a distinctly Caribbean vibe, and you can try the different flavors on a walking food tour. Don't miss the pastries, chicken plantain cups, and the famous flan ice cream. Then quench your thirst with some fresh sugarcane juice or a hearty tot of rum.
Learn how to roll a cigar
Even if you're not a cigar connoisseur it's fun to learn the tricks of the trade and discover what goes on behind the scenes. Cigar rolling is an art, which you'll soon find out when you have a go yourself.
There are several small cigar factories dotted around the district, so pop into one and see what the hype is all about.
Pick up some domino tips
One of the most iconic locations in Little Havana is Domino Park, where groups of men, and sometimes women, gather to play the famous Cuban game. It can get quite intense and it's fun to watch as the players make their calculated moves.
Also known as Maximo Gomez Park, this popular haunt was named after a brave soldier who fought for Cuban independence.
What are the best tours to visit Little Havana?
There's a lot of choice when it comes to Little Havana tours. Foodies will be in seventh heaven with all the tasty trips on offer, while culture vultures will love learning about the life of the Cuban exiles who call this area home.
Guided food tour in Little Havana
Culinary walking tours are the most delicious way to discover what Little Havana is all about. This is a small group experience so you will keep costs down while meeting like-minded travelers.
During your excursion, you'll sample local Caribbean dishes and snacks at restaurants and cafes as you wander along Calle Ocho.
Cultural group tour in Little Havana
Food and culture are well and truly entwined in Little Havana. On this tour, as well as eating, you'll learn about the history and secret religious practices that make the place feel so authentic.
Visit Domino Park to watch a game and meet locals to hear their captivating stories of exile. Pop into the local cigar factory and sip a mojito as you jig along to live Cuban beats.
Private Little Havana food tour
Want to explore with your own personal guide and enjoy an in-depth introduction to local foodie delights? Then private Little Havana tours are the way forward.
The itinerary can be tailored to your interests, with a relaxed schedule so you can spend longer at the places you love.
Private street art and food tour in Little Havana
Combine all the best elements in Little Havana on these immersive excursions. You'll tuck into delectable street food, knock back a mojito or two, and do a deep dive into the cultural traditions that define the area.
is the underlying focus of this jaunt, with stops at architectural highlights and galleries thrown in for good measure.
Cigar and rum factory tour in Little Havana
Join forces with a local cigar expert and discover how these popular little pleasures are made as you tour the factory. Meet the individuals who have dedicated their lives to the art of cigar rolling, and maybe even have a go yourself.
You'll get to taste the local food as you head back out onto the streets, all washed down with some delicious Cuban rum.
What are the prices of Little Havana tours?
Guided food tours in Little Havana can cost as little as $12 per person, but most are around the $60 mark and include food and a guide.
Cultural Little Havana tours are $66 with food tastings and a local guide provided.
For a private walking tour expect to pay $95 for a two-hour jaunt including food. The excursion focusing on street art as well as cuisine costs $184 with snacks, drinks, and gallery entry covered in the price.
The cigar and rum tour is $149 per person and includes drinks, a guide, and entrance to the factory.
When is the best time to visit Little Havana?
You can enjoy tours of Little Havana at any time of year but do bear in mind it starts to sizzle from June onwards. Many people prefer to visit in spring or fall when temperatures are pleasant and days often sunny.
Little Havana tends to be less crowded over winter, so come between November and March for quieter streets and fewer tourists.
Travel tips
It's often hot in Miami so wear lightweight clothing and comfortable footwear suitable for walking the streets.
Little Havana tours are popular so do book ahead of your visit to avoid missing out. Making reservations online means you can compare prices and find the cheapest deals.
Go with an empty stomach as you'll be eating and drinking lots during your excursion.
Tips are not mandatory but are always appreciated by the guide if you've had a good time.