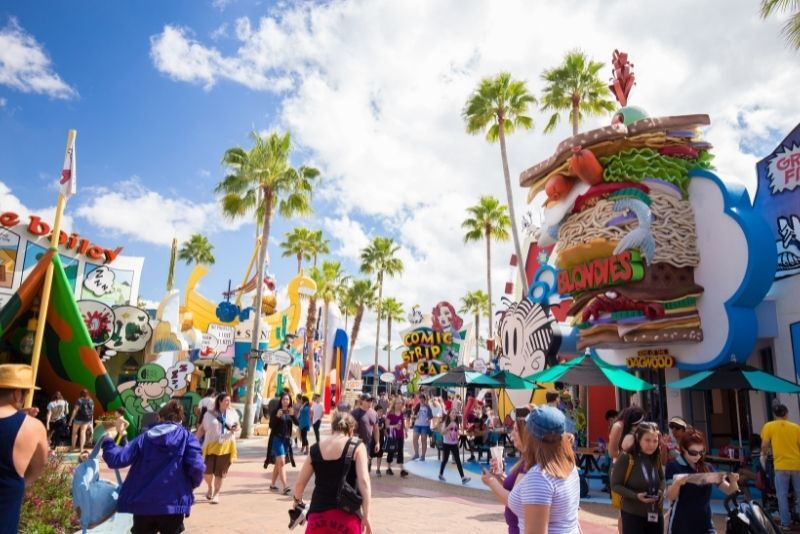 There's no doubt that Orlando is the theme park capital of the world. There are plenty of world-class theme parks here – and Disney and Universal Studios are just the beginning. Water parks, animal parks, and plenty of other wonders also await in the city where everybody has a chance to be a kid again.
There's more to Orlando than parks, though. Whether you're looking for amazing shopping, up for exploring some natural wonders, or curious to learn more about the stars at the Kennedy Space Wonders, Orlando won't disappoint.
If you're after fun tourist attractions in Orlando — whether you're a thrill-seeker, a nature lover, or a die-hard amusement park fan — we've put together 51 of the best the city has to offer.
1 – Magic Kingdom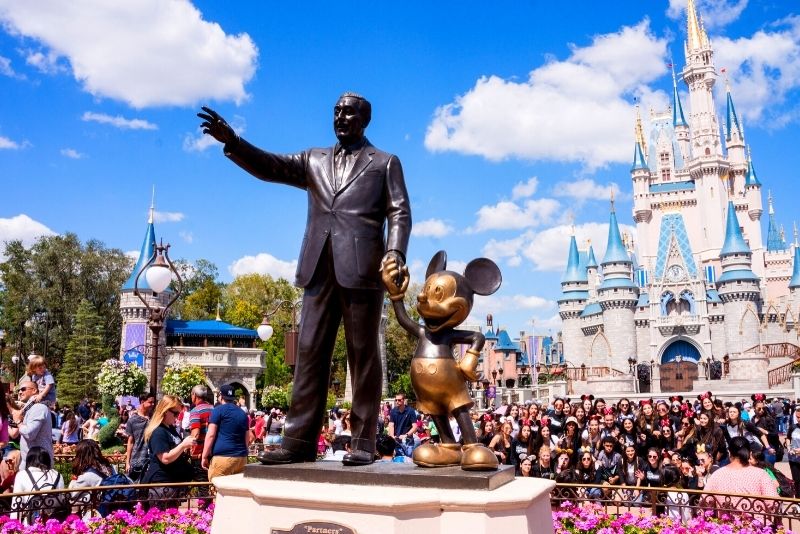 As one of the best Orlando theme parks and one of the top tourist attractions in Orlando, Magic Kingdom has plenty to offer. Imagined by Walt Disney himself, it is also the oldest of all the Disney parks in Florida and the most visited theme park in the world.
Also known as "The Happiest Place On Earth," Magic Kingdom's focal point is its Cinderella Castle, around which all the park areas or "lands" are set up. These include Main Street, with its many early-20th century shops and cafes, as well as Adventureland and its many famous attractions, including Pirates of the Caribbean and Jungle Cruise.
There are plenty of thrill rides here too, including log flume Splash Mountain, outdoor-indoor roller coaster Space Mountain, and train coaster Big Thunder Mountain Railroad. The park is also famous for its daily parade featuring all the biggest Disney characters.
2 – Disney's Hollywood Studios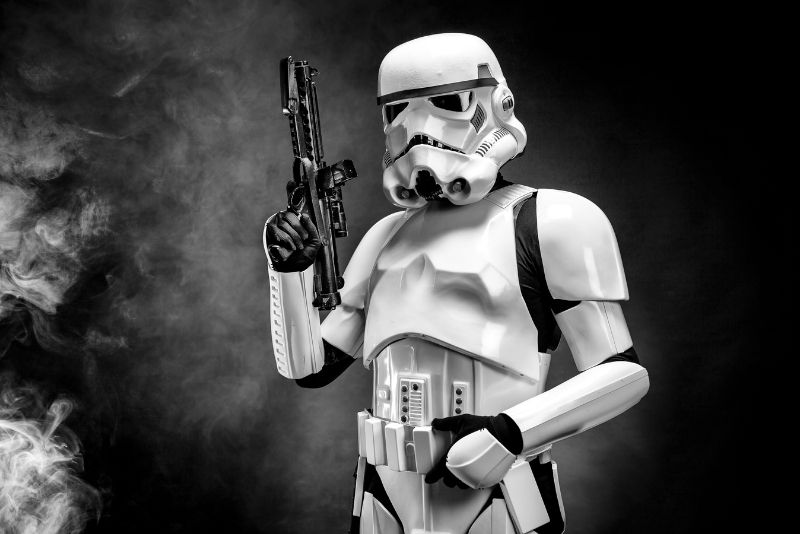 Formerly known as MGM Studios, this park is all about the magic of film, TV, and music. While there's a bit of everything here, the park focuses heavily on Hollywood's Golden Age, which falls between the 1910s and the 1960s.
Visitors can explore seven themed areas in the park. For example, Echo Lake is dedicated to major films like the Indiana Jones universe, and features live shows and adventures based on the movies. Star Wars has its own area, which offers simulators and a massive interactive experience that combines multiple ride systems.
The world of The Muppet Show is alive here, and there's a horror thrill ride based on The Twilight Zone and a dark indoor rollercoaster based on an Aerosmith's song.
Other areas feature outdoor amphitheaters, indoor theaters, and plenty of live shows.
3 – Animal Kingdom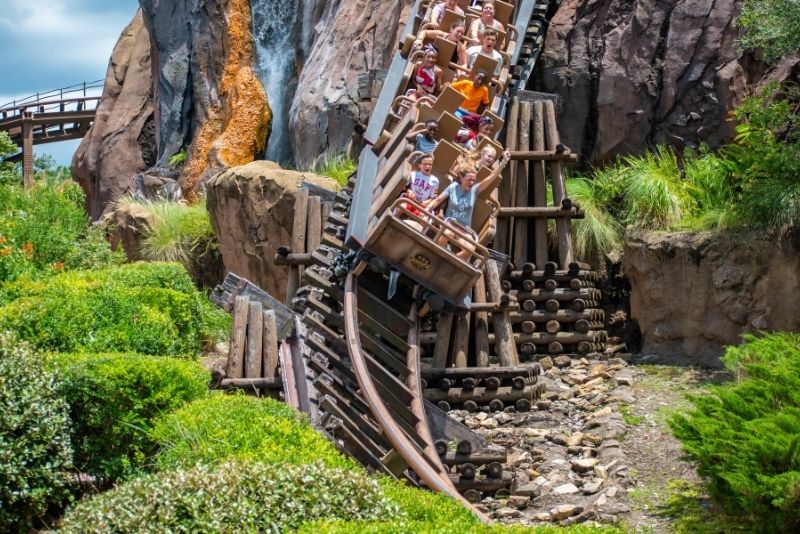 The largest of all the Disney parks, Animal Kingdom is also the only one focusing on animals and home to black rhinoceroses, hippos, zebras, African bush elephants, and gorillas.
Animal Kingdom is divided into seven areas, starting with the main entrance section filled with animal exhibits, a cafe, and a number of animal exhibits (don't miss the giant anteater!).
From there, visitors can move on to the rest of the park, which features attractions like a trip through the African savanna on a safari vehicle and a ride on the Wildlife Express Train through the educational and habitat areas.
The Asian region of the park features a steel roller coaster, a river rapids ride, and a live bird show. Visitors can also explore prehistoric beasts in DinoLand and catch a musical, ride a carousel or have something to eat in one of the many animal-themed restaurants.
4 – EPCOT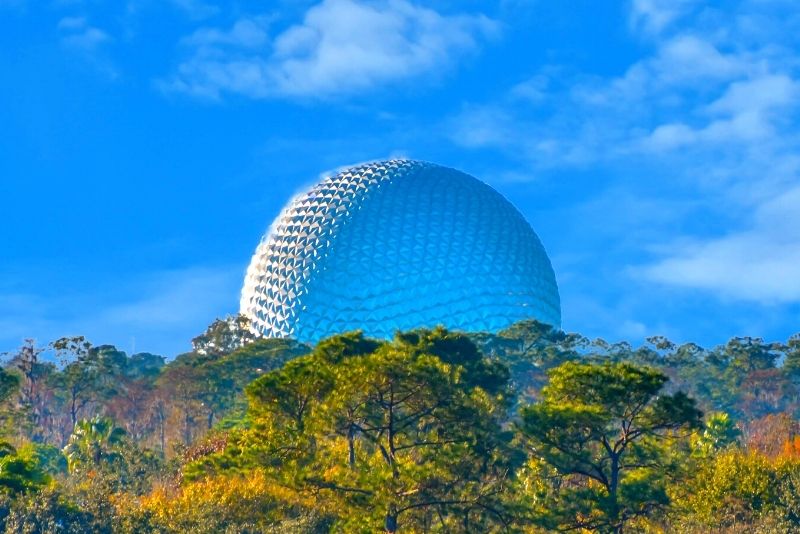 EPCOT's original design goal was always to present "a community of tomorrow." As such, the park is always changing and evolving – but still remains near the top of the list for fun things to do in Orlando – and new exhibits and attractions are added all the time.
The World Celebration area, where the famous silver geodesic sphere is located, serves as the center of the park and also houses one of the most popular attractions, Spaceship Earth.
The park is divided into four areas that offer 3D shows and 4D films, virtual reality games, the chance to take a boat tour through a real greenhouse, a hang glider simulator, and interactive shows. There are also plenty of thrills to be had, including a centrifugal motion simulator ride, roller coasters, and high-speed rides.
There's plenty of live entertainment in the park, including bands and music from different countries, parades, and acrobats.
5 – Disney's Blizzard Beach Water Park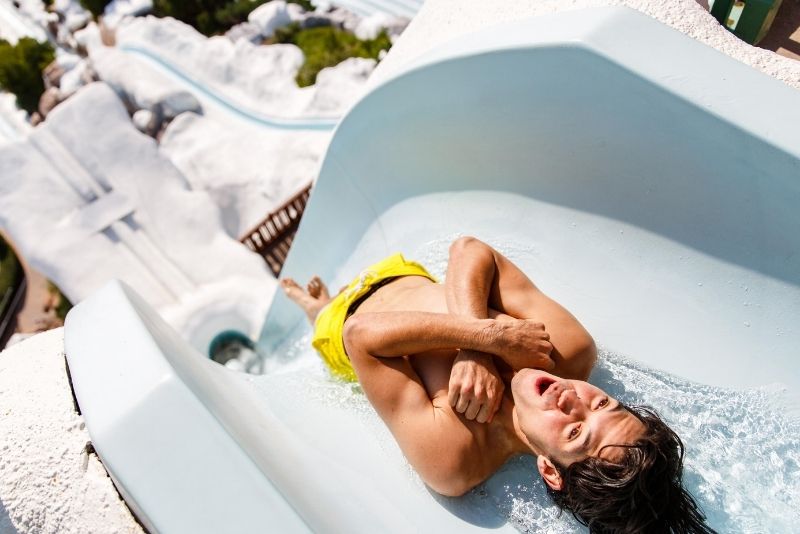 Disney's Blizzard Beach is a completely heated water park, where all pools and slides keep their water at a steady 27 °C. The entire park is designed around the artificial 27-meter-tall Mount Gushmore and divided into three sloping areas.
The red slope area is home to the park's rapids, which run through enclosed tube slides that are almost 200 meters long. The purple area features double tracks on most attractions, which are perfect for racing. Their Downhill Double Dipper is a one-of-a-kind racing tube slide where guests can reach speeds of up to 40 km/h. This area also features flume slides and an eight-lane slide.
The green slope features the park's main attraction: a 37-meter tall slide where riders can reach speeds of up to 97 km/h. There's also the longest "family white-water raft ride" in the world at over 420 meters.
6 – Disney's Typhoon Lagoon Water Park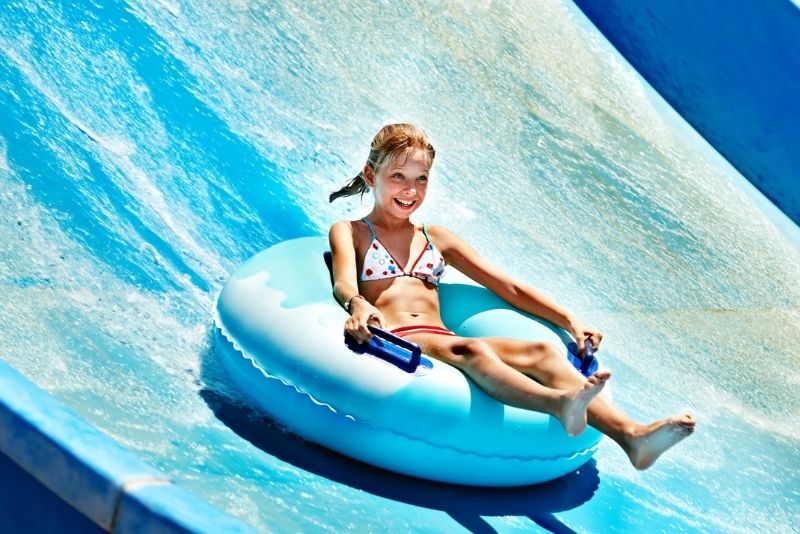 Considered as one of the best Orlando water parks, Disney's Typhoon Lagoon Water Park offers plenty of attractions, water slides, and one of the largest wave pools in the world.
The park is designed around a typhoon theme and features plenty of "storm-like" features, including a 15-meter-tall geyser that erupts from the top of Mount Mayday every 30 minutes. The park offers speed flume rides that can reach speeds of up to 63 kph, water coasters, and body slides that drop riders from a three-stories height.
Raft rides, sandy beach areas, a 640-meters-long "lazy river," and tidal pools. In addition to two designated picnic areas, visitors can also try many snack carts throughout the park.
7 – Orlando Science Center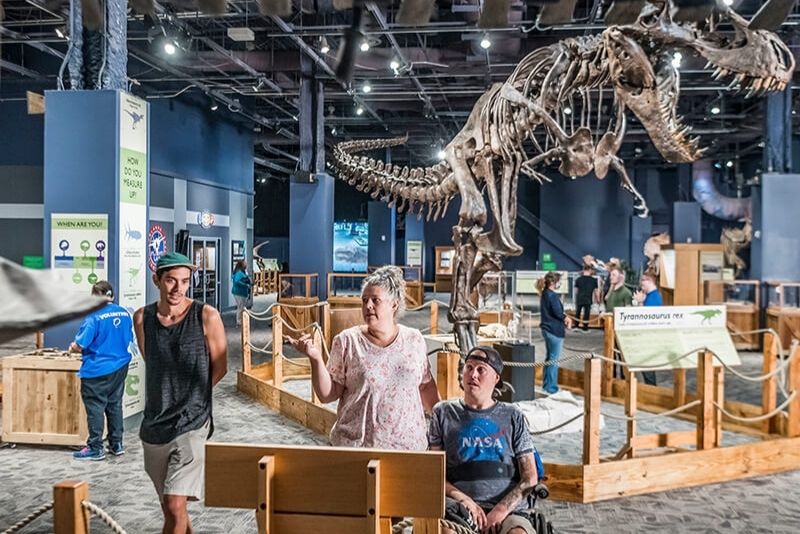 Just as much fun for kids and adults alike, this hands-on interactive science museum explores all forms of science and technology. The spaces are separated into exhibit halls covering different aspects of science – from the prehistoric world of dinosaurs to our planet to science fiction's real science.
Visitors will be able to launch air rockets, learn about Florida's native and invasive species, explore holograms and teleportation principles, and "tour" the solar system.
The Orlando Science Center has two theaters. In the first one, a 740-square-meter, the 180-degree screen offers an immersive experience that brings you right into the world of nature and science. In the second one, you'll be able to catch live science shows.
8 – The Wheel at ICON Park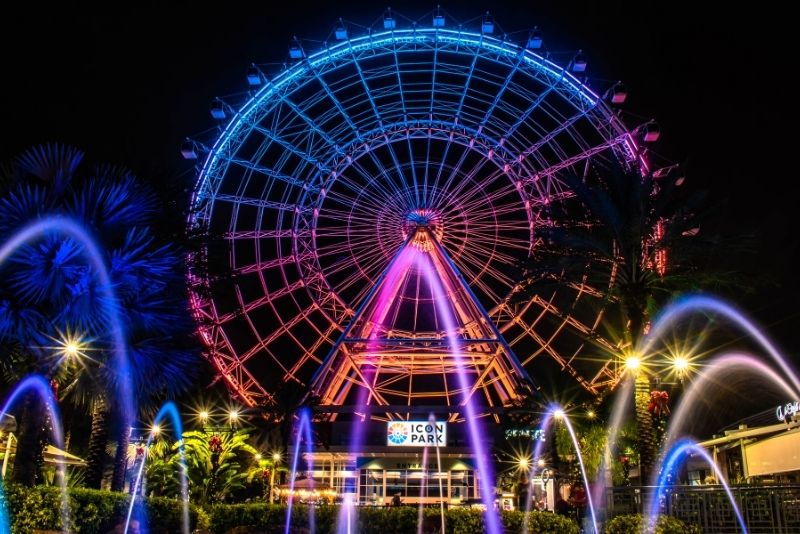 There's no better way to see Orlando that from up high. And there's no better place to see it all than from the 122-meter-tall Ferris wheel at ICON Park. Step into the air-conditioned, all-glass gondolas for an 18-minute ride that gives you stunning views over Universal Studios, Disney World, and Downtown Orlando.
Come back at night for a stunning display of colors from the wheel's 64,000 LEDs.
Once off The Wheel, take some time to explore ICON Park. There's plenty of shopping and over 40 restaurants here, as well as seven different attractions, including a small railroad that travels around the park.
9 – Central Florida Zoo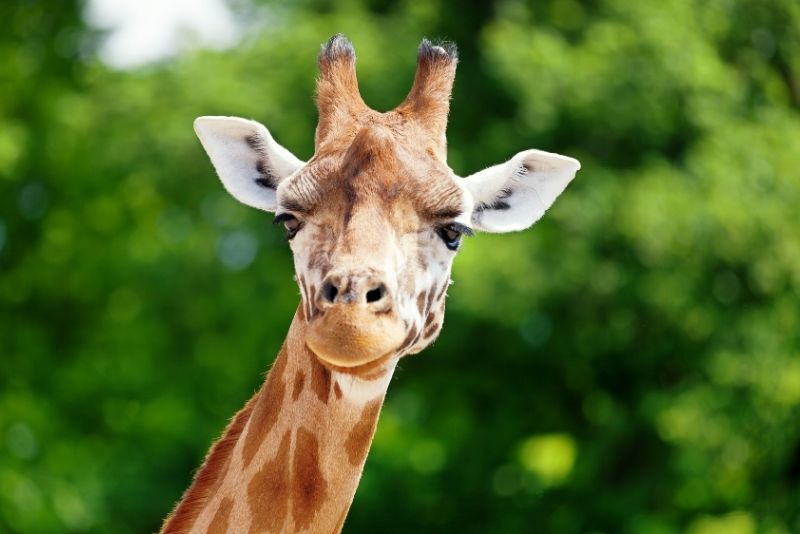 Located just north of Orlando, the zoo focuses heavily on conservation and offers many educational programs.
The 116-acre space is home to around 400 animals, including many large mammals (Florida black bears, cougars, and cheetahs), reptiles, a number of tropical birds, and a number of unique invertebrates, such as the giant African millipede and the Chilean rose tarantula.
Additional attractions include an aerial adventure course, a carousel, and a small splash park. Visitors can attend giraffe feedings, pet a playful one-horned Indian rhino, or attend wildlife photography workshops.
10 – Orlando Museum of Art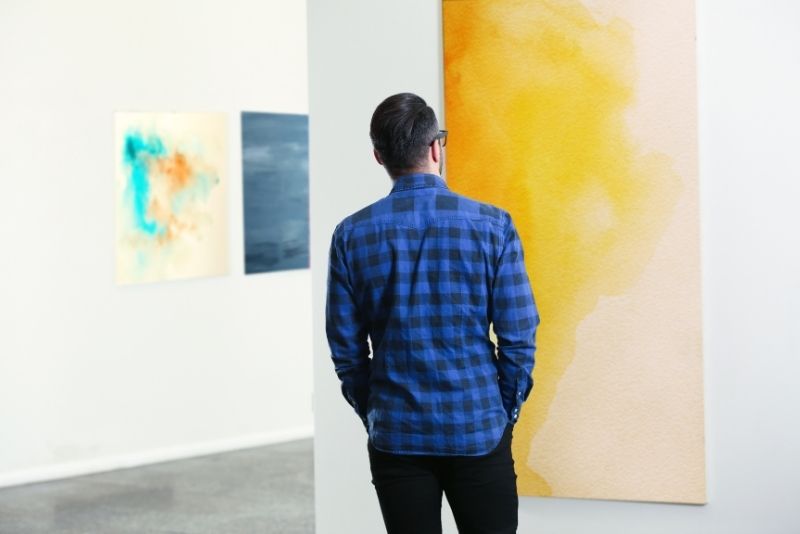 There are plenty of fun things to do in Orlando besides theme parks and this art museum is a great example.
The Orlando Museum of Art's permanent collection is rich in American art (covering the period from Colonial times to the 1960s), while the Art of the Ancient Americas collection features pottery and textiles. The contemporary collection features an extensive list of graphics and prints.
The African art collection, which focuses on "visual language," is particularly stunning. Each piece tells a story about the artist who created it – whether that's a special headdress from a hunter in Uganda or a beaded apron worn by the Ndebele women to show they are married.
In addition to rotating series of temporary exhibitions, the museum also offers art appreciation classes, lectures, and film screenings.
11 – Everglades Airboat Tour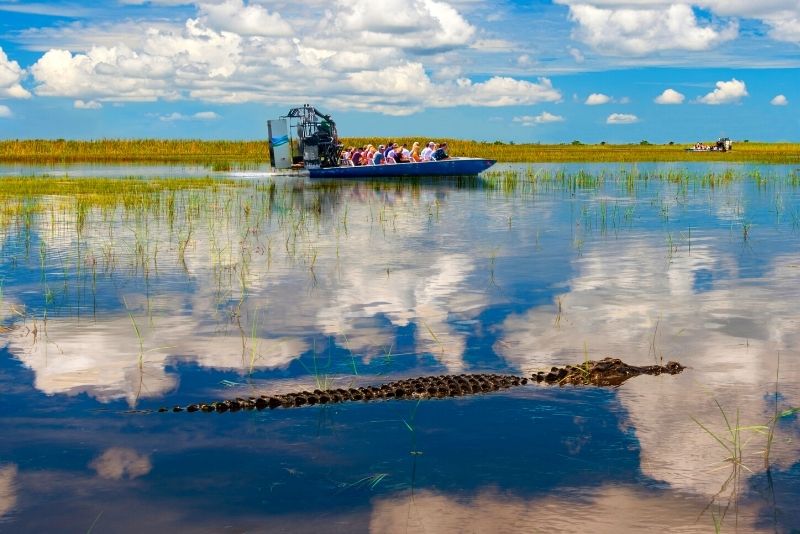 The Everglades are one of Florida's most unique ecosystems. Consisting of tropical wetlands and sawgrass prairies, the Everglades are home to over 350 species of birds, threatened species like the West Indian manatee, and plenty of crocodiles.
Touring the Everglades is an experience you'll never forget. And doing so in an airboat just adds to the fun. Speed across swamps – there are over 4000 acres of protected swamps and marshes in the Everglades – looking for wildlife and learning about the history of the area and the species that call it home.
There are different airboat tours available – from one-hour tours to all-day tours that combine several local attractions (such as seeing manatees) with an airboat adventure.
12 – Universal Orlando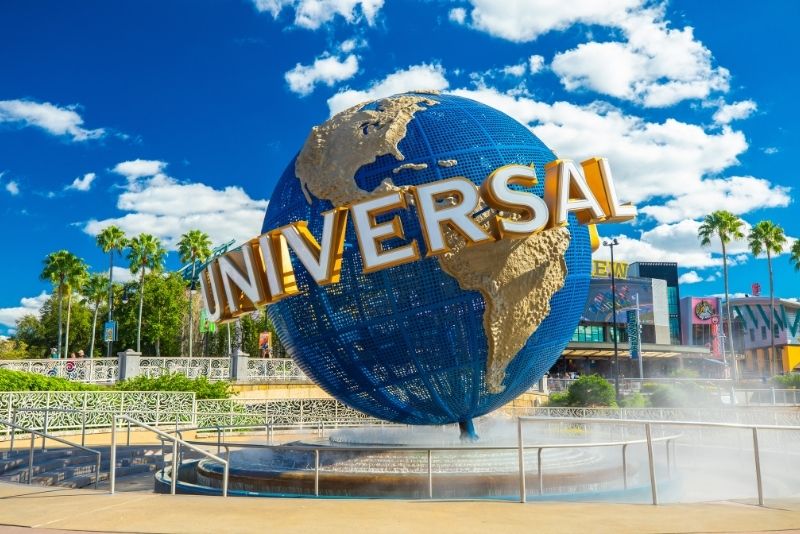 Universal Orlando is actually two parks in one: Universal Studios Florida and Islands of Adventure. Although offsite, Volcano Bay water park and the Universal CityWalk area are also part of the park.
The oldest of the two parks is the Universal Studios, where all rides and attractions are based on movies. Walk the subterranean vaults of Harry Potter and the Escape from Gringotts, ride the Hogwarts Express, experience the magic of E.T., and fight it off alongside the Transformers in a 3D adventure.
There's also a Simpsons ride and plenty of rides and attractions for the little ones, including the kid-friendly Woody Woodpecker's Nuthouse Coaster and the Despicable Me Minion Mayhem motion simulation ride.
Universal Studios runs special events throughout the year, including Halloween Horror Nights and a Mardi Gras event between February and April. They also have eight ongoing shows throughout the day, including a live show featuring animal actors from movies and TV, musical acts, and parades
13 – Islands of Adventure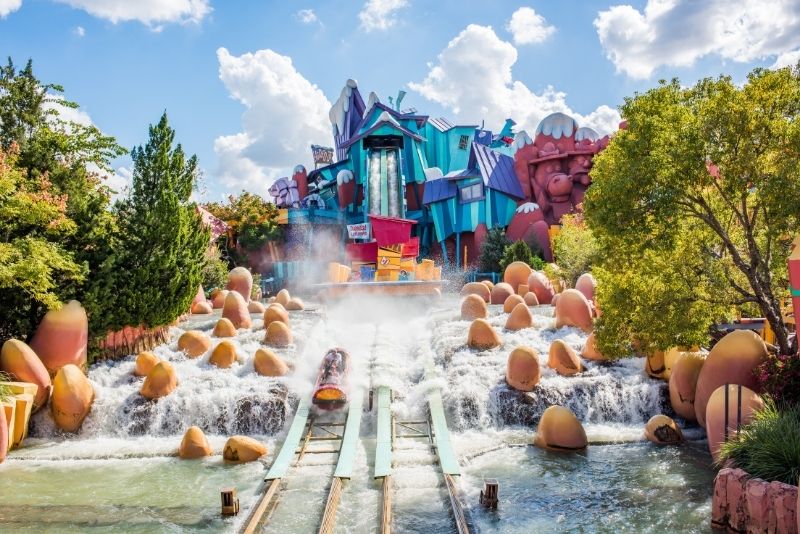 The second park in the Universal Orlando world, Islands of Adventure also pays homage to movies, but with a stronger focus on thrill rides. The star of the show is Jurassic World VelociCoaster, which features a 47-meter fall and a maximum speed of 110 km/h.
There's also Doctor Doom's Fearfall, which shoots riders up in the air at massive speeds, and the Jurassic Park River Adventure, a thrill water ride with a 26-meter drop.
Don't miss the park's live shows, which feature singing frogs, an exciting adventure featuring lasers and flame effects (Poseidon's Fury), and a Dr. Seuss musical for the younger visitors.
14 – The Wizarding World of Harry Potter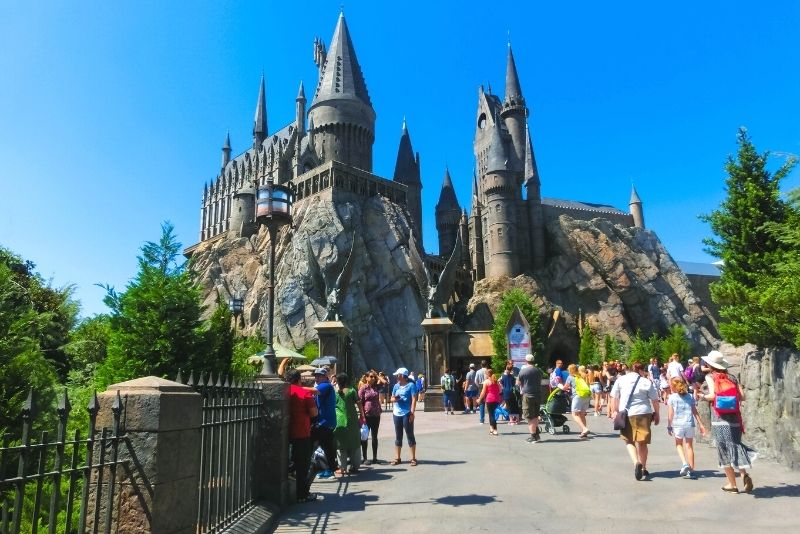 For fans of Harry Potter, the themed areas at Islands of Adventure and Universal Studios Florida are a dream come true. Visitors will step into a re-creation of Hogwarts School of Witchcraft and Wizardry, ride the Hogwarts Express and the Flight of the Hippogriff steel roller coaster, and travel back to Hogwarts Castle via a motion-based dark ride.
The fun doesn't stop with the rides, either. You can actually go shopping at Hogsmeade and grab some food or a Butterbeer at one of the themed pubs or restaurants. Make sure you pick up some Harry Potter merchandise and stop for a selfie in one of the many hidden turns and corners of the wizardly world.
15 – Volcano Bay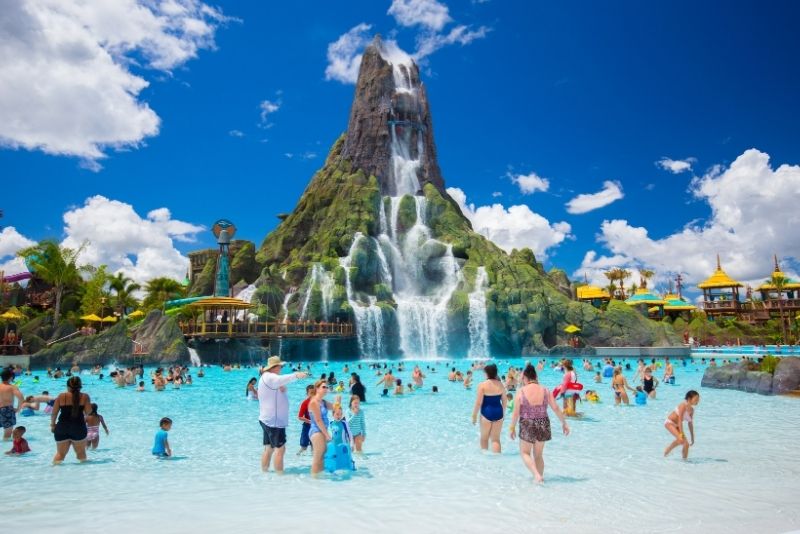 Part of Universal Orlando Resort, this volcano-themed water park offers plenty of fun rides, including a wave pool, lazy river, and rapids.
The center of the park is Krakatau, a 61-meter artificial volcano that holds the park's tallest slides. At 38 meters tall, the Ko'okiri Body Plunge is also the tallest of its kind in the country. A water coaster takes riders inside the volcano and there are also multi-passenger rafts available for calmer adventures.
Visitors can rent private cabanas during their visit, where they'll find seating, a small fridge, and concierge services, so you can take breaks in peace in between all the adrenaline rides.
16 – Harry P. Leu Gardens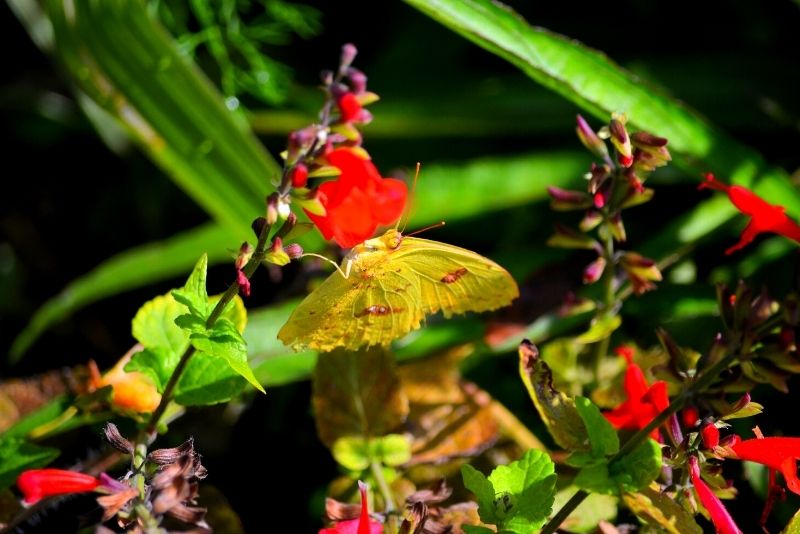 With over 50 acres of greenery, landscaped gardens, and trails, the Harry P. Leu Gardens urban oasis features temperate and tropical plants – from palms to azaleas to camellias, camphor trees, and 200-year-old oaks.
The Leu House Museum is also within the gardens and is a great example of turn-of-the-century Florida living. Visitors can join guided tours and discover the surrounding gardens, home to many outdoor sculptures.
The gardens also have a non-lending library and a great gift shop where you can pick up garden accessories and unique gifts. Visitors can join a Geocaching treasure hunting adventure or attend one of the many events, including outdoor movie nights, live concerts, and special plant sale markets.
17 – WonderWorks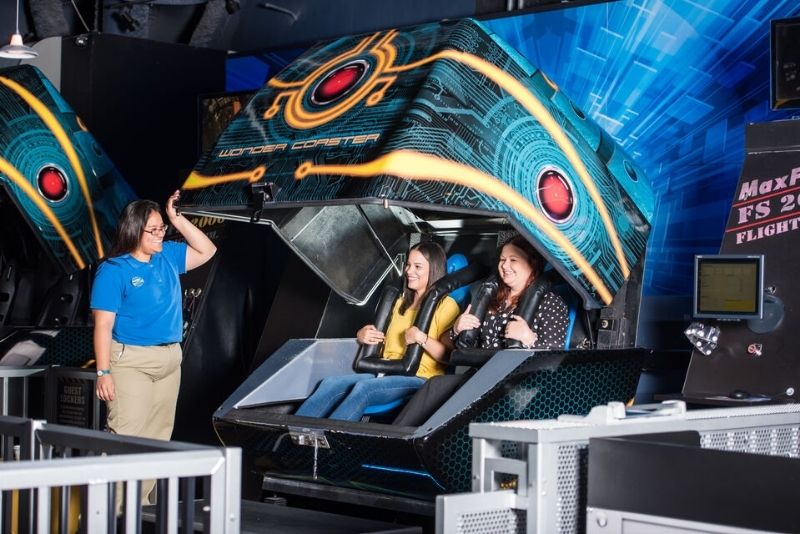 Described as an amusement park for the mind, WonderWorks is filled with interactive science exhibits that will both entertain and educate visitors of all ages.
The center is divided into six main zones covering extreme weather, physical challenges, space, lights and sound, and art. There's also an Imagination Lab, where the youngest visitors can learn basic science principles.
See a Tesla coil in action, feel an earthquake, and experience category 1 hurricane-force winds. Visitors can also lie down on a bed made out of 3500 nails and try out a life-size replica of an astronaut suit.
There is a virtual roller coaster, a glow-in-the-dark indoor ropes course, a laser tag arena, and a 4D simulation ride for those looking for more thrills.
18 – Amway Center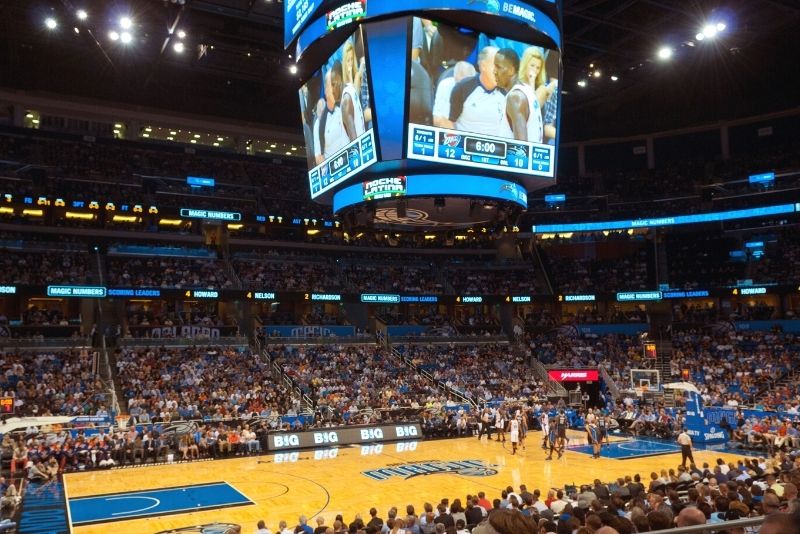 Orlando's legendary indoor arena opened in 2010 and it has quickly become one of the most exciting tourist attractions in Orlando.
The space is now home to the NBA's Orlando Magic but it's also extensively used to host other sports events, including professional wrestling, ice hockey, and mixed martial arts.
With an arena space that can sit over 16,000 people, this is also a favorite venue for concerts. Some of the biggest names in music – including Dua Lipa, Lady Gaga, and Taylor Swift – have performed here. The space also hosts exhibitions and other major events throughout the year.
The arena offers state-of-the-art technology that includes over 1,000 high-definition monitors and 60 private suites. There are plenty of options to grab a bite or a drink here, including a rooftop bar and a number of food trucks. During certain events, there are also pre-show dinner options available.
19 – Madame Tussauds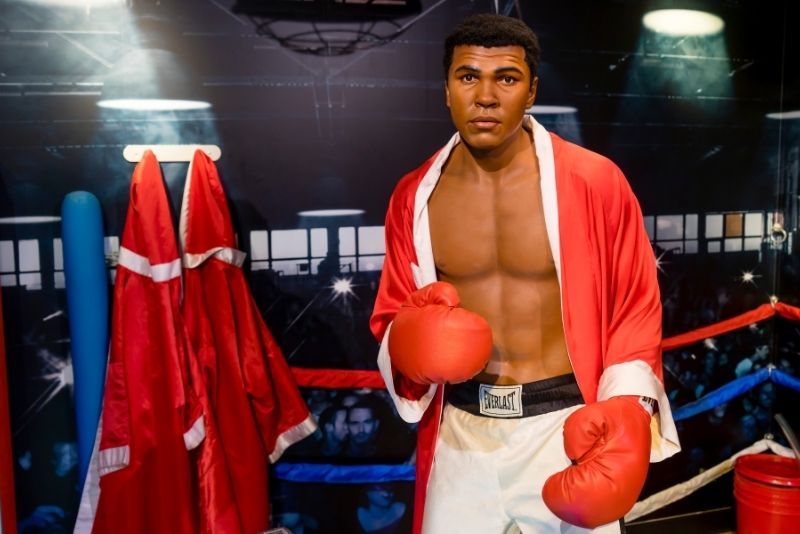 If you've never been to a Madame Tussauds museum before, you've been missing out. With a full floor of famous faces on offer, the Orlando branch is a great place to start.
Join The Justice League in their fight to save the world, join pop icons and A-listers on stage, or pose net to Marilyn Monroe and Taylor Swift for a selfie to remember.
In addition to the usual wax figures, the museum also offers a few interactive experiences where you have a chance to see behind the scenes and see how the figures are made. Touch, pose, and photograph to your heart's content in this fun museum.
20 – Ripley's Believe It or Not! Orlando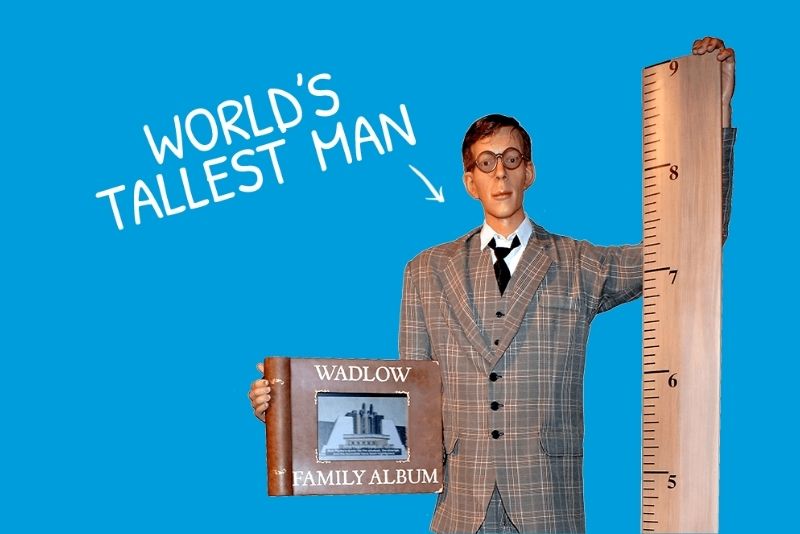 Robert Ripley's large collections of the odd and the unusual have fascinated families for decades, and the Ripley's Believe It or Not! branch in Orlando is no exception.
With almost 1,000 square meters and 16 galleries filled with interactive experiences and exhibits that you won't believe are true, this fun museum will keep entertained for hours.
At the Orlando museum – built to look as if the building is disappearing into a giant sinkhole – you can see an authentic vampire killing kit, animal oddities, a section of the Berlin Wall, and real dinosaur eggs.
The special Florida Gallery offers unique local exhibits, including ancient alligators.
21 – Sea Life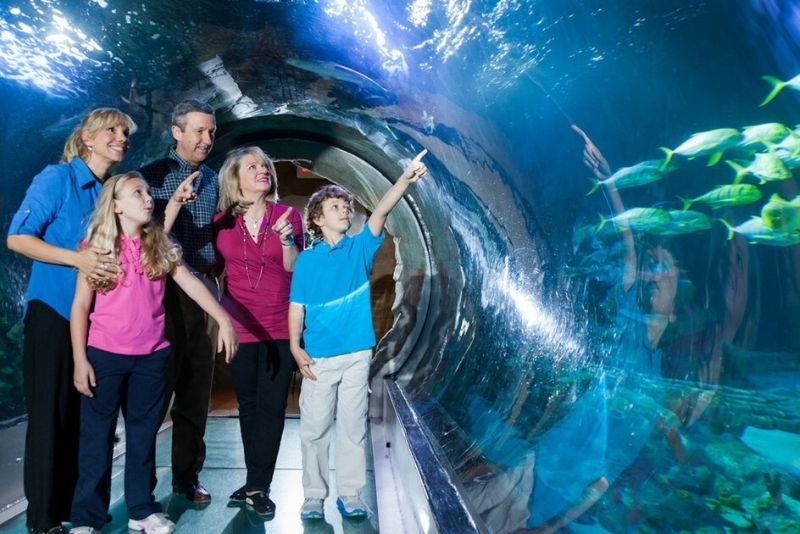 A favorite among the ICON Park attractions, Sea Life is home to Florida's only 360° ocean tunnel. Here, you don't only get to see the ocean all around you but also above your head. Watch eels, sharks, rays, and all kinds of fish surrounding you as you walk through the tunnel.
The aquarium is home to starfish, anemones, a large display of jellyfish, and several species of sharks – from the smaller bamboo sharks to epaulette sharks, also known as "walking sharks" because they can actually walk on the ocean floor.
Travel through the everglades, feed a swarm of tang fish, and see the unique species that inhabit the Indian Ocean. And don't forget to stop by the Coastal Rockpools to touch a starfish!
22 – Dr. Phillips Center for the Performing Arts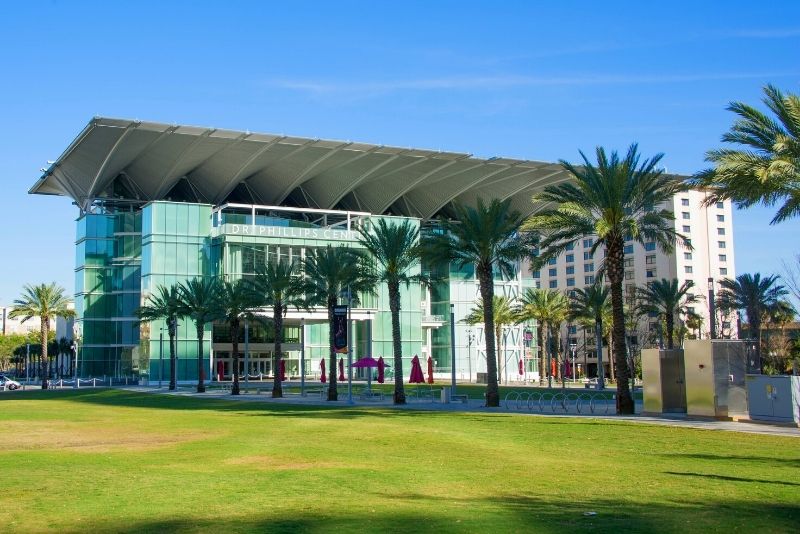 Orlando's premier performing arts center, Dr. Phillips Center for the Performing Arts, is home to four stages.
The two larger spaces (which sit 1,700 and 2,300 guests) are mainly used for Broadway-style shows and symphony concerts. Examples of past shows include an Immersive 3D show featuring the Orlando Philharmonic Orchestra and Broadway's Cats.
The two smaller spaces are reserved for more intimate events, folk-pop concerts, and comedy shows.
The center offers family-friendly shows as part of its regular calendar. These include everything from live musicals to live symphony orchestras perming music from the movies.
The theaters also offer behind-the-scenes tours, where visitors can learn more about the history and architecture of the Center, as well as take a closer look at how the magic comes to life.
23 – Gatorland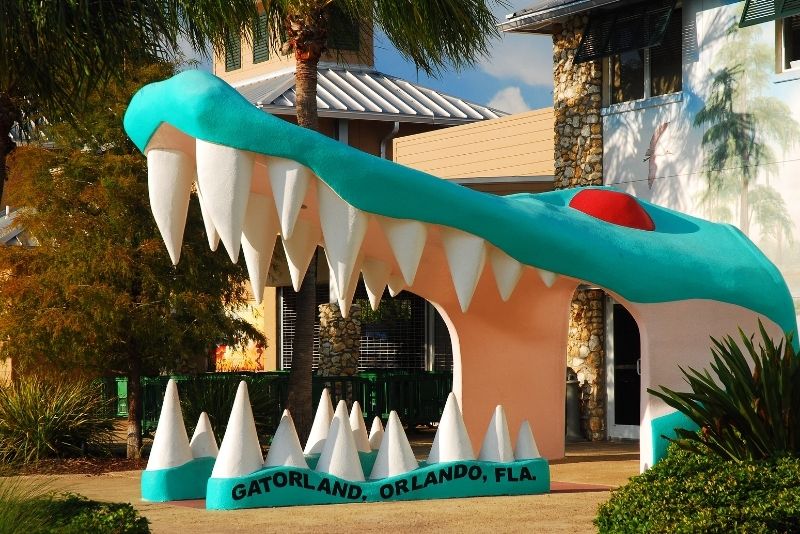 The self-proclaimed "Alligator Capital of the World" occupies over 100 acres just outside Orlando.
Home to thousands of gators, including not only alligators but also crocodiles, birds, snakes, and lizards. Gatorland is also home to very rare leucistic (with patchy colored skin) and albino (completely white) alligators.
Many of the animals here come from rescues. For example, Gatorland buys alligators from trappers who find them in cities or backyards and would otherwise kill them without the park's intervention.
In addition to watching animals in marshes and natural spaces, visitors can also stop by a petting zoo, attend alligator feeding shows, and take part in educational programs.
There's also a small railroad and a 370-meters-long zip line over a pond filled with alligators.
24 – Aquatica Park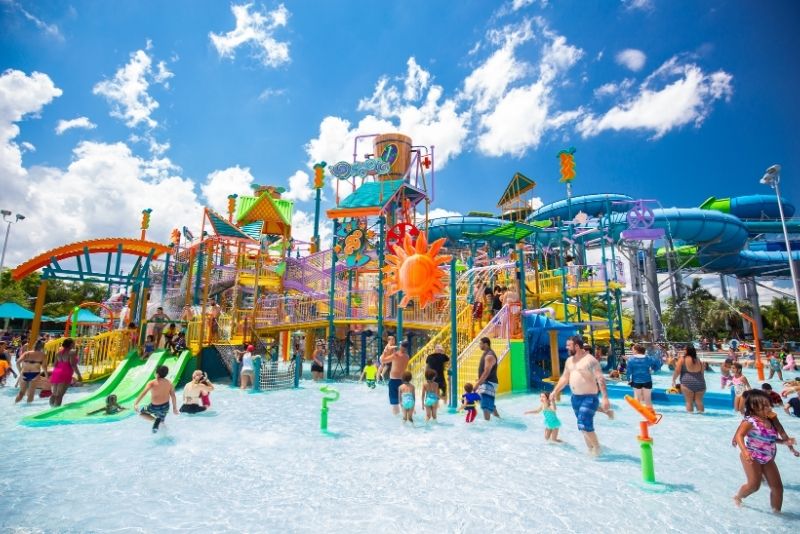 A sister park of SeaWorld Orlando, several of the rides and attractions at Aquatica Park connect with animal habitats. This is the case of the park's main attraction, Reed Plunge, a body slide where riders zoom through a pool filled with dolphins, sharks, and many fish.
Other popular rides include the world's tallest dueling racer, high-speed flume rides, and a multi-drop tower. Need a break from all the excitement? The park also offers lazy rivers, lounge chairs, and private cabanas you can rent poolside.
There are special play areas for kids so even the youngest ones in the family can have fun in the water, as well as underwater viewing areas to catch sight of the playful dolphins.
25 – Museum of Illusions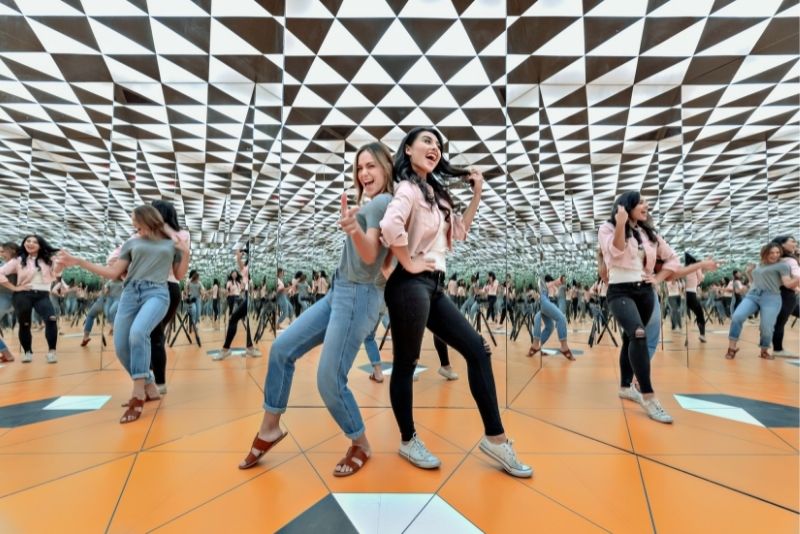 Get ready for mind-blowing and all-around fun. Another great attraction located at ICON Park, this museum offers 50 amazing exhibits that will leave you scratching your head.
From a reverse room that defies gravity to a place where everybody is suddenly a miniature to trick mirrors, the Museum of Illusions is guaranteed to entertain the whole family.
Travel into the world of the weird as you experience mirror tricks, optical illusions, and much more. Museum attendants are available to help you make the best photos.
26 – Morse Museum of American Art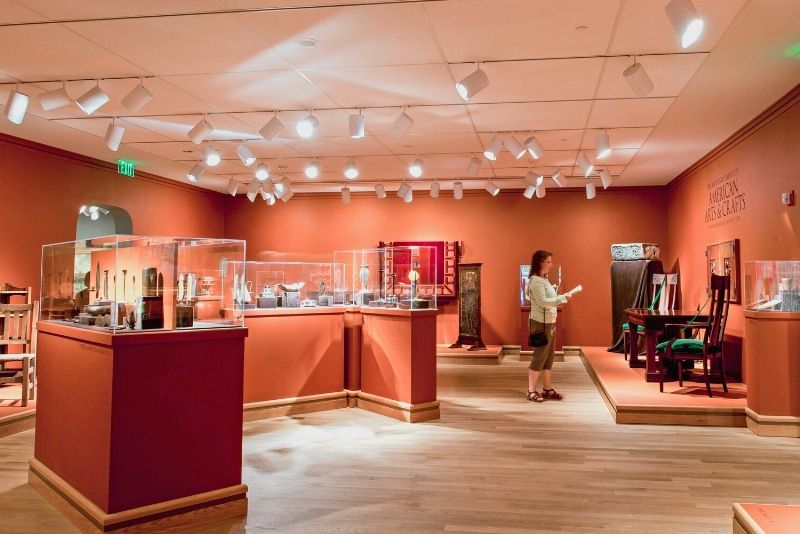 Although it focuses heavily on art nouveau in general, the Morse Museum of American Art is best known for its extensive collection of works by artist and designer Louis Comfort Tiffany.
Tiffany himself is famous for his amazing leaded-glass lampshades, but he also created glass panels, windows, mosaics, jewelry, and furniture.
The museum's Tiffany collection covers the entirety of his life and legacy and includes pieces like a four-meter-tall mosaic and marble mantelpiece, leaded-glass chandeliers, and carved wooden doors.
The museum's most prominent item is glass taken from a chapel Tiffany designed for the 1893 World's Columbian Exposition in Chicago.
In addition to the Tiffany collection, the museum also features American decorative art and sculpture from the 19th and early 20th centuries. There's a significant pottery collection, as well as painting and graphic arts, 16th-century stained glass, and metalwork.
27 – Kennedy Space Center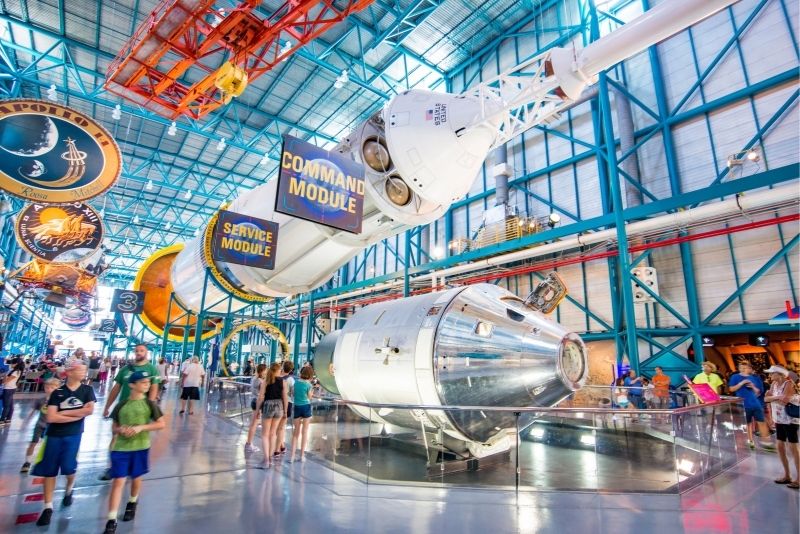 NASA's main operations center – from where the early Apollo and Space Shuttle programs were managed – is a fascinating place to discover.
Visitors arriving at the Kennedy Space Center Visitor Complex will encounter a number of exhibits featuring exciting items like an Apollo capsule, the real Lunar Module 9, Apollo spacesuits, and the giant Saturn V rocket (the largest to ever flow through space).
There are a number of experiences here besides the displays, including a special bus tour to a rocket launch site originally built for the Apollo program.
Two IMAX theaters also allow visitors to experience the Apollo 11 Moon landing and feel what it was like to be inside the Apollo during its launch.
You can also stop by the US Astronauts Hall of Fame and walk around the Rocket Garden, an outdoor space filled with historic rockets that were once in space.
28 – Discovery Cove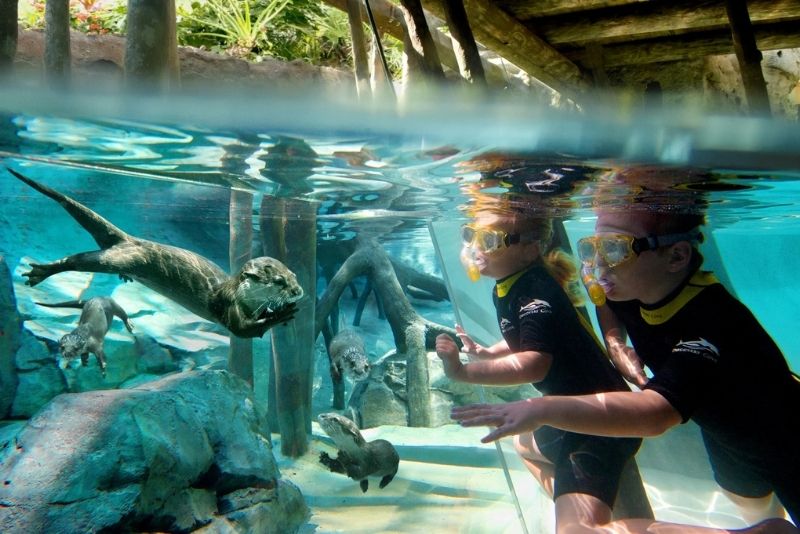 Want to try an exclusive animal experience in a tropical setting? How does swimming with dolphins sound? How about snorkeling with rays or hand-feeding tropical birds? At Discovery Cove, you get a chance to do it all.
Welcome to one of the most fun tourist attractions in Orlando, an interactive marine park where every experience requires an advanced reservation. This guarantees your close-up encounters will never be overrun with people, so you can have a unique and relaxing experience to remember.
The park's main attraction is their Dolphin Lagoon, where visitors can meet and interact with a dolphin as an animal care specialist shares information about their life and care. At the Grand Reef, guests can don a dive helmet to try an underwater walk tour, feed the rays or cross the many paths and bridges and see sharks swimming right underneath you.
There are swim-with-sharks experiences, a free-flight aviary with hundreds of animals, and a lazy river where you can ride the currents past caves, waterfalls, and a tropical rainforest.
29 – Chocolate Kingdom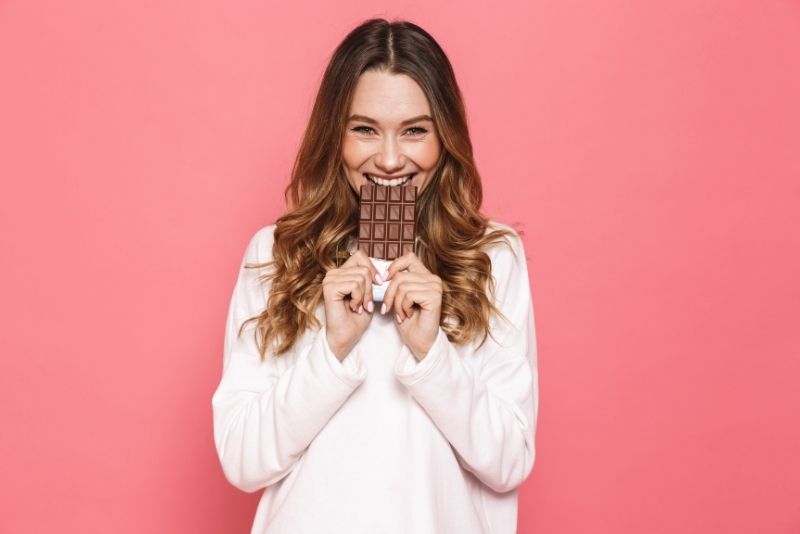 Walk into an interactive journey to see how that delicious chocolate bar you love gets made. Follow the process starting with the basic cocoa bean, then join a guided tour with fun characters to guide you through the rest of the steps.
Learn about the history of chocolate, see the chocolate-making process in real-time, customize your own chocolate bar, and try samples as you walk through the factory.
Make sure you pick up some chocolate to take home with you at the end of the tour.
30 – Blue Spring State Park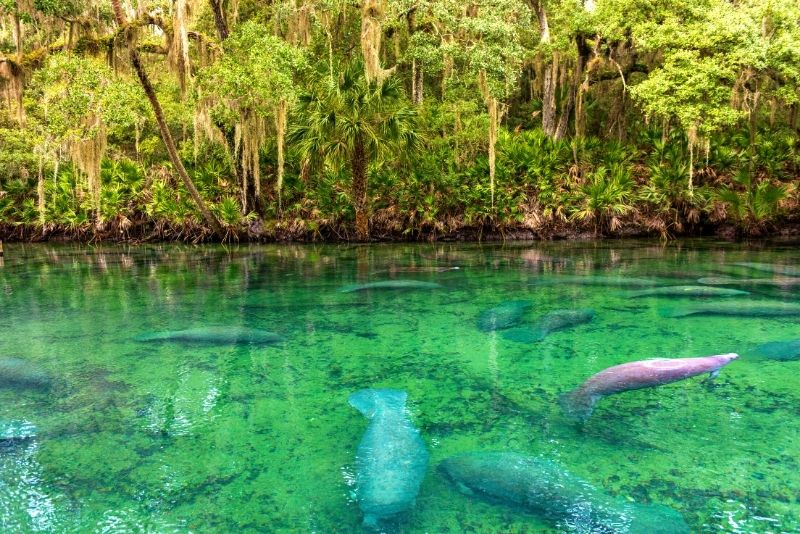 Originally created for manatee protection efforts, this 2,600-acre park is now a designated manatee refuge and a popular mating area between November and March.
The rest of the year, visitors can swim, kayak or scuba dive in the St. Johns River. For those who want to learn more about manatees and the conservation work done here, there are also special boat tours available to swim or paddle along with these gentle giants.
The park is also home to the historic Louis P. Thursby House (open for tours), a campground with air-conditioned cabins for overnight stays, and a 5.8 km long trail.
Canoes and kayaks can be rented along the river, and the park offers two separate picnic areas.
31 – SAK Comedy Lab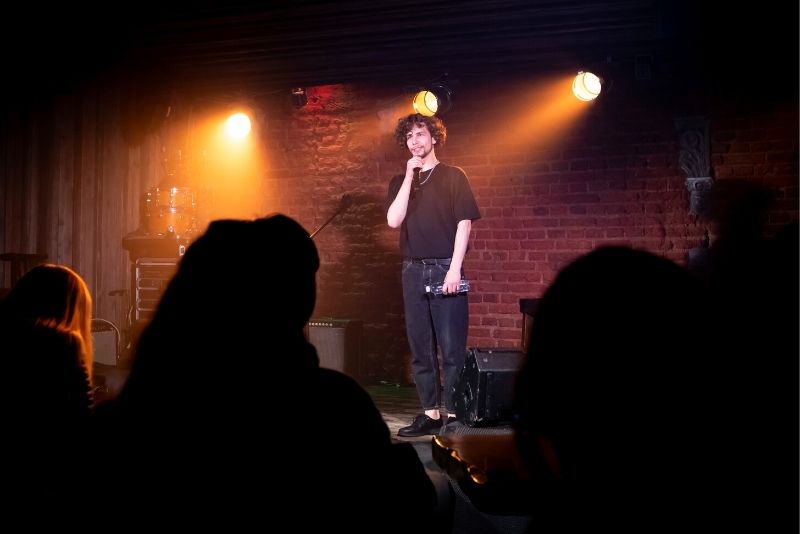 This small theater is one of the most fun tourist attractions in Orlando. Dedicated only to improv comedy and often featuring big names, the intimate theater can seat 250 people.
SAK Comedy Lab offers two types of shows: rotating, temporary shows and a house show that plays several times a week.
The rotating shows cover many different topics: from Broadway-meets-comedy to shows where comedians provide their own funny dubbing for films to solo performances.
The theater's main show is called Duel of Fools and features two teams competing against each other as they improvise songs and scenes based on the audience's suggestions.
Want a taste of how improv works? The theater offers a free class so you can get some tips and learn how to make people laugh.
32 – SeaWorld Orlando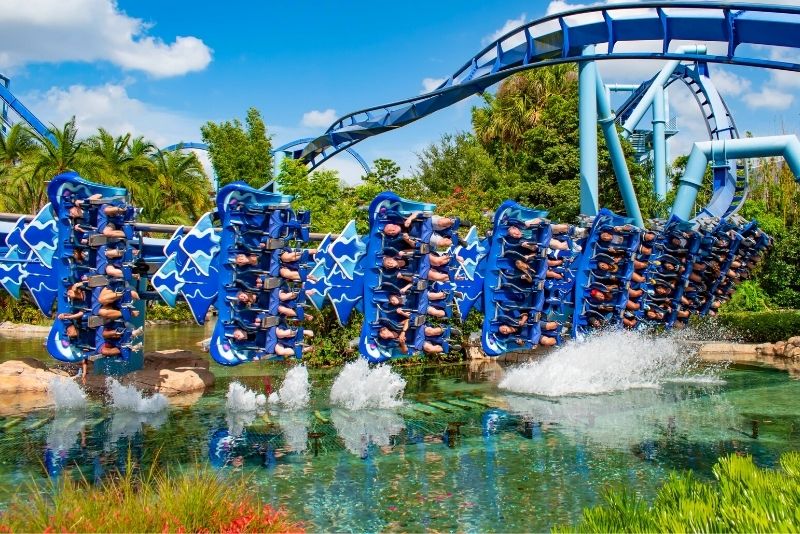 A combination of marine animal park and amusement park, SeaWorld Orlando has something for everybody. Divided into many areas, each designed around a specific theme or animal, the park is well-known for its wild roller coasters.
As the fastest, longest, and tallest roller coaster in Orlando, Mako will take your breath away. It reaches speeds of 117 km/h with a drop of 61 meters.
There's also a manta ray-shaped coaster, which riders reach after walking through an aquarium exhibit. Other themed rides include Antarctica, a dark ride featuring penguins, a river rapids ride, and a water coaster.
For those who prefer a calmer visit, there are outdoor/indoor exhibit areas, a theater featuring a 360° dome and 3D content, a number of water play areas, and flamingo-themed paddle boats. There are also several live animal shows, a music concert series, and themed events throughout the year.
33 – Fun Spot America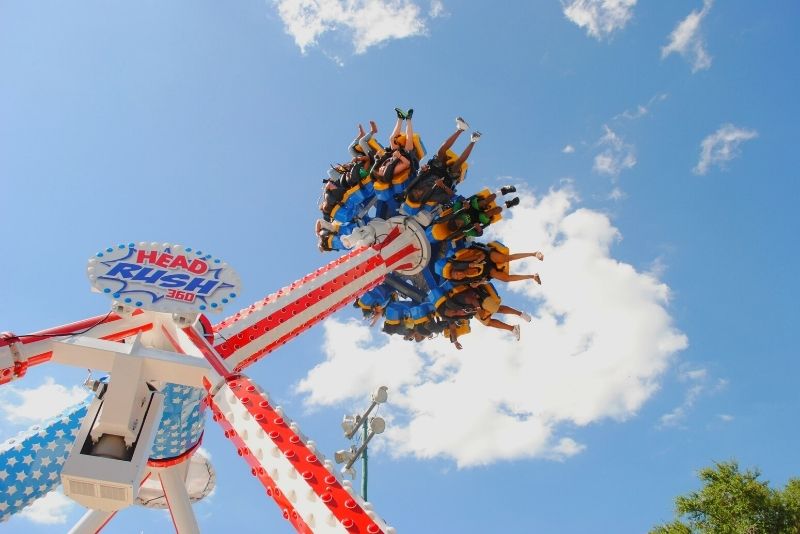 There's more to amusement parks in Florida than Disney. And as the capital of fun, Orlando has its fair share of it.
A great one to try if you're looking for more traditional, old-style fun is Fun Spot America. Covering 14 acres and offering 27 attractions (including three roller coasters), this is a fun place to spend an afternoon without breaking the bank.
The park's White Lightning roller coaster is the oldest wooden roller coaster in Orlando. The 619 meters long ride can reach speeds of up to 71km per hour and offers a fall of 21 meters at a step angle.
There are also go-kart tracks and a number of thrill rides, including pendulum rides, one of the tallest sky coasters in the world, and launching games. Visitors will also find plenty of arcade games and special-themed events throughout the year.
34 – Exotic Animal Experience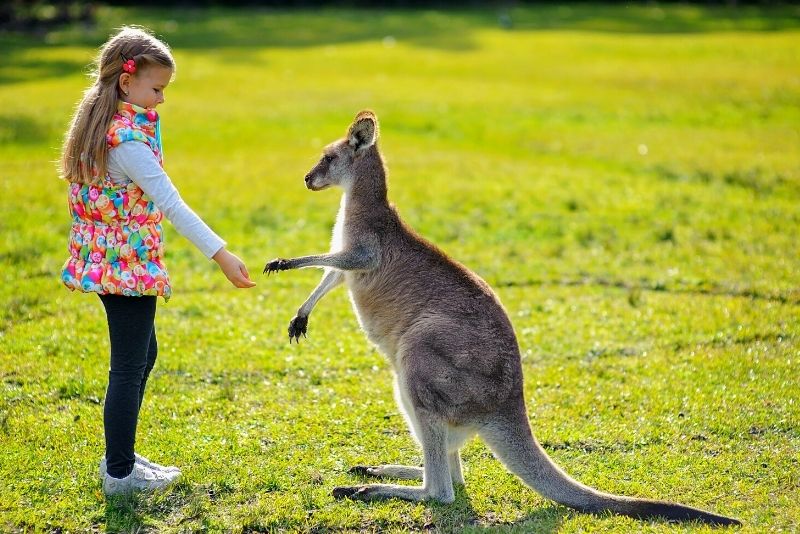 Want to pet an African pygmy goat, spend some time with a kangaroo or hold a sloth? How about getting a hug from a lemur or enjoying up-close and personal interaction with a porcupine?
This unique seven-acre interactive zoo is not about watching animals from the other side of a glass. At Exotic Animal Experience, you'll come in contact with all kinds of exotic creatures, feed some and play with others.
Animal caregivers are always around to help educate visitors and make sure the interactions are always fun and safe. Don't miss out on one of the most unique tourist attractions in Orlando!
35 – Legoland Florida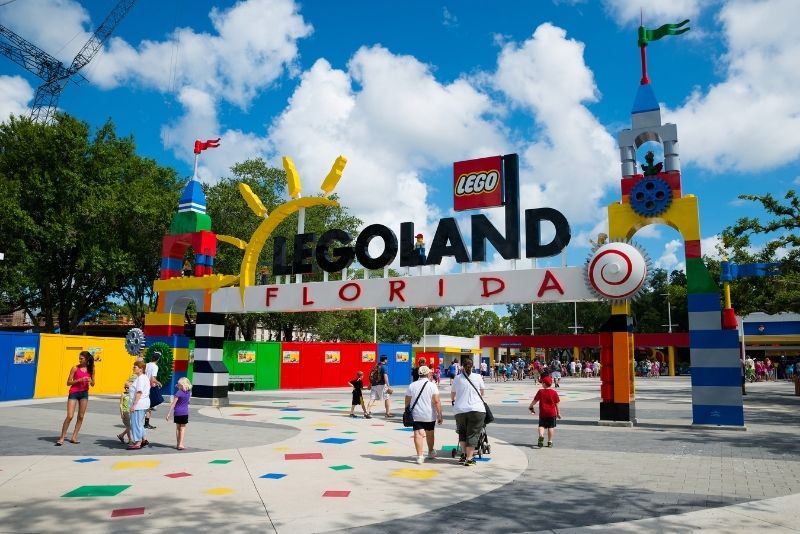 Legoland Florida is actually three parks in one: an amusement park, a water park, and a special theme park based on the animation series, Peppa Pig.
Legoland Park offers 55 rides, most of which are suitable for kids under 12. These include small wooden coasters, train rides, soft-play activities, a "driving school," water rides, and an imagination zone with hands-on LEGO activities.
There are also larger rides for older kids and adults, such as a suspended roller coaster. Visitors can also catch 4D films and live stunt shows, and meet their favorite LEGO characters.
LEGO's water park has all the rides, thrills and fun you can possibly want on a warm summer day. You can try wave pools, racing slides, interactive play areas in a shallow pool, a lazy river, and body slides.
For the youngest fans of Pipa Pig, there are plenty of themed rides and attractions as well.
36 – Crayola Experience Orlando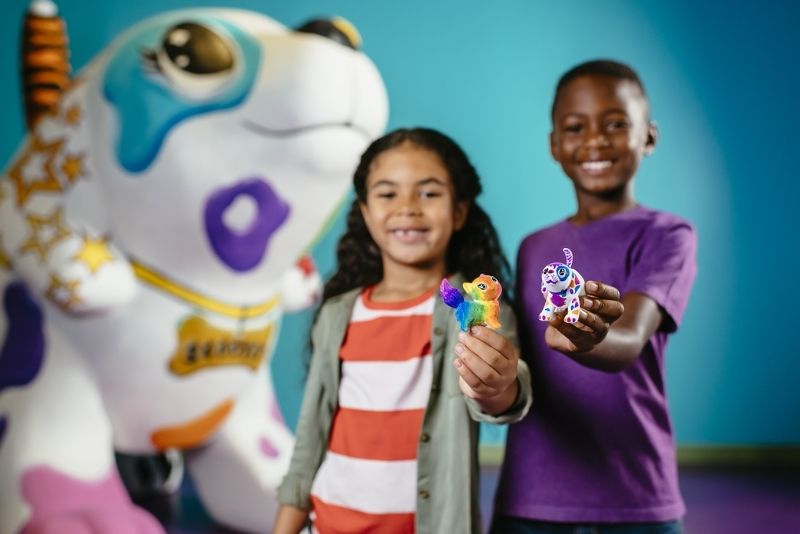 Filled with many hands-on, creative activities, The Crayola Experience is a colorful attraction the kids will love.
A place to discover newer Crayola colors, create Crayola spin art you can take home, and print a coloring page with your own photo. Kids can also make their own Crayolas in a number of shapes, including seahorses or a car.
There's also a Glow in the Dark coloring room, plenty of videos and interactive exhibits. There's even a machine that allows you to name your own crayon to take home.
This is one place where the gift shop is just as much fun as the attraction itself. Pick some crayons to take home and find Crayola-inspired toys, bags, and many other souvenirs.
37 – Pirates Dinner Adventure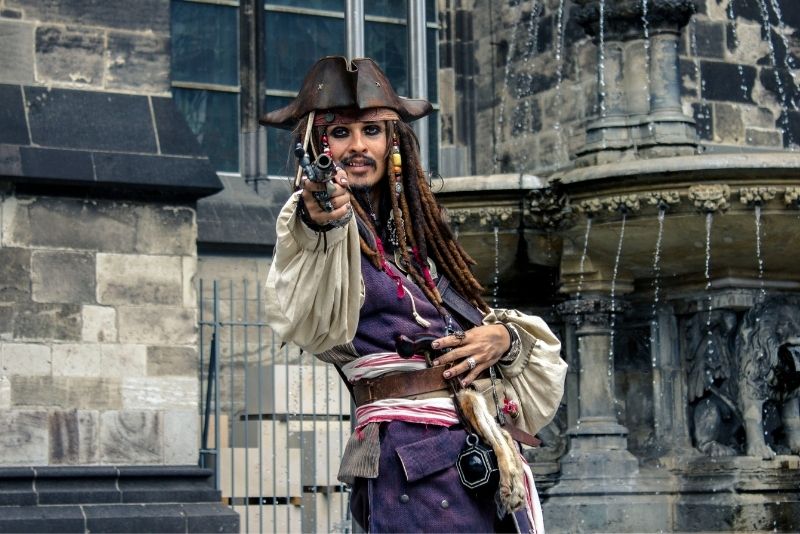 Forget sitting at a plain old restaurant for your next meal. Instead, head to a live-action Pirates Dinner Adventure show where the exciting world of pirates comes to life.
Guests are invited to arrive at least an hour before the show starts to grab appetizers, meet the show characters, and take fun photos. After the show, the same area will offer music and even more photo opportunities with the cast.
Once it's time for the show to start, take your seat and wait for your delicious three-course dinner to arrive. All along, you'll enjoy the crew of pirates embark on a stunning adventure right in front of your eyes.
See the amazing stunts and non-stop action as the pirates fight, laugh, and blast their cannons.
38 – iFly Indoor Skydiving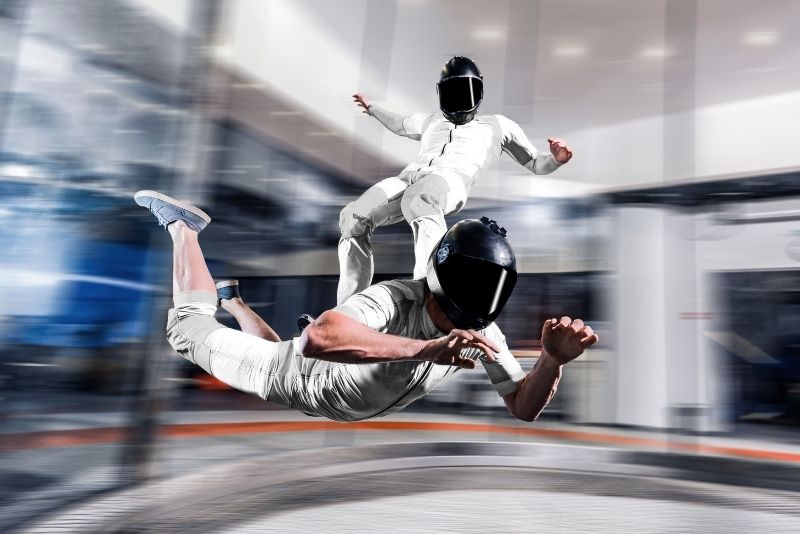 Whether you're not up for trying the real thing or want a taste of what flying feels like, these state-of-the-art vertical wind tunnels are full of fun.
Put on a jumpsuit and goggles, get into the tunnel with an instructor and learn, literally, how to fly. Wind tunnels mimic the feeling and freedom of a freefall without any of the fear. Plus, it's so safe that children as young as three can try it out.
Typical flights are just 60 seconds long, but there are packages available so you can fly more than once or stay in the tunnel for longer. After your flight, you'll be able to buy photos or digital downloads of yourself mid-flight.
39 – Mead Botanical Garden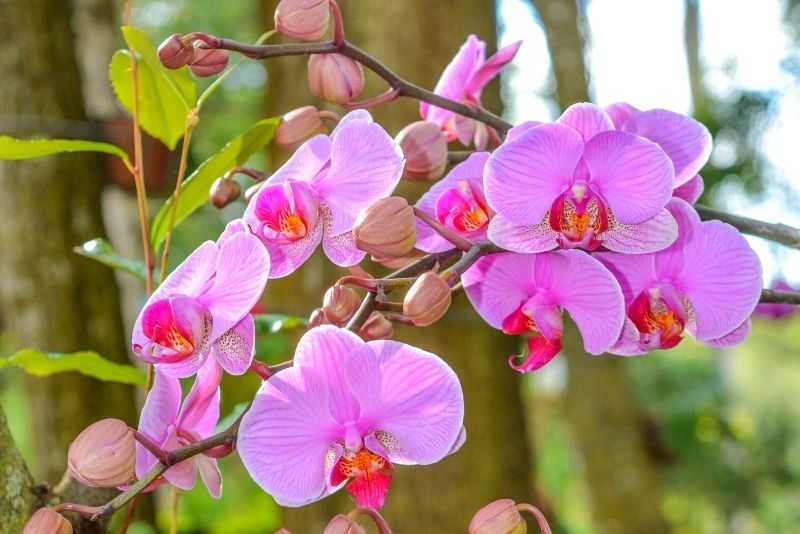 At 47 acres, this massive park has plenty to offer to those looking for a city escape.
Named after American naturalist Theodore Luqueer Mead (who discovered a number of butterfly species), the Mead Botanical Garden honors that legacy in its butterfly gardens, which are filled with special flowering plants.
For those visiting, there is also a legacy garden and greenhouse filled with begonias, cycads, and a giant bromeliad, as well as a garden dedicated to native Florida plants. The park has two major habitats within it: uplands and wetlands.
Both feature plants that thrive in their specific terrain, including pines and laurel oaks, as well as fauna such as gray squirrels, woodpeckers, and gopher tortoises.
The park is also home to an outdoor amphitheater that can be rented for special events but also serves as a music venue during the summer.
40 – Titanic: The Artifact Exhibition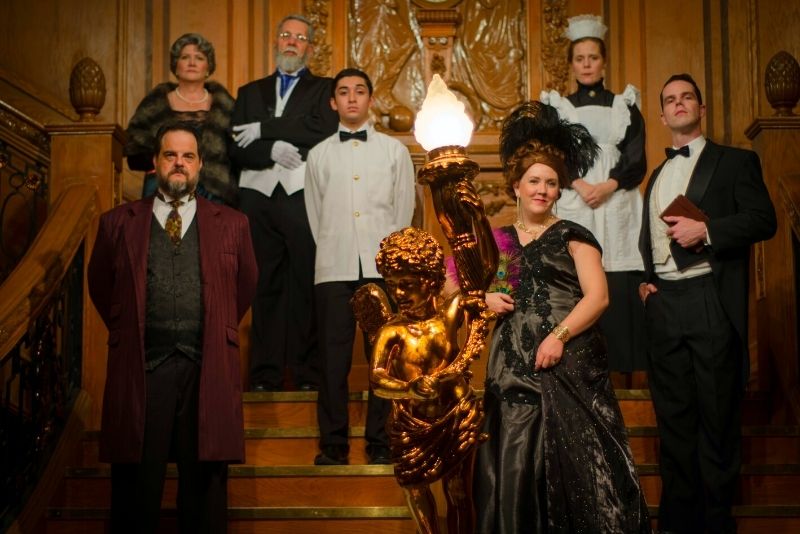 Part museum, part historical experience, this Titanic exhibition brings to life one of the most famous ships ever. The over 300 authentic artifacts (recovered from the Titanic wreck) exhibited here are just a small part of the attraction.
There are also full-room recreations, including a life-size reproduction of the Titanic's famous Grand Staircase.
Visitors can take guided tours to learn more about what it was like to be a passenger on the Titanic, learn about the crew, and hear about the recovery efforts connected to the wreck.
Customed guides and actors will bring the history and tragedy of the Titanic to life during your visit. If you choose to buy a ticket for the Titanic Gala Dinner experience, you'll also get to see what a dinner onboard the luxurious vessel was like.
41 – Rock Springs at Kelly Park
You'll find your share of outdoorsy tourist attractions in Orlando, and the Rock Springs at Kelly Park is a great one to add to the list.
The 325-acre Kelly Park has plenty of things to offer – including dense forests, great campsites, and lots of birds and fun river otters – but it is best known as the home of the 13-kilometer-long Rock Springs.
With a constant temperature of 20ºC year-round, several great swimming holes, and 98,000 liters of crystalline pure water bubbling up from underneath every minute, it's no wonder Rock Springs is so popular.
In addition to swimming, the springs are great for tubbing, canoeing, and kayaking. There are no rental places for these inside the park, so either bring your own or get a rental from one of the many stands outside the park.
You'll also find picnic pavilions, plenty of hiking trails and nature to enjoy along the way, limestone caves, and full-service concession stands.
42 – Island H2O Live! Waterpark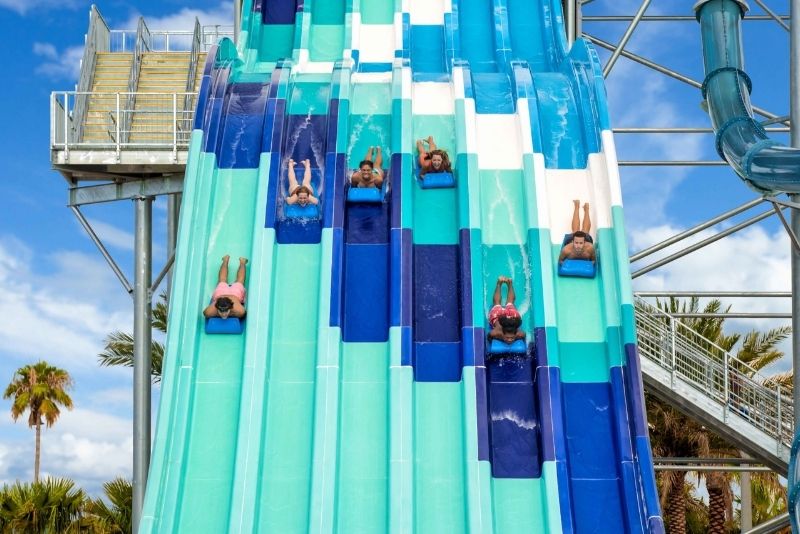 Island H2O Live! is a water park with a twist. After all, why keep all the fun to yourself when you could be sharing it with the world?
When visiting, you can sync up your wristband with the park's free app to easily stream, post photos and share your day with everybody you know.
The app also gives you access to special promotions throughout the day, playlists, and selfie booths. You can also earn points and badges for your rides and social media shares.
Once connected, spend the day enjoying the water. Relax in the wave pool, ride a lazy river, brave the body slides (including the world's only video-embedded waterslide), and get away from the noise in the adults-only pool.
Visitors can rent their own cabanas complete with a food and beverage service, a small fridge, lounge chairs, a charging station, and a private locker.
43 – Orlando City Stadium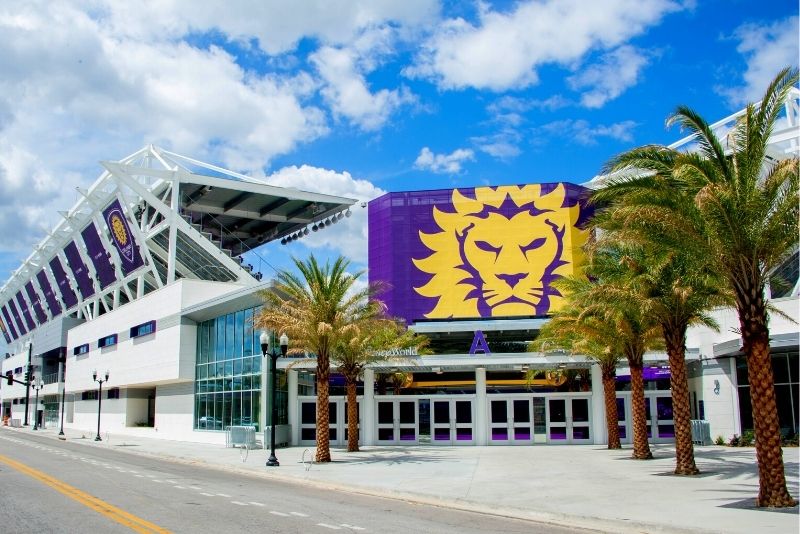 Also known as the Exploria Stadium, this 25,500-seat stadium is home to the MLS' Orlando City SC as well as the women's Orlando Pride soccer club.
Located just two blocks away from the Amway Center and close to all the major attractions in downtown Orlando, the stadium is the ideal place to catch an afternoon game before going for a drink nearby.
There's plenty of good food to be had here, with concessions stands offering all the standard fare, from pizza to cheesy nachos.
44 – Medieval Times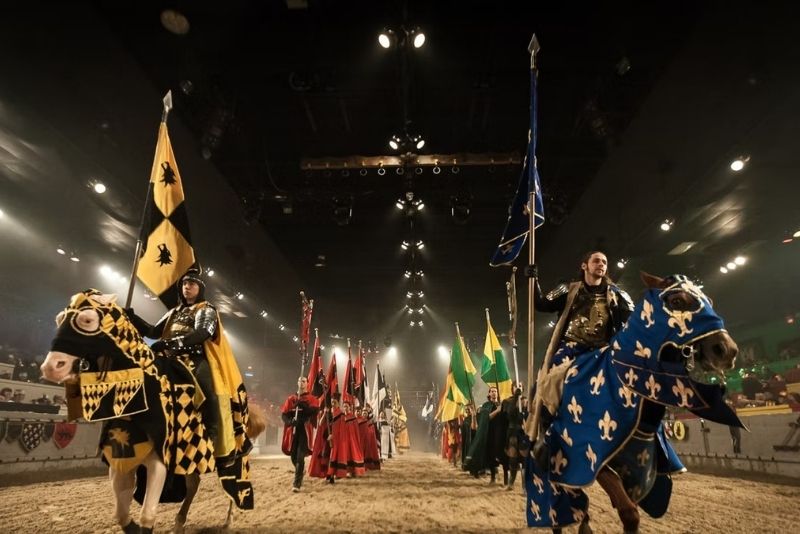 Travel back in time as you attend an 11th-century feast and tournament. Here, you can see an action movie come to life right in front of your eyes as you're served a four-course meal.
For two hours, you'll witness sword fights, jousting, horses and falcons displaying their best tricks, and a medieval tournament as you've never seen before.
There's plenty to see after the show as well. Mingle with characters and explore the surroundings – there are plenty of suits of armor and historical décor around that make for great selfie backgrounds.
There's also a full-service bar, a gift shop filled with great medieval-inspired souvenirs and even a Museum of Torture if you're brave enough for it.
45 – Nona Adventure Park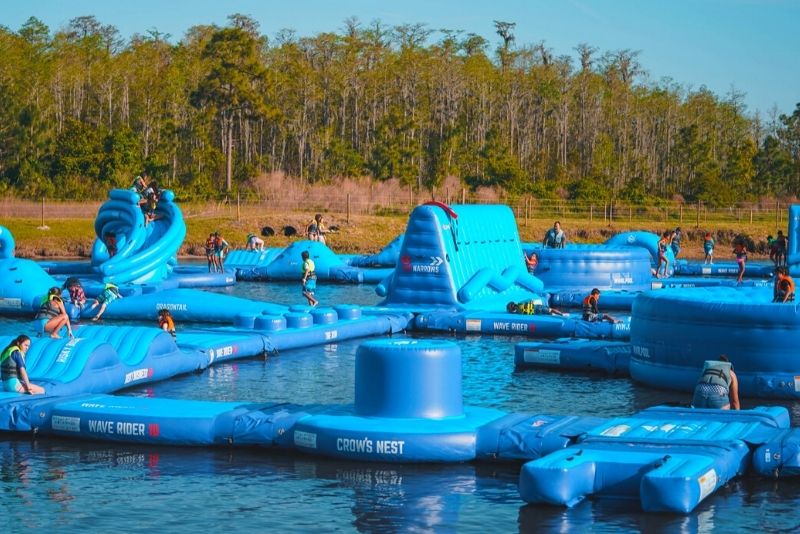 Located right on Lake Nona near the airport, Nona Adventure Park offers plenty of water activities for those wanting to experience a day of fun outdoors.
The center of the park is the giant inflatable obstacle course right on the water. Jump, run, slide, and climb as you get through the course while trying not to fall into the water.
Each session gets you 50 minutes of unlimited fun (if you're quick, you could get around a second time).
Try the wakeboard cable system next. Beginners can chat with an instructor before they give the almost 100-meter-long track a try. Intermediate and advanced riders can use the 760+ meters long track, which allows for faster speeds and include fun jumps.
On land, you can try the climbing tower, which includes 36 floating platforms, a rope course, and 15-meters-tall climbing walls. There's also a kids' tower available. Stick around to enjoy the beach area, grab a bite at the Splashes Bistro.
46 – Outta Control Dinner Show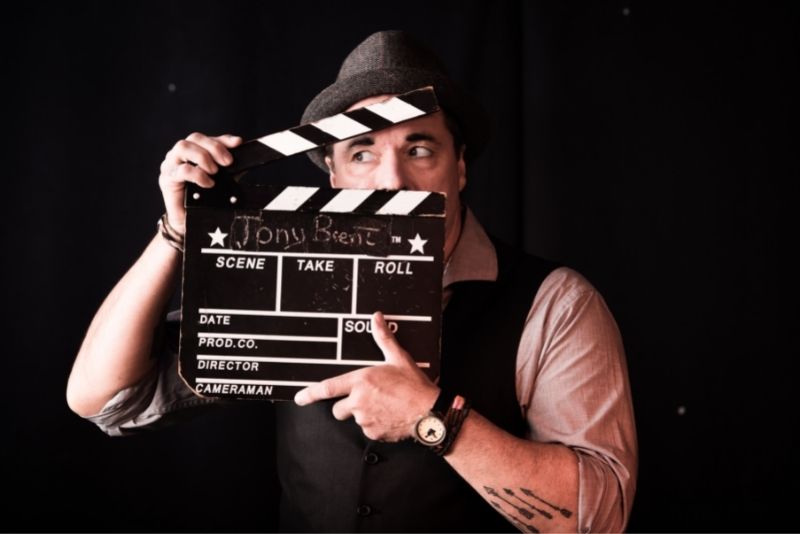 Why grab a meal at a plain old restaurant when you can have great food, magic and plenty of comedy in a one-of-a-kind dinner experience instead?
Head to WonderWorks for a 90-minute food-and-fun experience where you'll get unlimited amounts of pizza and popcorn, plus all the beer, wine and soda you can drink.
Grab a seat and get ready for a night of magicians, mimes and all kinds of crazy fun, where you can watch and laugh or choose to be part of the performance.
Get a VIP ticket for full access to the 100+ attractions WonderWorks has to offer.
47 – Disney Springs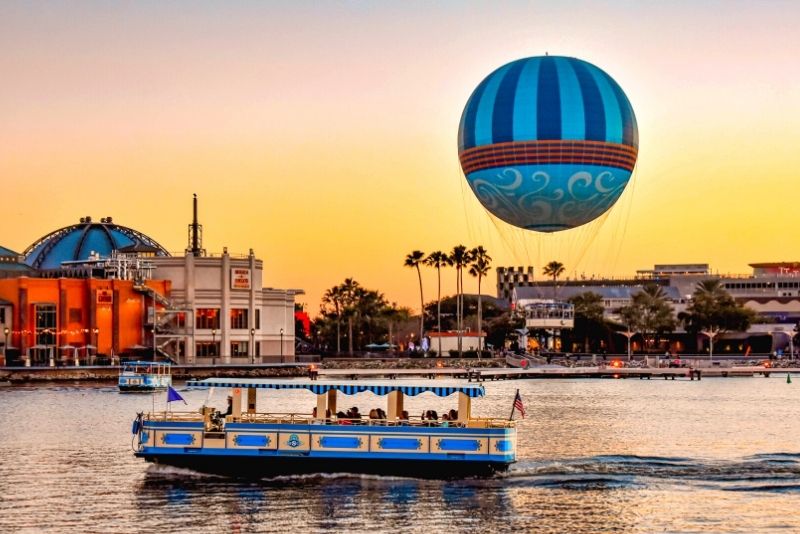 Located at Walt Disney World Resort, this shopping, dining, and entertainment complex has a never-ending and always-expanding list of things you should try.
The 49 hectares Disney Springs is divided into five sections that depict a 1930s marketplace town, a marina, a town center, and West Side, the town's exposition center.
Each section offers architecture, restaurants, and attractions linked to the main theme. For example, the marketplace area has live music at the Riverboat Square, a vintage amphicar (a floating car), and a historic carousel.
The West Side is where all the major attractions are located, including a balloon flight, a Cirque du Soleil show, a House of Blues music hall, and an AMC dine-in movie theater.
The shopping is great everywhere, with options from classic brands to Disney stores to unique offerings like Build-a-Dino, a Coca-Cola store, and Lefty's, a store where everything has been created especially for the left-handed.
48 – Bok Tower Gardens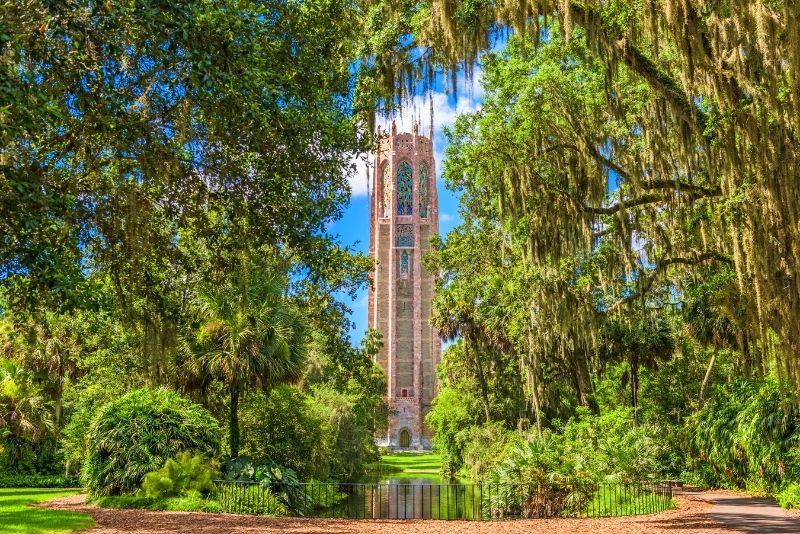 These stunning 100-hectare gardens are best known for its 62-meter-tall Singing Tower, which was designed to hold water tanks for the garden but also a carillon (a musical instrument where a keyboard is used to ring 60 bronze bells) at the very top. Today, the tower is also surrounded by a koi pond.
The Bok Tower Gardens started life as a bird sanctuary when magazine editor Edward W. Bok and his wife bought local land to prevent it from developing and protect wildlife.
As the area expanded over the years, it also added a visitor center with exhibit space, a cafe, a garden gift shop, and plenty of fun information about the gardens' history and ecology.
Several endangered species call the gardens home, and visitors taking to the 2.4-km long Preserve Trail will find plenty of opportunities for wildlife sightings.
49 – SKELETONS: Museum Of Osteology
When it comes to unique tourist attractions in Orlando, the Museum Of Osteology – one of only two in the country dedicated to bones – is hard to beat. It features over 500 animal skeletons – from rhinos and giraffes to penguins, apes, and many small animals.
The skeletons are arranged into exhibits that mimic the animals' natural environments and include details on how they support the animal's natural movement – whether that's running, swimming or flying.
There are even human skeletons in display and a small exhibit showing how flesh-eating beetles are used to clean bones.
Scavenger hunts and other activities will keep kids busy. There's a short film featuring the museum and how the displays are put together, as well as plenty of educational materials for all ages.
Don't miss out the gift shop for some very unique items to take home.
50 – The Great Magic Hall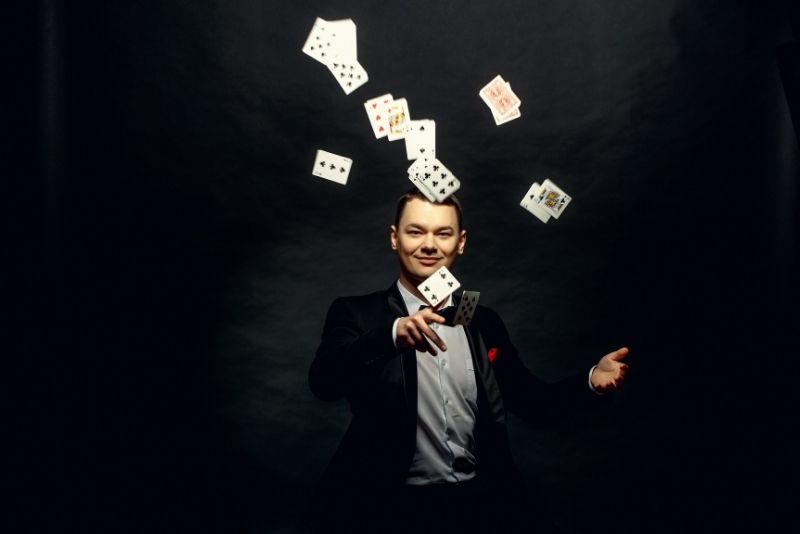 Curious to peek into old-style magic and rediscover all the fun it has to offer? This small theater offers an intimate 30 minutes filled with feats of illusion and special effects.
Pick the VIP experience at The Great Magic Hall to see two different magicians in action showcasing the best sleight-of-hand tricks during a thrilling, close-up experience.
Shows are interactive – don't be surprised if you're called up to be part of the magical experience – and you'll be laughing the entire time.
51 – Crystal River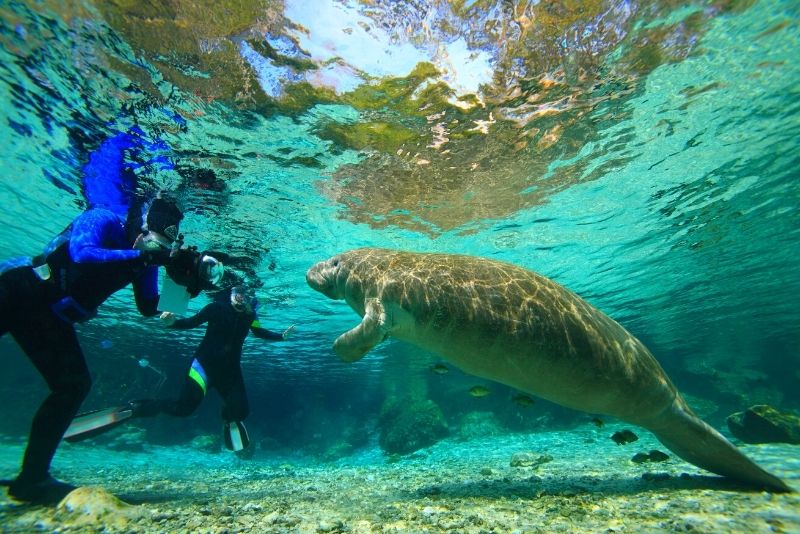 Manatees are a common sight in Florida, but in most places, you have to settle for watching them from afar. Crystal River – known as the manatee capital of the world – is one of the very few places in the state where you can swim with manatees.
Just jump into the water and wait for the gentle giants to approach – naturally curious, they often come over to swimmers or snorkelers on their own for some greet and meet.
Hundreds of manatees arrive at the Crystal River National Wildlife Refuge during the winter months to escape colder waters, so an encounter is basically guaranteed.
There's plenty to do around the river as well. Lots of trails to hike, unspoiled forests, golf courses, and some of the country's best cycling corridors are located here. This is a popular area for kayaking and paddleboarding as well.
Save time and money
Hoping to see many of the best tourist attractions in Orlando on your next visit without spending a fortune? The Go Orlando Explorer Pass allows you to choose up to five of your favorite attractions and save up to 35% on top tours and attractions, including airboat tours, the Museum of Illusions, and The Wheel at ICON Park.
We hope you've enjoyed our look into everything Orlando has to offer! Have other must-see suggestions? Feel free to let us know in the comments!