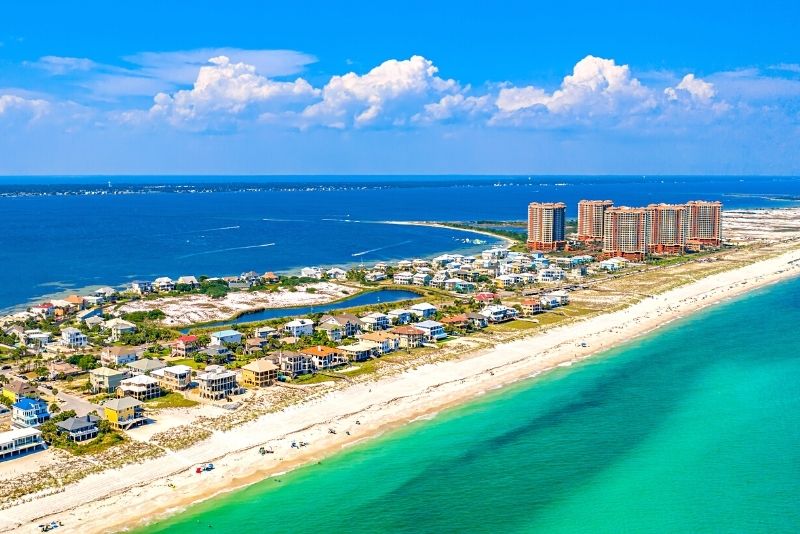 Miles of pristine white-sand beaches and emerald waters, as well as a lively downtown district, make Pensacola one of the Sunshine State's best destinations at any time of year.
There's more to the city than meets the eye — it was the first European settlement in the United States back in the 1550s. You can see Spanish-era architecture and historic buildings which now house museums, shops and restaurants.
Swim through the verdant clear sea, hike the trails and get closer to nature in Big Lagoon State Park. Revisit the past through the Living History demonstration at Old Pensacola Village — just some of the most fun things to do in Pensacola.
Here is a selection of the best ways to explore and know more about this fantastic city.
1 – See amazing aircraft at National Naval Aviation Museum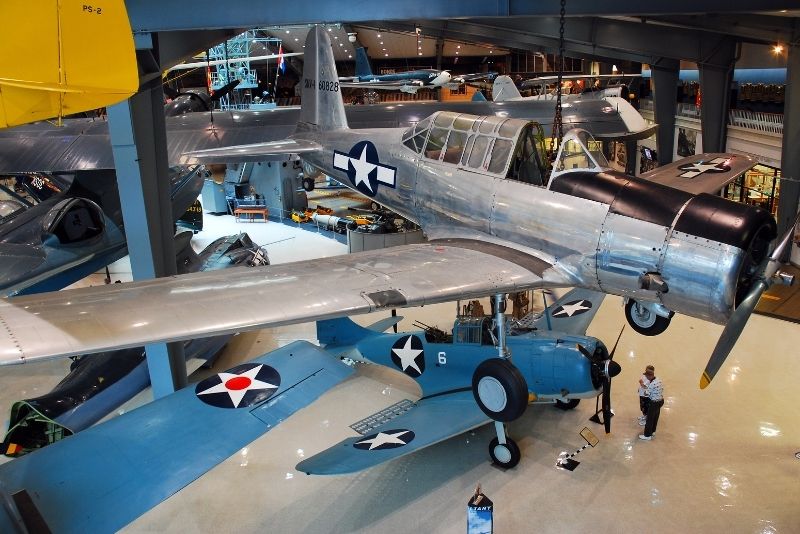 Pensacola is home to the National Naval Aviation Museum which is crammed full of aircraft, spacecraft and flight memorabilia.
Housing over 150 crafts, including Blue Angels planes like the A4 Skyhawk and the first plane to cross the Atlantic, the Curtiss NC4.
Visitors will find modern fighter jets and historic bi-planes in this comprehensive museum of flight.
The museum also contains the Blue Angels Atrium, dedicated to the Navy demonstration team, as well as flight simulators and the Emil Buehler Naval Aviation Library. There's something here for everyone.
2 – Explore the city on a retro hop-on hop-off bus tour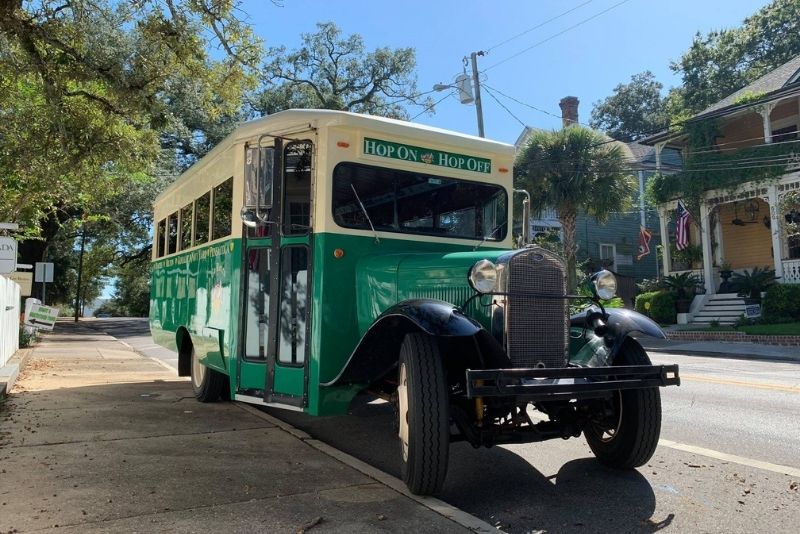 One of the best ways to see a new city is on a hop-on-hop-off bus tour.
These great value tours, on a retro bus, will ensure you see all the city's most important landmarks.
Get off wherever you like to explore the sites then, when you've had enough simply climb on board and move on to the next place.
Listen to the audio guide and learn a little about the places you pass, including local history and insider info on the best places to visit.
These bus tours are highly recommended for those looking for interesting and informative things to do in Pensacola.
3 – Get some sun at Pensacola Beach
When many people think of Florida great weather and white sandy beaches come to mind, Pensacola Beach doesn't disappoint in this respect. With 18 miles of powdery soft beaches and 343 days of sunshine on average each year, it is the perfect coastal getaway for your vacation.
Those looking to grab some quality beach time have loads of fun activities to choose from. Why not start with a gentle swim in the calm waters of Pensacola Bay then try any number of watersports including surfing, stand-up paddleboarding, jet skiing or snorkeling in the clear verdant waters.
There are also plenty of fishing spots for the keen anglers among us. The Beach Gulf Pier is a superb place to while away the day and the waters at the tip plunge down to a depth of 20ft, allowing a range of "deep-sea" fish to be caught.
Even if fishing's not your thing, one of the most relaxing things to do in Pensacola Beach is to stroll down the pier and try to spot fish and turtles in the water below.
This might just be a paradise for all the sun-worshippers and lovers of the outdoors.
4 – Try ice skating at Pensacola Bay Center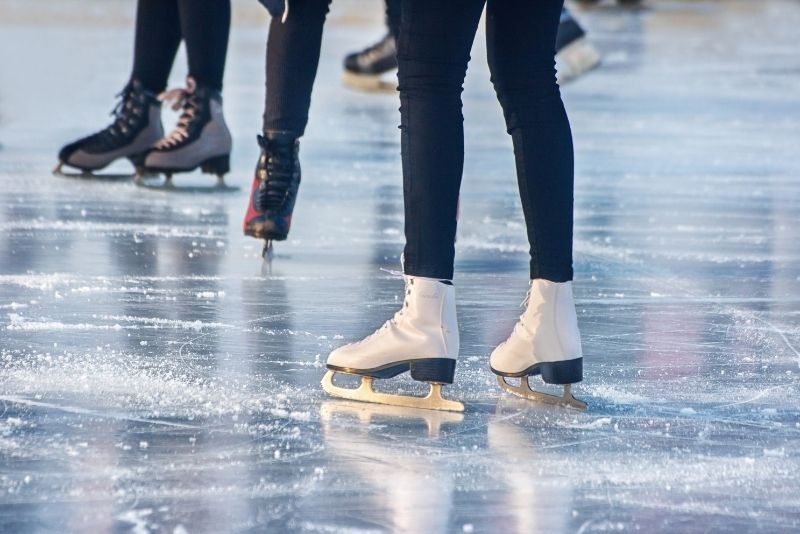 If you're looking for entertaining things to do in Pensacola, it's worth checking out the Pensacola Bay Center.
This centrally-located arena puts on everything from hockey games to rock shows. For sports fans, the local pro-hockey team, Pensacola Ice Flyers, play their home matches here.
If you're looking for a fun way to cool off from the Florida heat, the center also hosts public ice skating sessions.
A wide array of sports, shows and conferences take place here on any given week so check the website for more information on what is on during your time in the city.
5 – Climb the 177 steps of Pensacola Lighthouse & Maritime Museum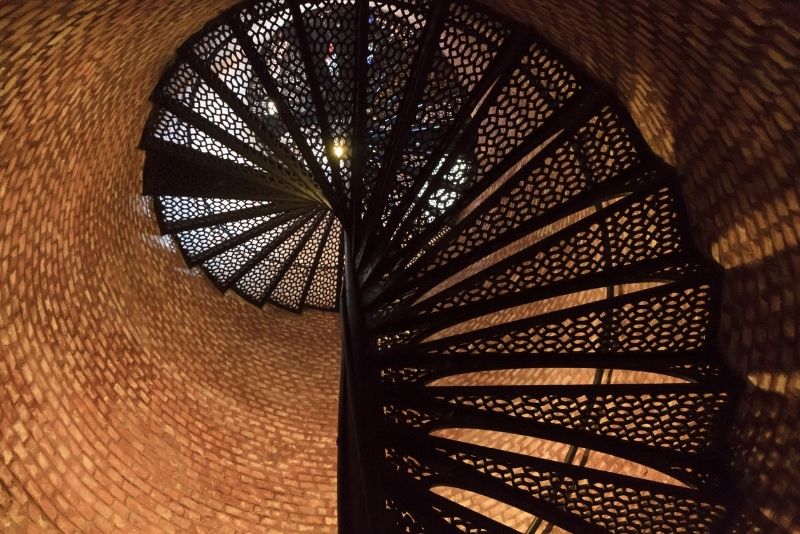 Built in 1859, this still active historic Pensacola Lighthouse is a must-see for lovers of naval history and those seeking the best views of the Gulf Coastline.
If you're feeling up to it, you can climb up the 177 steps inside the lighthouse and see panoramic views of Pensacola Bay.
The site is also home to the Maritime Museum which exhibits the keeper's quarters, which formerly housed the lighthouse keepers and their families.
It also displays the different light sources used throughout the building's lifetime from basic bonfires to the more modern Fresnel lenses.
6 – Go surfing and catch some waves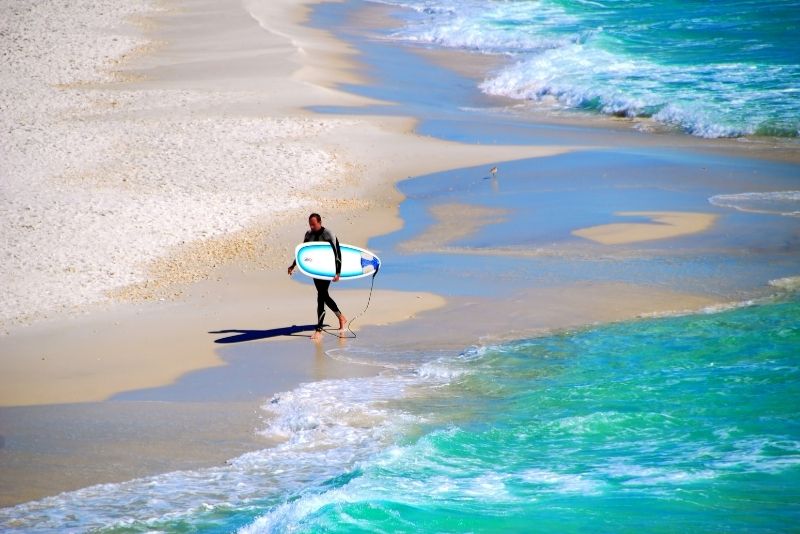 The warm Gulf waters of Pensacola are the perfect place to learn to surf. The city's position on the westernmost point of the panhandle gives it some of the best surf in Florida.
Through the summer months, the waves are usually gentle and a good size for beginner surfers to tackle.
Join a surf class to learn the basics of this increasingly popular watersport. Learn to paddle, pop up and the proper stance then get out on the water and catch some waves.
If you've always wanted to learn to surf but didn't put it off, now is the best time to learn!
7 – Take a stroll to Plaza De Luna Memorial Monument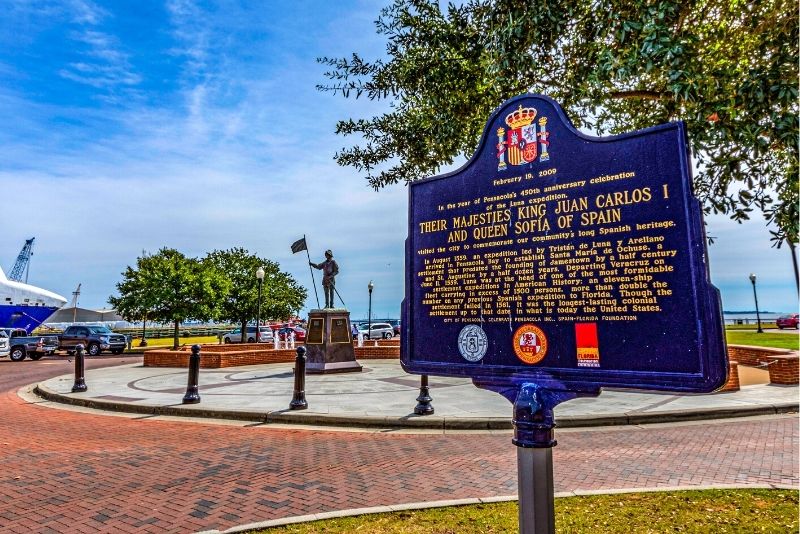 One of the city's nicest waterfront parks, Plaza de Luna has it all, fresh salt air, the relaxing sound of seabirds and great views over the Bay.
Named after the Spanish conquistador, Don Tristan de Luna, the park is located at the tip of Palafox South Street and has excellent views over the marina and wooden walkways to explore.
There are some nice eateries nearby as well as benches to relax on if you prefer to take a picnic.
Grab a chair and sit and watch the world go by at this excellent seafront park.
8 – Hike at Bay Bluffs Park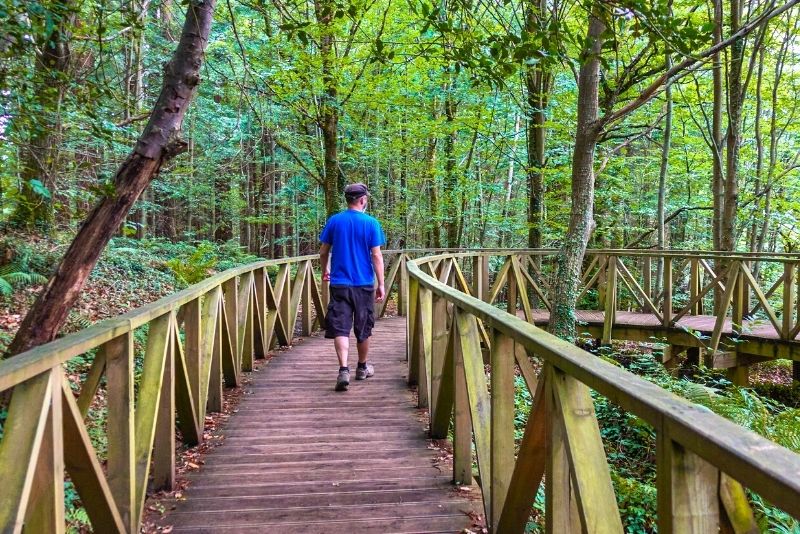 For a breezy and refreshing place to walk in the city, why not try Bay Bluffs Park.
This 26-acre forest park above Pensacola Bay has a boardwalk walking trail that winds through oak woodland and the unique Florida red chalk landscape.
The trail runs for just under a mile over steep slopes and gradually ends up at the beach if you follow it all the way down.
You can leave the boardwalk to follow routes dotted throughout the park which are clearly marked. Check it out while you're in the city.
9 – Beat the room at Escape Zone 60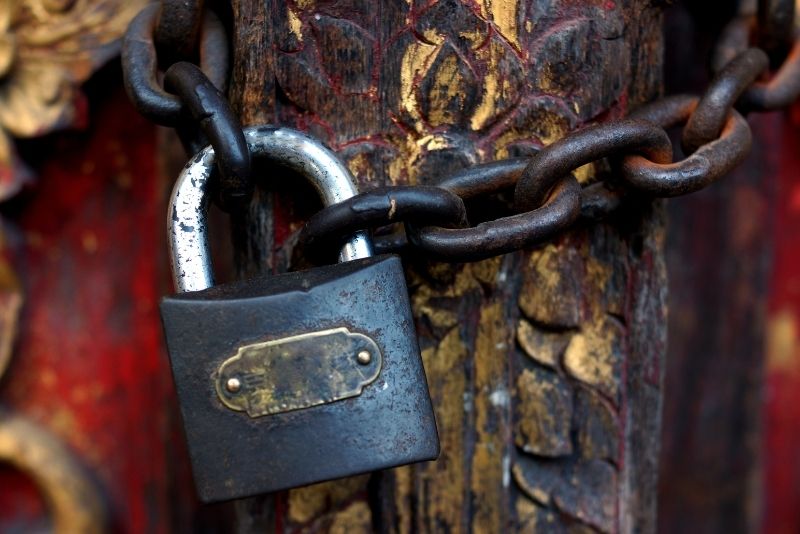 Looking for a fun and challenging thing to do in Pensacola with friends or family? Take an escape room challenge at Escape Zone 60 for a thrilling, themed way to test your teamwork and problem-solving skills.
Play detective in a crime scene investigation or put your heads together to escape from a spooky asylum.
You'll need all of your wits about you to make sure you solve all the puzzles within the time given. Take on the challenge if you dare!
10 – Swim in peace at Gulf Islands National Seashore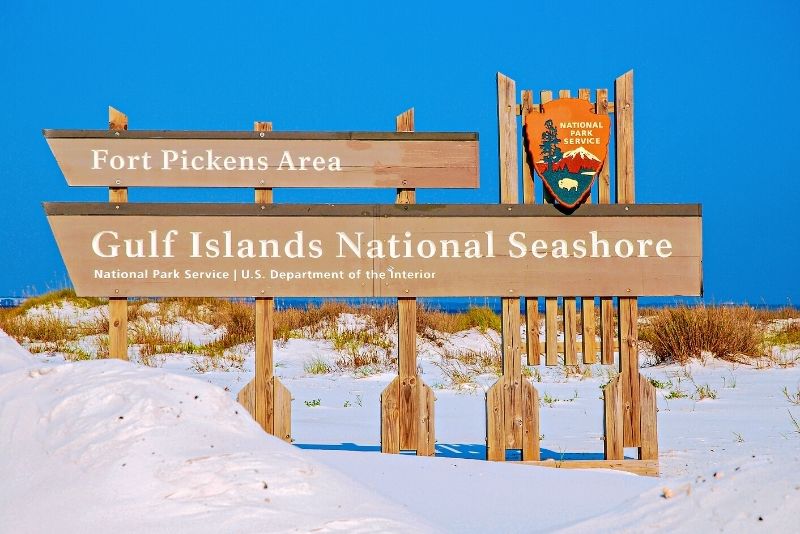 A chain of islands that extends along the shores of Florida and Mississippi, Gulf Island's National Shore is one of the most picturesque and unspoiled areas of the Florida coast.
This lengthy stretch of beach offers white sands and clear green waters to swim in peace and quiet to relax in nature.
The area is a protected nature reserve that is a nesting site for four different species of sea turtles.
It is undeveloped and totally free of distractions, almost like a secluded paradise.
To discover more in Pensacola take a trip to Fort Barrancas, which houses the Gulf Islands National Seashore Visitor Center.
11 – Race Grand Prix go-karts at Sam's Fun City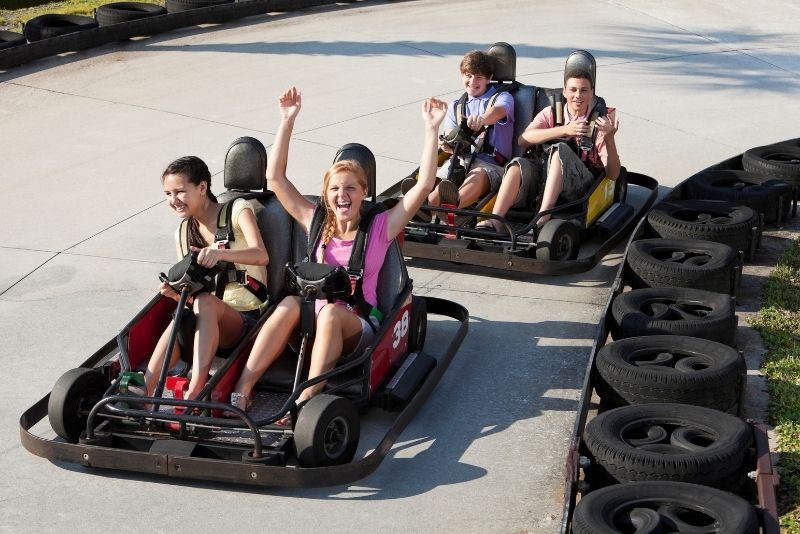 For some of the best family attractions around, Sam's Fun City is the place to be in Pensacola.
The park is jam-packed with smaller classic rides for all ages such as a tilt-a-whirl and Frog Hopper. Play a round of mini-golf or go head to head in a laser tag match.
The park has a number of different go-kart tracks, suitable for younger kids, families and even a Grand Prix track for adults only.
There are also bumper boats for those who like their thrills wet and wild.
The fun doesn't end there though, Sam's is home to an indoor play area for younger children and the Crossroads Arcade which features the largest selection of video games in the area.
Bullwinkles Restaurant is on hand for when you want to take a snack break.
If you feel the need to cool off why not hit up Sam's Surf City, with 12 waterslides, a river ride and seven pools the action here is none stop.
12 – Feed the hippo at Gulf Breeze Zoo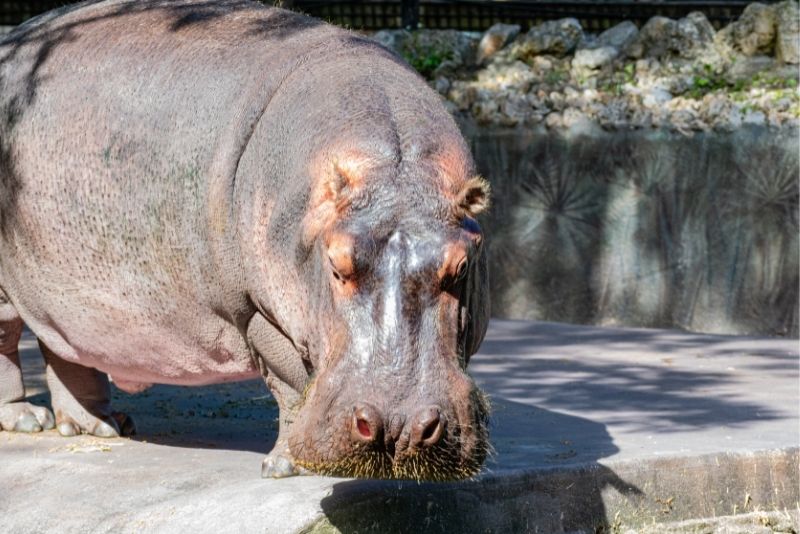 Covering over 50-acres of Florida countryside and housing around 900 exotic and native creatures, Gulf Breeze Zoo is a great family-friendly attraction in Pensacola.
Discover animals from all over the world including African rhinos and giraffes, Asian orangutans and gibbons and South American anteaters.
For a totally unique experience, why not feed the zoo's residents. Visitors can buy special biscuits to feed the parks American alligators, but don't get too close.
If you prefer the more cuddly creatures you can meet the giraffes, Scottish Highland cows or even feed one of the greedy camels.
The zoo also has a 30-acre open preserve which visitors can tour on a short narrated train ride to see free-roaming hippos, antelope and gorillas doing their thing, as nature intended.
13 – Explore the historic Fort Pickens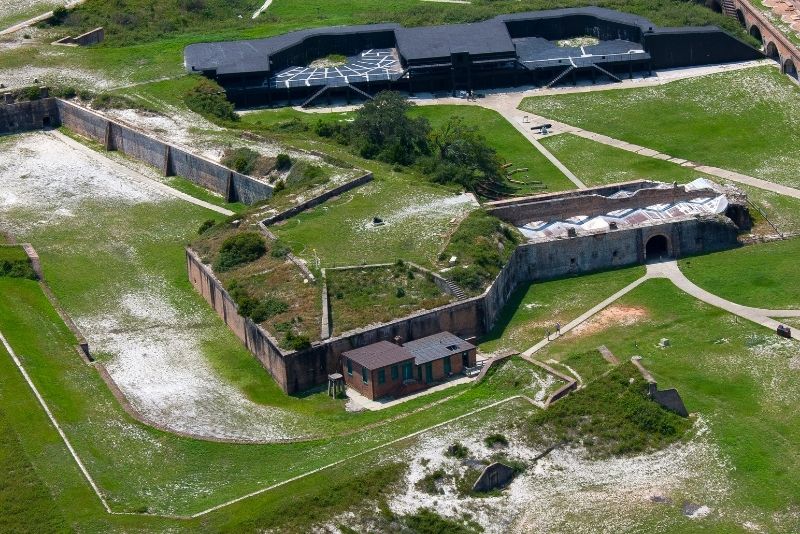 For over 100 years, Fort Pickens sat guard over Pensacola Bay, protecting it from enemy troops who coveted its naturally sheltered harbor.
It was built after the War of 1812 when the government decided to strengthen its coastal defenses. The fort has five sides, of which four face the water and only one faces land.
The fort was the largest in a series of defenses that looked out over the Bay, including Fort Barrancas, Fort McRee and the Navy Yard.
The Fort was decommissioned in 1947 and it is open to visitors for exploring as part of the Gulf Islands National Seashore Reserve.
14 -Take a fun, freewheeling Segway tour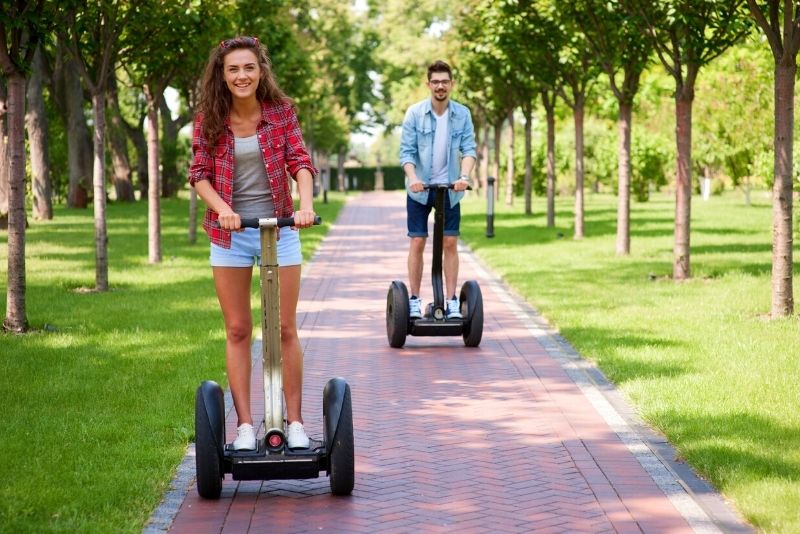 You've definitely seen these crazy, two-wheeled electric scooters around and yeah they look like fun, right! Why not join a Segway tour during your time in Pensacola and try one out for yourself?
They don't need any special skills to ride and pretty much anyone can master them in a short amount of time.
Visit the most important landmarks in the city and pick up some local history from a knowledgeable guide.
Cruise through Downtown Pensacola and discover the best parts of the city on these fun and lively tours. This is one activity that is not to be missed!
15 – Play mini-golf at Fast Eddies Fun Center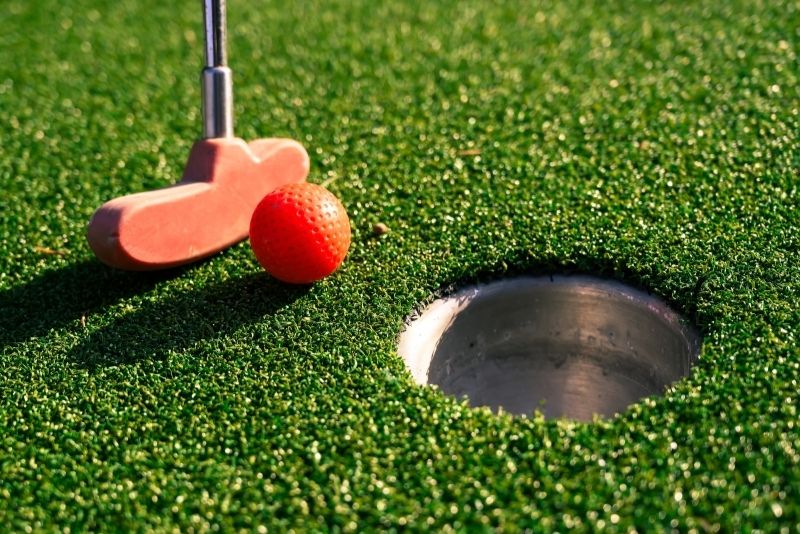 You're one-stop-shop for entertainment in the city, Fast Eddies Fun Center is an action-packed local amusement park with free admission.
Hit the go-kart tracks for the ultimate in speedy thrills or play a game of mini-golf on the park's challenging 9-hole course.
Improve your swing in one of the batting cages or play some of the latest hi-tech arcade games, as well as classic favorites such as skee ball, air hockey and basketball hoops.
You'll surely have worked up an appetite by this point so you'll want to check out Fast Eddie's Snack Bar for pizza, hot dogs and ice cream.
16 – Paddle the coast of Pensacola on a kayak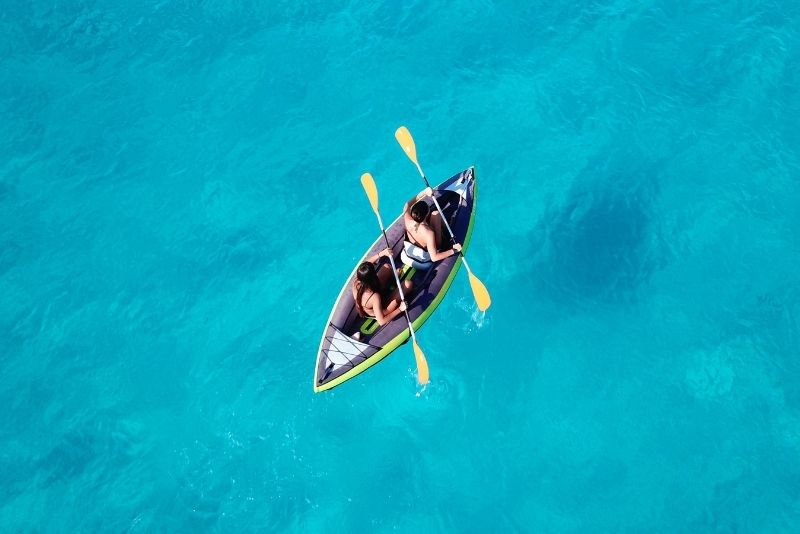 The beaches of Pensacola offer lots of opportunities for watersports. One of the most popular is kayaking.
The tranquil and protected waters of the bay are a terrific place to explore by kayak.
With the help of a guide, visit uninhabited islands within the bay and see the native wildlife that calls the area home.
For the truly adventurous, why not try a nighttime kayak session with a clear bottomed, light-up kayak? Light up the water and see what lurks below on these fun and unique kayak excursions.
17 – Spot wildlife at Perdido Key State Park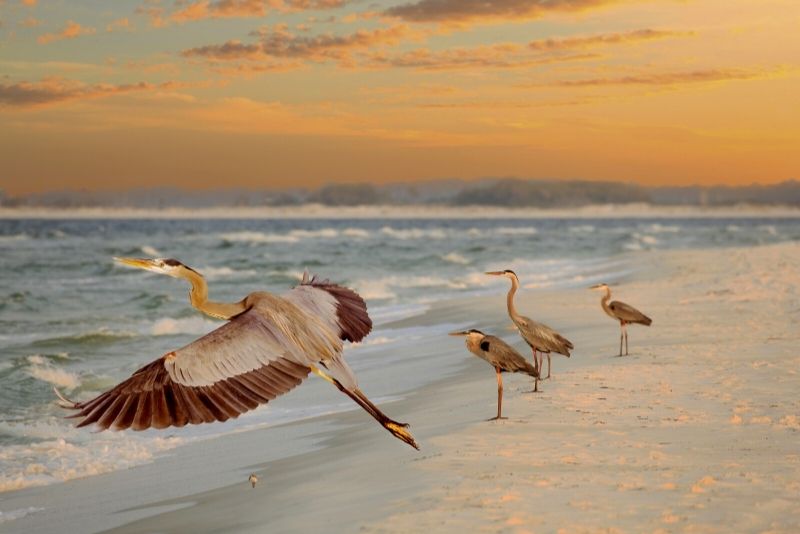 If you are looking for places to be enveloped in nature, Pensacola's Perdido Key State Park is highly recommended.
Visitors can see native nesting birds such as species of herons and gulls as well as rare migratory species like gannets and black skimmers.
It is often a good place to spot sea turtles such as loggerheads which return to the beach yearly to breed.
The incredibly rare Perdido Key beach mouse, which is found only here,  can also be spotted on occasion. The tiny mouse helps keep the dunes intact with its foraging behaviors.
Johnson Beach is the dedicated area for swimming at Perdido Key and has lifeguards patrolling the beach.
There are also some hikes to take, such as the Discovery Nature Trail which runs along a coastal boardwalk.
Oh, and despite what you may read online, Johnson Beach is not "clothing optional."
18 – See 'street art' at The Graffiti Bridge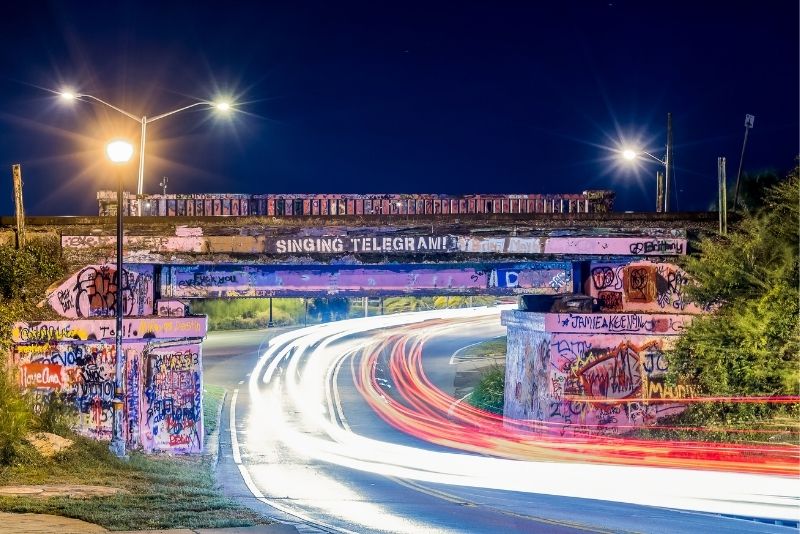 Sometimes weird things become tourist attractions, Pensacola's Graffiti Bridge is one of them.
This colorful railway bridge is daubed with graffiti on every flat surface, some of the work is beautiful some is not so much.
It has come to be acceptable to add to the bridges 'street art' and the authorities seem to be ok with it, though absolutely nowhere else in the area.
Some of the pieces are very heartfelt, offering messages of peace and solidarity to a wide range of causes including BLM and Alzheimers.
The artwork changes regularly as people add to it and it's even gained its own website which sells souvenirs.
19 – Attend the Jazz Festival at Seville Square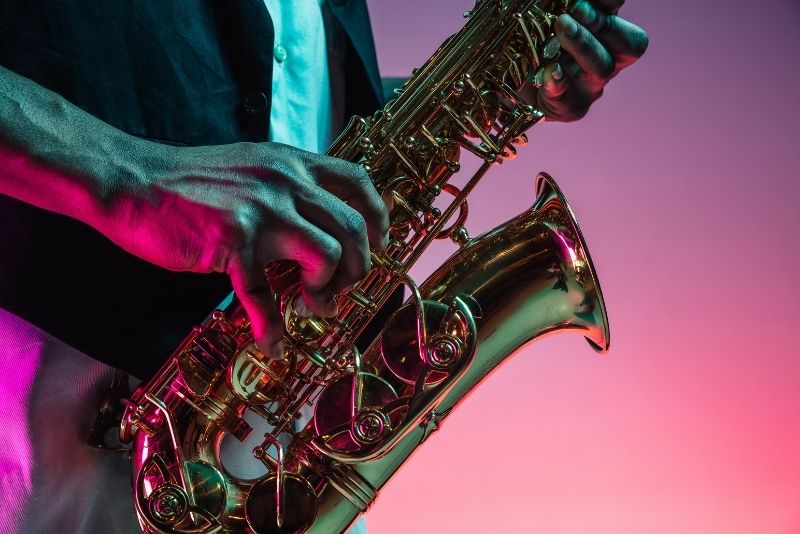 In the historic old part of Pensacola is Seville Square, a large park that is central to the town's festivities.
The park is a great place to hang out in the city being right by the Seville Quarter with its bustling bars and restaurants.
It has some large old oak trees to shade under as well as a picturesque gazebo and benches to relax on and soak up the atmosphere and cool sea breeze.
Throughout the year it hosts some of the city's biggest get-togethers, including the Pensacola Jazz Festival, The Seafood Festival and the Great Gulf Coast Arts Festival.
20 – Fly high at Sky Zone Trampoline Park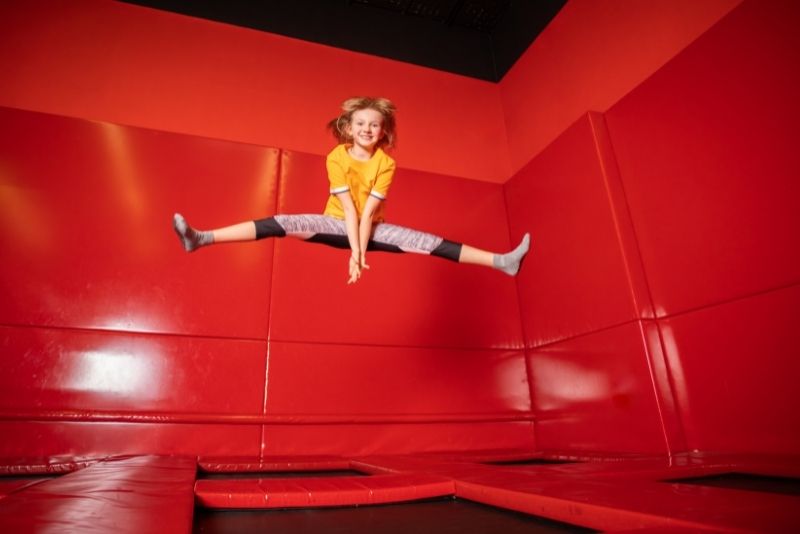 Looking for a way to burn off some energy, or simply want to do daredevil backflips without fear? Sky Zone Trampoline Park is a must-try thing to do in Pensacola for the whole family.
Join a freestyle session and explore this wall-to-wall trampoline park without limits, or level up your parkour skills by bounding freely over obstacles.
Challenge family and friends to a gladiator jousting battle or race to complete a Ninja Warrior-style assault course.
The park is of course fantastic fun for kids but adults will also get a kick out of this gravity-defying fun park. Don't miss a trip to Sky Zone!
21 – Awaken your imagination at Pensacola Museum of Art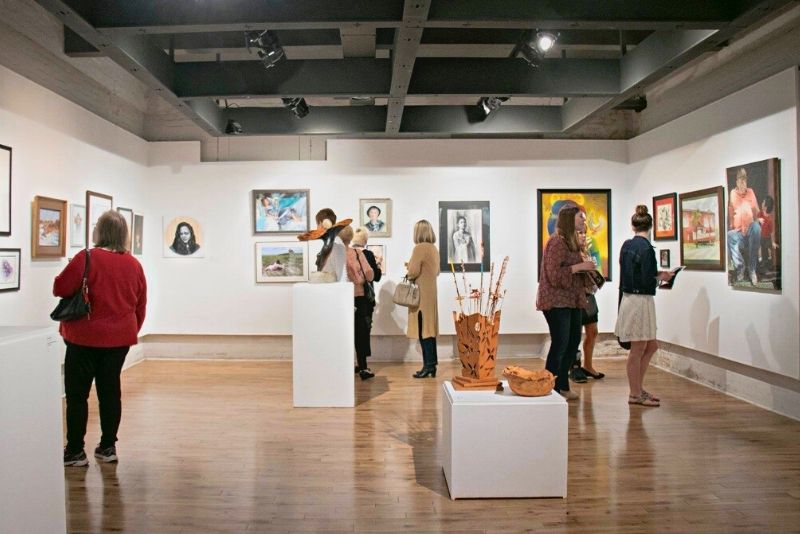 Located in the former city jail, Pensacola Museum of Art is one of the city's foremost cultural institutions and only art museum.
Its permanent collection includes works from the 19th-century to the present day including paintings, sculptures, decorative arts and African Art from the Levandowsky Collection.
The museum also displays temporary exhibitions and hosts a series of educational art classes for all ages.
Make it part of your trip to Pensacola and unleash your creative side.
22 – Meet the parrots at Uncle Sandy's Macaw Bird Park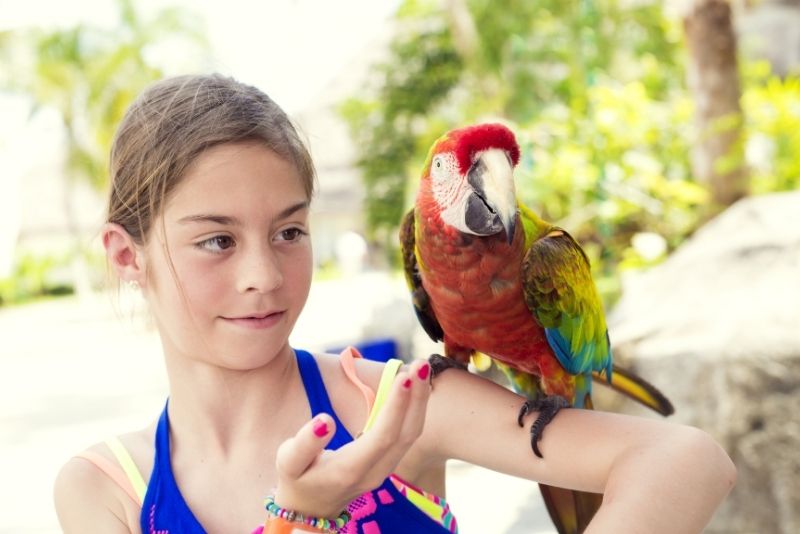 A sanctuary for our feathered friends, Uncle Sandy's Macaw Park started life as one man's dream to let his macaws fly free.
He built them a large enclosure in his garden which soon attracted the attention of others, thus Uncle Sandy's was born.
It is a not-for-profit organization and takes in macaws in need of shelter. The park also has an adoption program to find some of its residents happy forever homes.
Visitors are welcome so why not go along and meet some of these colorful and amazing creatures.
23 – Step back in time at the Historic Pensacola Village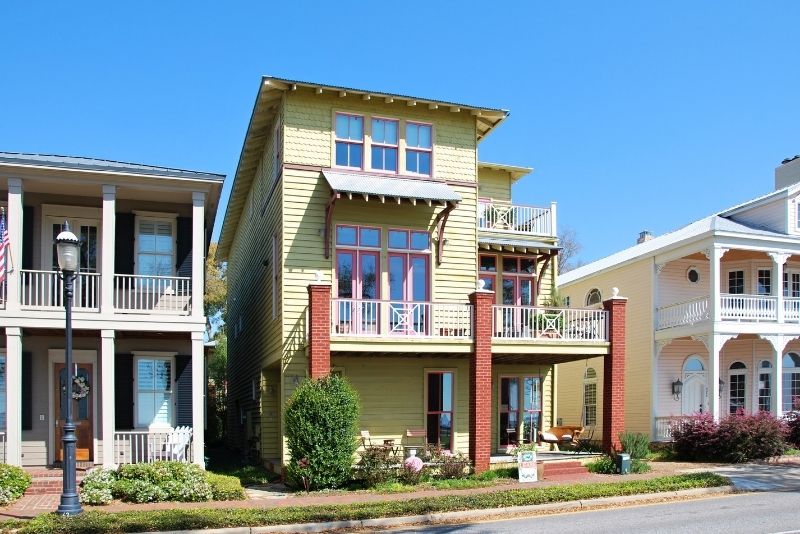 Way back in 1559, Pensacola was the first place the Spanish settled on the United States mainland.
It should come as no surprise then that it has some fascinating history to explore. Historic Pensacola Village includes a number of museums and 28 properties spread over almost 9-acres.
The architecture of the village covers a wide range of revival styles including Greek, Classical, Mediterranean, French-Creole and Victorian and they represent different time periods of the city's history.
Meet and talk with historical actors who will really bring the past to life.
24 – Bring the kids to Pensacola Children's Museum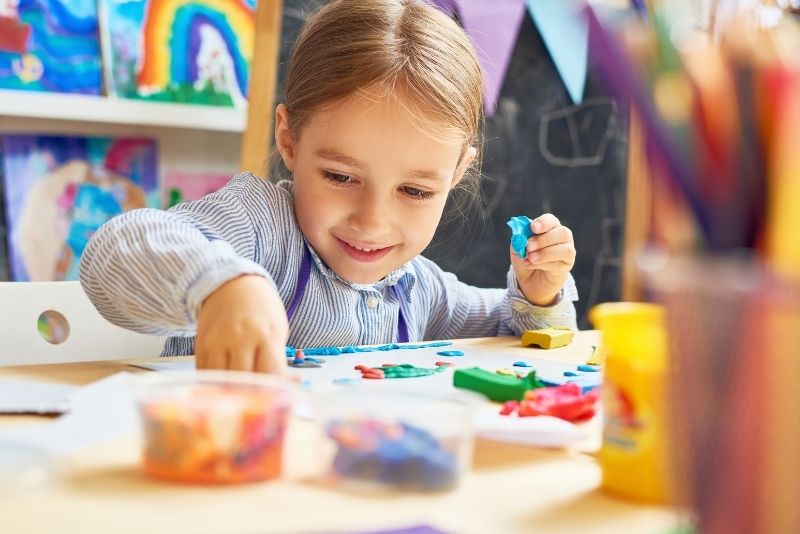 Located in Historic Pensacola, the Pensacola Children's Museum is great for kids up to the age of 11. It has interactive exhibits on different floors aimed at appealing to both younger and older children.
Explore the mini village and try on historical costumes. Play, climb and build in this lively but educational Museum.
The range of exhibits is updated constantly so be sure to check it out even if you've visited before.
Entry to the Children's Museum is included in the Historic Village unified ticket.
25 – Visit Trader Jon's Bar at Pensacola Museum of History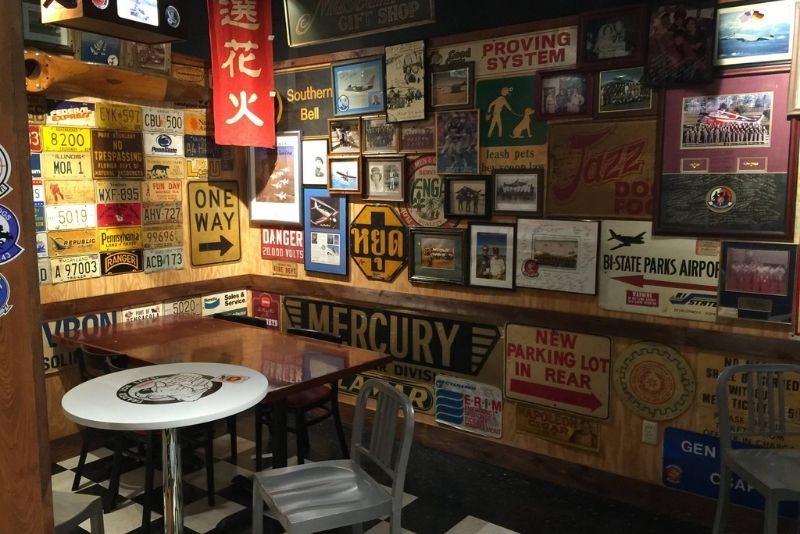 Talk about historic, the Pensacola Museum of History — formerly T. T. Wentworth Jr. Florida State Museum — is housed inside the old town hall, a beautiful Mediterranean Revival-style building from the early-1900s.
The museum is on the Finding 1821 Trail, which allows visitors to experience the city's rich cultural heritage which includes Spanish, British and American place names.
It lets visitors discover the fascinating story of the "City of Five Flags" through artifacts, photos and objects, both near and dear to the people of the city.
Discover Trader Jon's Bar, which was a favorite local hangout drawing in tourists and celebrities alike with its inimitable charm.
The museum also has temporary exhibits which have in the past have included topics as diverse as 911 Remembered, the varied career of Congressman Earl Hutto and postcards of Pensacola. This is a must for history lovers.
26 – Visit 1920s Pensacola at the Lear Rocheblave House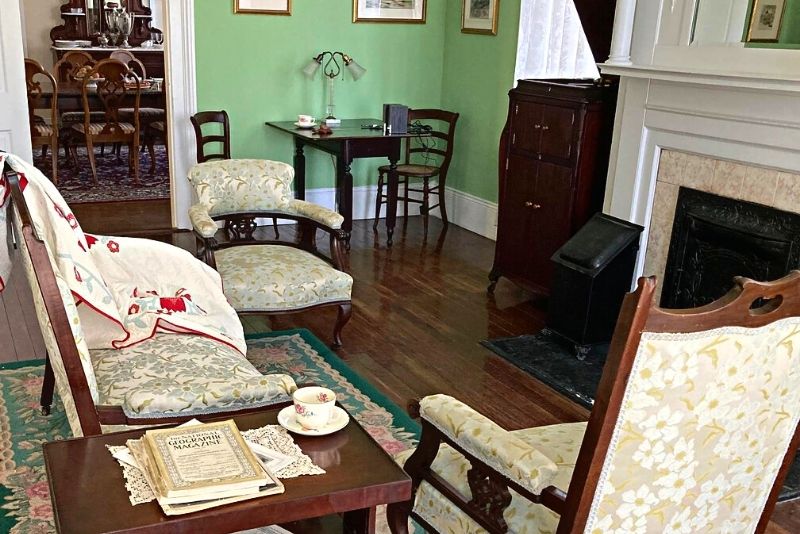 One of the most attractive house museums in Pensacola, the Lear Rocheblave was built in the late 1800s and is constructed in a Folk Victorian style.
It has elegant balconies on the upper and lower levels and currently houses 1920s style furniture and decor.
Other Pensacola museums such as the Dorr House and Lavalle House are decorated with items from an earlier period and should be visited together to get an idea of the changing tastes in the city throughout its centuries-old lifetime.
27 – Walk a historic city street at the Museum of Commerce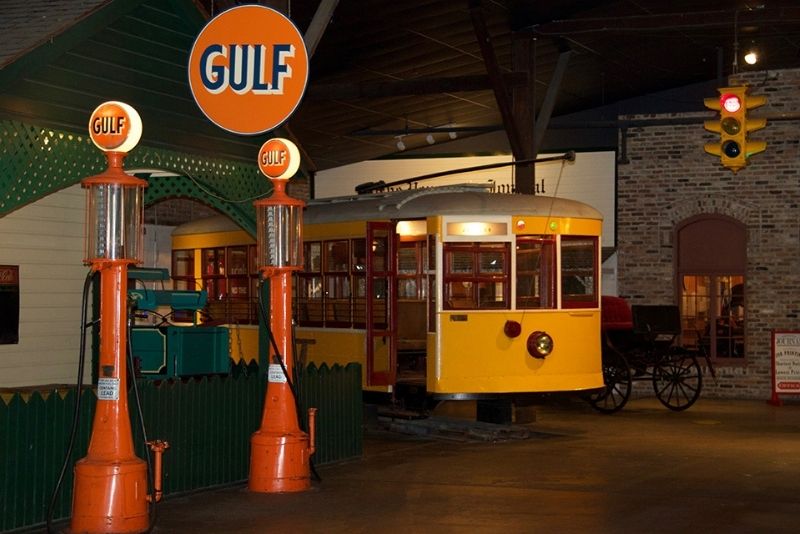 Step back onto the streets of Pensacola in the 1880s at the Museum of Commerce.
The Museum features a full-size indoor reconstruction of how the streets would have appeared in the late 19th-century.
This is definitely one of the most fun things to do in Pensacola for kids and adults alike with a love for history.
See the old-timey fuel pumps and one of the streetcars that, until the 1930s, were a common site — ferrying people about the city.
See horse-drawn buggies as well as historic shops selling everything from hardware and leather goods to toys and music.
This is a great way to get a feel for how Pensacola looked at the turn of the 20th-century.
28 – Discover the Voices of Pensacola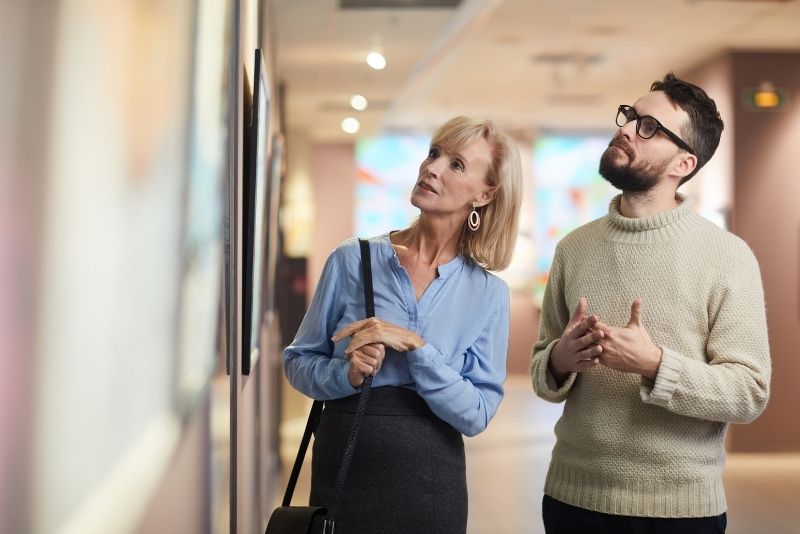 One of the city's most vibrant spaces, Voices of Pensacola, celebrates its diverse and multicultural heritage.
This interactive museum features a meeting place, bookstore, theater and exhibition spaces telling the stories of all the city's different cultures.
This unique museum also has a place to record the stories of visitors related to the city as well as explore the archive of videos recorded by others.
Check out the website for a list of upcoming events and make time to stop in during your trip to Pensacola.
29 – See the tools of the trades at the Museum of Industry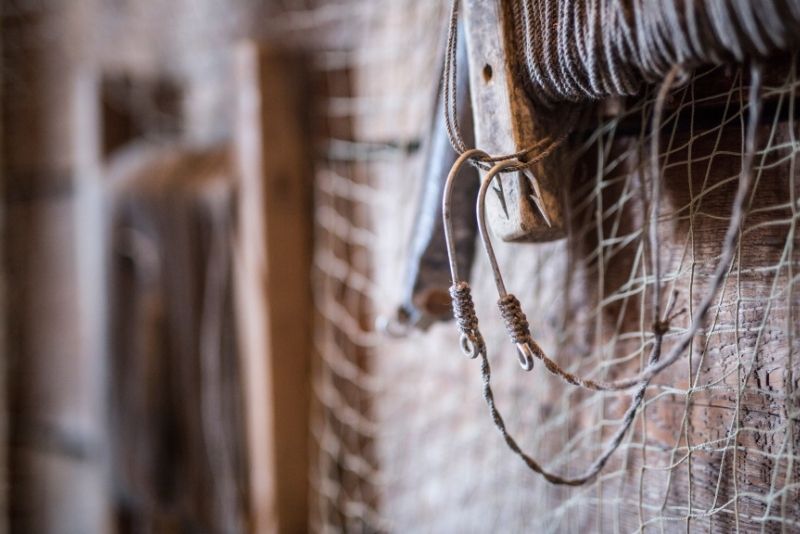 One of the most fun things to do in Pensacola for history buffs is to visit the Museum of Industry — which has fantastic exhibits showing how the fishing, lumber and brick-making industries made the city a bustling center of business in the 1800s.
Located in a building constructed for the Pensacola Ice Co. in the 1870s, the museum has many artifacts and items related to the different industries.
See a large collection of tools that were used for processing lumber and the many different kinds of bricks produced in the city.
Discover what made the area so perfect for these industries in this captivating, one-of-a-kind museum.
30 – Sail the bay on a dolphin-watching cruise
What better way to start the day than with a cruise around Pensacola Bay. These steady jaunts around the gentle Gulf waters cover an area of over 20 miles and are a perfect way to see most of the coast.
The cruise usually passes a number of famous landmarks including Pensacola lighthouse, Fort Pickens and NAS Pensacola. Stop at a remote beach to picnic and maybe take a swim and keep your eyes peeled for wildlife at all times.
The area is home to many Bottlenose dolphins and these curious creatures love to investigate passing boats. You may also see other amazing native creatures such as sea turtles, herons and pelicans on these relaxing private tours.
Jolly Sailing & Dolphin Cruises offers private tours for groups of 6-15 passengers. Tours are led by a knowledgeable captain who knows the best local spots to visit as well as the most likely places to see dolphins.
31 – Catch a Broadway show at the Saenger Theatre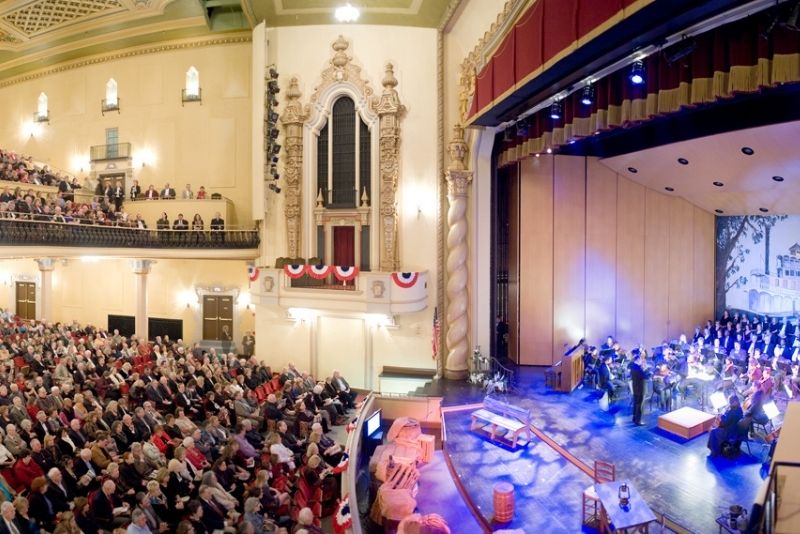 Referred to as the Grande Dame of Palafox, the Saenger Theater is the place to be in Pensacola for broadway shows and theater productions. In the past, these have included CATS, Jesus Christ Superstar and An Officer and a Gentleman.
The doors of this grand Spanish Baroque-style building first opened in 1925 as a movie house and theater for Vaudeville shows. It was donated to the City of Pensacola in the 1970s and was refurbished to serve the community as a performing arts space.
The bill often includes live music, orchestral concerts, dance, comedy shows and talks as well as theatrical performances.
Whenever you're in the city, be sure to see what's on and experience a night of entertainment in this atmospheric theater.
32 – Make experiments at Pensacola MESS Hall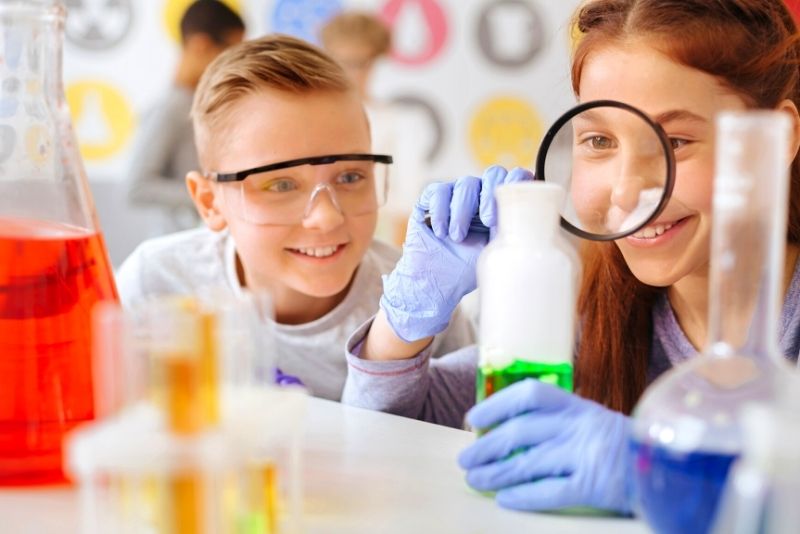 An acronym of Maths, Engineering, Science and Stuff, the MESS Hall is a fun and interactive science museum in downtown Pensacola.
Get hands-on with experiments and explore your creativity in this engaging museum for all ages.
The perfect place to bring children, MESS Hall sparks creativity and critical thinking. It has a number of permanent exhibits to try out and a changing menu of additional activities, which it calls MESS Kits.
This is a fun and inspiring thing to do for the whole family and may just spark a lifelong love of science in its young visitors.
33 – See an exhibition at the African-American Heritage Society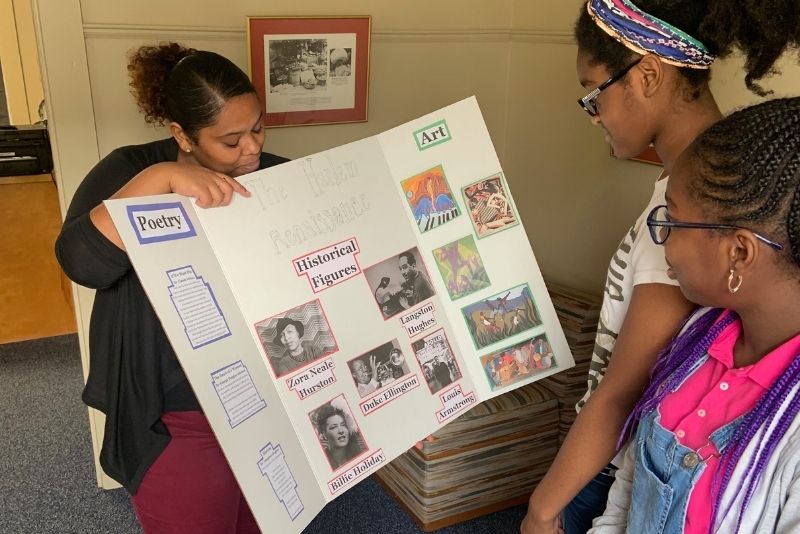 Pensacola's African-American Heritage Society was created as a way to preserve and incorporate the history of African-American's into the story of the nation.
It features exhibits relating to its people's roots and origins as well as historical injustice such as slavery and the Jim Crow period.
It also covers topics such as the Heritage of Black Music, such as Jazz, and hosts Youth Forums.
Check out its website to learn more about the history of the society and to see its program of cultural events taking place in Pensacola.
34 – Visit the historic Plaza Ferdinand VII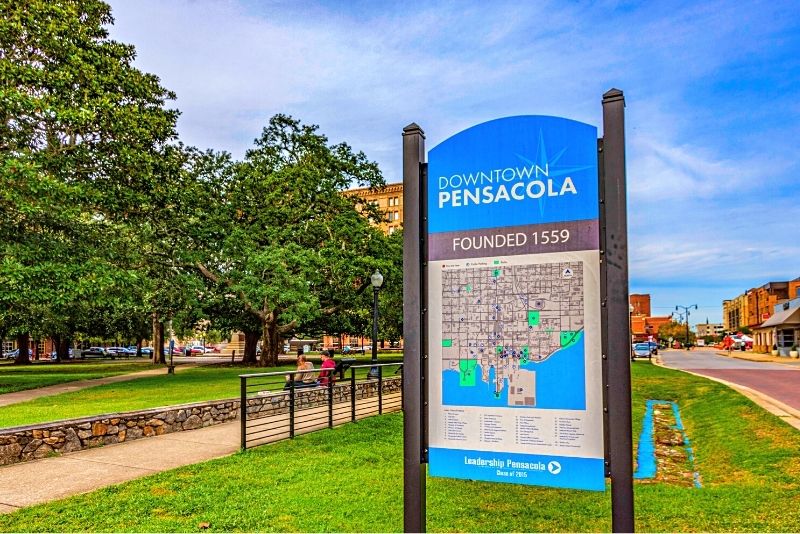 In 1821, Plaza Ferdinand VII was the place where Spain historically handed over ownership of Florida to the United States.
The ceremony, which occurred on July 17th was attended by the future 7th president of the US, Andrew Jackson, who was granted the title of Governor of Florida.
The park is a National Historic Landmark and features a bust of Jackson at the Southern end as well as antique canons at the corners of the park.
When they call it "Historic Pensacola" they aren't kidding!
35 – Tour the city's oldest house at Quina House Museum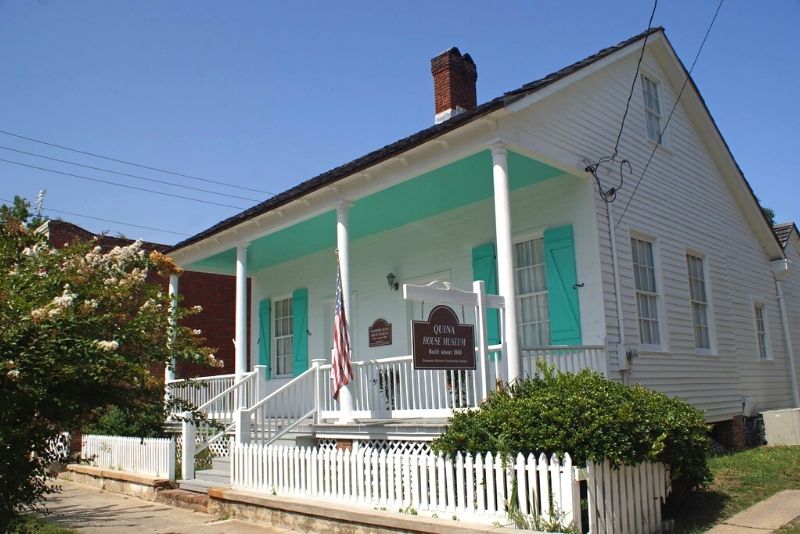 The city's oldest building that remains in its original spot, Quina House was built way back in 1810 during Spanish rule.
This typical building of the period is made from pine, oak and Cyprus timber on a brick base.
Inside visitors can see a collection of period items such as fine clothing, ornate furnishings and personal objects, including photographs, ceramics and bottles.
Admission to the house is free and it is operated by volunteer staff who offer guided tours.
Quina House is not part of the Historic Village but should definitely be on the visit list of those interested in local history.
36 – Walk the walls of Fort Barrancas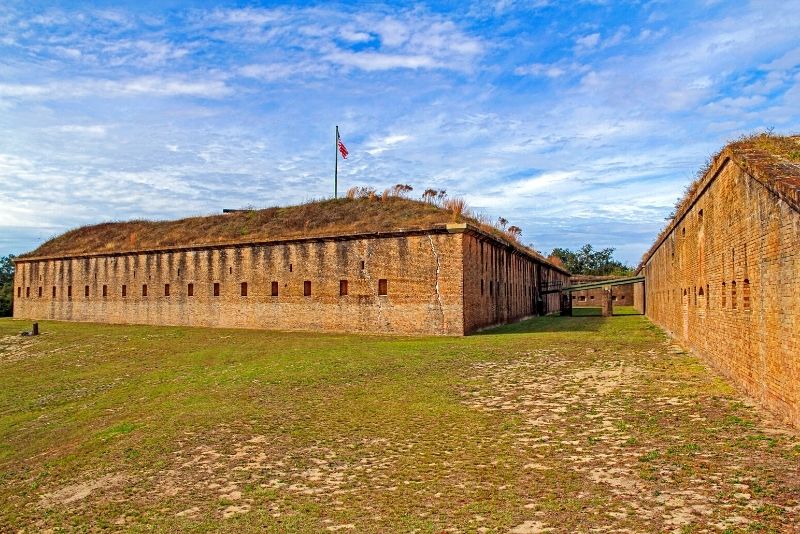 Designed to resist all forms of foreign attacks, Fort Barrancas used over six million bricks in the construction of its four-foot-thick walls.
Completed in 1844, it sits on the site of a number of older forts constructed by the Spanish, British and French, from the late 1600s onward.
Though built as a defense against foreign invasion, the only time it was attacked was by Union troops during the American Civil War, while in the hands of Confederate soldiers.
You can tour the restored remains of the fort and also check out the Gulf Islands National Seashore Visitor Center which is also inside the grounds.
37 – Dive the wreck of the USS Massachusetts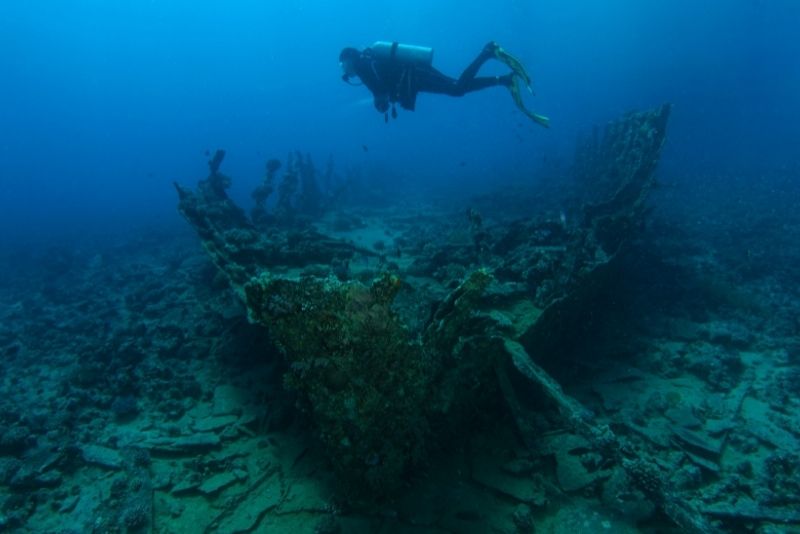 The USS Massachusetts was built in 1896, along with two other sister-ships — the USS Oregon and USS Indiana. These three vessels were the first steel battleships built for the US Navy and were heavily armored, although not without their problems.
A design flaw meant the ships were very unstable in the water and could easily keel over if the heavy 13-inch gun tubes were not balanced.
The ship was decommissioned 10 years later and sank during a training exercise in the 1920s.
This super-historic battleship sits in about 30 feet of water just off the coast of Pensacola Pass. The ship is a favorite spot for divers due to its shallow location.
Though much of the steel has been salvaged it is still in pretty good condition and now harbors lots of interesting wildlife.
38 – Try stargazing at Big Lagoon State Park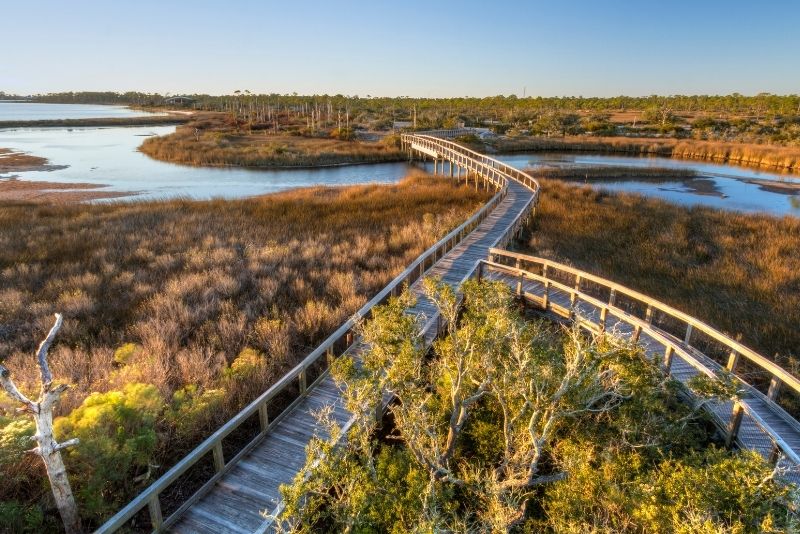 Big Lagoon State Park is an awesome place for a day out in nature. Paddle the tidal marshes on a kayak or hike the trails through acres of pine forests.
The park also hosts regular events, including stargazing and campfire get-togethers with historical tales.
If you're ambitious enough to take on the Florida Circumnavigational Saltwater Paddling Trail, Big Lagoon State Park will be either the beginning or endpoint of your 1,500-mile trip.
The route spans the whole coast of the Florida peninsula, passing through 20 national parks, 47 state parks and 37 aquatic preserves as well as a variety of landscapes, from urban shores to the wild Everglades.
39 – See a play at Pensacola Little Theatre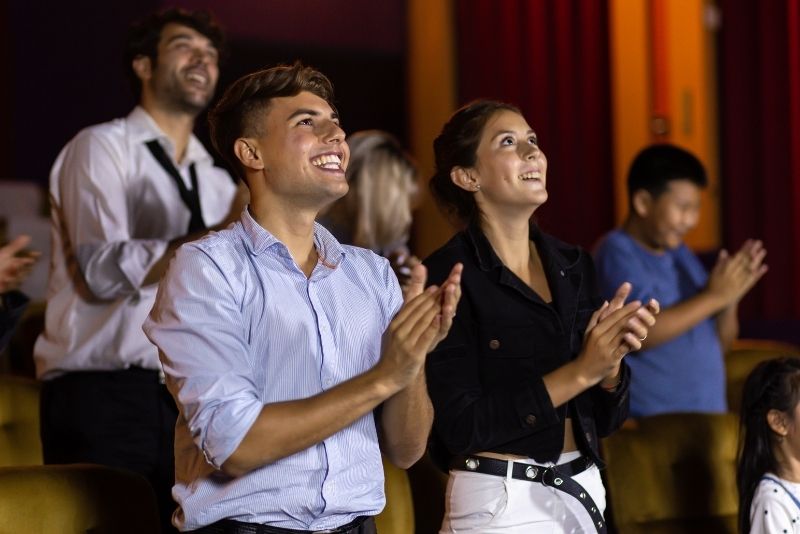 Located in a grand building that was formerly a jail and County Court facility, Pensacola's Little Theater is the city's long-standing community performing arts center.
Formed in 1936, it houses two performance spaces, allowing the hosting of small intimate productions as well as more expansive ones.
The theater puts on around 15 productions each year, including dramas, comedies, musicals and classics as well as performance classes for both children and adults.
For a fun family-friendly night out, definitely check out Pensacola Little Theater.
40 – Walk in the wild at Tarkiln Bayou Preserve State Park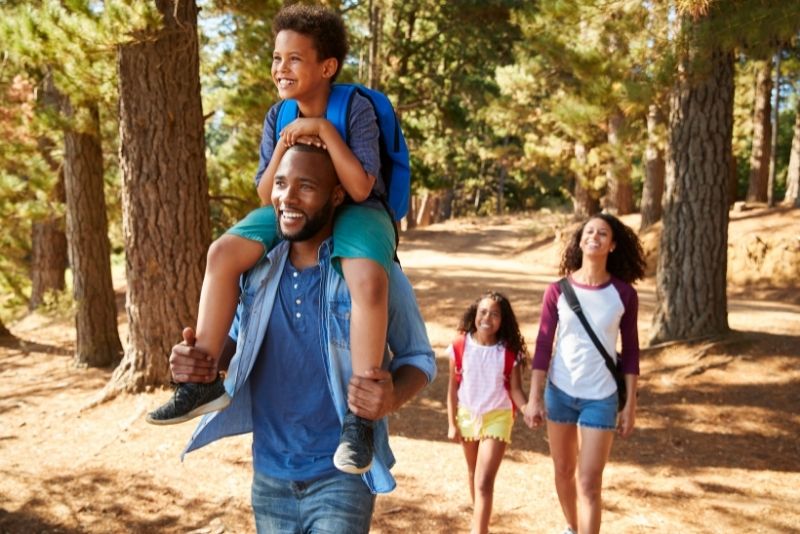 One of the larger state parks near Pensacola, Tarkiln Bayou Preserve is home to a number of rare plants and creatures.
The white-topped pitcher plant is one such species that is making a comeback in the park. It is a carnivorous plant species that exists only in the park and a few other nearby places.
The extensive wetlands of Tarkiln Bayou support a large array of life including snapping turtles, white-tailed deer and bobcats. The park has a short hiking trail that joins up to the longer Perdido Bay Trail.
There are also picnic benches and a number of mountain biking and nature trails to explore.
41 – Catch a Pensacola Blue Wahoos game at Admiral Fetterman Field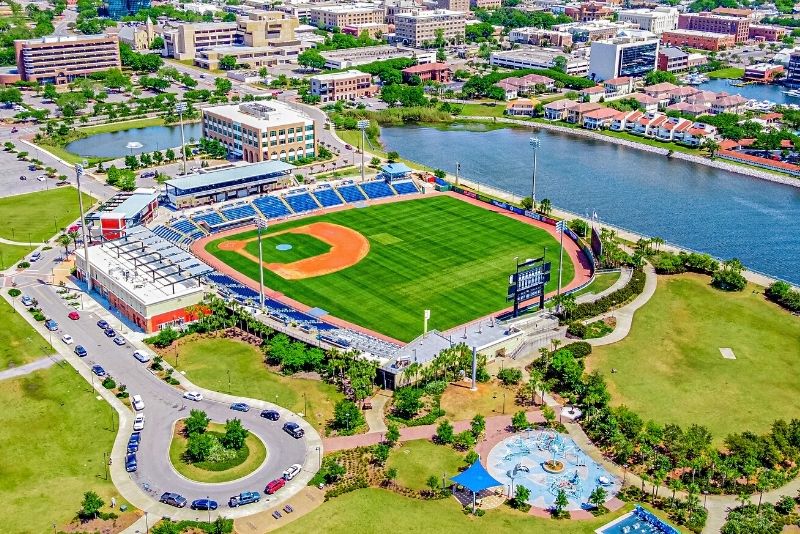 Home to the amusingly titled Pensacola Blue Wahoos baseball team, Admiral Fetterman Field is a must-visit for sports fans when in the city.
The purpose-built stadium has been home to the Minor League Baseball team since 2012.
This community stadium also hosts seasonal events such as Halloween festivities as well as all kinds of athletics competitions.
It is considered one of the nicest stadiums in Minor League Baseball and due to its small size has an intimate atmosphere.
42 – Pay your respects at Veterans Memorial Park Pensacola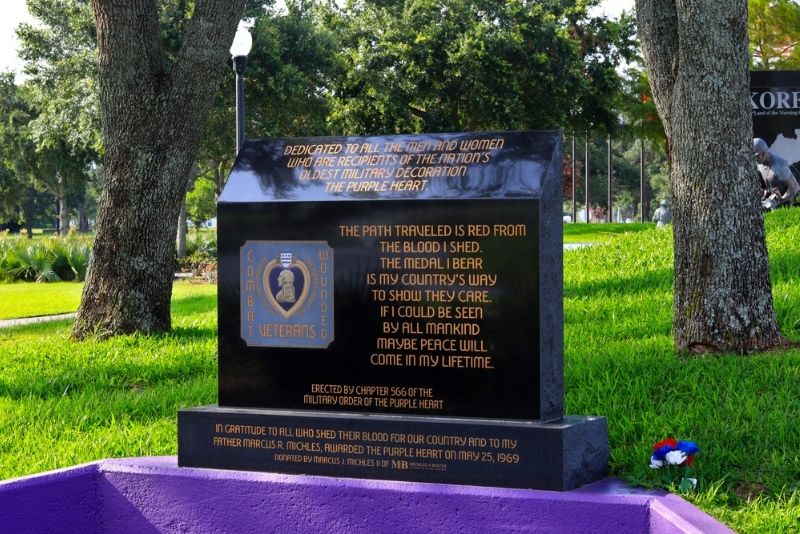 The funding for many of the memorials in Veteran's Memorial Park was actually raised by local war veterans who decided the city needed a place to remember those who served.
Visitors can see a number of heartfelt monuments dedicated to United States Servicepeople who have fought for the country.
There are specific memorials for the Korean and Vietnam wars as well as the Submarine Lifeguard League.
The park also has a large pond and a full-size helicopter to see.
43 – Join Storytime at Destination Archaeology Resource Center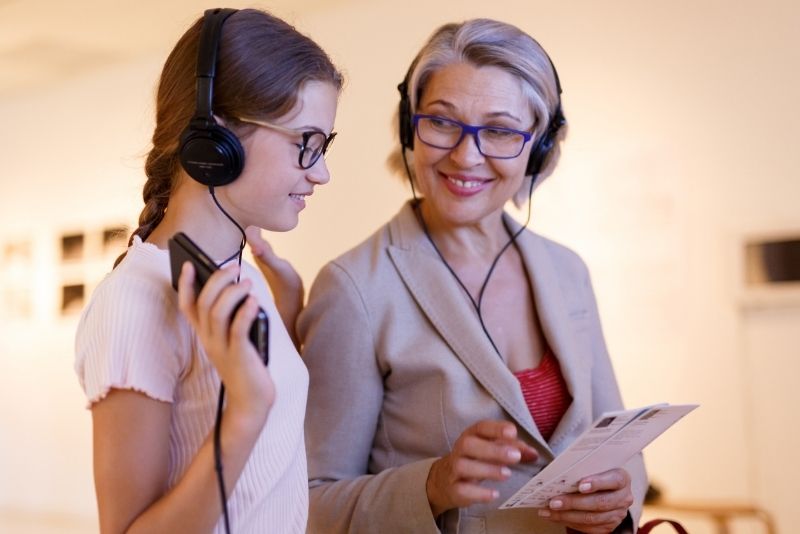 One of the best places to visit if you're interested in the early colonial and prehistory of the region, Destination Archaeology Resource Center is located in the Florida Public Archeology Network headquarters.
Admission to the museum is free and includes information and artifacts from Native American, Spanish and British sites excavated in the area.
Visitors with younger children should check out the Archeology Storytime, which will ignite their imagination and bring them into the exciting world of archeological discovery.
The center also hosts a number of other activities and provides information on historical places to visit throughout Florida.
44 – Release your inner warrior at Grizzly Axes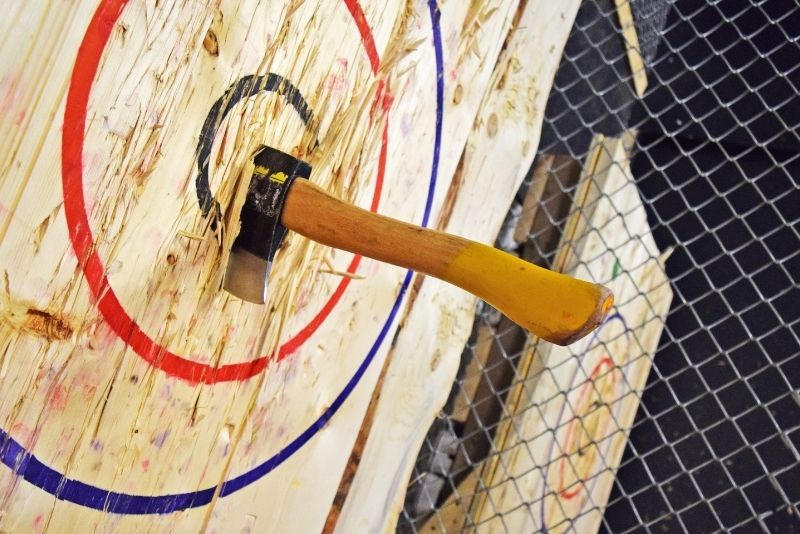 Okay, it's officially a thing! Though ax-throwing used to be the sport of backyard lunatics it's now gone mainstream.
This is evident in the popularity of Grizzly Axes, Pensacola's first ax-throwing establishment.
The large facility has almost 30 targets and space for 175 ax-wielding sportspersons. Gather up your friends and family and head down there for some beers and a round of hatchet-hurling.
If ax-throwing isn't enough and you feel the need to go totally berserk, check out the Grizzly Axes Rage Room where you can don safety goggles and obliterate fragile items with a hefty sledgehammer.
Expecting a child? Book a Rage Room Gender Reveal Party for the most unforgettable spectacle ever.
45 – See stock car racing at Five Flags Speedway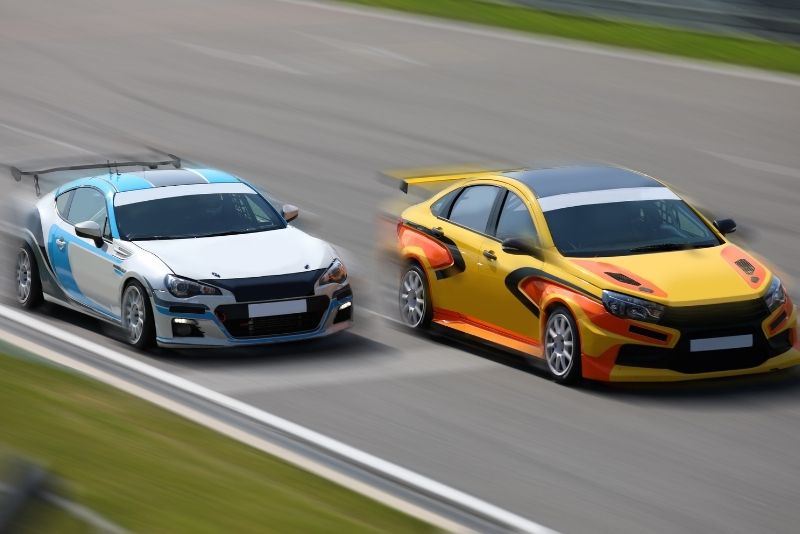 Since 1968, Five Flags Speedway has been home to the Snowball Derby.
Every December the track hosts the grueling 300-lap race, one of the final stock car events of the year, which draws racers and spectators from all over the country.
The half-mile oval track was built in the 1950s and is one of the fastest tracks in the region due to its high-banked corners.
Five Flags also hosts other high-octane events such as monster truck shows and swap meets.
46 – Let the kids run wild at Bounce House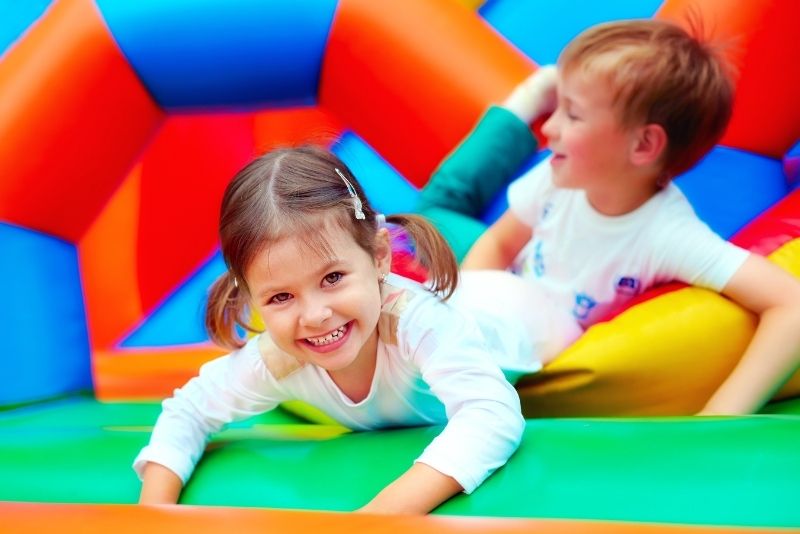 Sometimes kids just need a padded room to be let loose in. Bounce House lets them run, jump, bounce and slide in total safety.
This colorful indoor playground is packed with inflatables, foam pits and games that will keep them entertained for hours.
The park is great for toddlers and kids aged up to around 12. It also sells a selection of foods such as pizzas and nachos which make it a great all-in-one option for those rainy days.
47 – Eat at Pensacola's best restaurants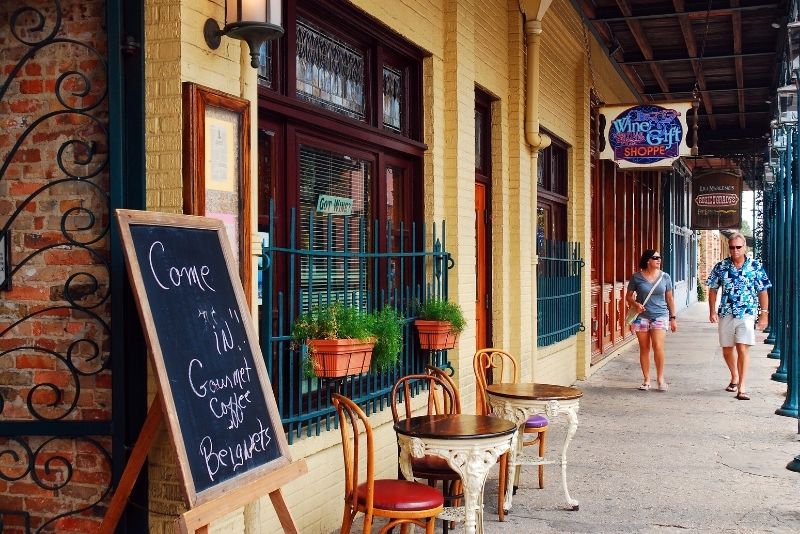 Many people want to sample the best fresh seafood dishes during their time in Pensacola. For terrific fish dishes, sushi and seafood, The Jellyfish Restaurant and Bar is a popular local choice. Located in Perdido Key, it specializes in tuna and oyster dishes but also serves up an extensive menu that includes steaks, tacos and burgers.
Miller's Ale House serves up hearty dishes and choice beers, with 35 different brews on tap as well as signature cocktails and a lengthy wine list. Its menu includes customer favorites such as zingers and wings, fajitas and homemade meatloaf. It also has regular deals and drinks promotions which make it a great value eatery.
One of the most fun places to grab a bite to eat has to be the Seville Quarter, which, for those who are yet to experience it, is a complex of delightful bars, cafes and restaurants centered around Rosie O'Grady's Good Time Emporium. The Quarter is a bustling spot and offers an assortment of live music and a charming old-timey style.
48 – Ride the Ferris wheel at The Wharf at Orange Beach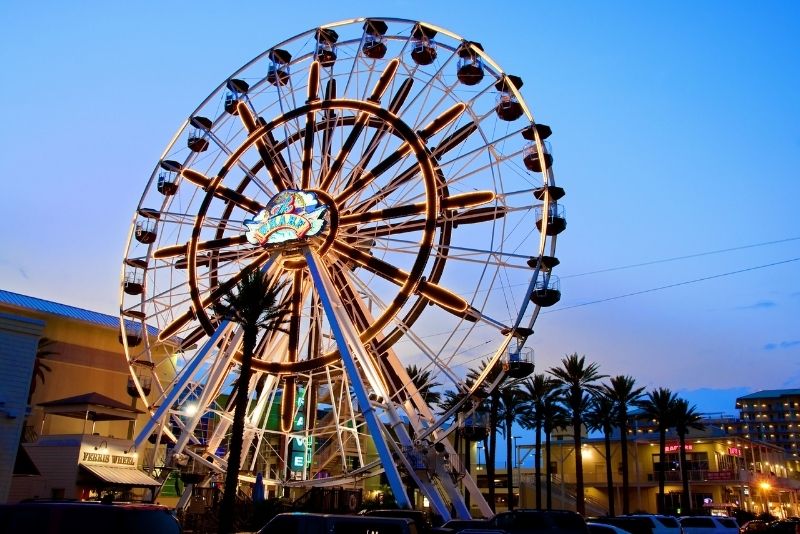 Just down the coast in Orange Beach is the shopping and dining district known as The Wharf.
There are a bunch of eateries serving international dishes, coffee and ice cream as well as boutique clothing stores for all your seaside essentials.
The wharf also has an AMC Classic Cinema so you can catch up on the latest blockbusters as well as some fun rides to try out.
You can ride the Ferris wheel and zip line here for great views over the bay or go head to head in a game of mini-golf or laser tag.
49 – Shop till you drop at Palafox Place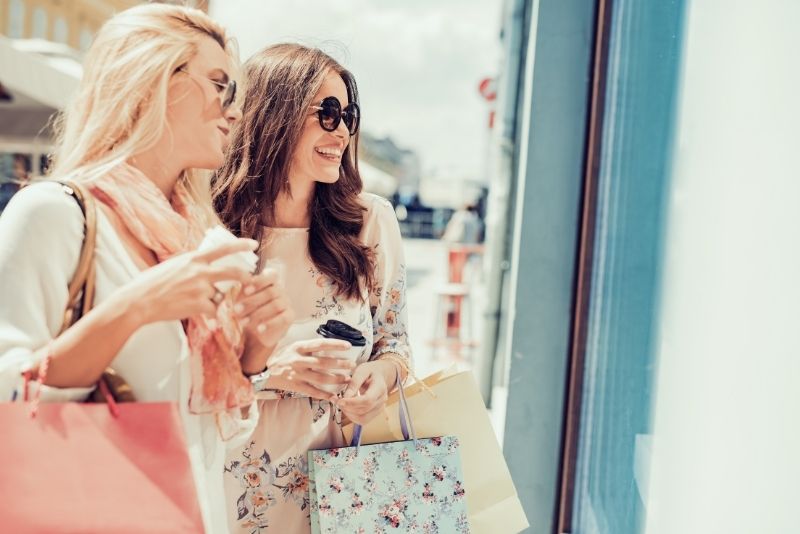 If shopping is your thing or you just get an itch for some retail therapy while in Pensacola, definitely check out the chic stores and boutiques at Palafox Place.
The downtown area of the city is booming with independent stores selling everything from clothing to cosmetics and home furnishings.
Discover locally produced arts and crafts, including photography, sculptures, prints and jewelry.
Don't forget to check out Palafox Market on a Saturday morning to find lively atmosphere, delicious fresh food, great quality local products and live music.
50 – Get in the groove at Pensacola Beach Boardwalk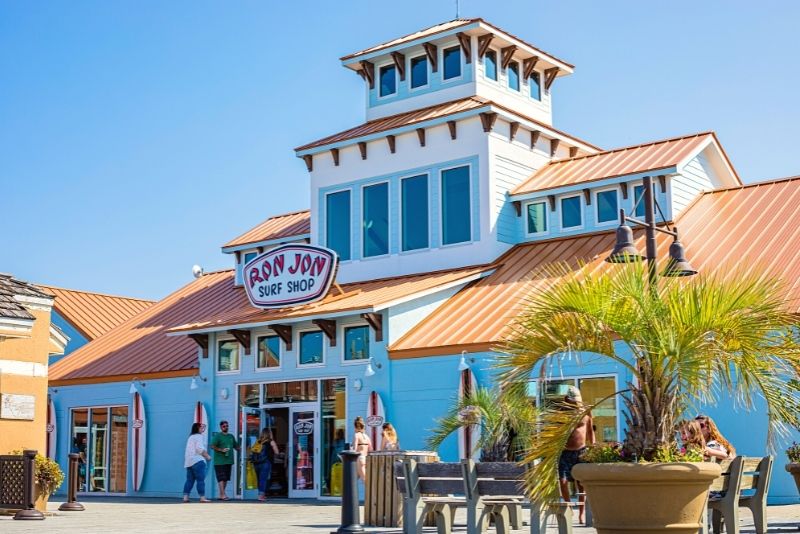 Start your evening the right way by sipping an ice-cold beer or cocktail as you watch the sunset over the waterfront before digging in a delicious meal.
Nearly a 30-kilometer stretch of white sand and clear water, Pensacola Beach Boardwalk is a favorite spot among locals and visitors. Aside from all-day access to the beach, it also offers a wide array of shops, restaurants and bars — some with live entertainment.
Strike your best pose for a selfie at the iconic landmark, The Shell amphitheater then take a stroll down to the picturesque Quietwater Beach (the name speaks for itself).
Explore the entire area by bike or take the free trolley across the island. If you're planning to swim, surf or sunbathe, then the boardwalk is a great place to start your day.
51- Paint the town red on a pub crawl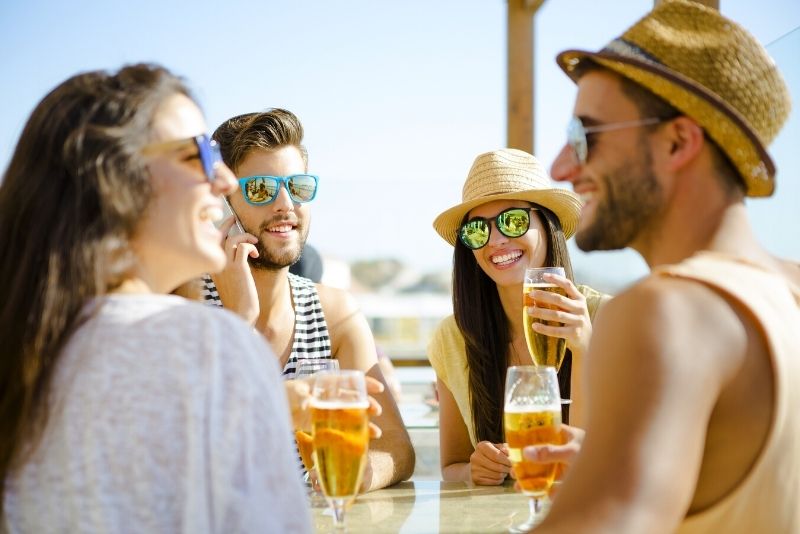 Whether you want to end your trip with a night on the town or simply want to check out the town's best drinking holes, join a pub crawl and experience Pensacola nightlife for yourself.
Rule the street on a Pedal Trolley pub crawl, which takes you to a selection of the city's best bars. Enjoy a bottomless drink on the road and catch live music at the World of Beer, as well as fun themed trivia events.
If an Irish saloon is your flavor of the night, then head straight to McGuire's Irish Pub located at the city's original vintage firehouse. Don't forget to look up to see a million dollars in single bills hanging on its walls and ceilings.
Another Irish pub you shouldn't miss is O'Riley's found on Palafox Street — the heart of historic downtown Pensacola. It's the best choice if you fancy playing billiards, renting out a private bar or tasting some authentic Irish delicacies.
When it comes to food, George Bistro and Bar boasts award-winning cuisine, from tapas, salads and steaks, to desserts, wines and hot teas. Whatever you're in the mood for, you're sure to find something to tickle your fancy in Pensacola.
Hopefully, you enjoyed reading the selection of things to do in Pensacola, Florida. If you have other fun places to recommend don't hesitate to leave a message.
If you have not booked your accommodation yet, check out the best hotels in Pensacola.
Happy travels!