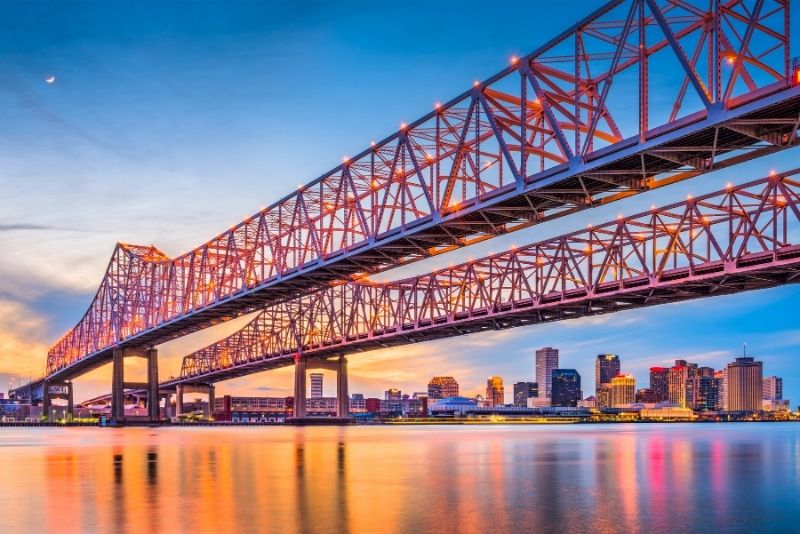 Looking for fun things to do in New Orleans? Look no further!
The beloved heartbeat of the American South, charming New Orleans welcomes over 18.5 million visitors, year after year. They come for the jazz and the wild parties, but they stay for the intricate history, fascinating museums, spacious parklands, and gator-infested swamplands.
NOLA is where Cajun and Creole culture thrive; where partiers dance into wee hours of the morning; where history geeks rejoice; and where travelers from near and far go to unwind.
Take a tour on the Mississippi, admire the Mardi Gras traditions, visit a plantation, drink a drive-thru daiquiri, and so much more in this world-famous Crescent City.
Planning a trip to the Big Easy in the near future? Then make sure to tick as many of these activities off the list as possible.
1 – Take a Mississippi River jazz cruise on the famous Steamboat Natchez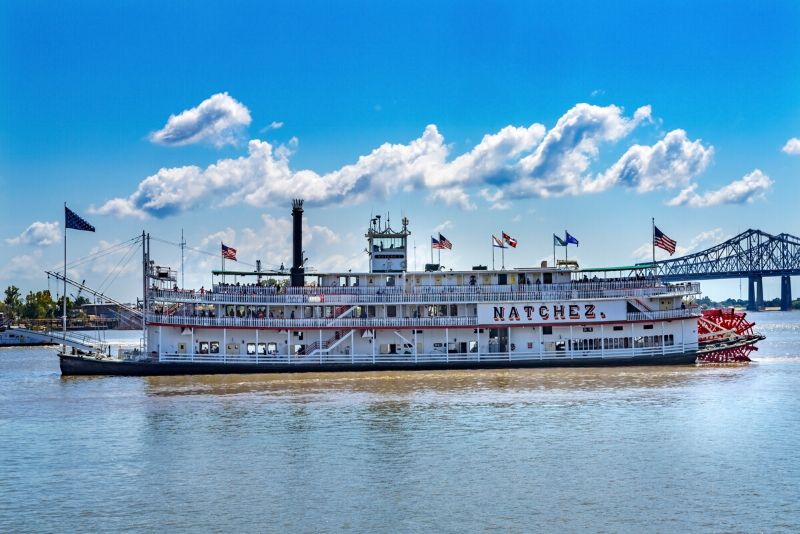 Immerse yourself in Old World charm with a delightful sail aboard the historic Steamboat Natchez. A true NOLA icon, this authentic steamboat has been welcoming tourists since 1975.
As you float along the Mississippi River on your two-hour cruise, you'll be dazzled with live toe-tappin' jazz music, fed from a scrumptious buffet selection, and educated on the fascinating history of the region.
Read more about the Steamboat Natchez Cruise.
2 – Get spooked on a New Orleans ghost, voodoo & vampire walking tour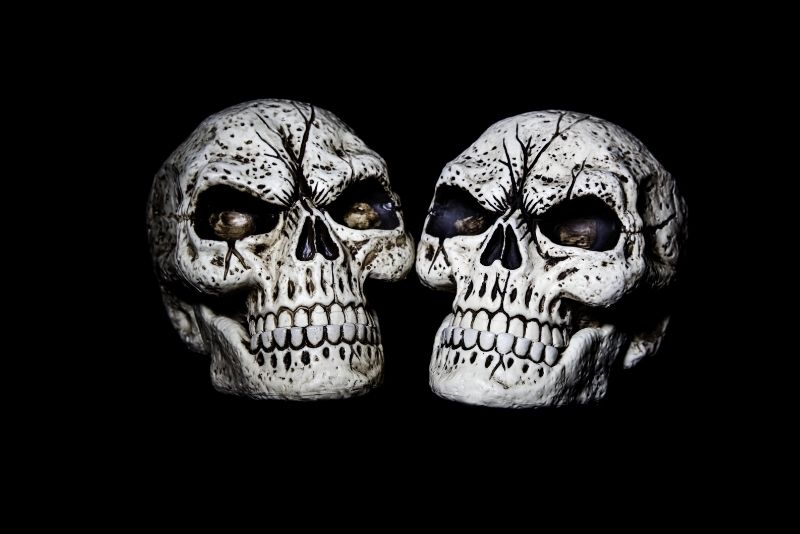 Renowned for its intricate history of paranormal activity, it's no surprise that New Orleans is often regarded as the most haunted city across North America.
Take a guided stroll through the French Quarter while hearing about legends of local ghosts, unsolved mysteries, vampires, and black voodoo magic.
Goosebumps are guaranteed, especially if you opt for the moonlit tour.
Learn more about the best Ghost Tours in New Orleans.
3 – Spot Banksy artworks on a street art tour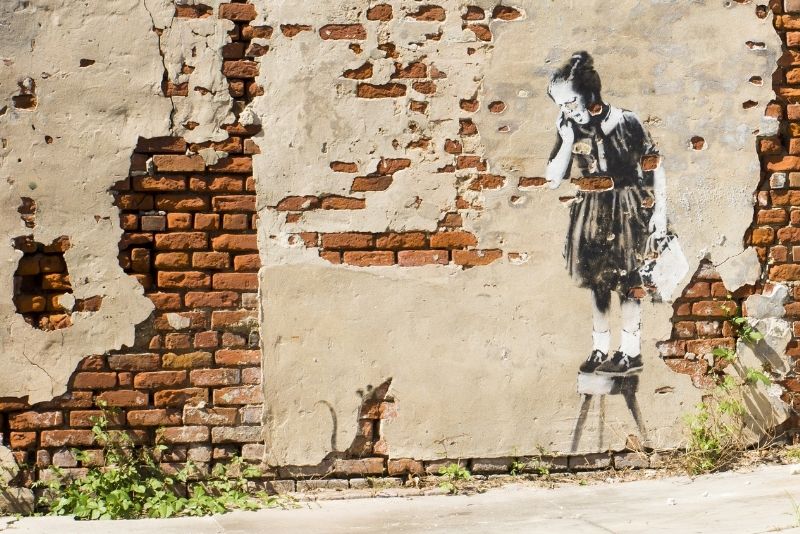 As a city renowned for its eclectic culture, NOLA's streets have no shortage of progressive art. Plenty of walking tours include mural sections, highlighted, of course, by the infamous works of Banksy.
The elusive artist has regularly used these streets as a canvas for his artwork, arguably none more famous than Rat and a Girl on N. Villere Street.
4 – Play detective in an escape room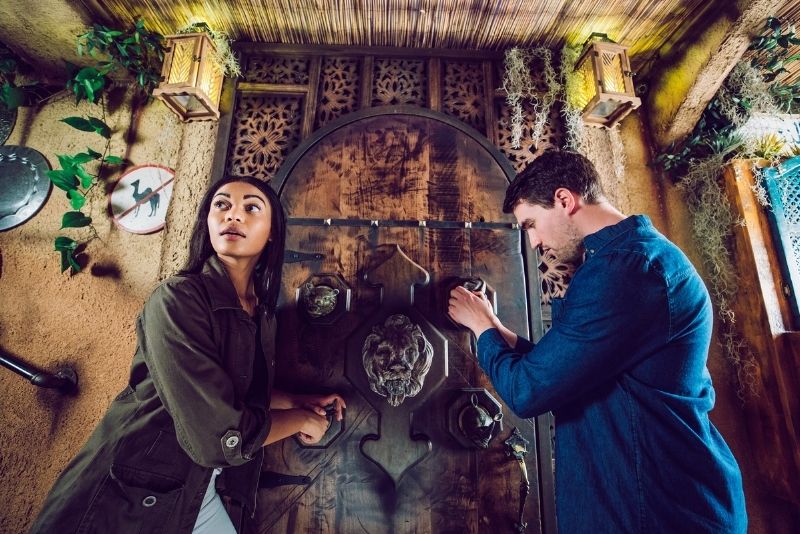 When NOLA's humidity becomes too much to handle or when storms start brewing, escape the outdoors by trying to escape indoors!
The Escape Game boasts a collection of themed escape rooms including heists, prison breaks, special ops, and more – all of which challenge the mind and force you to practice teamwork with your co-escapees.
For anyone who loves solving puzzles, this is a great way to spend an hour or two!
5 – Enjoy a carriage ride through the French Quarter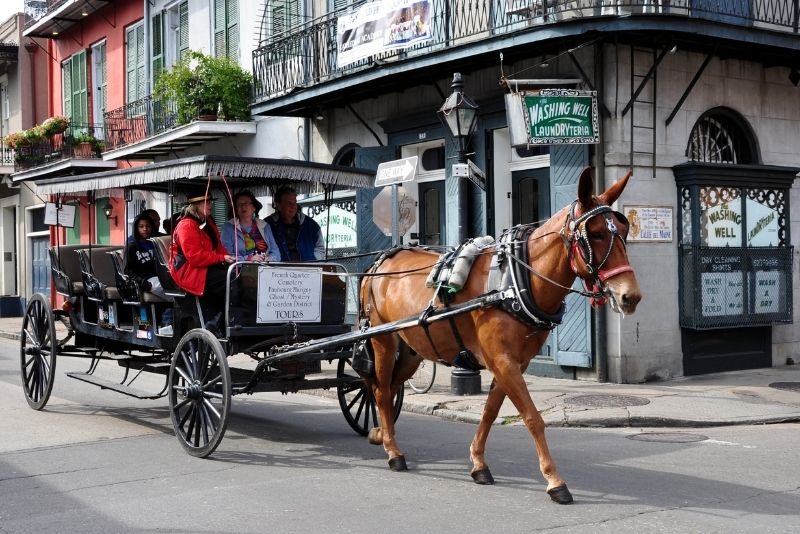 The French Quarter is an iconic, unmissable tourist draw, with popular landmarks like Jackson Square, Napoleon House, and St. Louis Cathedral lining the streets.
But walking around New Orleans can get tiring, especially on those cobblestones – so why not let a couple of horses effortlessly pull you along instead?
Not only will the horse-drawn carriage provide an escape from the foot traffic but you'll learn a thing or two along the way as well; a professional guide will be dishing out unique insights all the way through.
6 – Sip in style on a New Orleans cocktail history walking tour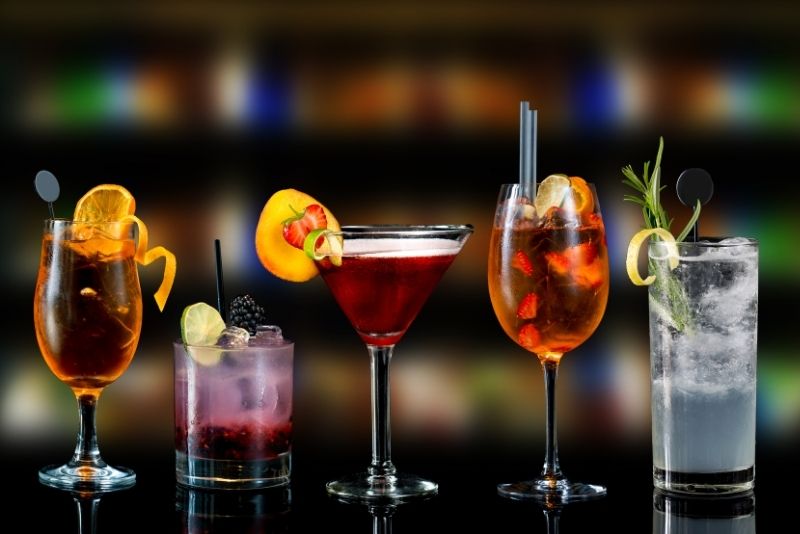 It was only a matter of time before someone mentioned alcohol. NOLA is renowned for its extravagant party lifestyle; without sampling a drink or two, you miss out on the full New Orleans experience.
But a drink doesn't necessarily mean a hazy night of binge drinking on Bourbon Street – sip with sophistication on a historic cocktail-themed walking tour.
The knowledgeable guides will lead you to a few lesser-known local haunts, where expert bartenders will enlighten your mind and your tastebuds with amazing drinks and NOLA-themed stories.
7 – Taste the NOLA flavors on a French Quarter food tour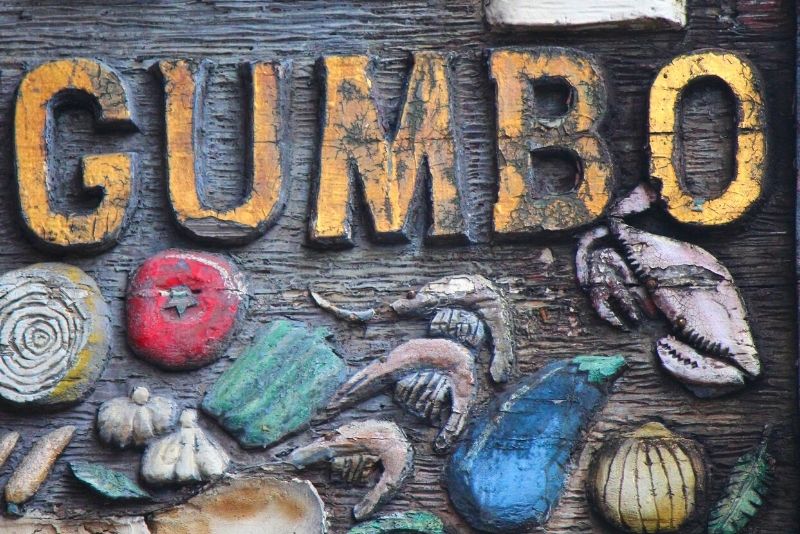 Cancel that restaurant reservation, take a food tour instead!
Led around the French Quarter on foot by a local expert in gastronomy, hungry travelers will have to chance to visit a number of famous eateries, sampling quintessential dishes such as seafood gumbo, Creole brisket, and beignets – just to name a few.
Best of all, you can tweak the tour to suit your palate.
8 – Cruise past alligators on an airboat swamp tour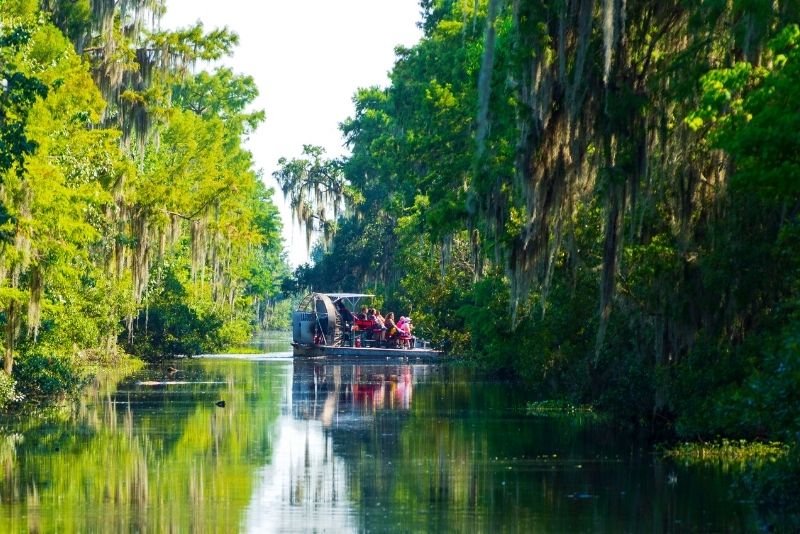 New Orleans is a city surrounded by swamplands, and these marshes hold a special place in the local culture.
For an unforgettable afternoon that's fun for the whole family, board a high-speed airboat; as you zoom through the swamps learning of Cajun history, keep an eye out for snapping alligators, wild pigs, and other native wildlife.
If you're after something a little more relaxing, plenty of slower boat tours are available – even kayak rental is available!
No matter how you explore the swamps, it's one of the essential things to do in New Orleans.
Read more about the best swamp tours in New Orleans.
9 – Ogle at the enormous plantations on a Garden District tour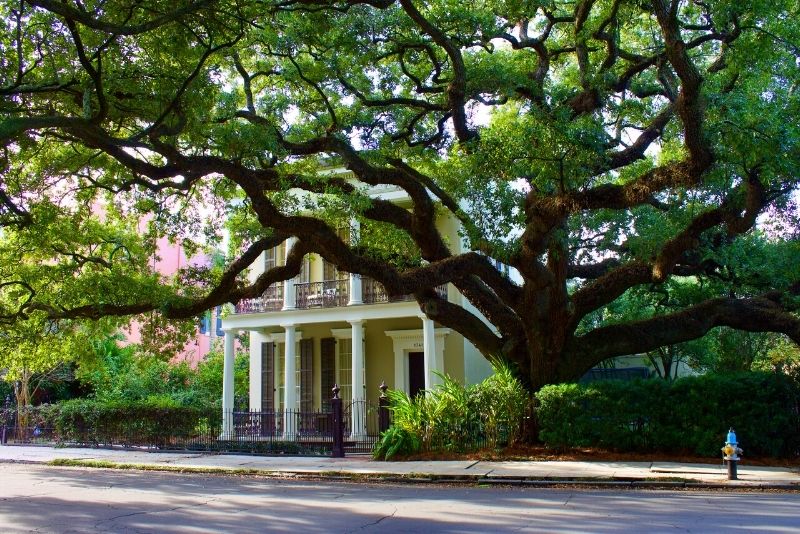 The Garden District might not receive the same attention as the French Quarter, yet only to the detriment of those who choose to overlook it!
This historic and beautiful locale is home to plantation-style mansions juxtaposed by quaint cottages and enormous overhanging trees — the epitome of Southern charm.
Whether you prefer to explore on foot, or wheels, or even with a beignet in hand, there's a tour that's right for you.
10 – Tour the iconic St. Louis Cemetery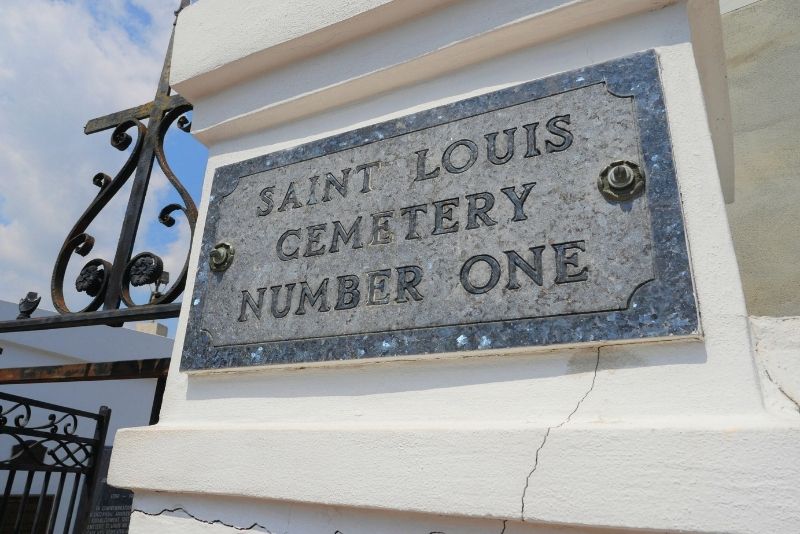 Due to NOLA's swampland foundation, unlike most American cities, the majority of the region's graves are presented in above-ground vaults; they're intricately decorated and eerily stunning.
With a guide leading the way, you'll learn about the tombs themselves and discover the historic figures which lay inside — none more famous than Voodoo Queen, Marie Laveau.
If you're not too keen on immersing yourself in large crowds and tour groups, exceptionally-rated private tours are available as well.
11 – Hop on a streetcar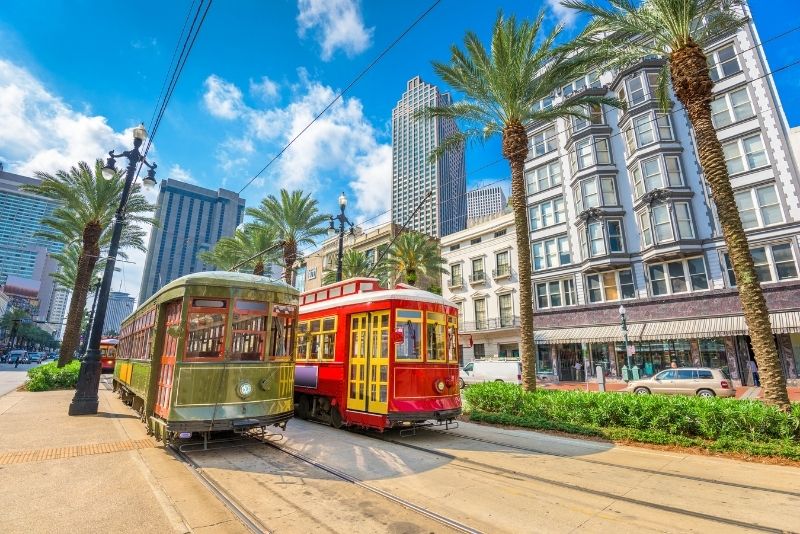 Found on postcards at every local souvenir shop, the city's iconic streetcars have been an integral part of the New Orleans lifestyle and transit since the early 19th century. At $1.25 per ride (usually), the streetcars are both an affordable and convenient way to get around town.
There are four operating routes, each passing by unique attractions: St. Charles Avenue, Canal Street (which can take you out to City Park), the Riverfront line, and the Rampart line.
Even if just for a stop or two, riding the streetcar is one of the most iconic things to do in New Orleans.
12 – Admire the floats at Mardi Gras World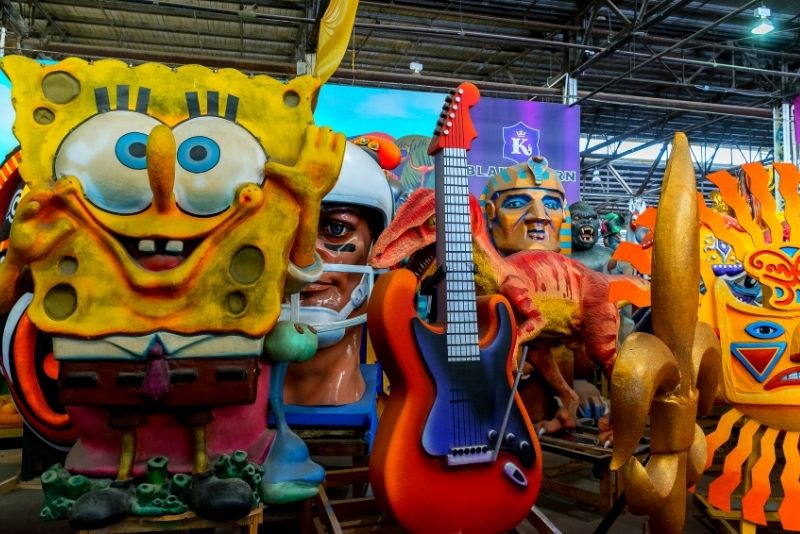 Honestly, what is New Orleans without Mardi Gras?
The Big Easy goes wild every February for their infamous fiesta, however, the Mardi Gras joy can be experienced year-round.
With 300,000 square feet of warehouse space, Mardi Gras World offers guests exclusive behind-the-scenes access into the preparation, costumes, floats, history, and traditions of the world-famous extravaganza.
Kids will love trying on the outfits!
13 – Glide around town on a segway tour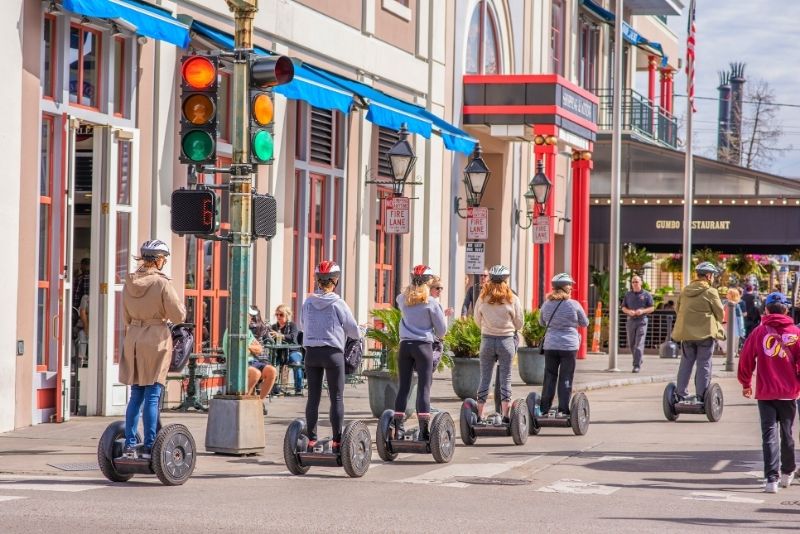 Rest your weary legs — instead, tackle the vibrant streets of the Big Easy by day or by night on one of the most enjoyable ways to explore any city: segway!
These motorized machines are both convenient and fun; youngsters, in particular, absolutely love them.
Tours are geared more to sightseeing than history, passing by famous French Quarter landmarks like Jackson Square, Bourbon Street, Louis Armstrong Park, and, of course, the Mississippi.
14 – Visit the Oak Alley Plantation on a day trip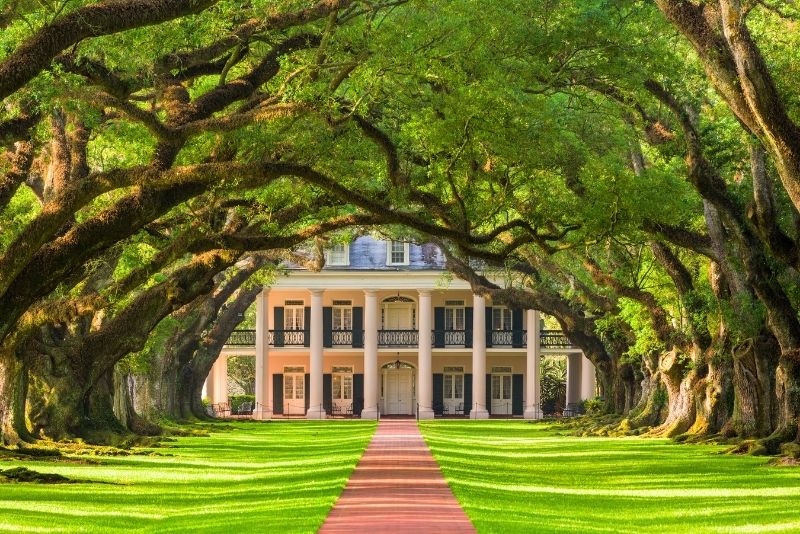 On the one hand, the nearly two-centuries-old Oak Alley is absolutely stunning.
The tree-lined entranceway juxtaposed with the enormous mansion is postcard-worthy. On the other hand, the plantation drags with it a dark history, reflecting an era of slavery and oppression.
A tour of the plantation allows you to soak in the interior and exterior beauty of the property while learning about its dramatic past.
Extend the itinerary by visiting the equally impressive Laura plantation as well. Either way, tours will be happy to pick you up and drop you off from the city center.
Whether you're a history buff or not, a plantation visit is one of the most eye-opening things to do in New Orleans.
15 – See turtles at the Aquarium of the Americas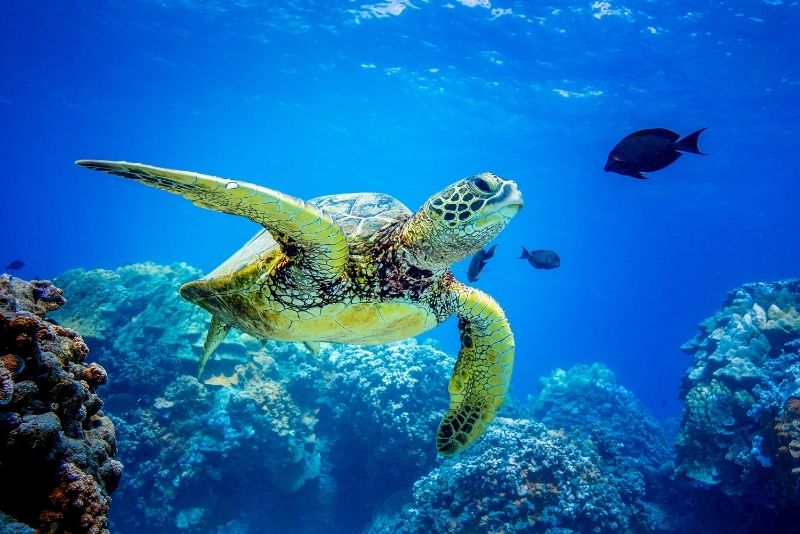 Nestled against the Mississippi River, right next to the French Quarter, the highly-regarded Audubon Aquarium of the Americas is an easily accessible activity that promises fun for the whole family.
Visitors get a wonderful insight into many different underwater ecosystems, including the Caribbean, the rivers (and rainforests) of the Amazon, the Gulf of Mexico, and NOLA's own Mississippi River.
In total, the aquarium houses over 3,600 animals from over 250 species. Keep an eye out for the African penguins and glowing moon jellies — both of which are crowd favorites.
16 – Spark romance on a gondola ride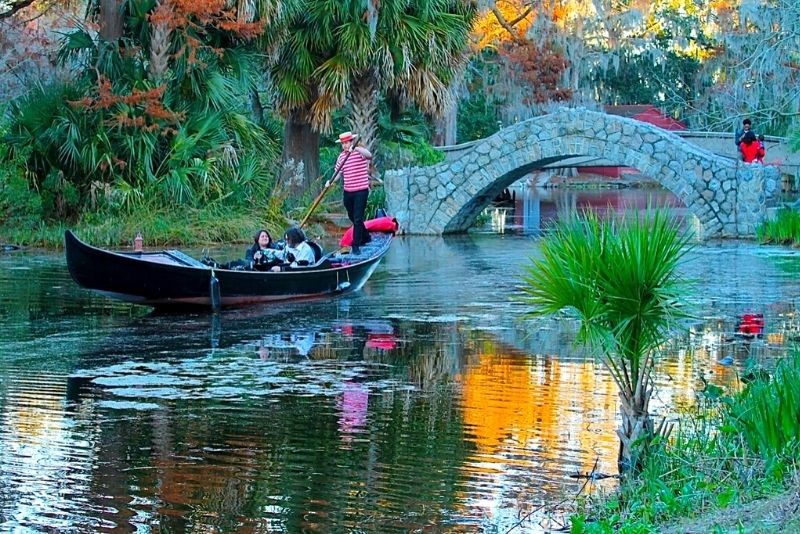 Forget Venice — cruise down the sparkling New Orleans lagoons instead! Robert Dula's Venetian Gondola tour takes all the romance of Italy and fuses it with the rustic charm of the Big Easy.
The champagne is included, and you're even welcome to bring a few extra drinks.
For anyone thinking of popping the question, take note.
17 – Cycle around town on a bike tour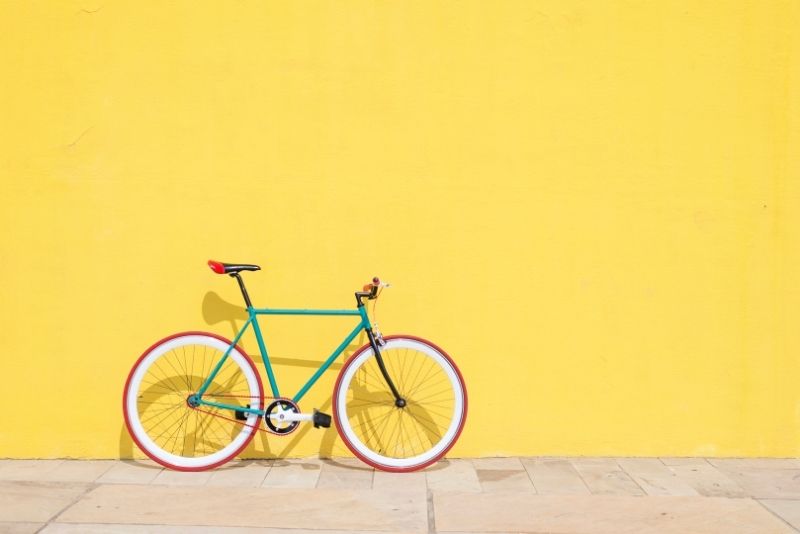 Why not see the sights and get some exercise at the same time?
Exploring NOLA on two wheels allows you to bypass the traffic, squeeze more into an afternoon, appreciate the city from a local's perspective, and burn off the beignets and beers from the night before!
If the weather's scorching and you don't feel like exerting too much energy, you can always book an electric bike instead! Or, for something totally unrivaled, sign up for a bike ghost tour under the stars.
18 – Kayak through the Manchac swamp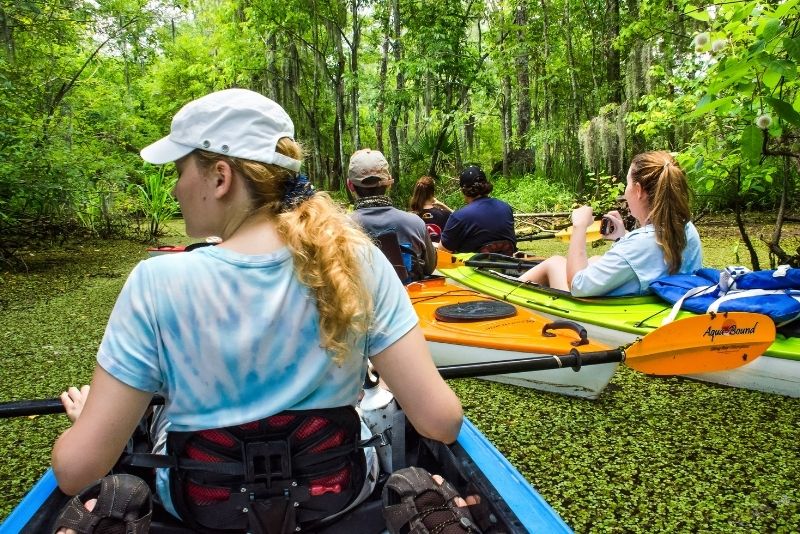 The outskirts of New Orleans are littered with bayous, swamps, and slow-moving riverways – all perfect for exploring by kayak!
Seated with whichever lucky friend or family member you choose, you'll tandem paddle through lush greenery, floating by wildlife and (almost certainly) spotting an alligator or two along the way.
Just remember to stay in the kayak… these aren't ideal swimming waters!
19 – Learn how to fly an airplane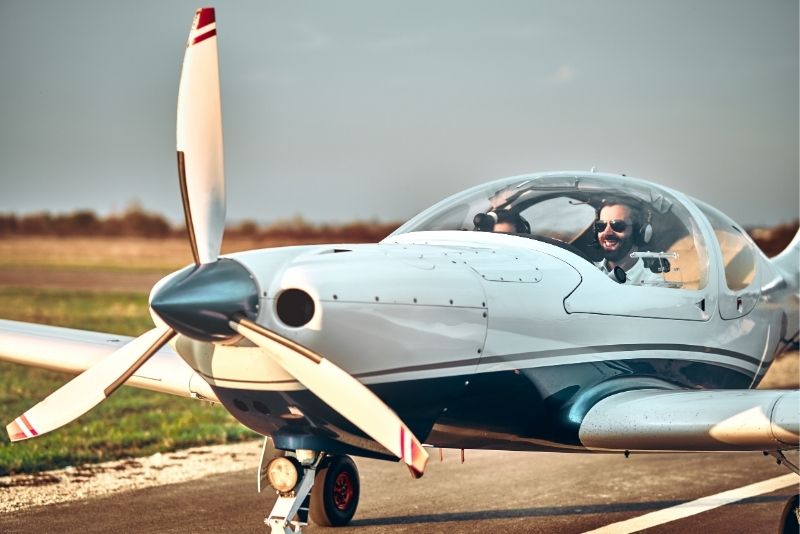 Feel like dazzling yourself with a once-in-a-lifetime VIP experience? Then strap yourself in for a flying lesson above the Mississippi!
With no previous piloting experience required, anyone can soar over the Big Easy — don't fret, the expert pilot will be guiding you every step of the way.
For the romantics out there, combine the flight lesson with chocolate and champagne at sunset — your partner is guaranteed to be smitten after you touch down.
20 – Wet the whistle at the Old New Orleans Rum Distillery
Unleash your inner pirate with a visit to the oldest premium rum distillery in the United States!
Tours operate six days a week (because Sundays are dedicated to the Bourbon Street hangover) and include welcome cocktails, rum tasting, and a delightfully educational walkthrough.
The distillery also offers complimentary pick up from two central French Quarter locations.
21 – Set sail on a private luxury yacht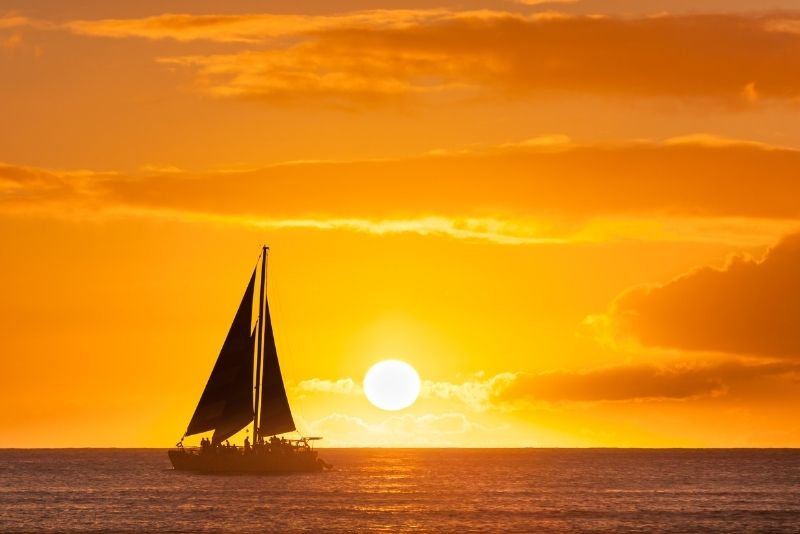 You're on vacation, so why not splurge on a little luxury?
Nothing's quite so synonymous with extravagance as sailing into the sunset on your very own 47-foot yacht, a glass of bubbly in hand. You'll even pass by the world's longest bridge-over-water.
With craft beer, wine, and snacks all included, you'll spend a couple of hours traversing the shimmering waters of Lake Pontchartrain before docking just in time to continue the festivities on Bourbon Street or tuck in for an early night.
22 – Go back in time at the National WWII Museum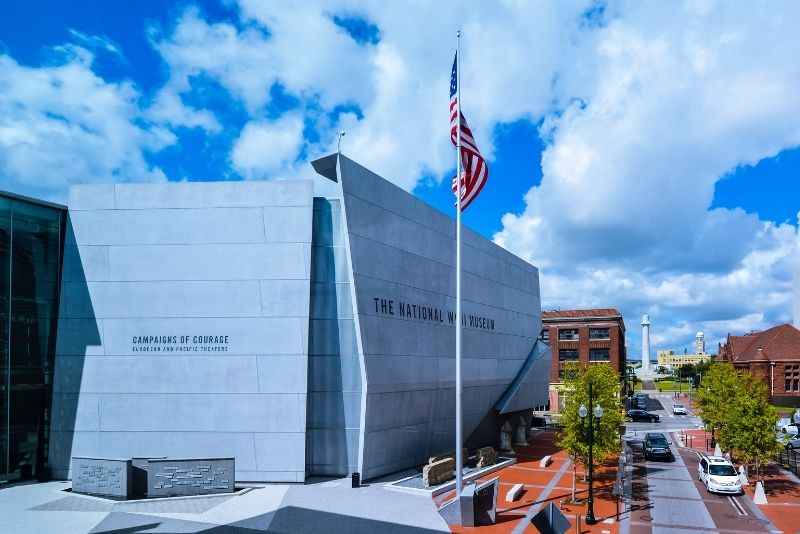 The second world war changed the structure of our civilization. Millions of soldiers delivered millions of stories of hope, horror, struggle, and sacrifice.
Arguably the nation's best place to understand these stories is NOLA's very own National WWII Museum.
Featuring a truly outstanding collection, the museum is divided into three sections: War in the Pacific, War in Europe; and a WWII aircraft display building.
While there, sign up for the 4D film experience — an educational spectacle unlike anything else.
23 – Combine scares and scotch on a New Orleans haunted pub crawl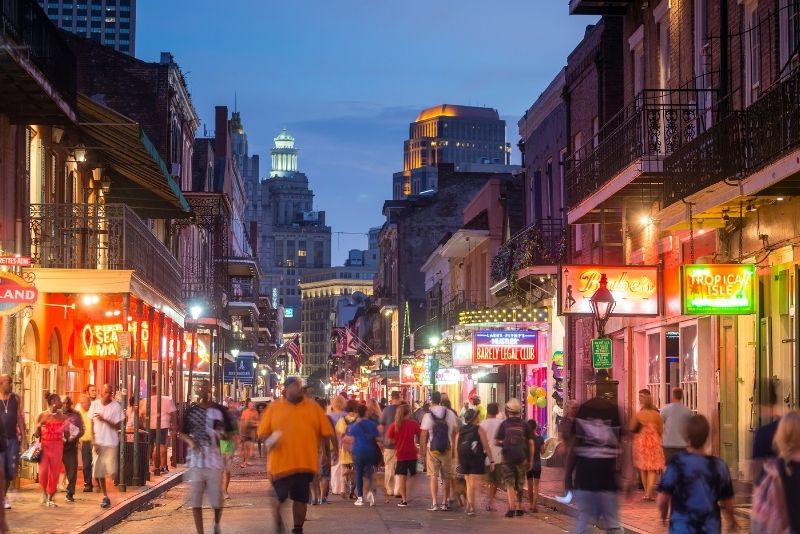 Is there any Big Easy duo more iconic than ghosts and booze?
Combine all the best bits of New Orleans with an evening tour of the French Quarter's most iconic bars and pubs — some of which have paranormal pasts.
The live music, flowing drinks, and spooky stories foster an atmosphere for an unforgettable (yet maybe slightly hazy) night.
Of course, if you prefer to drink your vodka sodas ghost-free, you can always sign up for a regular pub crawl. Either way, you'll certainly be making a few friends along the way!
24 – Greet the animals at Audubon Zoo
Witness Amur leopards, orangutans, tigers, mysterious white alligators, rare whooping cranes, giraffes, and so many more amazing animals at the beloved Audubon Zoo.
With daily feeding shows, interactive meet-and-greets, and plenty of entertainment for the whole family, it's no wonder that this place is constantly spoken of as one of NOLA's must-see attractions.
Taking public transport? The St. Charles Avenue Streetcar line drops you right at the zoo's doorstep.
25 – Travel back in time at Laura Plantation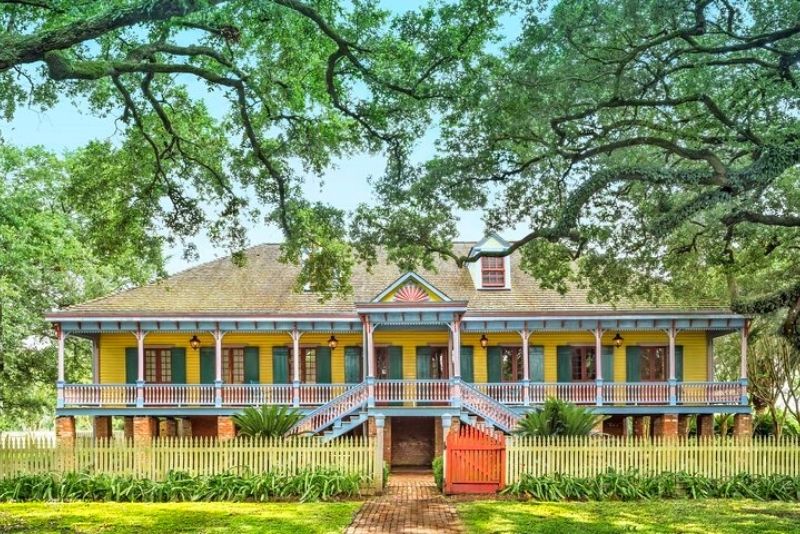 Standing since 1805, the Laura Plantation is one of the oldest and best-preserved mansions in the greater New Orleans area.
Tours will take you through the manor house, slave's quarters, sugar fields, and gardens; with plenty of fascinating stories and tidbits throughout. You'll get an insight into both the somber pastimes and the once-thriving Creole culture.
Make an entire day of it by combining the plantation visit with a boat ride on the gator-infested swamps!
26 – Take a relaxing cruise on the Creole Queen Paddlewheeler
No trip to the Big Easy is complete without a cruise down the Mississippi. Alongside Steamboat Natchez, the charming Creole Queen paddlewheeler is a massive tourist draw, and for good reason.
The 2.5-hour-long cruise takes passengers peacefully along the curves of the Mississippi and includes a stop at Jean Lafitte National Historical Park and Preserve, home to a historic former battleground.
Here, the guides will convey the history of the Battle of New Orleans before ushering guests back onto the boat.
27 – Get cultured at New Orleans Museum of Art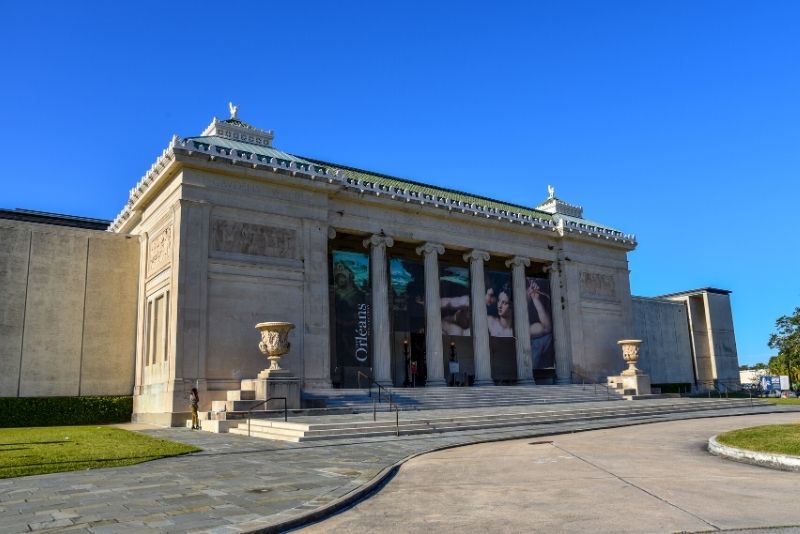 Immersed within the stunning City Park, the New Orleans Museum of Art is a perfect opportunity to escape the typical NOLA heat and humidity for a few hours.
Admire the permanent collection of vast artwork — contemporary and modern, from all corners of the globe — and explore the rotating special exhibitions.
If there's time to spare, City Park also houses the New Orleans Botanical Garden and the Lousiana Children's Museum
28 – Visit the impressive Ogden Museum of Southern Art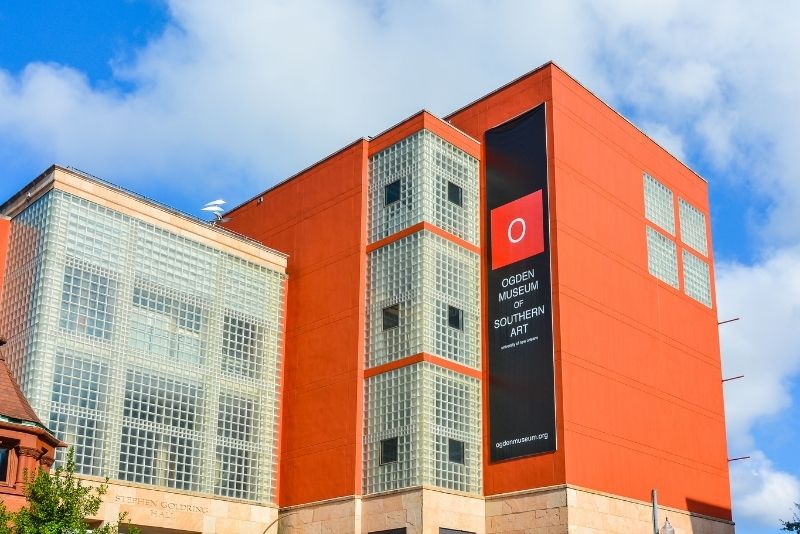 Hidden within the Warehouse Arts District of downtown New Orleans, the Ogden Museum of Southern Art proudly holds the largest and most diverse collection of Southern art not only statewide, but worldwide.
The museum welcomes 85,000 guests per year, with the intention to educate each and every one of them on the fascinating culture of the American South — represented through visual arts, exhibitions, film screenings, and concerts.
29 – Enjoy live music at the New Orleans Jazz Museum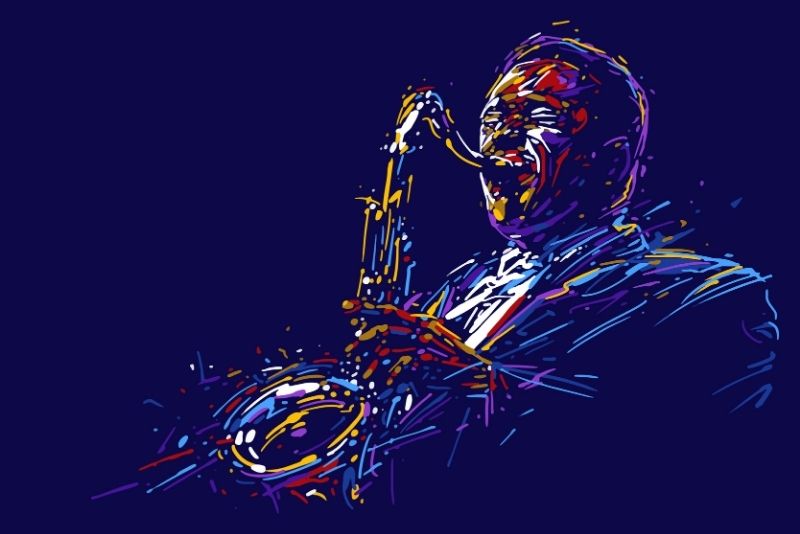 The heartbeat of New Orleans is and always will be jazz.
It's impossible to spend a night in the Big Easy without hearing a saxophone ringing in the air, and the New Orleans Jazz Museum conveys that city-wide obsession perfectly. Don't miss the daily concerts and interactive exhibitions!
If you're still dreaming of trombones and saxophones after a stroll through the museum, head to one of the bars on French Street for some live music or take a city-wide jazz tour.
30 – Drink a drive-thru Daiquiri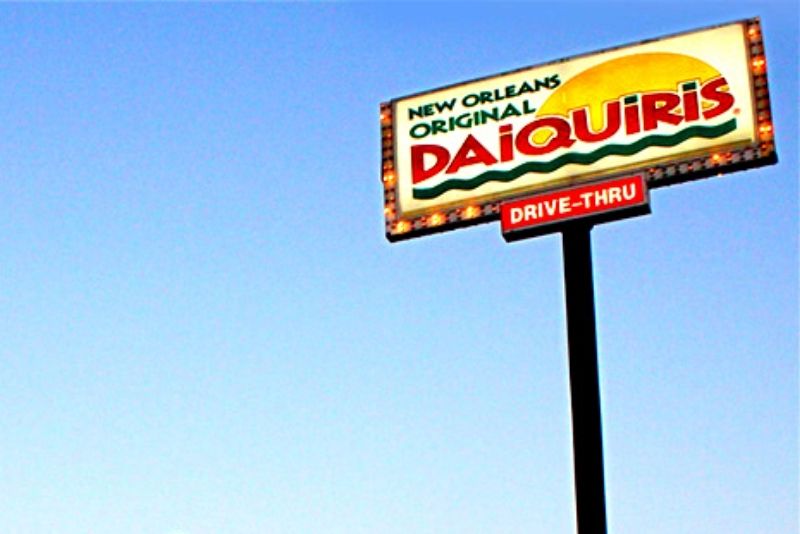 Drinking and driving never go hand in hand, except in New Orleans. Well, sort of.
The concept of the drive-through daiquiri (which is exactly what you're thinking) was uber-popular through the 80s and 90s.
But as local laws have tightened, technically, the drink can't be consumed 'in' the car and must be closed. Still, nothing's stopping you from grabbing a few frozen delights, parking nearly, and strolling around town drink-in-hand!
Taking a selfie with a daiquiri in hand is one of the most iconic things to do in New Orleans.
31 – Let the kids run loose at the Louisiana Children's Museum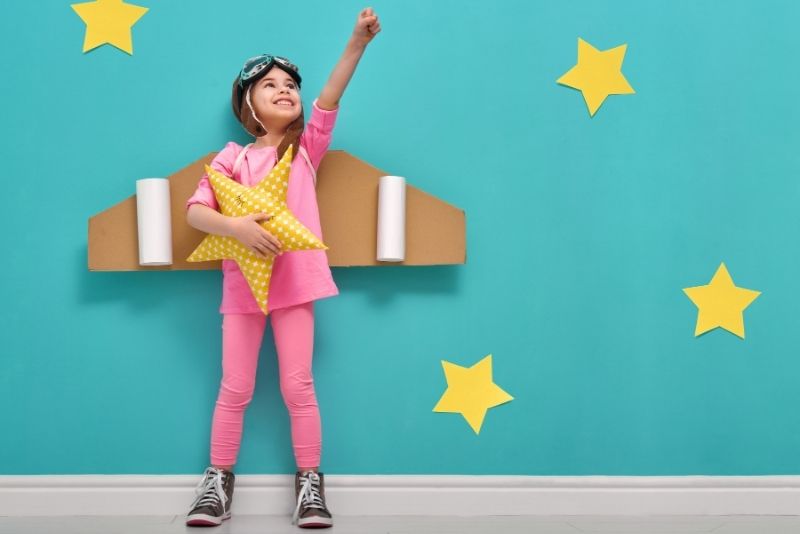 Offering kid-friendly activities like a climbing wall, fake broadcasting studio, art studio, and mock cafe, the Louisiana Children's Museum is a fantastic way to tucker out the youngsters while they learn a thing or two about 'grown-up life'.
The museum sits inside the sprawling City Park, with plenty of outdoor space for the kids to run around after the visit.
32 – Admire nature at the Audubon Butterfly Garden And Insectarium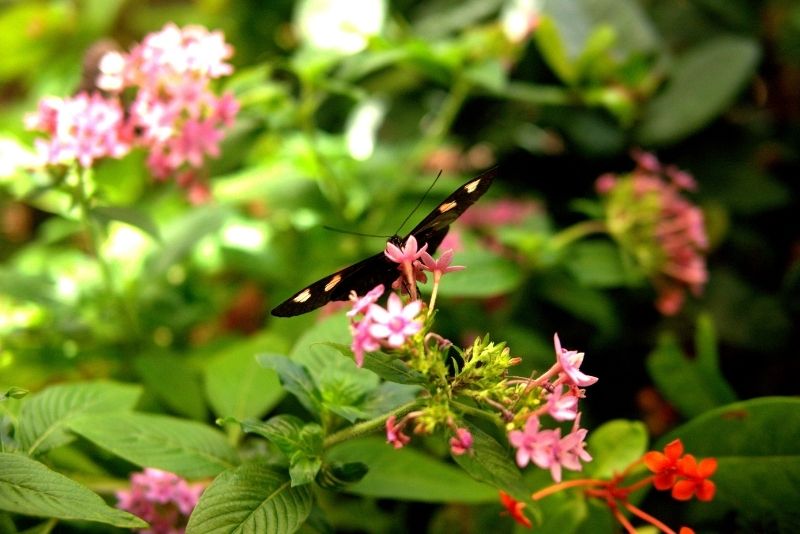 Found in the U.S. Custom House on Canal Street, just a stone's throw away from the Mississippi is the largest free-standing American exhibit dedicated to insects.
If creepy-crawlies give you the heebie-jeebies, you might want to steer clear of this place. But for the rest of us, this nature-focused attraction provides a chance to meet and greet some of the most beautiful and misunderstood creatures on our planet.
No visit is complete without a peek into the Asian Garden, home to thousands of colorful butterflies.
33 – Mystery awaits at the New Orleans Historic Voodoo Museum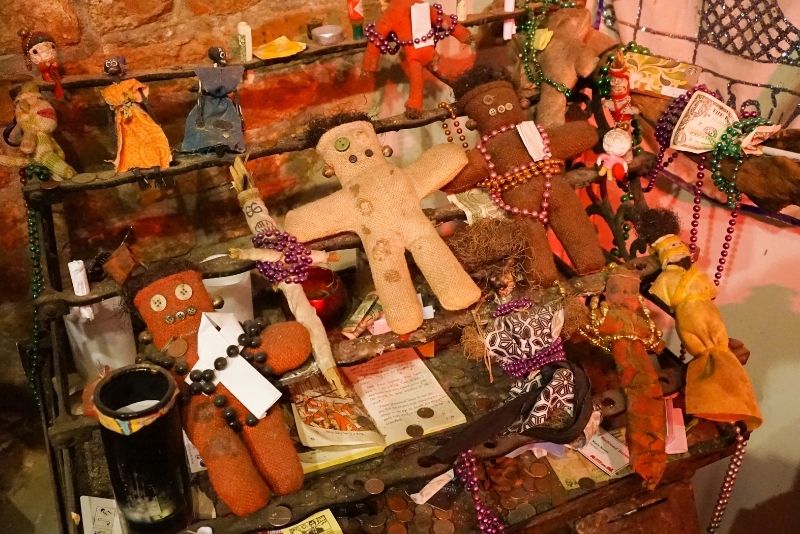 This museum might be small, with just two rooms in total, but don't let that fool you. The Voodoo Museum — which sits smack-bang in the heart of the French Quarter — is one of the only museums on the planet solely dedicated to voodoo art.
Preaching a combination of education and entertainment, this attraction showcases the intriguing (and haunting) mysteries, legends, and traditions of the voodoo culture.
34 – Check out the confronting Museum of Death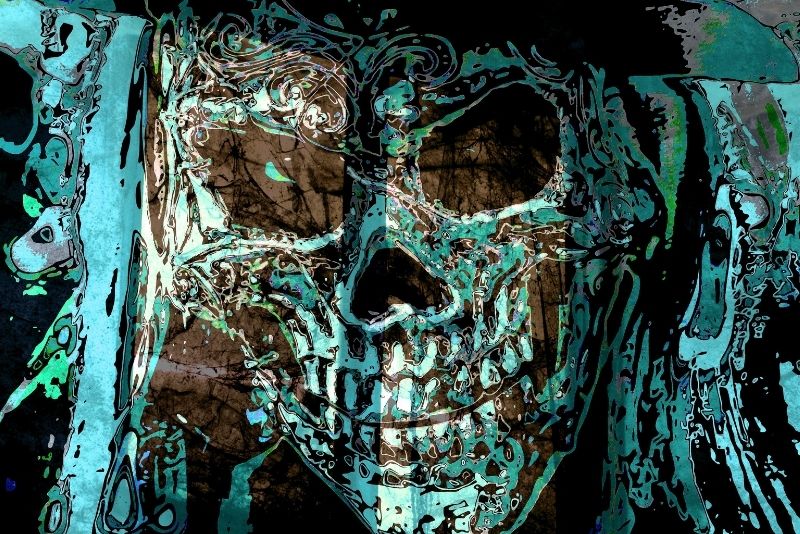 It's time to get sinister, folks. The list of tools and artifacts housed at New Orleans' Museum of Death isn't for the faint of heart: they're graphic and nightmarish, but intriguing and educational at the same time.
View murder weapons, ancient torture devices, and evidence of real-world cases — perhaps none more frightening than the letters written by the Unabomber.
It's one of the most confronting, unique things to do in NOLA, that's for sure.
35 – Explore the historic Hermann-Grima and Gallier houses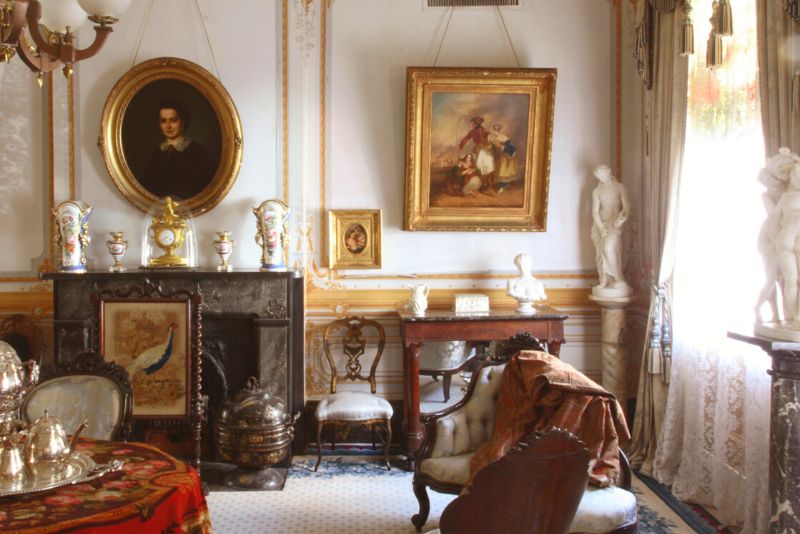 Located in the heart of the French Quarter, the Hermann-Grima House (built in 1831) offers a unique look at the history of urban enslavement in New Orleans.
Marvelously preserved, this house and adjacent outbuildings transport visitors back in time to learn about this bustling 19th-century home, its wealthy owners, and the enslaved people who worked on the property.
Gallier's 19th-century townhouse provides visitors an opportunity to explore the architecture and decorative arts of James Gallier Jr.'s former home. These guided house tours provide a glimpse into the differences between urban and rural enslavement and how these histories shaped the city.
36 – Learn the city's history at The Historic New Orleans Collection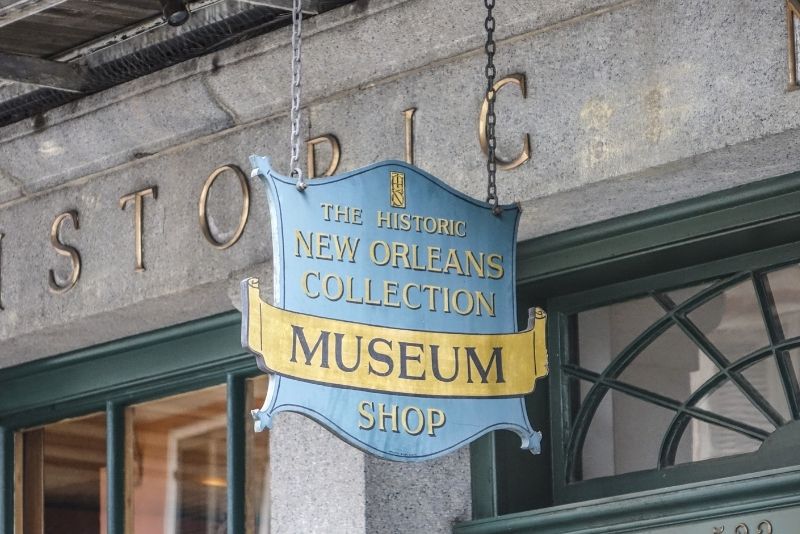 With three locations spread across the French Quarter, the Historic New Orleans Collection delves devotedly into the history of this world-famous city.
The museums showcase immersive films that outline NOLA's roller-coaster past, photography exhibitions highlighting its incredible transformation, plus a number of art exhibits.
Best of all, the collection is FREE (which means more money for beignets, obviously).
37 – Explore the Whitney Plantation And Museum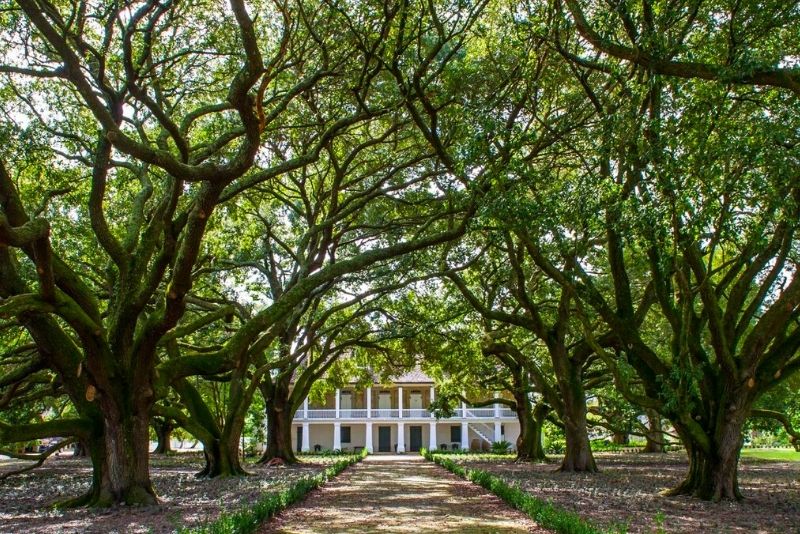 Venture back in time as you step into the elegantly haunting Whitney Plantation. Overtaking both Laura and Oak Alley in age, the Whitney Plantation has existed for the better part of 300 years.
Yet unlike the others, this one doubles as a museum; it's the only plantation museum in Louisiana that focuses purely on slavery, providing perspectives from both the slaves and the owners.
38 – Ride the rides at the Carousel Gardens Amusement Park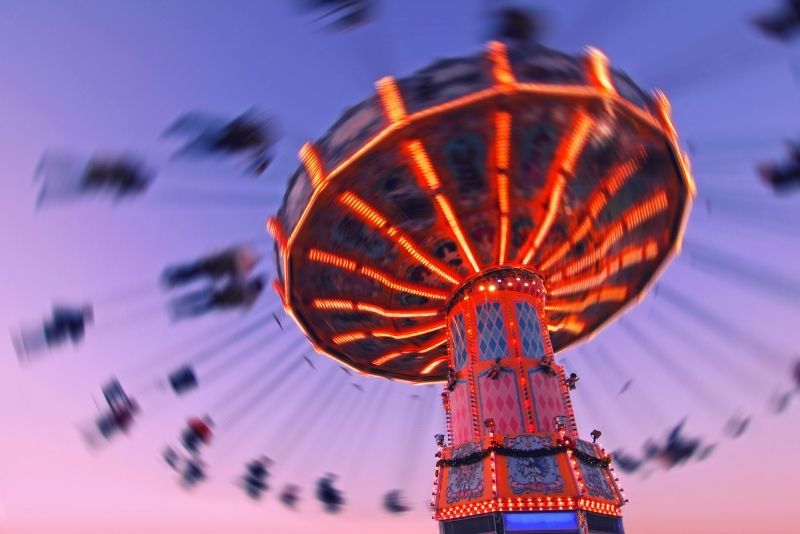 Offering lighthearted fun for kids and adults alike, the Carousel Gardens Amusement Park has been welcoming families onto its ground for over 100 years.
Feel the thrills on the Live Oak Ladybug Rollercoaster, drop down on Coney Tower, or move at a more relaxed pace on the Ferris wheel or miniature train.
Don't miss the Flying Horses carousel, one of the oldest of its kind nationwide.
39 – Step into a fairytale at Storyland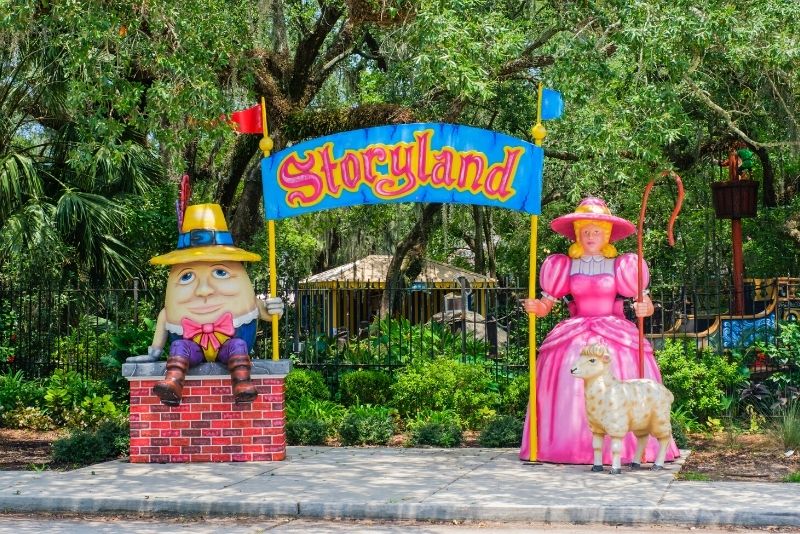 Humpty Dumpty and Little Bo Peep welcome guests into this enchanted outdoor area, where animals, cartoon characters, and fairytale heroes come to life. The beloved Storyland is truly a child's paradise.
Considering its location immersed within the vibrant City Park, it's an easy one to tick off the bucket list.
40 – Stroll through the New Orleans Botanical Garden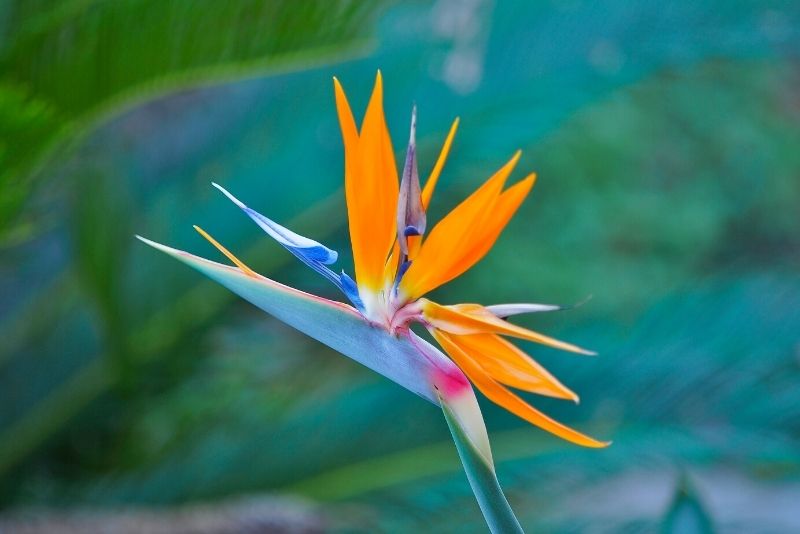 Also within the bounds of City Park sits the carefully cultivated New Orleans Botanical Garden.
Besides displaying a well-kept collection of flora and fauna from the South and beyond, the Garden also hosts live music and educational programs.
41 – Bounce all day at Skyzone Trampoline Park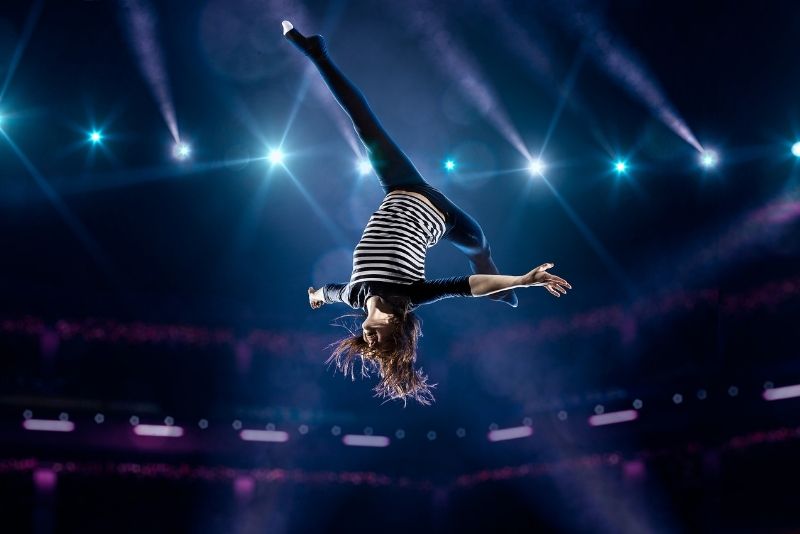 Flip yourself into a frenzy at Skyzone trampoline park.
With foam pits to practice your somersaults, a freestyle area to practice your spins, a free-climb bouldering wall, and so much more, Skyzone is guaranteed to be a surefire hit for kids and adults of all ages.
Trampolining is also a great workout — ideal for burning off all those po' boys.
42 – Party it up on Frenchmen Street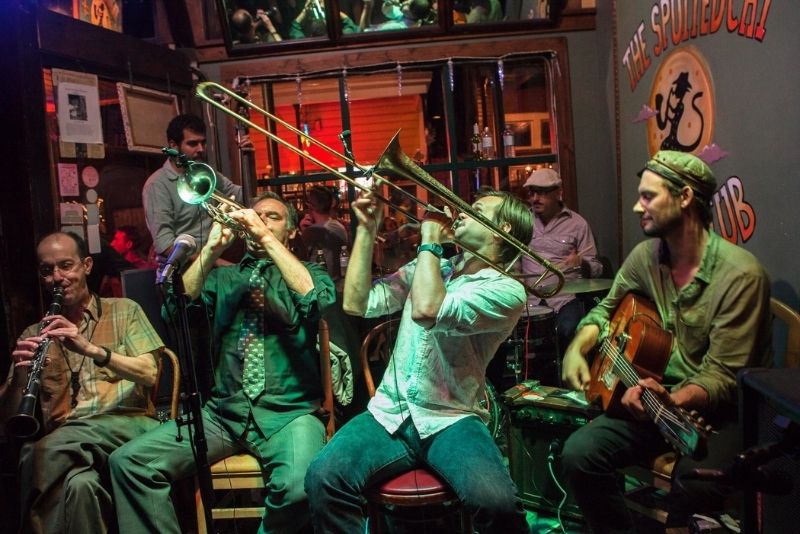 Home to a hefty portion of the city's ever-popular live music, plus plenty of buzzing bars and restaurants, Frenchman Street fosters the low-key party vibe without the crowds of the more trafficked Bourbon Street.
Hop from one bar to another along the Frenchman Street Corridor, before dancing the night away at one of many late-night haunts — The Spotted Cat Music Club is always a great option.
43 – Visit the infamous Jackson Square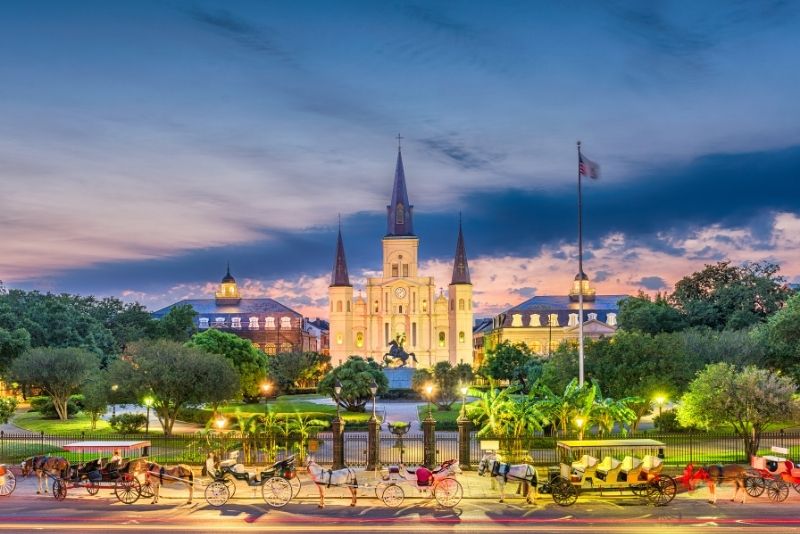 Nested in the heart of the French Quarter is one of New Orleans' most recognizable and symbolic sights: Jackson Square.
This landmark pays homage to the Battle of New Orleans hero, Andrew Jackson.
For an in-depth account of its history, join a guided tour — nearly every single walking, segway, or biking group will stop at Jackson Square.
44 – Unwind at the New Orleans City Park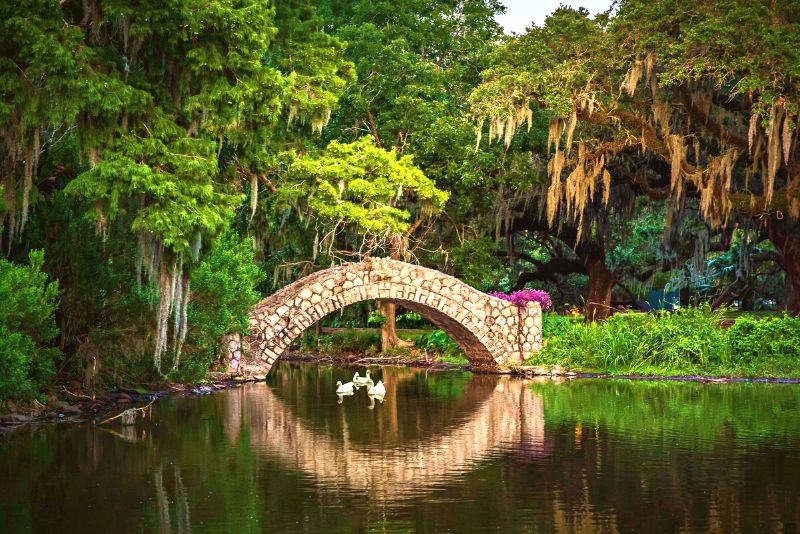 New Orleans City Park is one of the largest urban parks in the United States, sitting on 1,300 acres of beautifully maintained green space, home to the largest grove of mature live oak trees, tranquil strolling trails, and native birds.
Rent a swan boat at the Big Lake, take the kids to Storyland, and let your inner child loose at Carousel Gardens Amusement Park.
Don't miss the Couturie Forest, a varied nature walk that includes Laborde Mountain, which rises a remarkable 43 feet above sea level and is New Orleans' highest point.
Watch the ducks on the water at the Peristyle and get beignets at Café Du Monde.
45 – Appreciate jazz at Preservation Hall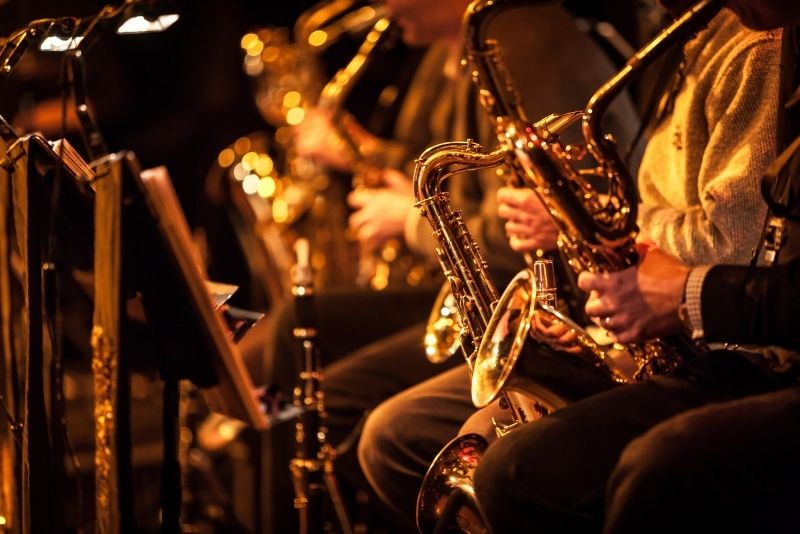 With over 50 rotating acts on the roster, there's arguably no better place within the city limits to toe-tap to some intimate live jazz.
Preservation Hall hosts acoustic concerts nearly every night of the year, with the overarching goal of honoring and preserving one of America's truest art forms: traditional New Orleans Jazz
46 – Admire the St. Louis Cathedral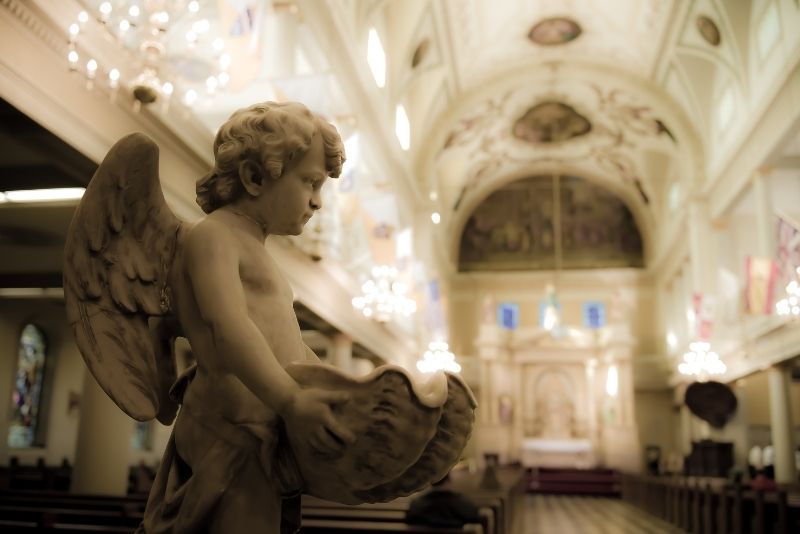 Straddling the banks of the Mississippi River, St. Louis Cathedral earns its title as the oldest of its kind in North America.
Incredibly, it dates back over 400 years, to its foundation in 1720.
The Cathedral's central location makes for a quick and easy photo opportunity on any stroll through downtown.
47 – Embark on a scavenger hunt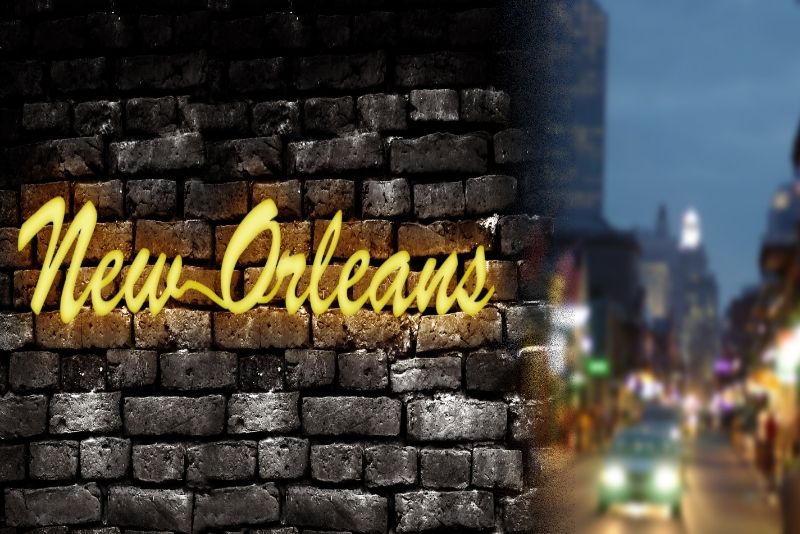 Guided walking tours are great, but after a few, they can start to feel a little slow and repetitive.
For a reinvigorated, interactive take on exploring the Big Easy, sign up for a high-paced scavenger hunt.
Turn the streets of New Orleans into your very own board game, zipping from attraction to attraction, ticking off tasks and completing challenges, all while soaking in the city's charm every step of the way.
Film and photography buffs, look no further than the documentary-themed scavenger hunt.
48 – Journey through Jean Lafitte National Historical Park and Preserve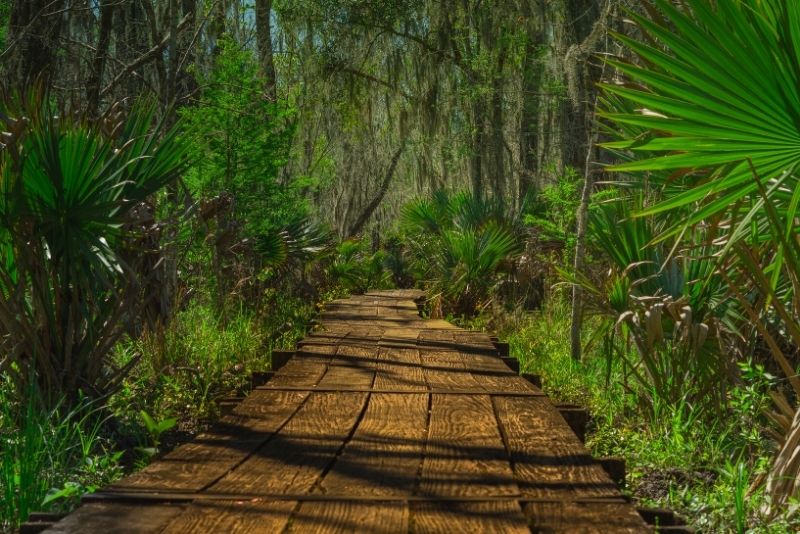 Paying homage to a 19th-century pirate, the Jean Lafitte National Historical Park and Preserve boasts six areas more than worthy of a visit: the Barataria Preserve (wetlands), historic Chalmette Battlefield, French Quarter Visitor Center, Acadian Cultural Center, Prairie Acadian Cultural Center (check out a Cajun cooking show!), and the Wetlands Acadian Cultural Center.
Join an airboat tour for an unbeatable afternoon on the preserve's swamplands.
49 – Shop till you drop on Royal Street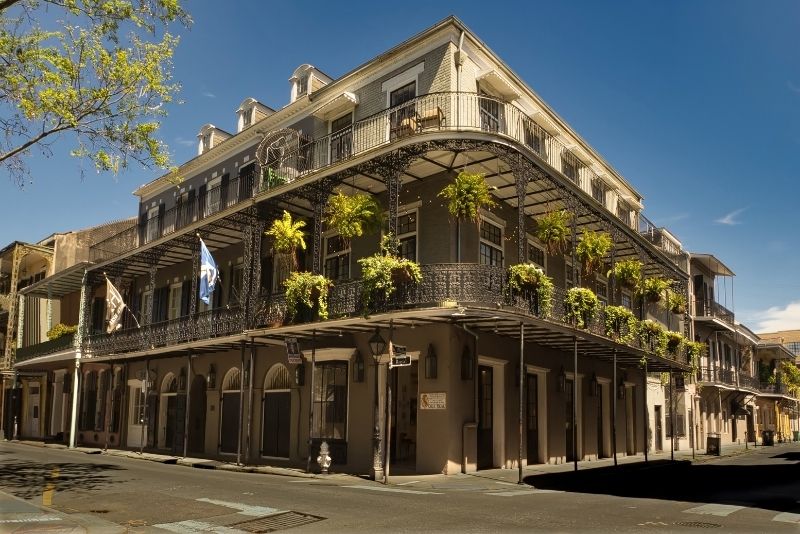 Lined with antique stores, art galleries, souvenir shops, and high-end jewelry retailers, Royal Street is heaven on Earth for shoppers.
After ogling at the architecture and grabbing a gift or two, transition afternoon into evening at one of the city's most enchanting locales: Café Amelie's courtyard (keep an eye out for celebrities here too!).
50 – Soar over the city in a helicopter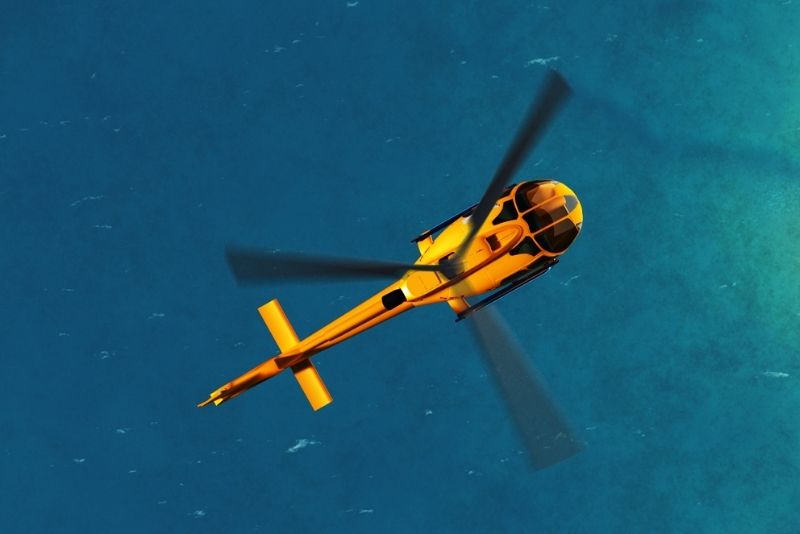 With tours lasting from 12 minutes to an hour and a half, scenic helicopter flights are available to suit any budget.
Take to the skies by day for unbeatable views of the city, swamplands, Mississippi River, and beyond; or by night, when the city lights put on a sparkling display.
Embrace your inner Maverick by upgrading your flight to include a pilot lesson as well — one of the most exhilarating things to do in New Orleans.
51 – Embrace local culture at the New Orleans Jazz & Heritage Festival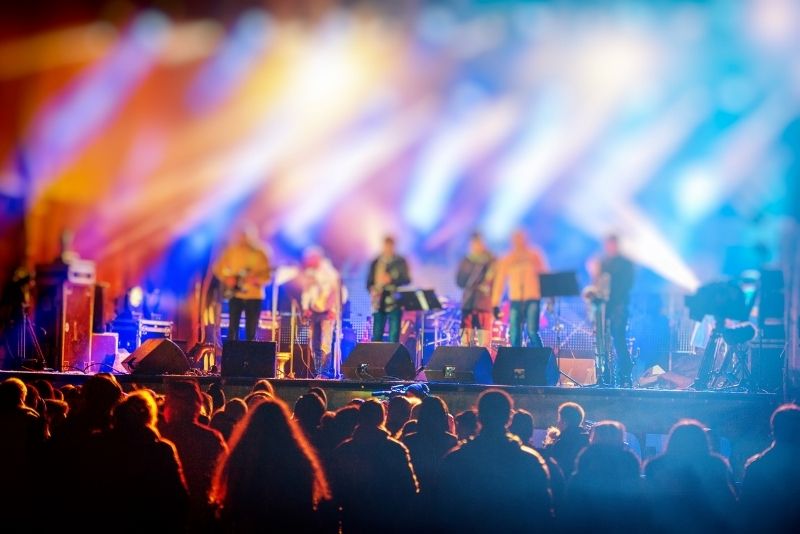 Since its dawn in 1970, the cherished Jazz & Heritage Festival has been welcoming millions of tourists, year after year, who can't get enough of the 8-day-long jazz and culture celebration.
Some visitors prefer to sample the food at entertainment at the Fair Grounds by day, while others make a beeline for the Jazz Fest nightclubs, dancing into the early hours of the morning.
52 – Dive into Mardi Gras at the Presbytere Museum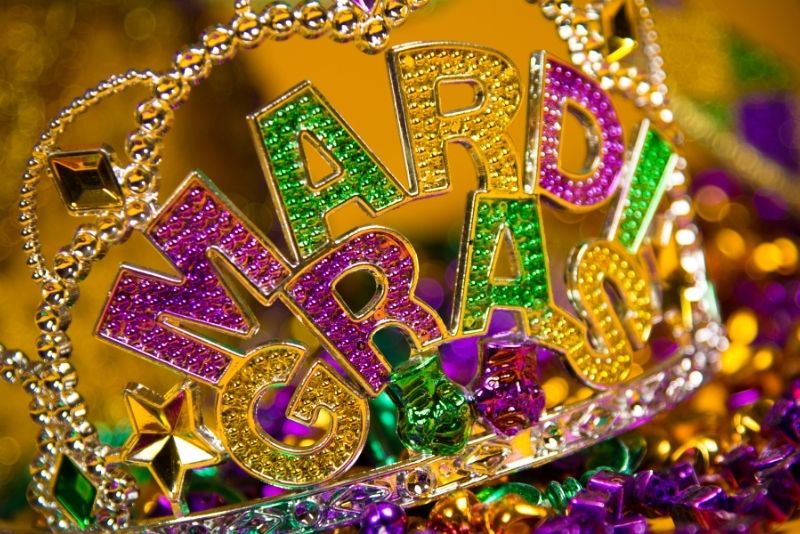 New Orleans is world-famous for Mardi Gras; with an exquisite collection of colorful artifacts on display, the Presbytere Museum brings together all of the festival's best aspects.
Thanks to its convenient location opposite Jackson Square, it's a simple addition to any French Quarter walkabout!
53 – Catch an NFL game at Mercedes-Benz Superdome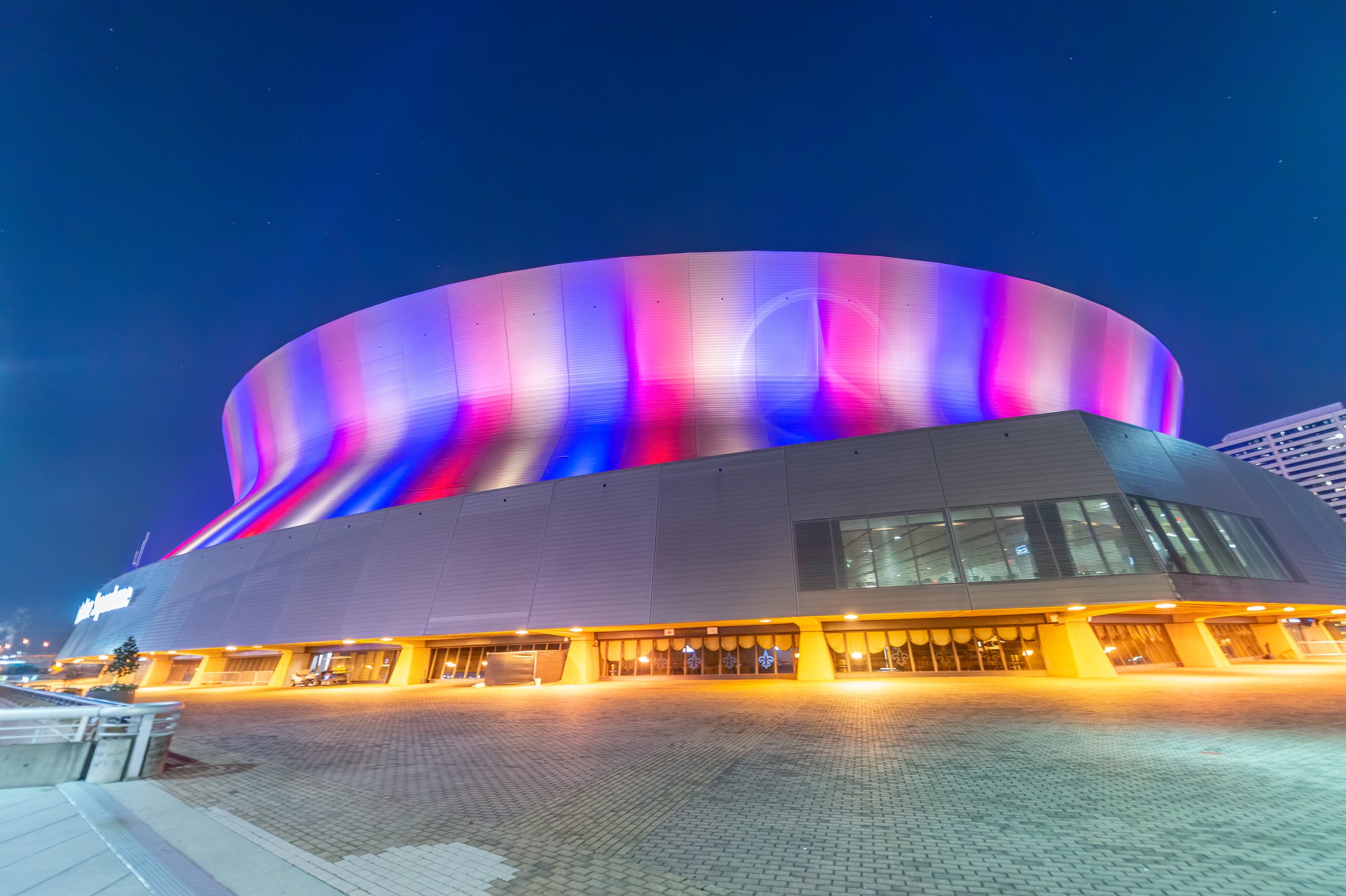 The atmosphere at any NFL game is spectacular, but in New Orleans (and most of the American South), the heat is turned up an extra notch – metaphorically and literally.
Home to the New Orleans Saints, the Mercedes-Benz Superdome regularly draws capacity crowds. Even if you can't grab a ticket, there's no harm in joining a famous tailgate party!
54 – Roll the dice at Harrah's Casino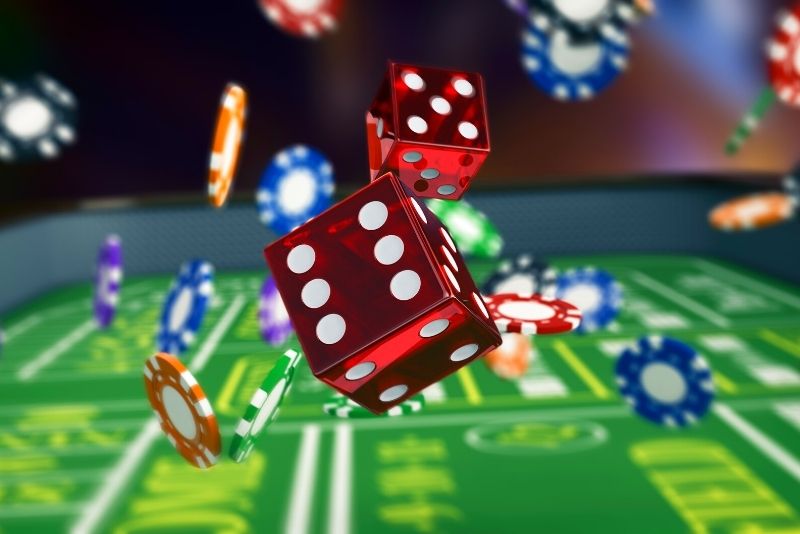 At 115,000 square feet (10,700 square meters), NOLA's Harrah's Casino is gigantic.
The popular entertainment venue, situated just steps away from the Mississippi River, offers a wide variety of slots and table games, as well as restaurants, bars, and regular entertainment.
55 – Check out the Longue Vue House and Gardens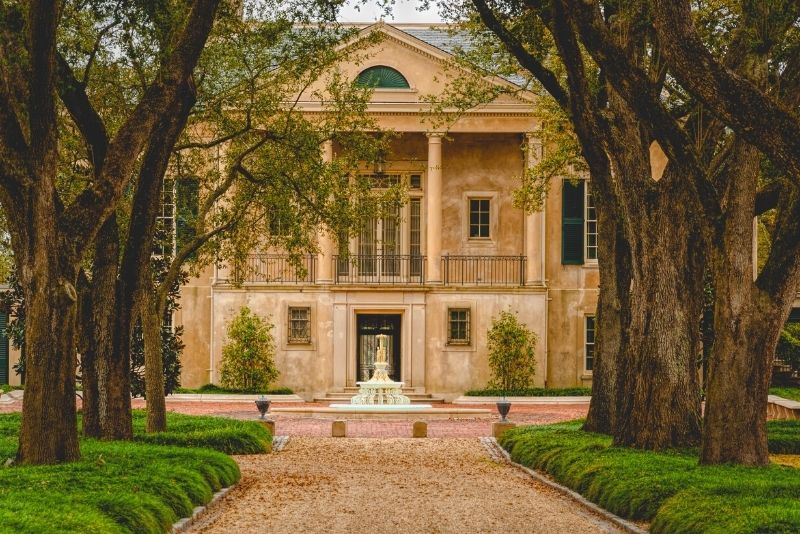 The Long Vue property showcases eight acres of stunning, carefully-maintained gardens, featuring all kinds of local and imported plants.
Its focal point: the enormous house, is equally grand. The landmark sits on the western edge of New Orleans, close enough to easily reach, but far enough to avoid the large tourist crowds.
56 – Feed the ducks at Louis Armstrong Park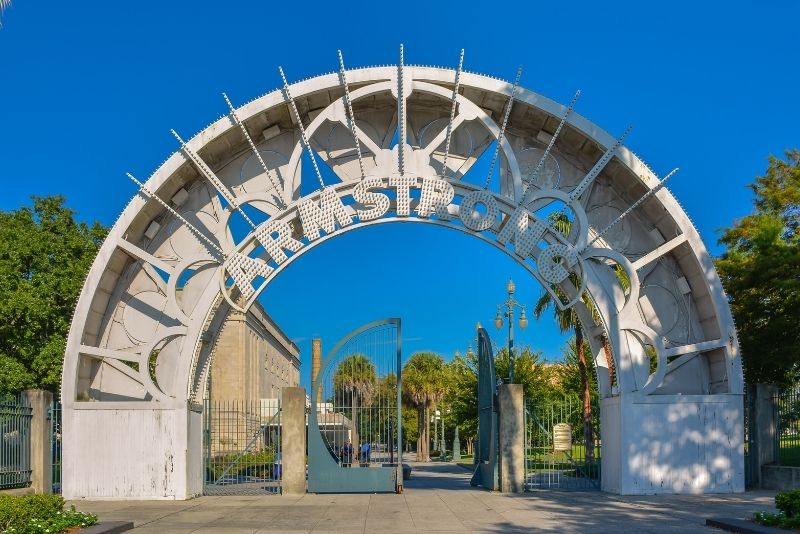 Named after the music icon himself, Louis Armstrong Park is a welcome breath of fresh air from the hustle and bustle of the French Quarter.
The 32-acre space is lined with sculptures, duck ponds, water features, and plenty of tributes to Amstrong and other musicians. If you happen to be strolling through on a Sunday, don't miss the drum circle at Congo Square.
57 – Grab a beignet at Cafe Du Monde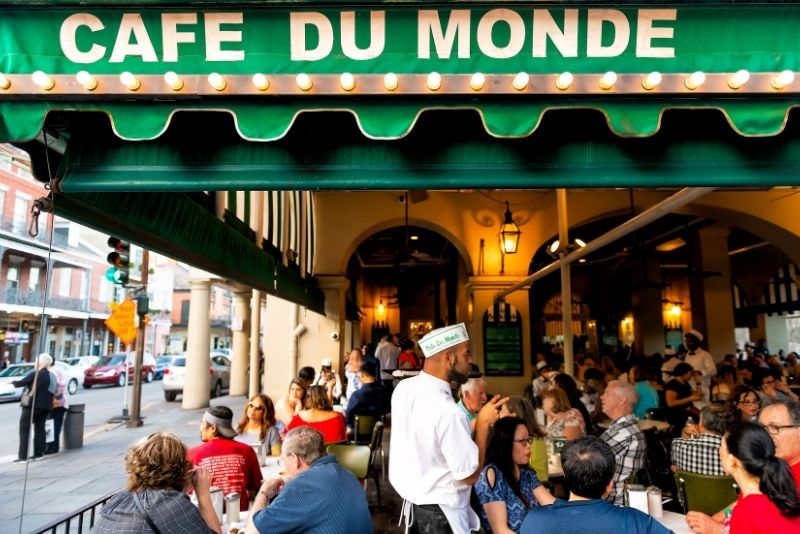 A total of 10 Cafe Du Monde Coffee Stands scatter the New Orleans streets, none more famous than its original: Café Du Monde Riverwalk – on the banks of the Mississippi.
This French market is *the* place to try a beignet – NOLA's legendary fried dough pastries, covered with powdered sugar. After sampling one (or five), wash it down with a Cafe au Lait.
58 – Watch some basketball at the Smoothie King Center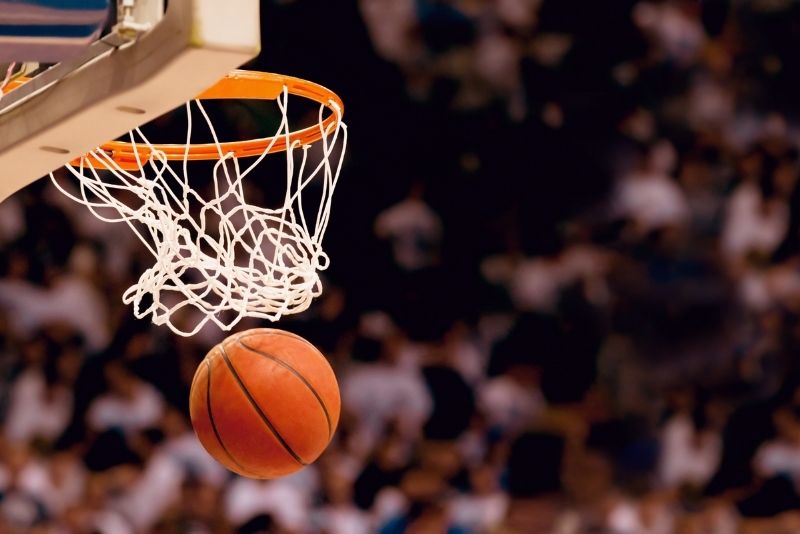 Home to the New Orleans Pelicans NBA team (formerly the Hornets), the Smoothie King Center is the premier spot to witness the pros battle it out on the court.
The basketball season typically runs from October through to April; outside of the season, you'll be able to catch concerts of music legends like Elton John and Luke Combs.
59 – Tantalize the tastebuds with a cooking class
Foodies, rejoice! Try your hand at a few Creole and Cajun dishes, or whip together your very own po' boy under the instruction of expert local chefs.
With a complimentary glass of wine or a cold beer to wash down the gumbo (or whatever the flavor of the day might be), a cooking class is a perfect way to turn dinner into drinks before moving over to Bourbon Street for a night out.
60 – Get literate at the Tennessee Williams & New Orleans Literary Festival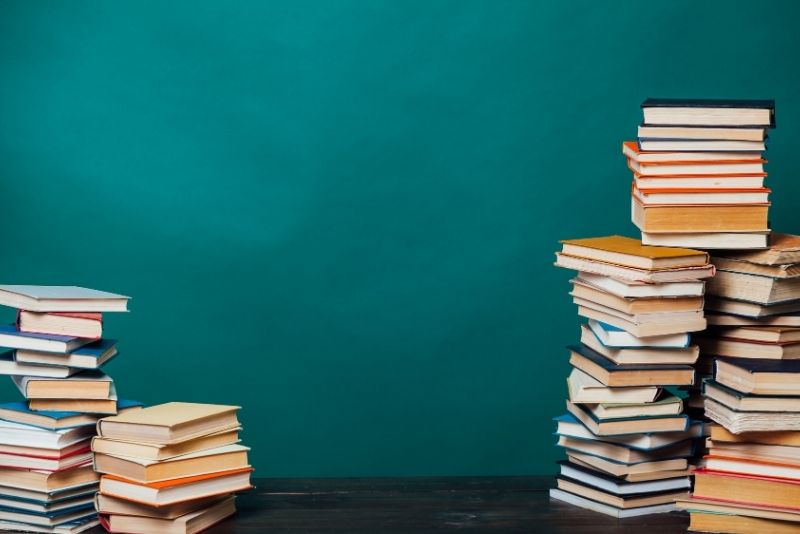 Every spring, the city of New Orleans hosts a 5-day literacy festival.
Originally dedicated to Pulitzer Prize winner and noted American playwright, Tennessee Williams, this bookworm's paradise has grown substantially over the years.
While the activities change annually, expect a range of theatrical performances, live readings, cocktail parties, book signings, and film screenings.
61 – Spend an afternoon window shopping on Magazine Street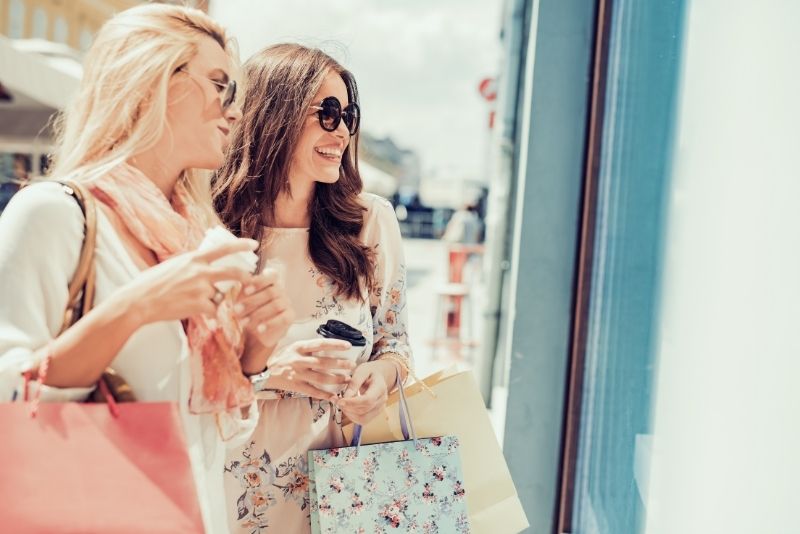 Compared to the notorious Bourbon Street, Magazine often gets swept under the radar. Alas, it shouldn't be; the bustling shopping strip is teeming with activities!
After visiting the National WWII Museum, check out the luxury and retro boutiques, upscale and casual eateries, galleries, pottery stores, and spas, before stopping into The Vintage Nola wine bar.
62 – Run from the 'bulls' during San Fermin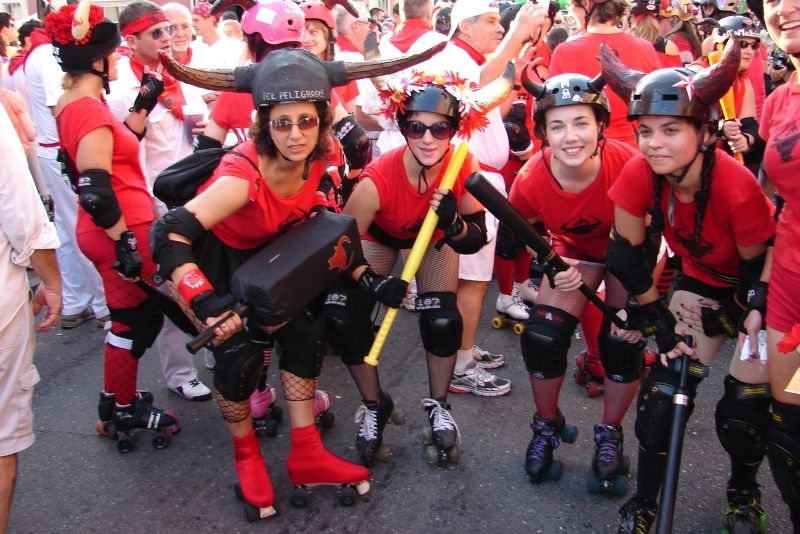 In Spain, they run from the bulls. In New Orleans, they run from… roller derby girls carrying plastic baseball bats?
It's weird and wacky but it's a beloved annual tradition nonetheless!
The event is held every July, with thousands of participants dressing up in traditional red and white before quenching their thirst at one of the bars in the Warehouse District.
63 – Catch famous DJs at Republic NOLA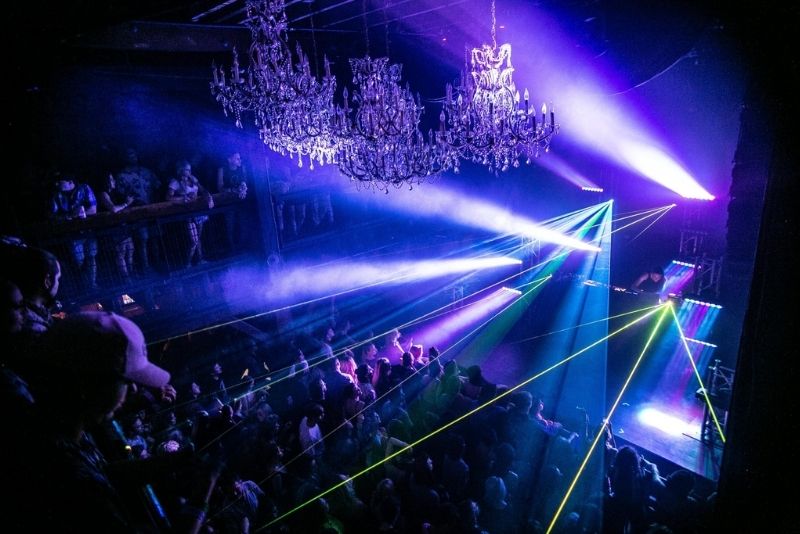 Set in a renovated 160-year-old warehouse, Republic NOLA has morphed into a chandelier-filled concert venue that hosts a truckload of world-renowned artists.
Marshmallow, Diplo, Death Cab for Cutie, and Grimes headline the long lists of past performers – just to give you an idea.
64 – Taste fine Creole cuisine at Commander's Palace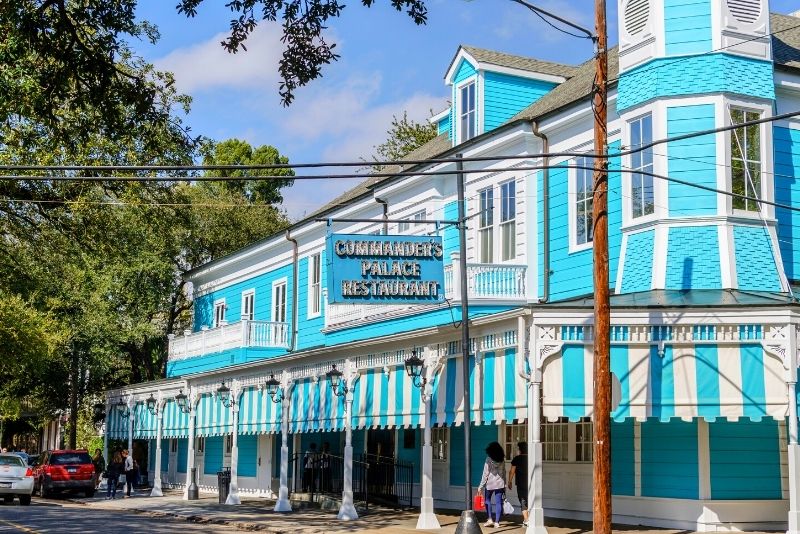 Locals and visitors have been flocking to this adored restaurant for well over a century.
Hidden in plain sight in the middle of the tree-lined Garden District, Commander's Palace is widely considered the premier Creole cuisine restaurant in all of Crescent City.
Don't miss your chance to grab a table at the infamous jazz brunch — call beforehand to reserve a spot, just in case.
65 – Time travel to the 1800s at Antoine's Restaurant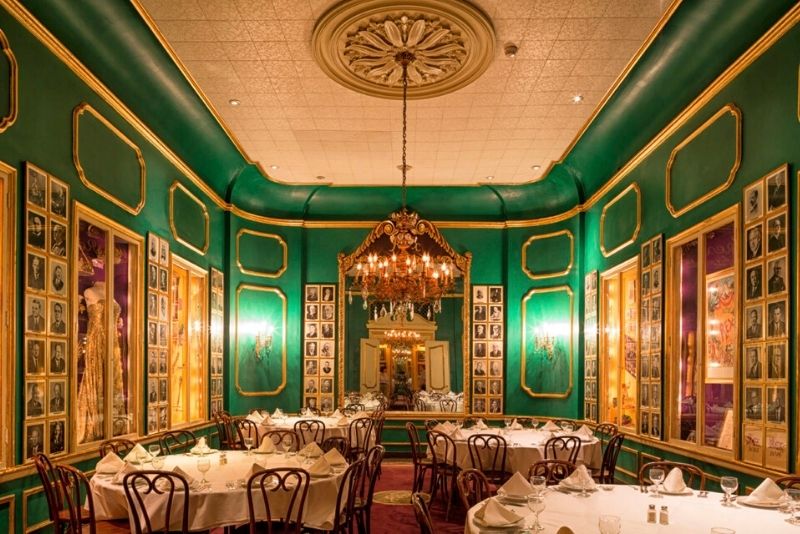 In 1840, a young French immigrant named Antoine opened up a cafe.
Over 180 years later, that same cafe has passed from generation to generation. With that little anecdote in mind, Antoine's earns itself the acclaim of being America's oldest family-run restaurant — and the staff will happily tell you all about its glowing history.
Considering their specialty in French-Creole cuisine, don't leave without sampling the Oysters Rockefeller and Pommes de Terre Souffles.
66 – Play a round at Audubon Park Golf Course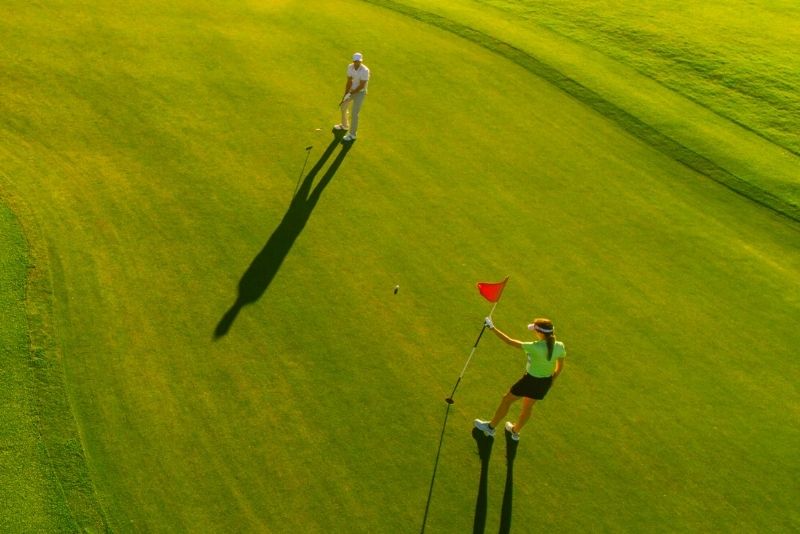 Boasting contoured fairways lined with hundred-year-old oak trees, manicured greens, four aesthetic lagoons, and exquisite landscaping everywhere in between, Audubon Park Golf Course is widely considered one of the most impressive in the region.
It's an 18-hole, par-62 course, open for tee times every day except Monday.
67 – Admire the architecture of The Cabildo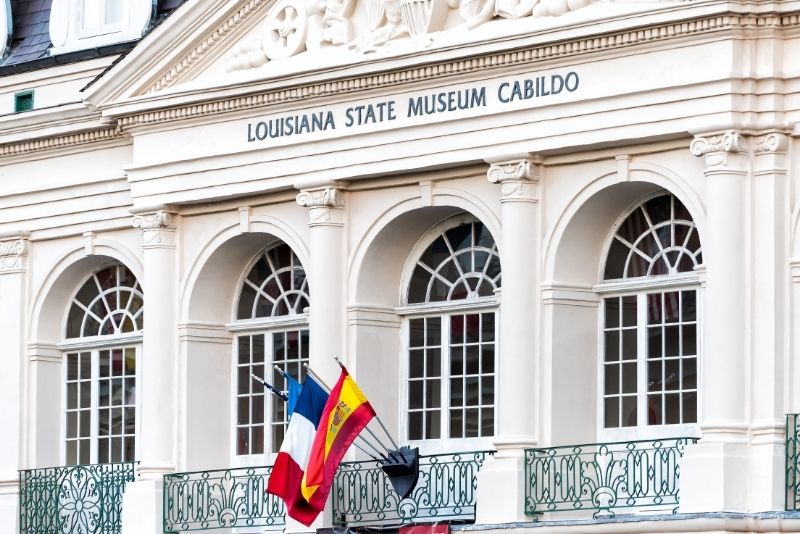 Originally built in 1977, the historic Cabildo building is a marvel of Spanish colonial architecture.
While it formerly housed the seat of government during the Spanish colonial period, it's now the home of a museum dedicated to New Orleans history.
Over 500 artifacts and original works of art lay inside, highlighting the history of war, culture, and famous Louisiana figures.
68 – Observe the awesome art at Studio Be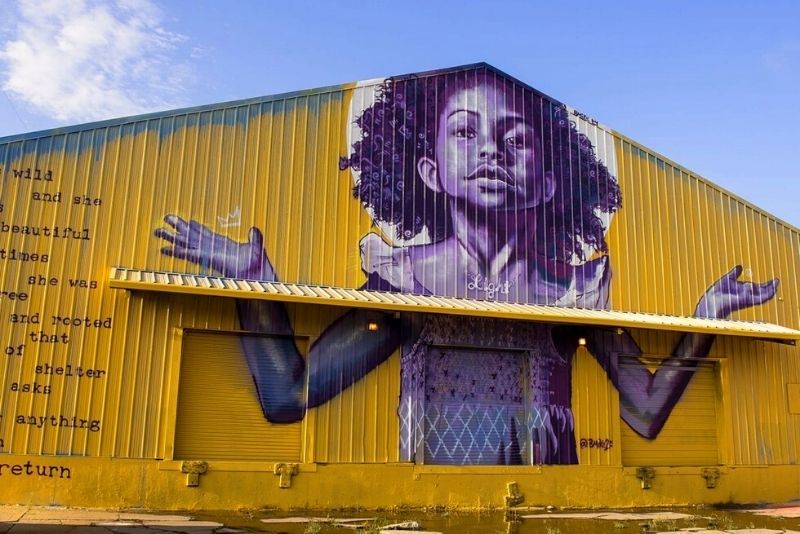 The floor-to-ceiling portraits are colorful, vibrant, thoughtful, and evoking in this abandoned warehouse turned art sanctuary.
Located on the shopping-centric Royal St in the Bywater neighborhood, Studio Be is dedicated solely to displaying the work of the popular local artist, BMike (AKA Brandon Odums).
69 – Learn about past battles at Chalmette Battlefield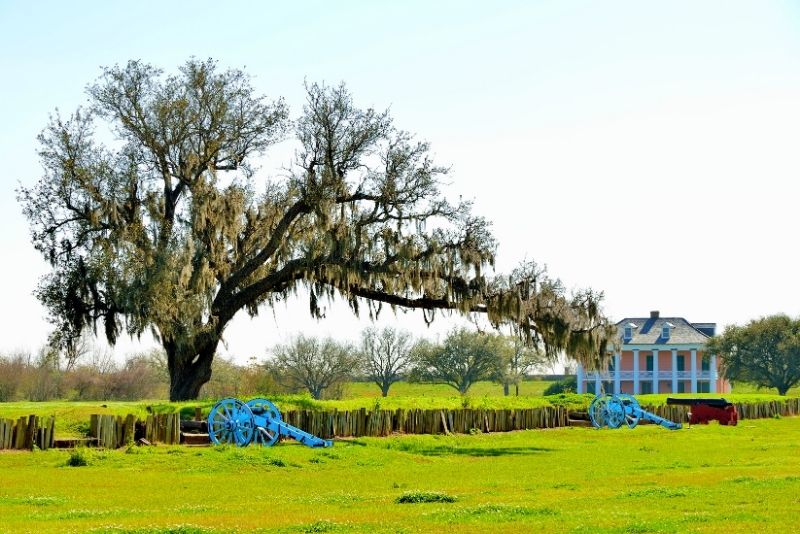 Despite the United States' involvement in many international wars, the last international battle on American soil took place on January 8, 1815, on NOLA's own Chalmette Battlefield.
Every January, on the weekend closest to the anniversary, volunteers dress up in costume to reenact the historic encounter.
On every other day of the year, it's free to roam around. Combine a visit with a Creole Queen river cruise to tick off two attractions at once.
70 – Down a Hurricane (or three) at Lafitte's Blacksmith Shop Bar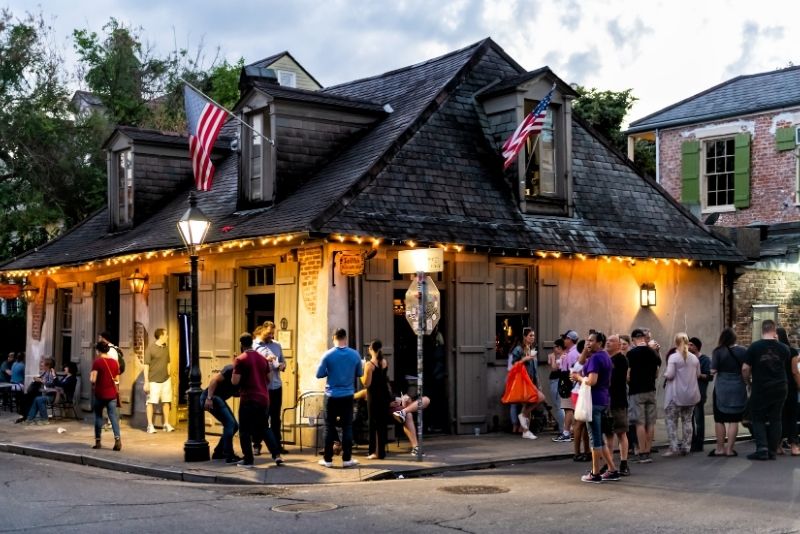 Incredibly, this rustic former blacksmith has been serving up cold beers and mouth-watering cocktails since the 1700s, making it easily one of the oldest bars in the nation.
No thirsty tourist can leave New Orleans without trying the sweet, rum-based Hurricane cocktail — and Lafitte's arguably serves up the most delicious of them all.
71 – Sip and spin at Carousel Bar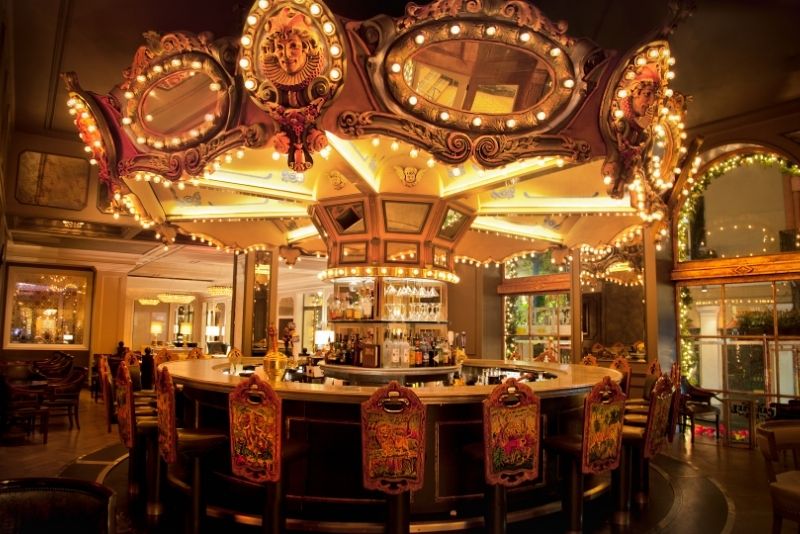 No, you haven't had too much to drink… the bar really is spinning!
The Big Easy's famous Carousel Bar is the only revolving bar in the city — but it's not out in the middle of Bourbon Street, it's delicately hidden away within Hotel Monteleone.
The name stems from the whimsical merry-go-round at its center, but the complicated cocktails are equally impressive.
72 – Attend a concert at Orpheum Theater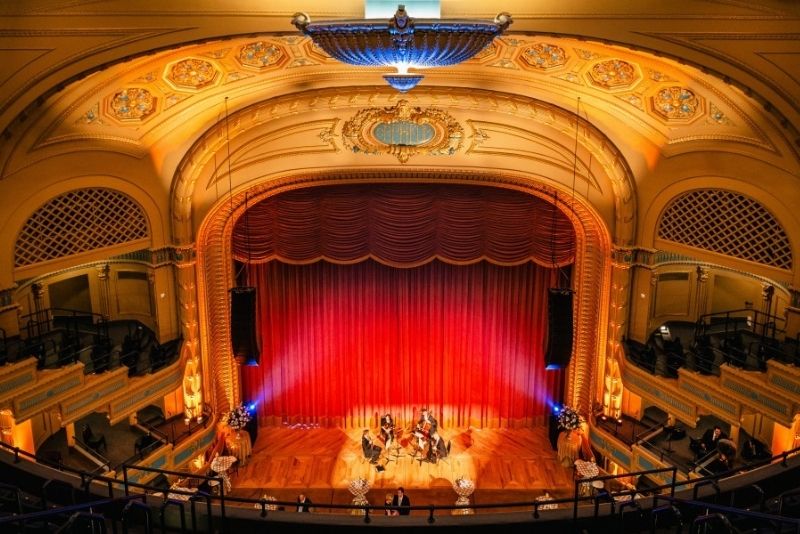 An immaculately renovated performance venue, the Orpheum Theater welcomes talented professionals from near and far: orchestras, singers, play and musical casts, and plenty more.
Despite its 100 year history, the building is fitted with state-of-the-art technology to support a variety of world-class concerts — even The Beatles performed here back in the day!
73 – Hear some music at Tipitina's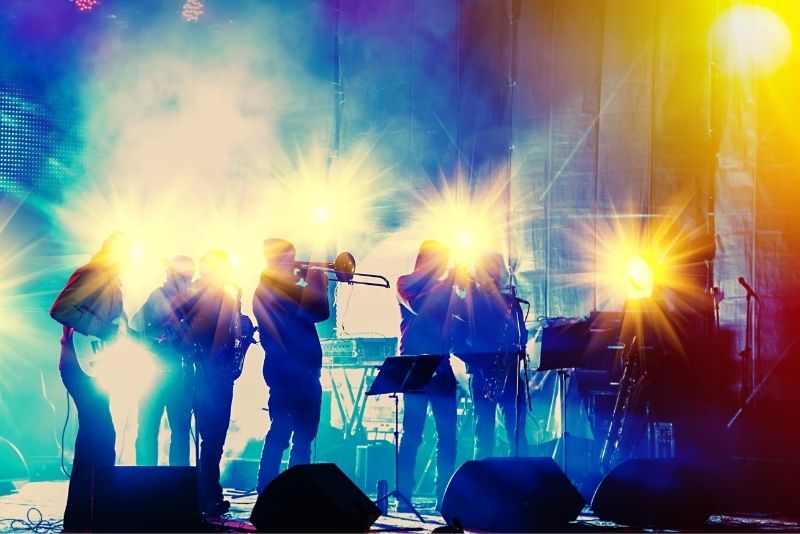 It's standing room only at Tipitina's but that won't be a problem; you'll be toe-tapping and swaying until your legs fall off with some of the most revered local musical acts making regular appearances on the venue's roster.
While tickets usually cost a few bucks, there is a loophole: visit during the summer on one of the "Free Music Fridays" to see whoever's on the event calendar without spending a penny (notwithstanding a Hurricane cocktail or two).
74 – Enjoy the entertainment at Saenger Theatre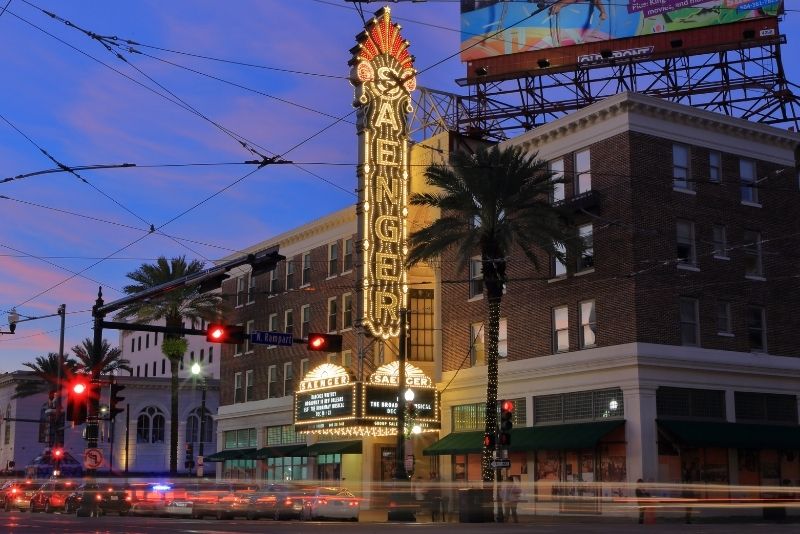 An undisputed New Orleans landmark, the Saenger Theatre has been putting on Broadway shows, concerts, comedy nights, movie screenings, and more since it opened way back in 1927.
It's developed a reputation as one of the Gulf Coast's premier live entertainment haunts and is certainly with a visit.
75 – Interact with art at Music Box Village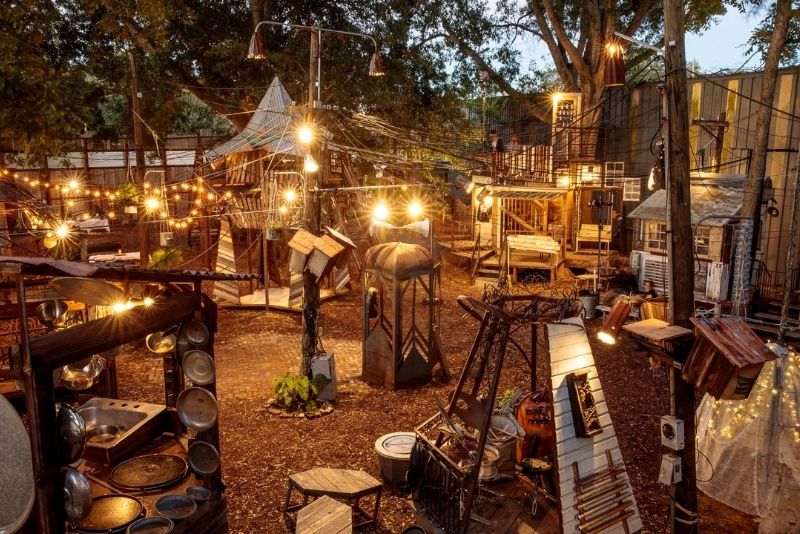 As an installation that blends contemporary art with interactivity, kids of age and kids at heart will love the Music Box Village.
The sculpture garden — created by an artist collective called the New Orleans Airlift — is full of houses, each of which is its very own musical instrument! It's unique, odd, and totally New Orleans.
76 – Relax and unwind at the Hot Tin Rooftop Bar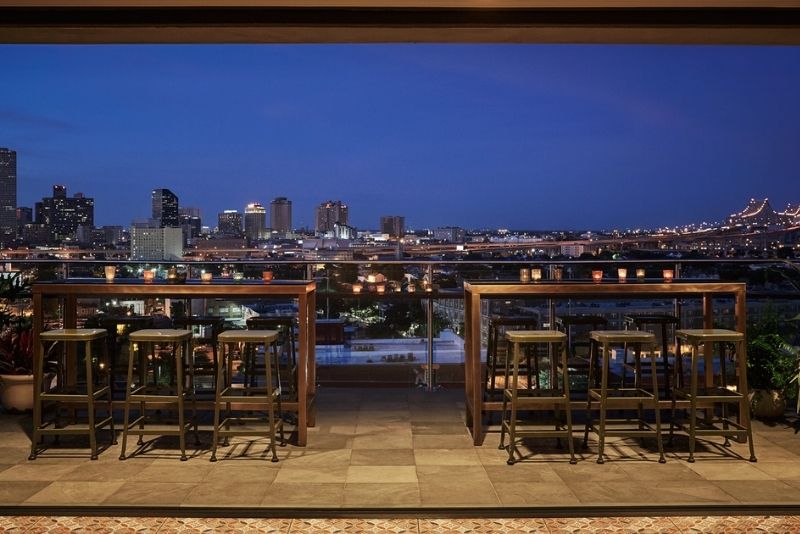 Very few places in town offer views as exquisite as those visible from the Pontchartrain Hotel's very own rooftop bar: The Hot Tin.
Choose from either chic indoor (air-conditioned) or breezy outdoor seating, sip on a drink or two, and unwind after a tiring day of sightseeing.
77 – Unleash the inner party animal on a New Orleans pedal barge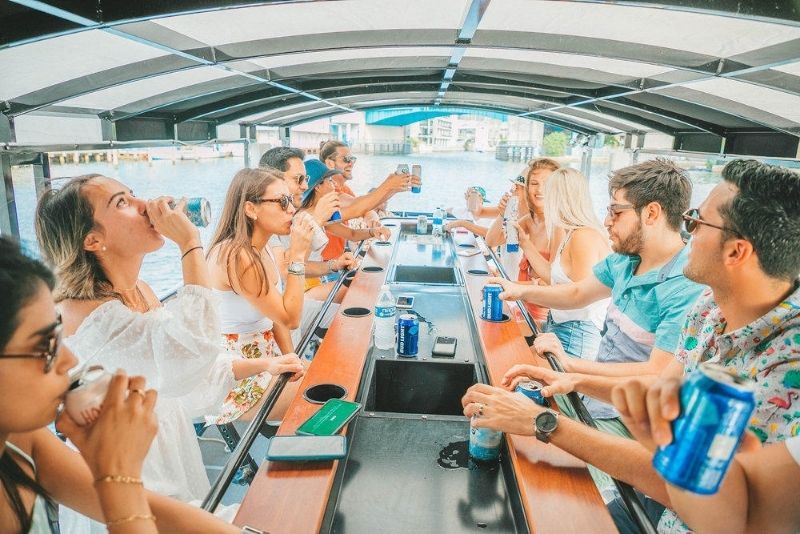 Did someone say boat party?
With room for 18 people, fitted coolers, and a generous BYO policy, the pedal barge is a surefire way to get buzzed with your nearest and dearest before hitting up Bourbon Street and taking the festivities to the next level.
The cruise sets off through the Bayou Bienvenue river before, offering stellar views along the way.
78 – Relax at a New Orleans spa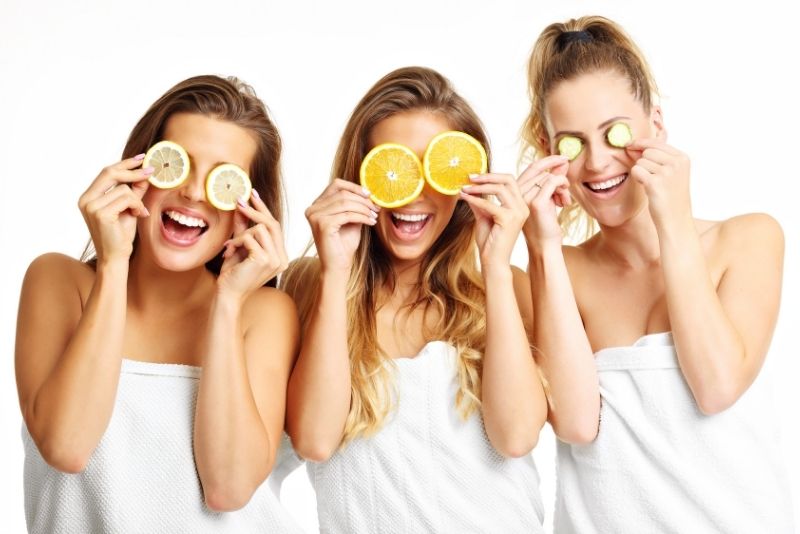 With Mardi Gras, the French Quarter, Bourbon Street, and endless opportunities to get wild, travelers often forget to take a step back and unwind!
It is vacation, after all, so there should at least be some relaxation!
With massage and spa discounts sometimes climbing over 60%, there's always a great chance to snag a bargain.
Looking for more things to do in New Orleans? Check out TourScanner's full list of tours and activities in New Orleans.