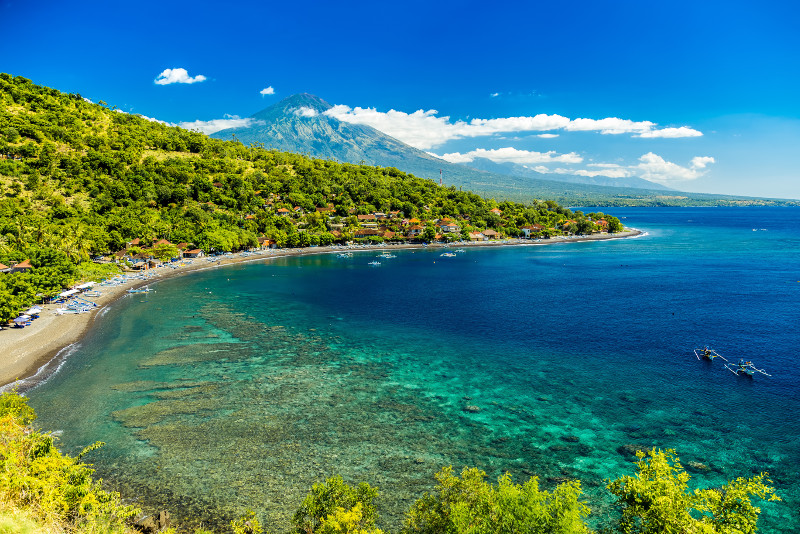 Bali is one island with many destinations, making tours around this slice of paradise an essential requirement for visitors. Join us as we look at 25 awesome Bali tours that will compliment your trip as you bask in the rich culture, amazing sights and lovely locals of this amazing Indonesian island.
These Bali tours will definitely spice up your vacation with a great range of adventure.
1 – Bali Instagram Tour: The Most Scenic Spots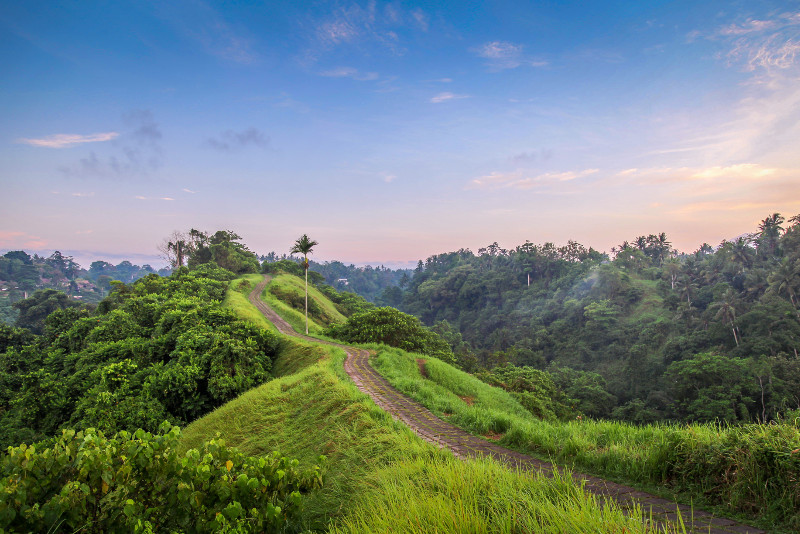 Seascapes, landscapes and beautiful landmarks are very much on the agenda on the Indonicisc island of Bali. Which is why a visit wouldn't complete without the Bali Instagram tour.
Take in the local nature and visit some of the most iconic sites on the island. Get top-notch Instagram pictures of places like volcano Mount Agung while learning all about the island and its Balinese culture.
2 – Uluwatu, Tanah Lot and Jimbaran Private Tour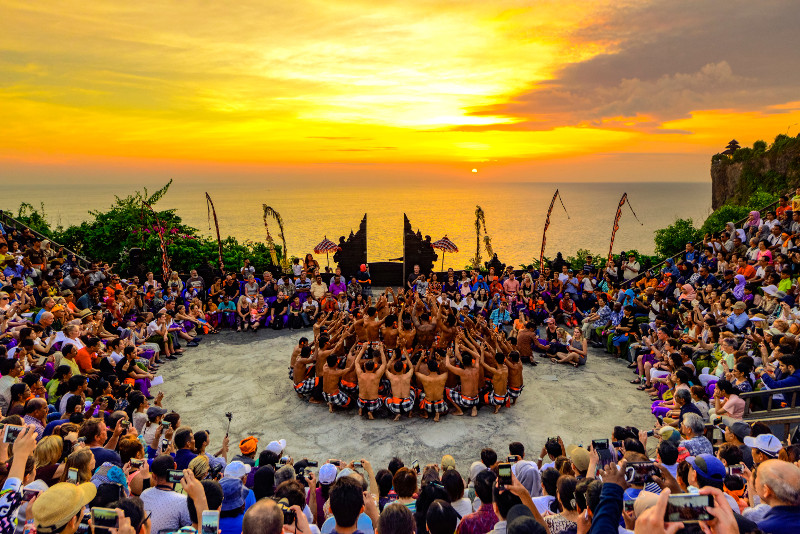 Enjoy a private tour of the south coast of Bali that includes two of the island's most iconic temples, Mengwi Empire and Tanah Lot Temple.
Other parts of the tour include authentic "kecak" dance performances from locals and views that overlook the Indian Ocean. Round off the day with a seafood sunset dinner at Jimbaran Bay.
3 – Bali Full-Day Traditional Village Sightseeing Trip with Lunch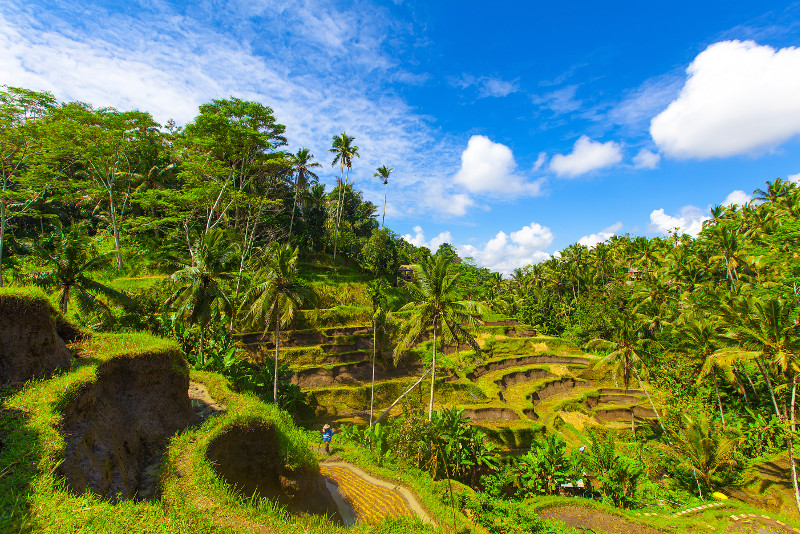 Soak in Balinese culture with a full-day traditional sightseeing tour with lunch. You'll see artisan villages around the town of Ubud, where you can check out local handicrafts like gold and silver jewellery.
Your tour also includes visits to the Batuan Temple and Sebatu Holy Spring Temple. A buffet lunch is on hand, which you'll enjoy while overlooking the Kintamani Volcano.
4 – Downhill Bali Hidden Cycling Tour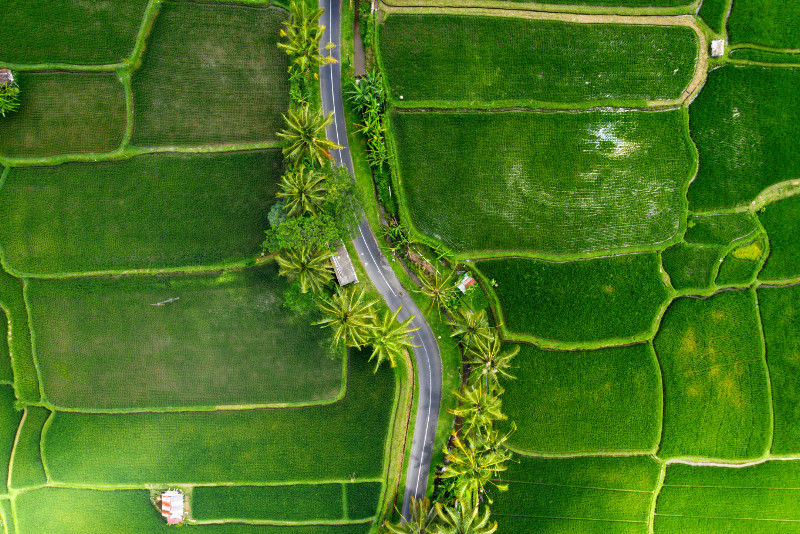 Change up your Bali tours experience and try a cycling tour that sees you trail downhill while exploring parts of hidden Bali. Pedal down Kintamani volcano, through to the UNESCO-listed rice terraces and handicraft villages of Ubud.
The tour includes hotel pick up, bike rental, and lunch or dinner – depending on whether you go in the morning or afternoon. Enjoy magnificent views as you cycle through the paradise that is Bali.
5 – Best of Ubud: Waterfall, Rice Terraces & Monkey Forest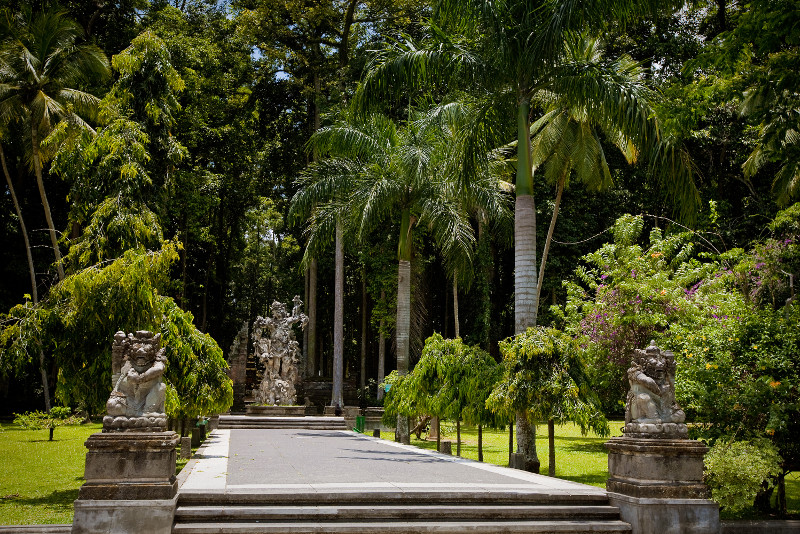 Immerse yourself in Bali tradition with a private tour of Ubud, the Indonesian town known as the centre for traditional crafts and dance. Start the journey with a visit to the Tegenungan Waterfall, where you can take in the natural waters.
Visit Ubud's Monkey Forest along the way, as well as the Batuan Temple. Stop for lunch, which overlooks scenic green landscapes near Tegalalang Rice Terraces. Other features of the tour include Ubud King Palace, Mas Village, and more.
6 – Bali: Mount Batur Sunrise Hike and Natural Hot Spring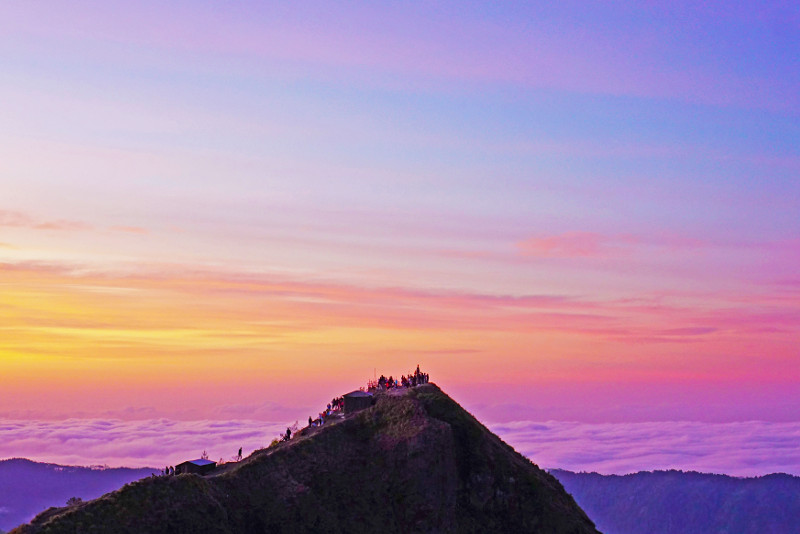 There's nothing quite like watching the sunrise in paradise. With a Mount Batur Sunrise Hike, that's precisely what you can do – and it features a hot spring. Hike up Bali's most symbolic mountain and take in the stunning views.
Enjoy sights of nearby active volcanoes close to the village of Kintamani, and learn everything there is to know about the region from a private guide. Breakfast is included, with pick-up at 1.30am and drop-off at 1.00pm.
7 – Uluwatu and Jimbaran Bay Tour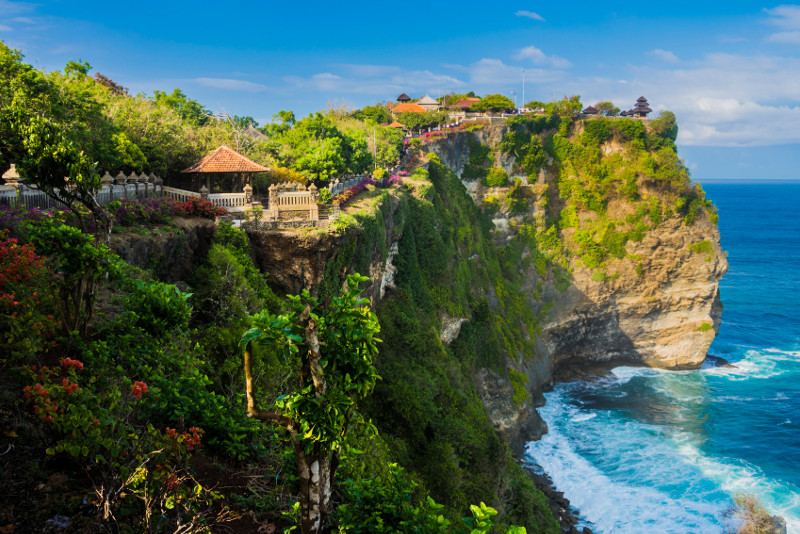 Bali tours don't come much better than a visit to the clifftop of Uluwatu temple, one of the island's must-see landmarks. A meal is also included, which is set in the relaxed environment of Jimbaran beach on this Uluwatu and Jimbaran Bay tour.
Your tour kicks off with a visit to the scenic island beach, Padang Padang. Next, you'll discover the sacred temple of Luhur Uluwatu. Other highlights include Balinese Kecak dancing and a private tour guide.
8 – Mother Temple of Bali and Lempuyang's Gates of Heaven Tour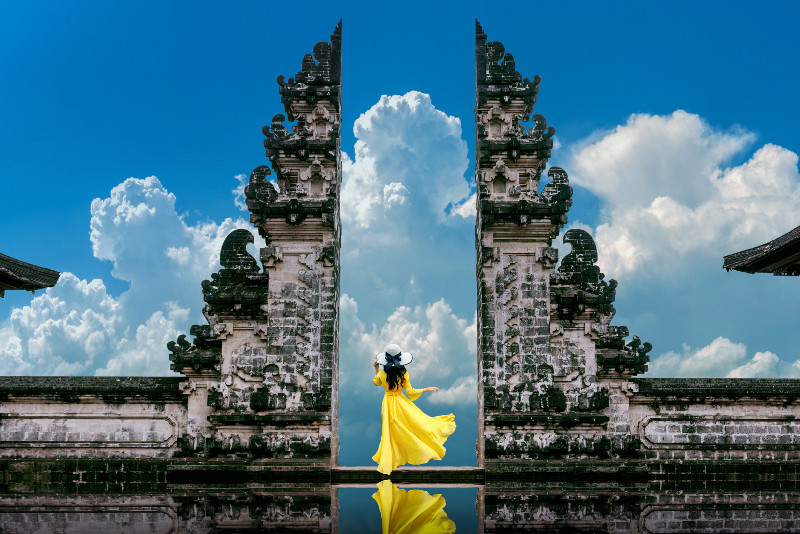 Enter the gates of heaven at Lempuyang, and discover the delights of the Mother Temple. This experience is up there with the best Bali tours and starts with a visit to the Lempuyang Temple, passing long stretches of pristine rice paddies along the way.
Bask in the view on offer at the temple while your tour guide captures cool pics and explains the history of the ancient temple. Next, see the Tirta Gangga, which features fountains, gardens, and stone sculptures. After a quick bite to eat, round the day up by visiting the biggest temple in Bali.
9 – Bali: Best of Nusa Penida Full-Day Tour by Fast Boat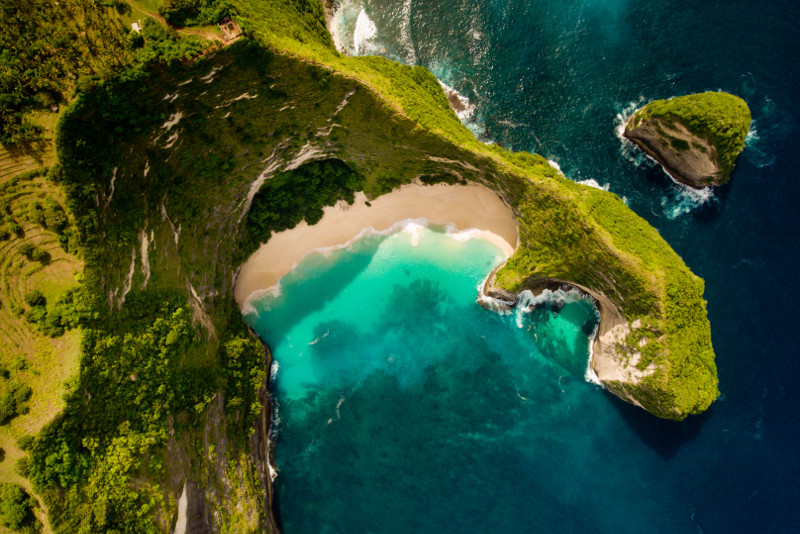 Get up close and personal with a full-day private tour of the island of Nusa Penida. Chill out on the white sandy beaches far away from the tourist crowds and bask in your own little slice of paradise.
Start the day by jetting across the sea to the small island of Nusa Penida, where your private tour guide will greet you. Make the most of the occasion by taking photos of the beautiful surroundings before a spot of snorkeling.
10 – From Bali: Snorkeling Day Trip to Nusa Lembongan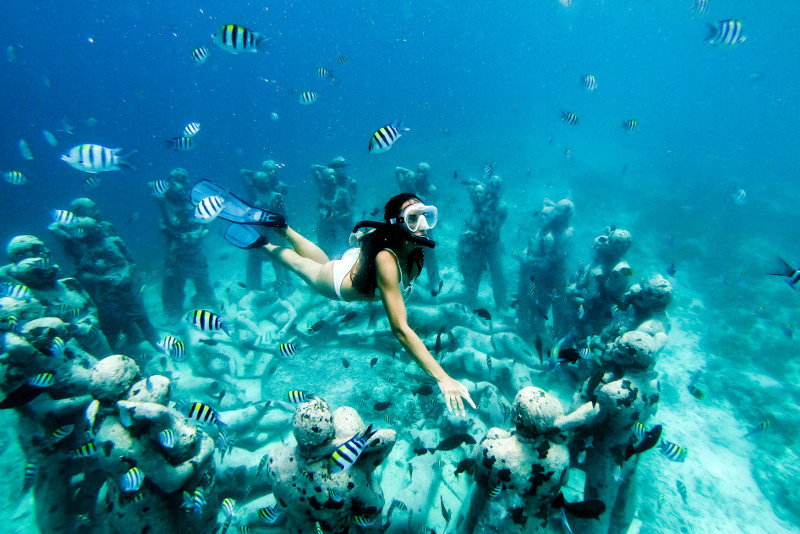 Take your Bali tours experience to the sea with a snorkelling day trip to Nusa Lembongan. Discover three different island spots while swimming with tropical fish and live coral flora and fauna.
Highlights of the trip include a snorkelling guide who will provide all of the necessary equipment. Then take to the waters to search for resident emperor angelfish, parrotfish, moray eels, turtles and even manta rays.
11 – North Bali Sunrise Tour with Dolphins, Waterfalls & Temples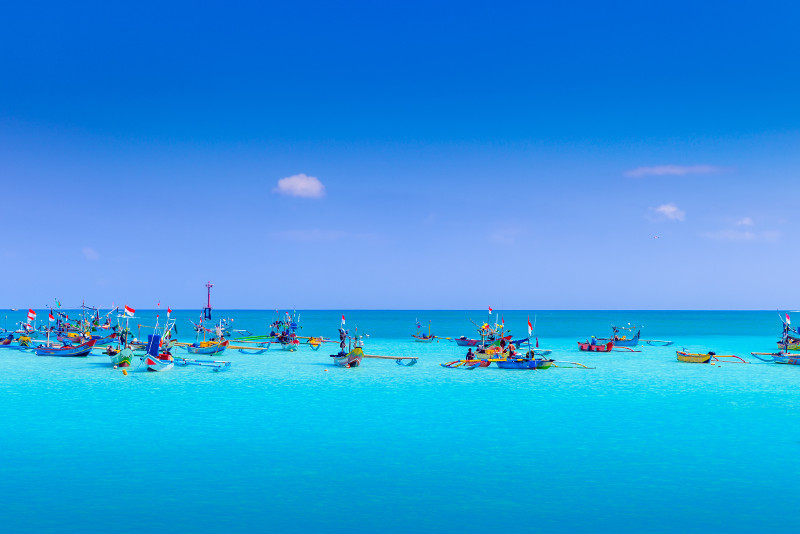 What's better than experiencing a Bali sunrise? Doing it in the company of dolphins, that's what. But that's not all, as this North Bali sunrise tour also includes visits to waterfalls and temples.
The private half-day trip introduces you to the beauty that North Bali has to offer. Start the day off by watching dolphins play in their natural habitat while watching the Bali sunrise. You'll finish the tour with a trip to Gitgit Waterfall and Ulundanu Bratan Temple.
12 – Ubud: Electric Bike Tour to Tegallalang Rice Terraces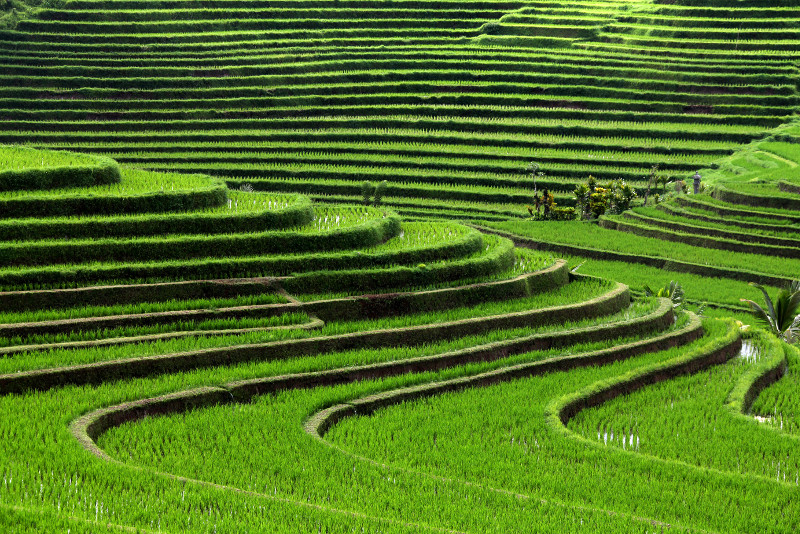 Hop on an electric bike and ride from Ubud to the Tegallalang Rice Terraces, where you'll take in sweeping scenery, visit historic temples, and sample local brew at a coffee plantation.
This three-hour tour sees you visiting local villages and experiencing the local way of life in Bali. Learn about local culture and take in the spectacular Tegallalang Rice Terrace views, all while listening to a local tour guide.
13 – UNESCO Sites: Bedugul, Jatiluwih and Tanah Lot Full-Day Tour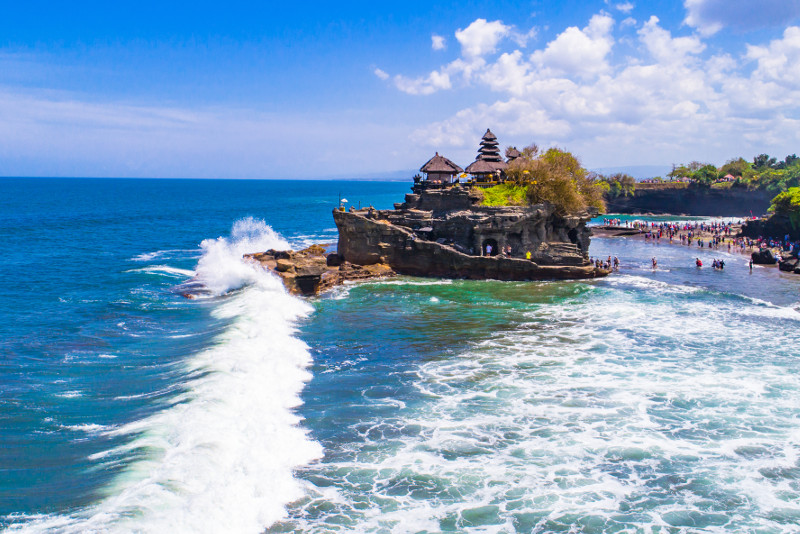 Visit Bali's UNESCO World Heritage Sites with a private tour that lets you see the most iconic temples on the island. Discover the history and culture of Balinese people and their gods.
Bali's UNESCO sites include the temple of Pura Ulun Danu Beratan, the garden and temple of Taman Ayun, and Bali Subak. Each one offers picturesque sights.
14 – Bali Eat Pray Love Private Day Trip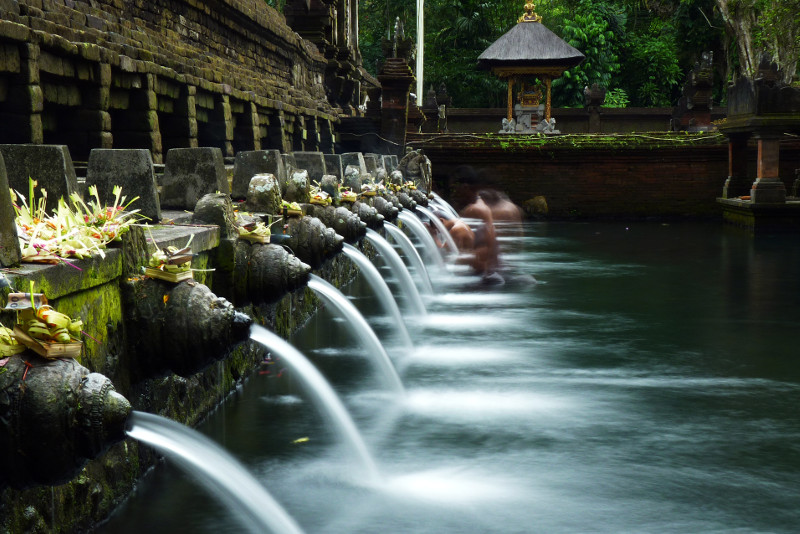 Bali is famous for many things: idyllic beaches, UNESCO sites, temples, and crystal clear waters. It's also where the famous movie, Eat, Pray, Love (starring Julia Roberts) was filmed – and this tour replicates the movie.
Follow Julia Roberts' Eat, Pray, Love journey and discover spiritual healing. Enjoy holy baths at the Mengening Water Temple, cure your ailments with a Balinese healer, and see the natural beauty of the Tegalalang Rice Terraces.
15 – Canyoning in Bali—An Unforgettable Waterfall Adventure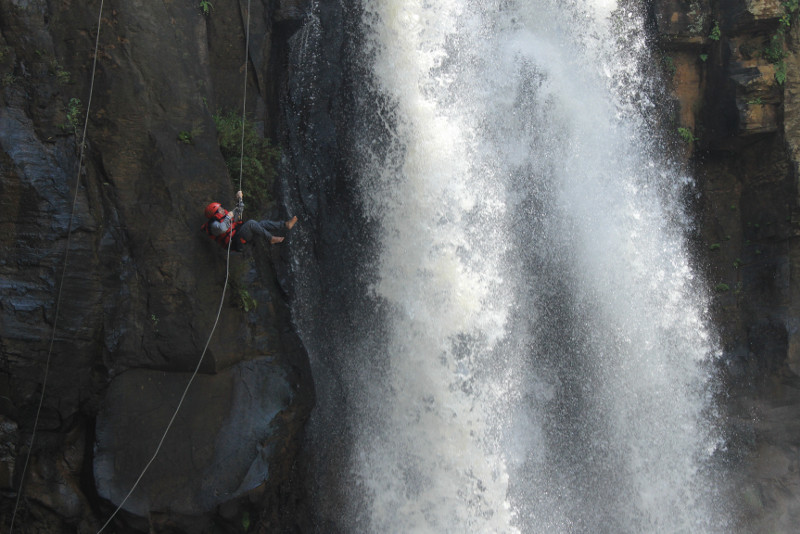 Pull yourself away from the stunning sights of other Bali tours for a few moments and embrace the outdoors with an unforgettable waterfall adventure.
Try the natural water slides, rappel down waterfalls, and free jump into rock pools. Finish the trip off with a swim in natural spring waters and then review your day with the images captured by a GoPro camera.
16 – Bali All Inclusive: Ubud Rice Terraces, Temples & Volcano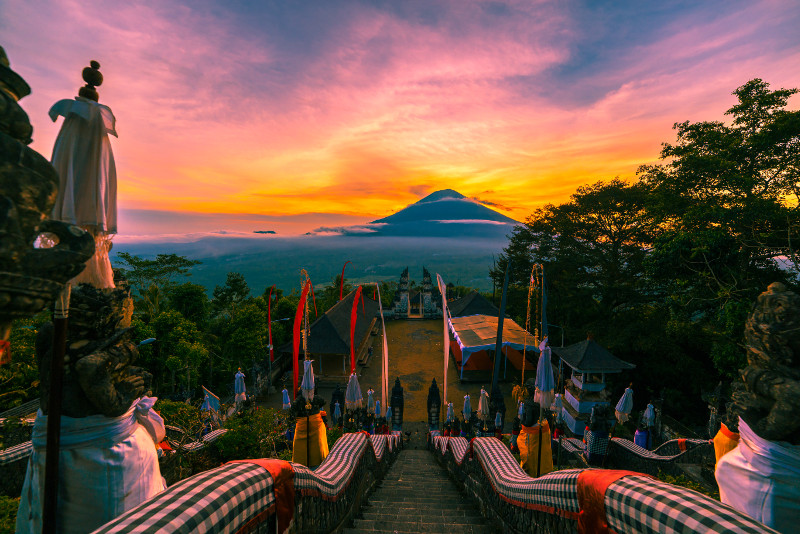 The Ubud Rice Terraces offer vibrant green colours that need to be seen to be believed. The temples and volcanoes in Bali only add to the awe of this all-inclusive tour.
See some of the most inspiring landscapes in Bali. Visit scenic volcanoes in the island's centre, witness Bali's wood carving crafts, and marvel at the rice terraces of Tegalalang.
17 – Bali: Sacred Temples and Sunset Private Tour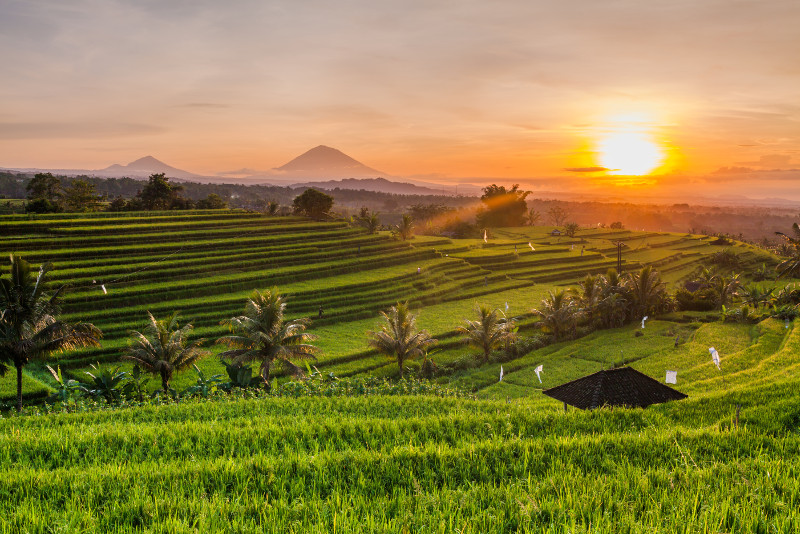 Take a private tour and discover Bali's sacred temples while watching the sun go down in style. The tour includes a visit to local villages, majestic mountains, and the chance to bask in Bali culture.
Start your tour with a visit to Goa Gajah Temple, which is also known as Elephant Cave Temple, and admire its unique stone structure. End the day at Tanah Lot, a temple where you'll watch the sun set.
18 – Ubud: Jungle Swing Private Tour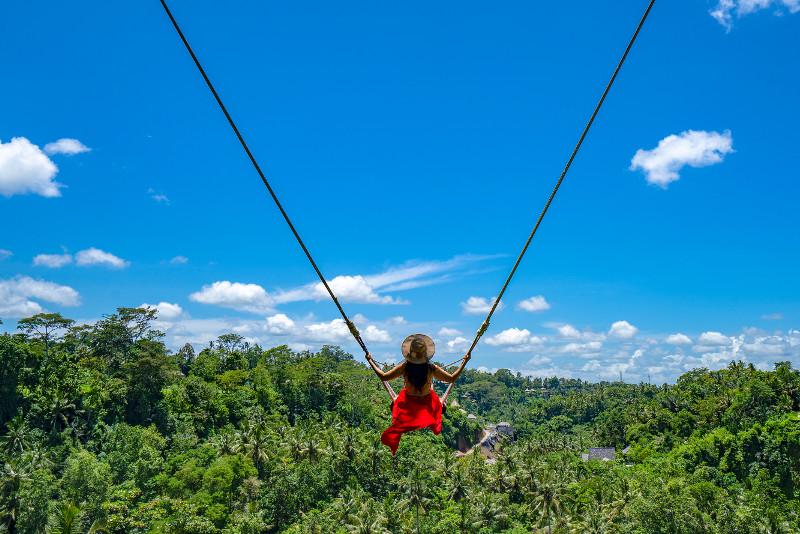 Swing your way through the tropical jungle in Ubud and discover Bali's hidden beauty. This private tour will also see you meet the indigenous village people of Pengelipuran and discover beautiful waterfalls.
Head to Pengelipuran village, which is known as one of the world's cleanest villages, before flying over the jungle on a jungle swing and taking in the surrounding area.
19 – Carang Sari Village Cycling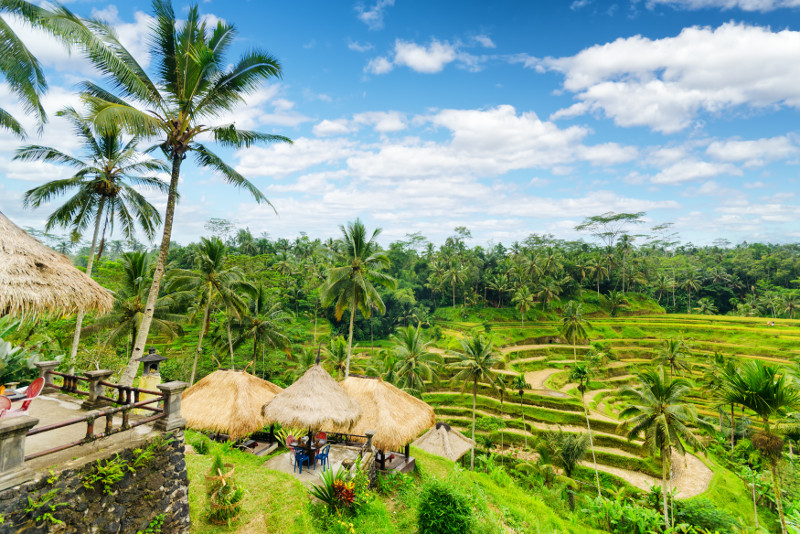 Get to know the rural side of Bali with a village cycling tour. Visit the famed rice terraces and cycle through quaint villages where you can soak in local life.
Other highlights of the tour include spending time in the Sangeh Monkey Forest, enjoying lunch to spectacular panoramic views, and taking in the amazing landscapes of Bali.
20 – Mount Batur: Private Volkswagen Jeep Volcano Safari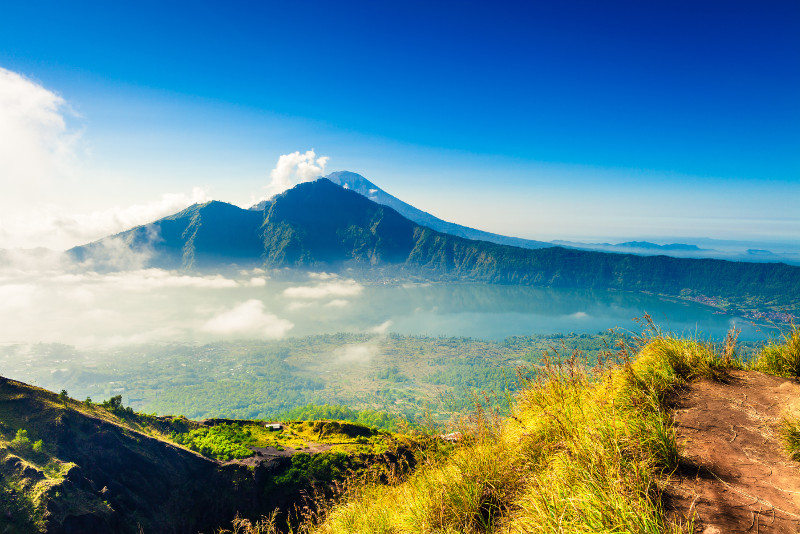 Get an intimate view of Bali's central mountainous area with a volcano safari in a Volkswagen Jeep. Head to Mount Batur, visit rice paddies, temples and even hot springs.
Enjoy a private guided tour by your driver while you discover the wonders of Bali's Mount Batur volcano, which is surrounded by the 13-square kilometre Batur caldera lake.
21 – Bali Tukad Cepung Waterfall & Jungle Swing Private Day Trip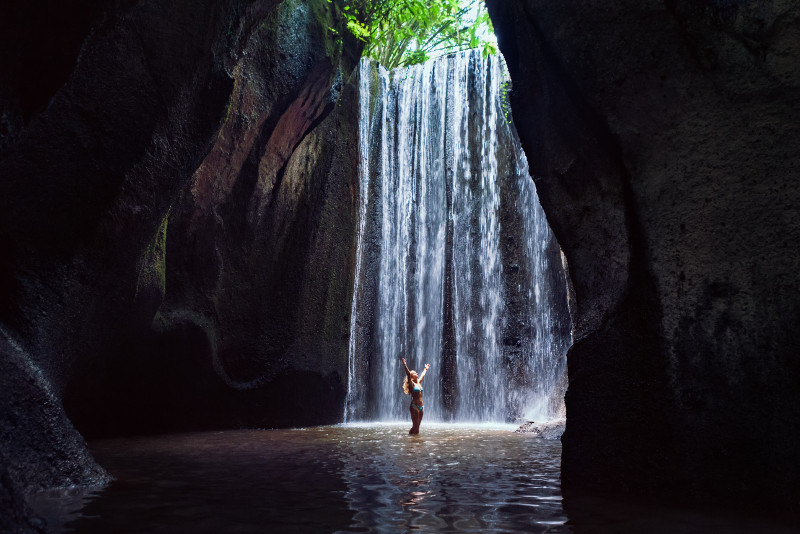 Get back to nature with your Bali tours and visit Tukad Cepung waterfall, followed by a jungle swing over natural terrain. This is certainly an adventure for nature lovers.
Discover two of Bali's hidden gems: Tibumana and Tukad Cepung waterfall. Then head to the Ubud jungle and swing your way through stunning scenery.
22 – Kintamani Lake & Volcano Tour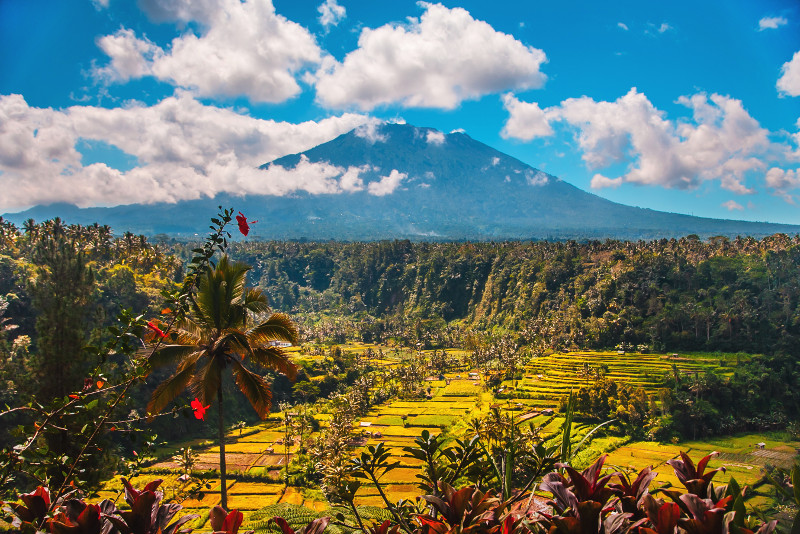 Learn about the history and culture of Bali while travelling through the Kintamani mountain region. A private tour guide is on hand to tell you everything you need to know about the wonders of Bali.
Part of the tour will see you watching Balinese mythical Barong dancing before heading to Ubud to discover the artistic and creative hub of Bali.
23 – Bali Full-Day Traditional Village Sightseeing Trip with Lunch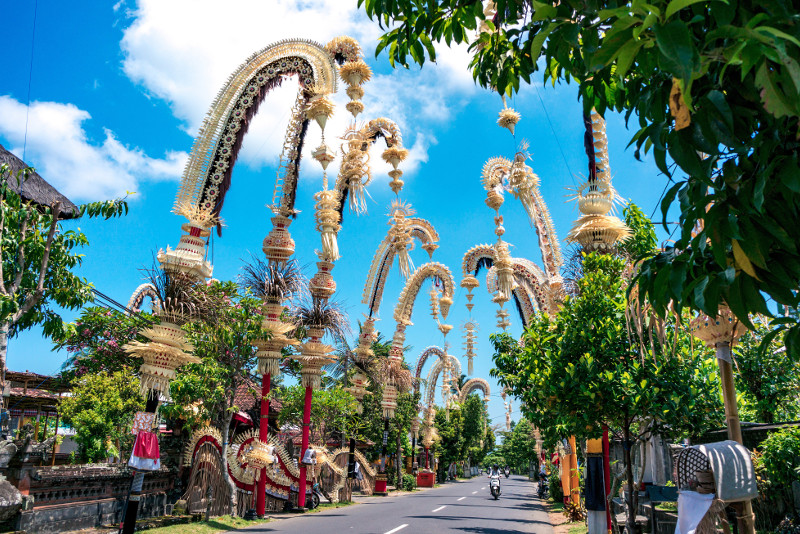 Enjoy local culture at the artisan villages of Bali with this sightseeing trip. See the locals at Ubud, which is Bali's artistic centre. Then visit the nearby temples and enjoy the scenic views on offer.
Explore the batik, silverwork, and wood carvings of Batubulan, Celuk, and Mas. Finish your trip off with a visit to Ubud, where you'll see Ubud Monkey Forest, Ubud Art Market, and Ubud Palace.
24 – Bali Food Safari Tour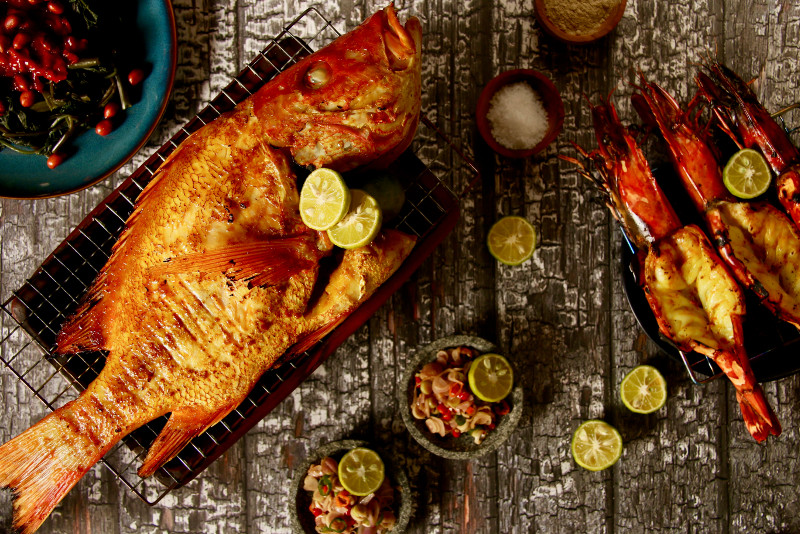 Enjoy local culinary delights with a Bali food safari tour. You will sample a selection of Balinese dishes that will leave your mouth watering for more.
Discover a mystery dining adventure in the beach resort of Seminyak, taste 12 delicious dishes at four restaurants and embrace an epic culinary experience.
25 – Bali: Full-Day Spiritual Cleansing and Shamanic Healing Tour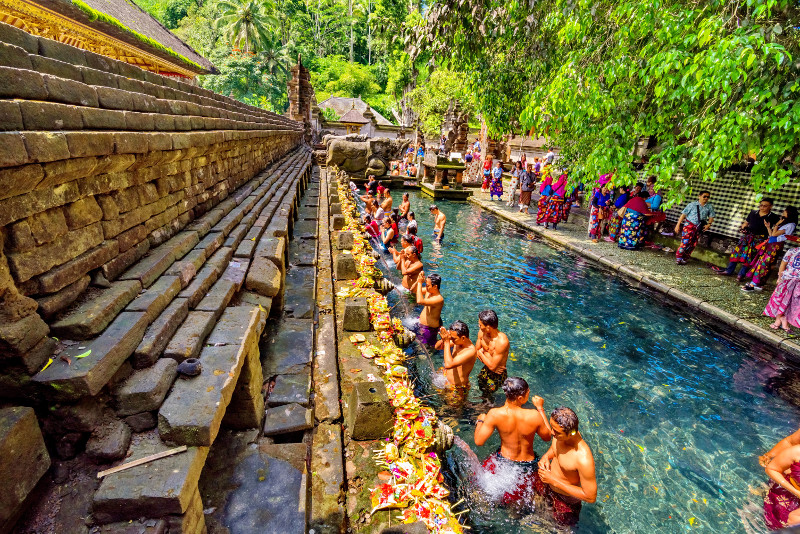 Your Bali tours experience won't be complete without meeting Cokorda Rai, one of Bali's most famous healers. This healing tour will see you meet with her and receiving a spiritual cleansing.
Head to the Bali Holy Spring Temple at Tirta Empul in Tampak Siring and experience the Yanga, Yatra and Mantra healing techniques.
We hope you enjoyed our selection of Bali tours. Click on the following link for our complete list of tours in Bali. Have fun on the island of the gods!