Located on the shores of Lake Beratan, this traditional Hindu water temple was built to honor the water goddess, Danu.
With the vast Bedugul mountain ranges surrounding the lake, a visit to the temple complex makes for a truly serene, cultural experience. Ulun Danu Temple is approximately 1,500 meters above sea level— offering refreshingly cool air temperatures all year round.
Book your favorite Ulun Danu Temple tour and discover one of the most famous sacred temples of Bali.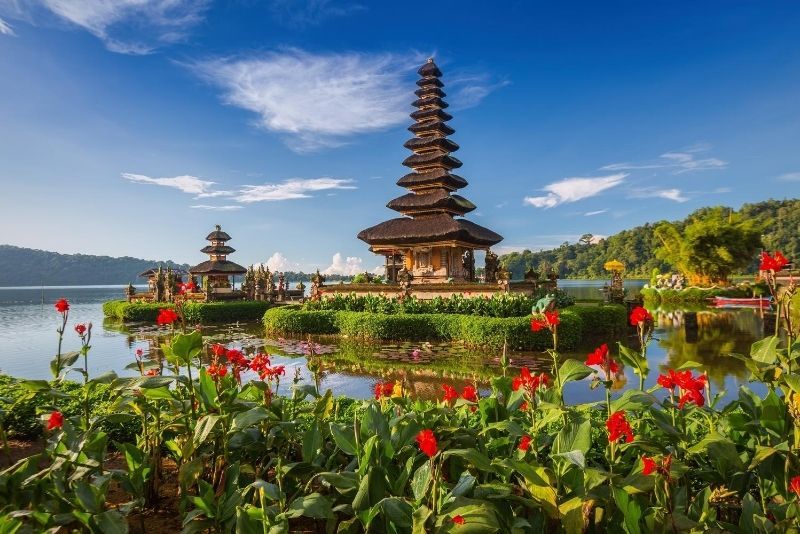 Interested in visiting one of the most popular attractions in Bali? Find all the information you need to know for visiting Ulun Danu Temple below.
How much do Ulun Danu Temple tickets cost?
When visiting Ulun Danu Temple, you'll have to pay an entrance fee that grants you access to the temple complex. The cost per ticket is as follows:
Adults: IDR50,000 (US$3)
Children: IDR25,000 (US$1.5)
You can find the ticket counter in the parking lot just opposite the entrance to the temple. Ensure that you have cash in the local currency (Indonesian Rupiah) to pay for your entrance ticket.
Should you book tickets in advance?
Ulun Danu Temple tickets do not need to be bought in advance as they can be bought at the temple entrance on the day of your visit. However, if you are interested in participating in a tour, you should book the tour ahead of time to avoid disappointment.
What are the best Ulun Danu Temple tours?
You can explore the temple complex on your own and at your own pace, or you can book a tour of Ulun Danu Temple with a professional tour guide.
There are many different group tours available, in which you can join a group of other tourists and make your way to Ulun Danu Temple with a driver and guide. You'll learn about the temple's history and get to see all the best sights.
If you want to make the most of your time at Ulun Danu Temple, you can also book a private tour exclusively for you and your group. Private tours give you more control over your itinerary and you'll enjoy a hotel pickup and drop-off service.
Want to get amazing photos at Ulun Danu Temple to post on social media? There are also a few 'Instagrammable' Ulun Danu Temple tours available, in which you explore the area with a professional photographer and receive high-quality digital photos at the end of your tour.
Are there any combined tours including Ulun Danu Temple and other attractions?
There is a diverse range of landmarks and temples in the area surrounding Ulun Danu Temple. For this reason, many Ulun Danu Temple tours make stops at other attractions along the way. Some popular combined tours include:
Ulun Danu Temple and Bali dolphin watching tour: Spend the morning dolphin watching off the coast of Lovina Beach before making your way to the peace and serenity of Ulun Danu Temple.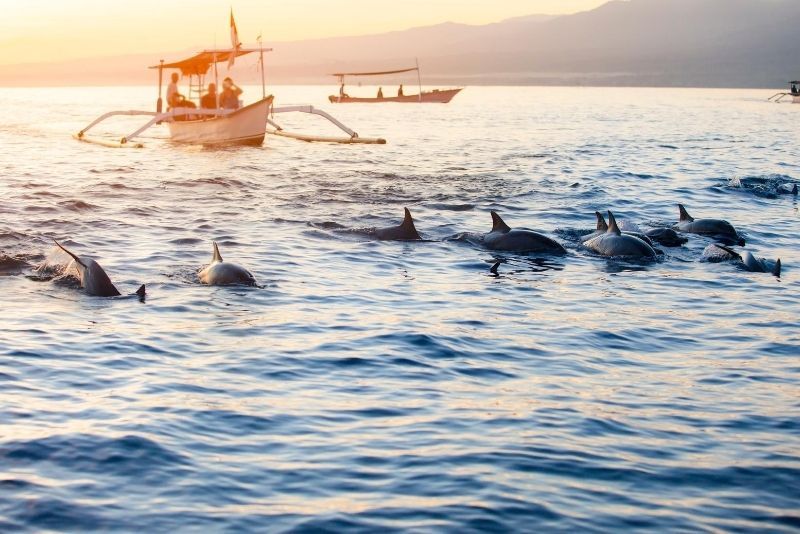 Ulun Danu Temple and Tanah Lot tour: See two of Bali's most famous temples, Ulun Danu and Tanah Lot, in one day with this combination tour.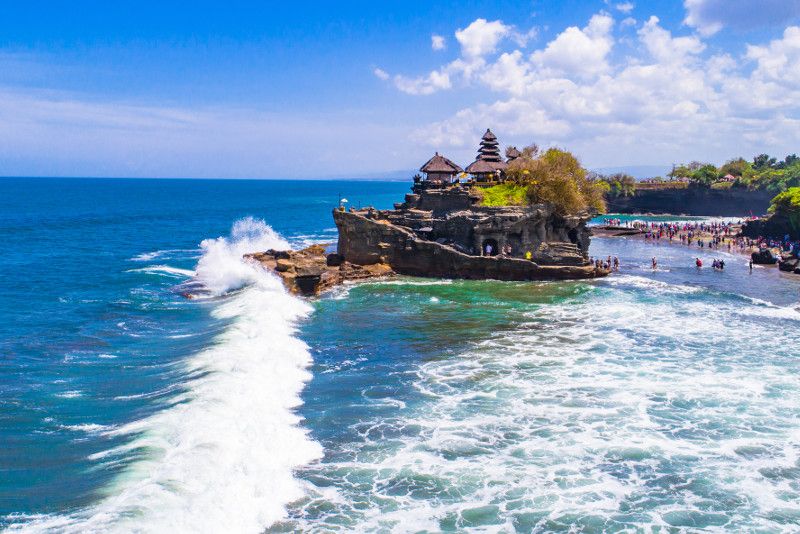 Ulun Danu Temple and Sekumpul Waterfalls tour: Experience the natural beauty of Sekumpul Waterfalls before heading to Ulun Danu Temple with your experienced tour guide.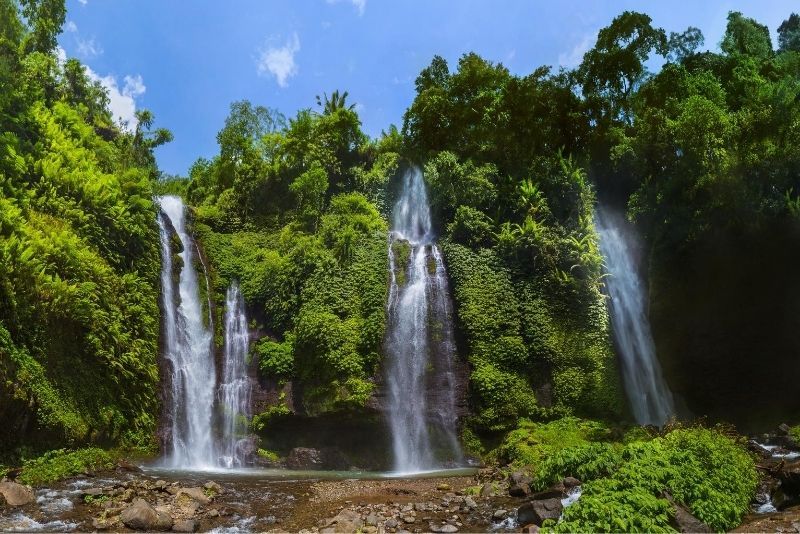 What will you see inside the Ulun Danu Temple?
The traditional name for Ulun Danu Temple is 'Pura Ulun Danu Beratan', and it is one of the most iconic Hindu temples in all of Bali. It is also known as the 'floating temple' as from certain angles it appears to be floating on top of Lake Bratan.
From the moment you enter through the temple gates, you'll notice the traditional Balinese architecture and shrines. There are three main shrines inside the temple complex dedicated to three different Hindu gods— Vishnu, Brahma and Shiva.
The gardens around the temples are well-maintained and there is a large banyan tree, tropical foliage, a diverse range of plants, as well as various statues.
Lake Bratan is the main natural feature in the area and is one of the largest lakes in Bali. There are mountain ranges surrounding the lake that makes for truly incredible views.
Ulun Danu Temple is a specific temple within the Hindu temple complex that is located on the shores of the lake. While non-worshippers are not permitted inside the temple, you can still enjoy the architecture of the temple from the outside.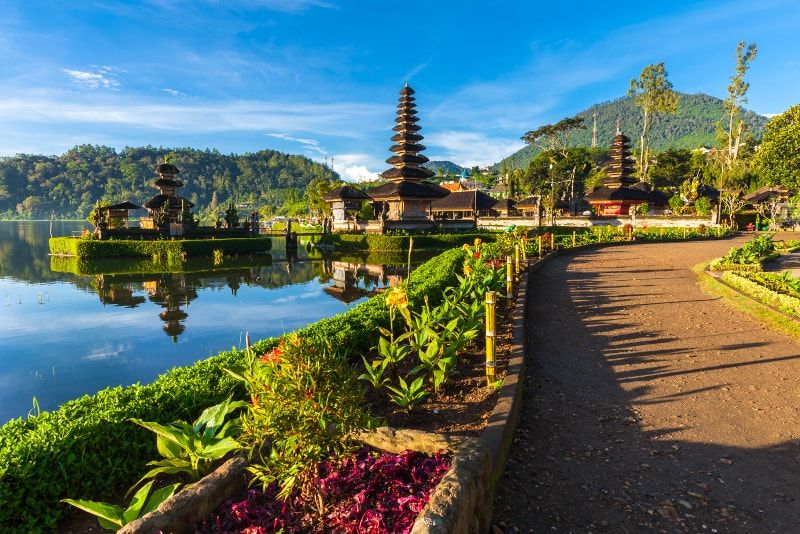 How to get to the Ulun Danu Temple?
Ulun Danu Temple is situated in the highlands of the Bedugul Regency in central Bali. The temple sits upon the shores of Lake Beratan. The temple complex is easily accessible as it lies on one of the main roads that pass through the region.
It takes roughly 90 minutes to reach the temple from Ubud, and it is around a 2-hour drive from Kuta. It is almost impossible to reach the temple by public transport, so you'll have to rent a car or join a tour.
When is the best time to visit it?
The temple complex is open to visitors from 8 AM to 5 PM every day. Most afternoons, there is a heavy fog that settles over the lake, so the best time to visit the temple is between 9 AM and 2 PM if you want to experience good visibility.
Which other temples can be visited in Bali?
Travel tips
When visiting Ulun Danu Temple, make sure that you dress with respect. Cover your shoulders and wear a sarong around your waist.
Bring a jacket along with you as this area experiences cooler temperatures than most other places in Bali.
Wear comfortable shoes for walking around the temple complex.
There are many amazing photo ops, so have your camera ready.