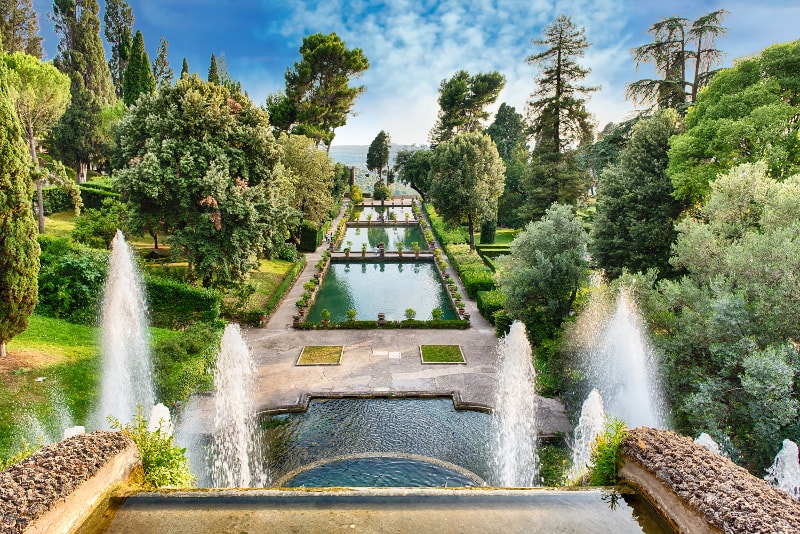 Looking to book a Villa d'Este tour from Rome? Located just 19 miles from Rome in Tivoli, the Villa d'Este is a sumptuous Renaissance villa listed as a UNESCO World Heritage Site since 2001. Enjoy a historic tour from Rome and catch a glimpse of the past by visiting the magnificent Villa d'Este.
This article will provide an overview of the Villa d'Este, what to see, how much tickets costs, what are the best Villa d'Este tours from Rome, travel tips and more.
Are you ready to book your Villa d'Este tour from Rome right now?
Don't feel like reading ahead? Click here to book your Villa d'Este tour from Rome.
What will I see?
The Villa d'Este's construction started in July 1560, when the Cardinal Ippolito d'Este returned in Tivoli after Pope Pius IV appointed him as the new governor of Tivoli. Before that, d'Este was exiled for four years because Pope Paul IV, the former pontiff, accused him of simony.
In 1565 and 1566, painters began to work on the decoration of the interior of the villa. Still in 1566, d'Este attempted, for the fifth time, to be elected Pope, but was defeated again. Knowing that he would no longer be able to apply for the position of Pope, d'Este decided to focus on his villa decoration. Ceramic and mosaic artists, along with fountains engineers, subsequently joined the construction site, and finished the villa decoration in 1568.
However, from 1569, Cardinal Ippolito d'Este faced financial difficulties, and the villa construction started to slow. In summer 1572, d'Este received Pope Gregory XIII in his villa and passed away on December 2nd, 1572.
The Villa d'Este consists of various places:
The Courtyard: its centerpiece is the Fountain of Venus (the only one which retained its original appearance), a gallery also surrounders it.
The Apartments of the Cardinal, featuring a salon (it offers a beautiful view of the landscape, including Hadrian's Villa) and an antechamber that leads to the Cardinal's Bedroom.
The lower floor, which consists of a dozen halls, each with their own decoration.
The gardens and fountains, featuring a large terrace, upper and lower gardens, and about ten fountains. One of the most famous fountains is the Neptune fountain.
How long does it take to get there from Rome?
By car:
It takes 45 minutes to get there from Rome, via the A24.
By bus:
The trip between Rome and Tivoli lasts approximately one hour (from Rome's "Mammolo" metro station, where buses from the regional bus company Cotral can take you to Trivoli).
By train:
It takes 40 minutes to get there from Rome Tiburtina train station. A train ticket costs €2,60. Once arrived in Tivoli, take a regional bus from the bus company "CAT Tivoli" to go to Hadrian's Villa (line number 4).
How much does a Villa d'Este ticket cost?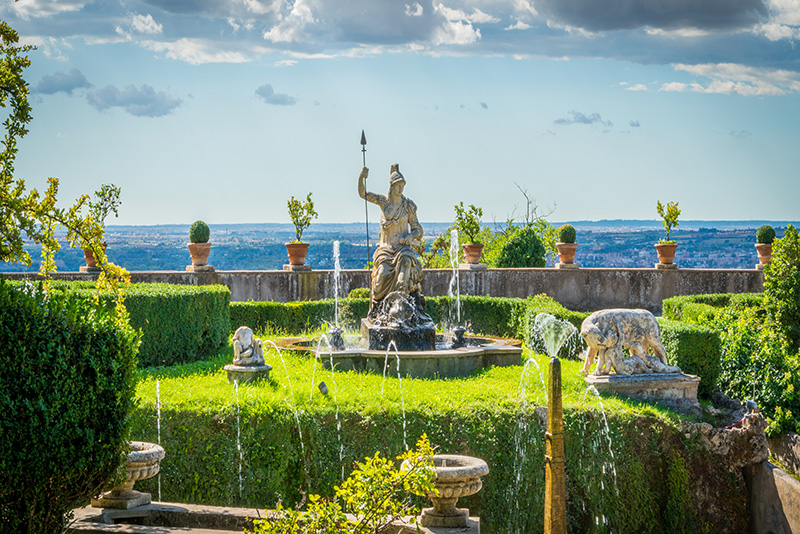 A standard ticket costs €10, but you will not be able to skip the line if you buy it on site! If you are between 18 and 25 years old, you can choose the reduced ticket (it only costs €5,00). Otherwise, it is free for children under 18 (but an adult must accompany children under 12).
To buy Villa d'Este tickets online and skip the line, click here:
How much does a Villa d'Este tour cost? Is it worth it?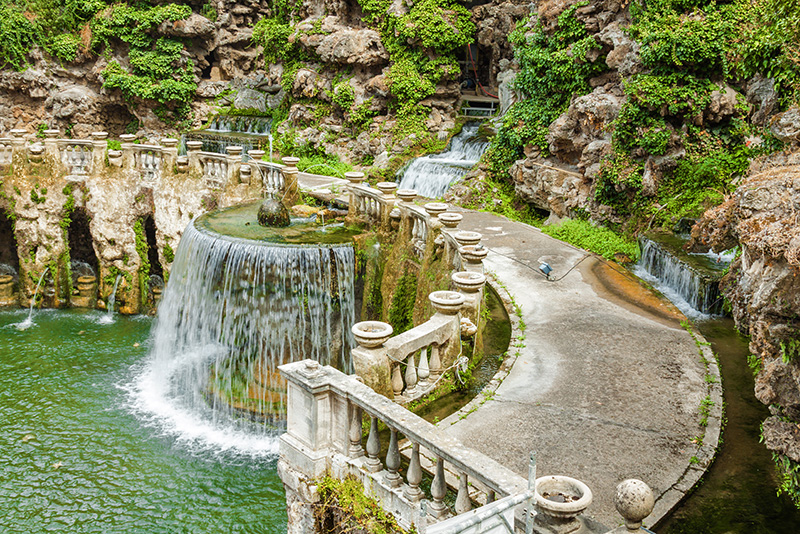 Luckily, grabbing a ticket for one of the Villa d'Este many tours can help take the stress out of navigation. After all, there's nothing better than being led around the city by an expert guide, because you'll get an insider's take on some of the most fascinating city spots.
Going from Rome, a tour can cost between €61 and €250 per person, according to the services offered to the travelers. Included services are varied: transport in air-conditioned buses, the presence of a local guide, supply of headsets, hotel pick-up…
Most of the tours are worth it because you will be generally picked up from your hotel without having to walk to a meeting point. In addition to that, you will be free to ask the local guide all the questions you want, and you will skip the line to enjoy your trip even more!
Furthermore, you will also visit Hadrian's Villa beside discovering the Villa d'Este: Hadrian's Villa is an incredible Roman archaeological complex among the lushest from Antiquity.
How to book a Villa d'Este tour?
You may book directly with an online travel agency such as Viator, Getyourguide, Civitatis or Musement to name a few.
Prices are very competitive, and there are regular discount offers. Make sure you do a price comparison before booking as you will often find generous discounts.
What other things can I see around?
In addition to the villas, it is also possible to visit the Villa Gregoriana, a park still located in Tivoli. Villa Gregoriana mainly consists of forests that lead to the Great Waterfall, and the caves of Neptune and Sirens.
Should I also visit the Hadrian's Villa?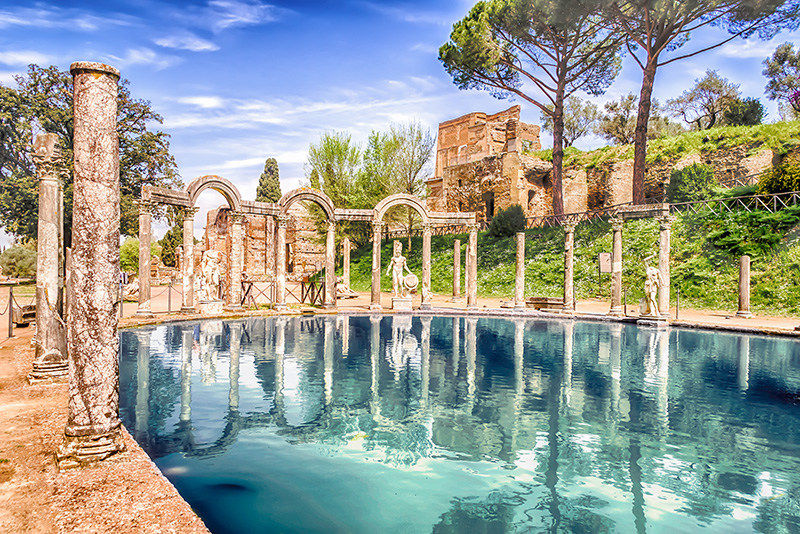 Absolutely! Villa d'Este is very close to Hadrian's Villa, it would be a pity to miss it! Hadrian's Villa is an incredible site of archeological ruins also listed as a UNESCO World Heritage Site (since 1999).
What are the Villa d'Este opening hours?
The villa is opened from 8.30am to 7.45pm. The last entrance is at 6.45pm. However, it is closed every Monday morning.
Travel Tips
If you chose a bus tour, make sure you arrive at the meeting point at least 15 minutes before the departure.
Don't forget your passport and/or identity card if you choose a tour, some companies may require it before the departure.
If you are prone to motion sickness, do not forget to take medication prior to your trip.
If you chose a tour, pay attention and follow all safety instructions and do not hesitate to ask questions to the staff.
Wishing you an excellent visit in Tivoli. Feel free to leave a comment below