Did you know that there are kayaking tours in Rome? Okay, so they actually take place outside the city center, but what better way to explore the surrounding countryside?
Kayaking along the waterways and lakes of this rural Roman region is a world away from the frenzy and heat of the city. Here, you'll come face to face with nature, under the watchful eye of medieval castles and traditional villages.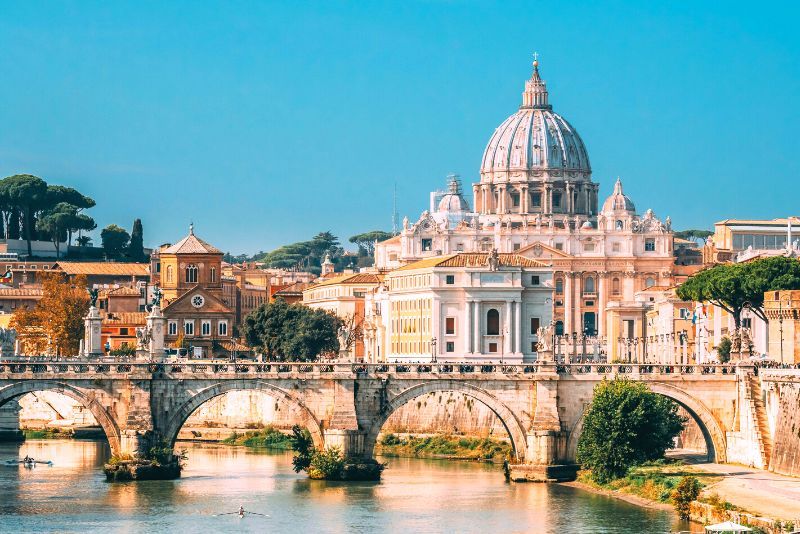 What are the best kayaking tours in Rome?
There are a couple of recommended kayaking excursions from Rome. Both take you off to discover the tranquil waters of Lake Albano which lies to the southeast of the city.
Kayaking and swimming on a Castel Gandolfo lake tour
This is one of the most popular small group kayaking tours in Rome, as it's relaxing and beautiful in equal measure.
For this excursion, you can either meet at the departure point in Castel Gandolfo or book a pickup from the Anagnina subway station in Rome for an additional fee if you don't want the hassle of having to use public transport.
On arrival at your destination, you'll be kitted out and given a short lesson on how to paddle before setting off on your kayaking adventure on Lake Albano. Single and double kayaks are available, so you can pair up with a buddy if it's your first time.
You'll admire the historic sights along the shore, with prehistoric villages, castles and even a Roman port to discover. The jaunt ends with a cooling swim off a pristine beach as a reward for all your hard work. You'll return to Rome either independently or with a transfer.
Kayak excursion with food and wine tasting
These tours start in the same way as the one above, with a kayaking adventure on Lake Albano that starts in beautiful Castel Gandolfo. As you soak up the scenery, your guide will entertain you with historical insights about the area, which is famed for being the Pope's summer residence.
At the end of your paddle, you'll head back to the lakeshore and enjoy a well-earned rest. Here, you can refuel with food and wine tasting, where local meats and cheeses are the stars of the show. Wash it all down with a glass of wine and learn a thing or two about the region's grapes.
After your trip, you'll make your own way back to Rome, or enjoy a transfer back to the Anagnina subway station if this has been requested.
How much do kayaking tours in Rome cost?
The small group Rome kayak excursion to Castel Gandolfo costs €40 - €45 per paddler for a three-hour trip. This does not include transport from the city, but you can opt for a transfer as a payable extra.
Safety equipment, kayaks, waterproof bags, snacks and a guide are provided. There will be a maximum of 20 participants.
Kayak trips in Rome that include food and wine tasting are €65 per person. Tours last three hours and include all technical equipment, snacks, drinks and, of course, food. Again, there will be up to 20 paddlers in the group
The overnight small group kayaking trip mentioned below that includes hiking and sightseeing is €199 per person. Hotel accommodation, dinner, breakfast, a backpack and hiking poles, plus private transport are provided.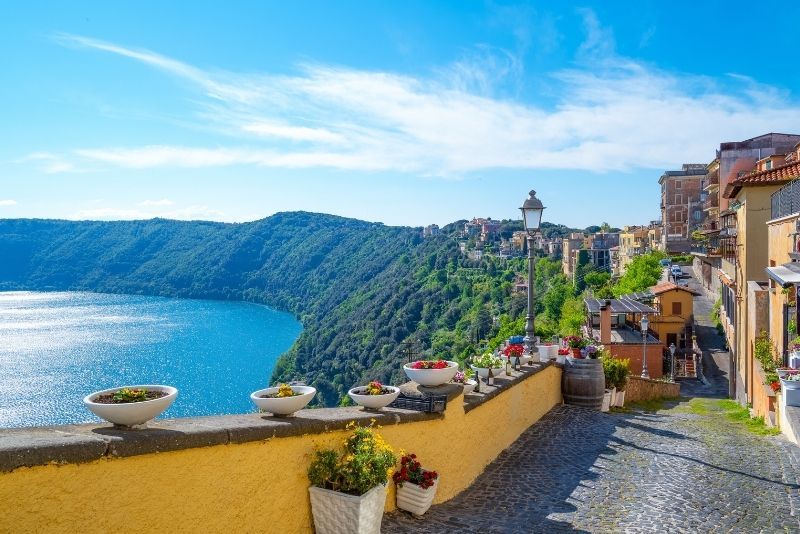 What is included in a kayaking tour in Rome?
On all kayaking tours in Rome, safety equipment is provided which includes a life jacket or buoyancy aid and, of course, a boat.
Most also include a waterproof bag for your personal possessions, and some offer technical clothing if you have nothing suitable to wear.
Transfers from Rome are not provided as standard, but pickups from city train stations can often be arranged for an additional fee.
Where do kayaking tours in Rome start?
Rome kayak trips usually kick off from the Via Spiaggia del Lago in Castel Gandolfo, right on the beach. Most operators will also collect you from the Anagnina subway station on the outskirts of Rome if you request this at the time of booking. There will be a charge for this service.
Meanwhile, the 2-day kayaking and sightseeing tour departs from Castel di Tora, which is around 30 miles northeast of Rome. You can also ask to be picked up from Rome's Termini Station if you prefer, for a small additional cost.
How long do kayaking tours in Rome last?
Kayaking tours in Rome generally take around three hours, which is ample time on the water, particularly if you've not paddled before. Those arms will be getting quite a workout!
Longer kayaking trips are available if you want to combine them with other activities, and there's a popular overnight tour which is detailed below.
When is the best time for a kayaking tour in Rome?
The great thing about kayaking is that it's an all-year-round sport, and indeed, some of the most beautiful moments can be had during the winter season. Rome kayaking tours are particularly popular during the summer when visitors (and locals) like to escape the heat of the city.
If you're staying during July or August, try and book a morning tour to avoid the crowds, and make reservations well in advance as these trips fill up fast and places are limited.
Are there any combo trips available with kayaking tours in Rome?
Kayaking tours with hiking, sightseeing and food tasting
This overnight small group adventure whisks you off to the tranquil Turano Valley, which is one of the best-kept secrets in the Rome region. You'll pass through traditional settlements and lush mountainsides before enjoying a waterfall hiking experience and some kayaking on Lake Turano.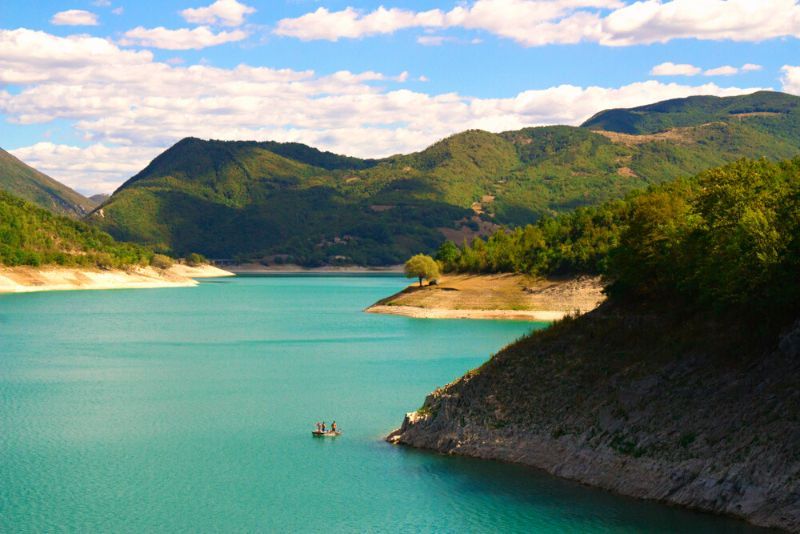 Admire medieval castles and go for a refreshing dip in the glistening blue waters of the park, before spending the night in one of Italy's most charming villages. Then enjoy the lake views and local food tasting with your travel companions.
Day 2 focuses on Roman temples, more kayaking and a few bonus castles, giving you a well-rounded tour of this idyllic rural retreat.
Is previous kayaking experience required?
Most Rome kayaking trips are suitable for all levels, so don't worry if you've never been paddling before. For safety reasons, participants should be able to swim!
You'll be given a short lesson on how to handle the kayak and get the most out of your paddle, which means you'll be slicing through the water in no time.
Travel tips
Kayaking tours in Rome are super popular, especially during the hot city summers, so book your tickets in good time as slots can fill up quickly.
Waterproof bags are usually provided, so you can carry your valuables without worrying about them getting wet.
It's a good idea to have your camera on a strap to avoid dropping it in the lake!
Comfortable outdoor clothing is advised and remember to take your swimming gear and a towel, so you can enjoy a swim after your tour.