Would you like to walk through a gallery full of Renaissance masterpieces by artists like Caravaggio and Raphael? Then get your hands on some Borghese Gallery tickets and get up close to a world of ancient art.
The Borghese Gallery is one of Rome's most renowned museums, and visiting is a must for anyone interested in art history. Housed inside an elegant palace, the gallery boasts one of the largest private art collections in Europe.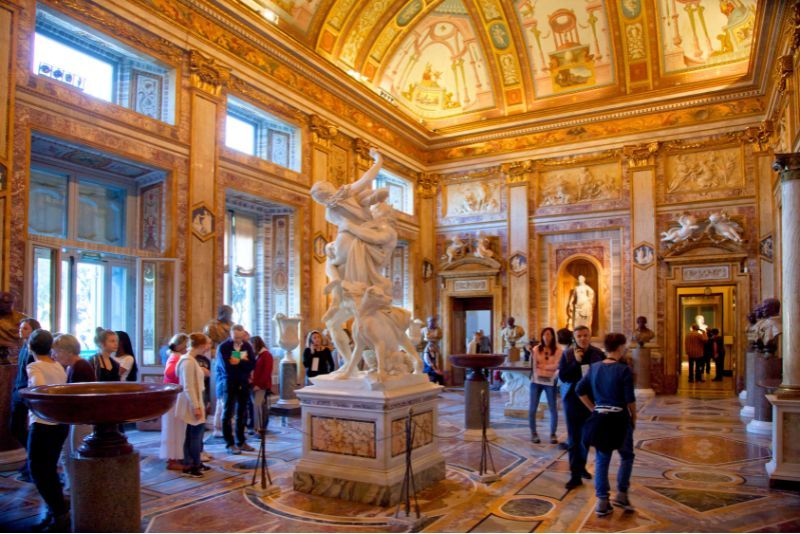 Here's everything you need to know about Borghese Gallery, one of the most spectacular museums in Rome.
How much do Borghese Gallery tickets cost?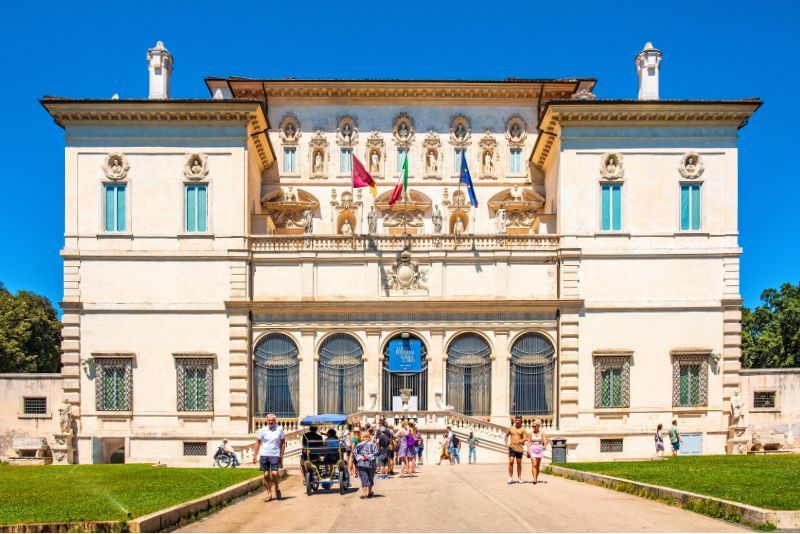 Borghese Gallery tickets
The Borghese Gallery ticket price depends on your age and if you buy them in person or online. You must choose the day and time for your visit, which is limited to two hours.
Please note that to book online in advance, you must add €2 to the ticket prices below.
Borghese Gallery ticket price: €13
Borghese Gallery ticket price for EU citizens under 25: €2
Borghese Gallery ticket price for everyone under 18: Free
The last entry is at 5:45 PM.
Last-entry Borghese Gallery tickets have a discounted price of only €8. This is a good budget option, but your visit will be 45 minutes shorter than with a standard ticket.
Rome Pass
Borghese Gallery tickets are included in the Rome Pass, which is a great investment if you're in the city for a few days. You will need to show your pass at the ticket office.
Audio guides
Borghese Gallery audio guides can be rented at the ticket office for €5. These are a worthwhile investment if you visit on your own and want a more thorough explanation of the exhibits.
Skip-the-line tickets
You can skip the line either by booking your tickets online in advance or by booking a Borghese Gallery tour, which includes skip-the-line tickets.
This gives you instant access to the exhibitions without the need to wait in line before entering the gallery.
Who is eligible for discounts?
Borghese Gallery tickets are €2 for EU citizens under 25 and are free for everyone under 18.
Latecomers are also eligible for discounts. If you want a quicker and cheaper visit, you can take advantage of last-entry Borghese Gallery tickets at a discounted price of only €8.
You must add a €2 online booking fee for the discounted ticket prices above. However, this fee is waived for persons with disabilities and one companion.
Is it possible to visit for free?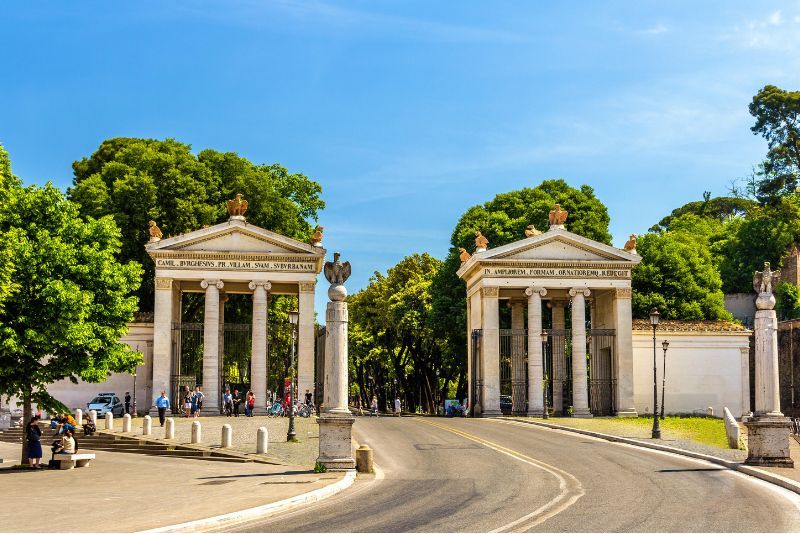 Yes! On the first Sunday of every month, everyone can visit the Borghese Gallery for free.
Throughout the year, everyone under 18 gets free admission to the Borghese Gallery.
However, the only visitors exempt from the €2 online booking fee are journalists, on-the-job EU tourist guides and persons with disabilities plus one companion.
For EU citizens and residents, you can visit the Borghese Gallery for free if you are a student/teacher of a primary/secondary school group or a university student/professor in fields related to Archaeology, Architecture, Art History, Cultural Heritage Conservation, Educational Science and Literature.
Others who qualify for free entrance to the Borghese Gallery are employees of the Ministry for Cultural Heritage and Activities and members of ICOM (International Council of Museum) and ICCROM (International Organization for Conservation of Cultural Heritage).
Should you book in advance?
Yes! Booking your Borghese Gallery tickets online in advance is the only way to skip those long lines and avoid being denied entry, as only a limited number of people are allowed to visit per day.
The extra €2 fee is certainly worth it. Otherwise, you could spend a long time waiting for your tickets, or worse, simply not be allowed to enter.
Another option to consider is booking a Borghese Gallery tour with skip-the-line tickets included in the total price. That's the best way to have a stress-free day and fully make use of your time exploring the Borghese Gallery.
What are the best Borghese Gallery tours?
Group tours
Borghese Gallery group tours are perfect for those who want a more in-depth experience with plenty of insider knowledge to bring the exhibits to life. You will explore the Borghese Gallery with an art historian guide, who will focus on famous works and little-known gems.
Private tours
If you prefer a more exclusive experience tailored to your interests, a private Borghese Gallery tour is perfect for you. You'll have your own personal guide for the duration of the visit to answer all your questions.
This is also a great way to avoid crowds, who follow a more standardized route through the museum. With a private tour, you can spend more time where you want and stop the tour for a break whenever you please.
Family-friendly tours
Are you looking for a fun and educational way for your children to visit Borghese Gallery? If so, you can choose a tour specially adapted for families with kids from 7 to 17 years old.
Energetic guides will turn the visit into a treasure hunt! Your little detectives will need to get creative to uncover the mysteries hidden throughout the Borghese Gallery by Raphael and other Renaissance artists.
Family-friendly tours are the perfect option for when you're traveling with the whole family. They are typically less exhausting and are sensitive to the needs of young children (and the older ones too!).
Audioguided tours
If you prefer to explore the museum at your own pace, you can book your Borghese Gallery tickets with an audio guide — bundled with a last-entry ticket to make the most of your 75 minutes inside the Borghese Gallery.
Audio guides are available in English, French and Italian. There is also a flexible cancellation policy. If you cancel more than 24 hours before your visit, you get a 100% refund.
Are there any combined tickets or tours with the Borghese Gallery and other attractions?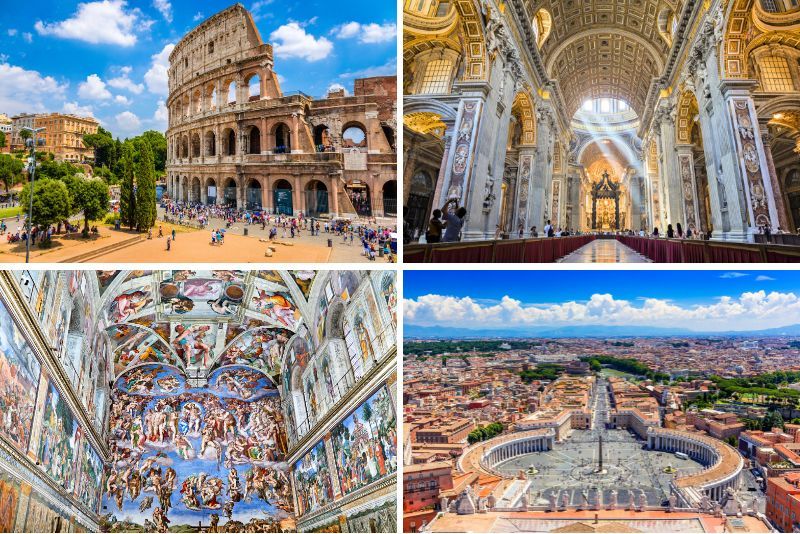 Yes, combined tickets and tours are a great option if you're looking to visit several attractions on the same day or across several days. Why not buy all your tickets at once to save some time and money?
What will you see inside the Borghese Gallery?
The Borghese Gallery is actually composed of 20 separate rooms spread throughout the villa. Your Borghese Gallery ticket gives you access to all of them!
In each room, you'll find fresco paintings adorning the walls and ceilings, giving a glorious backdrop to dozens of marble sculptures, some of which date back to ancient Rome.
The villa
Before even stepping foot into the gallery, you can appreciate the beauty of the villa, which dates back to the 17th century and is set within the grounds of a vast park. Originally owned by the Borghese family, this ornate palace remains resplendent with its sculptures and reliefs.
Mariano Rossi Hall
As soon as you enter the building, the Mariano Rossi Hall greets you with one of the most spectacular sections of the gallery, with vaulted ceilings and a relief by Pietro Bernini. Colorful Roman mosaics, likely originating from the Baths of Caracalla, adorn the floors.
However, this is only the beginning. As you make your way from room to room, you will come across paintings and sculptures by some of the most appreciated Renaissance artists, including Raphael, Caravaggio, Correggio and many more.
Paintings
In each room, you will be surrounded not only by frescoes on the walls and ceiling but also by ornately framed canvas paintings by some of the greatest Renaissance artists.
There are so many paintings on display in the Borghese Gallery that it would take days to list and explain them all. Considering that your visit will be limited to two hours, here are the ones that you really shouldn't miss.
In Room Eight, or the Sileno Room, you'll find Caravaggio's "David with the Head of Goliath." If you have any children in tow, you might want to shield their eyes from this macabre image. The two faces you see hide a clever secret. Can you guess what that is?
In Room Nine, or the Dido Room, you'll find two of Raphael's most beautiful paintings — "Lady with Unicorn" and "The Deposition." See if you can spot the difference between Raphael's original composition and what was added later by another artist.
In Room Ten, or the Hercules Room, you'll find another of Caravaggio's masterpieces — "Danae." This portrays a much brighter and lighter theme than what you'll find in the Sileno Room. The details in this painting reveal hidden stories. Here's a hint: it's based on Ovid's Metamorphoses and characters from Greek mythology.
Sculptures
The only thing more impressive than the architecture and the paintings of the Borghese Gallery might be the marble sculptures. Here you will find masterpieces by the likes of Bernini, Canova and unnamed craftsmen from antiquity.
In Room One, or the Paolina Room, you won't be able to miss Canova's centerpiece — "Pauline Bonaparte." Prince Camillo Borghese commissioned this sculpture to portray his young wife. If you look at her last name, you might be able to guess who her well-known brother was.
In Room Two, or the David Room, you'll find Bernini's take on the statue of "David". Marvel at the technique and detail that makes it seem like David is about to come to life and hurl his stone at Goliath.
In Room Three, or the Apollo and Daphne Room, you'll find one of Bernini's most elaborate sculptures recounting the sad, romantic tale of these two Greek goddesses.
How do you get to the Borghese Gallery?
You will find the Borghese Gallery at Piazzale Scipione Borghese in central Rome. Housed inside the Villa Borghese Pinciana, it's easy to reach by public transport.
You can walk to the Borghese Gallery from Trevi Fountain. It will only take you about 20 minutes to reach the park and another 10-minute walk through the park until you reach the villa.
By metro
Take Line A to either Spagna or Flaminio. Then, walk through the Villa Borghese Gardens to the museum.
By bus
You can take many different buses that will leave you right in front of the Borghese Gallery, including lines 63, 83, 92, 223, 360 and 910. Make sure to get off at the stop Pinciana/Museo Borghese.
By guided tour
This is the most convenient way to reach the Borghese Gallery. Let your guide pick you up directly from the hotel lobby and whisk you away to the Borghese Villa.
What are the Borghese Gallery's opening times?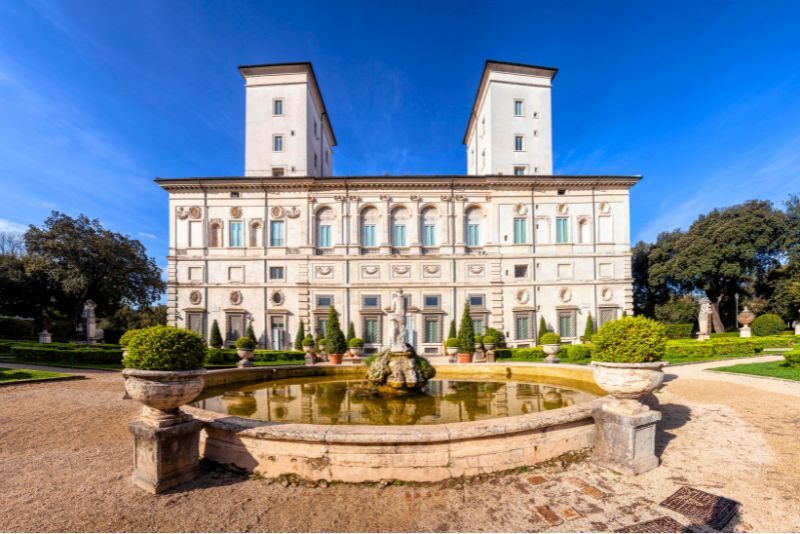 The Borghese Gallery is open Tuesday to Sunday from 9 AM to 7 PM. The last entry to the museum is at 5:45 PM.
The ticket office is open from 8:30 AM to 6 PM.
The Borghese Gallery only closes on Mondays and on Christmas Day.
When is the best time to visit the Borghese Gallery?
The best time to visit Borghese Gallery is first thing in the morning or at the end of the day if you want to avoid the crowds. Weekdays are better than weekends for the same reason.
When making your reservation, you must pick a two-hour slot starting at the top of each hour from 9 AM until 5 PM. The last visit is at 5:45 PM at a discounted price because the visit is shorter and only lasts until closing at 7 PM.
The most popular time slot is 11:00. The midday time slot (1 PM to 3 PM) and the last slot of the day (5 PM to 7 PM) are less popular.
Which other museums can be visited in Rome?
Travel tips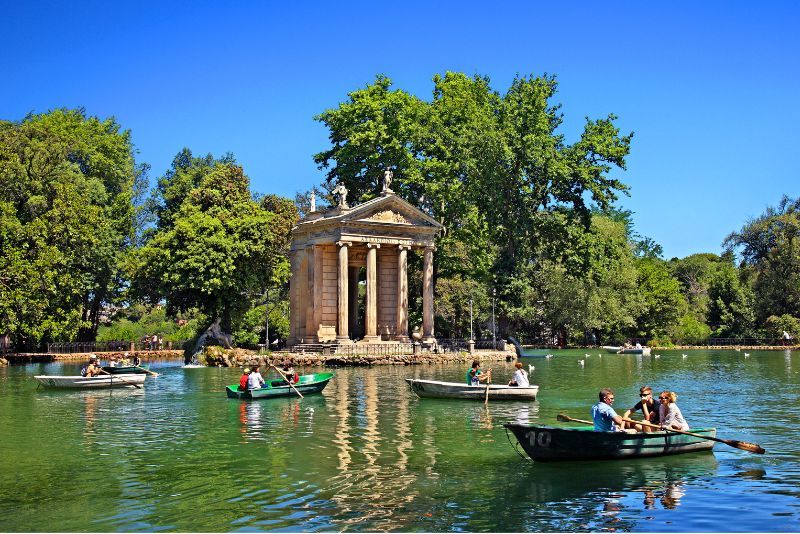 Time is limited. Borghese Gallery visits last exactly two hours, except for the final timeslot at 5:45 PM, which is 45 minutes shorter.
No outside food or drinks allowed. If you need refreshments, there's a café inside the gallery.
No tripods, selfie sticks or flash allowed. However, flash-free photography is permitted.