Known for its brightly colored buildings, world-class gelato and jaw-dropping coastline, Positano is the jewel of the Amalfi Coast. Though it seems like a stretch geographically, a Positano day trip from Rome is possible so long as you start the day early.
Taking a detour from seeking out cultural gems in Rome and slurping up spaghetti with the sun beaming on your face in Positano are a must for anyone visiting Italy.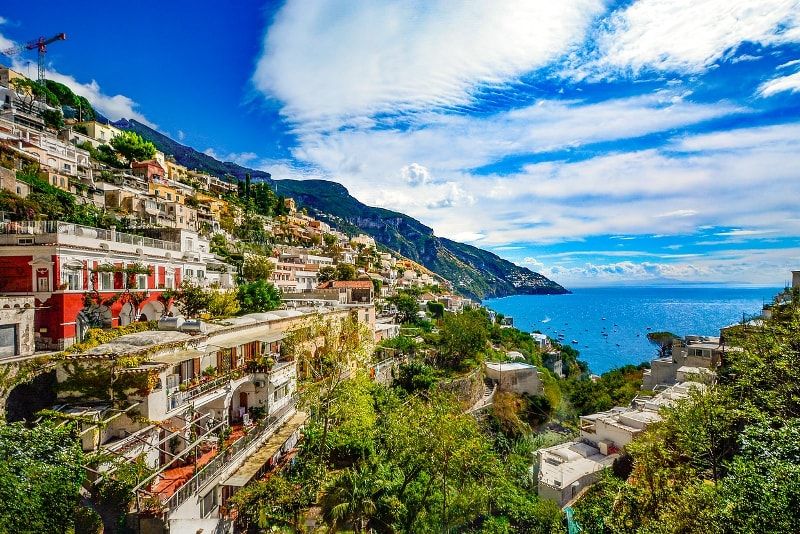 Here's everything you need to know about Positano, one of the most captivating day trips from Rome.
How to get to Positano from Rome?
Positano sits nestled in the Amalfi Coast in the south of Italy. While the cliffside town is just over 270 kilometers away from the capital, it is feasible to visit Positano from Rome in one day, with a little forward planning.
From Rome to Positano by car
The journey to Positano from Rome takes just over three hours. To start, take the A1 Autostrada towards Naples, and then switch to the A3 Autostrada. As you head further south, follow signs for Sorrento until the SS 163 which takes you directly into Positano.
From Rome to Positano by bus/public transport
A direct bus to Positano leaves from the Rome Tiburtina railway station, every day at 7 AM. The buses only run between June and September, and the route takes around four hours.
Guided tour to Positano from Rome
One of the most comfortable ways to travel to Positano is by guided tour. You will be picked up either from your hotel or an allocated point in the city center. Generally, the tours make stops at two iconic spots in Italy — Pompeii and Positano.
There is a lot of ground to cover, so expect an early pickup and evening drop-off.
What is the typical itinerary of a day tour to Positano from Rome?
Most guided Positano day trips from Rome provide an air-conditioned minivan that arrives around 7 AM in a central spot in the city.
The first stop on a Positano day trip from Rome is at the UNESCO World Heritage Site of Pompeii where you'll have around two hours to explore the ancient ruins, which include casts of those caught in the eruption.
The next stop is at Positano, where you'll have two hours of free time to find the freshest seafood for lunch. Soak in the tumbling cliffs and picturesque buildings that form the fishing village.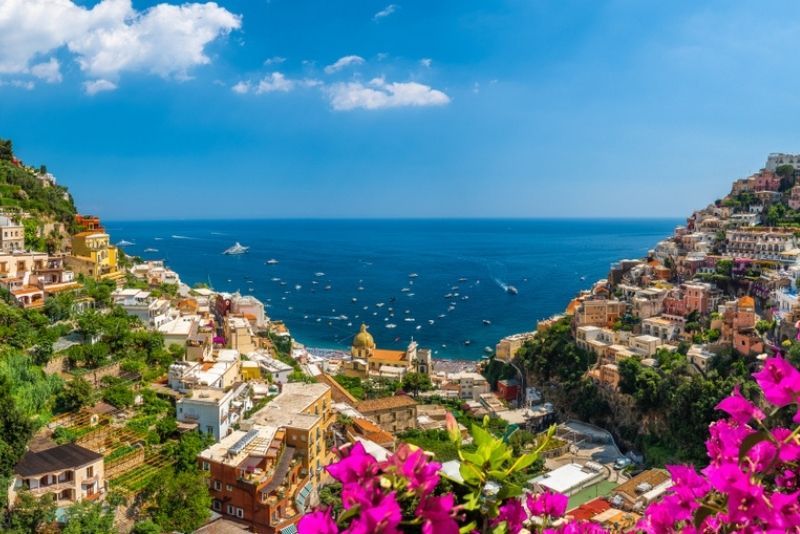 Lastly, it's back onto the bus for a scenic tour of the Amalfi Coast by road. Considered the best drive in the whole of Italy, it includes glorious views of towering peaks, dramatic ocean scenes and idyllic villages.
The Positano day trip from Rome lasts around 13 hours and you'll be dropped back to your meeting point.
What kinds of tours are available to go to Positano?
There are several options for your Positano day trip from Rome, including guided, private and boat tours.
Guided tours to Positano from Rome
Guided tours are the most popular way to explore Positano. You'll board an air-conditioned coach which will take you to the world-famous ruins of Pompeii. It includes a guided tour of the town that's been frozen in time. You'll have free time in Positano during the summer season or Amalfi between November and March.
Semi-private guided tour to Positano from Rome
With a semi-private tour, you can expect no more than eight people to join you on your Positano day tour from Rome. Alongside stop-offs at both Pompeii and Positano, lunch is also included at a charming local restaurant. The lunchtime views stretch out over the Bay of Naples, as well as Sorrento.
Private tour to Positano from Rome
Those choosing a private tour will benefit from the full attention of their own knowledgeable guide at Pompeii and a flexible itinerary for the day. With an English-speaking driver and an air-conditioned minivan, it's the most comfortable way to travel on your Positano journey.
Boat tour to Positano from Rome
After a quick dash between Rome and Naples by high-speed train, you'll hop aboard your boat and set sail for the Amalfi Coast. On a boat tour from Rome to Positano, you'll see several sites that other day-trippers miss, such as Marina Grande.
While you may not get to explore Pompeii, you'll benefit from an extra stop at Amalfi, as well as Positano.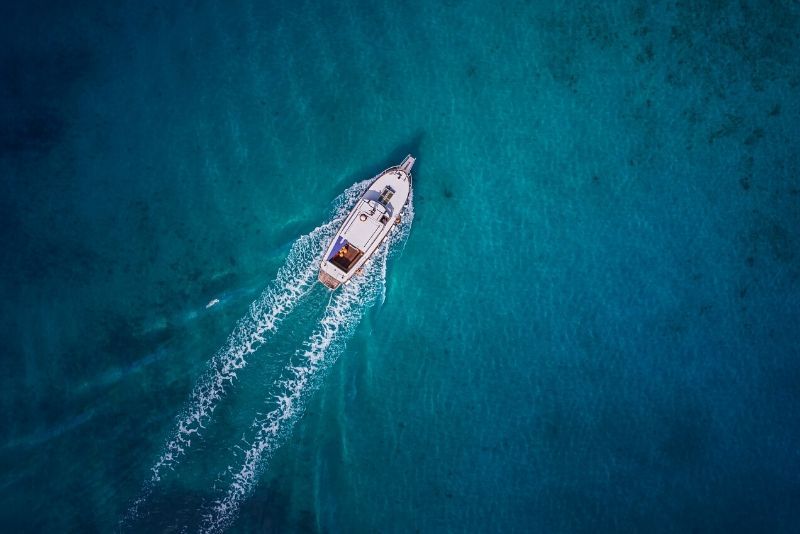 How much does a tour to Positano from Rome cost?
A full day group tour to Positano from Rome with by coach starts at €140 per person, while semi-private tours by minivan of just seven or eight people range upwards from €270 per person which includes lunch.
Private day tours to Positano prices start at around €400 per person, which includes an English-speaking driver and faster travel time. Boat tours to Positano cost around €300 per person for a group of two people, and include high-speed train ride in Rome, as well as snacks.
What will you see and do in Positano?
Fornillo Beach
Fornillo is the second largest beach in Positano after Spiaggia Grande. The 300-meter beach can be reached by foot from Spiaggia Grande in just 10-15 minutes. The distinctive feature of Fornillo Beach is the two ancient watchtowers that are positioned on either end of the beach.
Path Of Gods
If it's nature you're seeking on your Positano day tour from Rome, the Path of Gods' scenic trail is around 8 kilometers long and takes around half a day to complete. The hike offers outstanding views of the rugged coastline and passes through historic towns.
The starting point is in Bomerano at the Il Sentiero Degli Dei, finishing up in Nocello, close to the northern part of Positano.
Chiesa di Santa Maria Assunta
The Church of Santa Maria is located in the heart of Positano and is free to enter. You can light a candle as you enter the church, and for €2, you can get a souvenir coin to commemorate your trip. The draw of the quaint church is its elaborately tiled dome.
Spiaggia Grande
Photography lovers will want to head to Spiaggia Grande on their Positano excursion to capture the most famous shot on the Amalfi Coast. This is the largest and most popular beach in Positano, and is surrounded by mouthwatering seafood restaurants. You can also rent sunbeds on the beach for between €20 and €25 per day.
When is Positano open over the year?
Positano becomes a ghost town during the winter months. Despite the mild temperatures (for Europe) that range between 5 and 12 degrees Celsius, almost everything from restaurants to hotels is closed during January and February.
If you want to visit the Amalfi Coast during the winter, head to Amalfi or Vietri Sul Mare instead.
When is the best time to visit Positano?
Like much of southern Europe, Positano experiences blissfully hot summer days and relatively mild winters. The promise of sunshine drives tourists in the thousands to the town during the summer.
Instead, consider visiting in the shoulder months of May and September, when prices are lower, temperatures are balmy and tourists are gone.
What are the other day trips from Rome?
Are there any tours to Positano from other cities in Italy?
Yes, there are other tours departing from several other cities in Italy:
Travel tips
If you're driving from Rome to Positano, consider stopping at the Abbey of Monte Cassino, which is handily placed almost exactly halfway between Rome and Positano, and is the perfect place to stretch your legs.
The south coast of Italy can reach highs of 34 degrees Celsius in the summer months, so make sure you're well prepared for your Positano jaunt with sunscreen, water and a sunhat.
If you want to explore the sites of Positano and are heading there by guided tour, consider packing food to take along. Otherwise, your limited two hours in the town will be taken up by ordering lunch.