Sitting just far enough outside Rome to provide respite from the city, Tivoli is known for its historic significance and boasts not one, but two UNESCO World Heritage Sites.
As it's easily accessible in less time than it takes to stop for a coffee, there's no excuse to miss seeing this intriguing town.
Tivoli day trips from Rome are a must for anyone interested in archaeology, art, nature and an enormity of historic culture woven in.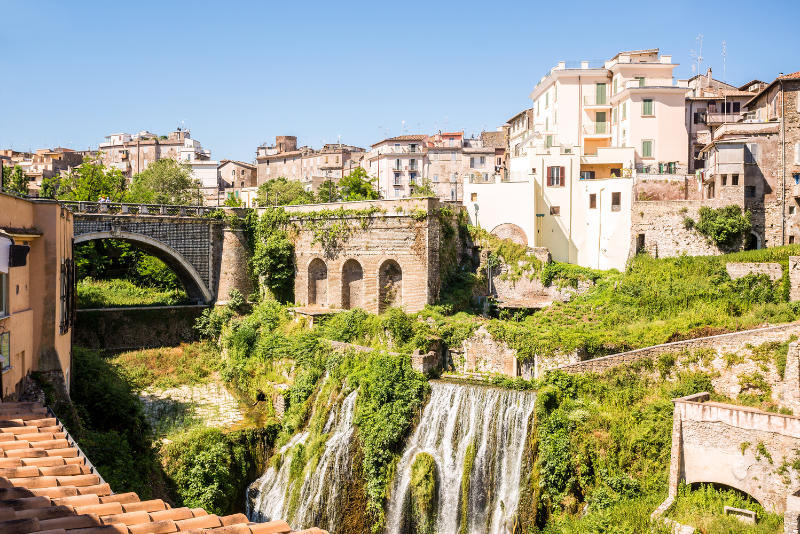 Here's everything you need to know about Tivoli, one of the most captivating day trips from Rome.
How to get to Tivoli from Rome?
Just over 30 kilometers east of the capital city, Tivoli is an ideal destination for a day trip from Rome. You can visit it at the drop of a hat and still be back in time to enjoy dinner in front of the Trevi fountain.
From Rome to Tivoli by car
By car is the fastest way to make your journey from Rome to Tivoli, and the route takes just 35 minutes. You will need to take the A24 from Rome, then take the exit at Via Maremmana Inferiore/SP51a for Tivoli.
From Rome to Tivoli by bus
Buses head to Tivoli from Rome every two hours from Monday to Saturday, while they run on a Sunday less frequently. They leave from Rome's Tiburtina station and the jaunt costs between €1 and €3, and takes approximately an hour.
From Rome to Tivoli by train
Trains also leave from Rome's Tiburtina station and take a similar amount of time as the bus. Trains leave at least once per hour, although they often run more frequently. You can expect to pay €3 to €7 for a ticket. This leaves you ample time to explore the town on your day trip to Tivoli from Rome.
Guided tour to Tivoli from Rome
Taking a guided day tour is the most relaxing way of exploring the jewels that are spread across the ancient town of Tivoli. The tour will begin at a meeting point in the center of Rome around 9:30 AM.
You can expect a tour guide to meet you and welcome you aboard an air-conditioned minivan or coach before setting off on your Tivoli excursion. Once you've experienced the delights of Tivoli, you will return to Rome around 4:30 PM.
What is the typical itinerary of a day tour to Tivoli from Rome?
Once you've met at your designated meeting point in Rome, you'll barely have time to sit down before you reach your first destination which is Hadrian's Villa. The site is lovingly named after the Roman Emperor Hadrian who used the estate as a luxurious getaway from busy Rome in ancient times.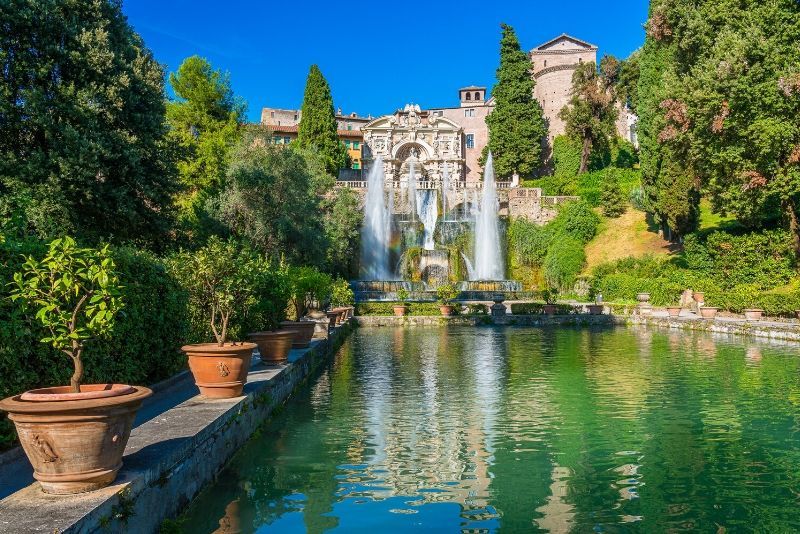 After you've had a guided tour of the statues, baths and temples that make up the villa, you'll head towards your lunch spot, which is a set menu. The second cultural spot on your Tivoli day trip from Rome is Villa d'Este which was once a Benedictine convent, and an opulent one at that.
Your tour guide will provide you with fascinating information about both destinations before you board the coach back to Rome. Reaching the city around 4:30 PM after your excursion, you'll have ample time to seek out the best spaghetti for dinner.
What kinds of tours are available to go to Tivoli?
There are several different tour options available, depending on what you want to see and the level of comfort you expect.
Guided day tours to Tivoli from Rome
Guided day tours to Tivoli from Rome include a bus transfer from Rome to both villas, as well as a tour guide to show you around both sites. The admission fees are covered in the price, but lunch will generally be at your own expense.
Self-guided small group tour to Tivoli from Rome
Self-guided day tours to Tivoli include luxury transportation from Rome to your destination, and you can choose your own departure time. The tour does include some light refreshments, but lunch and tickets to Tivoli's top cultural sites will be at your own expense.
Private tour to Tivoli from Rome
A private tour allows you to benefit from the exclusivity of your own guide who will fill you in on interesting points about both sites. On top of that, you'll stop at a local Italian restaurant for lunch, where you can also enjoy wine without any additional costs.
Half-day tour to Tivoli from Rome
While most Tivoli day trips from Rome last approximately seven hours, a half-day tour lasts just five. It's a quickfire way to see two of the most magnificent cultural spots in all of Italy and is done in small groups of up to six.
How much does a tour to Tivoli from Rome cost?
A guided day tour to Tivoli from Rome starts at €80 per person and includes admission fees, a guide, roundtrip bus transfers and lunch.
For self-guided tours, you will pay around €360 per group of up to six people, and the price include admission fees, a private driver, vehicle and flexible schedule.
Half-day Tivoli tours are five-hour long and still include both Hadrian's Villa and Villa d'Este. Tours start from €300 per person for a group of two adults, and include a professional guide and pickup and drop-off the hotels in Rome.
Private Tivoli day trips cost upward of €350 for a private guide and lunch inclusive of wine.
What will you see and do?
Hadrian's Villa
A visit to Hadrian's Villa gives you a small insight into the life of an emperor in ancient Rome. The archaeological site is now mostly in ruins, which is unsurprising considering it was built in the second century A.D.
Despite this, you can still catch a glimpse of its former grandeur and explore over 30 remaining ruins, including the Maritime Theatre and Imperial Palace.
Other points of interest include the thermal baths, the Canopus and the Three Exedras, where you can imagine the level of affluence the villa once held.
The villa is a UNESCO World Heritage Site because of its rich cultural background. You can learn a great deal about Hadrian by strolling through the ancient estate which Emperor Hadrian called his permanent home from 128 A.D.
Villa d'Este
Villa d'Este gives you a taste of what luxury looked like back in the 16th century. With heavy renaissance influence, the villa itself is impressive, but the gardens are the stand-out feature of the estate.
Tumbling waterfalls, cascading fountains and glorious basins make this garden one of a kind. Declared a UNESCO World Heritage site, the gardens are open year-round and are home to over 1,000 water outlets. These include fountains, spouts, jets and a whopping 220 waterfalls.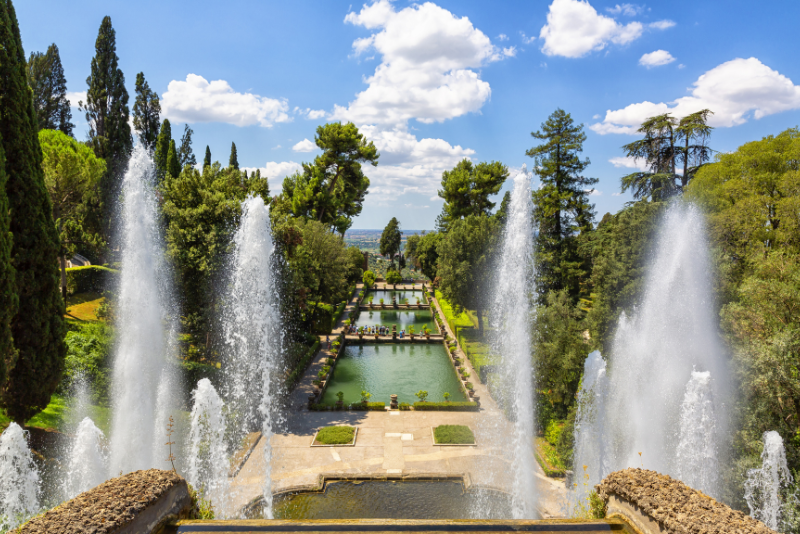 When is Tivoli open over the year?
Although Hadrian's Villa is open throughout the year, Villa d'Este is open to the public between March and November. The villa closes throughout the winter to be cleaned and restored, including the removal of all furniture that is put back before reopening in March.
What are the opening times?
Hadrian's Villa opens at 9 AM every day, but the closing time depends on the season. Between March and October, the last entrance is at 5 PM, and between October and March, it's at 3 PM.
Villa d'Este is open between 8:30 AM and 7 PM Tuesday through Sunday, and is closed on Mondays.
When is the best time to visit Tivoli?
In order to experience the wonder of Villa d'Este, plan your Tivoli excursion during the summer or shoulder seasons. This will ensure your Tivoli day trip from Rome coincides with its opening season.
Tivoli reaches highs of 30 degrees Celsius during July and August. For those who can't stand the sweltering heat, visit in May to experience pleasant temperatures of around 22 degrees Celsius.
What are the other day trips from Rome?
Travel tips
Day trips to Tivoli from Rome include a lot of walking, so wearing comfortable shoes will allow you to experience the exceptional cultural gems of Tivoli.
As both sites are outside, prepare yourself for the sizzling summer weather with plenty of water, sunscreen and a hat.
Book your Tivoli day tour tickets in advance to avoid disappointment when visiting this popular destination.