With a scooter tour, you can explore Rome's winding streets and visit its famous landmarks without being tied to a bus schedule. Vespas are an iconic part of Italian culture, and scooter tours in Rome give you the chance to zip around the city like a local.
You can choose to travel with a group or opt for a private tour and receive undivided attention from your guide. Either way, it's sure to be a fun and adventurous experience.
Scooter tours in Rome are a great way to visit the city's top attractions in style.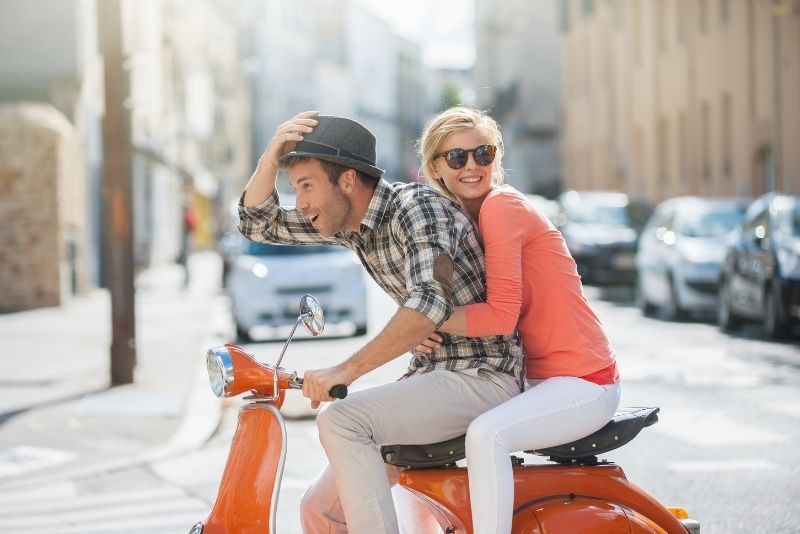 What are the best scooter tours in Rome?
Rome highlights Vespa tour with coffee and gelato
This small group tour will take you to top attractions such as the Colosseum and the Trevi Fountain, as well as some local hidden gems. You'll enjoy views of Rome from the back of a Vespa and refuel with coffee and gelato stops along the way.
Self-driven sightseeing tour by Vespa
If you're keen to get behind the wheel yourself but still want the knowledge of an expert guide, this option is perfect for you. You'll receive a scooter and a helmet, then follow your guide on a tour of Rome's most popular sights.
Your guide will also tailor the route to your interests, so if there's something you've already seen, you won't end up repeating it. This tour is a great way to feel like a true local and get a sense of the city's scooter culture.
Vespa sidecar tour in Rome with cappuccino
Cruise around Rome in a sidecar with a friend or loved one while taking in top sights such as the Vatican, St. Peter's Basilica and the Spanish Steps.
You'll make several stops along the way and visit multiple viewpoints to get the best views of Rome's skyline. This tour is perfect for couples or friends who want to explore Rome together.
Rome 24-hour Vespa rental
Scooter tours in Rome usually last around three hours. If you want more time behind the wheel, why not try a 24-hour scooter rental?
You'll have the freedom to explore Rome at your own pace and make as many stops as you want. You'll enjoy unlimited mileage and feel like a true local, as you zip around Rome's streets.
Private Vespa tour of Rome with a local guide
This private scooter Rome tour is perfect for those who want a more intimate experience. You'll be guided by a local who knows all the best places to see and things to do in Rome.
You'll visit top sights as well as hidden gems and learn all about the culture and history of Rome along the way. This tour is a great option for those who want to get to know the city and its people on a deeper level.
Vespa tour by night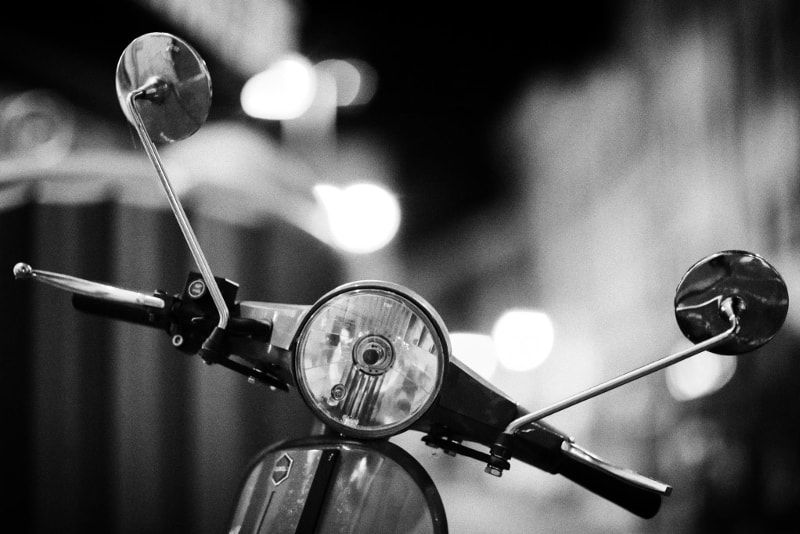 For a truly unique experience, try a scooter tour of Rome by night. You'll see the city's top sights illuminated against the night sky and experience a different side of Rome after dark.
How much do scooter tours in Rome cost?
Prices for Vespa tours in Rome vary depending on the type of tour, the company you book with and the number of people in your group.
Rates start at around €90 for a small group tour, self-driven tours cost around €110, and private guided tours tend to cost around €180.
What is included in a scooter tour in Rome?
A scooter tour in Rome usually includes the scooter and helmet rental, as well as a map of the city. Some tours also include refreshments such as coffee or gelato.
Guided vespa tours will also include the services of a professional guide. Self-driven tours usually offer a GPS device as an optional extra.
Gratuities for your tour guide are not usually part of the rates charged by the operator. If you choose to rent a scooter for the day, the price usually includes an anti-theft lock and an overnight parking spot near the Colosseum.
Where do scooter tours in Rome start?
Some scooter tours include hotel pickup and drop-off, or there will be a meeting point somewhere in the city center. Popular meeting points include the Colosseum or the rental shop itself. Your tour operator or rental service will share the exact location with you after booking.
How long do scooter tours in Rome last?
Guided scooter tours in Rome usually last between three and four hours. However, if you would like to keep your scooter for longer, you can always opt for a 24-hour rental and continue exploring the city on your own.
Keep in mind that riding a scooter in the busy Italian traffic can be exhausting, though. You most likely won't be driving around for more than a few hours.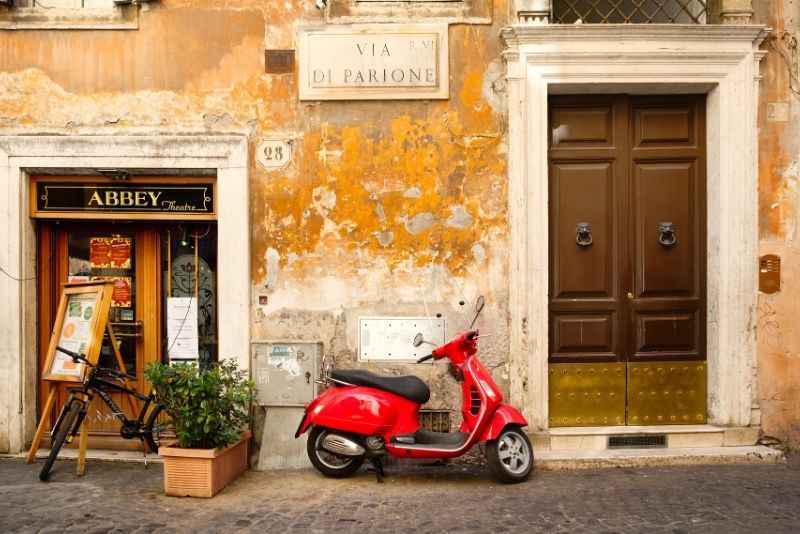 When is the best time for a scooter tour in Rome?
A scooter tour is a great way to kick off your trip to Rome. That way, you can get your bearings straight away and see some of the city's most popular sights early on.
If you're short on time, a scooter tour enables you to see much more of the city than you would be able to cover on foot. It also saves you the hassle of navigating public transport.
Scooter tours leave throughout the day, and there are nighttime tours available too. Tours usually leave at 9 AM or 10 AM, and then again at 3 PM, so you can choose a departure time that best suits your schedule.
Is it safe to take a scooter tour in Rome?
Scooter tours in Rome are a safe and fun way to explore the city. Your tour guide will brief you on scooter safety and the route before you set off, and you'll be provided with a helmet.
Your guide will be an experienced driver who is very familiar with the city's streets and traffic, so you can sit back and enjoy the ride. However, scooter tours are not recommended for pregnant women or travelers with back problems.
Only experienced drivers should attempt to ride a scooter independently in the Italian capital. The traffic can feel overwhelming, and an accident can happen quickly due to carelessness or unawareness. Always ride with caution and don't rent a scooter if you've never driven one before.
Are children allowed on a scooter tour of Rome?
Travelers under the age of 25 are not permitted to drive a rented scooter in Rome. However, most tours that include drivers are suitable for children ages 5 and up. Smaller helmets are usually provided by the tour operator. Always prioritize safety and consider carefully whether a scooter tour is suitable for very young children.
Travel tips
Keep in mind that the minimum age for scooter rental is usually 25. Younger participants will have to be passengers on the Vespa and won't be able to drive.
If you're renting a scooter to drive yourself, you'll need to bring your driver's license and another valid document that features your home address.
Your driver's license must be valid in Italy. For US travelers, this means that you will need an international driving permit.
Scooter tours in Rome take place come rain or shine. Therefore, it's best to check the weather before you go and pack a waterproof jacket if necessary.
Make sure to be safe when riding a scooter in Italy. Always wear your helmet and park in designated scooter parking areas to avoid getting a fine. When in doubt, always give way to cars to avoid unnecessary accidents.