Weaving down the coast from the capital city, you'll find the city of Naples which is famous for its art, culture and life-changing pizza.
The city itself is a UNESCO World Heritage site, with a multitude of other important historical monuments surrounding it, including Pompeii and Herculaneum. With such a rich heritage, make sure to squeeze a Naples day trip from Rome into your Italy itinerary.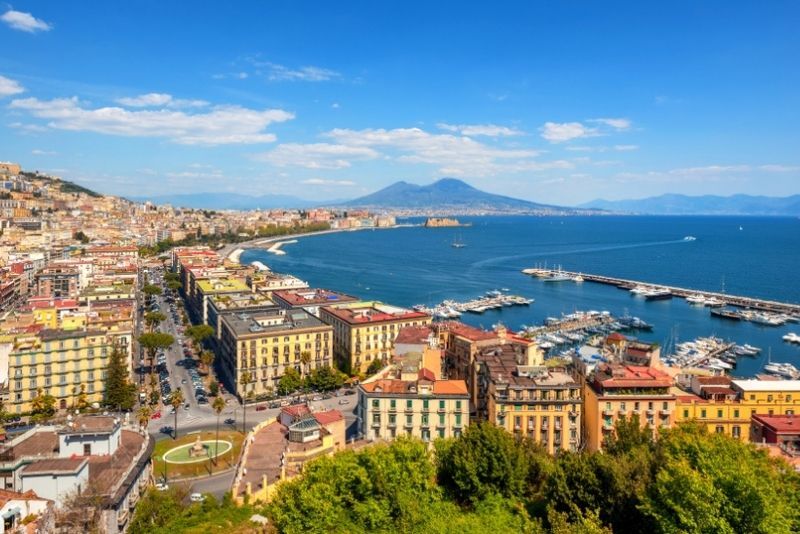 How to get to Naples from Rome?
These two main Italian cities have over 250 kilometers of distance between them. Even so, day tours to Naples from Rome are possible, even without waking before the sun.
From Rome to Naples by car
The drive to Naples takes roughly 2.5 hours and is a straightforward drive. Coming out of Rome, take the Via Casalina to the Grande Raccordo Anulare (A90/E80). From there, take the A1 Autostrada all the way along until you reach Naples.
From Rome to Naples by train
The quickest route to Naples from Rome is by train, taking just one hour. You can catch a direct high-speed train from Roma Termini to Napoli Centrale and prices start from just €14.
From Rome to Naples by bus
Direct buses are also available and leave from Roma Tiburtina station. The route takes just over 2.5 hours and tickets start at €10.
Guided tour to Naples from Rome
You can also take a guided day tour to Naples from Rome, which lasts roughly 12 hours, and will either pick you up from your hotel or meet at a central location in the city.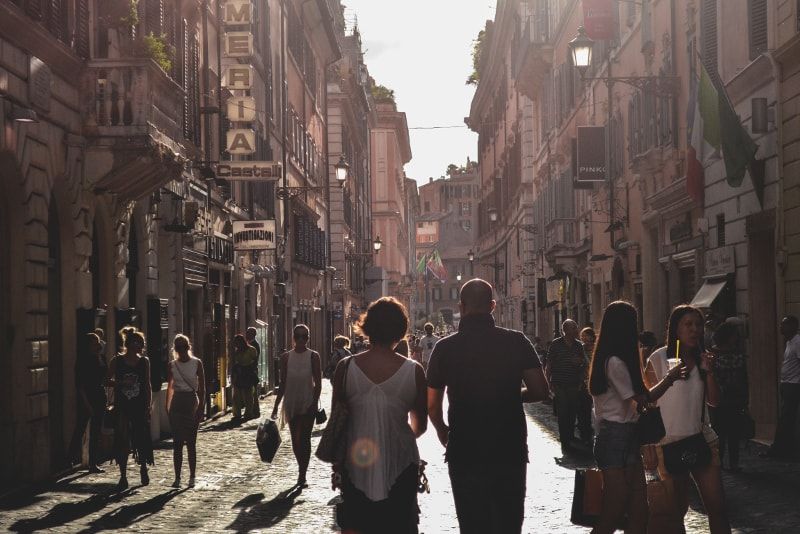 What is the typical itinerary of a day tour to Naples from Rome?
Expect a day trip to Naples from Rome to start out early, as there is a lot of ground to cover. Most tours meet around 7 AM at a centrally located spot in the capital city, where you'll hop aboard an air-conditioned coach. Some tours will pick you up from your hotel, although this is less common.
From your pickup point, you'll first head to Naples, where you can enjoy a guided tour of the thriving city. Naples is known for its art and food, and you can choose between a guided or self-guided tour for your time in the city.
You'll then take a break for lunch at an Italian restaurant which is usually included in the cost of your ticket.
On the way back, you'll make a stop at the city of Pompeii where you'll be escorted around the ancient ruins by your tour guide. From there, you can sit back and enjoy the scenery all the way back to the center of Rome.
What kinds of tours are available to go to Naples?
Some people prefer large tour groups on their day trip to Naples, and others prefer to have a more personal experience. This decision is completely personal preference, and there are several options to choose from.
Guided tours to Naples plus Pompeii from Rome
Most guided tours to Naples include a stop at Pompeii. A guided tour typically lasts 12 hours and includes pick-up from a meeting point or your hotel. You'll also receive a guided tour of both destinations and a traditional Italian lunch.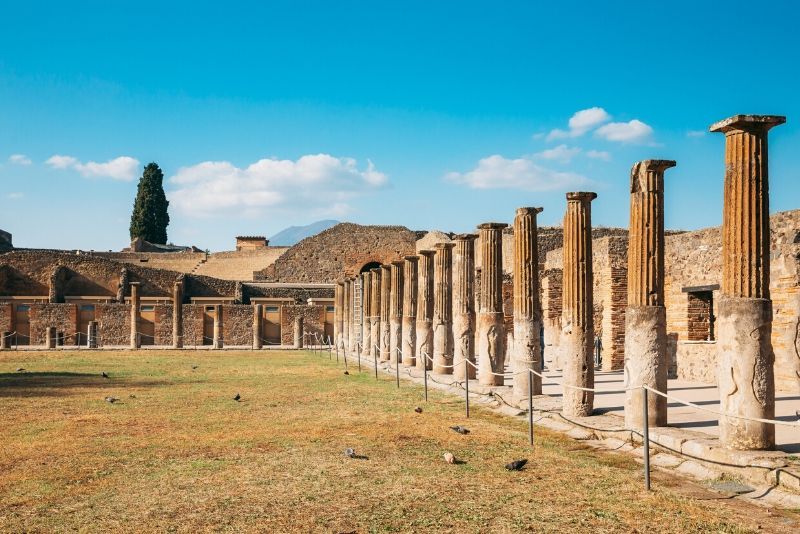 Small group tour to Naples from Rome
Small group tours last approximately 10 hours and have a maximum of 24 tourists. Instead of a coach, you'll make your journey by air-conditioned minivan and be picked up and dropped back at your hotel. You'll have a tour escort on-hand all day and lunch is enjoyed at a biological farm which includes a wine tasting.
Private tour to Naples from Rome
A private day tour to Naples from Rome begins with a pickup from your hotel. It includes a private guide for the whole day, with whom you can ask all of your burning questions about the two sites.
Lunch and a wine tasting at a biological farm are included. You will make stops at six Napoleon hotspots, as well as Pompeii on your Naples excursion, before being escorted back to Rome.
2-Day tour to Naples plus Pompeii, Sorrento and Capri from Rome
This 2-day trip from Rome starts out in Naples, followed by a visit to the UNESCO World Heritage Site of Pompeii. From there, you'll head down towards Sorrento where you'll stay for a night and enjoy a formal dinner.
The next morning, a quick boat ride will take you across to the island of Capri where you'll soak up the sunshine with some free time before heading back to Rome.
How much does a tour to Naples from Rome cost?
A guided Naples day trip from Rome starts at €131 and includes entry to Pompeii and lunch.
Small group tours have less travel time and include a wine tasting with lunch at an organic  farm. Prices start at €248.
If you want to have a private tour, you'll benefit from your own personal guide, as well as shorter travel times. You'll also have your own luxury air-conditioned minivan. Tickets cost upwards of €400.
Lastly, you can purchase a 2-day tour that includes a visit to Naples, as well as accommodation in Sorrento, a formal dinner and ferry tickets to Capri for around €389.
What will you see and do in Naples?
Mount Vesuvius
Adventure enthusiasts will love hiking Mount Vesuvius, which is the only volcano in Europe to have erupted in the last 100 years.
Mount Vesuvius is infamous for the eruption that destroyed Pompeii, but nowadays you can hike up to the crater via a bus excursion. The walk takes around 20-30 minutes and climbing to its peak will be the highlight of your day tour to Naples from Rome.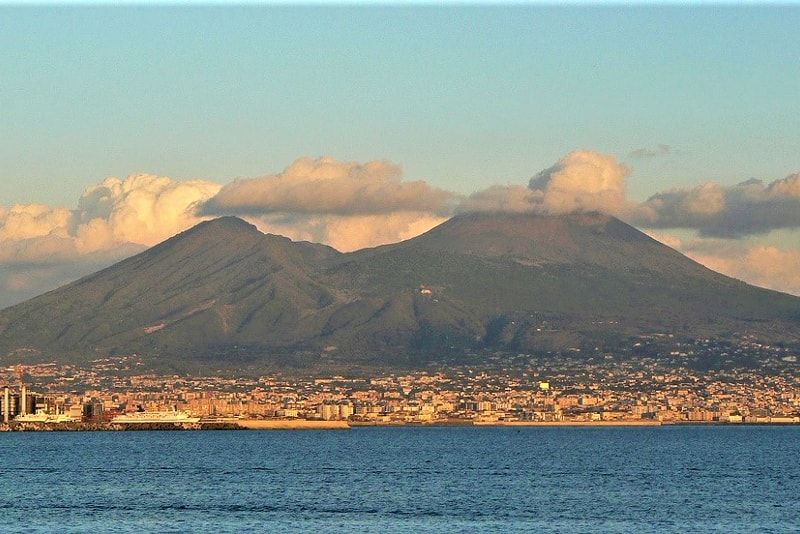 Catacombe di San Gennaro
Under the hustle and bustle of Naples lie the Catacombe Di San Gennaro. The catacombs date back to the second century A.D. and were used to bury some of the Christian community and the nobility of the time.
The catacombs are split over two levels, and the upper one has been used to bury bishops throughout time.
Naples National Archaeological Museum
If you want to see the most interesting historical Italian artifacts outside of Rome, head to the National Archaeological Museum.
Inside the museum, you'll find many relics from the historic town of Pompeii, as well as Egypt. There are intricate mosaics, ancient coins, sculptures, statues and more to behold inside this building, sure to evoke your curiosity.
Herculaneum
The lesser-known sibling of Pompeii, Herculaneum was also destroyed in the eruption of Mount Vesuvius in 79 A.D. This town was actually discovered before Pompeii, many years after the eruption, in 1709.
Fast forward to the present day and you can wander through the streets, which are just as interesting as neighboring Pompeii. By visiting the city, you'll learn about life in ancient times, and Herculaneum is better preserved than Pompeii.
When is the best time to visit Naples?
Temperatures soar to over 30 degrees Celsius in the height of summer and can drop as low as 6 degrees Celsius during the winter.
July and August are the hottest months. Alternatively, the months of May or October may suit you better if you prefer mild climates on your Naples excursion. During these months, temperatures average around 24 degrees Celsius which is the perfect weather for a Naples day tour.
Are there any tours to Naples from other cities in Italy?
Yes, there are other tours departing from several other cities in Italy:
Travel tips
There are many jaw-dropping locations around the city, so be sure to bring a camera.
Excursions to Naples start early and don't tend to include breakfast, so pack some snacks before you head off on your jaunt from Rome.
With so many kilometers to cover, there will be a lot of time spent on the bus on your guided day trip to Naples from Rome. Bring a book if spending hours watching the picturesque Italian countryside doesn't interest you.