Walk down memory lane on a day trip to Pompeii from Rome. The archaeological site of Pompeii is one of the best-preserved in the world, offering modern visitors a visual journey through the life during the Roman Empire and the event of the eruption of the Vesuvius.
Pompeii is a popular historical site in Italy, which can be visited on a day trip from Rome.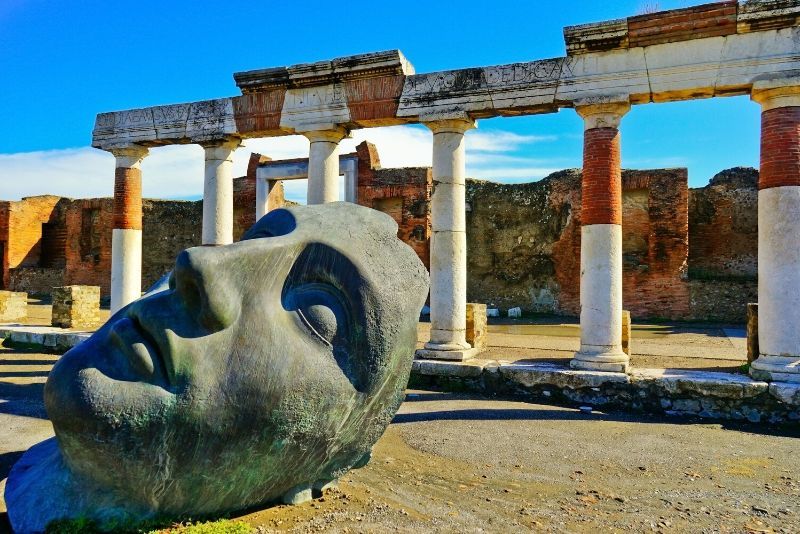 Here's everything you need to know about Pompeii, one of the most captivating day trips from Rome.
How to get to Pompeii from Rome?
Pompeii is near Naples in the Campania region of Italy. The ancient city is 240 km away from Rome yet one of the most visited destinations. Buses and trains depart from Rome each day.
The duration of your trip to Pompeii from Rome depends on the method of transportation. Regardless, you should plan on at least three hours to reach the destination.
From Rome to Pompeii by car
Car rentals are available in Rome that allows you to arrive and leave at any time. The biggest disadvantage of getting a car is the cost. You will also need to drive in a foreign country which is not always the most relaxing.
To reach Pompeii, you can take the highway A1 direction South toward Naples and then follow the directions to Pompeii (Scavi di Pompeii)
From Rome to Pompeii by bus
Pompeii day trips from Rome may get reserved through coaches. Bus trips are an enjoyable way to sit  back and appreciate the sights during the commute. However, bus rides  are slow and may take as long as six hours to reach Pompeii.
From Rome to Pompeii by train
Trains are the best method of transportation for reaching Pompeii from Rome. Trains are popular in Europe for a reason. High-speed trains can get you from Rome to Naples in a little over an hour.
From there, you transfer over to a direct route to Pompeii. Slower trains take longer yet are still faster compared to car and bus travel.
Guided Pompeii tours from Rome
There are many tour operators offering day tours from Rome to Pompeii, which often include other sites in that region, such as Naples, the Amalfi Coast or the Vesuvius. Tours are a good idea to avoid planning the all trip piece by piece.
What kinds of tours are available to go to Pompeii from Rome?
Pompeii is a popular place to visit in Italy. It attracts more than 2.5 million visitors each year. Therefore, the landmarks get crowded and overwhelming. Booking a guided tour of Pompeii is a fantastic way to savor the sights.
Several types of tours are available daily for Pompeii day trips from Rome. Some of the most popular include:
Pompeii small-group guided tours
A fantastic  way to see the ancient ruins with an experienced and knowledgeable  guide. The tours are limited to a smaller number of participants  offering more intimacy. You can ask questions and get direct feedback  about Pompeii.
Pompeii private guided tours
Private tours of Pompeii cost the most, yet visitors receive VIP treatment. Private tours are usually limited to friends or family, offering a special and once in a lifetime experience. You also may receive access to portions of Pompeii that are not generally open to the public.
Multi-day trips to Pompeii from Rome
Take a multi-day trip from Rome to visit several interesting places to visit in the area of Naples, such as the Amalfi Coast, the Mount Vesuvius, Herculaneum, Capri, or Naples itself.
You may plan to stay for 2 or 3 days in order to visit more sights without stress. Take a look at 2-day trips or 3-day tours from Rome to Pompeii.
As anticipated before, Pompeii day trips from Rome are often combined with another attraction in the area to see in a single day:
Pompeii + Mount Vesuvius: See the volcano that buried Pompeii overnight. The destructive Vesuvius presents incredible views of the Bay of Naples by hiking to its top.
Pompeii + Herculaneum: Pompeii was not the only city of the area destroyed by the volcano Vesuvius. Visit Herculaneum, the other ancient city of Rome that was excavated following the discovery of Pompeii.
Pompeii + Amalfi Coast: This combo tour offers a more chill and relaxing experience following a history lesson at Pompeii. The coastal landscape is phenomenal at Amalfi Coast.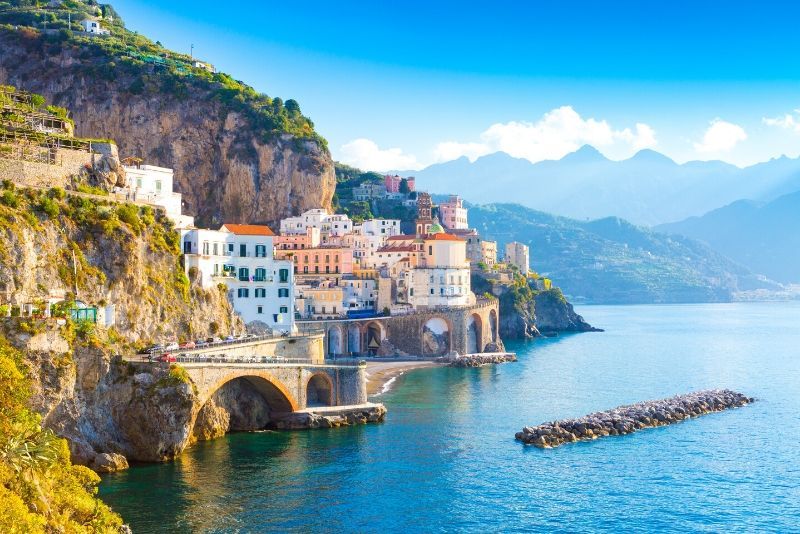 If you plan to reach Pompeii by your own transportation mean, you can take a look at our page of tickets and tours starting from Pompeii and Naples to find a local guide for the visit or just a skip the line ticket.
How much does a day tour to Pompeii from Rome cost?
Pompeii day tours from Rome vary in cost. Guided tours are the best way to see Pompeii as offers may get combined with other attractions in the area for the best deal.
Pompeii day trips start at €75 per person for round-trip shuttle from Rome. If you spend closer to €100, you also get the skip the line ticket at the site.
Pompeii guided tours range between €140  and €200 per person, depending on the kind of transportation (some use high-speed trains) and how many sites you visit.
Your  journey to Pompeii is rewarding through a personal tour because you'll learn more about the ancient ruins and its history. Guides are usually locals of Italy, experts in its rich history, and available to ask questions along the way.
What will you see?
Pompeii is a paradise for archeologists and those interested in history. The ancient city got buried quickly following the eruption of Mount Vesuvius in 79 A.D. The buildings and corpses were consumed in meters of volcanic ash, which helped preserve them for centuries before getting discovered.
Pompeii is considered a community that had tremendous wealth. While the luxuries and style of living may seem basic in modern times, Pompeii flourished and had several amenities not common at the time. Private homes featured lavish furnishings and decorations.
Since the community got frozen in time the moment it was buried by volcanic ash, the preservation of the artifacts over centuries has amazed archeologists for decades. Today, visitors get treated to a rare glimpse of Roman life and its inhabitants.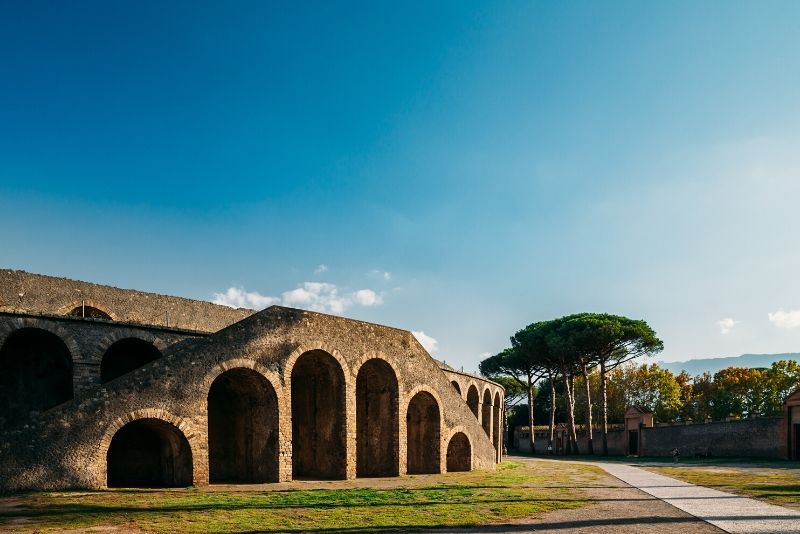 The site of Pompeii also indicates that Vulgar Latin was used in the city, which was different from the formal language used by classical writers at the time. Graffiti of Vulgar Latin was unearthed at the excavation sites.
Pompeii receives millions of visitors each year. The UNESCO World Heritage Site includes the Forum, House of Faun, and Pompeii Basilica, among other sacred landmarks.
The Forum
During your day trip to Pompeii, it is wise to begin your excursion at The Forum. The area was a trading center and market. It also was an important place for political and religious ceremonies.
Public buildings like the Temple of Apollo and the Temple of Jupiter face The Forum.
Pompeii Amphitheater
The Romans valued live entertainment, which is why an ancient amphitheater was constructed in Pompeii. It would have been more than impressive for its time, seating up to 20,000  spectators for gladiator battles and competitions involving wild animals.
House of Faun
The house is named after a statue that is on the premise. The House of Faun is a herald site for its Italian and Greek architecture. It is a terrific example of the high quality of life Romans experienced while living in Pompeii.
Pompeii Basilica
The basilica is near The Forum. It was reportedly an ancient court that helped enforce the rules of the Roman Empire. Legendary Roman baths were discovered near the basilica.
What are the other day trips from Rome?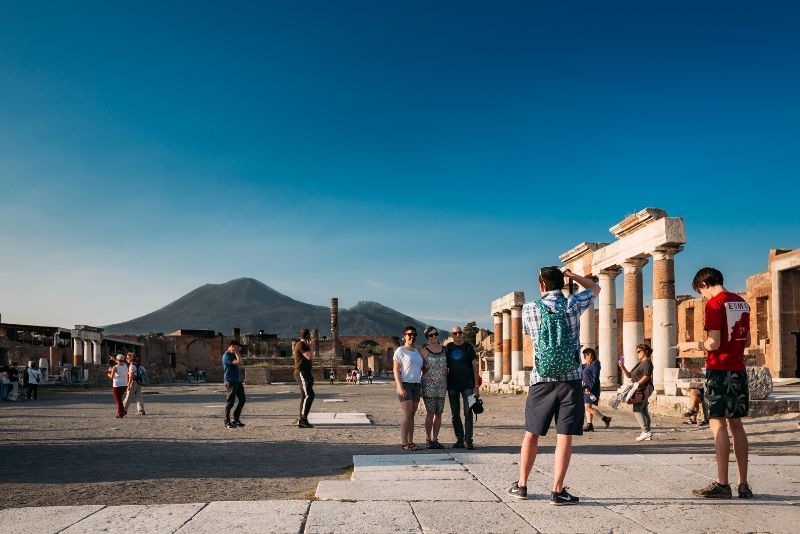 Travel Tips
Here are a few friendly tips to make your time in Pompeii the best experience possible:
Book tours and tickets as soon as possible. Pompeii is an extremely popular destination that gets crowded. Guided tours and shuttle buses to Pompeii from Rome fill up fast. It is important to book tickets as soon as possible to make sure you secure a spot.
Wear comfortable clothing and pack accordingly. A day trip to Pompeii and Rome means you'll be away from your room for several hours. Consequently, make sure you have comfortable shoes and clothing. Also, bring a jacket or whatever else is appropriate for the time of year.
Bring sunscreen and hats. Pompeii is an outdoor attraction, so if you are in the sun for hours, you will want sunscreen and hats to shield your body and face. Also, make sure you pack some water.