Bike tours in Rome are the ultimate way to explore the Eternal City. You'll get to see some of the most famous sights without having to walk miles or negotiate public transport. Even better, many of the excursions use electric bikes, so you'll see twice as much with half the effort!
Whether you want to tick off major landmarks or come across unexpected discoveries far from the crowds, Rome cycling tours are your ticket to adventure.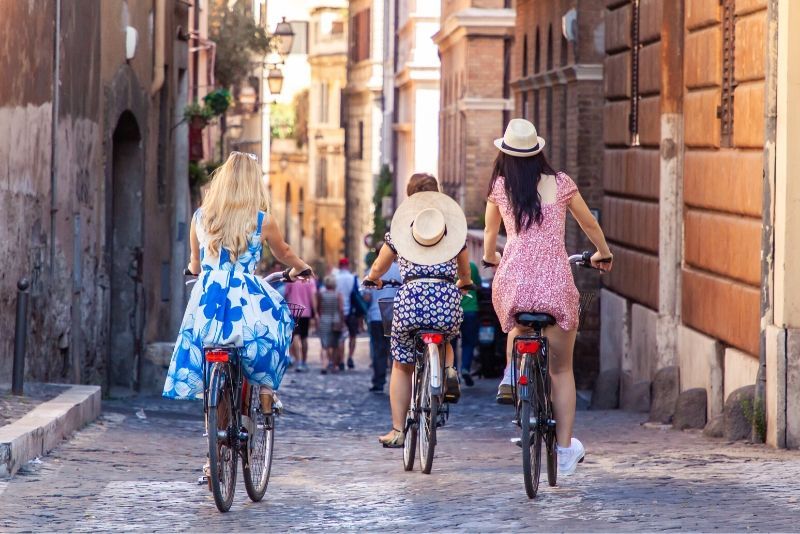 Here's everything you need to know about bike tours, some of the exciting outdoor activities in Rome.
What are the best bike tours in Rome?
There are heaps of bike tours in Rome to choose from, and many either have a theme or focus on a particular area of the city.
Most of the excursions are on a small group basis, although private rides are also available. Here are the top picks to help you decide which is the best option for you.
Central Rome historical highlights cycling adventure
The most popular cycling tours in Rome take in many of the ancient sites in the city center and are a great introduction on your first day. You'll pedal past iconic landmarks and discover hidden gems with your trusty local guide.
Highlights include the Colosseum and Roman Forum, the Spanish Steps and Piazza Venezia among others. The Trevi Fountain and Piazza Navona also make an appearance, and you'll be able to stop at each for photos.
On morning tours, you'll also cycle around the beautiful Villa Borghese Gardens, while afternoon rides take in the charming Trastevere district.
If you want to spend a full day exploring by bike, longer tours are available with a typical local lunch included to break up the miles.
Appian Way catacombs and aqueducts bike tour
Once you've ticked off the central sights, it's time to discover what the wider city has up its sleeve. This unique Rome bike tour takes you along the 2,300-year-old Appian Way, which meanders through the countryside to the Catacombs of Saint Callisto.
After a few minutes of urban cycling, you'll emerge onto the ancient road, passing some of the world's first aqueducts and the imposing Aurelian Walls. Pause for photos at Roman tombs and the Imperial Palace ruins, while your guide regales you with tales of the past.
Eventually, you'll arrive at the mysterious catacombs where you'll stop to explore the eerie underground passageways. These subterranean burial chambers date back to the second century and are the final resting place for many Roman Christians, martyrs, and religious leaders.
Steel your nerves for the Crypt of the Popes, before emerging back into the light. You'll continue your journey along the Ancient Appian Way and return to central Rome at the end of your tour.
Villa Borghese bike excursion
See a different side to the city with a leisurely pedal through the stunning gardens at Villa Borghese. This is the most famous park in Rome, and it's just made for bike tours!
After meeting your guide, you'll saddle up and cycle around the grounds, passing sculptures and fountains along the way. Stop for a breather in the beautiful green spaces and learn about the history of Villa Borghese.
Finish on a high at the Pincio Terrace for Italian coffee and panoramic views. While you're in the area, why not visit the Borghese Gallery after your tour?
Rome bike tours with food and wine tasting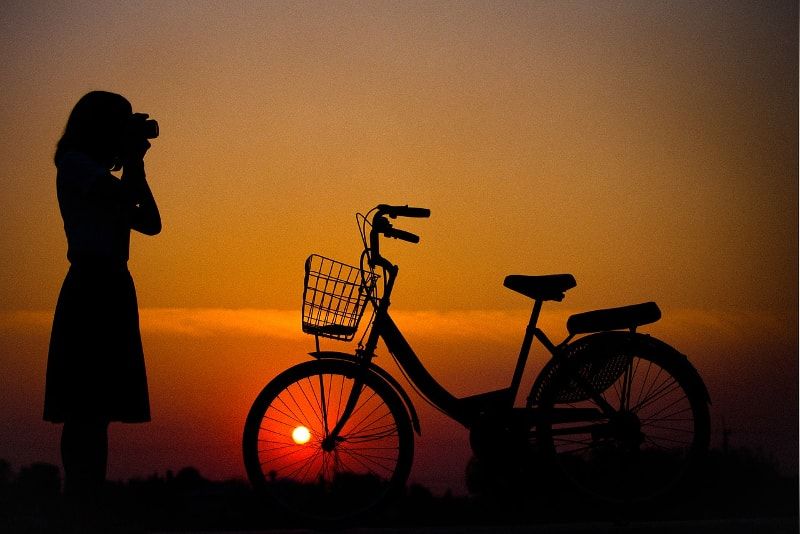 These Rome bike trips take place in the evening, so you'll get to see the ancient city illuminated against the night sky. Your adventure starts with a pedal up Aventino Hill, so you can watch the sunset over the city.
After soaking up the views over Fori Imperiali, Circo Massimo and Campidoglio, you'll cycle through iconic neighborhoods and stop at the Trevi Fountain. Thrown in some coins if you want to return to Rome someday!
During your excursion, you'll stop at a local restaurant to refuel with charcuterie boards and wine tasting with your fellow riders.
How much do bike tours in Rome cost?
A guided seven-hour day tour of central Rome with a traditional Italian lunch costs €120 per person and includes food and drink.
The small group Appian Way ride that takes in the catacombs and aqueducts starts about €65 per person for three hours, and €100 per adult for four hours. E-bikes, a guide and entrance to the catacombs are all included.
For a guided group bike ride around Villa Borghese, expect to pay €40 per adult for a three-hour adventure, with all equipment and a guide provided.
The four-hour evening bike tour of Rome with food and wine tasting costs €70 per participant, and includes equipment, guide and food. This is on a small group basis.
Private bike excursions in Rome start at €60 per person for a historic highlights tour or Villa Borghese visit, and €70 per person for the Appian Way ride.
What is included in a bike tour in Rome?
All the equipment you need on your Rome bike tour will be included in the excursion price, as well as a guide. You'll also be given a helmet and sometimes a cycle lock is provided too.
Several cycling tours in Rome use electric bikes to give you a boost up those hills, so if this is something you would particularly like, do check with the operator before booking.
A few tours combine the bike ride with Rome food tours, and in these instances, the food is included.
Hotel transfers are not usually offered, so you will need to make your own way to the departure point.
Where do bike tours in Rome start?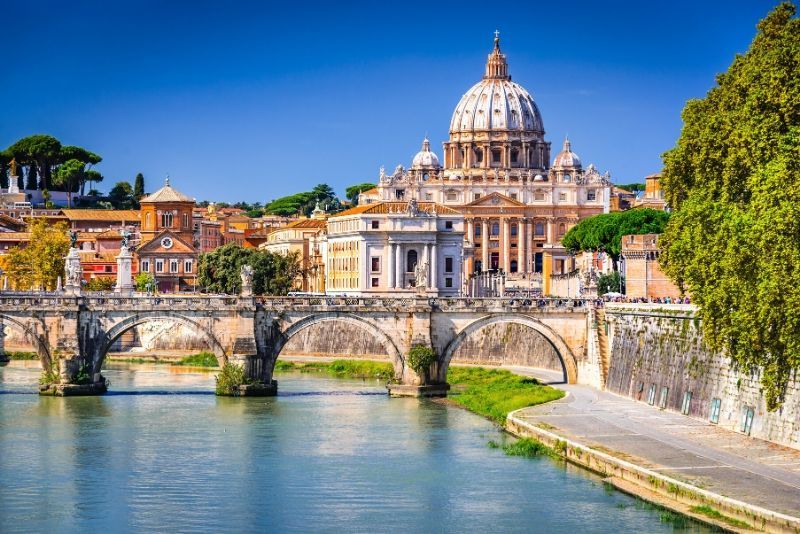 Rome bike tours usually start at a central meeting point near a popular attraction, so it's easy to reach on foot or by public transport.
Itineraries around the historic center often depart from Via Labicana near the Colosseum Metro, or the Via Antonio Rosmini near the Basilica di Santa Maria Maggiore.
Bike tours around Villa Borghese kick off from Via del Fume near the Piazza del Popolo, while Appian Way rides start at Via dei Cerchi beside the Basilica di Sant'Anastasia.
How long do bike tours in Rome last?
Most bike tours in Rome last three to four hours, which is ample time to check out the major sights.
A few trips are longer at around seven hours, but there will be stops for lunch and breaks throughout the day, so you won't spend the whole time in the saddle.
When is the best time for a bike tour in Rome?
Rome bike rides operate daily all year round, so whenever you visit, you'll be in luck. Just pick a day and time that fits in with your schedule! Cycling excursions are a great way to get your bearings, so book a tour on the first day of your stay for maximum benefit.
Bear in mind that Rome sizzles in the summer, so if you're visiting in July or August, try to book an early morning tour to avoid the heat.
Are children allowed on a bike tour in Rome?
Absolutely! Children aged 9 and over will be able to ride their own bike, while for younger kids a child extension can be attached to an adult bike.
Children aged 1 to 4 can enjoy the sights from a child seat, free of charge.
What are the other outdoor activities in Rome?
Travel tips
Bike tours in Rome are very popular, so reserve your place in good time to avoid missing out on your preferred date.
Comfortable outdoor clothing and flat footwear will let you move freely as you cycle through the streets.
Carry a small backpack or cross-body bag for your personal belongings.
Water is included on some excursions but do check with your operator and take your own if necessary — it's important to keep hydrated.