Follow in the hoof prints of wealthy Roman merchants and explorers, as you discover the City of Seven Hills from the saddle.
Horseback riding tours in Rome give you a unique perspective of the area, taking you on adventures far beyond the sizzling streets to places that few tourists get to visit.
You'll ride through natural reserves, over hills and alongside archaeological ruins on your quest to experience a rather different side to Rome.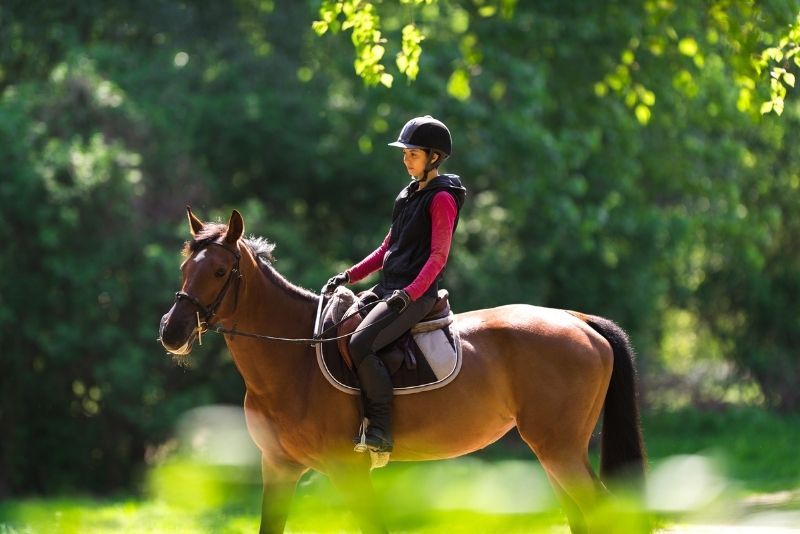 What are the best horseback riding tours in Rome?
There are a few different types of horse riding activities in Rome to choose from, and here some of the best options to help you decide.
Some take place in the parks of Rome, while others reveal more of the surrounding countryside. Seeing the city and the wider region from the back of a horse is a thrill that you won't forget in a hurry.
Horseback riding tour of the Ostia Antica ruins
This is one of the most popular horseback riding tours in Rome, as it avoids the crowds and whisks you off to a lesser-known archaeological site on the city outskirts.
The town of Ostia was the harbor city of ancient Rome, and the nearby ruins are renowned for their well-preserved frescoes and mosaics.
After getting to know your new equine friend, you'll explore the site on horseback with an experienced guide. Check out monuments often missed by visitors on foot and learn about the history of Ostia Antica while you ride. Tours last between two and three hours.
Both group and private excursions are available. On private tours, you'll enjoy breakfast to fuel up before your ride. There is also the possibility of upgrading your excursion to include a guided walked tour of the ruins, or a canter along the beach for more experienced riders.
These trips are customized to suit your skill and sightseeing preferences.
Rome horseback excursions in Veio Park
These private Rome horse riding trips take you on an adventure in the hills surrounding the city, where you'll discover waterfalls and wildlife far from the bustle. Hotel transfers are provided to keep logistics seamless.
On arrival at Veio Park, you'll enjoy a short briefing about the ride and the terrain. Then it's time to help get the horses ready before riding off into the park – you'll be spending about 1.5 hours in the saddle.
Upon leaving the stables, you'll be instantly immersed in the beautiful countryside, passing Etruscan archaeological sites along the way. Remember to take your camera!
After your explorations, you'll return to the riding center for some well-earned snacks before being driven back to your hotel. Prior riding experience is required for these Rome riding tours.
Horse riding adventure in the Agro Romano
Get back to nature with this three-hour trek in the breathtaking Roman countryside. After making your way to the stables on Via Appia Antica, it's time to meet the horses and have a short orientation session.
Then you'll head out with an experienced guide and visit the monuments of Regina Viarum while exploring a natural reserve in the beautiful Agro Romano estates.
Learn how to identify plants and wildlife in the park, and soak up the views from your saddle. Stop for a picnic lunch where you'll feast on organic produce grown directly on the farm. This really is the life!
When the horses have well and truly earned their carrots after an exhilarating rural ride, you'll return to the riding school where the tour ends.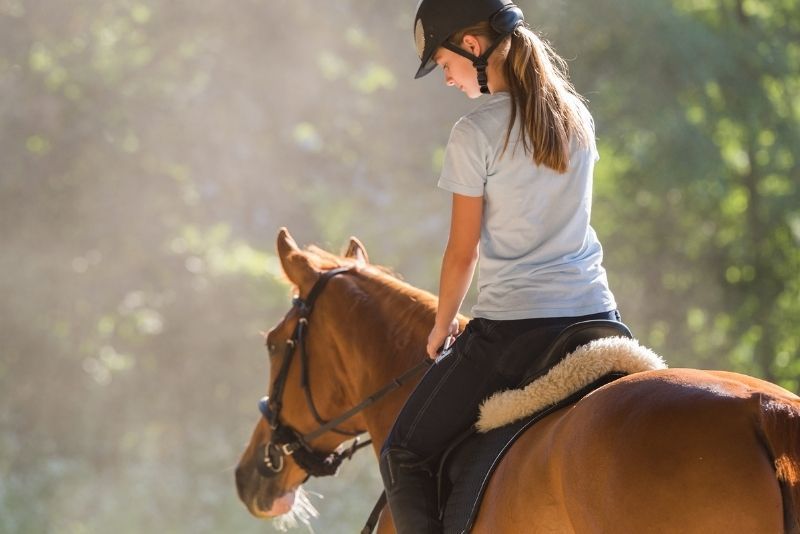 How much do horseback riding tours in Rome cost?
The Rome horse riding tours to Ostia Antica are €27 per rider for a two-hour group experience. This includes instruction, a guide, and the opportunity to feed and groom your mount. There will be a maximum of 10 people on the tour.
Private Ostia Antica rides cost €73 per participant for a three-hour trek with breakfast, guide, snacks and alcoholic drinks provided.
The private Veio Park horseback excursions in Rome are priced at €60 per person for a three-hour ride. Hotel transfers and snacks are included.
For the Agro Romano riding adventure, expect to pay €42 for a three-hour shared experience. This covers a tasty farm-grown picnic lunch, as well as equipment and a guide too.
What is included in a horseback riding tour in Rome?
All horseback riding tours in Rome include helmets and a professional guide, and of course, a mount suited to your ability. Have a chat with the operator before you arrive if you're a novice so they can provide a friendly horse with a gentle temperament.
Some tours also provide meals, picnics, or snacks, as well as free time after the ride to groom your horse.
Hotel transfers are generally not offered, so for most tours, you will need to make your own way to the starting point. Details will be provided by the provider.
Where do horseback riding tours in Rome start?
The Ostia Antica riding excursions depart from outside the Ostia Antica train station, which is easy to reach on public transport from central Rome.
Agro Romano picnic tours kick off from the Via Appia Antica on the edge of the Parco della Caffarella. There are several convenient bus stops nearby.
A handful of Rome horse riding tours, such as the Veio Park adventure, will collect you from your hotel so in those instances, you don't need to worry about logistics.
How long do horseback riding tours in Rome last?
Horseback riding tours in Rome usually last around 2 – 3 hours, which is plenty of time in saddle especially if it's your first riding experience. This also includes the briefing at the start of your session, and any stops for lunch or sightseeing, so it'll be a fairly leisurely jaunt.
When is the best time for a horseback riding tour in Rome?
You can go on a horse riding tour in Rome at any time of year, but spring and fall are the most pleasant in terms of temperature. If you're visiting during the height of summer, book a morning or evening ride to miss the hottest part of the day.
This is a great activity for when you want a change of scene, having already ticked off the major sights like the Colosseum and St. Peter's Basilica. So, arrange a Rome riding tour for the middle of your stay for maximum benefit.
What happens in case of bad weather?
As with anywhere else in the world, horseback riding trips in Rome only operate in good weather. If your experience has to be canceled due to poor weather conditions, you'll be offered an alternative date or given a full refund.
Travel tips
It's a good idea to book horseback riding tours in Rome online, so you can compare prices and bag the best deals.
Comfortable outdoor clothing and footwear are advisable during the ride – you may get a little dusty.
A moderate level of fitness is required, as this is a physically demanding activity.
While some tours require previous riding experience, others do cater for novices, so check with the operator before booking if it's your first time in the saddle.