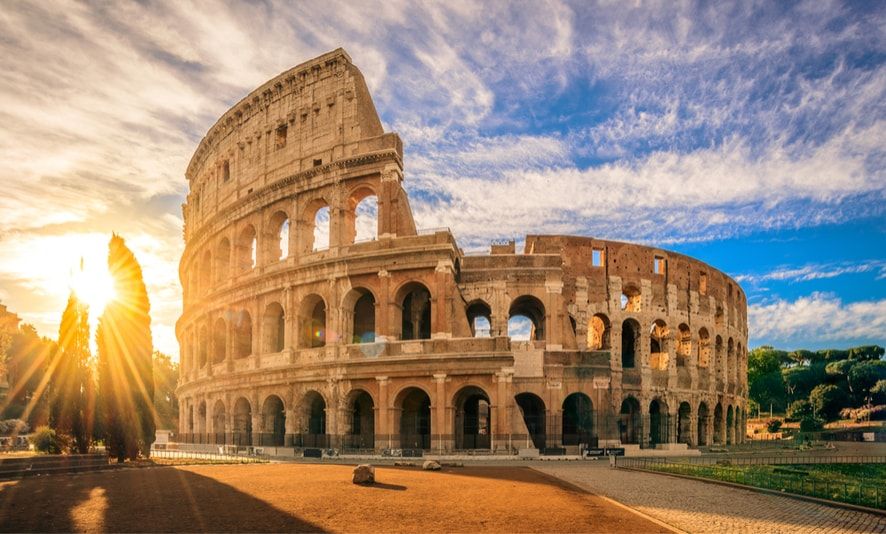 If you only have time for a couple of Rome tours, make sure this is one of them. The Colosseum is among the New Seven Wonders of the World and is undoubtedly the most visited city attraction. This impressive amphitheater was used for gladiatorial contests and games, which drew thousands of spectators to the stands from near and far.
Palatine Hill was once the haunt of high society, and you can get a feel for the luxuriousness of life here by exploring the ruins, which include palaces and a stadium. Further downhill, the Roman Forum acted as the political and religious hub of the city. Today the remains of temples, monuments, and government buildings can still be seen. The best views of the Roman Forum are from the balcony of the Capitoline Museum, which is also worth a visit.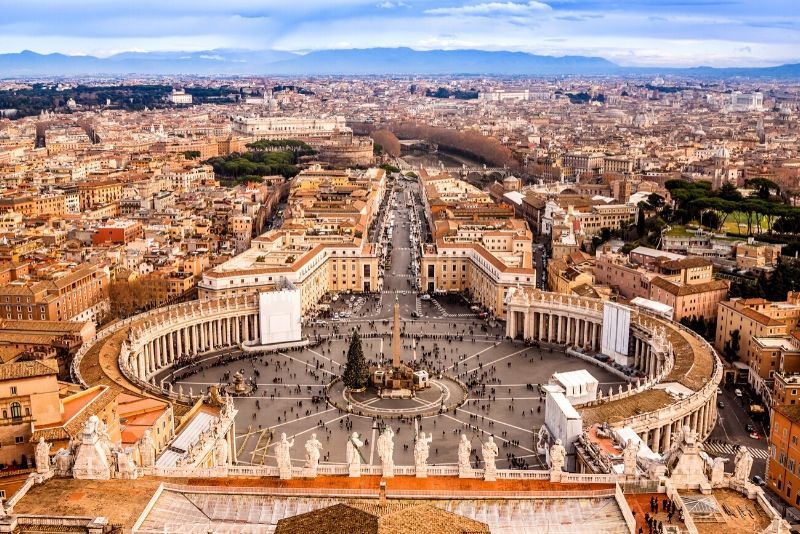 Tick off an entire independent nation-state with a visit to Vatican City. This is one of the most coveted Rome tours as it takes in St. Peter's Basilica as well as the Vatican Museums. Inside Europe's most famous church you'll be wowed by the ornate Baroque architecture and the panoramic city views from the top of St. Peter's Dome.
Meanwhile, in the museum galleries, it's all about marble sculptures and paintings by everyone from Raphael to Leonardo Da Vinci. The jewel in the crown is the Sistine Chapel, where you can gaze up at Michelangelo's magnificent painted ceiling. After your visit, stroll around the Vatican Gardens to admire the manicured lawns.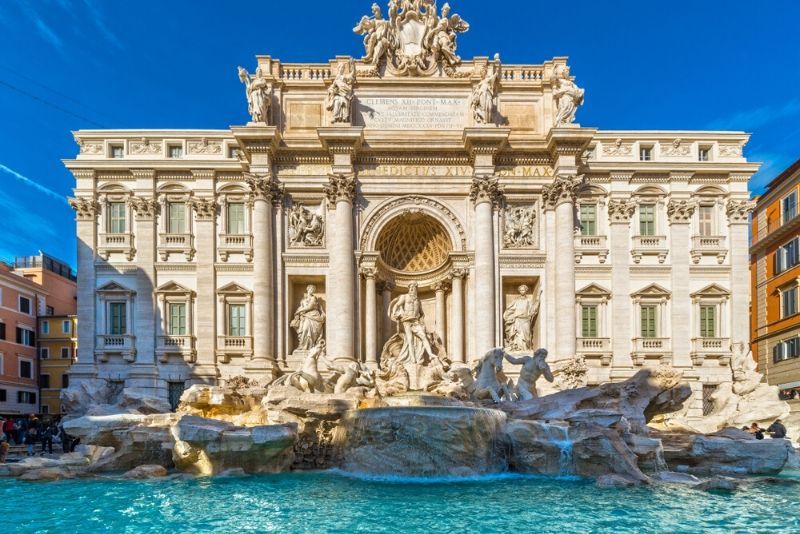 The best way to really get to know Rome is to explore her on foot. There are several walking tours available, and some have a theme or particular destination on the agenda. The Squares and Fountains tours are among the most popular as they take in historic piazzas and gems like the Trevi Fountain.
Up the drama on the Ghosts and Legends tour which reveals the mysterious and sometimes spooky side of Rome. You'll hear about fierce battles and spectral hauntings, so do keep your wits about you! Meanwhile, free walking tours are a fun way to explore without breaking the bank.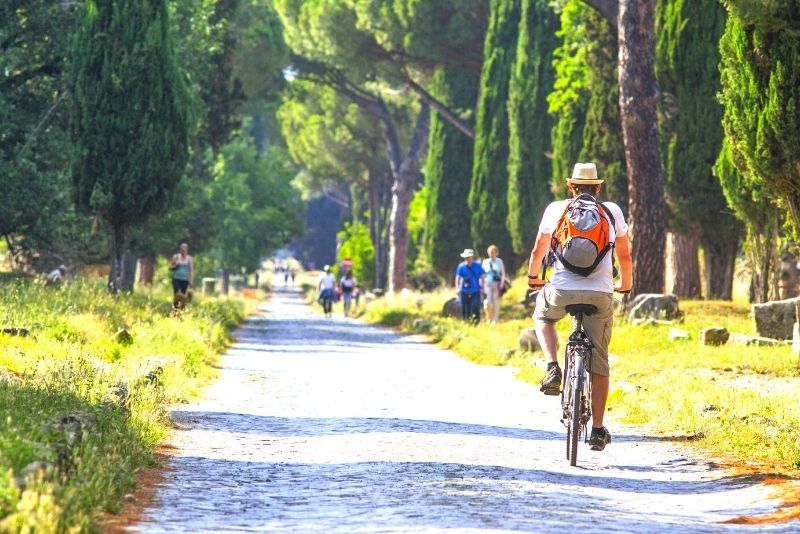 If you're looking for Rome tours with a difference, take a bike ride along the Ancient Appian Way and see the sights on two wheels. Electric bikes are available, so you won't need to put in too much effort.
This 2,300-year-old cobblestone road leads to the Catacombs of St. Callisto, passing ancient tombs and the remains of an imperial palace along the way. There will be plenty of stops for photos, while your guide spills the beans on the archaeological sites that punctuate the route. Once at the catacombs you'll descend underground to roam the eerie passageways and crypts.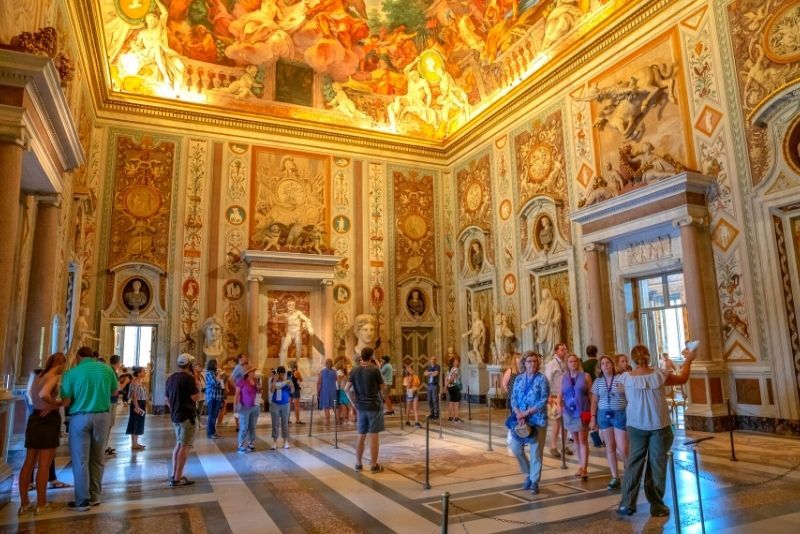 Delightfully housed inside a 17th-century palace that was built specifically to hold this remarkable collection, the Borghese Gallery is a museum of some repute. This is the place to go if you want to tick off some great works of art by the masters themselves. Top billing goes to Caravaggio's "St. John the Baptist" and Bernini's "Apollo and Persephone", while Raphael and Canova also make an appearance.
There are 20 rooms to explore, each with a different treasure trove of paintings, frescoes, and sculptures. During the tour, you'll learn about the history and folklore behind the key pieces, with plenty of time for questions.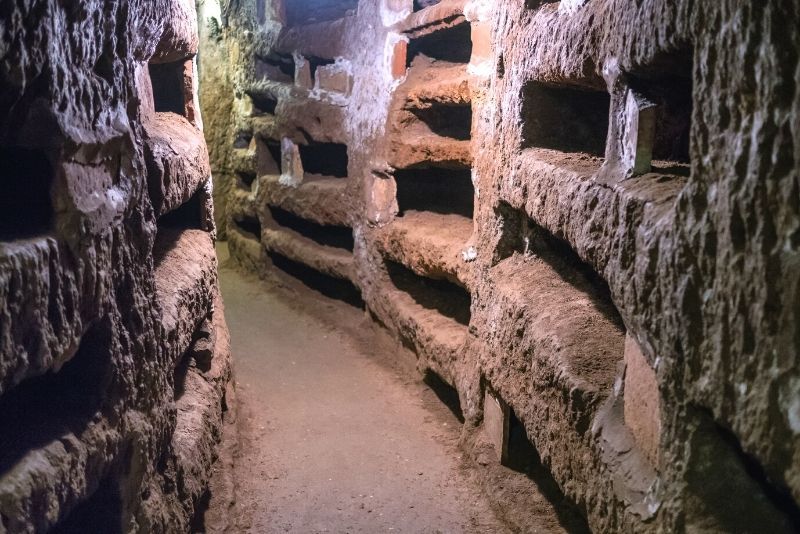 Most Rome tours take place above ground, often in the beating sun. So, to cool off, we recommend heading down below to explore the otherworldly catacombs that sprawl beneath the city like giant rabbit warrens. These subterranean burial places have been carved into the bedrock, and are a relatively recent discovery, which just adds to the mystery.
Special mention must go to the Capuchin Crypt tours, where thousands of monks have been laid to rest. There are crypts here dedicated to everything from pelvises to thigh bones, so if you want to see bones and skeletons, this is the place to come!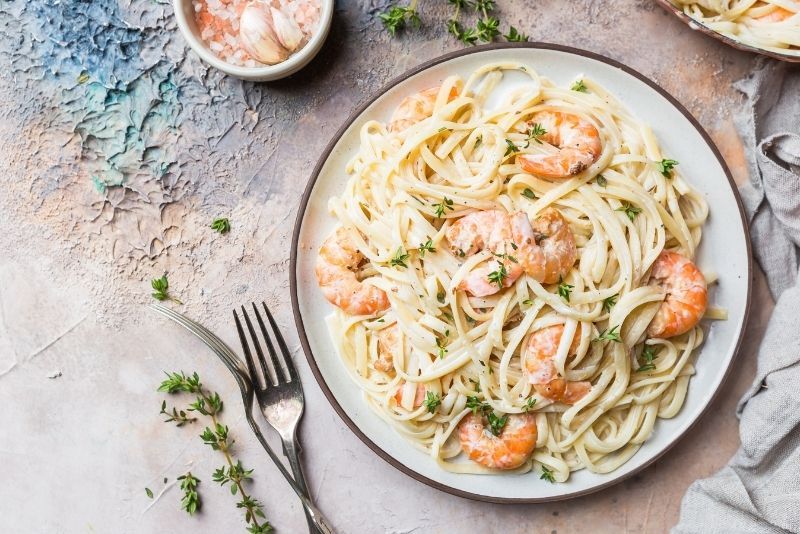 Destinations often reveal their innermost secrets through food, so take a culinary tour in the heart of Rome and discover what really makes the city tick. Top spots include the Trastevere district, which is famed for its authentic flavors and contempt for tourist menus.
Accompanied by an expert foodie guide, you'll stop off at restaurants and markets to taste delicacies that are beloved by locals. Tuck into artisanal favorites like suppli, pizza, and zucchini fritters, followed up with a scoop of gelato. Wine tasting tours and cooking classes are also available for those who want to do a deeper dive into Rome's foodie scene.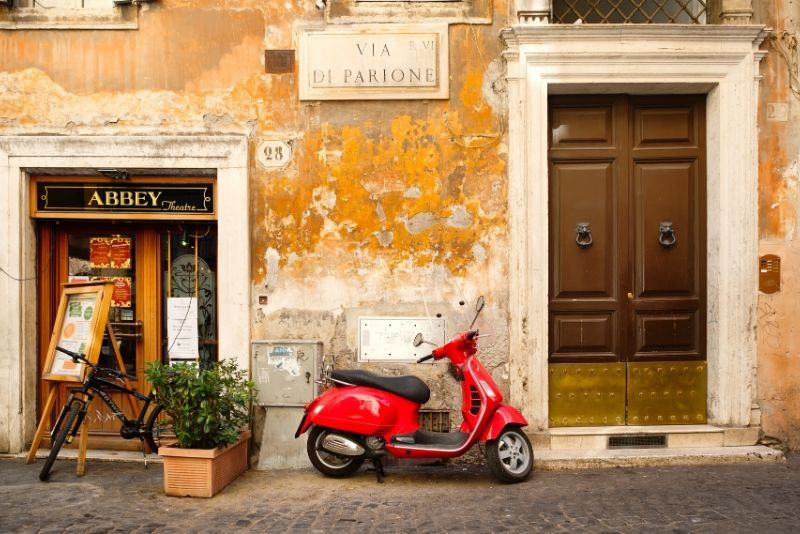 Add a little Italian magic to your Rome tours by riding through the streets on a Vespa. These iconic scooters are just the thing for powering along the winding alleys. Some motorcycles come with a sidecar, for those who want to sit back and enjoy the views as they cruise along.
You can hire a moped for a self-drive adventure on your own terms or take a guided Vespa tour with a local who will know all the best routes. Either way, you'll explore places that the tour buses can't reach, and give your feet a rest from all that walking.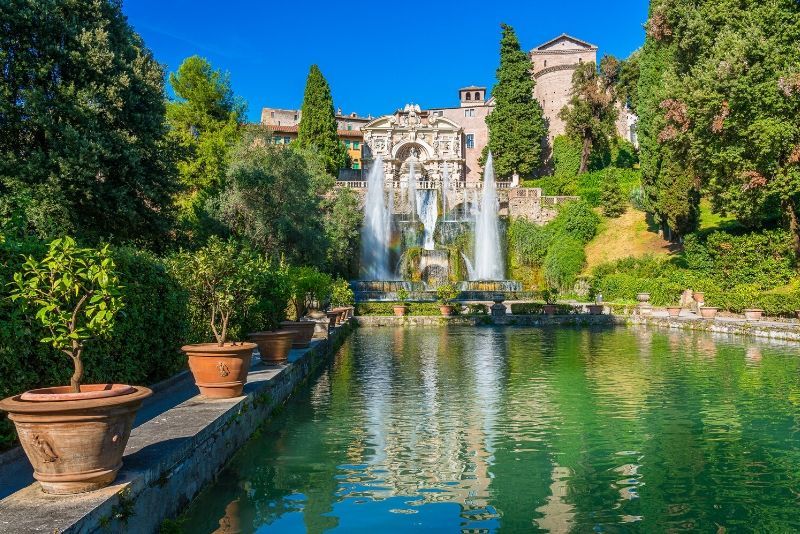 Escape the city heat with a day trip to Tivoli where you'll visit two of Italy's most elegant Renaissance residences. The sprawling countryside estates at Villa d'Este and Hadrian's Villa are a world away from the busy streets of Rome, and both are UNESCO World Heritage Sites.
Built by the Emperor himself in the 2ndcentury, Hadrian's Villa has everything from imperial palaces and theaters to temples and thermal baths. You can explore the archaeological ruins as you wander at leisure. Meanwhile, the 16th-century Villa d'Este is famed for its terraced gardens where you'll discover secret grottoes and tinkling fountains.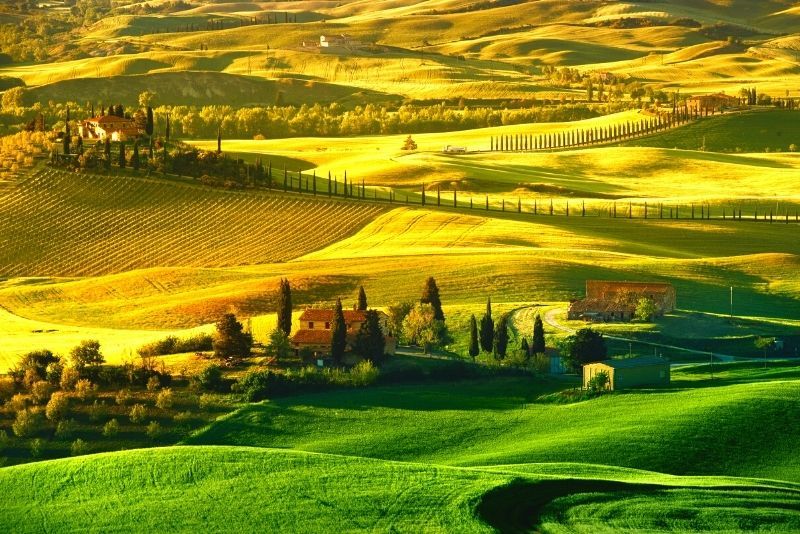 Tuscany is just a short hop from Rome, so take a day out to discover the rolling countryside and hilltop villages of this beautiful rural region. Architecture, history, and food are all at your fingertips here in Tuscany, where the Italian Renaissance still lives on.
You can visit vineyards for a wine tour, and stroll beside the vines before tasting the produce at its source. Or go exploring in the charming villages where cobblestone streets and sweeping views are the order of the day. Ramp up the action with a visit to Florence or Pisa for a slice of Tuscan city life.
Planning your visit to Rome
About Rome
Rome is known as Europe's largest open-air museum, with thousands of years of history laid bare in the streets, piazzas, and parks. Whether you want to retrace Caesar's last steps or have an audience with the Pope, you'll feel like you're playing a small part in the history of Italy's intoxicating capital.
There's a modern hub that buzzes contentedly alongside the archaeological sites, offering explorers of today a contemporary taste of the Eternal City. This is a place where monuments and murals go hand in hand with Vespas and vino, so let yourself be swept along by the rhythm of Rome and discover some of her innermost secrets.
Good to know before arriving
Those staying in the city for a few days might like to buy the Rome Pass, which gives reductions on sights, excursions, and transport. Some Rome tours offer skip-the-line entry, which is worth its weight in gold at busy attractions like the Colosseum and St. Peter's Basilica. To get your bearings, a hop-on hop-off bus tour is always good fun as it takes in all the major sights with minimal transport hassle.
When it comes to accommodation, we recommend staying in the authentic Trastevere district for charming hotels, traditional restaurants, and a peaceful night's sleep. For luxury digs, head to the Piazza di Spagna area, or to be close to the main sights try the neighborhood around Piazza Navona and Campo de'Fiori.
It's good to note that dinner in Rome tends to be a late affair, not usually kicking off until 8-9 PM. Oh, and if you don't want to stick out like a sore thumb, never order a cappuccino after midday!
Places and experiences that cannot be missed
If your craving for history hasn't been sated with the above, then we recommend a visit to Castel Sant'Angelo. This beautiful cylindrical monument is the Mausoleum of Emperor Hadrian and was used as a fortress before becoming a museum. You should also pop into the Pantheon and enjoy the incredible acoustics and aesthetics inside this iconic Roman temple. Some Rome tours also stop by the ancient Caracalla Baths, which are often less crowded than the other sites. Once the largest bathing house in the city, the complex gives an intriguing glimpse into Roman life back in the day.
For something a bit different, venture into the Jewish Ghetto to visit the Great Synagogue and wander around one of the oldest communities in Europe. Or head to St. Peter's Square and experience a Papal Audience, which takes place most Wednesdays. If your feet are feeling weary from all the city walking, why not book a Segway tour and roll around the sites in style?
Of course, when in Rome, it's impossible to miss the influence of a certain famous painter, anatomist, and inventor. The Leonardo Da Vinci Museum is dedicated to the creative brilliance of the great man, while the Leonardo Da Vinci Exhibition showcases some of his mind-boggling inventions. Don't leave without visiting the Leonardo Da Vinci Experience, which brings this Renaissance man to life through his advanced engineering and scientific ideas.
If you've spent all your pocket money on gelatos and pizza, then you'll be pleased to know that there are some free things to enjoy in Rome. Many state-owned museums and archaeological sites are free on the first Sunday of each month, and you can hang out at the Spanish Steps and Piazza Navona without paying a cent.
Finally, when the heat of the city gets a bit too much, take a day trip to the Amalfi Coast and enjoy the cooling sea breezes of Positano and Capri Island. You can take in the ancient city of Pompeii too!