Want to experience the Italian countryside in a unique way? Skydiving tours in Rome are the ultimate thrill for daredevils looking to ramp up the pace of their sightseeing.
Jumping out of a plane at 12,000 feet isn't for the faint-hearted, but the 360-degree views make it all worthwhile.
If you're up for a challenge, skydiving in Rome can easily be added to your vacation itinerary.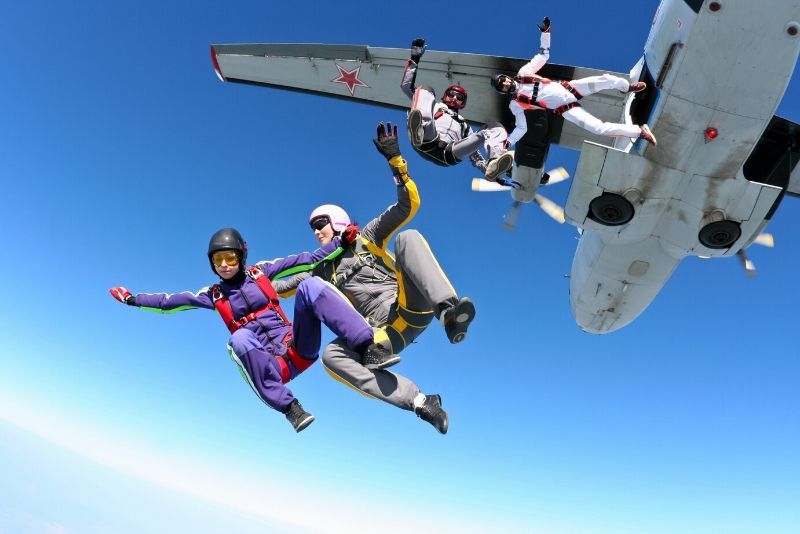 What are the best skydiving tours in Rome?
Skydiving tours in Rome all follow a similar format, with the main variation being the location. You'll be doing a tandem jump with an experienced instructor, and you may be sharing the plane with other adventurous travelers.
This is what you can expect during your jump experience.
Rome skydiving trip starting in Nettuno
First up, you'll need to make your own way to the airfield in Nettuno, which is 40 miles from the center of Rome. Next, you'll be given a 20-minute safety briefing before being kitted up for the jump.
Then it's time to board the small aircraft and enjoy a scenic flight, as the plane climbs to 12,000 feet. Sit back and soak up the views over Rome and the nearby coast – this will help steady your nerves!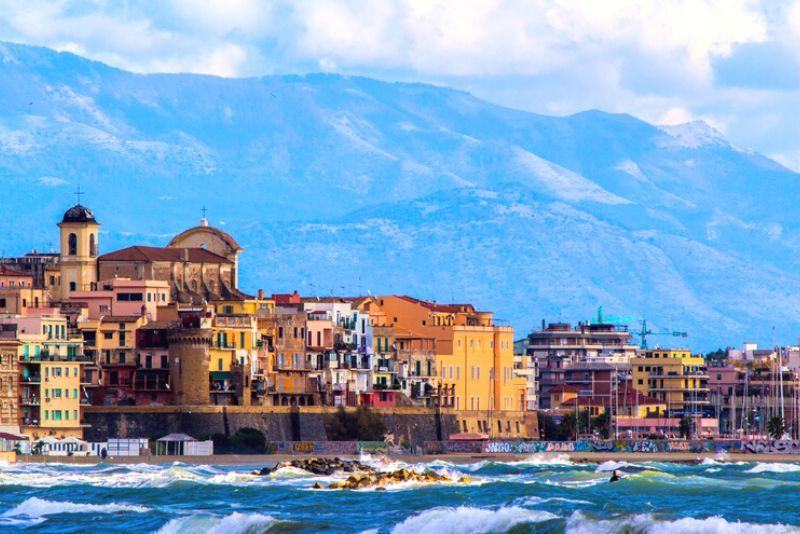 As the doors are flung open, you will move to the opening, secured firmly to your expert jump partner. Before you know it, you'll be freefalling at speeds of up to 125 miles an hour. This lasts around a minute, which is plenty of time for the adrenaline to kick in.
Your instructor will then unfurl the parachute and you'll enjoy a five-minute descent to the drop zone. If you're feeling brave, you can even take the controls yourself for a bit of extra kudos.
Back down on earth, you can relive the thrill with photos and video footage, depending on the package you have selected. Then you'll head back to Rome where you can celebrate your achievement in style.
Monte Compatri skydiving trip from Rome
This Rome skydiving experience is the same as the one above but takes place much closer to the city. Just 12 miles southeast of Rome, the historic village of Monte Compatri watches over the Aniene Valley in the Castelli Romani region. It makes a beautiful launching site for your skydive.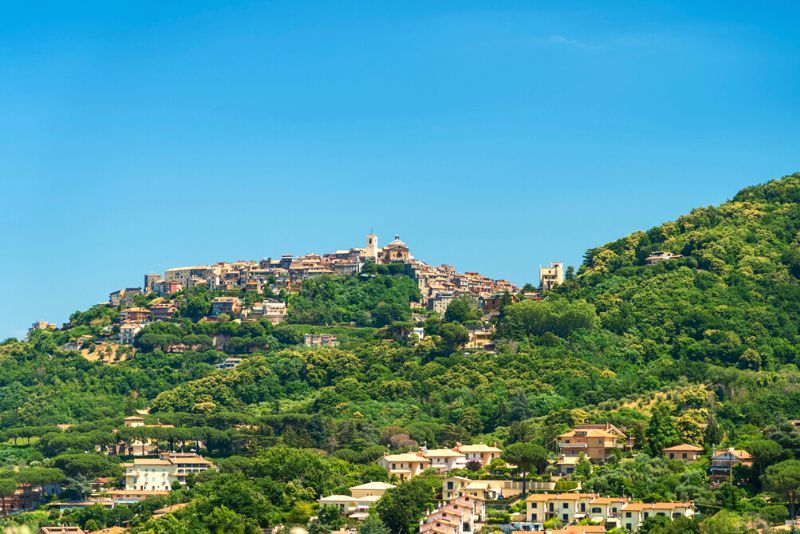 Once you've taken to the skies by plane, you'll enjoy views of the volcanic Alban Hills and the edge of Rome before your jump.
After your experience, you will head back into the city by public transport.
Rome skydiving excursion in Terni
This skydiving trip in Rome whisks you off to the province of Terni, which lies an hour north of Rome. If you fancy a change of scenery and have half a day to spare, then this excursion ticks all the boxes.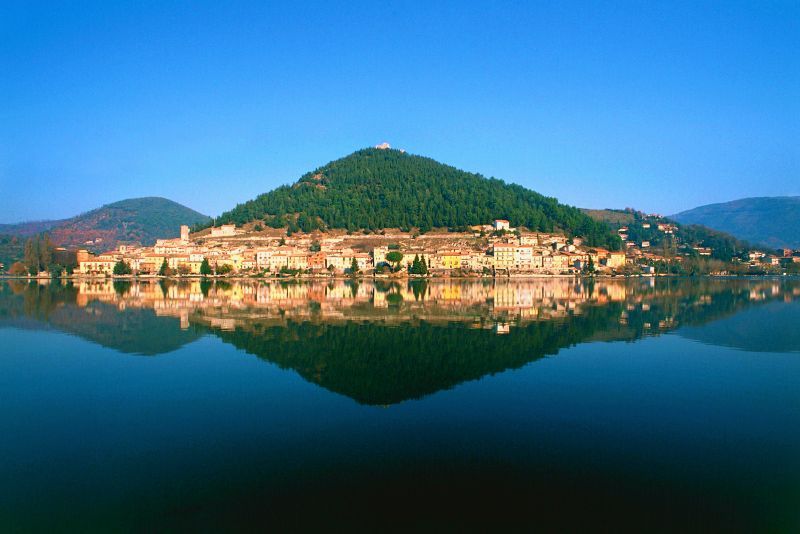 The jump experience remains the same as the others, but the backdrop is now the charming Umbrian countryside. On the 15-minute panoramic flight, you'll spot the Nera River snaking through the landscape, as well as the Lago di Piediluco. Even Rome can be seen in the distance!
Transfers from the train station in Terni can be arranged for a hassle-free experience.
How much do skydiving tours in Rome cost?
Skydiving in Rome costs €350 per person for the Nettuno jump and includes photos and a handycam video. If you want a professional external video added to the package, expect to pay €390.
The Monte Compatri experience is €230 for just the jump, €260 if you want to include a video, and €290 for the full photo and video package.
A skydive over Terni is priced at €199 for the jump only, €219 for the photo option, and €249 if you want to include video. A return transfer from Terni train station can be added for €5 per passenger.
What is included in a skydiving tour in Rome?
Flight suit and goggles
Safety harness and skydiving equipment
A qualified instructor who will accompany you on the tandem jump
Flight from the airbase up to altitude
Certificate of achievement after landing
Photo and video packages are available on all Rome skydiving tours
Hotel pickups are not included in the tour price. If you are booked onto the Terni experience, return shuttle transfers from Terni station to the airfield are available for €5 per person.
Where do skydiving tours in Rome start?
Skydiving tours in Rome kick off from various locations outside the city.
For the Nettuno excursions, you need to travel to the Club Le Grugnole on Strada Ponte Materiale. Nettuno can easily be reached by train from the Termini.
The Monte Compatri skydive begins at the Fly Zone Roma on Via Prenestina Nuova. To get there, take subway Line C and alight at Monte Compatri-Pantano station.
Terni skydiving tours start at The Zoo Paracadutismo Roma, which is an hour from the city center. You can take a train to Terni and arrange a transfer to the airfield with the provider.
How long do skydiving tours in Rome last?
Rome skydiving experiences usually last between two and four hours, depending on where the airfield is located. The scenic flight up to altitude takes about 15 minutes.
The jump itself lasts up to eight minutes, with the freefall being a minute long.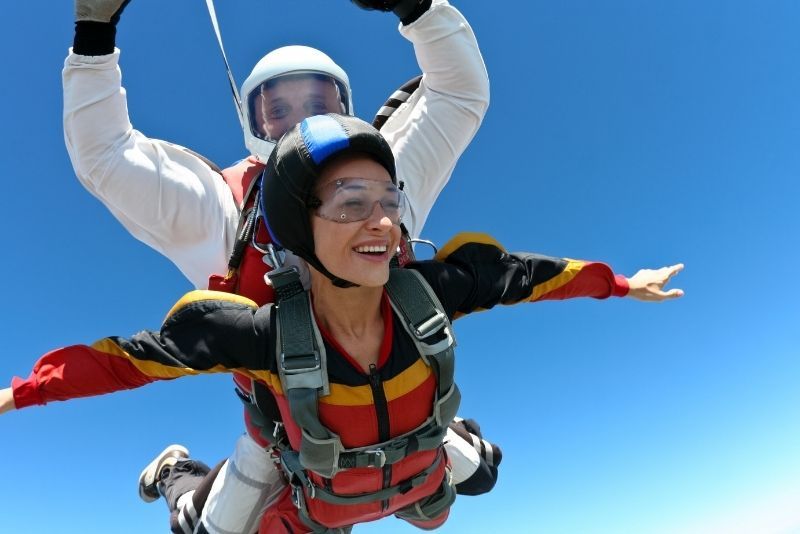 When is the best time for a skydiving tour in Rome?
Skydiving tours in Rome take place at weekends but some providers also operate on weekdays during July and August. Morning and afternoon slots are both available.
You can go skydiving in Rome all year round, with the most popular months being between June and September. Make sure you book well in advance during summer as tours do sell out.
Is it safe to take a skydiving tour in Rome?
Anyone of reasonable fitness can enjoy a Rome skydiving trip.
Travelers with health conditions, such as vertigo, and those with a history of heart attacks should consult their medical advisor before booking.
Are children allowed on a skydiving tour in Rome?
No. For safety reasons, children cannot go on a skydiving tour in Rome. Participants must be at least 18 years old, or 16 years old with written parental consent.
What happens in case of bad weather?
Rome skydiving excursions are weather dependent. It's a good idea to check with your operator the day before to confirm that conditions are suitable for your jump to go ahead.
If your experience is canceled, you can reschedule or receive a refund. To avoid potential weather disruption, book your Rome skydiving tour toward the start of your trip.
Travel tips
The maximum participant weight for skydiving in Rome is 100-110 kilograms.
Wear sports clothes and closed-toe shoes for a more comfortable experience.
Remember to take a USB drive for storing photos and videos of your adventure.
Spectators are not permitted in the plane but can watch from the airbase.
You will need to take some personal ID to show at check-in.