Hot air balloon rides in Rome are the ultimate antidote to hardcore city sightseeing.
Enjoy a rather privileged perspective of the lush Roman countryside, as you soar through the sky in silence. Then hear the roar of those burners, as the pilot takes you higher, making the medieval villages and emerald valleys look tiny down below.
This coveted aerial adventure is one of the most romantic things to do in Rome.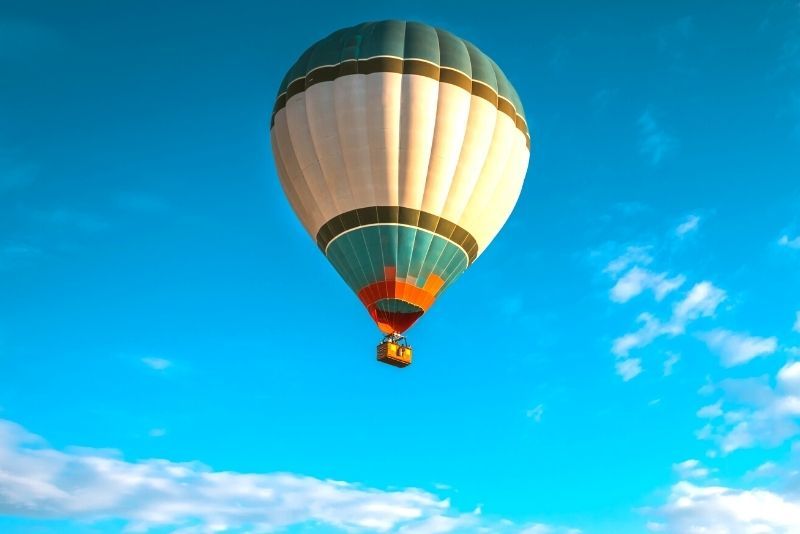 What are the best hot air balloon rides in Rome?
Rome hot air balloon trips take place in the Lazio region of Italy, just outside the city. It's the perfect spot for this relaxing countryside pursuit, and the bird's-eye views are phenomenal.
Hot air balloon flight over the Tiber Valley and Lazio
The most iconic hot air balloon rides in Rome will see you drifting languidly over the stunning Lazio countryside. Whether you're making your own way to the starting point in Magliano or enjoying a transfer, it'll be an early start!
On arrival, you'll be given a safety briefing by the experienced crew, before being driven to the nearby launch site. Clamber into the basket and take your place, as the balloon begins to slowly ascend into the sky. Now is the time to get your camera snapping away, as the sunrise floods the landscape with color.
You'll float high above the Tiber Valley, with 360-degree views of the delightful pastoral scenes. See if you can spot the Villa d'Este and Villa Adriana from your lofty perch.
After having the thrill of a lifetime, you'll descend gently to earth, where celebratory toasts and snacks are the order of the day. When your tour ends, you can make your own way back to Rome.
Romantic couple's hot air balloon ride from Rome
For a romantic twist to hot air ballooning in Rome, book a couple's flight and have your very own ride! The tour itinerary is the same as the one above, you just won't be sharing the experience with anyone else.
You're allowed to feel a little smug, as you sail through the sky, while your private pilot points out the landmarks far below.
Once you land back down on earth, you'll celebrate with fizz and nibbles before heading back to Rome feeling high on adrenaline.
How much do hot air balloon rides in Rome cost?
Hot air balloon tours in Rome that fly over the Lazio countryside and Tiber cost €249 per passenger. Children aged between 8 and 11 are charged €109 each. You will be sharing the basket with up to seven other passengers.
Private Rome hot air balloon excursions for two people are €875. You'll have the balloon all to yourself, as well as a bottle of Prosecco to celebrate your flight afterward. If you want to help inflate the balloon, that's possible too! A photoshoot can also be arranged for a small additional fee.
What is included in a hot air balloon ride in Rome?
The tour price includes a safety briefing, transport by jeep to the launch site, and a flight certificate signed by the pilot so you can be the envy of your friends.
Some Rome hot air balloon flight operators also offer wine or soft drink toasts on landing, with local food if you didn't fancy breakfast before take-off!
There is usually a maximum of eight passengers during most hot air balloon rides in Rome.
Hotel transfers are not included, but if you don't want to travel independently to the departure point these can sometimes be arranged for a supplementary fee.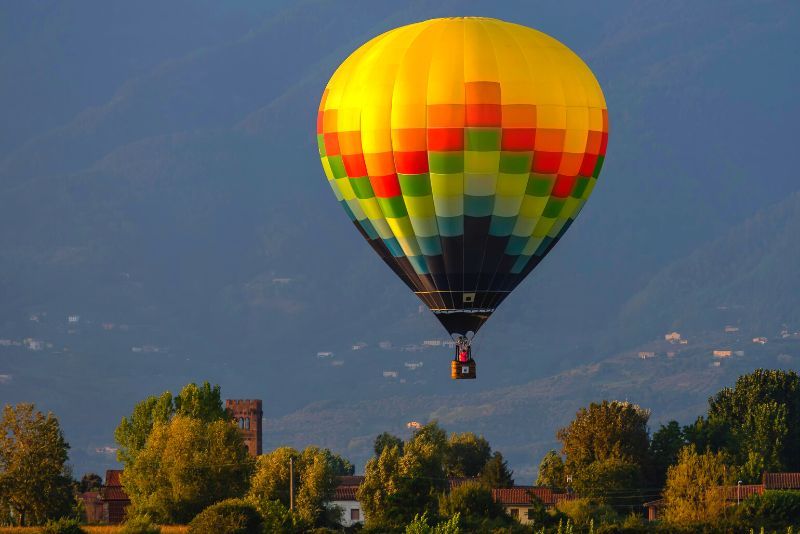 Where do hot air balloon rides in Rome start?
A popular meeting point is at the Park Hotel Sabina on Via Flaminia in Magliano Sabina. This is about 30 miles north of Rome.
As Rome hot air balloon tours start early, you'll need to be outside the hotel at 5:30 AM. A road transfer from your hotel is the best way to get there at that hour, and this can often be arranged with your tour provider as an added extra. Alternatively, ask your hotel to arrange a taxi.
How long do hot air balloon rides in Rome last?
Most hot air balloon rides in Rome are around an hour, which is plenty of time to take in the experience.
The tour itself will be up to four hours long, as this includes transport to the launch site, a pre-flight briefing and the triumphant toasts once you land back down on earth.
When is the best time for a hot air balloon ride in Rome?
The optimum time for Rome hot air balloon tours is during the early morning when the air conditions are at their safest.
It does mean an early start (often meeting at 5:30 AM), but seeing the sunrise and those jaw-dropping views makes the bleary eyes worthwhile.
What happens in case of bad weather?
Understandably, hot air ballooning in Rome is only possible during the right weather conditions. If your tour is canceled due to bad weather, you'll be able to choose another date or receive a full refund.
It's a good idea to book your flight towards the beginning of your stay just in case you have to postpone.
Are children allowed on a hot air balloon ride in Rome?
Yes, but there's often a minimum age requirement of 8 to meet safety requirements. All children must be at least 130 centimeters high and accompanied by an adult.
Travel tips
Places are limited on hot air balloon rides in Rome, so book your tickets early to avoid missing out on your chosen date.
There is usually a weight limit of 115 kilograms per passenger, with a 50% supplement for those who exceed this requirement.
Carry your camera on a strap to avoid accidentally dropping it from a great height!
You won't be able to take bags on the flight, so keep personal belongings to a minimum.