Lying deep beneath the church of Santa Maria della Concezione dei Cappuccini is where you will find the Capuchin Crypt of Rome. Inside the crypt, there is a museum and several rooms that are the resting place of more than 4,000 monks who died between 1528 and 1870.
Since 1851, the Capuchin Crypt has become a popular tourist attraction in Rome, with people visiting to discover the history rooted within the crypt. With your Capuchin Crypt tickets, you can explore the museum and experience the underground burials and their stories.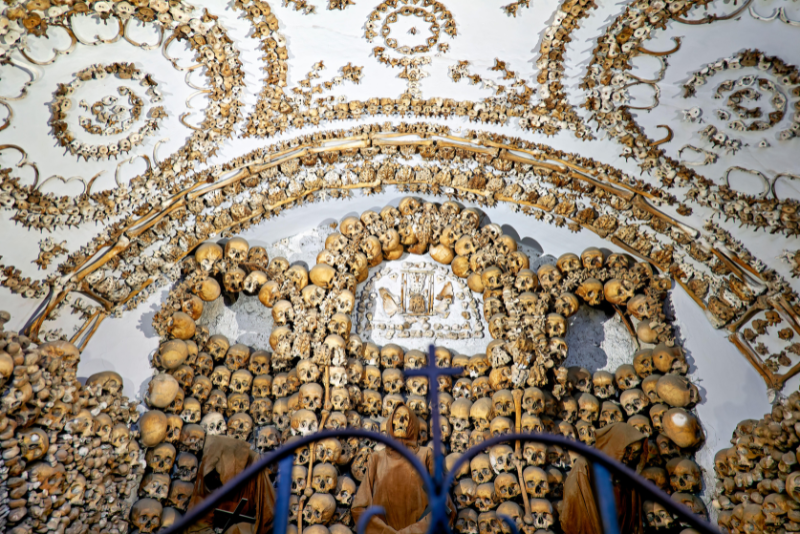 Here's everything you need to know about Capuchin Crypt, one of the most enchanting attractions in Rome.
What can you expect to see inside the Capuchin Crypt with a guided tour?
There are six rooms in the crypt. Five of these feature a unique display of human bones, while the other is a chapel. The rooms are as follows:
Crypt of the Resurrection - features a picture of Jesus raising Lazarus from the dead and is framed by various parts of the human skeleton.
The Mass Chapel - there are no decorative bones in the Mass Chapel, as it's used to celebrate mass.
Crypt of the Three Skeletons - features a center skeleton who is enclosed in an oval and symbolizes good and evil deeds.
Crypt of Skulls - named after the thousands of skulls that decorate the crypt.
Crypt of the Pelvises - here is where you will find skeletons dressed in their original friar's frocks.
Crypt of the Leg Bones and Thigh Bones - discover severed crossed arms that make up the Capuchin's coat of arms.
How much do Capuchin Crypt tickets cost?
Tickets for entry to the Capuchin Crypt are split into four categories: adults, children, seniors over 65 and reduced groups. There are also audio guides available with each tour, in Italian, English and Spanish. The prices are as follows:
Adults: €8.50
Children under 18: €5.00
Seniors over 65: €5.00
Reduced groups (minimum of 10): €6.00
Guided tours are also available if you don't want to use the audiotapes. They need to be booked at least 15 days in advance.
Guided tour Italian: €65
Guided tour English: €80
Guided tour Spanish: €80
Guided tour French: €80
How do you book Capuchin Crypt tickets & tours online?
The official Capuchin Crypt website doesn't sell tickets online, with visitors needing to buy them at the crypt or email 15 days in advance to book a guided tour.
However, if you want to avoid the risk of queuing, you can book your Capuchin Crypt tickets through a tour operator.
Capuchin Crypt tours from tour operators start from around €35 and include skip-the-line entrance. They also feature a live tour guide.
Booking in advance with a tour operator allows you to secure your access to the crypt without the need for queuing.
What kind of guided tours are available?
You can visit the Capuchin Crypt solo and discover it at your own pace, or you can go as part of a larger group tour. Some tours let you attend the crypt after hours, once it is closed to the rest of the public. Private tours are also available.
Solo - Explore at your own pace and make the most of an audio guide that will detail the history of each room in the crypt.
Group - Group tours are your chance to visit with a larger number of people and make the most of a live tour guide.
After hours - Explore the Capuchin Crypt after closing hours and learn the history of this fascinating place after dark.
Private tour - Private tours are available. If you don't like the idea of larger groups, but still want to make the most of a live tour guide.
Are there any combined guided tours with the Catacombs of Rome?
The Capuchin Crypt is part of the Catacombs of Rome, which are made up of five catacombs — Capuchin Crypt, Catacombs of St. Callixtus, Catacombs of Domitilla, Catacombs of Priscilla and the Catacombs of Saint Sebastian.
There are many tours available that combine a visit to the Capuchin Crypt with other Catacombs of Rome. There is also a museum at Capuchin Crypt, which is often included with tours.
Are guided tours worth it?
If you want to discover the artistic stylings of the crypt with a live tour guide, then a guided tour is an excellent option.
You can ask questions, get a detailed history and enjoy a more personable experience while learning about the Capuchin Crypt.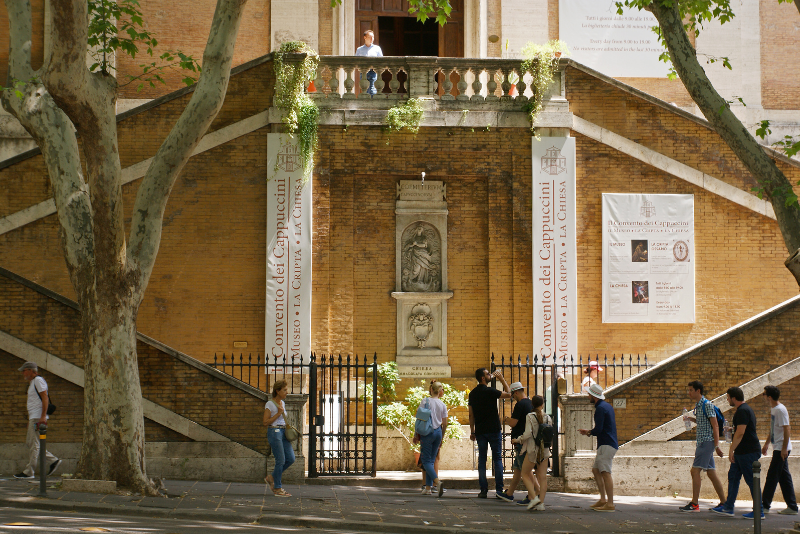 What are the Capuchin Crypt opening hours?
The Capuchin Crypt is open seven days a week, between 10 AM and 7 PM. The ticket office stops selling tickets half an hour before closing time. It closes at 3 PM on Nov. 2 and at 2:30 PM on Dec. 24 and Dec. 31.
The Capuchin Crypt is closed during Easter Day, Christmas Day and New Year's Day (Jan. 1).
How to get to the Capuchin Crypt?
Capuchin Crypt is located at Via Vittorio Veneto near Piazza Barberini in Rome. Its official address is Via Vittorio Veneto, 27, 00187 Roma RM. There are several ways to get to the crypt, including public transport and on foot.
By foot - The crypt is a 10-minute walk from the famous Spanish Steps
By metro - The Metro Line A goes to the Barberini station, which is a two-minute walk to the Capuchin Crypt.
By bus - Several buses go to the crypt, including 52, 53, 61, 62, 63, 80, 116 and 175
What is the best time to visit the Capuchin Crypt?
It is best to visit the Capuchin Crypt in the autumn and winter months (September to February) if you want to avoid the crowd, as opposed to summer and spring (March to August), which is high tourist season in Rome.
Rome is a year-round destination, which means there's no bad time to visit the Capuchin Crypt. However, the underground passageways can be dark and damp, meaning warmer clothing is required during the winter months.
What are the other attractions in Rome?
Travel tips
Visit the museum of the Capuchin Order, which provides plenty of details about the history of Capuchin Crypt.
The crypt is still a place of worship, therefore, it's important that you are respectful of your surroundings and don't talk too loudly.
The bones are real, and if you find death upsetting, visiting the crypt should be avoided.
Visitors can't take any photos while in the Capuchin Crypt.
There is a dress code, which means you can't wear shorts, skirts above the knee and shoulders should be covered for both men and women. Hats also need to be removed.
The crypts aren't suitable for young children.