With strong ties to the pope, Castel Gandolfo boasts a grand palace, exquisite gardens and a glistening lake to frolic in.
The town is famed for the papal residence that lies along Lake Albano's shores and has been the jewel of Castel Gandolfo for centuries.
Located just a stone's throw away from the city, Castel Gandolfo day trips from Rome are easy to arrange and well worth the visit.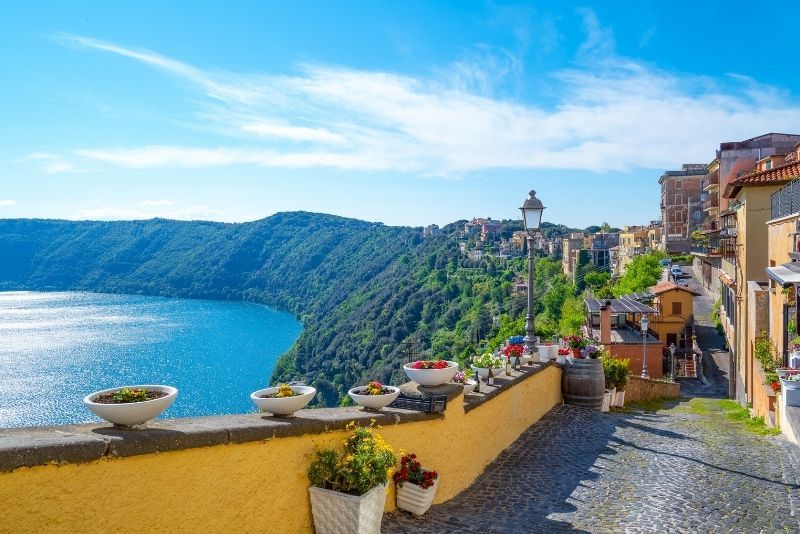 How to get to Castel Gandolfo from Rome?
Castel Gandolfo is located just 25 kilometers outside of Rome in a northeasterly direction. It is easy to travel from the capital city which takes less than an hour.
From Rome to Castel Gandolfo lake by car
The journey to Castel Gandolfo by car takes roughly an hour and follows the SS7 until the SP140 turnoff. Follow the SP140 until you reach the center of the town.
From Rome to Castel Gandolfo lake by train
The journey to Castel Gandolfo takes 45 minutes by train, which runs hourly from Roma Termini station and costs around €2.
From Rome to Castel Gandolfo by bus
Buses run from Rome to Castel Gandolfo on a regular basis and depart from the Anagnina bus station. You can expect to pay less than €2 for a ticket.
Guided tour to Castel Gandolfo from Rome
With its location so close to Rome, you don't need to wake up too early for a day trip to Castel Gandolfo. Tours meet between 9:30 AM and 10:39 AM at the Anagnina station and last roughly three hours.
What is the typical itinerary of a day tour to Castel Gandolfo from Rome?
There are two main tour destinations in Castel Gandolfo — Lake Albano and Pontifical Villas.
Lake Albano, also known as Castel Gandolfo lake, day trips meet either in the city or at the lake itself, and take you on a gentle kayaking tour. You'll be guided on your paddling techniques and will learn about the lake's history.
After you've worked up an appetite, a food and wine tasting is provided on the lake shore before heading back to Rome.
The other popular Castel Gandolfo excursion to consider is of the papal residence, pontifical villas.
Starting at the Apostolic Palace after meeting in the town center, you'll have free roam of the grounds, including the Barberini gardens. An audio tour is available to fill you in on the most interesting features of the residence.
Finally, enjoy the tranquility with a buffet lunch on the garden terrace.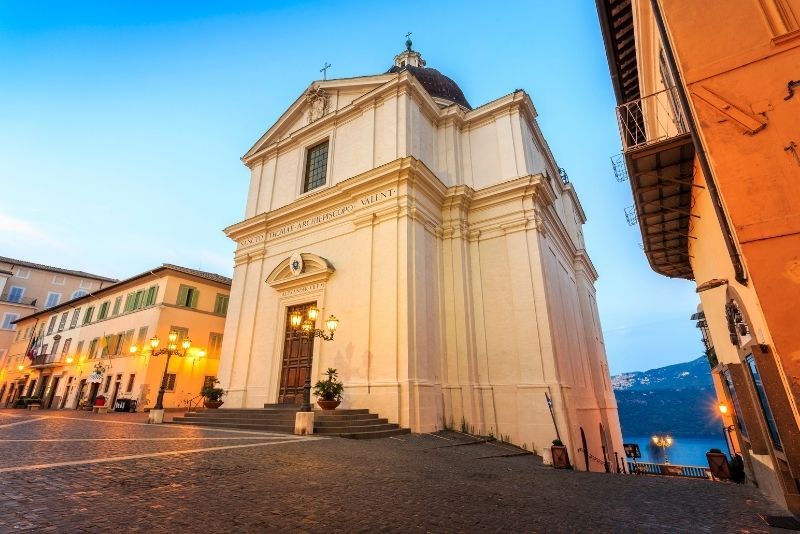 What kinds of tours are available to go to Castel Gandolfo lake?
Depending on whether you're an adventure seeker or culture lover, there are different types of day tours to Castel Gandolfo available.
Guided kayak tour of Castel Gandolfo from Rome
A day trip to the volcanic crater that is Lake Albano allows you to view Castel Gandolfo from a new perspective. You'll be shown how to kayak before you're taken on a tour of the ancient village by water.
You'll be able to admire the pope's summer residence — pontifical villas — from your kayak and learn more about the many popes throughout history.
Day trip to Castel Gandolfo pontifical villas from Rome
If you want to feel connected to important figures through the ages, consider a day tour of Castel Gandolfo's pontifical villas.
The site is the summer residence of the pope, and you can enjoy an audio tour to show you the highlights of the grand palace and its gardens.
As well as taking a peek at the pope's own private apartment, you'll have the opportunity to see papal gowns from times gone by.
This Castel Gandolfo jaunt also includes a bus tour of the luxurious Barberini Gardens.
Private tour to Castel Gandolfo from Rome
If an audio guide isn't enough for you, consider a private tour, where you'll be escorted by your own Blue Badge guide. You'll be shown points of interest in the palace and have plenty of opportunities to ask questions.
Your tour of Barberini Gardens will take place via a golf cart, enabling you to see its many wonders up close.
Lunch is then served overlooking the majestic Lake Albano which is where your day tour to Castel Gandolfo ends.
Day trip to Castel Gandolfo plus Vatican from Rome
Those who are interested in the Catholic church can explore the pontifical villas and the Vatican City in just a day.
A tour guide will show you the most significant and opulent landmarks of Vatican City and Vatican Gardens, before moving on to the papal residence.
While at the pontifical villas, you'll enjoy a local lunch, as well as the many fascinating features of the pope's summer home.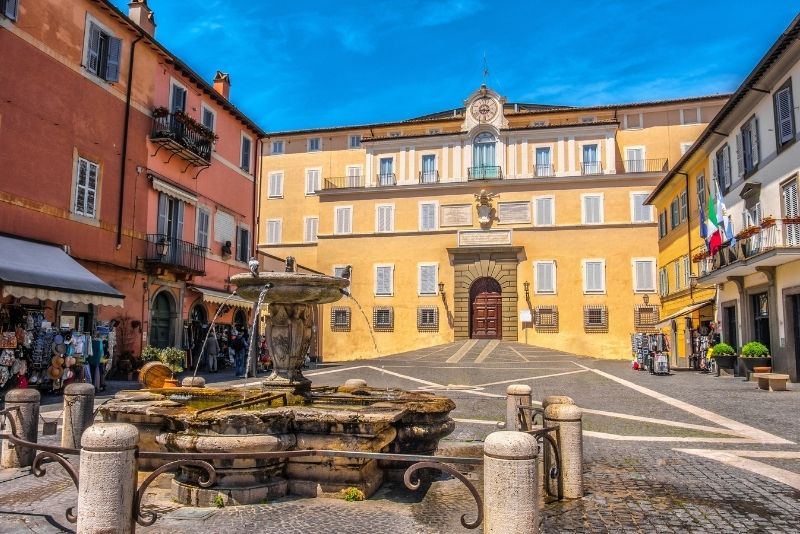 How much does a tour to Castel Gandolfo from Rome cost?
Kayaking tours include a guide and all of your kayaking equipment. Some tours also include a food and wine tasting. Prices start from €42 to €65 with wine tasting.
Day trips to the pontifical villas include tickets to the residence and gardens, as well as an audio guide. Prices start at €49 and, for tours that include lunch, expect to pay around €65.
A private day tour of Castel Gandolfo includes hotel pickup and drop off in a Mercedes vehicle. The trip lasts six hours and also includes a guide, lunch and a golf buggy tour of Barberini Gardens. You can expect to pay around €1,050.
Day trips to Castel Gandolfo and Vatican City include train tickets, skip-the-line Vatican admission, a tour guide and lunch. The tour lasts around 11 hours and prices start at €125.

What will you see and do at Castel Gandolfo?
Whether you're a nature lover, historical whizz or activity enthusiast, there's something for everyone in Castel Gandolfo.
Lake Albano
Lake Albano's claim to fame comes from the 1960 Olympics, where it hosted the canoeing and rowing events. The lake itself is formed by two volcanic craters which fused together to create its unusual shape.
Lake Albano also has a beach running along its western shore where visitors can take a dip in the cool waters that run 170 meters deep.
Pontifical villas
What draws most tourists in on their day trip to Castel Gandolfo from Rome is the papal residence, the pontifical villas.
The Apostolic Palace has been owned by the Vatican since 1596. It has provided a rest bite for the pope during the summer months for centuries, and has been open to the public since 2016.
There are plenty of artifacts to appreciate in over 20 different rooms, including paintings, gowns and the sedan chair of Pope Pius IX.
Barberini Gardens
Barberini Gardens is connected to Pontifical Villas but is an attraction in its own right. Spanning 30 hectares, the botanical gardens offer striking views over the glittering Lake Albano.
The gardens feature a plethora of flora, from fragrant herbs to sweet roses and magnolias, as well as spectacular fountains and beautifully manicured lawns.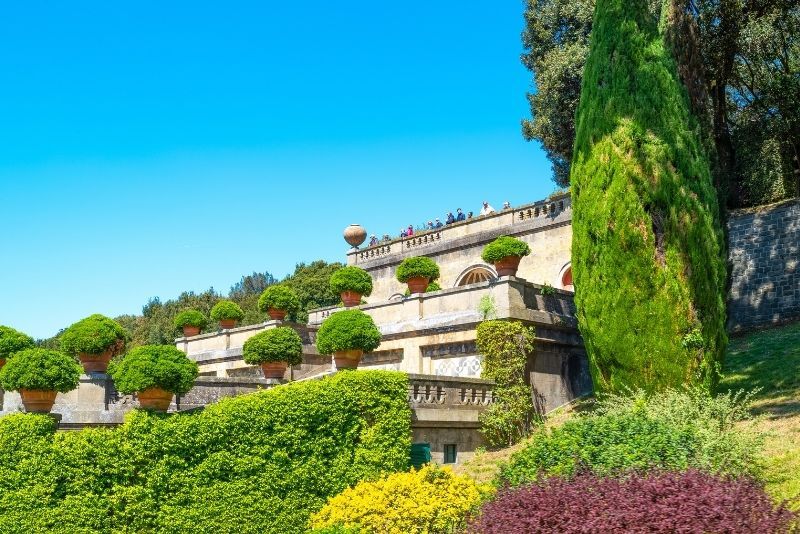 When is the best time to visit Castel Gandolfo lake?
Plan your day trip to Castel Gandolfo in the summer time to experience the gardens in full bloom. Kayaking is also a more pleasant experience on a summer's day.
Travel tips
Despite being a physical activity that expends a lot of energy, a windy day can cause kayaking at Lake Albano to become cold. Bring a spare layer in case this happens.
The lake provides no shelter from the sun on your Castel Gandolfo day trip, so bring a sunhat to avoid heatstroke, as well as sunscreen and plenty of water.
If your tour of the pontifical villas doesn't include lunch, bring your own and savor every mouthful in the delightful Barberini Gardens.