Leonardo Da Vinci is one of the most famous painters the world has ever seen. The "Mona Lisa" and "The Last Supper" were both brought to life by the Renaissance artist and are now on display at prestigious art galleries.
Many don't know about Leonardo's copious studies of engineering and the inventions he created over his lifetime. This exhibition animates his sketches and makes history fun by allowing you to try out his pioneering designs for yourself.
Purchasing Leonardo Da Vinci Exhibition tickets marks the start of an unbeatable day in Rome.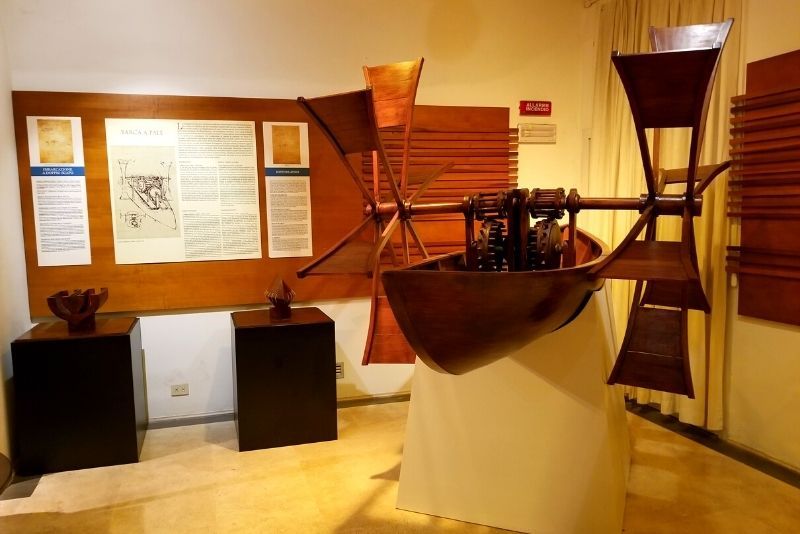 How much do Leonardo Da Vinci Exhibition tickets cost?
The Mostra Leonardo Da Vinci entrance fee is affordable, which makes it an excellent way to pass an hour or two in the city.
The rates to access the exhibition are as follows:
Adults (18+): €9
Youths (13-17): €7
Children (5-12): €6
Children under 5: Free
There are no booking fees for online purchases of Leonardo Da Vinci Exhibition tickets.
Who is eligible for discounts?
Students qualify for a discounted Leonardo Da Vinci Exhibition rate of €7 with a valid student pass. Those over the age of 65 can also enjoy the same discounted ticket price.
There are also discounted family rates for those buying several tickets together. These are as follows:
Two adults plus two children: €25
Two adults plus one child and one youth: €26
What are the best Leonardo Da Vinci Exhibition tours?
Private Leonardo Da Vinci Exhibition guided tour
If your historical knowledge is lacking, you might consider a Leonardo Da Vinci Exhibition private tour. Tours are available in six languages, including English, and last between 1.5 and two hours. During this time, you'll be shown around the exhibition which is specifically dedicated to Leonardo's engineering studies.
Your art historian guide can explain the complex creations in family-friendly language to ensure children have a memorable experience, and you'll gain access to extra workshops. On this tour, you'll also leave with a free souvenir.
Leonardo Da Vinci Exhibition - The Genius of Leonardo: Priority Entrance
If you're worried about hordes of tourists ruining your experience of the museum, consider a priority entrance ticket, which allows you to access the exhibition without waiting in line. Leonardo Da Vinci Exhibition tickets with priority access cost the same as those without, so there's no reason not to purchase one if you're booking online.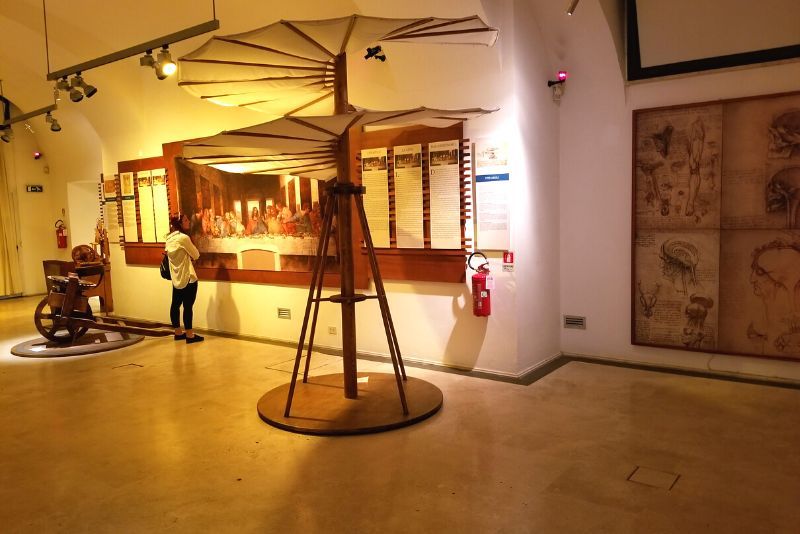 Should you book Leonardo Da Vinci Exhibition tickets in advance?
By booking your Leonardo Da Vinci exhibition tickets in advance online, you'll benefit from skipping the line when you visit.
It's also a good way to ensure you'll be able to access the venue on the day, and not have to worry about beating the rest of the tourists to the museum.
What will you see inside the Leonardo Da Vinci Exhibition?
The Mostra Di Leonardo in Rome is a must-see for any fan of the great artist and inventor. While Da Vinci is most famed for his talented paintings, he was also a well-respected inventor, and this exhibition is dedicated to his engineering studies.
The museum features over 200 wooden machines which you're able to try out for yourself, as well as 65 working models which have been created from Da Vinci's sketches.
Recently, nine life-sized holograms have been added to the exhibition which are based upon Da Vinci's studies of warfare, engineering, painting and flight.  There is also the opportunity to take part in a treasure hunt by solving riddles around Rome, and this is a great way to get kids involved.
The exhibition won the 2021 Tiquets Remarkable Venue Awards "Most Innovative Venue in Italy," succeeding 79 other nominees.
With its fascinating insights into the mind of one of history's greatest geniuses, the Mostra Di Leonardo is an essential stop for anyone. It's especially intriguing for those interested in the art and history of Renaissance Italy.
How to get to the Leonardo Da Vinci Exhibition?
The exhibition is located on the Piazza Della Cancelleria, which is easy to access by public transport.
By bus, you'll take a 14-minute journey on Line 64 from Roma Termini to Corso Vittorio Emanuele/ SA Della Valle. From there, the museum is just a two-minute walk to the piazza.
There is no metro station nearby, but the bus is reliable and runs regularly. If you don't wish to travel by bus, you can choose a six-minute taxi from Roma Termini instead.
Depending on where you are in Rome, it may also be possible to walk to the exhibition. From Roma Termini, the journey takes 35 minutes by foot which will soon fly by with all the sites to be seen along the way.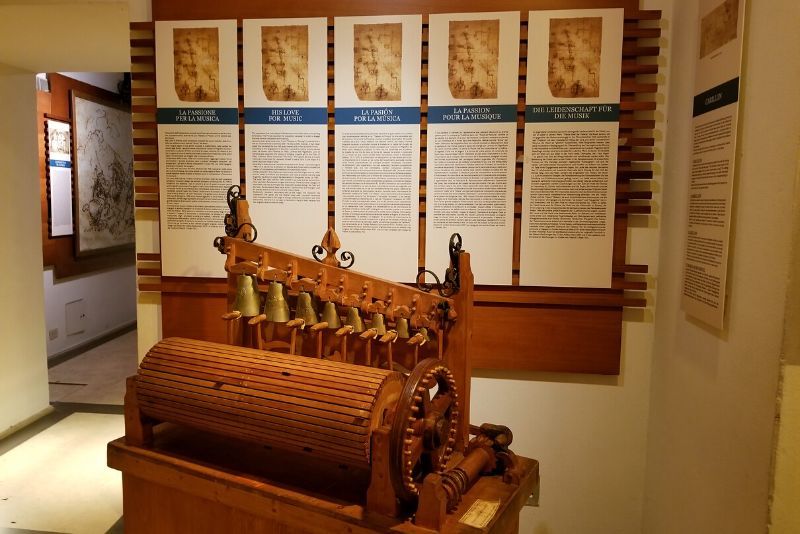 When is the best time to visit the Leonardo Da Vinci Exhibition?
The exhibition is open every day and you can visit between the hours of 9 AM and 7:30 PM. The last entrance is an hour before closing time.
Like almost every attraction in Rome, the Leonardo Da Vinci museum can get busy during the late morning and early afternoon.
To be able to explore the site thoroughly and have the opportunity to see Da Vinci's inventions up close, head to the exhibition as soon as it opens, or in the early evening.
Another way to avoid the crowds is to visit during the shoulder months of April, May, September or October.
If you're interested in art and history, the museum should be one of the first stops on your Rome itinerary. However, you may wish to spend your first day soaking in the most famous sites, such as the Colosseum.
Which other attractions can be visited in the city?
Travel tips
If you have kids that are bored of sightseeing in Rome, purchase Leonardo Da Vinci Exhibition tickets. Children will love the interactive nature of the museum, including the treasure hunt.
If you are a student, make sure you take a valid ID with you to benefit from a discounted entrance fee at the museum.
Set aside two hours in your itinerary to explore the exhibition fully.